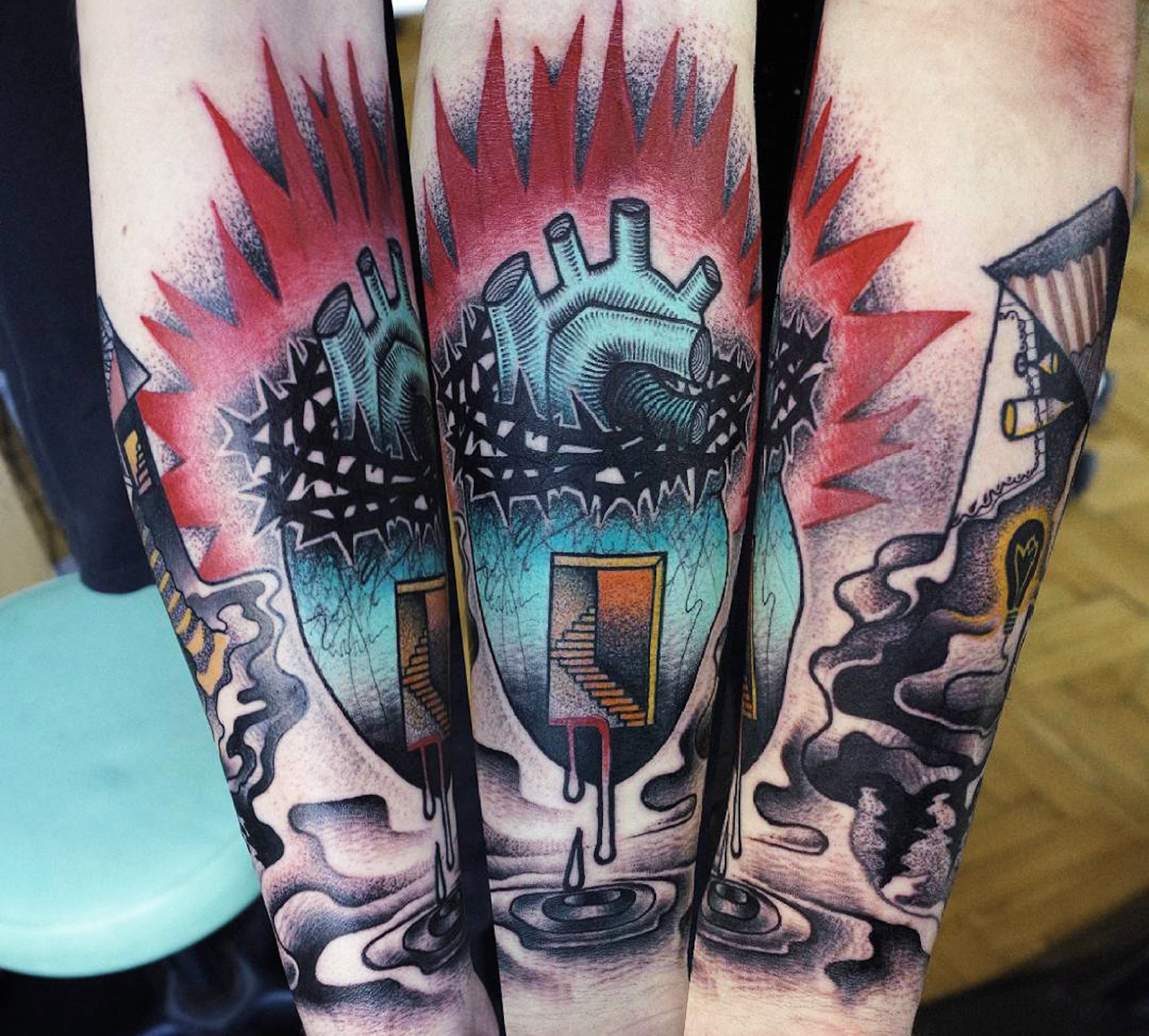 It's as if the Polish-based creative Ɓukasz SokoƂowski was destined to be a tattoo artist. He started his career not once, but twice: first as an inexperienced teenager that created some bad ink. After a long break, he returned to the field ready to try again.
The second time SokoƂowski started to tattoo, it stuck—he's currently a busy artist that creates bold body art, featuring dramatic pieces that are inspired by more than just tattoo culture. SokoƂowski is fueled by fine art movements of the past as well as Polish graphic design. This results in tattoos that fuse portraiture, landscapes, architecture, and geometric designs. Despite these varied influences, SokoƂowski weaves them together and forms cohesive tattoos that tell enthralling stories.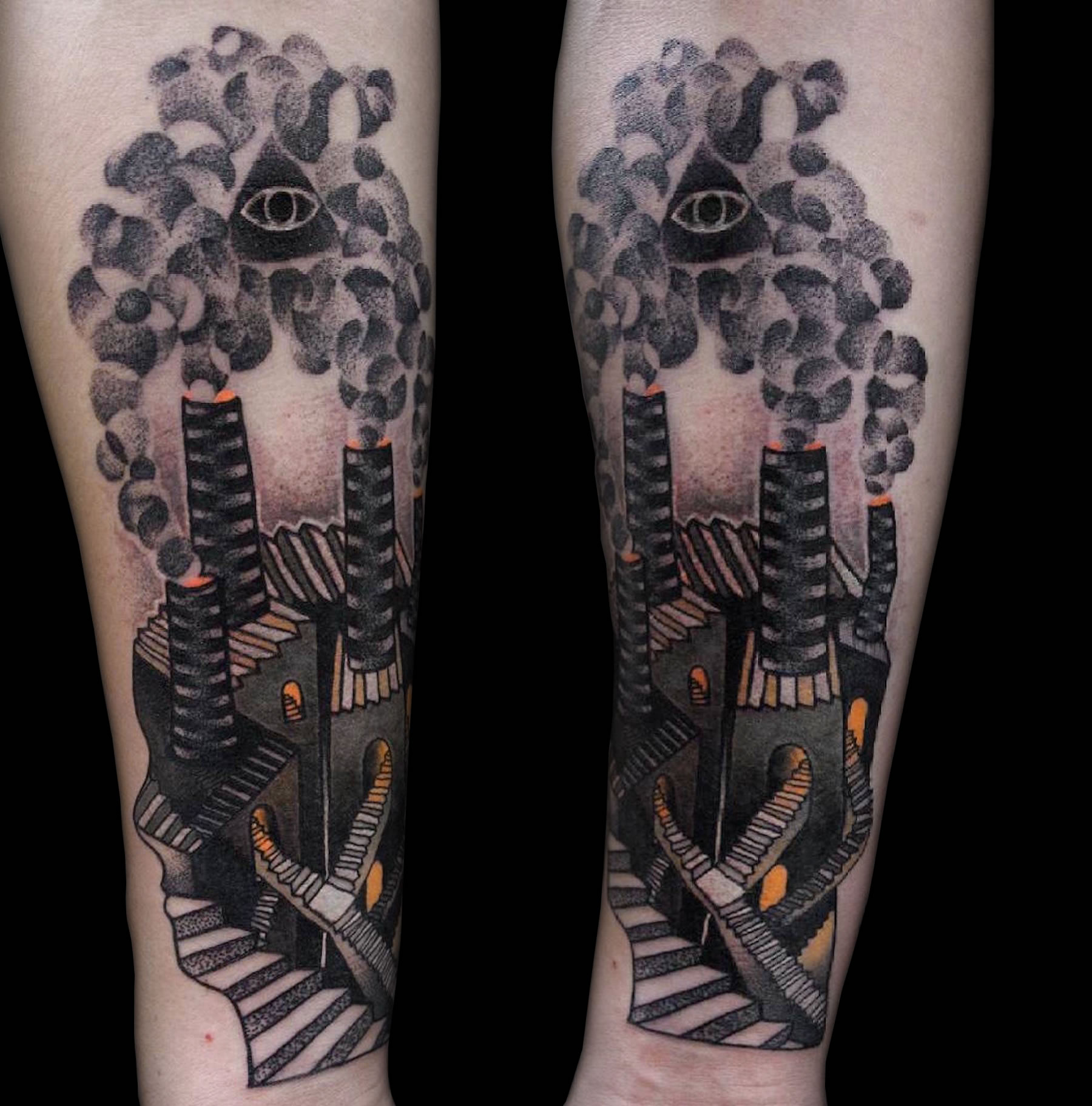 Endless steps make for an intriguing tattoo.
When did you start tattooing?
I've started twice actually. The first time was when I was 17 during high school; I used some really homemade and unprofessional stuff and made really bad tats, taking designs mostly from some early 90's German motorcycles/tattoos magazines—it even sounds scary, and that it was. So I had made the decision to stop hurting people after some 5 or 6 months.
After 10 years of doing other things, my girlfriend gave me the idea to try again because she knew I was trying to tattoo for many years after we had met. So in 2009, I started again, and soon it went from just a hobby to my actual work.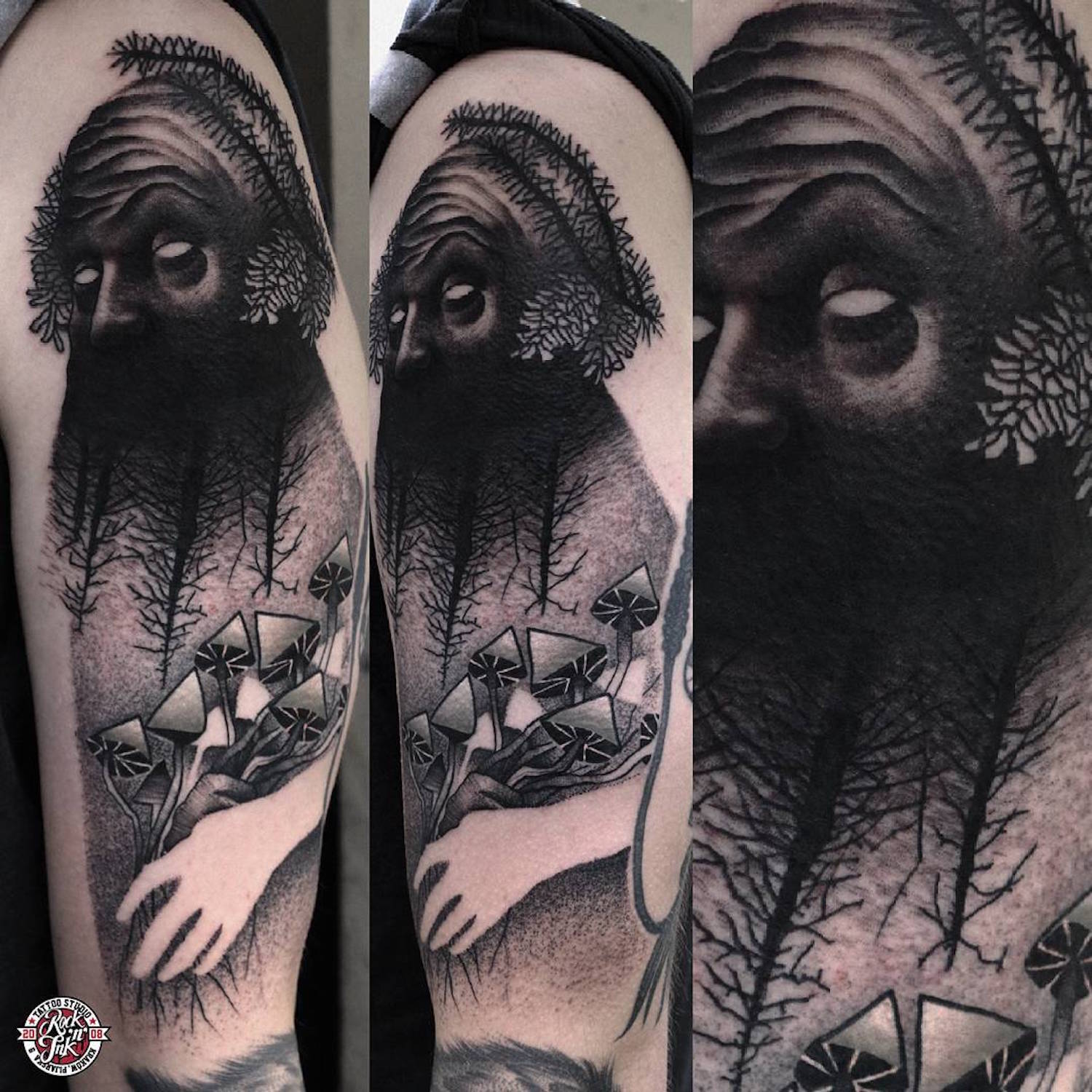 Wispy evergreen trees double as this man's beard.
How has your approach to tattooing (technical and artistic) changed since you began working?
It has changed completely. I'm more conscious of my technical capabilities and restrictions, and the need to develop my abilities. I'm still searching for my graphic form (artistic style), but I'm definitely closer to finding it since a year ago.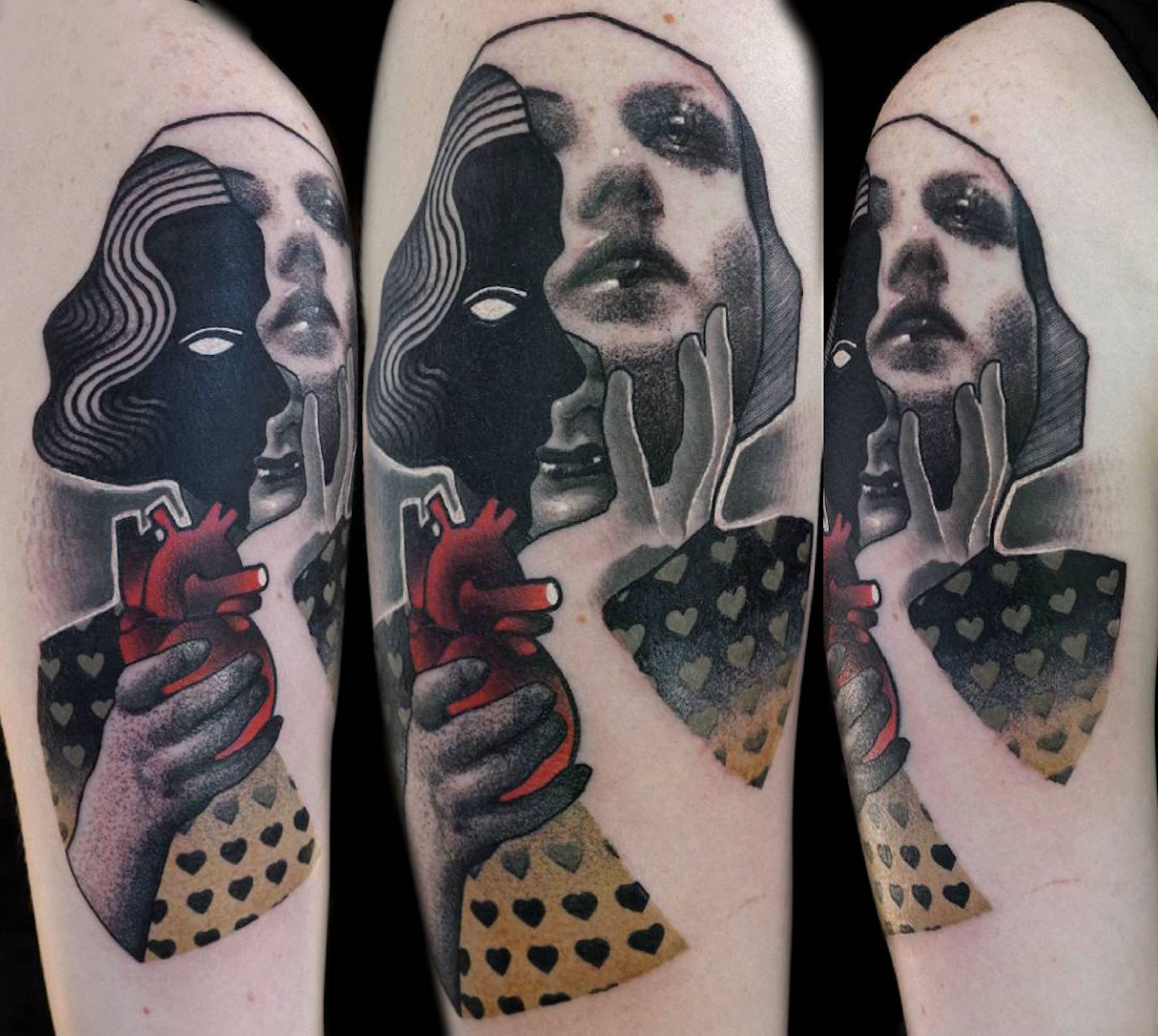 Double and triple portraits showcase multiple graphic styles.
What is your background? Did you ever imagine becoming a tattoo artist?
I've completed art in high school (silkscreen specialty). After that I was studying graphic design. I think both of these activities have influenced me.
The very first memory connected with tattooing is when I was maybe 11 or 12—on some holidays, using cheap markers and trying to put the covers of classic LPs of hard rock, Death's "Leprosy" (for example) on my friend's skin.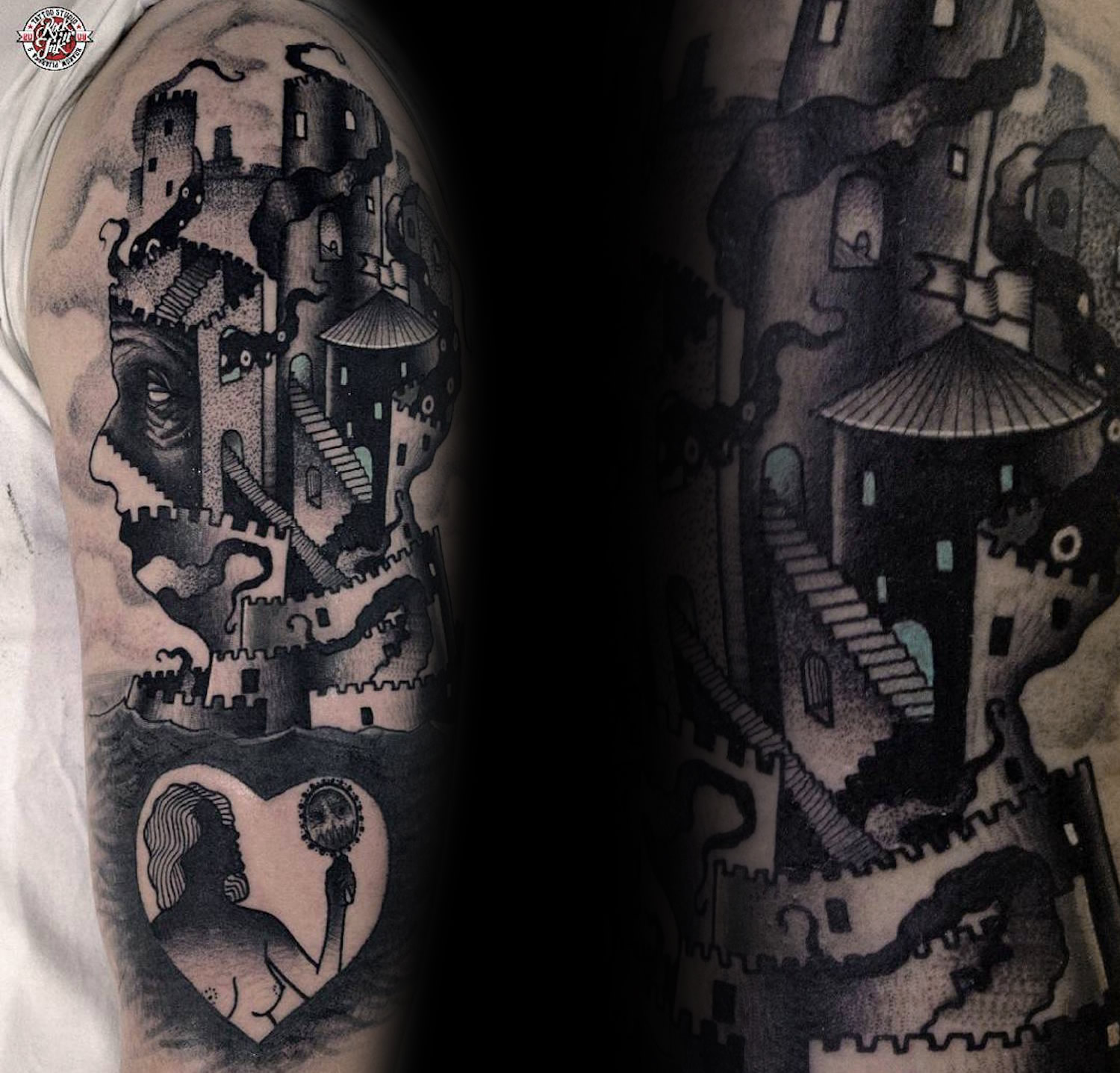 Complex sets of steps within a larger portrait symbolize the intricacies of the human mind.
A majority of your pieces are a fantastical twist on the conventional portrait. What is it about this subject that interests you?
There was a period in the last 2 years that I made lot of them, based on some realistic parts made in dotwork and mixed with some graphic design tricks, but to be honest, I'm a little tired of this subject. Because of this, at the moment I'm not using realistic elements in my tattoos.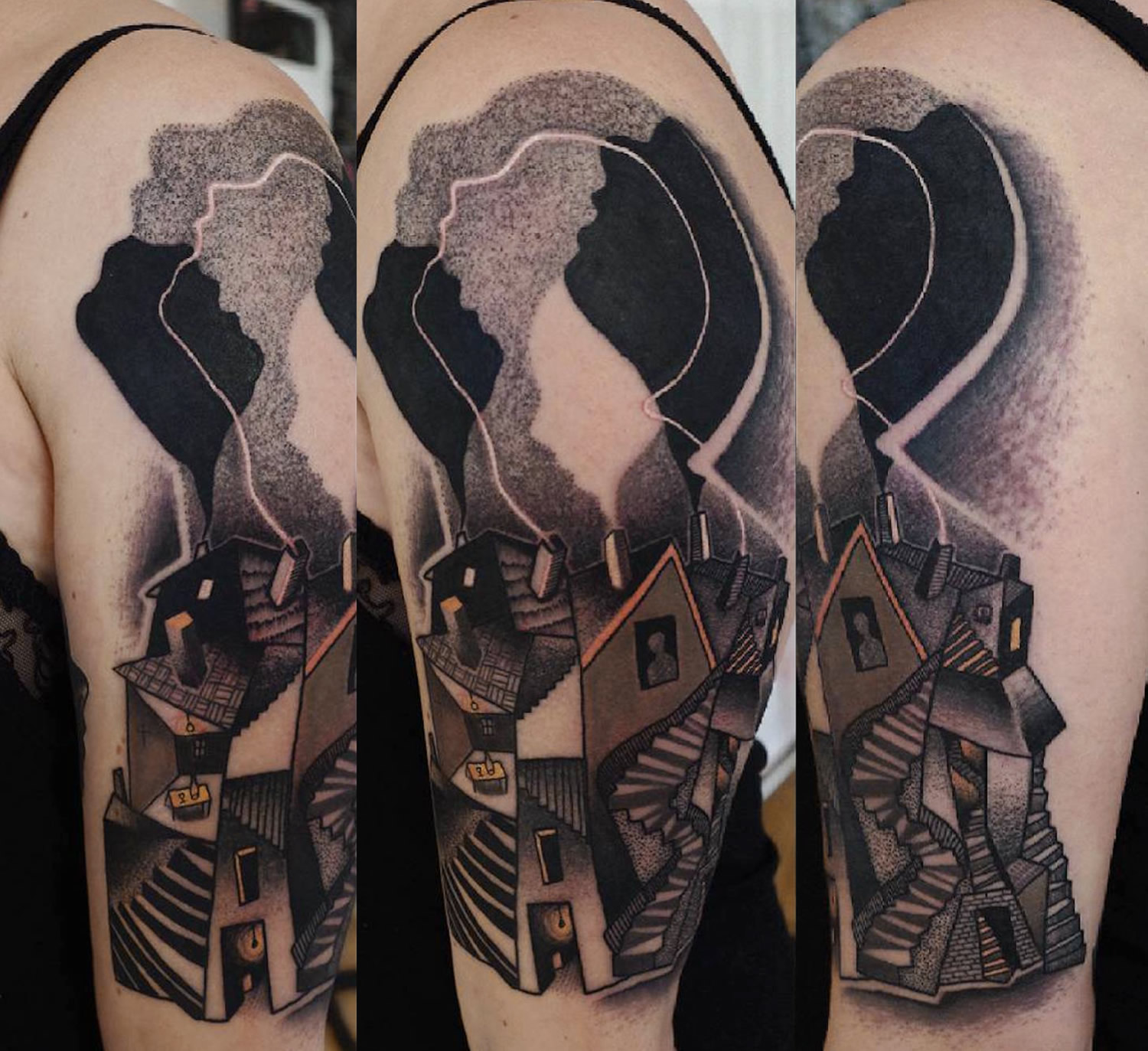 In a surreal twist, the smoke from a chimney forms a human silhouette.
Your work fuses elements of surrealism and cubist abstraction. Who are your artistic influences?
Maybe it will be a surprise to you, but both surrealism and cubism are not my favorites. I'm more interested in Hieronymus Bosch, or Dadaism, Expressionism, or artist WƂadysƂaw Hasior (a sculptor working with readymades). But the strongest inspiration is a phenomenon called "Polish School of Posters" and accompanying this movement is the Polish (or Eastern) scene of book illustrators: Janusz Stanny, Roman Cieƛlewicz, Jerzy Treutler, MieczysƂaw Wasilewski and many, many more.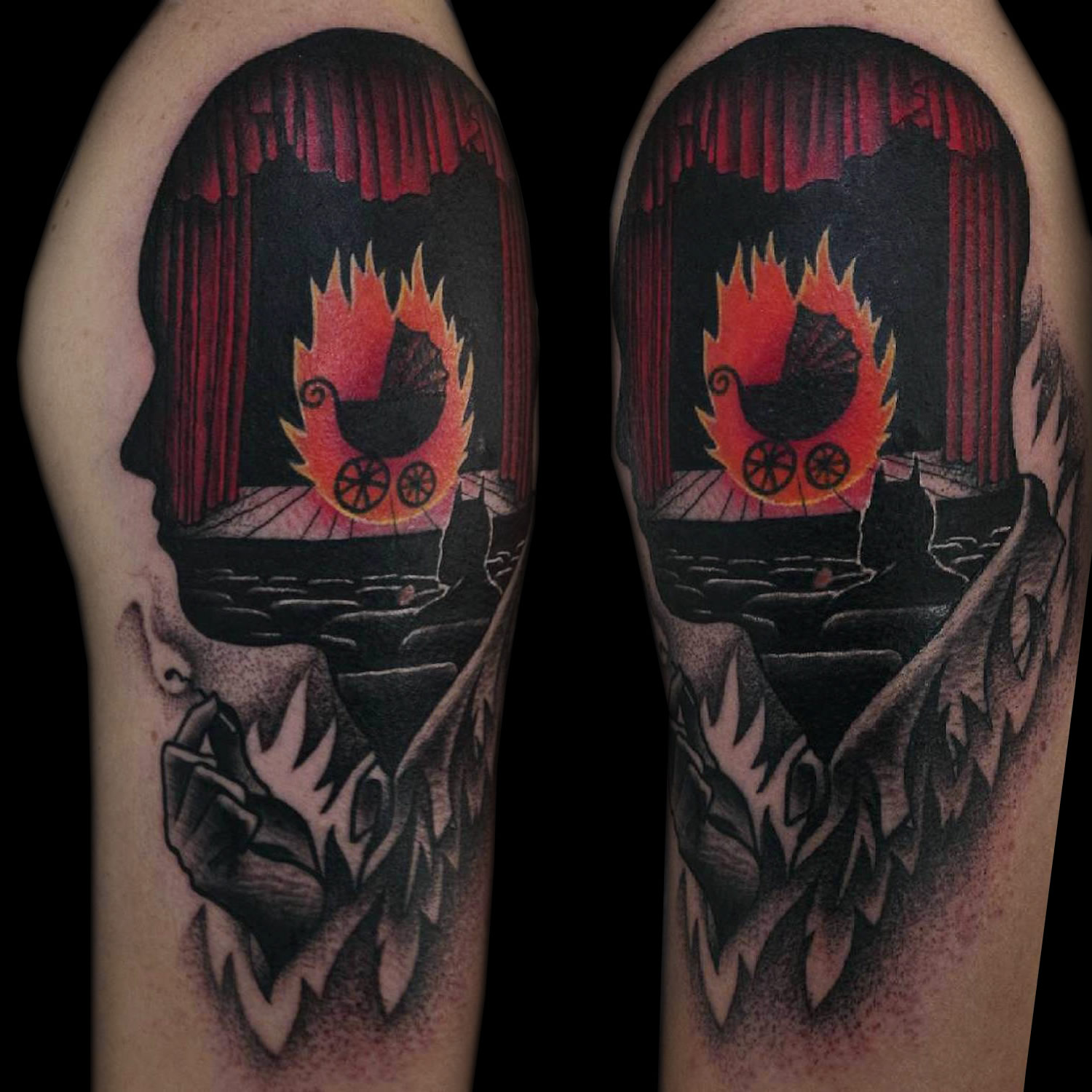 SokoƂowski combines disparate images into a cohesive tattoo.
Do you have a tattoo that you dream of inking on someone—such as a specific image or subject—but just haven't had the opportunity yet? If so, what is it?
I don't think so, hmm. I wish to do more larger projects like back pieces or front pieces, but on a design/idea level I don't have any special ideas, maybe because when I make a design that I really like or I'm proud of, I'm quick to find a customer to tattoo it on.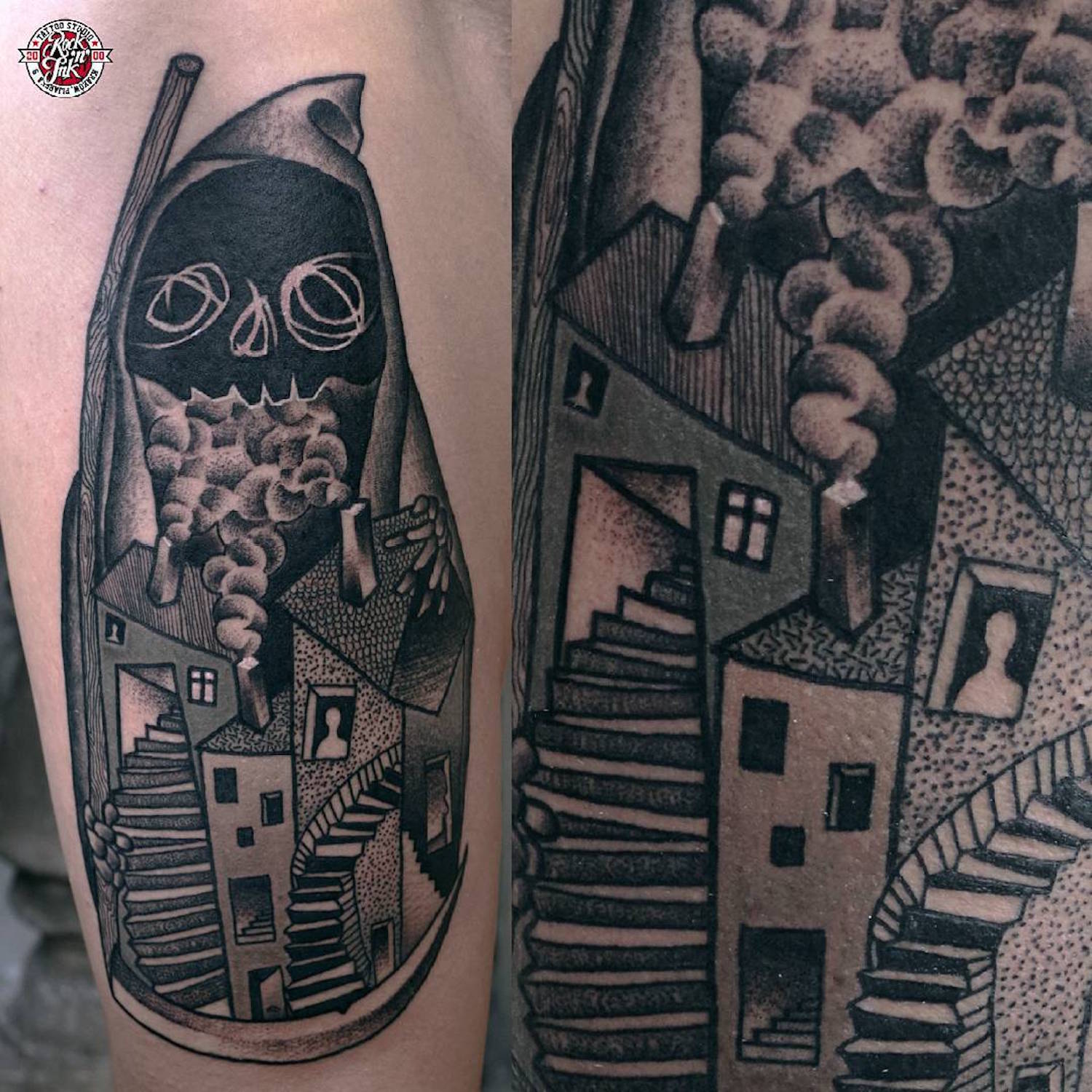 Flattened houses morph into a larger shape that mimics the Grim Reaper.
What is your process when creating a new tattoo for a client? How much of the piece is their vision versus your own?
It works in two ways—50% of clients are people who just base/take my designs and flashes that I posted on the web from time to time. The second part I ask them to write the subject they want or some keywords to help me design the tattoo. And I always ask my clients to send some of their favorite works that I have made in a last 2 months.
Follow SokoƂowski on Instagram.
Photos © Ɓukasz SokoƂowski.