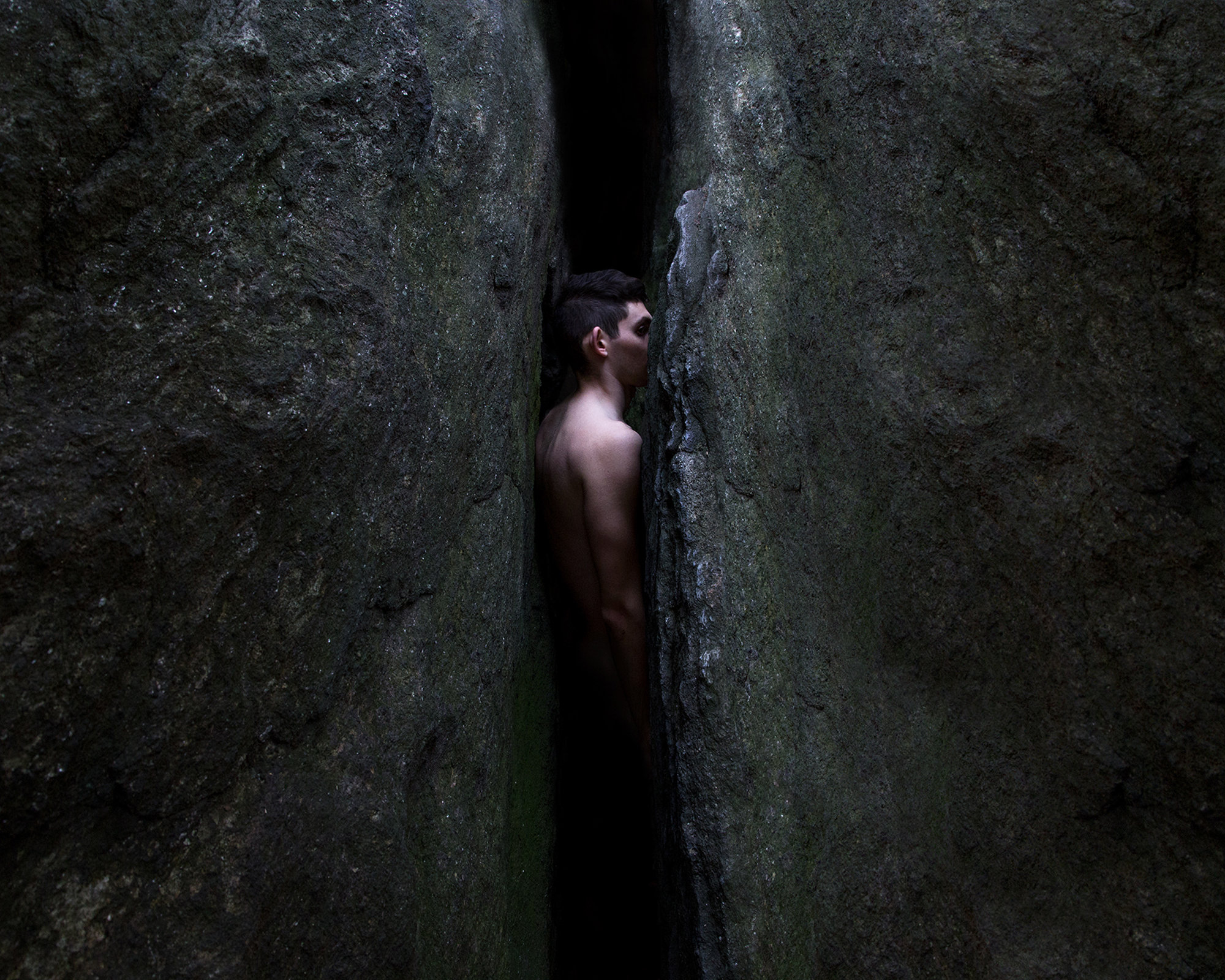 In photography, much like other mediums, the nude body has been an eternal muse, acting as the site for creativity and the performance of human experience.
While depictions of beauty and perfection have traditionally been more widely accepted (especially in our age of preened social media accounts), there is something to be said about strange bodies—the passionate, odd, grotesque, and sometimes clownish bodies that contort, bend, pose, and hide in front of the camera. By showing us different angles and secret moments, strange bodies reflect the deep quality of our world; they tell stories of sensuality in horror and confidence in vulnerability. They give us a fuller answer of what it means to be walking around on the planet in a vessel made of flesh and physics. They show us an authentic yet rarely-seen aspect of the soul.
Featured here are 10 photographers who show us this side of the body: the strange body. In doing so, they relieve the weight of stigma; they reveal darkness and private struggle, as well as playfulness and sexuality. And by representing the body in alternative ways, their images seize the imagination, pushing back against repressive norms to express a more authentic range of humanity.
Between a rock and a hard place: Ben Zack's "Symbiotic" series features nude models interacting with natural and urban landscapes.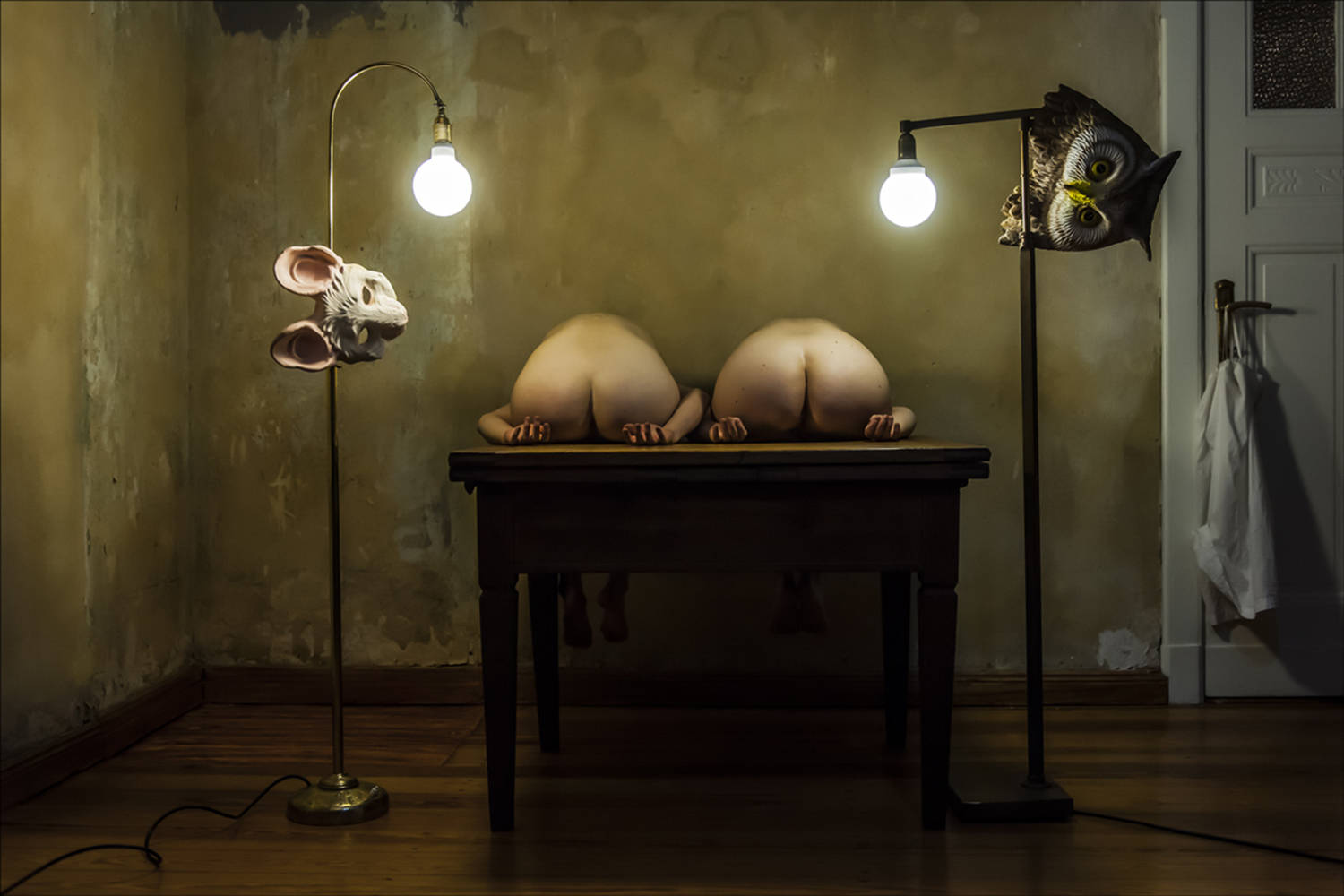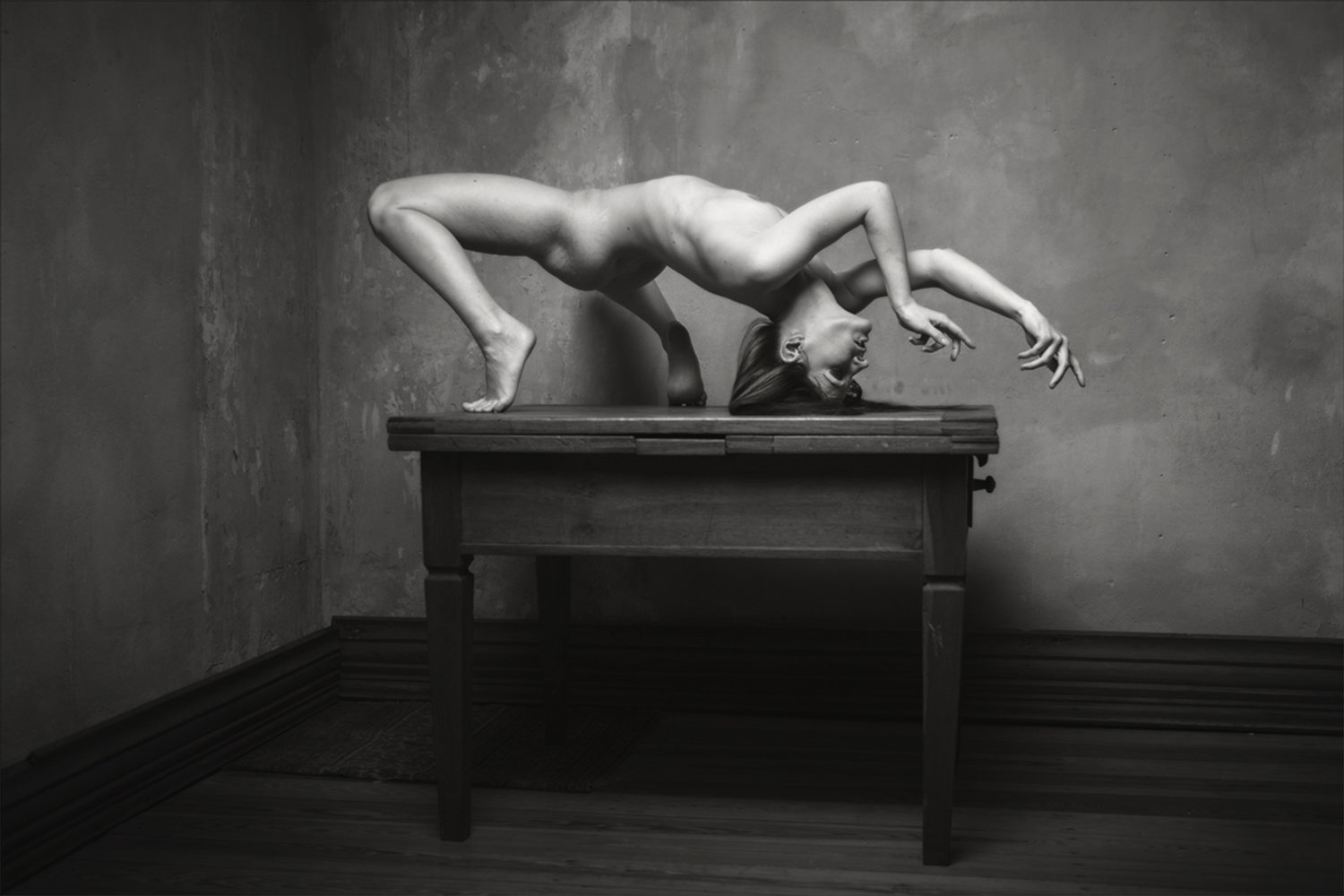 Contortion, desire, and absurdity become visual poetry in the works of René Benjowski Lichtbildgestalten.
René Benjowski Lichtbildgestalten
René Benjowski Lichtbildgestalten is a Berlin-based photographer whose dreamy, surreal images feature the strangeness of the body in unusual situations. The scenes are often set in barren rooms, where stories of passion and sorrow can act themselves out without the judgment of the objective world. Animal masks and role play bring an air of playfulness to his dark world, adding a fetish element that is just as emotional as it is an exploration of alternative desire. Visit his Tumblr page to see more of his incredible work.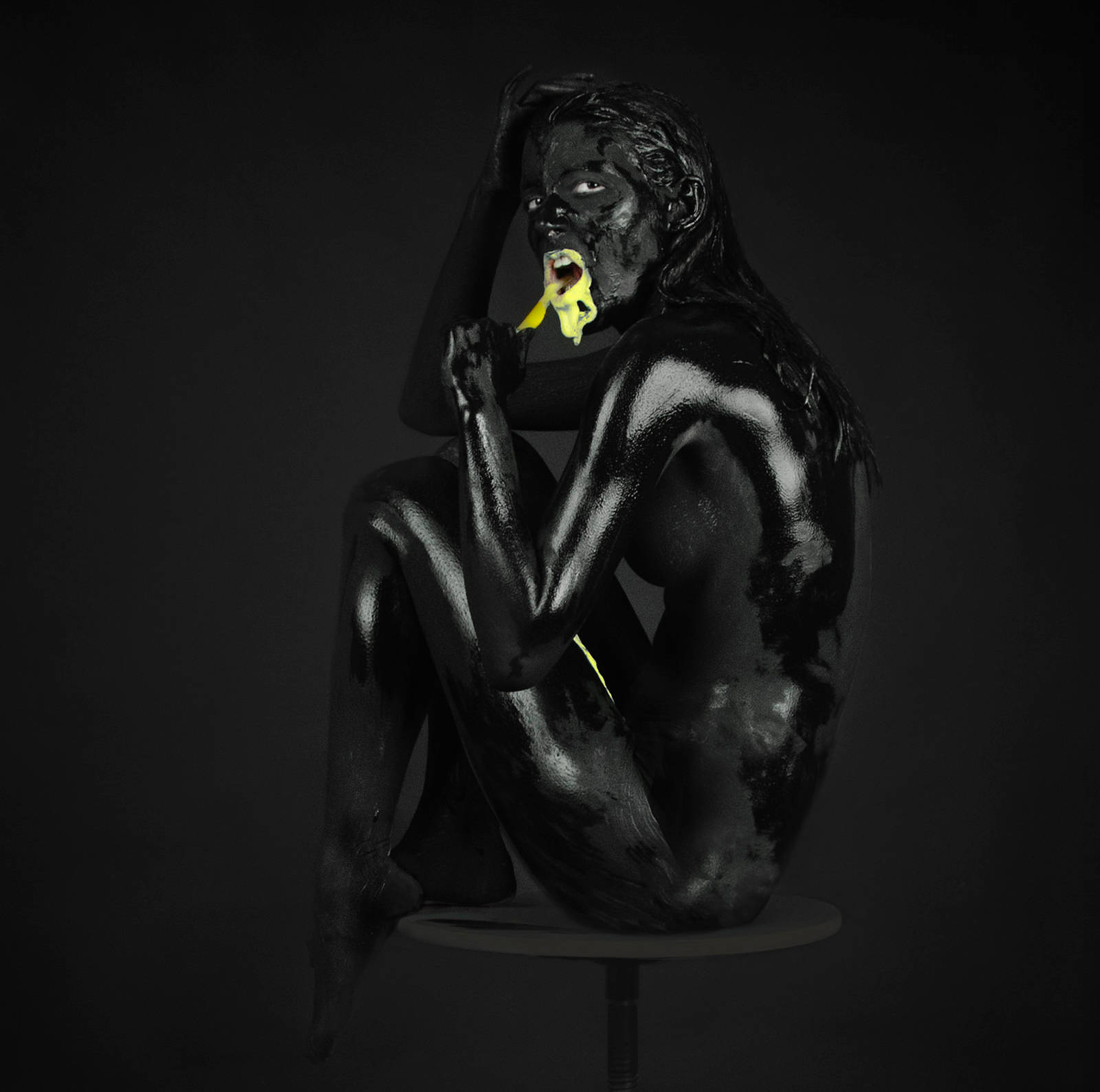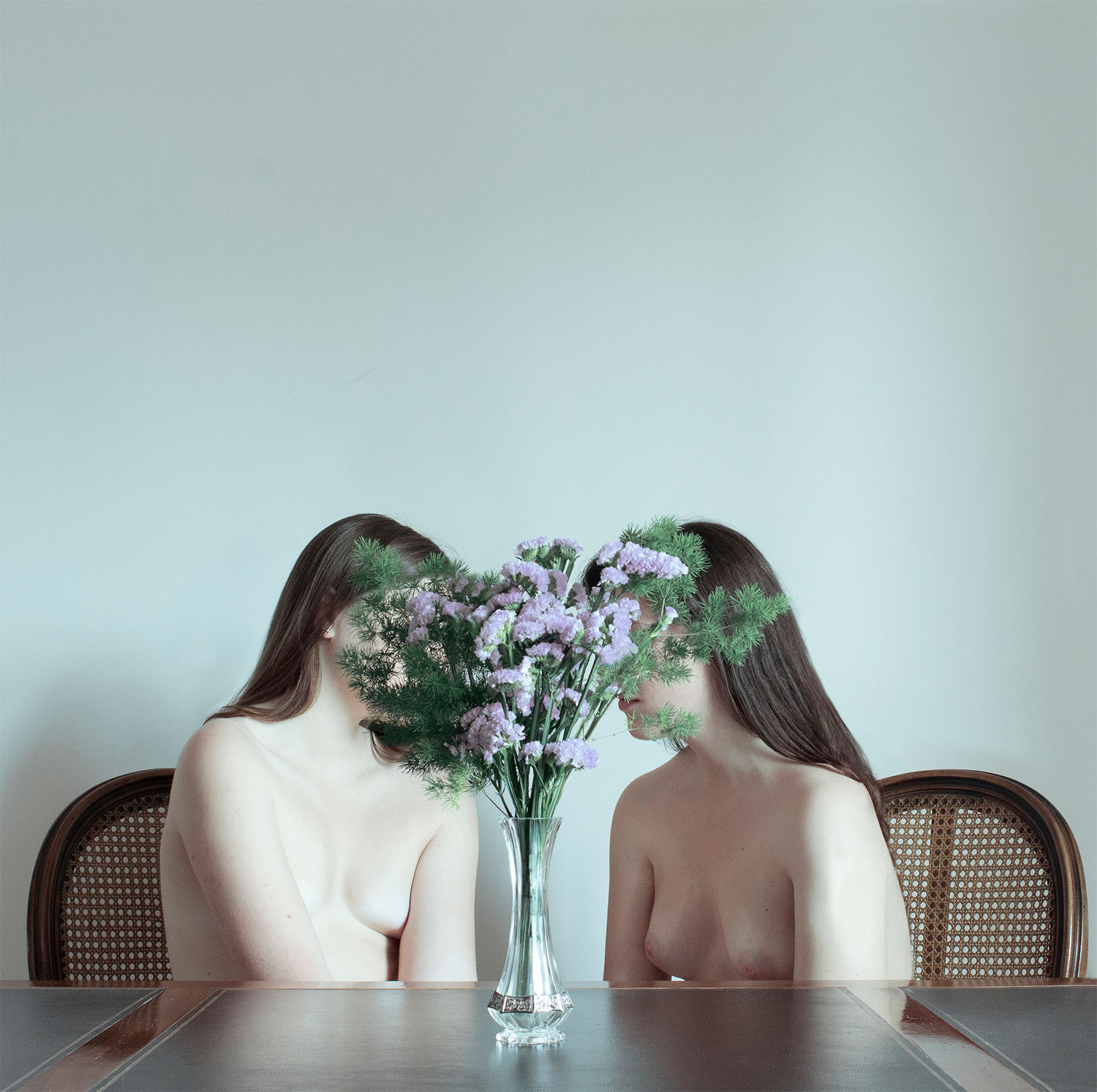 Using paint (top) and surreal elements (bottom), Lombardi highlights the beauty of the body.
Chiara Lombardi
At twenty-two years old, Italy-based photographer Chiara Lombardi has honed a style of photography that explores human subjectivity through the vulnerability and anonymity of the body. Her subjects seem familiar, yet alien; plain backdrops, exposed skin, obscured faces, and pops of pastel color reveal a flower-like innocence mixed with adult sorrow. There is a desire to hide, and a desire to be seen. In a recent interview with us, she explains how she photographs nudity because she feels "that the body is the true means by which we communicate ourselves." Her connection to her subjects and their experiences is palpable, communicating her own stories of "joy and despair," and invoking a similar, quiet resonance within the viewer.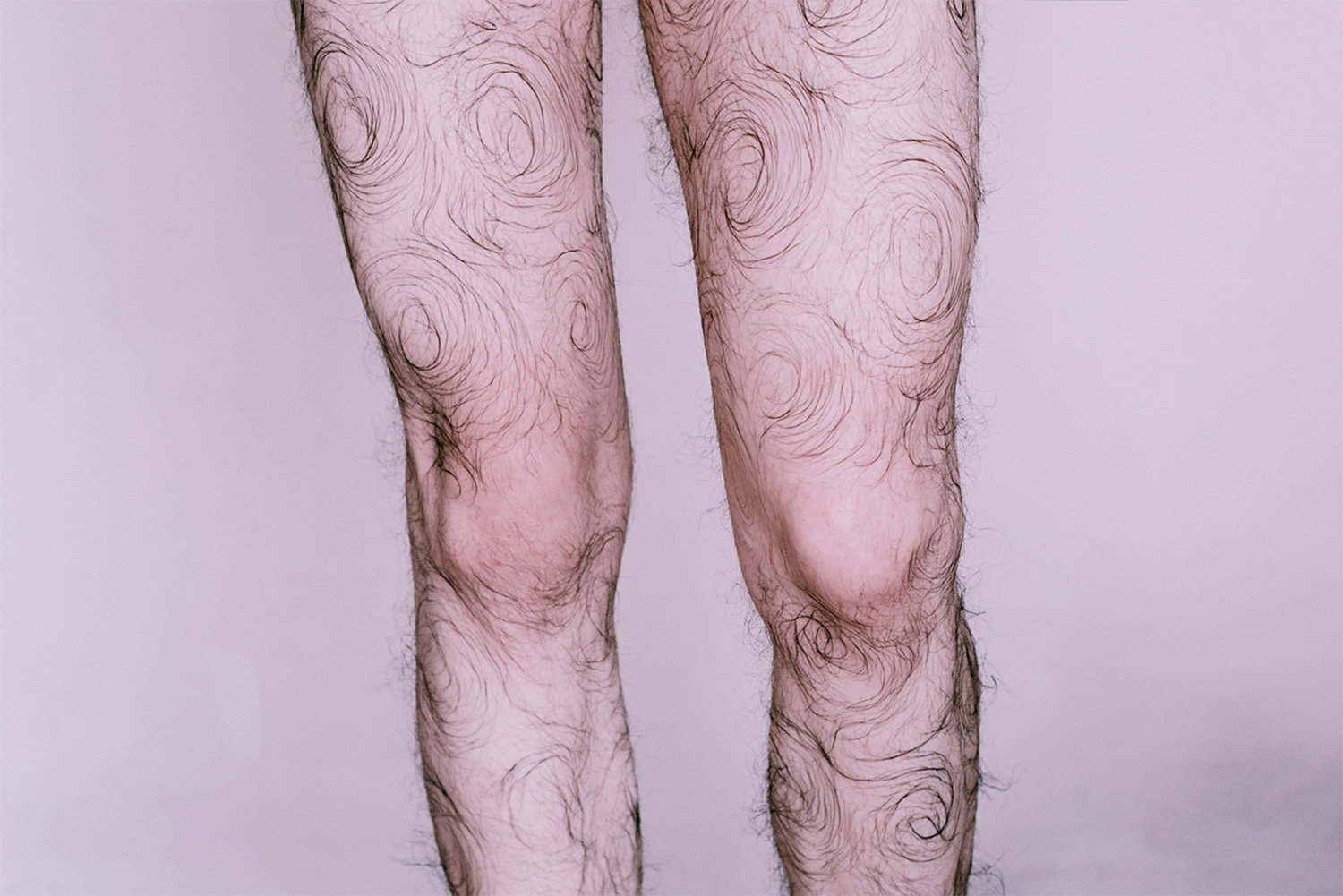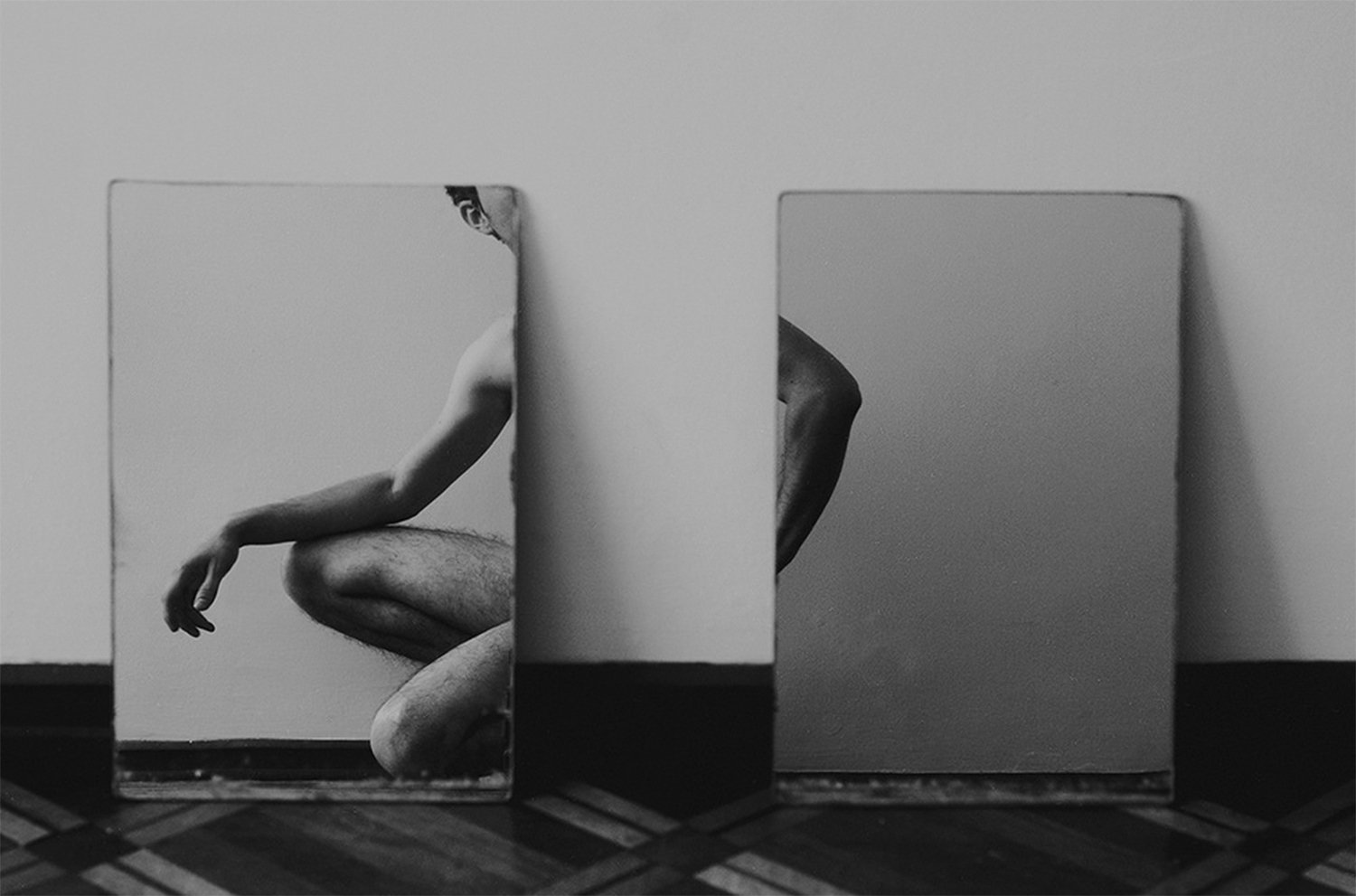 Semi-hidden and fragmented bodies become entire landscapes of character and feeling.
Faber Franco
Faber Franco is a photographer and visual artist based in Bogota, Colombia. His images have a mischievous but wistful air to them, depicting subjects haunted by unseen challenges but trying to dance through it anyway. They hide, repose, or take furtive glimpses at the camera, and in many images, just a portion of the body is focused upon, revealing emotion as it exists in a pair of hairy knees, a hand on the shoulder, a torso in the dark. Many of his images are self-portraits. With sensitivity and grace, Franco provides a refreshing and healing glimpse of the male body.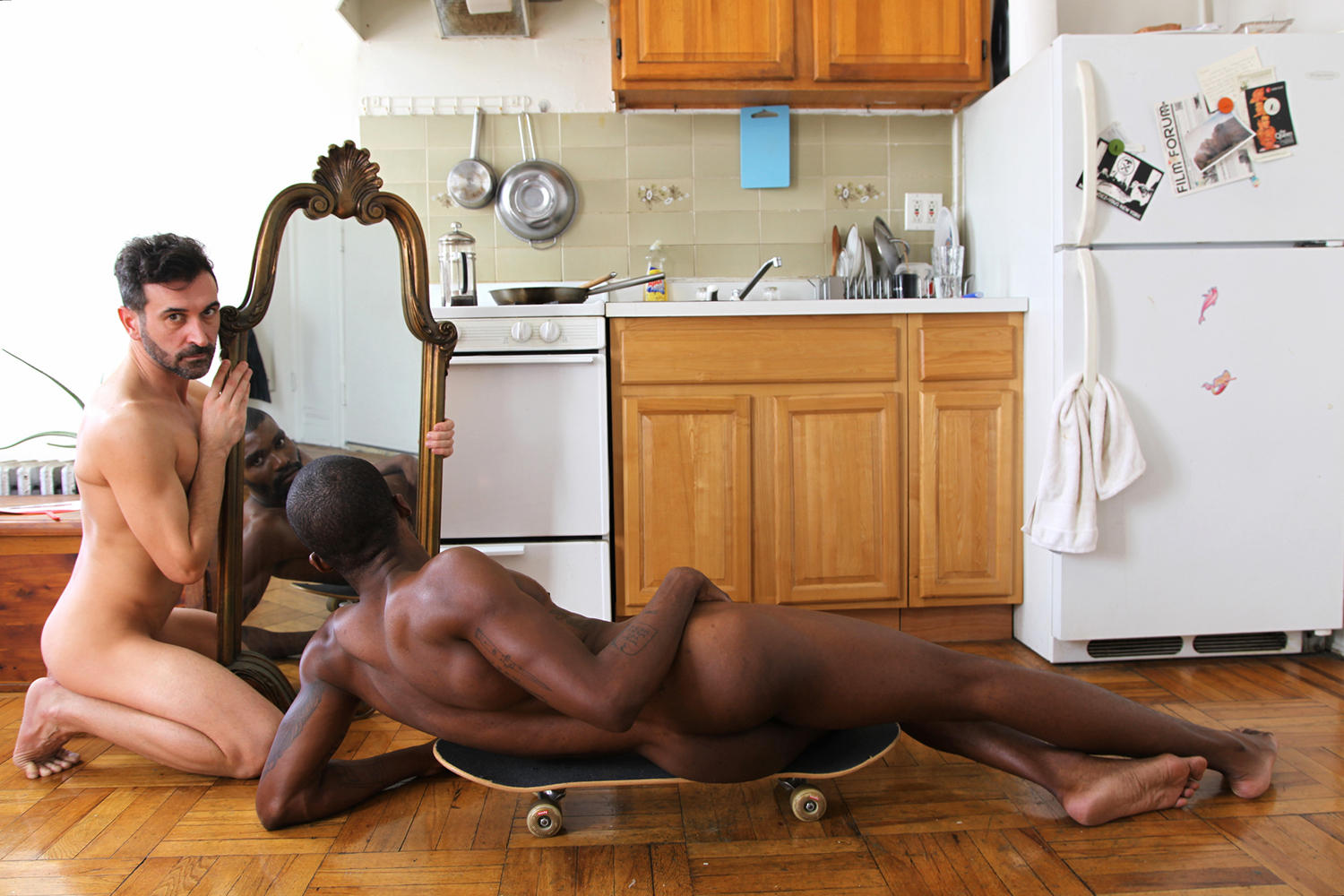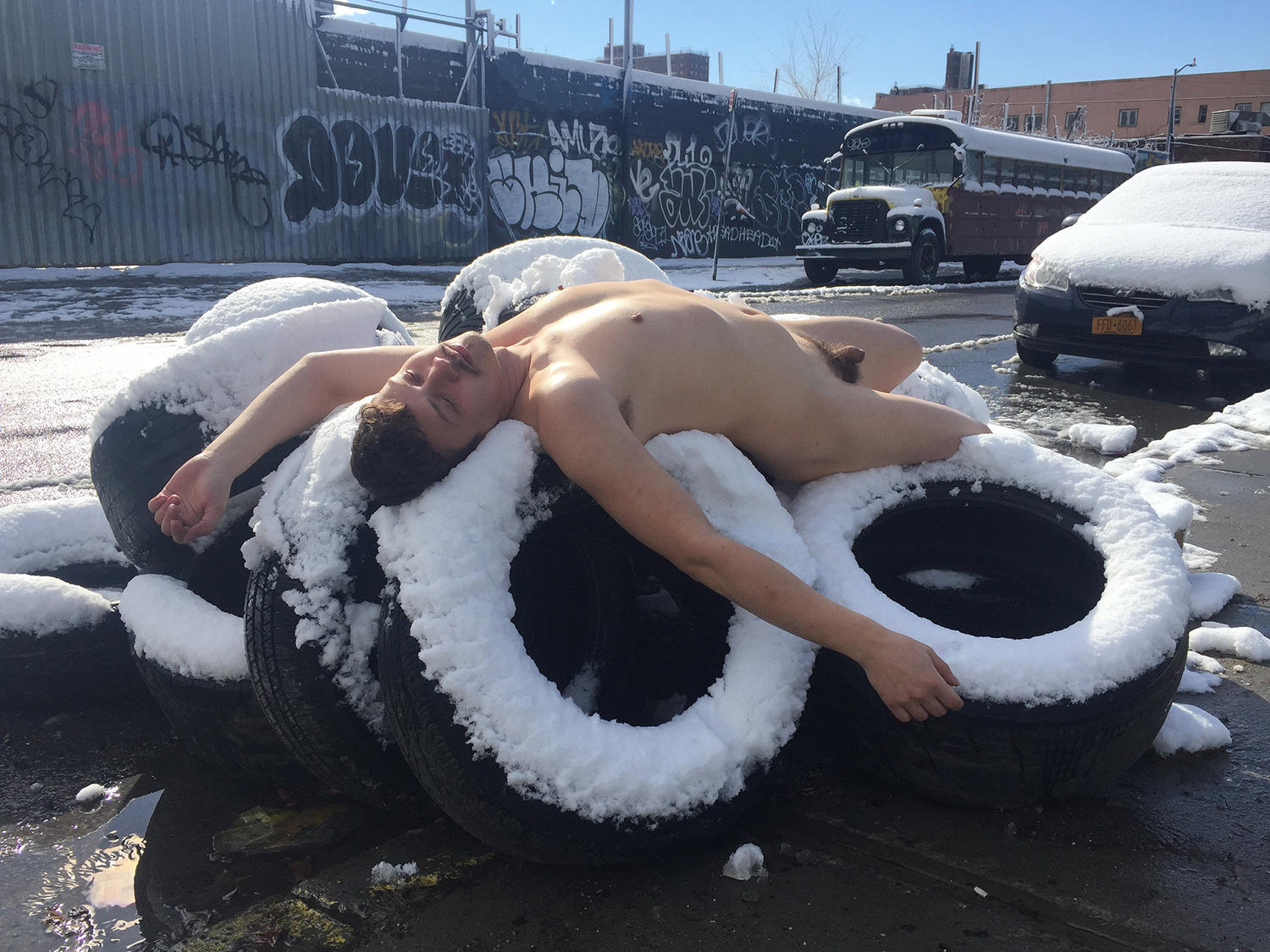 Kargaltsev unapologetically depicts the strength of the nude body both indoors and outdoors.
Alexander (Sasha) Kargaltsev
Another photographer taking unique photographs of the male body is Alexander (Sasha) Kargaltsev. Born in Russia, he now lives and works in New York City. Since adolescence he has maintained a photo-record of himself, and upon moving to New York, he became enthralled with photographing the nude body in urban landscapes. As his artist statement beautifully states, "The element of fantasy is strong [in Kargaltsev's work], teamed perhaps with austere, yet fantastic elements which verge almost on the masochistic." Whether it's a man lying naked on the riverside in front of the Brooklyn Bridge, or another curled on a kitchen table with cupcakes, he has a way of capturing the body in all of its awkward beauty, eroticism, and power.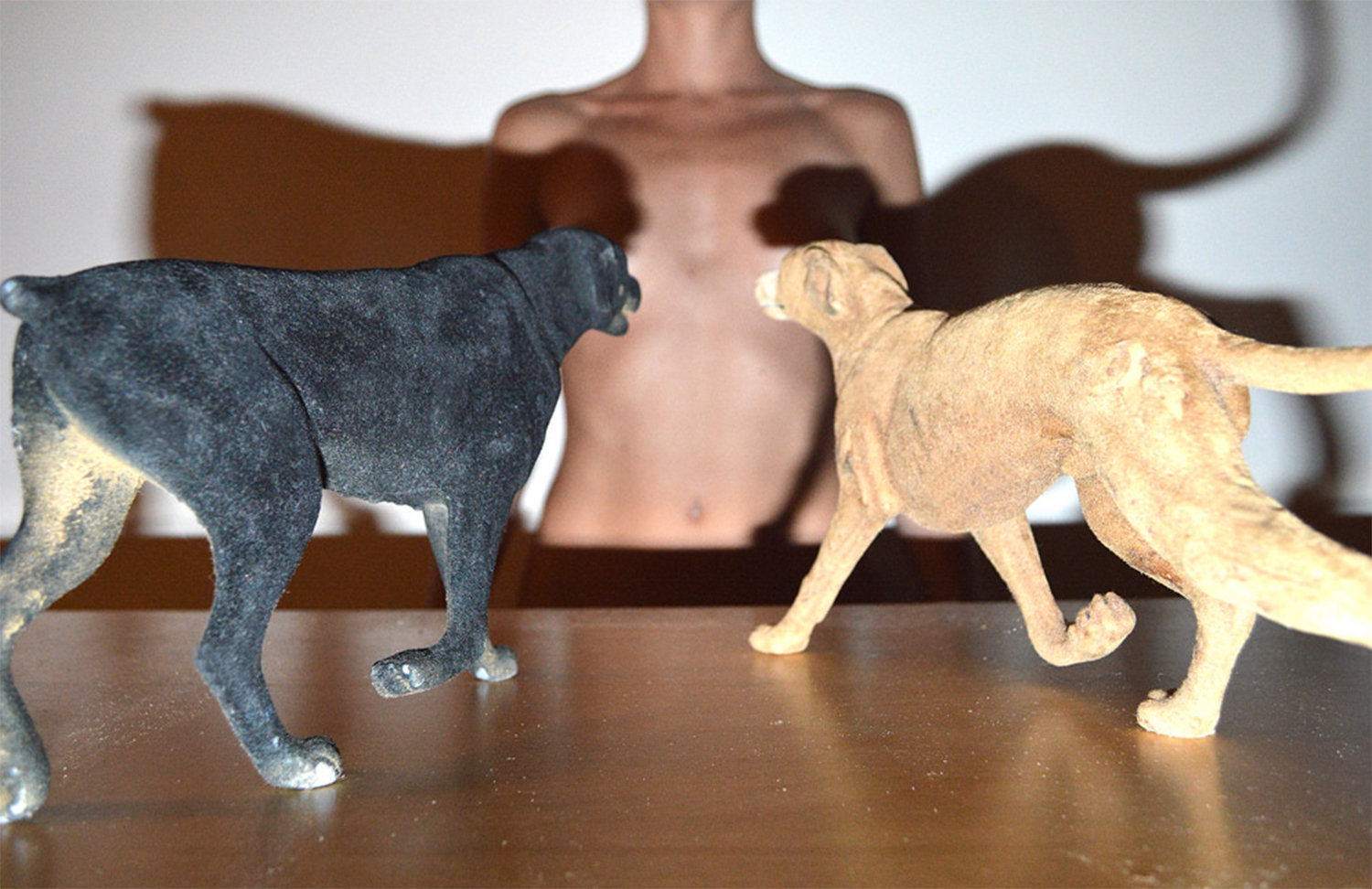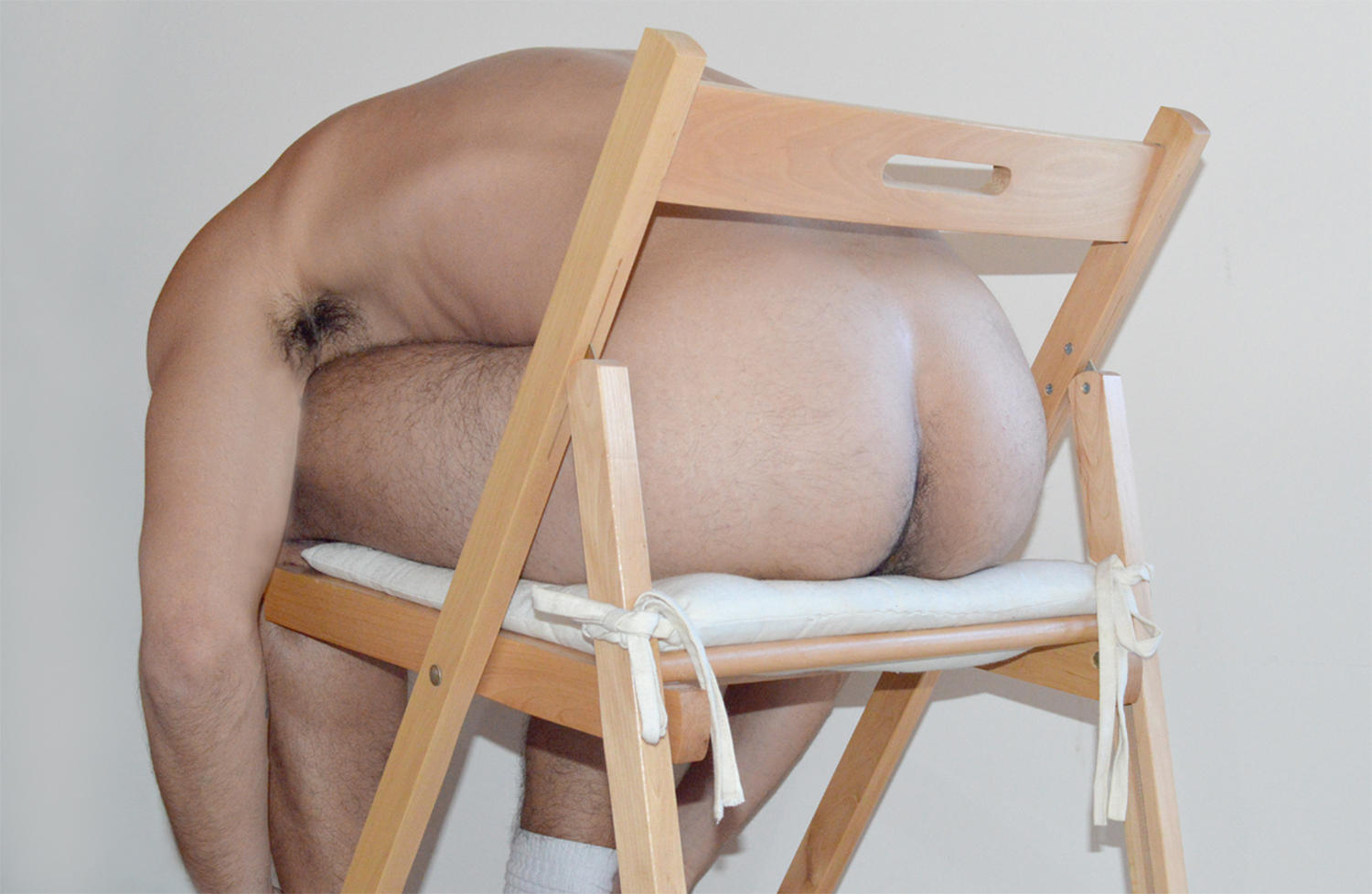 Fokas represents bodies in a metaphoric way that allows them (and the viewer) to make meaning for themselves.
Kotis Fokas
Nudity takes on a special meaning in the works of Kotis Fokas. His journey began on Tumblr, and since then, he has developed an immersive portfolio, gaining him recognition and a collaborator role in The Queer Archive. Fascinated by pop culture, dadaism, and surrealism, he depicts the body from odd angles in order to explore its limits. In a fascinating interview with Dazed, he clarifies the role of nudity in his work: "The images are not meant to be sexual, at least this was not my intention. They're not meant to be erotic photographs either. On the contrary, the naked bodies serve as a metaphor for how we feel when we get undressed, the uncomfortable feeling of exposing ourselves to others." Colliding everyday life with the bizarre, Fokas and his subjects push through insecurity to expose the physical and emotional survival of people existing in an uncertain world.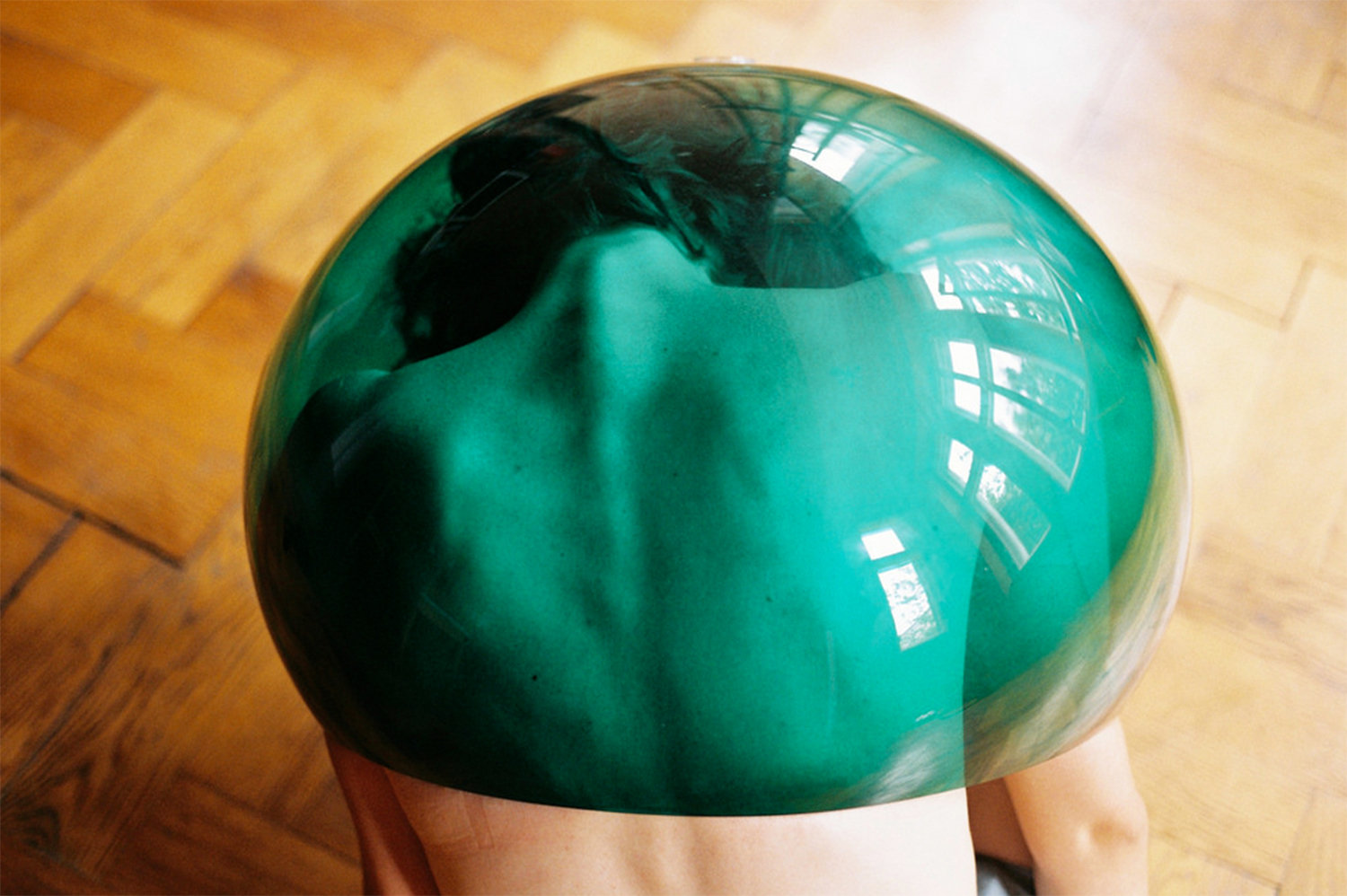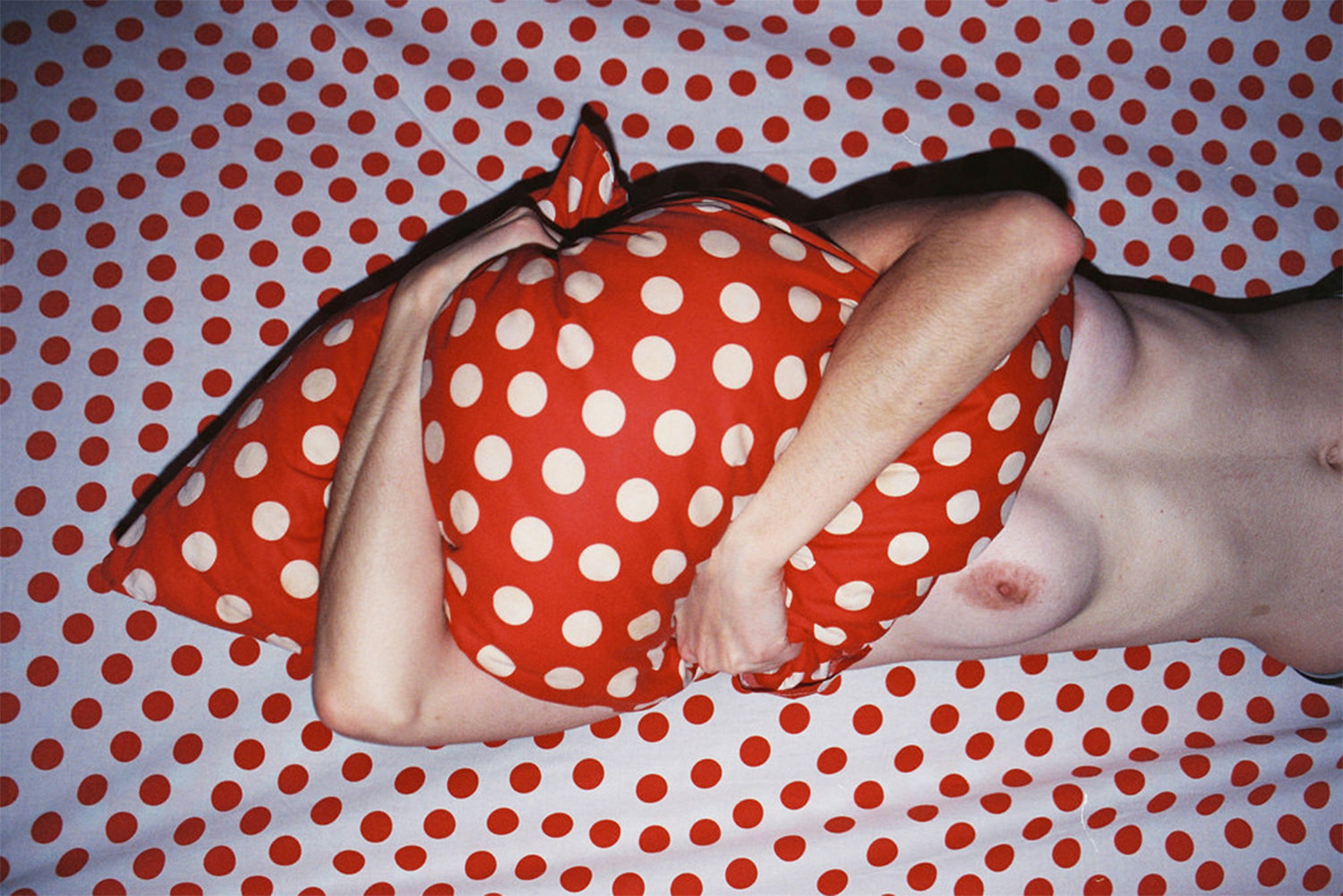 Interior design and nudity complement each other in Wierzbowski's photographs.
Lukasz Wierzbowski
Lukasz Wierzbowski is a self-taught photographer living in Wroclaw, Poland, and weirdness is his creative specialty. In ordinary rooms—often the homes of his friends and family—his models get into odd postures with household objects (books, pillows, plants, etc.) or interact with each other in silly-yet-intimate ways. Inspired by fashion photography, Wierzbowski enjoys playing with vintage colors and patterns in his work. Nudity appears natural, functioning to communicate the character of a space and the chemistry of the shoot. With his eye for the absurd, Wierzbowski and his models create magic where it is not often seen.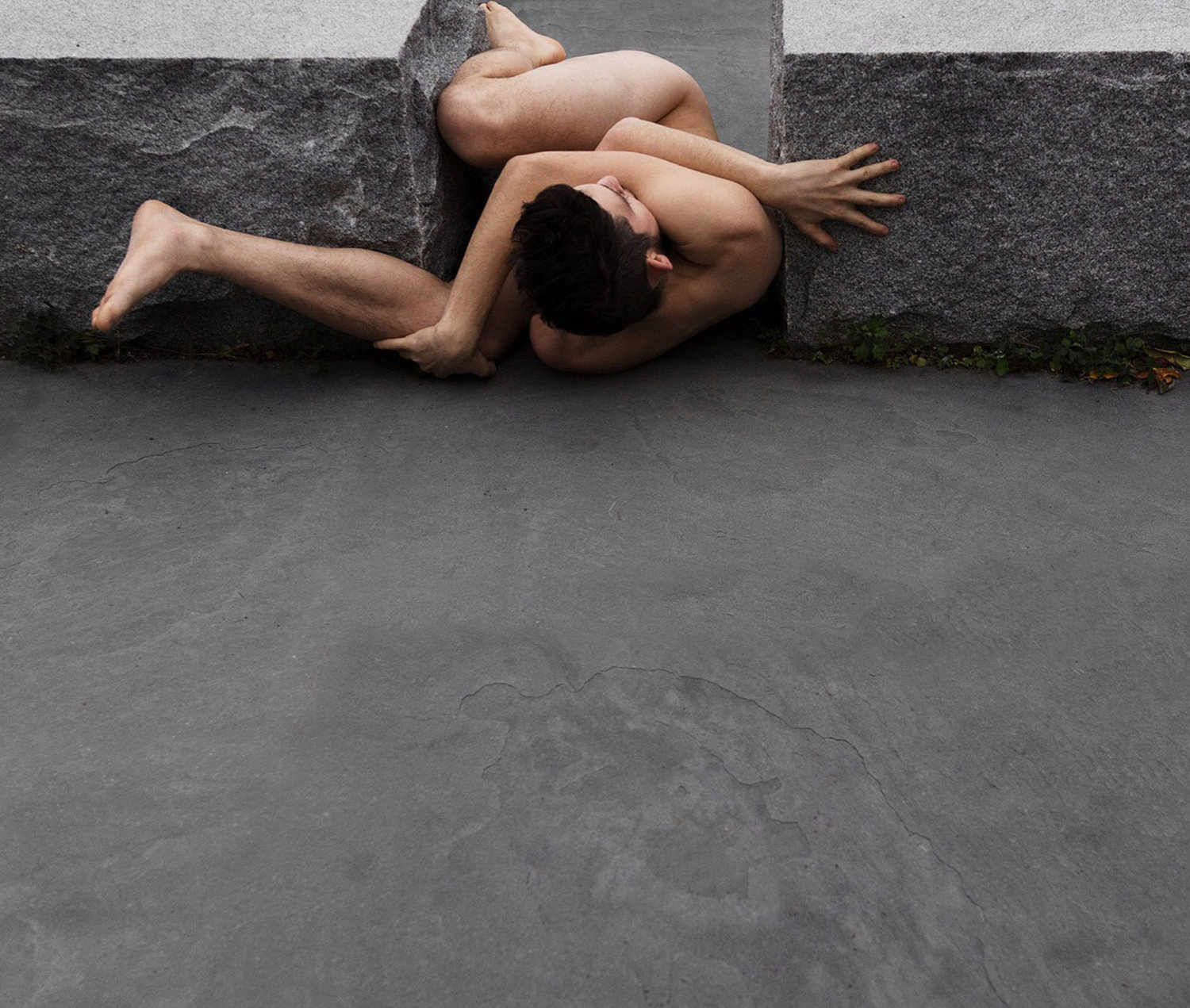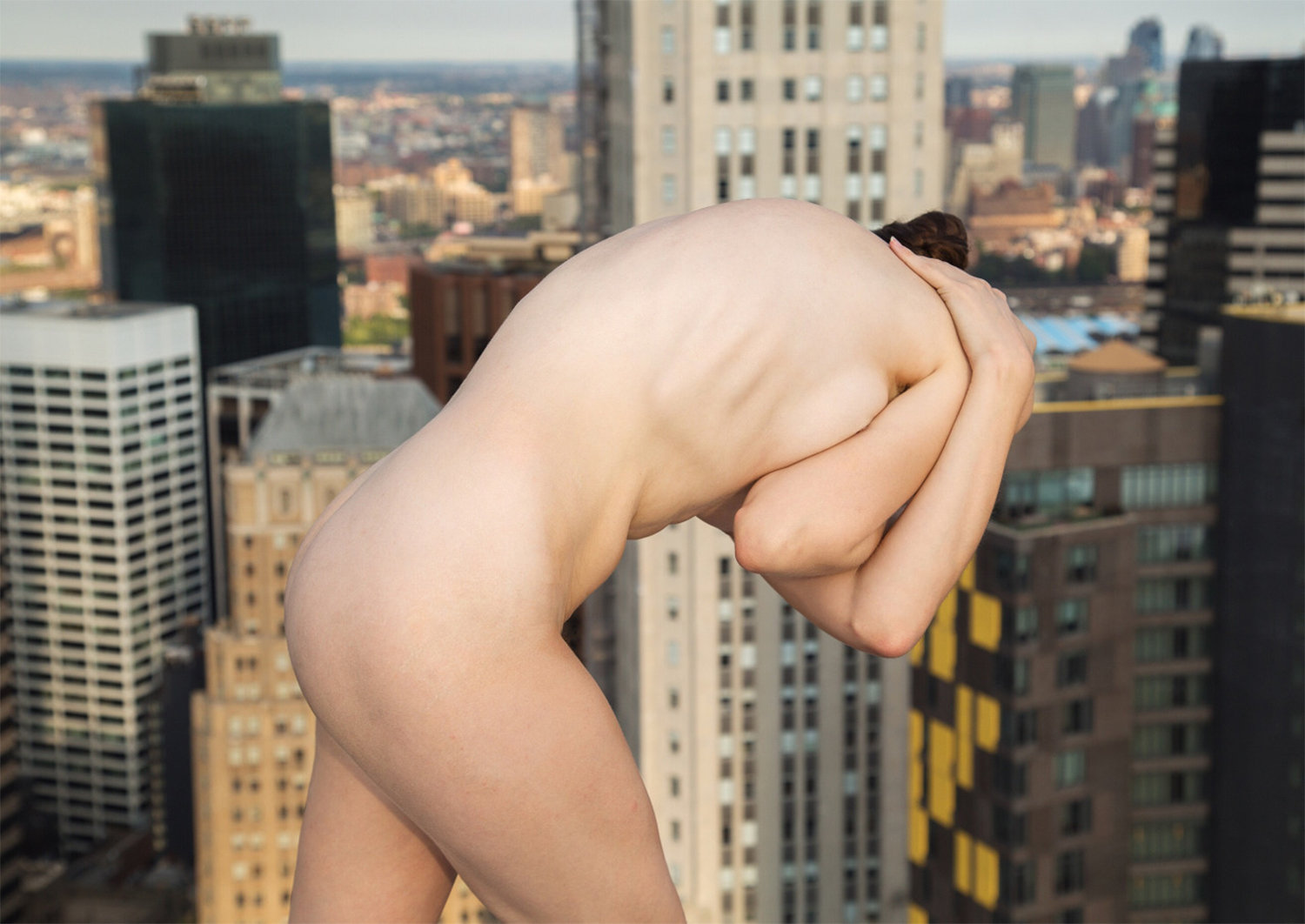 Zank's surreal self-portraits express a range of ongoing emotions.
Ben Zank
Ben Zank is a young and talented photographer who takes surrealist photos with a spontaneous edge. Many of his images are self-portraits. In a series titled "Symbiotic," Zank captures the drama of the body in different landscapes, such as a quiet field, a pile of discarded tires, and an urban skyline. Naked, flailing, embracing, or collapsed, the subjects communicate the grandiosity of the world and the private complexity of their feelings. Whereas many photographers rely on the face to portray a certain emotion, Zank has another way to do it; "The image itself is the emotion," he explains. Facial expressions can be distracting, but the body speaks in a language we can all recognize, if we're given the opportunity to witness it—which is exactly what Zank's work allows us to do.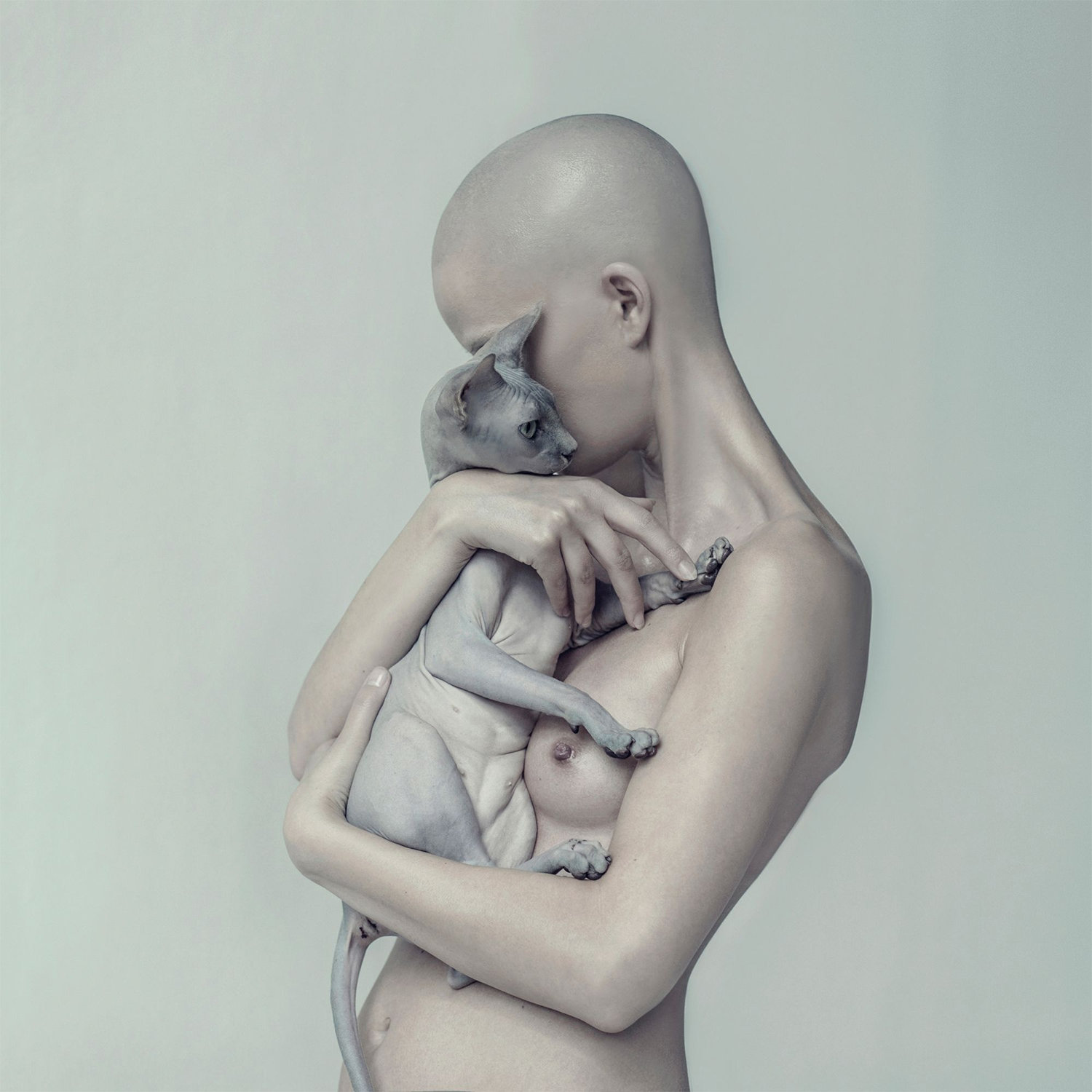 Our bodies are a reflection of the world's essence.
Evelyn Bencicova
Without a doubt, Evelyn Bencicova is a modern master of surrealism and the strange nude. We featured her before, and recently interviewed her about her growing body of work. Her images have a melancholic, almost alien quality, focusing on the softness of skin and the power of form. Like Zank, many of the models are hiding their faces, their stories told instead through the surrounding architecture, or even the architecture of their own bodies, as they pose in passionate isolation or pile together in bizarre geometric units. By manipulating the body in odd ways, the subject sheds their identity to perform—painfully and beautifully—a commentary on larger societal trends.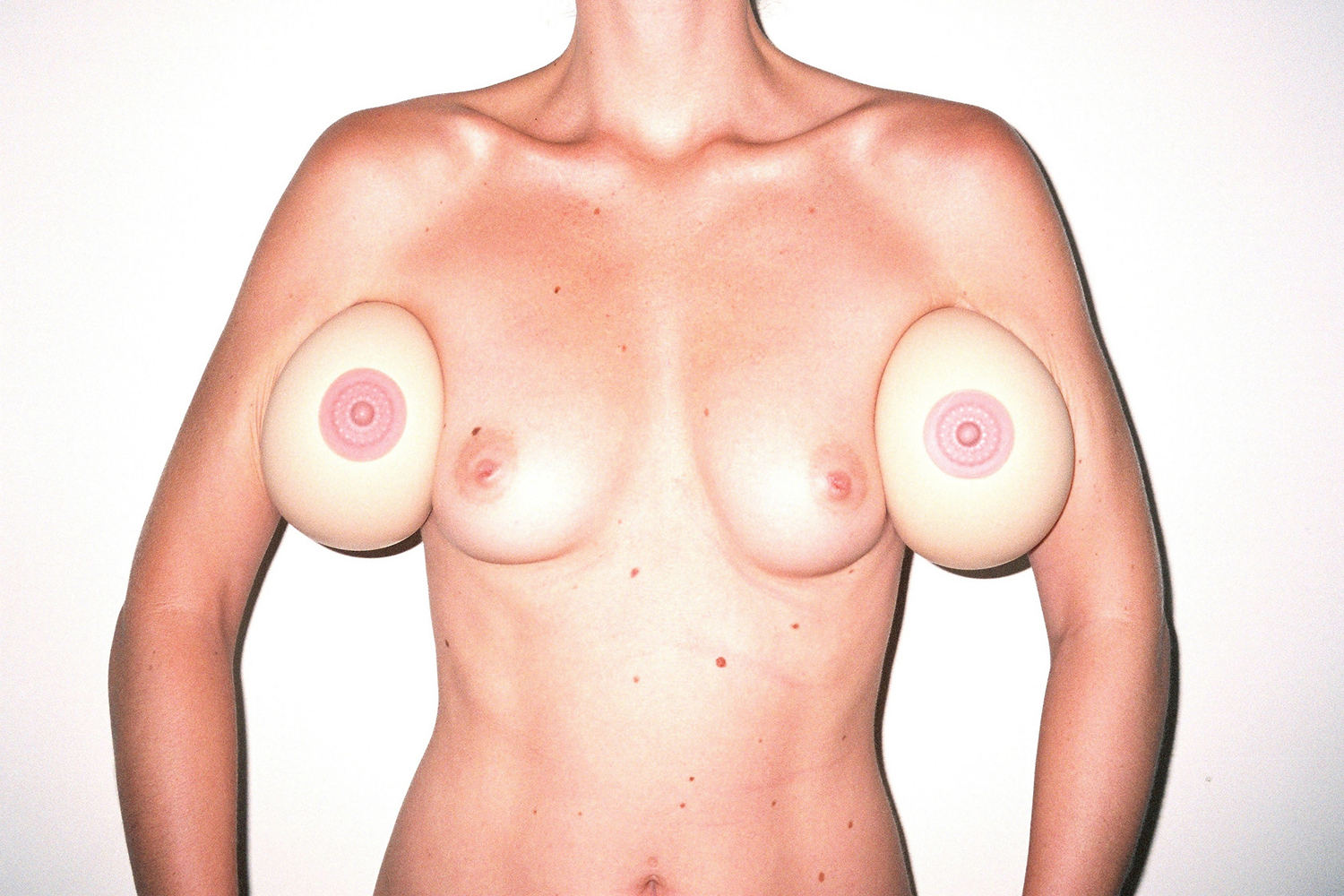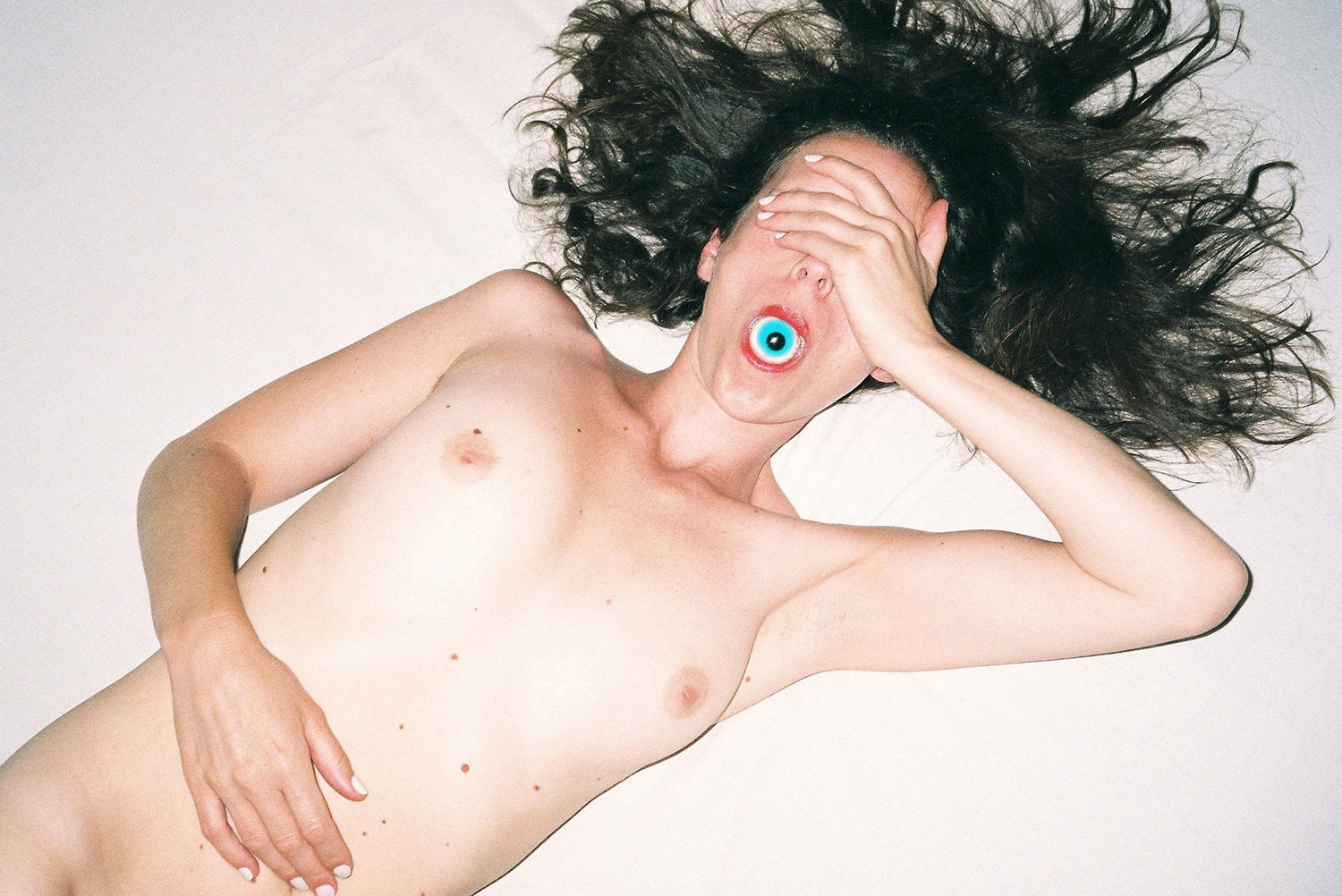 Fabio & Macintyre overcome taboos, one bold nude photograph at a time.
Fabio & Macintyre
Fabio & Macintyre is a photographer who takes bold—and sometimes slightly grotesque—nude photographs, offering the viewer a raw, intimate-yet-alienated sense of eroticism. His colorful, tongue-in-cheek style is somewhat reminiscent of the work of Guy Bourdin (he even did a remake of one of Bourdin's concepts). In an interview with Dreck magazine, he explains his views on nudity: "Nudity is an excuse for making a point about something in my opinion. For me, nudity is interesting because it doesn't distract. It simply is what it is." His candid style—as well as his frank perspectives on his art form—is an exhilarating, refreshing breath in the often-exhausted genre of nude photography.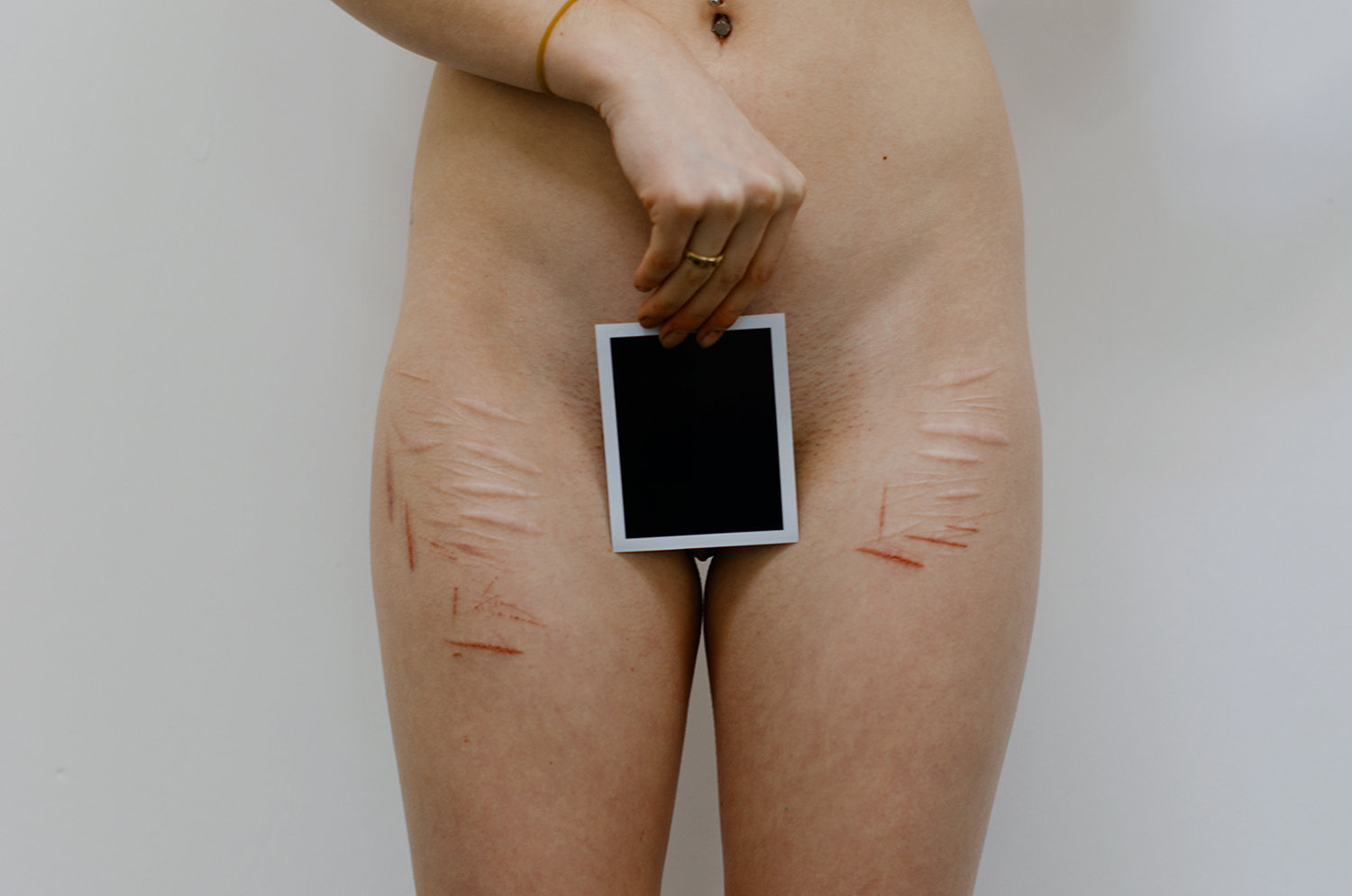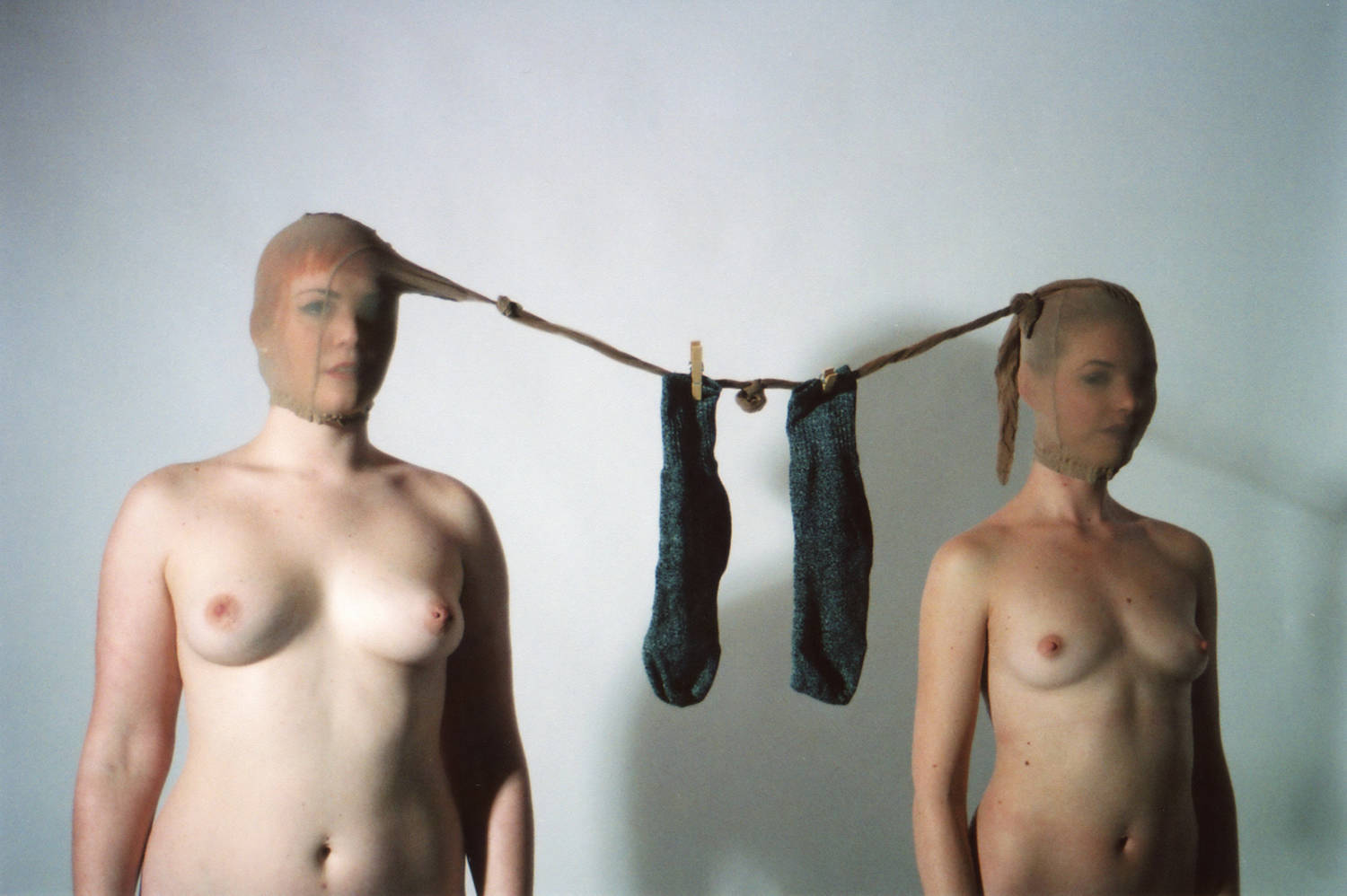 Ian Allaway collaborates with people to powerfully examine themes of censorship and self-image.
Ian Allaway
Ian Allaway is a photographer based in Edinburgh. He operates under "Headcleaner," a moniker that serves "to encourage the process and application of head-cleaning through visual stimulation"; in other words, he seeks to challenge norms of representation (and more). He is a photographer who blasts apart limits, maintaining a rich portfolio full of experimental and expressive nudes. The subjects in his photos bare their authentic selves, overcoming stigma and learned or inherited shame by being seen as they are—powerful, erotic, innocent, scarred, beautifully strange and infinitely diverse. Always seeking to find the "unusual in the usual and the usual in the unusual," Allaway is the perfect artist to cap off our list. Check out his Flickr for more.
Photos © respective artists