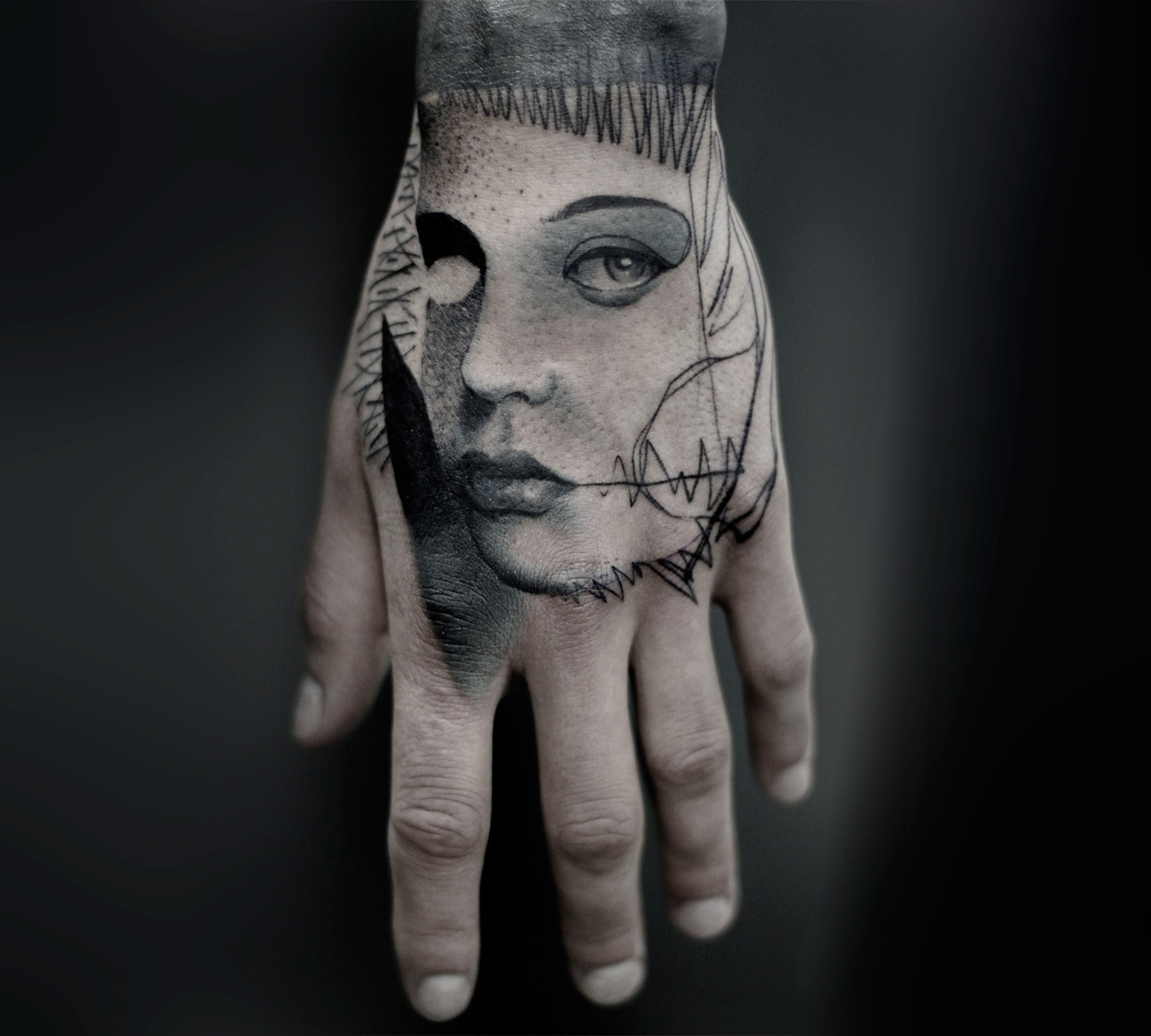 With the soaring popularity of tattoos coupled with increased globalism, the world gets seemingly smaller and smaller—tattooists from across the world are easily inspired by cultures in foreign lands. Likewise, these artists also travel to tattoo shops in different countries and bring their unique style there.
Illusion magazine has been an admirer of the work that comes from Eastern Europe. Places like Turkey, Ukraine, Russia, and Poland are rich with tattooists who practice in a variety of styles. Okan Uckun and Rit Kit are two examples of this. Uckun is known for his surreal combination of blackwork lines and dotwork, while Kit employs a more unusual technique; she dips fresh leaves into tattoo stencil ink and then presses them on her client's bodies. Afterwards, she uses that as her visual guide.
These two artists represent the creativity of Eastern European tattooers, but they certainly aren't all of them. Check out 10 others making waves.
Above: Ian Shakhmatov's eerie portraiture represents a compelling departure from his ornamental tattoos.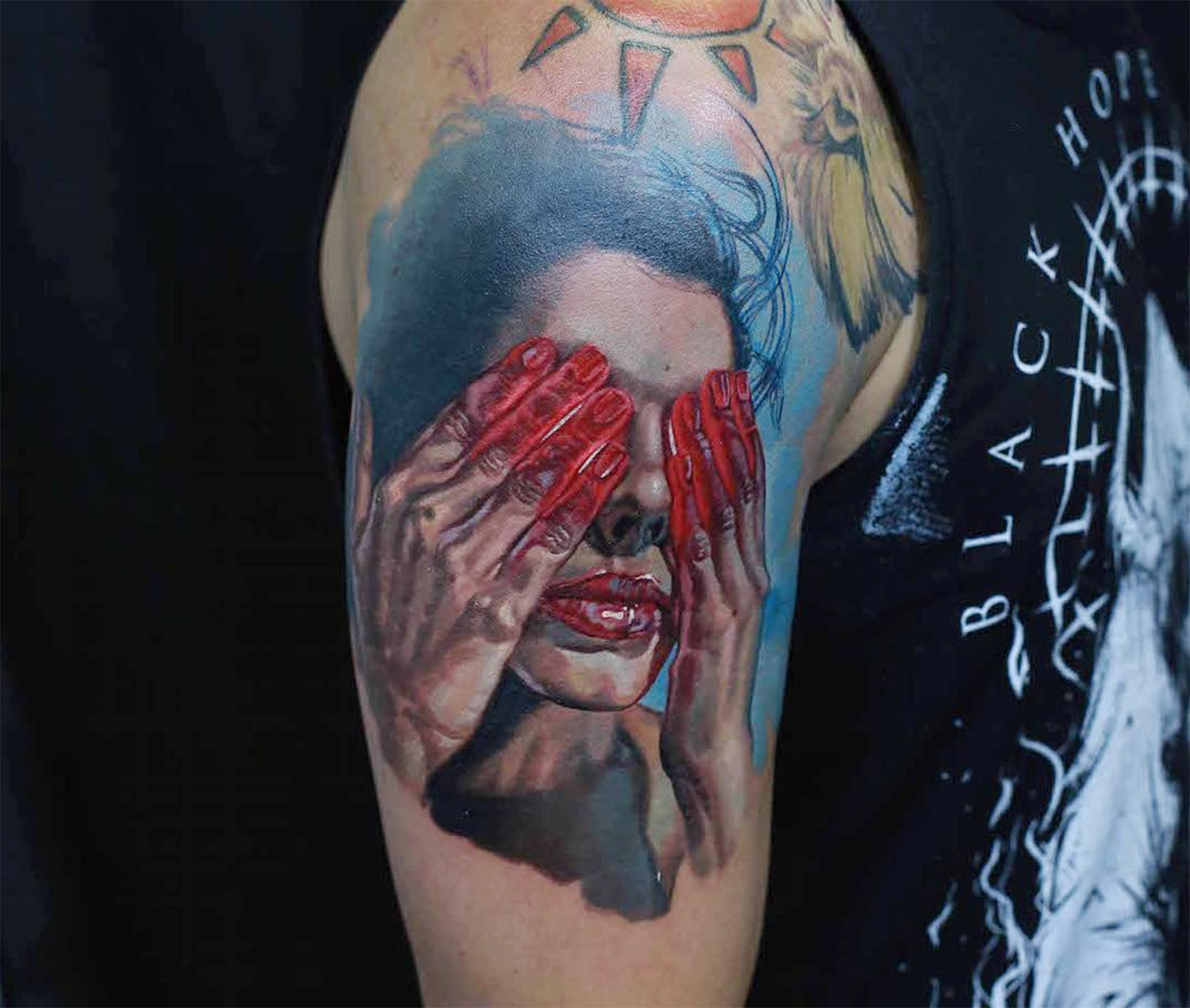 This particular tattoo is based on a painting by fine artist Casey Weldon.
Denis Sivak
I've admired the work of Denis Sivak for the last few years and I'm continually impressed with his hyperrealistic, pop culture-inspired tattoos. Born in the Ukraine and now based in New York, Sivak has honed his craft to make ink look like rich oil paintings. His love for this style came from fellow tattoo artist Robert Hernandez. "His works are not only made without flaws, they convey the mood, emotions," Sivak told Skin Artists. Adding, "Tattoos in photo-realistic style are my favorite, in this style you can grow indefinitely."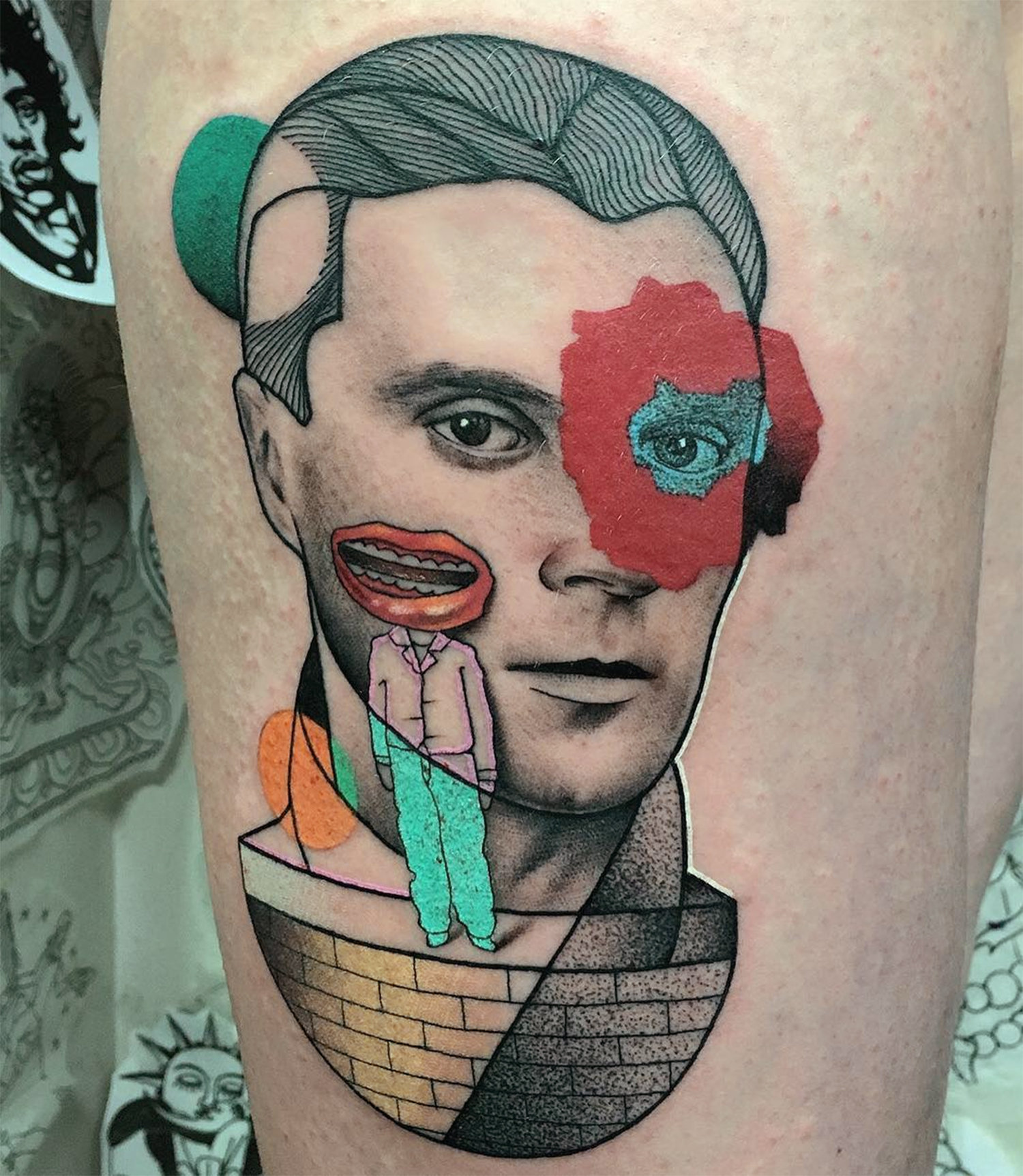 Mariusz Trubisz completed this tattoo in London.
Mariusz Trubisz
Influenced by elements of cubism and surrealism, Wroclaw, Poland-based Mariusz Trubisz infuses contemporary neon color into his surreal portraiture. In one of his newest pieces, Trubisz has paid homage to legendary musician David Byrne. Like Byrne's experimental tunes, the tattoo features a variety of shapes and artistic approaches, all in one fractured composition. These decisions aren't arbitrary—they represent facets of Byrne's career. The red splotch, for instance, over the tattoo's right eye is reminiscent of the pixelated faces on the Talking Head's album, "Remain in Light."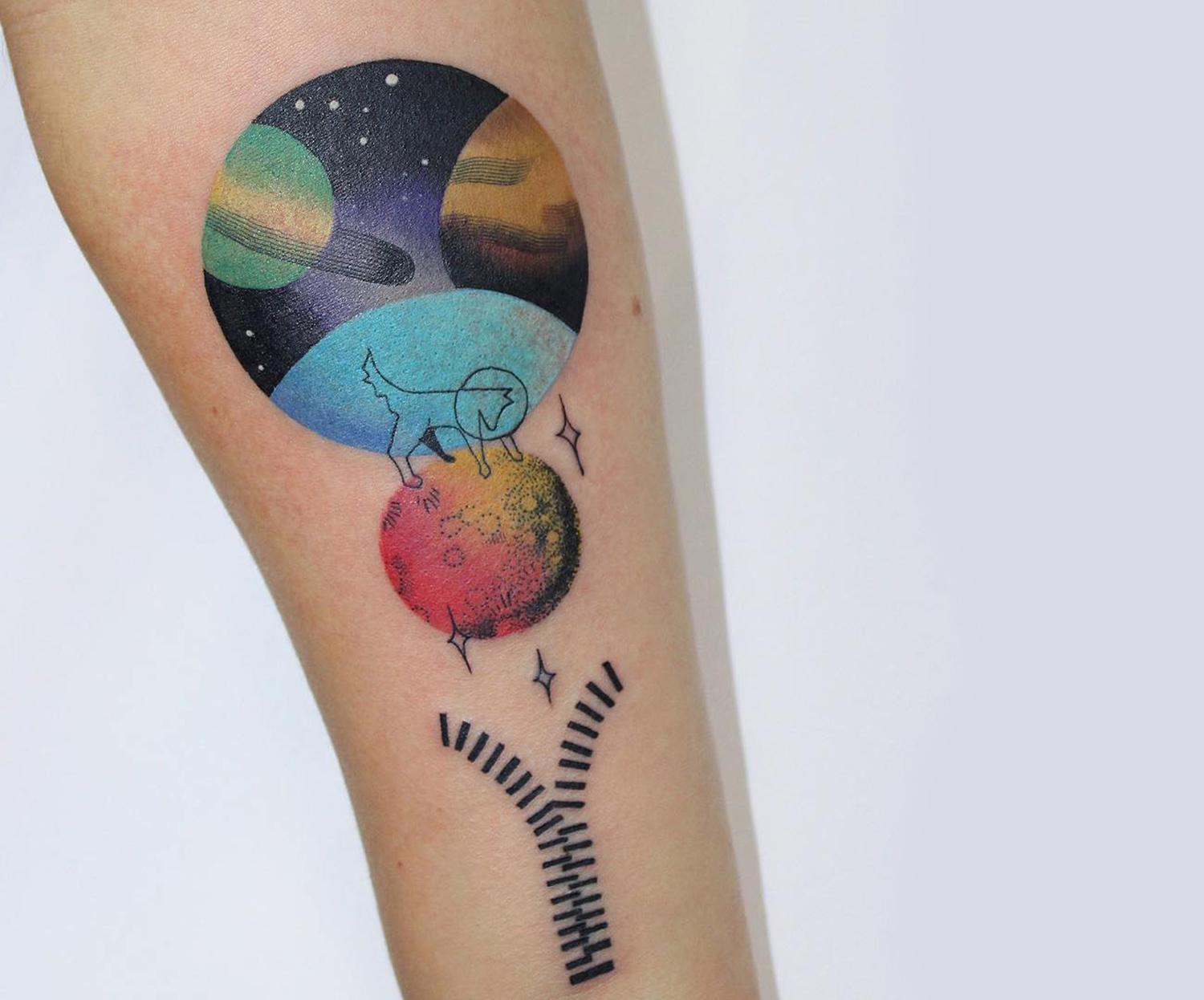 Some of the image's most important elements are drawn with fine lines.
Anya Lilya
Calling her style "experimental," Anya Lilya uses cotton-candy colors in her vibrant body art. They feature little in the way of outlines. Instead, the filled-in shapes build form and define the images. Lilya has a very tightly-controlled watercolor style, and you can see its influence as the wolf sits on the moon. Within each planet are hues that bleed into one another like the wet-on-wet technique you often see in a watercolor painting.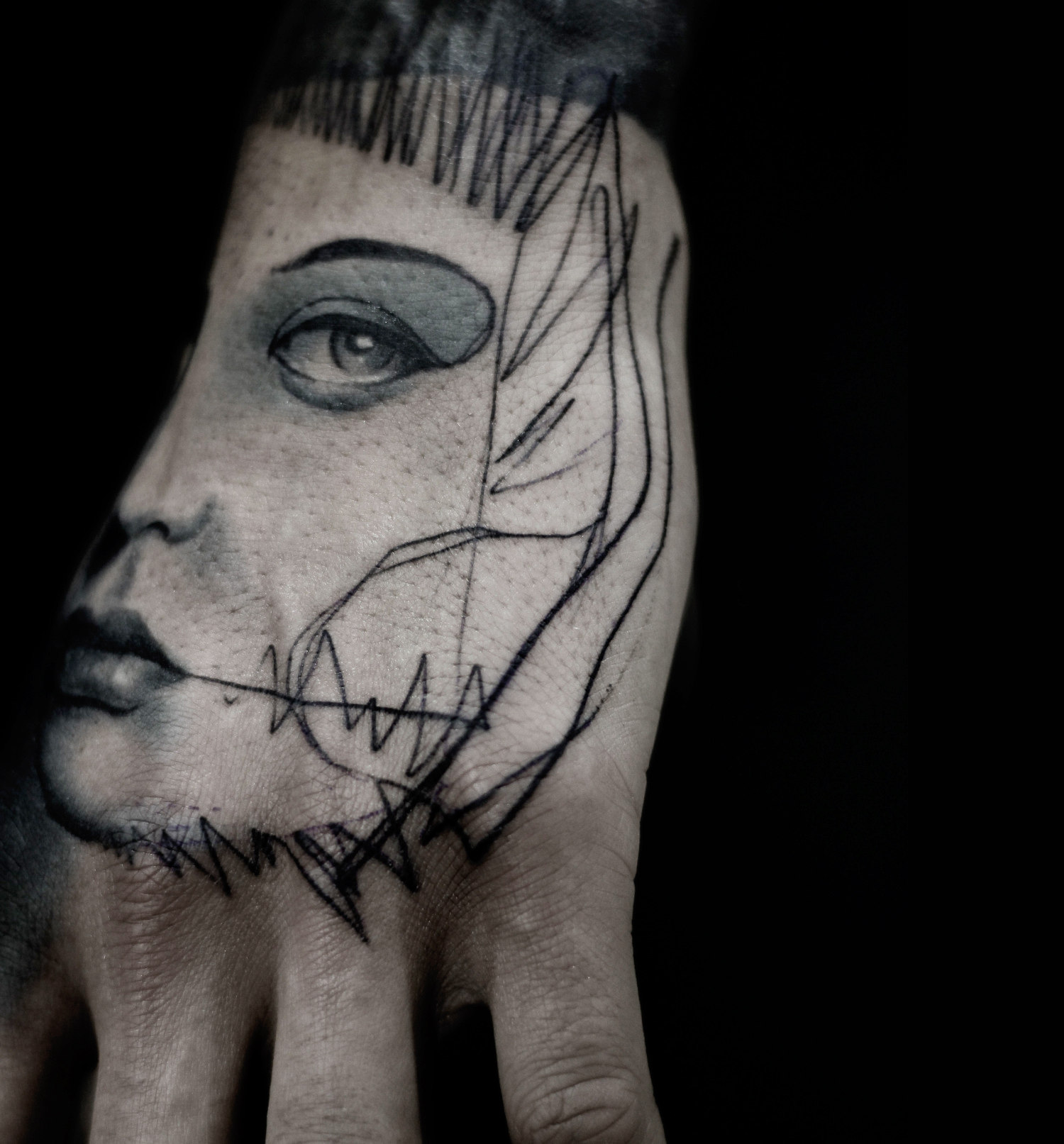 Shakhmatov has been exploring various tattoo styles since his start in the field in 2013.
Ian Shakhmatov
Based in Moscow, Russia, Ian Shakhmatov created this piece as a sketch. The abstract piece of flash found its home on client Danilovic Oleg's hand, offering both an eerie way to greet someone, as well as a departure from Shakhmatov's regular portfolio. Much of his work features some sort of geometric elements, but as time has gone on, he's experimented with subject matter: geometric patterns, mandalas, and double exposure-style imagery. This tattoo is one of a series of ink that showcases energetic lines fused with snippets of realism.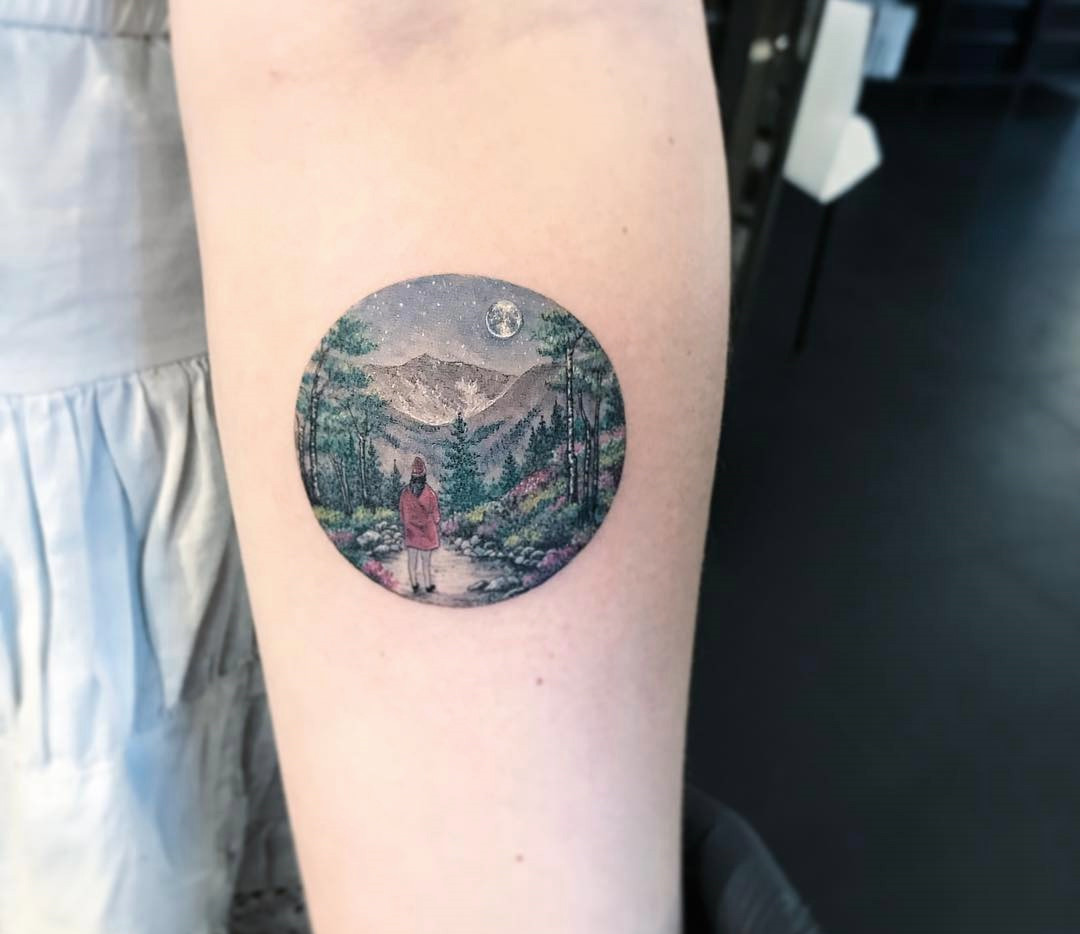 Eva Krbdk inks small stories on the skin—but visually, they make a big and fascinating impact.
Eva Krbdk
Known for her miniature tattoo scenes, Turkish artist Eva Krbdk creates surreal body art in small circles. The fine lines recall vintage lithograph illustrations, and they often depict surreal vignettes that tell one snippet of a story. To produce work this fine requires "using a machine designed for permanent makeup." Afterwards, to ensure a correct healing process, Krbdk asks her clients to check in so that she can see how the tattoo looks.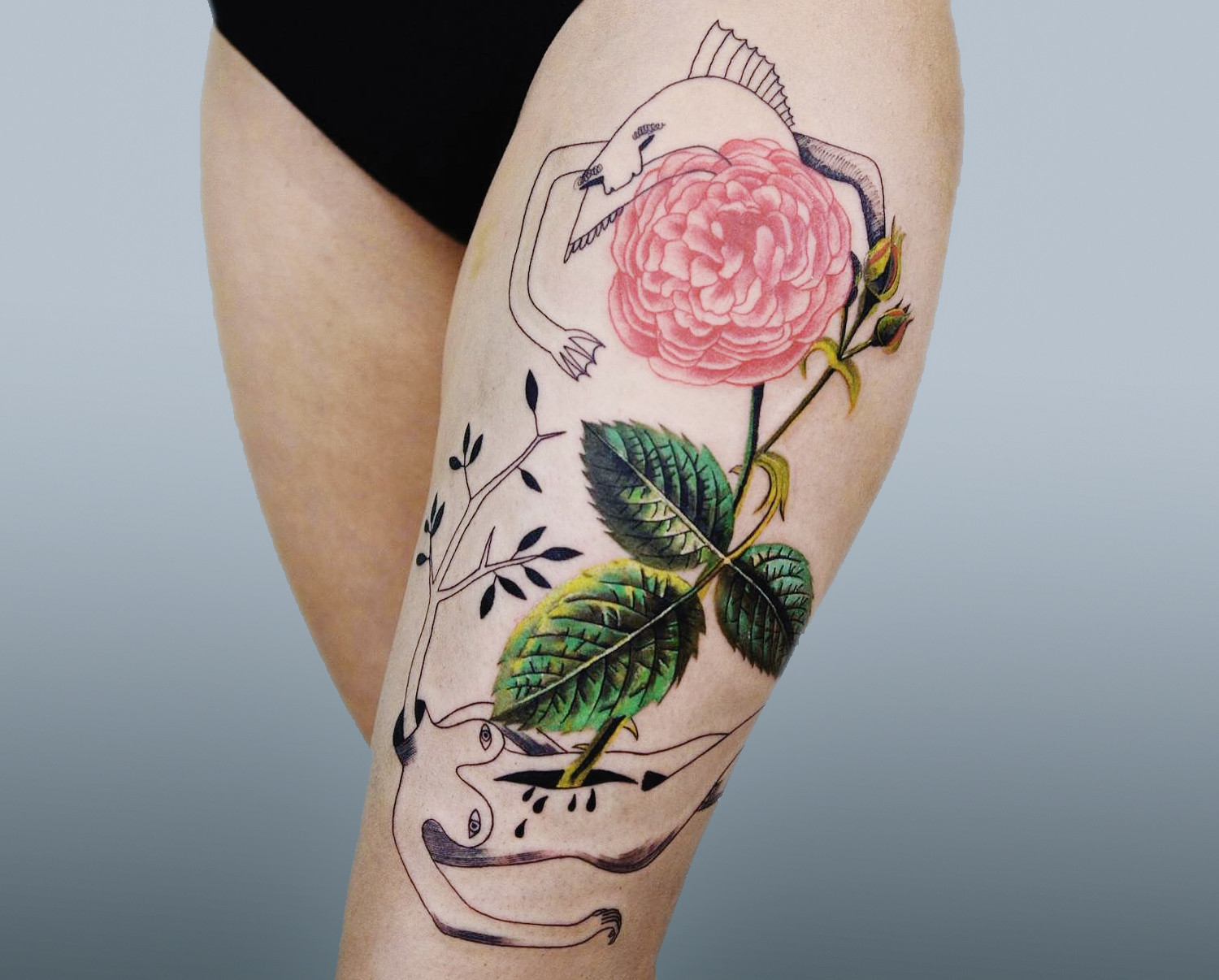 Simple line drawings amusingly interact with a realistic rose, symbolizing reality as it fuses with imagination.
Timur Lysenko
When I profiled Timur Lysenko last year, I noted that his constantly evolving style was thanks to his willingness to experiment with new techniques. Since then, the Polish tattoo artist has maintained his commitment to chaotic line work and glitchy, pixelated pieces. Despite his momentary stagnancy, the body art continues to feel fresh because of his varied influences. Plus, Lysenko is always on the lookout for inspiration. "All my ideas, elements, and motives which I can use," he explained. "I save [all of them] in my laptop. I have a lot of folders [that contain ideas and elements]—e.g. roses, plants, cats, abstracts … When I don't have [any] idea, I look for inspiration in my folders."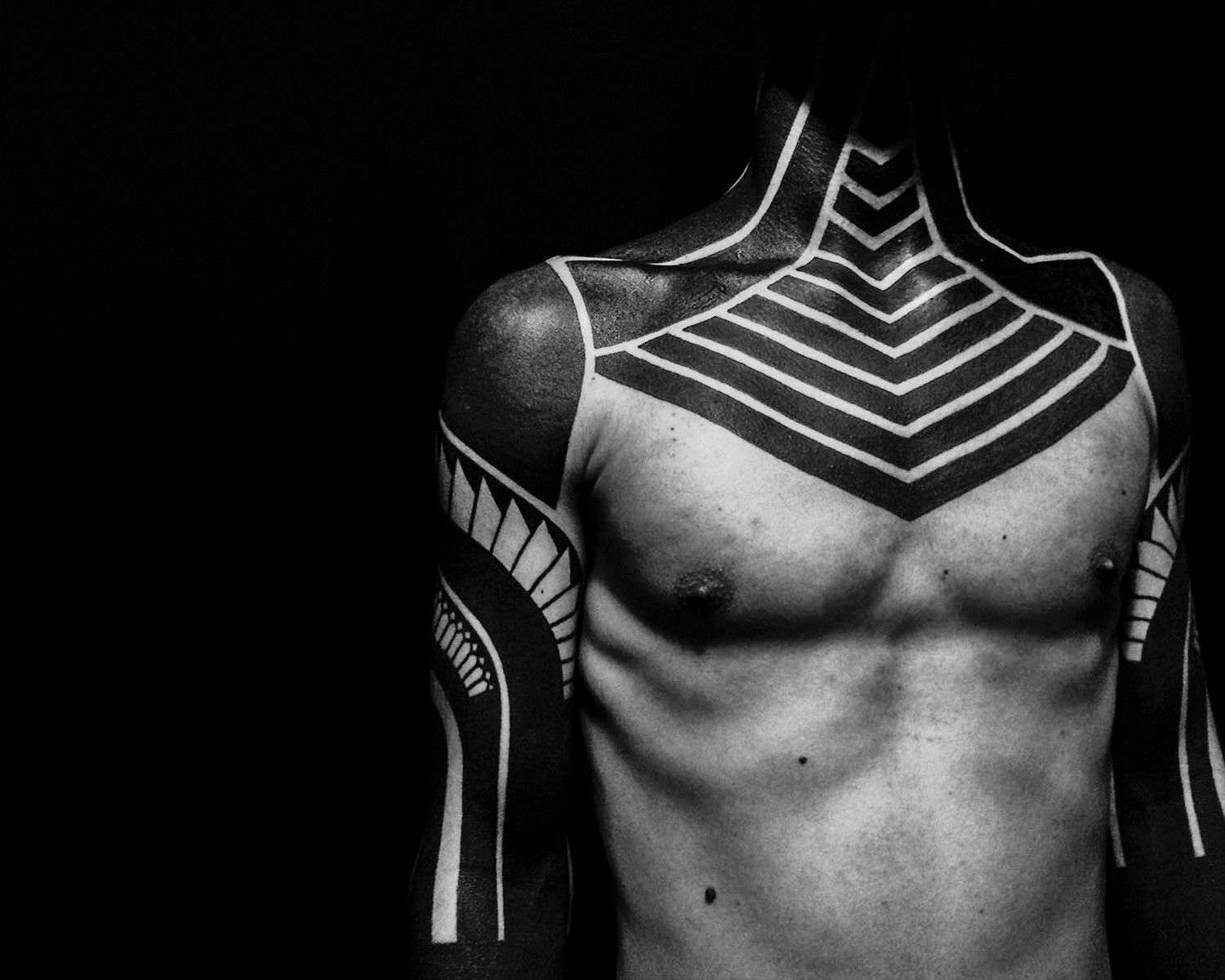 Symmetry is seen as beautiful on the human body.
Alex Arnautov
Inspired by sacred geometry, Alex Arnautov decorates the body with shapes that pay homage to the "proportion and harmony of the different plants and biological structures." In an interview with Inked, he explained, "I enjoy constructing exact compositions and symmetry." Many of his tattoos feature intricate dotwork mandalas, but it's fully wrapped piece like this one that command our presence—which turns the human body into an actual work of art. The negative space creates its own curves and redraws his client's form. Our eye can't help but travel along the new paths made from the blackout ink.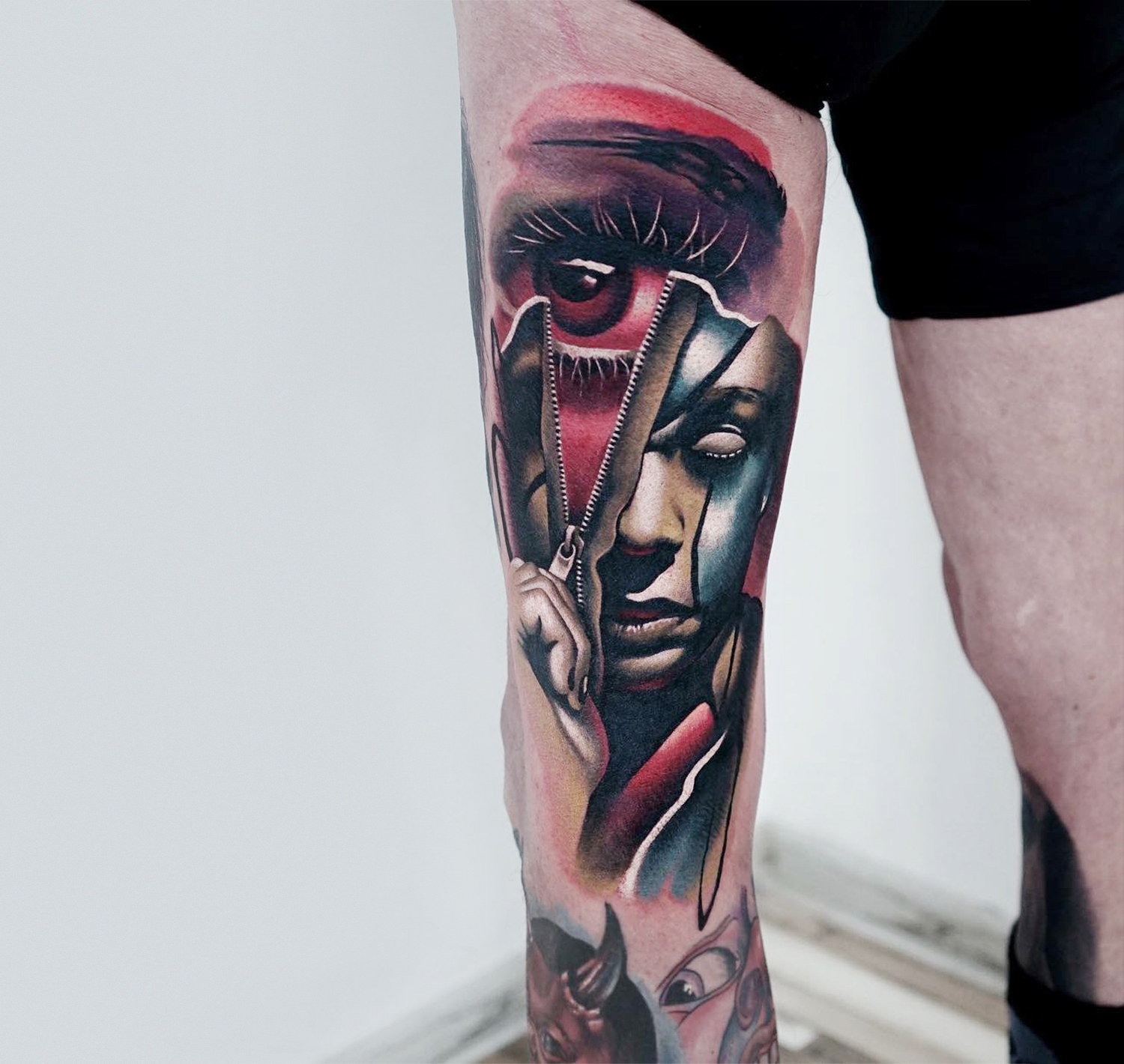 AD Pancho's tattoo proves that tattoos still look great on aging skin.
Alex "AD" Pancho
Moldavian artist Alex "AD" Pancho is known for striking, realistic works done in both blackwork as well as color. While many artists specialize in just one approach, it's clear that Pancho has the ability to be a jack-of-all-trades when it comes to tattooing. This piece, he says, was inked on a 69-year-old man at the Arbuz Tattoo Studio in Wroclaw, Poland. It's part of the man's horror leg, which is a fitting subject for Pancho, who has regularly tattooed dark art subjects before.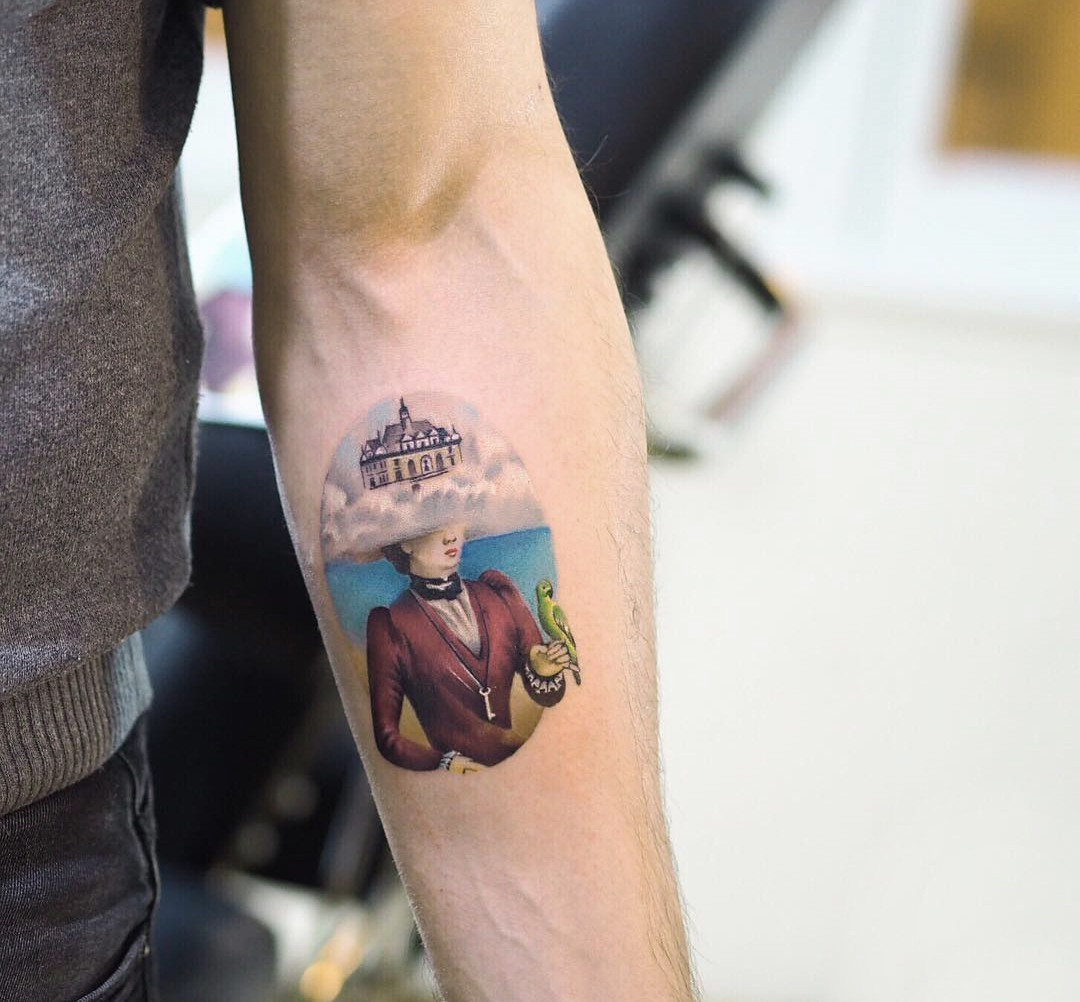 Jefree has done various tattoo remakes of Christian Schloe's surreal digital paintings.
Jefree
Based in Istanbul, Jefree's tattoo portfolio consists of imagery from other sculptors, painters, and television shows. He puts a realistic spin on these sources and places them within the context of small shapes with crisp, clean lines—not dissimilar to Eva Krbdk's approach. This piece pays homage to artist Christian Schloe's digital work, taking it from the screen and putting it on the skin.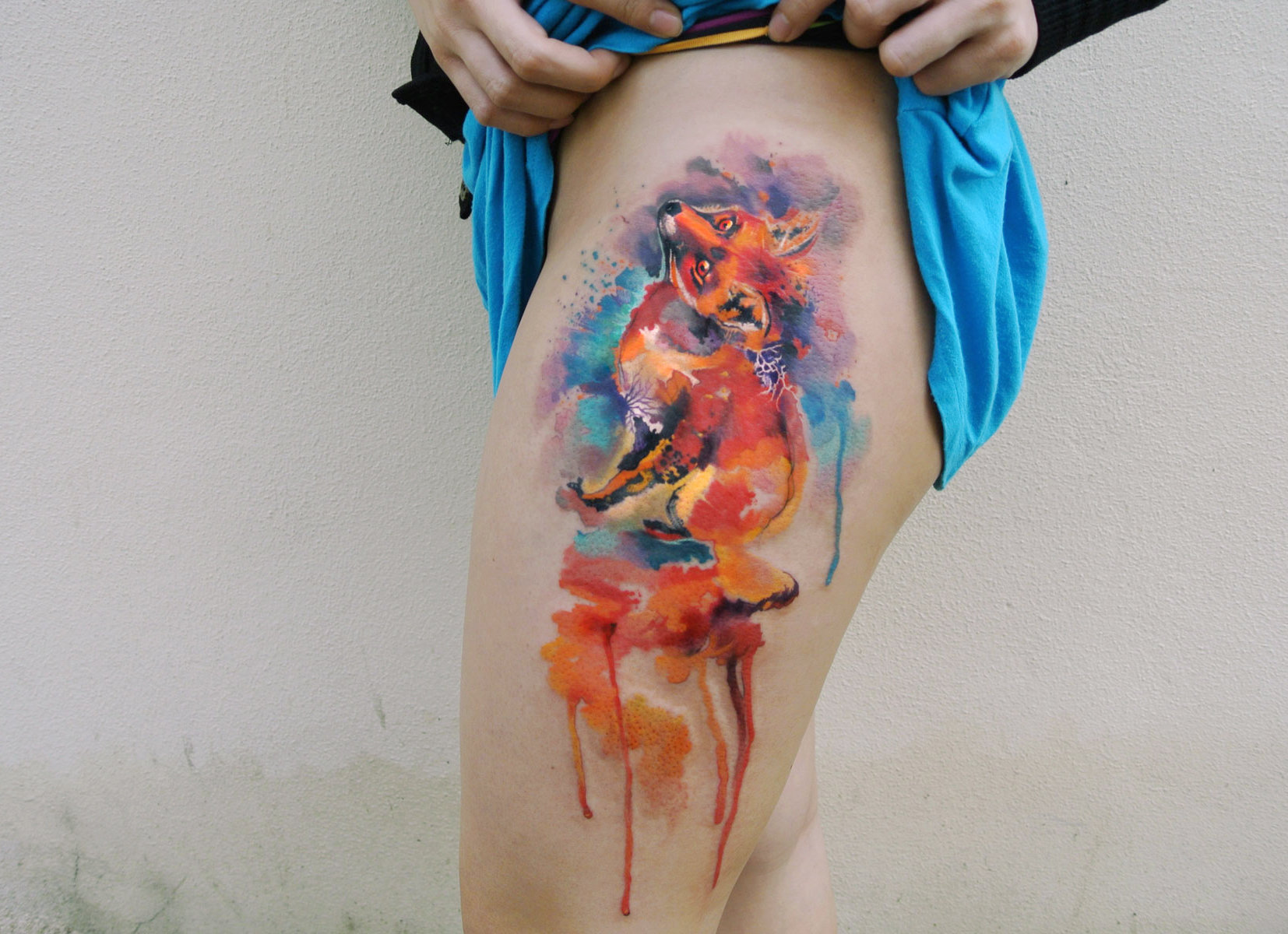 This tattoo was custom-created for the client.
Ondrash
Ondrej Konupcik, better known as simply Ondrash, gained notoriety with his vibrant watercolor approach. With brushstrokes and splatters, he captures the carefree fluidity of the medium. To create his works, he draws directly on a client's skin, making each piece truly tailor-made. After it was reported that Ondrash has a two-year waiting list of clients, his popularity has continued to grow. But for those who don't want to wait—or endure the pain of a needle—they're in luck; Ondrash has started to create large, abstract paintings that he sells online.
Images © respective artists.