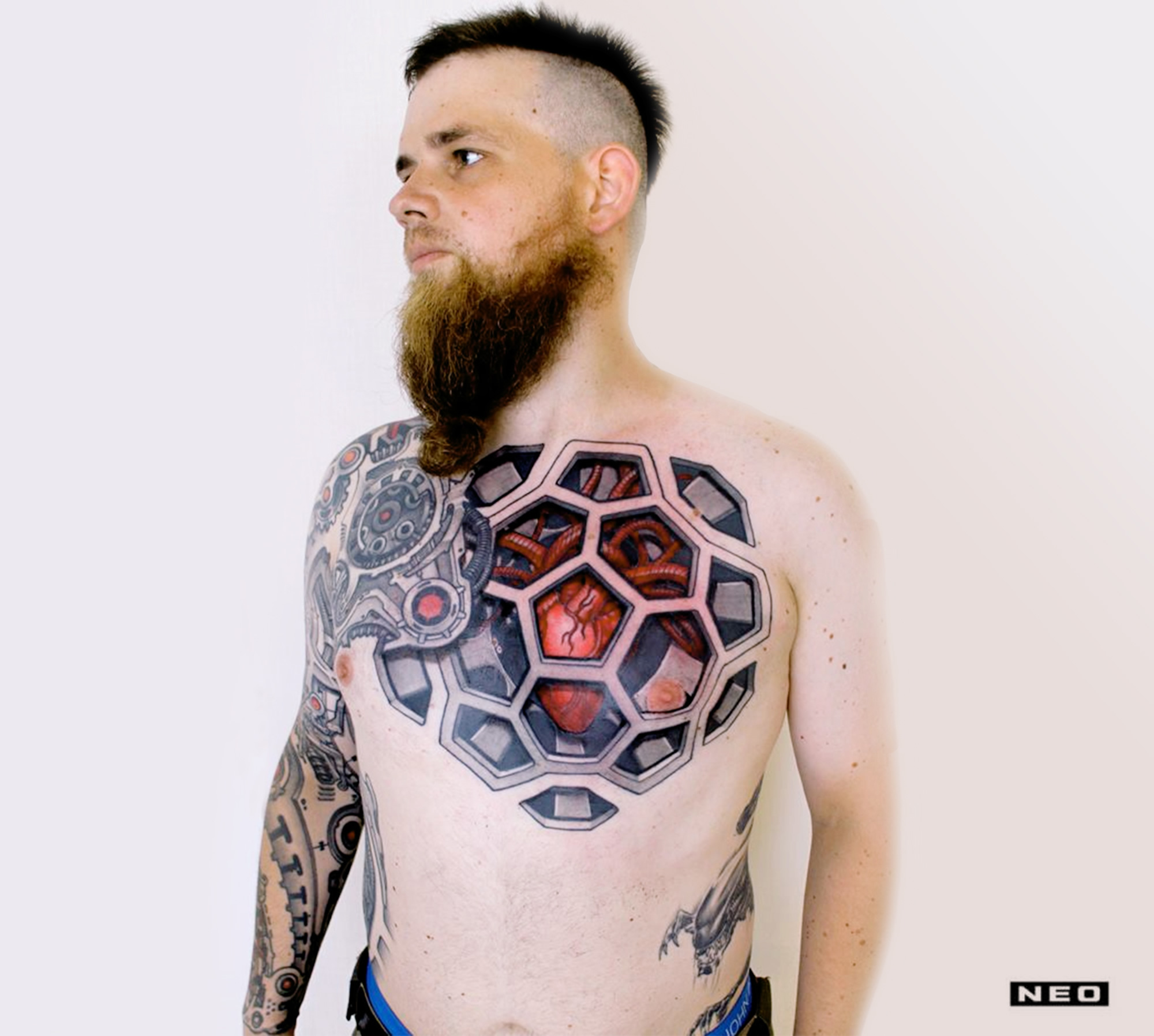 In the late 70s, Ridley Scott collaborated with Swiss artist H.R. Giger to design the creatures in his internationally acclaimed sci-fi horror film, "Alien." Giger's art became so popular that it inspired generations of artists, and impacted a surrealistic style of tattoo art.
Fusing machines with living organisms, biomechanical tattoos have developed over the decades, with artists incorporating their own influences from engineering to geometric patterns. There is much creative freedom within this art style, as many tattooers freehand directly onto the skin, using the body's natural shapes to dictate which patterns will create the illusion of an extra dimension.
Top: Delaine "Neo" Gilma's designs are a fusion of mechanics and geometric shapes.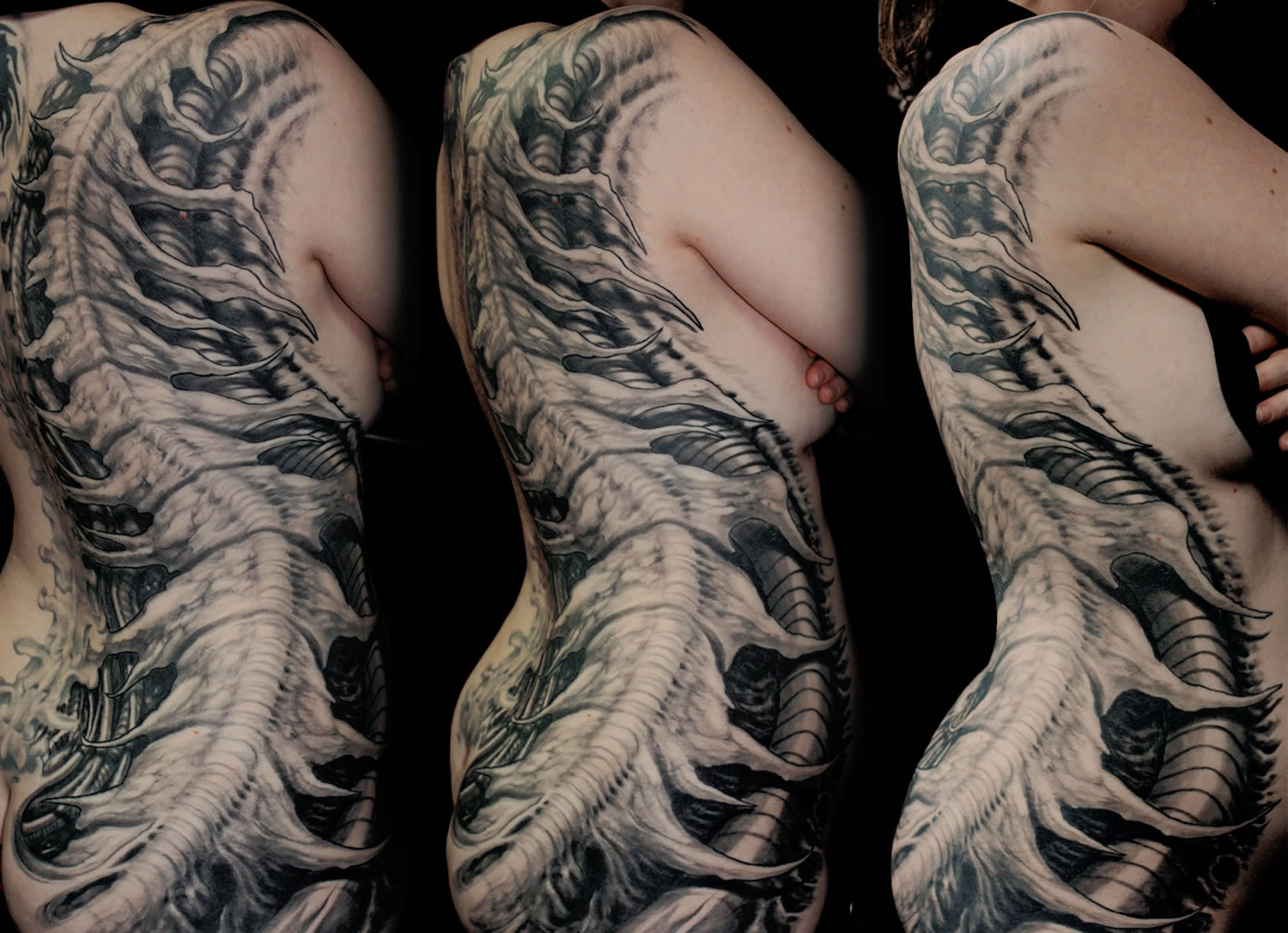 De L'etoile's tattoos are heavily influenced from the art of H.R Giger.
Eric De L'etoile
The black and grey designs of Canadian artist Eric De L'Ă©toile often give the illusion of see-through skin, a feature that throws back to the art of H.R Giger. Inspired by the darker side of reality, De L'etoile has perfected the use of shadow to create his signature-style which incorporates movement, texture and depth.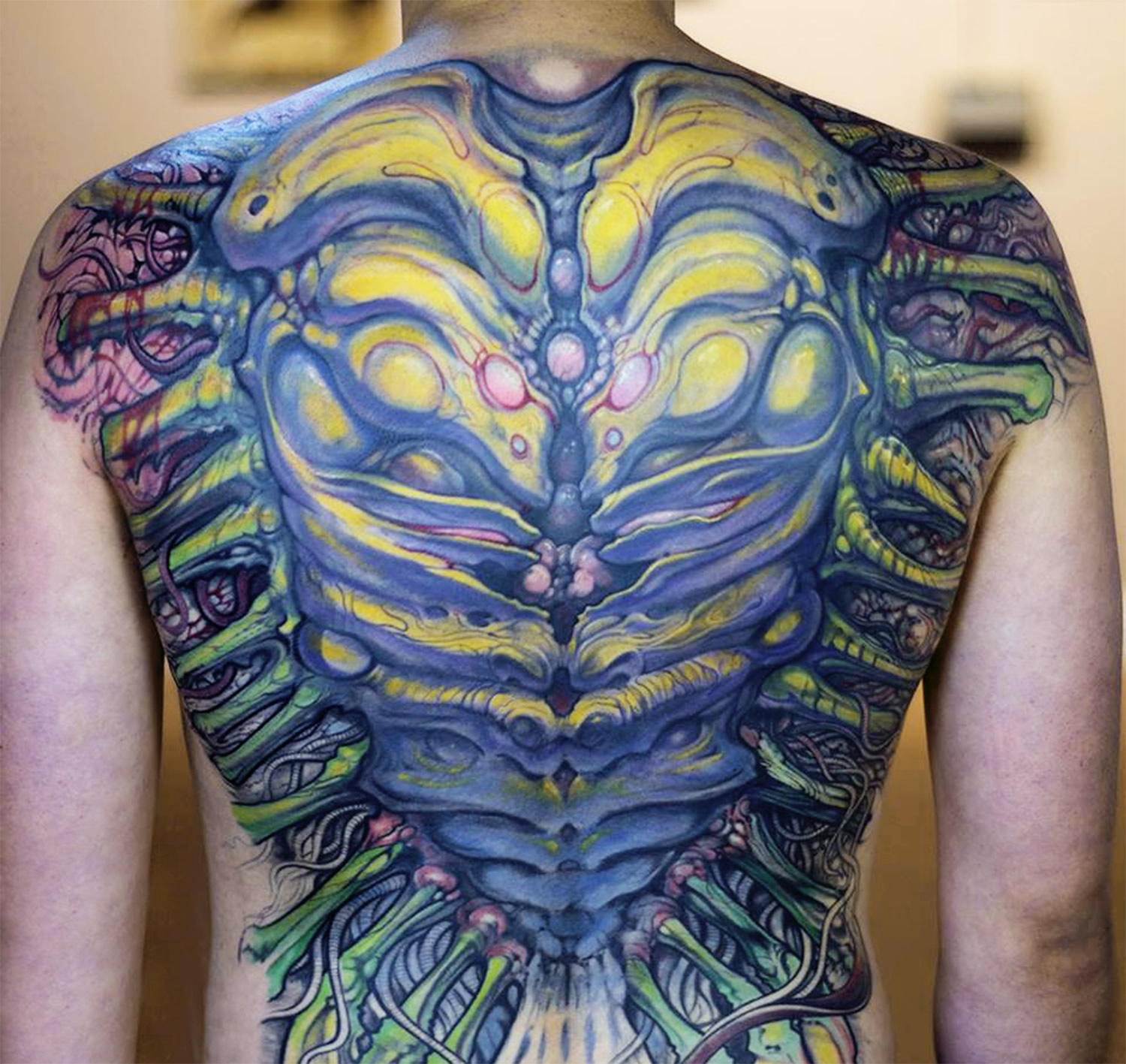 Inspired by the art of Beksinski, Bacon, and Giger, tattooer Paco Dietz has established his own style.
Paco Dietz
Paco Dietz has a worldwide following, with clients traveling great distances to his studio in California to get one of his tattoos. Featuring muscle tissue, distorted forms and morphing elements, he creates recognizable designs through his use of vibrant color, making his art appear to glow on the skin. Some of his flash tattoos have been featured in his "Biomorphe" book series.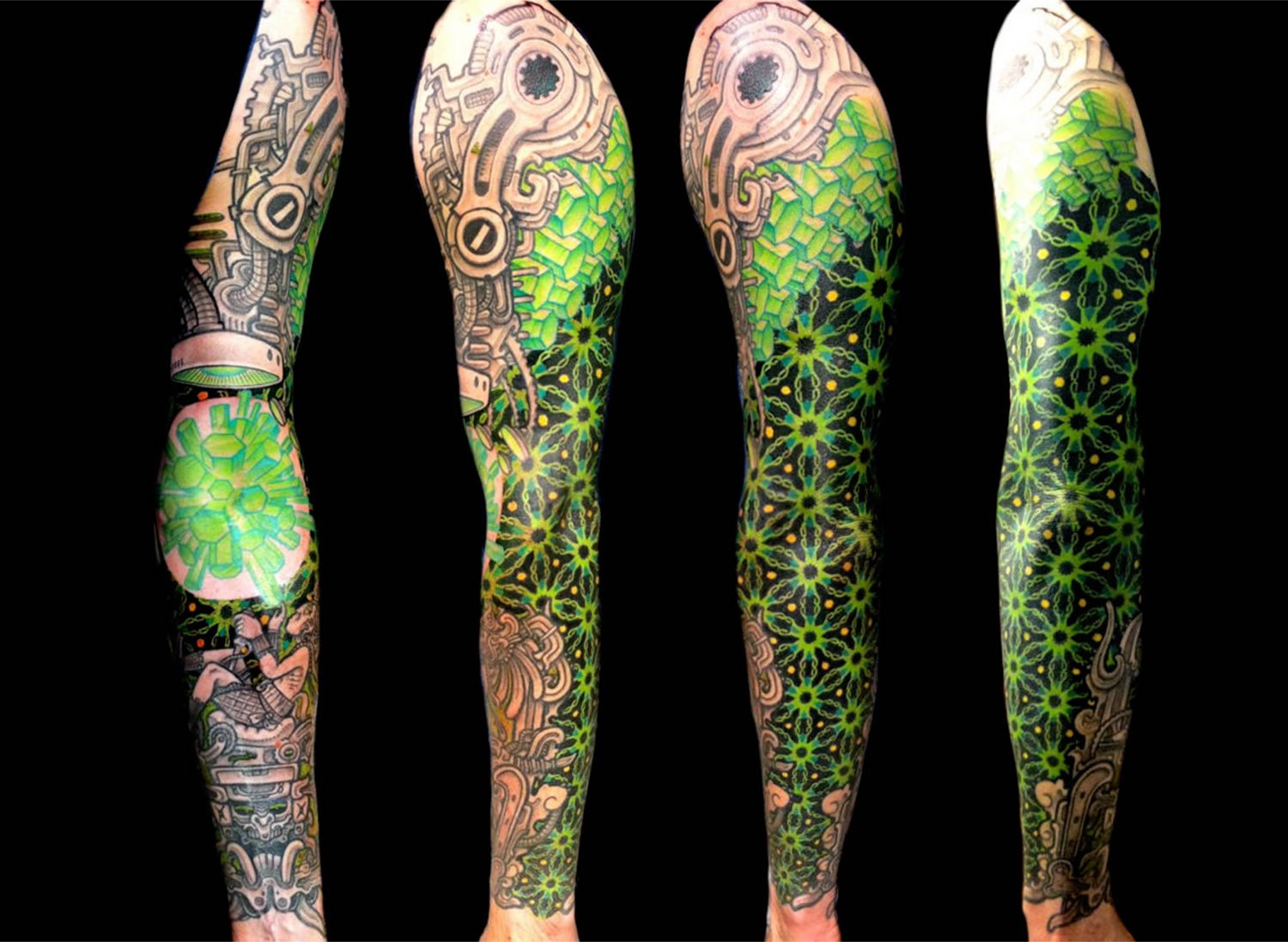 Saturated color and geometric patterns feature in Neo's amazing sleeve.
Delaine "Neo" Gilma
Well known for his elaborate geometric tattoo sleeves and back pieces, Delaine "Neo" Gilma creates biomech tattoos in a similar style. His art is inspired by sci-fi, graffiti and comics, which is visible in his work through his heavy use of black ink, saturated colors and 3D shapes. Neo is based in Switzerland and showcases his work here.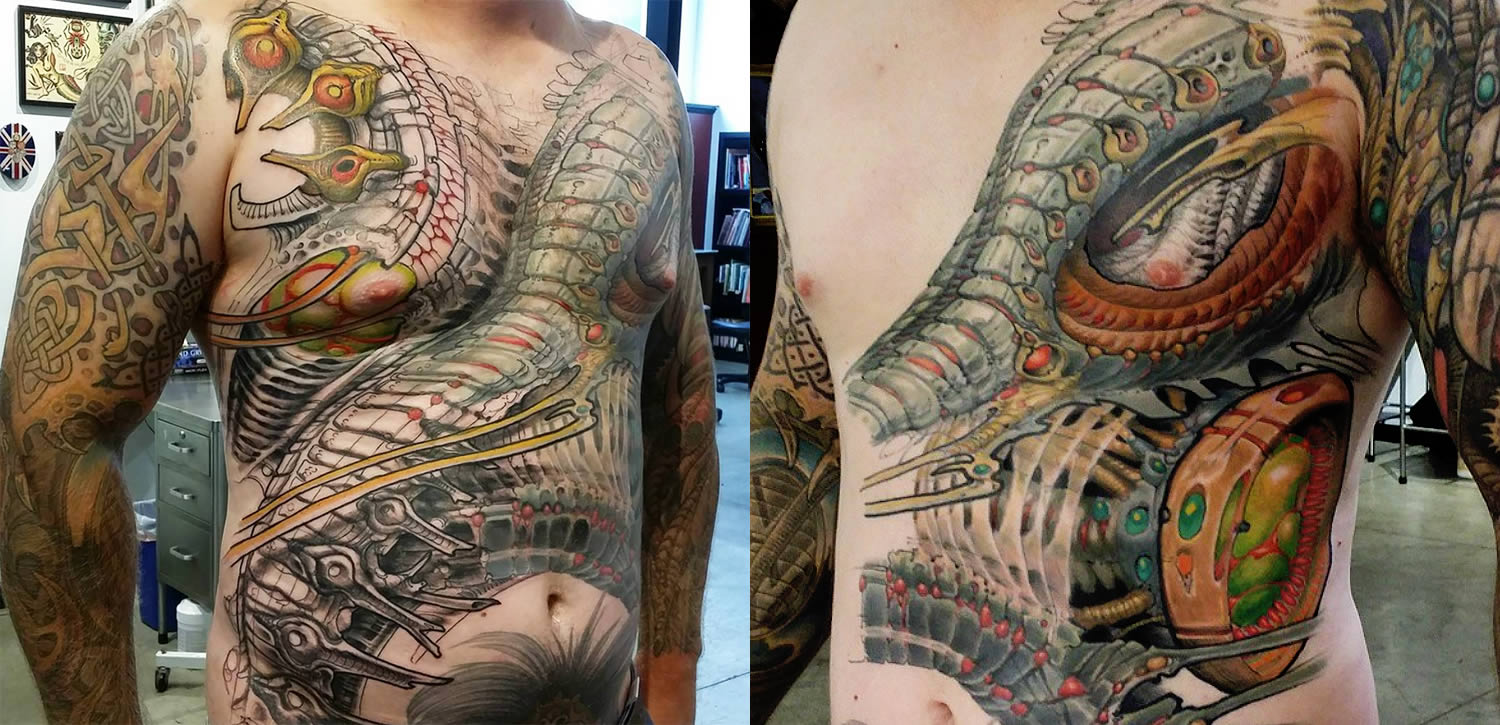 Organic shapes and an Asian tattoo flare are a signature of Croci's tattoos.
Jeff Croci
Jeff Croci admits that he is known for the speed in which he can complete a detailed tattoo—not surprising, considering he has been tattooing for over 20 years. Currently working from 7th Son Tattoo in San Francisco, Croci's biomech art features organic patterns that give the illusion of internal tendons, muscles and bones, and when combined with his thorough shading and highlights, make for highly detailed and complex compositions.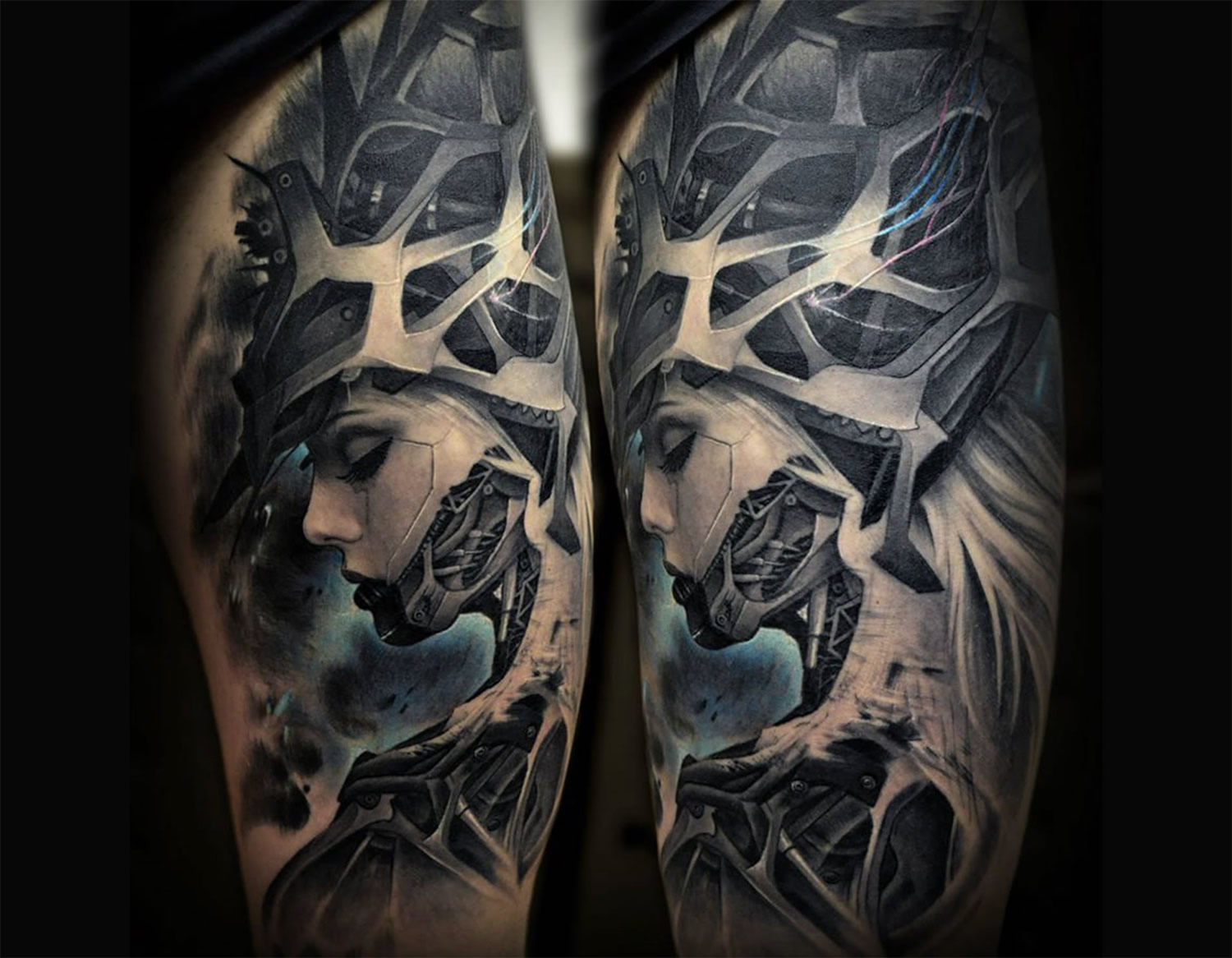 Stepan Negur prefers working in black and grey with slight hints of color.
Stepan Negur
The art of Stepan Negur has been getting a lot of attention because of the way he uses luminous color to highlight parts of his black and grey tattoos. In true biomechanical style, Negur creates works that give the impression of see-through skin, revealing dark and evil insides.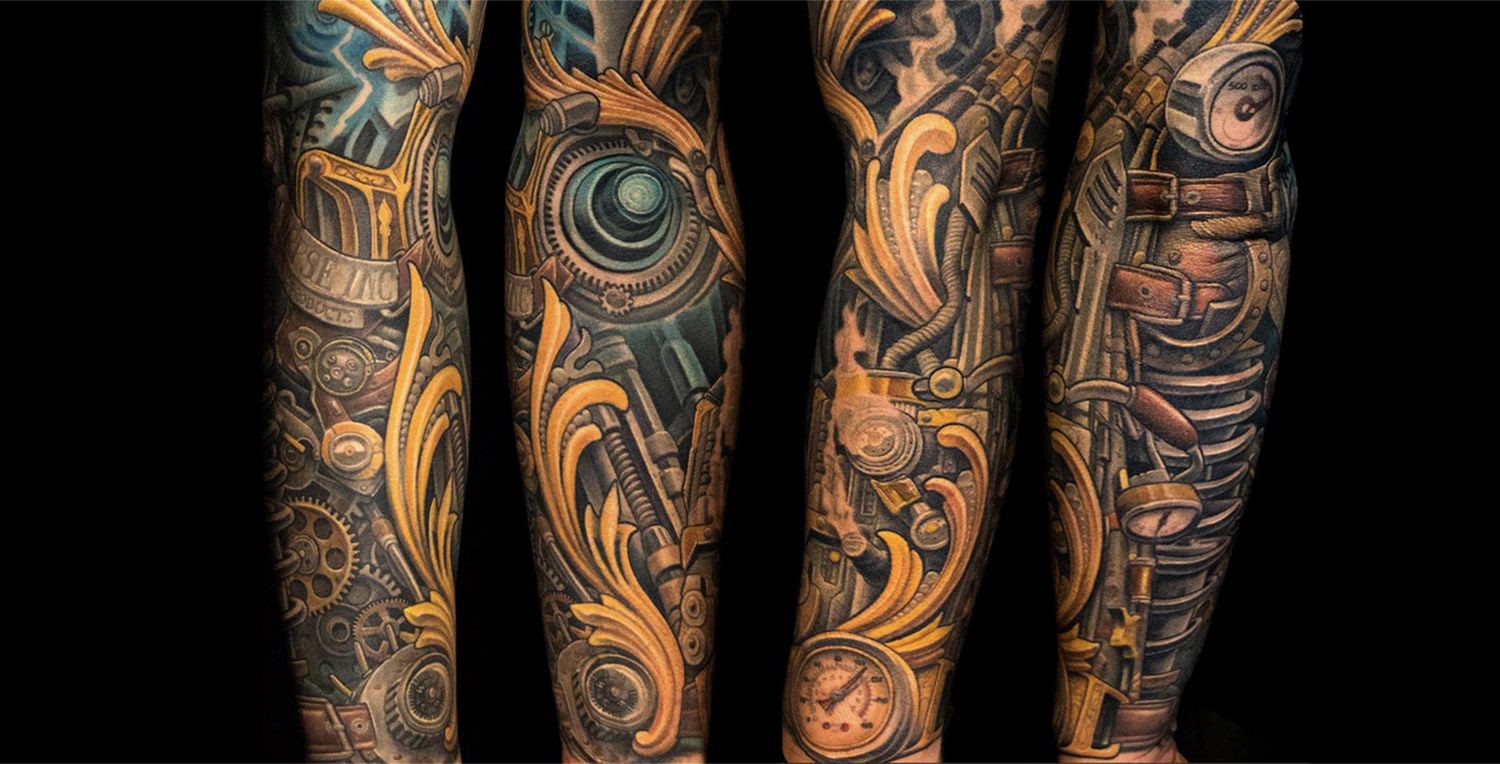 The complexly detailed mechanical tattoos of Siebert.
Julian Siebert
Julian Siebert works under the name Corpsepainter in Munich, Germany. He creates intricate designs that can appear to be highly realistic due to his close attention to detail. The depth of his compositions are a credit to his amazing ability working with shading and highlights.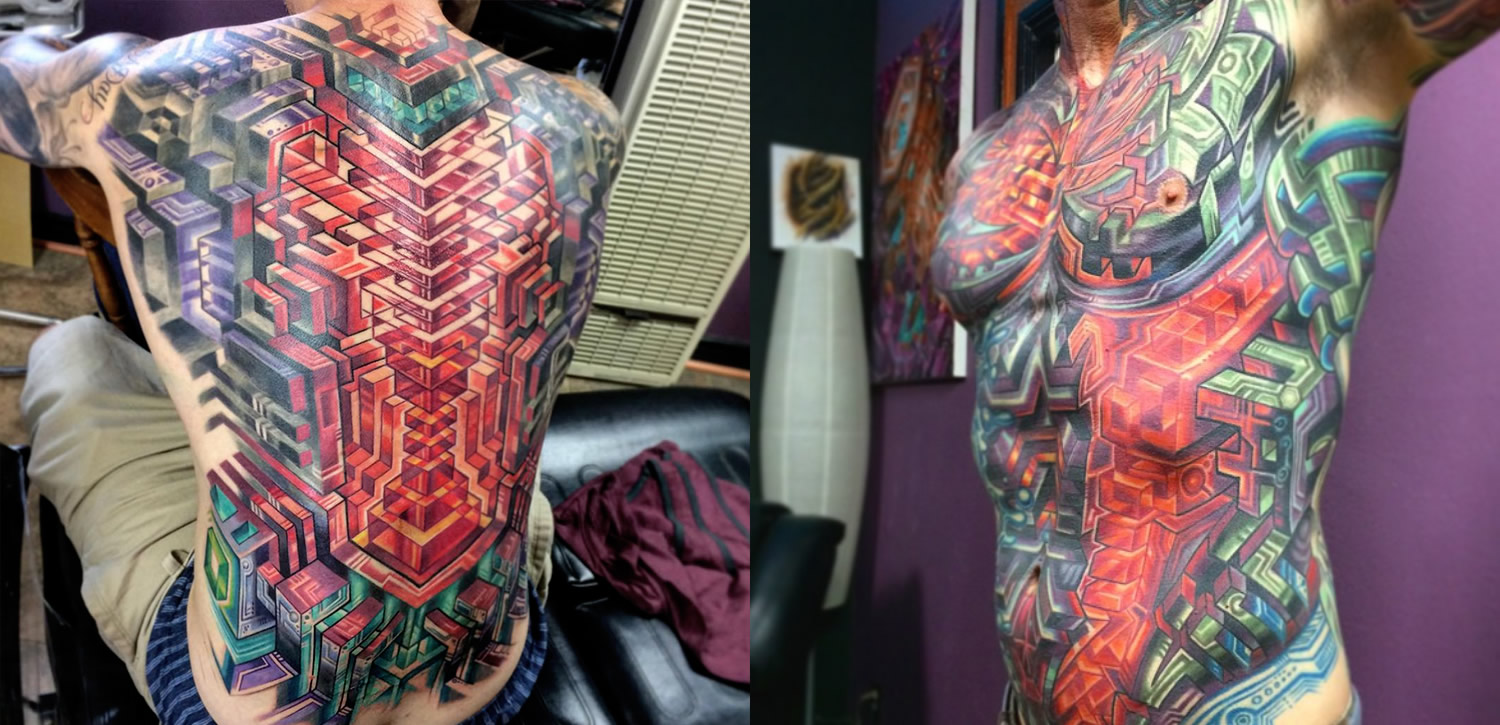 Cole creates tattoos full of three-dimensional shapes.
Mike Cole
Tattooing since 1993, Californian-based artist Mike Cole is instantly recognized for his brightly-colored geometric tattoos. Cole is in a class of his own, taking his time to build hundreds of 3D shapes, each with perfectly straight lines and sharp corners. He applies an isometric grid onto the skin and develops each unique design directly on the body.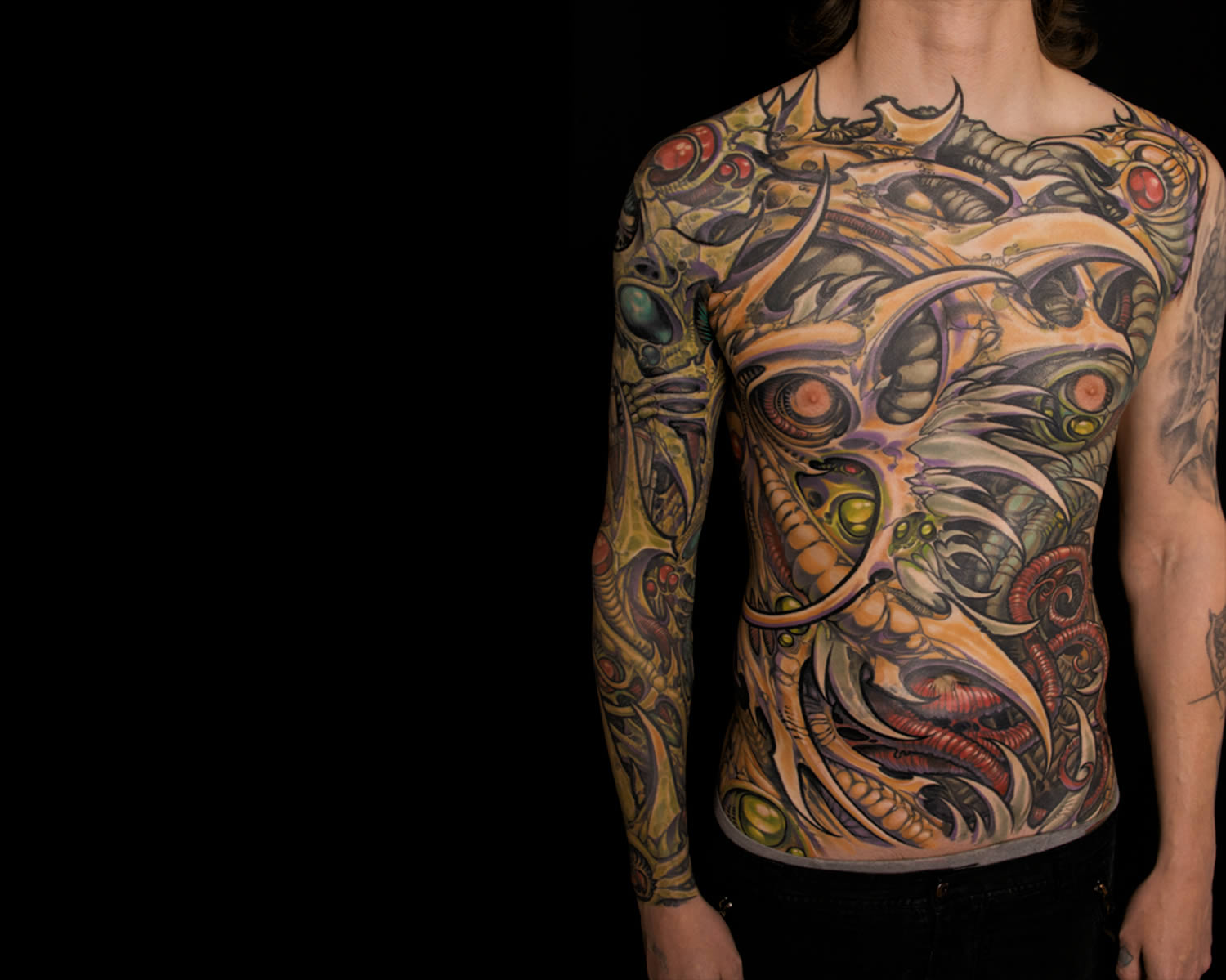 Earhart's designs are built by combining several textured layers.
Ron Earhart
Ron Earhart is part of the Analog Tattoo Arts Kolectiv in San Jose, California. With a background in painting, skate deck design and sculpture, Earhart draws on the texture and three-dimensional elements found in his artwork to create his tattoos. He incorporates multiple layers into his work which are often framed by distinctive thorn, or blade-like features.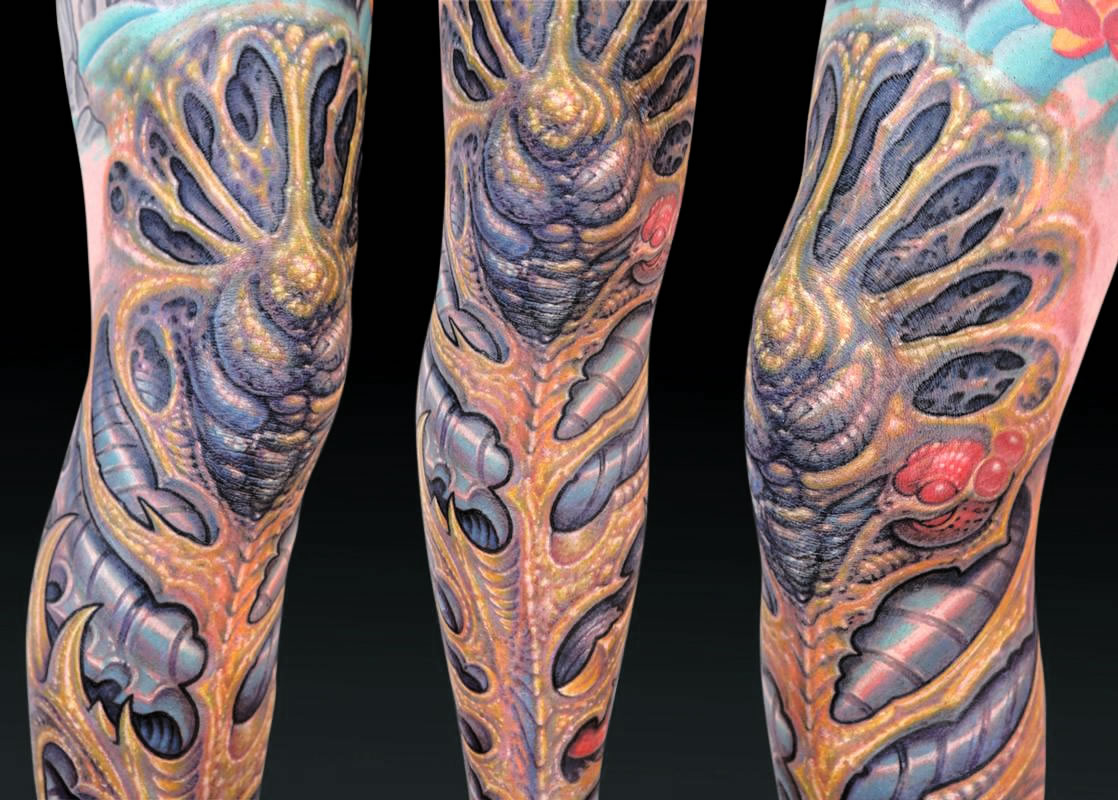 Aitchison is inspired by textures found in nature and the human body.
Guy Aitchison
Having been in the industry for over 25 years, Guy Aitchison is famous for his abstract biomech artwork, which allows him to transform the body, creating a fusion of biology and technology. His passion for the style sees him regularly working on collaborations with other artists.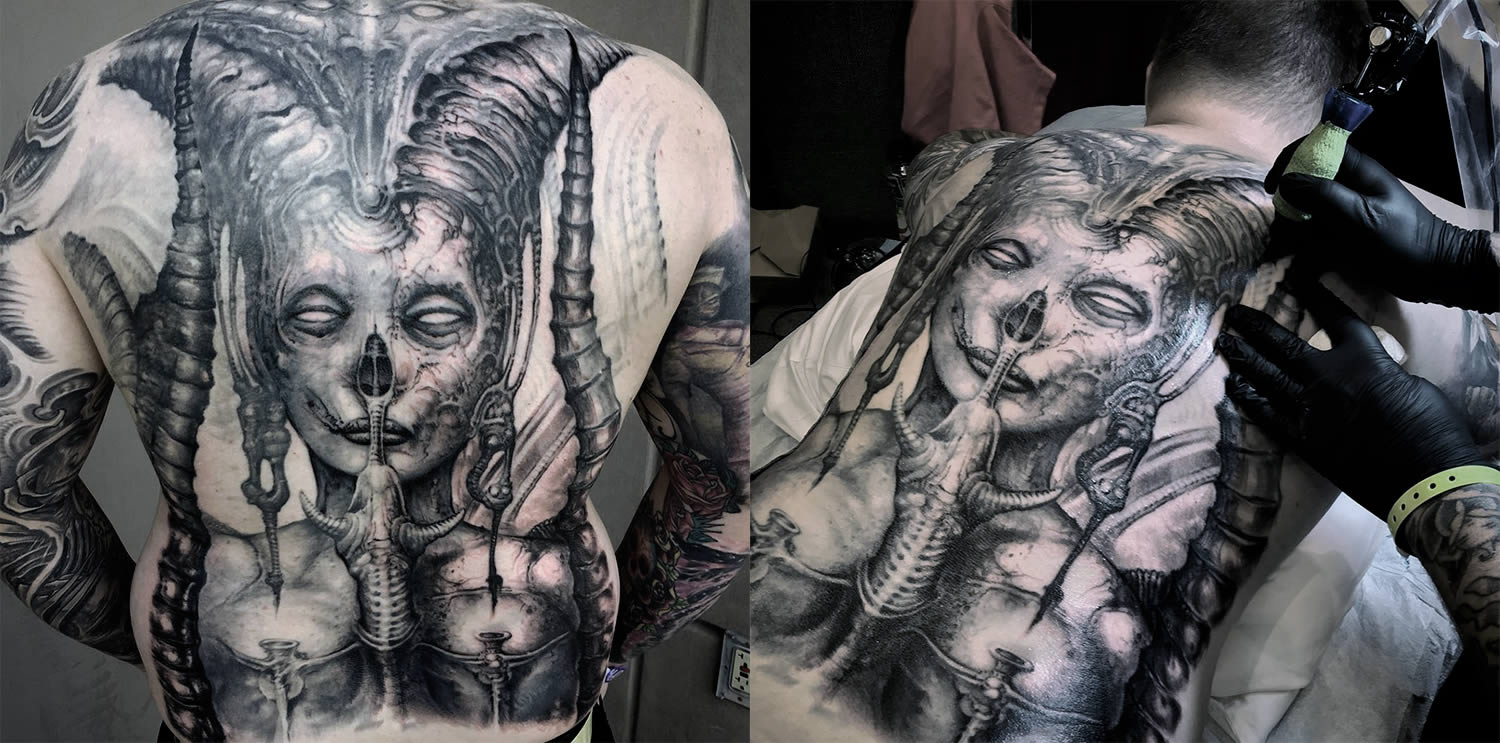 This is without a doubt an eye-catching Giger-inspired back piece.
Jeremiah Barba
Jeremiah Barba has been tattooing for over 15 years and is known for his dark surrealist style. Barba's twist on the traditional black and grey Giger style is created by adding hyperrealistic portraits and skulls to his designs. A regular traveller to tattoo conventions, Barba is currently working from the Conclave Art Studio in California.
Images © respective artists