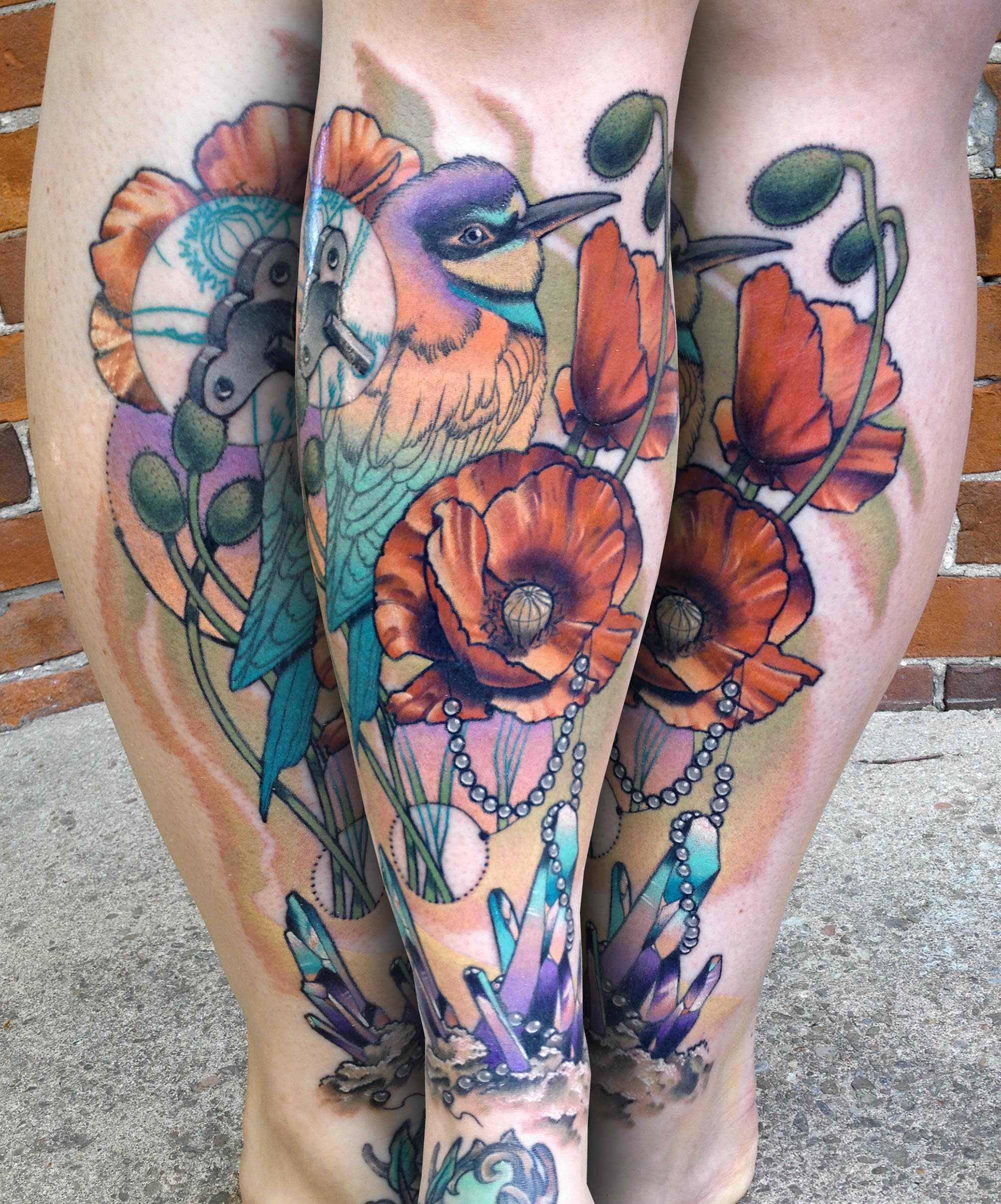 Note: Contains nudity.
Selecting the best tattooers, the best movies, the best of most things and put it into an article will generally cause controversy among readers, because we all have our preferences, opinions. But that's okay, art is supposed to be subjective.
The goal of this article is to group some of my favorite tattooers of the year, individuals who have kept evolving and creating unique works of art. My focus is not on artists who do random themes and styles, but rather those who have a consistent artistic style and are so good at what they do, that they are often imitated.
Top: A lovely use of gradients in this tattoo by Cody Eich.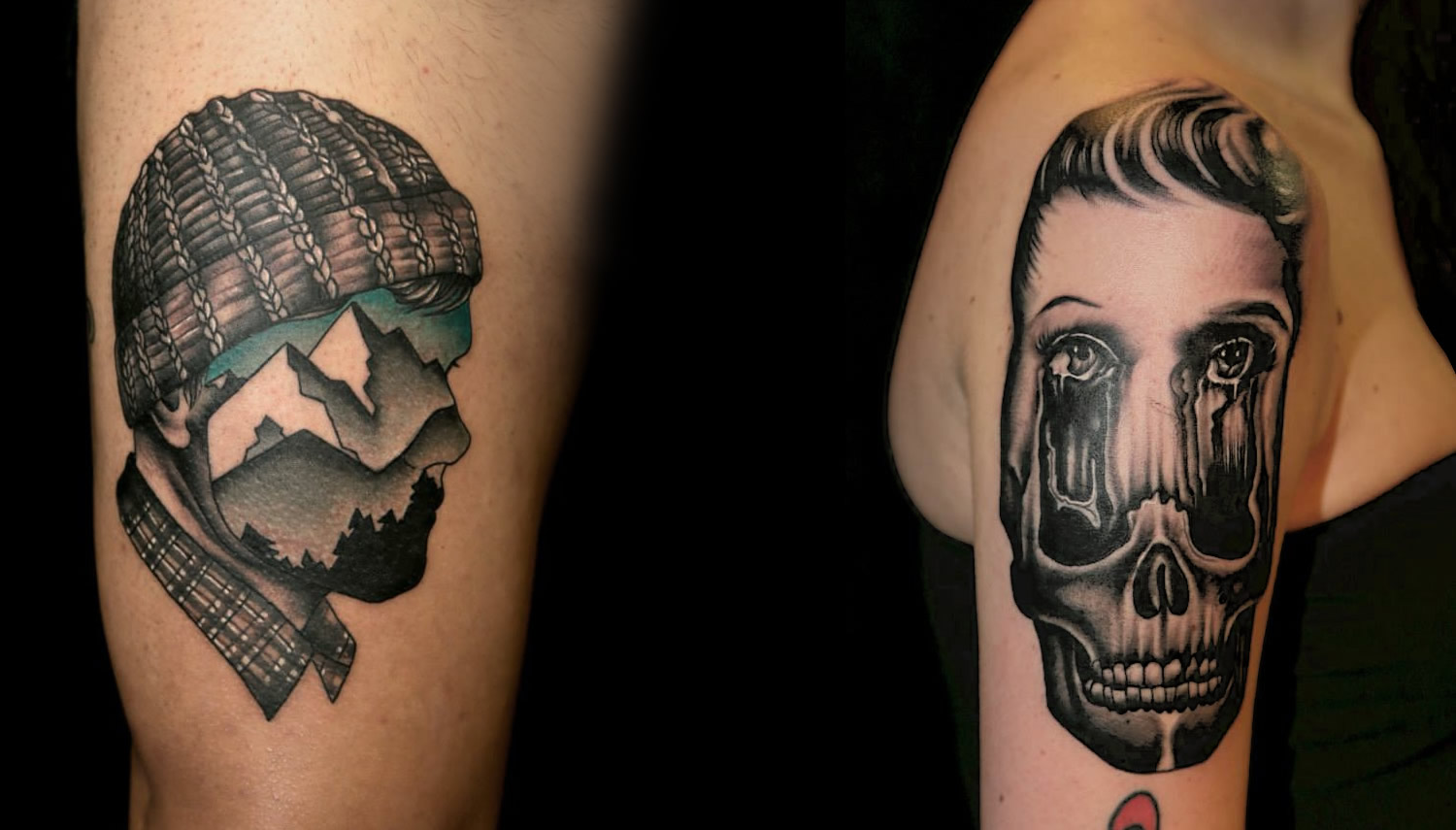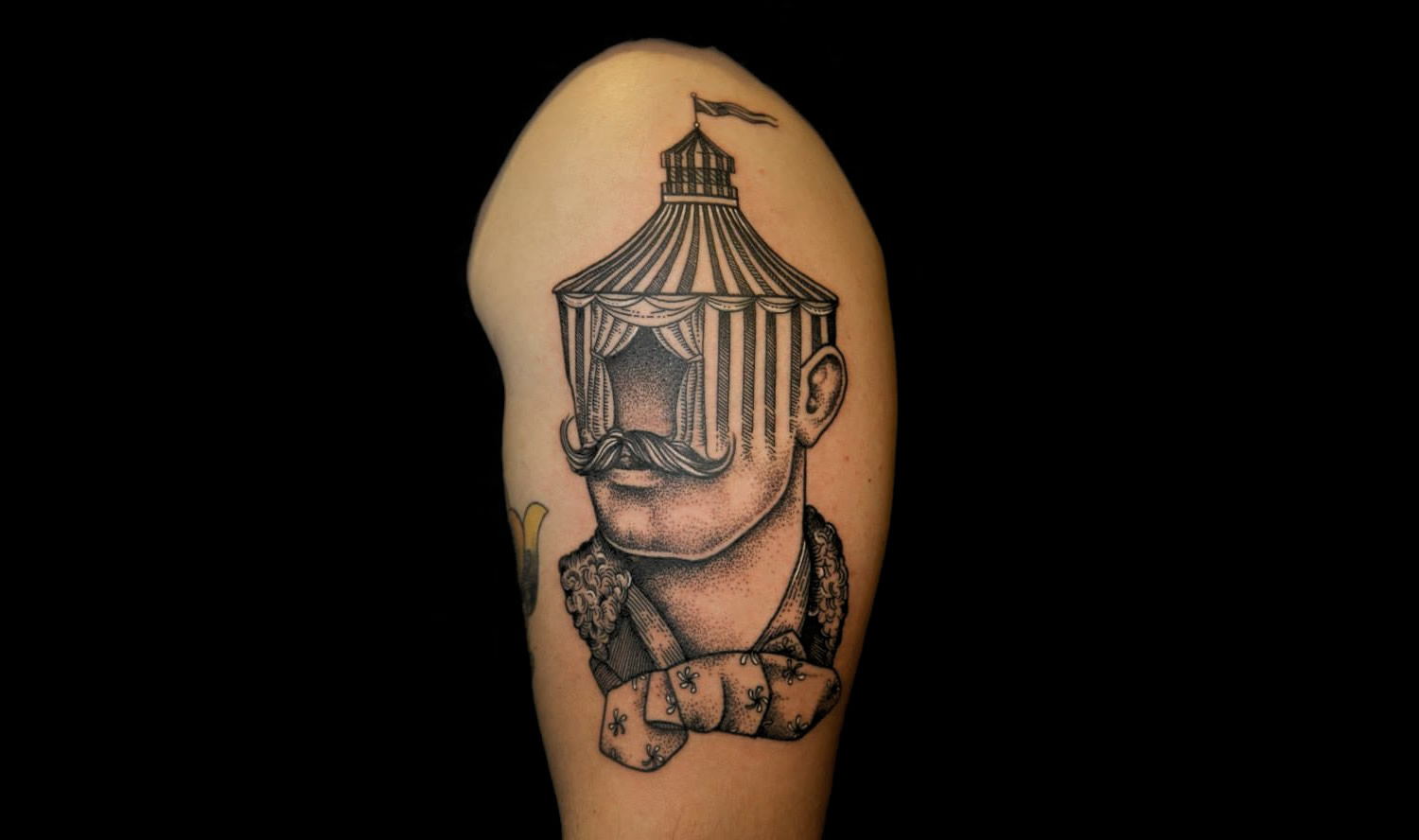 Sedda's tattoo art is different and fascinating.
Pietro Sedda
This Italian tattooer takes his work to a high level every year by coming up with new concepts to impress his clients, while he is cheered on by 350k online fans. His work has been imitated quite a lot. Maybe because it is difficult to ignore Sedda's engraving-style portraiture with superimposed images, illusional effects, and sometimes including geometric shapes and bold colors. His study in fine arts has clearly rubbed off in all that he does—being inspired by modern painters, graphic designers, and old-school artists from 16th and 17th centuries. Painting, drawing, photographing and working with video are things he dabbles in. Sedda is a versatile artist who didn't plan to become a tattooer, it just happened.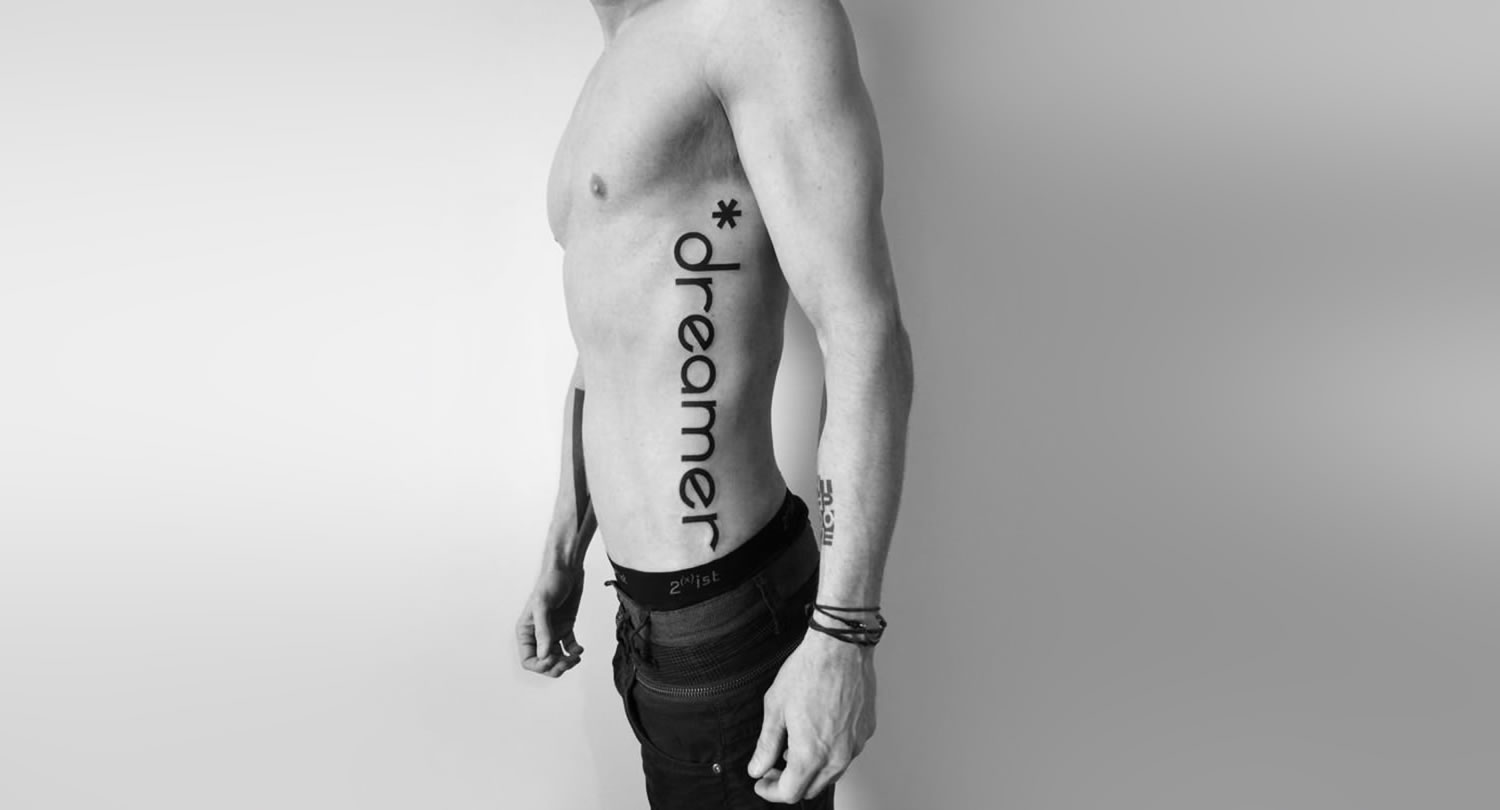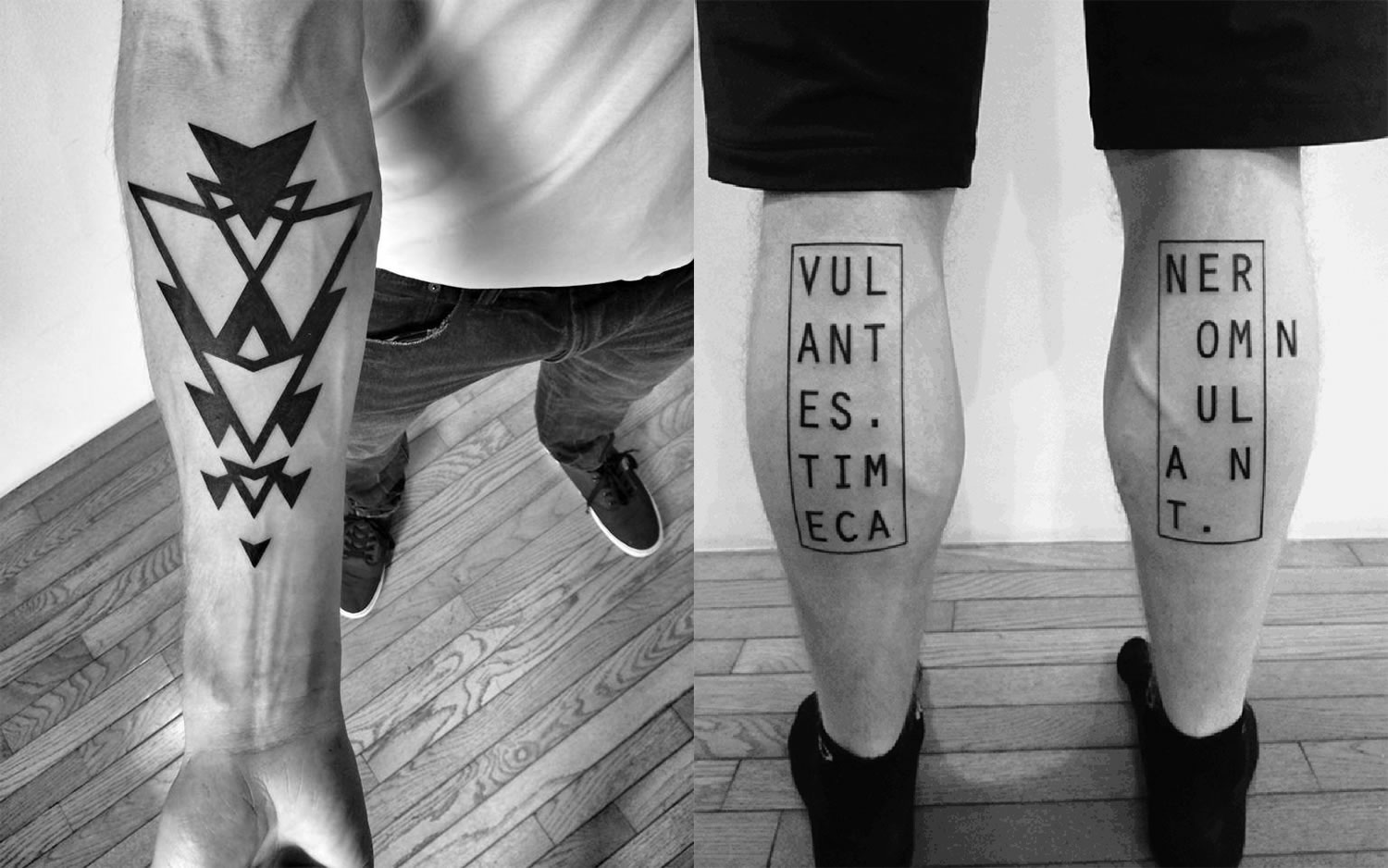 Clean, simple and beautiful blackwork by Ben Volt.
Ben Volt
The former apprentice of Roxx (2Spirit), Ben Volt has learnt the right things and has been making a name for himself with his precise straight-line geometric designs. From retro-modern motifs to beautiful sans-serif typography, it is all done in black ink by this San Francisco-based artist who is one of the best tattooers in this minimalist style. Anyone who can ink a line this straight on skin, should win an award for extraordinary skill.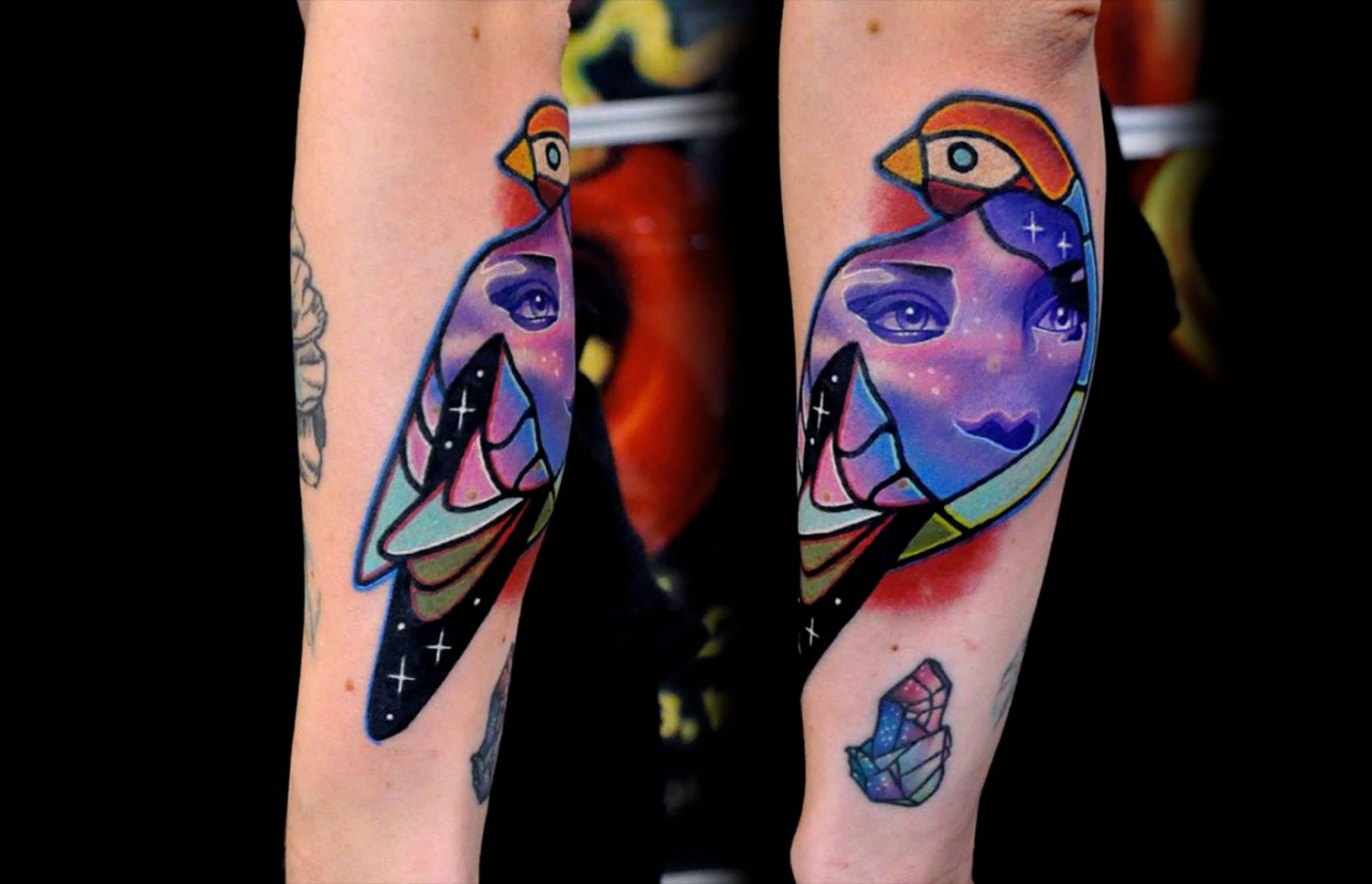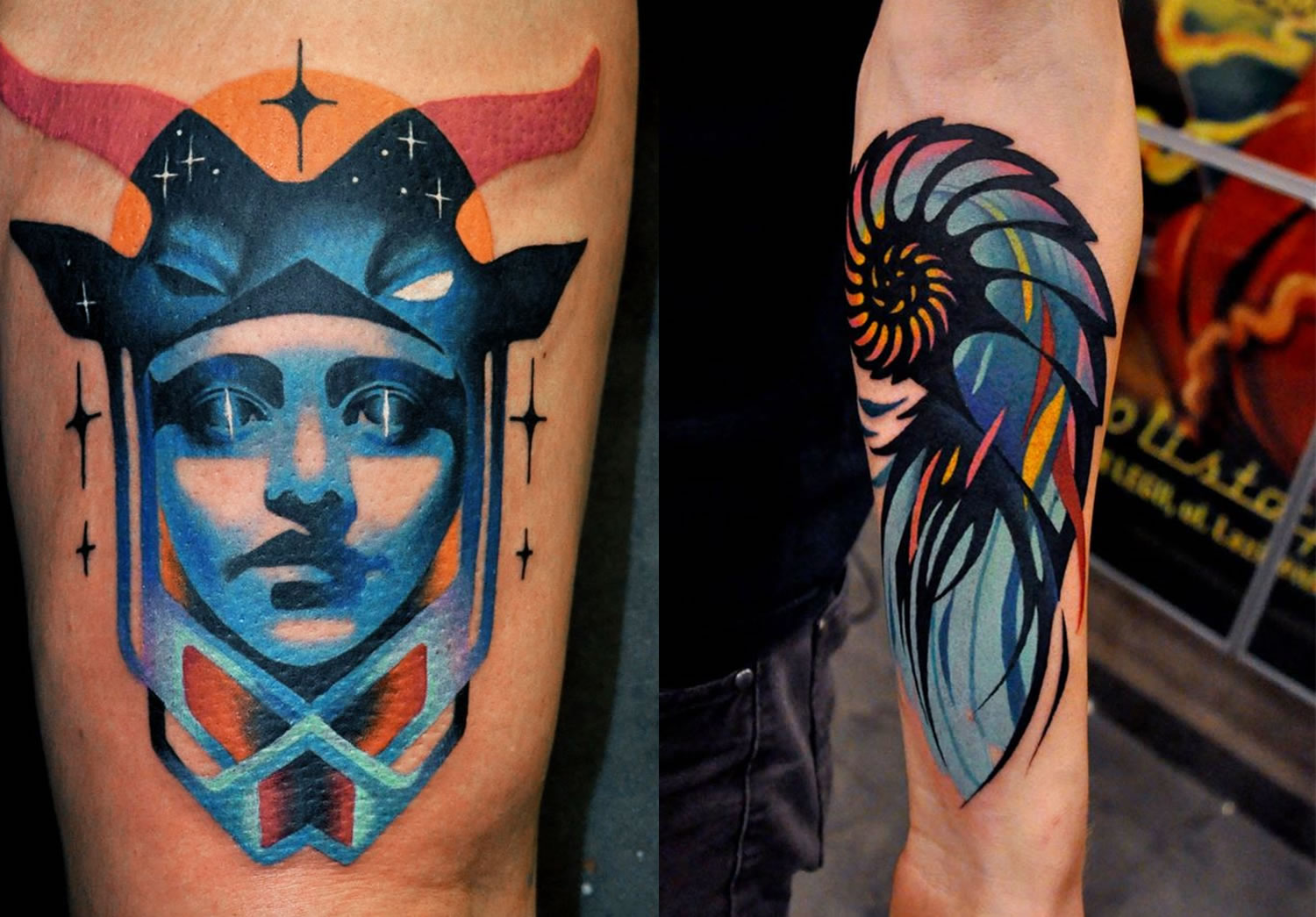 Surowiec is always coming up with unique and innovative ideas for his tattoos.
Marcin Aleksander Surowiec
Polish-tattoo-wizard Surowiec loves to use saturated colors for his retrofuturistic body art. There's mystery and enchantment when looking at his star-filled animal and human characters that seem like they are connected to regions beyond the Earth's atmosphere, and some may even have telepathic powers. From galactic reinterpretations of old-school swallows and mermaids to images inspired by vintage cartoons, his work has evolved to a point that is easily recognizable as: Marcin Aleksander Surowiec's.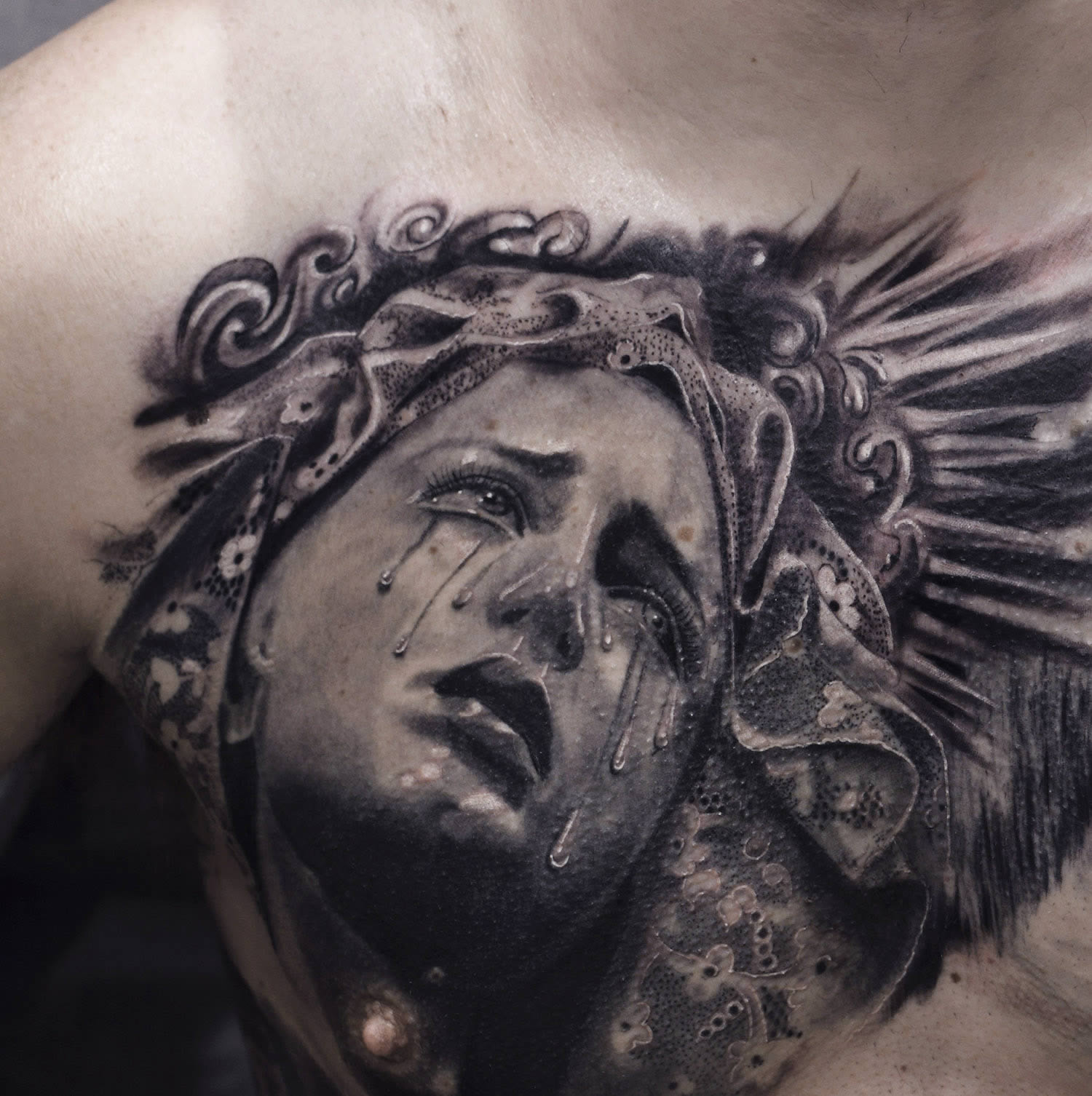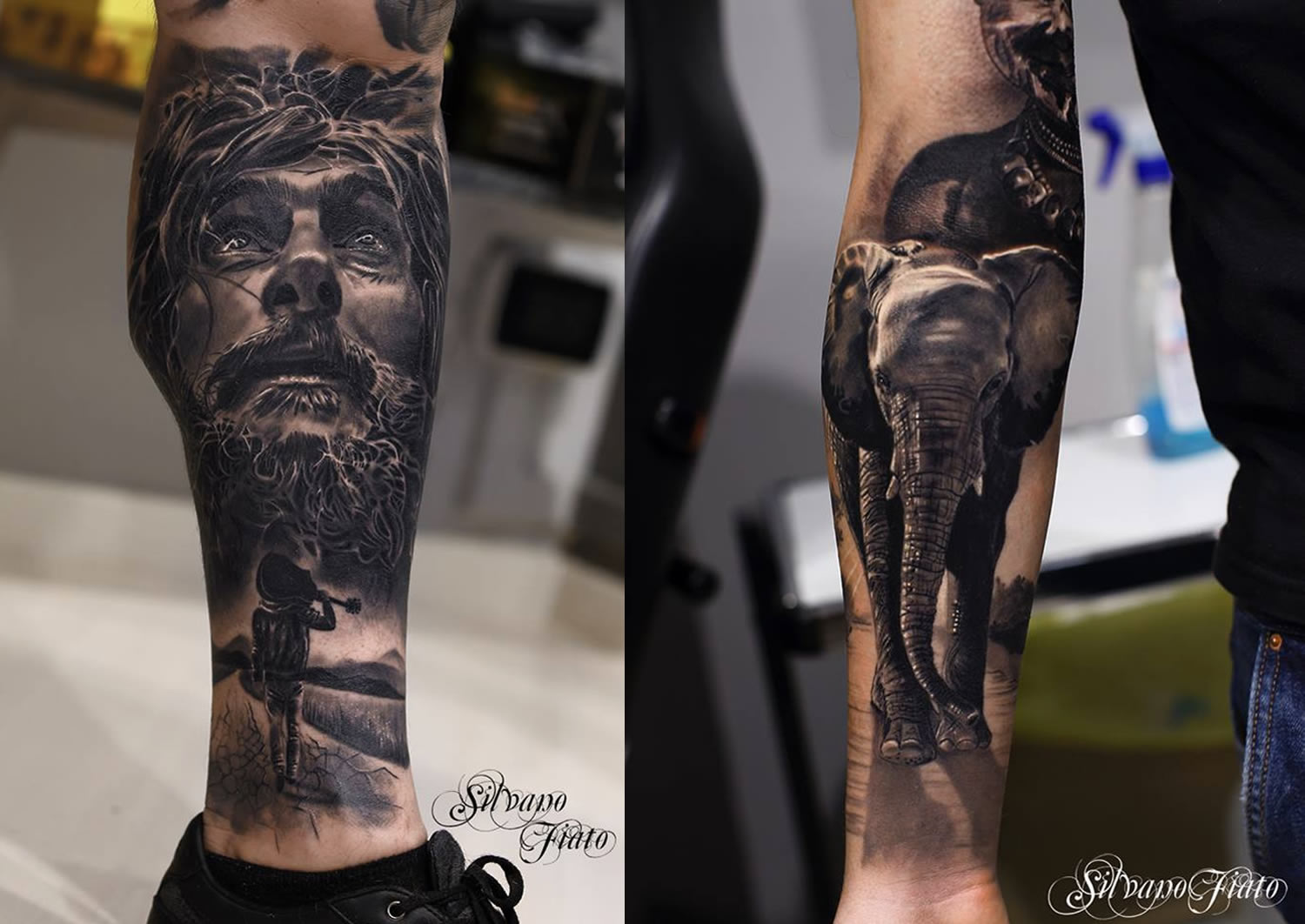 The hyperrealist art of Fiato, a self-taught tattooer from Italy who has over eight years of experience.
Silvano Fiato
What attracts me to Silvano Fiato's work is how well he is able to express emotion through each portrait he inks on a client. It is intense, some may say "dramatic," but life is dramatic so much is actually realistic. Adding so much detail into the faces, highlighting often the eyes—his images are three-dimensional like Renaissance sculptures. His tattoos are specifically appealing in black and grey: portraits of family members and pets, religious figures, and movie characters like Caesar the ape and Darth Vader. Many designs have a rather heavy fill while others are softer with equal amounts of light and shading, yet a commonality is his use of white ink to give a shiny finish.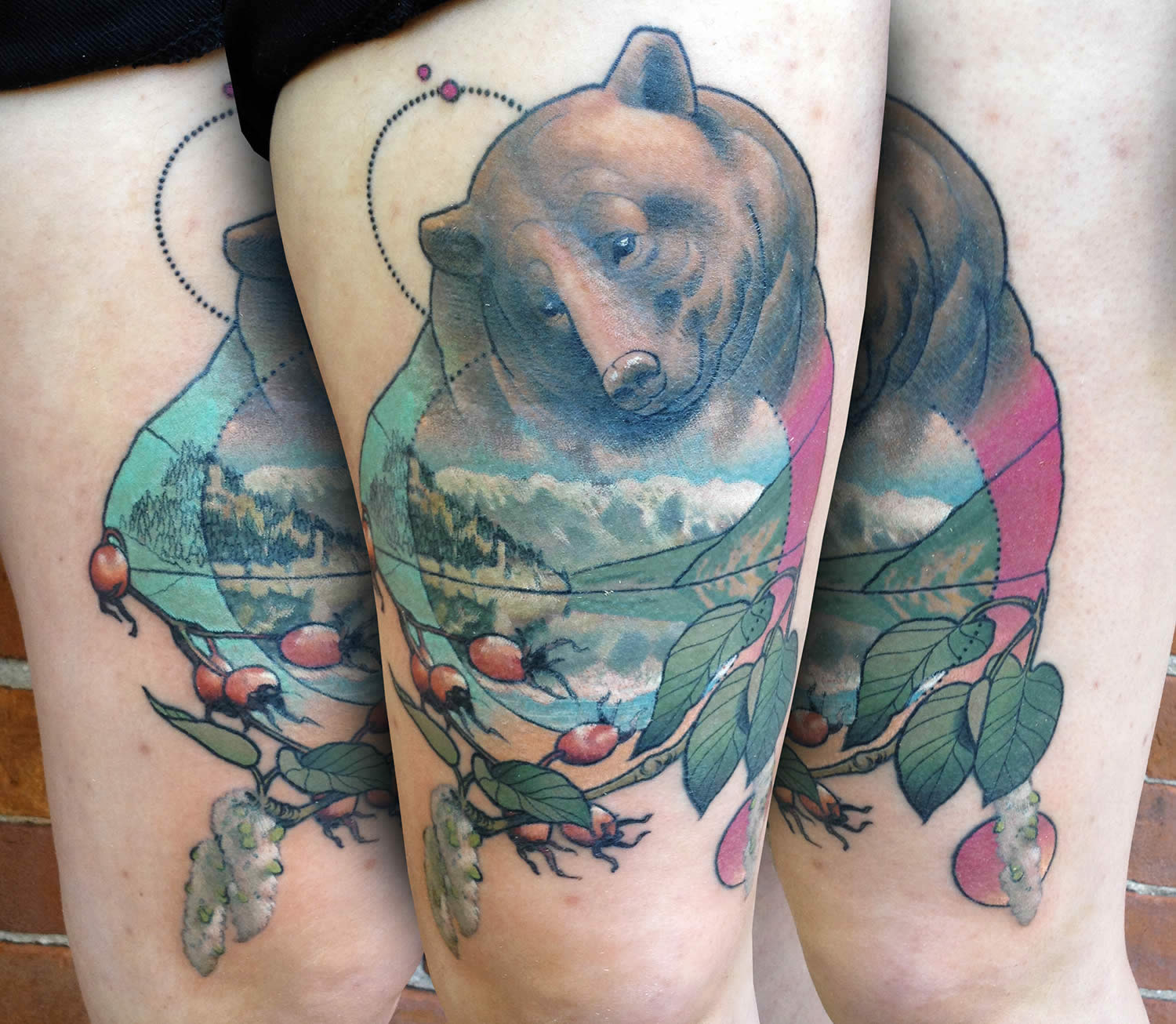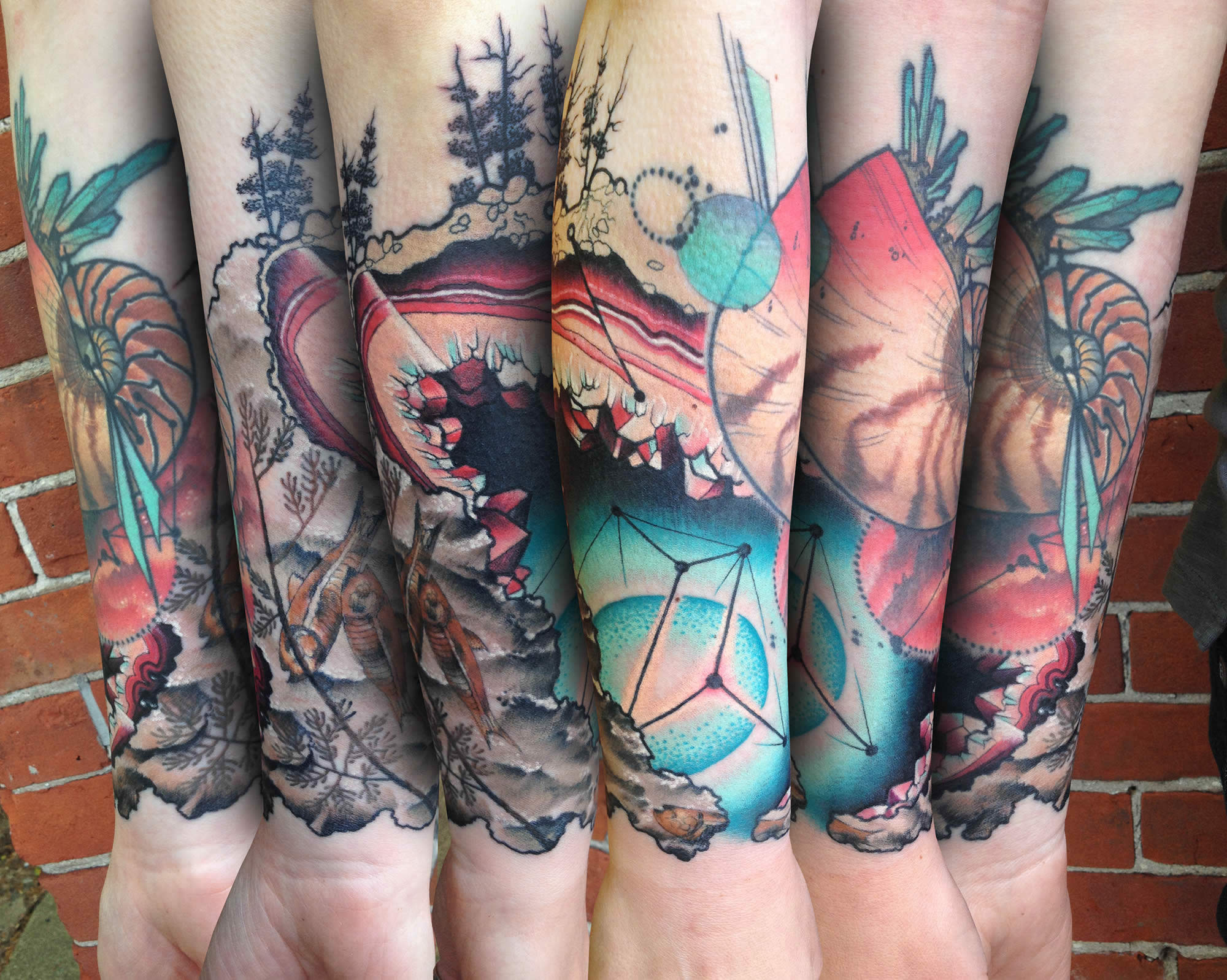 Eich is captivated by nature and how everything is interconnected.
Cody Eich
Having wrongly assumed Cody Eich was Canadian (as he's been working in Burlington, Ontario), speaking to him a few months ago cleared the air about where he is from. He grew up in Durango, Colorado, with a mountain backdrop hard to miss. Nature is clearly a focal point in his artwork, but he also likes to add scientific diagrams, which he says is influenced from his college days: "I started doing artwork based on the natural and geometric elements after working for an engineering firm, where I would regularly use programs for computer aided drafting, so everything had to be very precise." In the majority of his designs, he tries to show the connection between living things and nature and the spiritual world.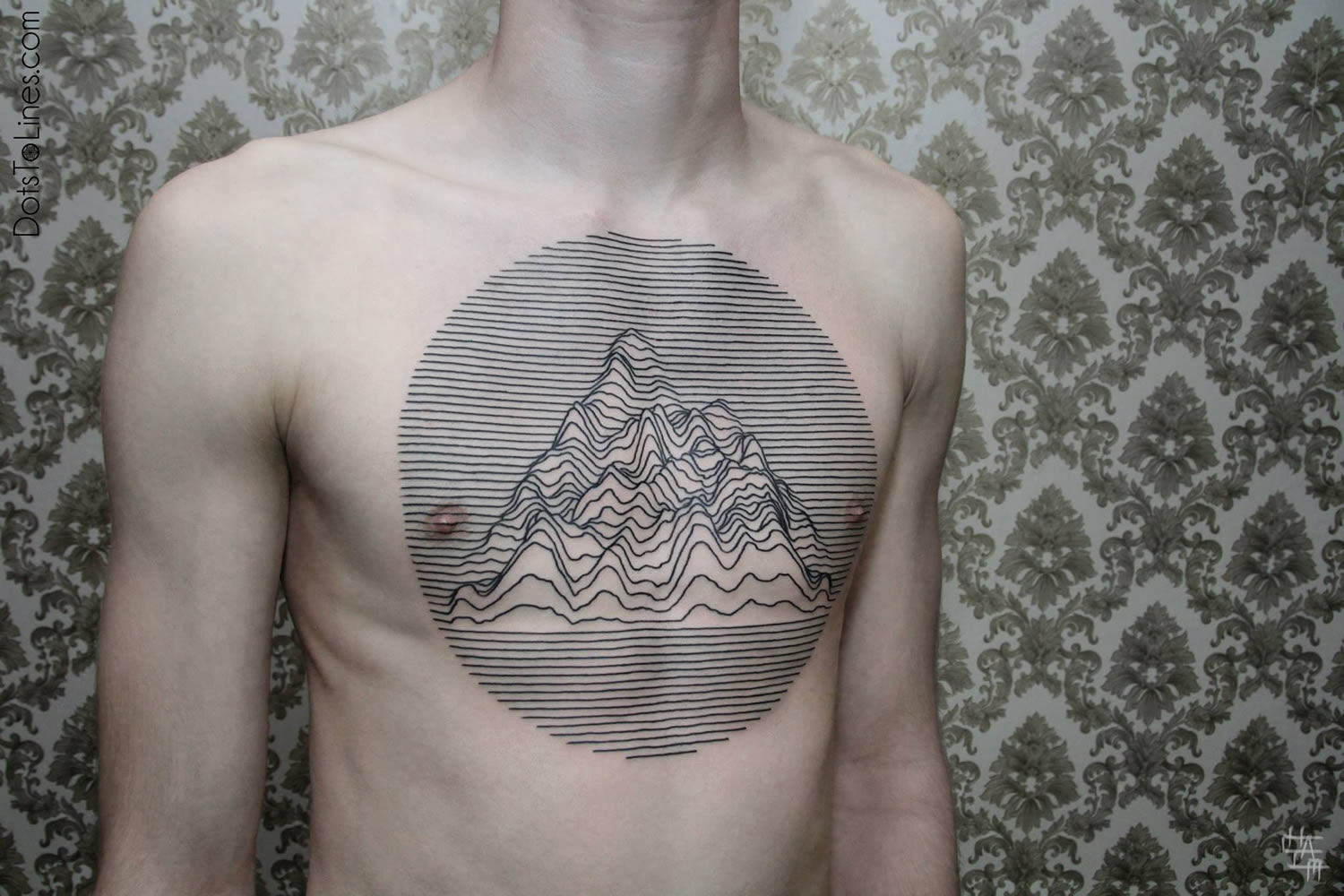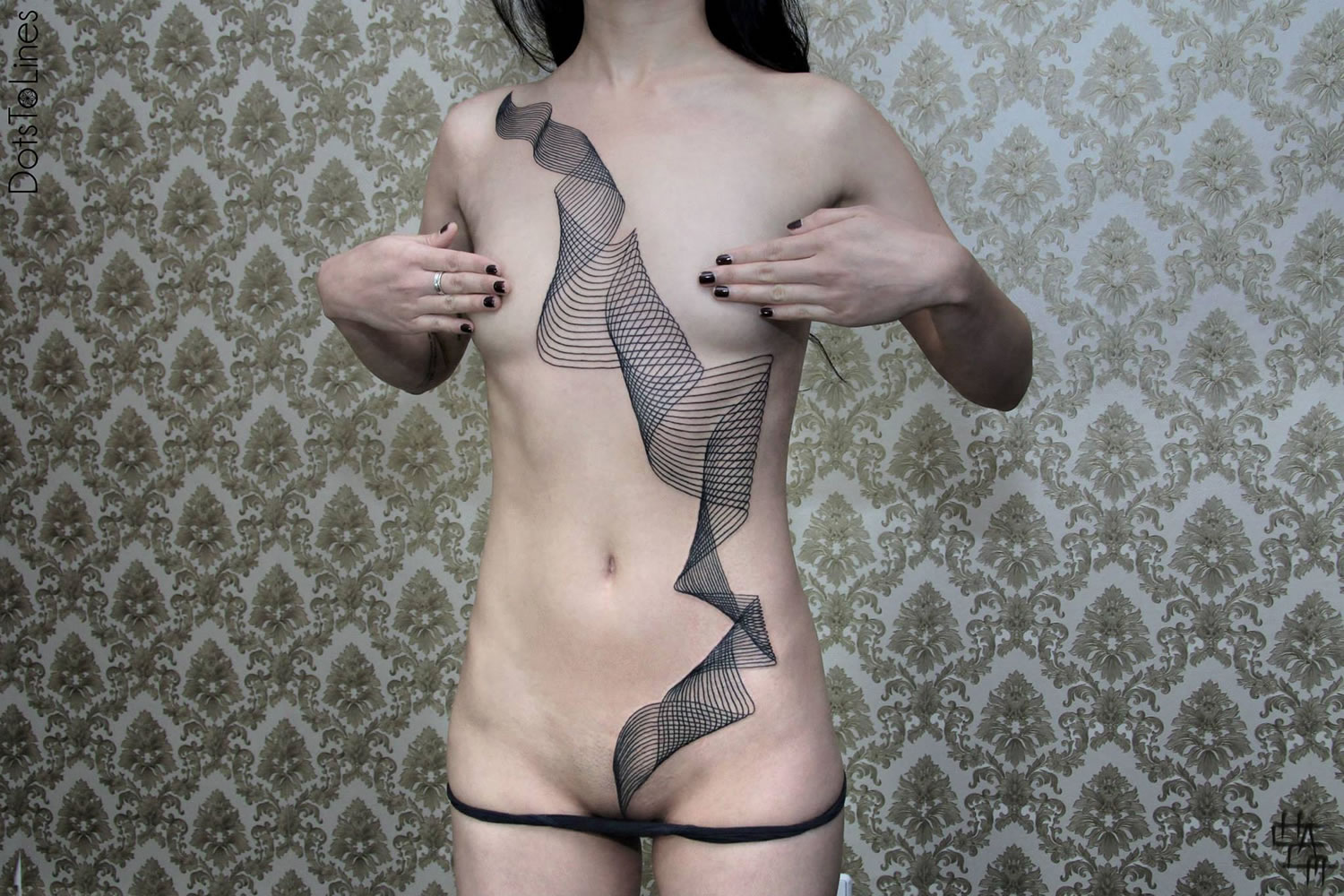 Machlev's tattoos are in sync with the human body.
Chaim Machlev
I don't think anyone wants to step on Chaim Machlev's toes when it comes to tattooing lines in motion on the body. This Israeli-born tattooer living in Berlin is so talented and consistent in this style, it is frighteningly remarkable! Having admitted in an interview that he had difficulty drawing a Koi fish when starting out as a tattooer, and that he had much to learn in terms of art (such as shading); his past experience in Information Technology made him closely connected with geometric shapes and patterns, so it was easier for him to draw lines and dots, which is his current style. One that is perfect as it is: timeless and fluid on the body like poetry in motion.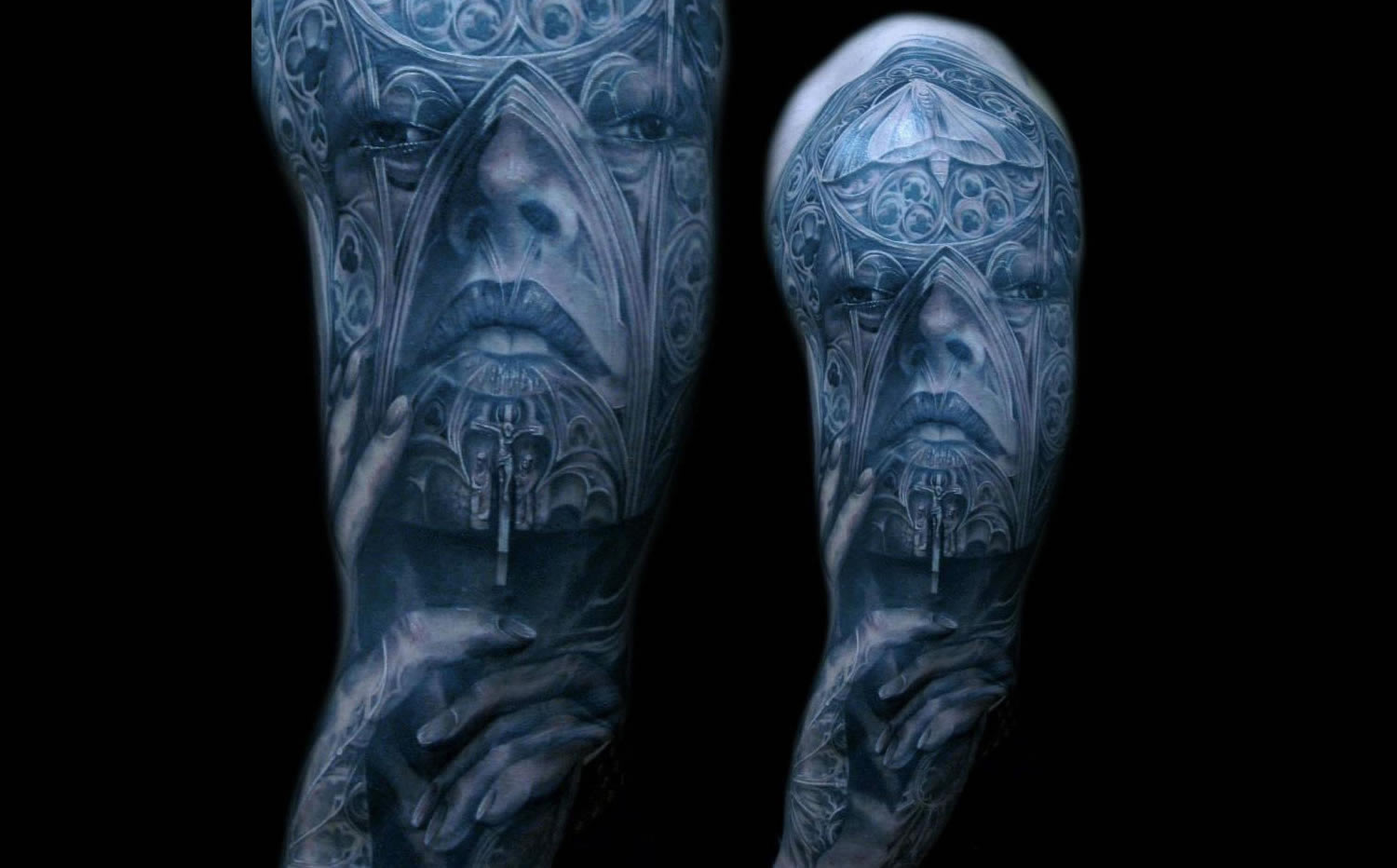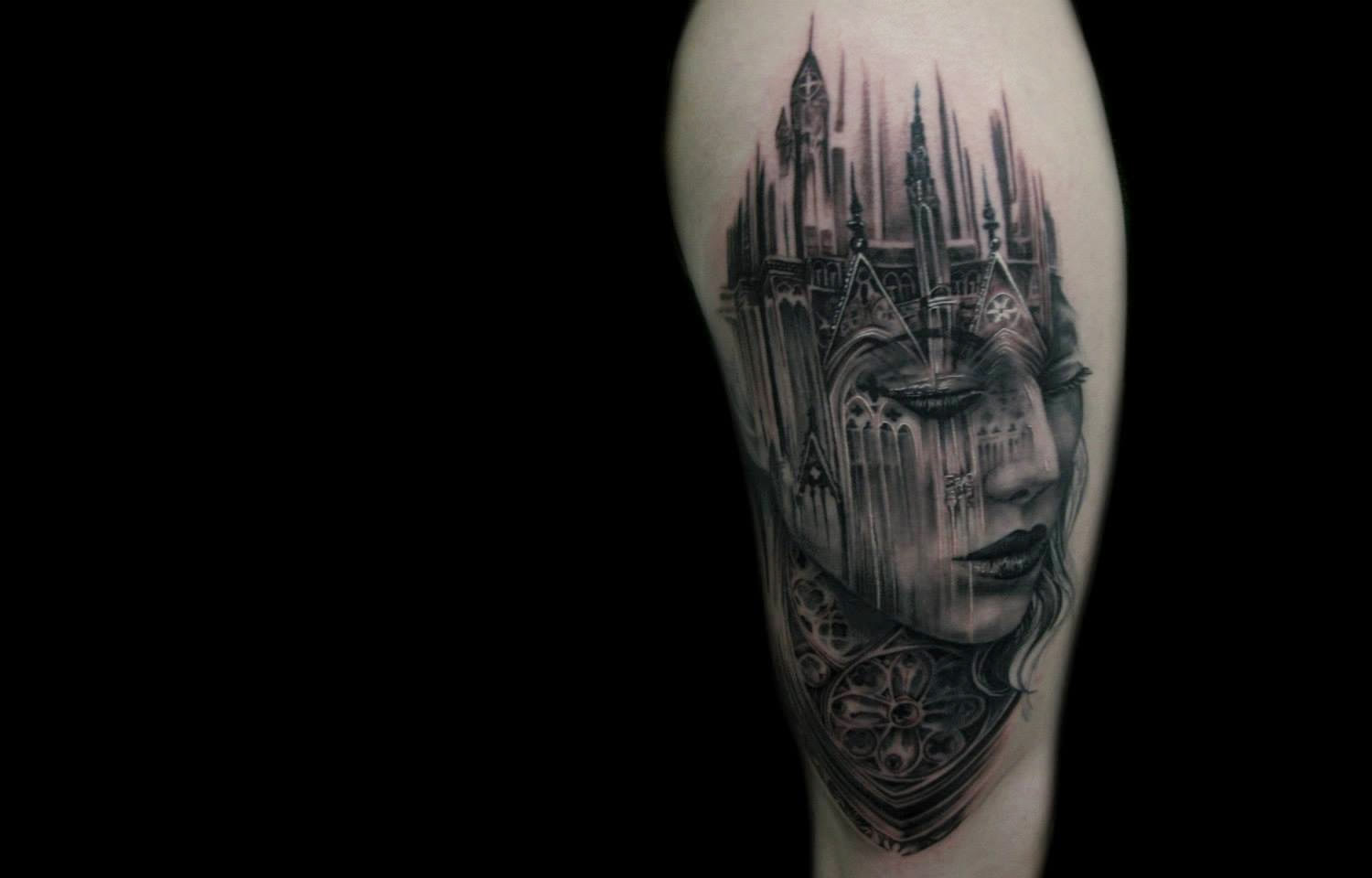 Elaborate tattoos by Mancia, an artist who has his own studio in Atlanta, Georgia, USA.
Tony Mancia
Being an admirer of Gothic architecture, Tony Mancia's Cathedral ornamented portraits made me look. It is all about the details, delicateness and darkness—a beautiful marriage of building and human. Like H. R. Giger is to merging machines with humans, Mancia has also created his own visual world combining opposite elements in a strange yet elegant manner. His strong compositions have garnered him some awards, for example, he received a 2014 Ink N Iron Award for the black-and-grey tattoo shown in the image above. Other gorgeous designs are his Carnivalesque ones, view here and here.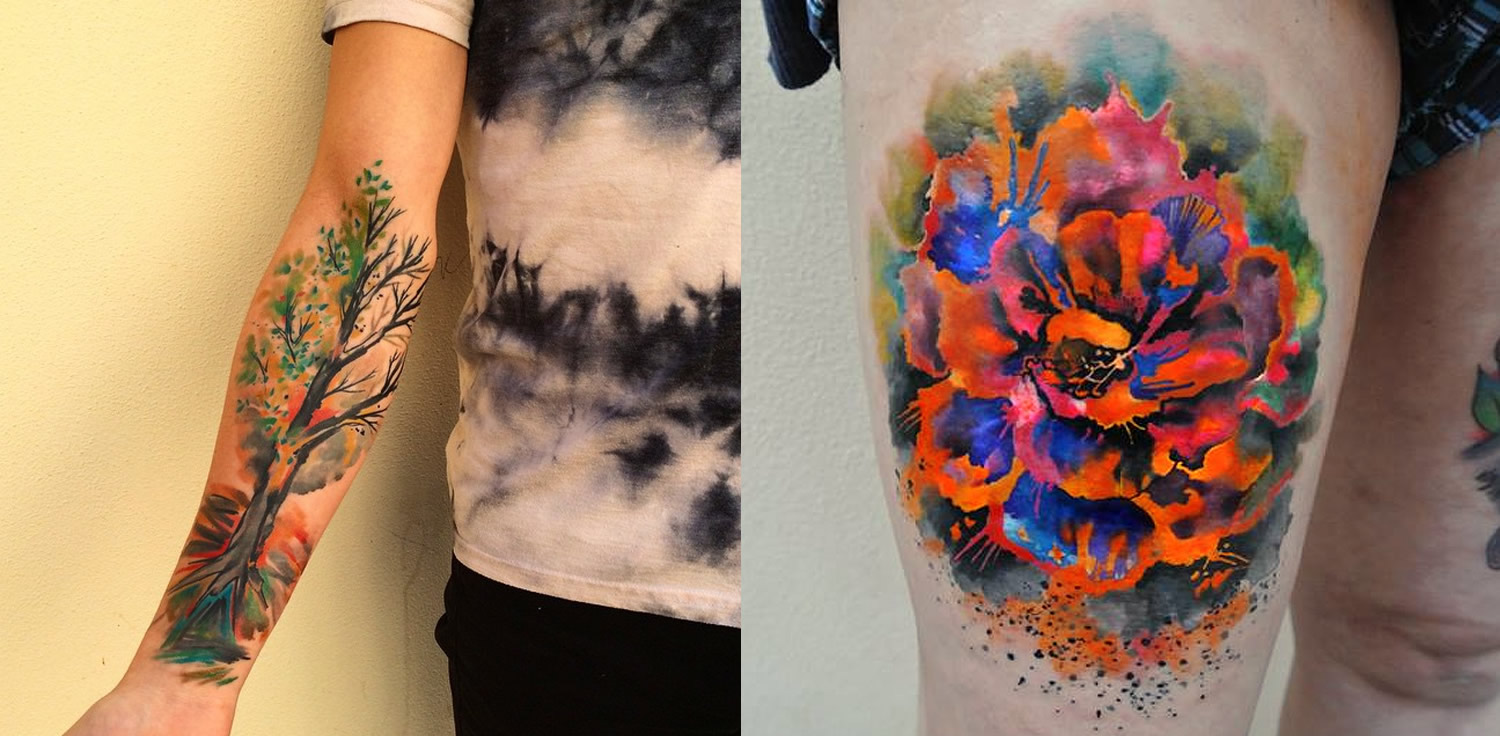 Czech artist Ondrash often uses paint splatter and drip effects for his tattoos.
Ondrash
Already noted (on Illusion) as one of the watercolor tattoo pioneers, Ondrash has continued to develop his painterly, free-form technique, taking his work to sublime heights every year. He sees each client as an original human being, so each design should be an original too (drawing directly on the bodies of his clients so that the artwork is custom-made for them). The tattoos are exuberantly colorful; in recent years many include neon colors that pop out/off of the skin—as he expertly blends and smudges the inks to look like traditional art mediums.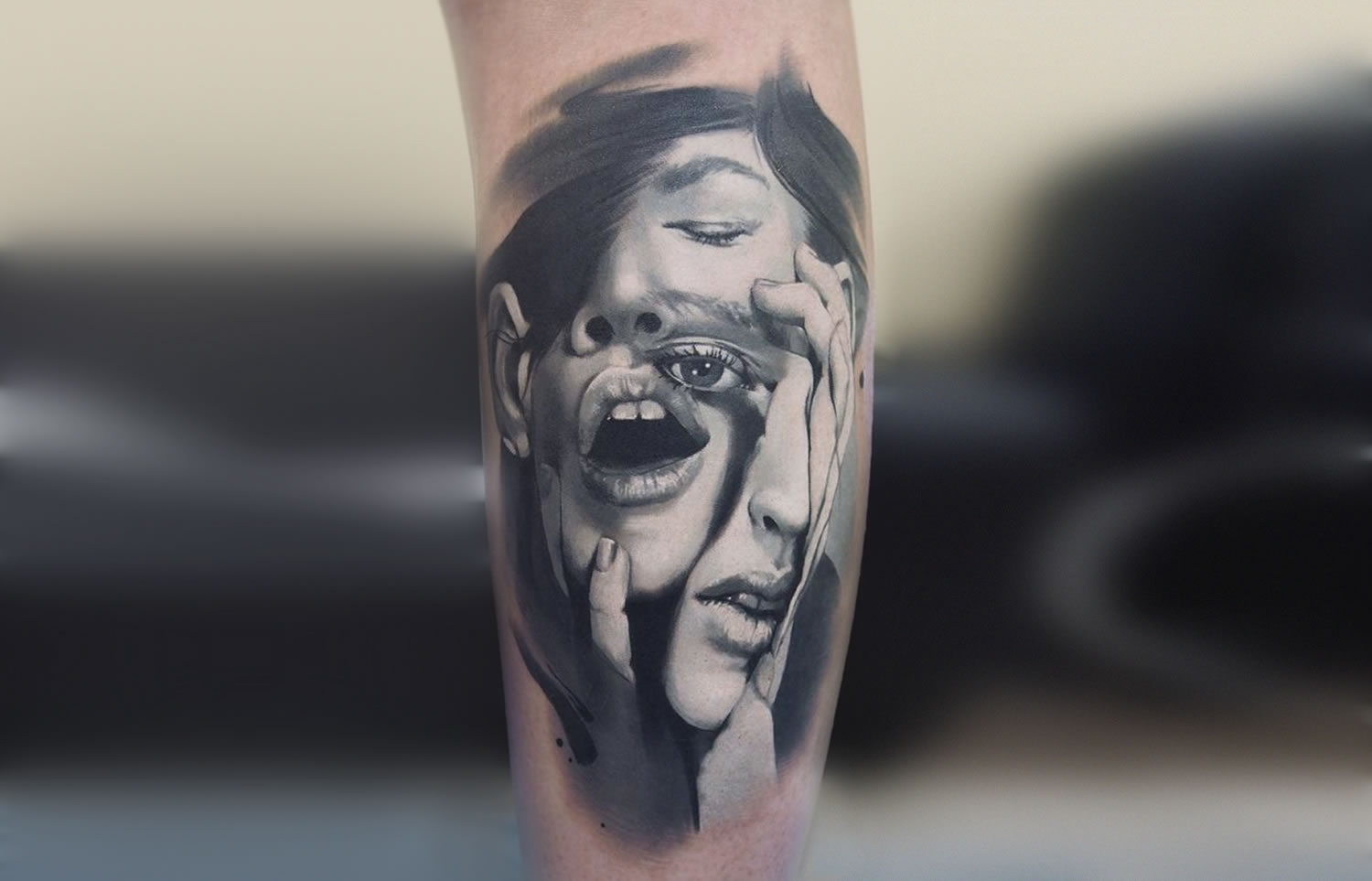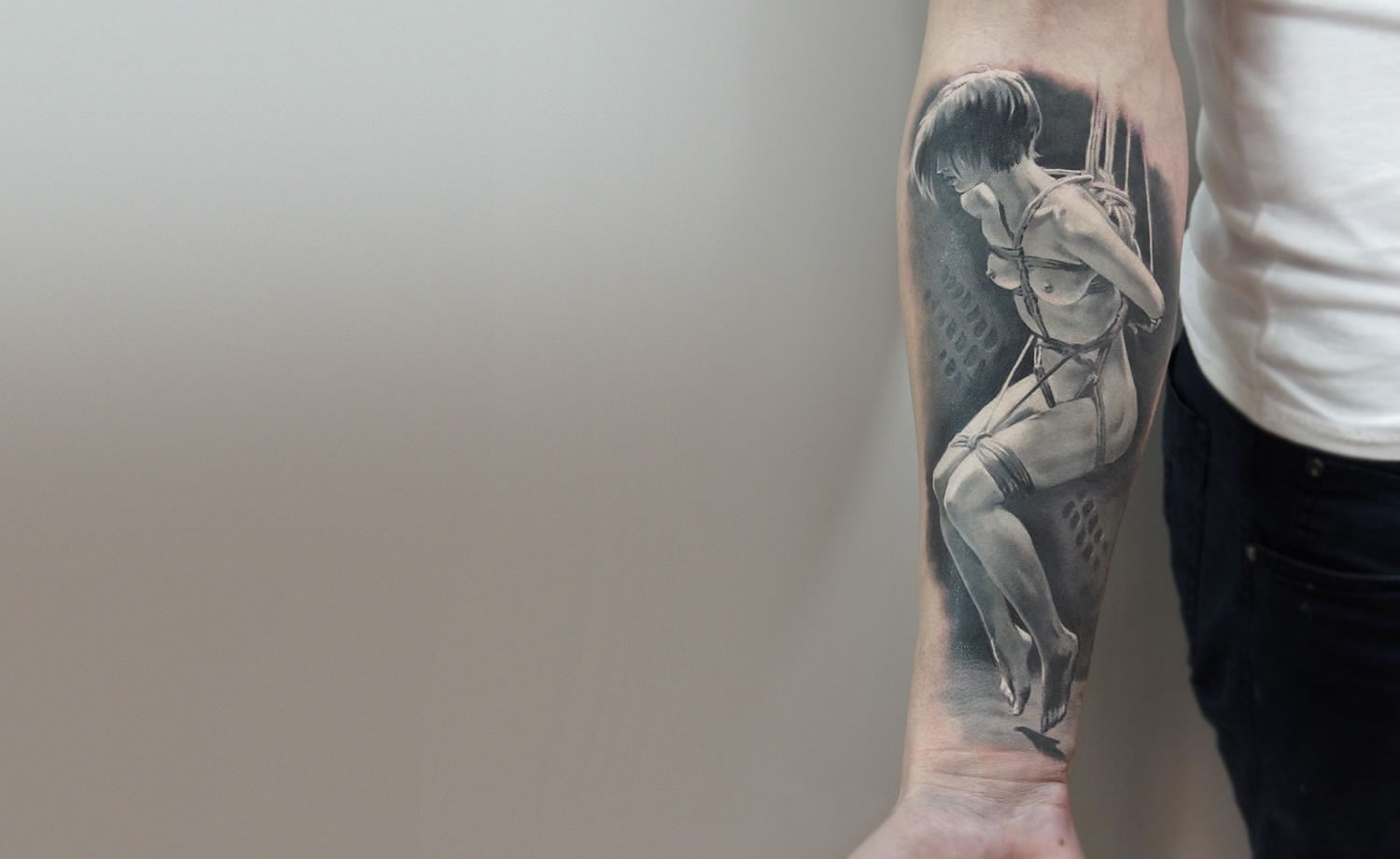 Russia is already a country full of great photorealist tattooers, but there is room for one more: Valentina Ryabova.
Valentina Ryabova
Not everyone is interested in getting a nude-model-bound-with-rope tattooed on their arm, however, if you were to get one, it should be inked by Valentina Ryabova. A Russian artist who has a great eye for composition and depth; not afraid to explore erotic (BDSM) subject matters, which she finds attractive and not commonly inked by others. Her work is photorealist, three-dimensional—like it was done by a seasoned tattooer, but Ryabova only started tattooing in 2012, after graduating from university and no longer wanting a career as a designer.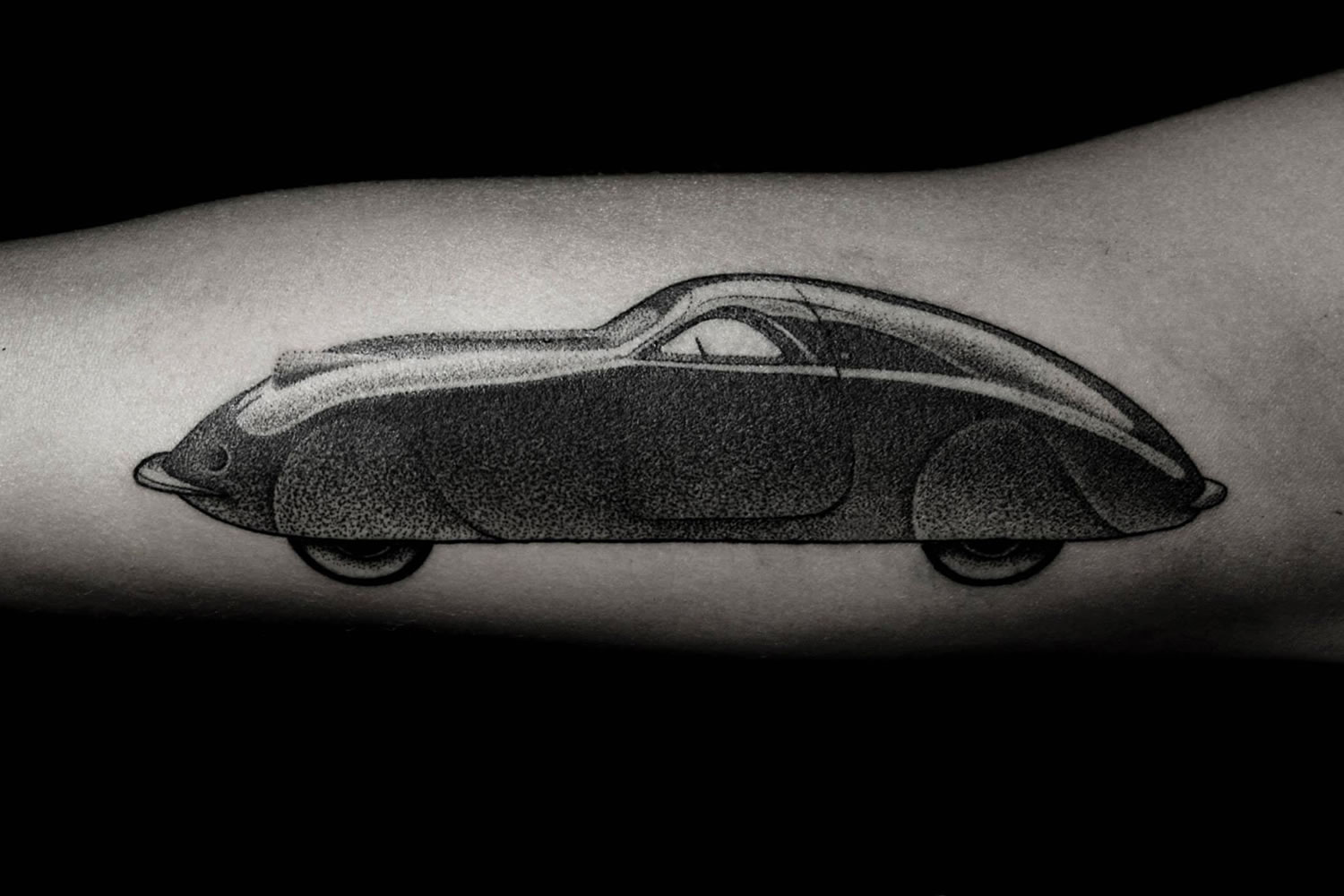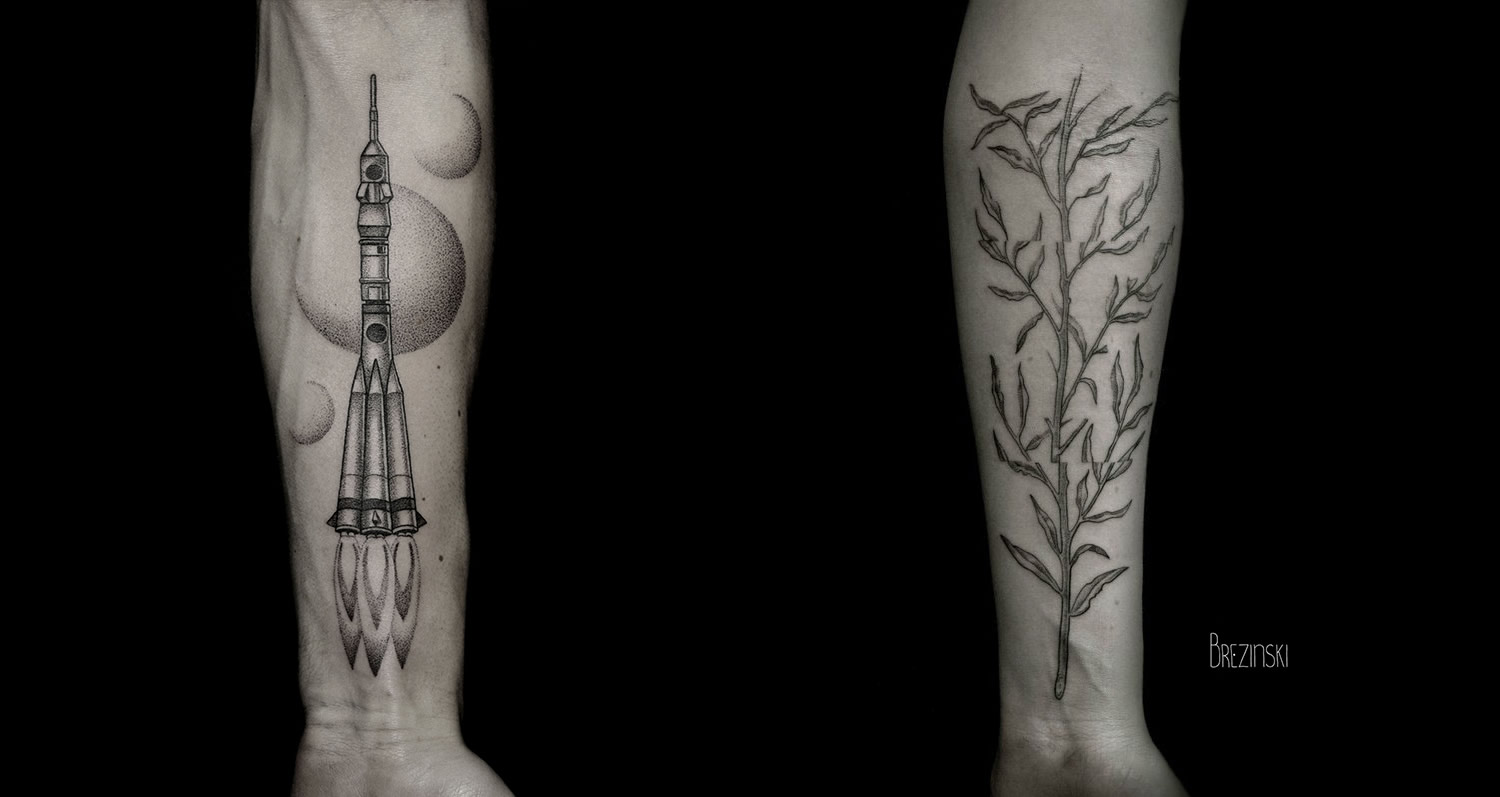 Belarusian illustrator Brezinski uses the stippling technique to shade his tattoos.
Ilya Brezinski
Although Brezinski has not gotten the online spotlight as some of the other artists listed here, his dotwork really impressed me and definitely has a place in my favorites this year. His work is meticulous, almost like a surgeon, everything clean and precise. From straight-forward concepts like the Phanton Corsair and a rocket launching into space, to surreal compositions of a fish and bird switching body parts—some images intentionally tricking the eye as shown on Behance. Brezinski first draws the illustration on paper, using a mechanical pencil and Copic Multiliner SP pen, and then transfers the design on a client's skin to begin tattooing an accurate reproduction.
All photos © respective artists
References:
"Artists: Ondrash." Inked Magazine. Dec 30, 2014.
English, Morgan. "Designing with DotsToLines." Tattrx. May 19, 2014.