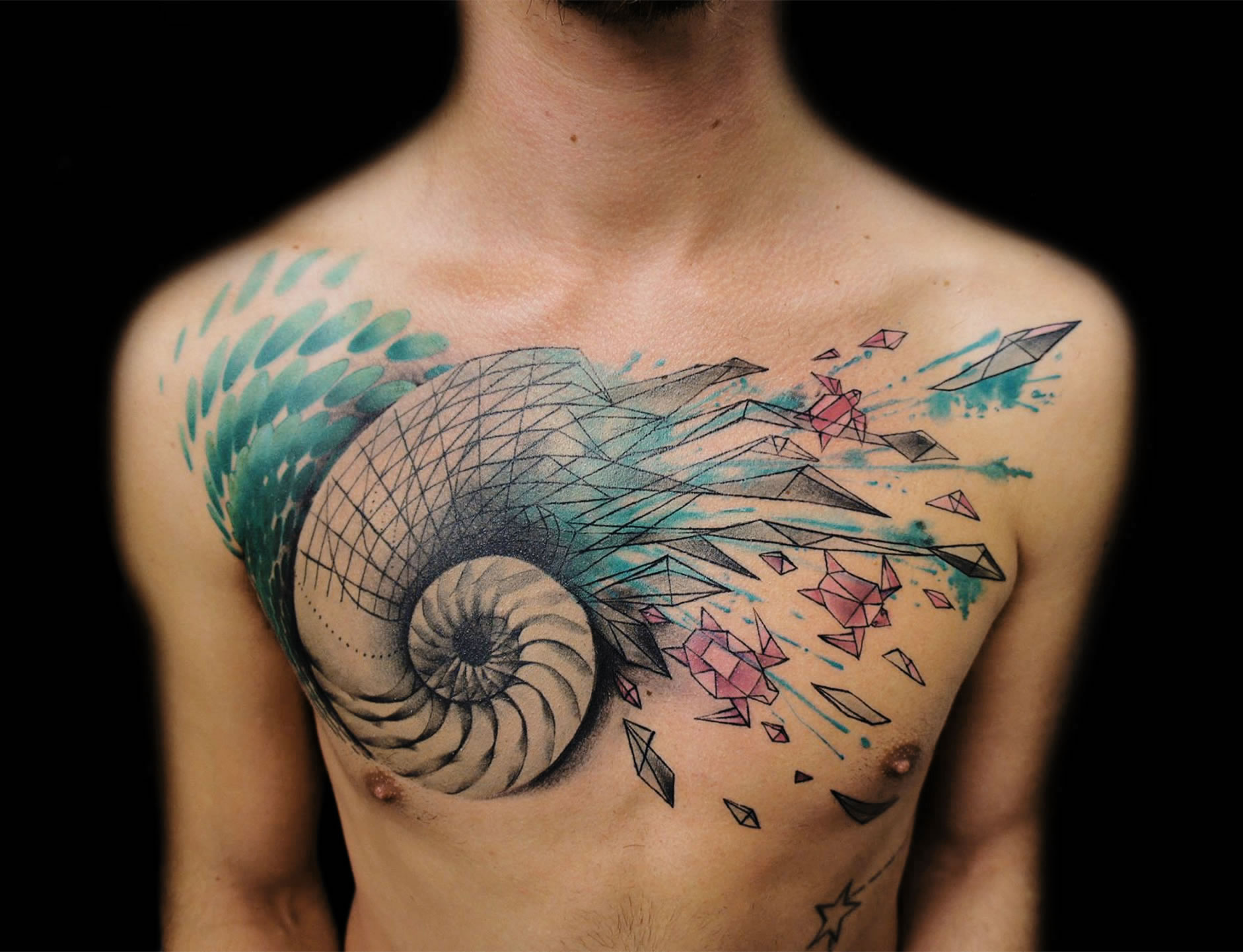 Consider the time that goes into crafting a beautiful painting on canvas. Then consider doing it all over again, this time with an electric rotary on the elastic and unpredictable surface that is the human body. No mistakes allowed.
Watercolor tattoos were trendy¬†back in 'Äė12, with¬†pioneers like Ondrash,¬†Klaim and¬†Wachob.¬†Their body art experiments inspired others to explore,¬†giving way to modern¬†masters in this¬†fresh and unique style.
Top: Chambered nautilus ejecting origami turtles by Jay Freestyle. Photo © 360 Media Solutions.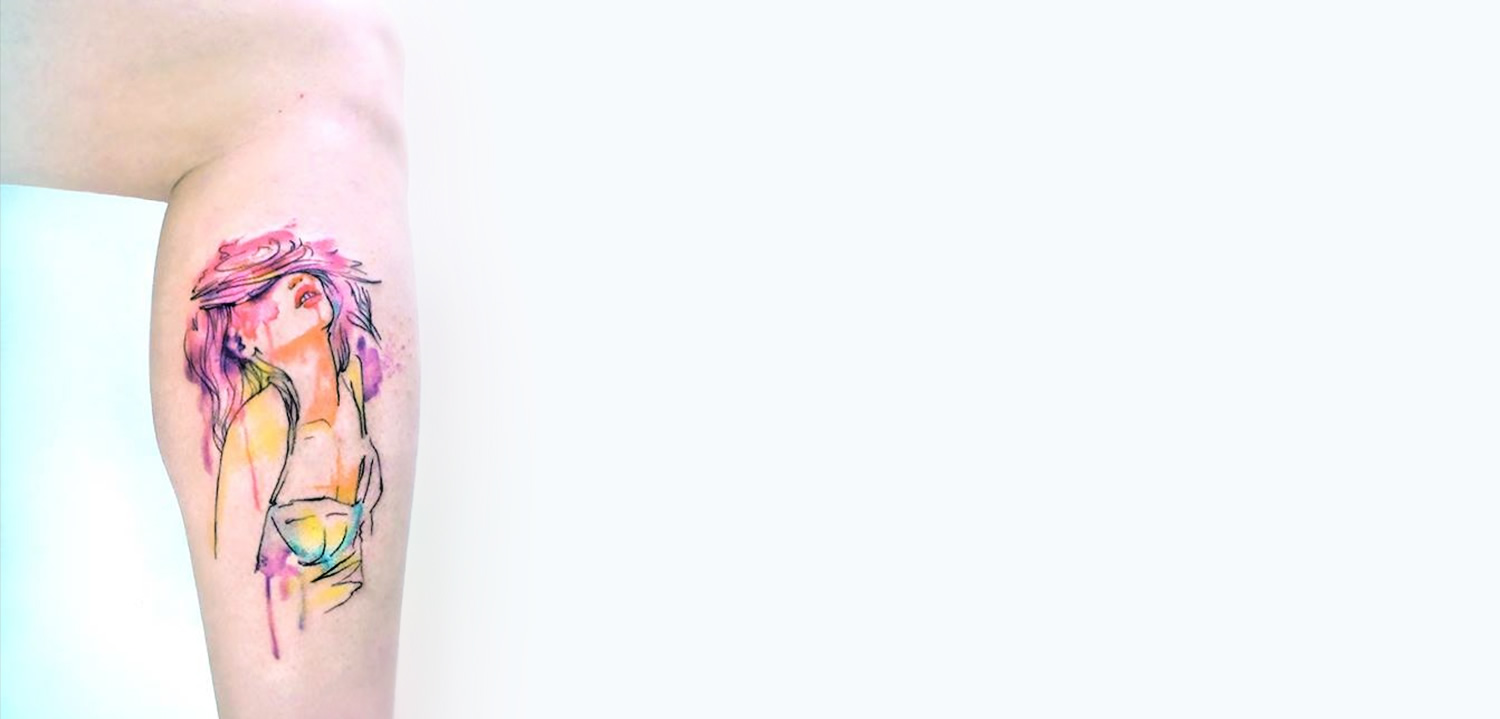 Ecstasy by Candelaria Carballo.
Candelaria Carballo
Sketches dripping with emotion are a signature theme for Argentinian illustrator Candelaria Carballo. Painting with a purpose, she harnesses next-level expressionism, using watercolor to amplify the subject's emotional state.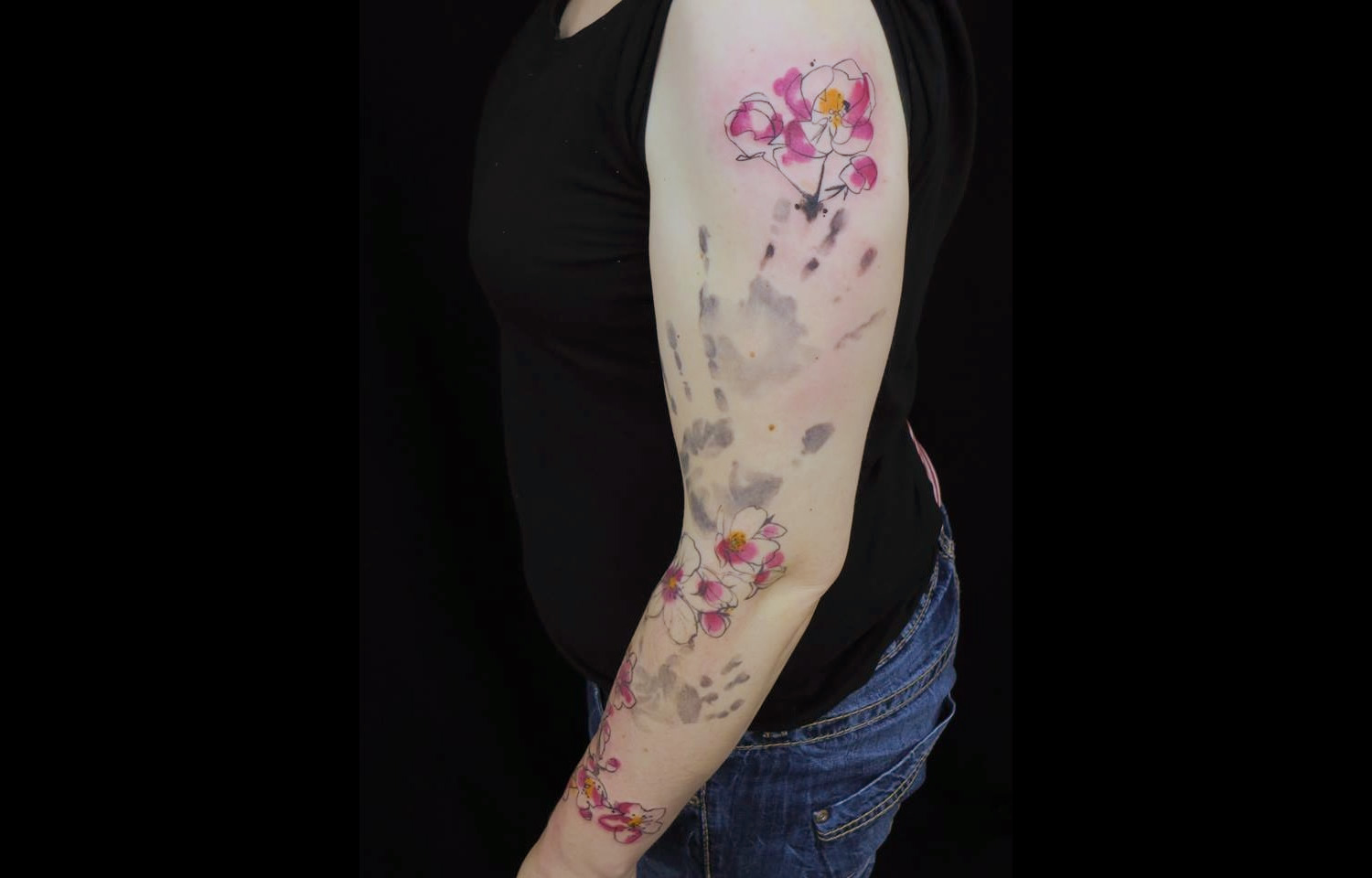 Family prints by Sara Rosenbaum.
Sara Rosenbaum
Worldly Sara Rosenbaum isn't new to watercolor. For years it was just a gentle accent, though, highlighting patterns and soft portraiture. Now in 2014, she's pushing it further. A once-background element hits the main stage, with fewer boundaries, bolder colors, and larger scale designs.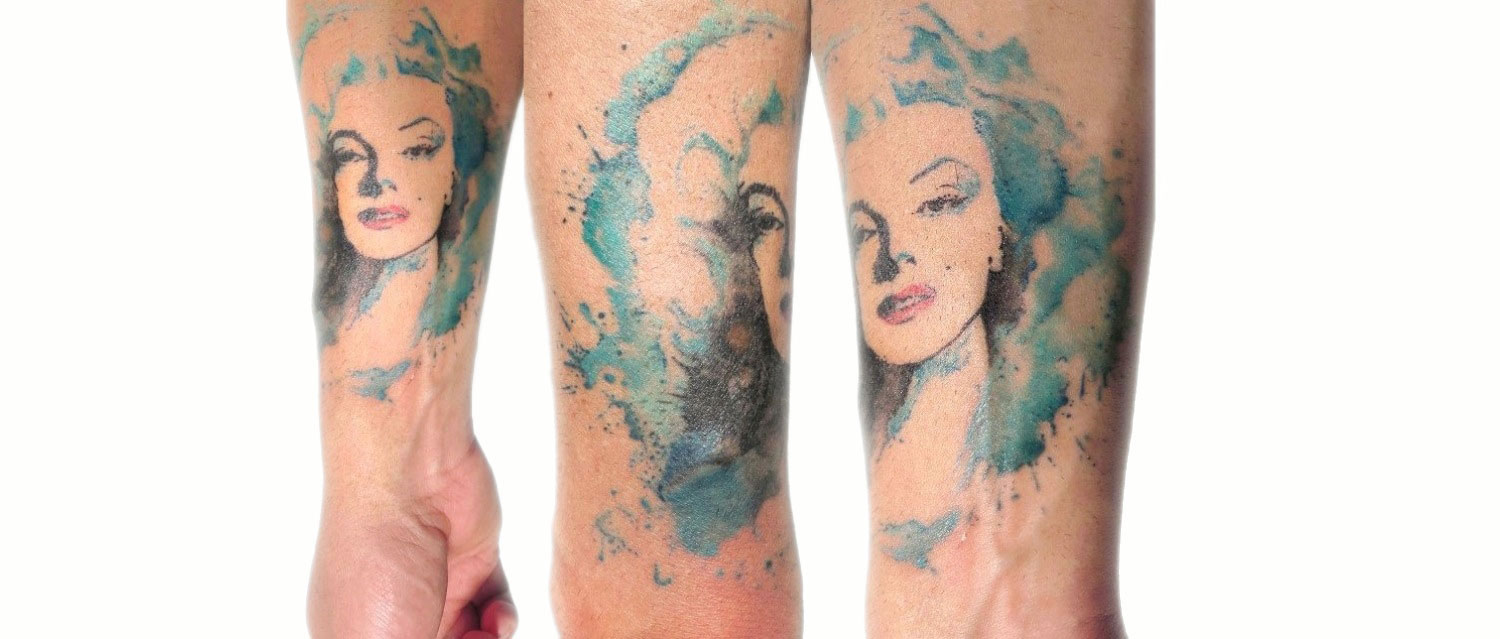 Marilyn by Rodrigo Tas.
Rodrigo Tas
São Paulo free-thinker Rodrigo Tas is a master of the dotwork-watercolor hybrid. Embracing emptiness, he often uses negative space as a main feature in his work, highlighting details through contrast. So perhaps the strongest skill an artist can possess is the ability to subtract and edit.
Freehand thistles by Jay Freestyle. Photo © 360 Media Solutions.
Jay Freestyle
South African born to Chinese parents, Jay Freestyle resides in Amsterdam now, with a flair for freehand watercolor work. He pours every ounce of energy into his designs. "Give me a piece of your skin and I will give you a piece of my soul," a motto he lives and works by.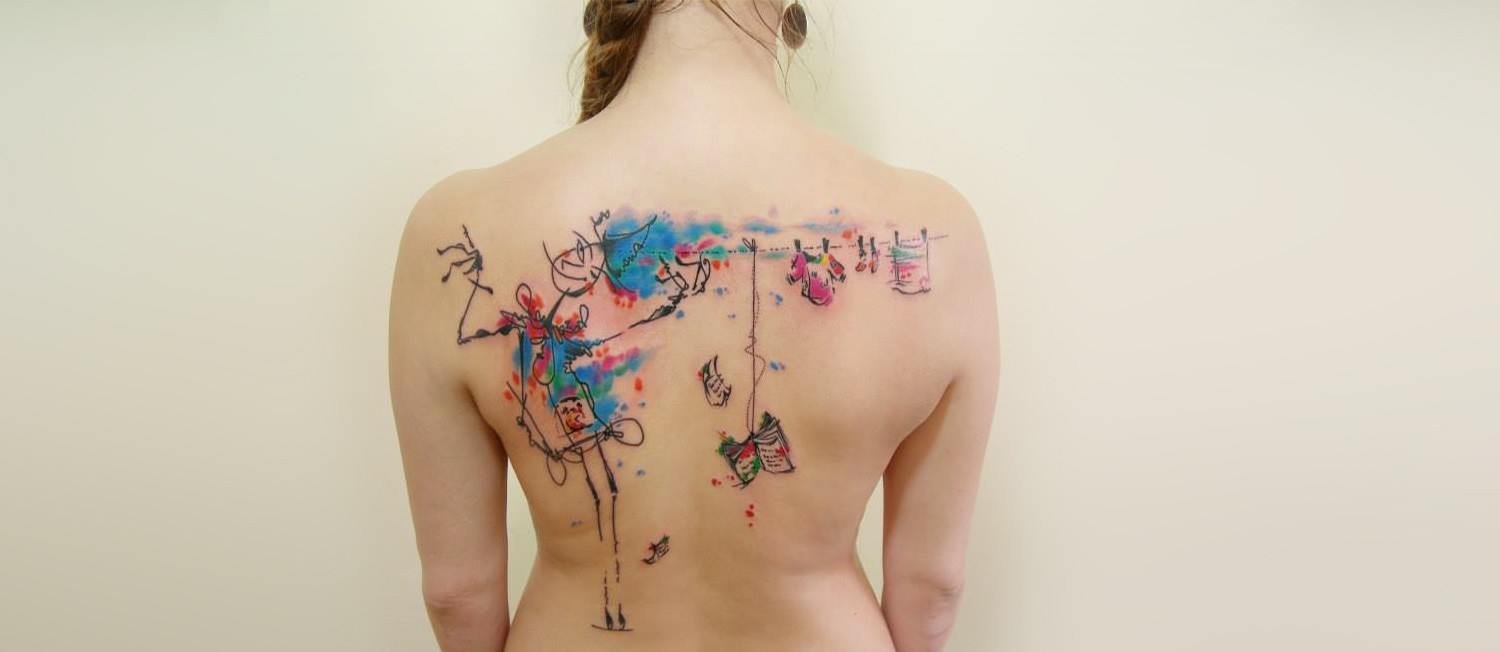 Doodle does the laundry by Aleksey Platunov.
Aleksey Platunov
Kirov, Russia: home to¬†Kindergarten Chic. Aleksey Platunov¬†draws outside the lines with his whimsical coloring book designs. But don'Äôt let yourself think, "My kid could draw that." It'Äôs arguably harder to¬†pull off this technique, while still maintaining balance and editorial restraint.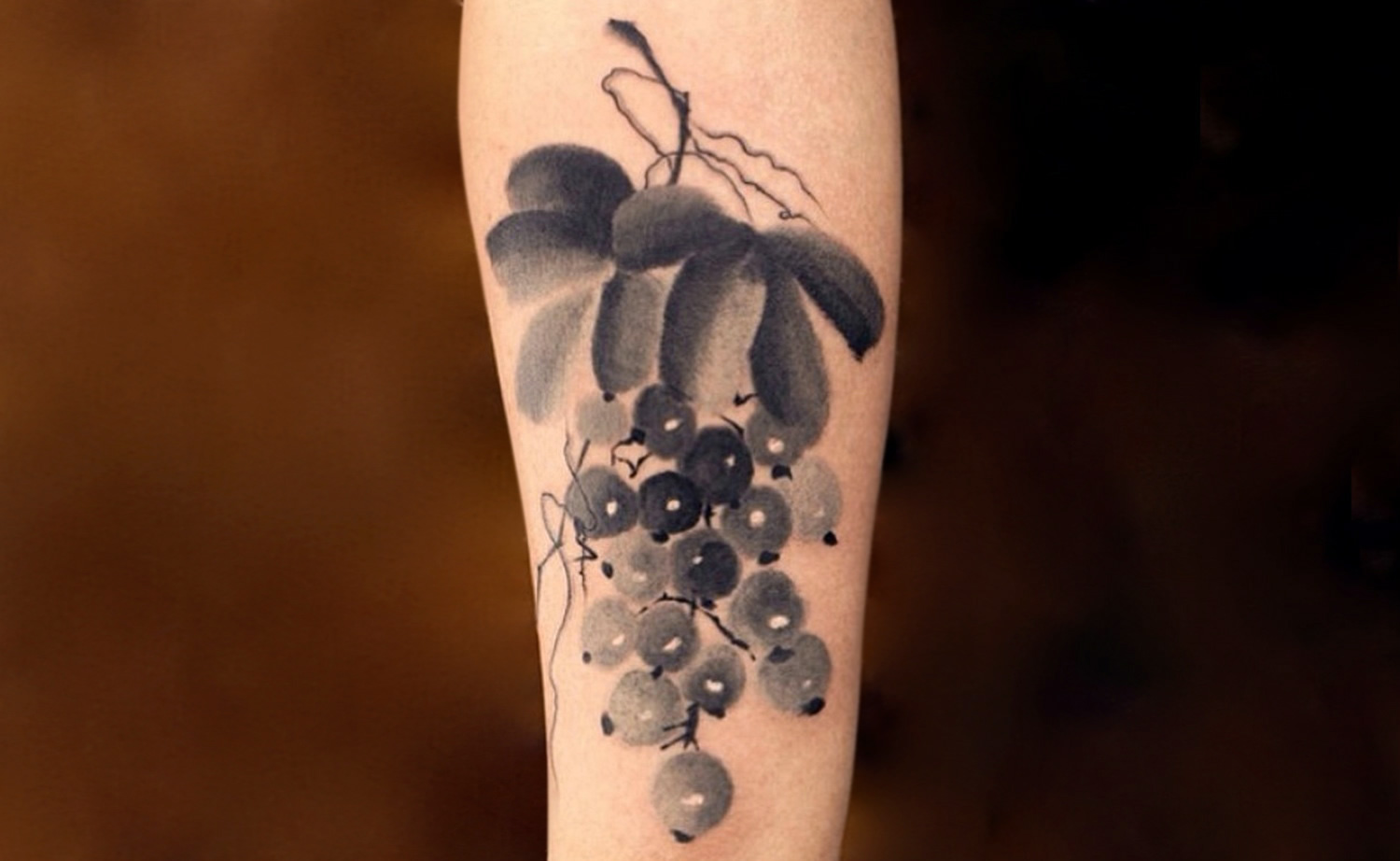 Grapes in monotone by Chen Jie.
Chen Jie
Watch out, Hong Kong. Beijing'Äôs¬†tattoo culture is on the rise, with progressive artists like¬†Chen Jie (ťôąśīĀ).¬†Classic Asian¬†motifs collide with¬†Western techniques, as Chen Jie plays with¬†delicate, small-scale tattoo paintings.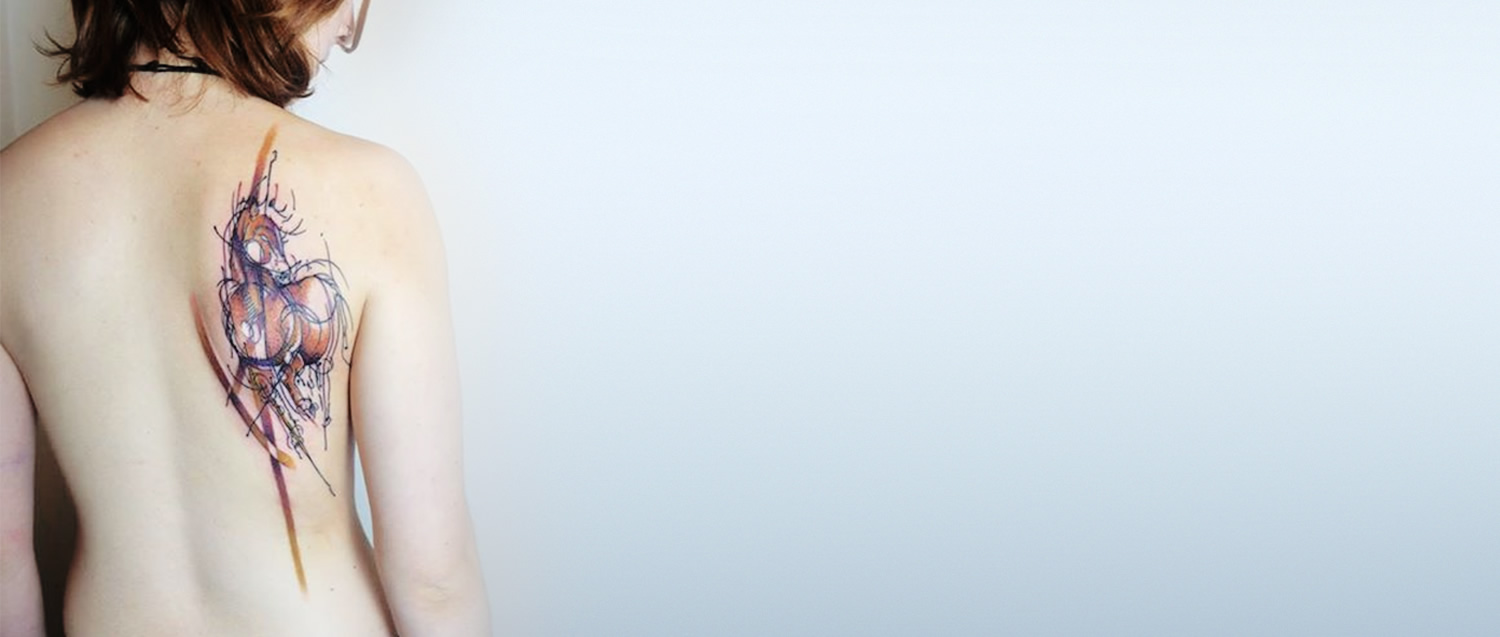 Wild horse by Carola Deutsch.
Carola Deutsch
Movement and rhythm never looked so good. Austria's Carola Deutsch uses swift brushstrokes to amplify her already-dynamic drawings. These lively sketches are customized for each body shape, painted in a state of perpetual motion.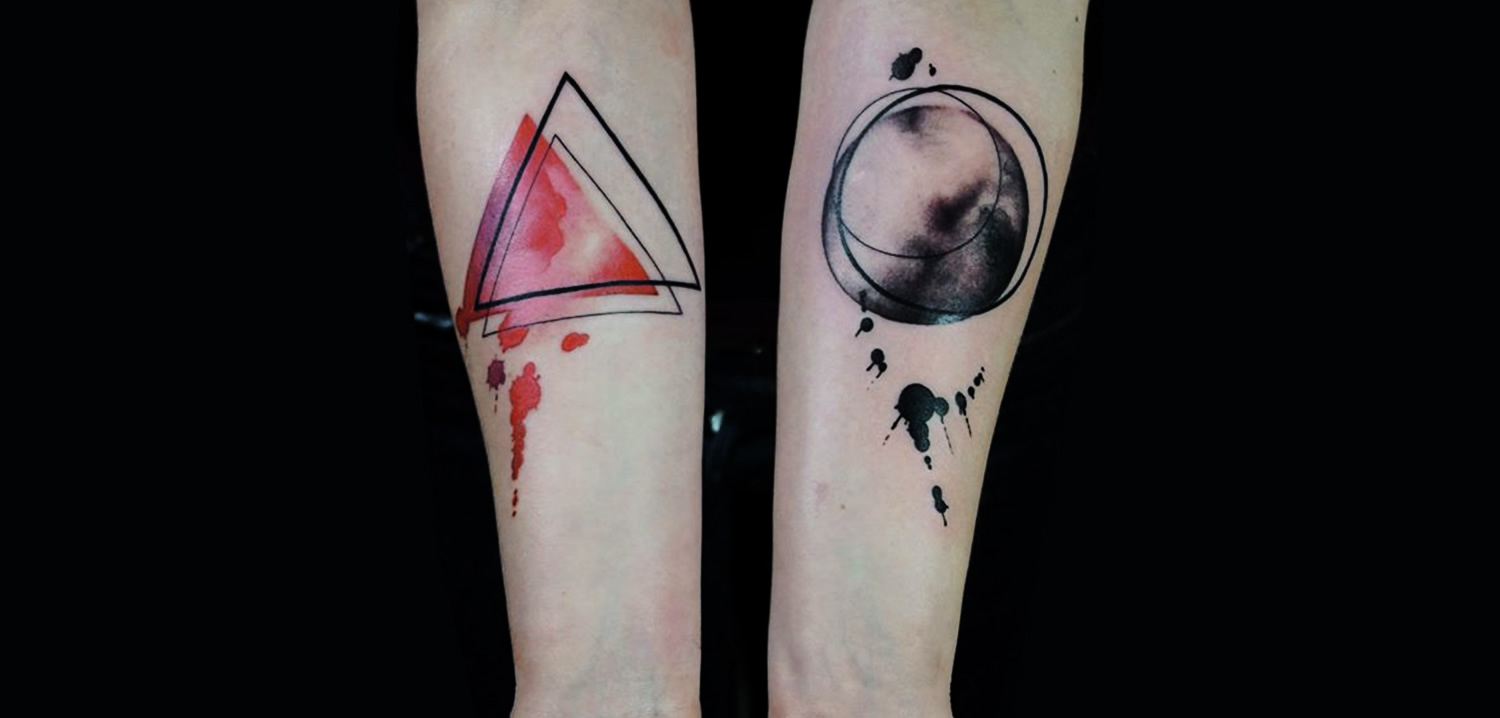 Simple shapes by Julia Rehme.
Julia Rehme
Berlin beauty Julia Rehme offers neat and clean compositions, with a dash of wild splatter thrown in just for fun. Her ink-and-water approach always starts on simple sketch paper, before wrapping it to her client's body with perfect precision.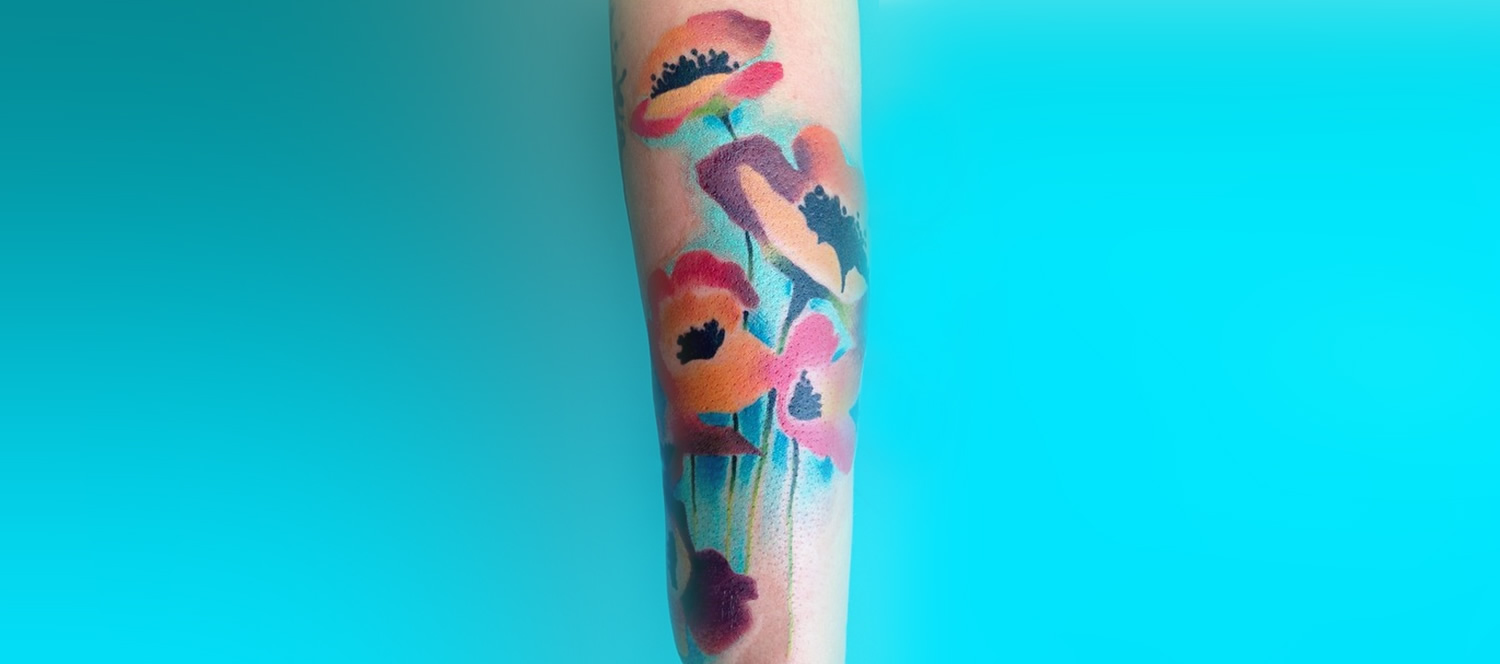 Painted poppies by Briana Sargent.
Briana Sargent
San Diego'Äôs sun child,¬†Briana Sargent of BUJU Tattoo,¬†loves vibrant¬†colors that illuminate the skin'ÄĒblack outlines are strictly optional. A classically trained illustrator¬†with a¬†Bachelor of Fine Arts Degree from SCAD, this Boston native now fully embodies the spirit of California love and light.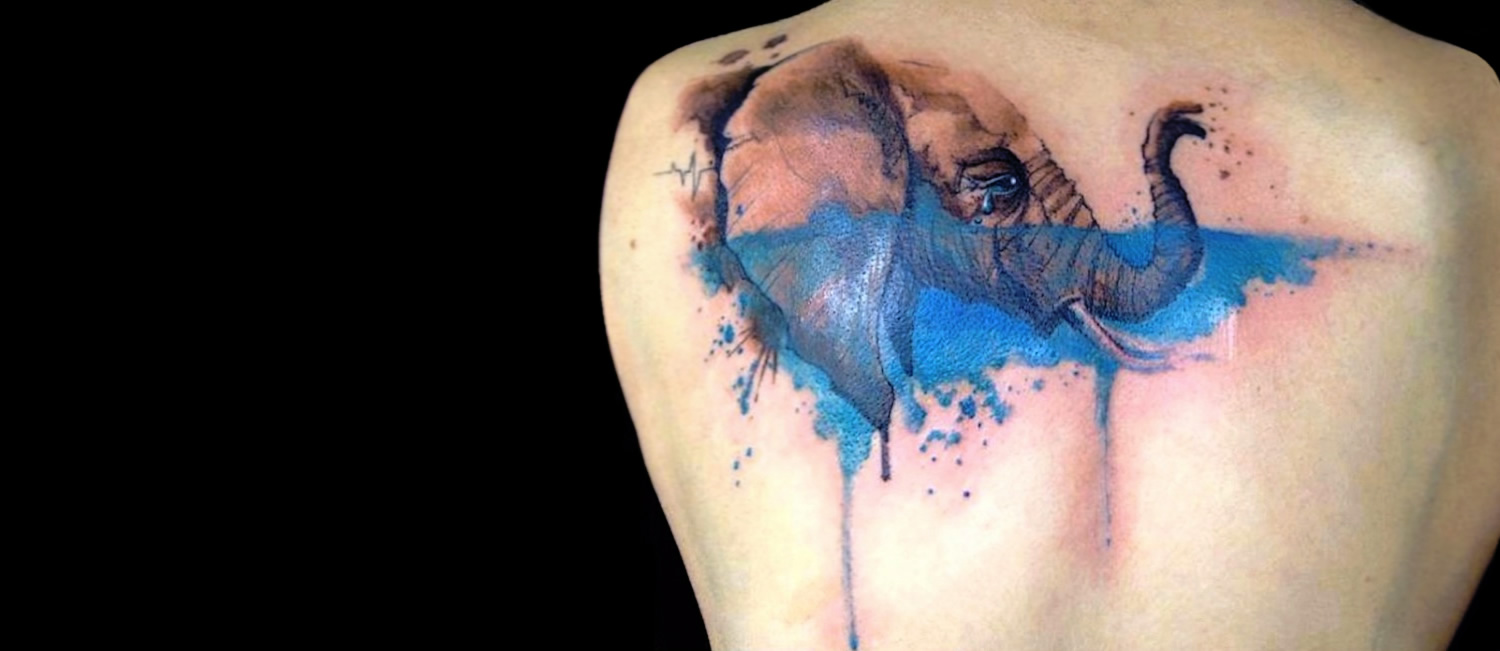 Submerged elephant by Victor Octaviano.
Victor Octaviano
Renowned Brazilian painter Victor Octaviano spent 2013 honing his tattoo skills. It's not an easy transition, from paint brush to rotary machine. Few painters can actually pull it off, but Victor is a success story. He hit the ground running in 2014, with expert watercolor tattoo skills that usually take years to perfect.
Photos © respective artists