What does it take to have over 4 million subscribers on YouTube and over 765 million views of your 200+ videos?
Devin Graham, aka DevinSuperTramp, knows—the videographer, editor, and producer excites and inspires with his incredible, jaw-dropping extreme pogo videos that make you suddenly want to invest in a pogo stick and go hopping around the mountains. A big part of their enticing quality comes from his beautiful cinematography. The gorgeous videos have a high production value and feature hi-def shots and Glidecam stabilizers. Plus, Devin integrates the LG 21:9 UltraWide curved monitor into his workflow for a setup that brings editing and sound design to one place.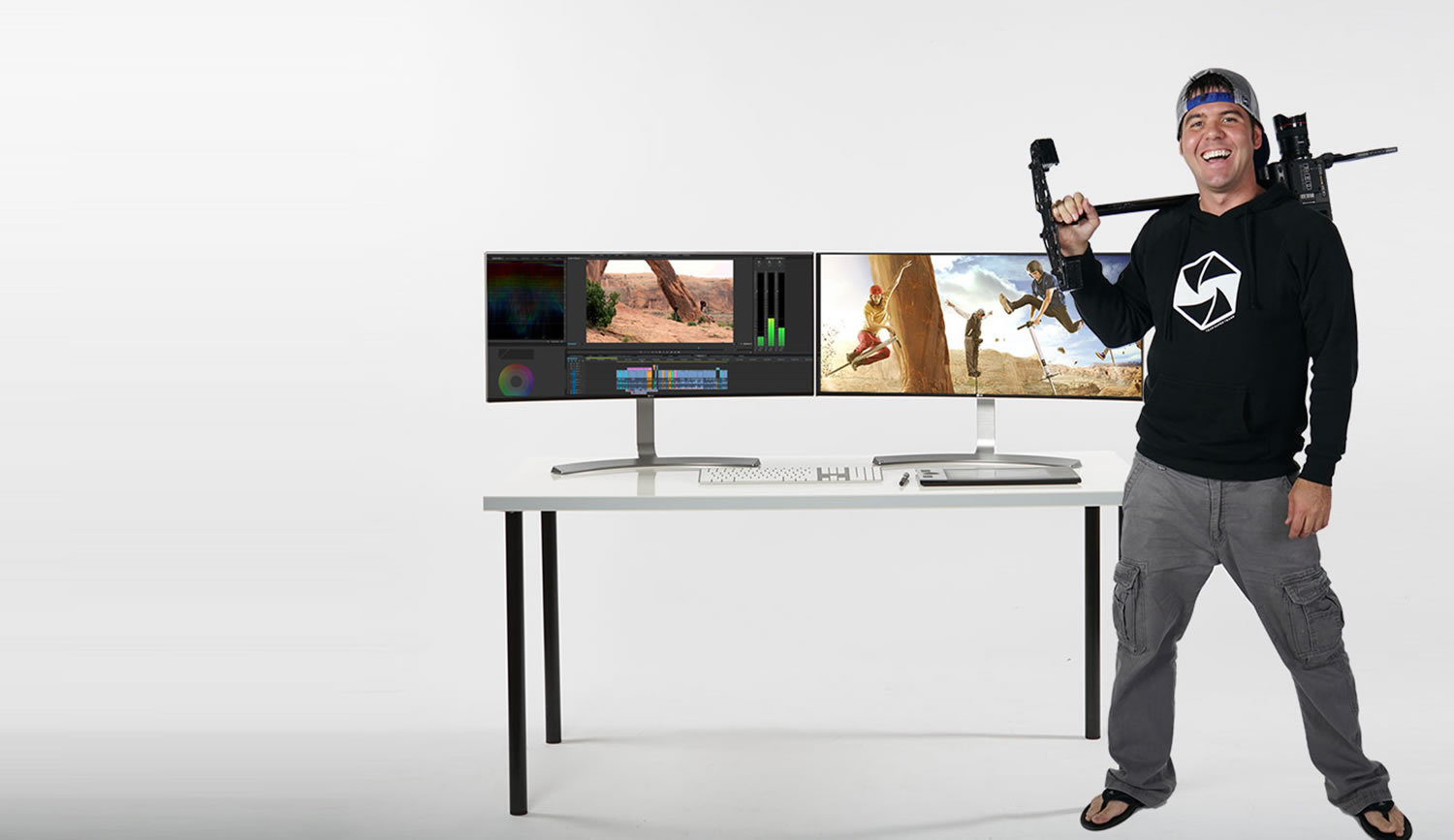 Devin Graham stands with his Glidecam in hand and two LG 21:9 UltraWide curved monitors.
Creating Movies All His Life
Before you can use the state-of-the-art equipment, you've got to take the time to hone your craft. Devin's passion for film started at an early age—just as he was getting out of his diapers. "Ever since I was a baby, I kid you not, I've been making movies. I was doing music videos with my siblings," he says, "and then I got into making stop-motion Legos movies." Experimentation and innovative new technology allowed him to foster his talents and lead him to film school at Brigham Young University. He made friends with the people who'd become his partners on the SuperTramp team. Together, they started the popular YouTube channel and begin shooting with the Glidecam, a hand-held stabilizer that turns shaky camera footage into hypnotically-smooth movements. You feel like you're right in the action—extreme pogoing looks terrifying, but Devin's cinematography skills makes it undeniably appealing by showing the athletes in impossibly cool, death-defying shots. This isn't school-yard antics. Devin's keen and stylish eye elevates the activity into something larger-than-life.
Storytelling is at the heart of SuperTramp. "For us," Devin says, "it's all about figuring out what stories are going to connect with people. I always ask myself, 'Is this something that I would want to watch?' I feel that's what makes the best ideas, the things that connect with us when we were children."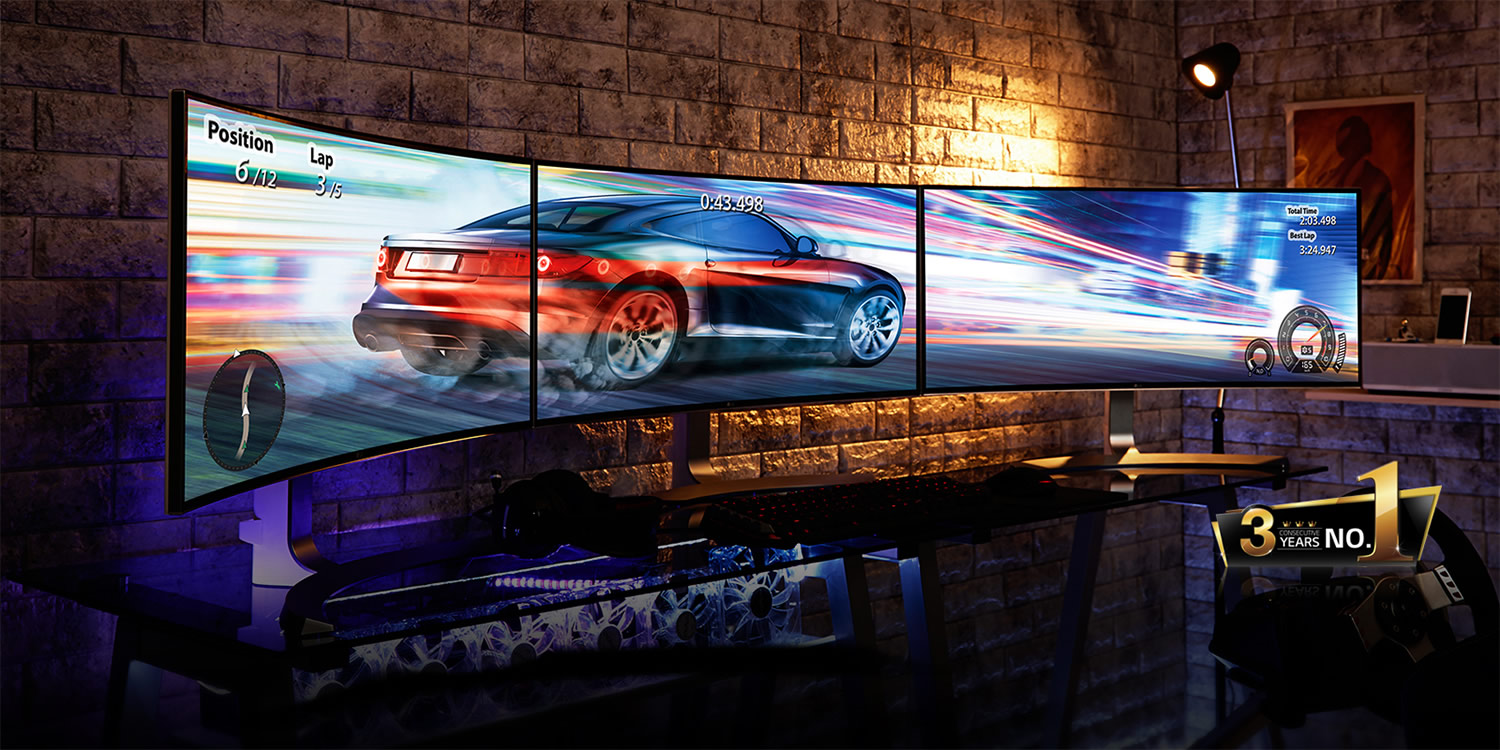 The long, continuous curved monitors make you feel as though you're a part of the action.
Improved Tech, Better Production
Thanks to improving camera technology, Devin and his team can take things to the next level and make their work look super polished. "For years, we've filmed everything at 16:9," he explains. "Now, the camera technology is there, so we can shoot at 21:9. That's huge for us; now we can make it look like it was an actual movie." The extreme pogoing video—the newest on their channel—was filmed this way, on-location with some of the world's best pogo riders: Dan Mahoney, Dalton Smith, Nic Patino. "It's all about pushing the human boundaries, because you want to grab people's attention. Every time we work on a different project, it always blows my mind as far as the amazing talent out there."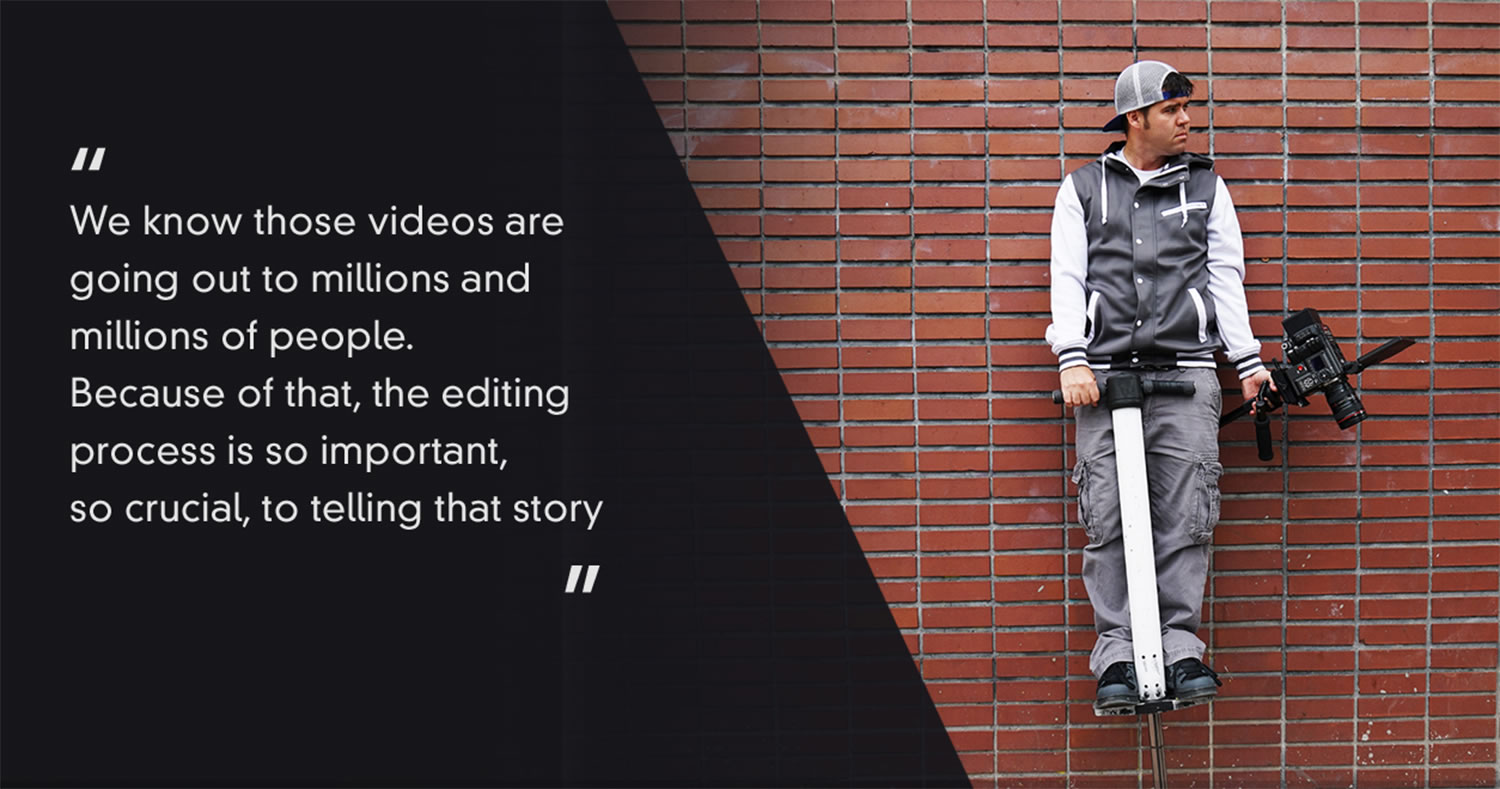 A good story is at the heart of SuperTramp's work.
Monitors Enhance Workflow
Crafting this type of visual experience comes from a deep love of storytelling, and the right tools can only enhance the visual tale Devin and his team tell. The innovative LG 21:9 UltraWide monitor is perfect for SuperTramp—their latest footage features an all encompassing look at the heights and tricks done when pogoing, and they're only made better when showing the athletes from a variety of angles. "When we go out on location, we're basically getting all the paints possible," Devin explains. "Then we get into the editing room, and that's when we start painting and basically exposing that canvas we want to share with the rest of the world. We need the biggest canvas possible to tell those stories."
Their chosen canvas allows them to do everything in one place—no jumping around to workstations or juggling external hard drives for this team. "We're editing on those monitors. We're doing sound design on those monitors. We're color correcting on those monitors. Everything we're doing within the post-production, it all happens in the exact same place because we have to work so efficiently." As a result, their work is easier and faster; they have more time to brainstorm their next awe-inspiring project.

Devin and his team have to move as quickly as the extreme pogoists do.
Devin Speaks to Fans
With production tools like the LG 21:9 UltraWide monitor, it's helped Devin to foster a sense of community among his viewers. He uses the YouTube channel to talk with fans, including behind-the-scenes and tutorials to help them learn about what he does—like how he edits his work. These informative videos also give us a look into his studio space, which includes an impressive continuous monitor setup. "I honestly love that relationship, I love giving back, and I love all the e-mails we get from people saying, 'You changed my life. I'm doing what I love to do.'"
Images © LG Electronics
SPONSORED via Syndicate