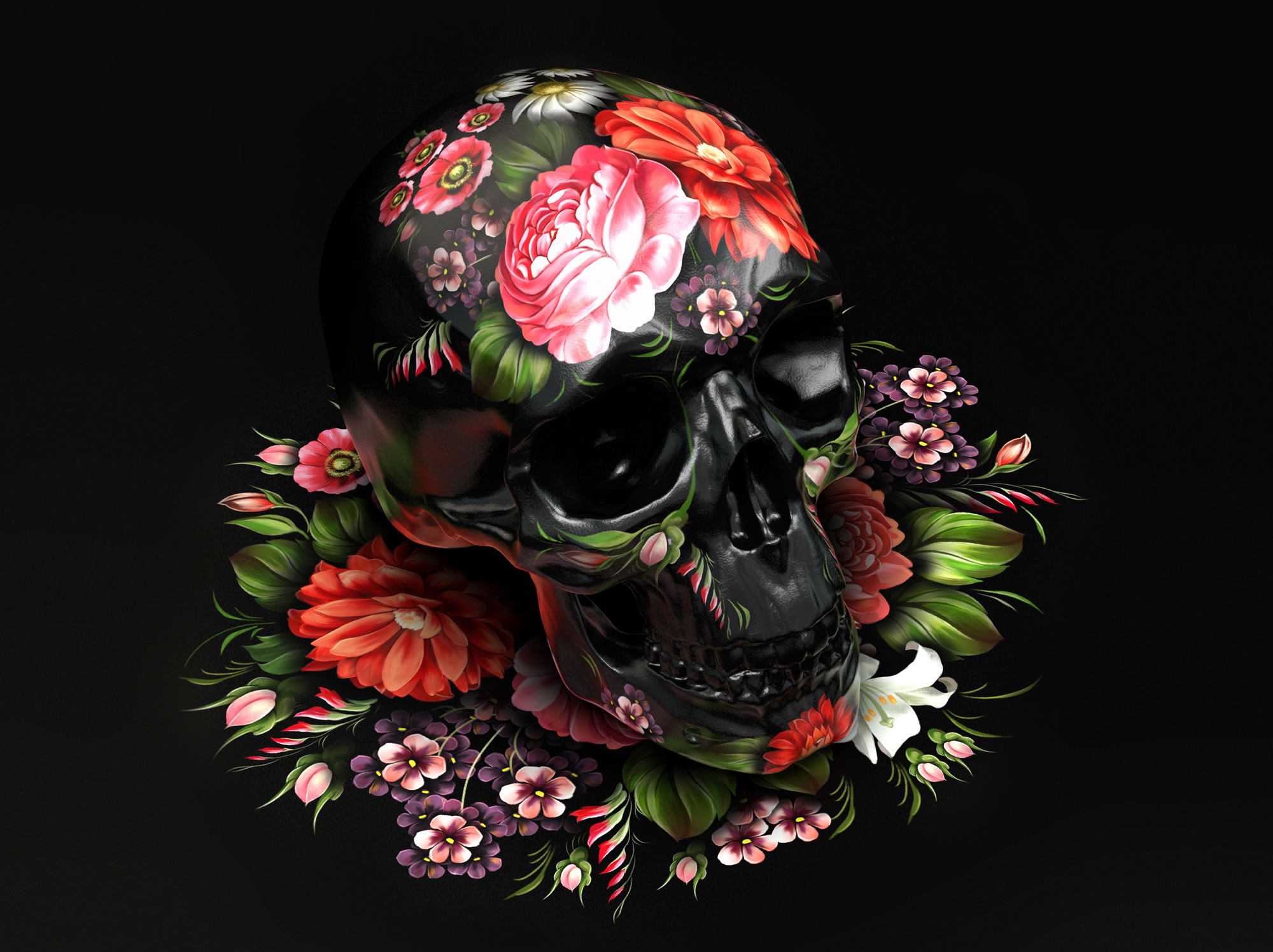 We're always impressed by the caliber of submissions to the A' Design Award and Competition. Each year, creatives from around the world up the ante with their thoughtful display of products, projects, services, and more.
The 2015 – 2016 contest was evaluated by a international jury of scholars, press, and design professionals who selected 1,277 winners from 88 countries in 93 different design disciplines that included architecture, communication, and fashion. There are five levels of distinction among them: Platinum, Gold, Silver, Bronze, and Iron.
Among the vastly different approaches and executions, all successful entries had one thing in common—they displayed excellence in conception and innovation. This year's laureates are invited to attend the gala-night and award ceremony in Italy where they'll receive their trophies, award certificates, and yearbooks. Winners also take part in the "best designs of the year" exhibition.
View the latest and greatest in art, architecture, and technology in the 2015 – 2016 online gallery. Check out some of our favorite projects from this year's competition, below.
Aleksandra Vinogradova combines the aesthetics of Mexican and Russian culture in her series called "Folk Fusion."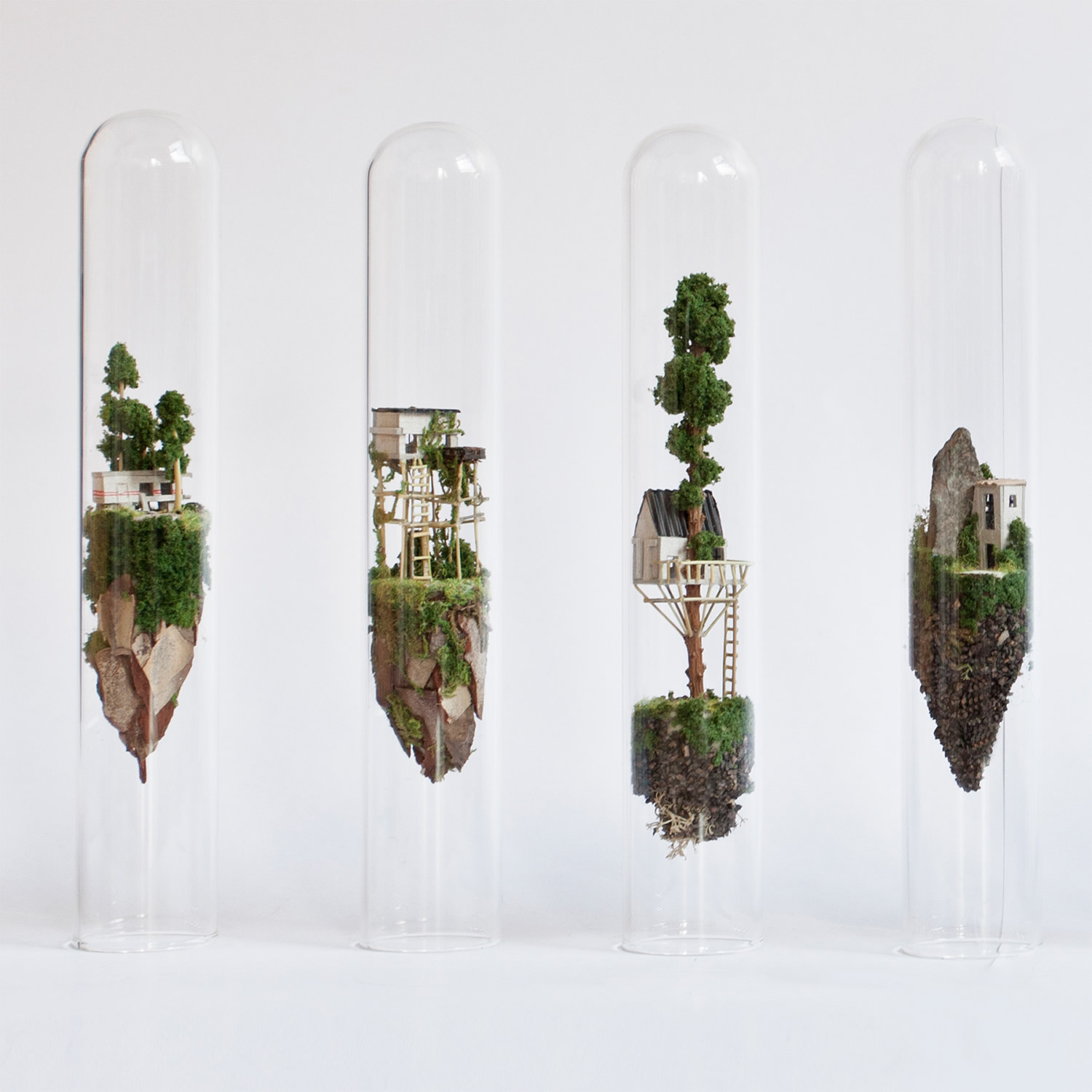 This ongoing project was started in the summer of 2015.
Micro Matter Mini Sculptures
Using tweezers, small knives, and a lot of patience, Rosa de Jong created a series of minuscule worlds that are contained in tiny glass test tubes. Towering trees, heavy boulders, and homes are condensed into the cramped spaces, taking on the appearance of scientific specimens that you'd intently study. This, in part, is the larger concept that fuels Micro Matter: "Empty your mind while looking at them, a small space of peace in your home." Jong writes. "Because of the glass, the worlds get to be in a small dome, completely closed off from the outside world."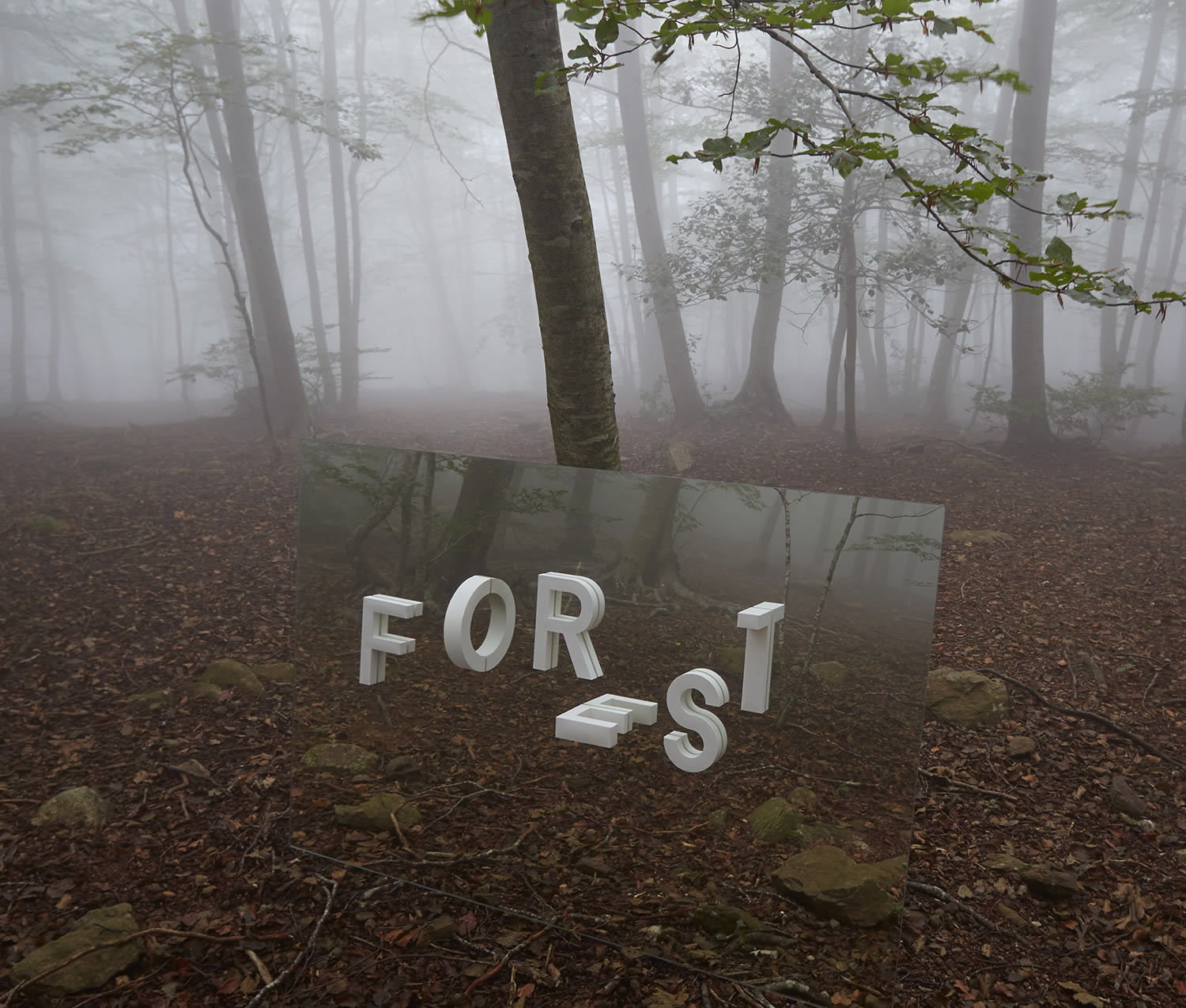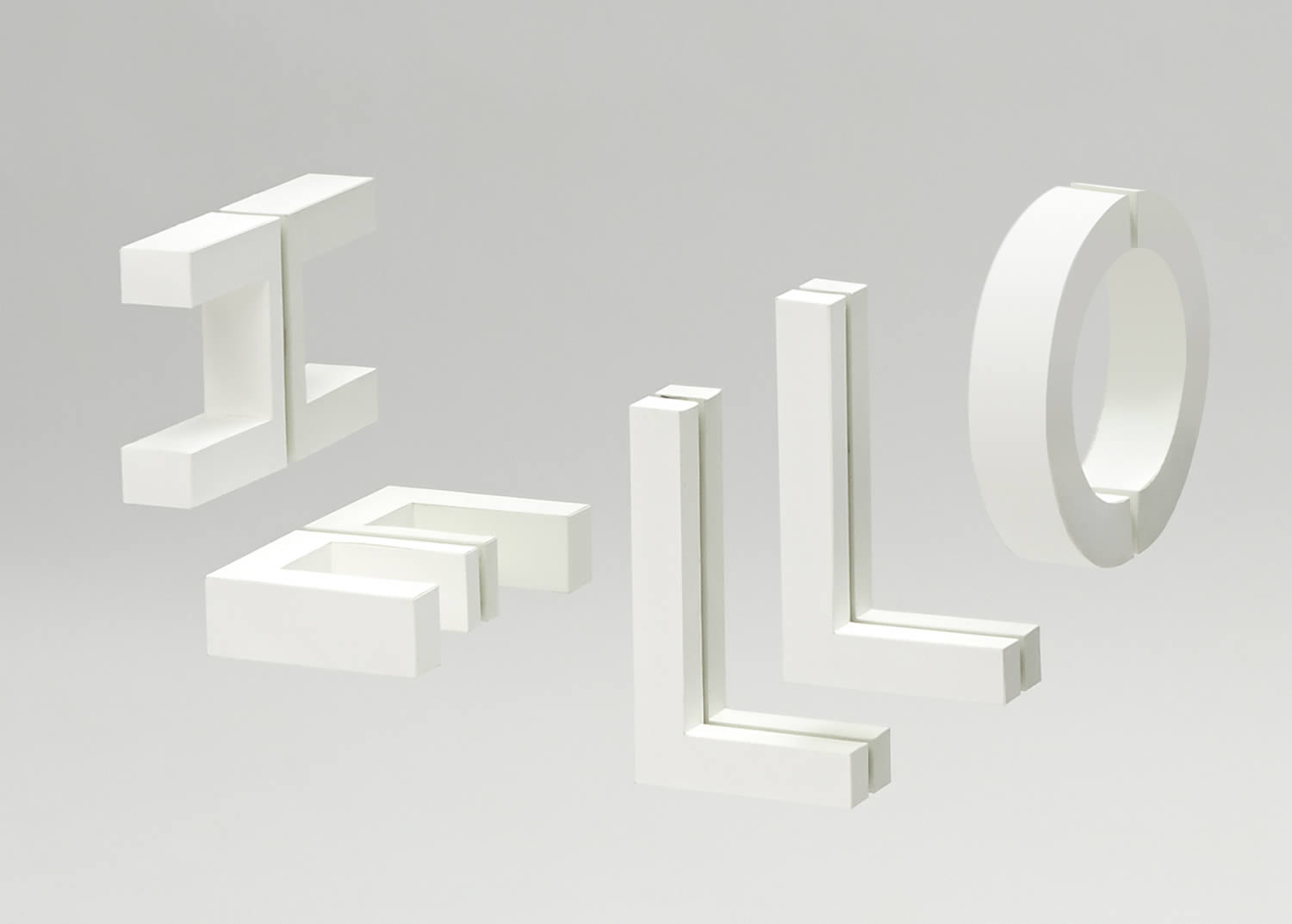 Clever mirror illusions by art director Ramon Carreté.
ReflexiĂł Typography
ReflexiĂł is an experimental typography project that "combines the reflection on a mirror with paper letters cut by one of its axes." This simple trick creates the illusion of three dimensionality. The slick and sleek look of the letters look digitally produced, but they're entirely analog. It makes this project much more impressive because it showcases the ingenuity and craft required when you work offline.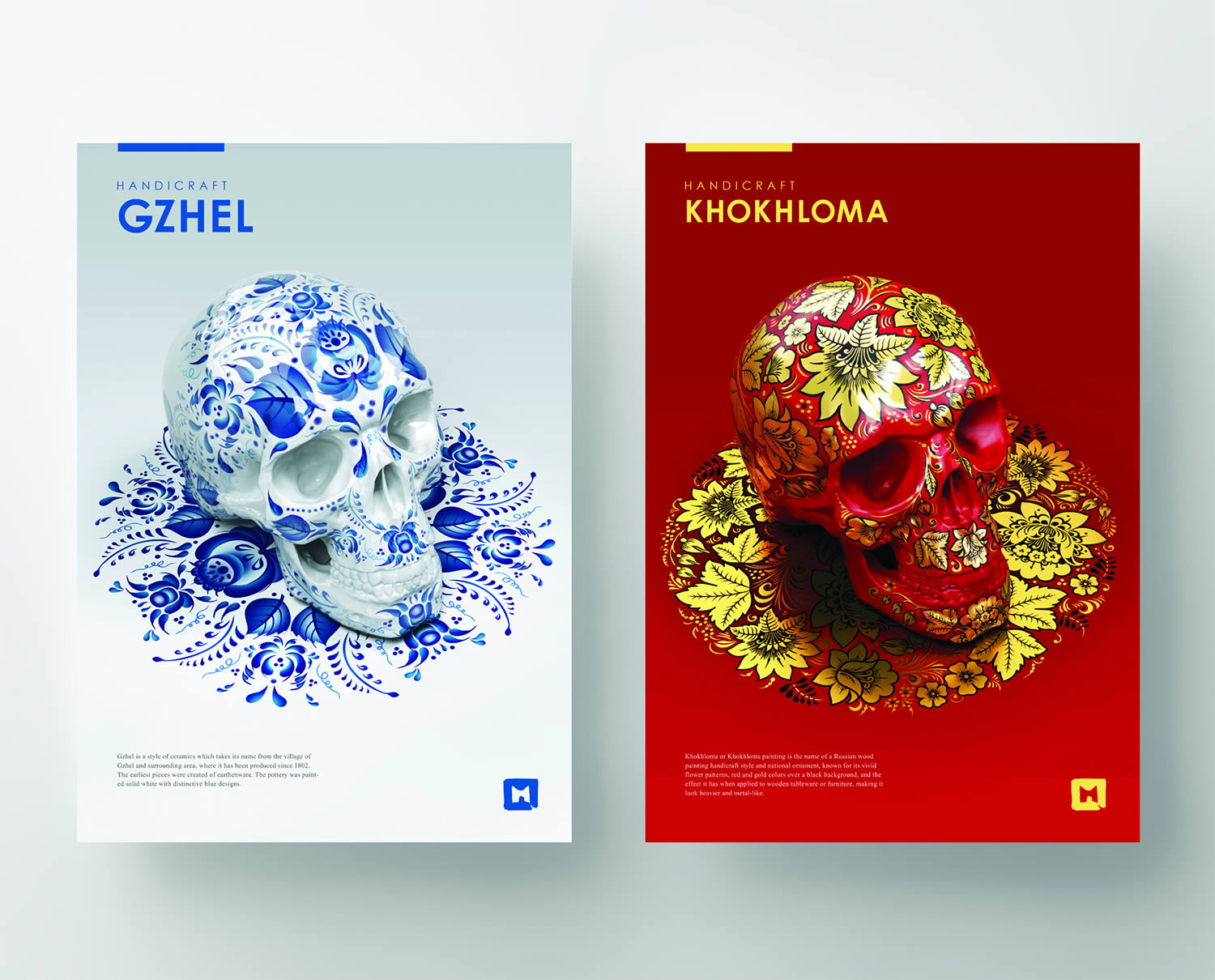 The most challenging part of this project was translating a 2D design onto a 3D skull.
Fusion Folk Posters
When Aleksandra Vinogradova moved from Moscow to Los Angeles, she was exposed to and fascinated by the Mexican culture. A Day of the Dead celebration introduced her to the ornate art found on sugar skulls. "It occurred to me that traditional Russian art styles might fuse harmoniously within the Mexican tradition," she explained. Vinogradova created "Folk Fusion," a series of posters that combine the two approaches and showcase their shared beauty.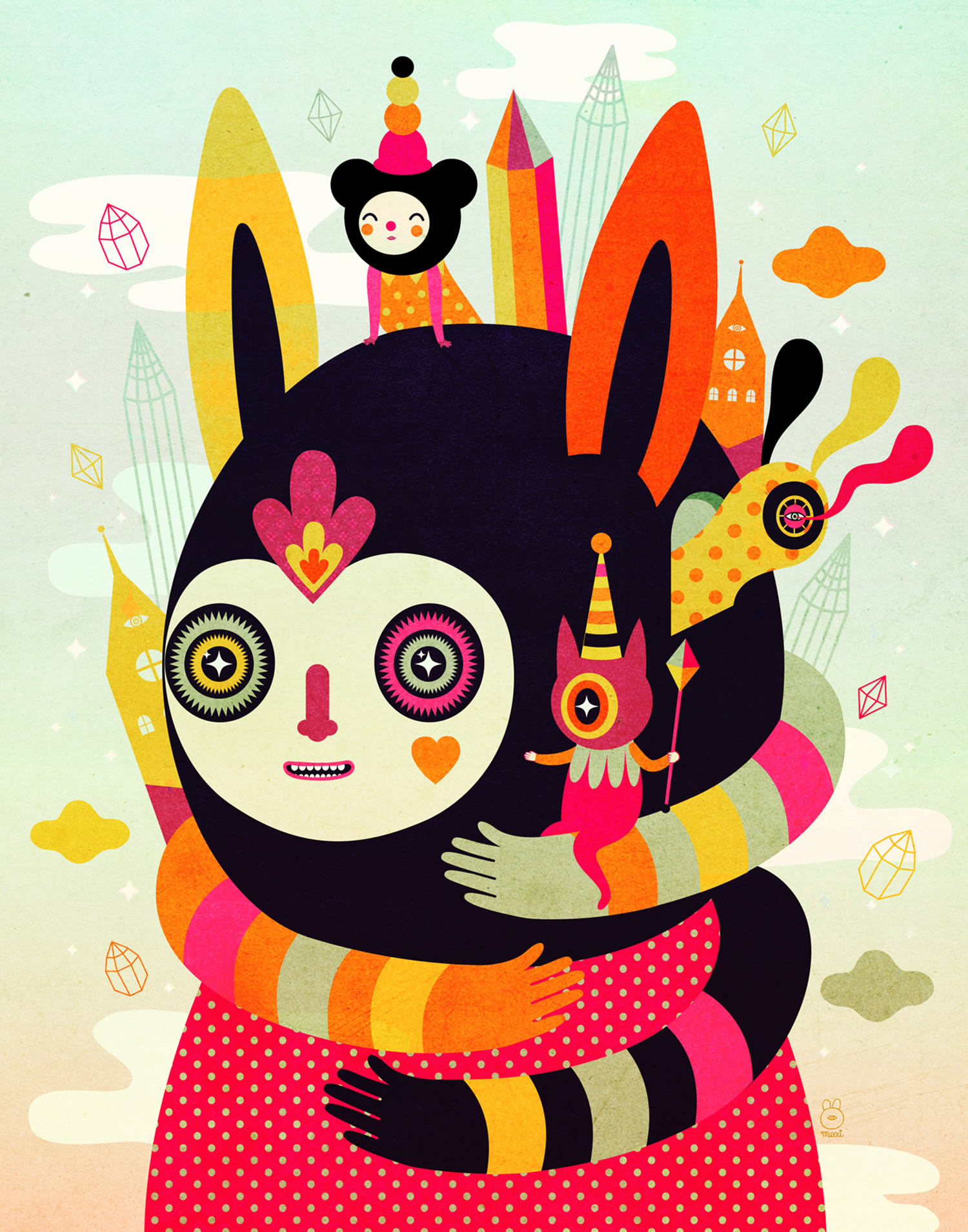 Muxxi's portraits were created using Adobe Illustrator and Photoshop.
Colorful Portrait Illustrations
"I wanted to portrait my memories and how I remember myself in them," illustrator Muxxi says of her colorful works. This, along with the other compositions, highlight the things that she loves, including nature, geometry, and the magical nature of clouds in the sky. Coupled with bright colors, the spontaneously-created works reflect how they make Muxxi feel whenever these thoughts cross her mind.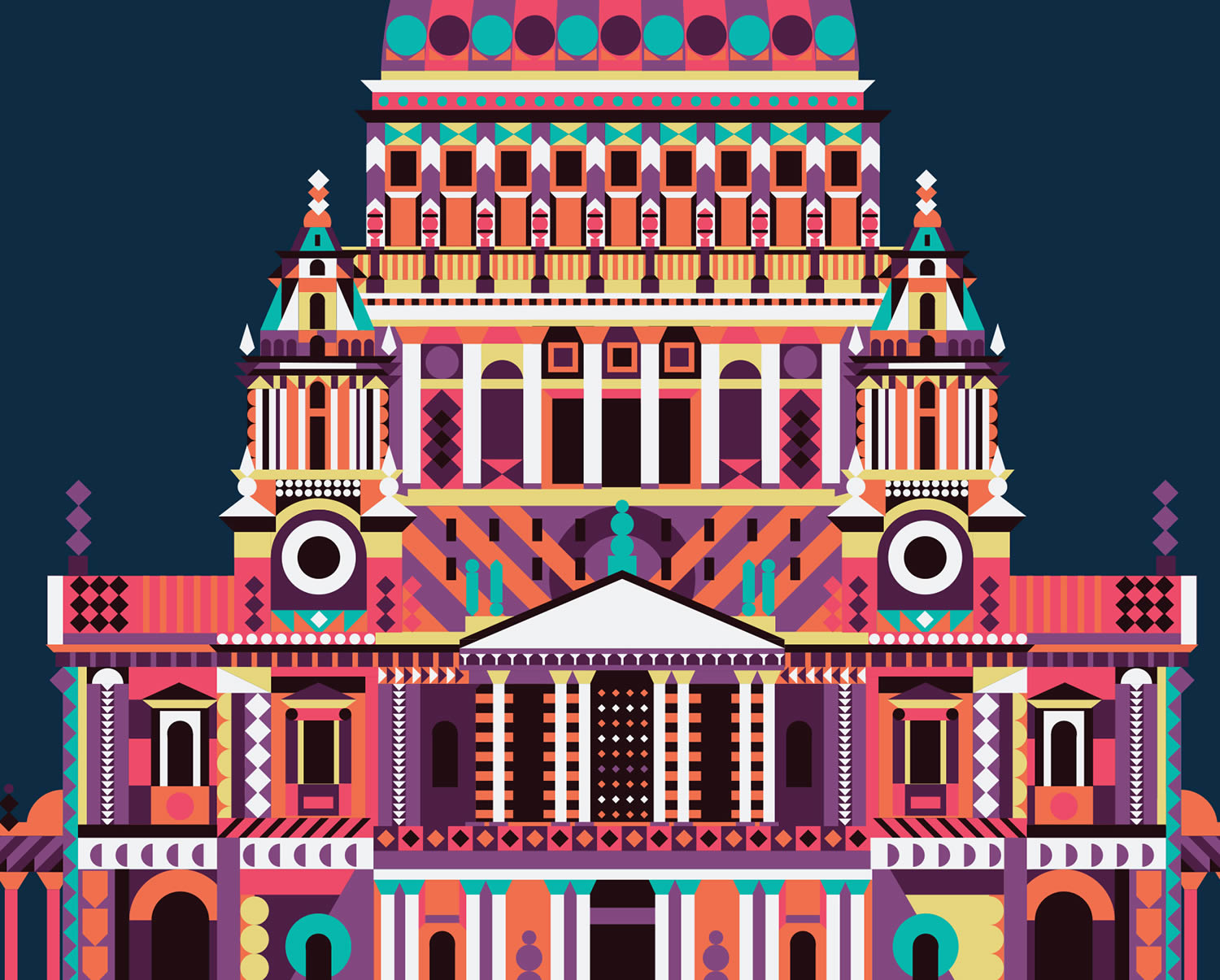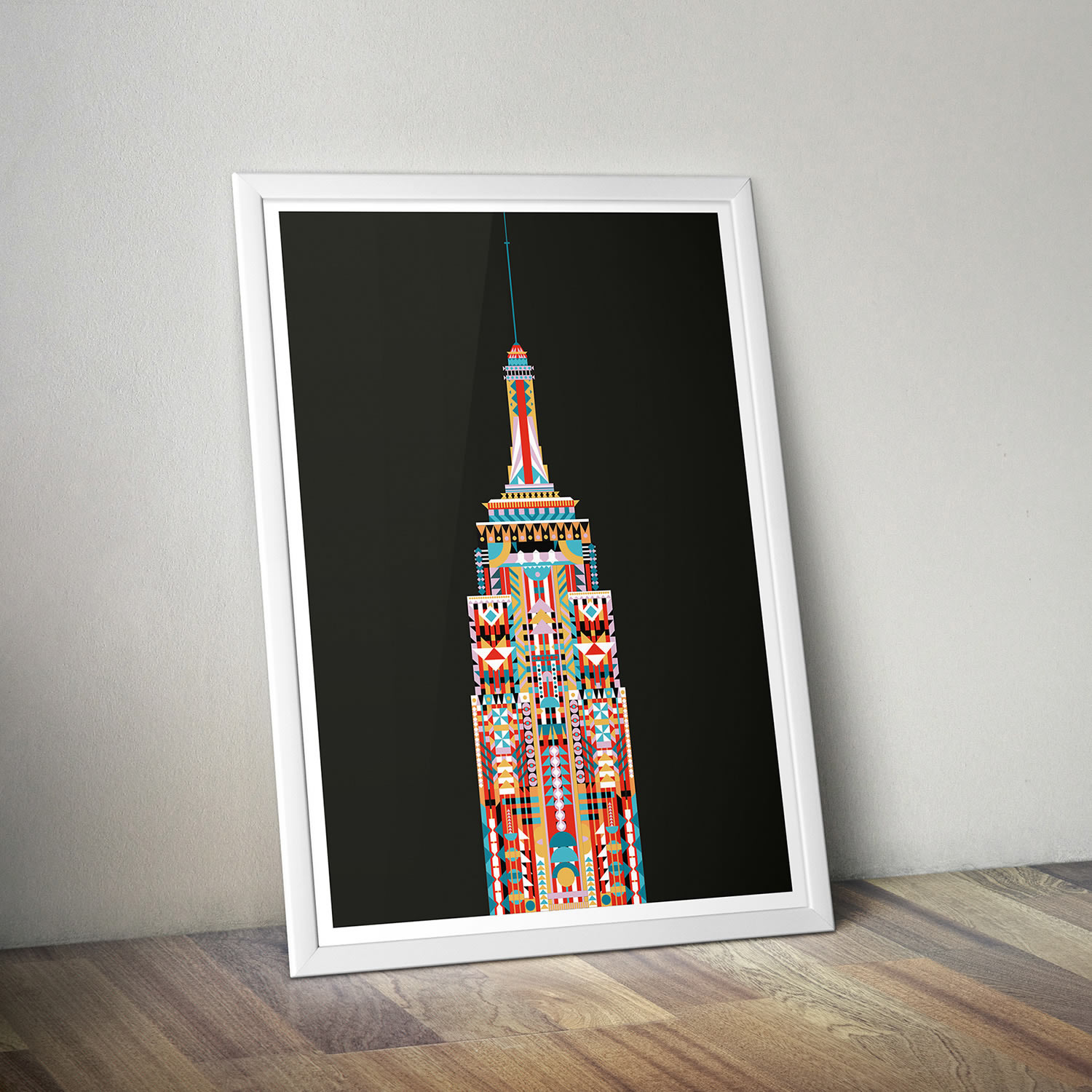 Ben Grib's print series is sold on greatlittleprints.com as part of their travel posters.
Geometric Landmark Posters
Ben Grib combines some of the world's most iconic buildings with African tribal patterns to create colorful cultural mashups. Specifically, Grib works with imagery from the Zulu, Xhosa, and Sotho to infuse the Eiffel Tower, Big Ben, and other monuments with a dazzling array of geometric shapes.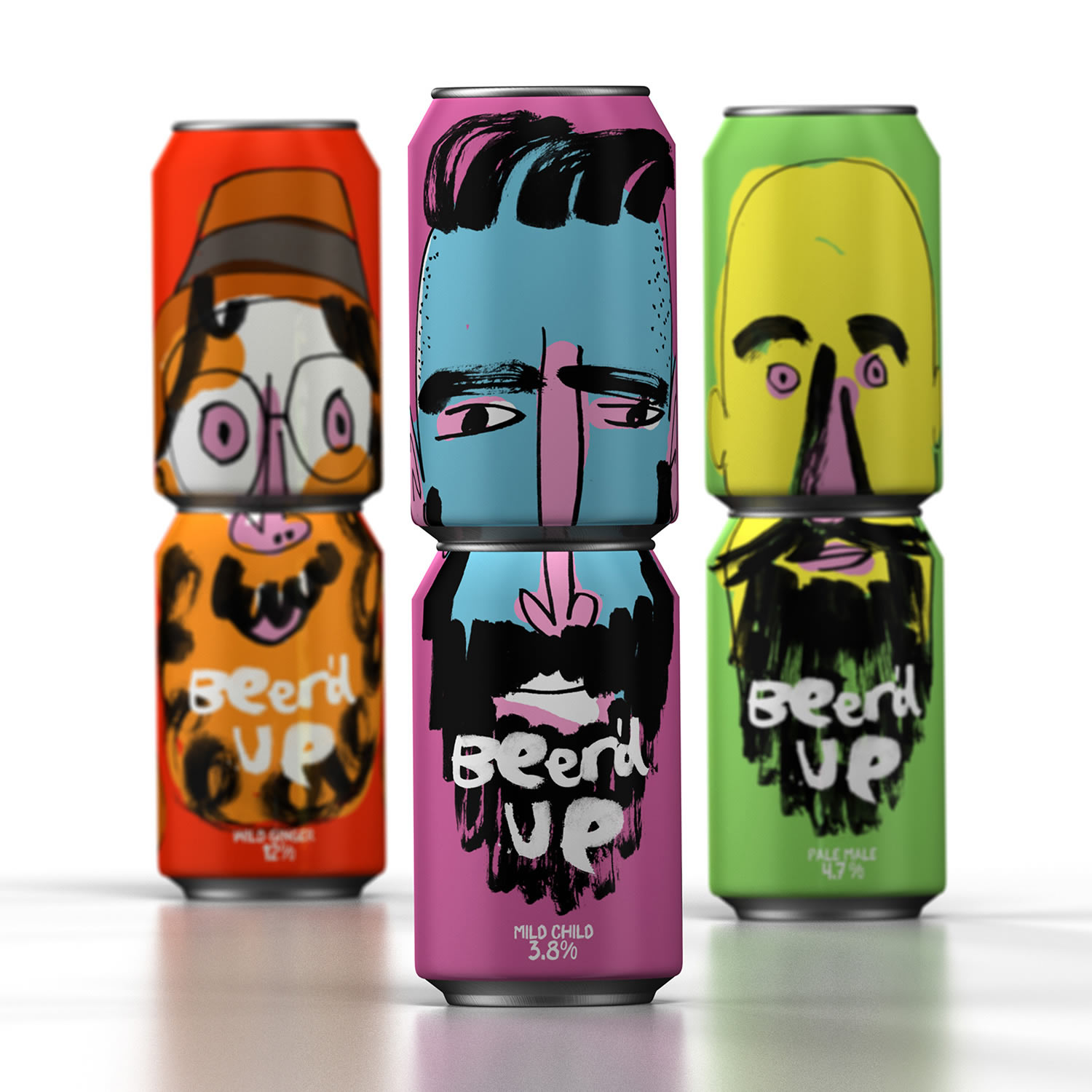 The colorful packaging is part of the craft beer trend.
Beer'd Up Packaging
Studio Springetts, in collaboration with illustrator Jon Burgerman, created beer packaging that demonstrates the playful side of design. The back of the pack was crafted with the stop of each face, allowing drinkers to stack cans and create a totem-pole of funny expressions. The lively illustrations are a humorous take on hipster culture and the trend of bearded fellows enjoying craft beer.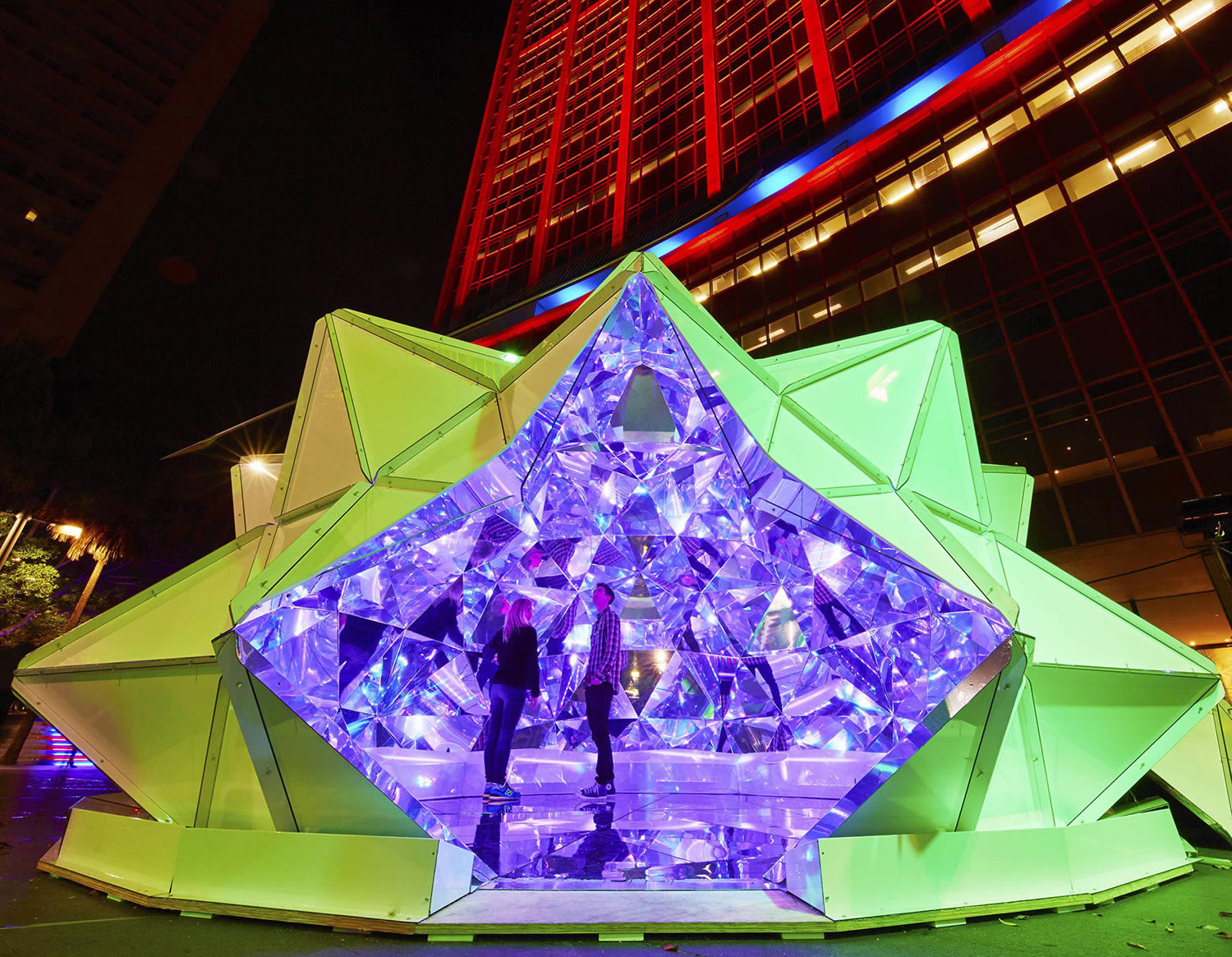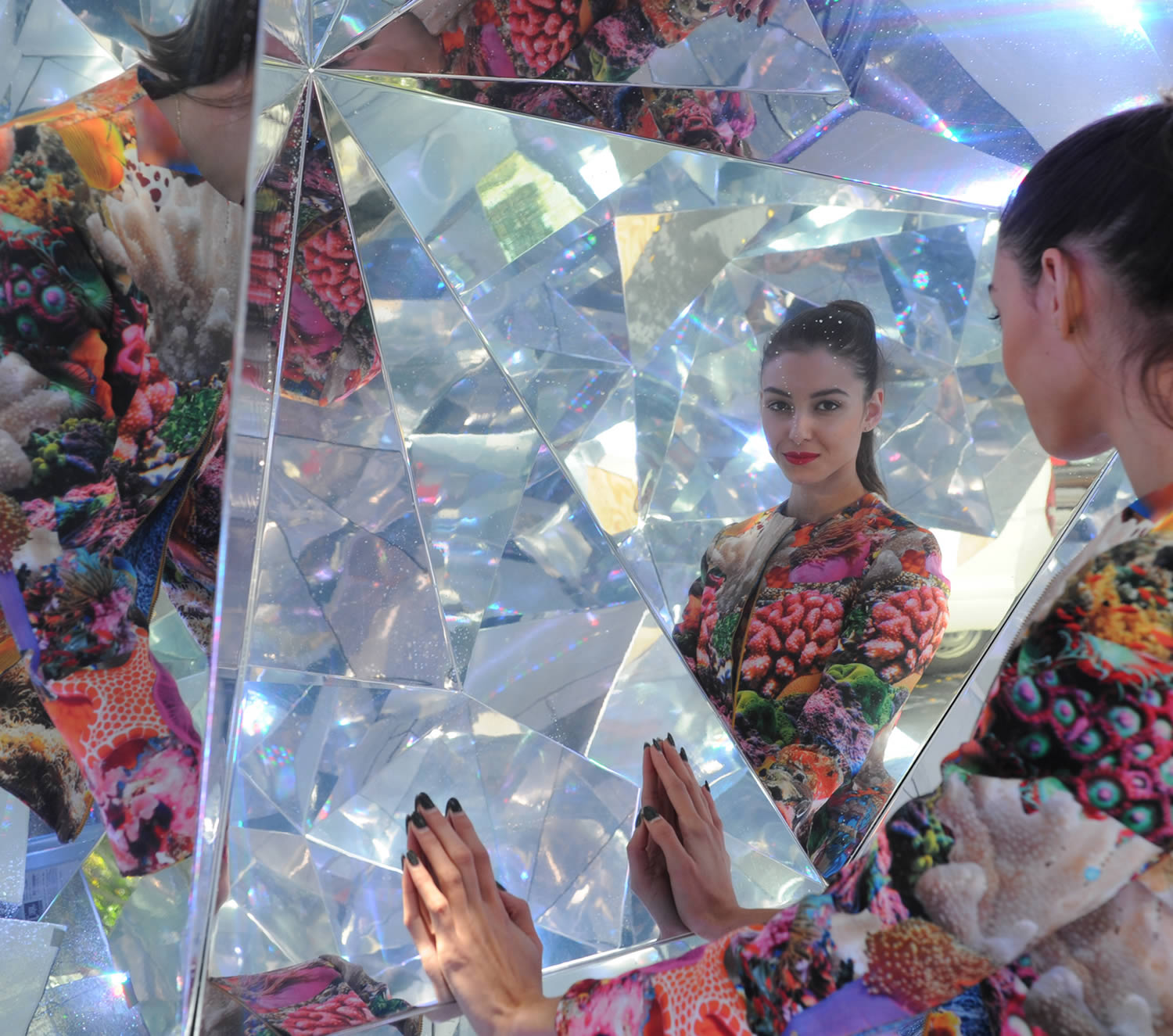 It took two days to assemble the installation.
Light Origami Art Installation
"Light Origami" is an interactive installation that invites it viewers to enter a 3D kaleidoscope that was constructed using over 320 origami shapes. Once inside, they're surrounded by a completely mirrored space that distorts and fragments everything that's inside. Because of this, the interior design is created by the viewer, and they're encouraged to play, dance, and take a photo.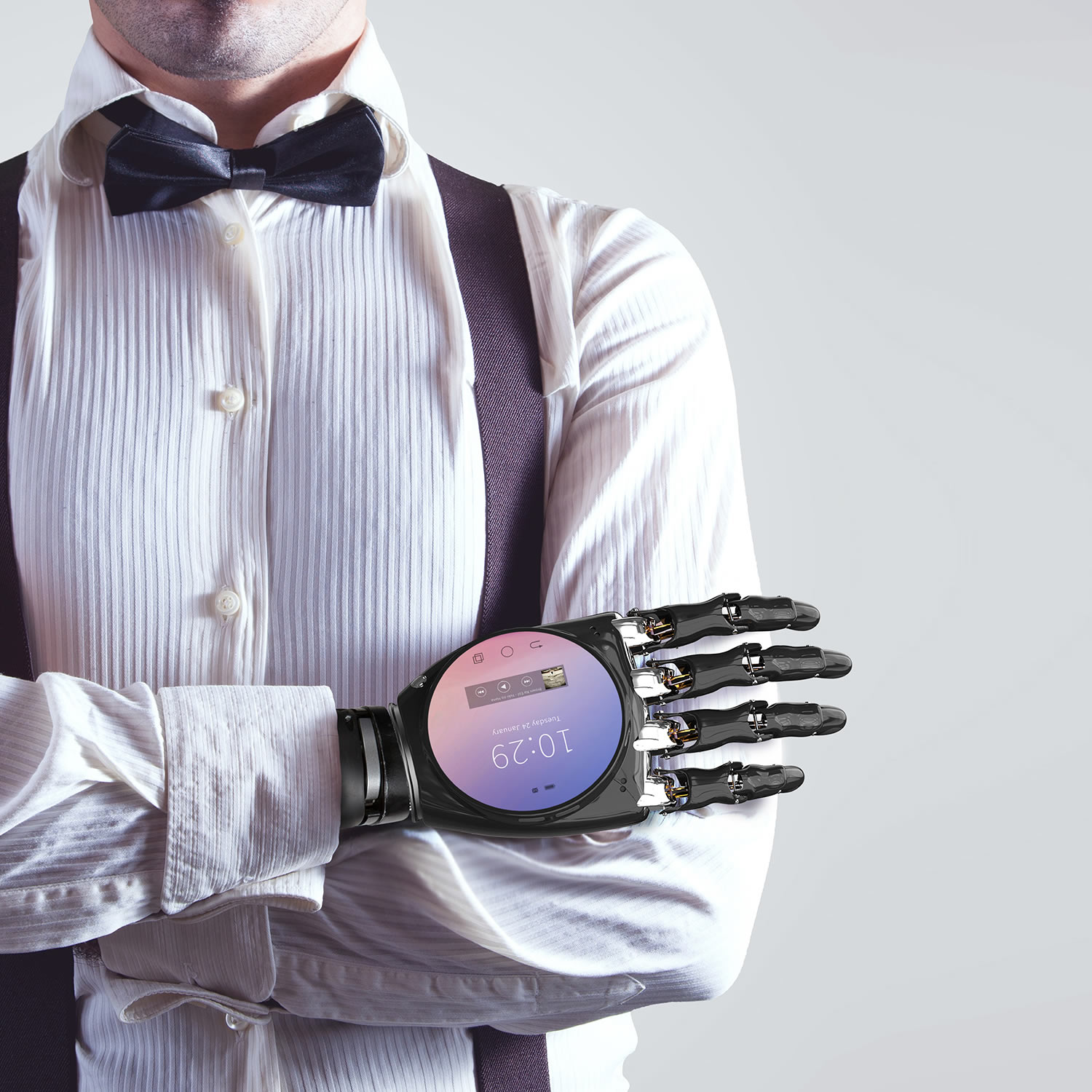 The circular display screen rotates digitally and can be used from any direction.
Sph Smart Prosthetic Hand
A prosthetic hand has between 60% to 80% function of a real hand, which makes it significantly harder to use a smartphone while wearing one. Designer Young Joo In has created a special smart device that attaches to a prosthetic hand to help users eliminate the risk of dropping their phone, and also gives them the freedom to operate their device with their other free hand—this also compensates for the recognition error that occurs when the screen is touched with an artificial finger made with silicone.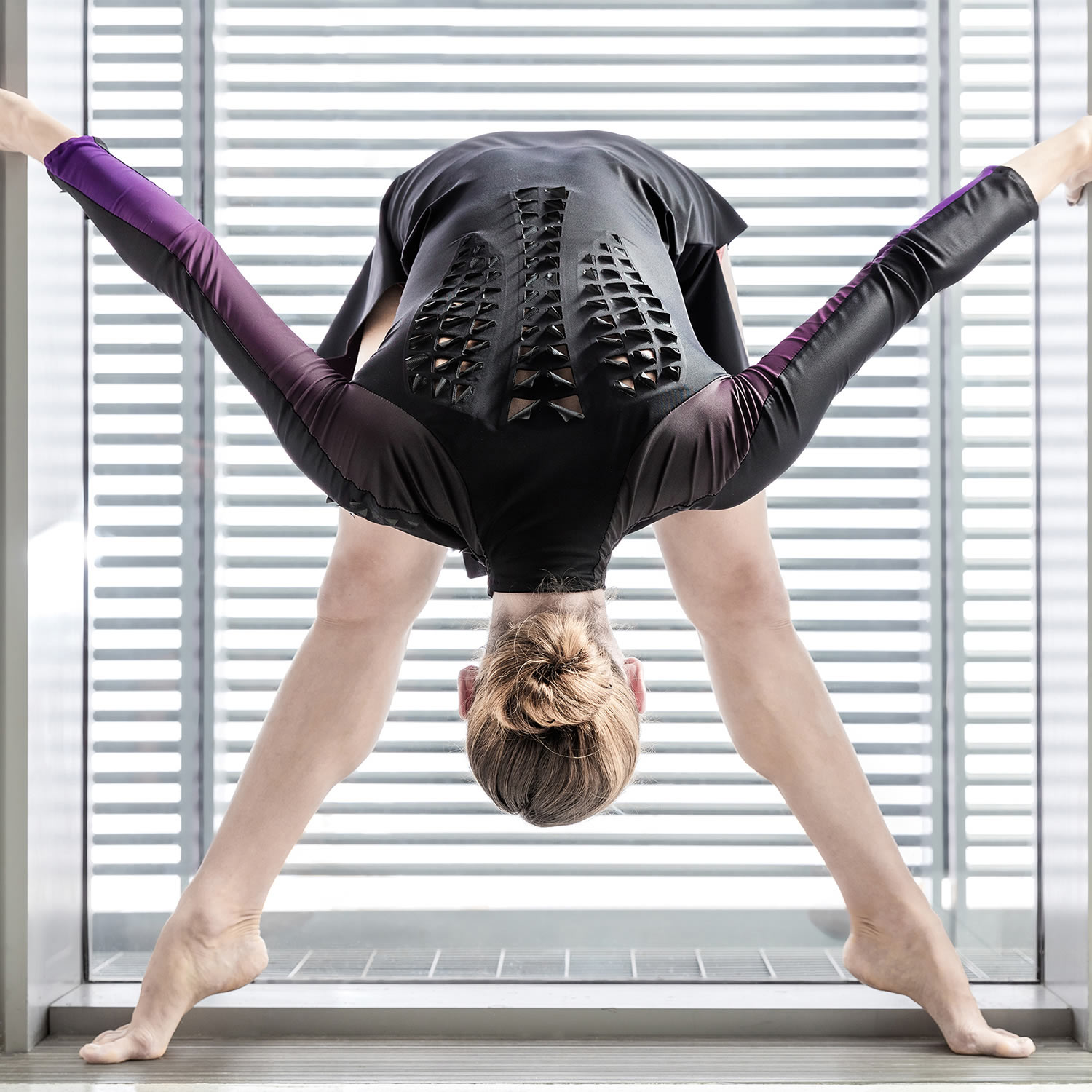 This project was inspired by the bacteria known as Bacillus Subtilis Natto.
bioLogic Self-Transforming Skin
Nature has found its own way of transforming itself to respond to different environmental conditions. The Tangible Media Group / MIT Lab discovered that a microscopic humidity-sensitive bacteria "can be harvested and used as nanosensors and nanoactuators." They applied this same idea to a synthetic fabric that's activated by perspiration and body heat. Depending on how hot and sweaty you are, the bio-skin causes flaps around heated areas to open and allows you to dry off and cool down.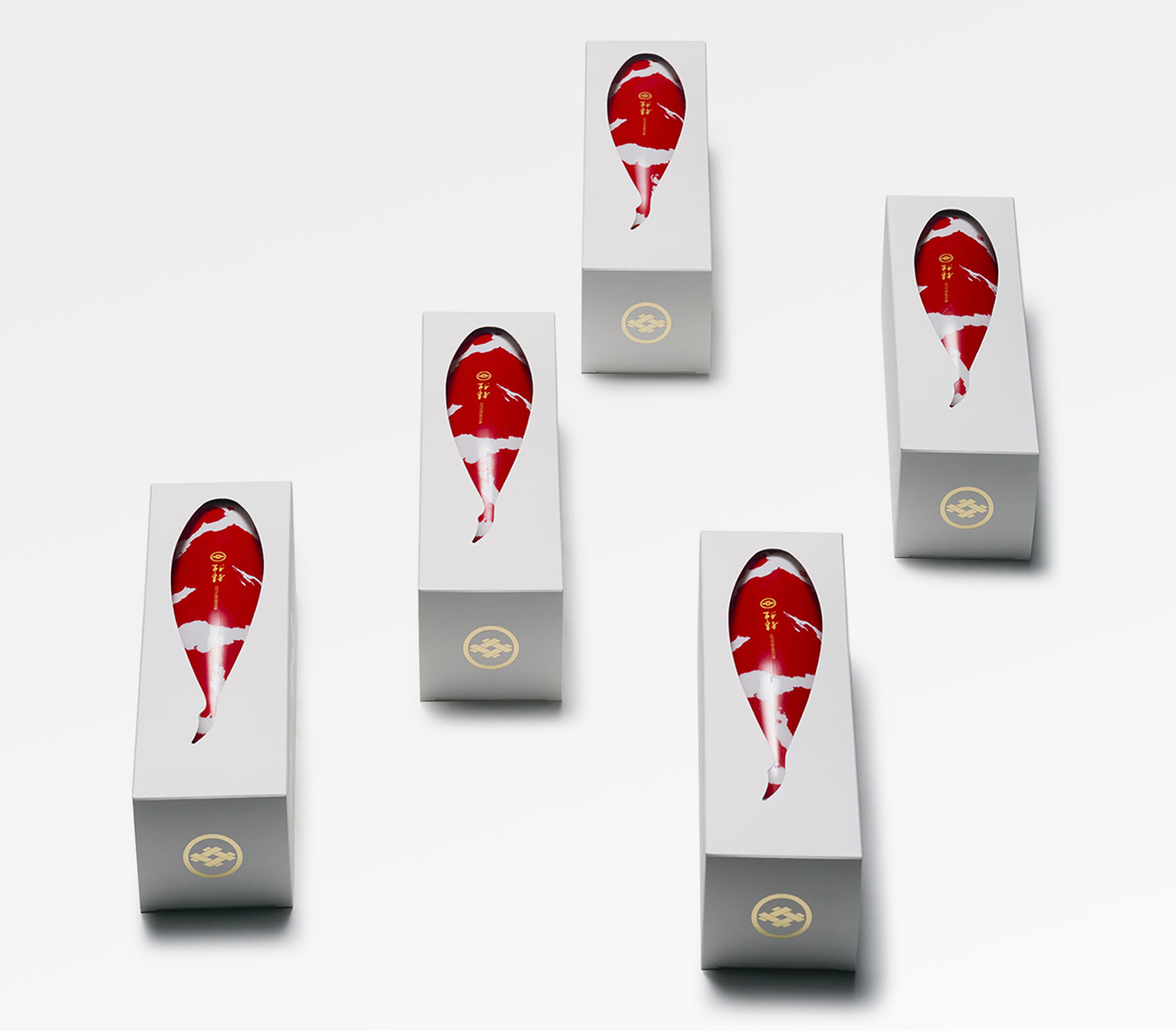 A Japanese brushstroke technique was used to create the red patterns.
"Koi" Sake Bottle Packaging
Koi fish have a nickname—"living jewel." And with their beautiful red and white patterning, it's not hard to see why. The natural elegance has been translated into a Japanese sake bottle and box, which imprints the iconic markings and colors onto porcelain. Once savored and finished, the bottle is meant as a keepsake, because the design is directly printed on the bottle. That way, it can be washed, reused, and displayed.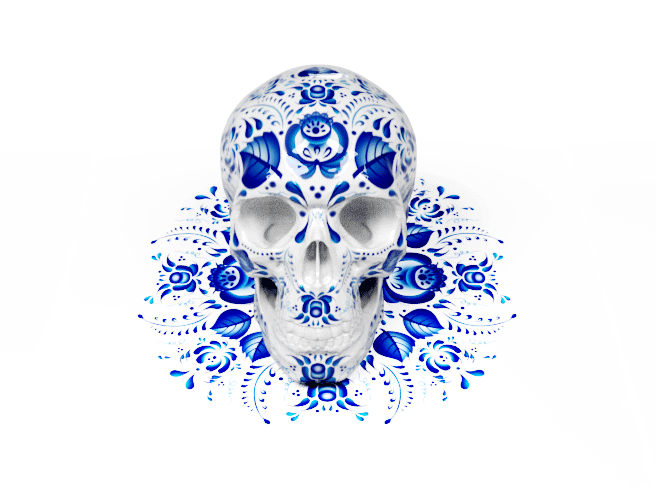 If you would like to participate in the next A' Design Award and Competition, get an early bird discount on April 27 – 30, 2016.
SPONSORED POST
Images courtesy of A' Design Award and Competition, 
Copyright respective designers and artists.