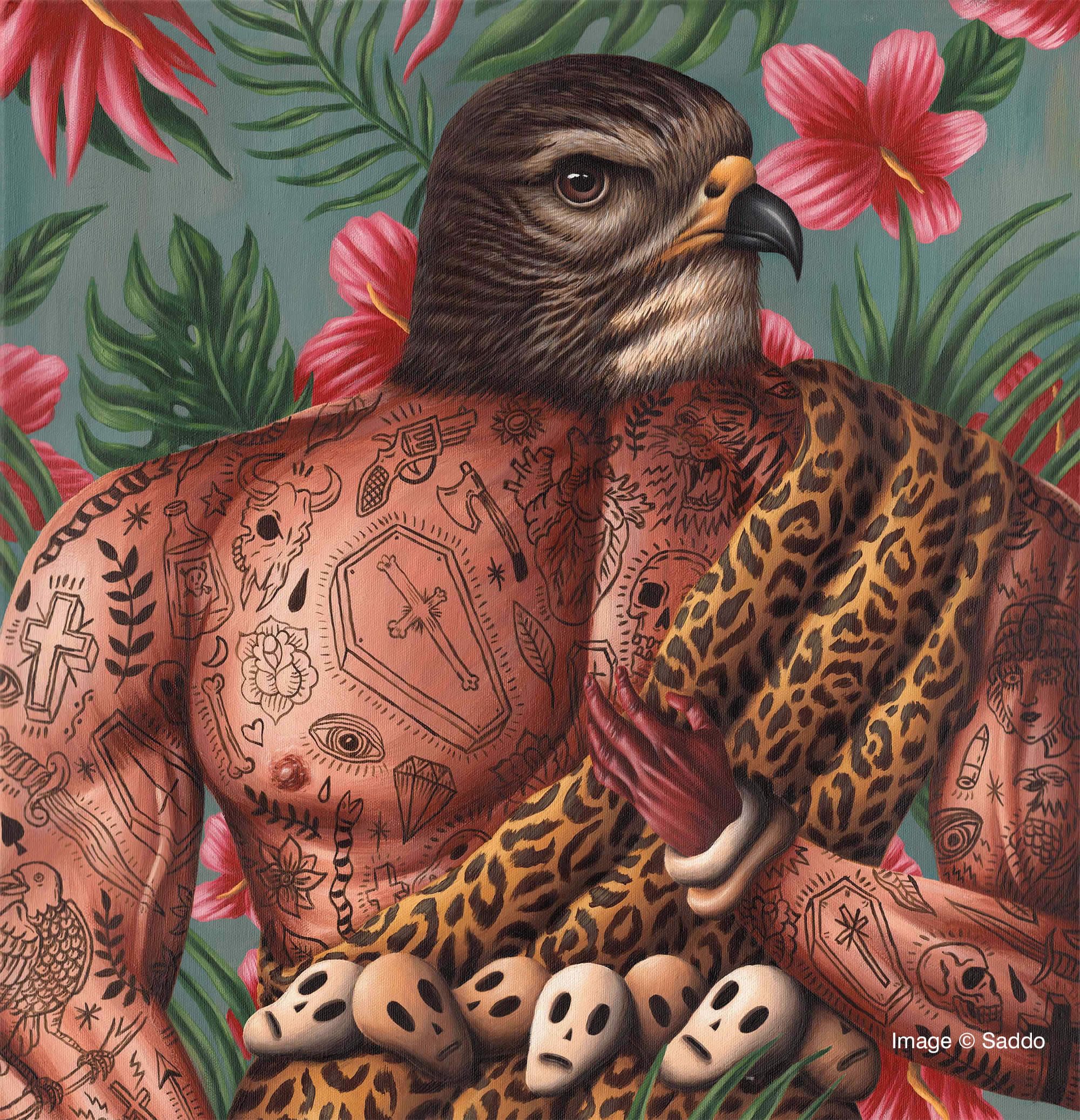 As tattoos transition from a once taboo practice into one that's socially acceptable, artists are implementing elements of this timeless body art into their work.
In illustrations, ceramics and embroideries, tattoos have two primary focuses: one is purely decorative and adds a special flair to the subject or object. The other takes a conceptual approach, using tattoos as a way to examine what we think about our bodies as well as our perception of other people.
Above: This piece from Saddo's "Coffins" was created during an especially depressing winter. (Image © Saddo.)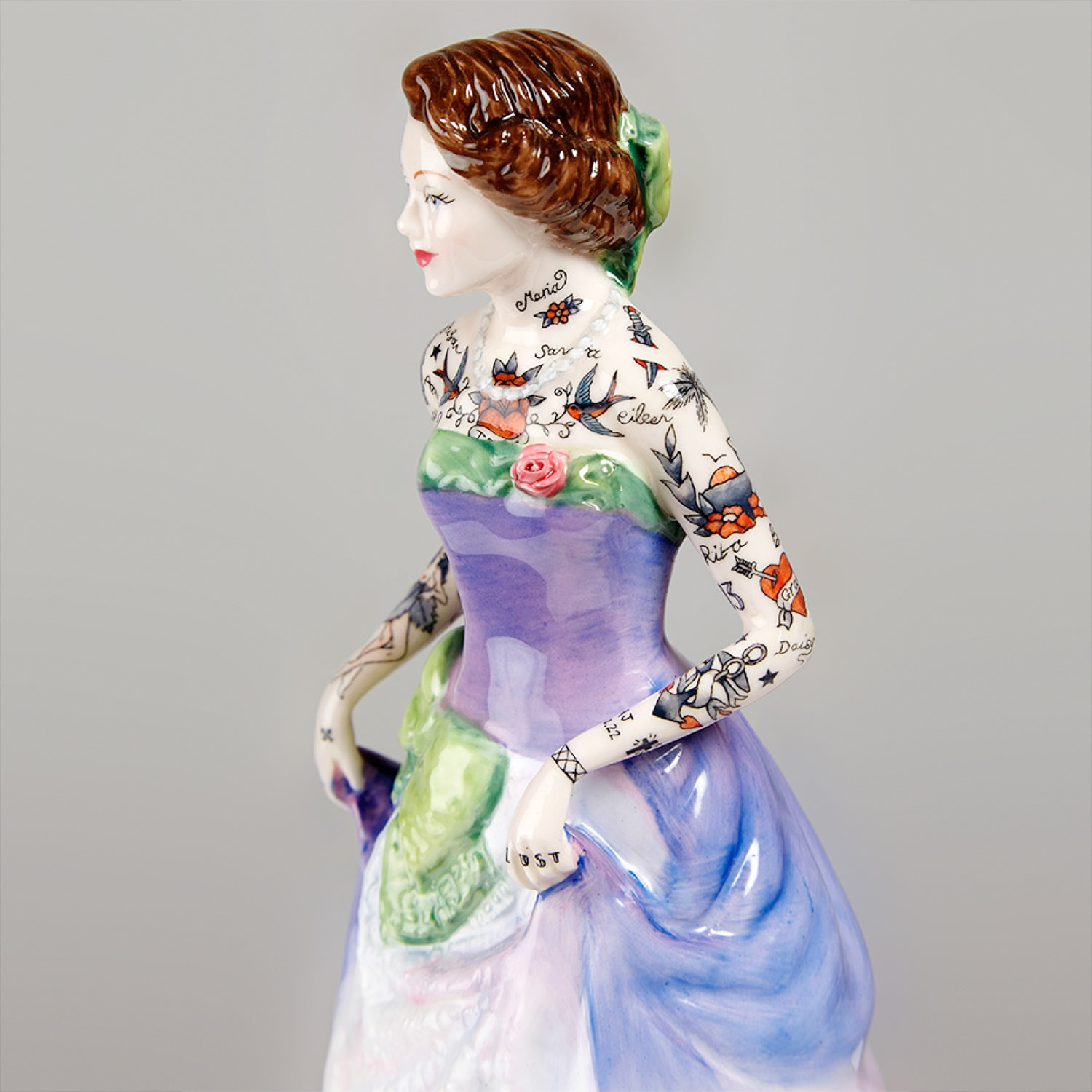 Jessica Harrison questions what the "idealized woman" really is.
Jessica Harrison
Through Jessica Harrison's dainty figurine sculptures, the concept of an "ideal" woman is turned on its head. They feature porcelain ladies wearing lavish ball gowns, and they seem like the antiques you'd find in your grandmother's house. Harrison's work, however, has one big difference: the fair-skinned women don full Sailor Jerry-inspired tattoo sleeves. With this simple-yet-monumental addition, the figurines completely change demeanor. Suddenly, these women have a harder edge to them, which forces us to reevaluate them and is in line with the overall concept of the artist's work. "The things she [Harrison] makes propose a re-imagining of these definitions," she writes in a short statement, "offering an alternative shape to our perception of things, using the simplicity of materials to explore the complexity of the sensory body."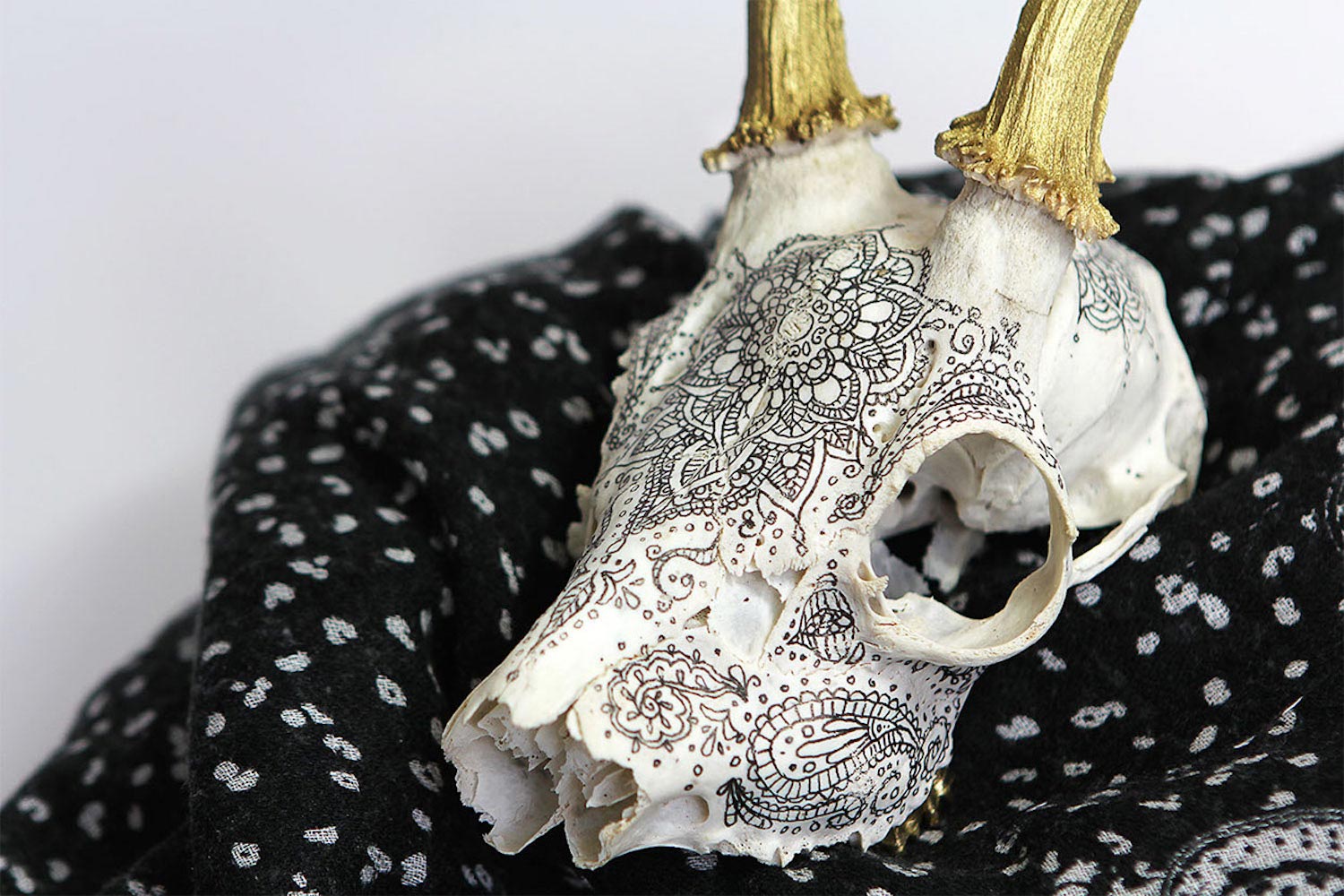 An animal skull is brought to life with intricate tattoos.
Aline Cerisier
Tattoos are typically seen on flesh, but they look similarly as stunning on bone. Aline Cerisier has adorned an animal skull with paisley and mandala-like patterns, both of which—in their own ways—reference life. This is in direct conflict with the death and decay they've been tattooed on. Through these intricate designs, it's as if Cerisier is attempting to infuse soul back into it.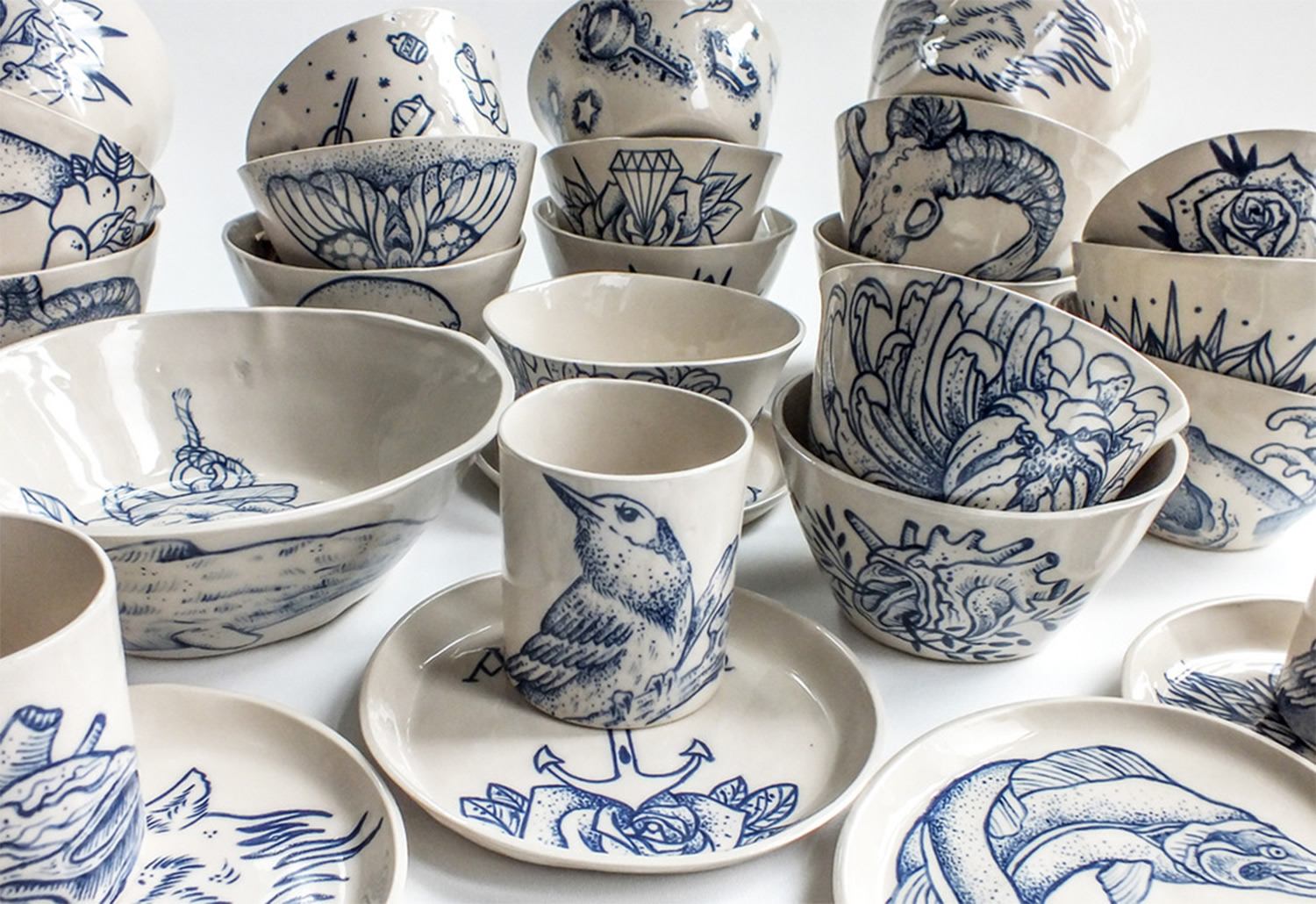 Ceramics by Antikapratika are part of their "Tattooed Ceramics Collection."
Antikapratika
Berlin-based Antikapratika spent years studying the process and materials to create handmade ceramics. The simple, clean forms, are adorned with tattoo imagery that's popular with the American traditional style. Anchors, roses, swallows, and more are created using blue underglaze on off-white stoneware clay and clear transparent glaze. The result are pieces that are reminiscent of the Delft pottery made in 16th century Netherlands.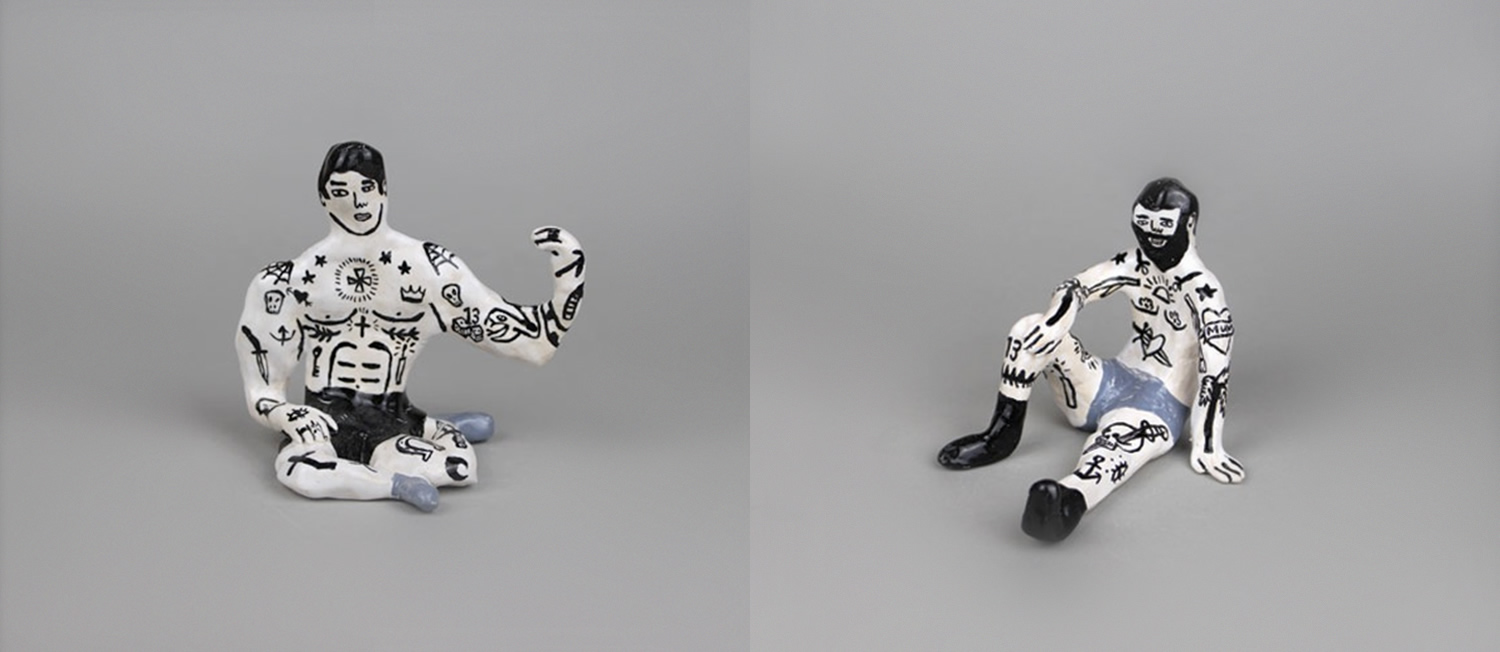 Lucy Kirk's decision to make monochromatic ceramics mimics characters of a silent film.
Lucy Kirk
The illustrative ceramics of Lucy Kirk have the distinct appearance of strongmen performers you'd see in an early 20th century circus. Their painted on muscles and tiny shorts are complemented by dark tattoos that cover their bodies, reinforcing the idea that they're the type of people that were meant for these events—those on the fringes of society.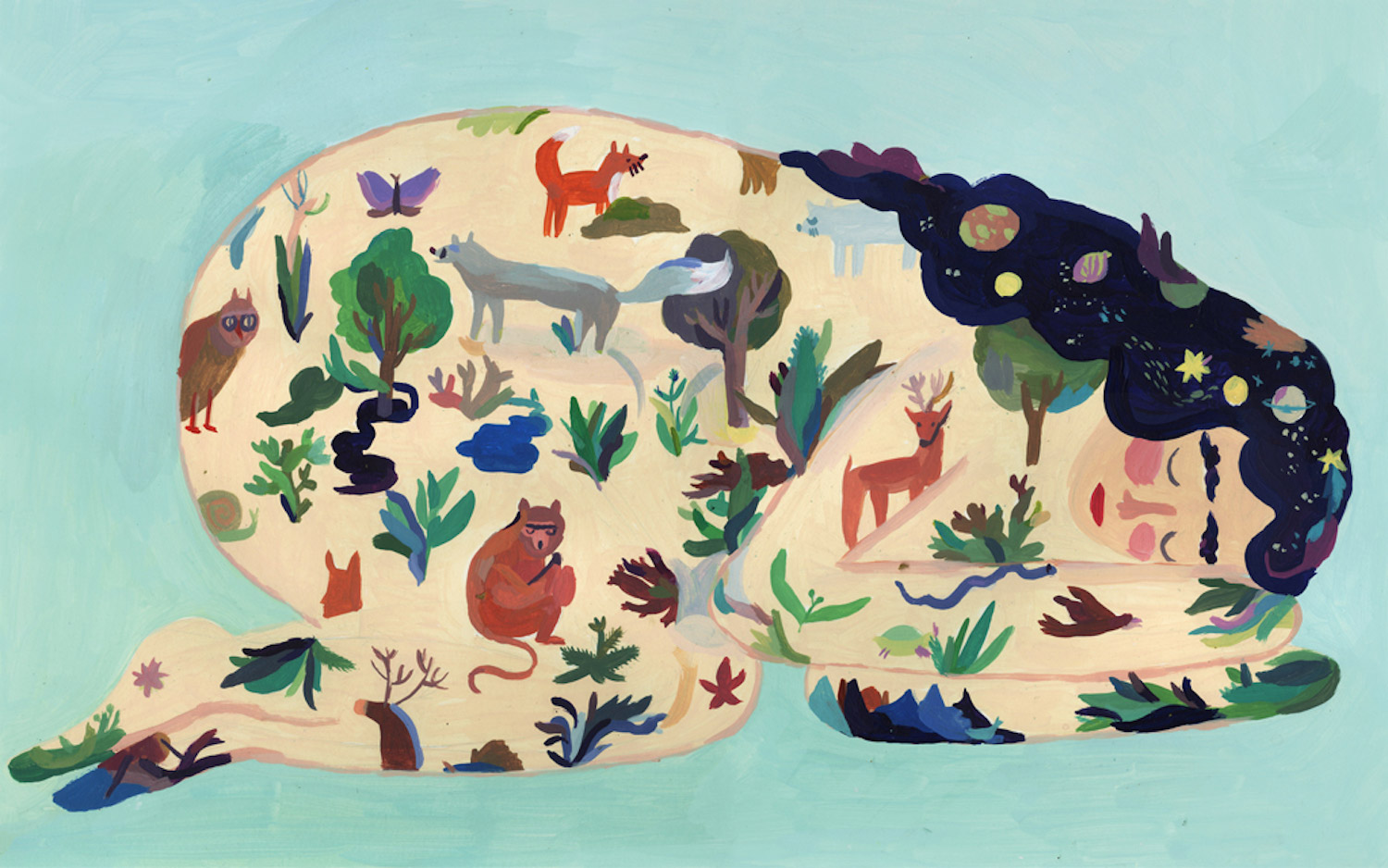 While this figure sleeps, the animal kingdom is alive.
Akvile Magicdust
The body is a canvas for tattoos, a notion that illustrator Akvile Magicdust explores in her surreal painting. Here, the entire human form hosts a sprawling landscape, where animals roam across legs and back, punctuated by the cosmos woven throughout the hair. Magicdust's work "converts emotions to colors," and she's illustrated the feeling of having a strange and pleasant dream.
Tattoos give us additional information about Liz Clements' characters.
Liz Clements
London-based artist Liz Clements makes tattoos the main focus of her fashion and editorial illustrations. With hair piled high, Clement's ladies are inked up and down their chests, necks, and occasionally, the face. The tattoos correspond to the overall style of the piece, touching on nautical symbols as well as metal music and gypsies. They're an important part of Clements' character development—with them, we'd have little idea of who these people are.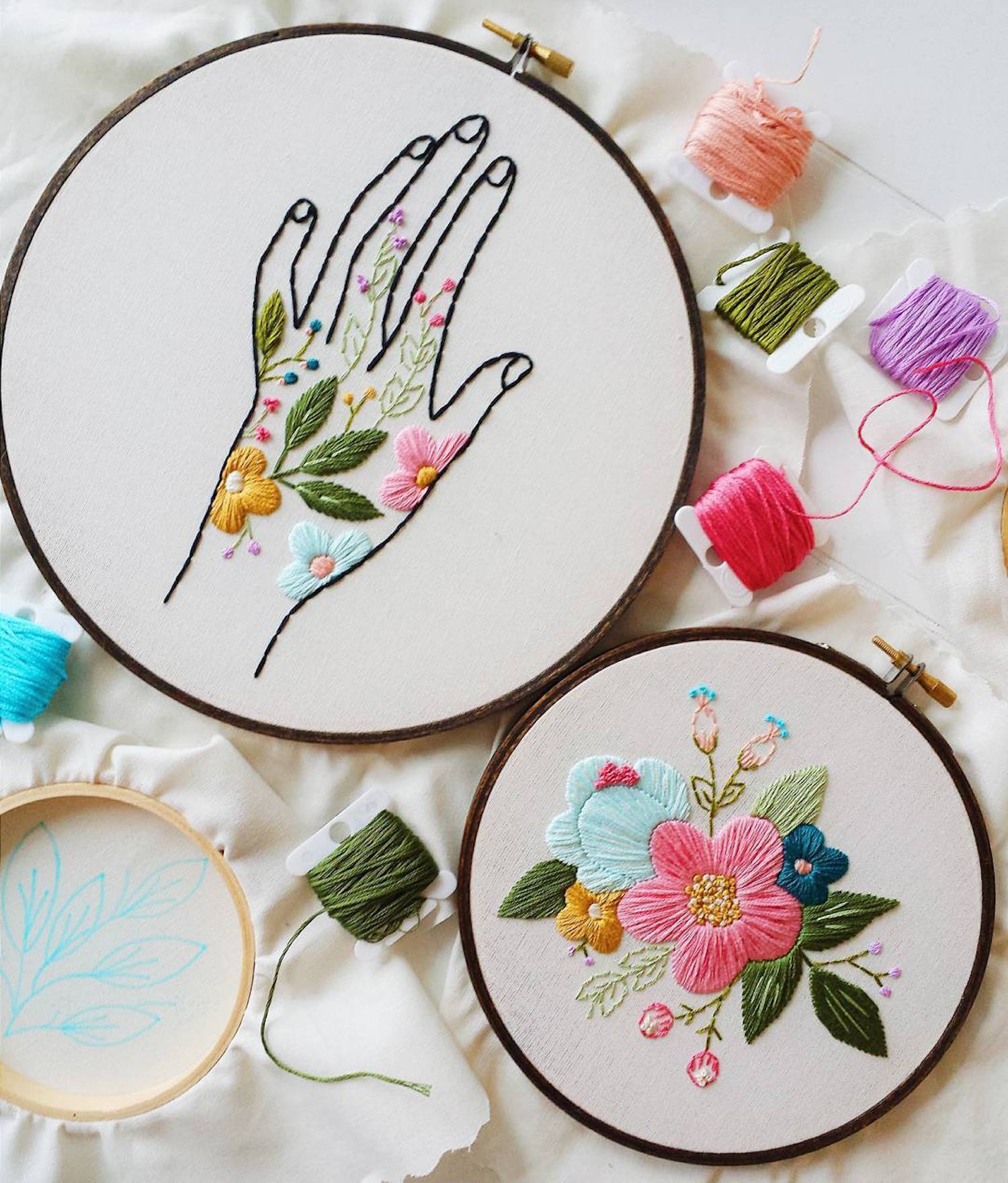 Cinder & Honey imagine floral embroidery as tattoos that sprawl across skin.
Cinder & Honey
Florals are a common theme for embroidered hoop art—the intricate stitches lend themselves well to exquisite blooms. Caitlin Benson, working under the name Cinder & Honey continues this trend while simultaneously commenting on another: illustrations of flowers as a popular tattoo design. "I believe flowers should last a lifetime," Benson writes, "and that's why I stitch them!"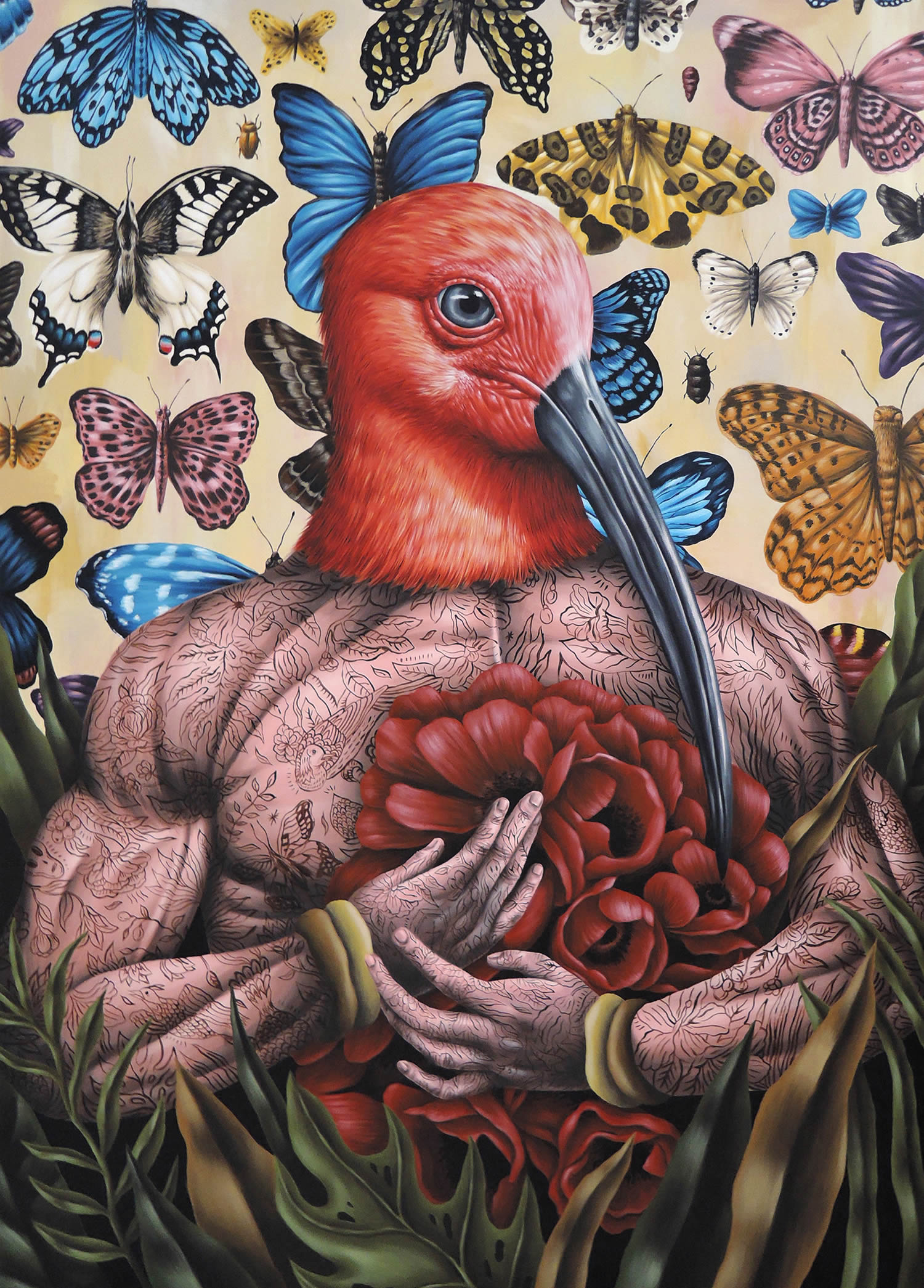 The tattoos that cover this hybrid bird/man reflect the character's desire to be one with nature.
Saddo
Artist Saddo created tattooed bird creatures for solo shows, "Coffins" (see cover image) and "Stranger in the Garden." The inspiration for "Coffins" came from his new home. "We [he and the illustrator Aitch] had recently moved to Lisbon and the winter caught us by surprise," Saddo wrote, "we didn't expect it to be so rainy, gloomy, and depressing." The change in weather altered his mood. "We often felt trapped inside our dark, moist house, inside slow moving, joint aching bodies—and every once in a while, maybe more often than usual, a coffin would pop up in both our illustrations and paintings." This, along with other strange figures would haunt Saddo's affected mental state, which were expressed through his surreal paintings.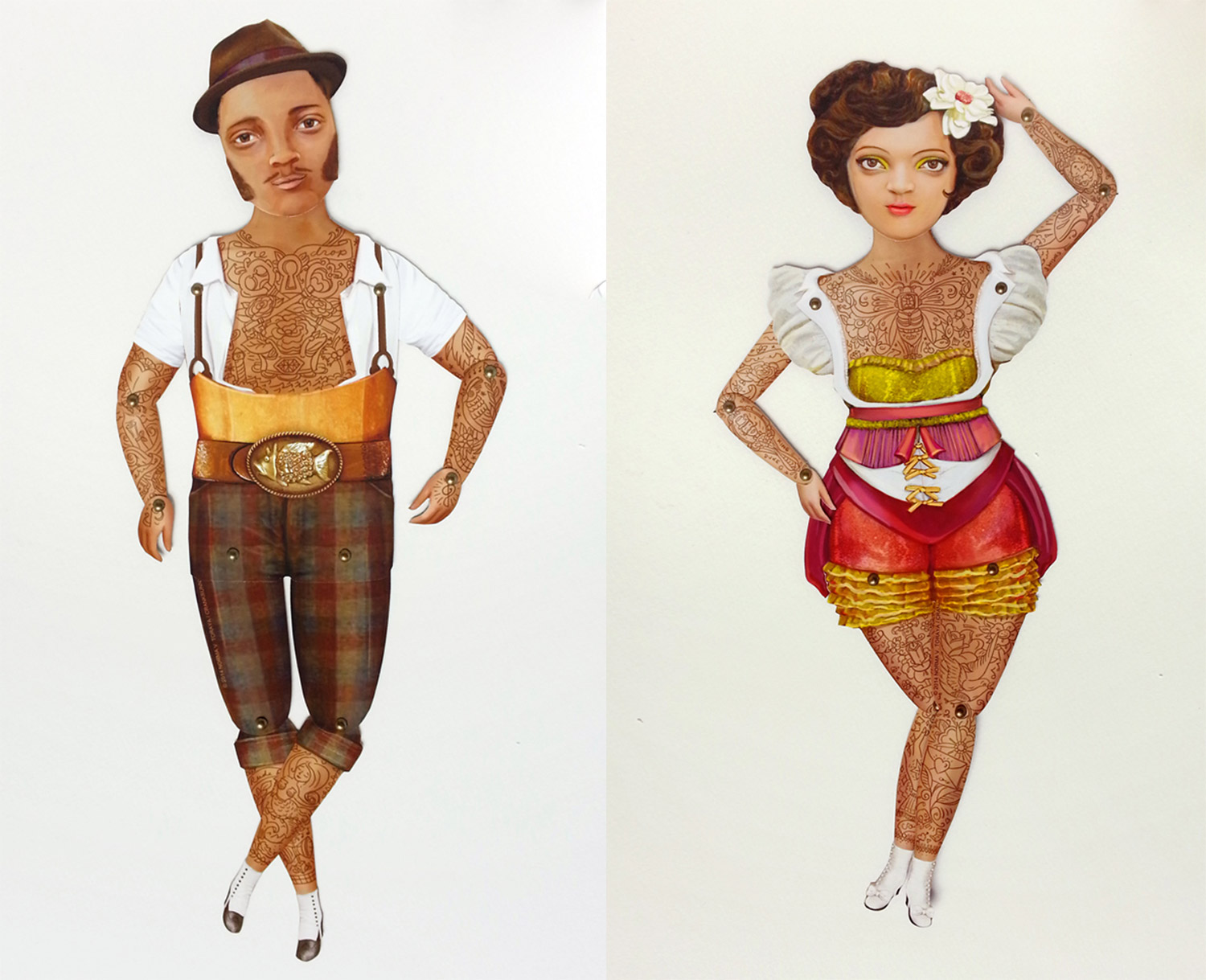 In addition to paper toys, Crankbunny is also an animator.
Crankbunny
Crankbunny is the moniker for Norma V. Toraya, a paper artist that creates handmade toys and dolls. She finds inspiration in "vintage ephemera and older mechanical toys," and she recreates them while adding her own spin. They still have an aged feel and recall a time long past, but feel contemporary thanks to her illustrative style of full-figured bodies and large eyes.
Images © respective artists.