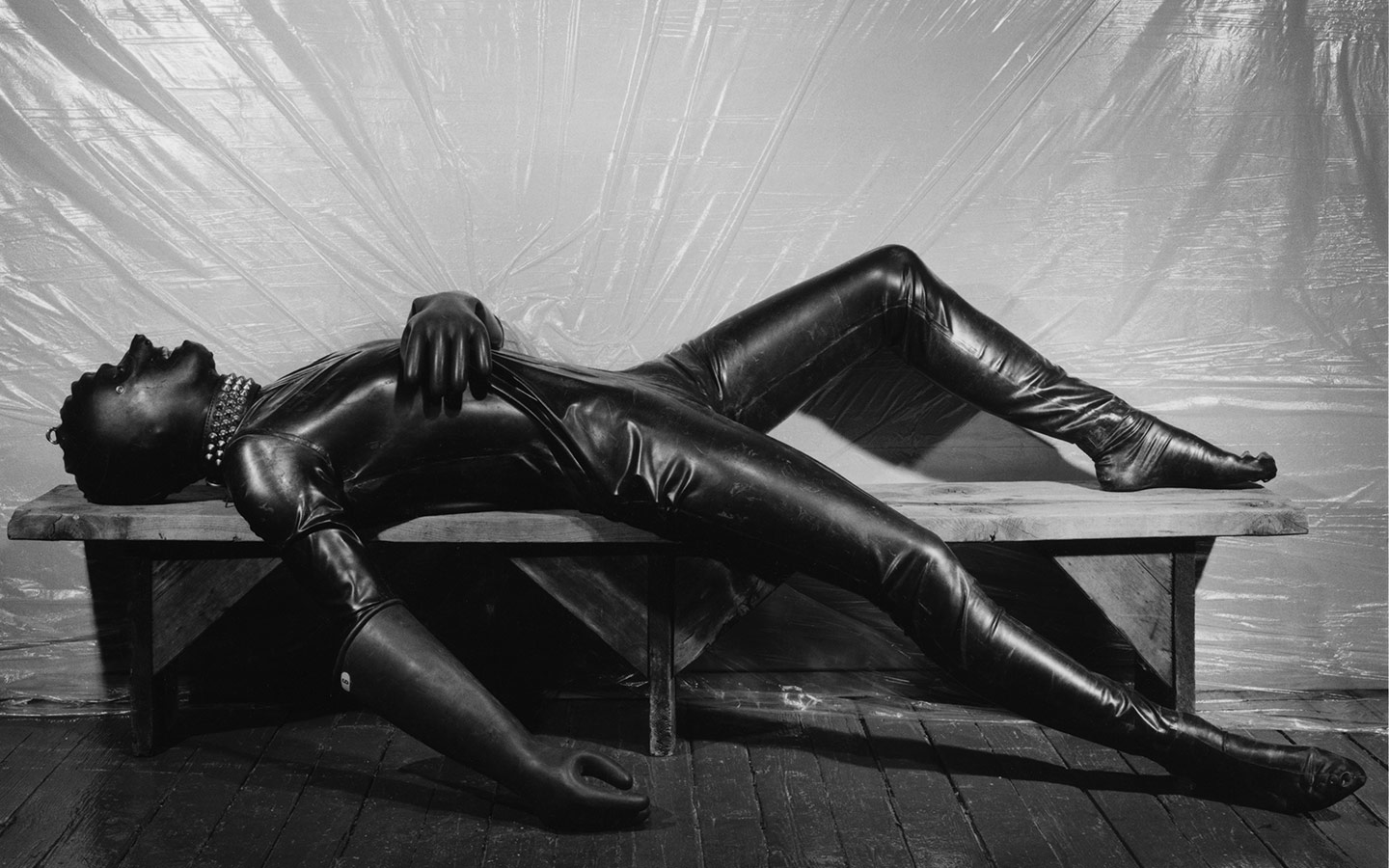 Photography has long been a window into our social psyches, capturing not only scenes of beauty, but also the hidden underbellies of human experience: decadence, struggle, violence, passion, and despair. The word "controversial" is often used to describe these artists, because they rupture and/or critique the boundaries of normativity, thereby causing discomfort.
Below is a collection of photographers—both old and new—who use imagery deemed "controversial" as a way to tell stories. Many of the works are surreal, loaded with symbolism waiting to be unpacked; some of them seem brutally objectifying; all of them are shocking in some way. However, the questions they provoke about power and identity (especially in regards to gender and sexuality) are invaluable in examining the ways we see others—and ourselves.
Top: Robert Mapplethorpe was known for his photographs of New York's BDSM scene in the late 1960s and 70s.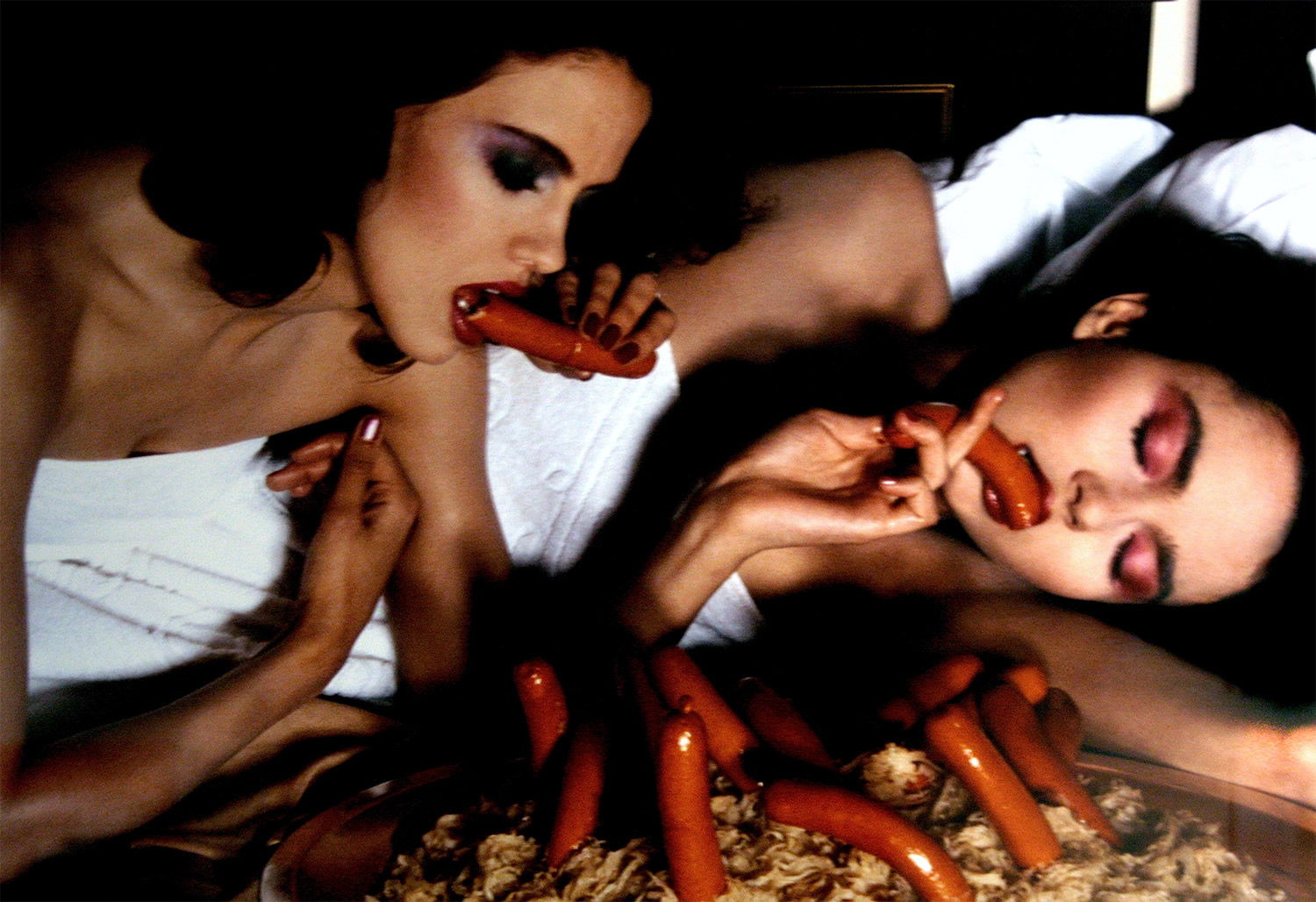 Guy Bourdin's fashion photography was erotic, humorous, and sometimes violent.
Guy Bourdin
Starting the list is Guy Bourdin (1928–1991), the infamous Vogue Paris photographer known for his surrealist, sexual, and sometimes brutal imagery involving women. Some of his photos, like the one above, are suggestively playful; others are disturbing, such as a woman lying unconscious with blood streaming from her face. Bourdin's color-drenched scenarios make the blatant link between fashion and the objectification of women's bodies, but they continue to attract curiosity and discussion today, insisting the question—is it a theatrical commentary, or pure exploitation (or both)? Bourdin leaves it to the viewers—as well as their own carnal and consumerist desires—to decide.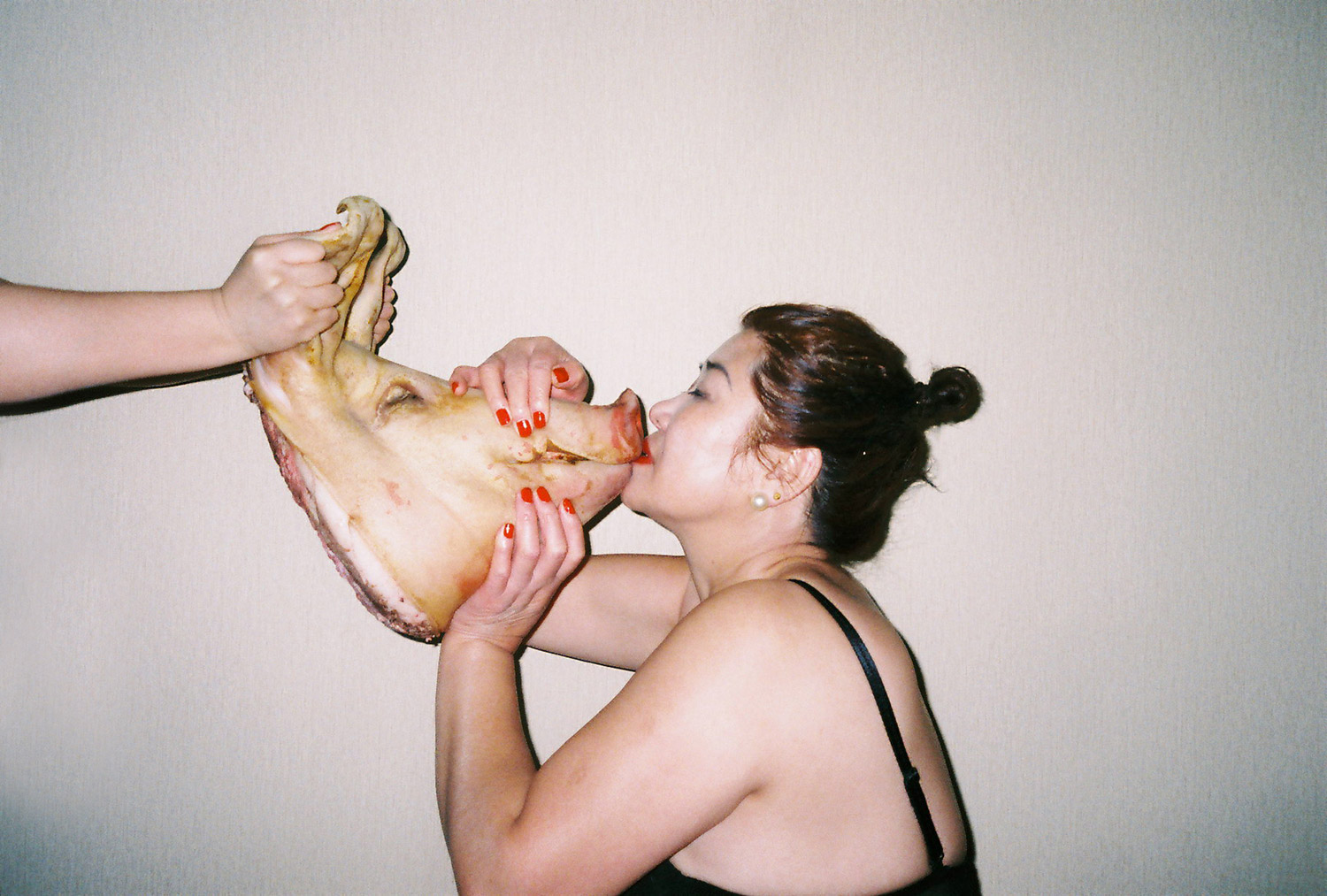 Ren Hang explores flesh and intimacy in candid, surprising ways.
Ren Hang
Ren Hang is a Beijing-based photographer known for his erotic and uncensored work. His main subject is the nude figure, presented in unconventional ways—browse his collection and you'll see people urinating, posing with flowers against their genitals, and kissing severed pig heads. However, while fetishistic and perhaps startling, there is a poeticism and fearlessness to it; for Hang, the human body is his storyboard as he captures candid moments of fear, arousal, and longing. Deemed controversial by mainstream art circles in China, Hang's work has been curated by Ai Weiwei, a fellow nonconformist artist.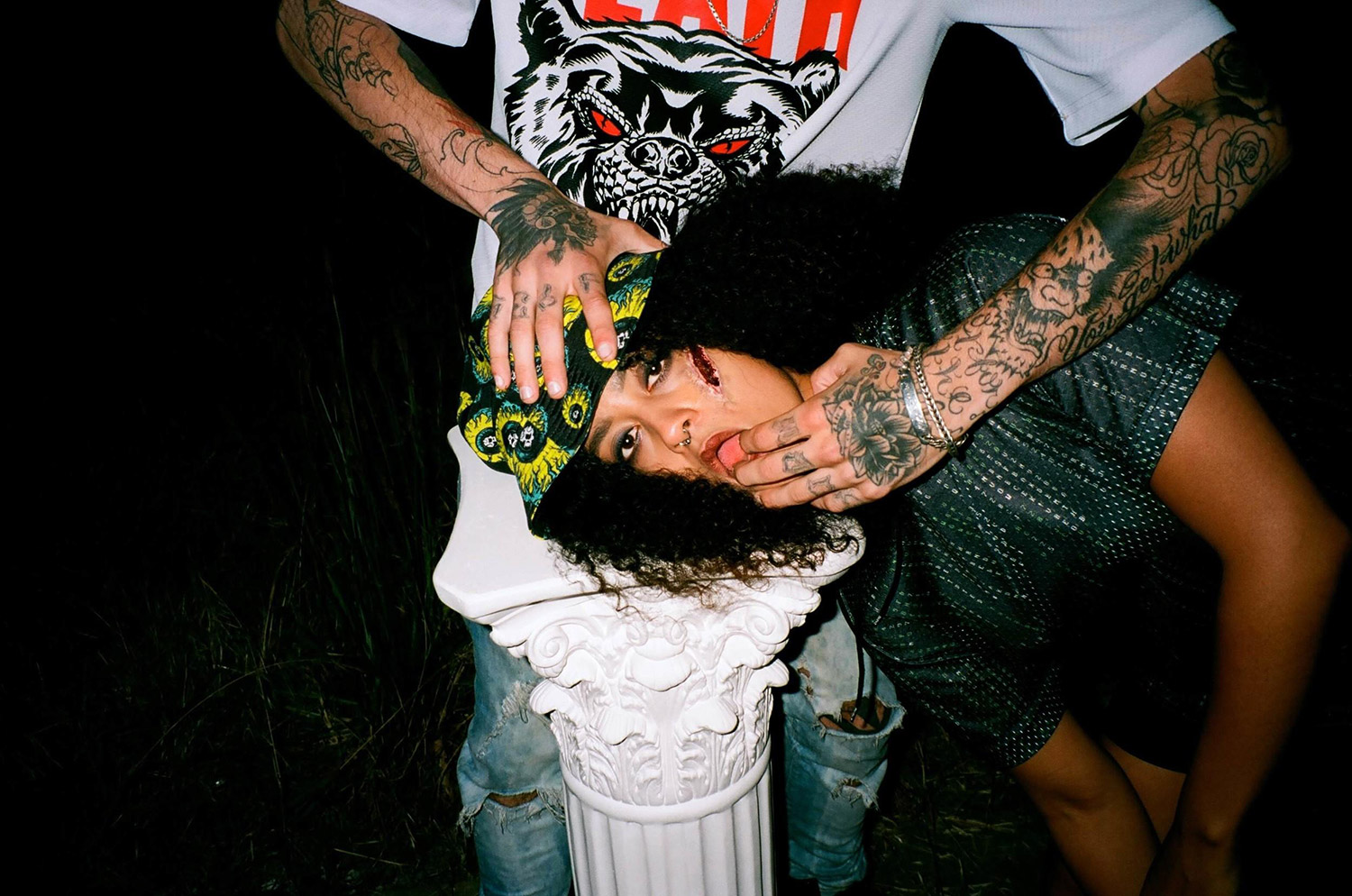 Pretty Puke presents scenarios of debauchery and experimentation in late-night youth culture.
Pretty Puke (Miller Rodriguez)
In theatrical scenes of debauchery, Pretty Puke is a contemporary photographer who curates the late-night, emerging youth culture of Los Angeles. Visit his website and you'll be immersed in a plethora of bizarre—and often raunchy—lo-fi images; subjects include everything from people posing with road kill to vandalizing dumpsters. To some, this may seem like an excessive representation of today's youth, but they tell bold, culturally relevant stories about resistance, sexuality, and coming-of-age in the modern, digitized world.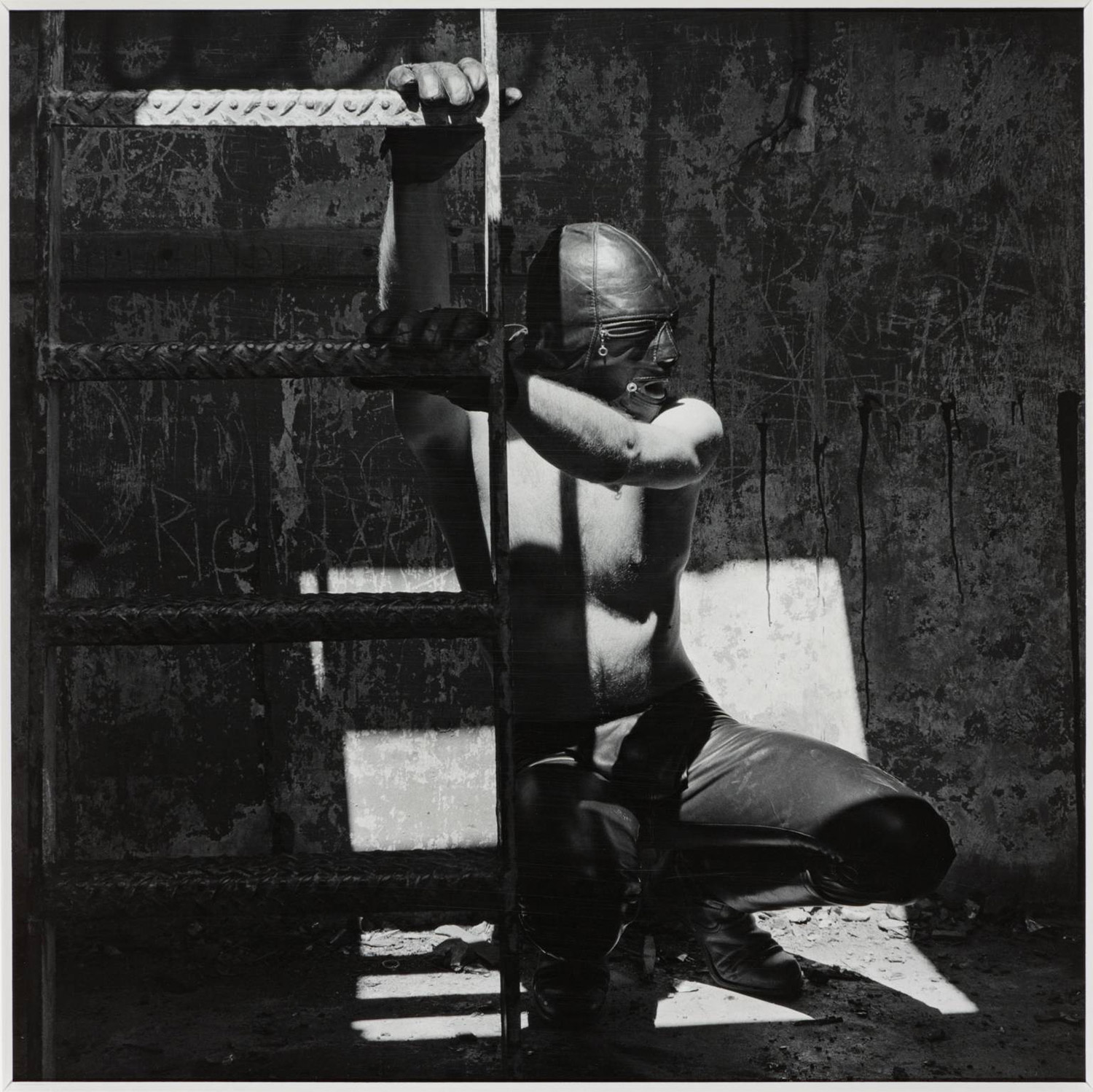 Robert Mapplethorpe's BDSM photography beautifully explores sexual subculture and community.
Robert Mapplethorpe
Photographer Robert Mapplethorpe (1946–1989) is remembered for his candid yet compassionate exploration of themes deemed "controversial" by normative society: BDSM, nudity, racial politics, and homosexuality. From 1969 through the '70s, he provided unapologetic representation for repressed groups. His legacy survived vicious cultural debates over the difference between "art" and "pornography," as well as the homophobia of the AIDS crisis. Today, his historical photos—which tell the story of New York's underground, and the individuals who inhabited it—remain influential in their fearless exploration of identity and desire.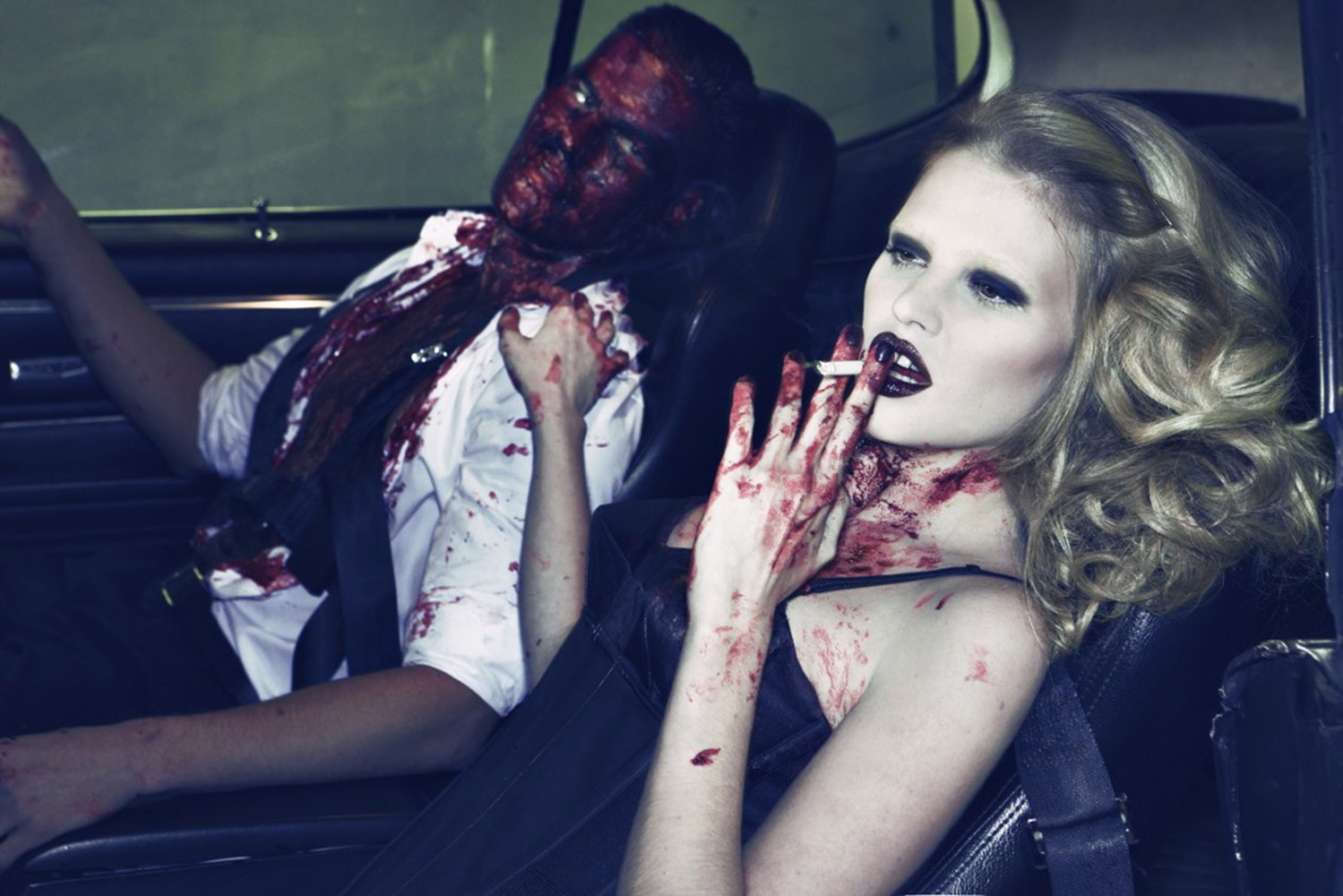 Steven Klein's images of Lara Stone for Vogue magazine caused questions of gender-based violence.
Steven Klein
Similar to Bourdin, the work of American fashion photographer Steven Klein pushes the envelope in its representations of race, sex, and gender. The February 2009 issue of Vogue Paris published a series by Klein titled "Lara Fiction Noire," starring Lara Stone as a vampiric creature. With pale lighting and bold role reversals, Klein's sexual or post-bloodbath narratives twist the viewer's imagination, playing at the crossroads of lust, beauty, and violence.
The cover of LaChapelle's book Heaven to Hell features Love with a crucified Cobain lookalike on her lap.
David Lachapelle
David LaChapelle is a commercial photographer known for surreal and often sexualized portraits of well-known celebrities; check out his photo "Lusty Spring," which features Angelina Jolie in a state of flowery, orgasmic bliss. He is also known for challenging boundaries by showcasing transgender models. His hyperreal and kitschy imagery—see the eye-popping Cobain/Love pietà above, for example—creates sensational storylines.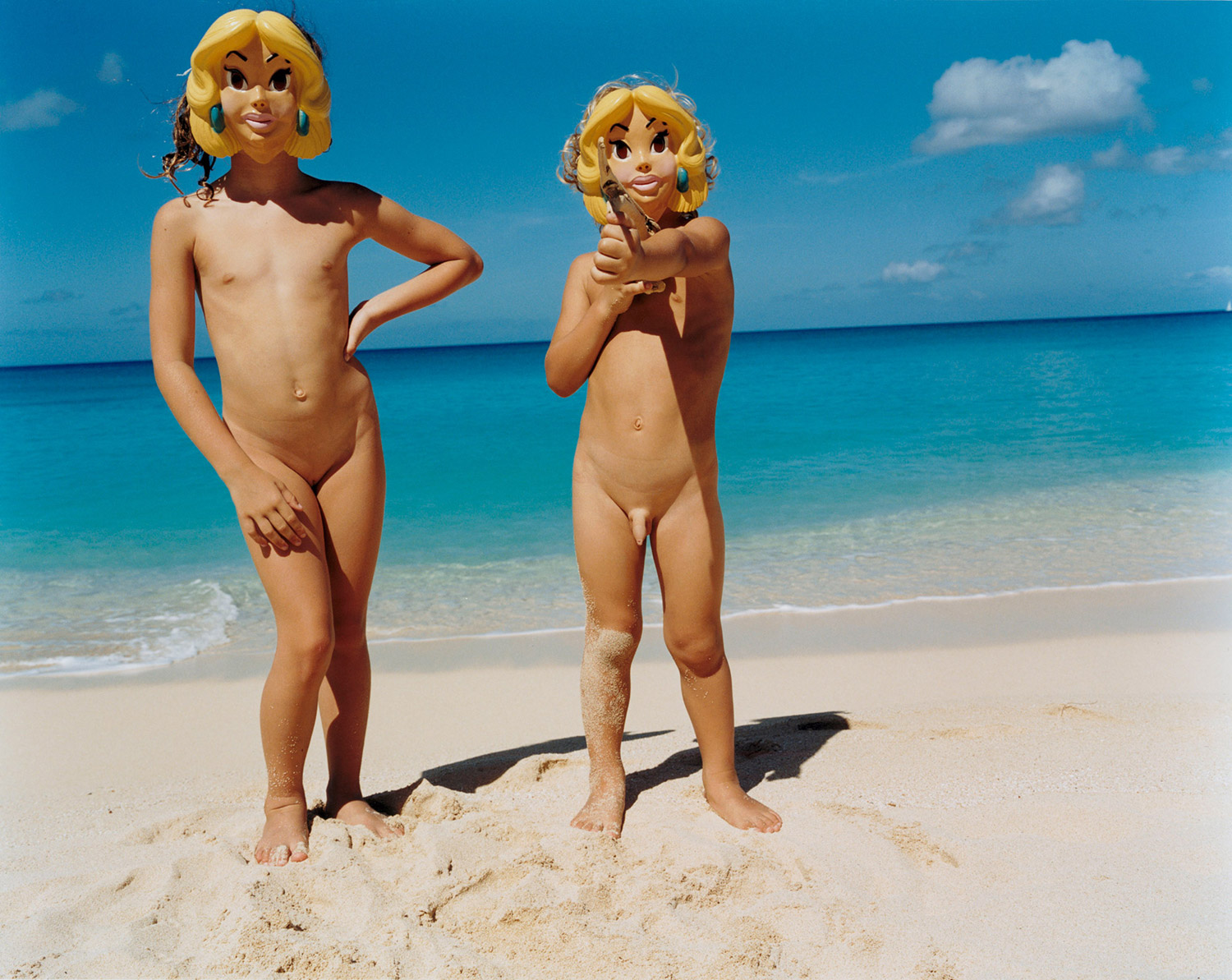 This photo of Gearon's children posing on the beach with Disney masks caused a stir.
Tierney Gearon
Tierney Gearon is a contemporary Los Angeles-based photographer known for her colorful and dynamic images, which often feature her family and friends. In 2001, she was given an unfavorable spotlight when she included photos of her children (aged seven and four at the time) in the exhibition "I Am a Camera" at the Saatchi Gallery. In one photo, the children are posing nude and wearing masks (which they elected to wear) while on the beach. For Gearon, the image is a genuine story about childhood games and silliness; others saw an image of exploitation. Gearon has strongly disputed these claims, and the photo has brought up important questions regarding censorship and the fickleness of perception.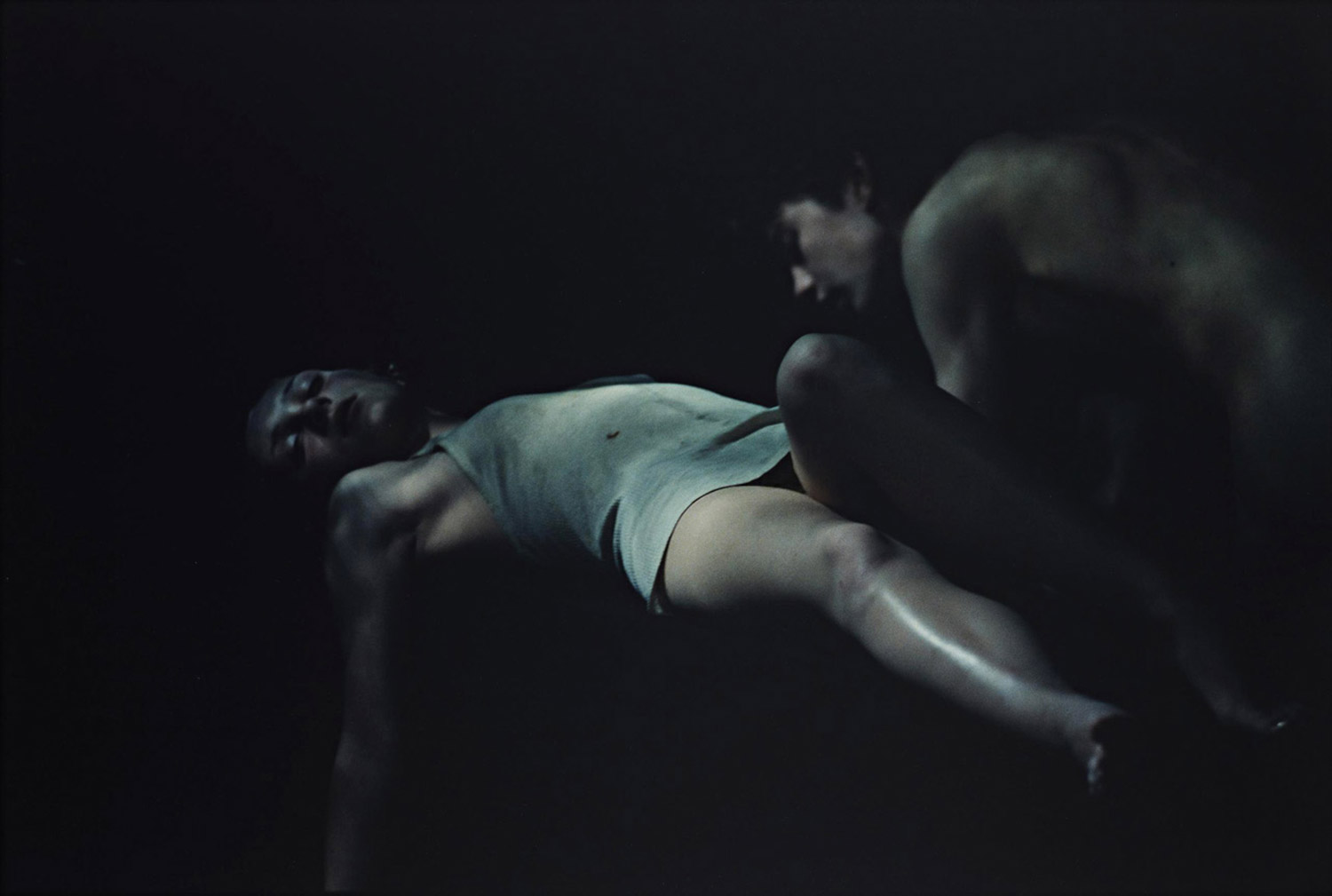 The teenagers in Henson's dreamlike photos appear affectionate and sensitive—not carnal.
Bill Henson
Not unlike Gearon, Australian photographer Bill Henson came under scrutiny for his representation of youth. Some of Henson's images depict teenaged boys and girls in painterly, twilight scenes. Nude or partially clothed, the subjects appear romantic, but not overtly sexual (in the end, Henson was not prosecuted). There is a lot of human passion in these photos; each turned face and reaching arm tells an emotionally-rich story about bodily awareness, the power of touch, and the melancholia of youth.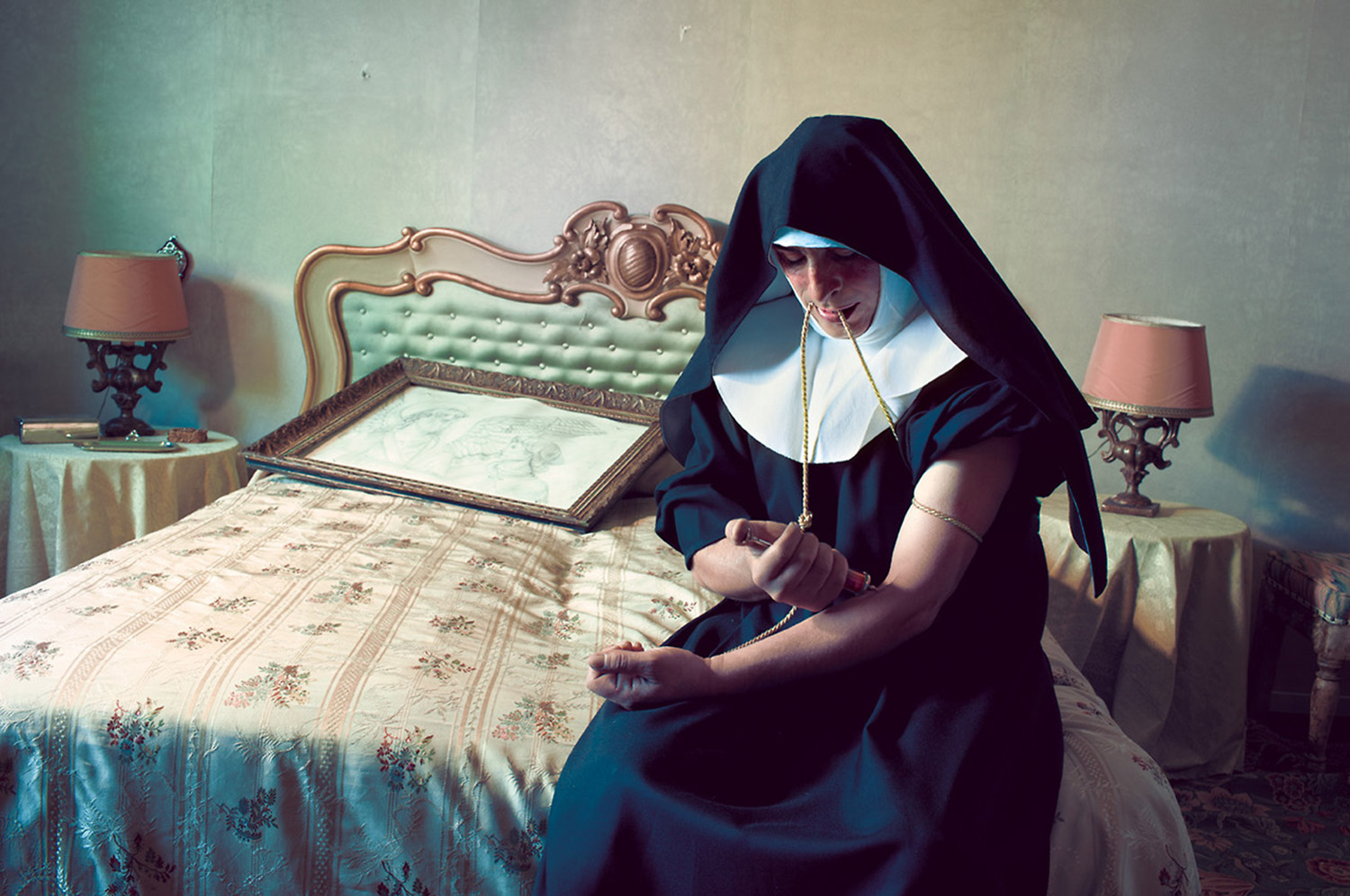 This satirical portrait of a nun-gone-bad was the cover of Toilet Paper magazine's June 2010 issue.
Maurizio Cattelan & Pierpaolo Ferrari
Toilet Paper magazine is the offspring of two creative minds: artists Maurizio Cattelan and Pierpaolo Ferrari. Started in 2010, each issue contains surreal images brimming with irony and trouble—a mouth stuffed with hot dogs, or a woman with clothespins clamped to her backside (see their Tumblr for more color-saturated examples). Their stories arrive from a mix of humor, controversy, and shock-value; the nun shooting up in a hotel room covers all of these bases, intended to confuse and provoke us.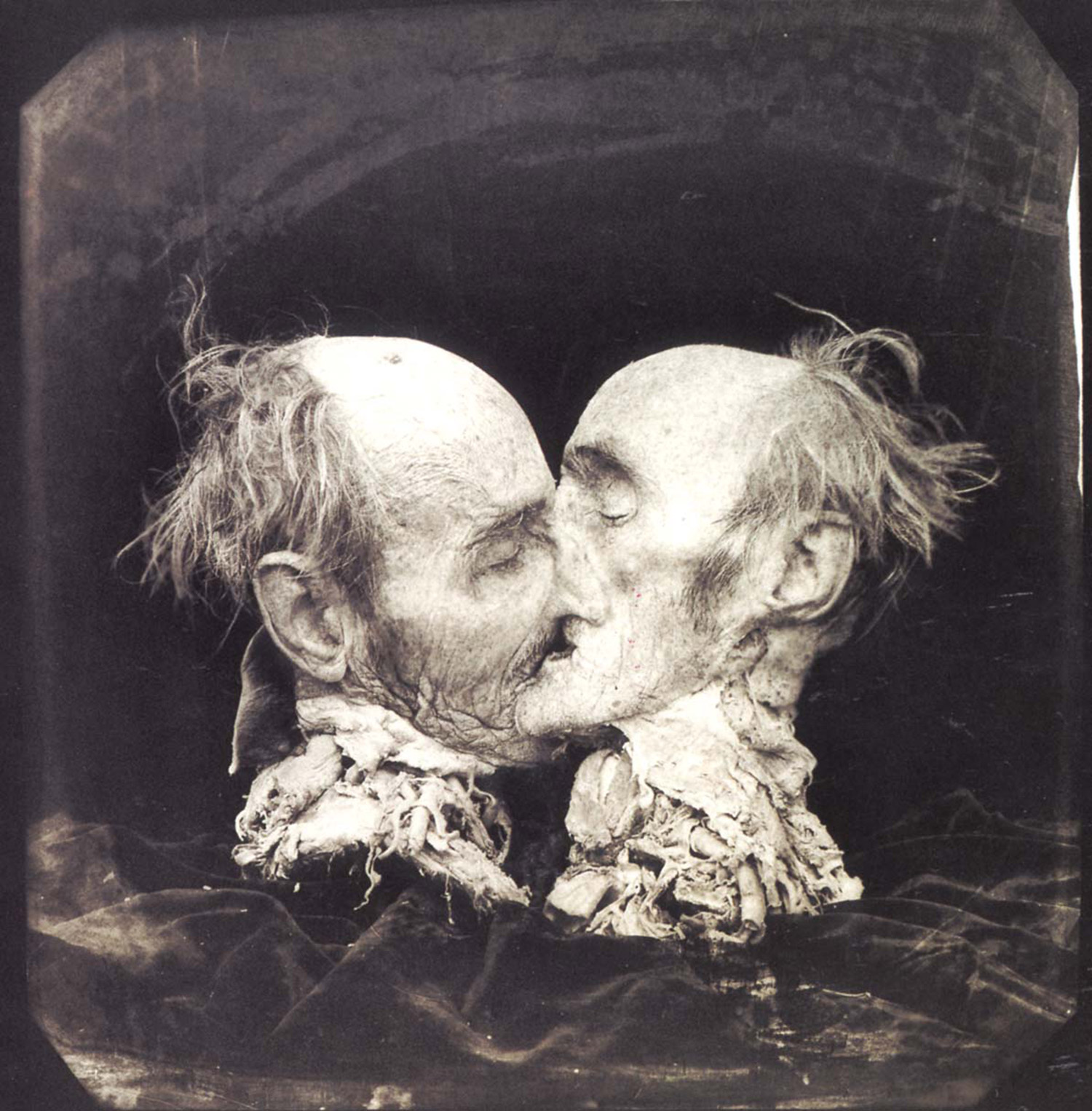 This photograph of Witkin's displays a human head that has been cut in half and positioned into a kiss.
Joel-Peter Witkin
We'll finish this list with something controversial, but in a way that's different from the above-mentioned artists; American photographer Joel-Peter Witkin occasionally incorporated dead bodies (or portions of them) into his images. Death and vulnerability are driving themes, originating from a horrific car crash Witkin witnessed as a child. To create his works, he often had to cross the border into Mexico, making deals with hospitals to gain access to anonymous body parts. Many have labeled his work exploitative and grotesque, understandably; but beyond the shock, others might see visceral meditations on societal decay and the transience of life.
Photos © respective artists.