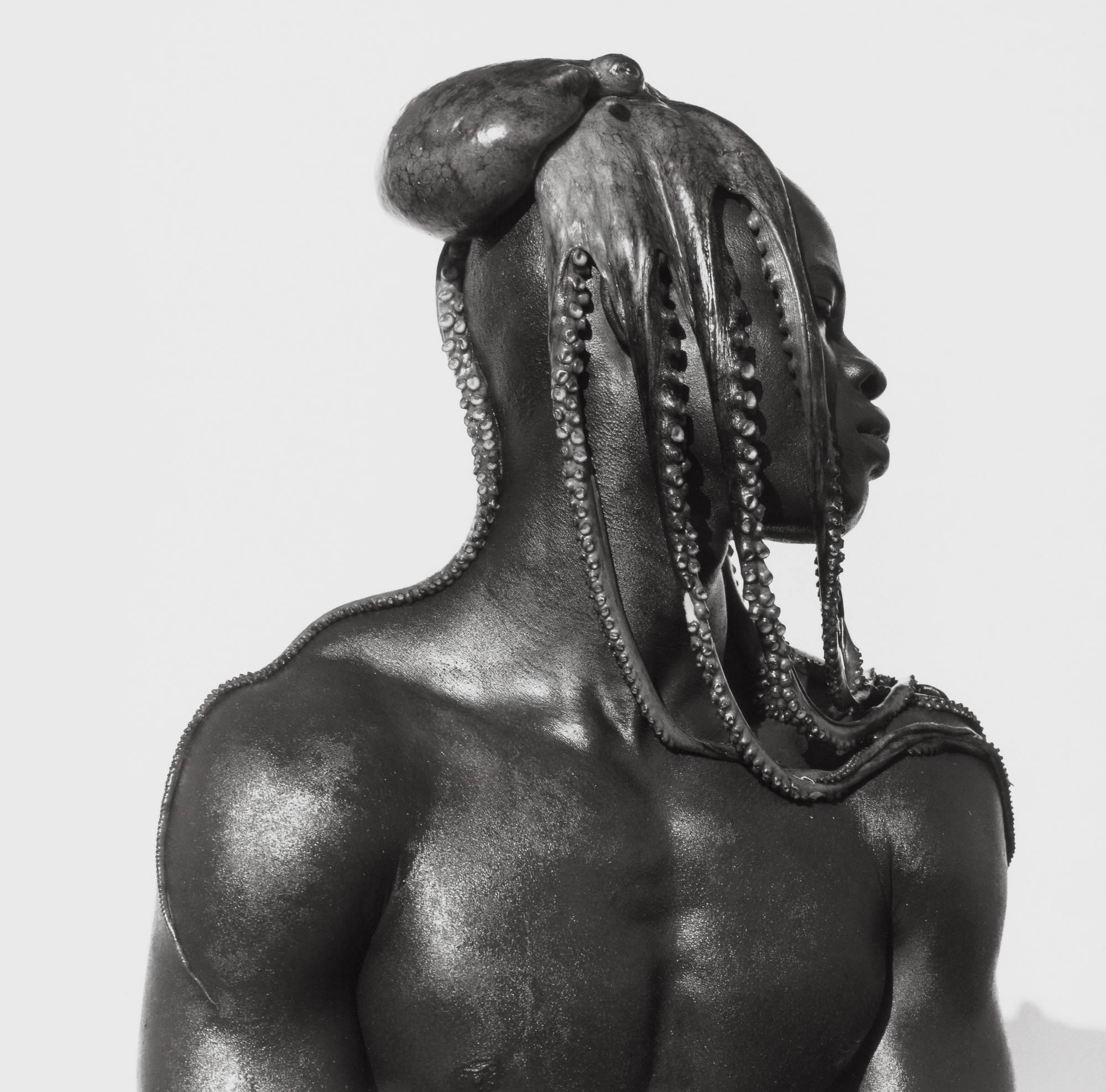 Making images of the human body has kept artists busy forever. Photographers who compose images by manipulating bodies—alone, paired, grouped, with props—carry the practice a step beyond traditional posed oil portraits. These modern nude photos can be just as formal, indeed inspired by centuries of tradition, or they can break free of old conventions and blaze their own trail.
For decades, photographers have expressed their creative vision using the naked human body, some of them playing with strange and daring compositions. Sea creatures often make an appearance. Classical themes are evoked, architectural and geometric shapes constructed. With openness and vulnerability, provocation and discomfort, these photos are an emotional eyeful.
Top: The actor Djimon Hounsou wears cephalopod dreadlocks in "Djimon with Octopus, Hollywood." Image courtesy of the J. Paul Getty Museum, © Herb Ritts Foundation.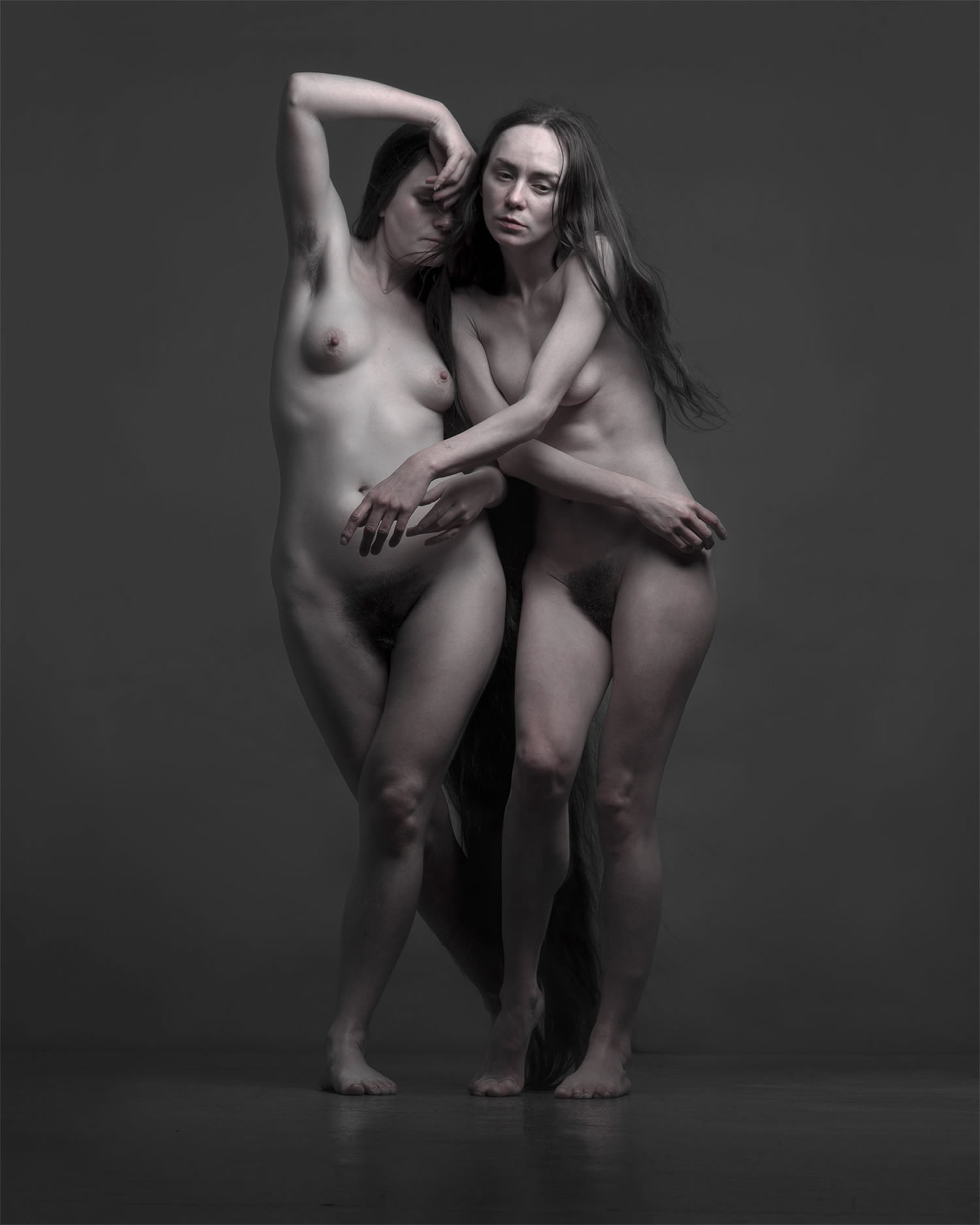 Neryng and a companion express sentiments inspired by ancient Buddhist concepts.
Justyna Neryng
In her latest series "Ghost Dance" (above), Justyna Neryng drew inspiration from an aspect of ancient Japanese Buddhism, the concept of rokudo-e, the six realms of rebirth in the great wheel of life. With graceful gestures and poses, the images evoke a sense of flow and connection. If they also evoke classical Renaissance paintings, with their particular quality of soft light hitting just so, that's because Neryng is also inspired by art from that historical period. A Polish artist working in the UK, Neryng frequently turns to self-portraiture to realize her vision.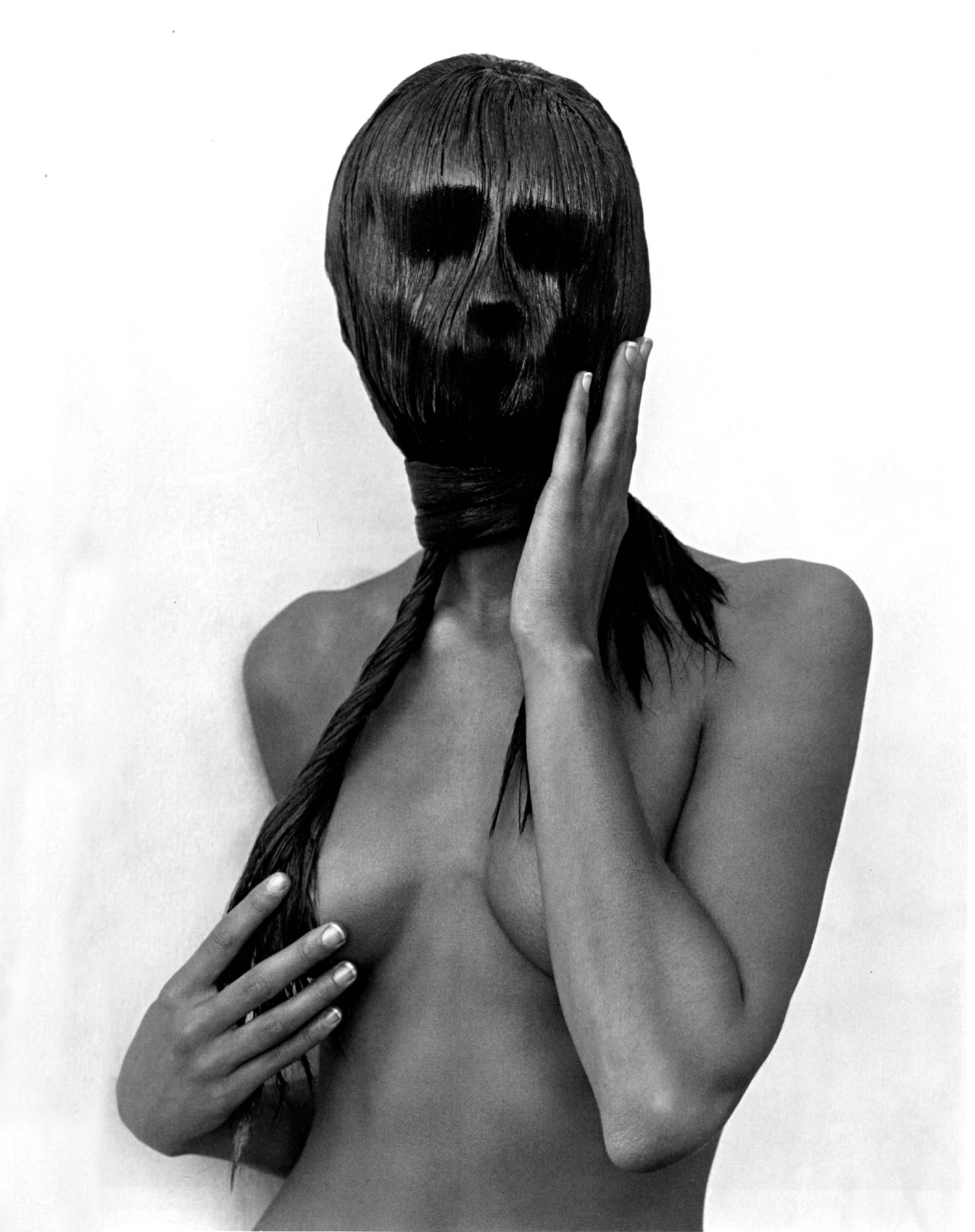 "Mask, Hollywood"—an eerie wet hair mask does little to disguise the beauty of this model. Photo © Herb Ritts Foundation.
Herb Ritts
The body of work produced by Herb Ritts spans the world of A-list celebrity and fashion. A child of 1950s Los Angeles, he became a Hollywood icon in his own right. His photographs of models and stars appeared in major magazines and drove ad campaigns for top designers and cosmetic brands. A distinctive clean, graphic style gives Ritts' black-and-white images maximum impact and makes them instantly accessible, whether they're of familiar faces from the cinema, famous models like Stephanie Seymour in a mask of hair, or nude bodies in bold sculptural poses.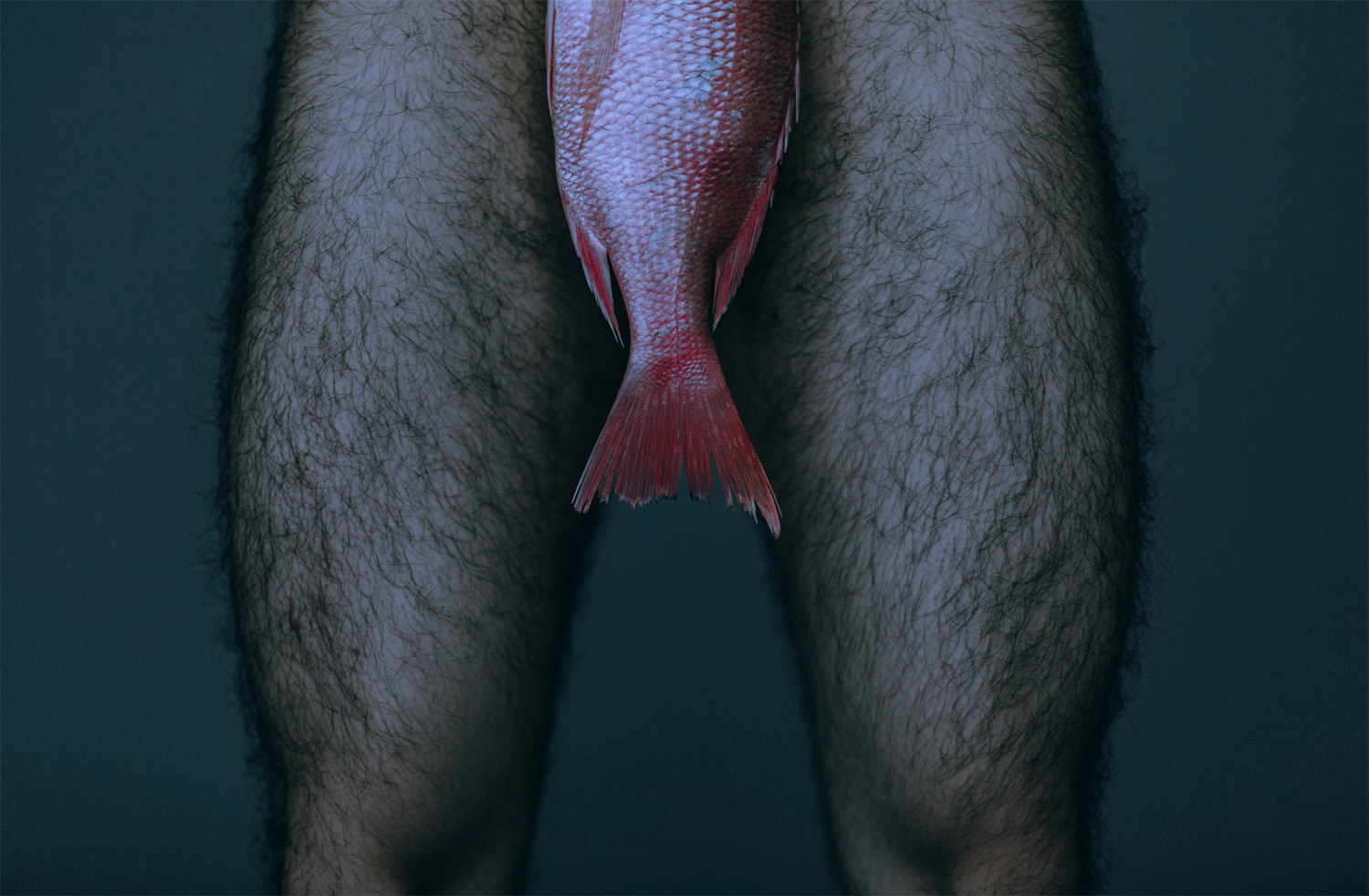 There's something fishy going on—or maybe it's a new fashion statement.
Daniel Molina
Daniel Molina is a young Mexican photographer creating images that are densely textured and painterly, with an element of the offbeat and out of kilter. For inspiration, he looks to the New York fashion photographer Steven Klein, known for his rule-breaking risque style.
The male body as sculpture, as envisioned by a master. A few years later, Herb Ritts created a similar image using a female body.
Robert Mapplethorpe
Growing up amid the New York art world of the 1960s and '70s, inspired by artists like Cornell and Duchamp, Robert Mapplethorpe attended art school, but dropped out and then discovered a love of photography with a simple Polaroid camera. In the late '70s, with a more traditional Hasselblad, he began documenting the city's S&M scene, and by the '80s he was focused on carefully composed nudes like this one ("Raymond 1985"), flower still lifes, and studio portraits of artists and celebrities. Themes of obscenity and homoeroticism in some of his work brought heated controversy, even after his death in 1989. Mapplethorpe is widely considered a pioneer of 20th-century photography.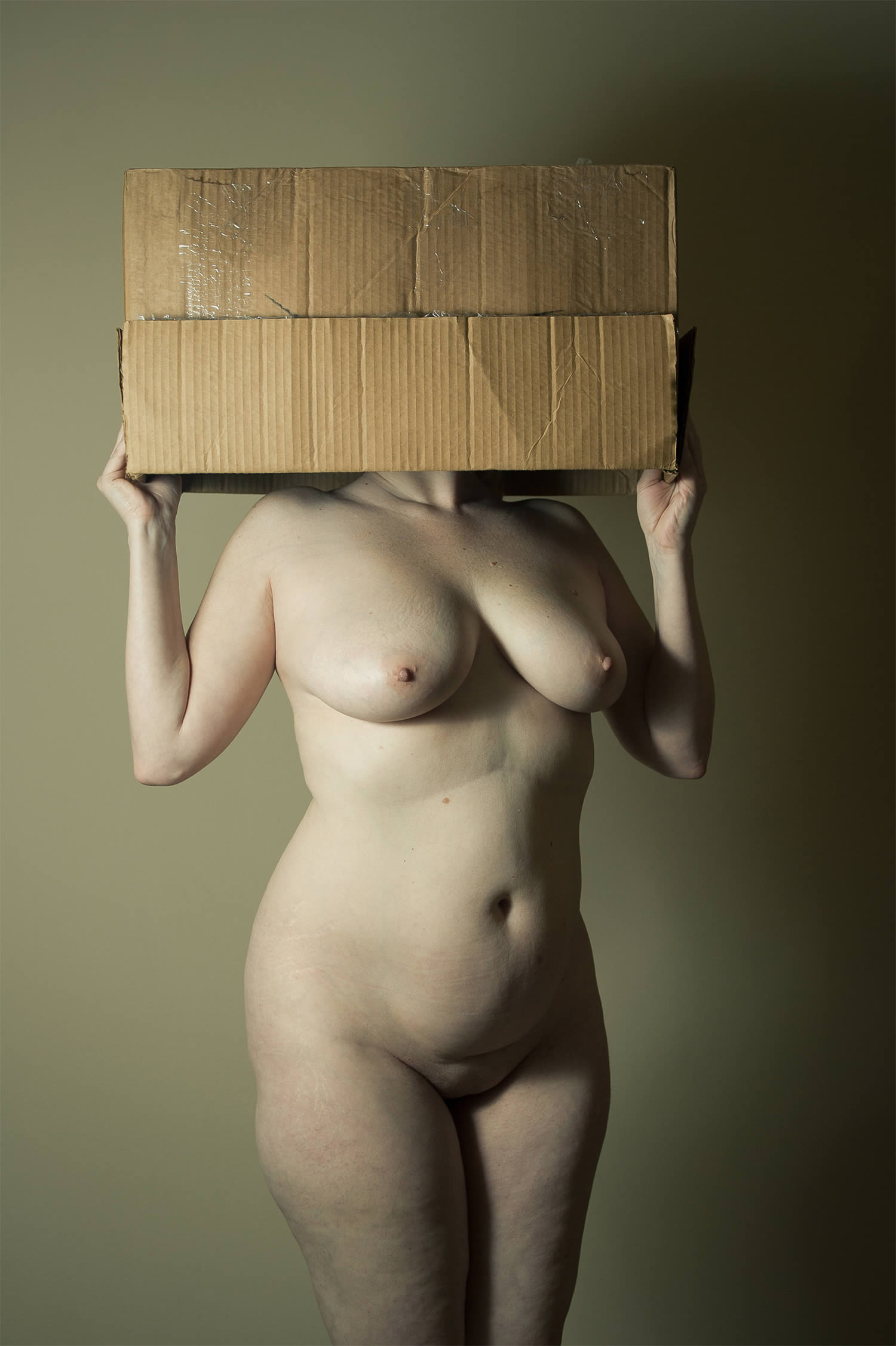 Shannon Purdy was as dedicated to the yearlong project as her photographer husband was, even if it meant putting a box over her head.
JW Purdy
Since picking up a camera in 2008, JW Purdy has aimed his lens exclusively at the female body. Last year, Purdy set out to produce one nude photograph of his wife and muse, Shannon, every day, no matter what. The result is "My Nude Year"—365 black-and-white photos, some quite strange, some playful or silly, others blatantly sexy, all showing a glorious appreciation for the female form. In his blog, Purdy shares the unique challenges of composing an original image day after day, and his tight collaboration with his muse.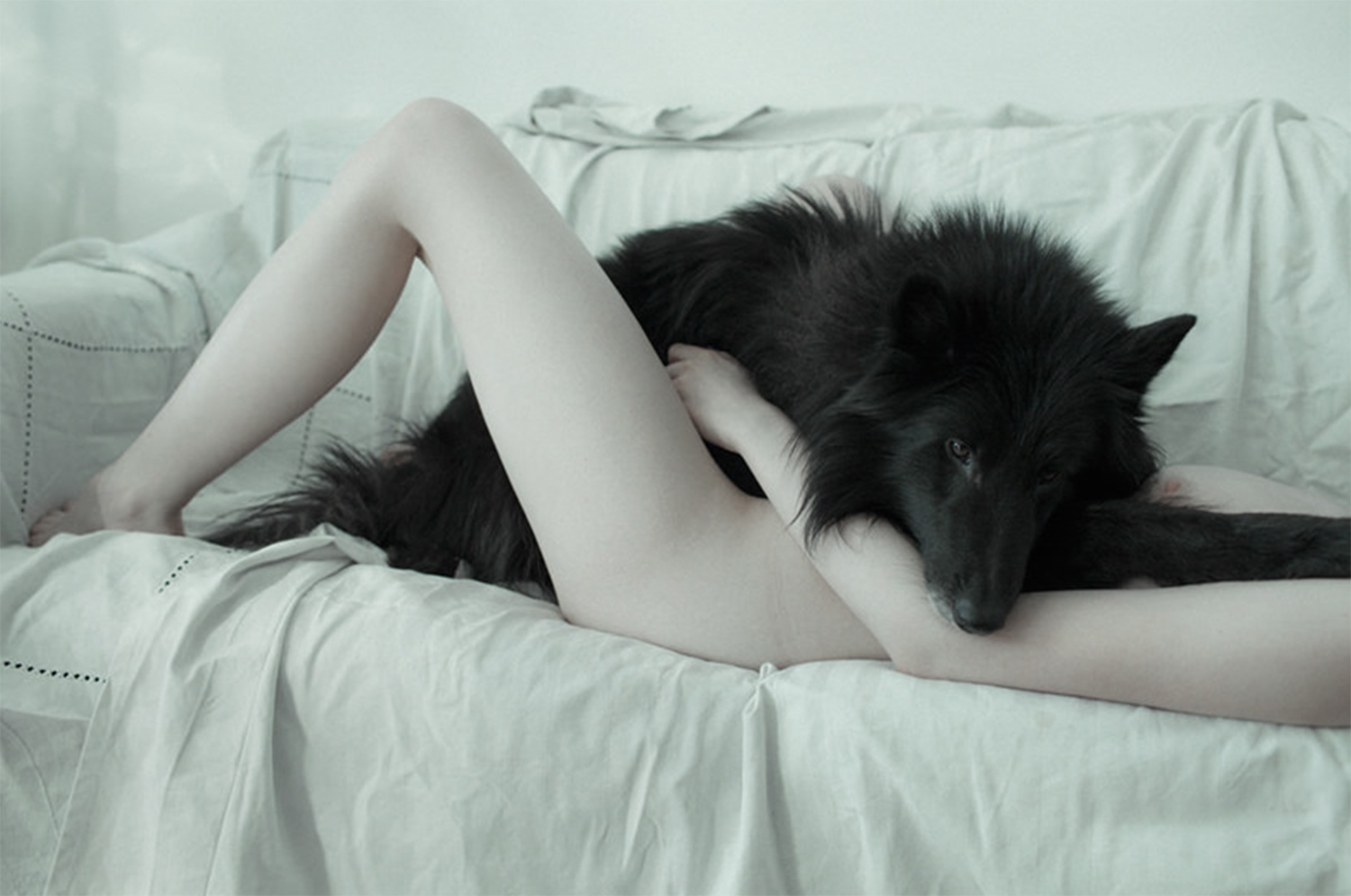 Raw vulnerability is a hallmark of Makabresku's imagery. Her latest series was recently featured here.
Laura Makabresku
The world as seen through Laura Makabresku's lens is dreamlike, disturbing, and dark. Self-taught and relying on intuition to guide her image making, Makabresku is clearly influenced by the strong tradition of folktales in her native Poland. Describing her work, she says her photos "are like screenshots from beautiful but cruel fairy tales" and "expressions of my dark side [that] give a voice to emotions and fears which would otherwise eat me from inside." Such raw vulnerability makes for gripping, breathtaking images.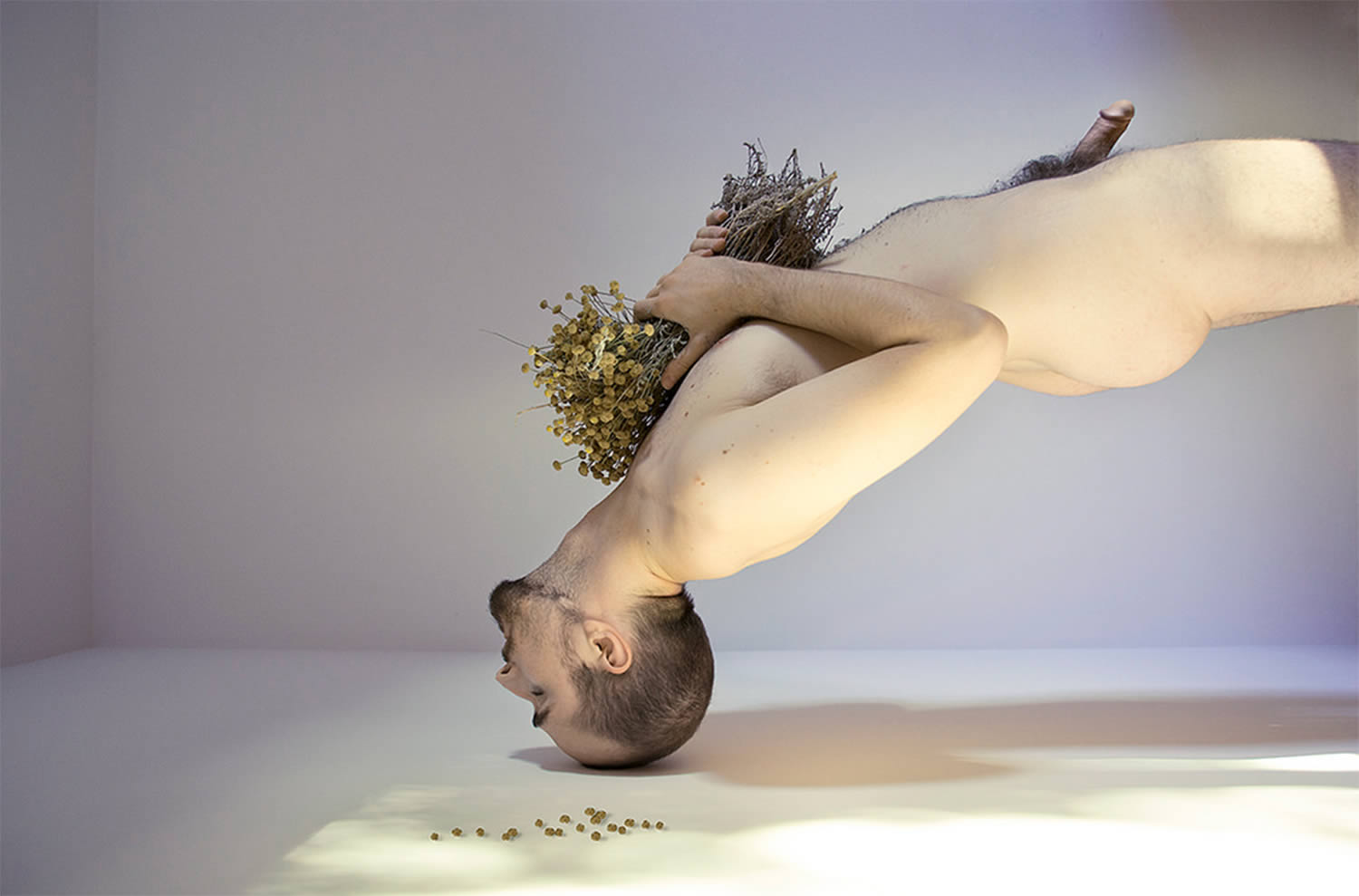 In a collaborative effort with a willing model, anything the photographer imagines can become real.
Leila Amat Ortega
The lush imaginative world of Leila Amat Ortega pours into her photos as if projected by an inner light. Imbued with a sense of theatricality, every one of her meticulously constructed compositions tells a tale—a strange, scary, surreal story that will make you squirm. Whoever appears in the picture—frequently Ortega herself—is a character playing a role in a fantasy of her own creation.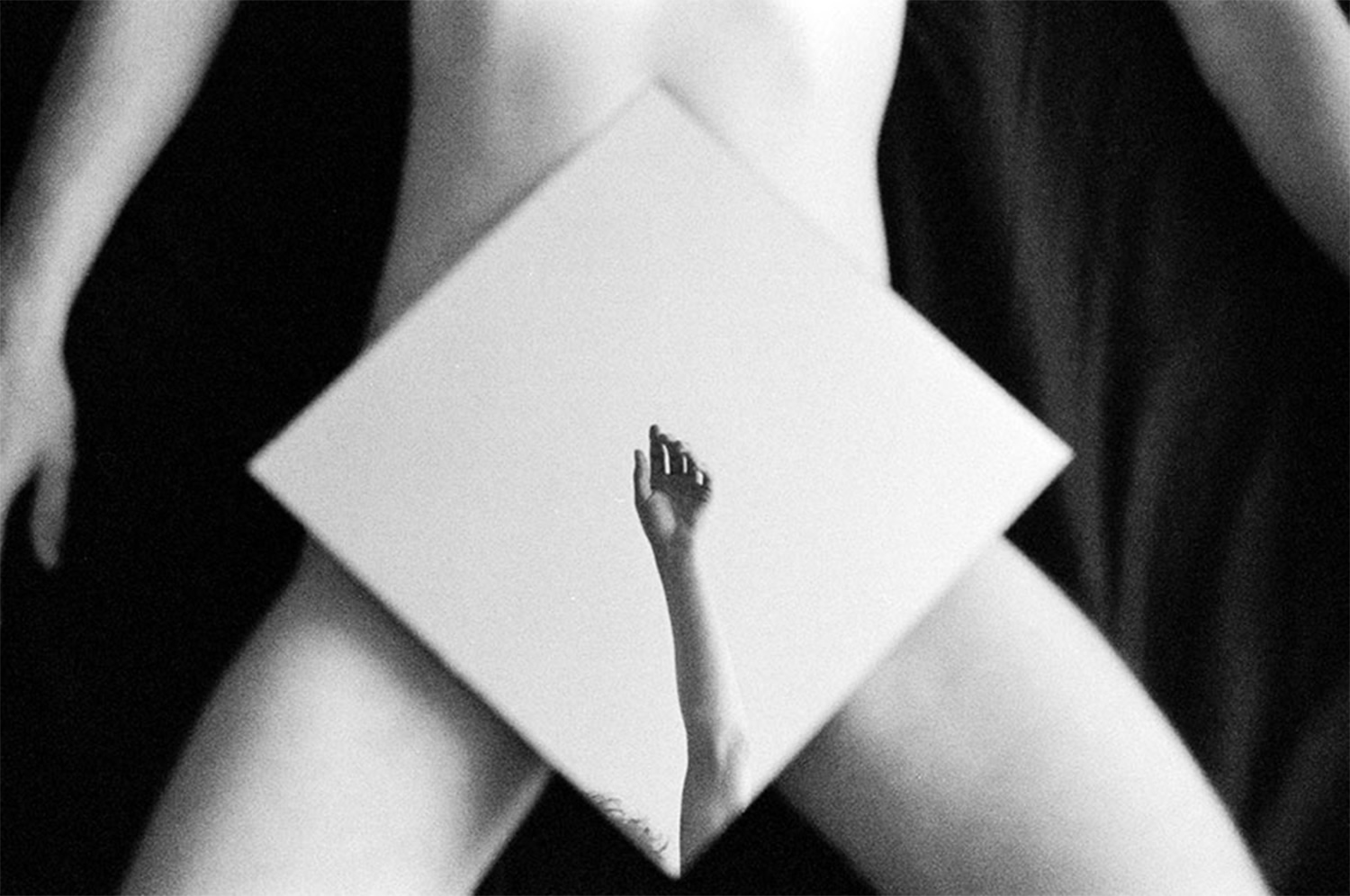 Touching but not touching, a stray arm rests uneasily in a sensitive spot.
Manuel Esthaem
Exploring his own body and his partner's through the camera lens, the Austrian photographer Manuel Esthaem makes images of mystery and discovery. Here, a disembodied limb juts into the scene, strangely—or strategically—positioned. Faces rarely appear in his photos, just bodies. He's also inspired by nature, especially the woods, and the animal nature of humans.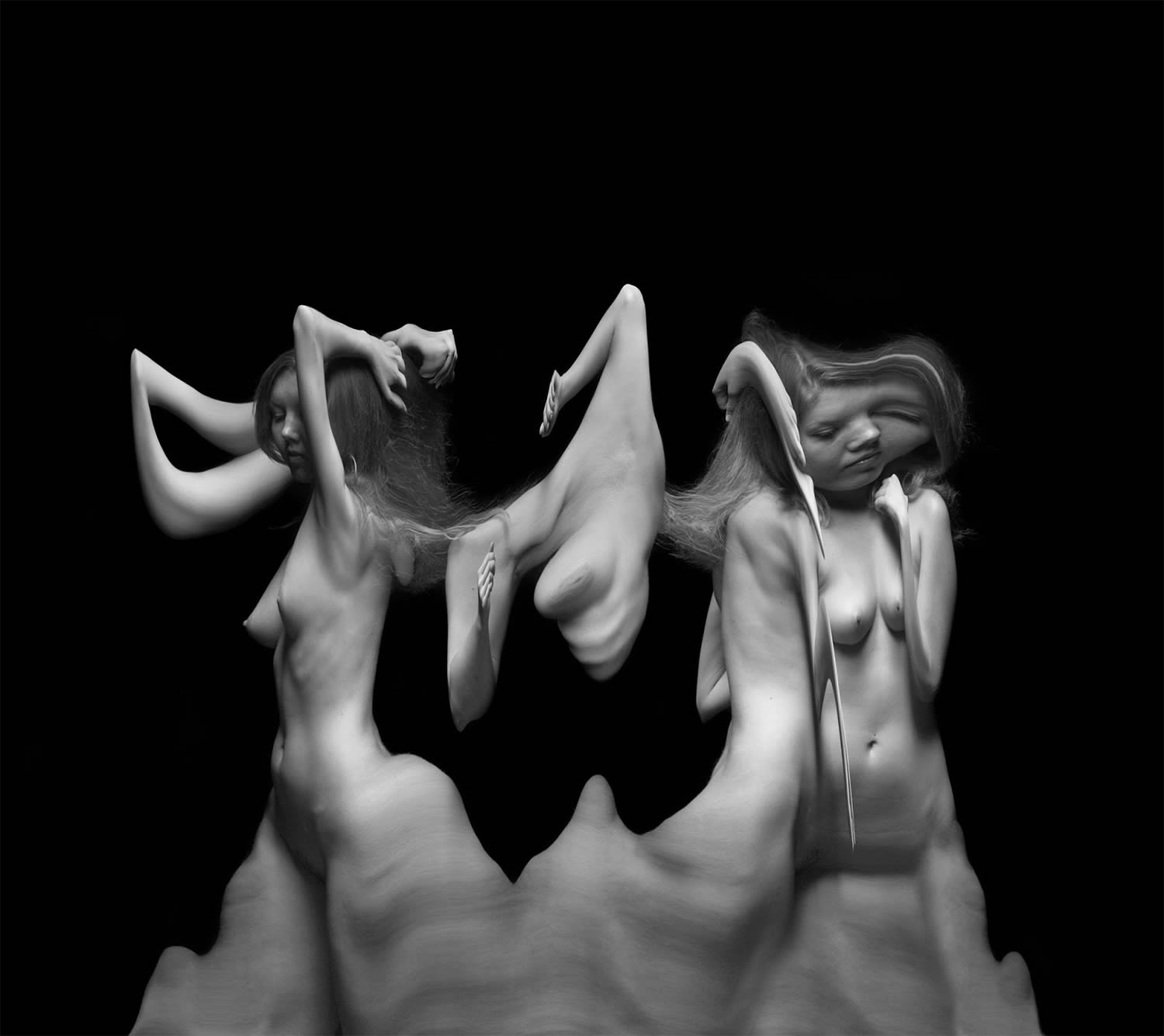 Inventiveness plus artistic vision equals evocative imagery in this photo from a series of nudes in motion.
Ansen Seale
Ansen Seale's photos are as much science experiment and time travel as they are artistry. Using a digital camera of his own design that combines panoramic with slit-screen views, Seale creates static images that evoke motion over time. "I believe this camera records a hidden reality," he says. "Like a microscope or telescope, the machine expands our ability to perceive more about the nature of reality." In his nude photos, the human form is distorted—smeary, blurry, blended, stretched—revealing a sense of bodies in motion at once familiar and alien.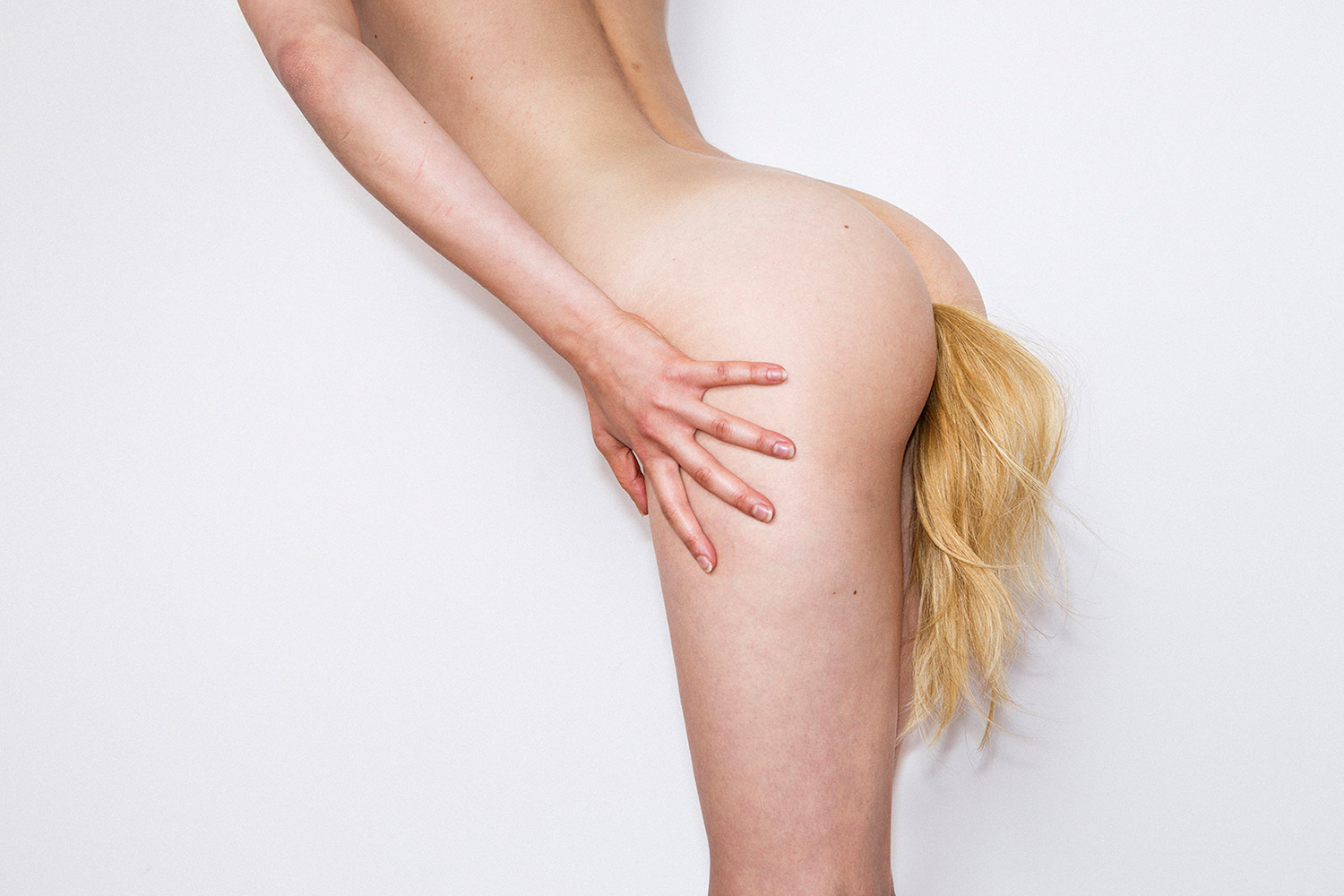 Hair extensions take a back seat with an attitude of unabashed playfulness.
Andi Galdi Vinko
With her playful, starkly contemporary, bright and colorful images, Andi Galdi Vinko throws conventional nude photography on its ear. Her series "Glittercum" came out of a photo session with models using hair extensions and glitter with wild abandon. Galdi Vinko's work speaks in the voice of a young generation trying to make sense of a harsh world. She finds inspiration in experience and takes a cold, hard look at what she sees.
Images © respective photographers.