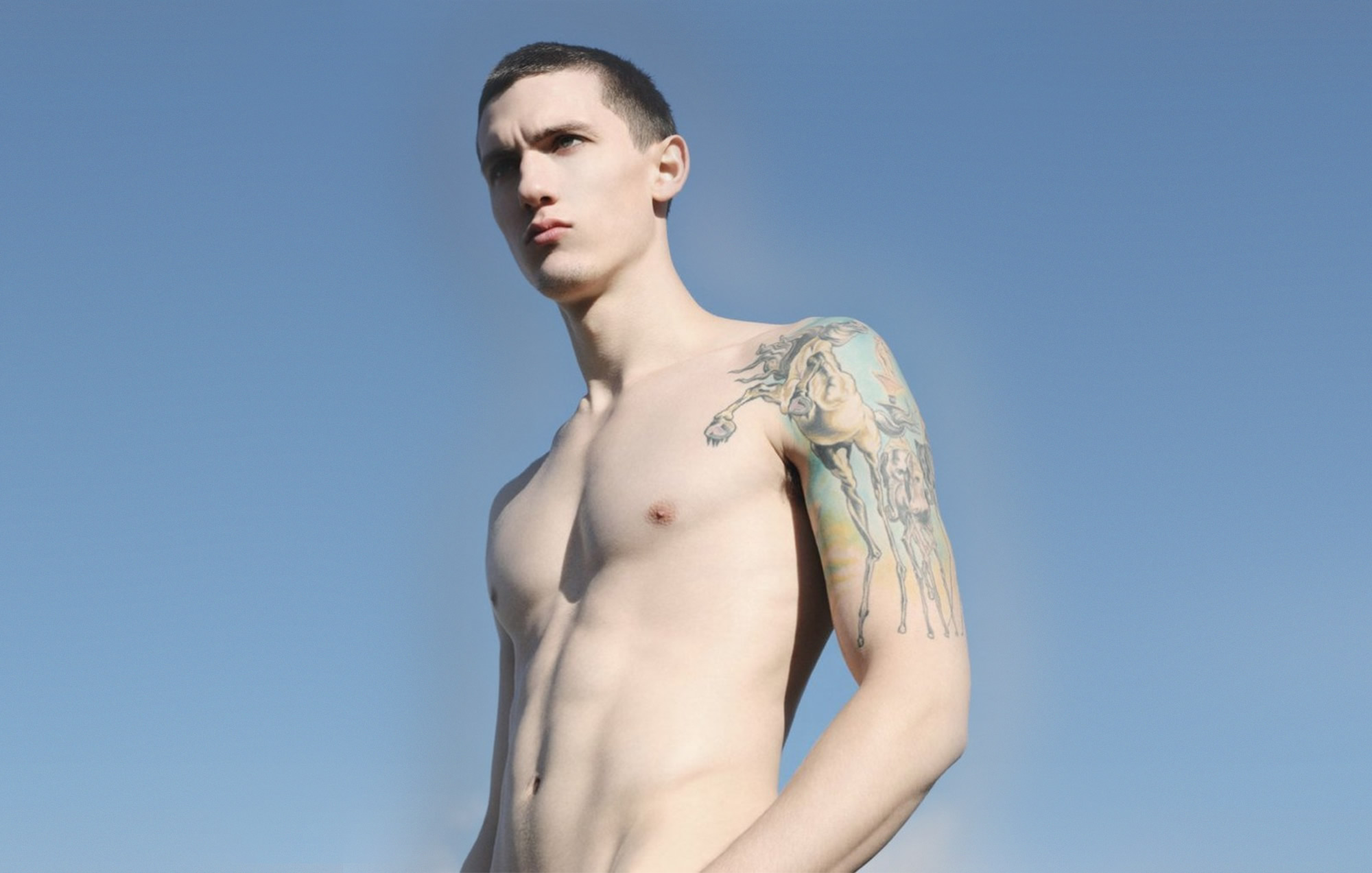 There are a lot of good intentions, but unfortunately, not everyone can pull off a famous masterpiece in tattoo form.
You do see hundreds, if not thousands of tattoos of Dali's art, even of Picasso's and other greats. But having a master's hand really makes a difference with the outlines, shading, et cetera. So it can be disappointing when looking closely at some skins.
A lot of people have gotten tattoos because of a specific object, animal or artwork that has symbolism to them. But there is a current trend of people selecting designs that have no symbolism. It just looks cool on one's body. Both options are perfectly fine, it really comes down to choosing the right artist and tattoo for you. Nonetheless, it is important to look back at art history and understand what some of these master painters were creating in the 16th and 20th centuries, and how they've inspired new generations and tattoo lovers.
Top: Dali's "St. Anthony" tattooed on model Tyler Riggs. Photo by Thomas Lohr for Seventh Man.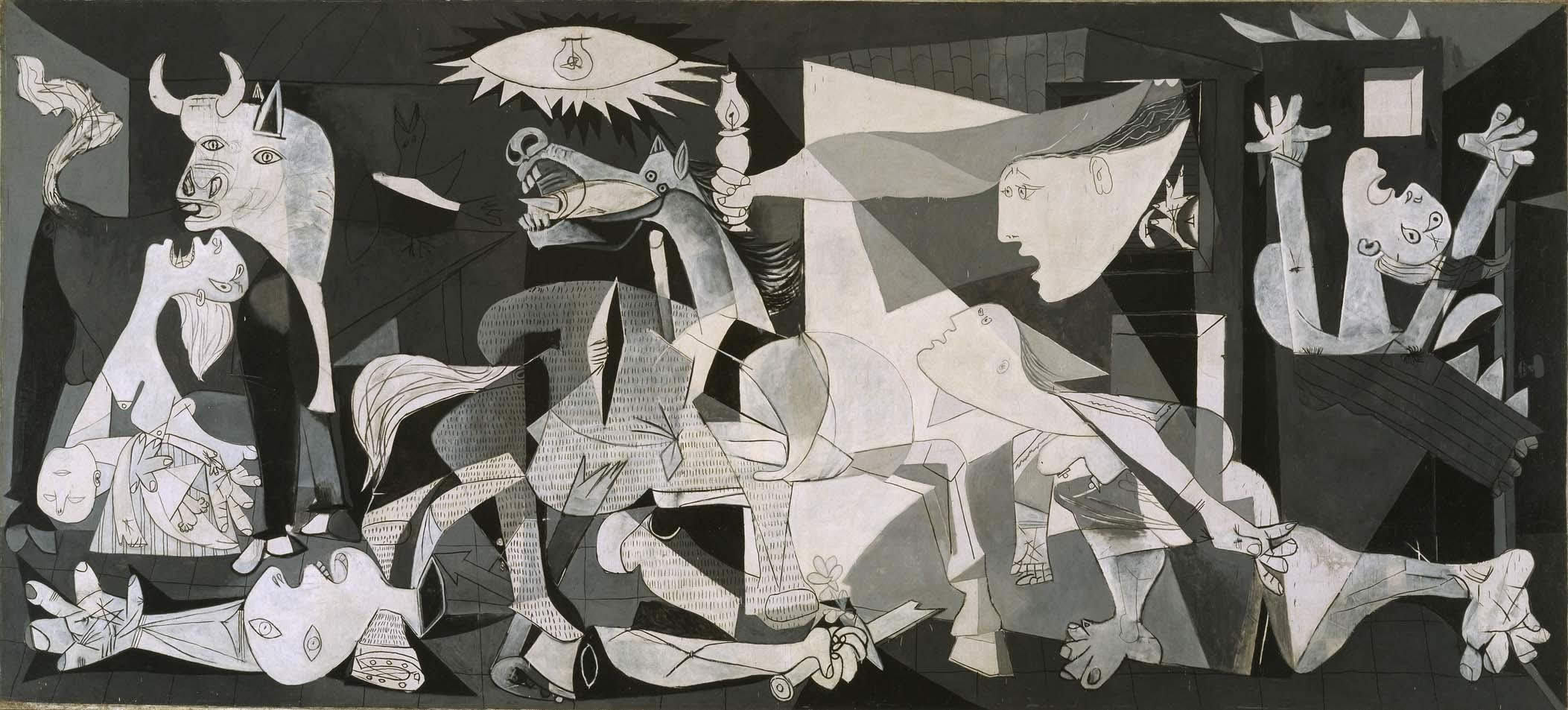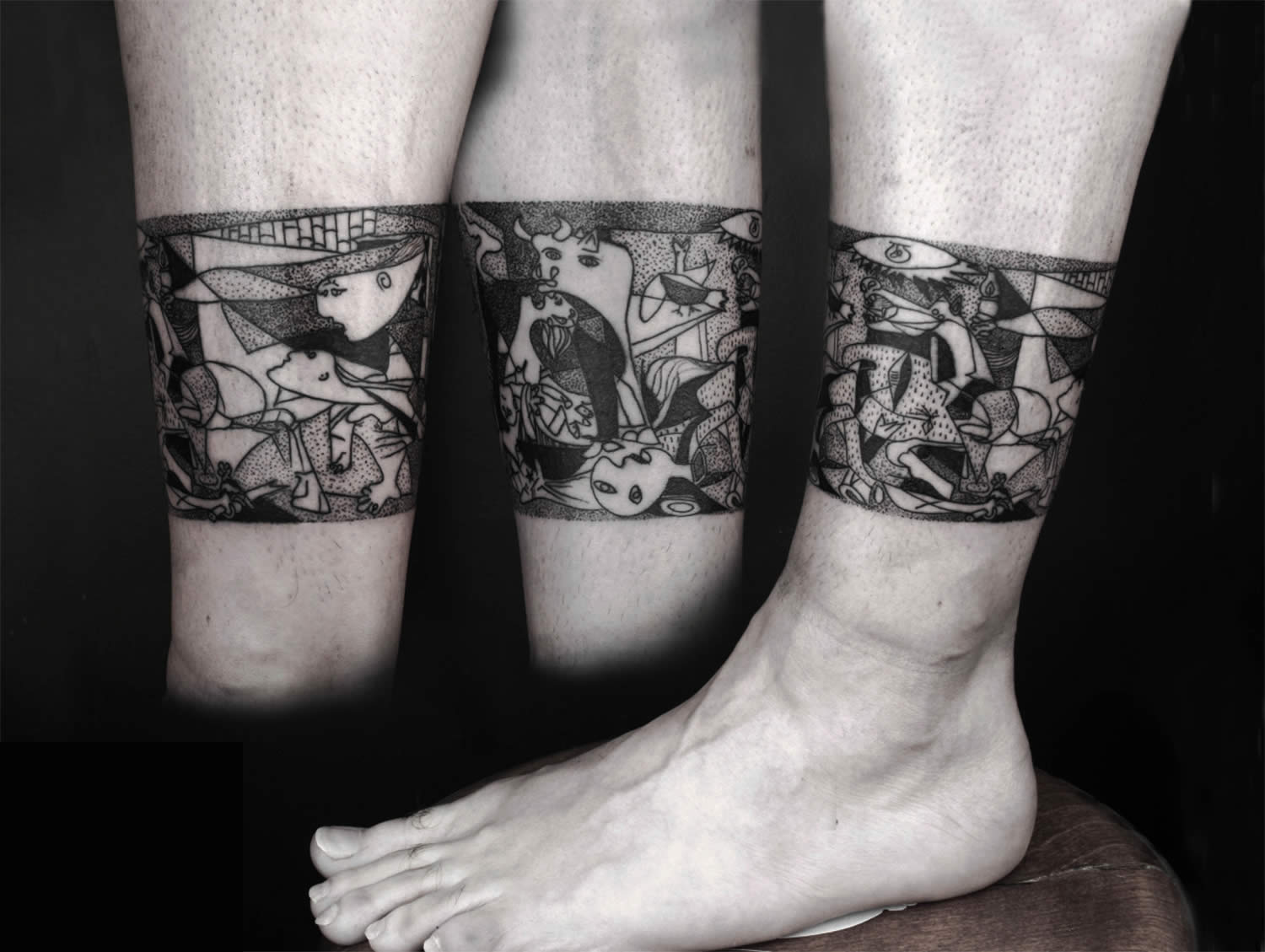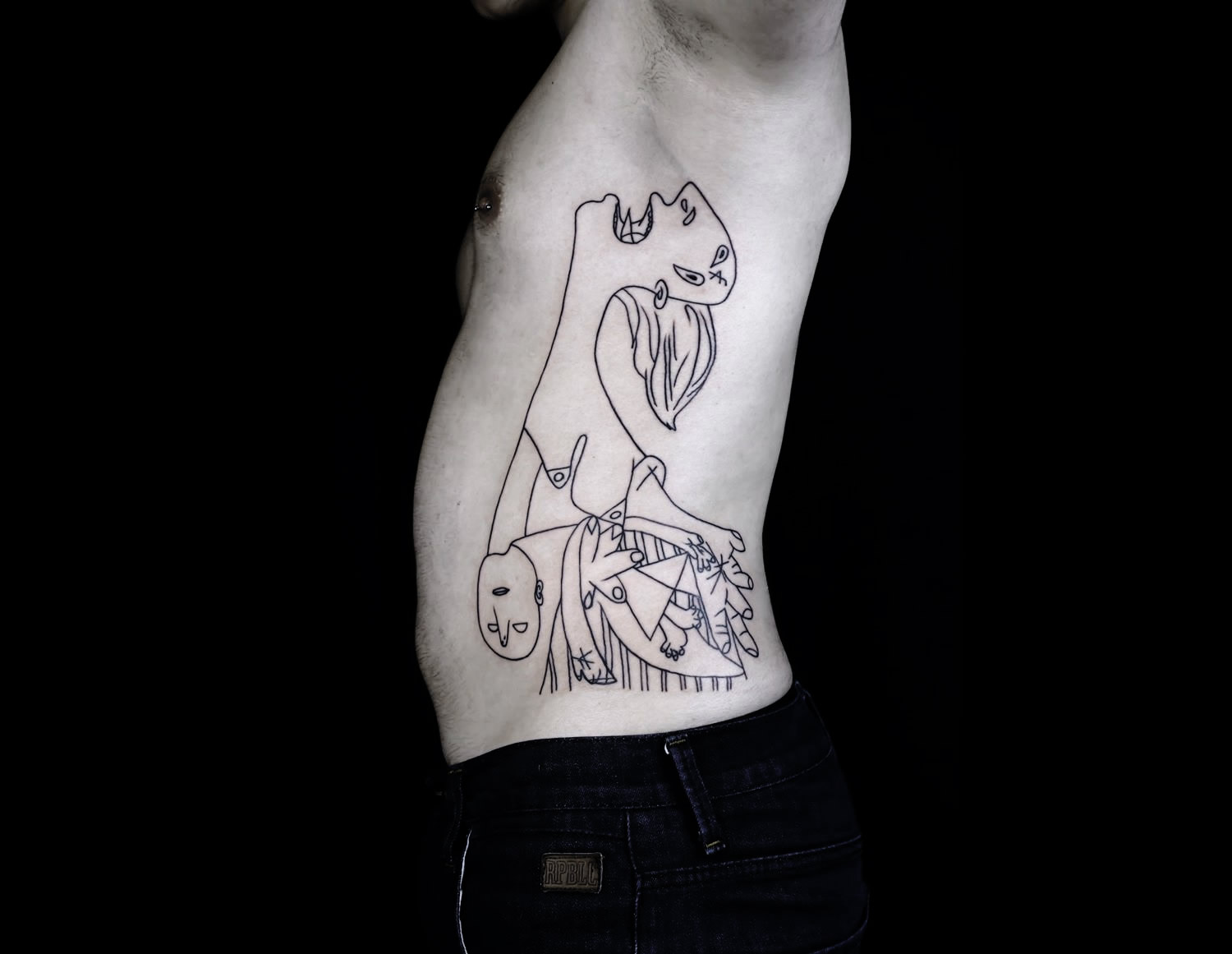 The original "Guernica" was on display in NY's MoMA for many years. In the early 80s, it was returned to Spain. Middle and bottom photos: Tattoos by Okan Uckun.
Guernica
Having created 50,000 works of art during his lifetime, from drawings to sculptures, Pablo Picasso's paintings have become his most valuable contribution to the world. "Guernica," his prominent mural-sized painting, depicts the German/Italian bombing of the Basque town during the Spanish civil war. It explicitly shows "inhumanity, brutality and hopelessness of war" [1]; commissioned by the Spanish Republican government to be displayed in the 1937 World's Fair in Paris. Although Picasso produced various anti-war pieces, he "remained personally neutral during World War I, the Spanish Civil War, and World War II, refusing to join the armed forces for any side or country." [2] During WWII he was harassed by the Gestapo, and in one search of his home an officer saw a picture of "Guernica" and asked "Did you do that?" He replied "No," "You did." [3]
Two versions of "Guernica" were recently inked by Okan Uckun, an exceptional tattooer from Turkey who has continued to express himself artistically in a country that still bans tattoos in schools, among other things. Known for his use of black ink which he states is "the best form of self-expression," he adds "We, who are the cancer cells destroying the earth, see ourselves superior than it. Using black, for me, is the acceptance of its magnificence." And so he selects Picasso's famous greyscale creation and does a fine job replicating the agony of "Guernica" through line and dot.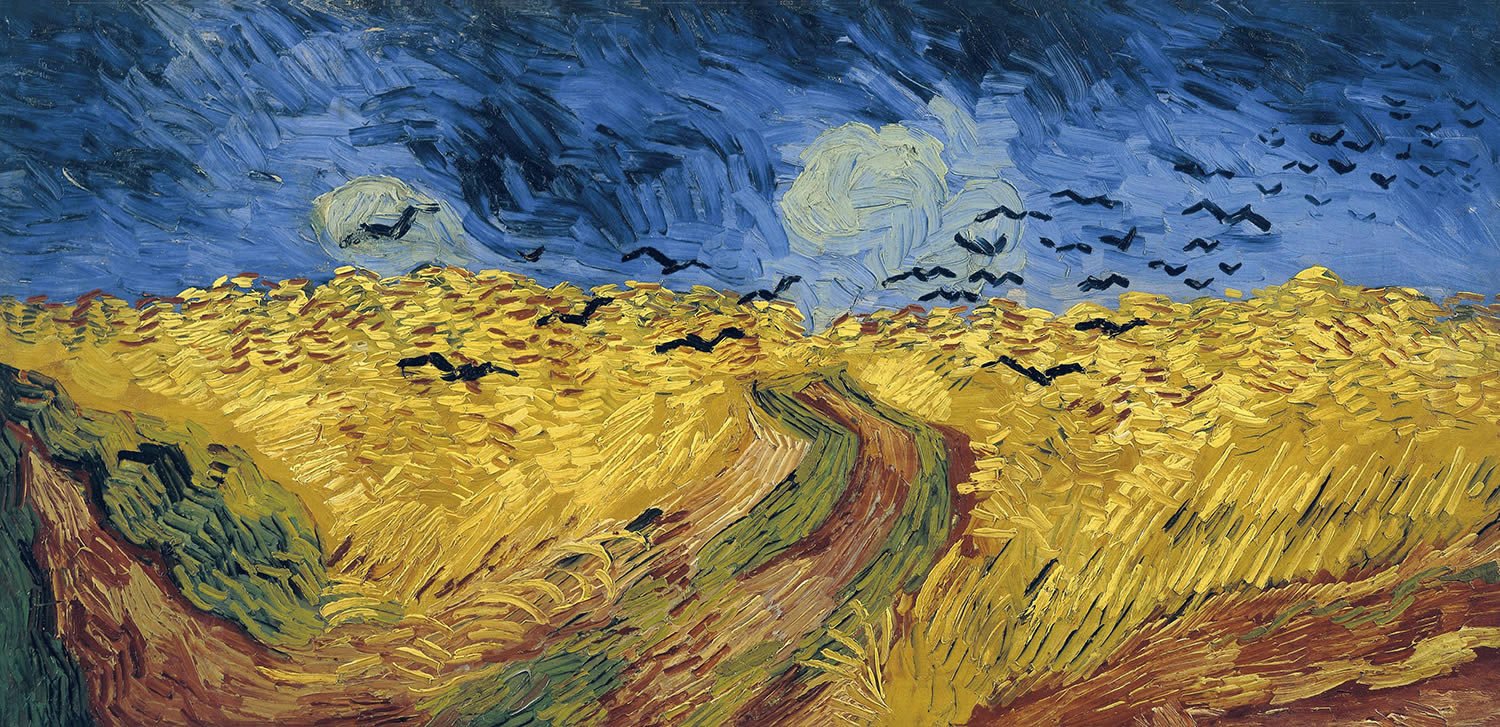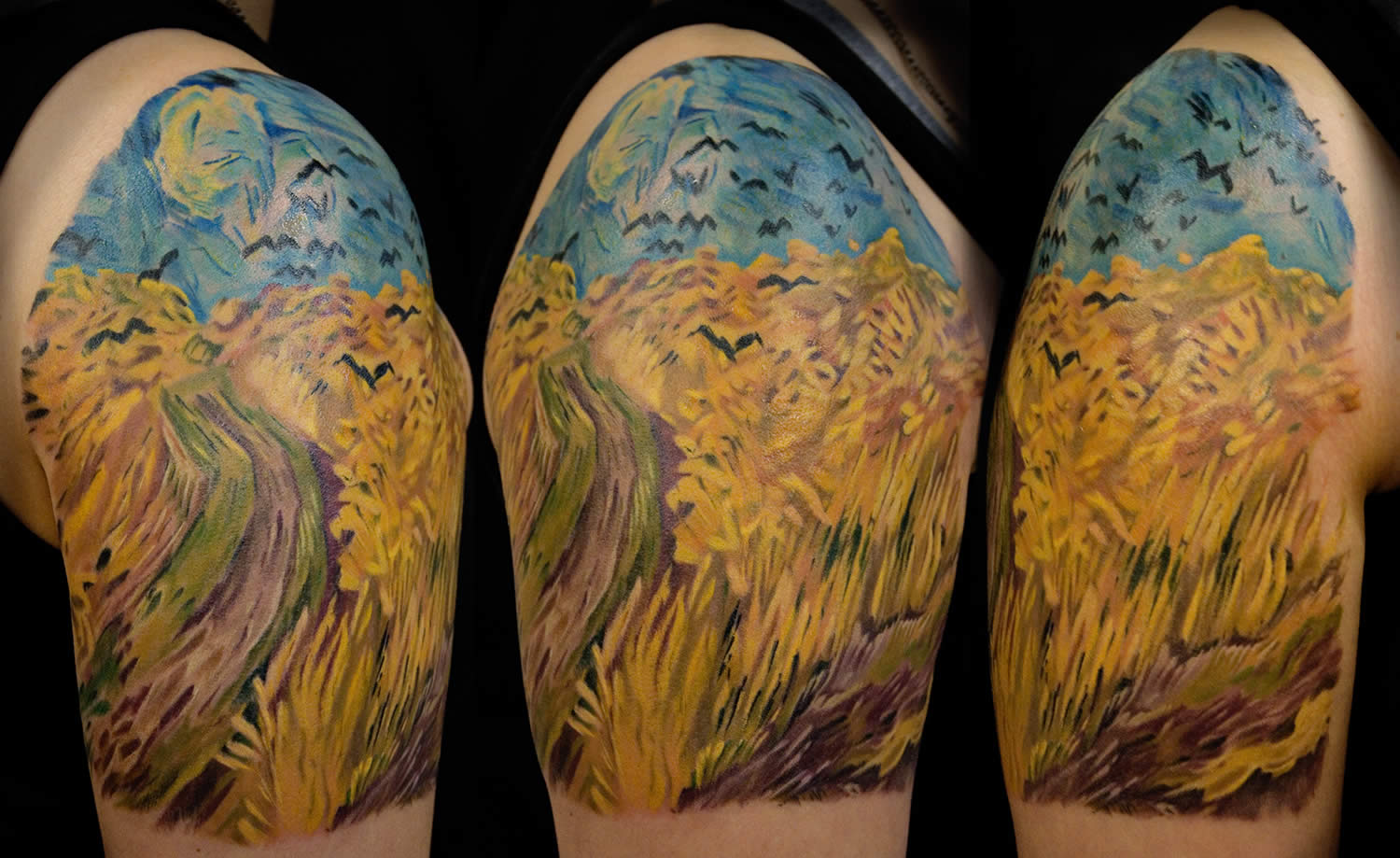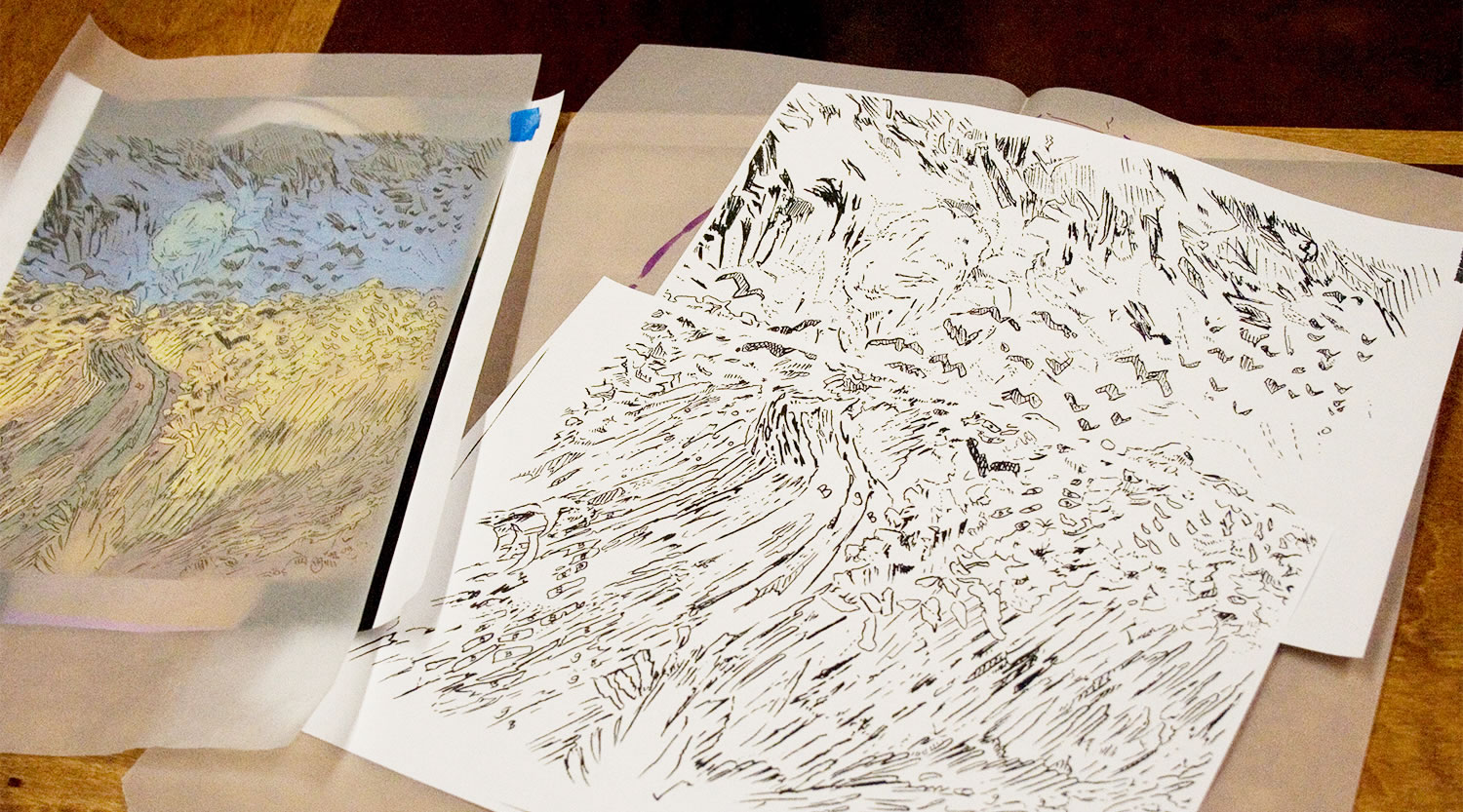 Created during the last weeks of Van Gogh's life, "Wheatfield with Crows" is currently exhibited in the self-titled museum in Amsterdam. Middle and bottom: The motion-like tattoo and sketches of Chris Walkin.
Wheatfield with Crows
Vincent van Gogh had a troubled, short life. He died in 1890 due to a self-inflicted shot wound. Poverty and a series of health issues such as malnutrition, epilepsy, borderline personality and biopolar disorder were constant challenges for him. He transmitted his emotions through colors and rhythmic brushstrokes on canvases. And of course his somber side was present in many of his art pieces; in his late work, he expressed optimism and desire to recover his health. But even so, there were still signs of concern—in "Wheatfield of Crows" created during the last weeks of his life in Auvers-sur-Oise, he illustrated a road leading to an unknown path under a darkened sky with crows flying in various directions. Book author Kathleen Erickson explains that it shows, "both sorrow and a sense of his life coming to an end." [4]
Chris Walkin is responsible for the half-sleeve of "Wheatfield of Crows" shown above, a more simplified adaptation of the Van Gogh's double-square painting. It has less color contrast but keeps the flow of the impasto aesthetic—a great remake by Walkin who doesn't typically tattoo in this style.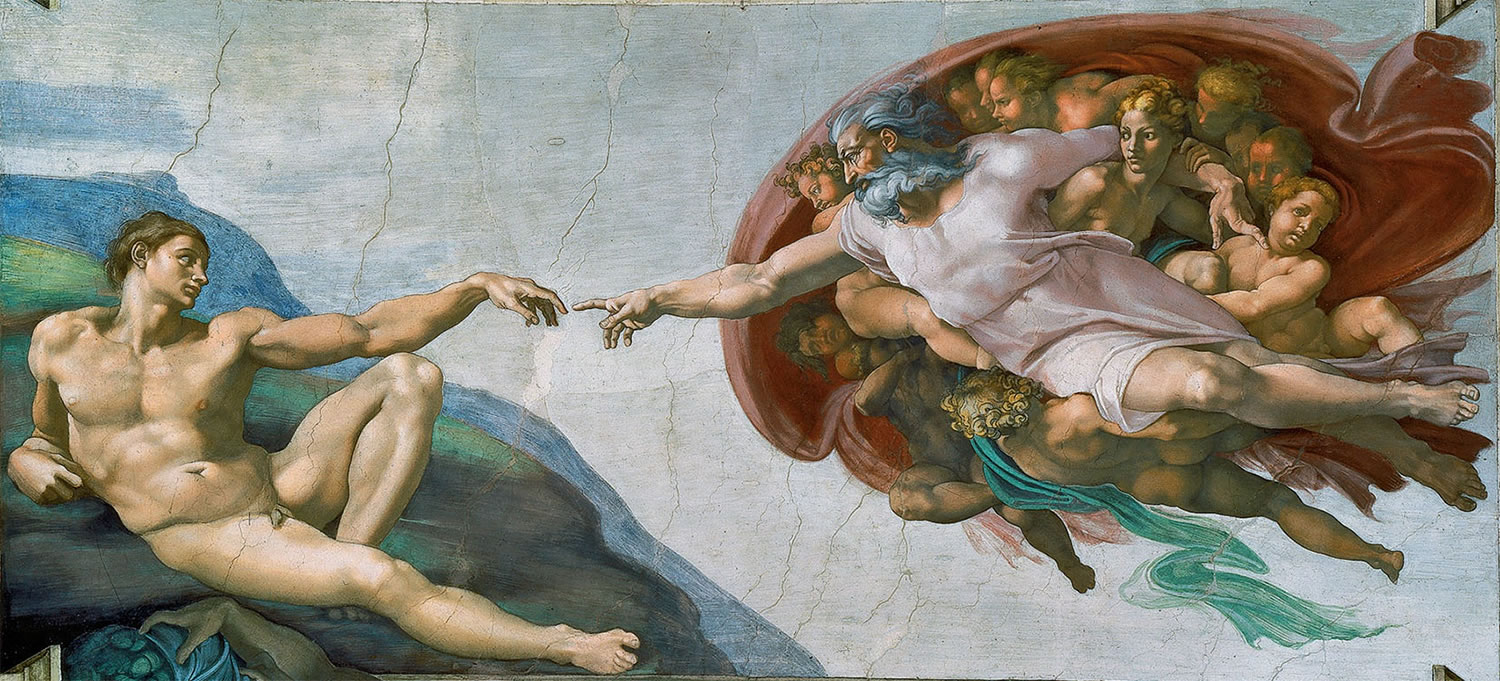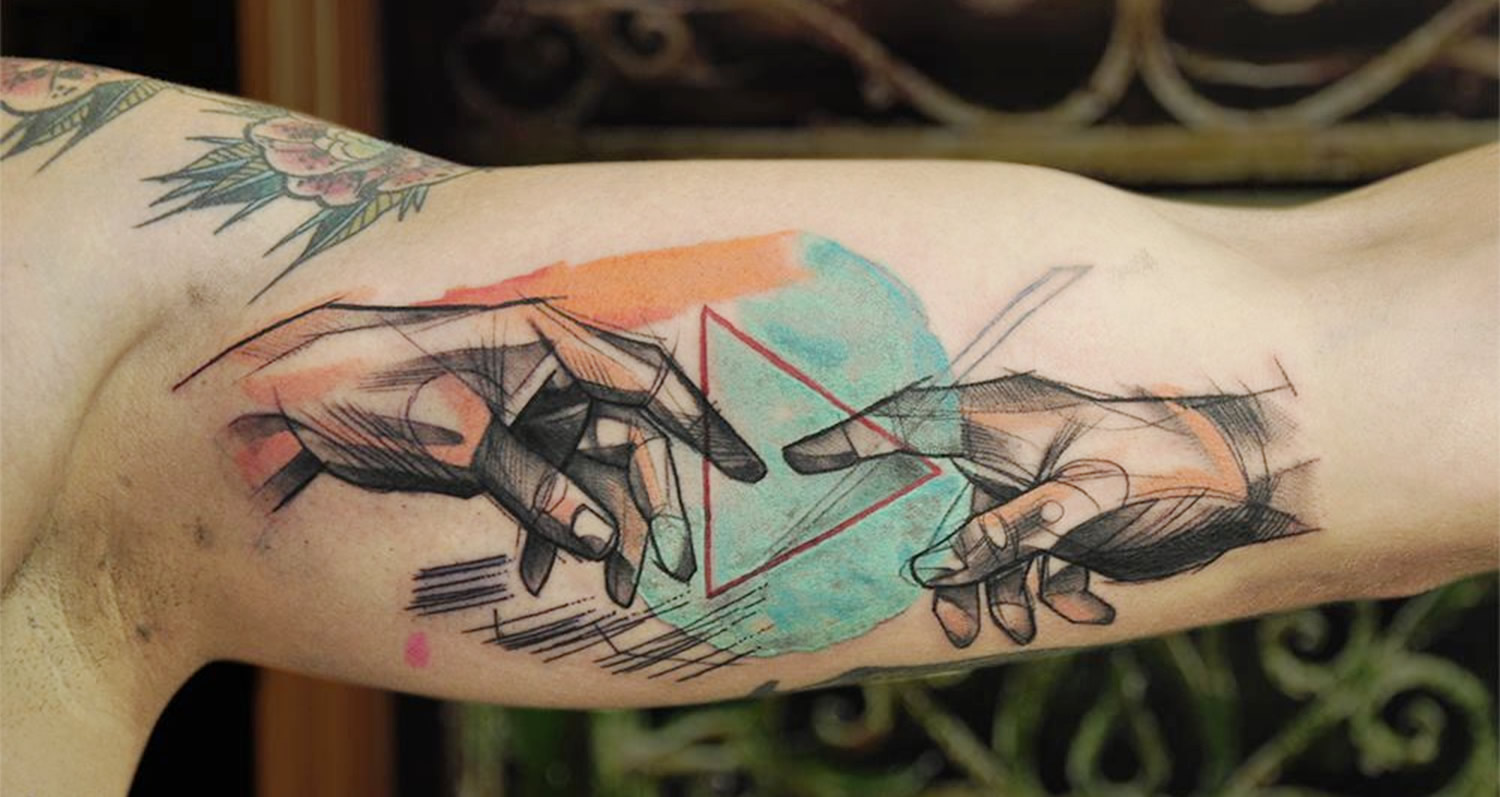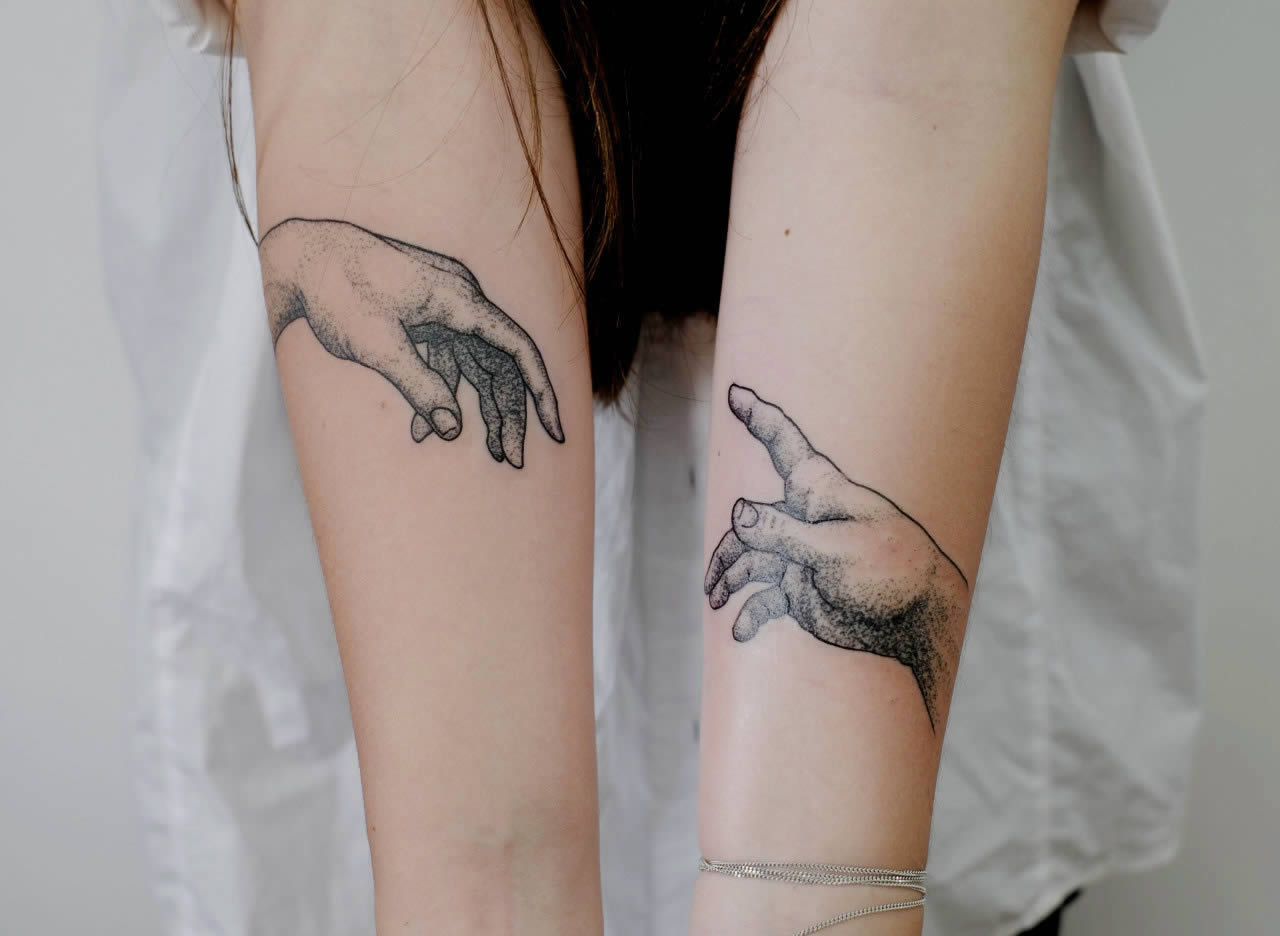 Researchers have discovered that Michelangelo used the Golden Ratio when making "The Creation of Adam." Middle: Color tattoo by

Lukasz Zglenicki. Bottom: Elegant line and dot work by

Victor J. Webster.
The Creation of Adam
Going further back in time to early 16th century during High Renaissance, Michelangelo spent four years painting 500 square meters of the Sistine Chapel ceiling. A commissioned project by Pope Julius II, who had first hired him to work on his ostentatious tomb. "The Creation of Adam" is about God's creation of humankind; narrating nine episodes from the Book of Genesis. 300 religious figures fill up the magnificent fresco ceiling which is positioned centrally in a complex and idealistic composition, with figures dominating the scene: amplified to override any form of background imagery. It is the first time in art history that God is illustrated horizontally, almost symmetrically in relation to Adam. "God created man in His own image…" (Genesis 1:27).
Countless remakes have been made of Michelangelo's masterpiece, including a sketch-style tattoo by Lukasz Zglenicki in his characteristic watercolor fill and pen-like outlines, as well as a minimalist tattoo by Victor J. Webster who is acclaimed for his beautiful linework. Each artist has featured just the hands, as they nearly touch, an iconic symbol of connection, humanity.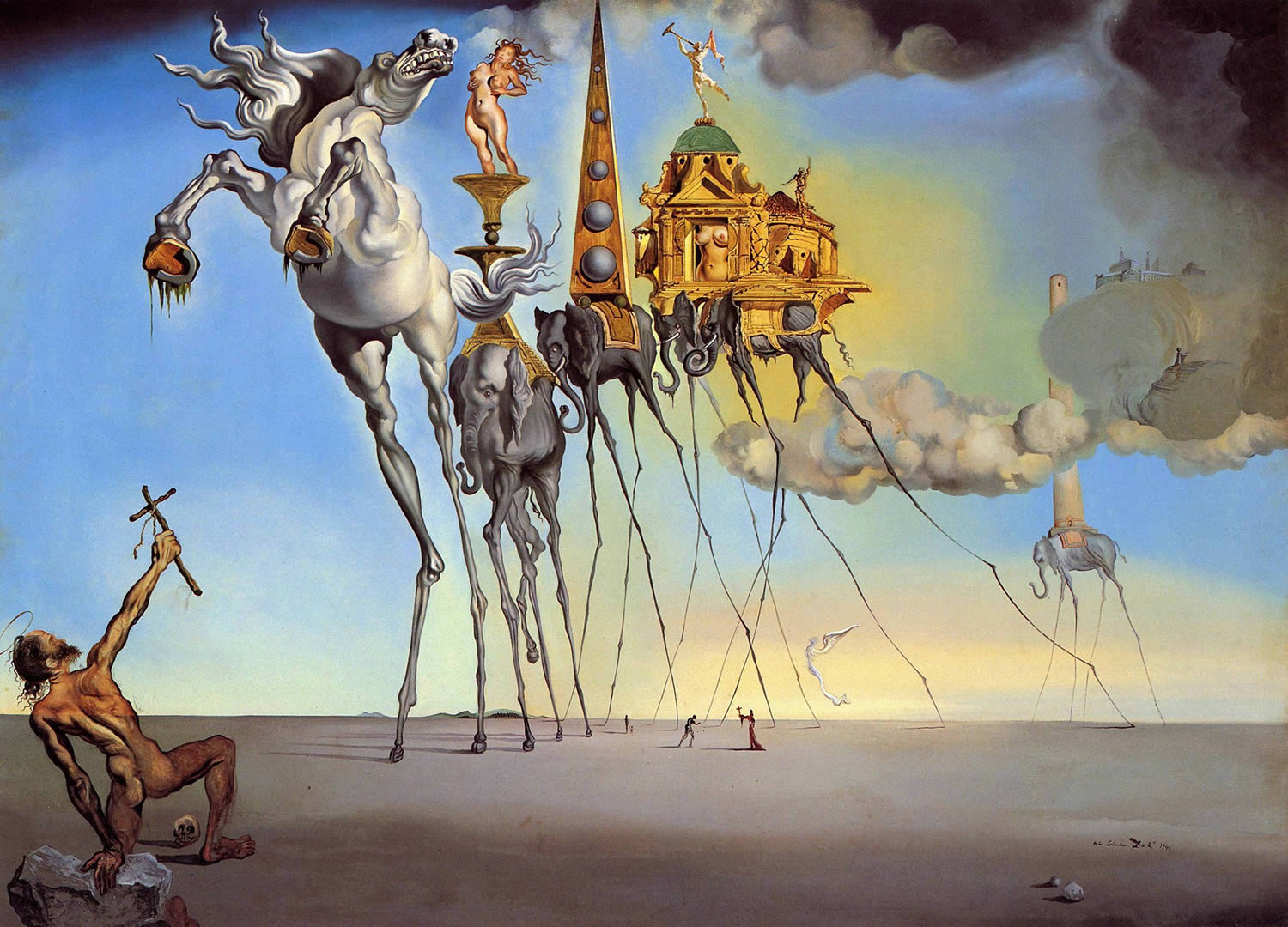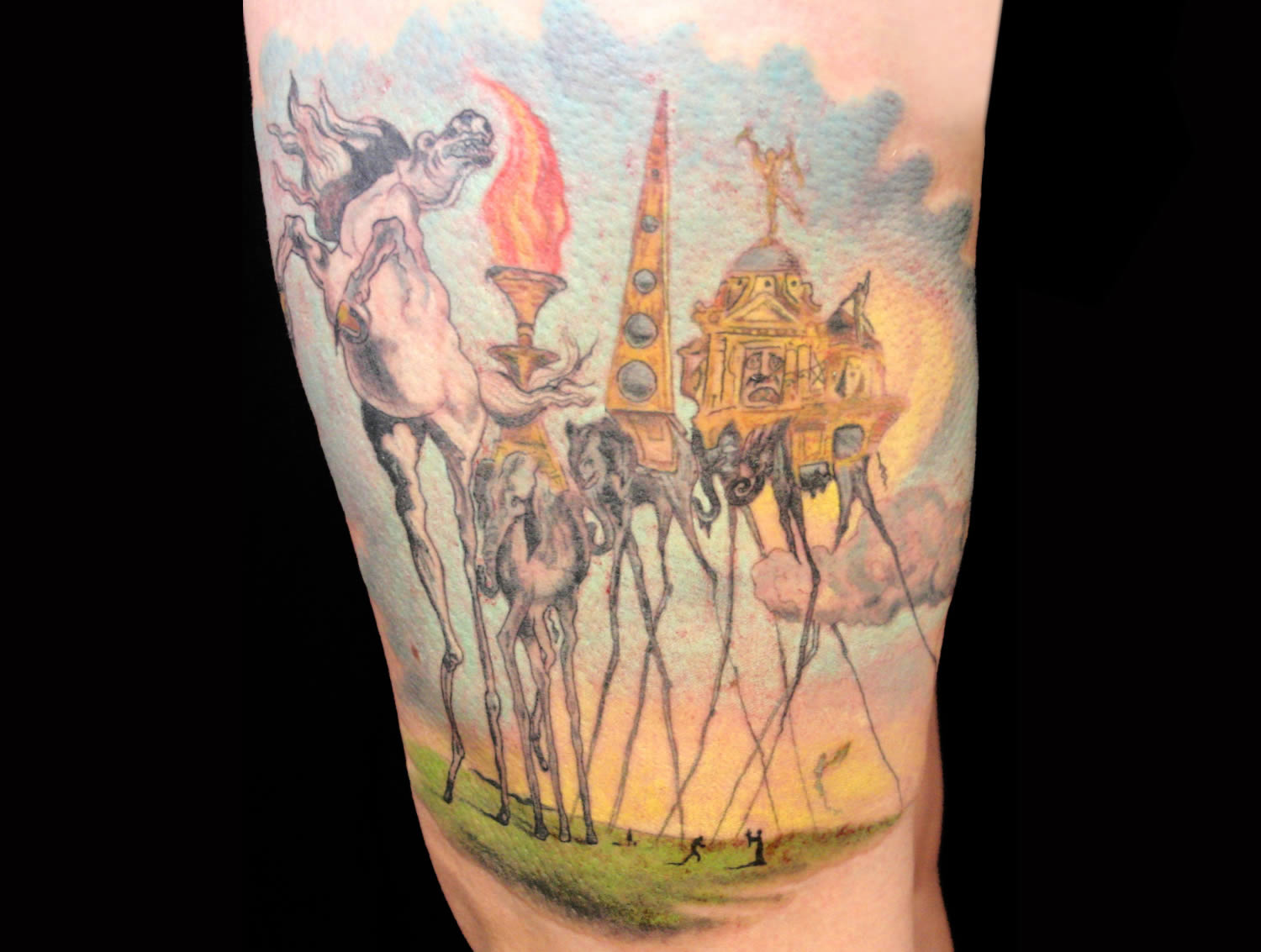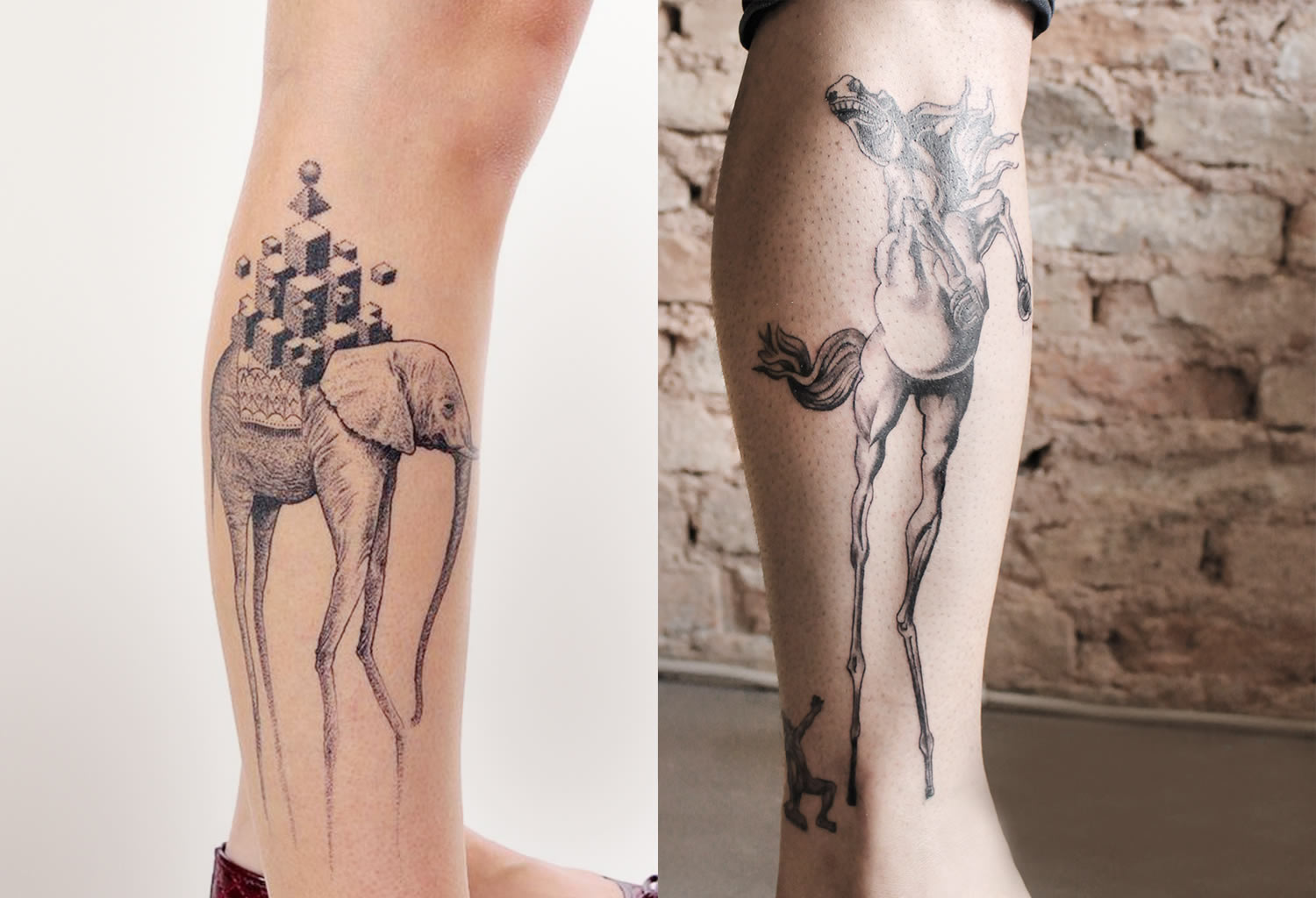 "The Temptation of St. Anthony" unveils Dali's fascination in the halfway between heaven and earth. Middle: A Dali remake on skin by Jamie Macpherson. Bottom: Tattoo by Emre Dizici.
The Temptation of St. Anthony
It is said that Christian monk Saint Anthony was faced with "a series of supernatural temptations during his pilgrimage to the desert." [5] His story interpreted by numerous artists from the past like Hieronymus Bosch, Paul Cezanne, Max Ernst… and also Salvador Dali who dramatically illustrated him in the 1946 painting shown above. Here, St. Anthony holds up a cross to ward of his visions of temptation. The horse metaphorically representing strength and desire, and spider-legged elephants carrying erotic beauties and a phallic tower on their backs.
In Jamie Macpherson's soft-color tattoo of "The Temptation of St. Anthony," he strips down some of Dali's important features—excluding religious and sexual elements—focusing instead on the surreal parade of animals on a grassier landscape. There is still a mystical presence in this tattoo by Macpherson (a scholar of art history, sacred geometry, and visionary art). In Gregorio Marangoni's fusion piece the elephant carries 3D-Escher-esque-blocks and Emre Dizici gives a posterized look to the rearing horse. In both examples, you get a clear hint that Dali's thin-legged creatures are perpetually fascinating.
Webography:
1. "Pablo Picasso—Classicism and surrealism." Wikipedia.
Retrieved on October 5, 2015.
2. "Pablo Picasso—Political Views." Wikipedia.
Retrieved on October 5, 2015.
3. Reagan, Geoffrey (1992). "Military Anecdotes." 
Guinness Publishing. p. 25. ISBN 0-85112-519-0. 
4. Erickson, Kathleen Powers. At Eternity's Gate: The Spiritual 
Vision of Vincent van Gogh, 1998. ISBN 0-8028-4978-4.
5. "Anthony the Great." Wikipedia. Retrieved on October 5, 2015.
Images © respective artists.
Article may not be republished without the written consent of Scene 360.