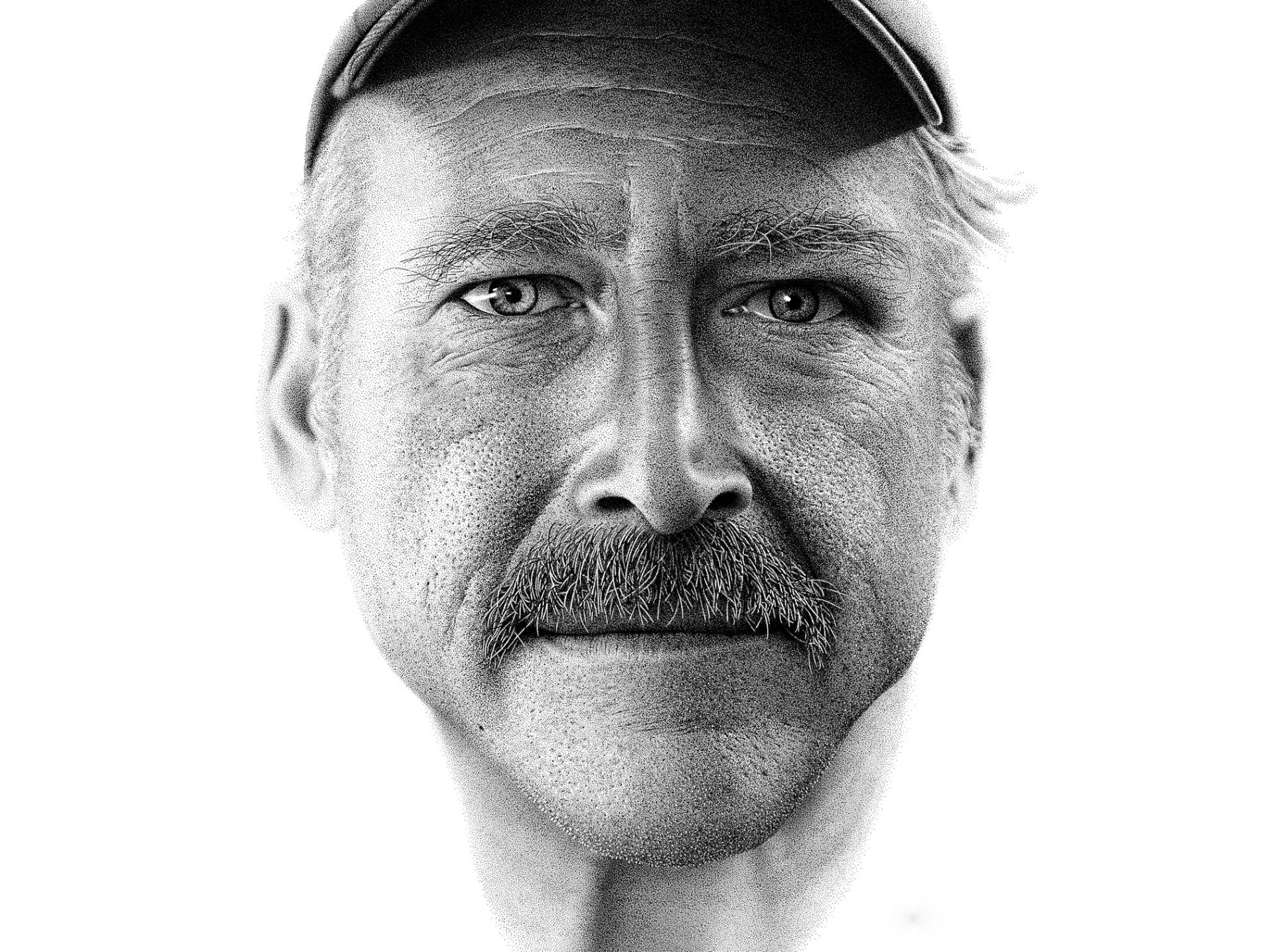 Invented by Giulio Campagnola in about 1510, the ancient technique of Stippling has been popularly used in the fields of engraving and sculpture.
It is often confused with the similar process known as Pointillism. The major distinction between the two is that Stippling uses a single colour whereas the latter can be created with multiple colours like George Seuret's famous painting "Sunday on the Island of La Grande Jatte." There are so many wonderful artists who work within this medium, so here are a few names to get to know.
Top: "The eyes are the window to your soul" in Miguel Endara's spellbinding art piece.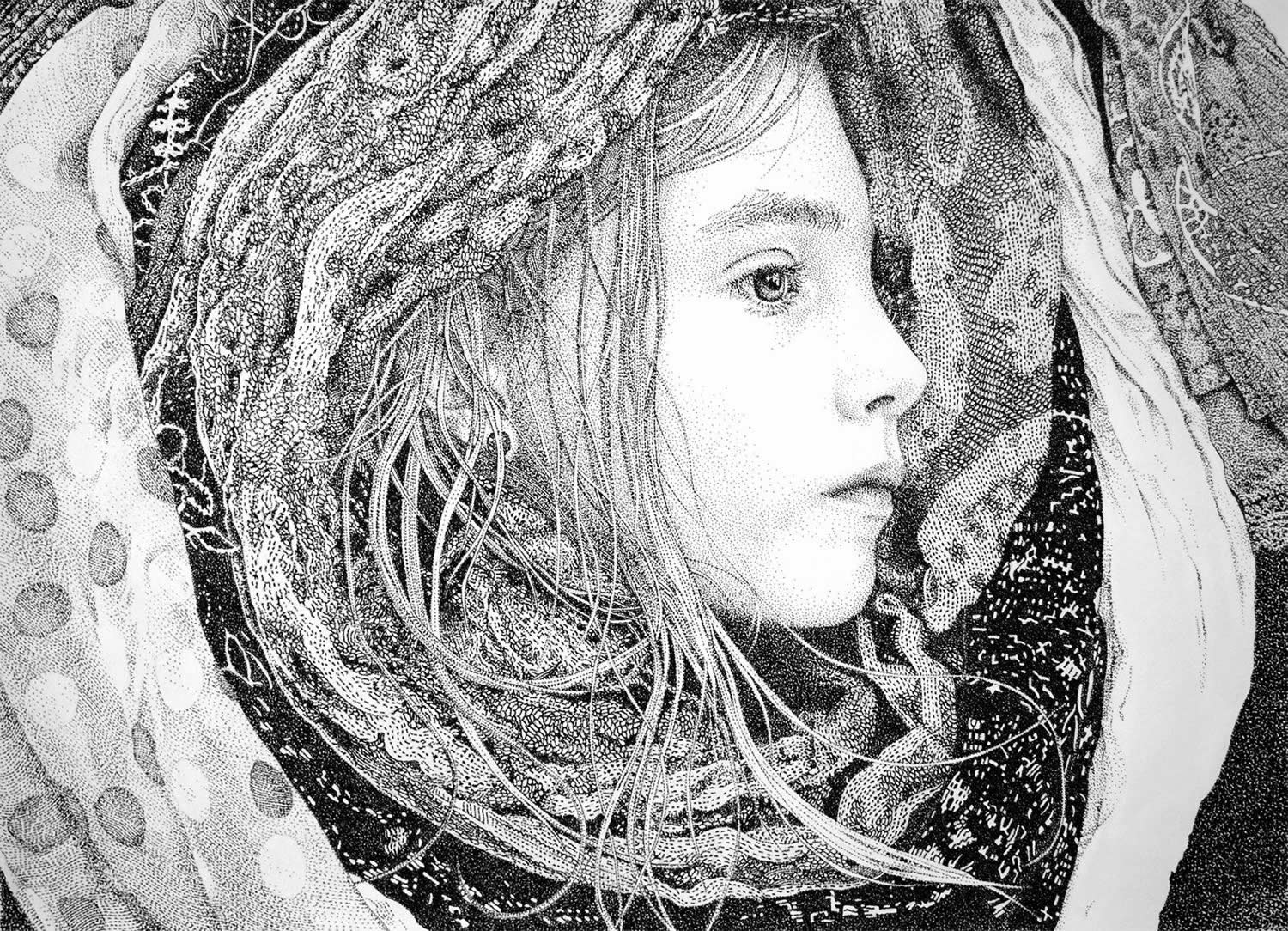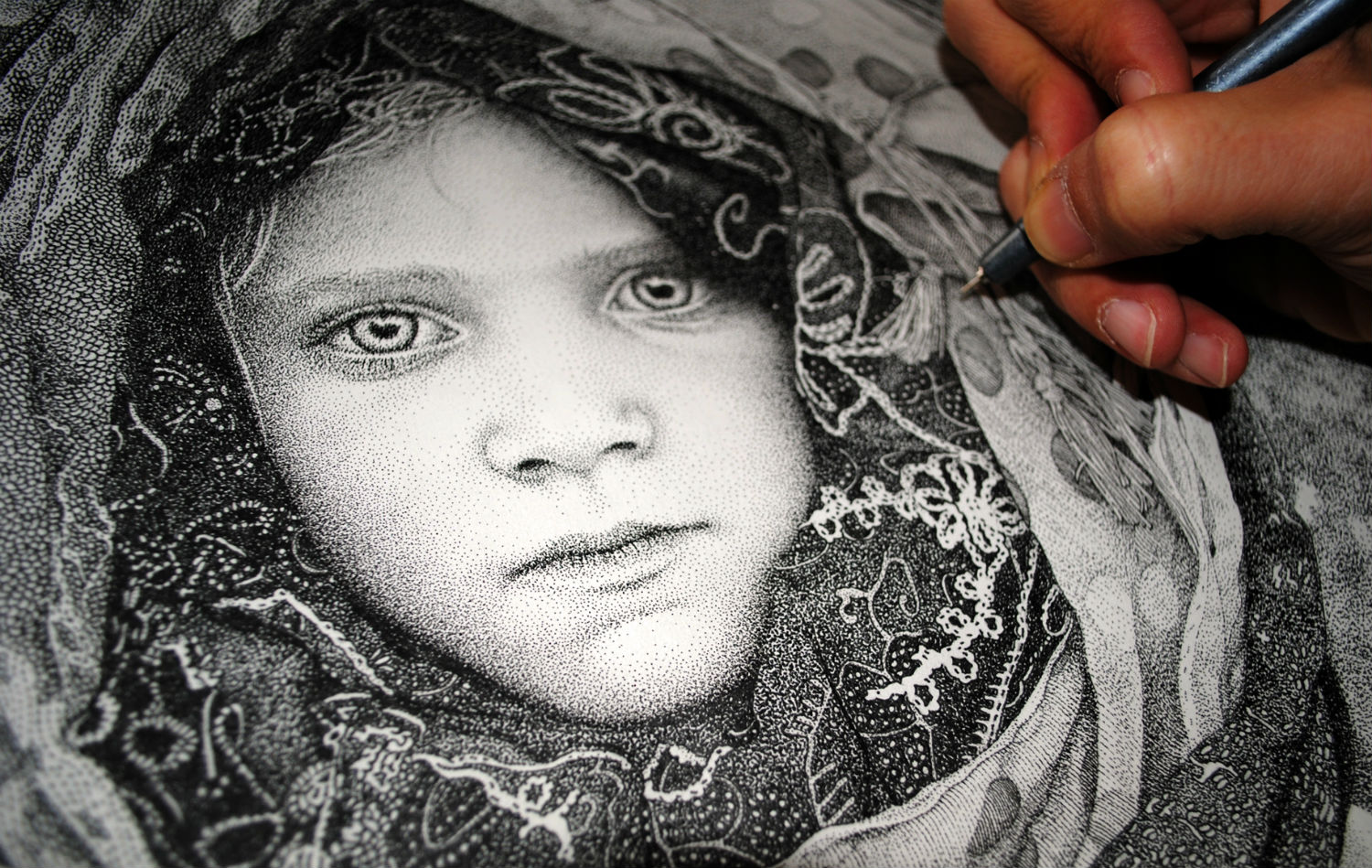 Pablo Jurado Ruiz captures the tranquil and youthful longing in this girl's gaze.
Pablo Jurado Ruiz
Whether he is rendering immortal rock gods like Kurt Cobain in his minuscule dots or focusing on the innocent features of a young girl, Ruiz captures a stunning likeness in his subjects (in their expressions and inner world). His work is subtle and detailed as he tells simple stories through his art.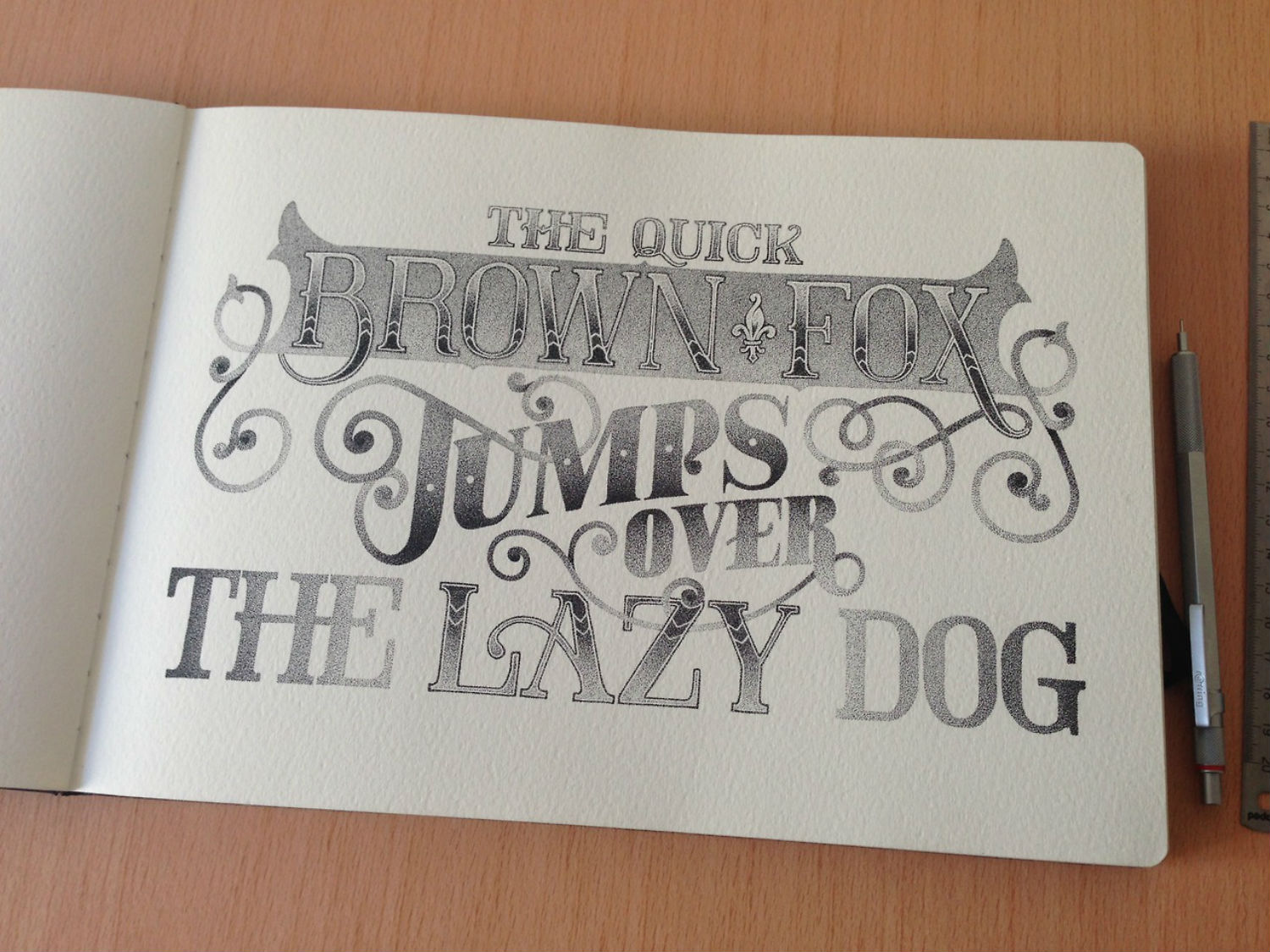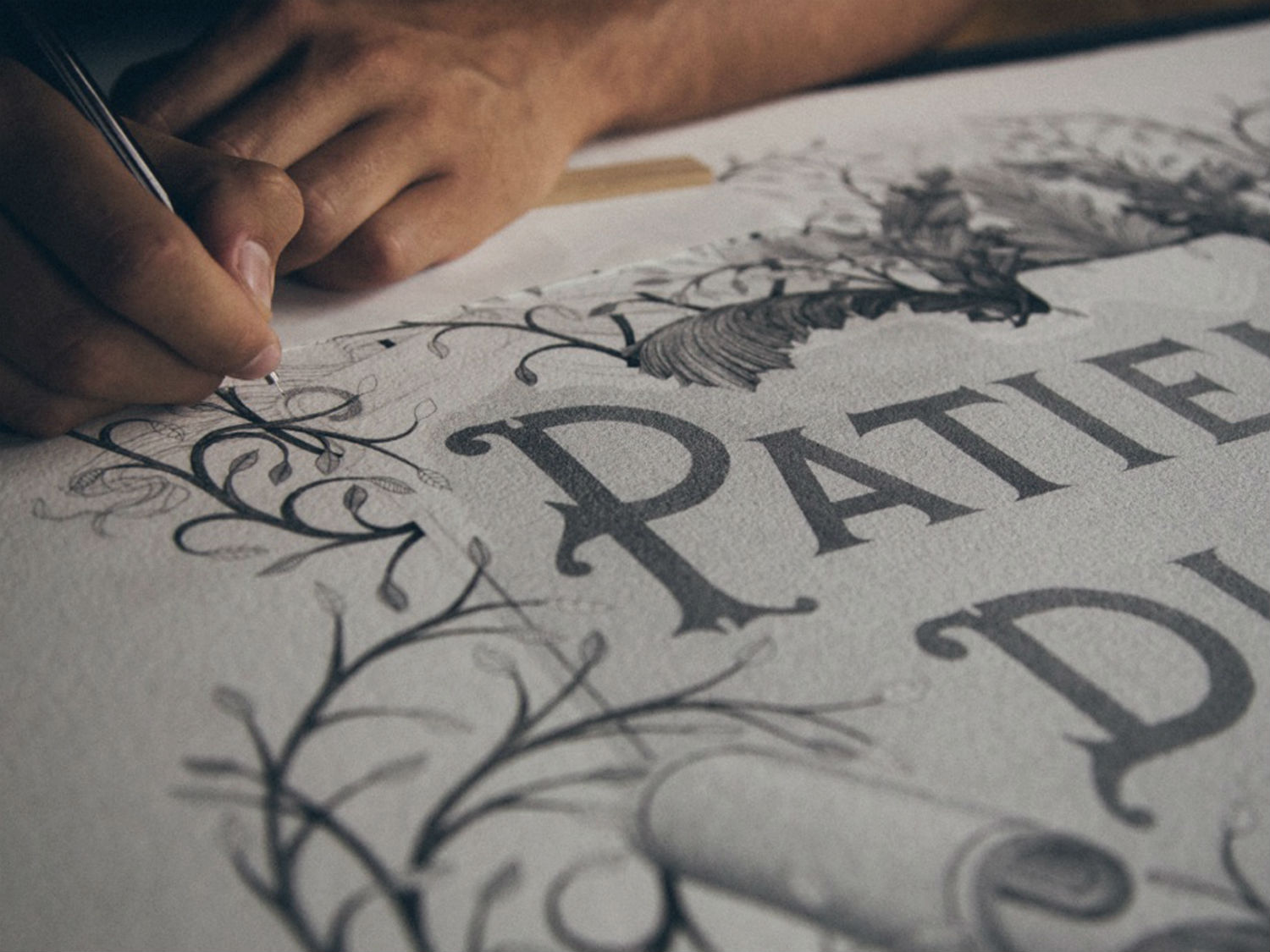 Xavier Casalta knows how to catch the eye with his stippling typographic wonders.
Xavier Casalta
Typography is a great expression for exploring the powers of this art form and so it's no surprise that artists like Xavier Casalta engage with it fully, leading to beautiful results. Casalta weaves common design phrases into his work: "The quick brown fox jumps over the lazy dog" being one such example. His technical pen is accurate and his flair commendable.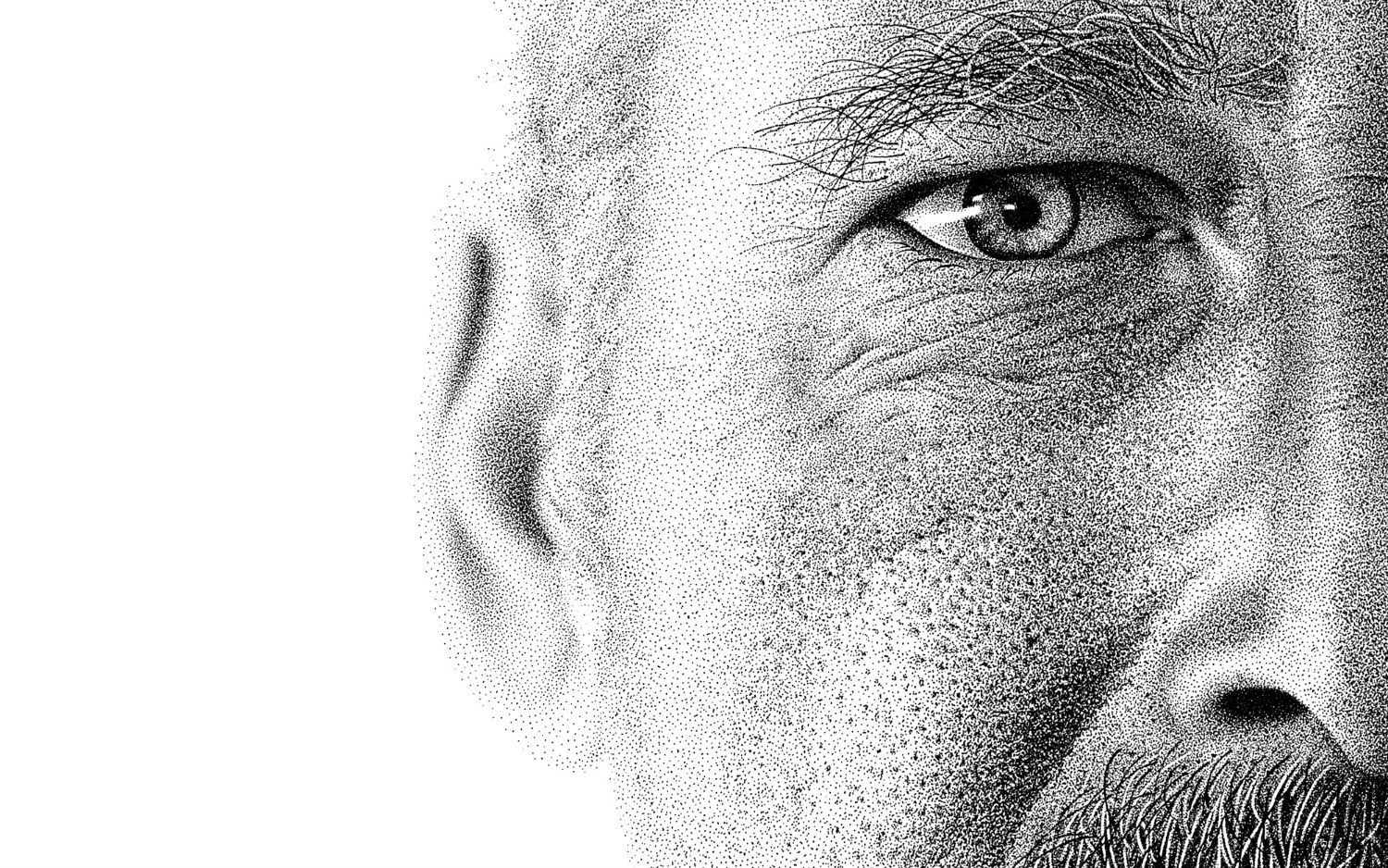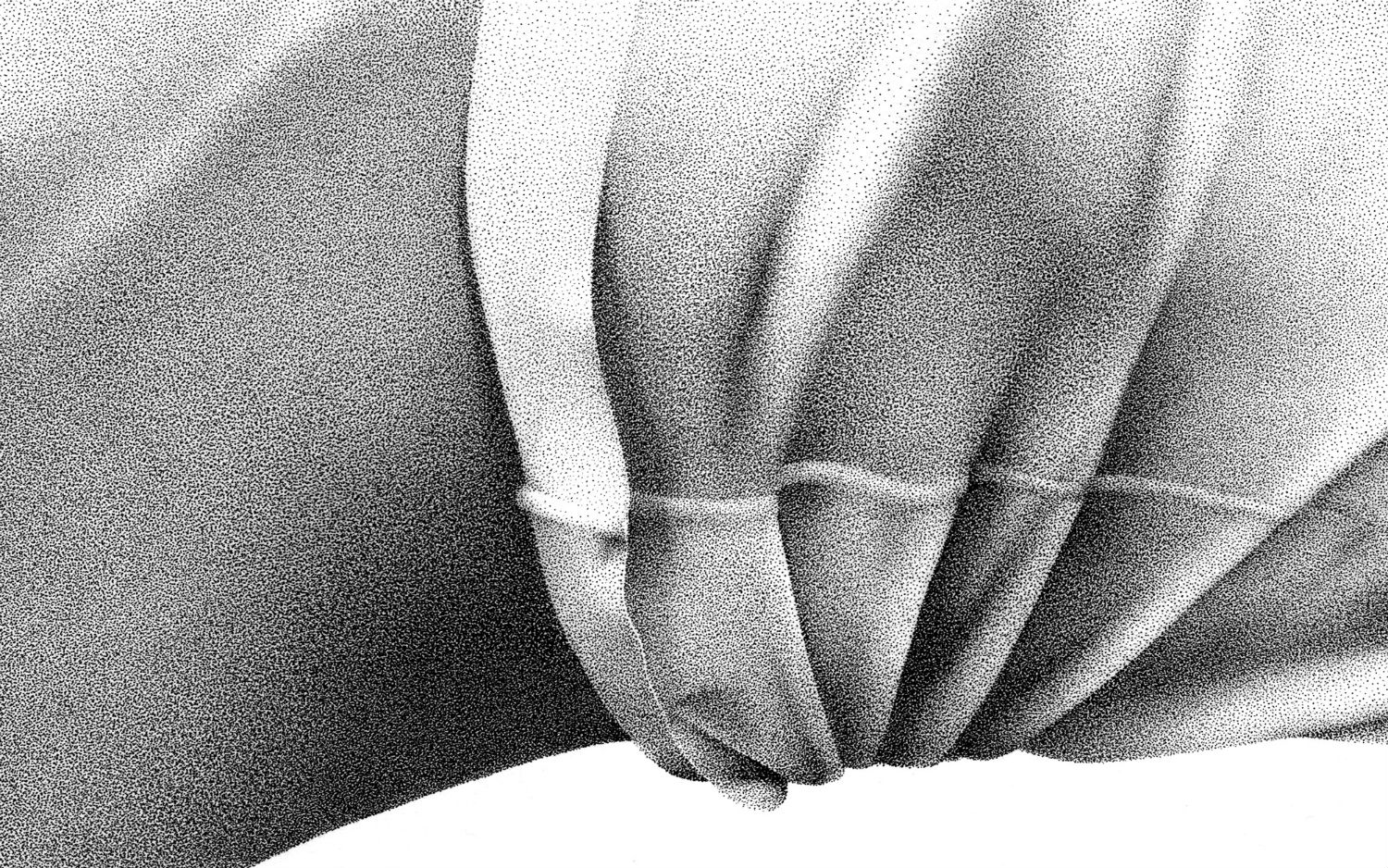 Miguel Endara focuses on the minuscule details of his human subjects.
Miguel Endara
Though he excels in other creative fields like video and drawing, stippling is definitely where Endara's talents truly lie. It is breathtaking to behold the level of realism he achieves with this often difficult and time-consuming mechanism. He switches between human compositions of the body to those involving musical instruments with the utmost ease. Truly spectacular.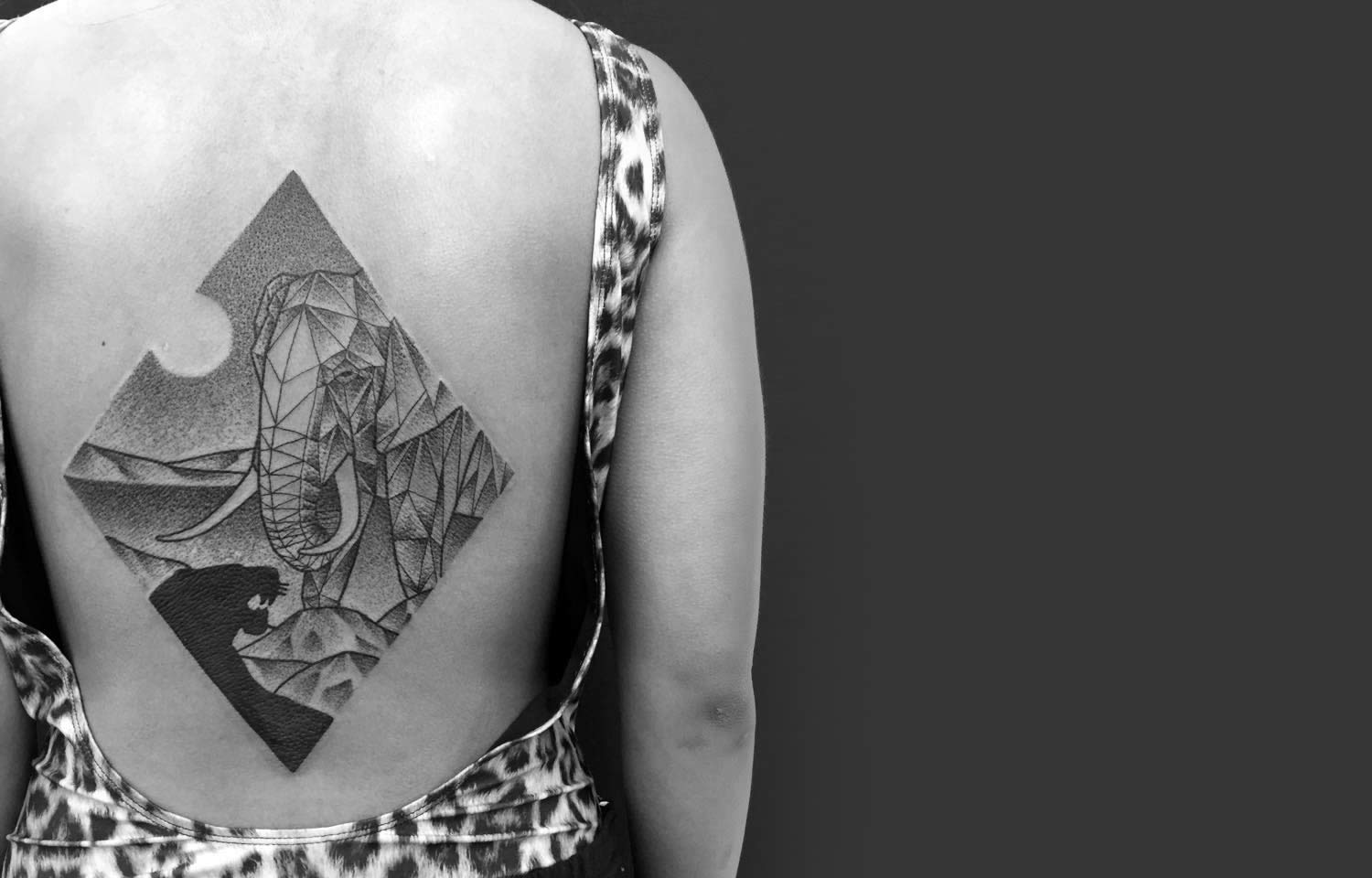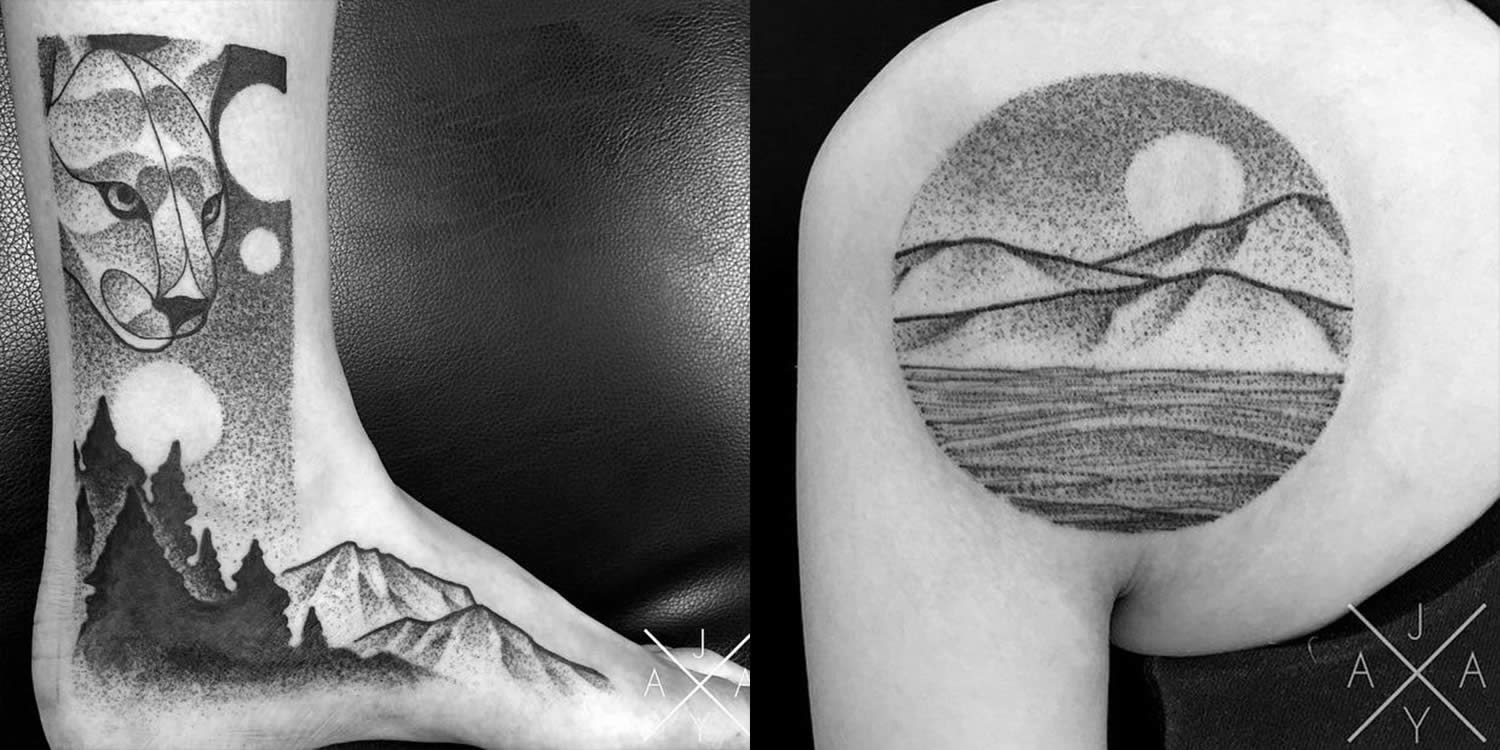 Jaya Suartika creates monochromatic tattoos rooted in the animal kingdom.
Jaya Suartika
Jaya Suartika is a skilled tattoo artist who incorporates stippling techniques into his practise. His black-ink tattoos often focus on the natural world of great stags, powerful mountain lions and delicate hummingbirds moving across the various body parts of his subjects. He, and his subjects, must have the patience of saints.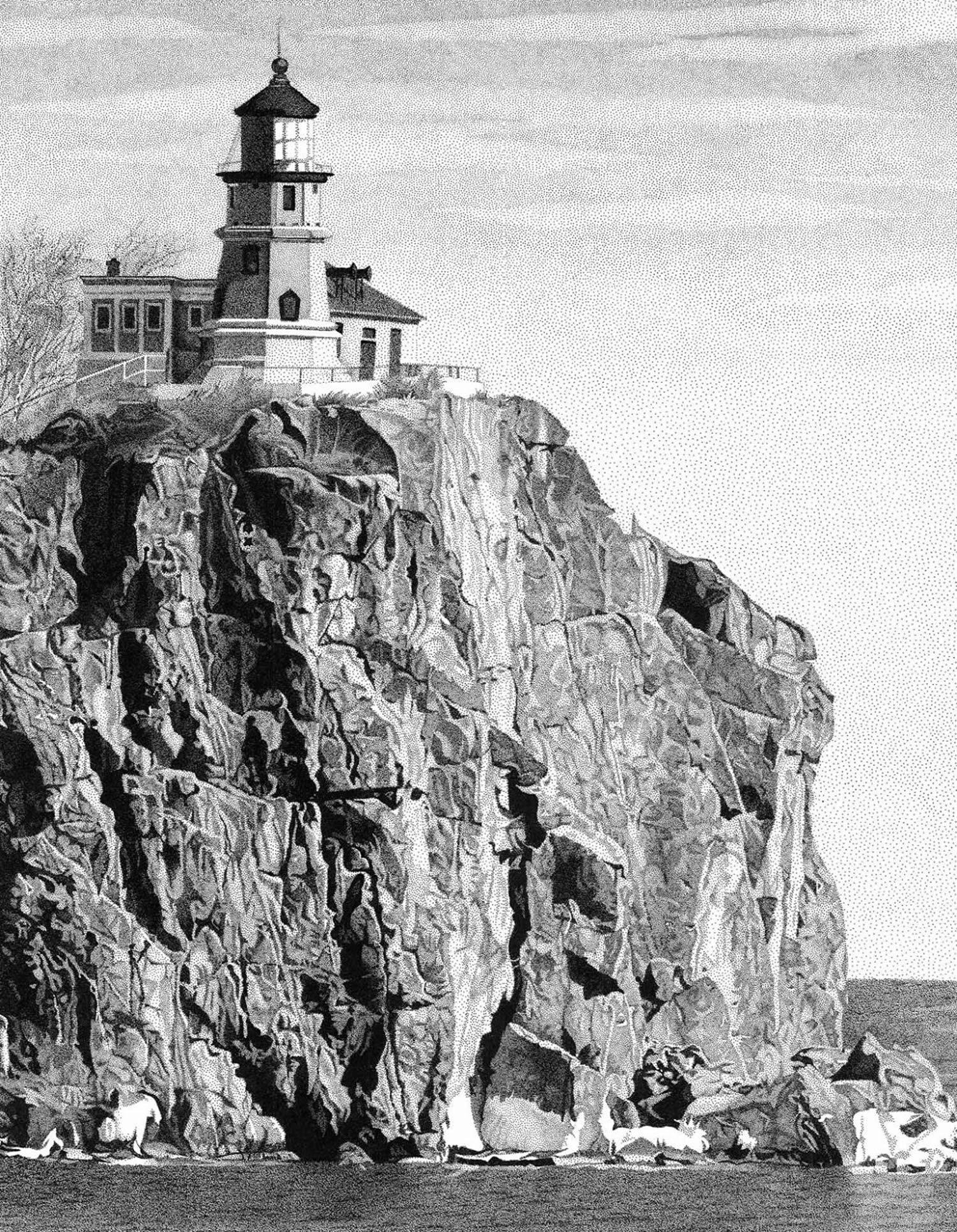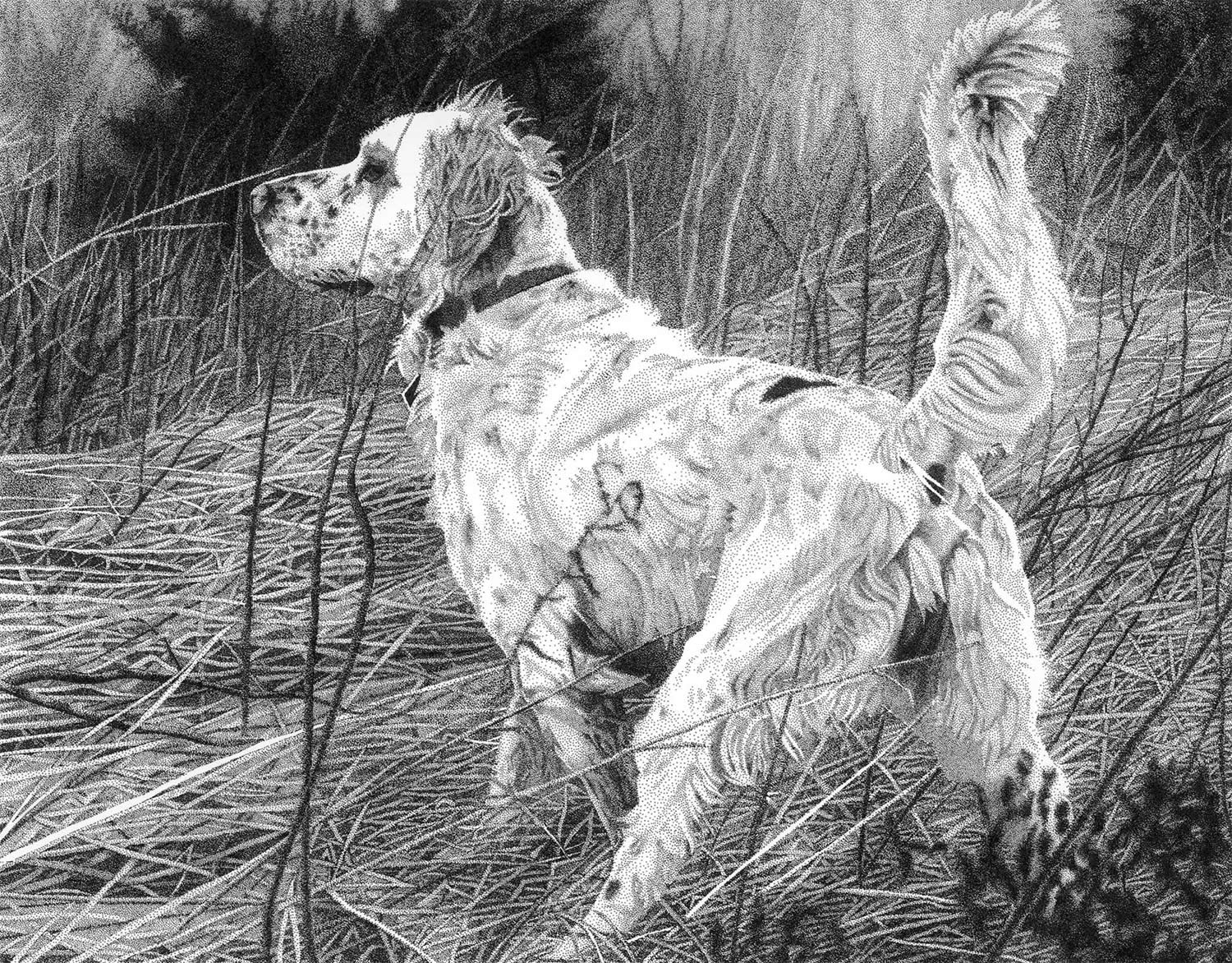 From romantic lighthouses to beloved dogs: the work of Rob Christensen.
Rob Christensen
All the work created by American artist Rob Christensen is created using the stippling process. A regular returning point in terms of subject matter are different breeds of dog, but he has also worked on ancient houses and gravestones. Literally thousands of dots make up the coats of his Setters and craggy lighthouses.
Images © respective artists and galleries.