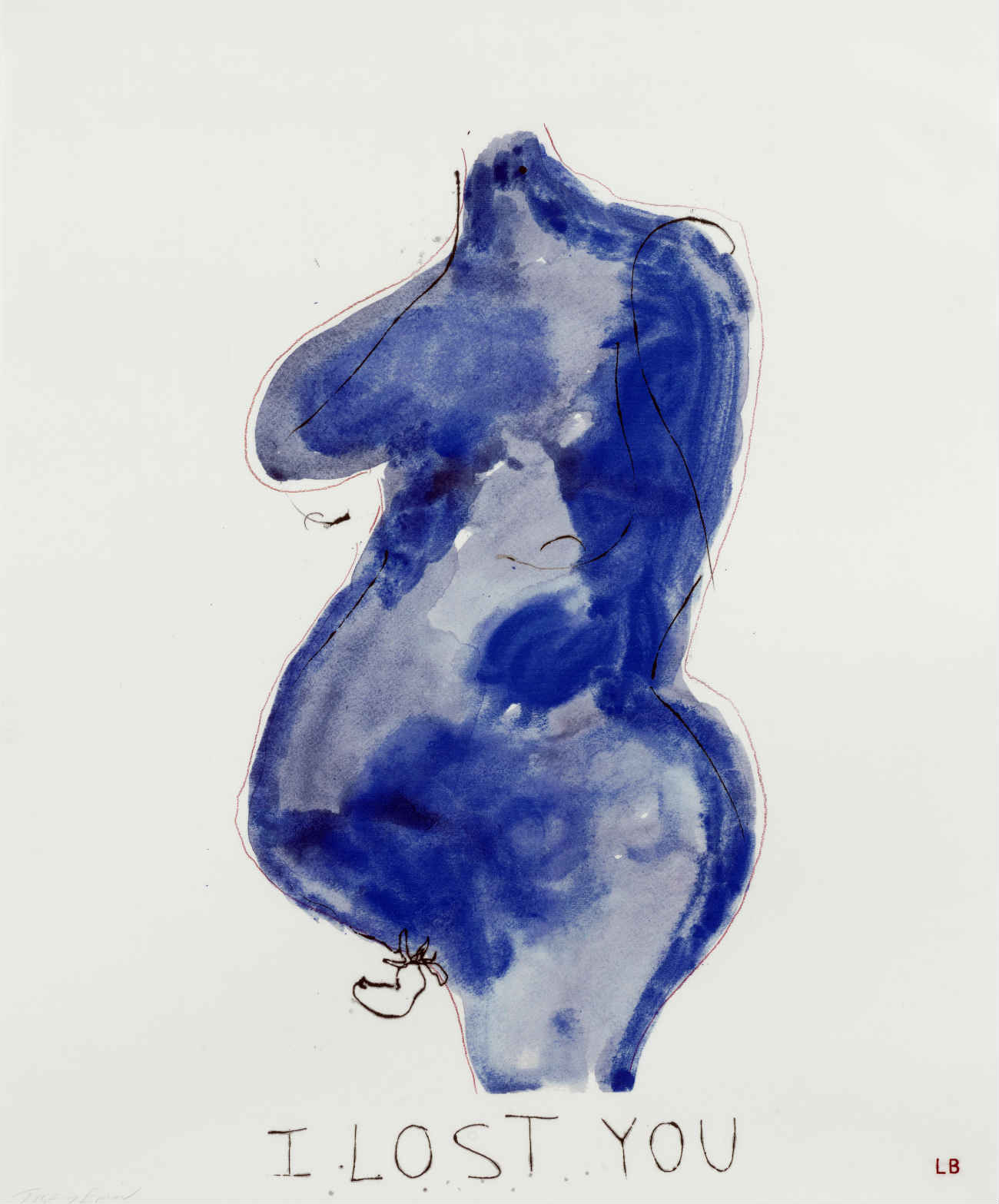 Note: Contains nudity.
Nude art has been represented in paintings and statues since prehistory.
From a liberal view in the Classical period to a conservative outlook in the Middle Ages, as well as more ups and downs in the Renaissance and Victorian eras. We now exist in an age in which body related tabus seem to be less of an issue to a Western audience, as the media is saturated with sexual and beautified imagery.
Here is a small list made up of talented modern artists who are passionate about painting nudes.
Top: A collaborative painting between Tracey Emin and the late, great Louise Bourgeois.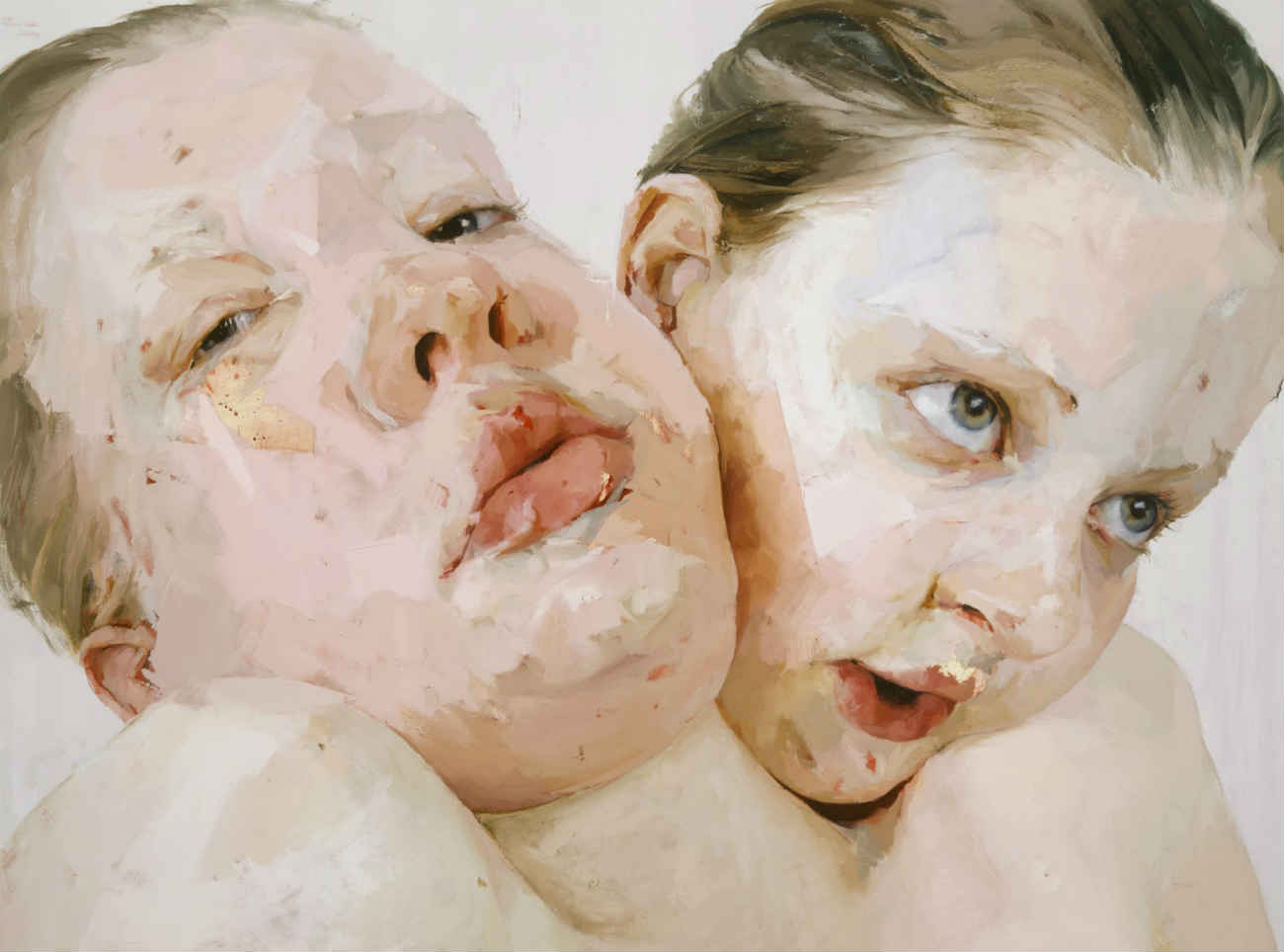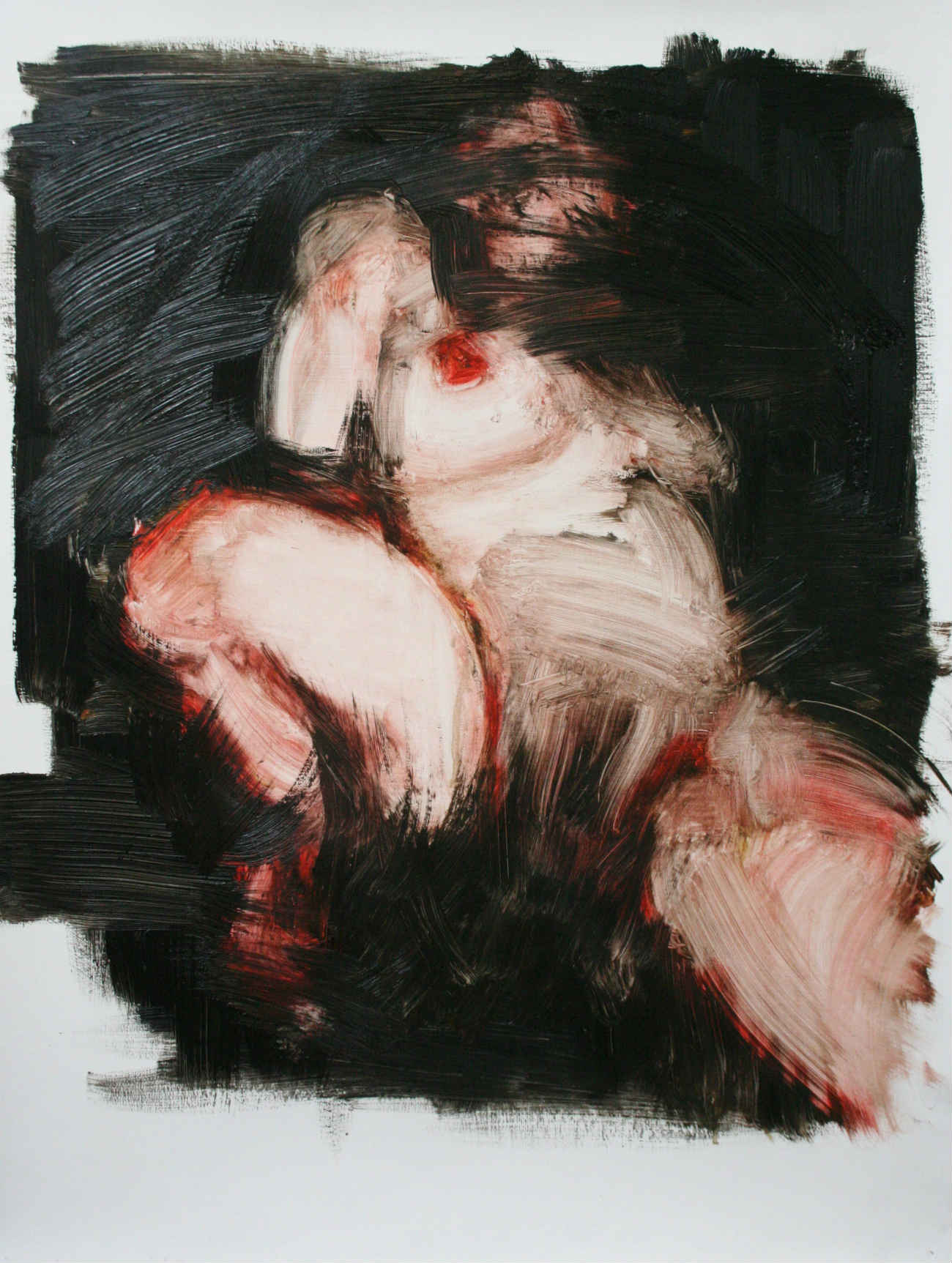 The harsh modern nude paintings of Jenny Saville.
Jenny Saville
Saville is a modern British painter, known for her large-scale nude works which are merciless in their brutal depictions of the human form. She was famously part of the YBAs aka the Young British Artists movement in the late 80s. Her nude paintings are raw affairs with bleached out colours and thick brushstrokes. Her piece "Hyphen" (1999) depicts two girls in close-up, one resting their head upon the other. It is a beautifully composed painting: soft and hard at the same time, full of contradictions.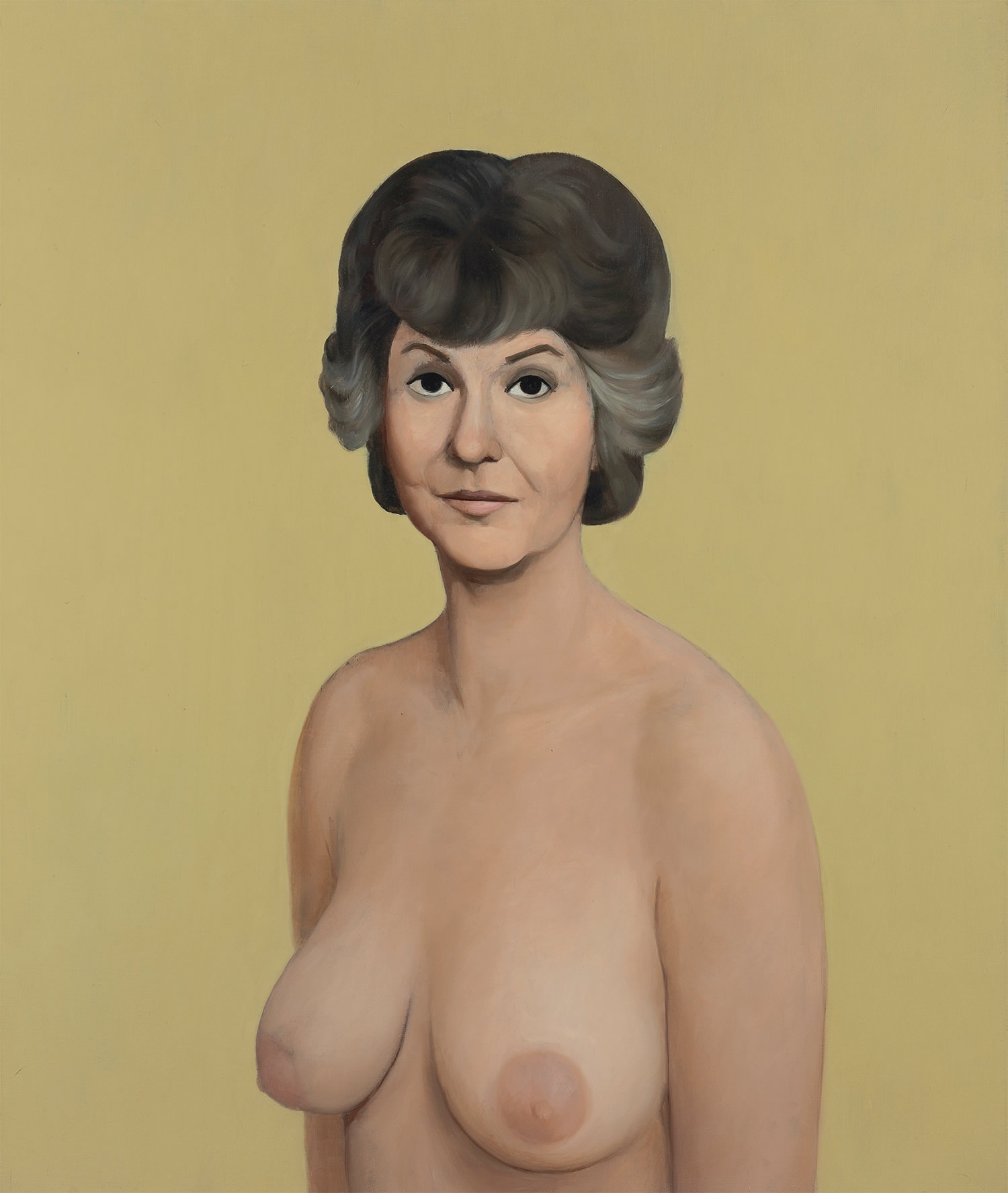 Top: "Bea Arthur Naked" (1962) by John Currin. Bottom: The artist photographed by the New York Times (Image © Lee Clower).
John Currin
Based in New York, contemporary artist John Currin has made a name for himself with his provocative and sexualised figurative paintings. Currin is a technical master and his paintings of women exist where the beautiful and the monstrous meet. He mixes classical portraiture techniques with a modern sexualised vision of women. Last year, Currin made headlines in the art world when his nude painting of The Golden Girls actress Bea Arthur sold at Christies for nearly $2 million. Not bad.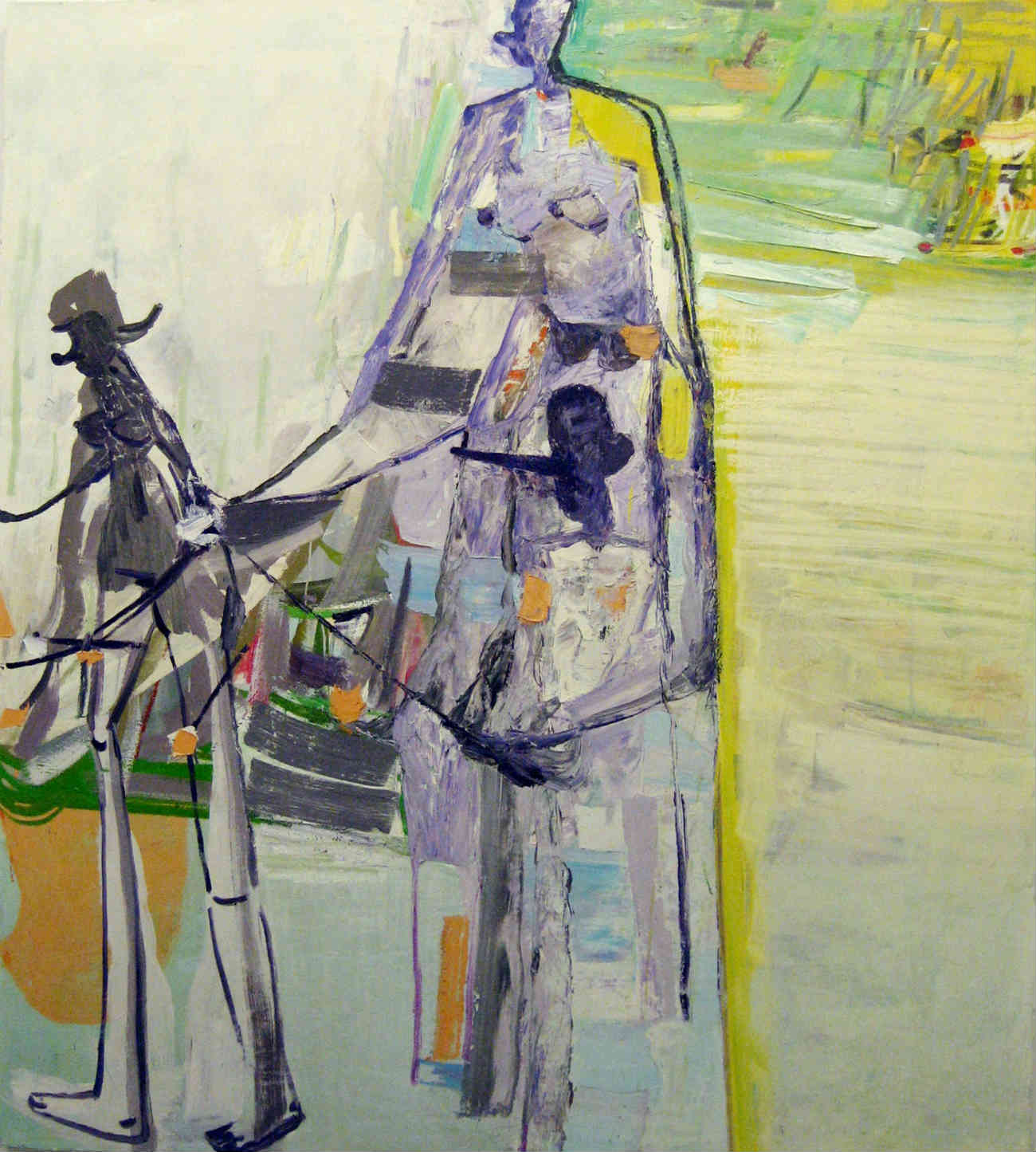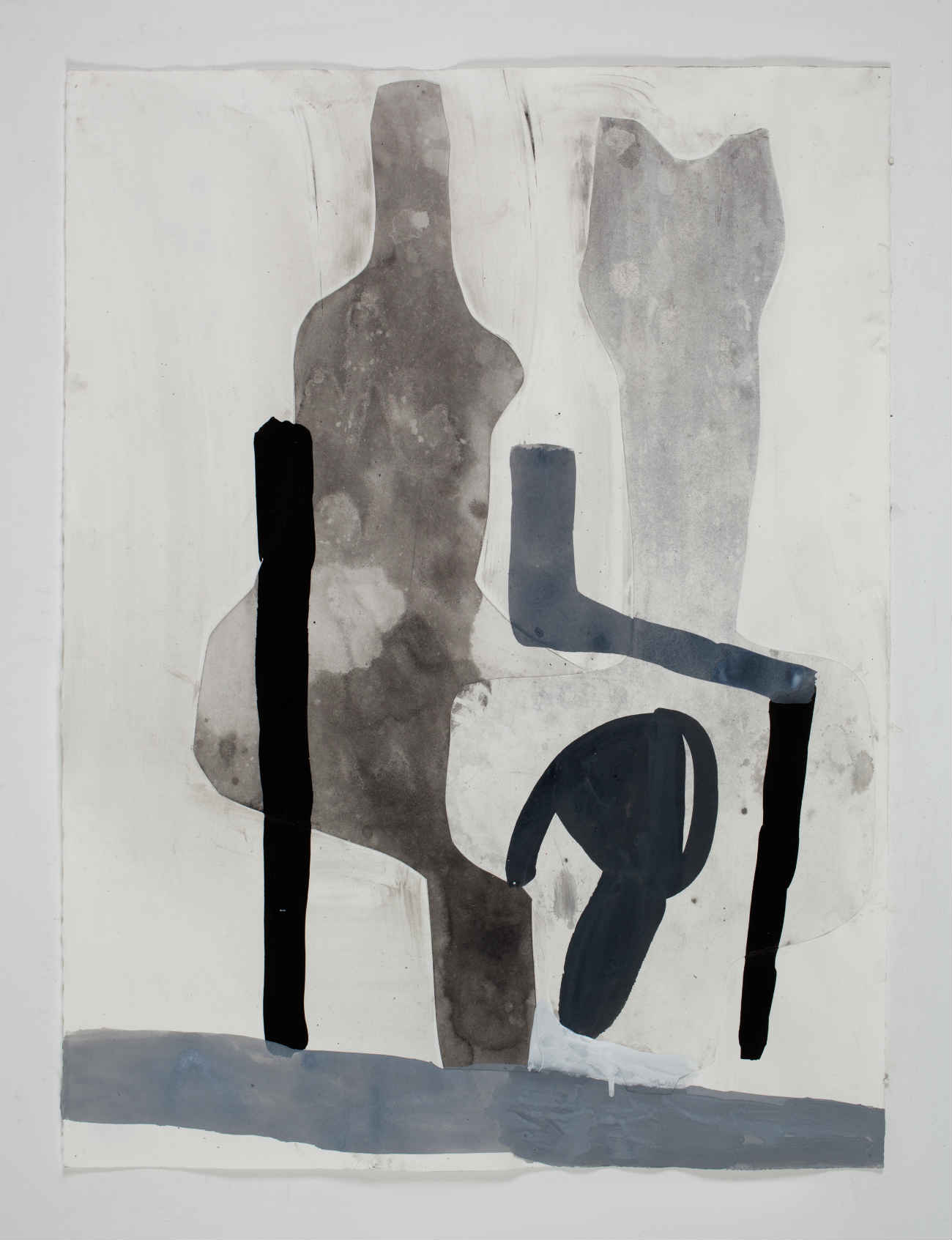 The gorgeous, gloriously abstract nudes of Amy Sillman.
Amy Sillman
Another New York artist here, Amy Sillman creates beautifully abstract paintings which standout for their skillful use of colour and physical presence. She has exhibited at prestigious galleries across Europe and the US, and private collections of her work are held in the Museum of Fine Arts Boston and the Whitney Museum of American Art in New York. Her painting "A Shape that Stands Up and Listens 34" (2013, first image shown above), is a lovely recent example of her abstract style. The subtle silhouette of a naked woman is just visible in a faded grey charcoal against darker lines and colours. A delicate masterstroke by Sillman, it is a painting of wisdom and intelligent feminine beauty.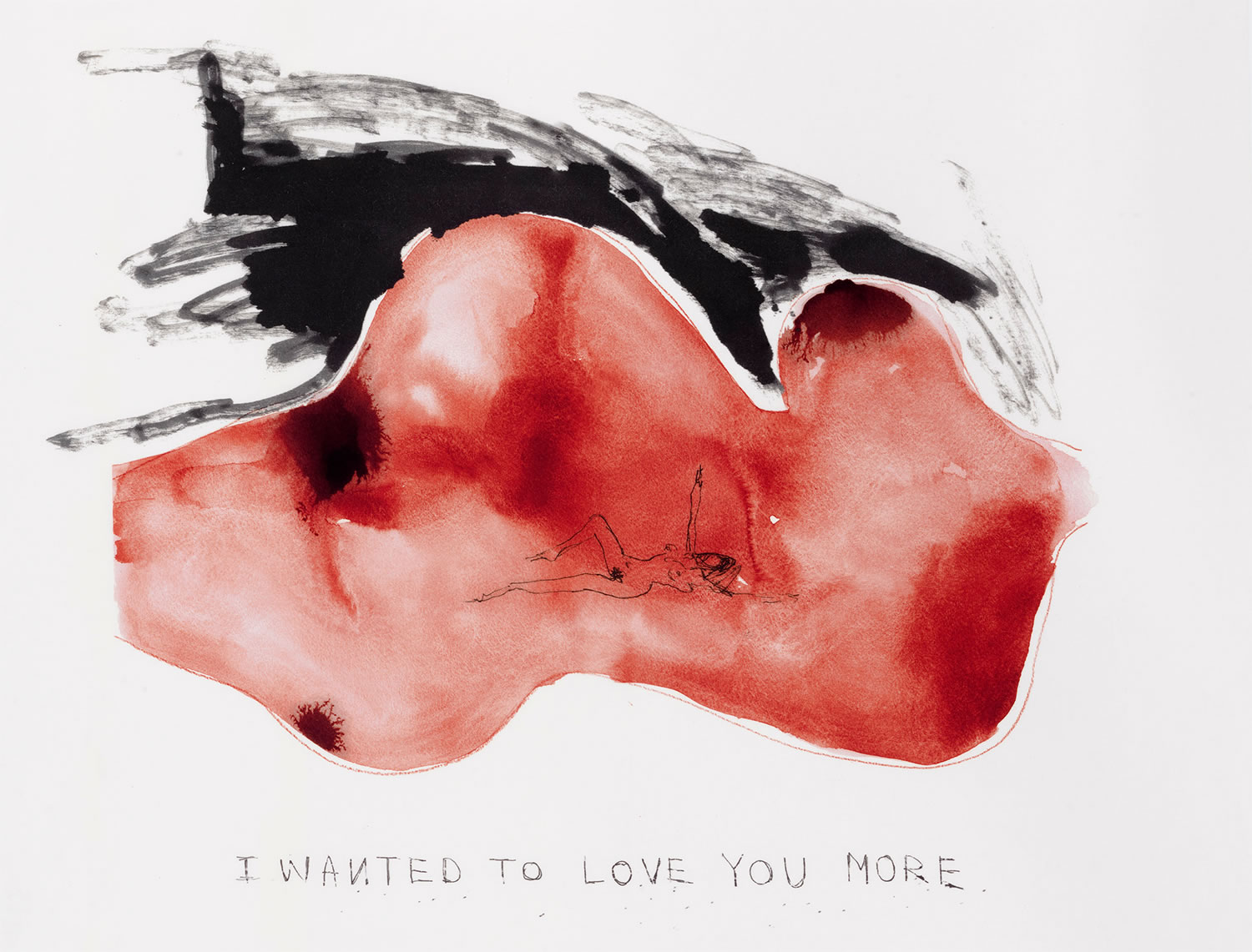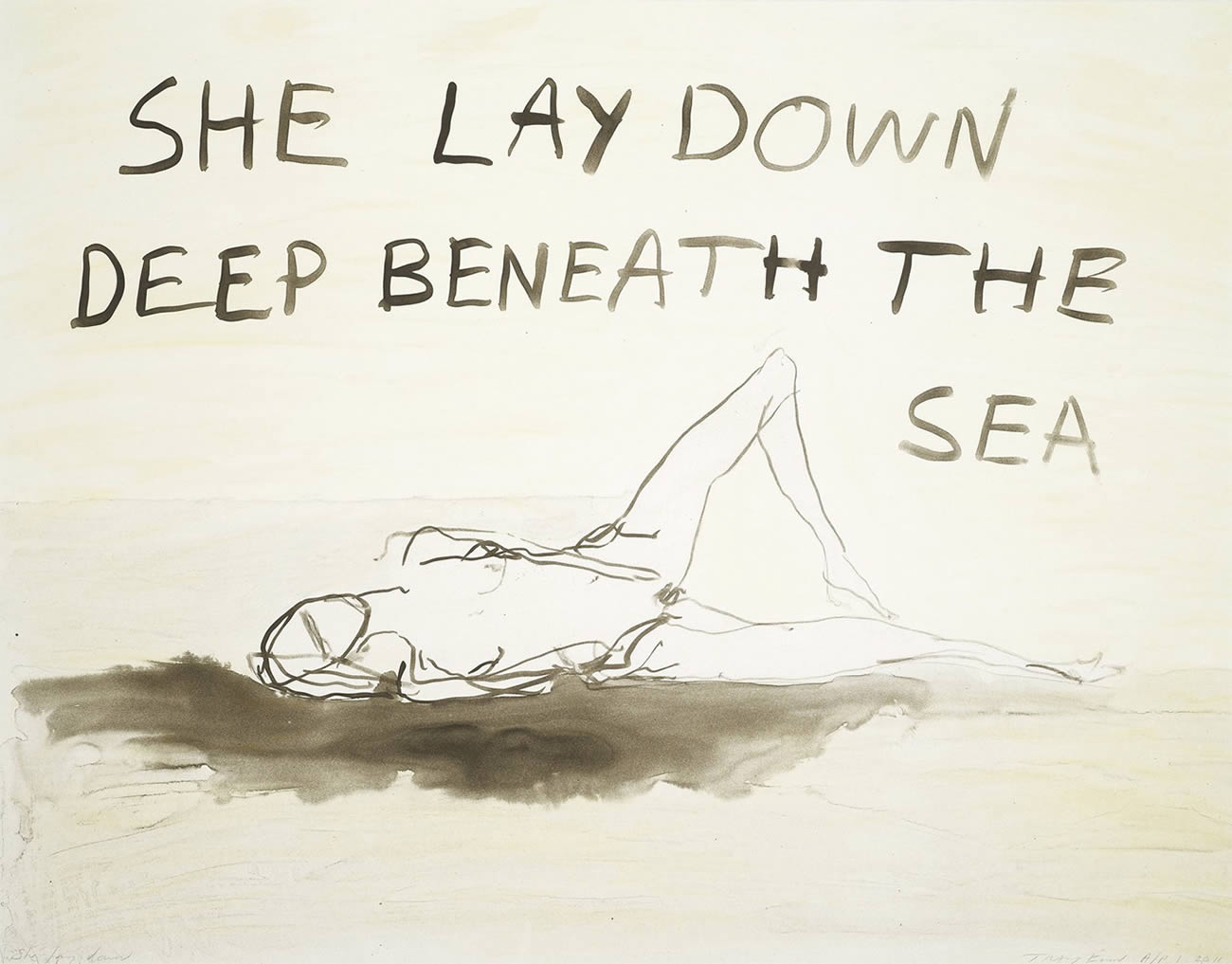 Top: A collaborative art piece titled "I wanted to love you more" (2009-2010) by Tracey Emin and Louise Bourgeois. Bottom: "She Lay Down" by Emin.
Tracey Emin
One of the wealthiest and most successful visual artists on the planet and another graduate of the YBA movement, Tracey Emin's name is synonymous with the female artist exploring her own sexuality. Her drawing and paintings are not as well-known as some of her sculpture and installation work, which is a shame. In "She Lay Down" (2011) a solitary reclining female is painted alone in a limbo-like landscape with the words "She Lay Down Beneath the Sea" written across in black. Emin has described the work as "dream-like" and that sums up it up perfectly. A lovely and simple modern nude.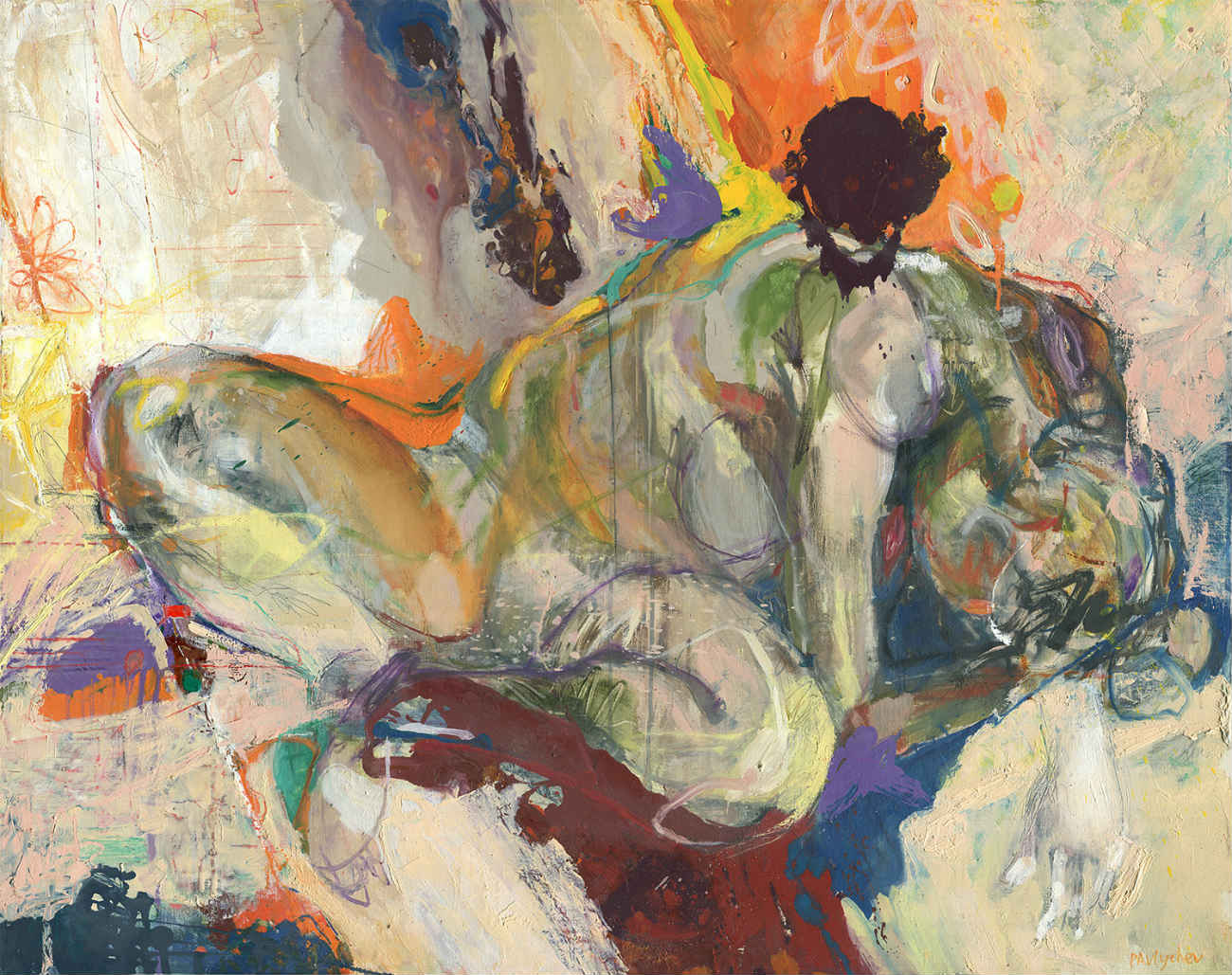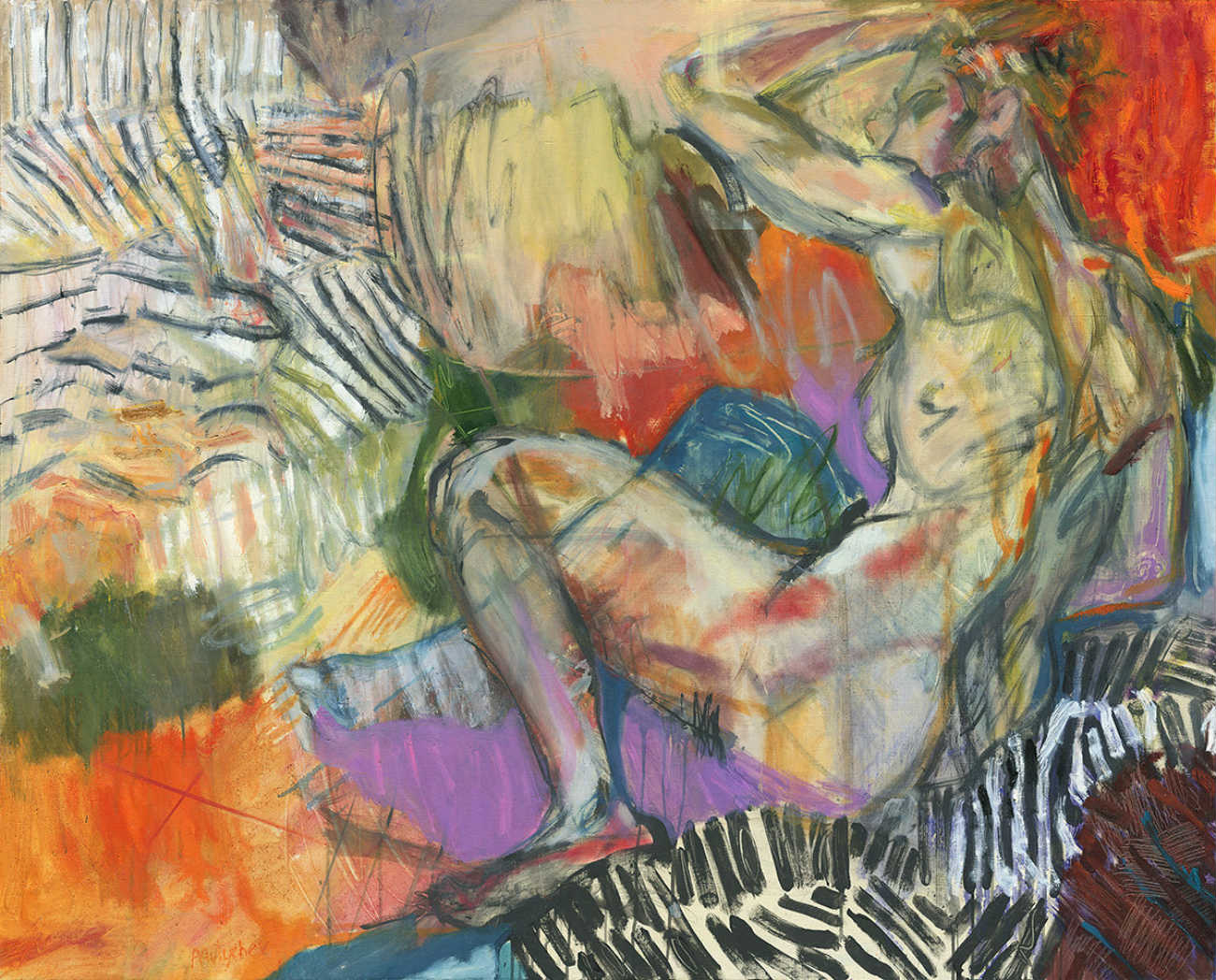 The strong colours and compositions of Russian painter Grigorii Pavlychev.
Grigorii Pavlychev
Painting in a modern style is Grigorii Pavlychev, a Russian artist based in St. Petersburg. When you look at his artwork you can clearly see his interest in Fauvism and Expressionism with the strong colours and painterly qualities. They could be of the hand of some old master from the 20th century. In his "Reclining female Nude" a naked body is positioned at the heart of the canvas as wild brushes of colour surround it, creating a wonderful euphoric mood.
Images © respective galleries and artists