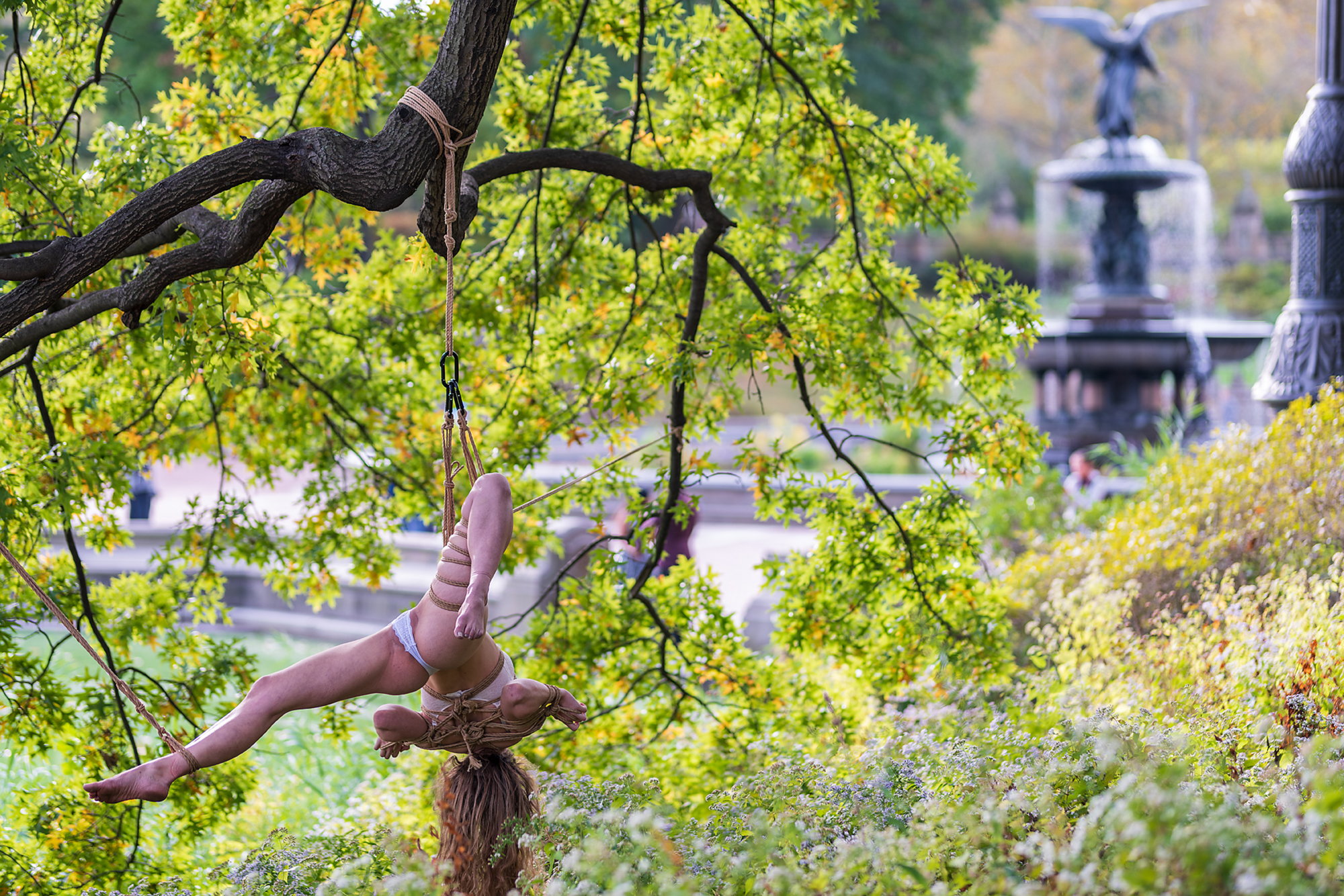 We started with email correspondence with the author of "Lust is My Favorite Sin" and photographer of this remarkable "Shibari Project," Dirty Archangel is his artistic name. A Turkish immigrant and citizen of New York City, who's day job are taking professional cityscape pictures of the Big Apple.
Because a photoshoot like this one generally involves more than a photographer, Dirty Archangel welcomed his equal counterparts: rope expert Sam Jay and model Zero-Gi to give awareness about their works. The three of them have apparent chemistry, passion, knowledge, and talent for what they do, and they have taken risks to bring this art form to the public light. For us, Scene360, we don't have much else to add, because their responses to our questions are profoundly insightful.
Above: Zero-Gi flies in Central Park on an early Sunday Morning with the famous Bethesda fountain in the background. 9-1-1 had been called and NYPD had come by a few moments earlier, but then let the trio continue.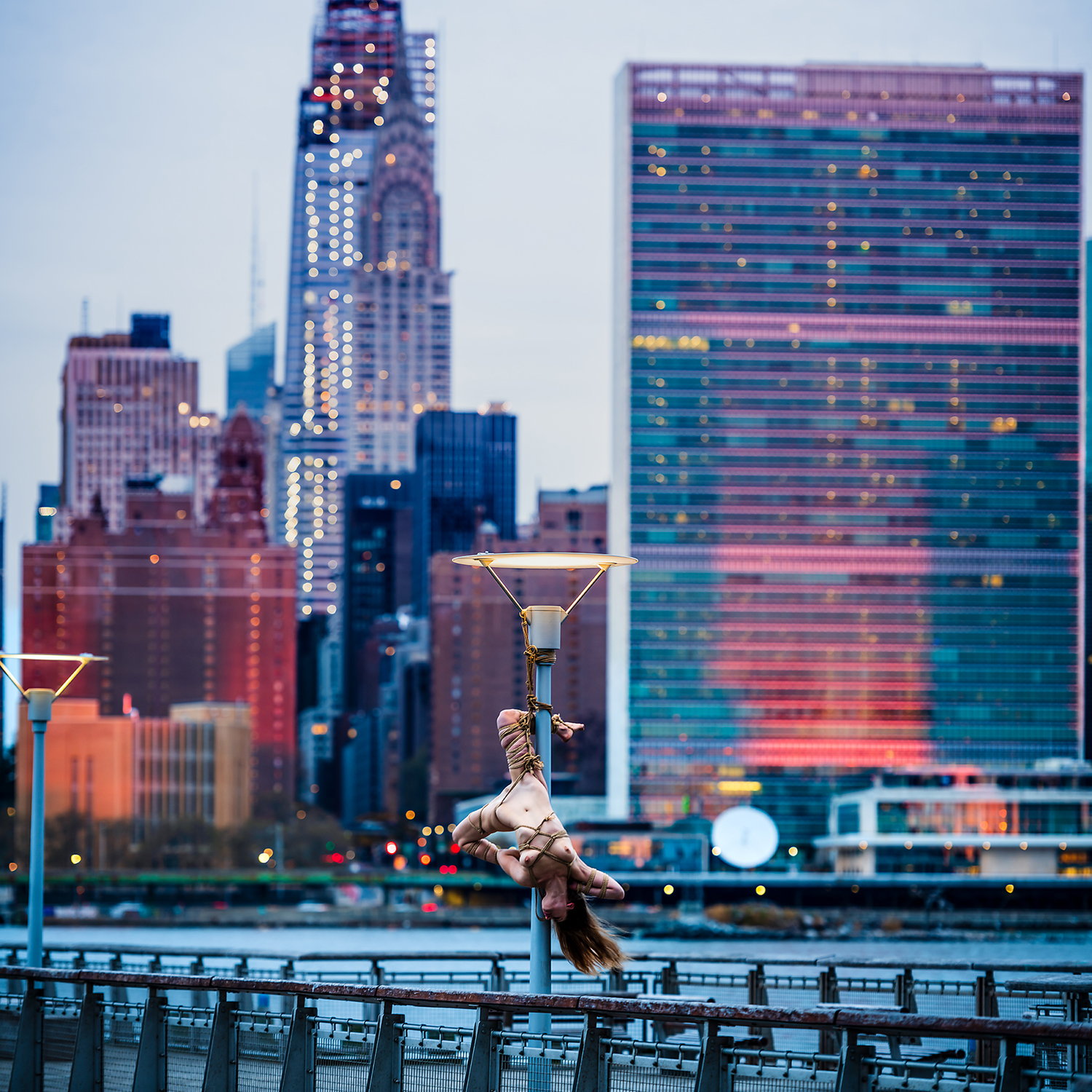 A view of the Chrysler Building from Queens, as the cold winter morning breeze blows across the East River.
Why do you think there is still a taboo — an unease for many people to openly admit they like erotic art?
Dirty Archangel, the photographer: Because society is still being blocked by authorities to achieve its true potential. They still think embracing our sexual nature will create another "Sodom and Gomorrah." I believe in progress, moving forward in every part of life. There are so many reasons we're being held back from achieving that. The political aspect, the organized religion aspect, socioeconomic aspect, etc. But progress always wins. Look around you. Talking about gays, lesbians, transsexuals was not even something you could do easily 20 years ago, let along announcing that you are gay. I wish progress was at a higher level by now in the 2000s, but we are getting there.
Sam Jay, the rigger: Erotic art is highly regulated and politicized. When we think back to Pompeii, erotic and explicit art was something on all the walls. When the ruins of Pompeii were discovered in the Victorian era, times had changed. The art was locked away in a "secret cabinet" to be viewed only by "people of mature age and respected morals," which was code for wealthy, white men. The stigma, a patriarchal and classicist stigma, remains in large sections of modern society. People who openly enjoy erotic art are morally suspect, immediately relegated to counter-culture.
Zero-Gi, the model: In home, school, and/or society at large, we are still puritanically socialized to hide and be ashamed of our bodies and sexuality. I observe that our perceived risks of straying from these expectations are internalized early and social, professional, and familial costs are real risks of nonconformity.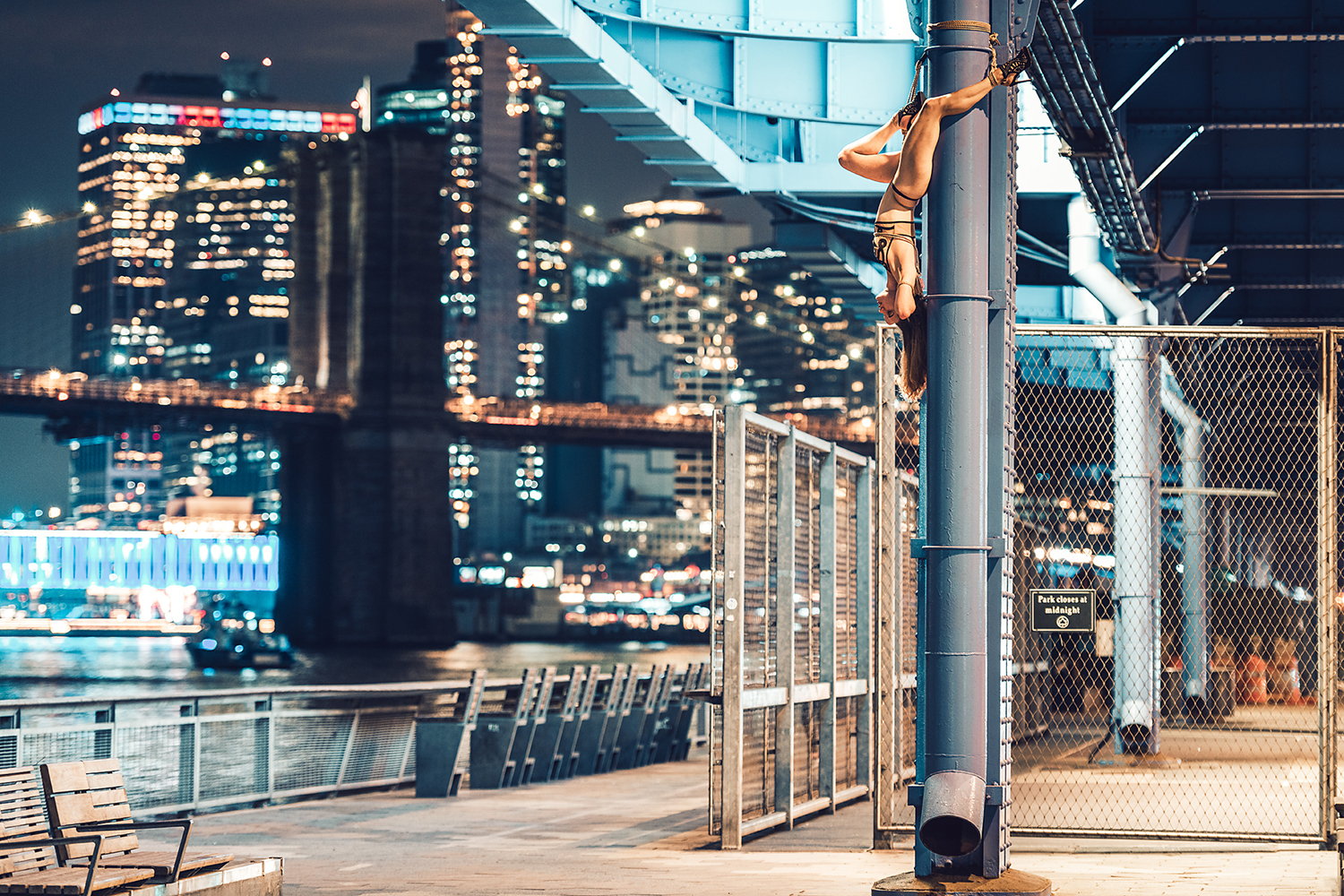 Zero-Gi hangs with a view of the Brooklyn Bridge in the distance.
Out of the different creative fields and subjects that Scene360 has published in 20 years, nude and erotic fine art are the most popularly read (from 500,000 to 2 million views). Yet, when we promote these articles on social media readers avoid adding "likes" to them for fear of what others will think of them. Why are we still facing these issues in 2020?
Dirty Archangel: Yes, I can see that clearly in my Instagram account. So many people don't like to comment a lot of times because that is going to let someone see that comment and use it to slide into their DMs, or send inappropriate photos and messages. Especially women have this kind of behavior. The Internet gave women the freedom to explore their sexuality but also opened a whole new can of worms. They're exposed to the abusive, aggressive and macho behavior more on Internet. This is the result of the society being held back from the progress that I mentioned in your first question. Men need education to understand that women don't want to accept second-class treatment anymore. Censorship of things with erotic nature is a whole different domain. It's about government and authorities controlling the Internet.
Sam Jay: What benefit does one get for acknowledging their interest in nude and erotic art? There's ample supply, and the psychic cost to acknowledge one's own sexuality not only to others, but also to oneself, is rather high. It feels safe to view these things privately, noncommittally, not even acknowledging the interest to oneself. But it's a completely different act, a social and political statement, to publicly acknowledge appreciation for erotic art images, where one's tastes and preferences, and one's sexuality, may be judged by anyone on the Internet, which as we've seen, is a crucible of cyber-bullying. Of all the things one might stand up for, or be aligned with, this dimension of freedom is personally risky and feels far more selfish and far more morally suspect, than devoting one's effort to more altruistic humanitarian efforts.
Zero-Gi: The differences in audience engagement reflect a society that has both real and perceived consequences for association with anything that celebrates naked bodies or sexuality. Engaging in a way that can be traced back to them by those who may ostracize, judge, or punish them for viewing erotic art carries a level of risk that is prohibitive to most of our audience. We love them anyway. As someone who faces the same kinds of risks on the other side, showing my face, my identity, nude, in bondage, I can empathize. Showing face by clicking a like button is a social risk that I would never judge anyone for avoiding. My risk of social consequences is much higher in everything we create, but it was a choice I got to make with no pressure over a long period of consideration. For my first-year practicing rope bondage, I hid my face to stay anonymous, something that my partners never pressured me to change or passed judgment about. I ultimately made the decision to take off my mask after analyzing the risk set, I faced if I were outed practicing erotic art and weighing it against my desire to embrace myself more authentically. Granting myself permission to express myself more freely without feeling like I needed to hide has been powerful and positive for me, however, it isn't something I took on lightly, and I don't expect or need others to make the same choices I've made.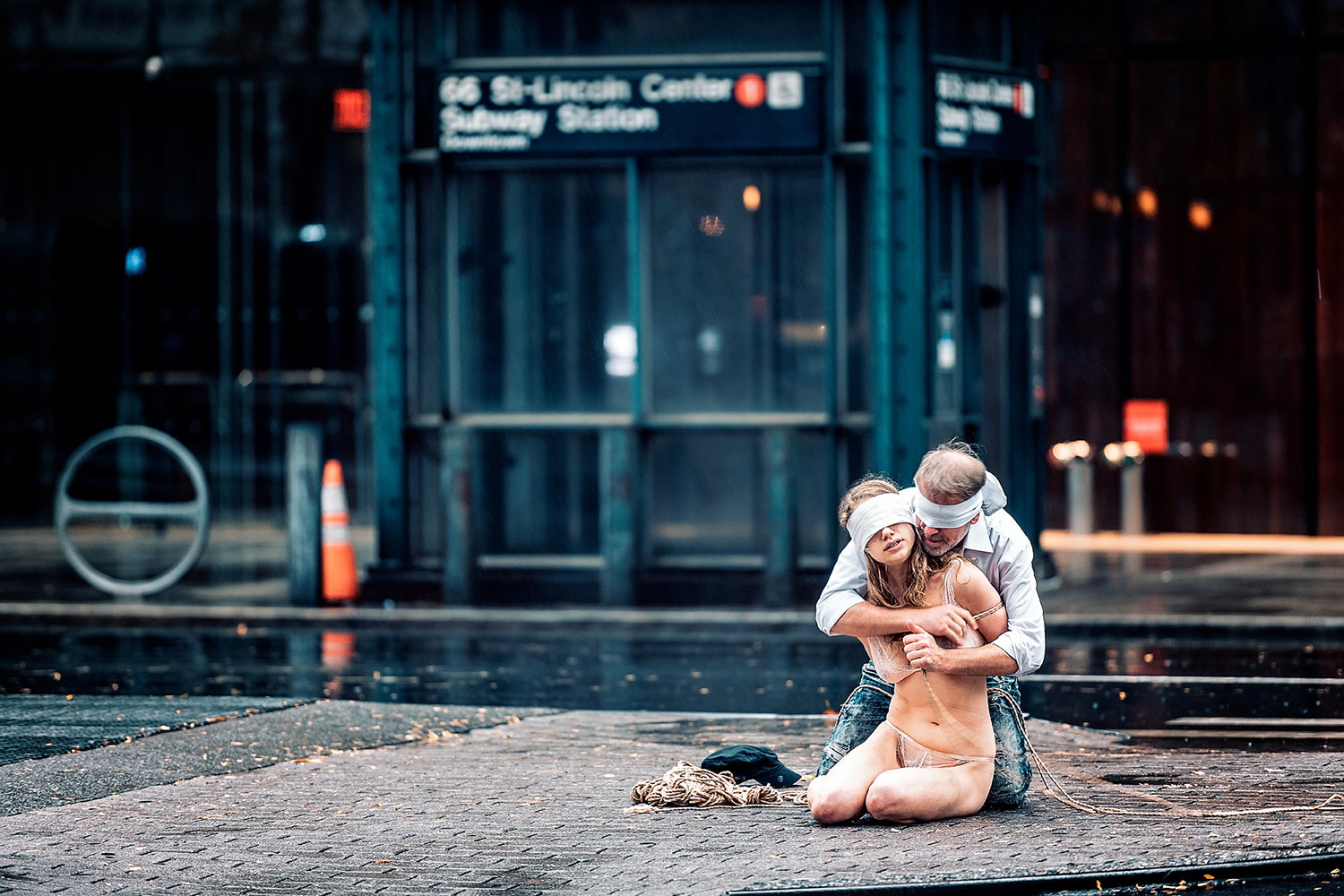 Sam Jay and Zero-Gi tie "double-blind" along a busy street in the rain on the Upper West Side.
Dirty Archangel said that art should be "lived, performed, experienced by anyone without any limitations and censorship."
Dirty Archangel: Yes, I said "it should be," but unfortunately, we're not there. I'm coming from a conservative family and the style of photos I take is still considered as degrading women. Also, the corporation I'm working with for my day-job could see it the same way. It can't be further from the truth! But it is still not something everyone could understand. Enjoying BDSM still considered weird by most people. Also creating an alter ego, mysterious personality always brings more attention.
Sam Jay: Most of us go by chosen names, rather than legal names, for the same reasons outlaw graffiti artists have. Because we do not hide in the privacy of our homes and operate at the edge of legal and social norms, we limit the degree to which we will be martyrs for social freedoms. Most of us are "out" to our families, friends and our employers. We share what we do publicly. However, it seems unnecessary and even foolish to open up our personal lives to greater potential persecution and ostracizing, particularly from people we do not know. Ask Oscar Wilde about how quickly public opinion may change when one openly flouts social norms. The protective cloak of "art" only gets us so far for so long.
Zero-Gi: Free artistic expression is a privilege that most working artists can't afford. By keeping an unrelated day job separate from our art, I get to create without having to make compromises to cater to marketable content. The trade-off that I'm happier to make is keeping some boundaries between the two. As a young woman, I also maintain the precautions and level of anonymity that makes me feel adequately protected from the average stalker.
"Life is one way." The team finds opportunities to fit Zero-Gi into a little humor.
Will you ever reveal your real identities to viewers, someday? Or are you going to be the Banksy(s) of the erotic photography world.
Dirty Archangel: I would love to stay anonymous like Banksy.
Sam Jay: My chosen name has been in use in all social settings since I hosted an art exhibition in 2012. It's simply become a widely known alias only a small step away from my legal name, and other aspects of my everyday life.
Zero-Gi: I can't see myself giving up the level of privacy that having a nom-de-guerre allows. I enjoy sharing my person with the people I want to connect with, and sharing only a part of my person to the broader world.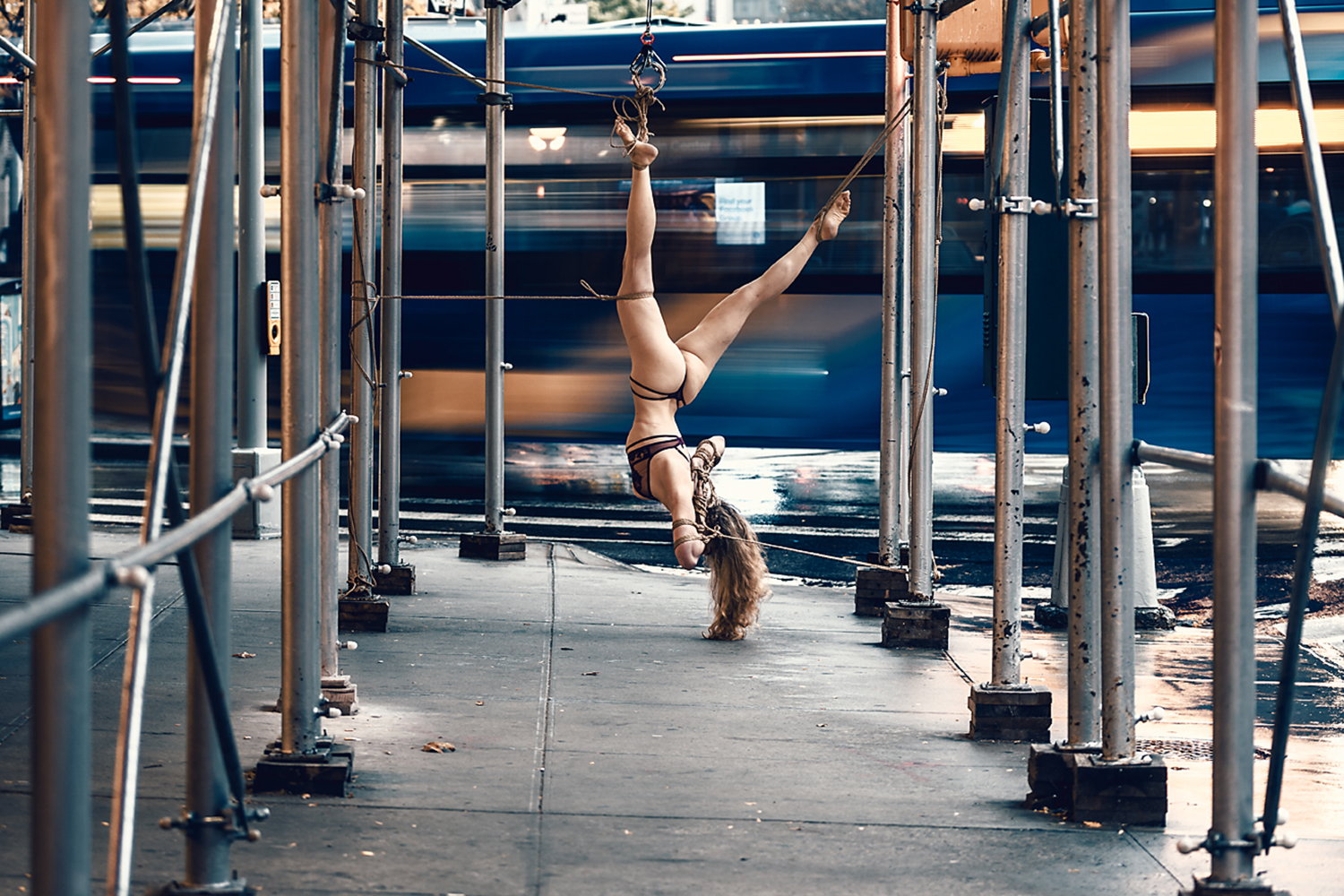 The city isn't just our playground. It's everyone's playground.
Gorgeous photos! Instead of choosing dark, desolated locations to photograph (like many other Shibari artists and series), you are out in natural light in the city of New York.
Dirty Archangel: We wanted to have our own style. I never liked to copy anyone and do the same thing other 1000 photographers have already been doing. I always chase different, unique, never-before-seen type of works. When I envisioned Shibari on NYC streets, I didn't think about dark alleys, secluded corners of Manhattan streets. I envisioned it in the middle of Central Park, on top of the famous bow bridge, right on the corner of a busy subway station. Displaying beautiful Shibari art and amazing NYC scenery mixed in the same frame in effort to normalize this misunderstood art form.
Sam Jay: New York City is uniquely amenable to this expression. "Rope bombing," like yarn bombing, has been around for at least a decade. It typically involves a fully clothed subject, and is often done at ground level. Here, we break the social contract by showing Zero Gi in lingerie and in bondage out on the streets. It confronts the viewer. There's something sexual here, but it's so sophisticated that the average person cannot fathom how it works sexually. The key elements are threefold. First, the lingerie, which immediately tells you its intimate and sexual, heightened by the out-of-context location. Second, it's the bound hands. The restraint, the powerlessness, the vulnerability and the trust implied by these. Finally, it's that the mechanism at play here is that this is extended foreplay, an intricate and beautiful mating dance, an almost completely psychological exercise, despite the physical efforts involved.
Zero-Gi: Our creative visions would just be dreams without the secret sauce of our trio — I don't think we could create anything like it if any member of our team were replaced. My eyes are open about the level of privilege that affects our experience on the streets of New York as well. A combination of privilege, skill, and experience has opened the city and a world of beautiful possibilities to us.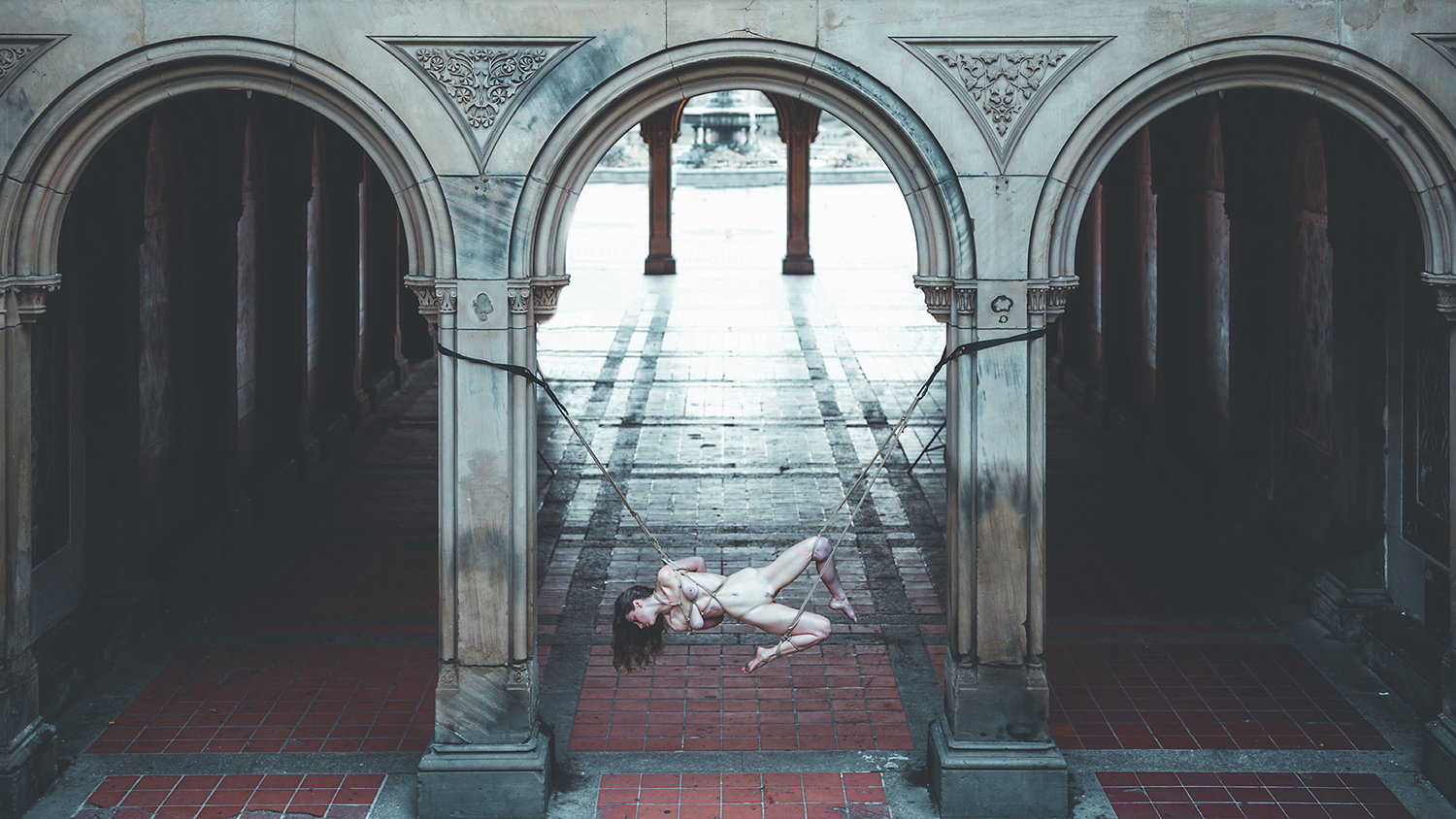 An example of the "American Death Triangle" magnifying the forces on Zero-Gi's body.
The "female body (…) is the most poetic thing in our world," a statement by Dirty Archangel. Please elaborate about this, and why you think there has been more focus on the female body throughout history than the male form.
Dirty Archangel: I am heterosexual. So, my sexual desires are inspired by the female form. This doesn't mean that I don't find male form erotic. I don't mind looking at a male body and appreciate the beauty of it. As a male who enjoys the female body, I'm creating my art that way. I would love to see female artists creating their art towards the male body, or someone bi-sexual creating their art towards the female and male bodies. The female body has been depicted more throughout history because we've been living in a male-dominated world. We decided a woman's purpose is to get married, serve her husband, give birth and raise children at home. Art has been done by men to serve men. We never appreciated how amazing our society could have been if we let women be free to express themselves, to have a job and have the right to have their own lives. I am happy to see women being represented more and more in every part of life. At work, in art, in social life everywhere.
Sam Jay: Hah, wow, that's a tough one! Let's tackle the second part first. John Berger's "Ways of Seeing" (1972) does a really excellent job of critiquing sexism in classical art. He says, "You painted a naked woman because you enjoyed looking at her, put a mirror in her hand and you called the painting 'Vanity,' thus morally condemning the woman whose nakedness you had depicted for you own pleasure." John Berger gets to the heart of the matter, that for reasons of sexual interest, the female nude is more often depicted by primarily male artists, except in cultures like ancient Greece or Roman eras where men also held wider sexual interests for other men. With men as the predominant producers and consumers of surviving art, their sexual interests are more widely represented in historical art.
As for why the female form continues to prevail in our specific project, my view is practical and rather un-artistic. First, the female form is less threatening, and more acceptable, to the public around whom we shoot. The nude female form is less likely to offend or attack the passerby. It appears more vulnerable. In harsher terms, I don't know if we'd be able to get away with these exploits with a male model. Social norms suggest that there is little more threatening in public than male genitalia. Male nudes would be unquestionably more artistic, as a way to push-back on this alternative form of sexism, in the same way that Robert Mapplethorpe achieved. Second, while there's farther to go on that artistic front of championing the male nude, but again let's not give Robert Mapplethorpe too much credit. Mapplethorpe also shot is own sexual interests as art, even if it was more controversial and thought-provoking. Let's simply be honest about where our sexual interests and our art align.
Third, and finally, as a piece of history, women have always been the central subjects of erotic rope bondage since its emergence in 1880s Japanese woodblock prints, to NYC in the 1940s with John Willie, to Tokyo in the 1950s with the Kitan Club magazines. The happy discovery in that evolution was that while Shibari was spurred by the male gaze, many women discovered enjoyment in bondage, becoming enthusiasts in their own right. Flash forwarding to today, a majority of subjects in bondage are still women. However, the heteronormative paradigm of male rope artists and female rope subjects has now made room for all kinds of gender expressions and pairings. It's an exciting time in Shibari on that front. But the practical matter is that for what we do, only a few, perhaps only one, has the appetite, interest and capability that Zero Gi has for this project. To see this, consider that unlike Gary Breckheimer, of whom we are fans, this project revolves exclusively around a single model, rather than a parade of unlimited, interchangeable, females.
Zero-Gi: Looking at the history of the female body in art, I see an age-old imbalance of power where men are subjects and women are objects — artists and art — creatives and muses — poets and poetry. Shibari as erotic art still shows some of the same norms. Though some progress has been made in breaking from the stereotypical norm, the majority of erotic bondage photographers and tying artists are still men and the majority of people in rope and photos are still women. As a member of the latter group, I can easily be written off as another victim of a sexist practice dragging gender equality back. It took years of agonizing over this judgment before I found the answers I was looking for: it's my kink. I was socialized in the same system that objectifies women and empowers men, and deep in my subconscious I also developed a sexual connection to the subversive idea, which evolved into a kink for consensual erotic power exchange. Exploring that in a consent-driven way and with self-awareness lets me have both agency and authenticity. There are a lot of people who like practicing bondage and bringing it to fine art in performance and photography — the three of us on this team have lot of training, experience, and zeal for what we do together.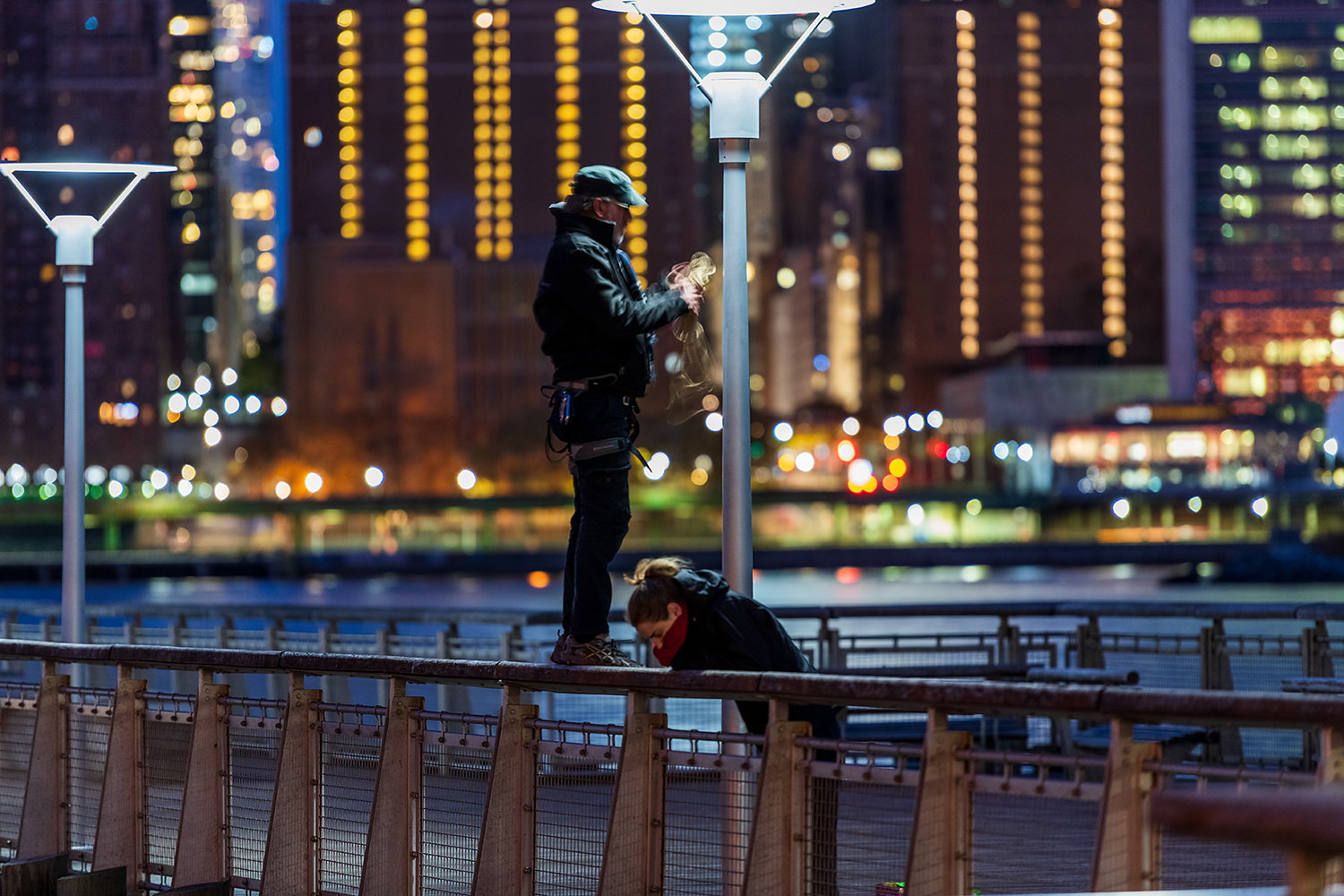 Zero-Gi contemplates the depths of the river as she mentally prepares to strip nude for a suspension against the ice-cold pole in the winter winds, as Sam Jay sets things up.
Please give insight about your creative process. How do you decide on these specific locations and placement of model (Zero-Gi) in them?
Dirty Archangel: Although I decide the locations as someone who has been taking photos all around New York City for years, I always respect Sam and Gigi's wishes when they have a location idea. I do not stick my nose into anything about Sam and Gigi's rope performance. They have been working together for a long time and they are experts on what they do with rope. If I say I want to have her up on this lamp pole, they know what kind of position to tie. I will let them explain the relationship between them as a rigger and rope model. We are creative partners. Everyone has equal value to create the scene you see in the picture I take. Our rope model Gigi, who I call "Rope Ninja" (Because there is nothing she could not do. She is strong and resilient. Climbing on top of a tree branch, or top of a light post is like walking in the park for her) is not just our subject that we use to create art. She is someone I'm working together to create what's in my mind.
We're seeing more and more models coming out and telling how badly they have been treated by photographers. We gave artists God-like status and looked the other way no matter how ridiculous they behaved. For example, we're hearing how Nobuyoshi Araki, one of the most famous Shibari photographers treated models he worked with for years. He made a lot of money from creating his art, but he never gave his models financial share they deserved, he abused his power on his models taking photos no matter they give consent or not. Our team shares everything. When Gigi is uncomfortable with a location or time of the day we want to shoot, her concerns are heard and we adjust anything based on her wishes.
Sam Jay: Dirty Archangel is the expert on the city, the locations and the shoot angles. He's been thinking about this project for a very long time and has shot the city for hundreds of hours over the course of nearly a decade. He chooses the location and Zero Gi and I see how and where we can fit into shot.
Zero-Gi: We scale everything we do to the member of our team who has the most conservative comfort set in each shoot, and each of us is sensitive and self-aware through the process, so we're always coming at our locations and ties with confidence. We all contribute ideas and work through challenges as a team, which makes the art we create feel truly collaborative. Dirty Archangel has found some brilliant locations that match his vision, but we've each found some spots that have led to wonderful experiences. In the winter, the greatest challenge we face as a team is keeping me warm enough and both of my teammates are incredible at both trusting what I can and want to handle and making quick moves to keep me safe and warm when I ask them to. As far as the type of rope tying, Sam Jay and I love the opportunities for creativity that we have in different environments and can both plan ties in advance and play with modifications during shoots.
"The Superimposition of Realities" is one of their favorite shots. They often lack imagination for things happening right outside of their line of sight.
What was the most challenging scenario to setup?
Dirty Archangel: Every scenario has its own challenges. But bow bridge in Central Park was the hardest one if you ask me. Because it involved suspending Gigi off the bridge, over the water. Her arms were tied behind her, if she fell, we would have to act quickly to grab her. We minimized risks by positioning her suspension location closer to the side not in the middle of the bridge where it's highest and water deepest. I also used a remote shutter to take photos so I could stand closer to her in case I need to get to her quickly. Traffic post comes close second. Because they had to use a ladder to go on top of the post on a wet rainy morning.
Sam Jay: Each situation poses its own challenges and sometimes it's the shots that look the least impressive, or that don't turn out as well, that are actually the most difficult and the most dangerous. In general, the altitude that we work at is often higher than is common. Getting Zero Gi into position, and getting her down from those heights are often technically challenging. That said, the most difficult situations are the ones that involve an "American Death Triangle" of some sort. The amount of force on the ropes and on the body are multiplied when the lines come from an angle rather than from directly above.
Zero-Gi: We all face challenges from slightly different perspectives, which makes it hard to come up with a definitive answer overall. We also get better at working around challenges with each shoot. The Long Island Pier lamppost was a big one for me because of heat transfer. It was a particularly cold morning, the wind on the waterfront was intense, and having my back and leg wrapping around the metal pole drained my body heat with impressive efficiency.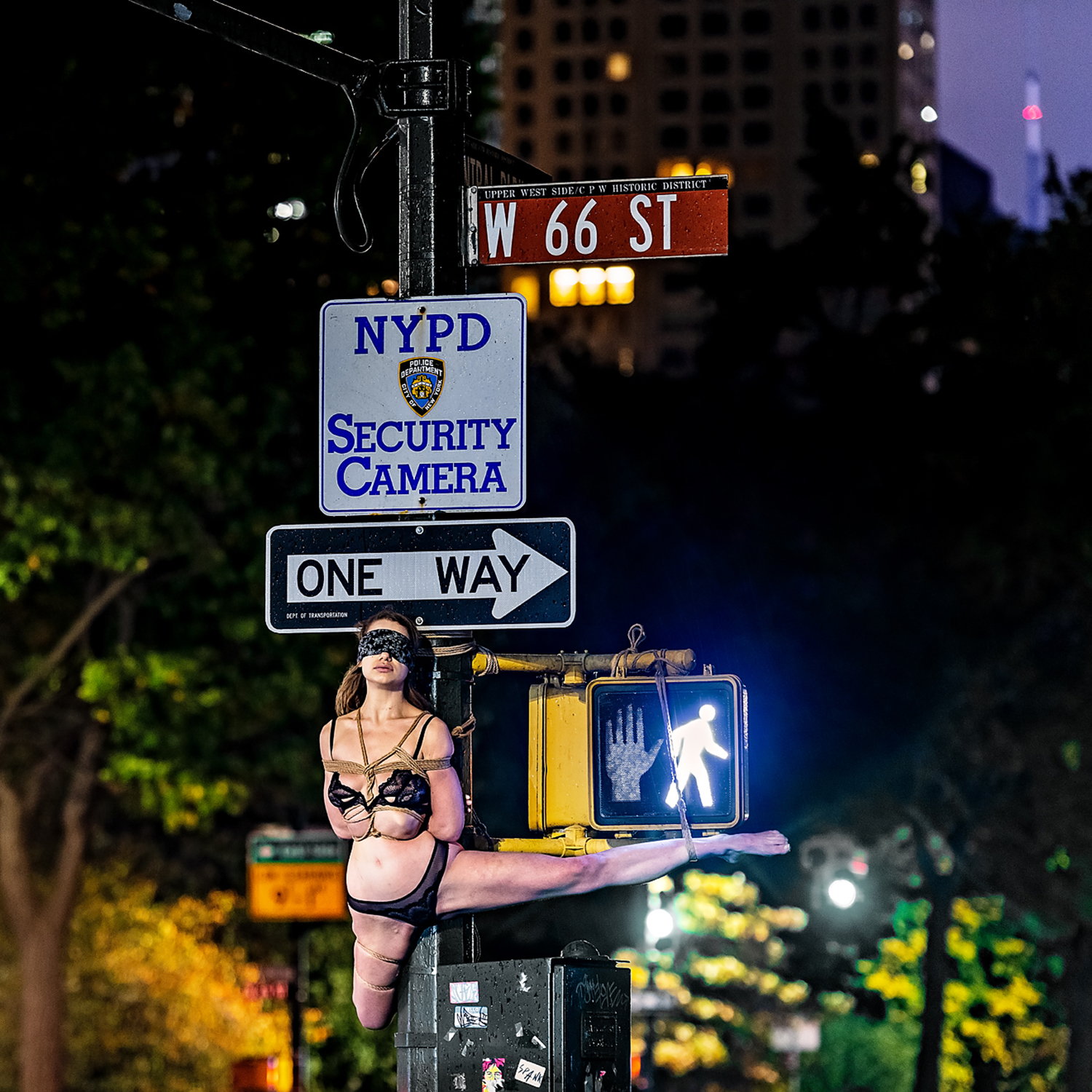 The Dream Team live in the era of super-surveillance. Privacy is dead. The only path forward is to normalize what they do in the public sphere.
How were you able to take these photographs without getting arrested?
Dirty Archangel: We are a very small team that works really quickly. We have one model and one camera. When we go to a location, I set up my camera and wait for Sam and Gigi to finish tying. And when they're done, I take my photos in a couple of minutes. They might get to a final position in 5-10 minutes, because they also come to the location with most of the tie already done. In New York City, women are allowed to be topless in public. The photos you see Gigi in full nude are achieved in a matter of minutes. Most of the time by just taking her bikini off for like 30 seconds and putting it back on quickly after I got the shot. And as you can imagine, New Yorkers see strange things on the streets all the time. But we still try and do our photoshoots with few people around. Our main subjects NYC architectural landmarks and our model Gigi in ropes. (…) We respect our surroundings too, so from the law enforcement perspective, we're not breaking any laws. But when people call police on us, they have to show up. Mostly they just talk to us, we explain we're just doing our art and they say to keep it short.
Sam Jay: We regularly interact with the NYPD while shooting. Since the Stonewall riots, and reinforced by the annual Pride Parade, New York City cops have become more sensitive around the issues relating to erotic and sexual expression. Unlike much of the United States, New York City allows women to be topless in public as a matter of equality. Finally, it appears that New York City is rather pragmatic in its enforcement. As long as we aren't doing something obviously dangerous, violent or felonious, NYPD seems satisfied to accept us as yet another group of street performers doing our thing like all the rest. If they get too many calls, they may stick around until we decide to move along. That said, we've been helped by several additional factors. Zero-Gi is a good advocate for herself during shoots. Her assurances to crowds that form limit the NYPD calls we get, and how NYPD responds to us. Second, Dirty Archangel is a consummate professional photographer and looks the part. People immediately identify the pro-art shoot because of Dirty Archangel's considerable presence.
Zero-Gi: Our fully nude shots are always before, or at the crack of dawn, and we choose locations for those with care. I'm technically the only one breaking the law with indecent exposure and we're well-informed about the potential risks in decision-making. Our only times saying hello to NYPD have been in lingerie so far, and they've been smooth. Passersby are sometimes curious about us, or check in with me to make sure I'm all good, and in those situations being able to have a reassuring and friendly chat strung up by my ankles is helpful.
Behind the scenes of their first public shoot. They were wondering if they could get away with nude. They did it and got away with it!
Like Graffiti and Tattooing, it came from the underground to mainstream to be appreciated in the fine art world. Do you think Shibari photography is on that same positive direction?
Dirty Archangel: Definitely. Because of the Internet, more and more people are being exposed to things that were out of sight and out of mind. Bondage is showed more in TV shows and movies than it was in the past. More exposure helps to normalize it. People will learn this is not a torture method, but rather an art form that people use to express themselves.
Sam Jay: Shibari photography is certainly far behind where Tattooing is now. About 20 years ago, before Suicide Girls (started in 2001), alternative models and models with tattoos were verboten, or quite rare, in mainstream fashion and media. In the same way, only a few observations of Shibari have made their way into mainstream outlets, most notably in FKA Twigs' music video, "Pendulum" (2014). Only time will tell if Shibari photography can reach critical mass and make forward progress. But right now, more than any time in the past, there's a groundswell of novel ideas, new talent, and burgeoning interest. As that continues to grow, perhaps someday the art form will gain the awareness and understanding from art critics and magazine editors, as well as genuine appeal from a broad cross-section of audiences.
Zero-Gi: Shibari has been snuck into the mainstream art world a handful of times. The style we've developed together is something new, but reception has shown some promising interest so far and furthering Shibari's fine art crossover is something that excites us.
Photos © Dirty Archangel. Special thanks to Sam Jay and Zero-Gi.