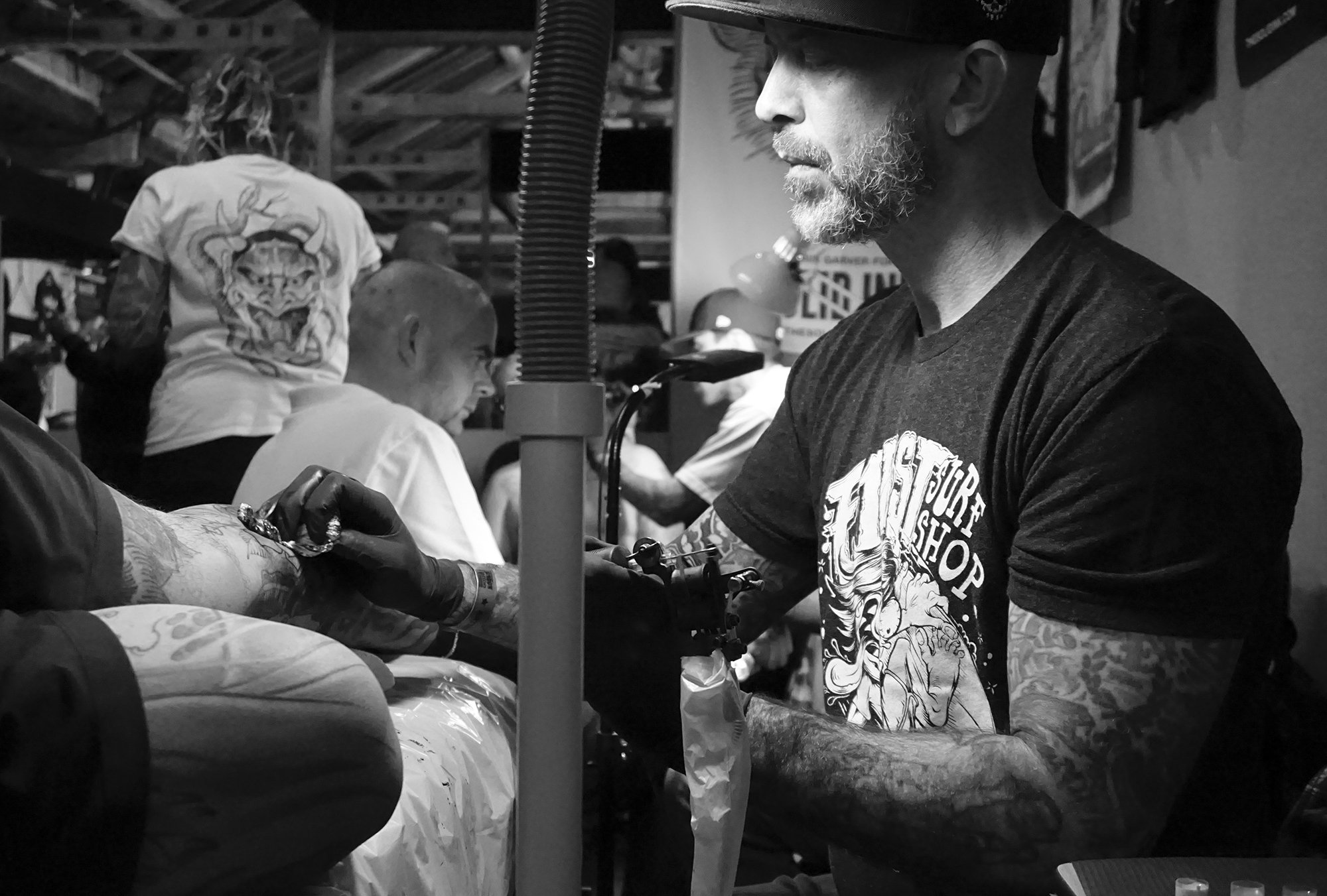 In a summarized historical explanation, the "Tattoo Renaissance," began in the late 1950s with tattooers like Lyle Tuttle, Don Nolan, Zeke Owens, Ed Hardy, and others pioneering the way.
"Between the hippie movement of the late '60s and the feminist campaigns and rights movements, the tattoo industry saw itself in the midst of a rebirth of sorts"; resulting in an increase of customer base,  visibility through tattooed celebrities (like Janis Joplin) and pop culture. During the 2000s, tattooing had yet another peak with the appearance of television shows such as "Inked" (2005) and "Miami Ink" (2008, starring Chris Garver, Ami James and friends), which gave us a look into the lives of tattooists and their studios—and improving social stigma.
With more legendary artists contributing to 21st-century history, Chris Garver is among them and one we are highlighting here, today. He became a professional tattooer in the late 1980s and has worked in New York City since the 1990s. Below, you can read our interview with Garver taking us back to that period of time when tattooing was banned by the Health Department.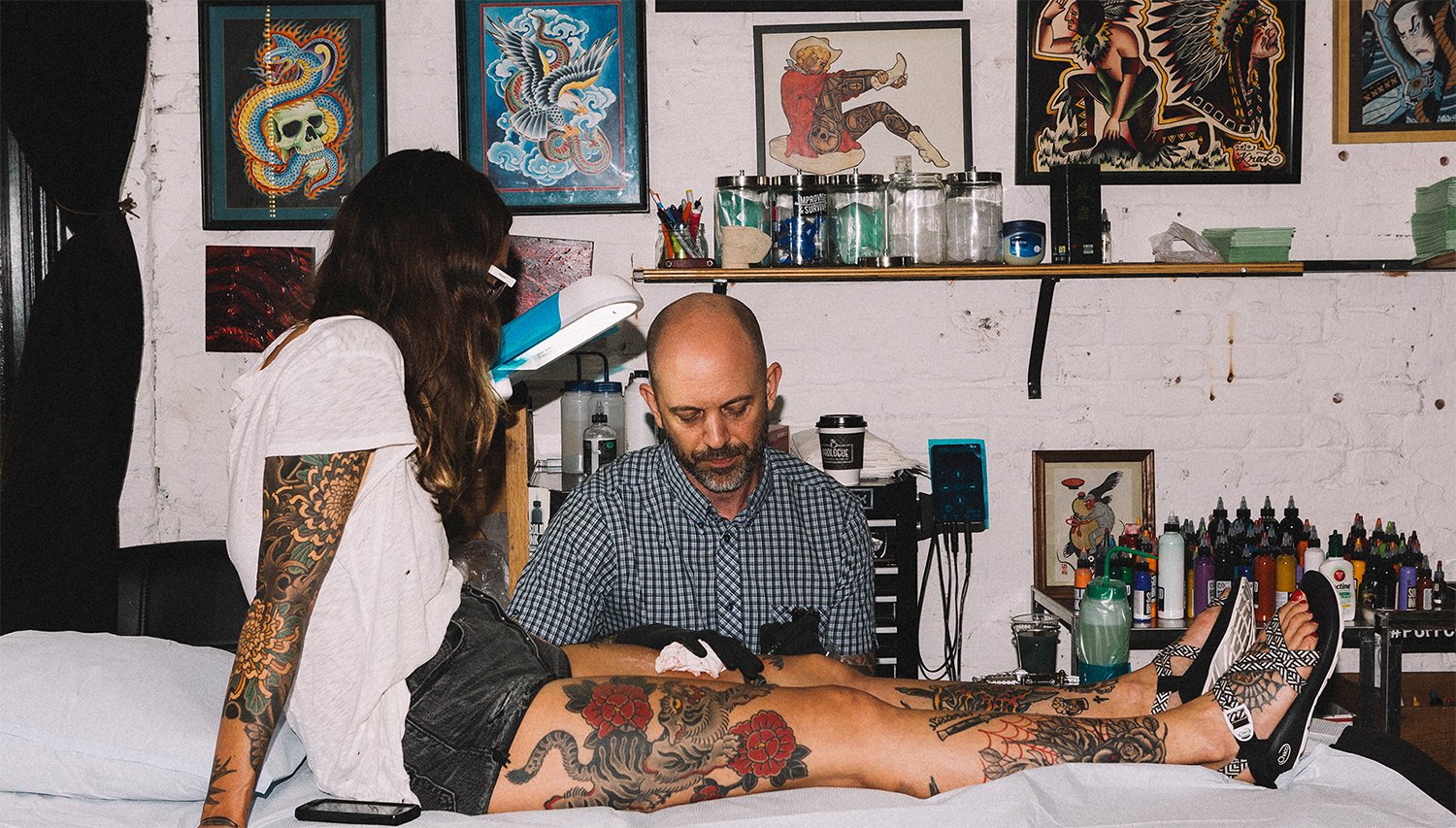 Garver at NY Adorned (a film still from the Viceland documentary). Photo © Garver.
When you started working at New York Adorned, the shop already had an appreciation for "tattooing as art," which wasn't so common in the 90s. Did working there help you become a better artist?
Yeah, working at Adorned exposed me to more tattooers that were really pushing it artistically, and more people like that were my age. Before that, I was working with older guys and biker shops… So, when I got to Adorned, it was great for me. I think my growth was pretty big there.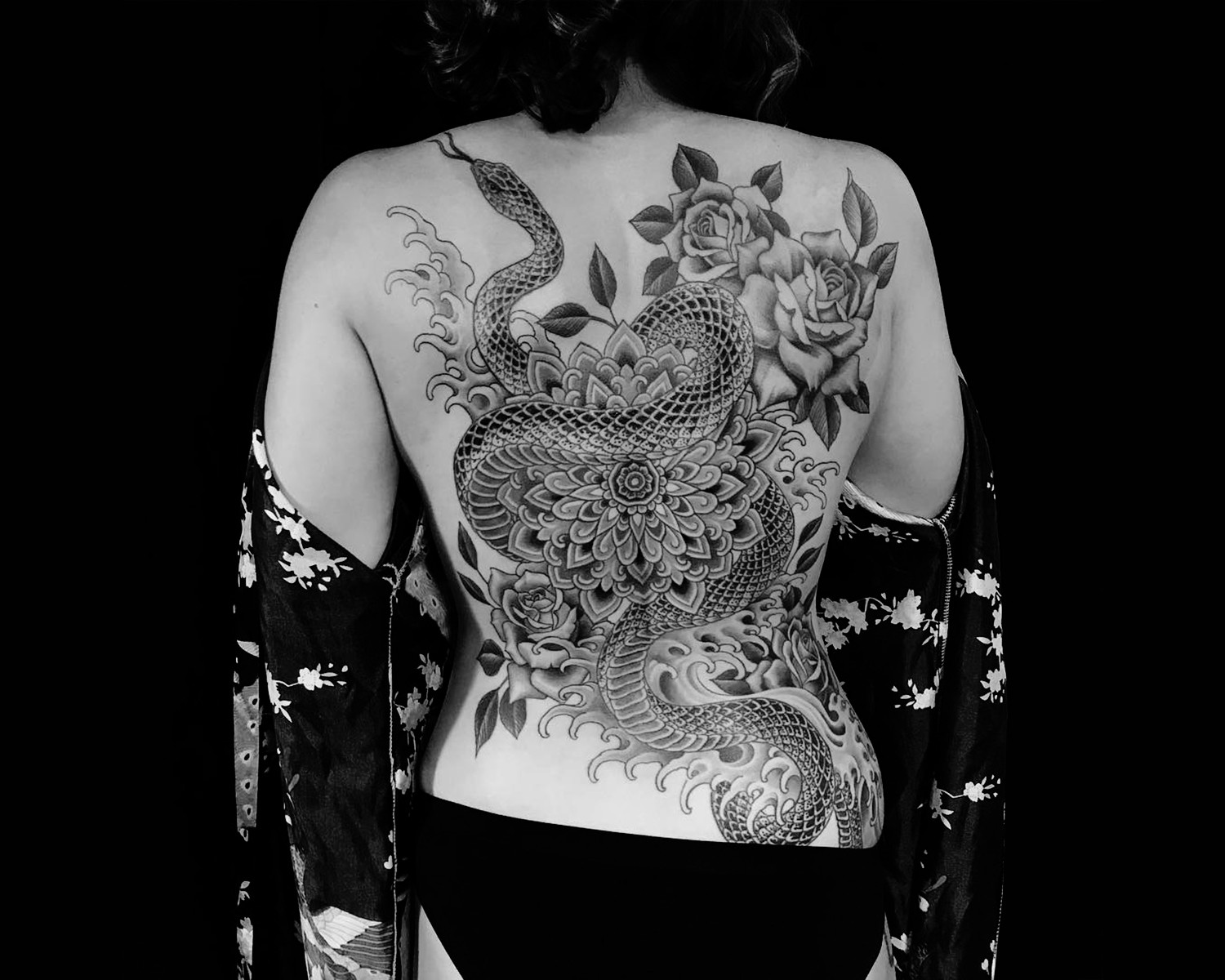 Garver inked this epic back piece for Clarissa, her first tattoo ever!
So you were working with tattooists that were probably more advanced than you?
Definitely. Yeah, everybody that I worked with were people I felt were way more advanced than I was, so I had to play some catch up. But it was great. The artists that were always there—Mike Ledger and Scott Harrison—they were awesome to work with. And we'd constantly have great guest artists.
Adorned owner Lori Leven was focused on the business side, which facilitated that you and colleagues concentrated on the creative side.
Yeah, she was really good at that. I think that's one of the greatest things she did, making tattooing really comfortable for the artist. She catered to the artist and she knew how to do business too. Normally, the guys I worked with … [pauses] was like a working on a pirate ship, and then all of a sudden it was civilized, almost.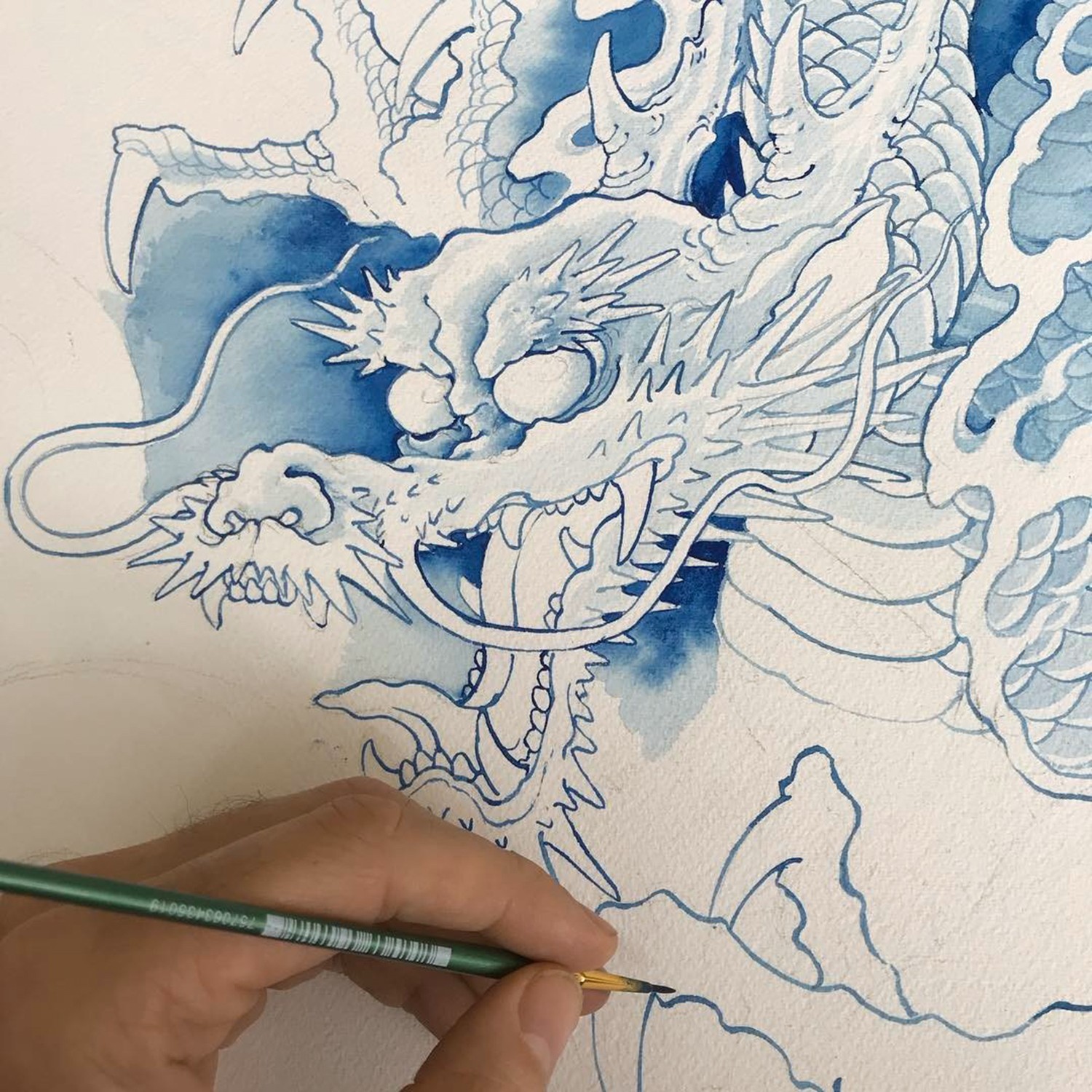 A work-in-progress by Chris Garver.
Much has changed since then.
Before she did Adorned, I don't think that any shops had helpers, like assistants, people that cleaned after you and bused your table. Before, it was like you did everything yourself.
So you did a lot of cleaning.
Now the tattooers are all spoiled. We all have people do things for us.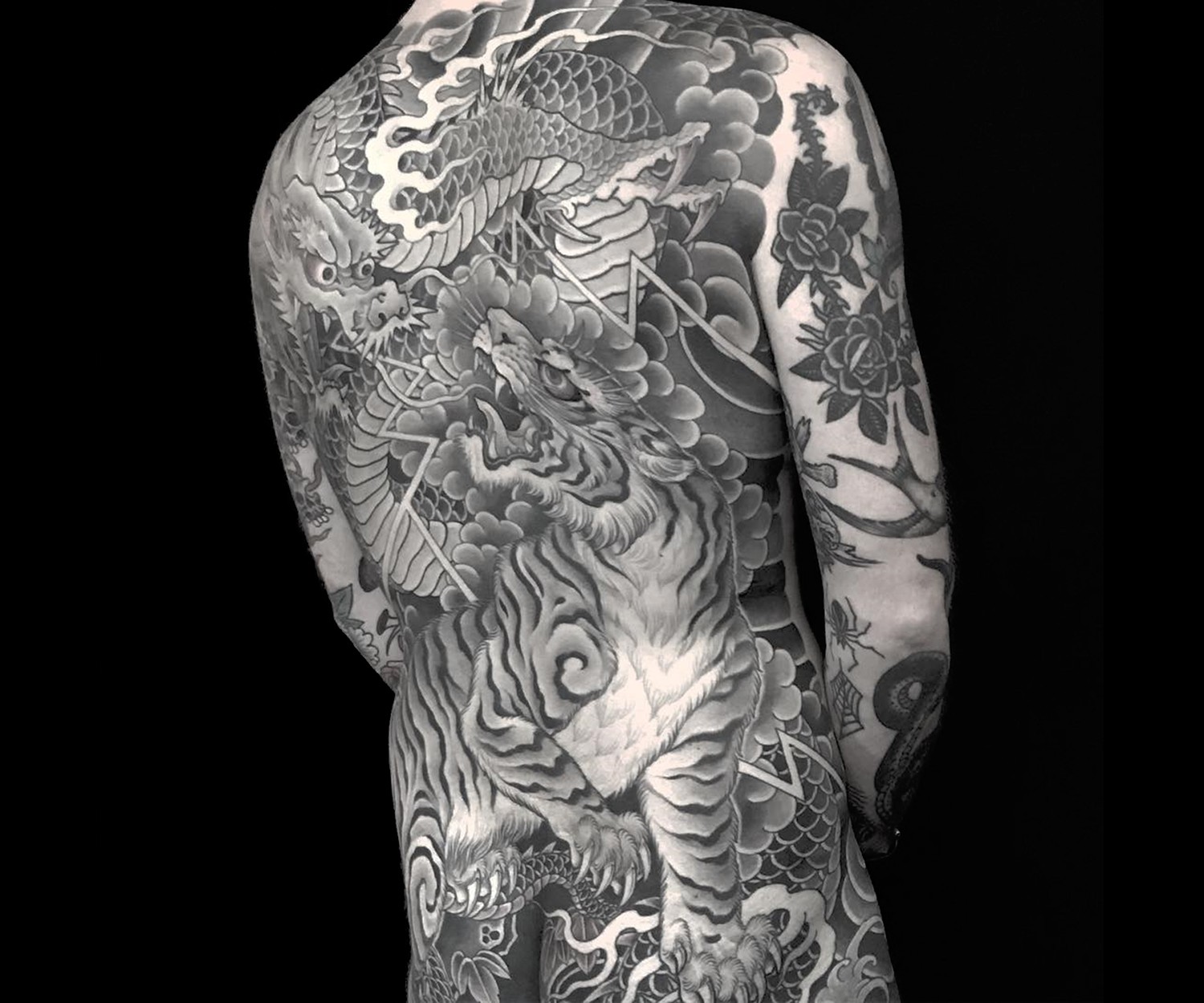 A gorgeous black-and-gray art piece for client Nick.
Still referring to the 90s and your first-person experience of that time. Why did NYC take longer to evolve its tattooing scene in relation to San Francisco?
I think one of the things that kept New York back a little bit was that it was illegal. I think that a lot of people probably are scared to tattoo in an environment where you're doing something criminal. So guys that were more artsy, maybe they didn't want to deal with getting arrested for tattooing, or tattooing unsavory people.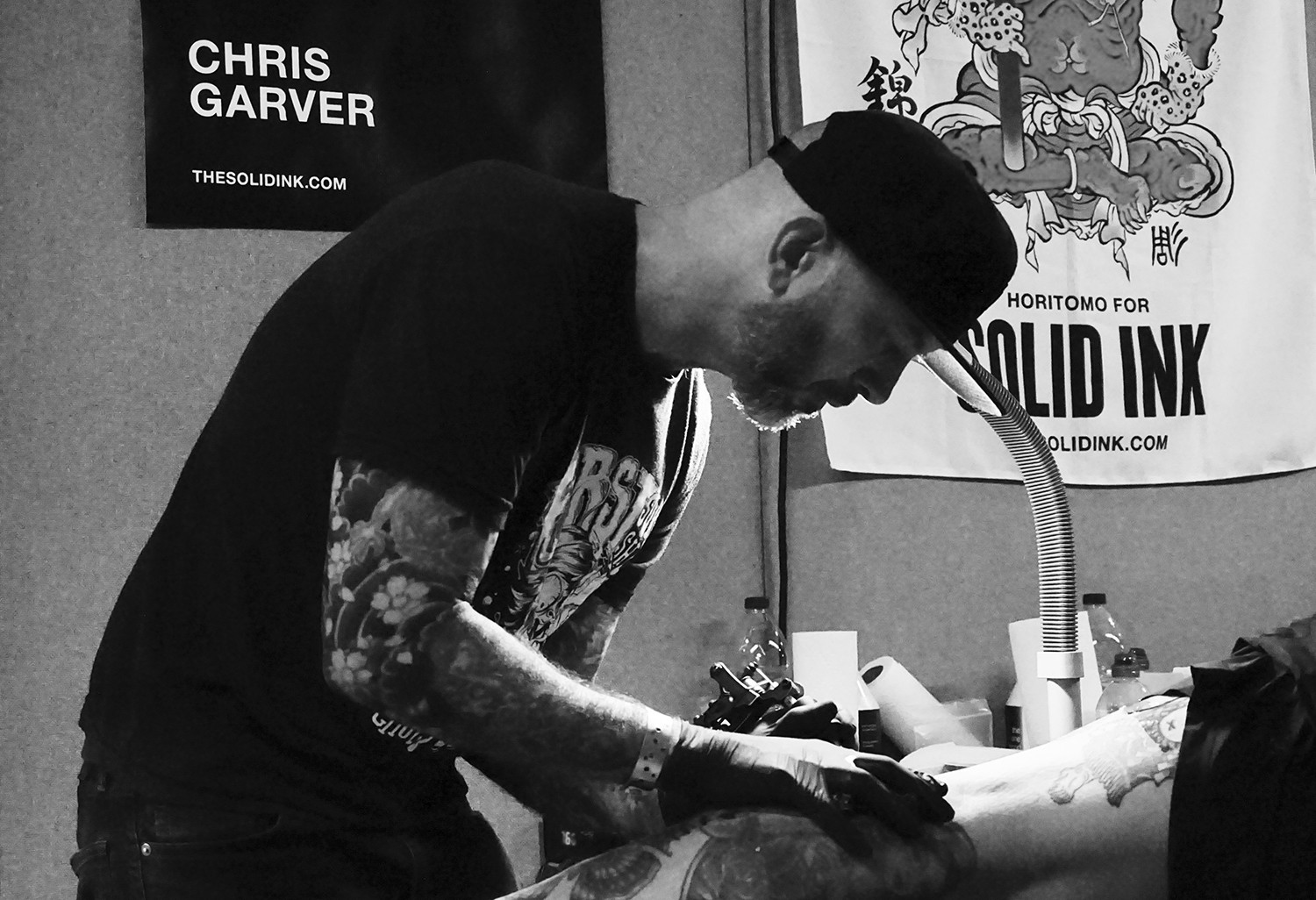 Tattooing a client at Tobacco Dock in London, UK.
It was almost like doing graffiti in the 90s.
Probably! Yeah, I think doing something illegal stops many people from doing it. [Laughs] I almost preferred it, it was more dangerous.
There's more adrenaline involved.
It kept timid people away.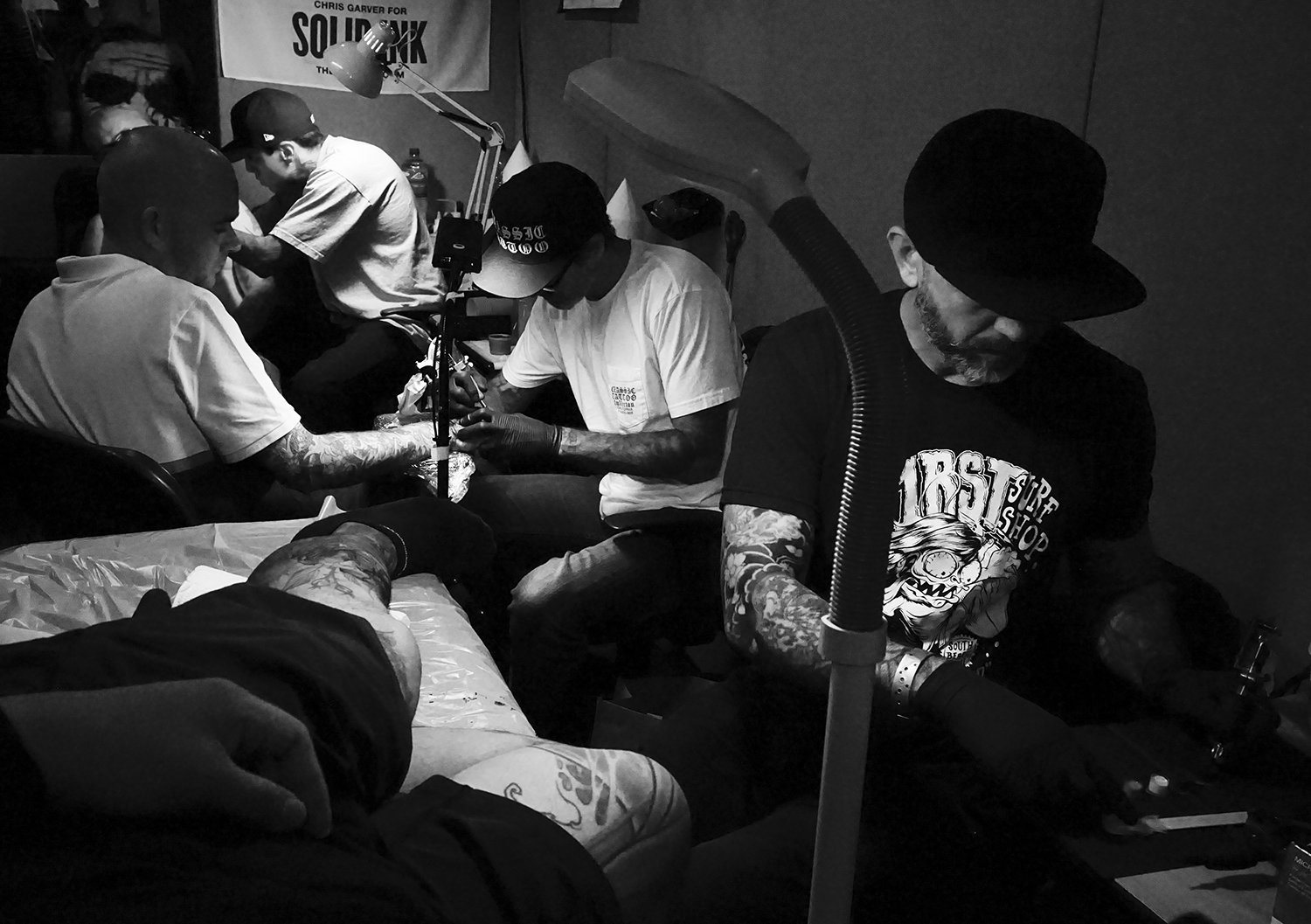 From left to right: Javier DeLuna, Tim Hendricks and Chris Garver representing Solid Ink.
Did you ever get arrested because you were tattooing?
No, I never got arrested. But once my boss Jonathan Shaw was like, "You know what? Let's just do it openly. Put a tattoo sign in the window." And we were like, "All right, let's see what happens." And then I remember one day a cop came in with his uniform on. I was like, "Oh, here we go." I was like, "Hey, how are you doing?" He's like, "Yeah, I was wondering how much a Jesus head is?" And I was like… [Laughs]
You were lucky!
Yeah, he didn't care. It would have been the health department that we probably had to watch out for.
More or less in what year did they start changing the laws, so that you could open a legal shop?
I think it was 95 or 96, then tattoo shops just started popping up everywhere. (It was kind of awful!)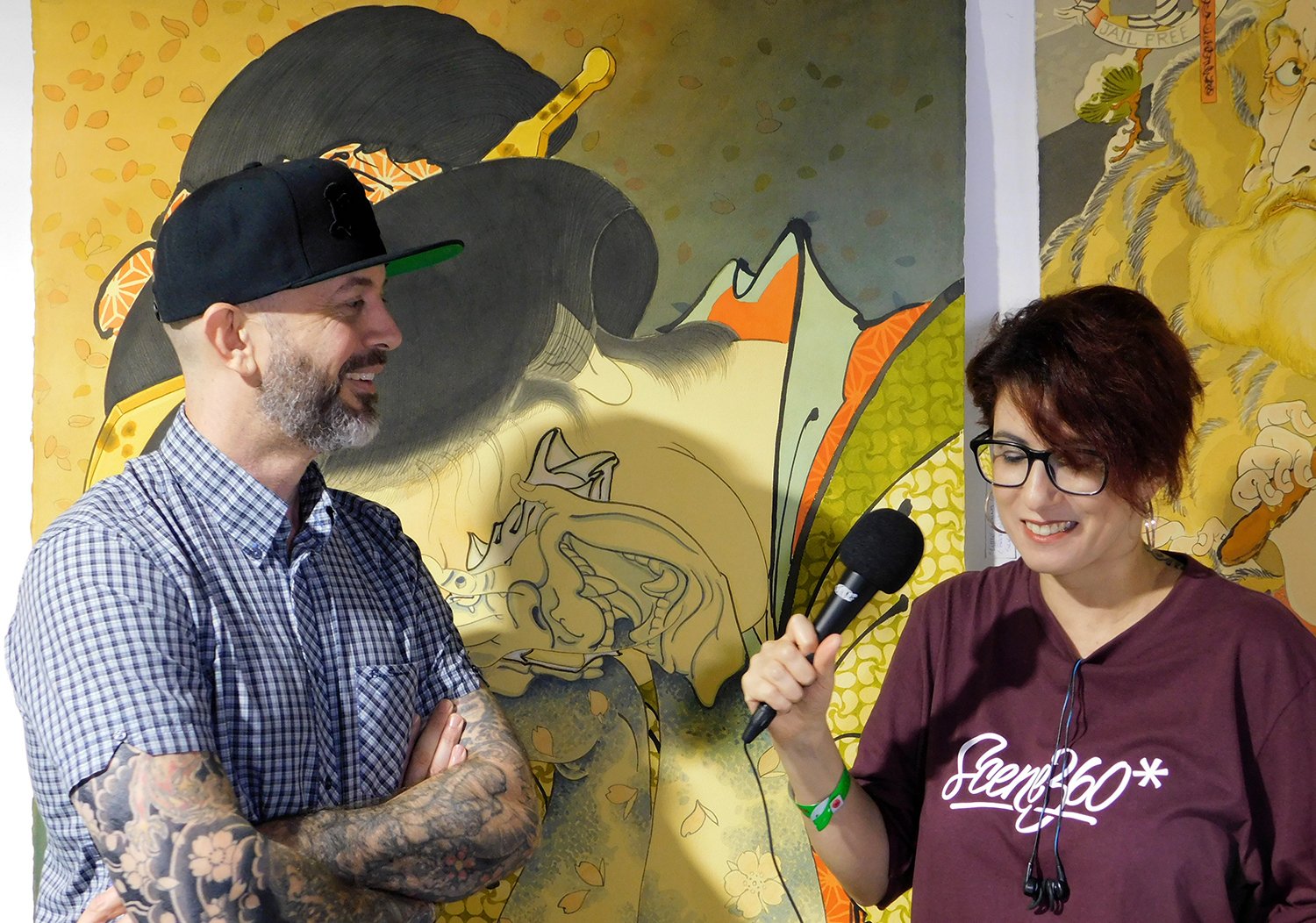 Chris Garver being interviewed by Adriana de Barros in London, UK. Art in background by Mike Dorsey.
Did you learn anything from tattooists who were working San Francisco, at the time?
I did. I actually like Ed Hardy, Eddie Deutsch, Dan Higgs, and Freddy Corbin. But I think a lot of people do, and the "chrome toaster" thing and everything was sacred (with a crown of thorns around it). I never got into it that much. I did a few "chrome-y" [effect] looking things, but I didn't really get into the weirdo stuff.
You mentioned in the 2018 Viceland documentary that, "tattooing deserves respect as an art form and I think it has achieved that." Please explain more.
It has a universal acceptance and the quality of the art has definitely elevated quite a lot. I think it's still underground art in a way. There's a lot of tattoo exhibits and museums. There's tattoo artists that have exhibited in all sorts of high-art places.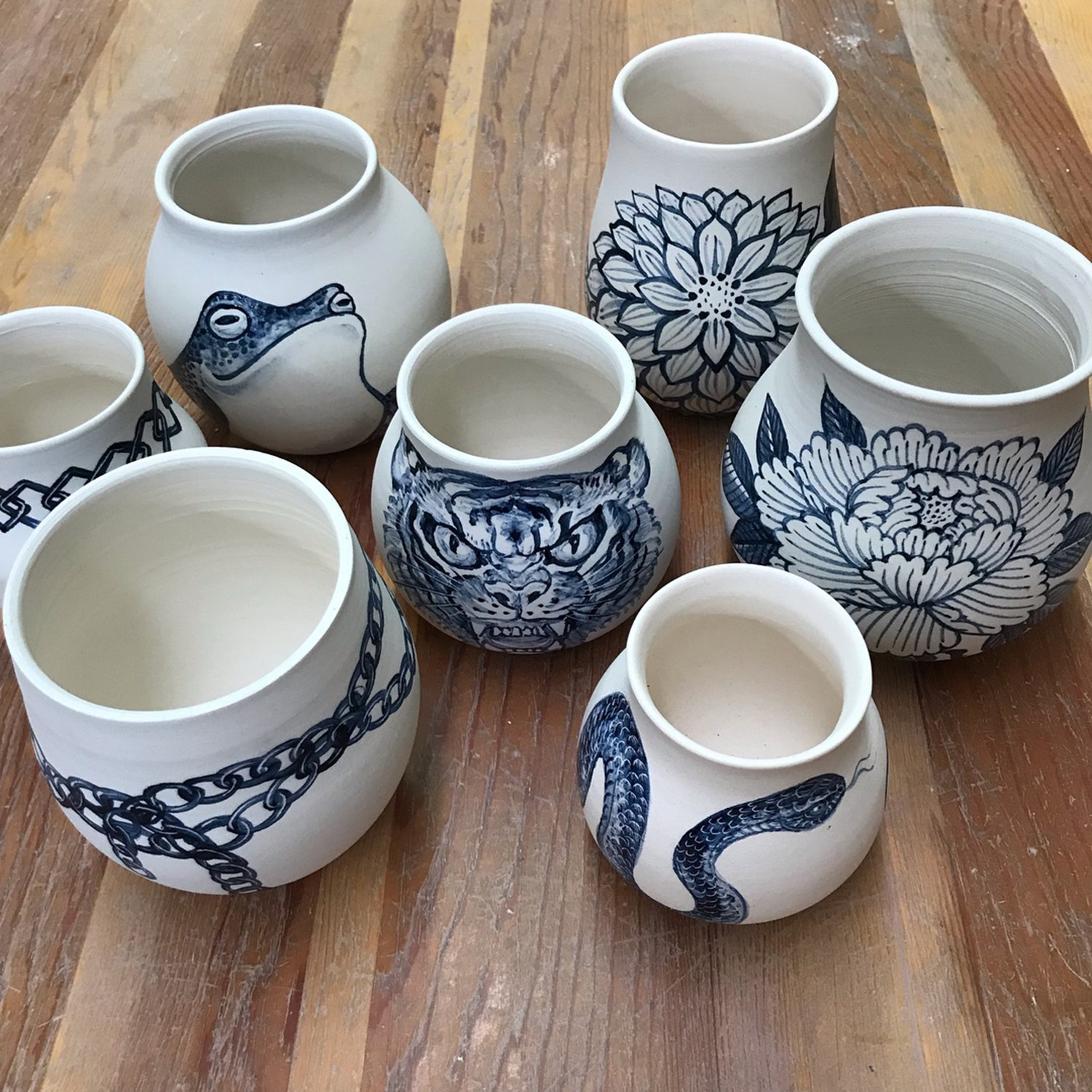 Inspired by Dutch pottery, Chris Garver has painted these items and selling at Five Points NYC.
Like Ed Hardy's recent art show at the de Young museum.
Yeah. Ed Hardy, Dr Lakra… We had a show here at the Somerset House—a pretty prestigious place. So, [basically] tattooing went from the gutter to the top.
Pottery Art, Paintings, and Tattoos © Chris Garver.
Convention and Interview Photos © Scene360.