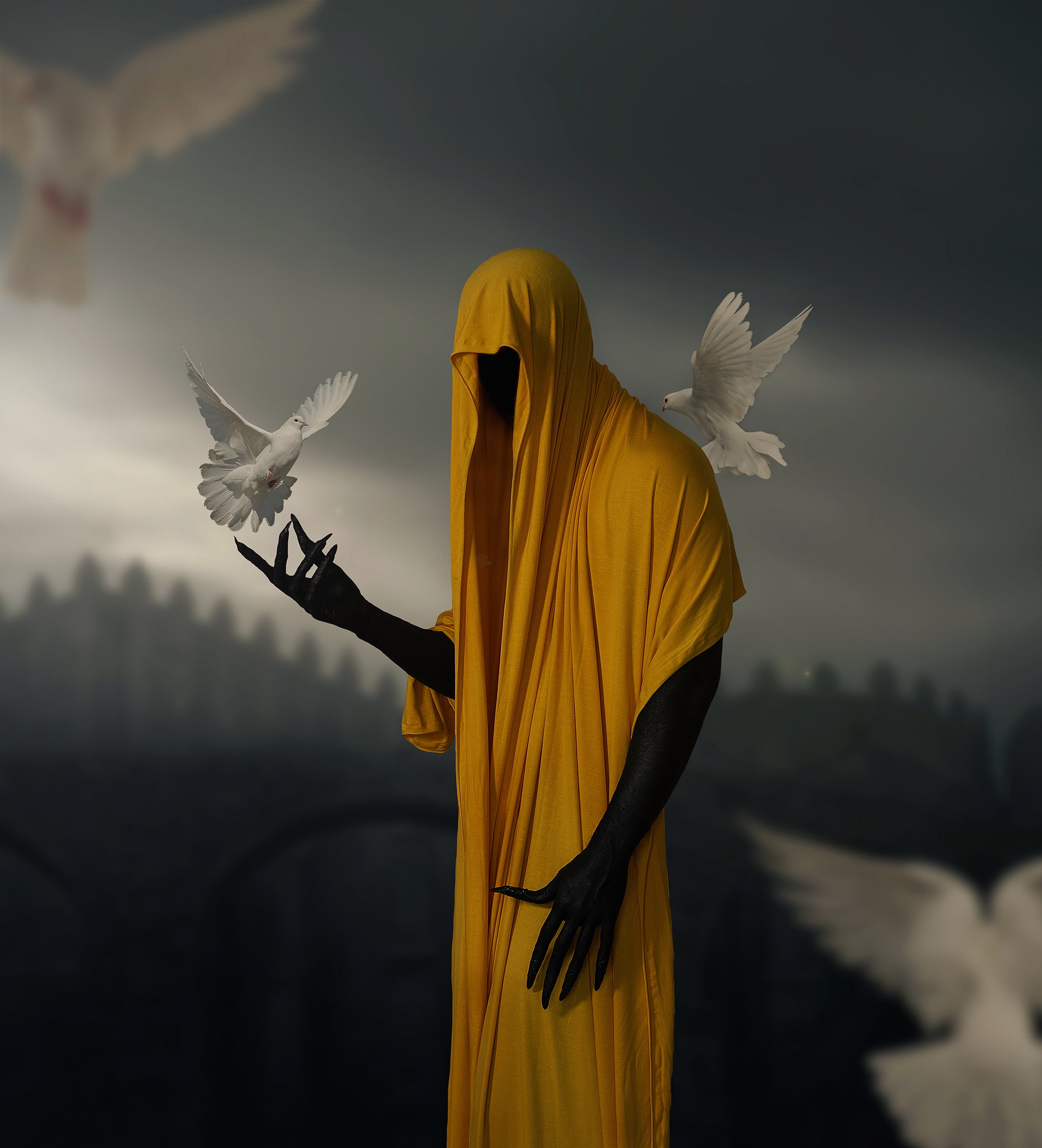 American photographer Kavan the Kid has expressed his disquiet emotions in the surrealist imagery that he produces.
Fears, anxiety, depression are aspects unfolded in his visuals, and he talks openly about these personal struggles in this interview. He has collaborated with Human Code to create a candle with his artwork, to be sold online and raise awareness of TWLOHA (a nonprofit dedicated to helping people with depression, addiction, self-injury, and suicide).
Although 2018 was the year he hit-rock-bottom in his personal life, Kavan the Kid is now arising from the ashes like a phoenix—a new life and new art—as he prepares a photographic book for release in January 2020. He will be publishing his most personal art pieces in it, and explains it will include "both metaphorical and literal images that depict my past experiences, emotions and perspectives. It's a large self-reflection piece that also looks outward at those closest around me."
Above: "I Won't Let You Fall" is one of the visuals that will be printed in his new book.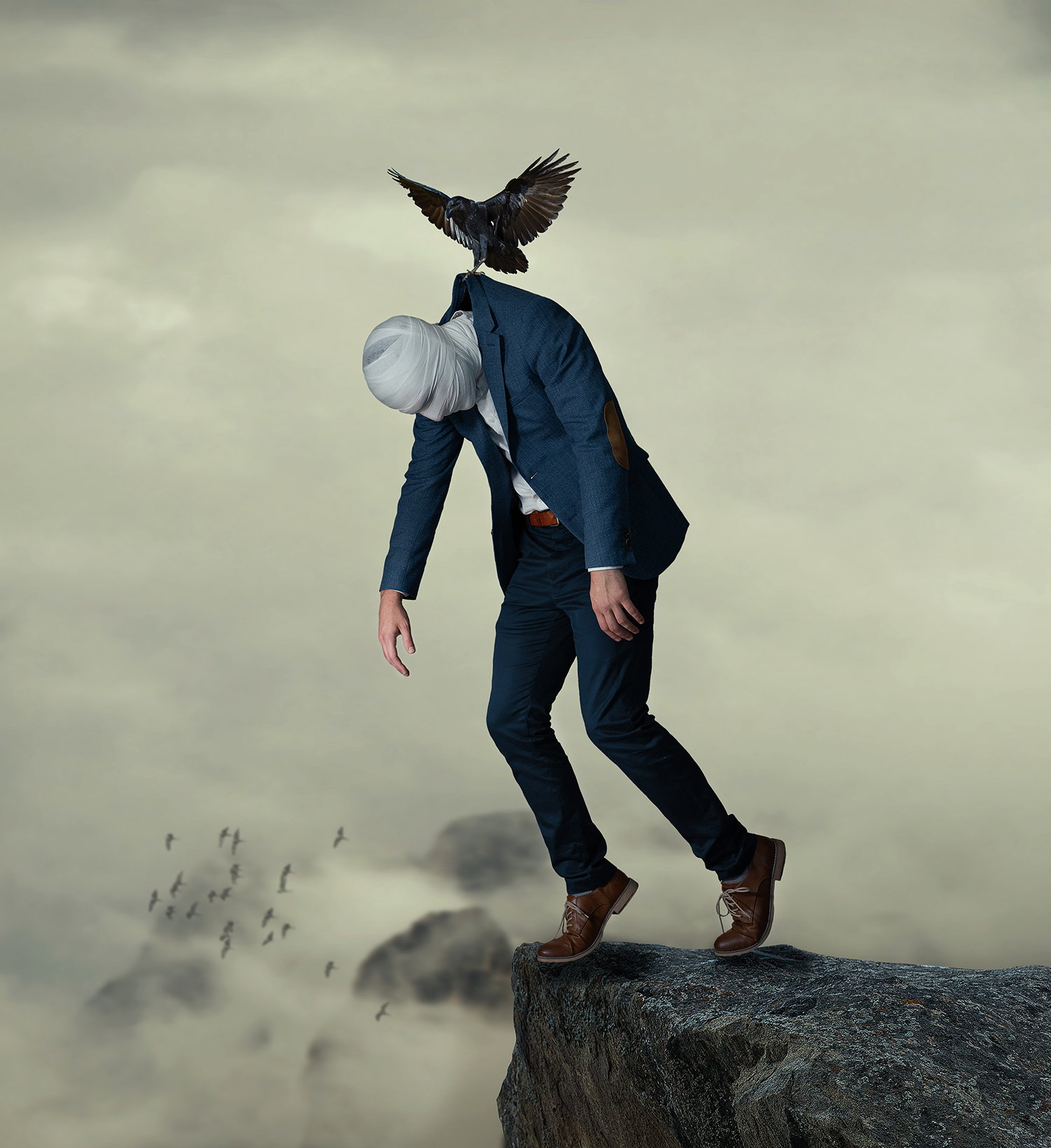 In "I Won't Let You Fall" the crow is represented as a savior and not as the grim reaper.
You are back with new artwork! "I Won't Let You Fall" (shown above) and "What We Take" (Cover Image) was one of the most popular among your fans on Instagram. Explain about the emotion and theme of these pieces.
Well starting with "I Won't let you Fall," that piece is very special to me and possibly closer to my heart than any other piece. That photo is dedicated to my mother. It was created with her in mind. It's a reflection of all the times we feel on the edge, that we were about to fall to our demise and yet, there is someone to lift you up. To save you. The reason I chose to use a crow above any other bird is the crow is always related to death. The crow is wonderful creature and I wanted to display it as the hero. Have it related to life as opposed to death.
"What We Take" is another photo that holds a special meaning to me. It's essentially the opposite of "I Won't Let You Fall." The photo is a metaphorical representation of how we live off others or how we take from them for our own benefit. That's why I chose doves for this image above any other bird. Doves are pure and I feel represent hope, beauty and innocence. To have them flying around this monster-esk character, if the photo were to come alive like a film, the monster would suck the life from each of them.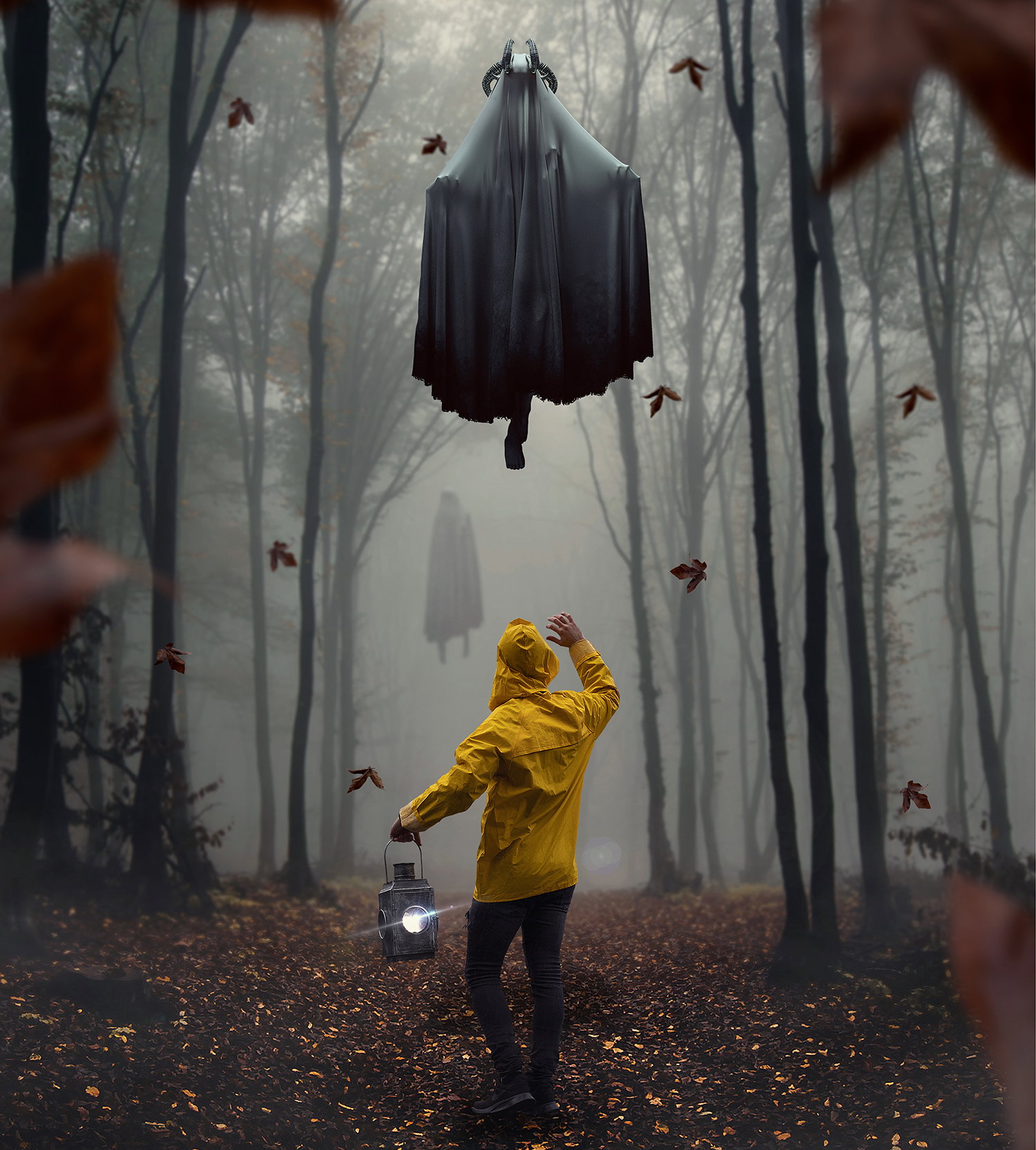 A mysterious, surreal scene ("The Road less Traveled") photographed and digital edited by Kavan the Kid.
There is computer editing to your photos, however, there is also a time-consuming process of setting up the scenes and photographing them. Tell us more about the latter.
Time. How I wish I always had more of it. Each process has it's own duration and must be done in meticulous steps. Usually most if not all the subjects are shot in my studio that is in my apartment. During that process I will light the subject to match the background or the layout of the image. The background is either created from a multitude of assets to create a single piece, or they are images I have shot while exploring. I've found the composition side of life is most beneficial for creating surrealism as nothing is outside the realm of possibility.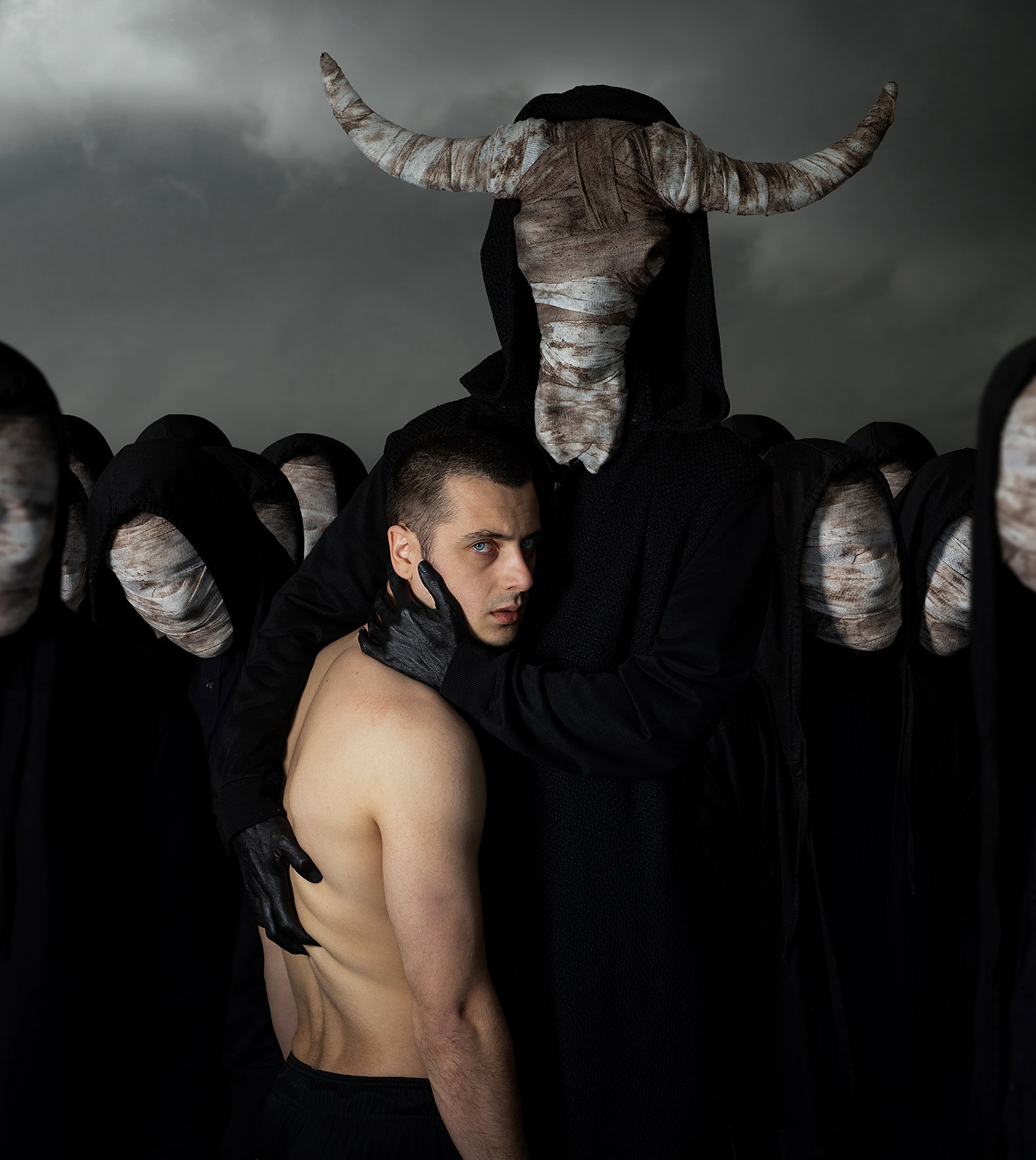 Titled "As much as we try to be different. We still end up all the same."
One of our missions at Scene360 is to raise awareness about mental illness by speaking with artists who have had depression or other, and have found better coping methods. How has producing art helped you?
Producing art has saved my life. On multiple occasions. A question I seem to get often is why my work is primarily so dark. My work for the most part is a reflection of my experiences, emotions and perspectives. It's a vessel that I have been able to put these feelings into, to almost in way remove them from me. Taking the pain and putting it in the imagery.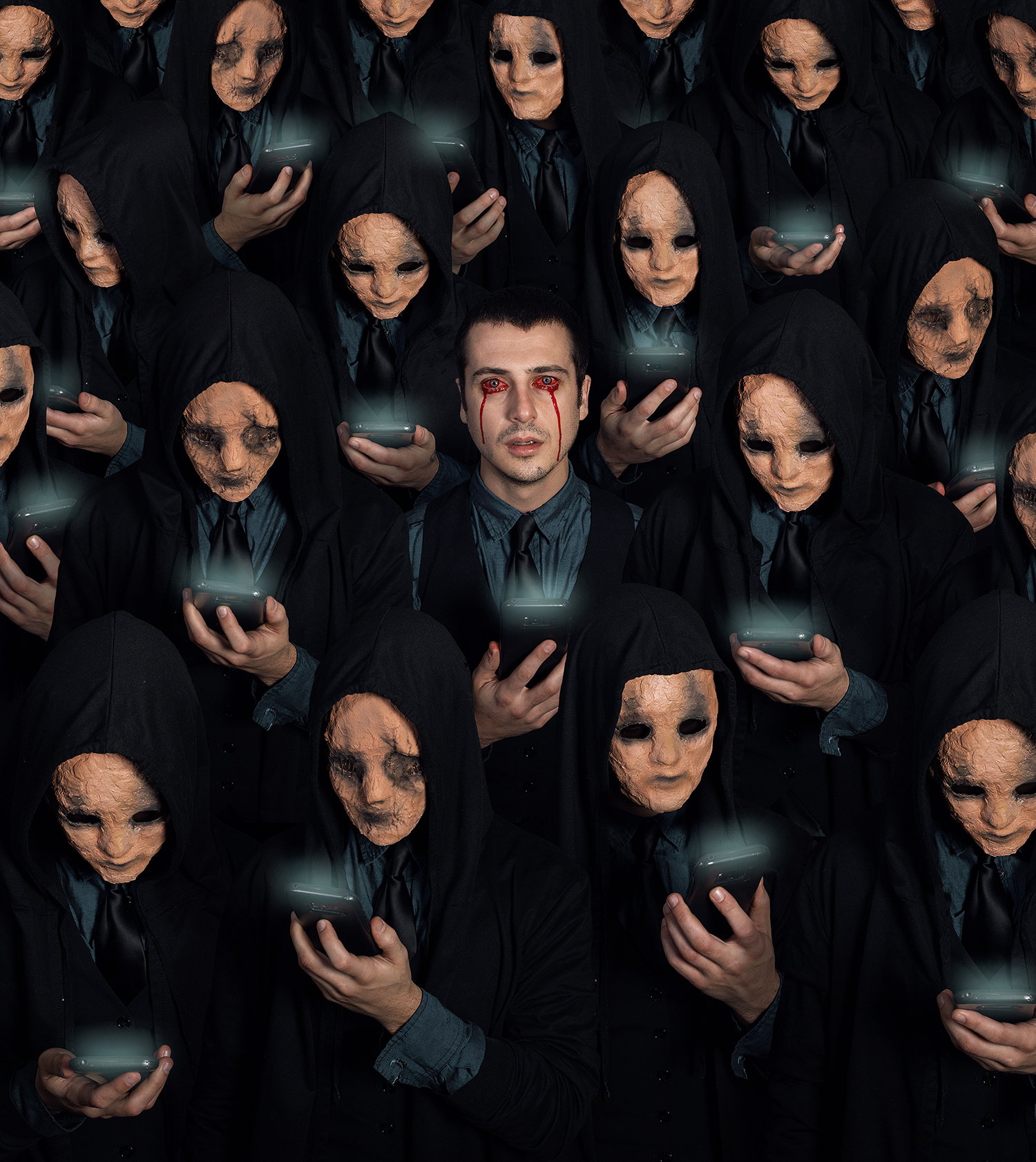 Another in-depth title: "Remember when we were young, we were rich with imagination. Now we have black holes for eyes."
Other than being involved in the arts, what advice can you give readers struggling with mental health issues?
First and foremost you are not alone. There is always someone who cares for you. There is always someone who wants you here and who is willing to talk to you. Second, don't be afraid to admit you need help. It's probably the hardest thing to do and requires great strength. But each and every single person who is experiencing these emotions or feelings has that strength inside them.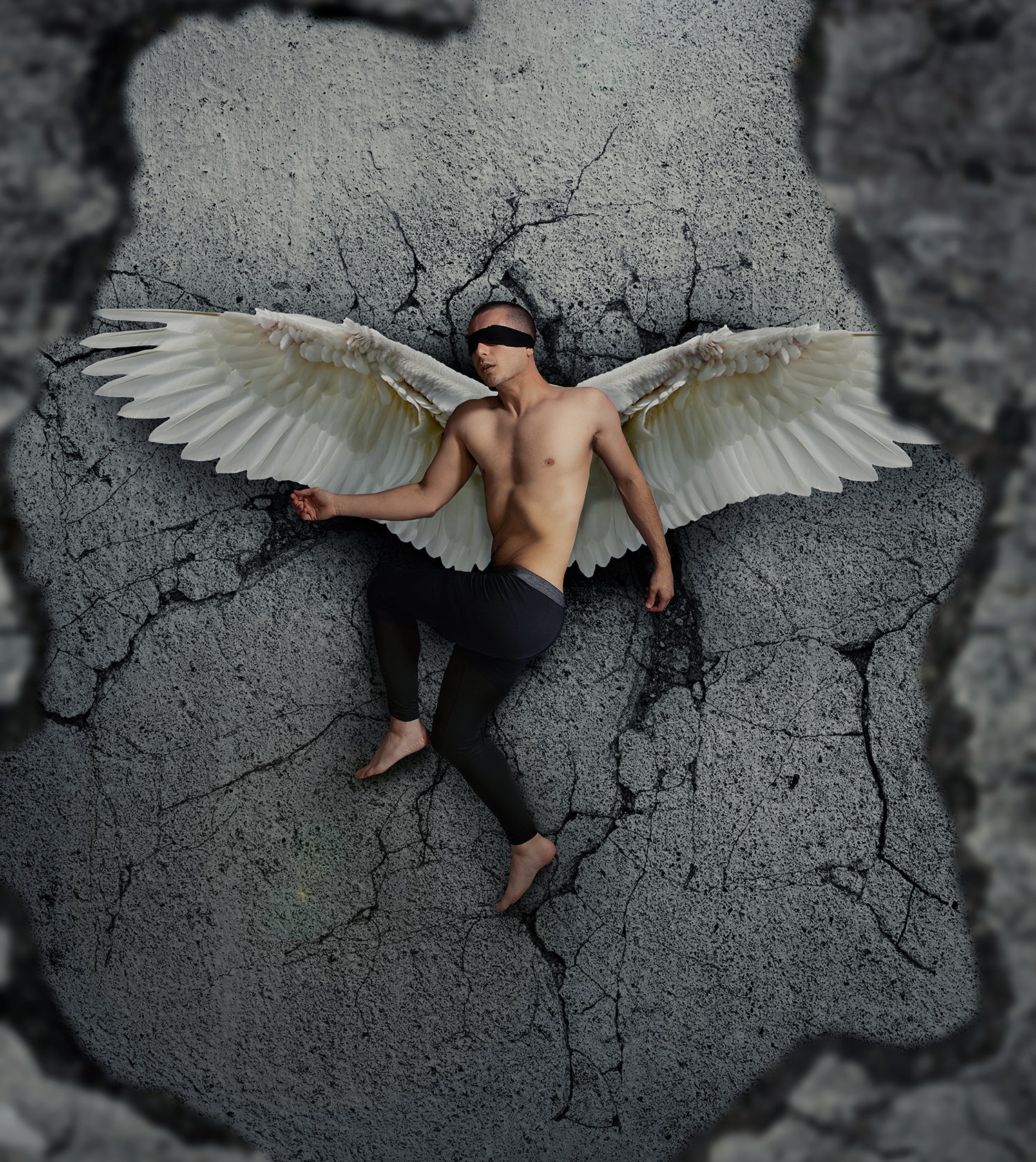 This fallen angel was printed on candles to raise awareness about mental health.
Related with this subject matter, you illustrated a candle for Human Code to raise awareness about depression and more.
I partnered with Human Code, which is a lifestyle brand that makes these incredible wood-wick candles. The company is founded by the magnificent Macaile Hutt and Denny Le. Through partnering with them, they have created a custom candle using my imagery as the label. For each candle sold they donate 5 dollars to a cause of my choice. That is where TWLOHA comes into play as that is the cause I chose. My candle with Human Code launched May 1st and the experience has been extraordinary to say the least.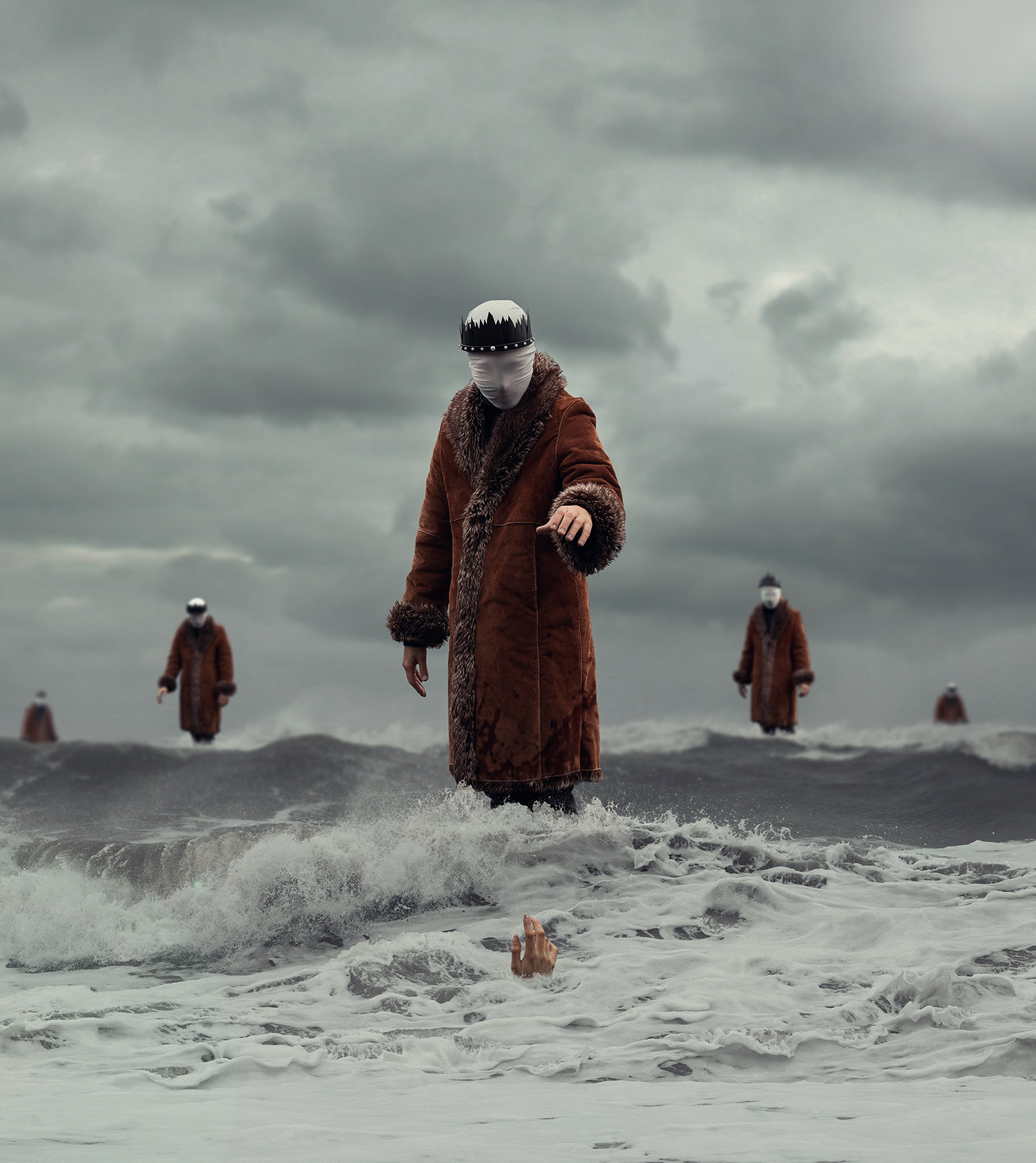 The beautifully dramatic image, "Sometimes we can't tell if we are sinking or rising."
You are working on a book titled, "Stay Inside & Don't let the Dreams Out." What will be published in it, and when will it be released?
Yes! My first ever published photography book is coming!! I can not truly describe how excited I am for this. The book is titled "Stay Inside & Don't let the Dreams Out." It will feature the 50 images I am releasing this year across my social platforms as well as 10 images that I will never release online and will be exclusive to the book. Along with the imagery will be captions/poems and small stories pertaining to the work. The book is schedule for release February 5th, 2020. But could be sooner. We'll see 😉
Images © Kavan the Kid