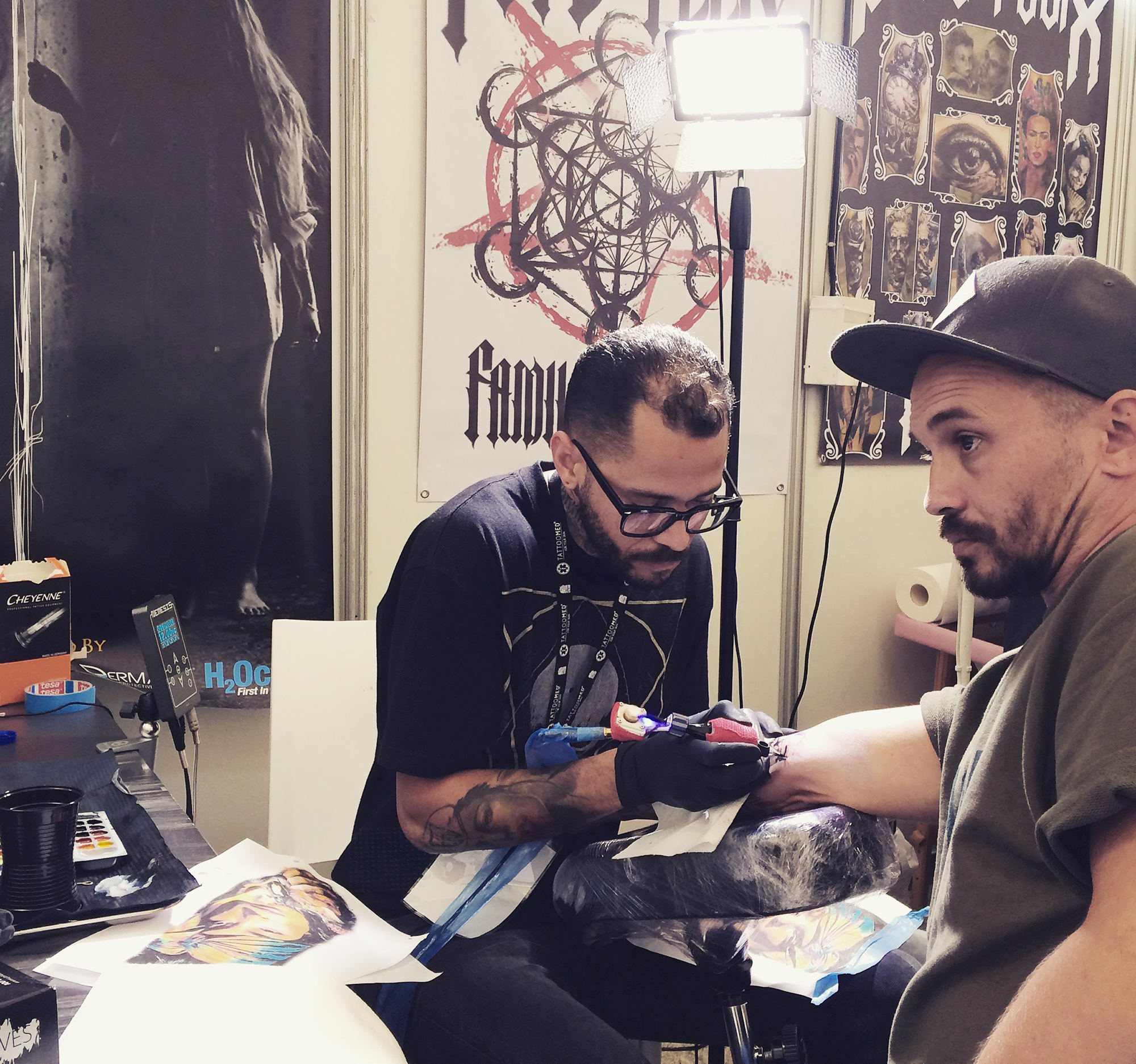 Thinking I was going to meet a mega-rock-star personality at the convention, Mauro Amaral was extremely different from what I was expecting. He was not over the top, but actually down-to-earth and appreciative of all the experiences he has had at conventions.
He was a rock star for being sincere, his true self. I had pointed out during our interview that he had a beautiful Dali tattoo on his arm, and he quickly replied with honesty, "I know nothing about Dali, I never read [about him] and never will. I don't want to know about Dali. I just like what he represents [aesthetically]. But I refuse to read about him. I know almost everything about most painters, but since I am a geek, and I like the guy … heard some good and bad things about Dali, I decided to never know anything about him."
Amaral was one of the first artists to be invited to the new Setubal Tattoo Show, presumably because he is one of the best photorealistic artists in Portugal. Below you can see the tattoo he concluded at the event, and also read more about the artist in this interview.
Above: Mauro Amaral preparing to tattoo a client's arm, it was a 2 to 4 hour session.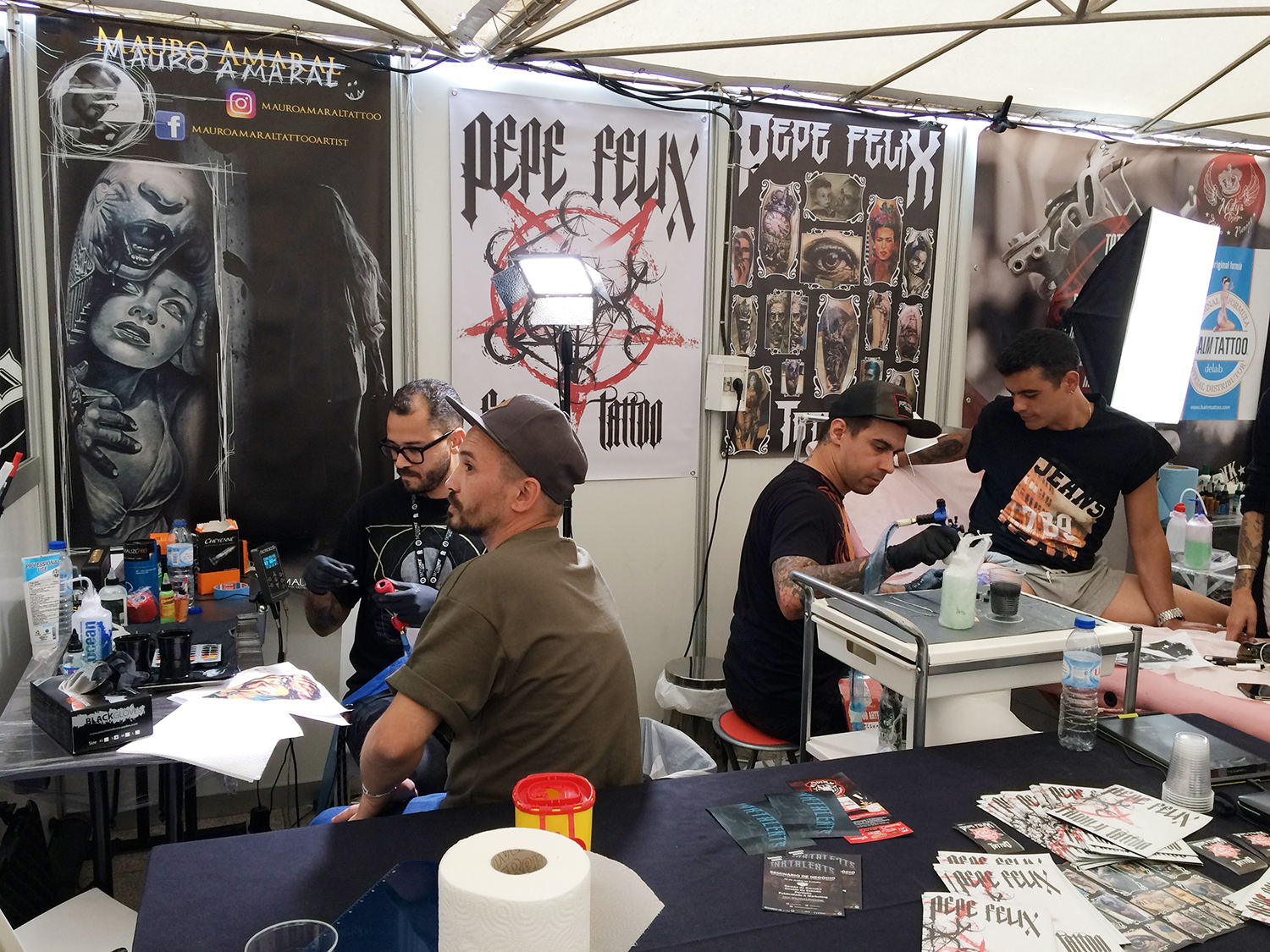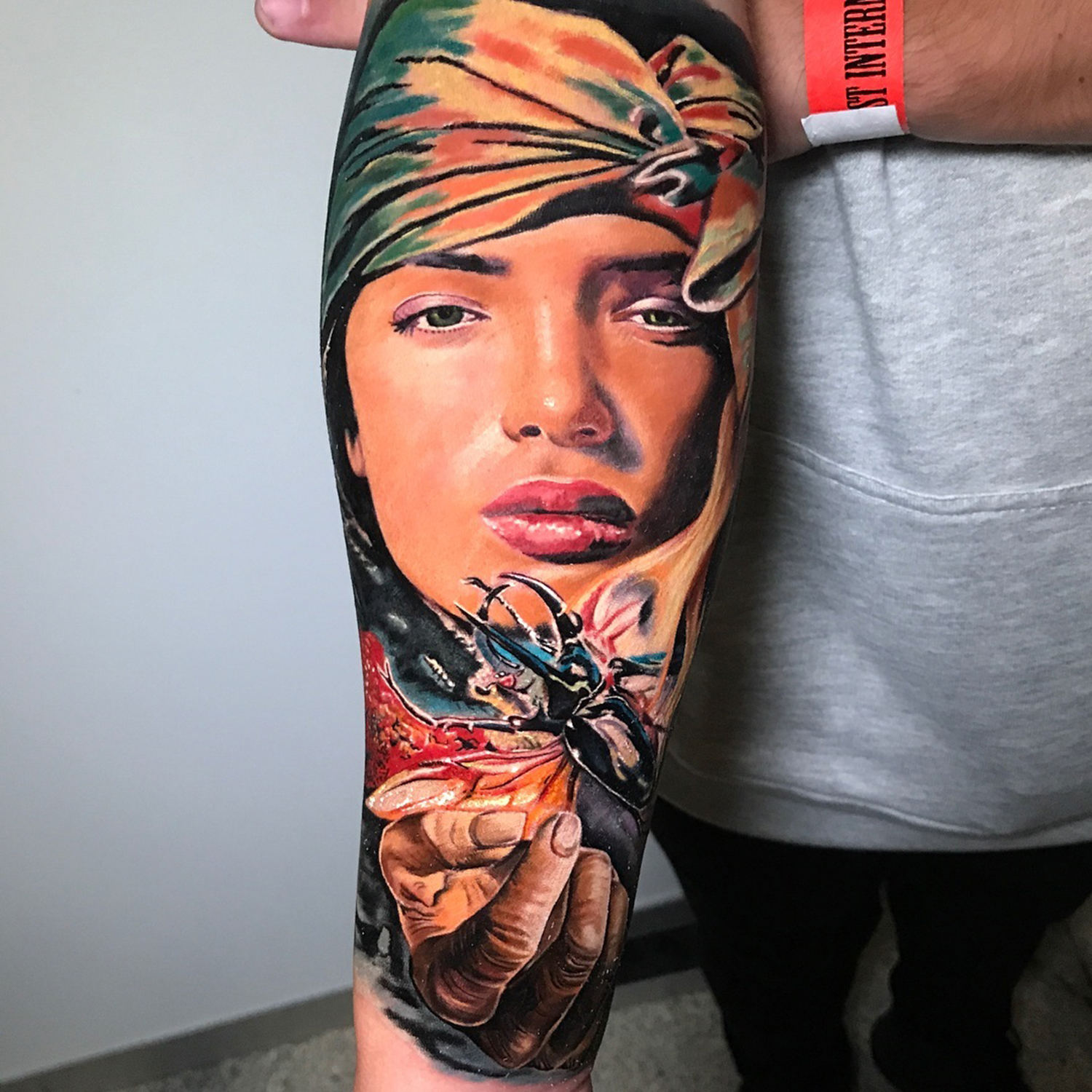 Up close the layers of colors were truly amazing in this tattoo done at the Setubal show.
You've been to numerous tattoo conventions. What is special about these events?
I like participating in main European events and some in America, because it is an opportunity to be among my favorite artists and a chance to really meet them. Hang out with these guys and exchange experiences. I think that is the main prize that we can get from these kinds of events.
Portugal's tattoo scene is growing, and now there is a new event here in Setubal. Are you excited to be here?
Yes, for me it is a big honor. I was invited since they had the idea of creating this event; I'm here to help.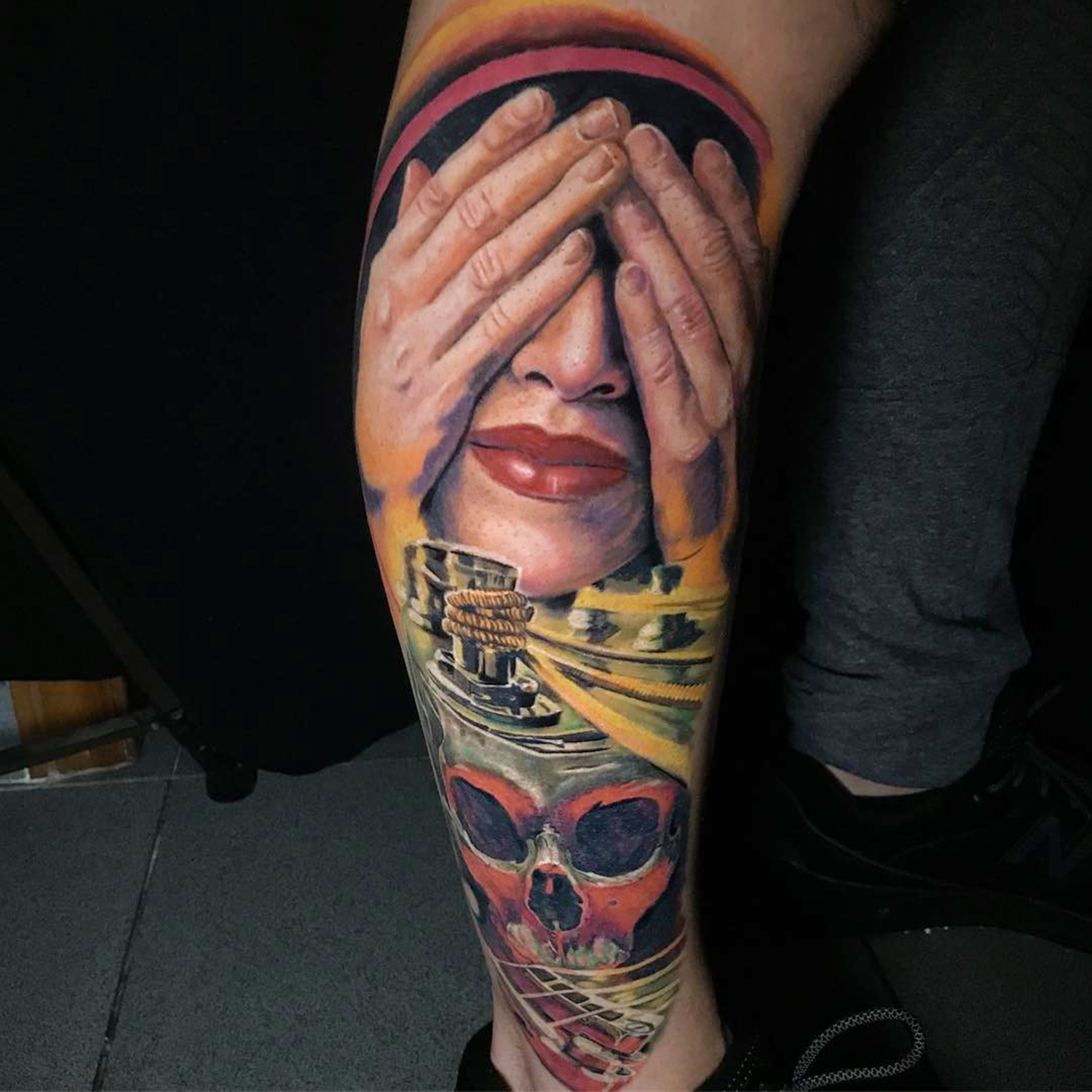 Hide and seek. There are lots of human portraits in the portfolio of Amaral.
You recently came back from the Amsterdam tattoo convention. How was it?
It was nice. It was just one of the other events [I went to]. I had gone to Kiev, Ukraine, that was a different experience going to Eastern Europe. Amsterdam is a really good convention, it is at the center of Europe, so you can find some of the [big] names there. But Kiev is a little bit different. Different people, different economy, and  different ways of thinking.
Was there a culture shock?
I've never had a culture shock. It is more that it is totally different. You have to deal with another economy, you have to deal with ideas that are totally different from what we have here. You have to rearrange things to make it work.
Do you think we are more open-minded in terms of culture?
Yeah. I think the open-mindedness comes from what we see.
They have some of the best tattoo artists, but at the same time, the clients don't ask so many nice [interesting] things, it is always a bit basic like a picture of a lion, picture of a tiger, a dragon … they keep within similar subjects and don't move from that.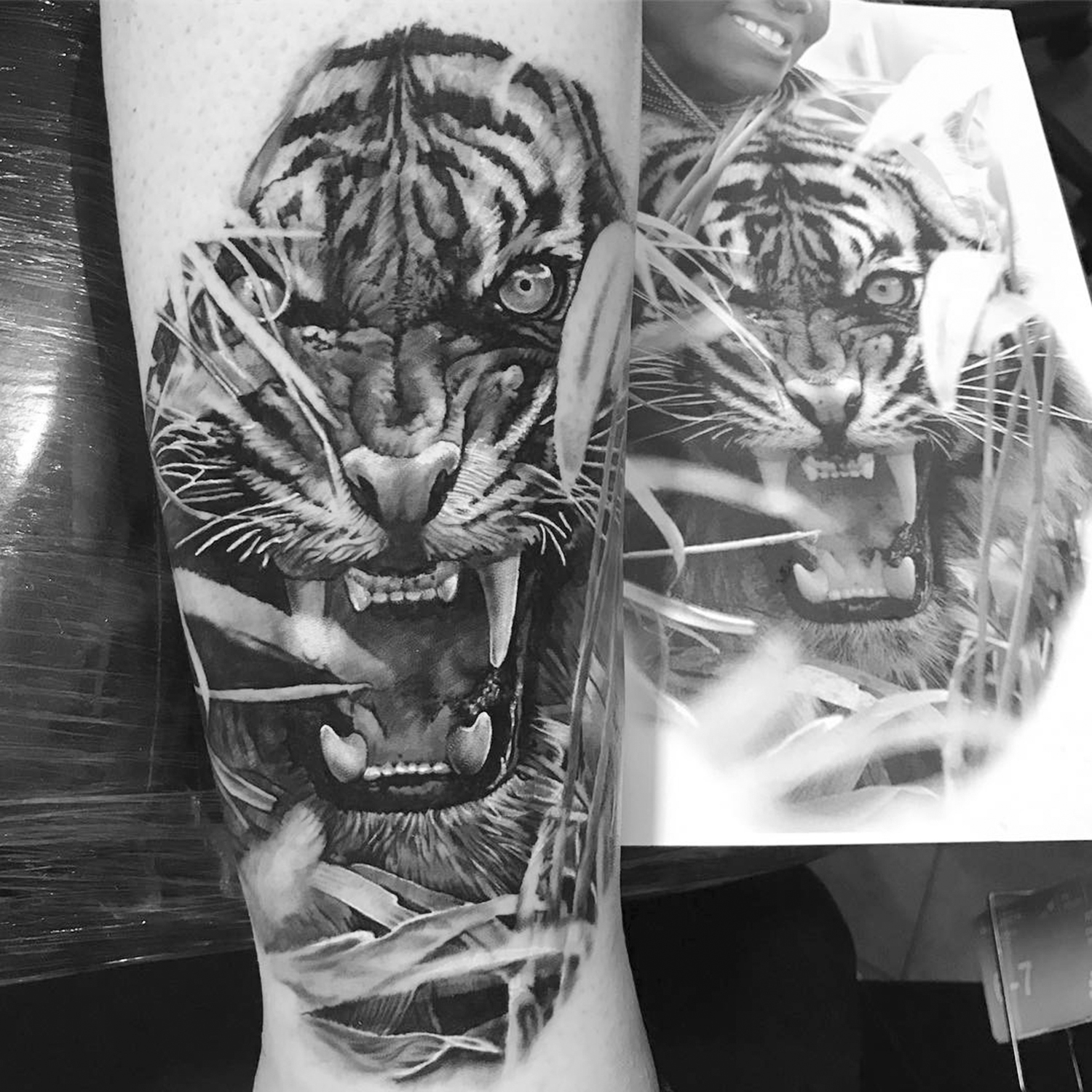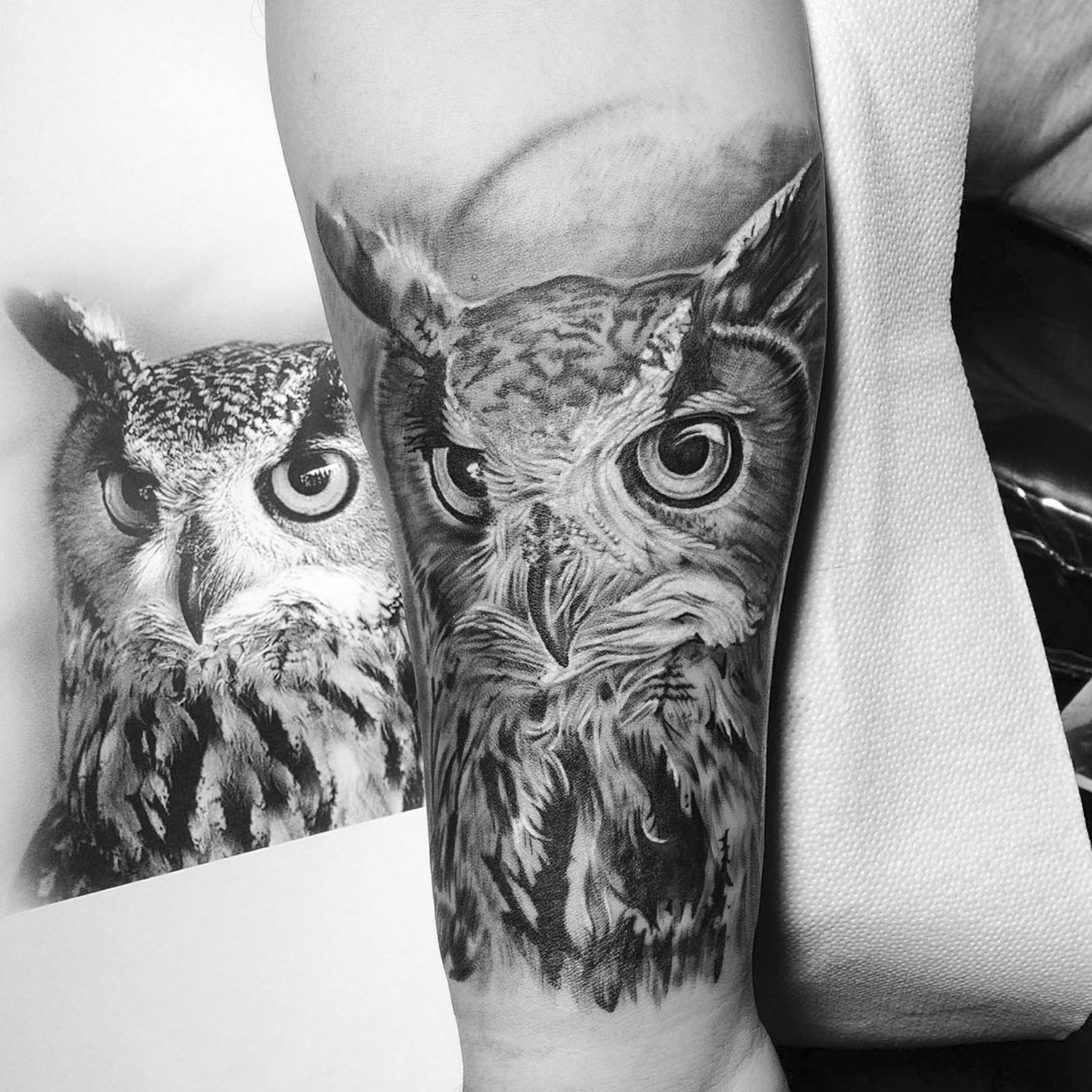 Amaral is great with color tattoos and also black-and-grey ones.
Eternal Ink, Dermalize Pro, H2-Ocean and Cheyenne are names of brands you thank regularly on Instagram. What are the benefits and importance of being a sponsored artist?
That is a difficult question. The sponsors they come to you in one day. At the beginning of your career you start buying material and choosing material. In my case, the big benefit is being approached by my favorite brands. I never tried any another ink—just Eternal. I never tried any other needles—just Cheyenne. I always bought these materials in a day … and then [one day] they approach you and ask you if you want to join the team and the benefits are traveling all over the world; they pay for some of the expenses. One hand washes the other.
Do you think tattooers are the rock stars of the current generation?
No, I think we are basically nerds.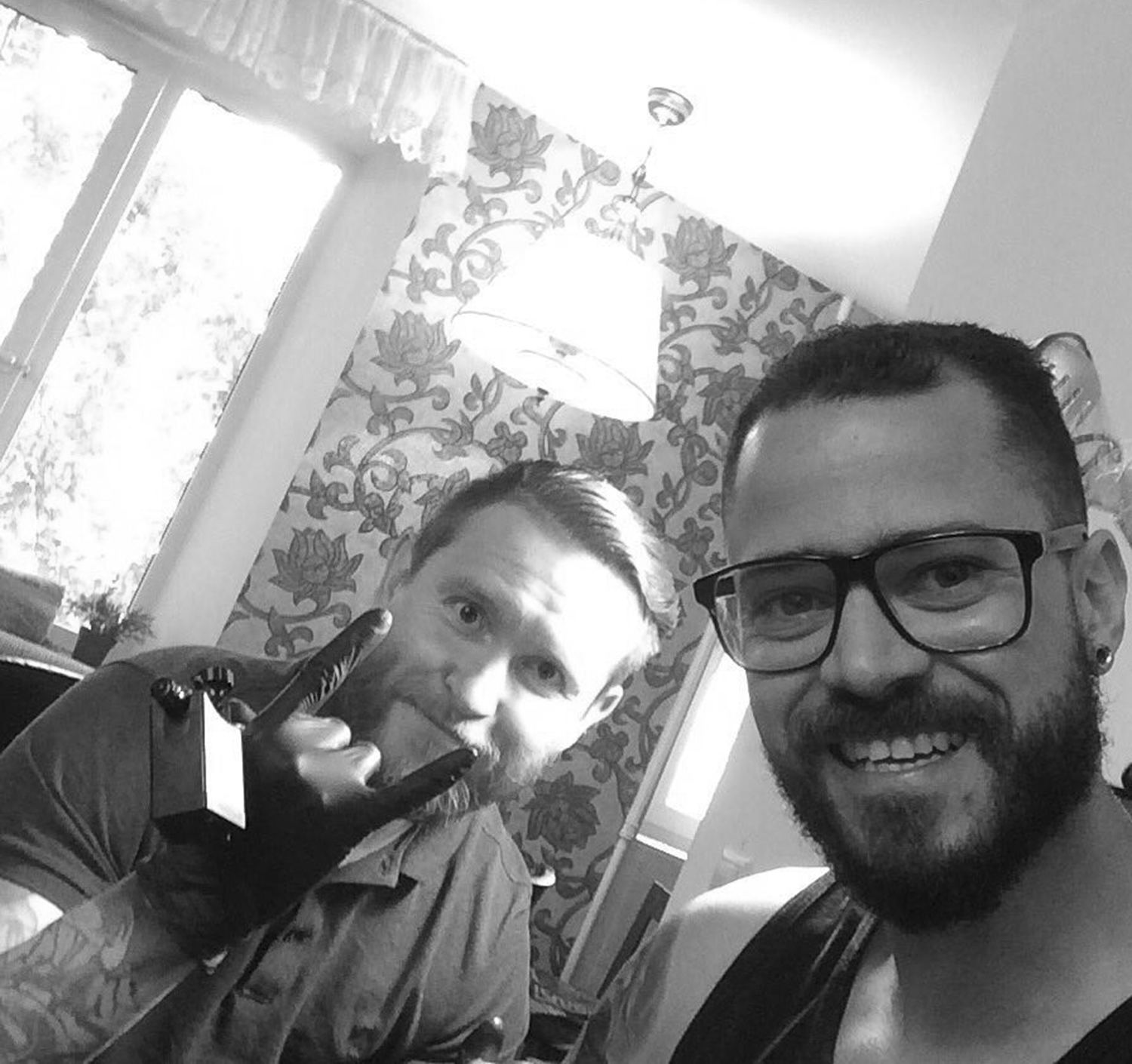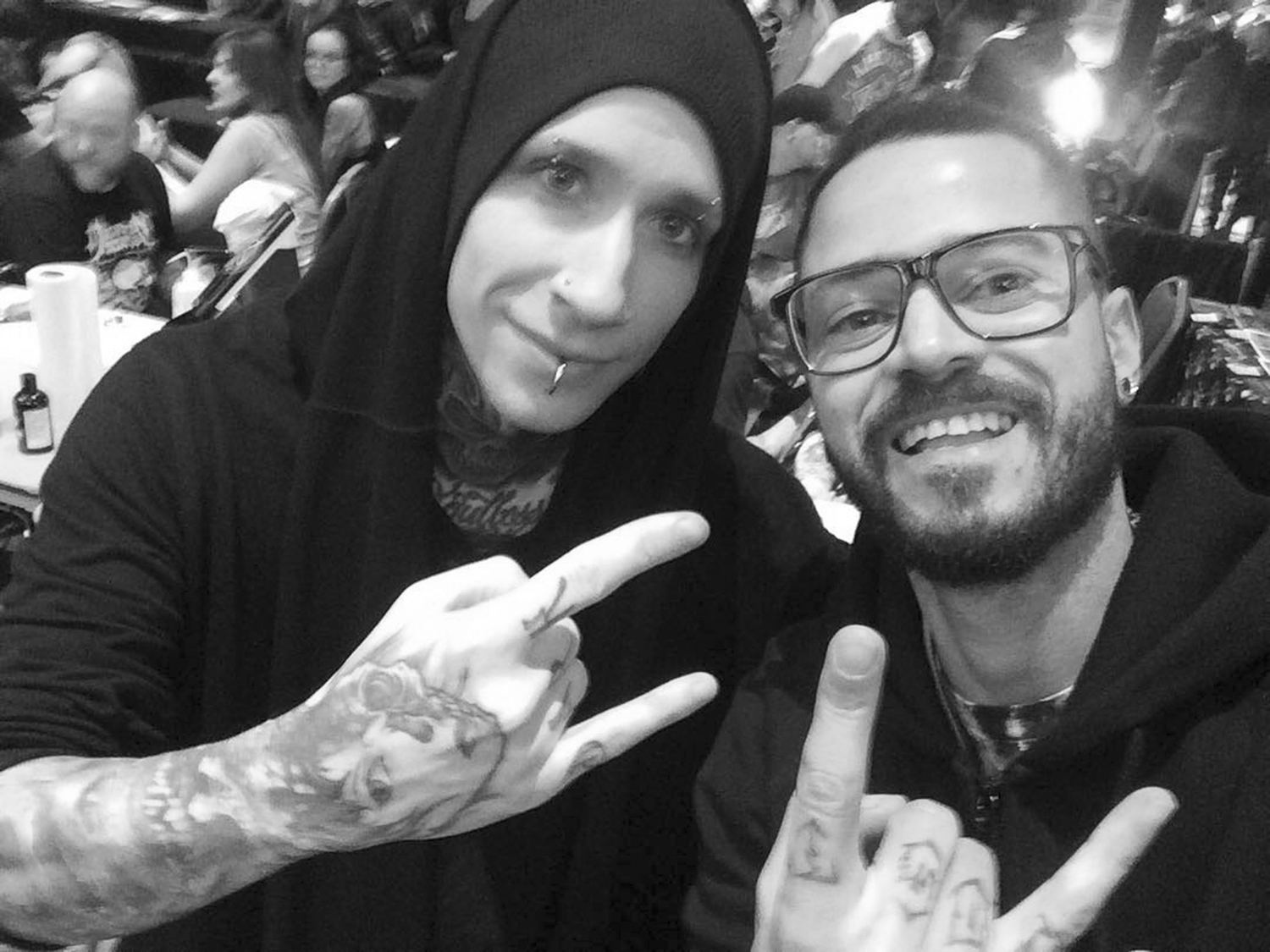 Mauro Amaral meets two of his favorite tattooers: Den Yakovlev (above) and Paul Acker (below).
Photorealism is your expertise.
It is what I try to approach. It is not easy sometimes; I finish some works that are more colorful than I would like. I am studying oil painting and I think with time my tattoos will be less vibrant. I don't want them to be so vibrant. But they finish that way, and I want to stop that.
You got a chance to meet various remarkable photorealist tattooers, like Den Yakovlev, Paul Acker and Damian Gorski. What was it like meeting each individual?
It is strange because everyone is totally different. Like I told you, no one is a rock star. I've been very lucky with all of these people. They are all from different countries. I heard stories before I met them. For example Den Yakovlev I was afraid to meet him. I just went to get a tattoo. I had met him at a convention two years ago. (It was normal, normal.) I even smoked a cigar with him. (It was normal.) No expectations. But on the day of the tattoo, I was really afraid because I always heard stories about him. But when I got there … it was amazing, he knew everything about Portugal … he played Moonspell while tattooing.
Like Paul Acker, one of the famous artists. He is amazing guy, with feet on the earth.
So you think they are all down-to-earth?
Yeah. In fact we are, we have to manage so many things in our careers. That sometimes we look like we are out of place, but it isn't because we are rock stars … it just because we have to deal with a lot of things. It isn't easy. Our lives are not easy.
Painter Uldalen works on a portrait of Amaral.
Also, how did you meet and get a portrait done by painter Henrik Uldalen?
Oh that's a nice story. I was in Florence getting drunk. [He was by my side.] Then in a moment he says, "Hey Mauro can you give me your Instagram?" I said "Yeah, of course, can you give me yours." And when he showed me, I said "Fuck, you are Henrik Uldalen." Basically he was the guy that was on my side drinking beers. Really, you are my favorite painter and you are on my side drinking beer and asking for my Instagram.
We featured him. We love his paintings.
He is amazing, amazing!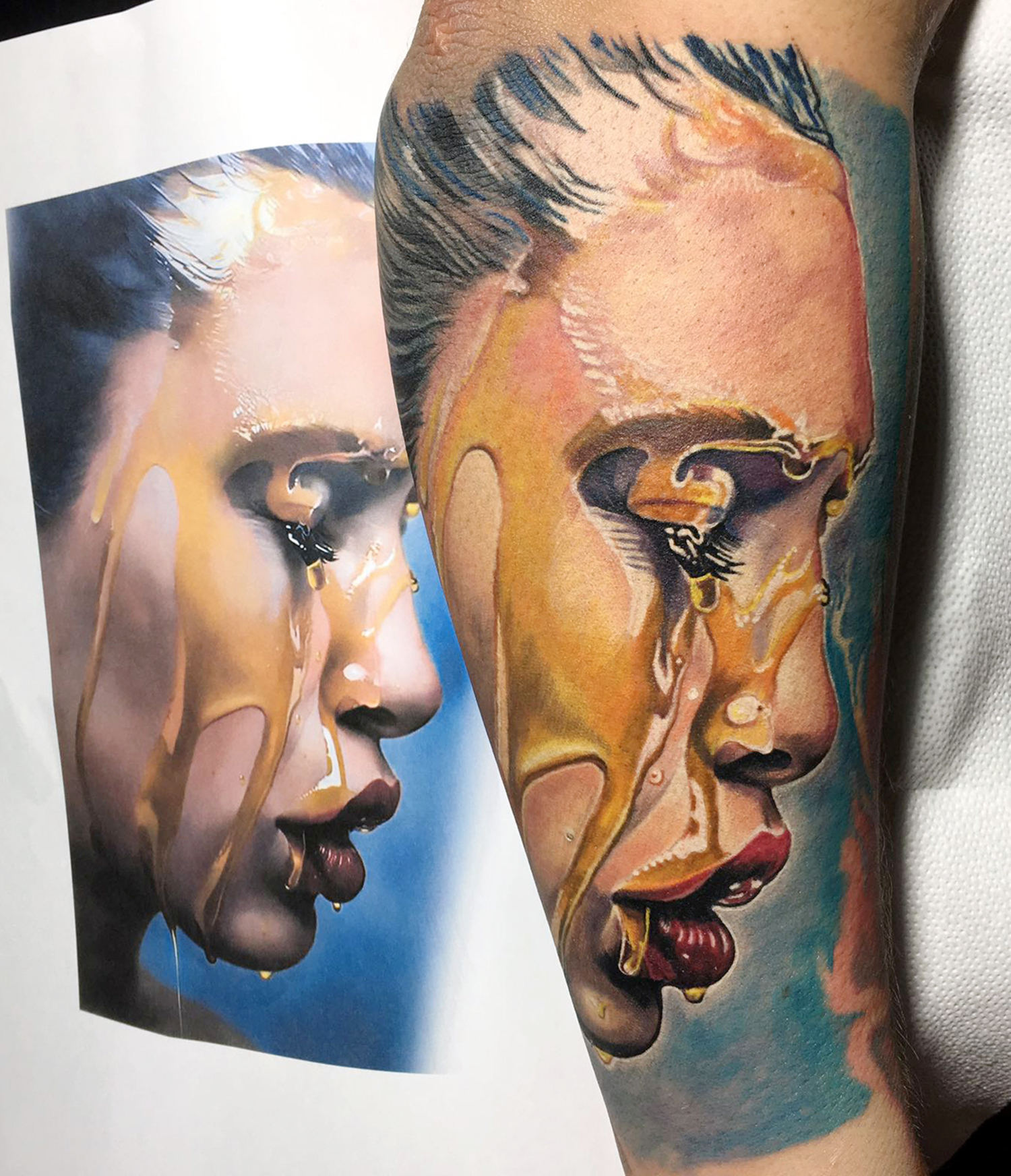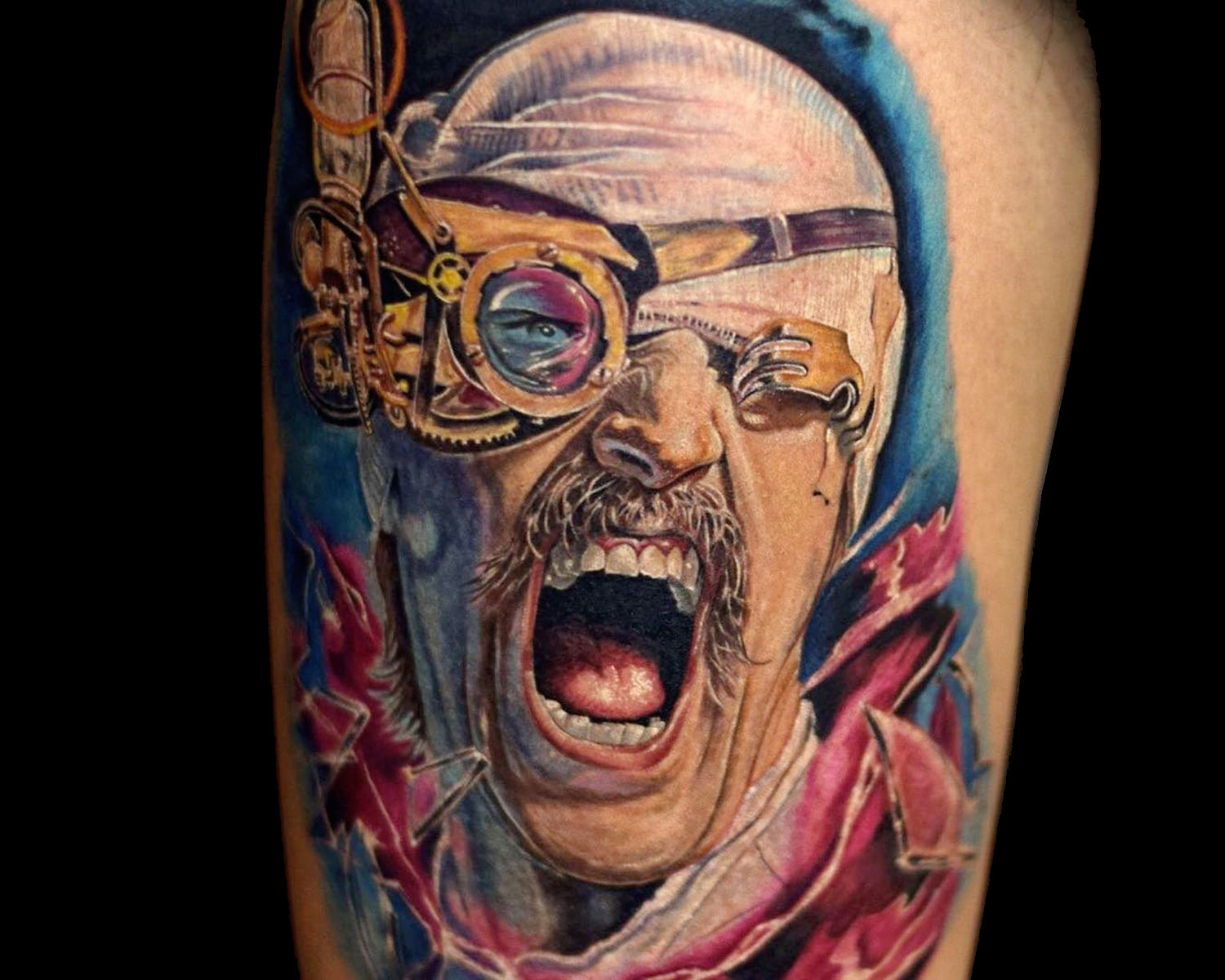 Tattoo remakes of the art of Mike Dargas (above) and Gottfried Helnwein (below).
You have created tattoos influenced from paintings by Mike Dargas and Gottfried Helnwein. Did the clients suggest the designs or did you choose them?
In fact they did. I always do what the clients ask if it is within my creative possibility. I don't bring something to somebody and say "you have to do this or that." My portfolio would be much better if I did that (be more selective with the designs], but I have to deal with the European economy, especially Portugal's. So I do what they want and bring my best to the project.
Have you thought about working outside of Portugal?
I had the best invitation ever! Economic[wise] and creative[wise]. My favorite place in the world … I was invited to be there. I said "no." I can't live without Portugal. It was Philadelphia; Paul Acker invited me to stay in his shop as a resident artist.
Why can't you leave?
It is the weather, the people, it is the culture … the sardines … everything. Especially my girlfriend.
Tattoos © Mauro Amaral
Convention Photos © Scene360