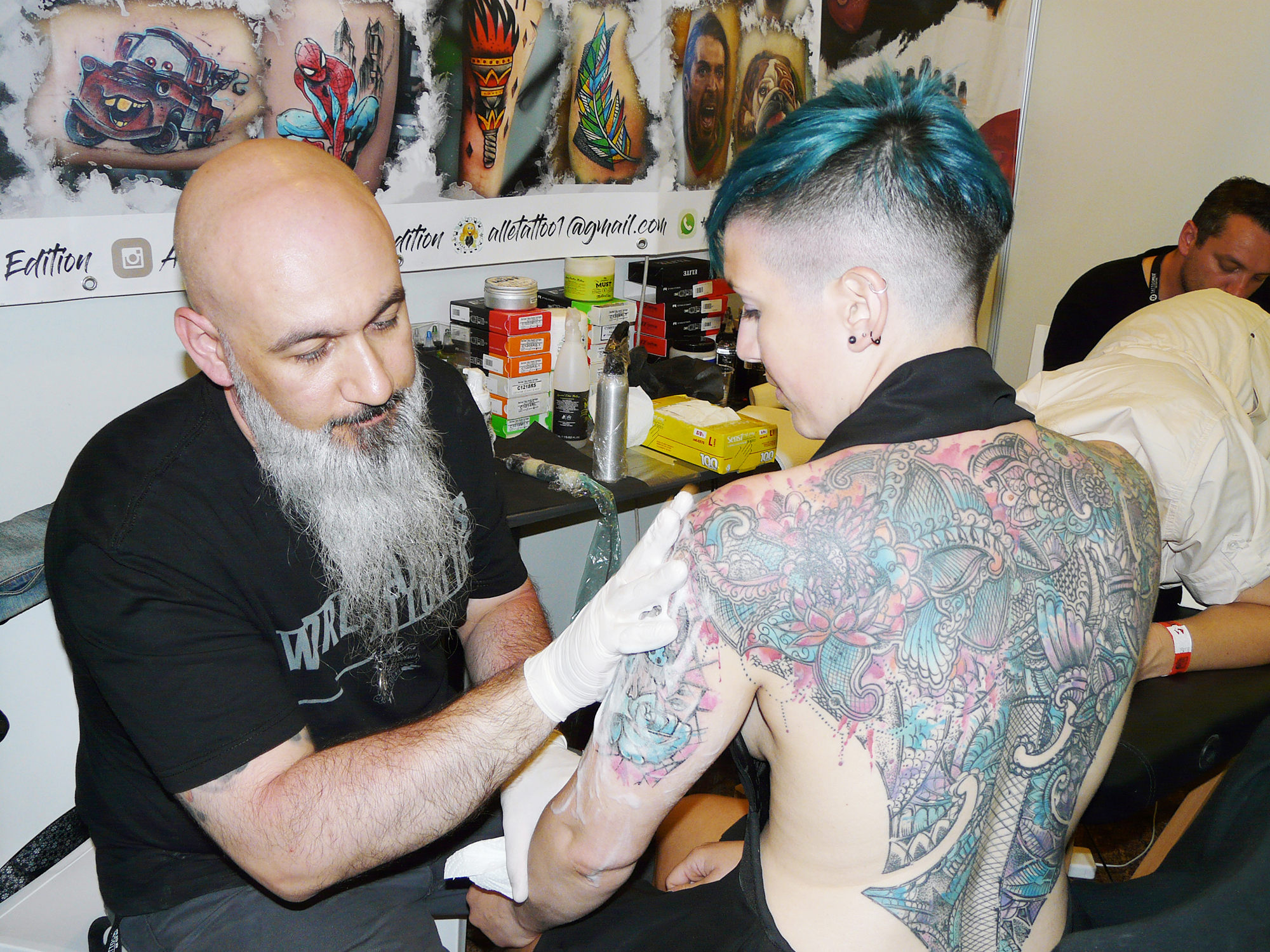 Known as "Alle Tattoo" in the tattoo industry, Alessandro Bonacorsi has been inking bodies for 20 years and has seen a lot in that time. Especially the growth of the industry.
He's established a colorful, painterly tattoo style that reflects his charismatic and glowing personality. He is a showman, entertainer—professional, courteous, and fun, and that is why he's attracted such a big following on Instagram and other social media channels. From funny videos (of him and his crew) to just him tattooing, it is enjoyable to watch what he does next. Like appear in a TV show, or obtain another Guinness World Record.
Having talked to Alle Tattoo at the Setubal Show—accompanied by his manager Sere and daughter Asia—it was clear that family was important, traveling and meeting new people was also, and the city that he works and lives in Limidi was equally important—it is not a metropolis like Milan, but it was the place where he wanted to maintain roots.
Above: Alle Tattoo loves being at conventions and meeting new people. Here, he has just finished a skull tattoo.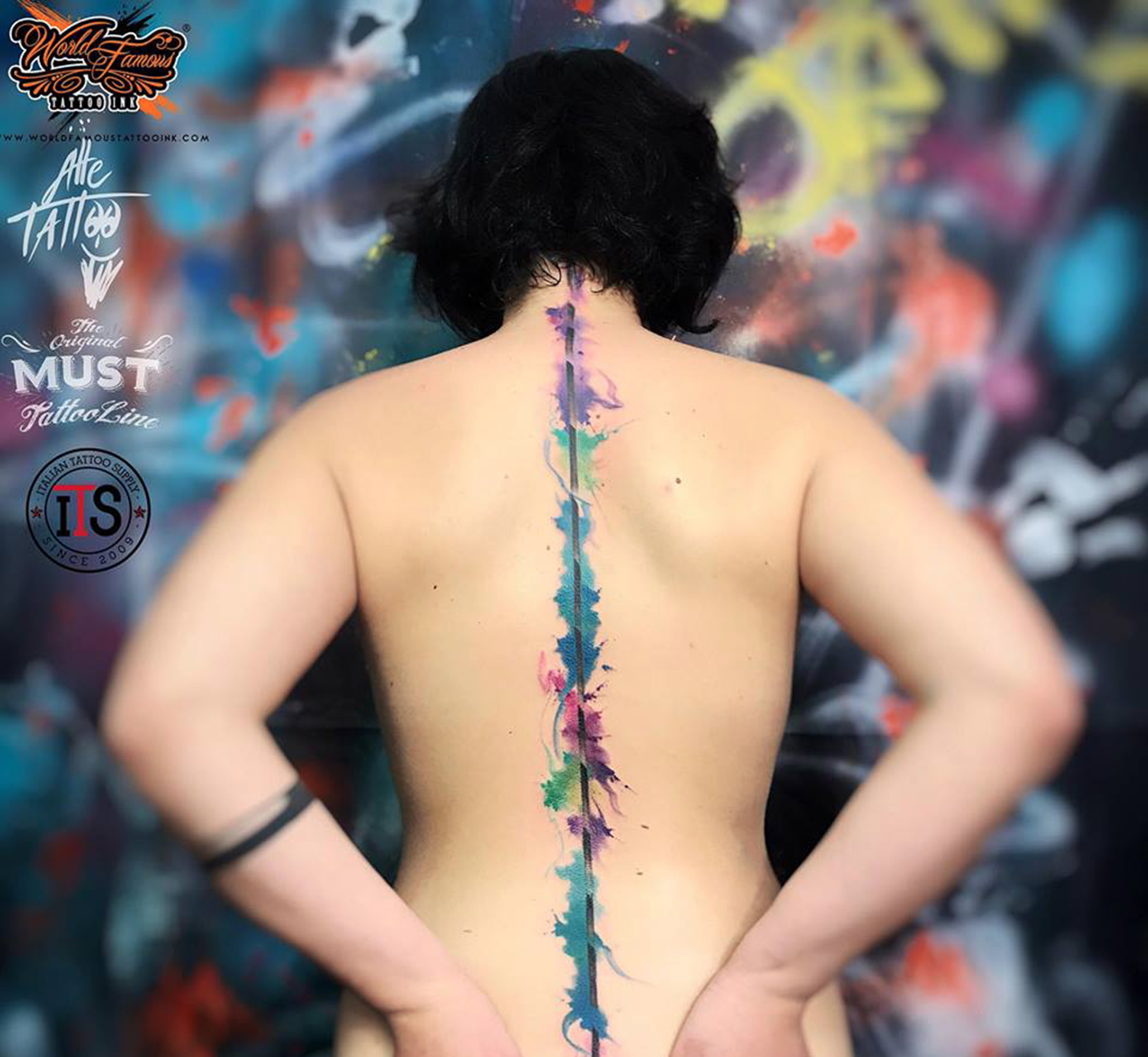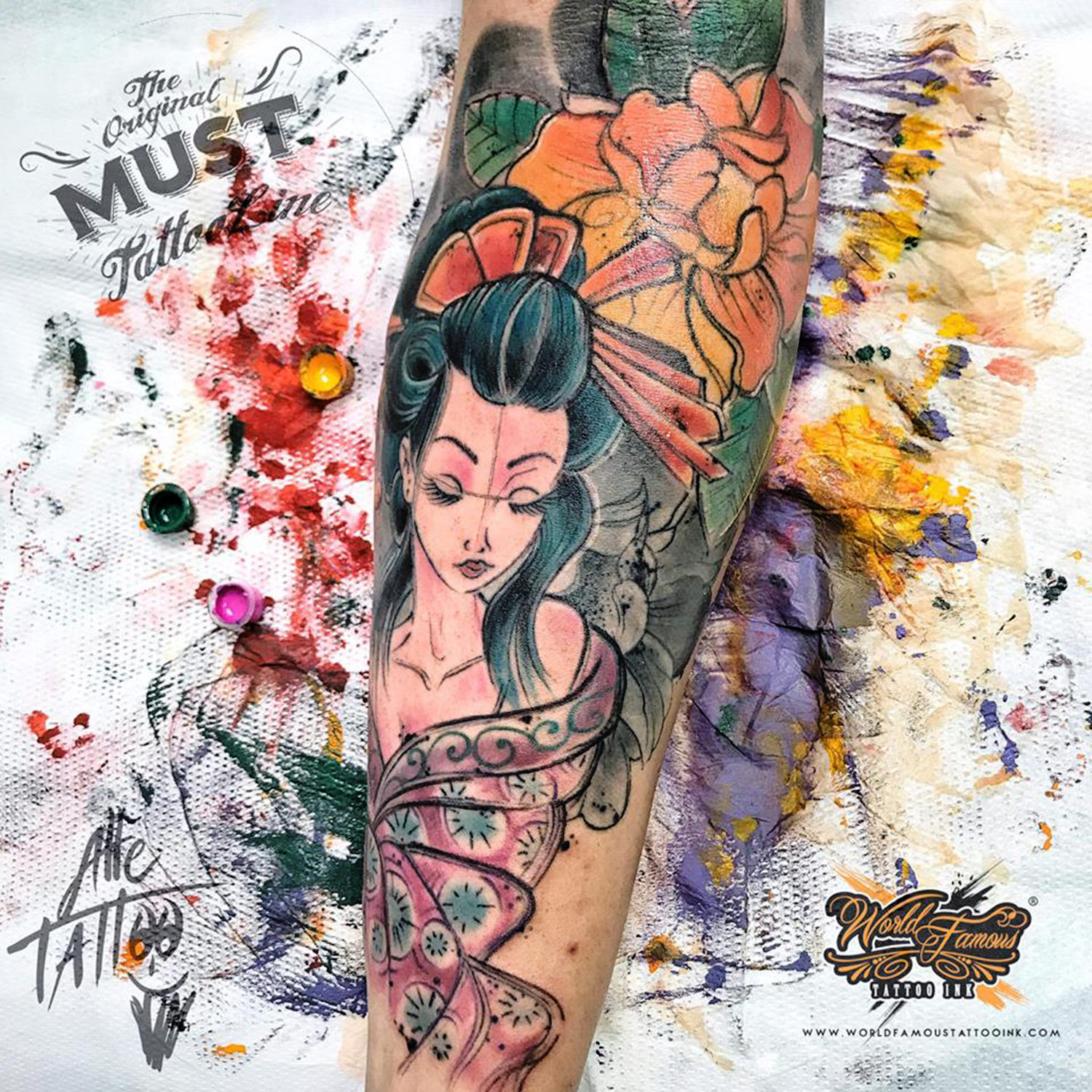 Saturated colors and expressive black-brushstroke-type lines are characteristic in Alle's work.
You got your first tattoo when you were a teenager. What design did you get, and what is the meaning of that first tattoo?
My first tattoo was a wind rose, I did it when I was 13, because I always wanted to travel to the world.
You currently live and work in Limidi, Modena. Why there, and not in Milan or other Italian city that is more sought after for tattoo art?
The truth is that I always try to mediate between quality of life and my business. In a big city like Milan, Rome and New York they don't feel as good to me as my city—where I eat good [foods]; the stress and the chaos doesn't exist which is characterized in the big city.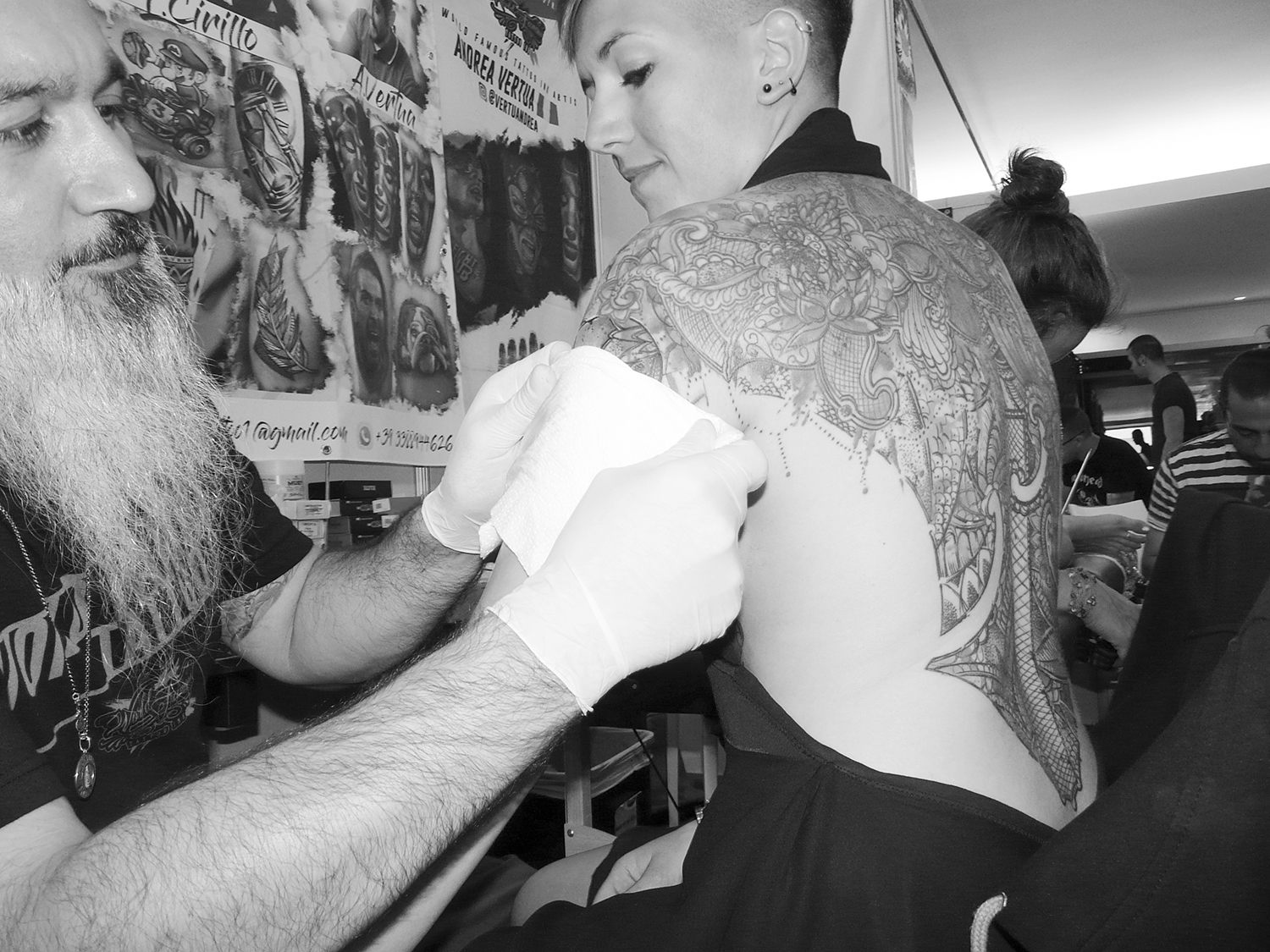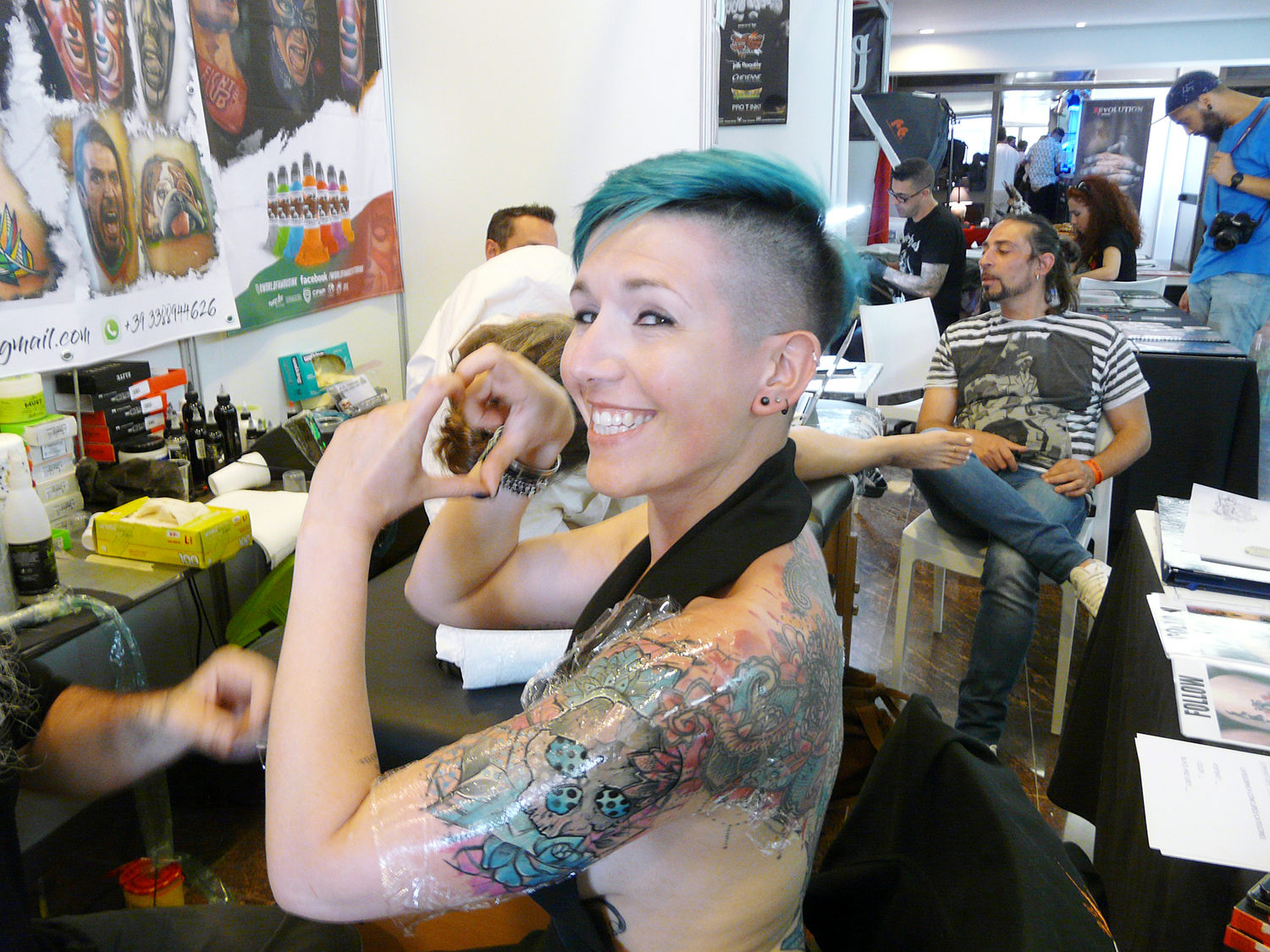 A psychedelic skull tattoo done at the Setubal Tattoo Show.
You've been a tattooer for already two decades. What are the major changes from then to now? What are some of the improvements of today's tattoo industry?
I have been making tattoos for 20 years; the difference is that the artistic level has changed, it is better; the customer has become more demanding and this has [raised] the quality of the tattoo artist. I'm lucky to handle a shop with a lot of artists and we support each other. We give [one another] energy.
All of this has incremented the industry which has given a gigantic step [forward]. It has achieved a level of perfection in all fields: creams, machines, colors…
You are a charismatic person. Great and easy to talk to. Is this the reason why you do conventions and not just stay in a private studio 24/7?
[Because I want to be up-to-date with things]; meeting friends, new artists and with the most of them I have collaborated as a guest, and have done some crazy things …
You've met so many celebrities, yet are one too. Have you ever been starstruck by anyone you've met?
There were some sports athletes, Youtubers, motorbike champions that always spurred me and encouraged me when I did my Guinness World Record. It is emotional to have influential people look [at what I do] and follow/like me.
Deep down, I only do things that make me happy.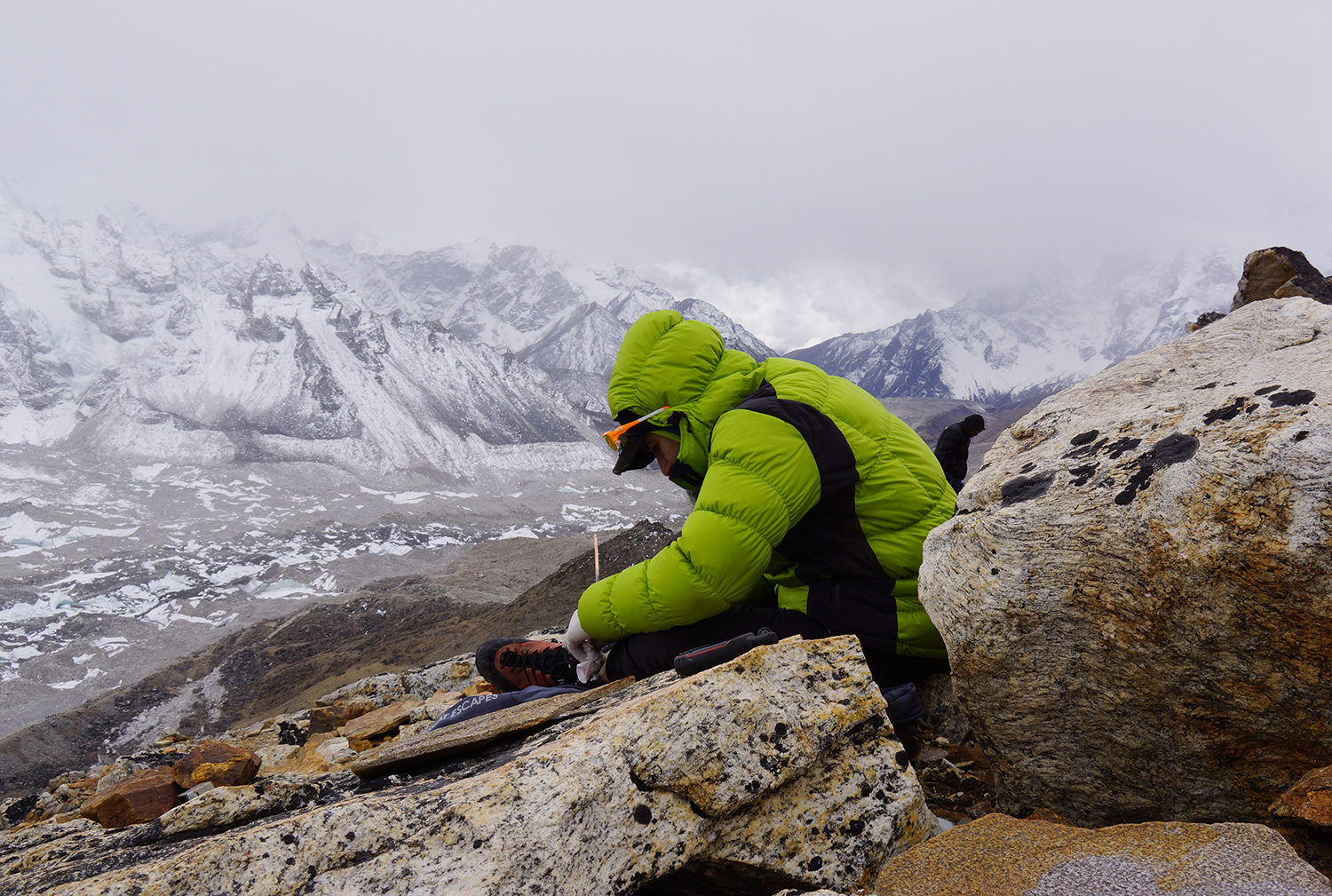 Using the old-school technique of handpoking, Alle Tattoo shows it is possible to do things at high altitudes.
I'm supposed to be asking questions about your tattooing techniques. But I hear that you went up Mount Everest.
Yes, with the chopsticks tattooing technique and I tattooed myself on the calf. It was an incredible experience, and I hope I can expand this into a film. We are considering a plot. And I hope in this film I can talk about my Guinness World Record.
And there is also sky sports, paragliding?
I always done paragliding. I race with all the things that have a engine. The only thing that pressures me is my new book.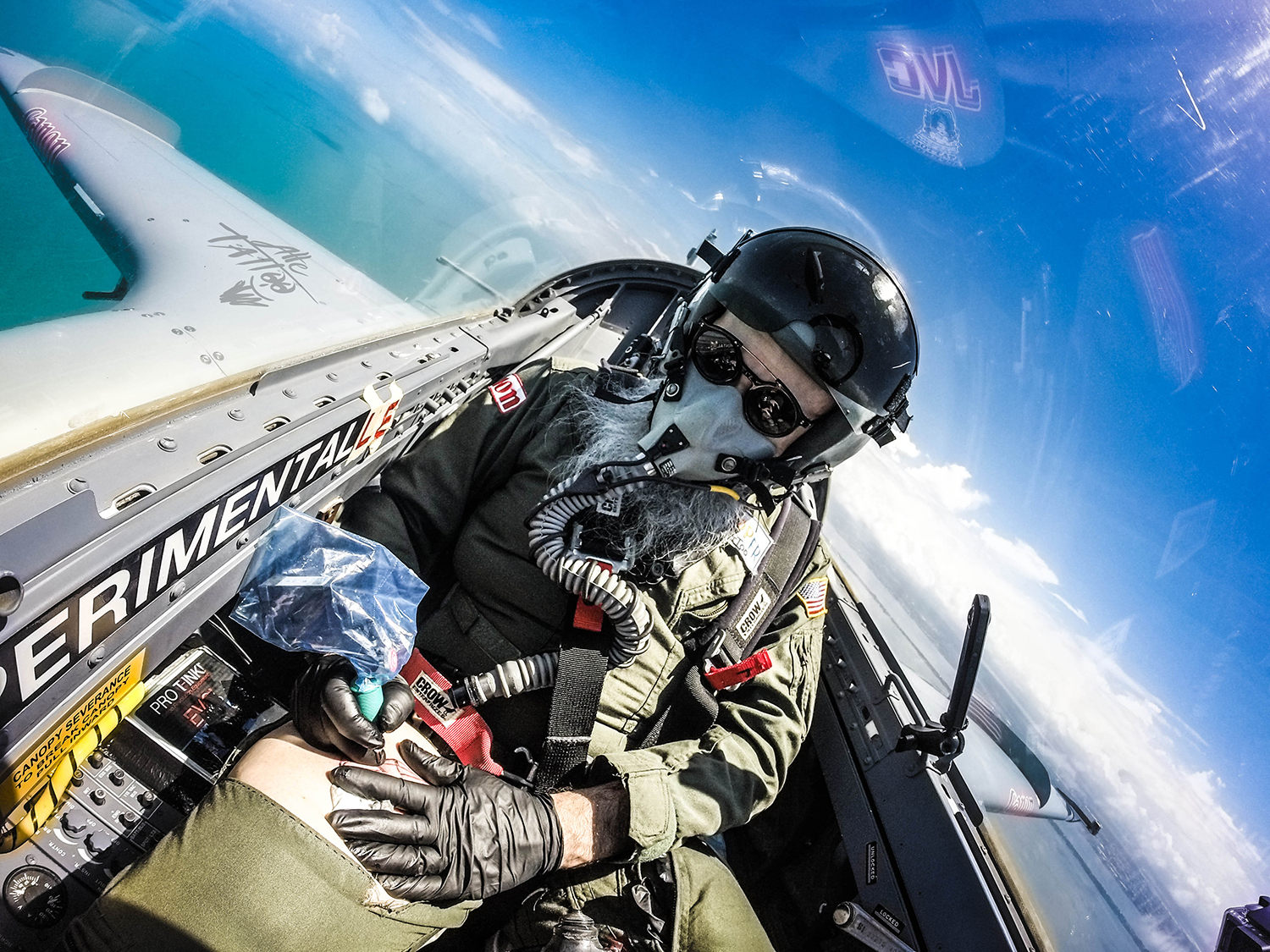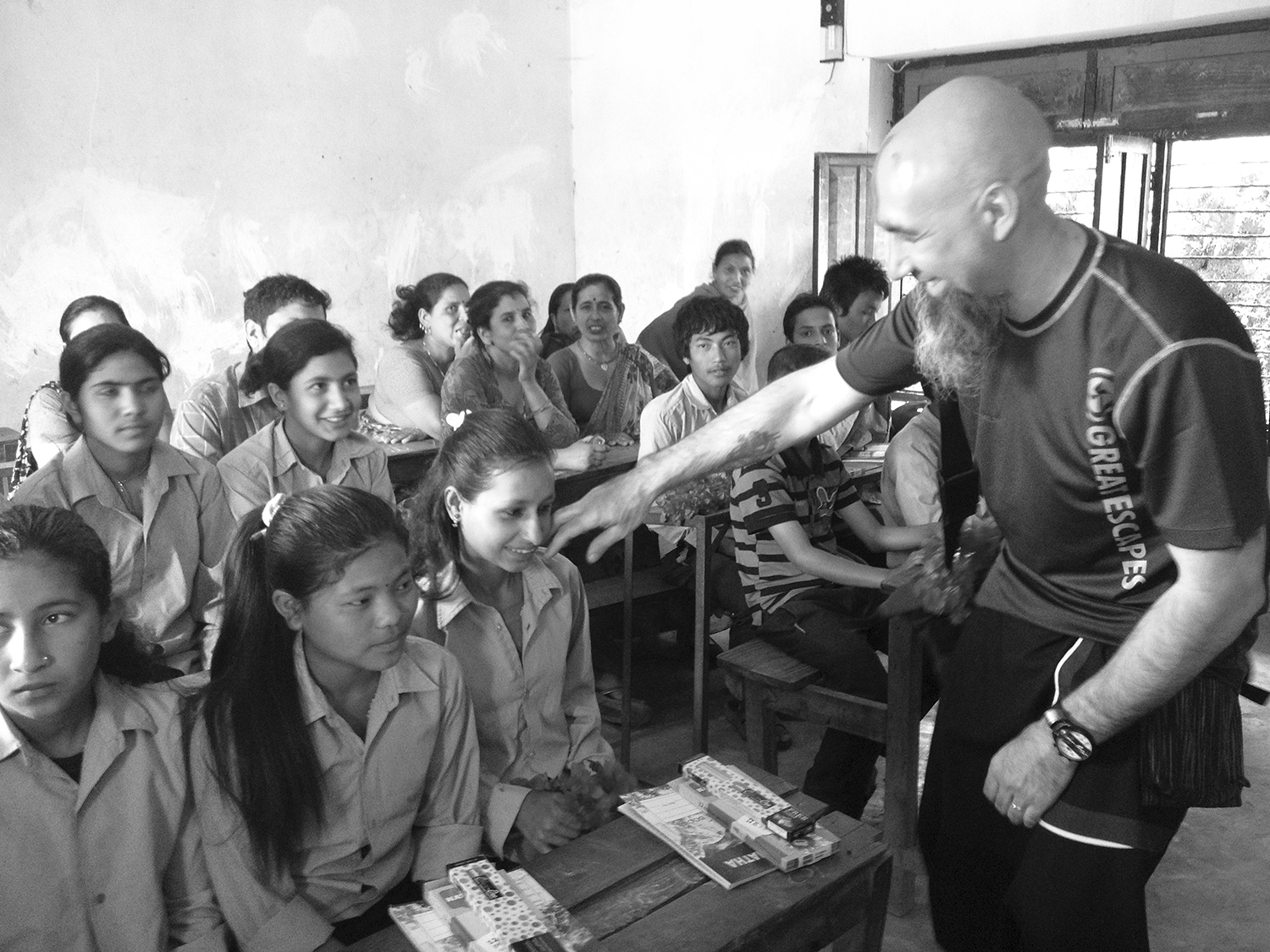 Alle Tattoo has done some adventurous things in his life, and has also made it a mission to help others.
You have several Guinness World Records (one for the longest tattoo session), you gave the money to charity to encourage kids to express themselves through art. Do you believe art is therapeutic?
I'm convinced that art in the form of music, draw, sculpture, etc … is one of the essences of the life. None [of these art forms and helping others] have to be private.
Italy has been struck by various damaging earthquakes. How did this affect you and what did you do?
Yes, because my territory and my shop was hit with this horrible event. We are recovering the energy, wish to restart, and this involved a lot of people. We'll make it [happen].
Tattoos © Alle Tattoos
Convention Photos © Scene360