Peony Yip, also known as The White Deer, inadvertently focuses her illustrative work on themes that make some people uncomfortable.
One of her most popular series called "To Bloom Not Bleed" is described by her as "A series that portrays the fine line between the grotesque and beauty of death." To Yip, you can find grace in every facet of life, even as something as morbid and visceral as mortality.
Based in Hong Kong, Yip's technical skills are evident from the moment you lay eyes on her work. She's got a realistic slant to her drawings, interspersed with striking occult symbols. They're clean and crisp, teetering the line of realism and surreal. Despite the thoughtful, compelling, and impeccably crafted compositions, Yip still considers herself an amateur artist—even with a popular Society6 shop and several exhibitions under her belt. Plus, more projects underway.
Exceedingly modest, Yip is humble with her recent success and is motivated even more to achieve her goals. And she's already on her way—in spring of 2016, Illusion picked some of the coolest illustrations thus far, and her work made the list. I had the chance to follow up with her since and ask a few questions.
Above: This is one piece from Yip's "To Bloom Not Bleed."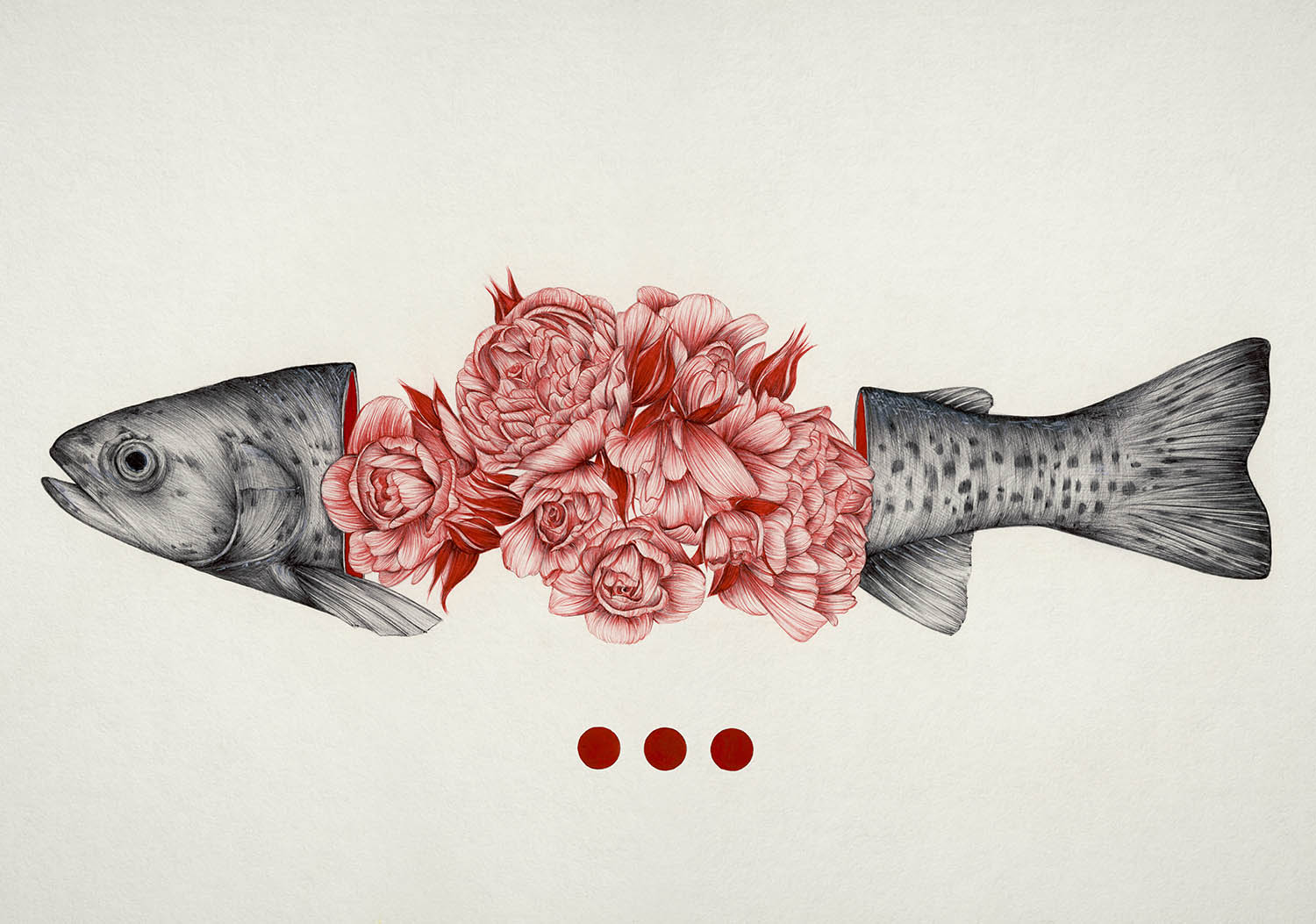 Gutted fish bleed not blood, but flowers.
On your Tumblr, you write, "Maybe in another life I'll be a real illustrator." What do you mean by that?
I have never really thought of myself to be an actual artist or illustrator because I still find that I lack the skills and creativity, but I'm always trying to improve in both. Not being able to put more time in my artwork can also be the result of that thought, which is actually one of my goals [having more time for creative works].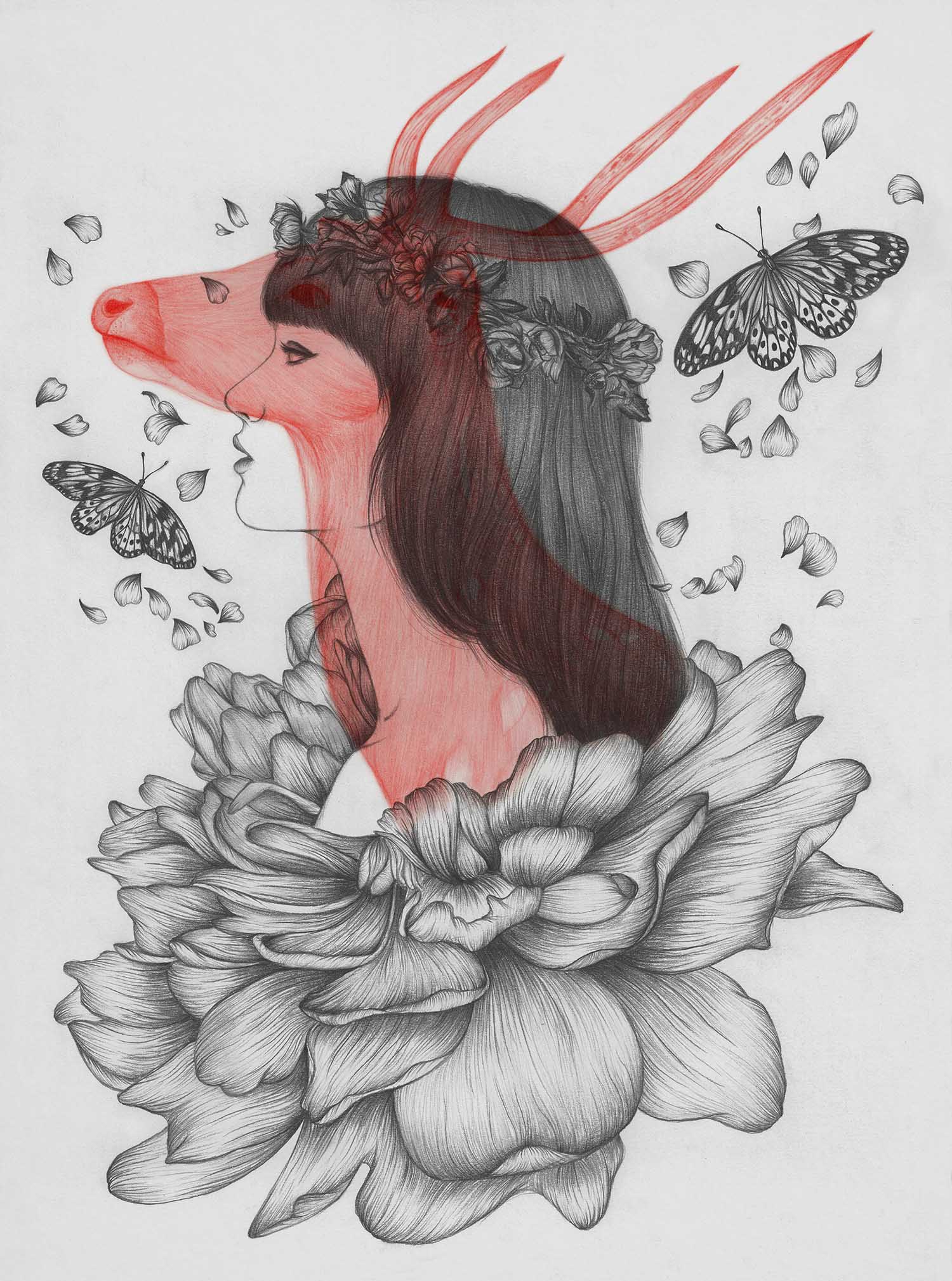 This is one half of "Sisters" that was produced for the "Out of Body" show at the Gauntlet Gallery in San Francisco.
Many of the themes in your work revolve around mortality, but with a sense of elegance and beauty. What inspires this type of imagery?
The definition of mortality is very different with each culture or each individual, but it is something I hope people can relate to and that I can help them see something different from another perspective. I don't purposely try to focus on this theme, but maybe because I want to say something or show something more meaningful or truthful.
The sense of elegance and beauty in my pieces are to show that you can always find the beauty in something, even if you have to block out the negative or add some imagination.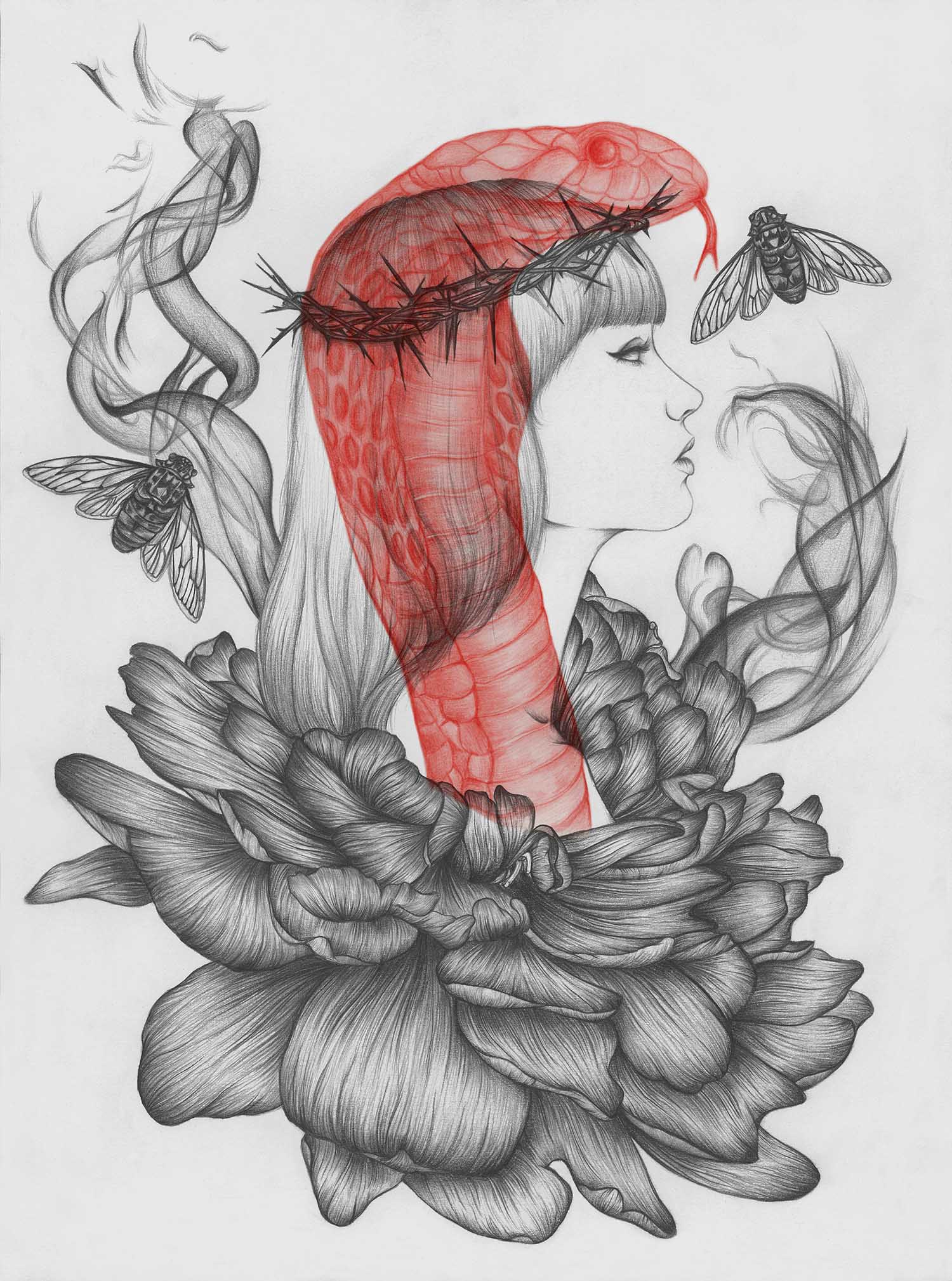 This is the other half of "Sisters." Rather than a beast, Yip depicted a reptile overlay.
Years ago, you focused a lot on human portraiture, but it's less common in your most recent pieces. Why the shift?
While working on series after series and experimenting more, I started to find my love for nature and geometry. The mixture of both allowed for hard and soft elements [in the illustrations]—something I really enjoy working on. I also have realized that I haven't done much portraits, which I will get back to working on very soon!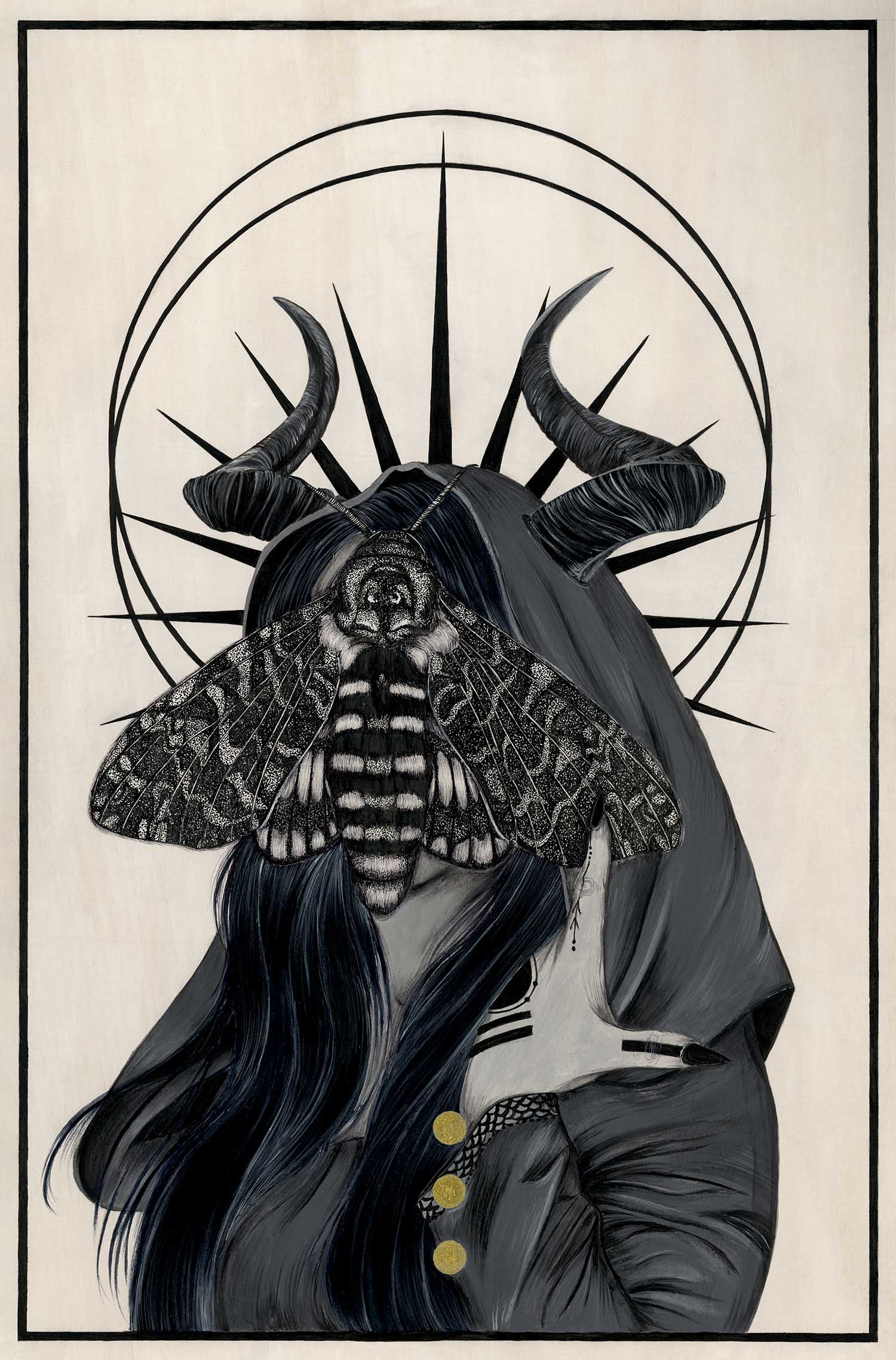 From one of Yip's latest series, "Occult".
Was there any drawing or series that you see as a breakthrough (in style, career-wise, etc), and how did it change the way you work?
There are one or two series that I've noticed people tend to really take notice of, which are "Wildlife" and "To Bloom Not To Bleed." They both drew more attention than my other works, but I'm not entirely sure if it was the content of the pieces or the style. Have they changed the way I work? I don't think they have. I just work on what comes to my mind without knowing how viewers will react.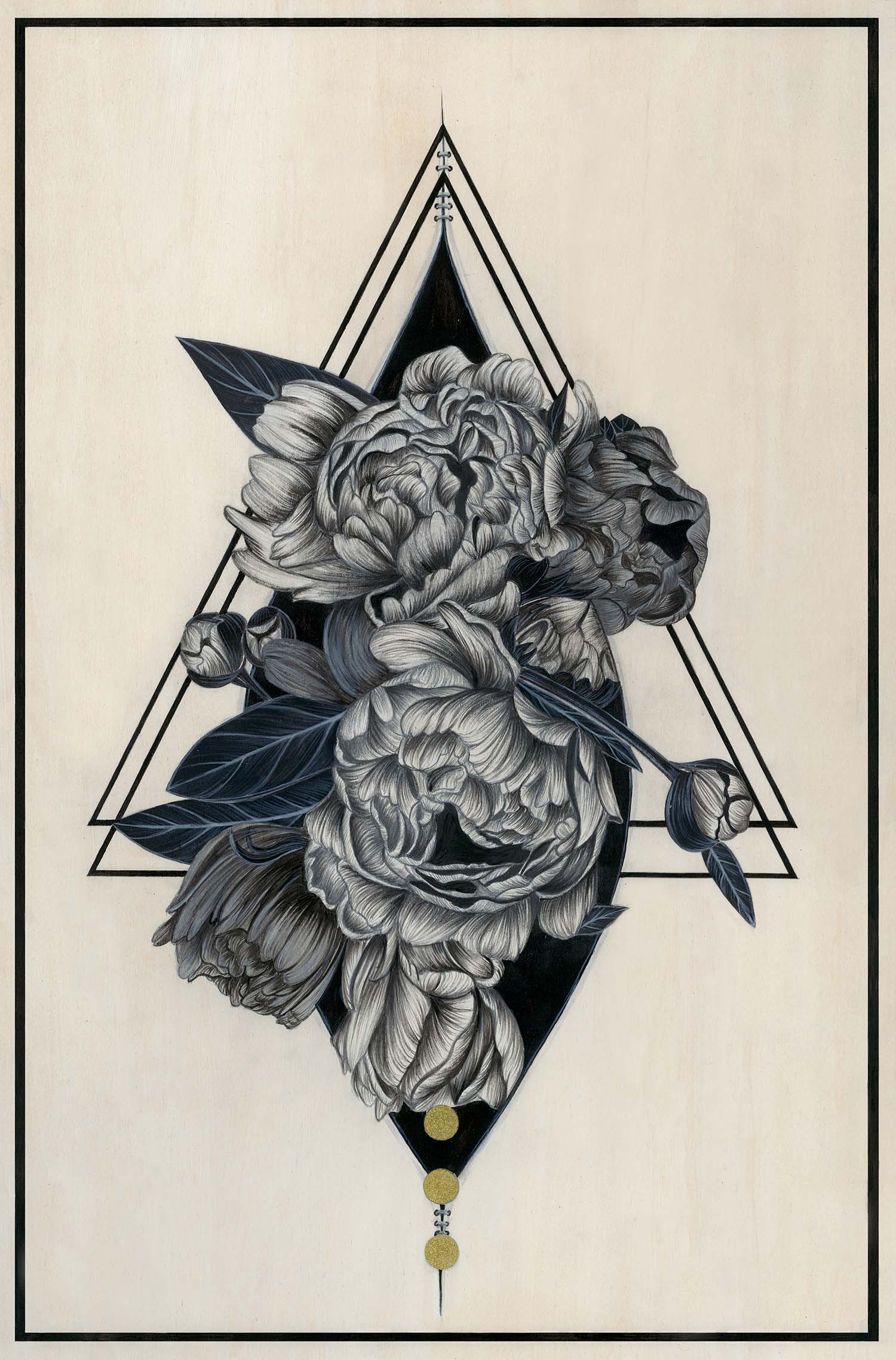 Yip describes "Occult" with the phrase, "Ashes to ashes. Dust to dust."
Where do you see, art-wise, going from here?
Personally, I don't think it would be much different than it has been. Honestly though, I think I need to work harder and try to place more time to improve and experiment more!
Overall, I'm not sure if it is because I only notice art and illustrations throughout the internet but I believe that art is really growing. It makes me quite happy to see so many artists and illustrators creating amazing pieces and I truly support that! But sometimes, it makes it hard for us to find our own individual style because of the large amount of rising artists. I believe it is something each artist struggles with along with myself, and I hope that everyone pushes forward and not to give up.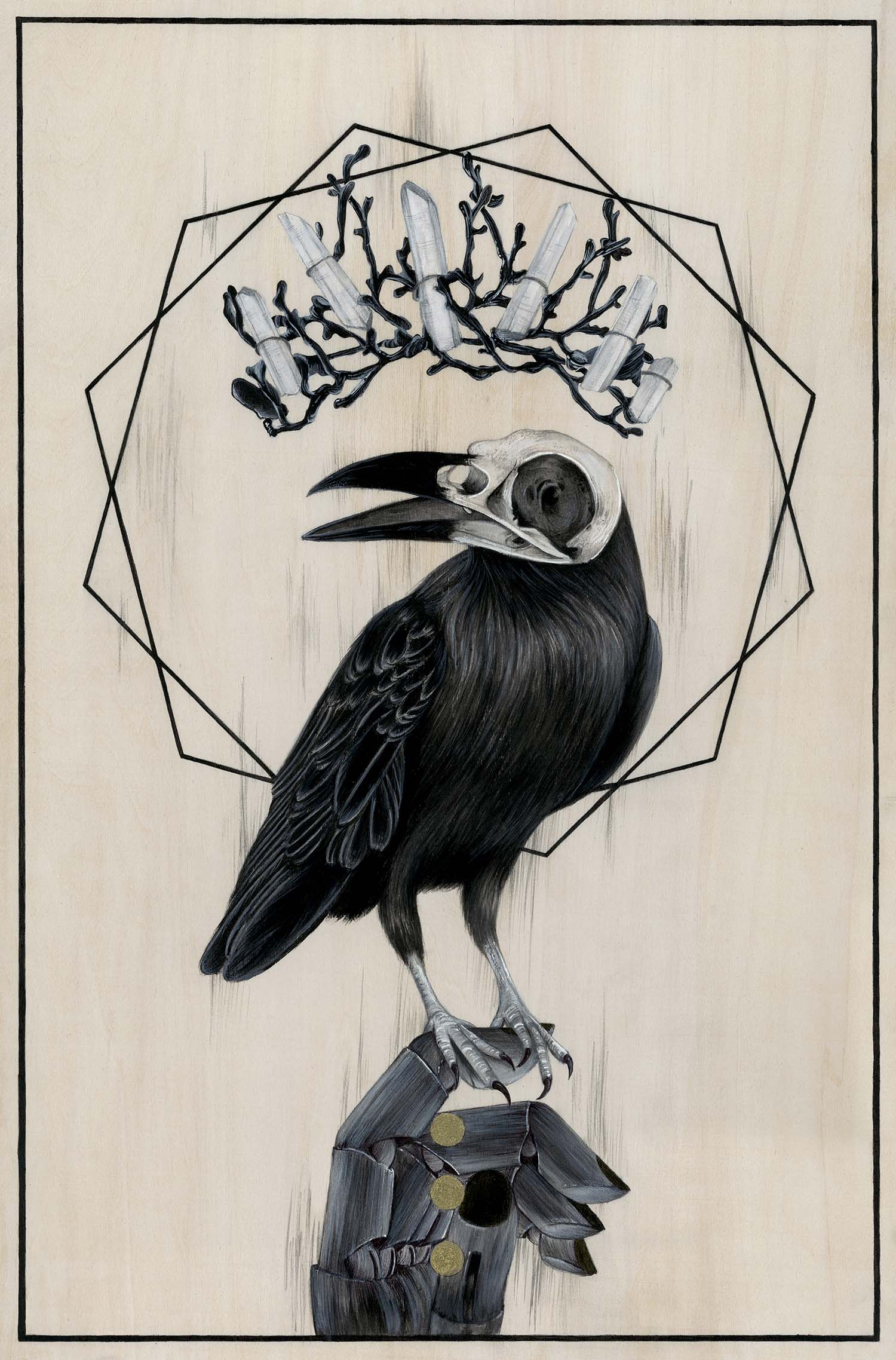 "Occult" was created with acrylic paint on wood.
Any exciting projects for the future?
I have a few planned for the coming future as I'm slowly working through each of them, and hopefully people find will them exciting!
Follow Peony Yip on Behance and Facebook
Artwork © Peony Yip