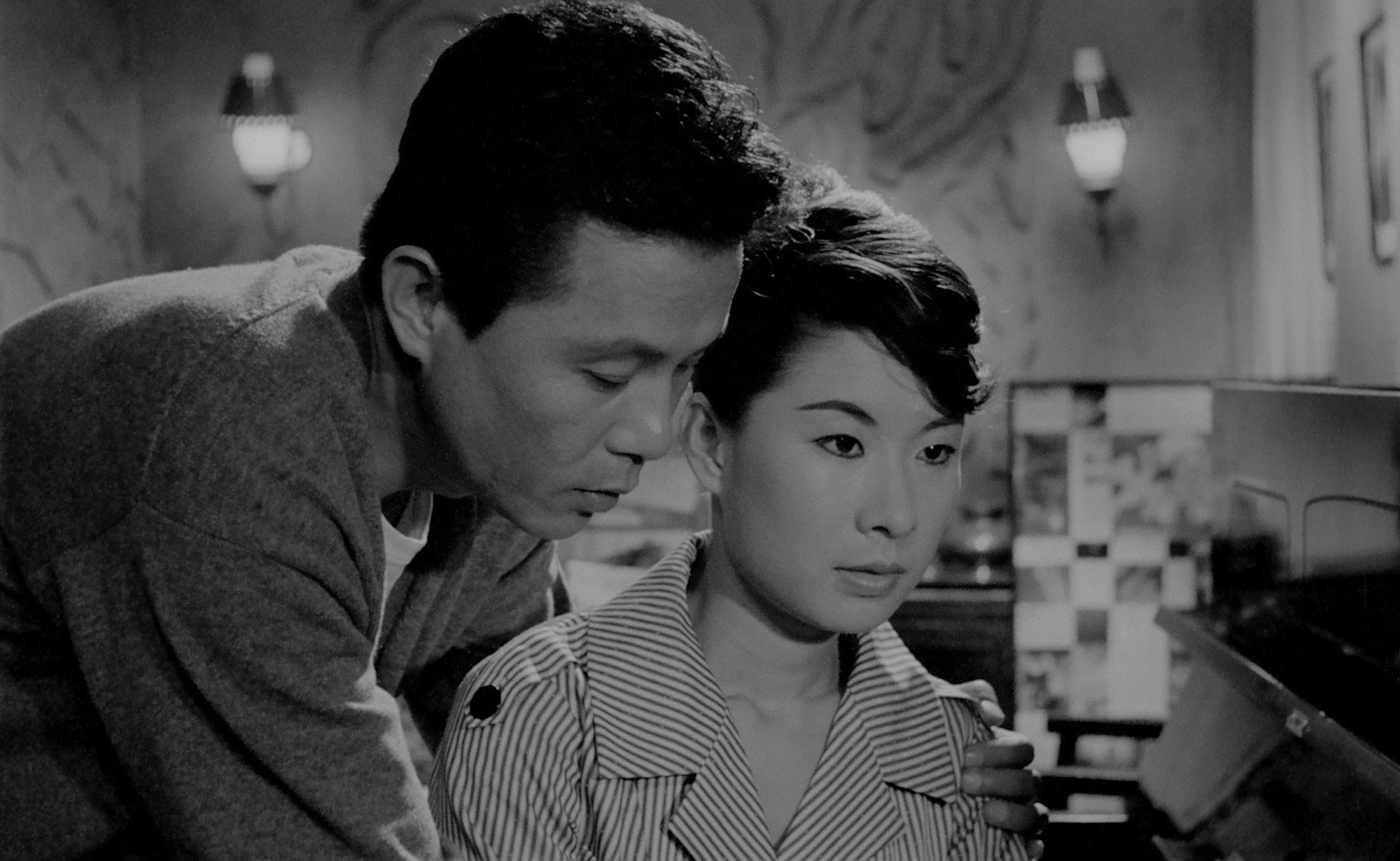 Nothing penetrates the inner workings of a society's power structures quite so starkly as its sexual practices – and so, by exposing the relations of the genders and the shifting positions of the body politic, films that focus on the erotic can poke, prod and probe the state of a nation.
Korean directors like Kim Ki-young, Im Sang-soo, Kim Ki-duk and Park Chan-wook obsessively reflect upon sexual themes, and their films often expose disturbing tensions in the national outlook. This is eros, not hardcore porn—but peeking under a country's sheets can reveal its hidden desires, frustrations and fantasies.
Top: Kim Jin-kyu's patriarch in "The Housemaid," undone by his own adulterous impulses.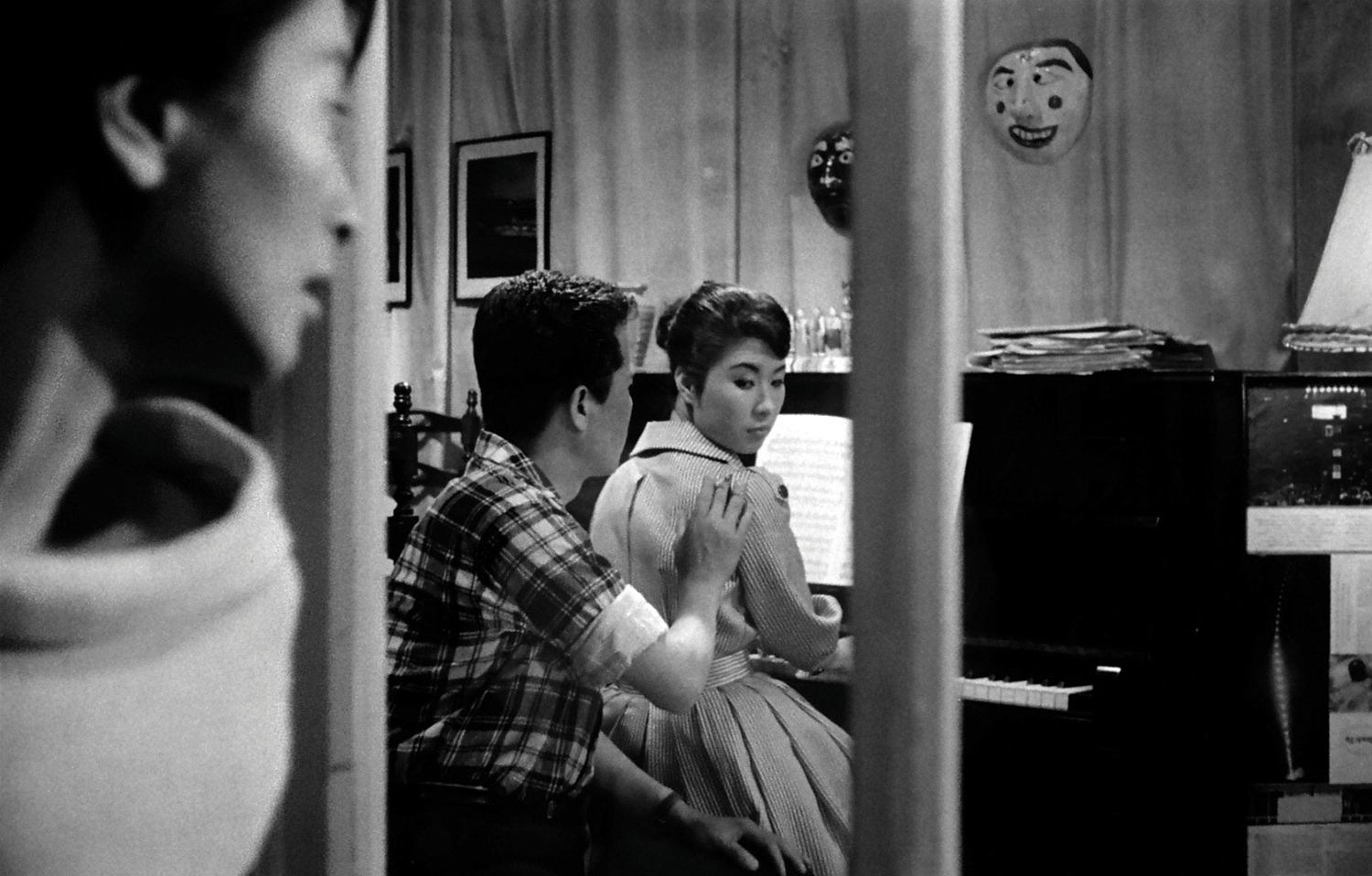 A husband's eyes and hands should never wander . . .
The Housemaid
Kim Ki-young's 1960 classic is a domestic tragedy in which the arrival of a new maid (Lee Eun-shim), and her affair with the house's patriarch (a composer played by Kim Jin-kyu), leads to the ruin of a nuclear family. Yet this dark, destructive story is simultaneously framed—by a nodding-and-winking narrator also played by Kim Jin-kyu—as a cautionary tale for all middle-class households. As such, the film exposes class anxieties in Korea, while also transforming those very anxieties into a self-ironising entertainment. In 2010 it was remade—with a new focus on the superrich—by Im Sang-soo.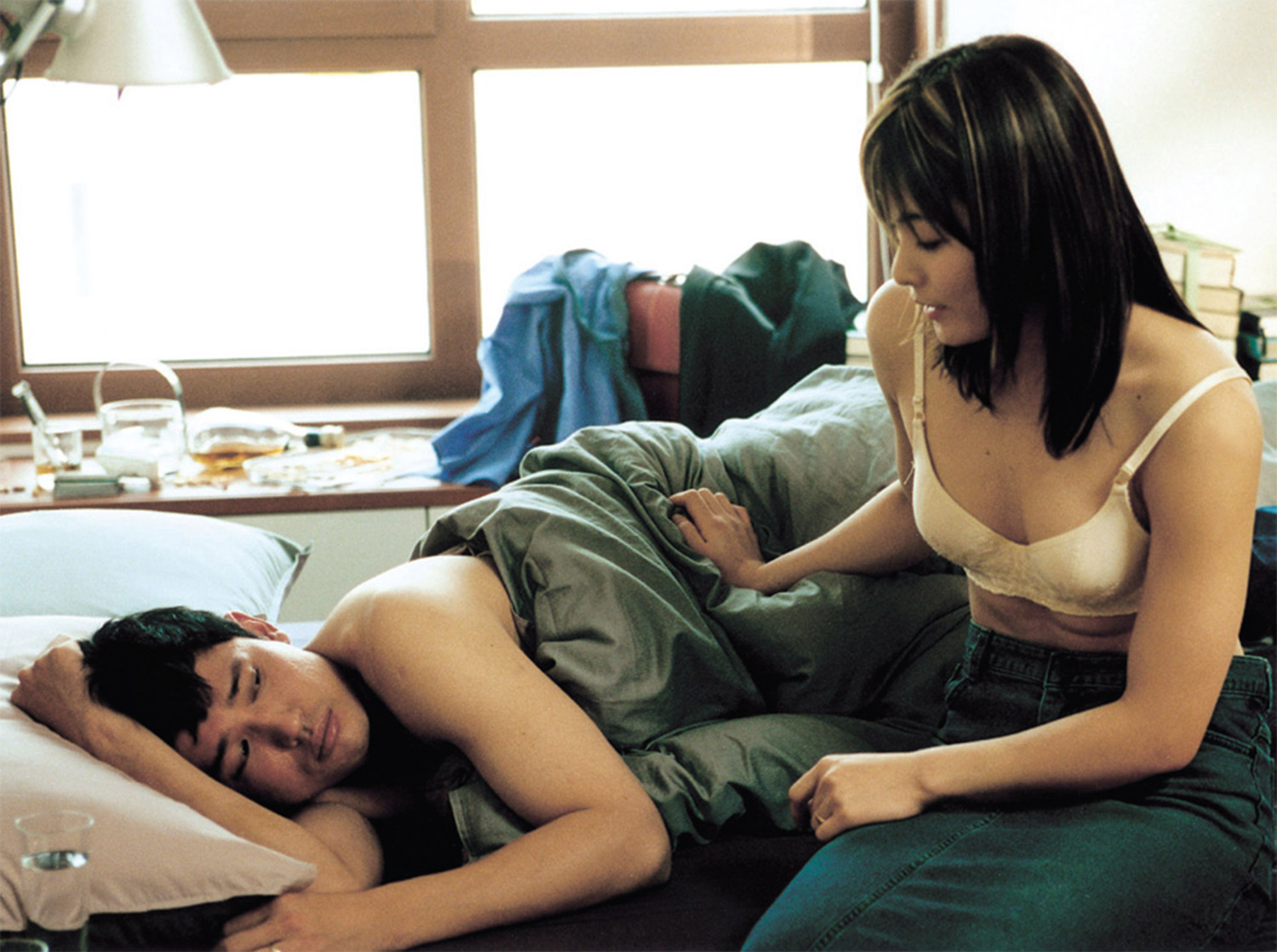 Moon So-ri's trophy wife Ho-jeong loves her neighbour a little too much.
A Good Lawyer's Wife
Also directed by Im Sang-soo, this graphic film shows a lawyer (Hwang Jung-min) and his trophy housewife (Moon So-ri) both secretly dissatisfied with their supposedly picture-perfect life together, and seeking pleasure from illicit acts of adultery—he with a younger artist (Baek Jeong-rim), she with their teenaged neighbour (Bong Tae-gyu). Meanwhile, the lawyer's mother and grandfather have also been enjoying affairs. What emerges from this is a stark mismatch between the expected conduct of bourgeois Koreans, and what actually makes them happy—with a special emphasis on the rôles foisted upon women in a conventional relationship.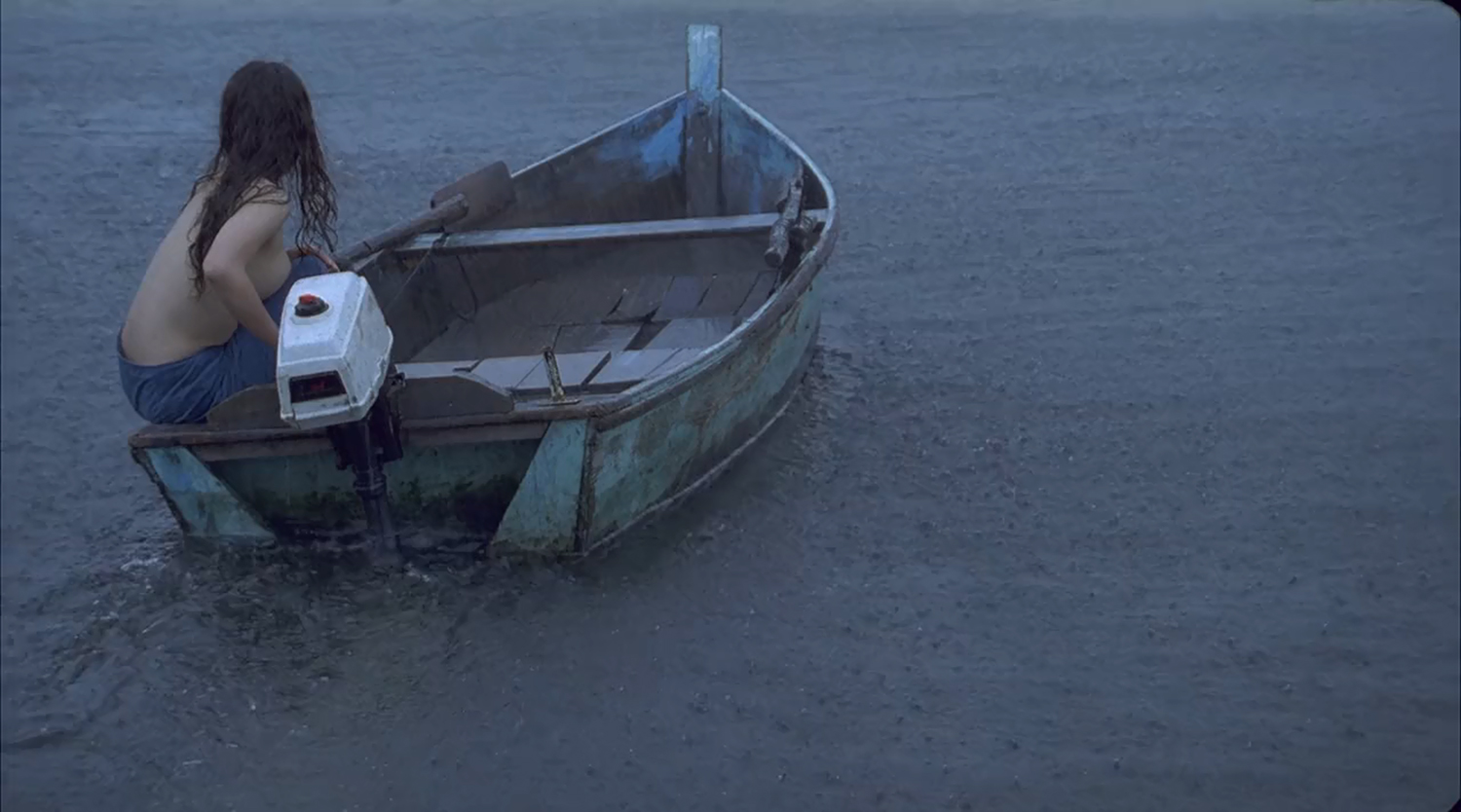 Suh Jung, dripping with desire.
The Isle
No man is an island—and yet as a fugitive (Kim Yoo-suk) attempts suicide on a hired houseboat, he is interrupted by the mute caretaker (Suh Jung), and they embark together on an intense sadomasochistic affair which will engender further jealousy, mutilation and murder. Writer/director Kim Ki-duk confounds internal and external spaces as he examines isolation in extremis, and shows a couple as hooked on each other as they are on their own states of abjection. "The Isle" is a cruel film of raw passions, culminating in a hauntingly irrational final image that collapses geography and genital anatomy.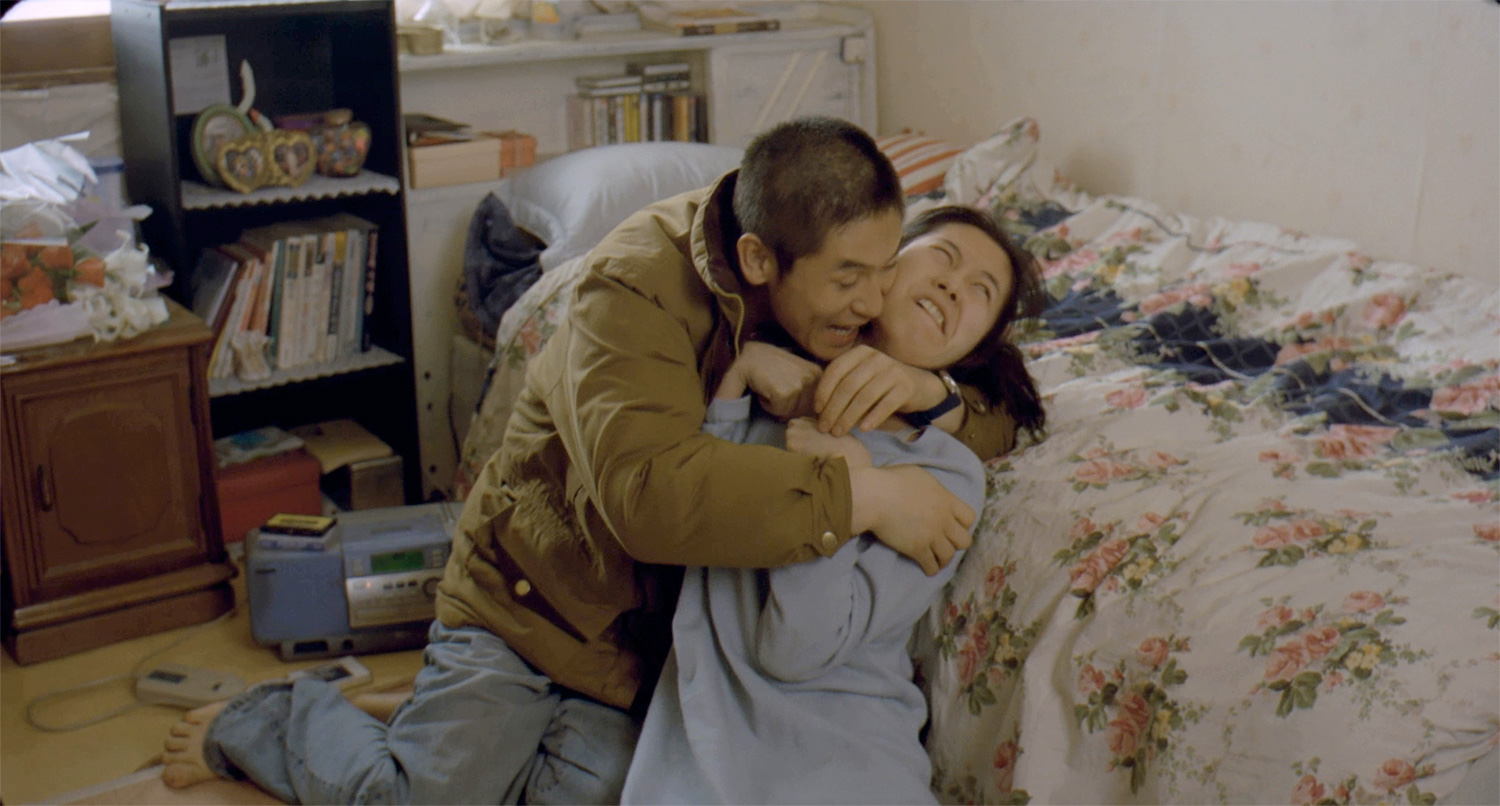 Assault on relationship "norms."
Oasis
At the centre of writer/director Lee Chang-dong's third feature is the taboo relationship between mentally challenged Jong-du (Sol Kyung-gu) and severely palsied Gong-ju (Moon So-ri)—a genuine, if hidden, romance which evolves, controversially, from a sexual assault. Yet Jong-du's ingenuous rape and solicitous courtship of Gong-ju (whose name means "princess") are compared and contrasted with the way their two supposedly respectable families exploit, abuse or simply ignore their vulnerable wards. In this way, "Oasis" holds up a mirror to the ugliness of "normal" Korean society, and the beauty of misfit otherness.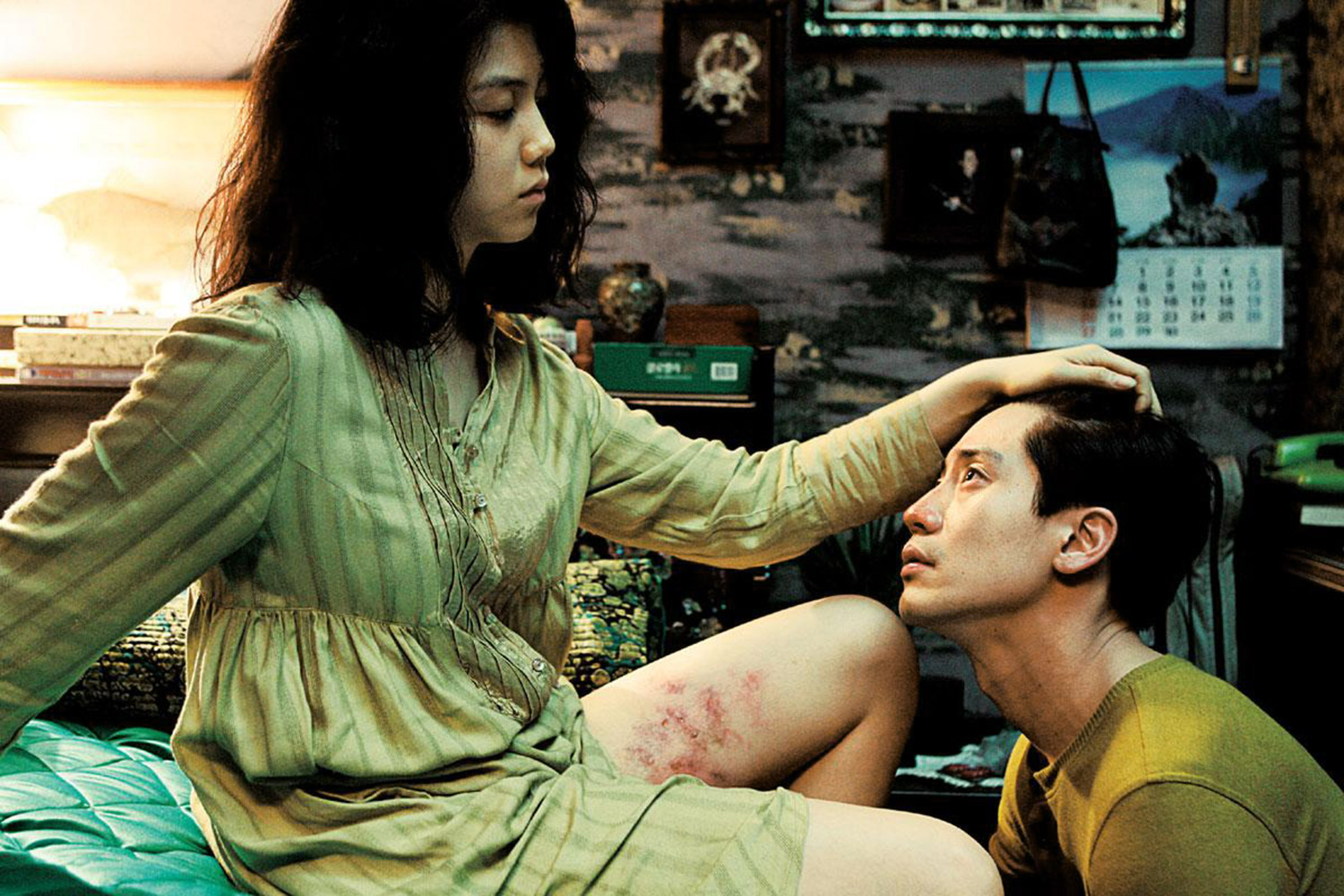 Ok-vin's battered and bruised bloodsucker.
Thirst
A good Catholic priest (Song Kang-ho) returns from the dead, and experiments, via an affair with an old friend's wife (Kim Ok-vin), with the worldly sin and sensuality from which he had previously abstained, until finally he redeems himself in an act of Jesus-like self-sacrifice. Park Chan-wook's vampire flick is part Émile Zola's 1867 novel "Thérèse Raquin," and part Martin Scorsese's "The Last Temptation of Christ" (1988), as a man of the cloth must contend with his own corporeal nature before passing fully over to the other side. The result is a mannered blend of eros and thanatos, dripping with passion.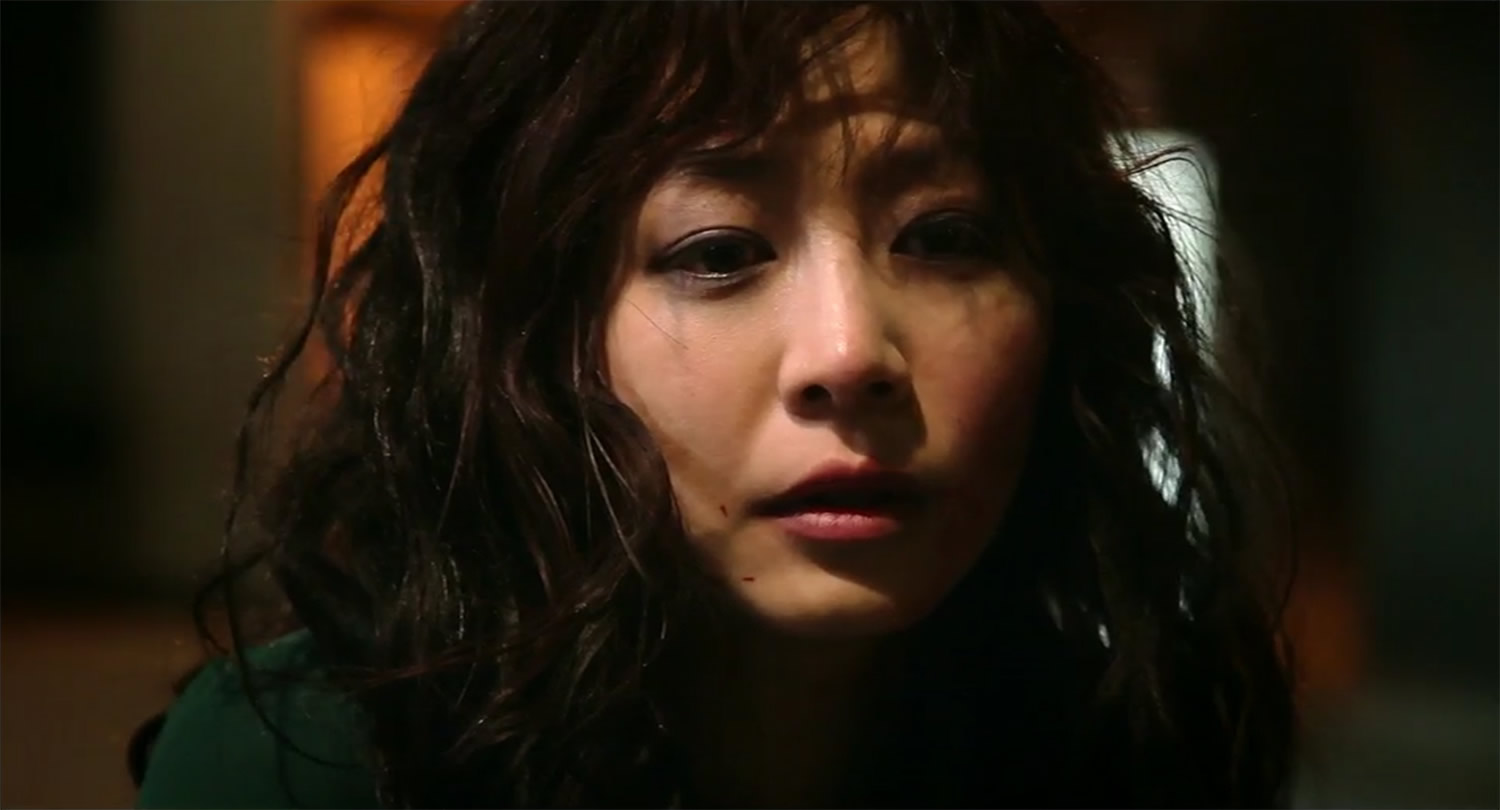 Lee Eun-woo's Oedipal mother knows best.
Moebius
Furious at the adultery of her husband (Jo Jae-hyun), a woman (Lee Eun-woo) vengefully castrates their teen son (Seo Young-ju). Guilt-ridden, the father has himself surgically emasculated too, and searches online for ways that he and his son might still lead sexual lives, pushing the boy into the arms (and onto the blade) of the father's lover (also played by Lee)—until mother returns home once more. Typically for its writer/director Kim Ki-duk, "Moebius" is all at once a bizarre love triangle, Oedipal psychodrama and Buddhist parable—but less typically for Kim, it is also darkly funny from beginning to end.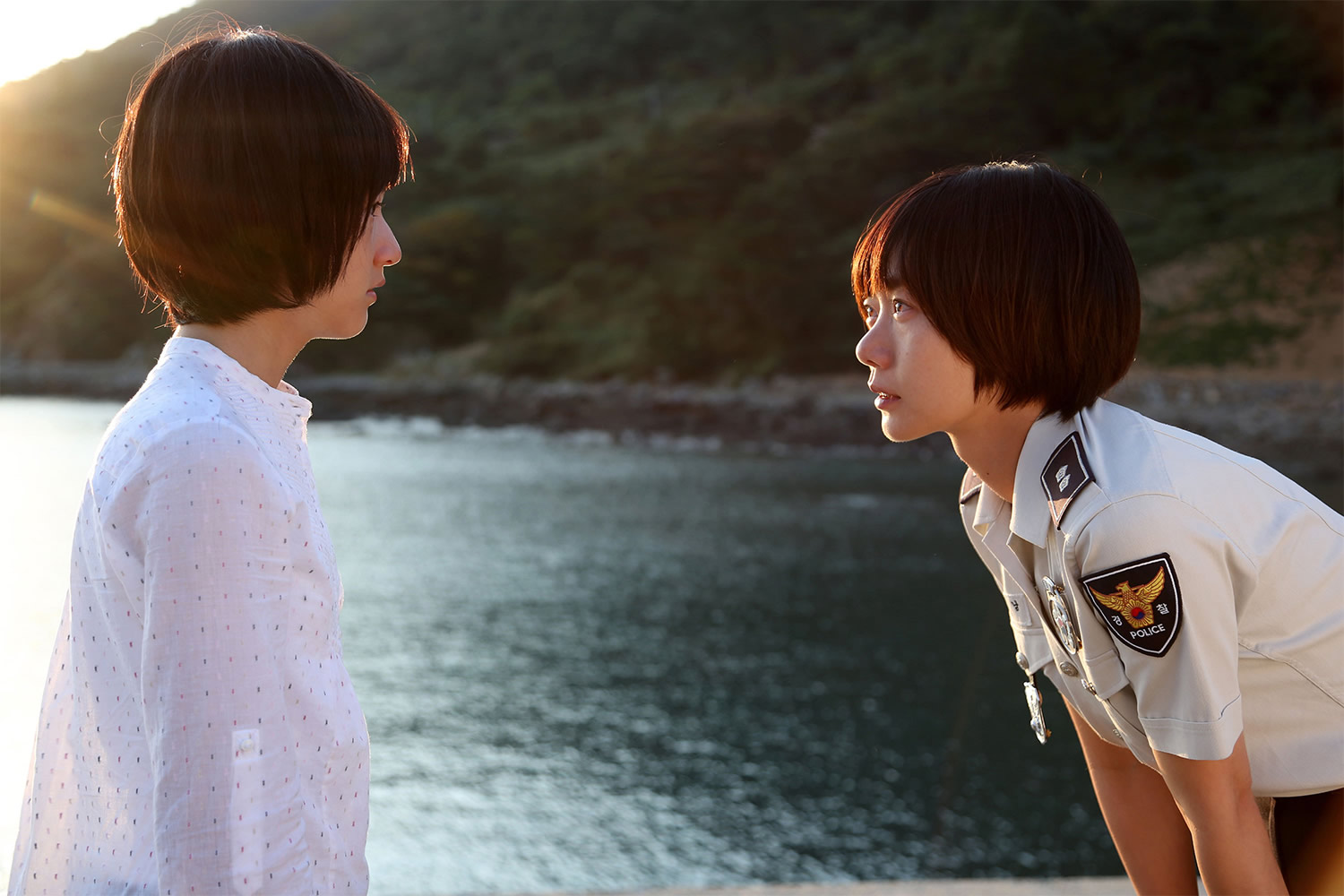 Civic justice, Sapphic desire.
A Girl At My Door
After an obscure scandal back in Seoul, police woman Young-nam (Bae Doo-na) has been transferred to a small coastal town where she takes under her wing the neglected, bullied and abused schoolgirl Do-hee (Kim Sae-ron). Young-nam is an alcoholic and a lesbian, and as she investigates the town's exploitation of migrant workers and corrupt practices, questions are in turn raised about the propriety of her relationship with the pubescent girl. July Jung's subtly observed feature debut explores both the solidarity of two abandoned women in a sexist environment, and the darker edge of their special friendship.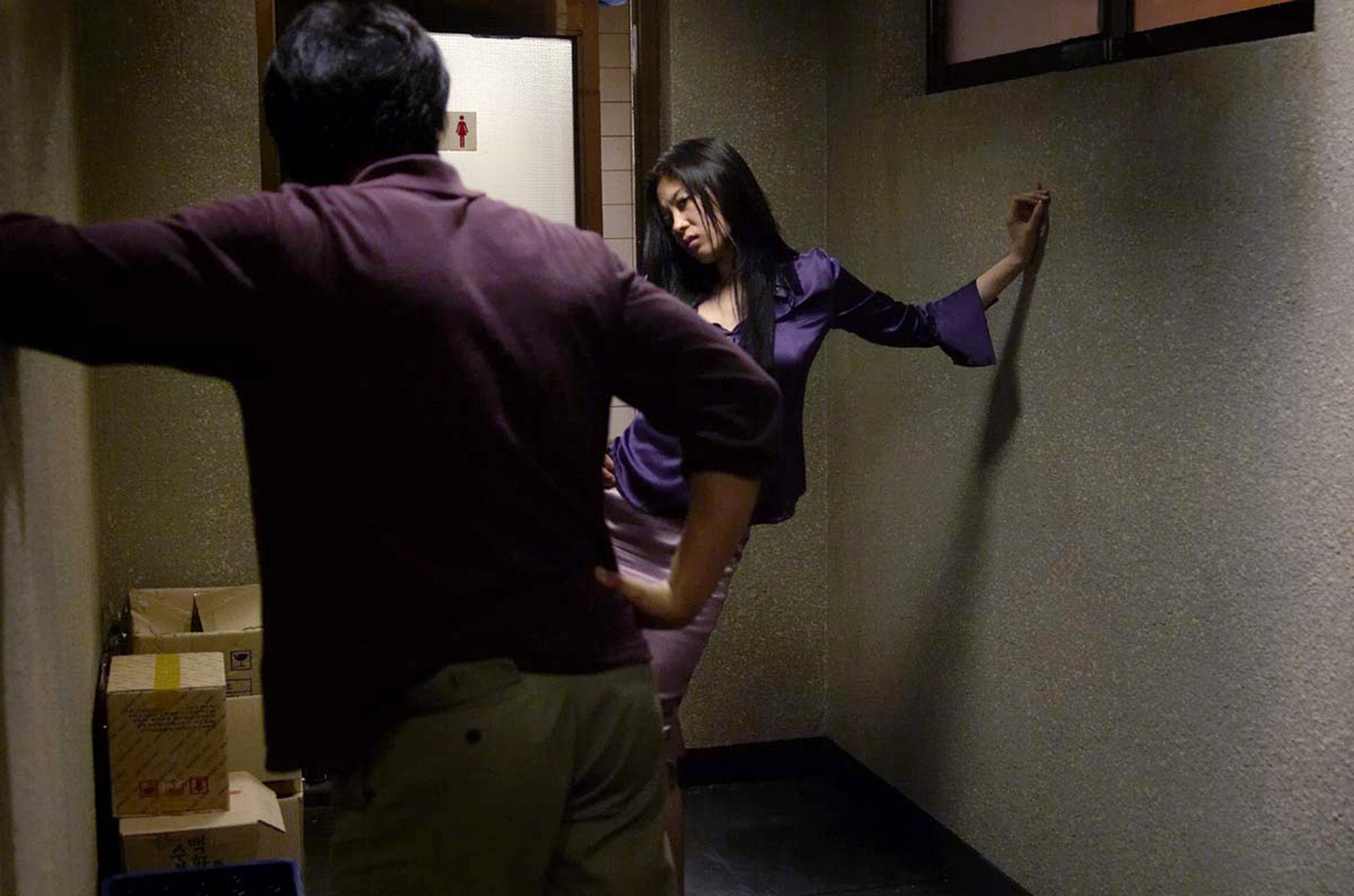 Moon So-ri's Eun-suk may limp, but her colleagues aren't . . .
Bewitching Attraction
South Korea is a notoriously conservative society, and given the high value that it places on education and tertiary degrees, professors are held in the highest esteem. So what makes Lee Ha's film so deeply subversive is its portrayal of a group of small-town academics who bang like rabbits and behave like fools, caught in the erotic thrall of their only female colleague. Textiles professor Cho Eun-suk (Moon So-ri) comes with a pronounced limp (which is in fact part of her allure) and a secret past—and her gleefully promiscuous ways serve to undermine Korean assumptions about both academic respectability and feminine submissiveness.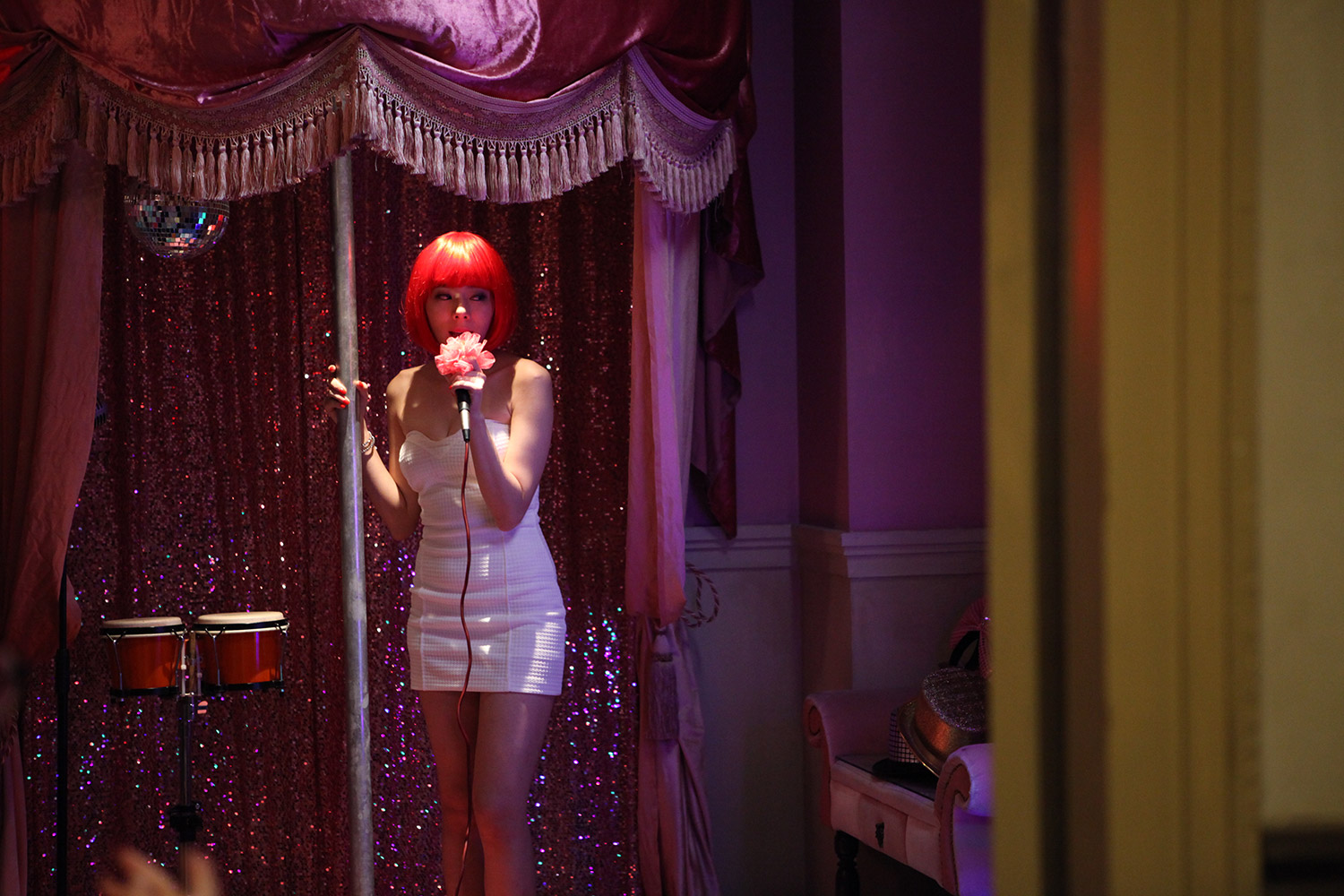 When a character is called Ha-suck, you expect comedy blowjobs (but maybe not trauma).
Karaoke Crazies
Sung-wook (Lee Moon-sik), the depressed owner of the Addiction Karaoke, relaxes by listening with headphones to porn that he never watches, while his new employee Ha-suck (Bae So-eun) helps the business boom by freely administering blowjobs to clients. They are joined by the fugitive hostess Na-ju (Kim Na-mi) and a resident of the building (Bang Jun-ho) whose presence has barely been noticed—and these four dysfunctional loners form a new kind of family unit, even as a misogynistic serial murderer circles in for the kill. Deftly navigating a variety of genres and tones, director Kim Sang-chan shows a spectrum of Korean male attitudes towards women, from respect to exploitation to abuse—and worse.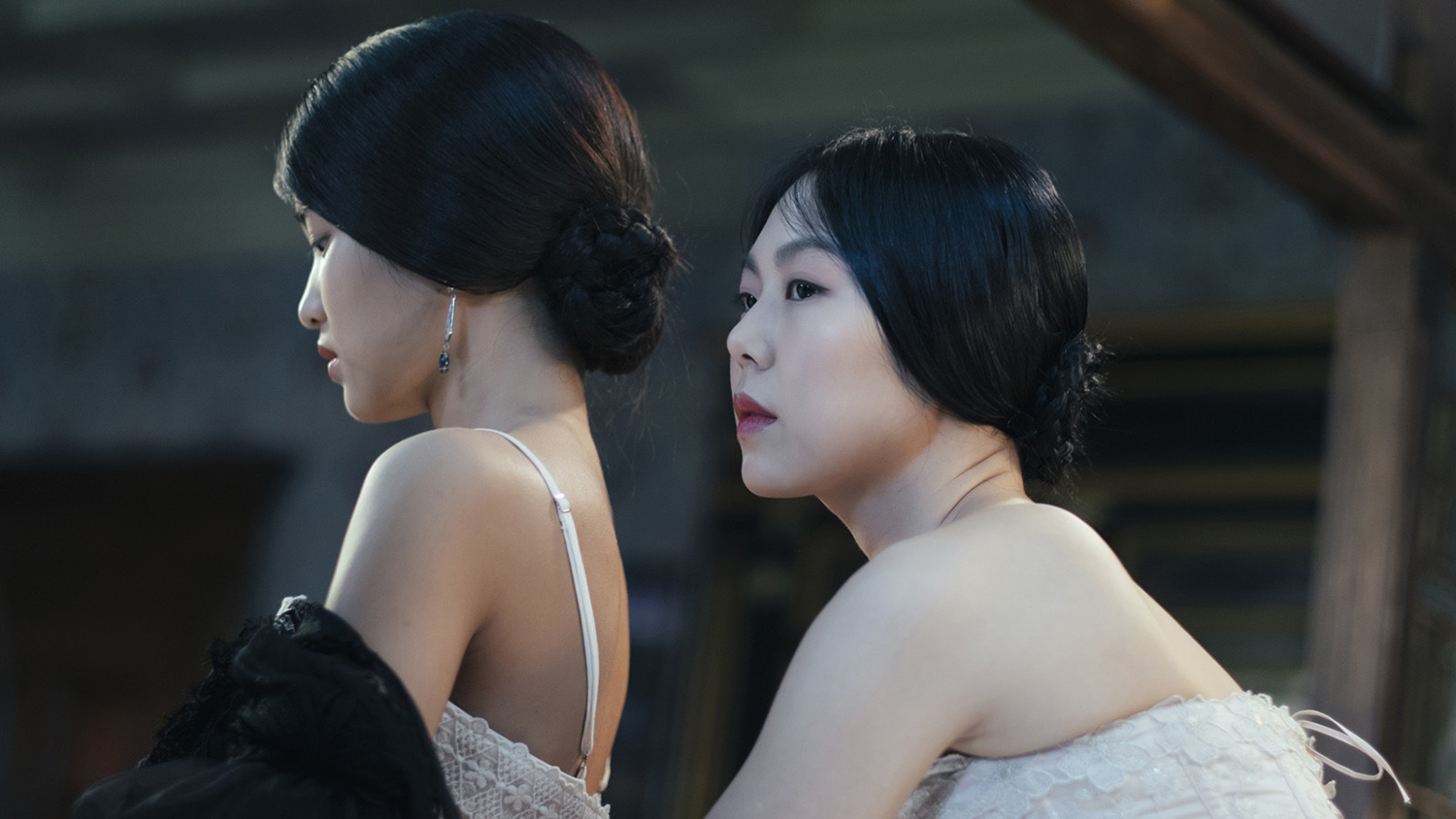 Maid and mistress of the long con against female oppression.
The Handmaiden
The principal setting of Park Chan-wook's "The Handmaiden"—an isolated estate that combines English and Asian architecture—encapsulates the film's adaptation from Sarah Waters' Victorian-era novel "Fingersmith" to Korea under Japanese occupation. Within this location there unfolds a multi-layered plot told from different perspectives in which the characters' sexuality and identity are constantly being both concealed and revealed. As new local maid Sook-hee (Kim Tae-ri)—in fact a pickpocket—falls for her cloistered Japanese mistress Hideko (Kim Min-hee), it becomes increasingly tricky to tell who exactly is conning whom, with only love itself revealing the truth. The result is a sumptuous, sensual world of illusion and treachery designed by Park and his characters to seduce and entrap—and here eros most certainly trumps pornography.
Images © respective film studios.