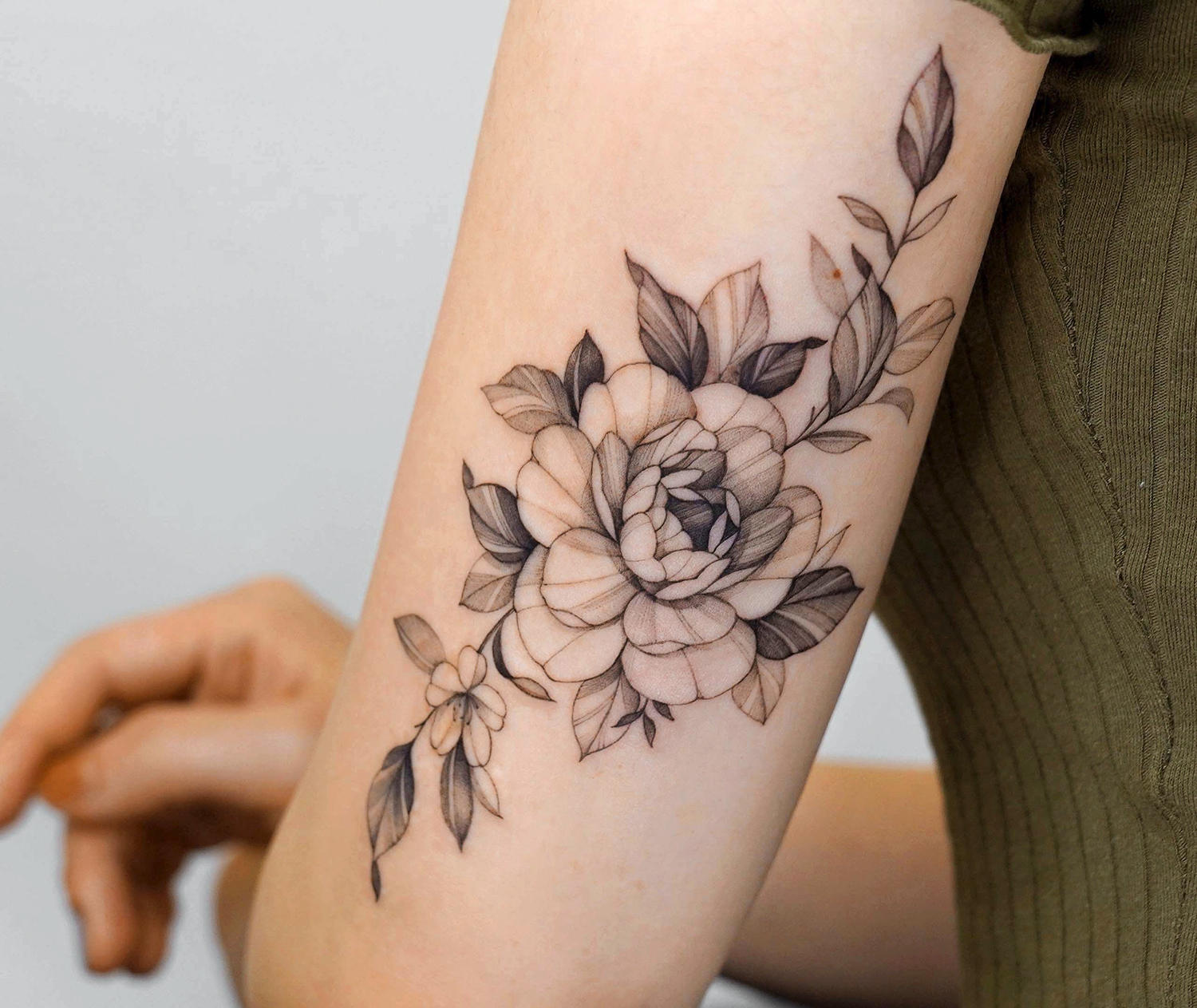 Zee, who started his tattoo career in South Korea in 2016, concentrates his work on the eternal theme of flowers. His fine-line art is sought after by domestic and international clients who see them as an aesthetic fit and flowing for any part of the body. The main issue with flowers is that around 90% of his internet clientele believe he is a woman, even though flower designs (and those creating them) should not be gendered. Many are "perfect flowers" scientifically, comprising both female and male elements, yet there is a stereotype in sociological terms, similar to colors.
Above: A close-up of a flower tattoo, highlighting the shading elements.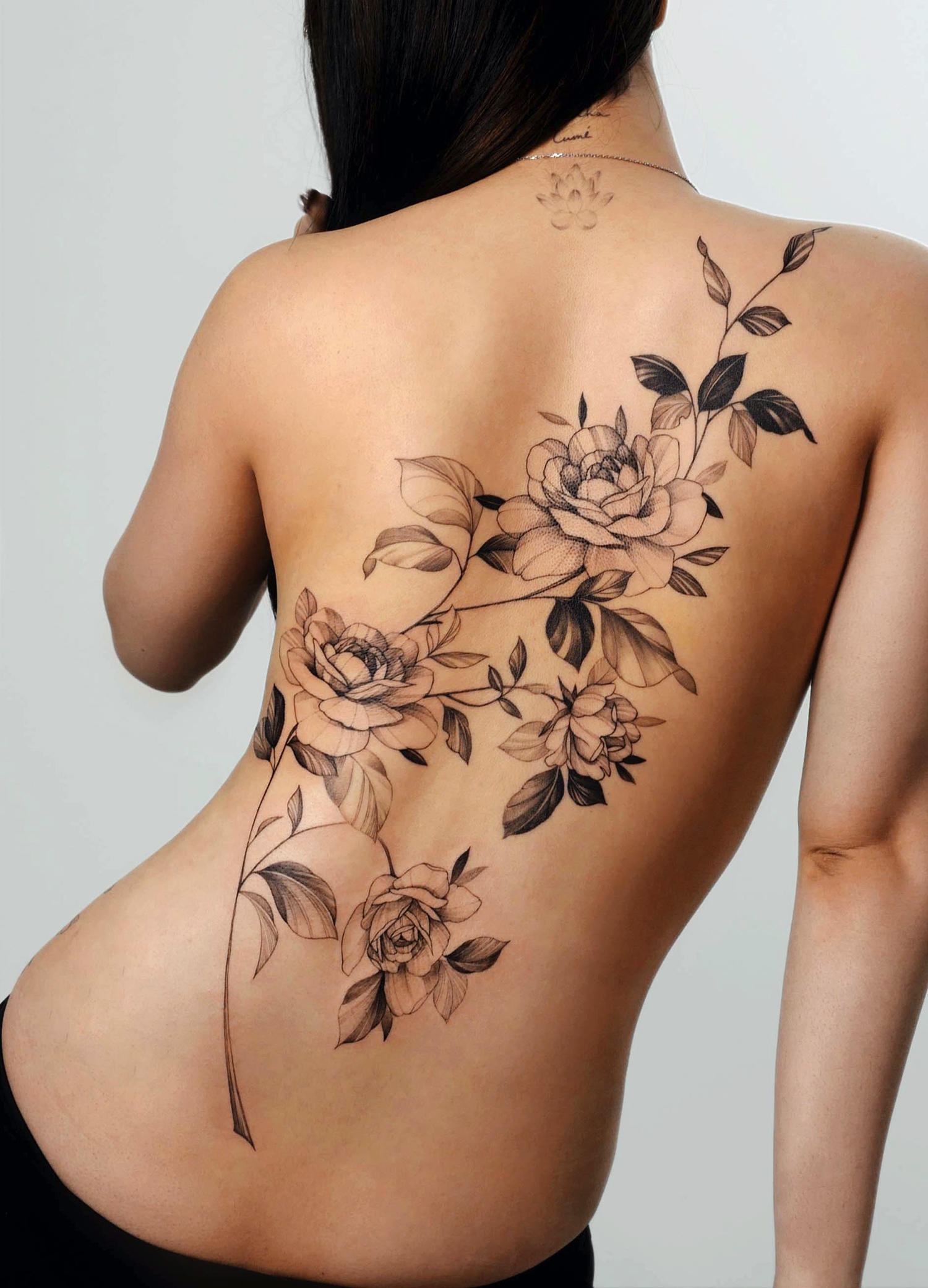 Roses in a fine-line technique on the client's back.
How did you get interested in the tattoo field?
I was in the Navy for four years and had to follow their rules. But after meeting a tattooist (who lives the polar opposite of my military life), I became intrigued and began learning about this craft. I'm incredibly proud of the years I spent in the Navy, but I'm even more thrilled to be a tattoo artist because a tattoo can last a lifetime.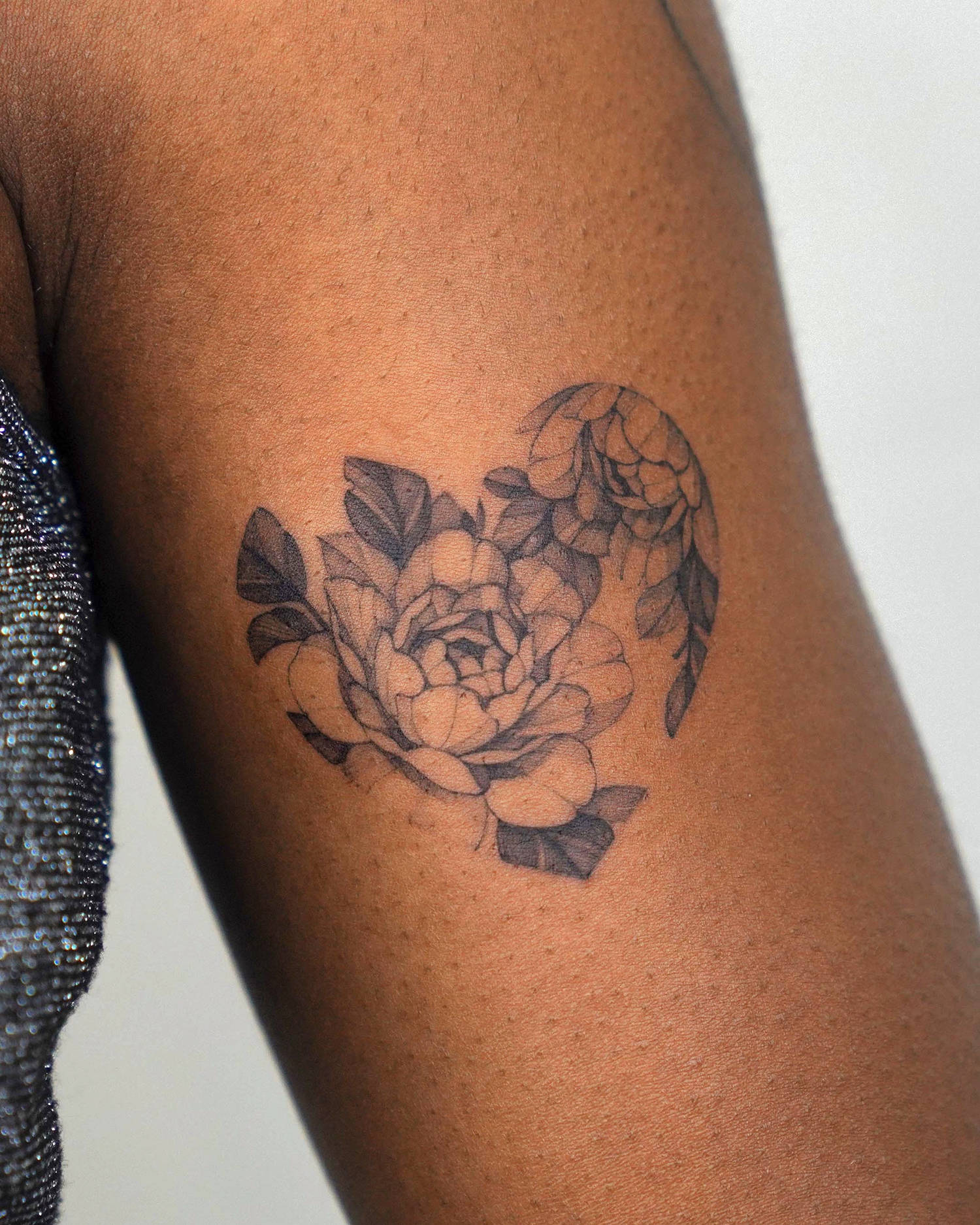 Zee tattoos on all skin tones.
It's great to see your work on darker skin tones. Some tattooists are divided regarding whether or not to do it.
I frequently use black ink. Even if the skin tone is darker, I don't think it's a problem. My guests are also aware of technical aspects, and we proceed with the work after adequate consultation. When I work, I believe that my opinion is essential, but I also try to match the views of my customers. If there is anything they require, I will provide it. I'm not sure why there's such a fuss about it.
Detailed view of the white ink accents.
You use white ink and show healed pictures. Do you have to do touch-ups? What ink brand do you use?
I use Starbright ink. I don't have to retouch unconditionally, but as I explained earlier, as I previously stated, I communicate it with my clients and add shading around the white line to minimize the problem. I.e., in a healed state, white ink is less visible than other color inks; because it blends in with the skin tone, it cannot be kept perfectly white.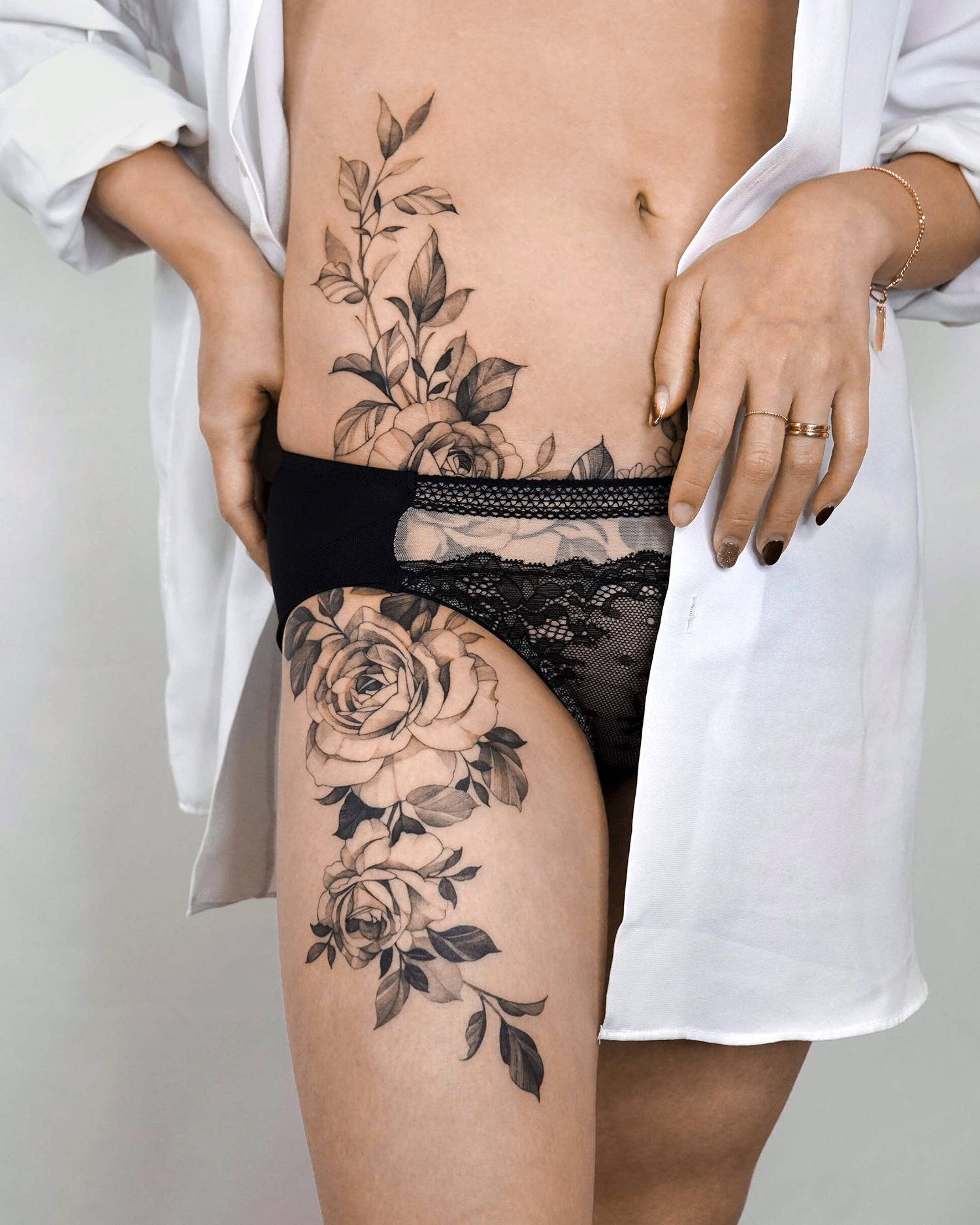 Flowers are a timeless motif.
Why are flowers a reoccurring motif?
Everyone has a favorite flower. It could be a flower given to you as a gift by a loved one, your birth flower, or something else. Because flowers wilt, I'd like to present everlasting flowers in tattoo form, utilizing the human body's beautiful curves to make the flowers more colorful.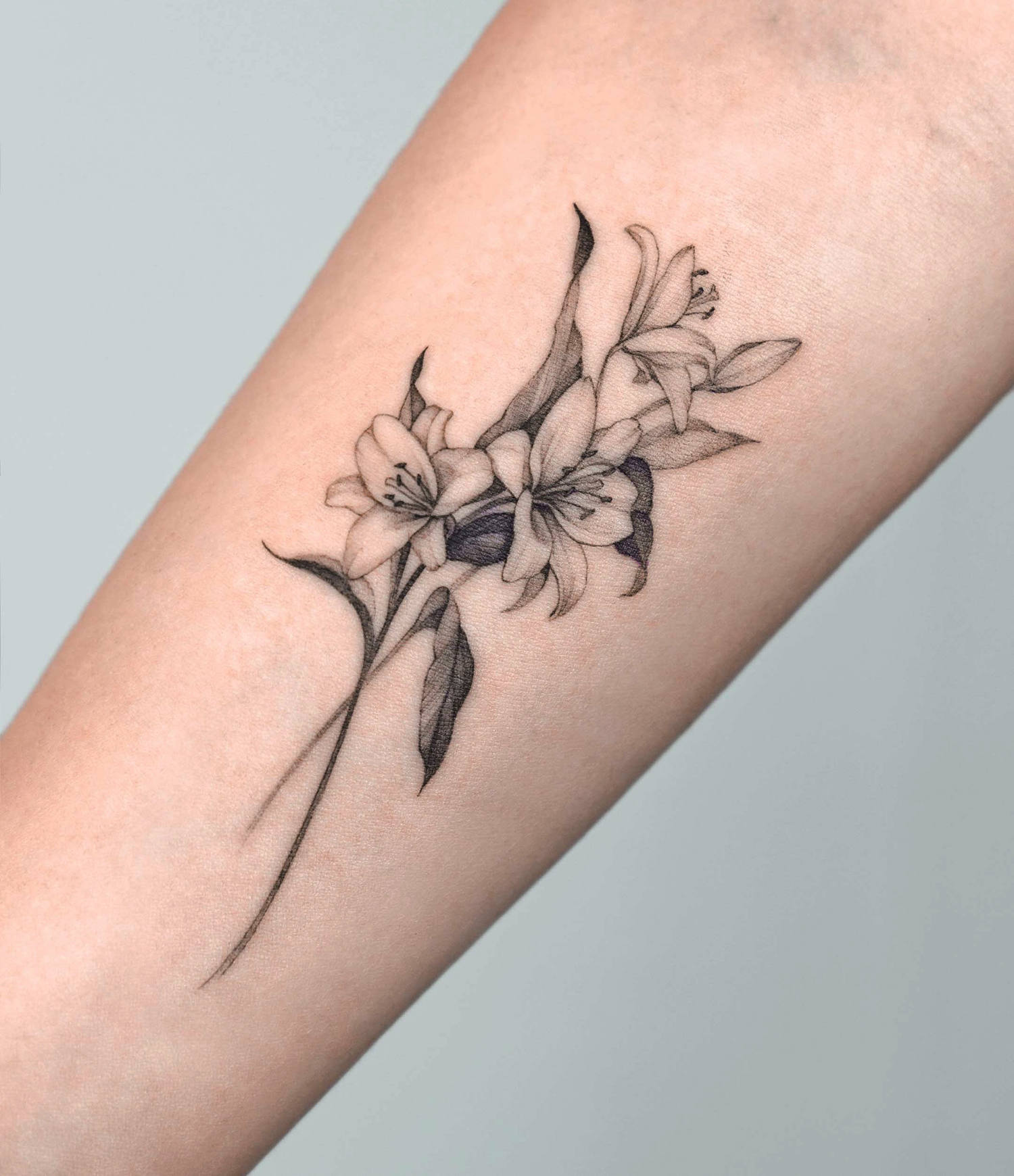 Zee creates exquisite lillies.
Do you have a garden?
I don't have a garden, but I frequent the Express Bus Terminal Flower Market at dawn in Korea. And there are so many plants all around us. I pick up the leaves that have fallen as I walk.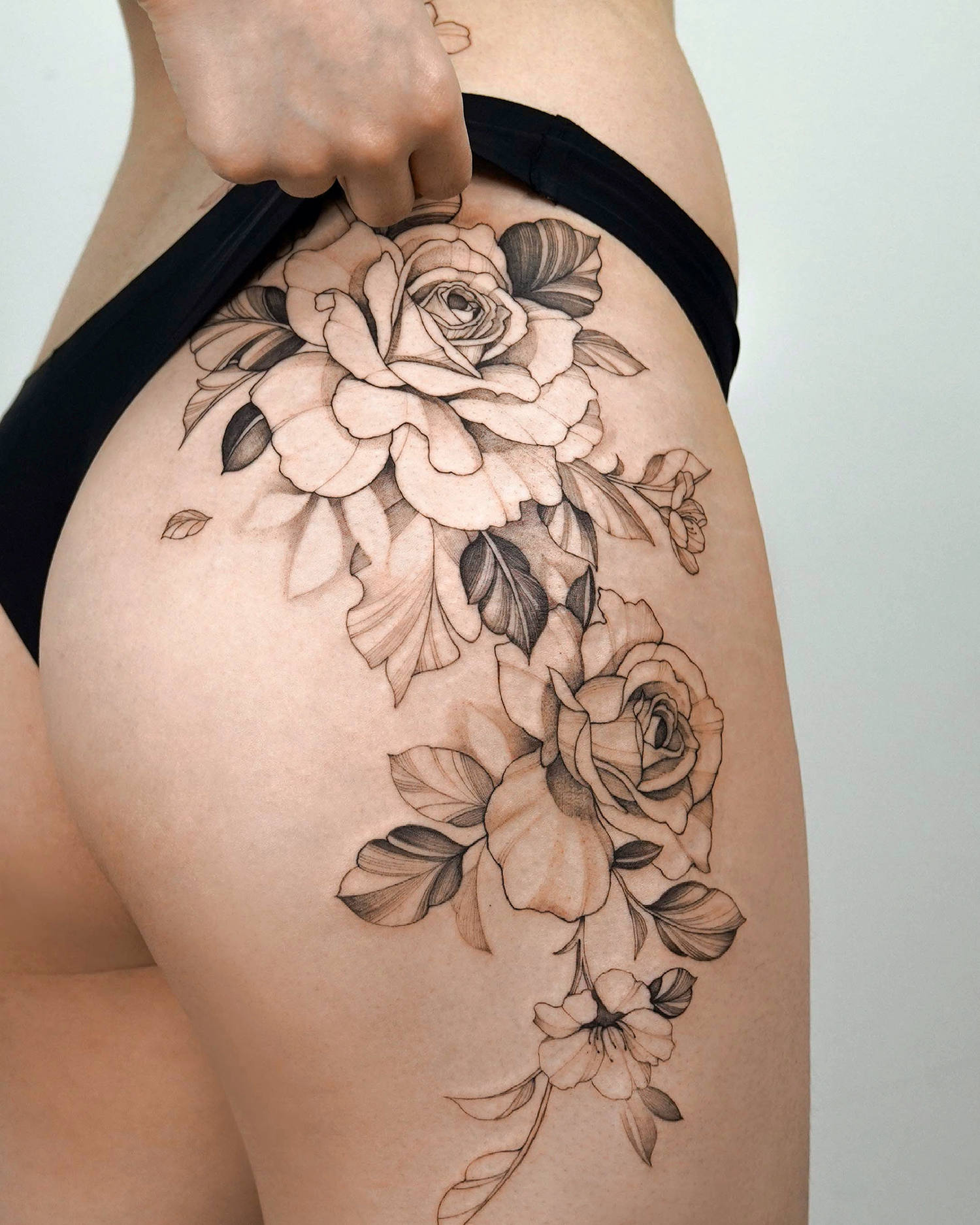 Floral tattoos look fantastic on any region of the body.
Something unique about you that most people do not know?
Most people think I'm a woman because of my tattoos, but I am a man and have a beard.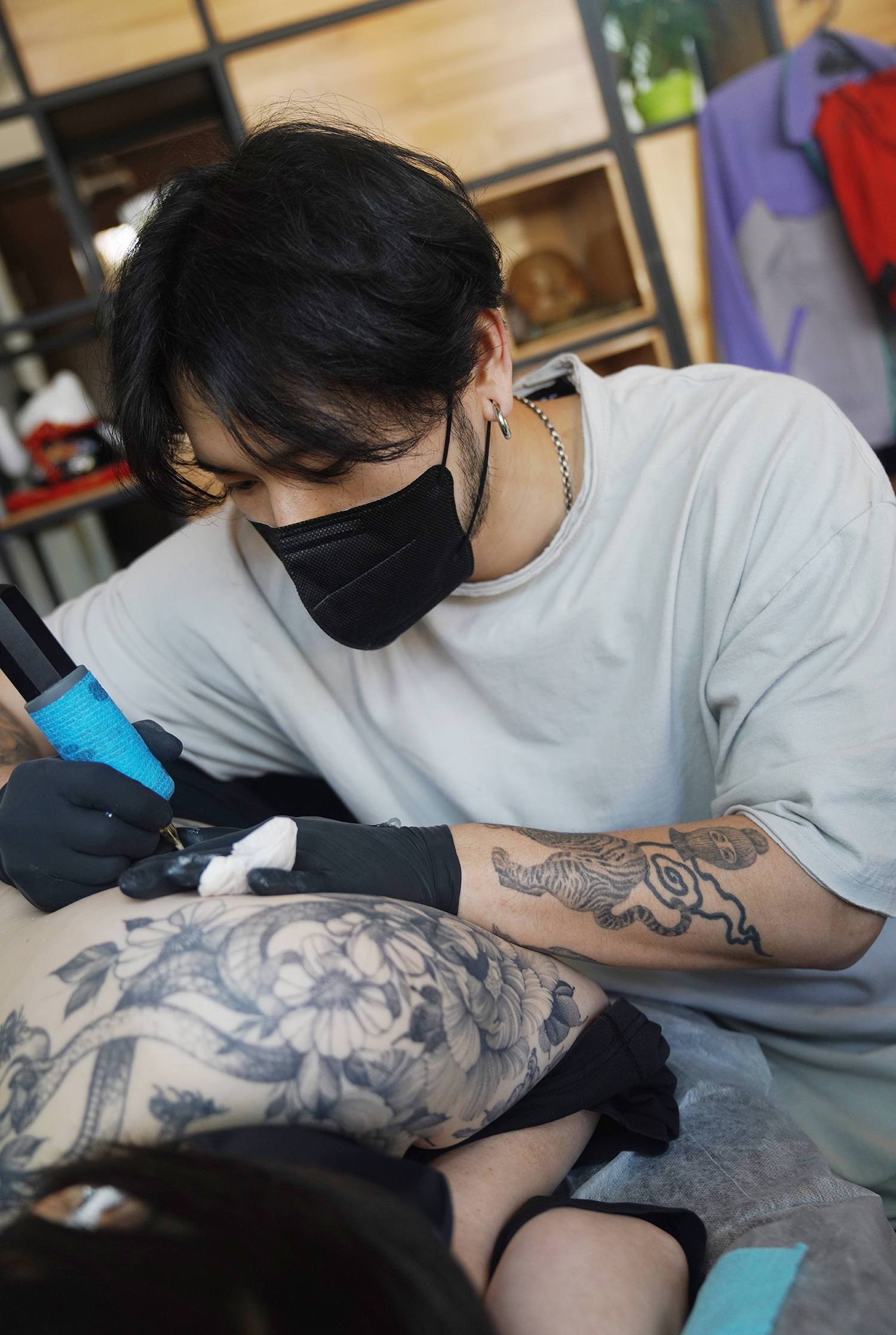 Zee, a tattoo artist from South Korea, at a private studio.
And what about hobbies?
I like collecting perfumes, more for the fragrance than bottle designs. For example, my recent favorite is Louis Vuitton's "Afternoon Swim In." It is fantastic!
Photos © Zee