Joojoo often represents flora and fauna in her tattoos, which she conceptualizes on an iPad using the Procreate application by sketching until she finds the perfect fit for her clients. The artwork consists of line drawings with color accents that resemble crayon or paintbrush smudges. Her purpose is to create simple, organic line work. In addition to receiving several direct messages from Americans, these small tattoos are popular on the Korean market.
Above: A ship may signify a life lived on the undulations of ocean waves and air, distant from the shore.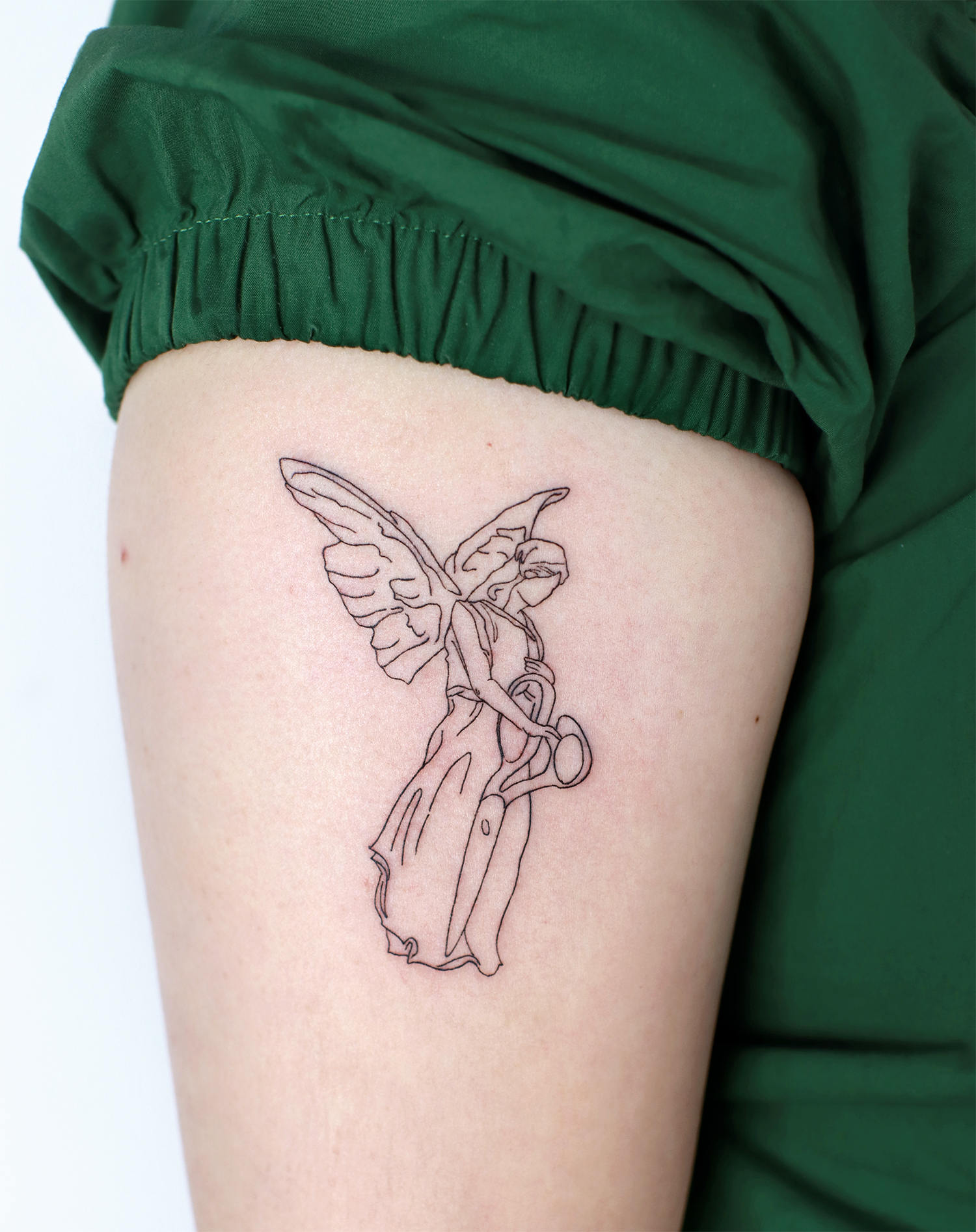 An angel in a sketch-like way done with black ink.
Are there any particular individuals who have influenced your line art?
Picasso's art is my favorite because it is abstract and simple, but his identity is apparent. I don't want to illustrate things precisely as they appear or imitate someone else's work; I want to see and express things uniquely.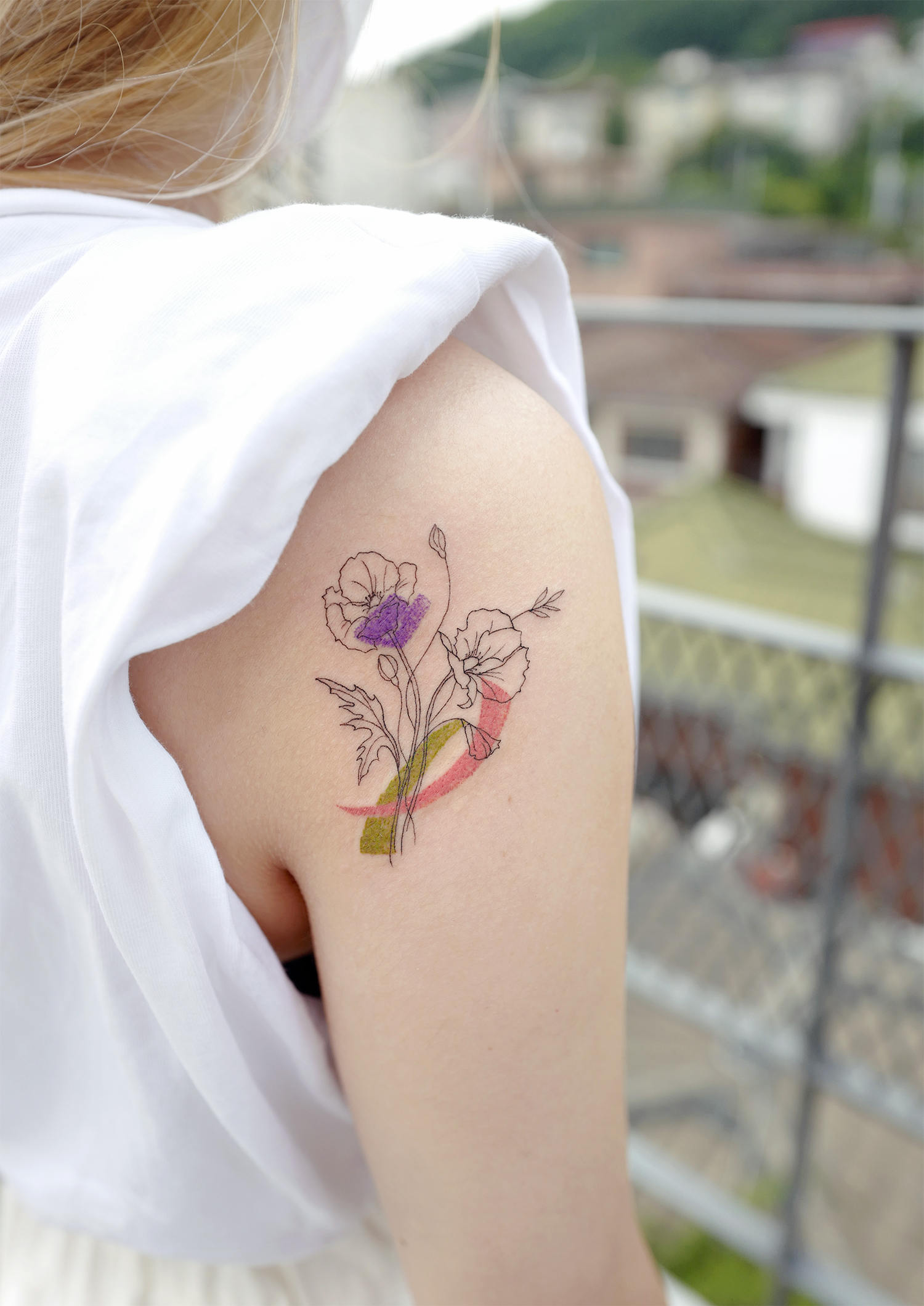 In this image, you can see the crayon-like smudge accents.
What are your favorite Picasso art pieces?
My favorites are his animal line drawings (such as "Dove of Peace"). Rather than realistic-detailed-looking animals, I like his minimalist manner.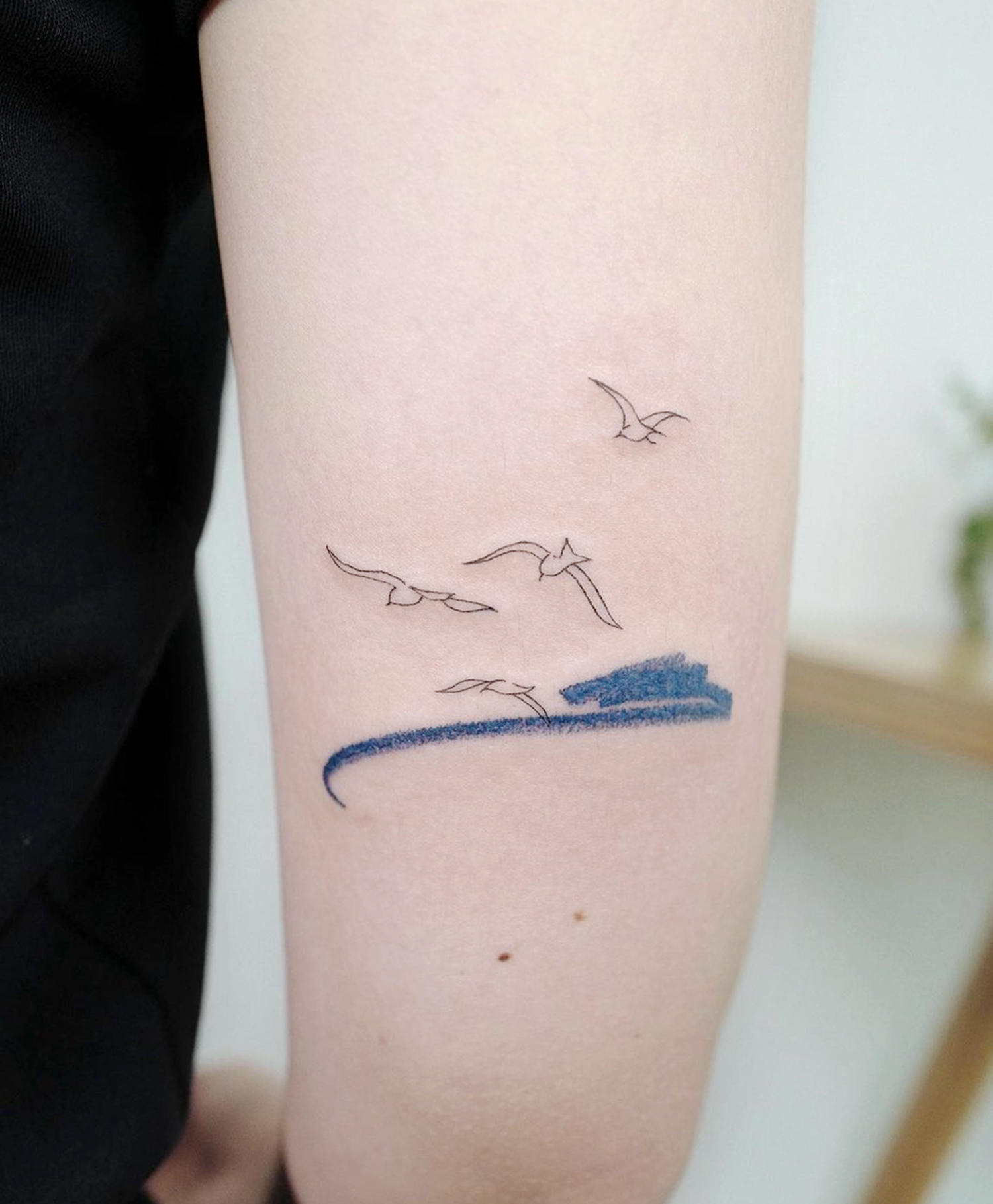 Seagulls are a common theme requested by clients of Joojoo.
"Dove of Peace" is from 1949, lithograph on paper. Have you considered trying this medium and doing your own prints?
I want to make lithographs someday. I'm also working on a poster right now because I intend to create my drawings so that anyone, not just tattoo enthusiasts, can own them.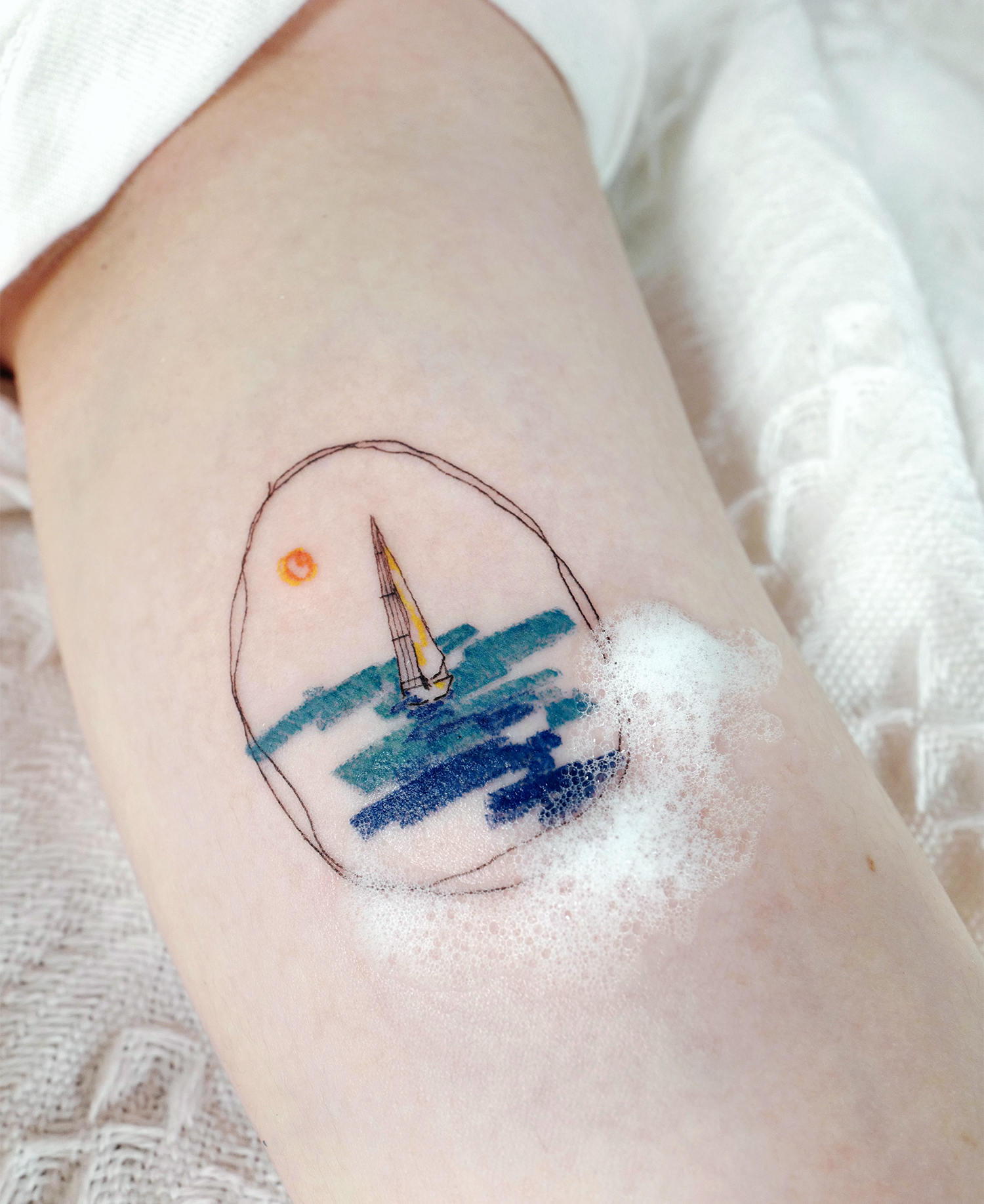 Here's a stylized rendition of the sea and sail.
What tattoo themes do you enjoy doing the most?
I adore nature. From the warmth of green plants to the freedom of the blue sea—nature is full of colors and energy.
White ink may fade on the skin with time, becoming less vibrant, yet it remains an intriguing pigment for some tattoos.
Do the clients request white ink, or do you like to add it? Have you seen how the white ink looks over time?
There are some lovely tattoos when white ink is applied. For example, if it is a flower or image that permits contrast and contains a clarity of white, I recommend it. White ink does not remain utterly white over time but shines naturally on each skin tone. I always explain this to my clients.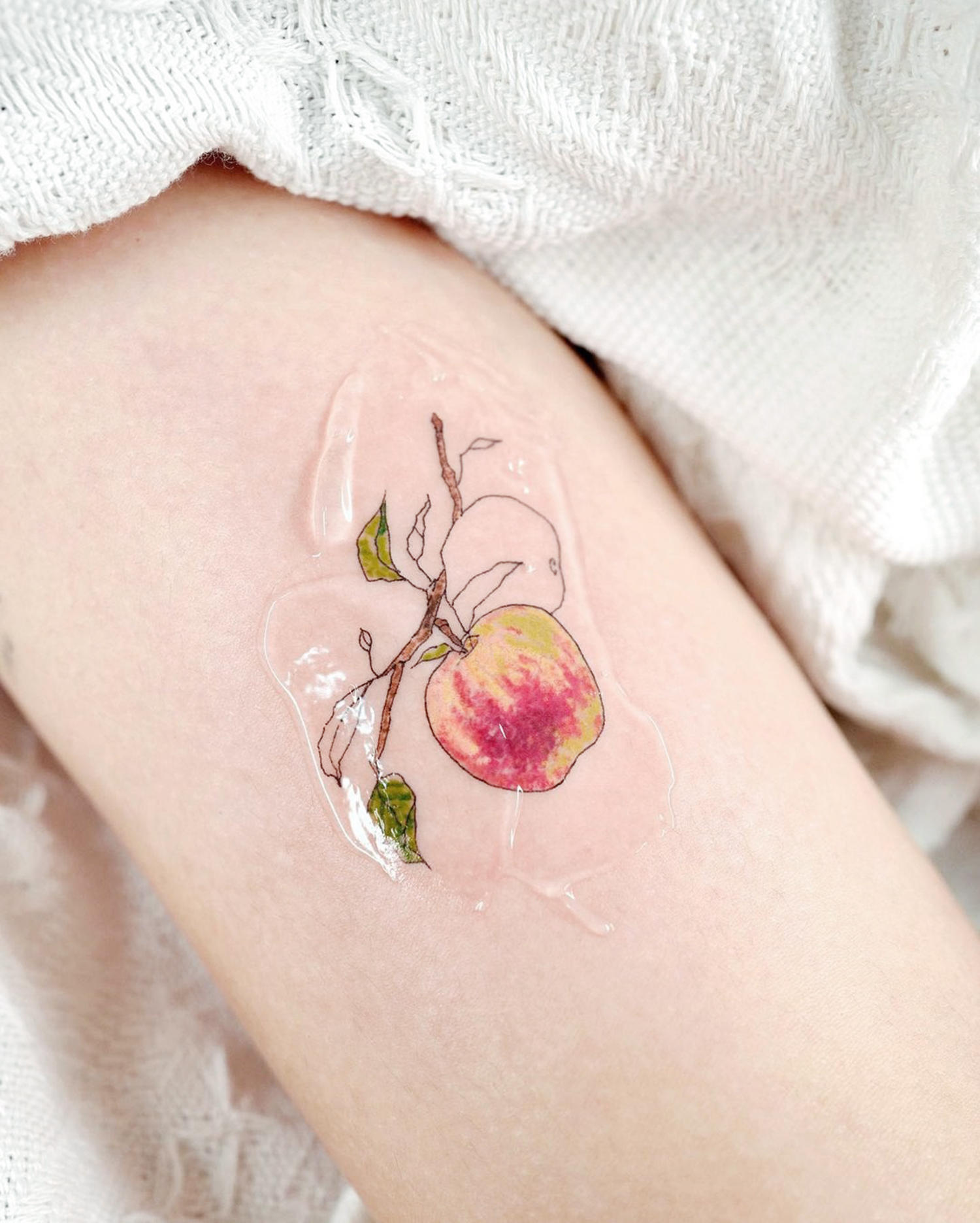 The "forbidden fruit" portrayed on skin.
Since your tattoos are small-sized, how long may they take on average to produce?
The average tattoo takes about an hour and a half. However, it takes a significant amount of time to create a design desired by the customer and modify it while exchanging opinions with them. The pre-production of it can take three hours.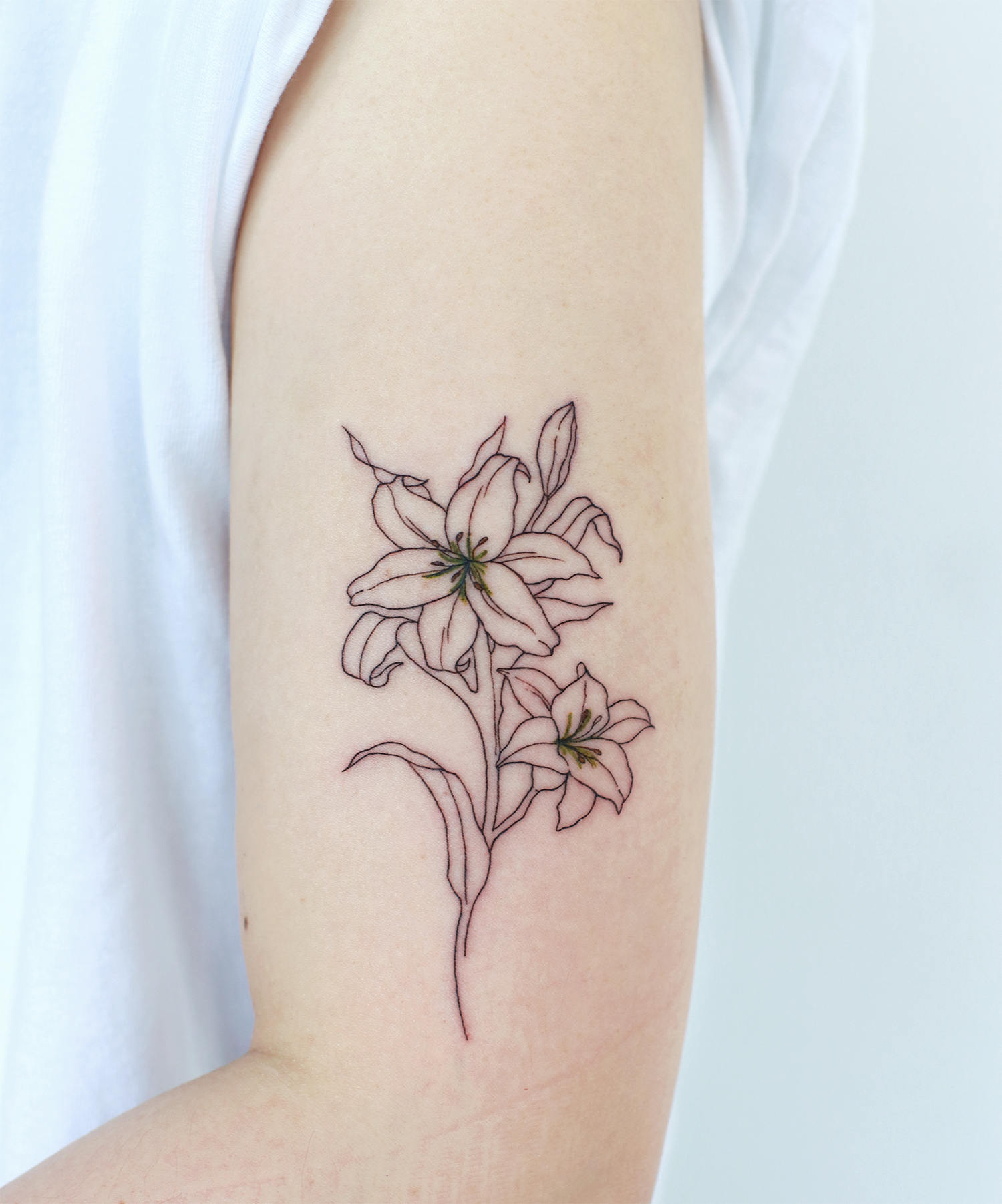 Lillies may symbolize purity and resurrection.
You have shown an interest in minimalist art; does your house reflect that?
I try to live a minimalist life. My drawing style appears to reflect the path I'm taking in life. However, the house seems to be no different from others. I like clothes so much that I don't think I'm a wardrobe minimalist.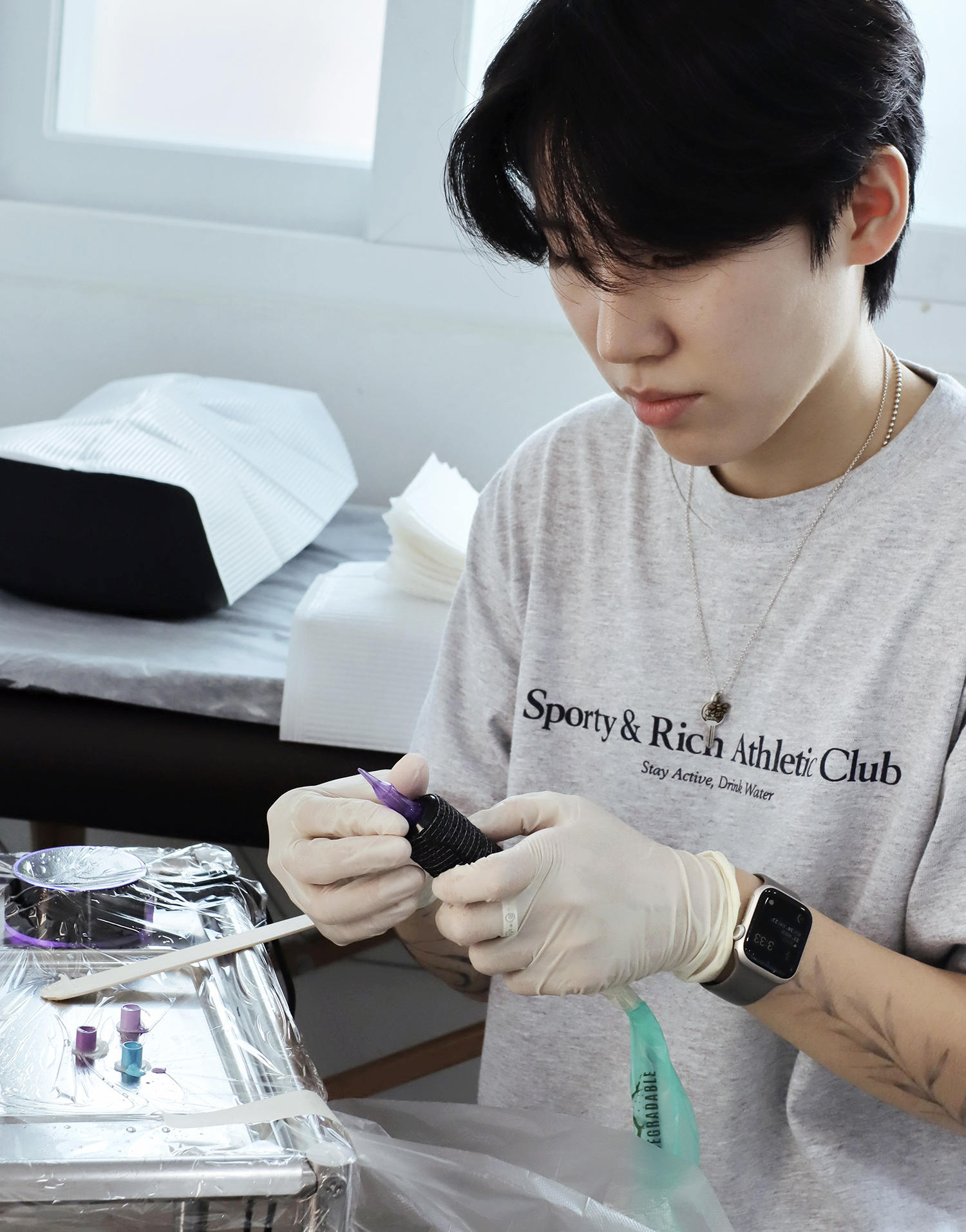 Joojoo, a tattooer from South Korea, prepares her station.
What other interests do you have?
I enjoy listening to music and taking pictures outdoors in nature. Seeing the world through the camera lens rather than with my own eyes gives me more diverse perspectives. Music refreshes the air and atmosphere around me when I listen to it. The harmony between the most natural and manufactured music is perfect.
Photos © Joojoo