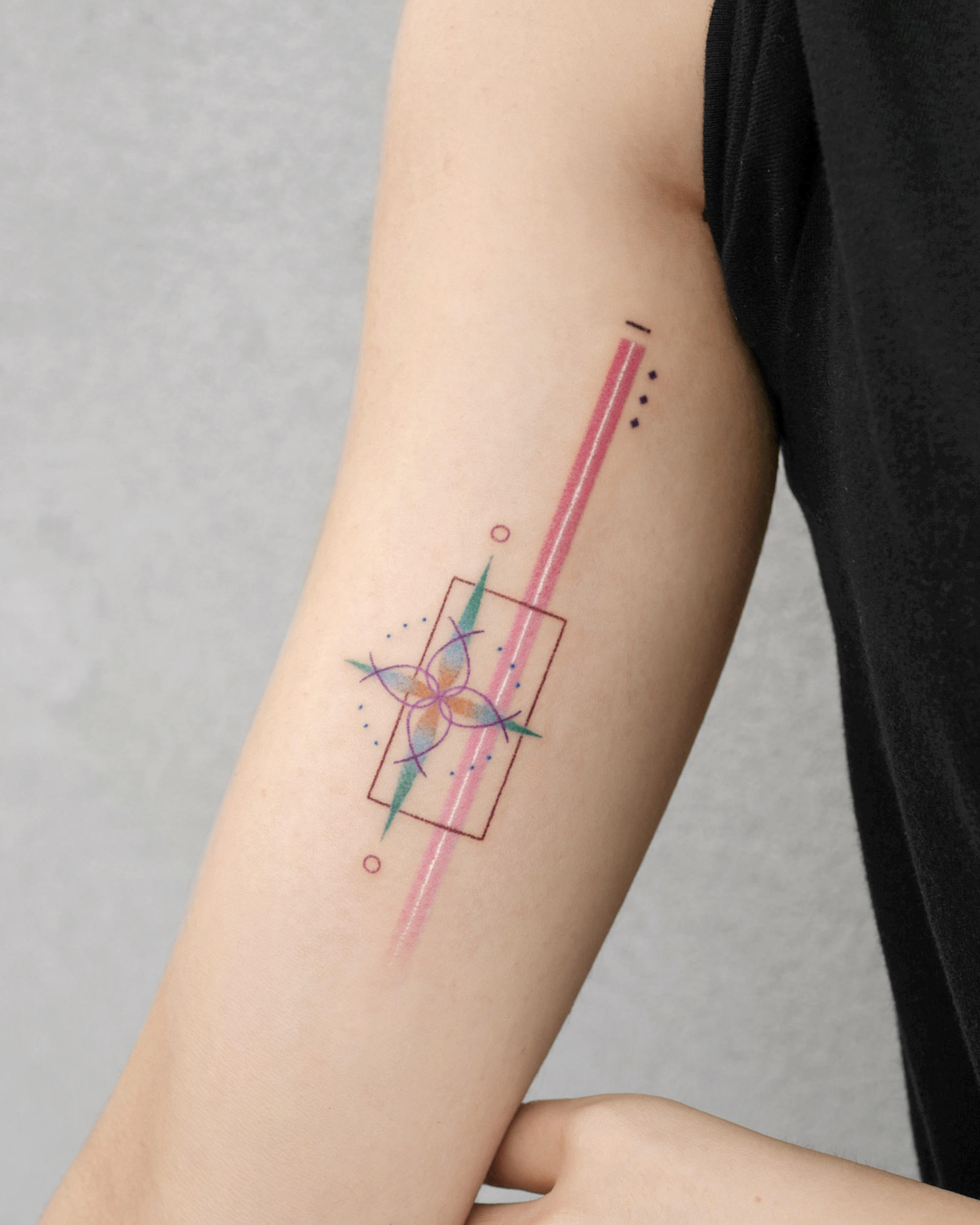 While micro tattoos are not for everyone, there is a sizable global market for this work, with South Korean tattooists in high demand for their meticulous talent. Basil is another emerging tattooist who incorporates art and design elements into her geometric tattoos. A customer sends visual references (photographs of birds, flowers, or landscapes), and she composes it in a Bauhaus-like manner, stripped down to its core. It has an expressive quality due to how the circle and rectangle blend—poetic geometry in various color pigments.
Above: Basil's tattoo has an exquisite color palette.
Giving the customer hope by tattooing over scar tissue.
You relocated from Daegu to Seoul in 2012 to attend university. What subjects did you study?
I studied metal art and design at the Hongik University, where I learned how to work with metal to make sculptures, furniture, lighting, and jewelry. That's when I honed my ability to visualize geometric forms in my head and translate them into the real world. I make simple geometric shapes out of people's pictures and stories. For example, if you want to express a dog looking at the sun, you can represent the dog as a triangle and the sun as a simple circle. Everything is simplified and stylized conveying emotion and a memory for the client.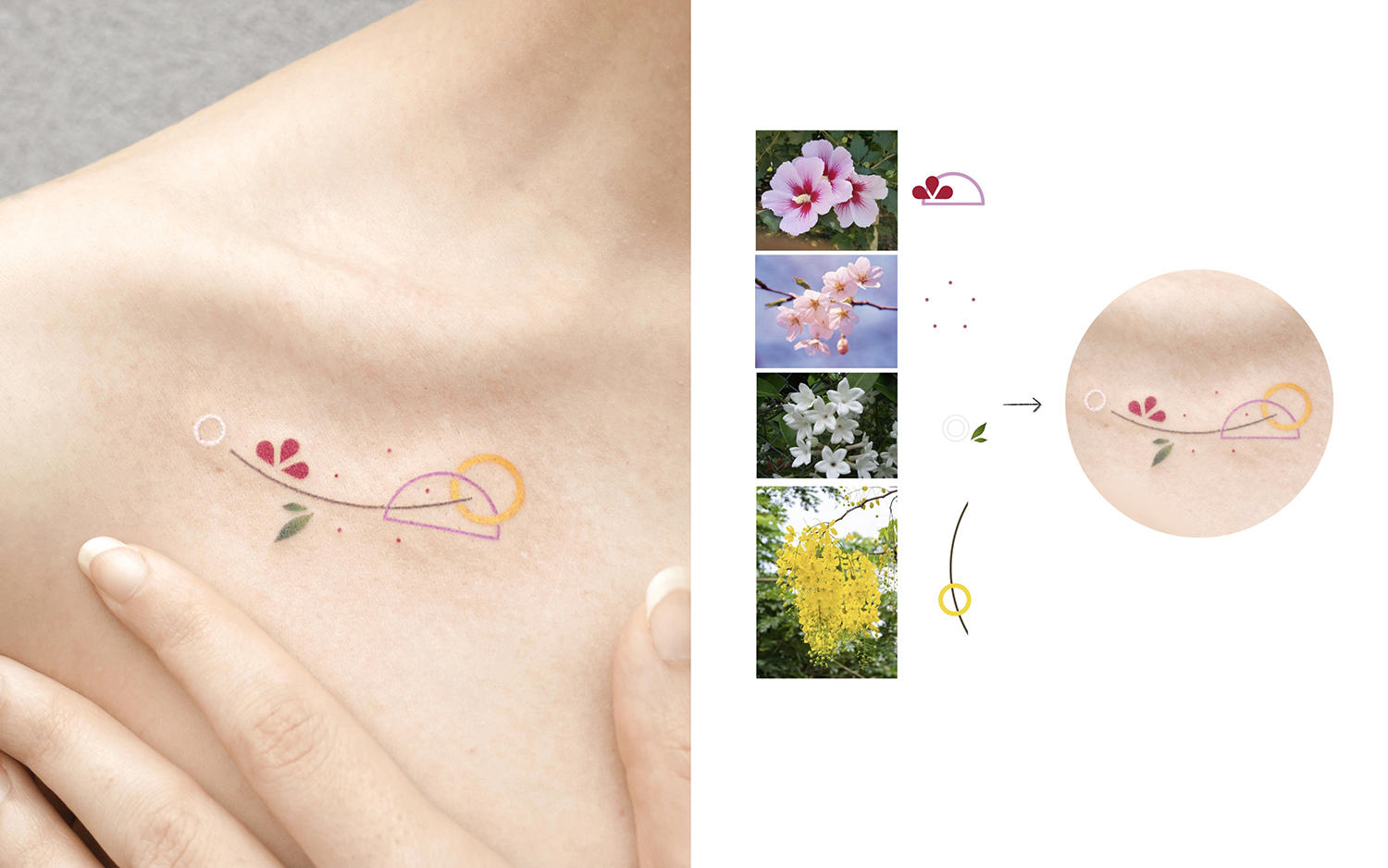 From visual inspiration and sources to the final tattoo design.
You finished your academic course in 2017, and in 2019 are enrolled in a tattoo course. What led you to change from metalwork to tattoos? What happened in these two years?
I learned 3D rendering on the computer in that time. I did a lots of job interviews, but I couldn't make up my mind about what job to take. And I discovered that I enjoyed creating things with my own hands, not in front of a computer screen or sitting in an office. And I found that I like interacting with other people. Then I heard about becoming "a tattooist," so I enrolled in a tattoo school and soon realized I had found my dream job.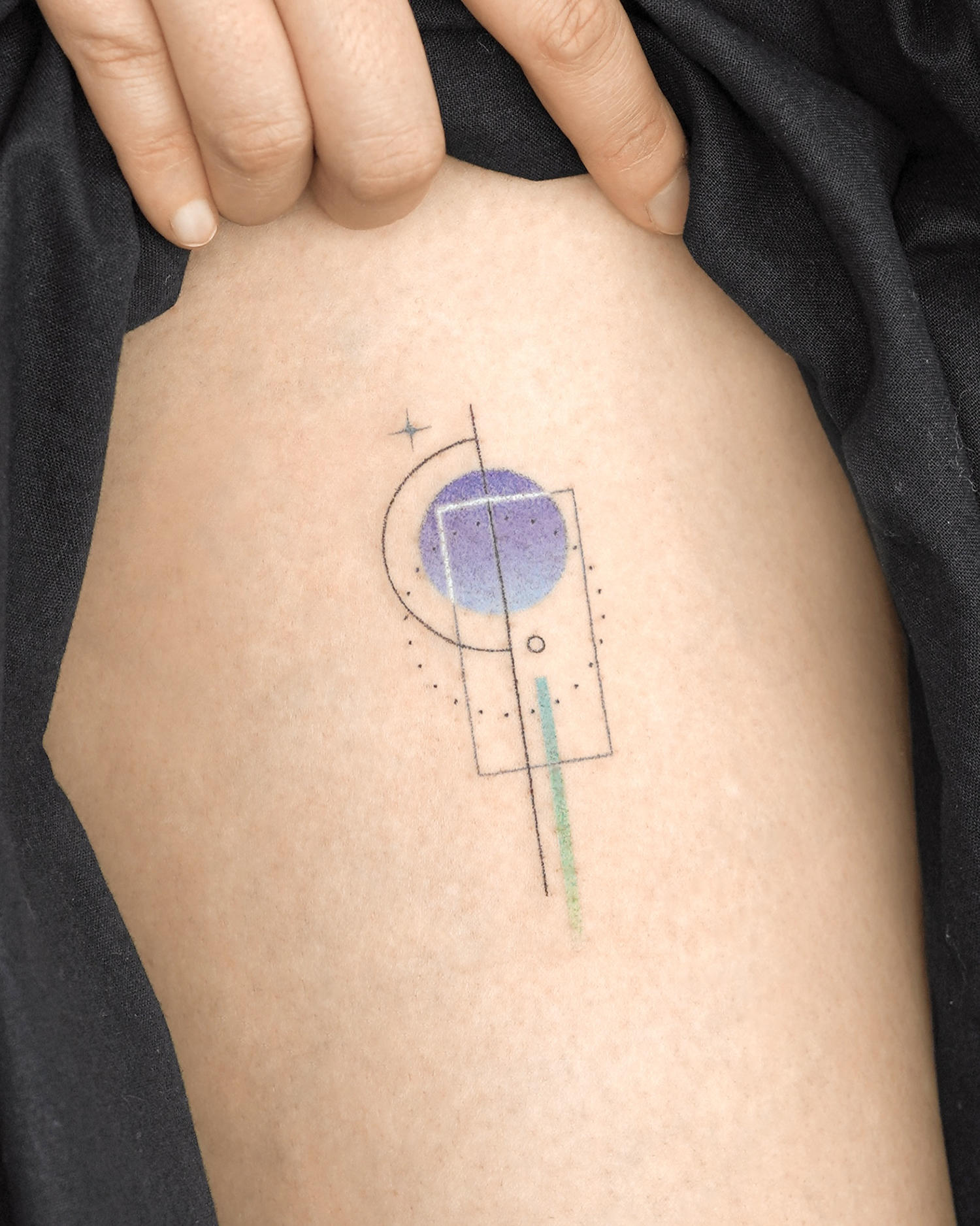 Basil brings back basic geometric forms in a variety of ways.
You have had to have some references in art and design history. Who inspired you the most?
Le Corbusier, a Swiss architect, is an inspiration to me. He is well-known for his theories on the efficient structure of people. His aesthetic value, on the other hand, is very high. He makes the most stunning compositions and shapes. I'm always trying to figure out how he splits simple planes (a flat surface on which a straight line connects any two points) with such well-balanced proportions, how he achieves harmony with line and plane, straight line and curved line, and so on.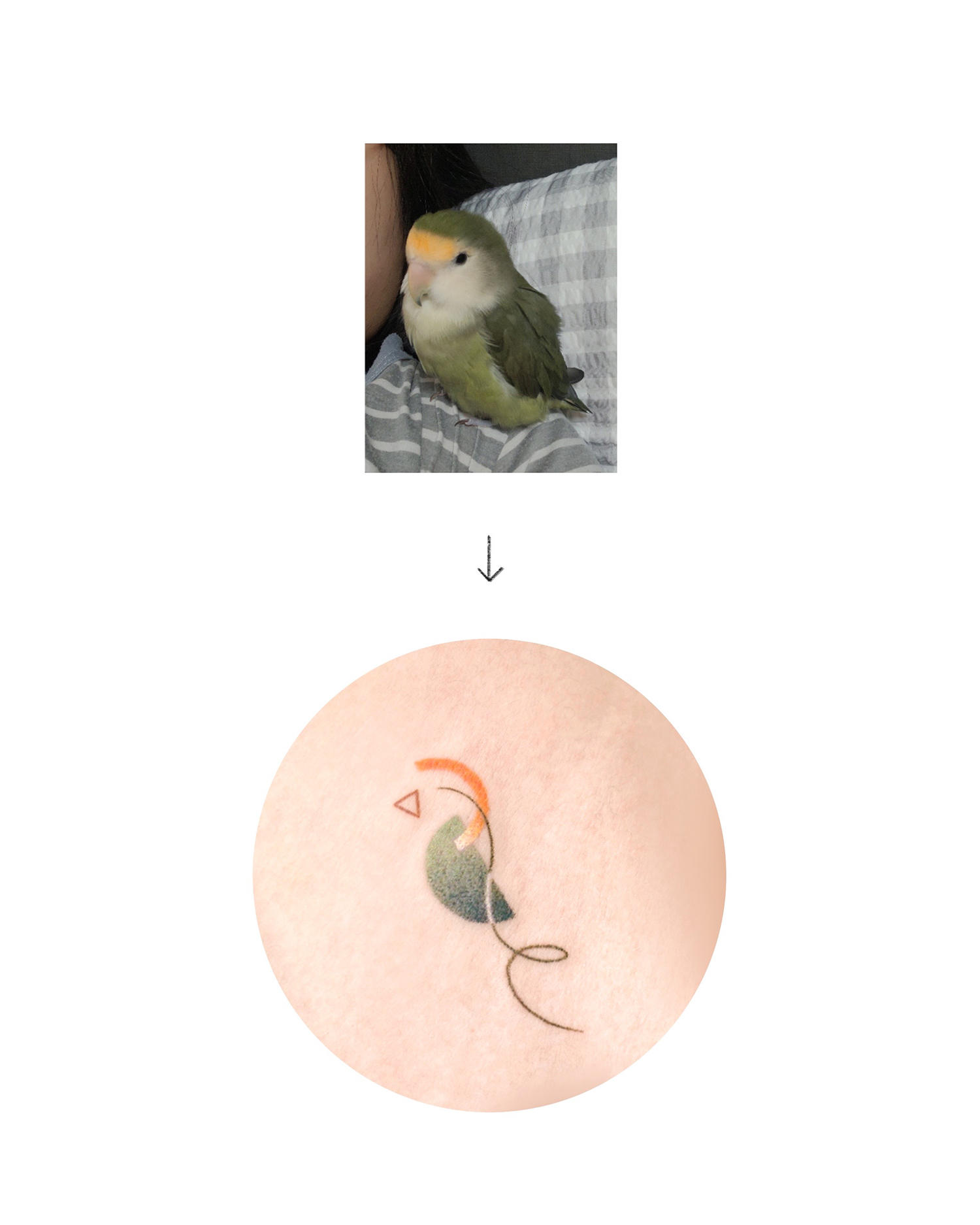 From the customer's pet to the finished evocative artwork.
You are also a fan of the Bauhaus movement (1919–1933); what intrigues you about this movement?
I like how Bauhaus produced "simple forms" for functional design. Someone could talk about how much they influenced the modern industry, but I'm more interested in the forms they created. Because Bauhaus designers simplified product shapes, their products were left with only the essential parts for use. Even though most of the elements have been removed, the products are still beautiful and visually appealing. Simple, but ideal! And that is why I wish that my tattoo creations are as good as Bauhaus ones.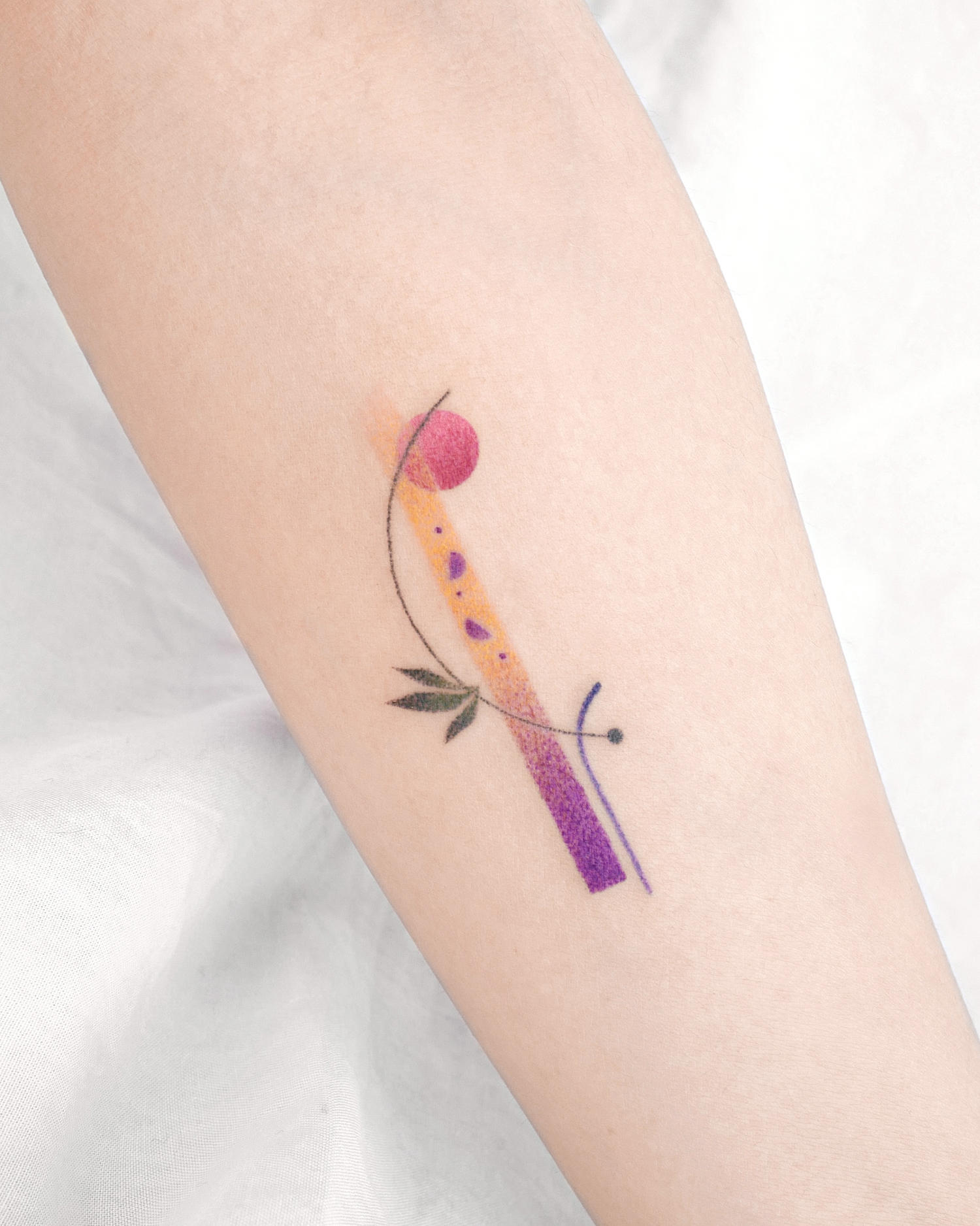 We can see the dot-to-dot, handpoking method up close.
When you started tattooing in 2019, did you immediately focus on geometric designs?
I did flowers, landscapes, and movie themes since they were popular topics. But I couldn't get rid of the geometric form I used to build with metal materials. So I just sketched geometric shapes inspired by nature and films and posted them on Instagram. At the time, I didn't care if no one got it as a tattoo. However, several customers who loved those forms came to me for sessions. And more customers began to ask me if I could create a geometric pattern inspired by their favorite movie or personal narrative. Nowadays, I get DMs from individuals all over the globe requesting geometric tattoo designs based on their personal stories.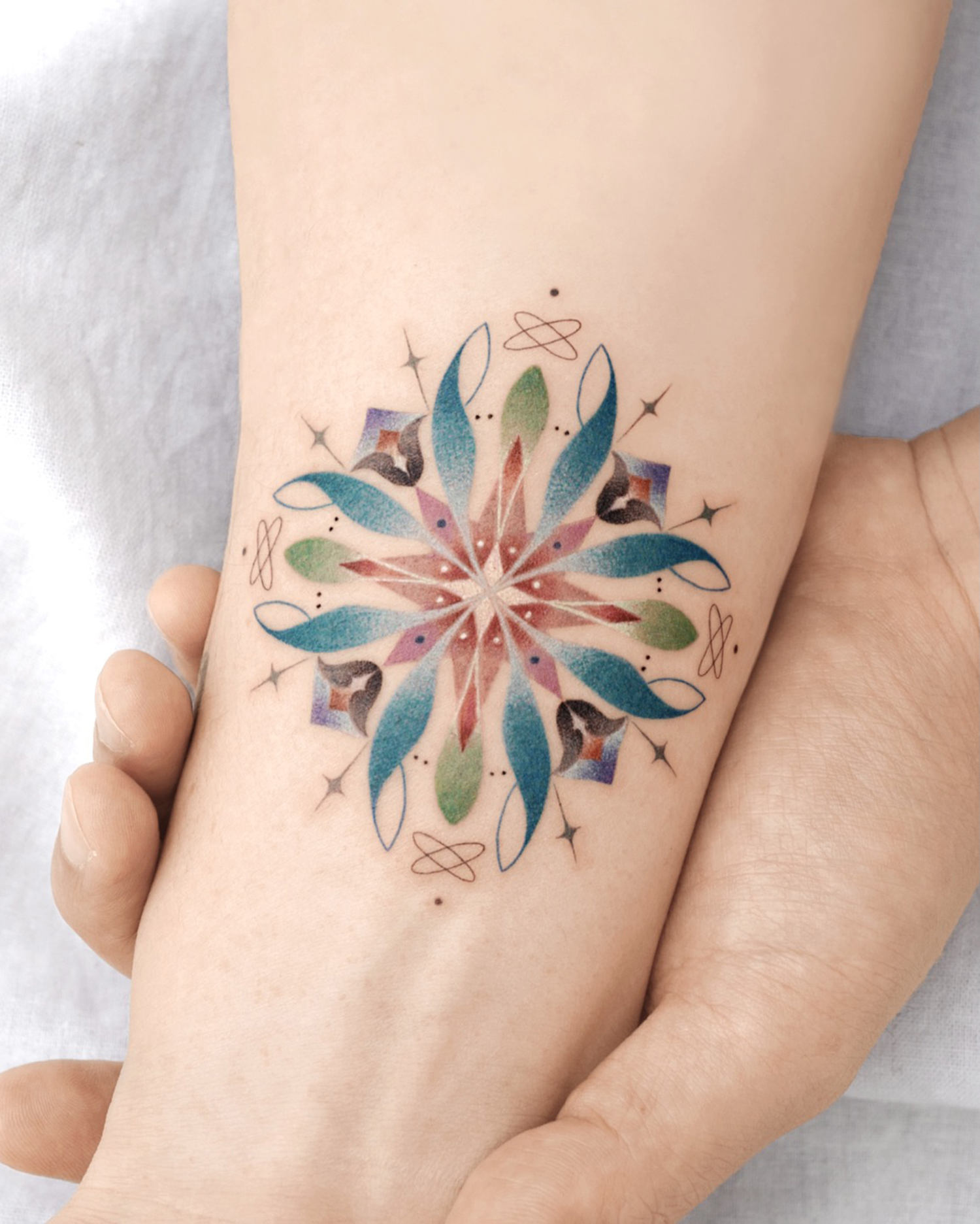 Basil also visualizes vibrant mandalas.
You use a tattoo machine and also handpoke?
I enjoy using a machine, but for geometric tattoos, I prefer handpoking. Because in hand poke, dots are used to create lines, and lines are used to create compositions. I like seeing "the dot"— a circle that is such a pure form. I also like the stippling effect and texture.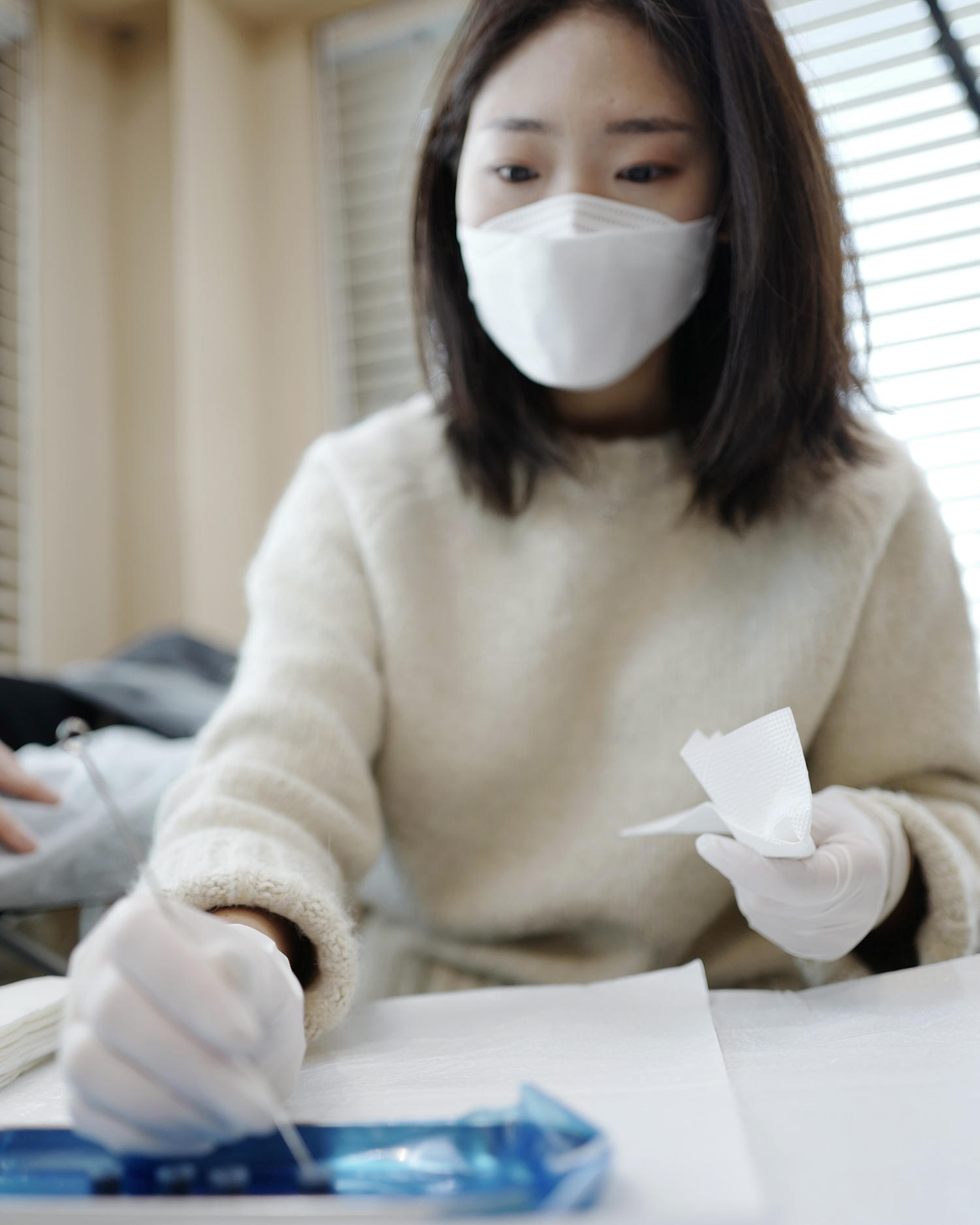 Basil, a Korean artist, is very focused on her job.
Do you have an interest in tattooing beyond South Korea?
Yes, definitely! I receive many messages from potential customers asking if I will guest spot in their hometown, especially the United States. Other frequent requests are from the United Kingdom, France, and Singapore.
Photos © Basil