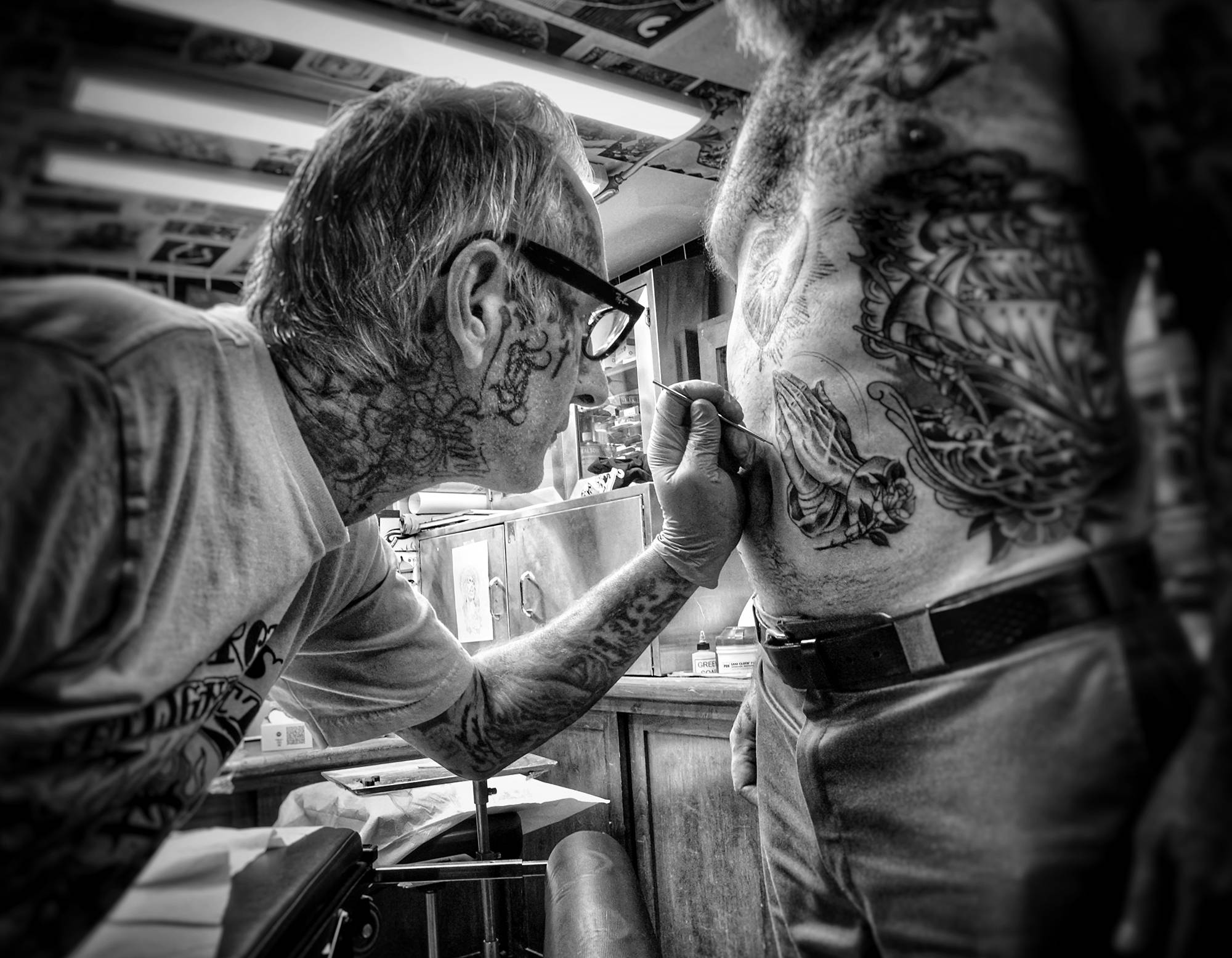 Freddy Corbin was born in Tampa, Florida, in 1966, grew up in Sacramento, and at 18, went to San Francisco, California, to pursue a career as a tattoo artist. Joshua Golden gives him his first professional tattoo at Lyle Tuttle's shop. Corbin spent a lot of time at studios and received body art from various individuals in the hopes of earning a spot in the business, and eventually got a break in 1987, apprenticing for two years under Erno Szabady. In 1989, he met Ed Hardy, who hired him to work at Realistic studio with Bill Salmon.
Corbin has been tattooing for over three decades and specializes in black-and-grey art, ranging from lettering to religious iconography. With artist Scott Sylvia, he is credited with popularizing the Mexican-inspired sugar skull tattoos. He imprints Jesus, the Virgin Mary, sacred hearts, and crosses on his clients' bodies with fine-line precision and beauty. Corbin is the owner of the famous Oakland tattoo parlors Temple Tattoo (founded in 1998) and Tattoo 13 (founded in 2000), which have brought a lot of excitement to the city and offered work for permanent as well as international guest artists.
Above: A close-up perspective of Freddy Corbin's freehanding.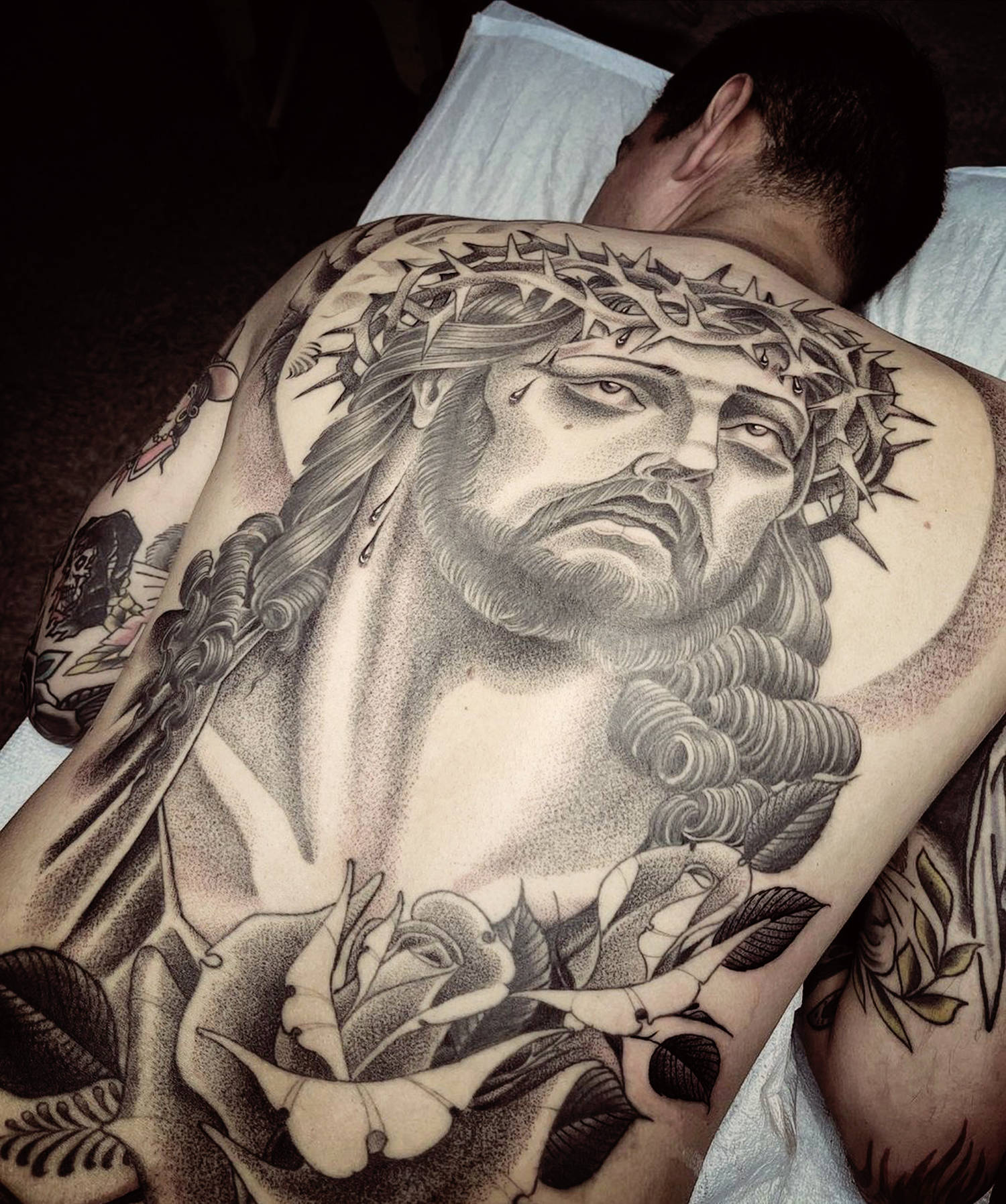 Jesus Christ is all glory and majesty.
Sons of Anarchy (2008-2014) was an excellent production from beginning to end. You were one of the graphic designers responsible for the motorcycle club cuts' logo, among other things. What was it like working on a TV series?
It's a really good man soap opera. It wasn't very different than some of the other stuff I do just because I wasn't on set per se. I was friends with one of the actors in the show David Labrava, and the producer John Linson, and John called me and said, "Hey, we're not really liking what we're getting from the art department. Can you please do a drawing?" So when I drew for them, there was no discussion on price or if they'll use it, it was pretty much just a favor submitted by my friends; John took it to the screenwriter/director, Kurt Sutter, and said, "Hey, what do you think about this?" And he liked it and decided to use it. Then they cut me a little check.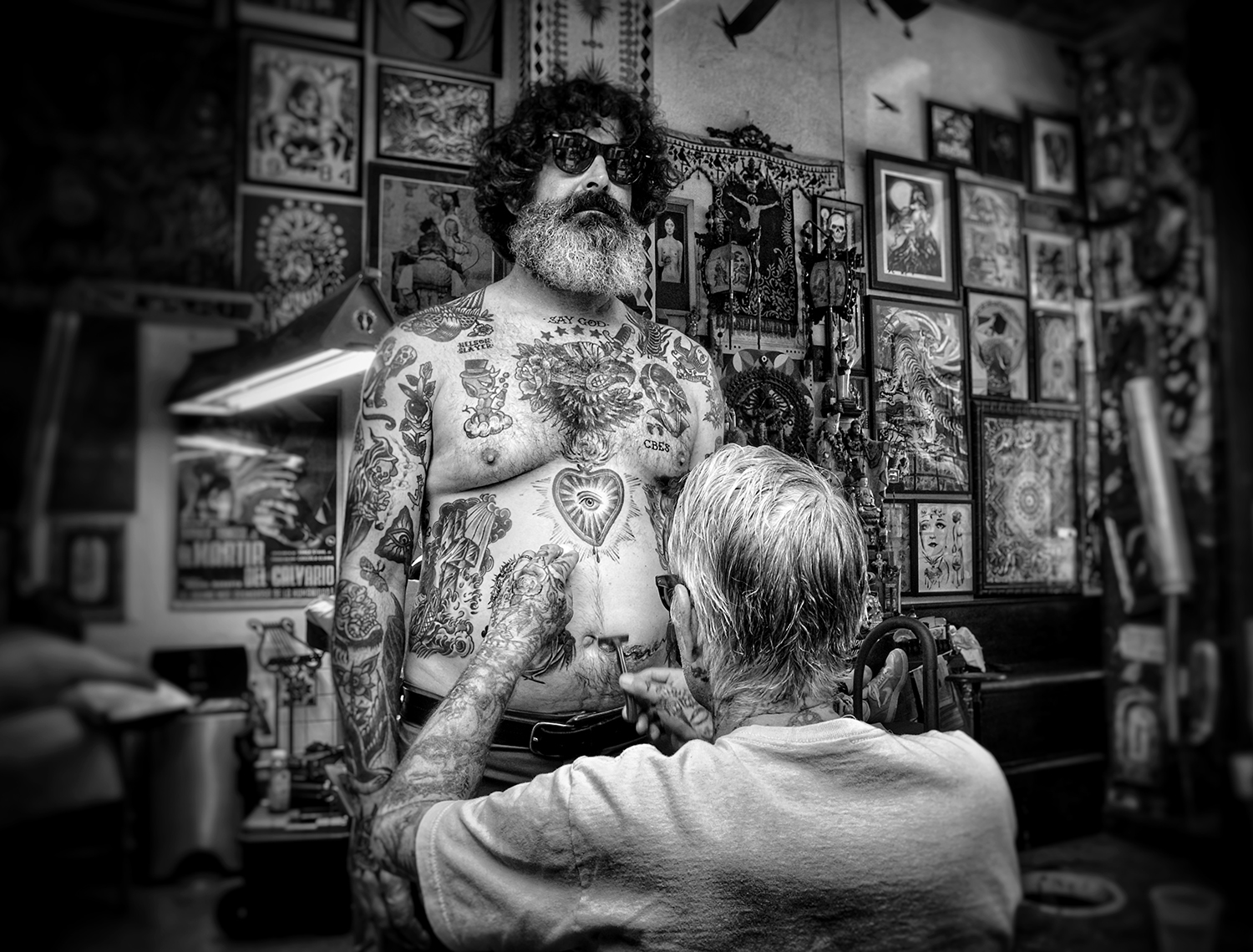 Corbin is shaving Tim's stomach in preparation for a tattoo.
Which was nice to receive.
Yes, it was. The production used the shit out of that logo! I finally got my penny. But I am glad they used it. People would always send me tons of Sons of Anarchy items from Aloha to little league. There are tons of stuff. I thought it was cool, so I guess that's why they put me on the show for a little episode to get me another check.
And you played the role of Irish Freddy. Was it nerve-racking to be on a TV show?
I wasn't nervous about it because I had done some stuff before on camera, but I will say that acting is entirely different from doing an interview. Like what we're doing now, I think about whatever the question is and reply, and I am not pretending to be someone else.
I got an adrenaline rush before we started the TV episode, and Henry Rollins [renowned musician and poet] gave me good advice on how to deal with it because I was in the scene with him.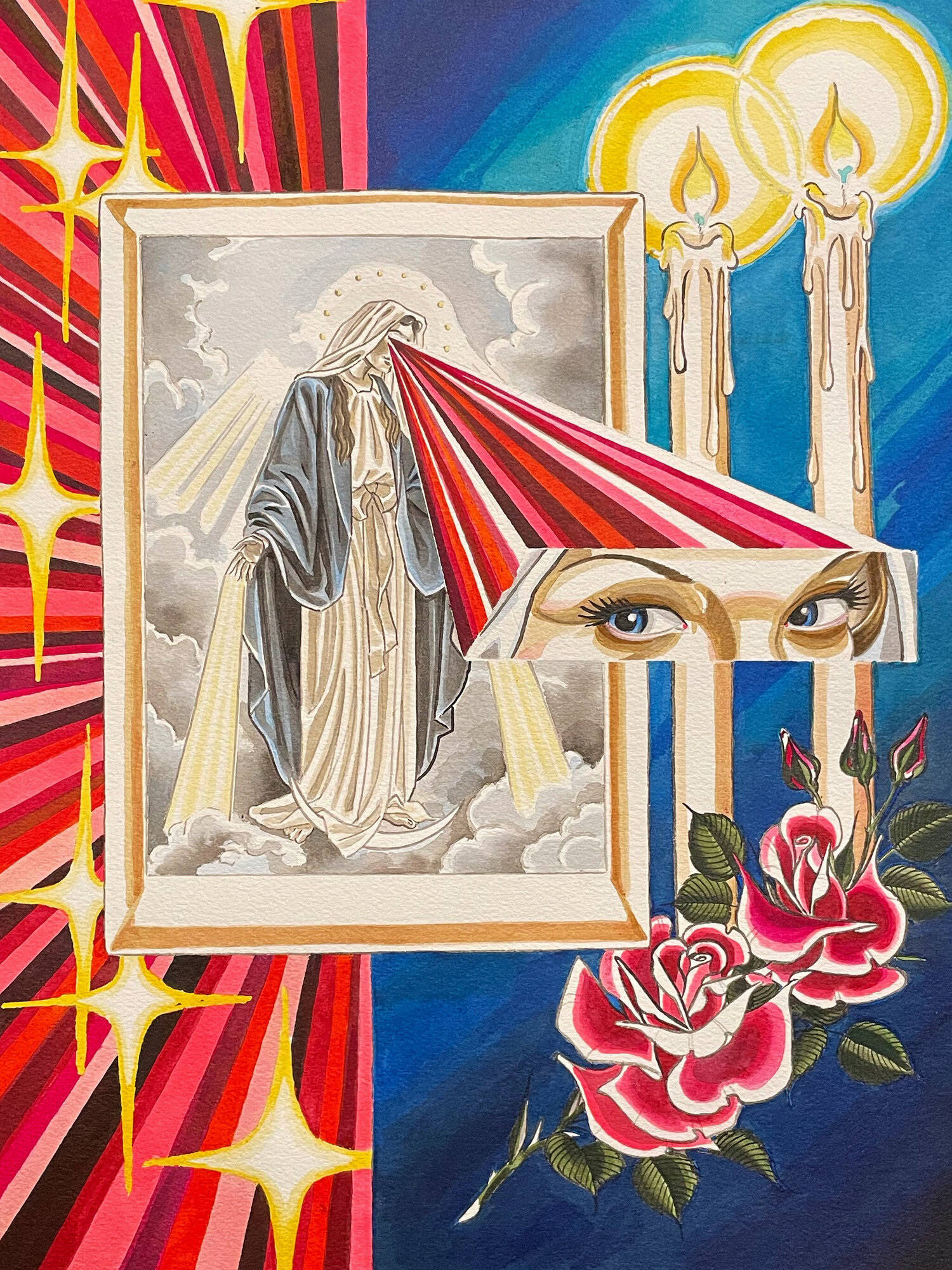 A limited-edition art print for the Analog Tattoo SF show.
You specialize in tattoos of religious art (mainly Christian art). When did you first realize that your theme would be religious art?
I'd guess the early nineties. I didn't get to do it very often. I did a lot of sacred hearts, but not as many Blessed Mothers or Jesus because I'm drawn to Roman Catholic stuff, so a lot of Christian art can be boring unless it's Roman Catholic, in which case I love it. I'm not sure what it is; there's just something about it that I love.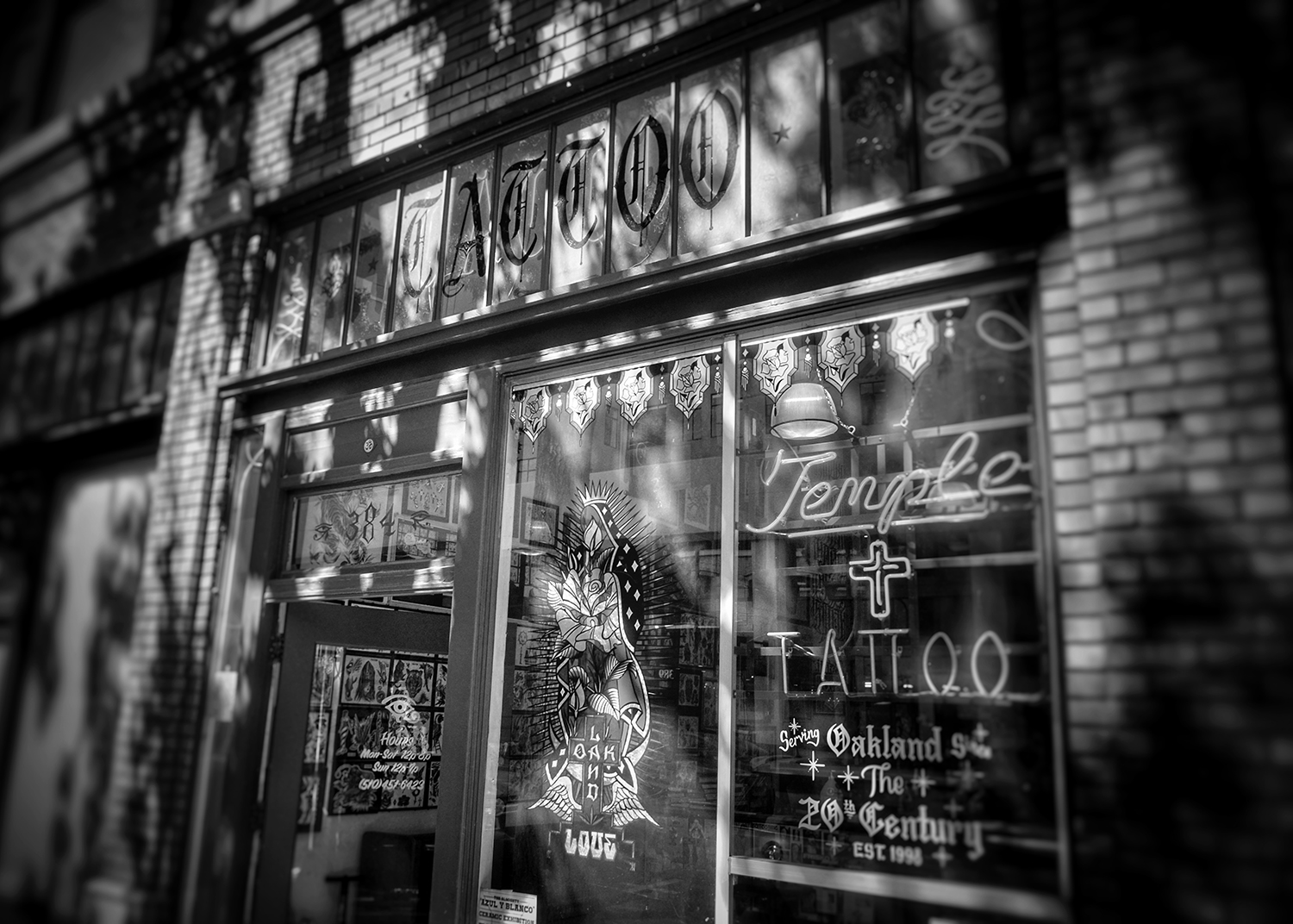 Oakland's renowned Temple Tattoo was established in 1998 next to Lake Merritt.
Do you have a collection of religious objects in your home?
Yes. But it's not something my wife is really into; the house isn't covered in it. I have small areas in my den and stuff. I've got a little altar, but that was the one that used to be in my old apartment. That cross slides into the back of that stand, and it's just like in the apartment, and once I opened up here [the tattoo studio], I just threw it in here, as you can see.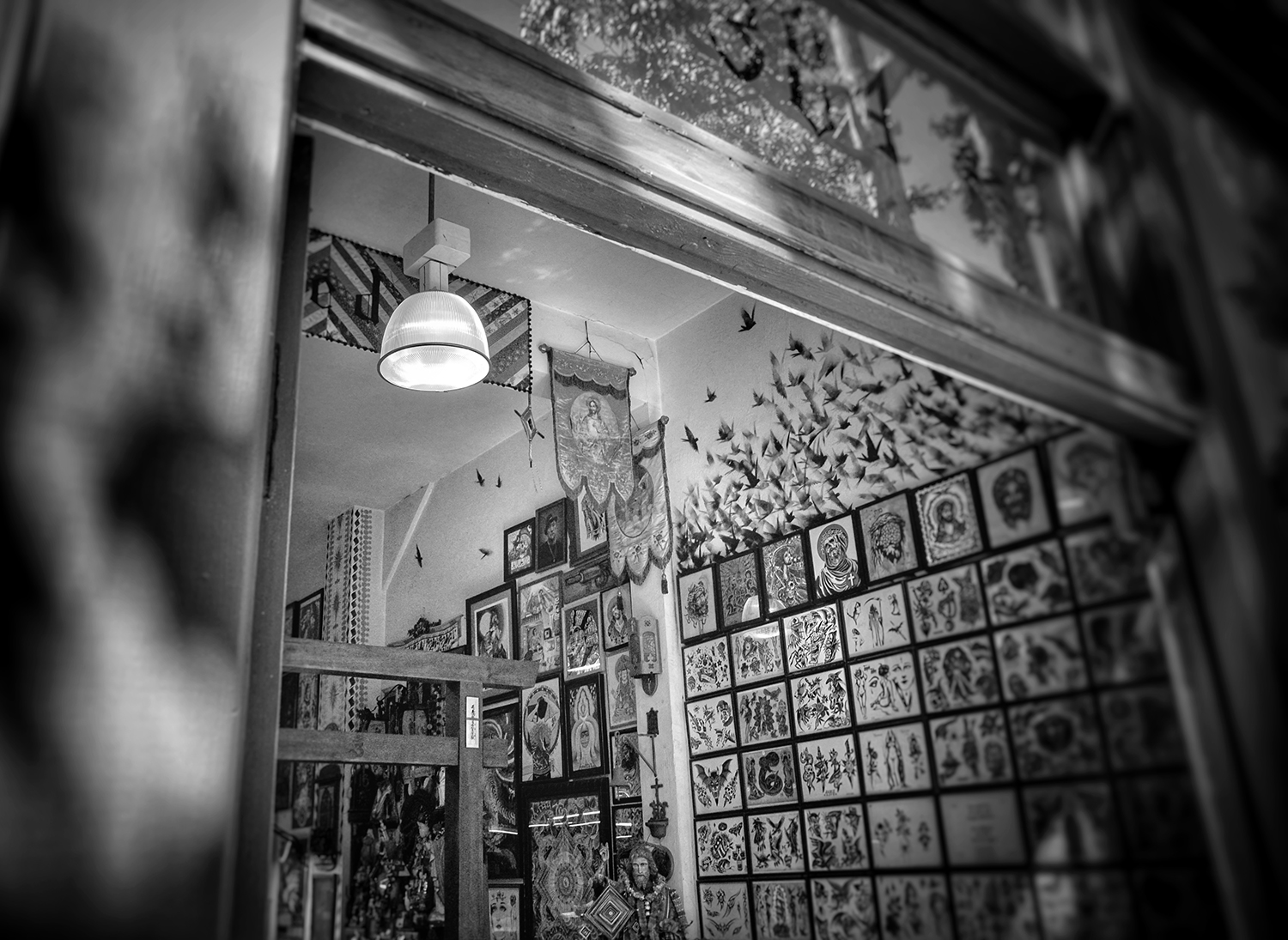 Corbin's studios are adorned with photographs, paintings, and flash art.
Your shop is a showroom.
It's a tattoo shop with [an aesthetic] mix of the barber shop and a bit of an art installation; I wanted it to be unique.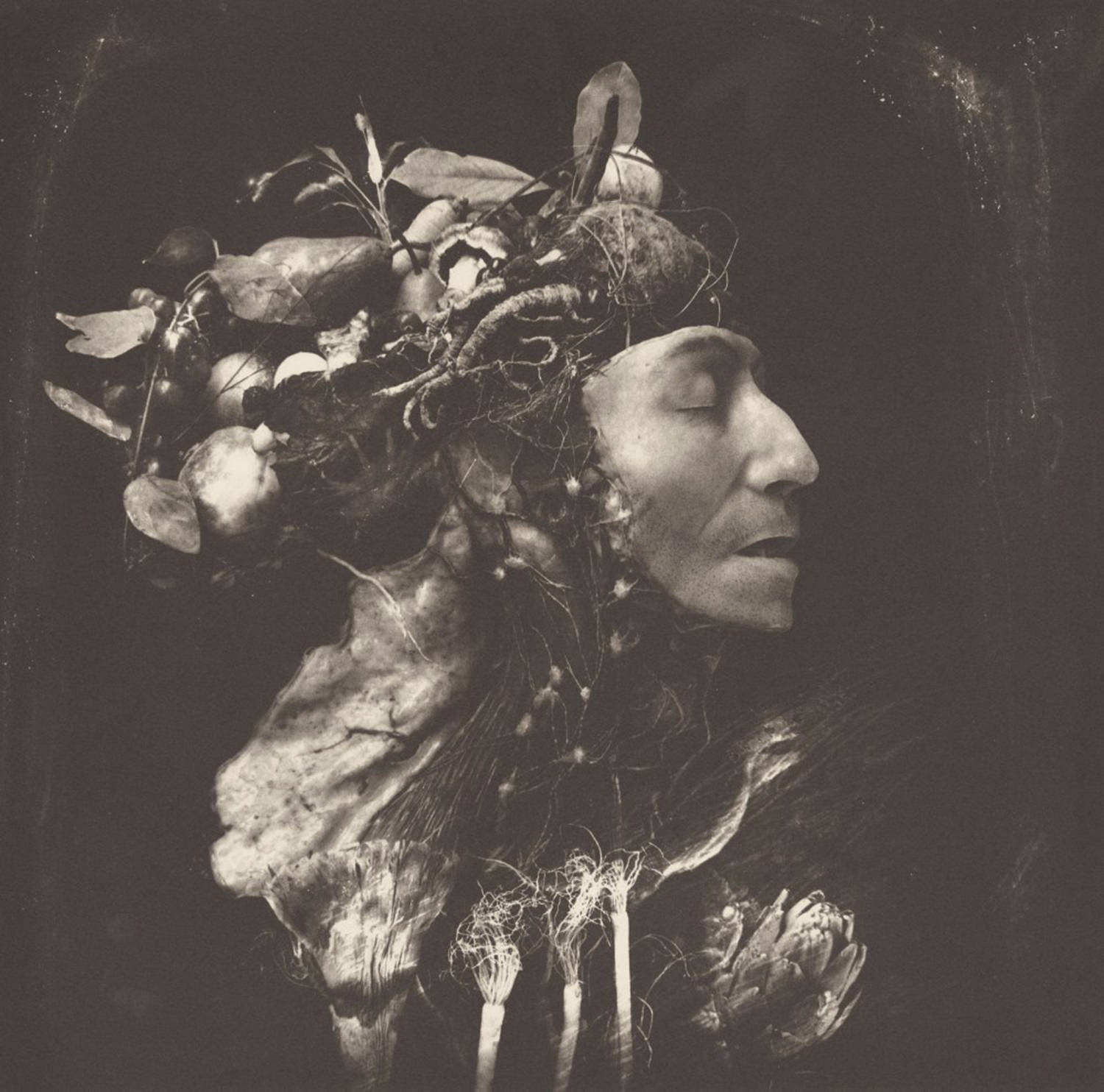 The 1984 photograph titled "Harvest" by/© Joel-Peter Witkin.
I'm looking at one of your walls filled with framed artwork; is the picture at the very top by Joel-Peter Witkin?
Yes, it is a Joel-Peter. His wife gave that to me.
Are you serious?
Yes, it's not signed, unfortunately.
He's one of my favorite photographers.
He's my favorite photographer, for sure. People don't know who he is as much as they used to in the nineties. He's phenomenal!
Acrylic, watercolor, and ink on paper, named "#12," was created for a San Francisco art display.
[Sidetracked, back to interview question]. You have made many visits to India, where you have tattooed locals. You seem to be extremely happy there. Describe these travels and experiences.
I like traveling to places I've never been before and want to go to interesting places. I never really thought I'd go to India just because every person I'd met who had been there talked about how sick they got and how much weight they lost, so I was always like, "God, I'm never going to go there. It just does not sound fun." And I talked to a couple of friends who were there for long periods, and they said, "I actually think you'd really like it!" So I gave it a shot and fell in love with it. It's just like everything life offers; you'll find it there.
Including wonderful life lessons.
Yes, there were a lot of life lessons. You can find everything profound and profane in India, all at once, and then some.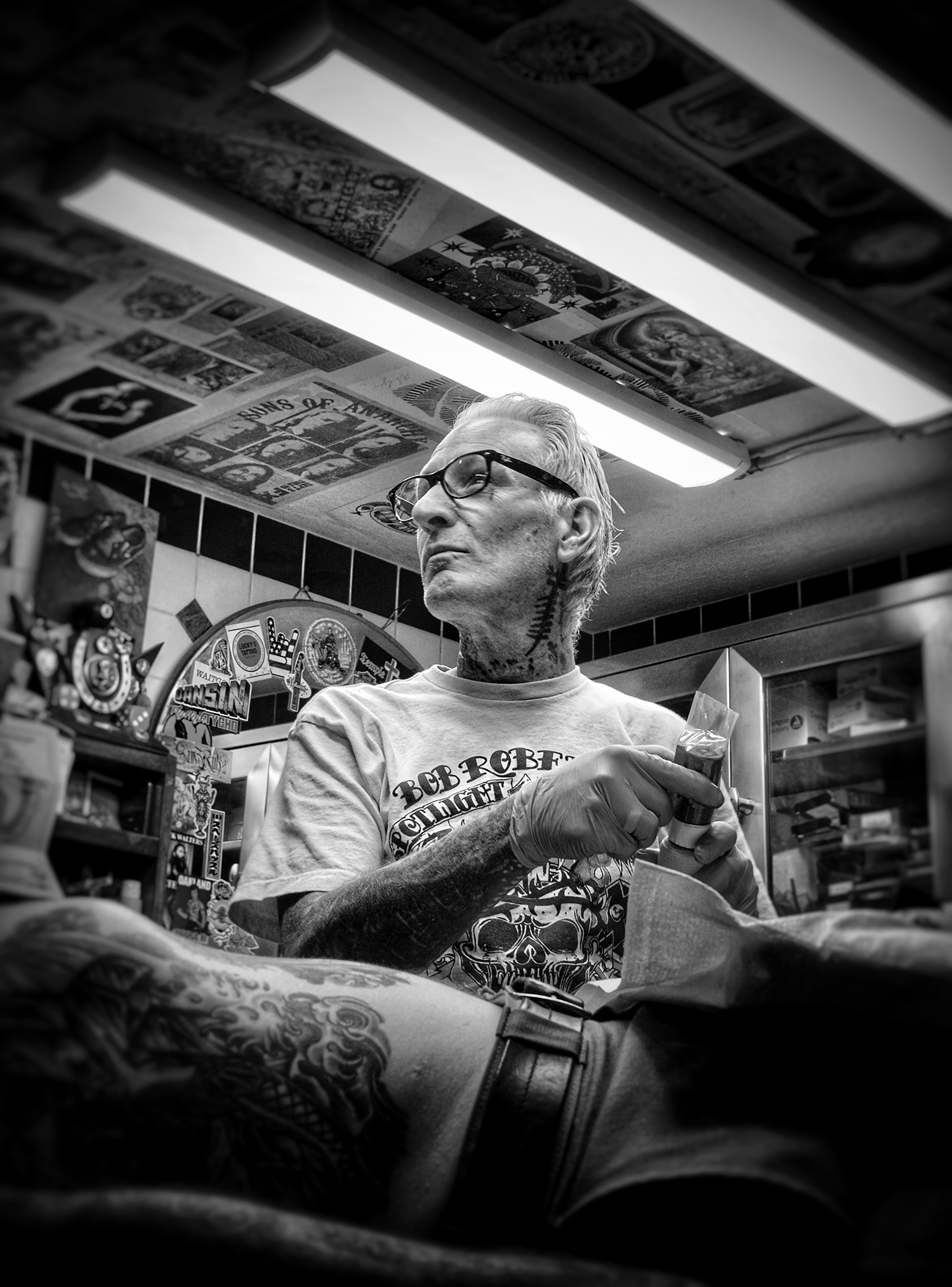 Corbin is proudly wearing Bob Roberts' (Spotlight Tattoo) t-shirt.
Regarding Oakland, you have had many guest artists in your studios, from Mayonaize to Gordoletters. Did these tattooers approach you?
Those two ironically, I reached out to. I didn't know either artist, and I just wrote them and let them know that I loved their stuff and I'd want to get tattooed if they were ever in the Bay Area, asking, "Are you going to be in California?" I shared mutual friends with both of those guys, and then once we were in contact, they were like, "Hey, I'll come work there and then I can tattoo you and get tattooed." So I think the guest spot evolved out of asking when they would be in the Bay Area next.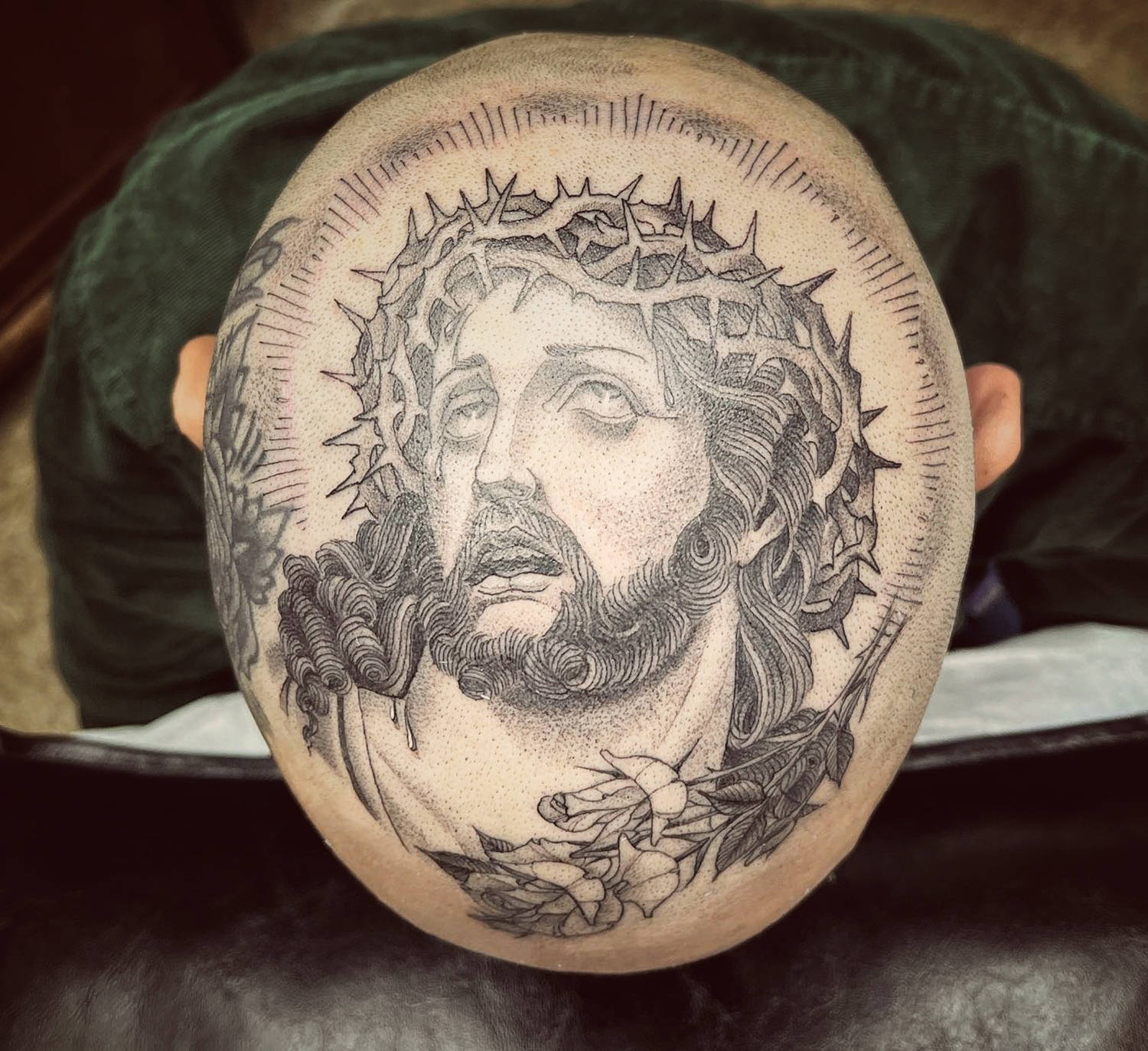 This Christ tattoo is centered and gracefully done with line and dot work.
Aside from them, is there a criterion for guest spots in your shop?
A couple of people have approached me, and I tell them that to work here, there must be some connection to someone who works here. So if you're friends with, if you've known, if you've been tattooed by, etc. There needs to be some connection, a recommendation. I don't just let people work here.
There have been a couple of times that I've been in contact with people that I've never met before, like Matt Chahal. We were writing to each other, and then he came over, and I went and picked him up at the airport. It's a tattooer thing. You'll hang out with somebody you've never met before because you share something in common.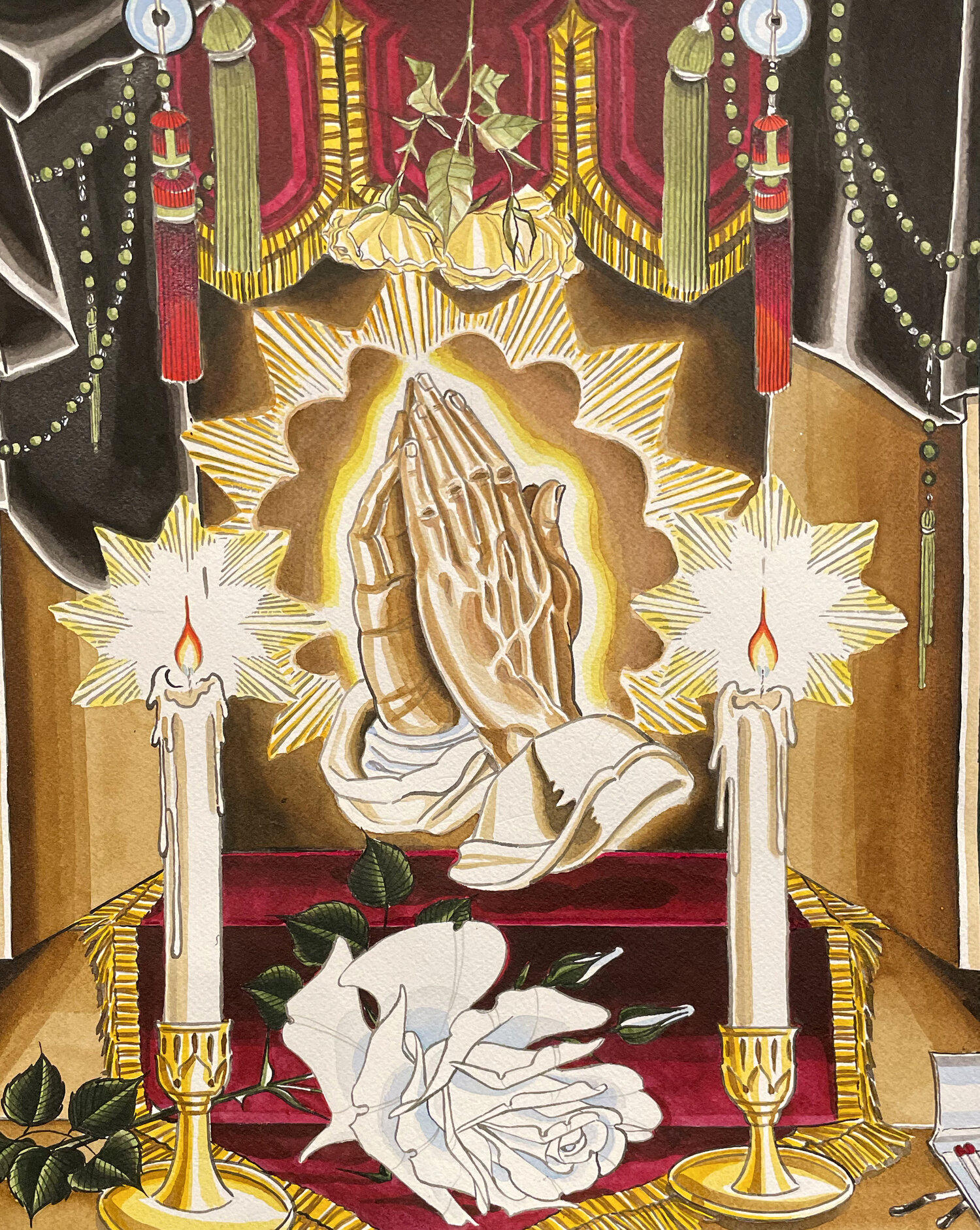 "#7" is another art piece by Corbin.
Some of your permanent artists, such as Hector Fong and Dustin Wengreen, have relocated to different studios after many years of dedication to Temple. Is it bittersweet?
I think bittersweet is an excellent way to put it. I'm going to miss them, of course. These guys are like my brothers. I think they'll be back at times. I've always felt very lucky that people stay 12, 15, or 22 years. Five years is the minimum; seven years is often how long people stay, so I'm just grateful they've been here as long as they have. I try to be a half-glass-of-water person instead of a half empty, so I always look on the bright side. Even if I were working here by myself, I'd still keep the place open, so it's all just extra, as long as the intentions and the vibes are good.
I lost [relocating] five or six people due to COVID-19; it made a big change in our lives over the last few years.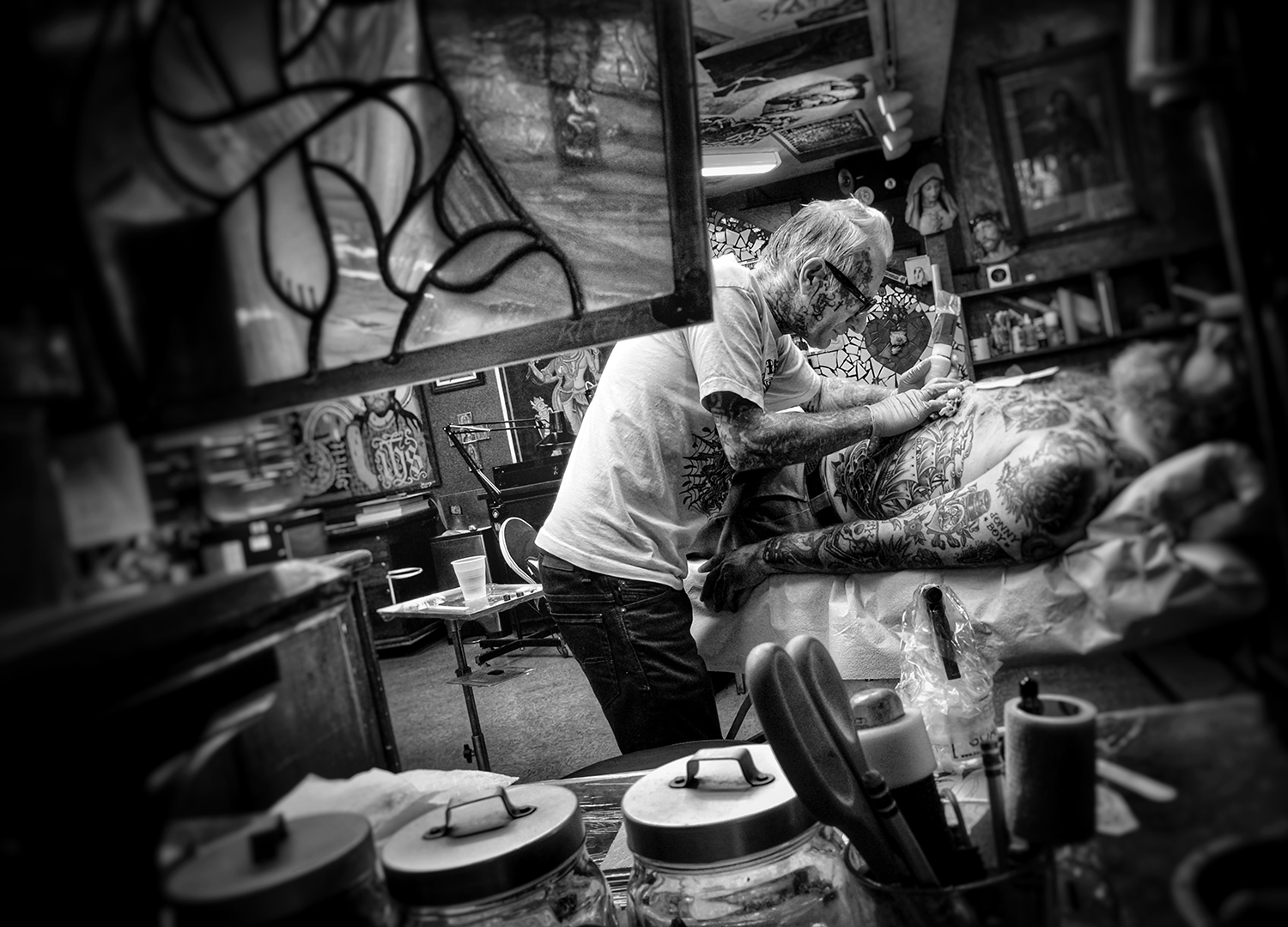 While Corbin works, he is surrounded by stained glass art and religious figures.
You have said that Charlie Cartwright is among your heroes. Is it due to his black-and-grey work or for other reasons?
I would say that might be a part of it, but it's much more because of his type of person. It's his being that is why I consider him a hero. He is incredibly unpretentious, super down-to-earth, kind, and truly cares about tattooing, so it checks all the boxes of what I think is awesome.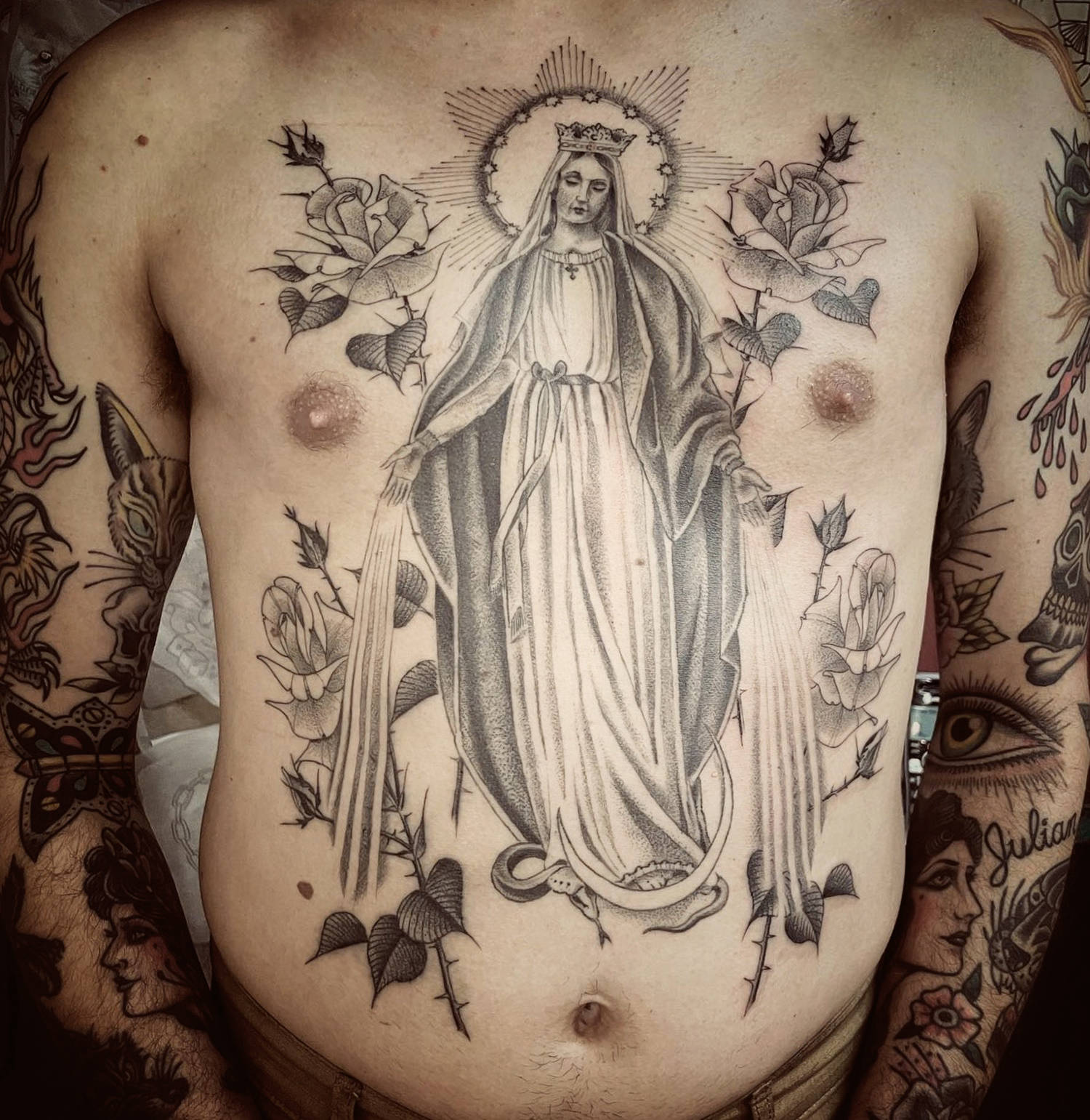 The Blessed Mother personifies the figurative vocation of all Christians to "give birth" to Christ's transformational presence.
Who else are some of your tattoo idols?
I would say Eddie Deutsche is one of them. And Dan Higgs. I think Chris Garver and Tim Lehi are amazing. For me, it is about the work, but it's also about the person. It's like the whole package. Also, people that don't take themselves too seriously. Filip Leu is at the top of the pyramid. The top of the pyramid as far as quality.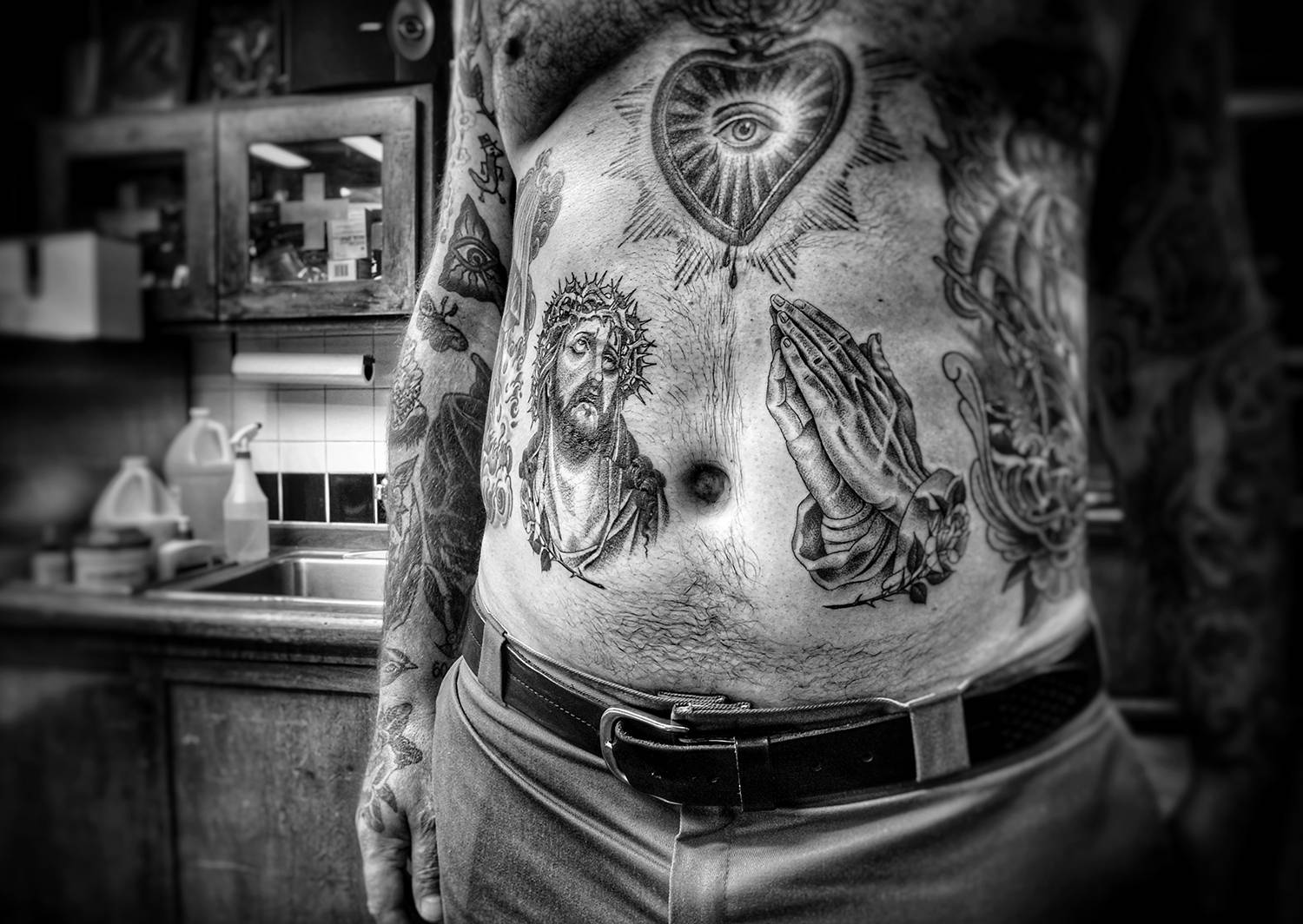 A healed portrait of Christ by Corbin and a fresh tattoo of praying hands on Client Tim.
You've been tattooing for 35 years; have you ever experienced burnout? If yes, what do you do to regain your balance and recharge? (Aside from going on vacation.)
It will be 35 years this October. My anniversary is on Halloween, so it's easy to remember. For me, what's kept me from burning out is to, I guess, simplify the process. So what that means is that people will ask me, "Do you get sick of doing roses?" For example, as of now, NO, and the reason is, is that I find the process enjoyable. Lettering used to be my favorite, and if I were to be completely blunt, I would almost say it's because it was the easiest for me to do. If I know that I'm doing something that I'm familiar with and enjoy, I don't have to use color, and I'm not overbooked; I know I have enough time not to rush, and the process is totally enjoyable. But sure, there are days I might not want to come to work, but I'm 35 years in and not discouraged. I still enjoy coming to work and am grateful for the shop and all that stuff.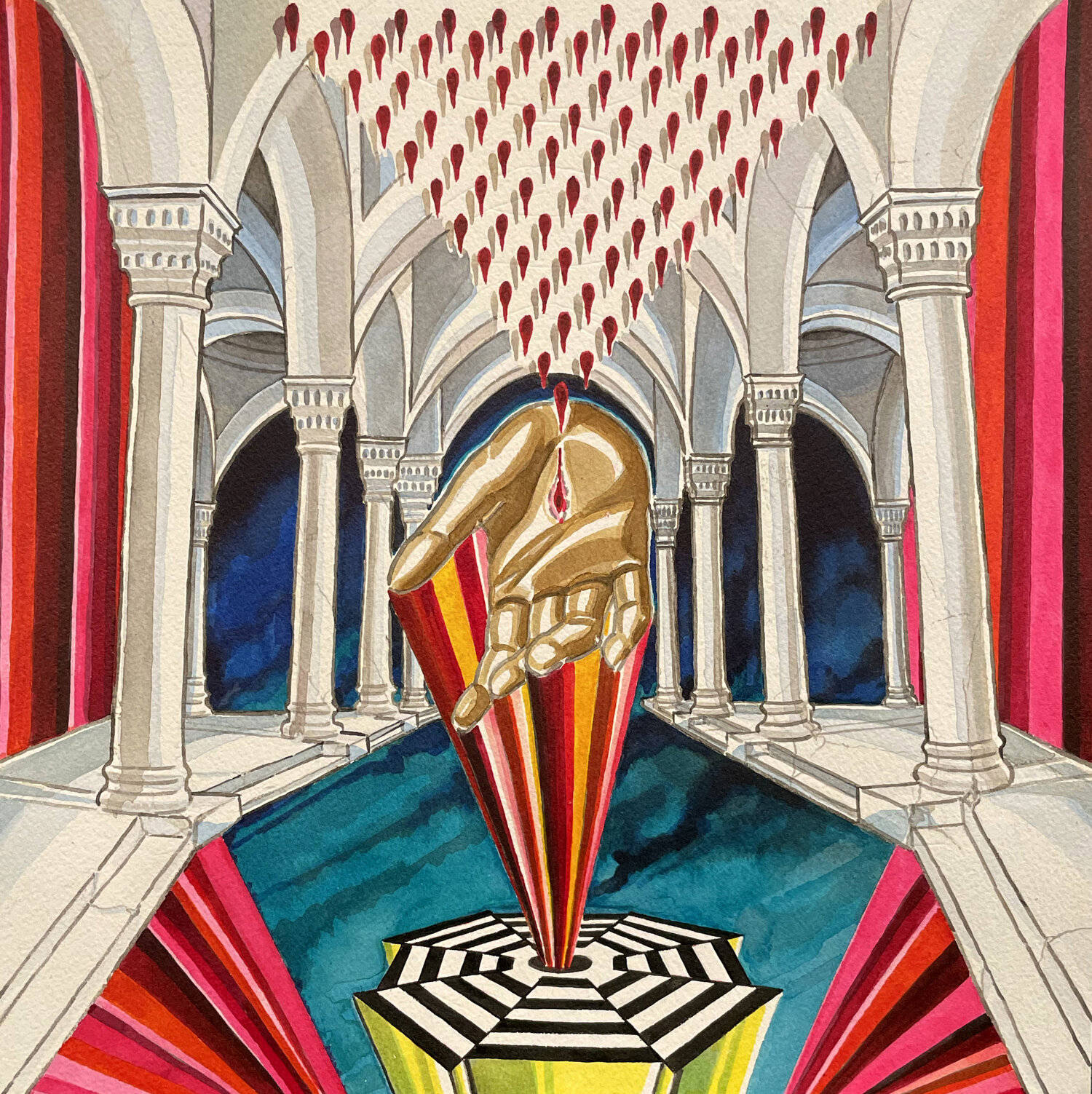 "#10," mixed media on paper for an exhibition in San Francisco.
So you have a good balance already.
Yes, I think a balance is working four days a week, having family time, having time to draw, and doing anything other than tattooing. And then, when I'm tattooing, it's not fucking difficult; that makes it enjoyable. This means I don't do big pieces or tattoos on challenging body parts, at least not often.
Okay, you're selective.
That's an excellent way to put it. I'm selective.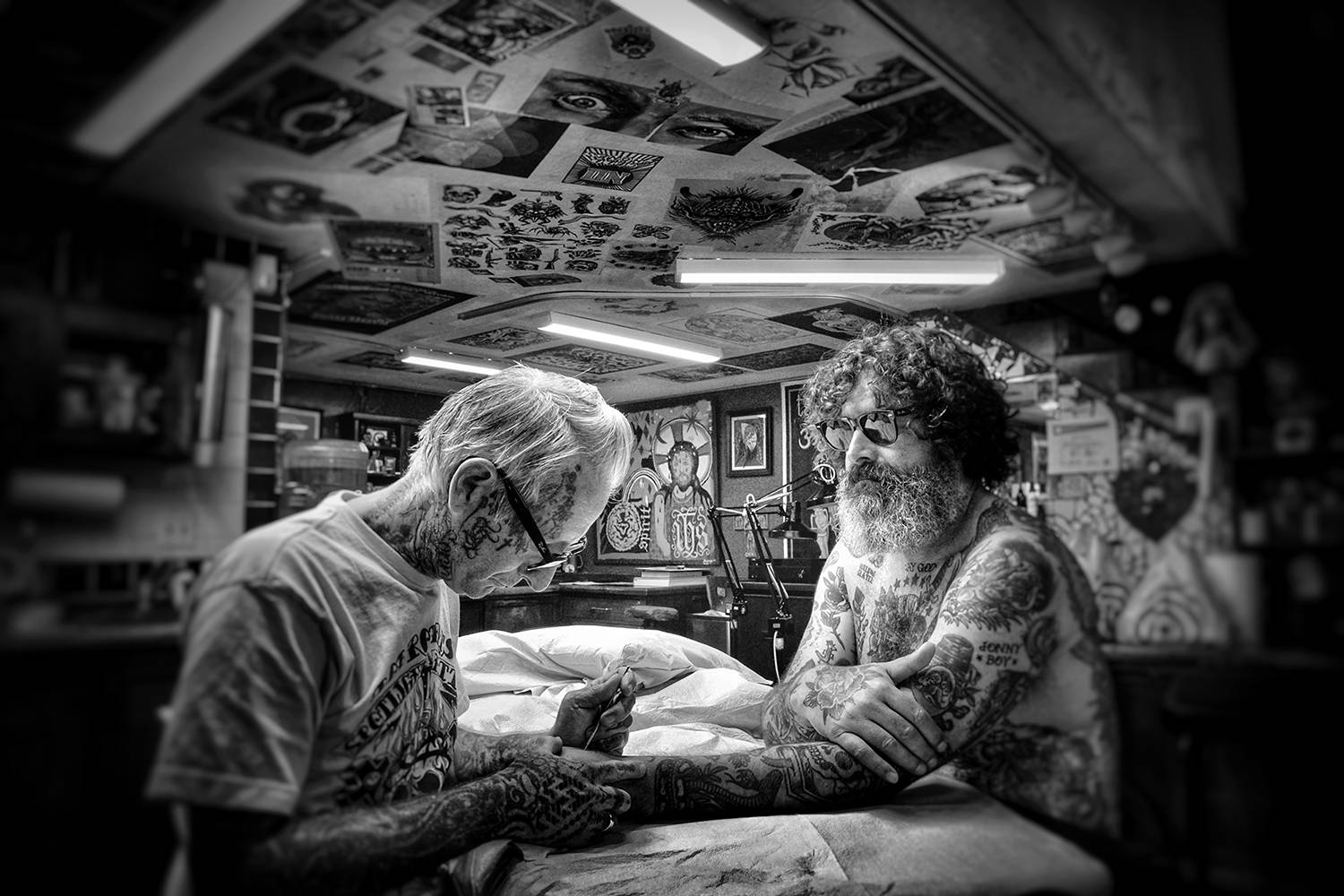 Corbin applies another tattoo on Tim's hand.
Do you have any advice for tattooers who are just starting? What are some things they should avoid doing?
Walking to the shop and asking for an apprenticeship is a little hmm … I don't think most people will get it that way. I think they need to spend time getting tattooed in shops, then create a relationship and build on it. I don't think anybody will make a two-year commitment with somebody they've never met before. And I would tell people to work hard, follow their dreams, not give up, and do whatever it takes to make it happen.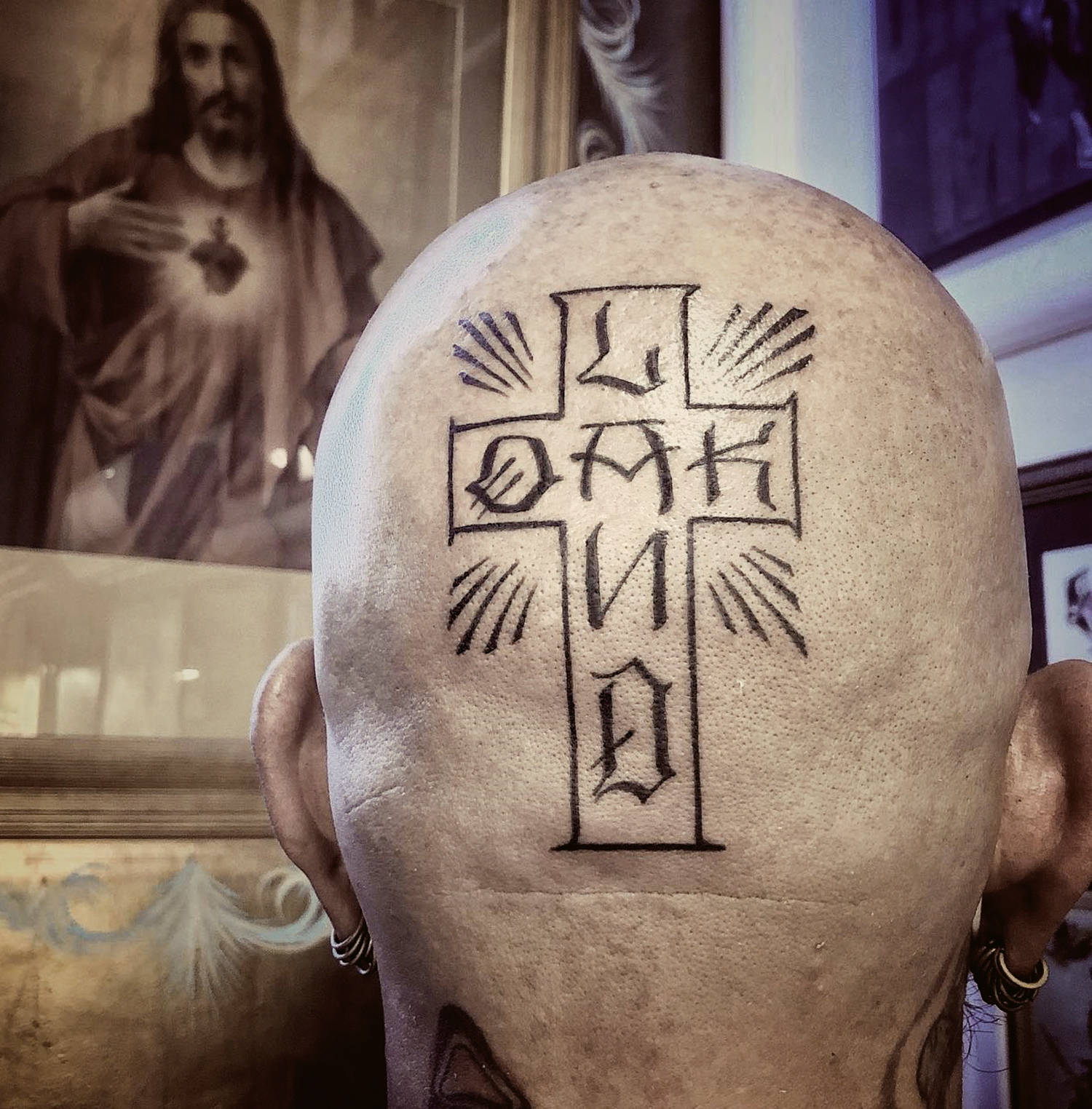 A symbol for an Oaklander, done in black ink.
Vice Media says you are "known for being the nicest guy in the tattoo business."
Well, I wouldn't know if it's true or not. I'll take it!
Who gave you the nickname "Mr. Nice Guy"?
That just happened, and basically, I knew a lot of people that had cool tattoo handles, and I used to work with this tattooer Greg Kulz, who was super cool, but he could be a bit grumpy at times, and people would say, "Go to Erno's and get tattooed by Freddy. He's a nice guy!" That's where that came from. So I made a business card once and just put "Mr. Nice Guy Tattoos with Love." That was my whole thing—tattoos with love.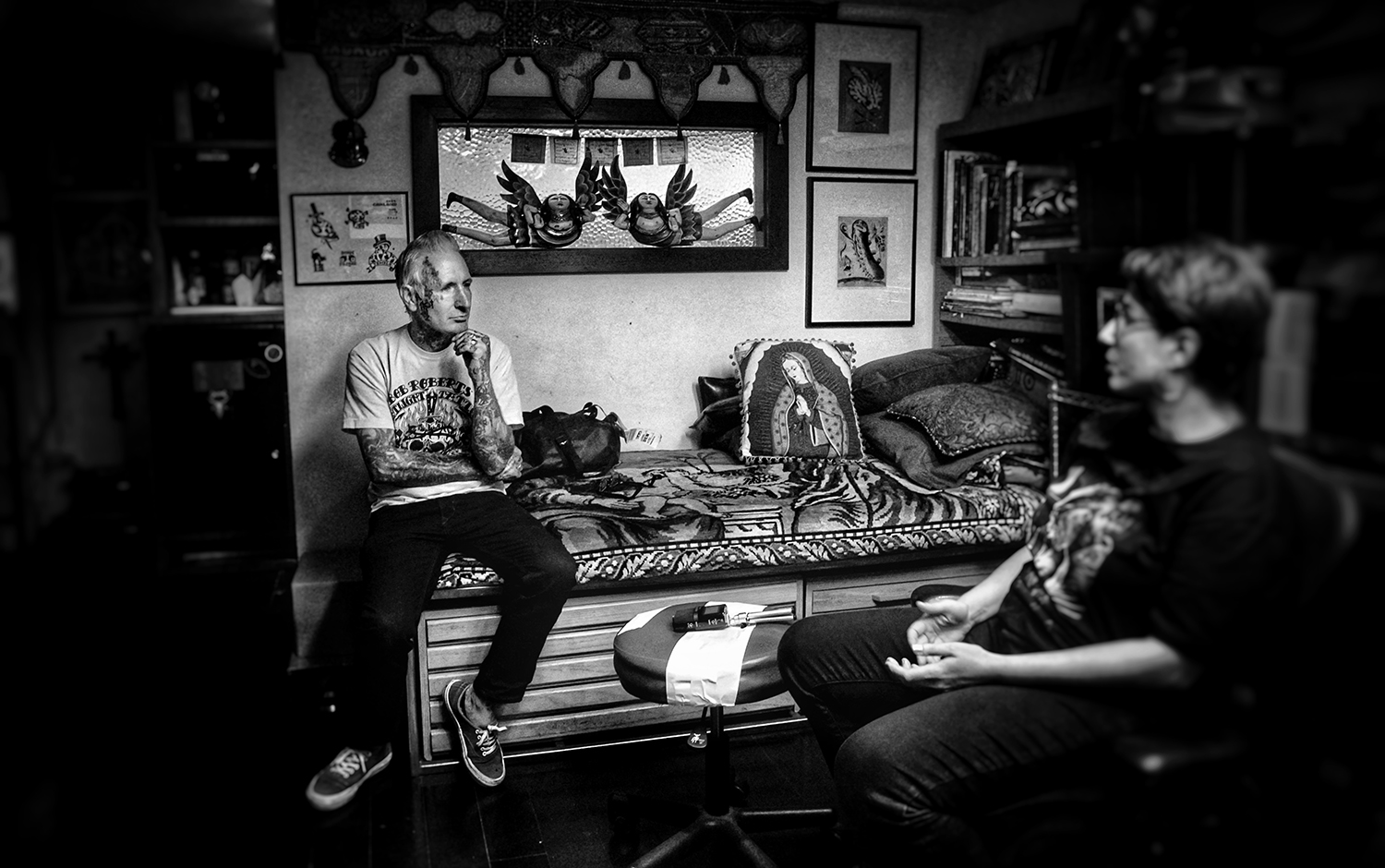 Behind-the-scenes shot of the Freddy Corbin Interview conducted by Adriana (The Tattoo Journalist) at Temple Tattoo.
Are you aware that there's someone else that has that nickname?
I'm not.
It was the 30th US president, Gerald Ford.
Oh really?
Yes.
Mr. Nice Guy. Huh? I guess we have something in common.
Black and white photos © The Tattoo Journalist, Scene360

Paintings © Freddy Corbin

Tattoo photos courtesy of Corbin

Harvest Photo © Joel-Peter Witkin