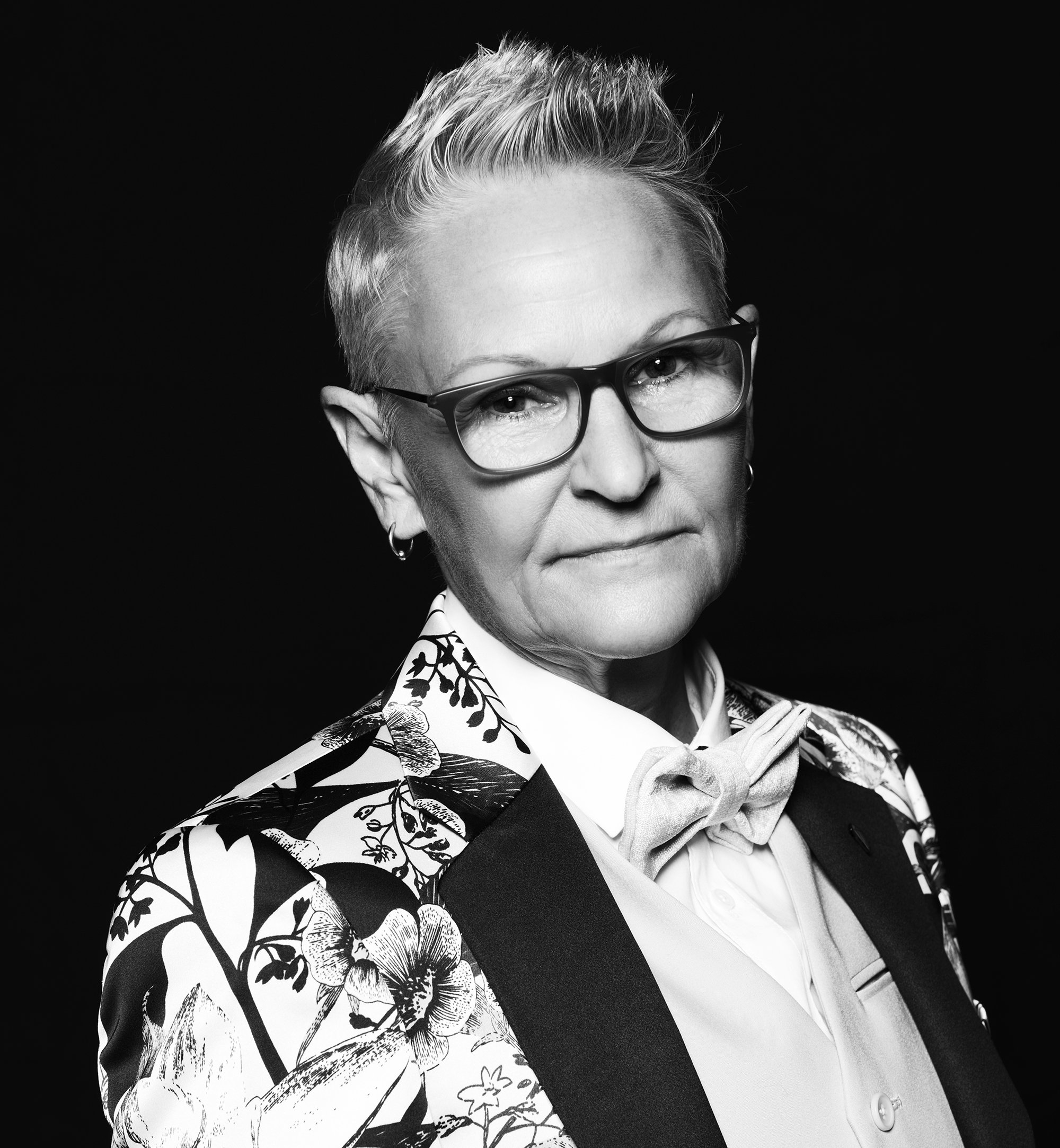 Kari Barba has been tattooing for four decades. She was one of the few female tattooists in the 1980s and has devoted herself to promoting gender equality and advancing tattoo hygiene standards to what they are today. She is tattoo royalty and the co-owner of Outer Limits, the longest-running tattoo studio in America and the second-oldest in the world.
Above: Kari Barba photographed by Greg Conraux.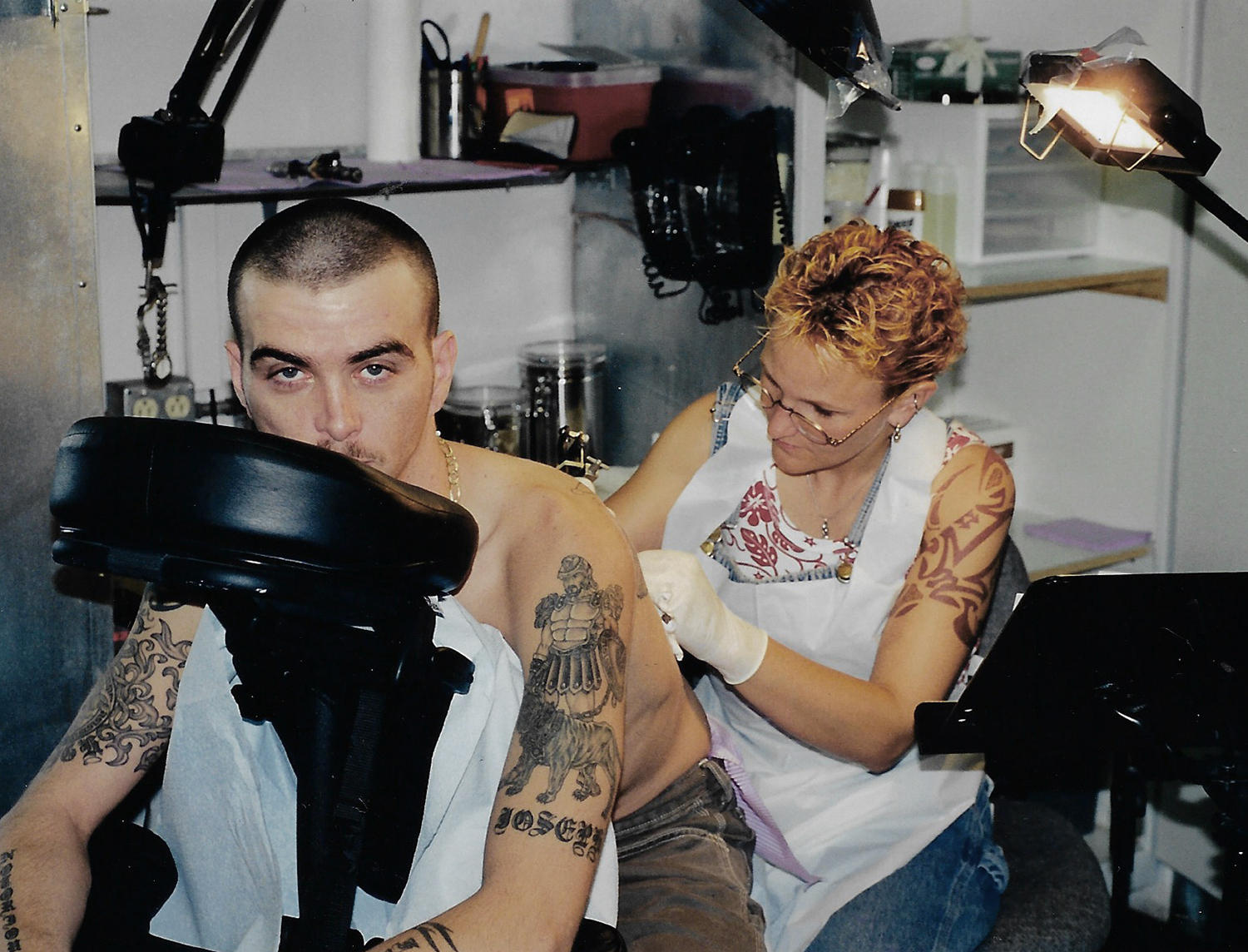 Tattooer Barba inking client in her Anaheim shop in 1991.
We have come a long way from using a sponge and bucket and not changing tattoo needles.
I was super young when I first started tattooing in 1979. We tattooed bare-handed and then didn't have many standards for cleanliness in tattooing. When I first started, I felt it was essential not to tattoo until I could sterilize my needles. Back then, we made all the inks and needles ourselves. So needles were shipped to you in a small package, and we had to solder them to the bars. We even made the bars or cut and then made the circle to put on the machine's end. 
Once I was tattooing regularly, I realized how much I hated the ink and blood drying on my hands. And I would think to myself, "Why can't I wear gloves as the doctors do?" So I searched, bought, and began to wear them. I also started to cover my spray bottle and equipment with plastic film, thinking I wouldn't need to clean it as much. Boy, that was stupid! Of course, I still need to clean it! It did hurry up the time it took me to go from one client to another.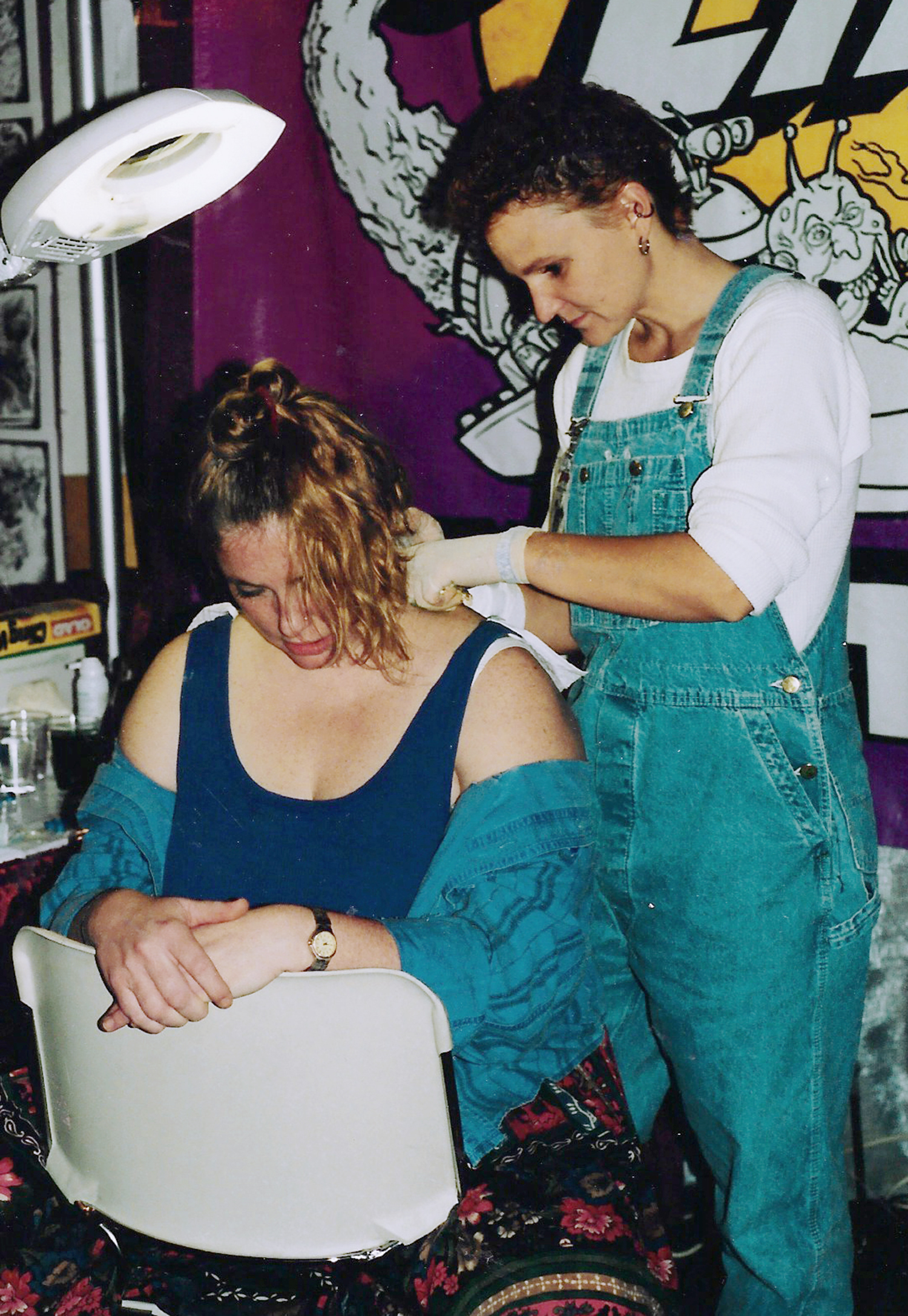 An early career picture of Barba at a local convention in 1999.
These hygiene procedures continued and began to take interest from other artists. While some at conventions would comment, "Kari, don't do that, or we'll all have to start using them too!" And they were right!
When I opened my first tattoo shop, I wanted it to look different, like a salon kind of feel—a place of comfort. I even added a toy area for kids. There were plants around the shop to add softness. Each of the shops I opened had a unique theme—the South Pacific, the Industrial, the sideshow circus, etc.
The shop chores were always shared among everyone working there, but, honestly, I am a bit crazy when it comes to cleaning. I see little things that many don't, and I can't leave them dirty. So I was pretty much meticulous with my crew about each keeping their station neat and clean. Those that worked alongside me started to see what I see in terms of the importance of cleanliness.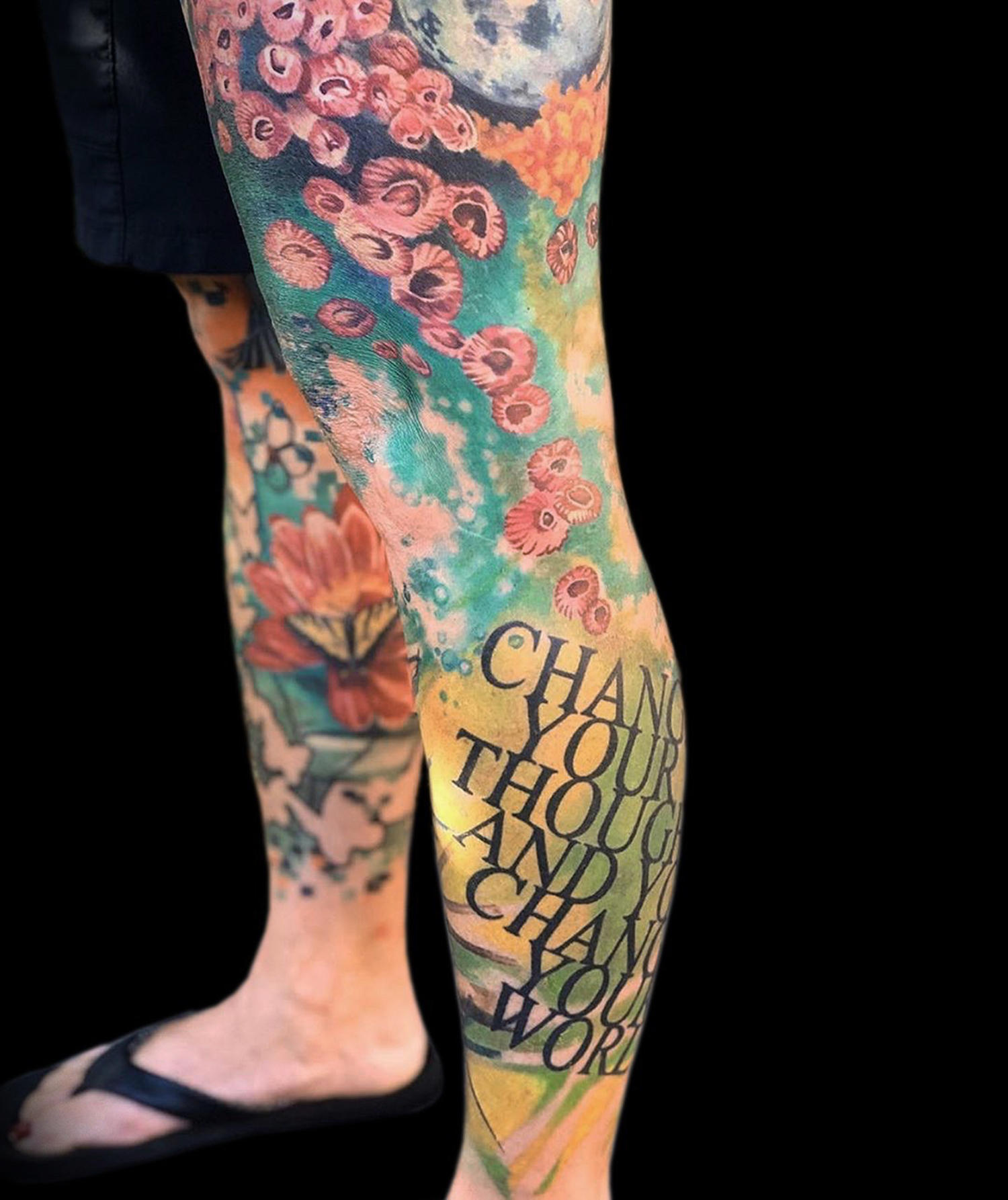 A sea-related tattoo piece created on Teri Mullins (Barba's wife).
You were one of the few female tattooists in the 80s, actively paving the way for other women interested in the field.
I moved from Minnesota to California in 1980. It was much more expensive in California, and it took me a few years to open a shop. I would visit Tattooland and Bert Grimm at The Pike [in Long Beach]. Tattooer Mike Brown (who worked with Jack Rudy at Tattooland) suggested that I start drawing flash to sell and gave me a name and phone number to call. The name was Ernie Carafa, who I called. I can't remember how many sheets I drew for Ernie, but I think it was a set (maybe 28). Then, I sold 300 sheets to Spaulding-Rogers [known for tattoo supplies]. I used to do this after my workday, one sheet a day.
I was aware there were only a few women in the tattoo field. At my first convention in 1982, on the Queen Mary in Long Beach, I think most women were there with their husbands. My flash came presented from Spaulding-Rogers, marketed on a banner "By the World Famous Kari Barba." WOW! I was so surprised and excited and busy the entire convention! I signed autographs and met great artists. It was the beginning of my career. I started entering contests at the tattoo shows. My first was the National Tattoo Association Convention in Seattle, WA, in 1985. I won my first contest and, from there, continued to enter as many as I could. I was asked to submit to magazines and other publications over the years, helping to push my career forward. I was on CNN in the early days and won over 500 tattoo awards. It felt great being a woman-tattooer recognized in a male-dominated industry.
Back in the day, a man walked into my shop and looked through the portfolios. He asked to get a tattoo by the person in a specific book. I said, "that's me; what would you like to get?" He said, "no way, I ain't getting tattooed by no chick!" "Well, that's my work;  if you want that work, it's me!" It was so bad how people judged by gender and race. Anyway, it just made me more determined to do better.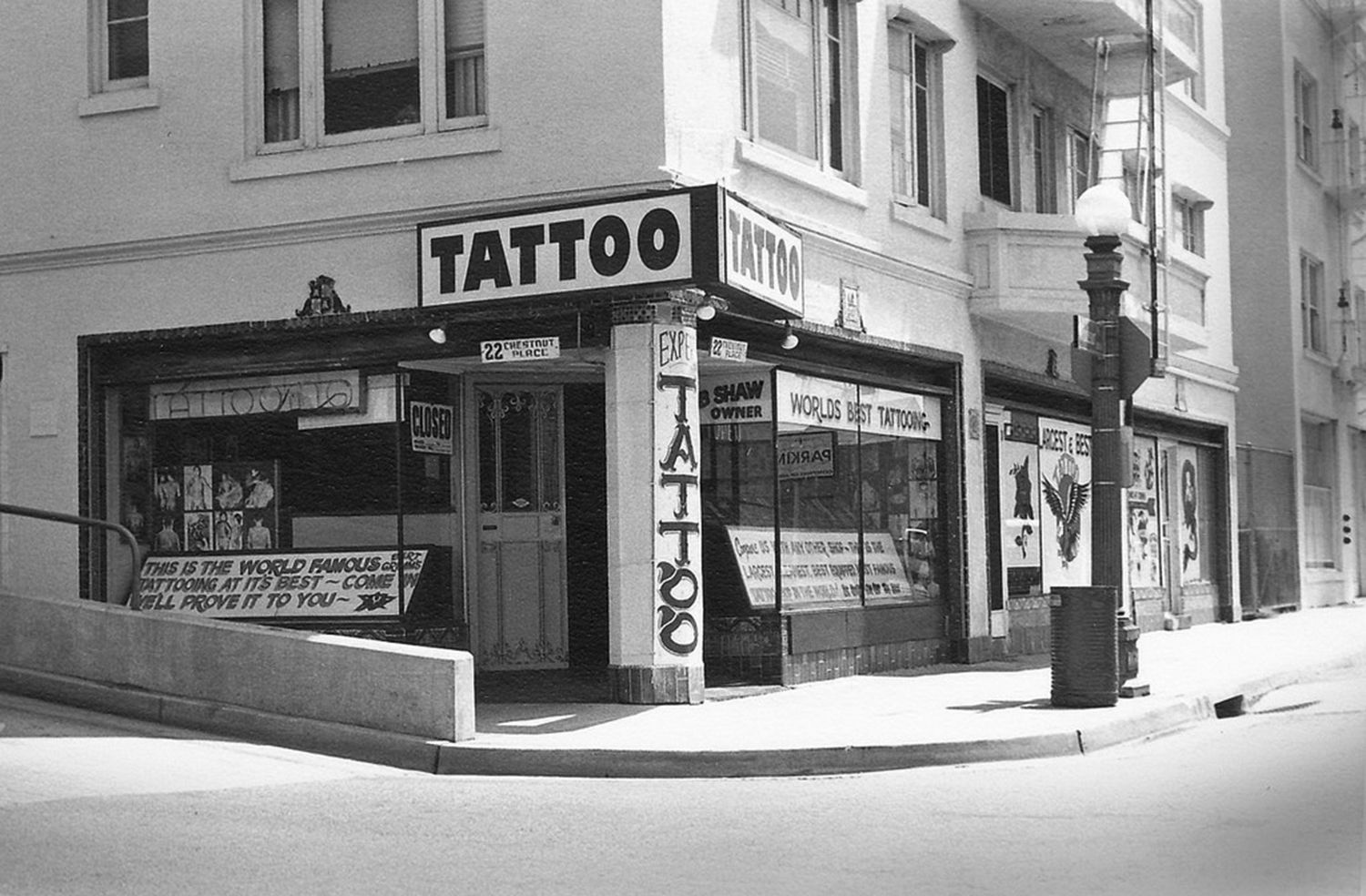 22 Chestnut Place—a shop owned by various tattoo legends (including Bert Grimm), and actively running since 1927.
You don't own just any tattoo shop. Outer Limits is an integral part of American history.
When I acquired the spot at 22 S. Chestnut Place in Long Beach, California, it was amazing! I couldn't let such a large piece of tattoo history fall to the wayside. Walking the floor that so many of our forefathers and foremothers have stepped on is a fantastic feeling! Wondering how many have touched this surface before me—picturing sailors peering in the windows … It is quite a feeling, an honor to own this place.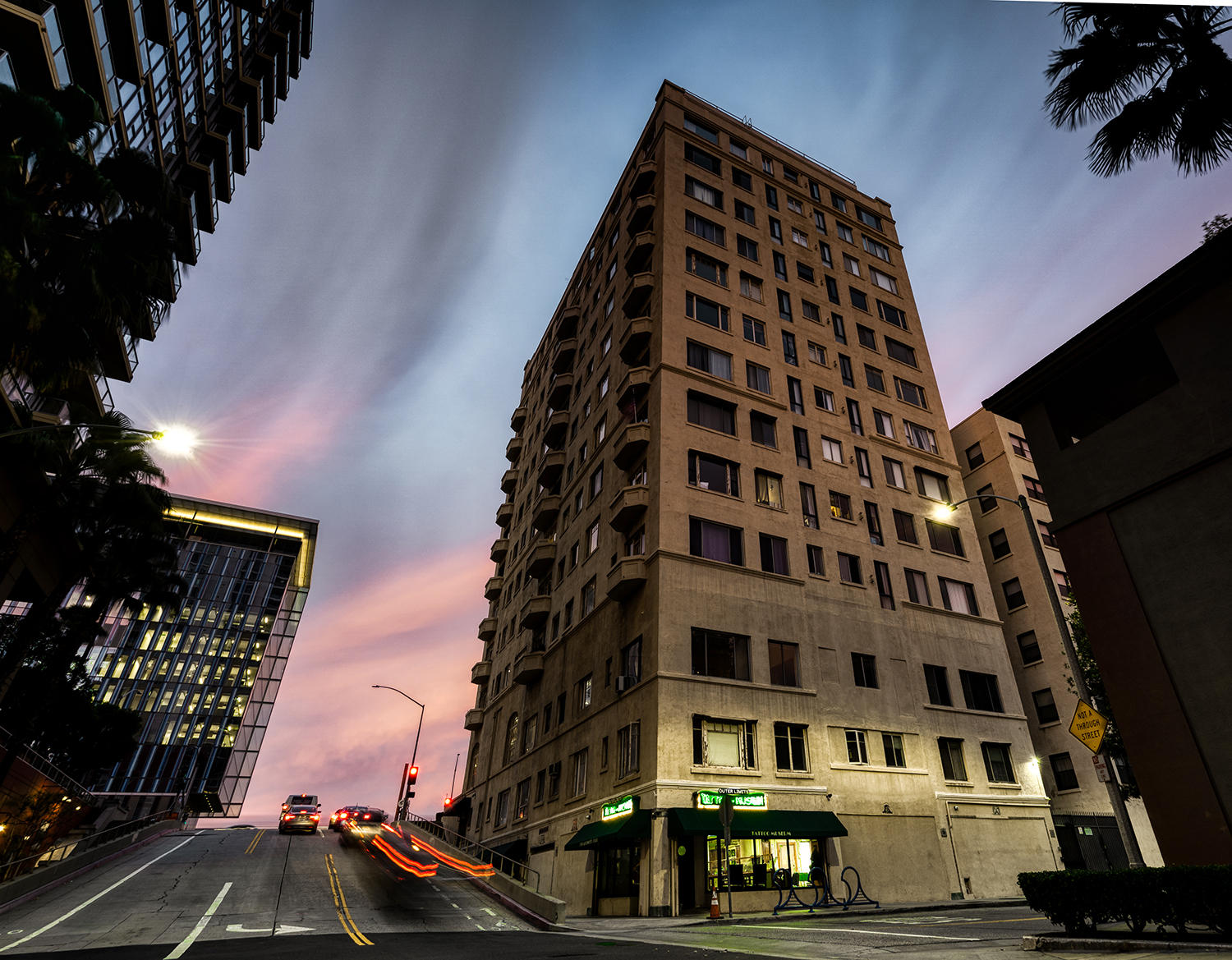 Kari Barba purchased 22 Chestnut Place in 2003, renaming it "Outer Limits." Presently co-owned with Yvonne La.
Your shop has been repeatedly closed with COVID-19 lockdowns. What doesn't the government get about this business?
Tattooing is very much misunderstood by many, including those in charge of us in government. They don't understand the love for tattooing if they don't have a tattoo or someone near them doesn't either. They don't know how we work and what we go through to stay clean and present ourselves highly. They are, in many ways, naive to the tattoo world, only knowing what they have heard—not taking the time to check it out themselves. They feel we aren't necessary; we aren't, as they say, necessary. All lives are required, businesses keep food on the table, and people are fed.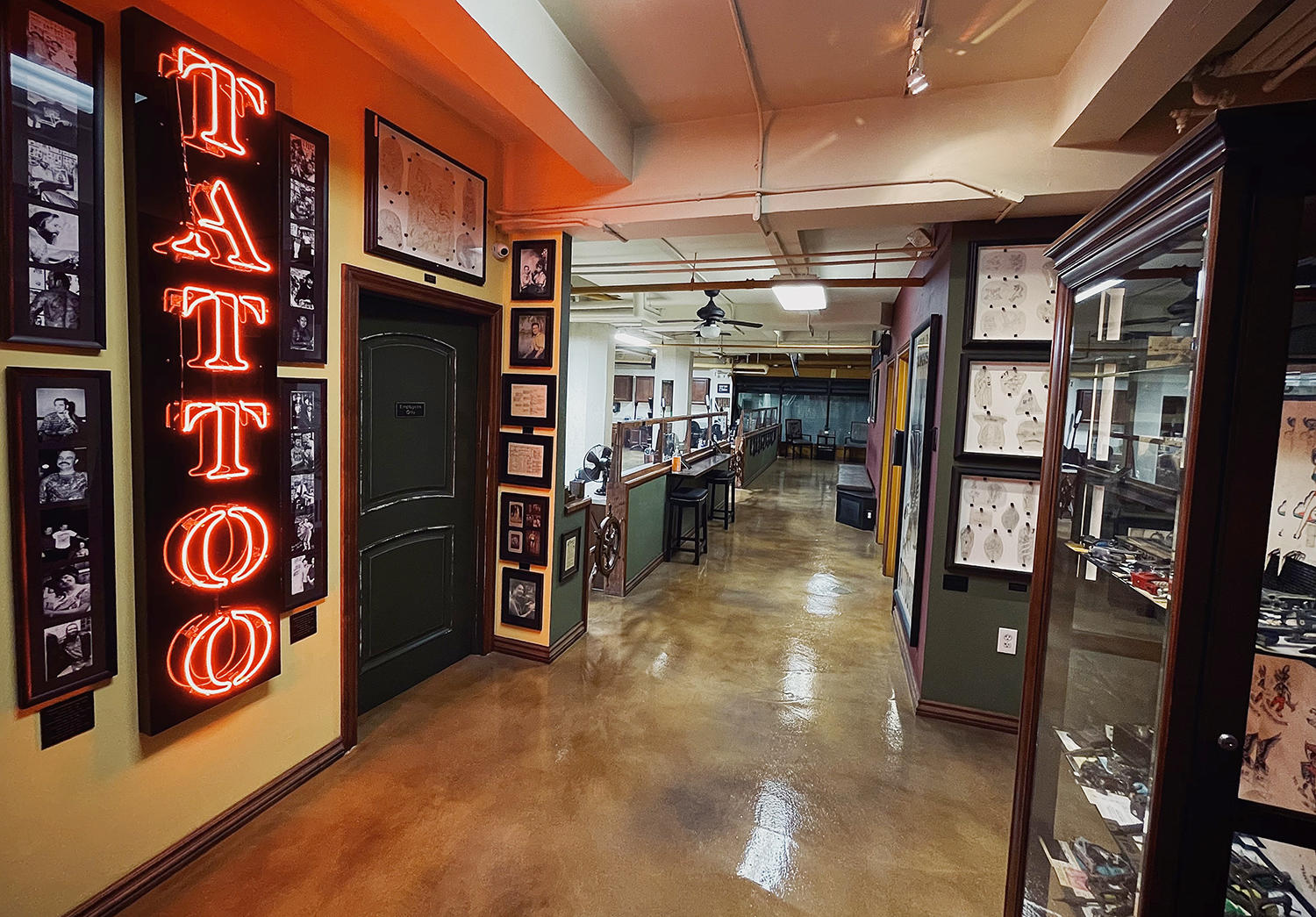 More than a regular studio, it is also a tattoo museum.
Outer Limits has been involved in a lawsuit against Governor Gavin Newsom and two state health officials.
If tattoo artists hadn't stepped up and filed a lawsuit, we might have been driven underground completely. Thank goodness for a couple of artists who took the reins and moved forward. I was asked to help a bit and did what I could, but credit goes to them. PACT took the reins. They filed the lawsuit, and they got us working again.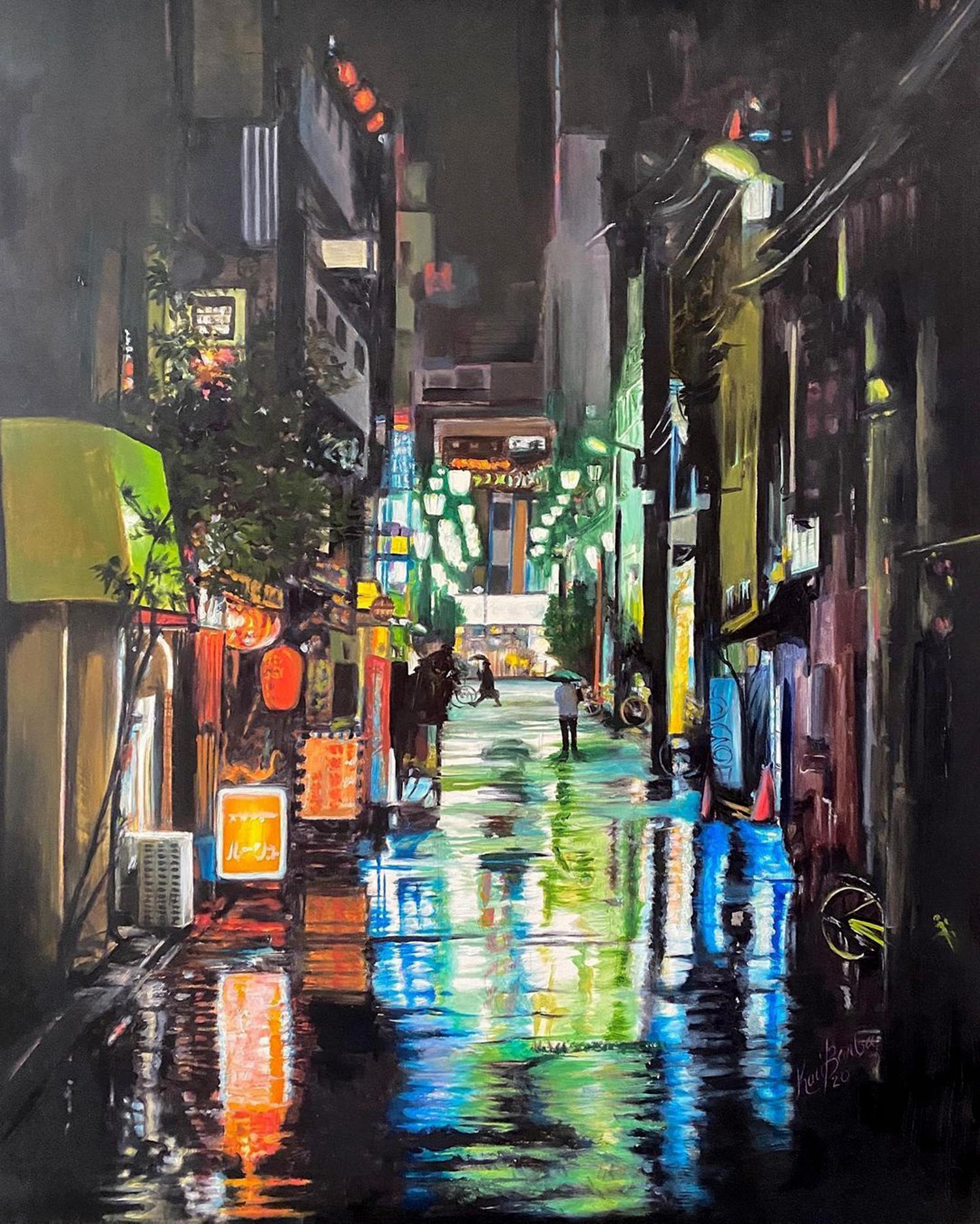 One of the oil paintings Barba worked on during the lockdown.
Have you kept busy artistically during the pandemic?
I was concerned about paying the bills and keeping the shops open. Thinking at first it would be a few weeks. Months into it, I knew it could be a very long time. I stayed busy. I got up each day as if I was going to work and painted. Usually, I do one painting a year; I'm now on #11. Many painting commissions rolled in. It was fun and kept me afloat.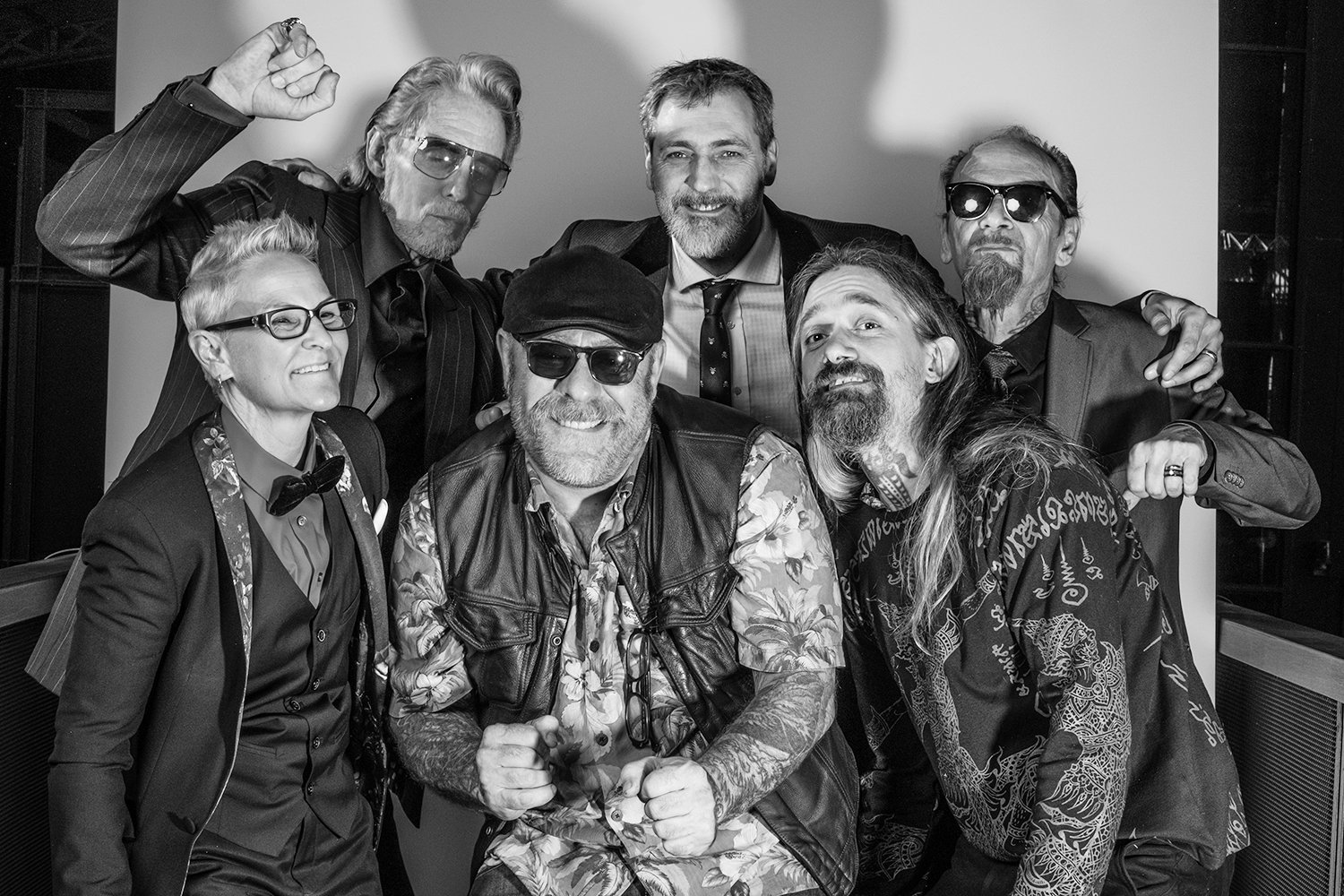 Clockwise: the judges of Le Mondial de Tatouage—Kari Barba, Mark Mahoney, Luke Atkinson, Bill Salmon, Filip Leu, and Tin Tin. Photo © Zozios.
I know that you love traveling, being a part of Le Mondial de Tatouage, yet it may be another year until travel bans lift.
Yes, I'm afraid there will be no travel for a while. At this time, I think it is important to find things we love in our backyards, our neighborhoods. Or, hop in the car and go for a drive. When I was a kid, my dad would pile us all in the car—each turn, one of us would choose a direction, and my dad would turn. It was so great as we never knew where we were going. It's like life; you never know, so each turn is a new adventure.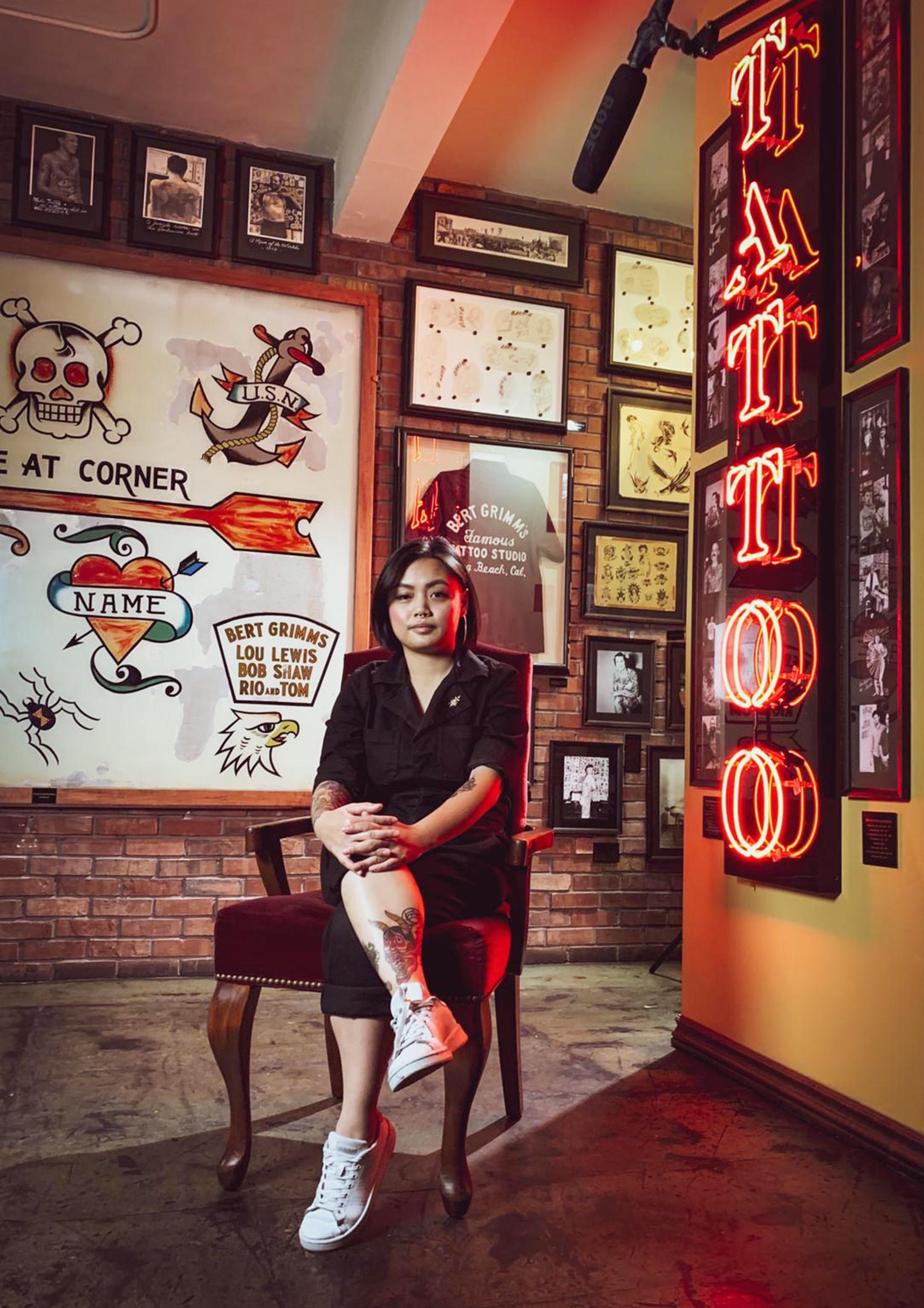 A portrait of Jenny Nguyen, a resident artist at Long Beach's Outer Limits.
Your fourth and last apprentice Jenny Nguyen told me, "In the face of adversity, Kari continues to remain positive and understanding. She takes care of the ones around her. I genuinely owe her everything."
Jenny is a very kind person and a great artist. She looks and only sees good in others. Jenny is hard on herself and always strives to do her best. She grew up fast in our shop and under the wing of Outer Limits. When my business partner Yvonne La and I trained Jenny, we tried to teach her the value of her learning. The value of not only the work she makes but those who came before her, her history. The value of kindness and the importance of doing her best job. She's doing great, and we are very proud of her. I appreciate all her kind words and hope that I can live up to them.
Photos courtesy of Kari Barba