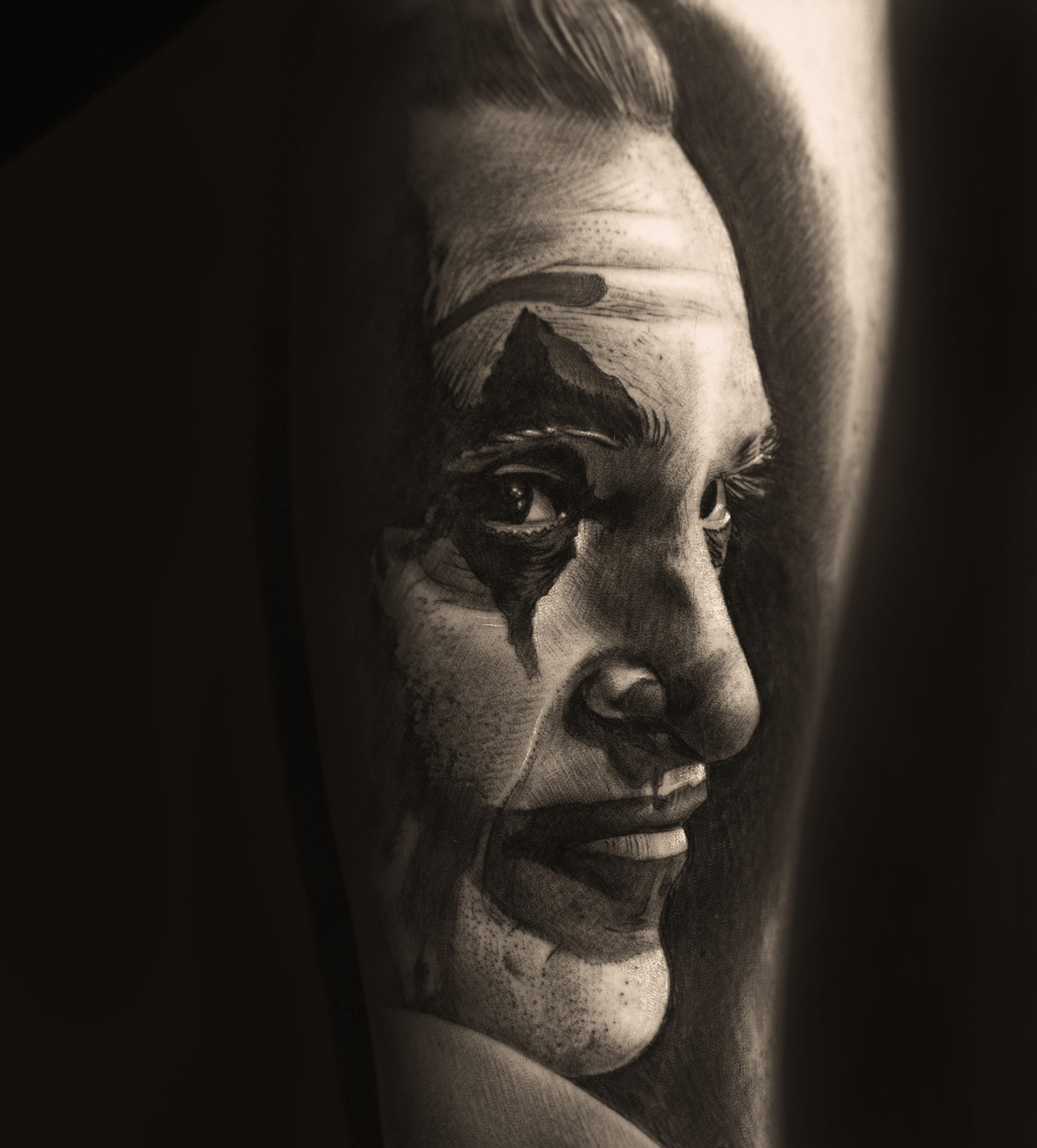 Hailing from South Russia, specifically Rostov-on-Don, Denis "Tidan" Torikashvili began his tattooing career in 1997. That's 23 years ago when there was barely an industry, acceptance, and fair working conditions.
Tidan has had many setbacks and restarts, from moving and working in Moscow to London—the latter getting a big break at NR Studio in 2017. And an even more significant opportunity came to him in 2019. Franco Vescovi invited him to be a part of the Bishop Rotary family and a resident artist at Vatican Studios in California, United States.
This interview views Tidan's rise to success, his adaptation to the West Coast, and dealing with COVID-19 lockdowns.
Above: A stunning Joker portrait by Denis "Tidan" Torikashvili.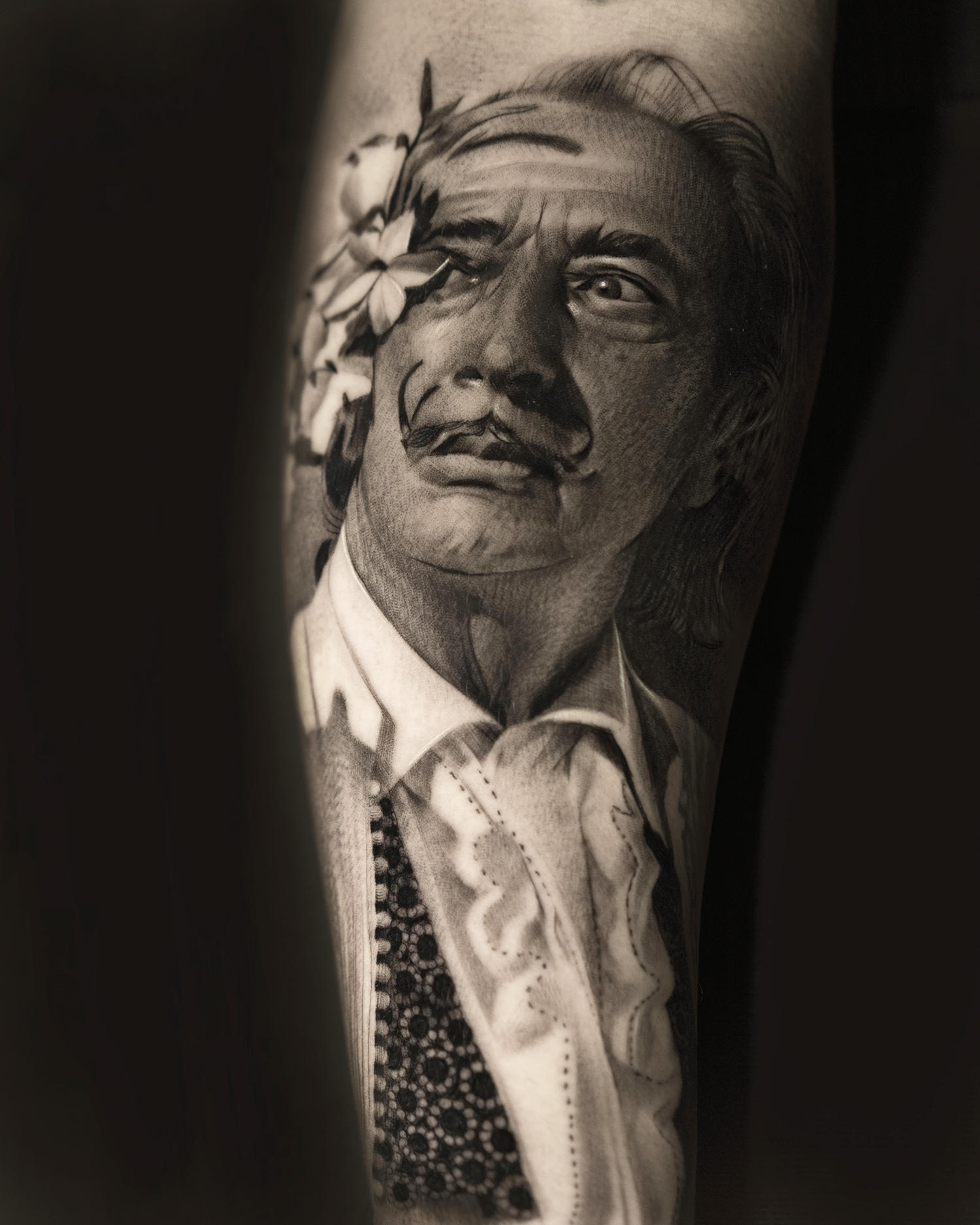 The eccentric Salvador Dali inked in black and grey.
Before coming to America, I lived and worked in London for two years, where I formed an amazing client base. I received many invitations to work as a guest artist and participate in US events, but I had to get a work VISA first. It took me six months, and without Franco Vescovi, I probably wouldn't have made it here.
While working in London, I met James, who is Franco's most trusted business person. And also, my friend Dmitry Troshin had been working with Franco for three years; so I knew where I was destined to go. Franco invited me to join Vatican Studios, and I gladly accepted.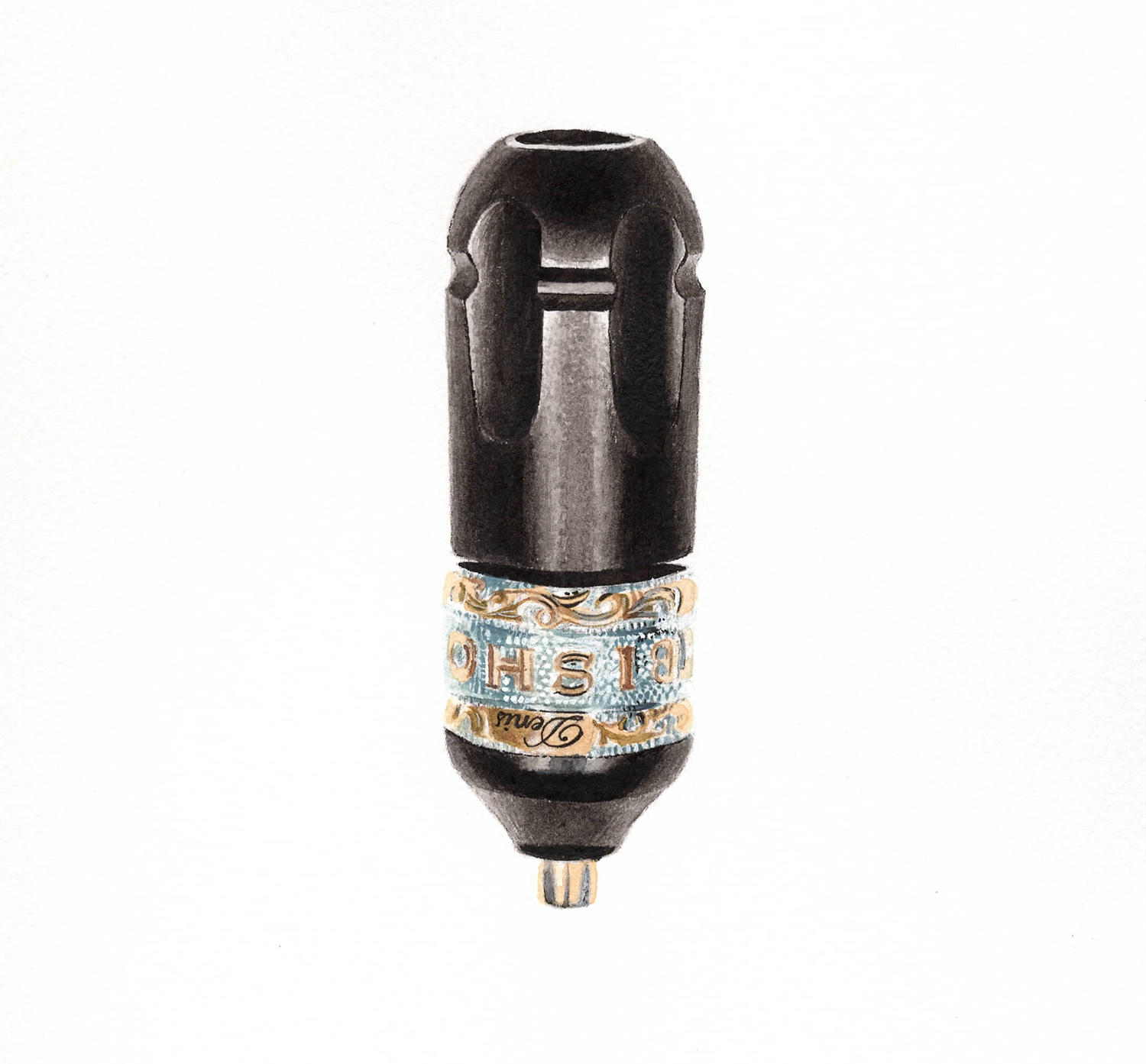 Tidan's custom tattoo machine—the Bishop Wand.
It seems like the Bishop family is treating you well. What is it like working with a custom Bishop Wand?
I am highly satisfied with the tattoo machine; it runs smoothly, quiet, no vibration, and all my clients love the work done with it. I use a wireless battery that frees me from power-supply cords.
I was at the factory and saw firsthand how Franco does his business—all staff members keep the highest standards of honesty and professionalism, and I want to be associated with this and do my best not to fail the team.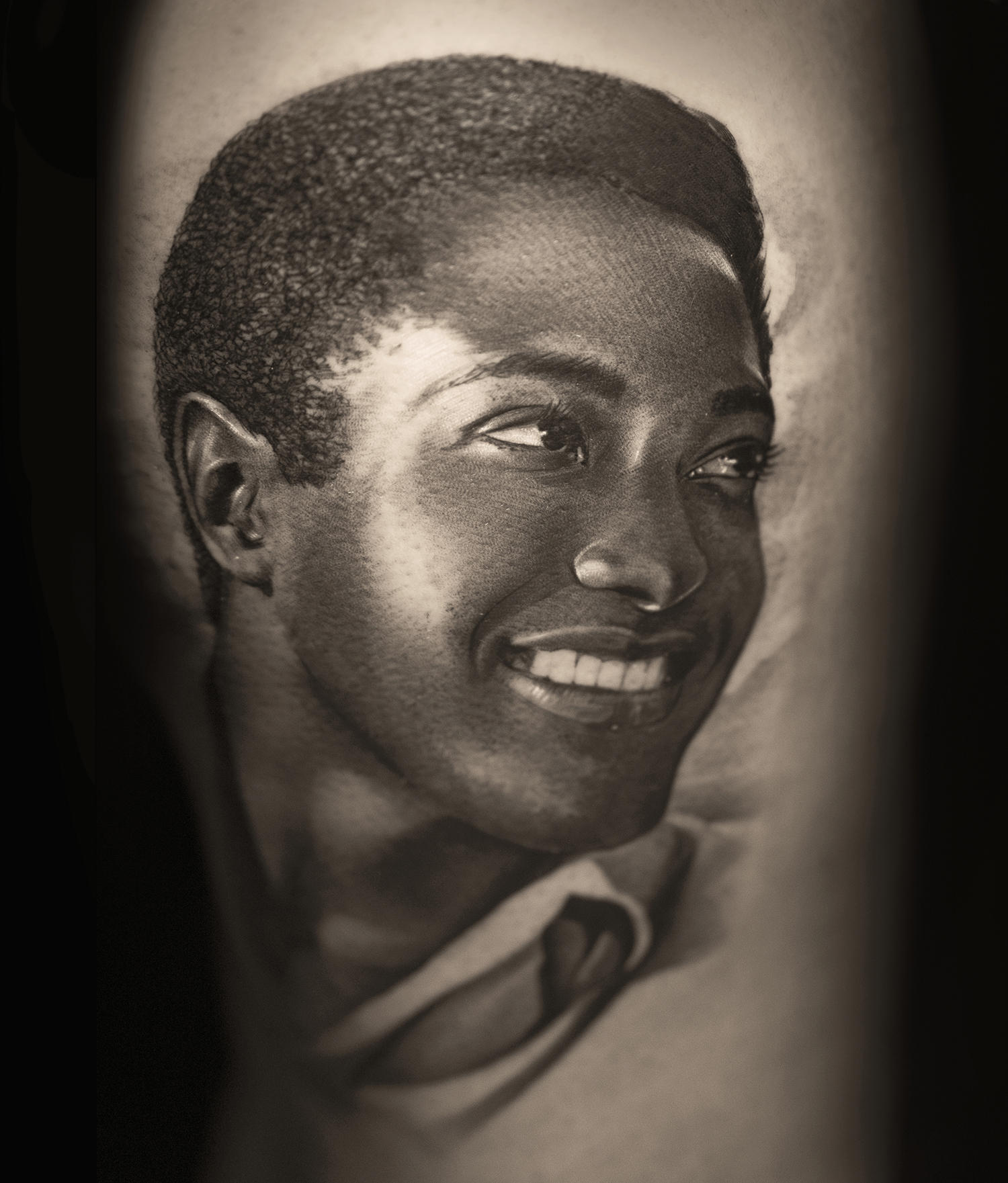 A tribute to Sam Cooke (
American singer, songwriter, civil-rights activist, and entrepreneur).
Before becoming known for your black-and-grey realism tattoos, you enjoyed making color tattoos of cartoons and video game characters.
I wasn't entirely happy with my color tattoos because they looked good at first, but some didn't look so good over time, such as light-colored pigments on dark skin. I'm my harshest critic, and I don't want to trick my customers, so I focused on black-and-grey inks that provide better results. I already got my inspiration from old B&W movies and photography. I especially like vintage (the 70s) photos of women and want to do something similar to that soon.
I made Bobblehead-character tattoos that were featured in magazines and social media, they went viral and helped my career. They were a success among viewers and media, but not commercially (I tattooed them on my friends for free). Even though it didn't bring me money, it was an excellent opportunity to show my work. I still travel with a handmade Sackboy figure that is my good luck talisman.
The Joker (Joaquim Phoenix) by Denis "Tidan" Torikashvili.
These are some of the best Joker portraits I have seen.
Both Joker tattoos took full-day sessions. The one surrounded by guns, I did in 8 hours; the other in 6 hours.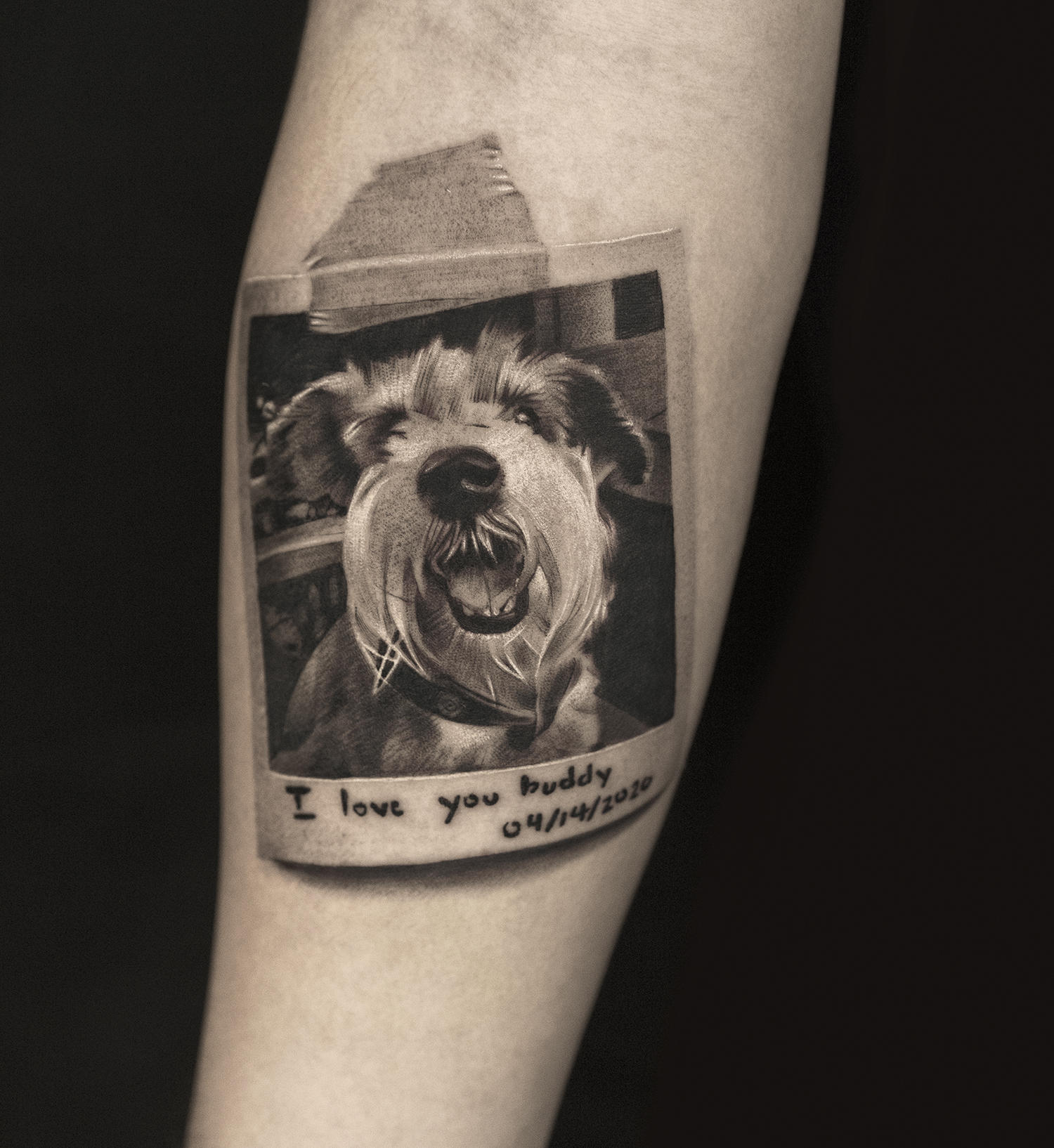 "I love you buddy," a pet memorial tattoo for the customer.
Due to COVID-19, Vatican Studios has been closed for some time. What have you been doing all these months?
Before closing, I bought a car and paid my taxes, which resulted in not having savings to help me through this difficult time. But I didn't let it get me down. I borrowed some money from a friend, bought some canvases, and have experimented with painting. I started with abstract art and then switched to photo-realistic watercolor works. There have been people interested in buying them, but I haven't sold them. I gave one as a present to a friend, and the rest I used to hang on my home walls. Besides this, I have learned how to bake bread and make authentic Italian pizza! I have had time to walk around the neighborhood, get to see beautiful and exciting places around me. I am fortunate to live in such a fantastic location [Lake Forest, California].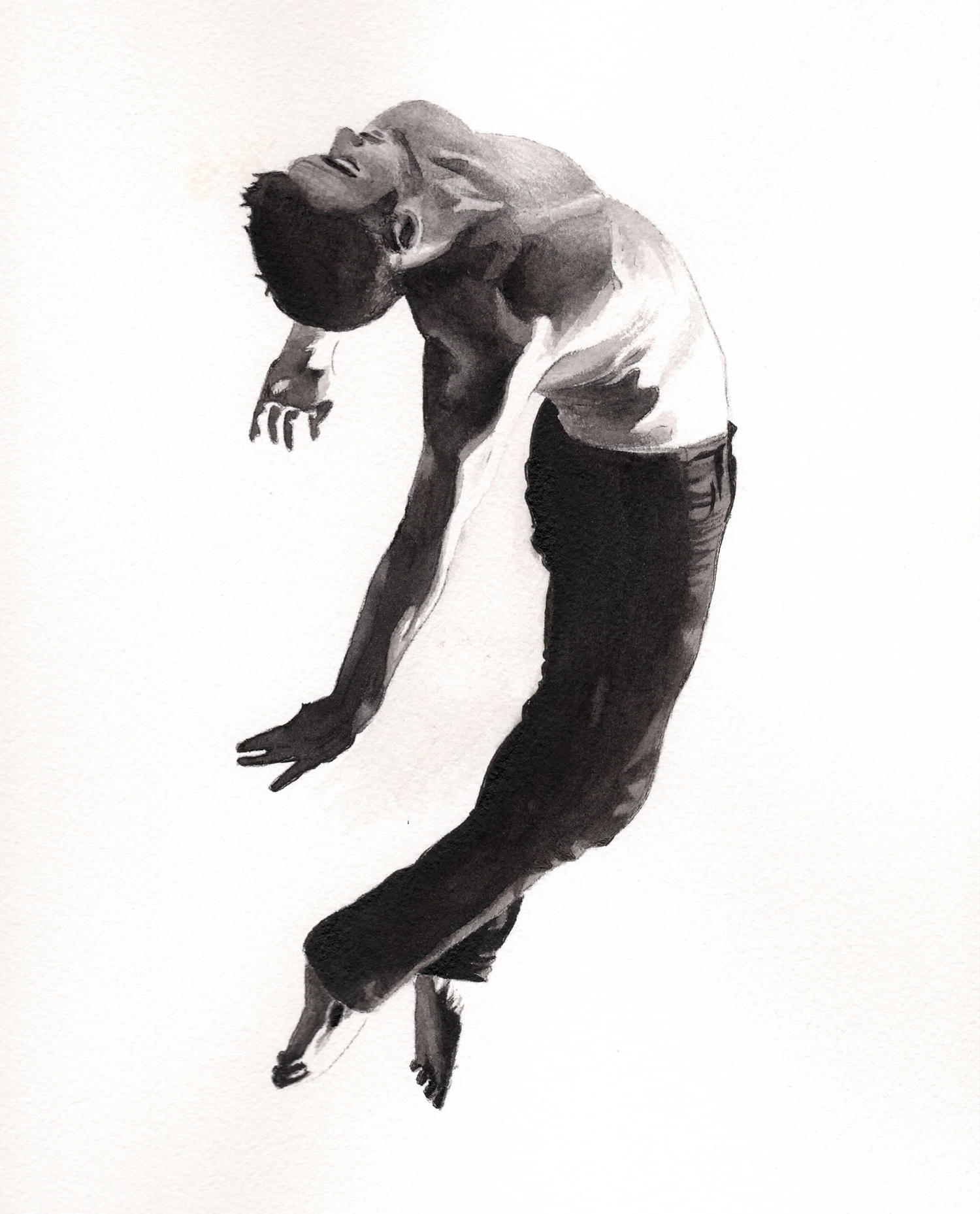 Tell me about the painting titled "Rita."
It is part of the watercolor series made during the quarantine. Rita is my wife.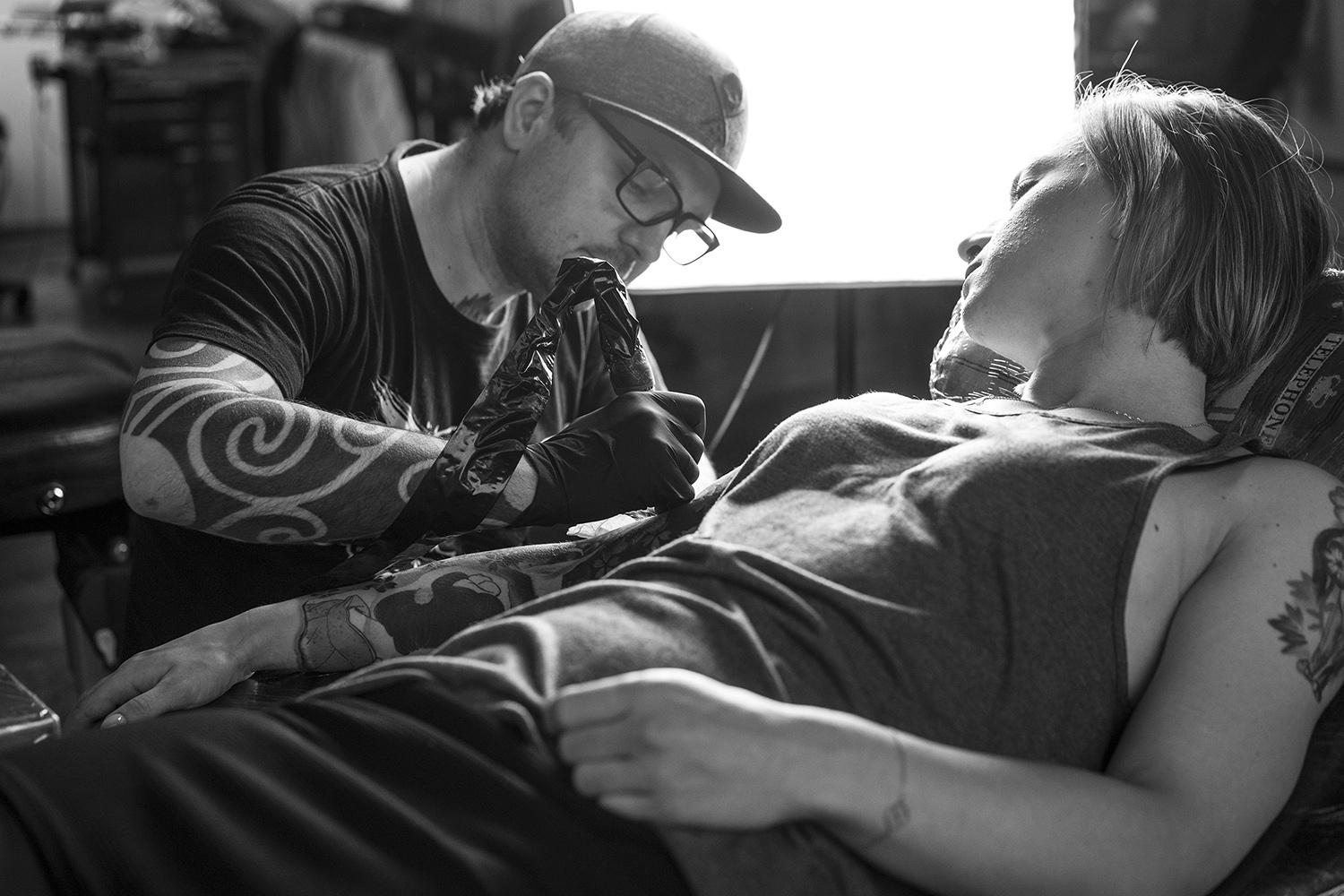 Tattooist Denis "Tidan" Torikashvili in studio.
Has your family been integrating well in California?
Since we are a "tattoo family," we moved a lot. Happily, we are used to this. The first time was the hardest. Thanks to the outstanding support of my friend Dmitry, we are adjusting to California's life. He filled me in with everything and helped me with accommodations. Generally, I love that feeling of getting a fresh start; there are always some bright challenges and new adventures. The only thing I truly miss is my old friends. Today's technology allows us to communicate despite the distance in real-time, but nothing can replace real conversations over a glass of wine.
Photos © Denis "Tidan" Torikashvili