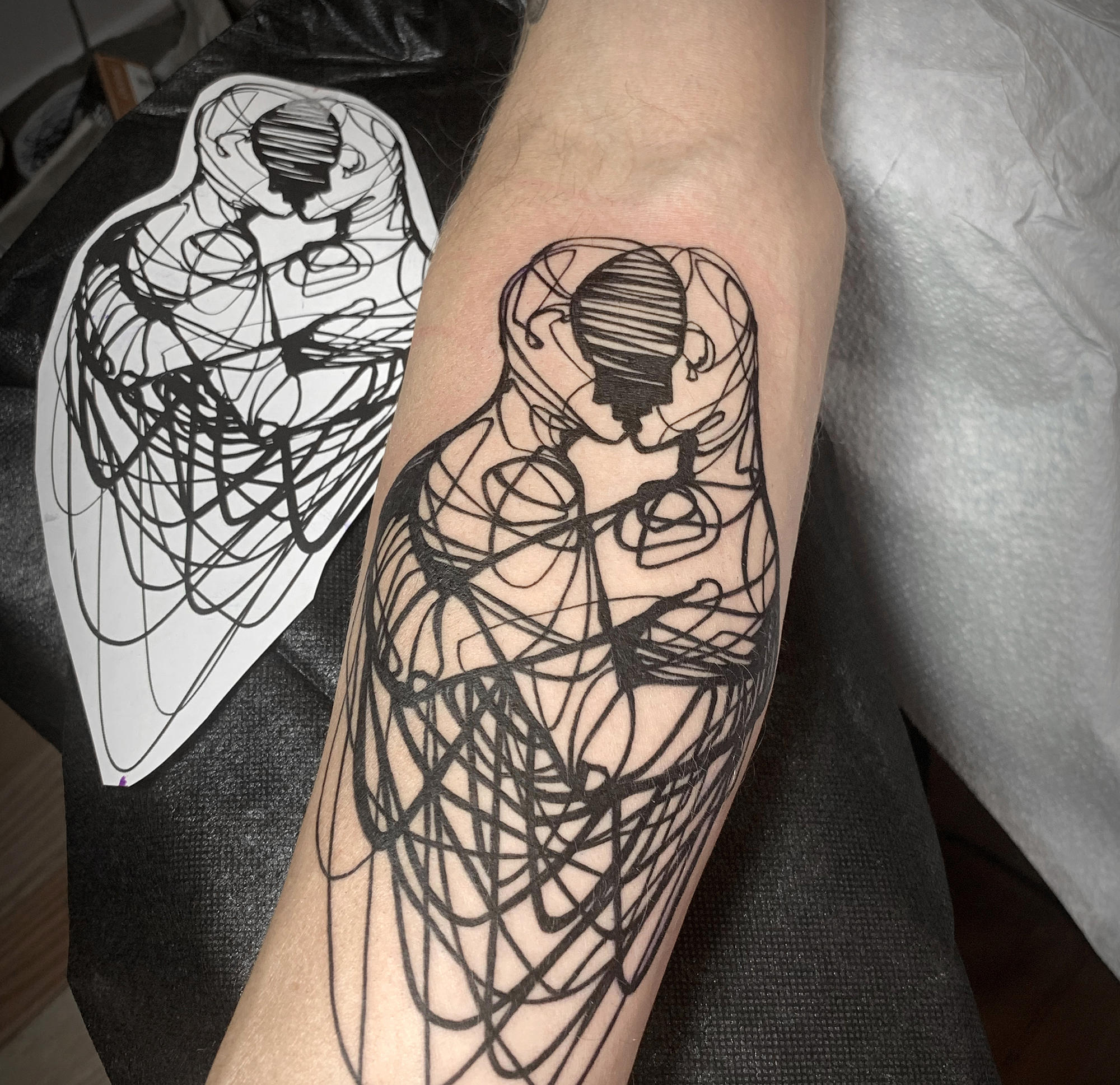 Jio was born in Dzerzhinsk, Russia, and emigrated with her family to the South of Portugal, where she spent part of adolescence and eventually studied in Lisbon's prestigious university (Faculdade de Bela-Artes da ULisboa).
Even though she still has a strong connection to Portugal, that country did not give the opportunity she deserved to become a great tattoo artist. Instead, it was on a trip to the United States, where she took a tattoo training course that led her on her path.
Jio currently spends much time in Berlin and San Francisco, where the open-mindedness suits her personality and tattoo creations.
Above: Jio's tattoo art is strictly done in black ink.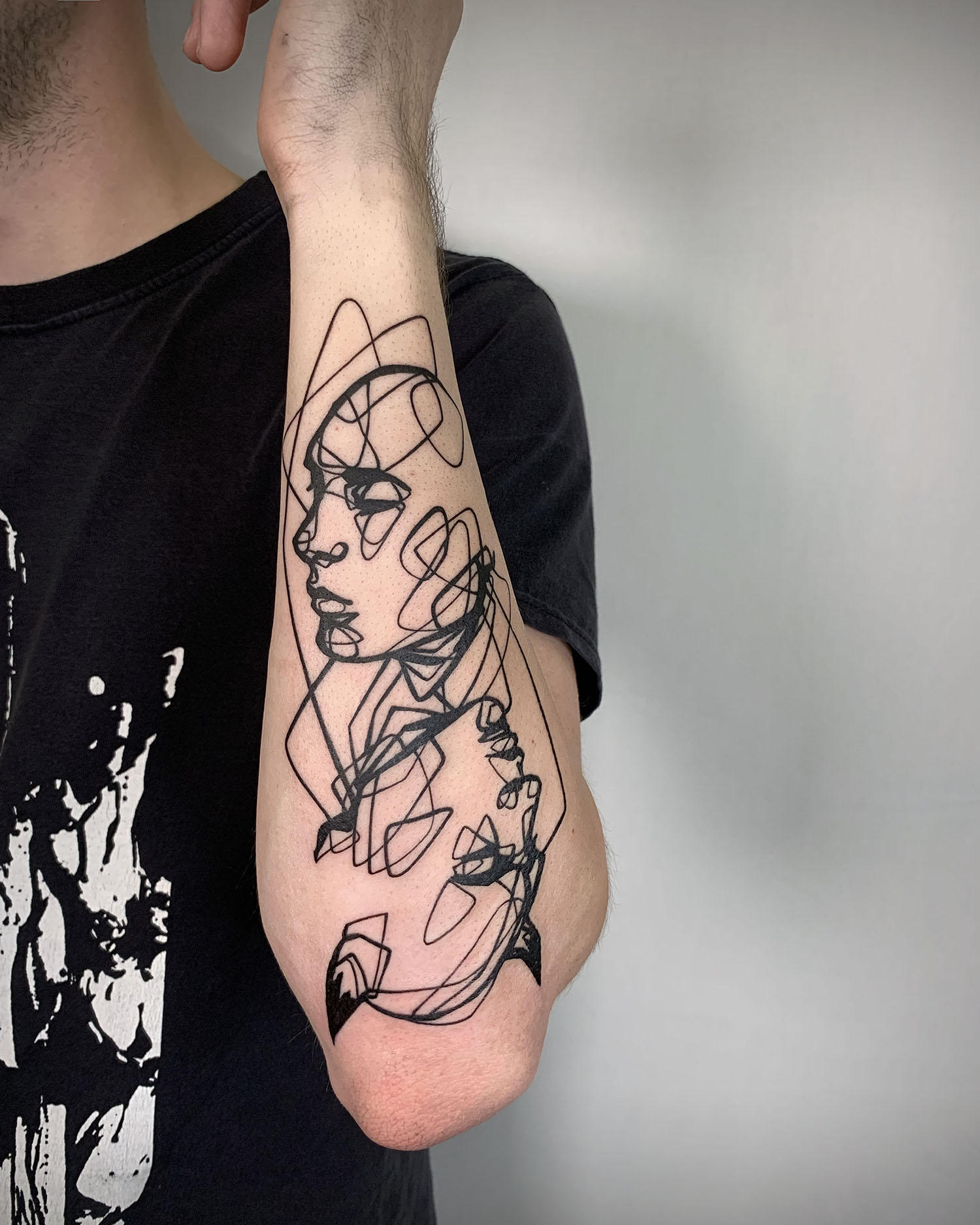 Jio's artwork transfers perfectly from paper to skin.
Your mom didn't like tattoos, that is why you held off from having them on your body. When and what changed?
I was still studying at University, and my mom was paying for it, so I was not a completely free person, I was not earning any money, and I was following and respecting her rules. She had a specific idea about tattoos, like many people still have, that they are connected to bad things, to prison, to drugs, that they are a representation of rebellion, and of course, she did not want me to be part of that scene. We agreed that only when I would provide for myself financially would I do whatever I want, including getting tattoos. So when I dropped out of University and worked for a full year to save up money to travel, pay for my living costs and tattoos; I finally traveled to London from Portugal and got two 5-hour session tattoos one day apart! In a way, I am glad that I only got my first tattoos after having a lot more knowledge about tattoo culture and art.
My mom's perspective on tattoos has shifted based on how the culture has changed (all types of people get them); she now jokes that she may want a tattoo from me.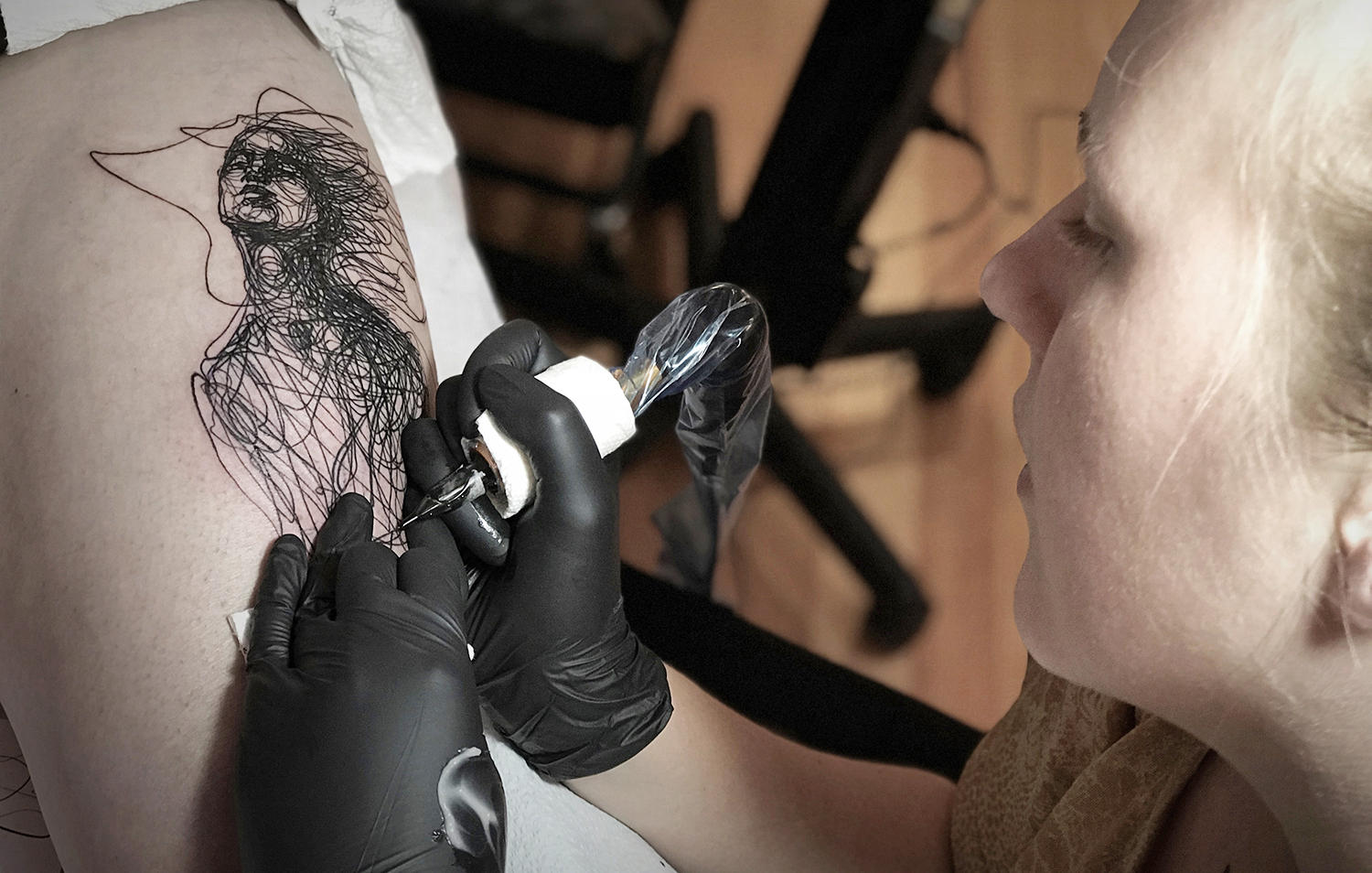 Her trademark is the emotional sketch-like portraits.
When did you start tattooing, and how did you learn the craft?
I was half-way through my Fine-Arts Bachelor's degree in Lisbon. I was drawing, painting, and sharing my art on Facebook, but I still didn't know how to make a career out of it. Even though I followed my mom's rule of not getting tattoos, I did, however, make my hair into dreadlocks, wear alternative punkish/hippie clothes, and got plenty of piercings. I showed my art to my favourite piercer Binho Barduzzi, who worked at a tattoo studio, and he asked me if I ever considered tattooing since I already had the drawing part down. That's where the spark was born. During my summer break next year, I began researching everything I could find on tattooing, from books to online forums. I visited most tattoo studios in and around the small town of Carvoeiro in the South of Portugal, where I grew up and spent the summer.
Nobody took me in. It was very challenging and demotivating. So I began looking for apprenticeships or courses outside of Portugal and found a Tattoo School in Louisiana, US, that was 2-weeks long (the longest I found) and promised that by the end of it, we would have tattooed at least six people. So I traveled to the US by myself (supported financially by my mom, who now surprisingly saw the potential in me becoming a tattoo artist) and completed the course. At the school, we learned the basics of setting up a station, the hygiene protocols (we passed the blood-borne pathogens test), how to break apart and set up a machine, and the basics of line, shading, and colour packing. I quickly picked up the craft and ended up tattooing 11 people in our second week of training (often staying after-hours and tattooing other participants in the dorm).
Back in Portugal, I slowly started tattooing friends while still studying in Uni. The next summer, I got invited to work at one of the local tattoo studios that initially rejected me. That's how it all began. And the truth is that most of what I know now I learned by myself, trial and error. I wish I could have had a real apprenticeship with a mentor I trusted, but I am also proud of my commitment to this craft and how I made my way up to where I am now.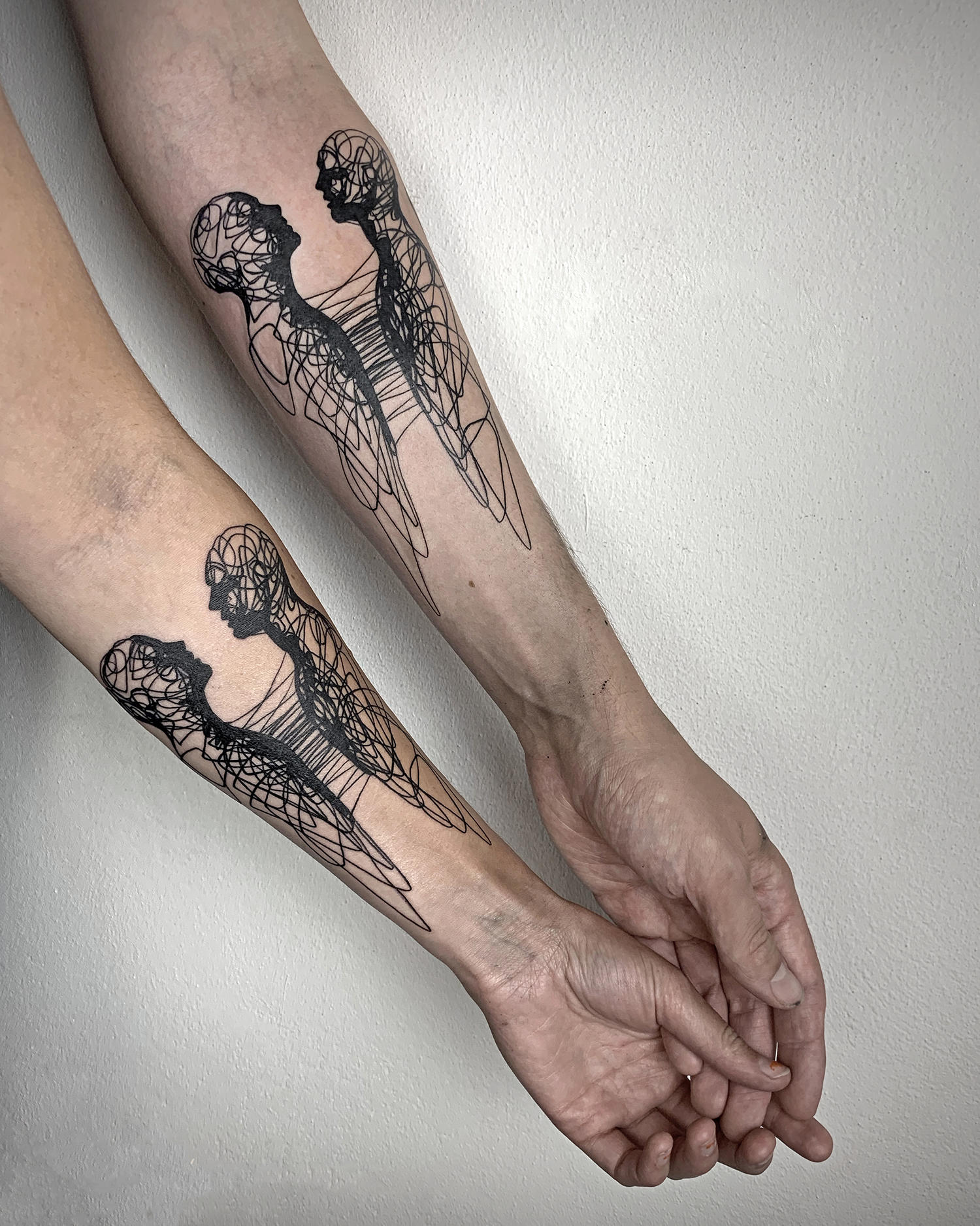 Love and connection are recurring themes in Jio's portfolio.
How long did it take to come up with this "expressive-line" art style?
It was a slow and progressive development that began to take shape in the last three years. In the beginning, I experimented with different tattoo styles, anywhere from realism to watercolour. Because I enjoyed drawing realistic portraits, I focused on tattooing and soon noticed how it was not as satisfying or creative. That's when I began exploring a more sketchy style, which is also a way I enjoyed drawing but never thought that it could also translate onto skin. Since then, I have kept experimenting with it, adjusting it to work best on the skin, and exploring topics that have meaning to me and speak deeply to my clients.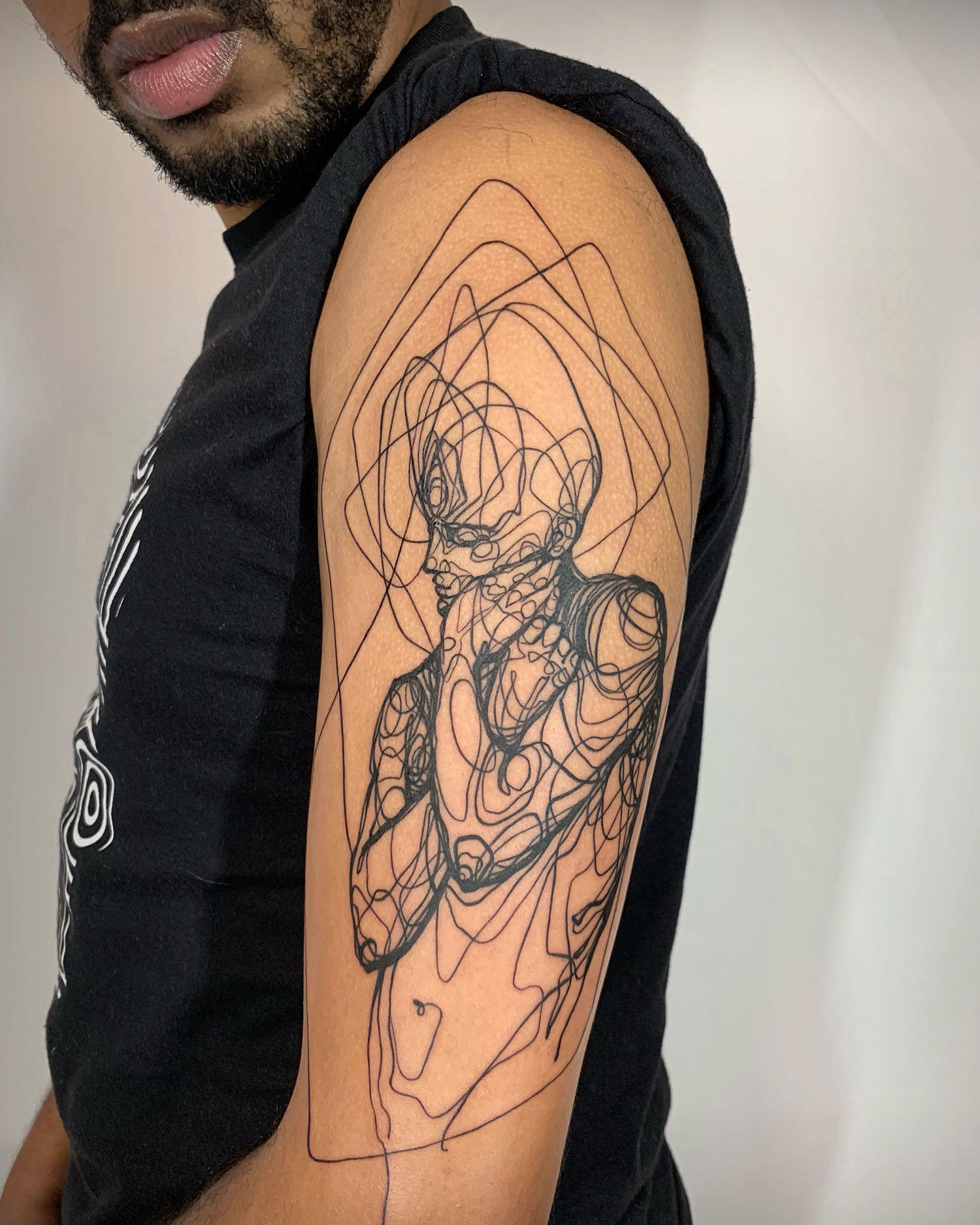 Even when others didn't believe in her work, she believed in herself and has made it!
You have conveyed pain and joy through your art. It is therapeutic for you.
For me, art is a powerful way to express my inner world and the state of the Collective. So yes, I explore my struggles, pain, insights, and celebrations through my art, and I also tune into what would be important for others to see, connect to, and feel. When they see my tattoo art for the first time, some people say that it's dark. They are surprised at how somebody like me, who they often perceive as loving, kind, and fun, can create such intense imagery. In most societies, we cannot show, express, and embody our "darker side" — the anger, frustration, jealousy, fear, and pain, but I believe it's essential to connect to those parts of ourselves. So my way is through art, through dance and by going to retreats and workshops where we are consciously working and being with the full spectrum of our emotions.
Art has significantly helped me through moments of heartbreak. When a relationship would not work, when I would feel lonely or frustrated. Translating those feelings into images is very powerful and allows for some form of relief and healing.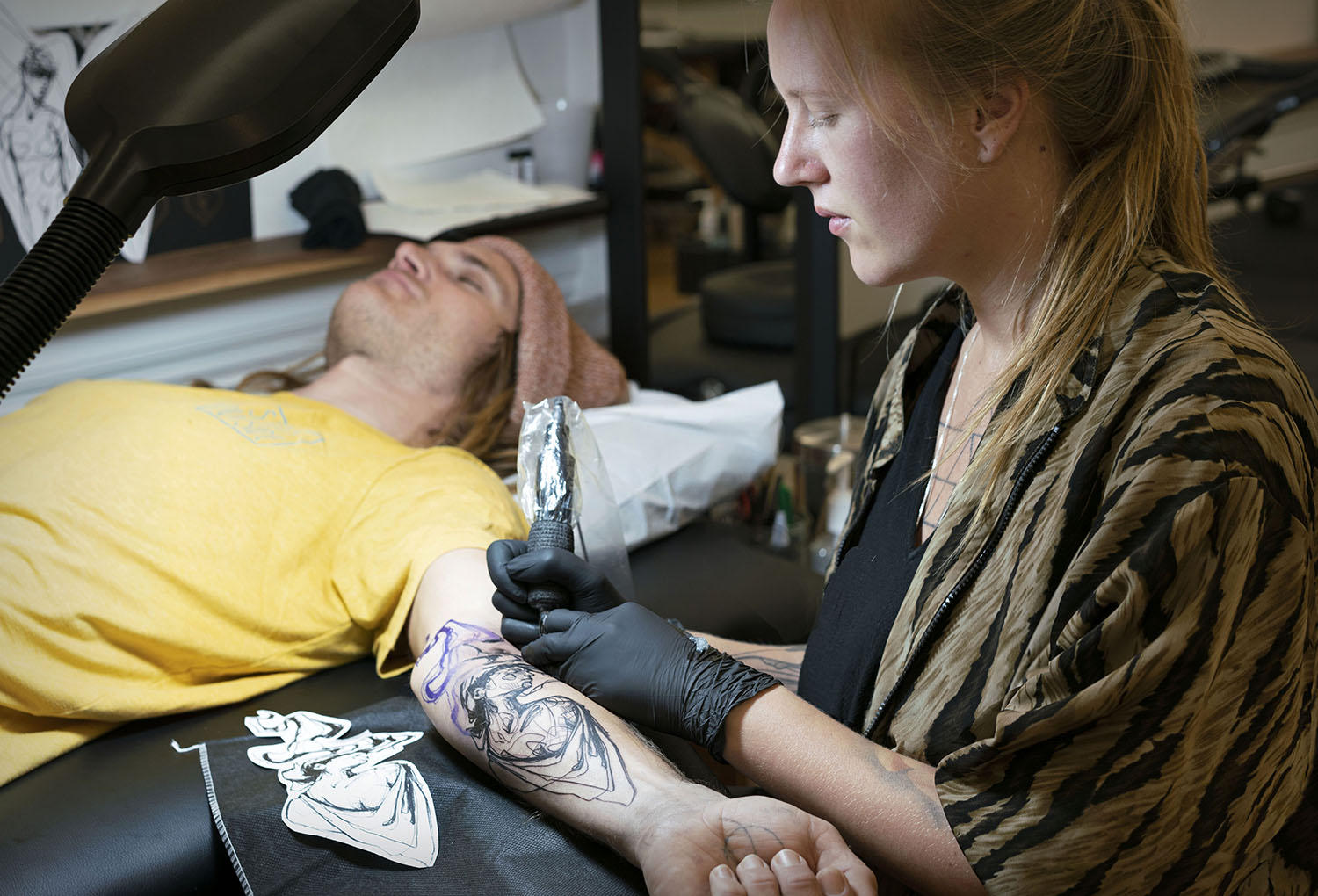 Up-close with the artist Jio, in studio.
How have you been able to help your customers?
Many of my tattoo clients get tattooed to connect to something meaningful to them, whether that's a celebration, a letting go of trauma or pain, or anything in between. The whole process feels important, greeting them in a way that makes them feel safe and welcome, collaborating on the design in a way that is not pushy, reading between the lines to figure out what exactly they are looking for with the tattoo, but also listening to my intuition and creating something that excites my artistic side.
The level of connection that I experience with the clients always depends on how "compatible" we are and how we feel that day. There are minimal words with some, it's more introspective, and with others, we spend hours talking, exchanging ideas, and even dancing in our tattoo breaks. Both are welcome and beautiful.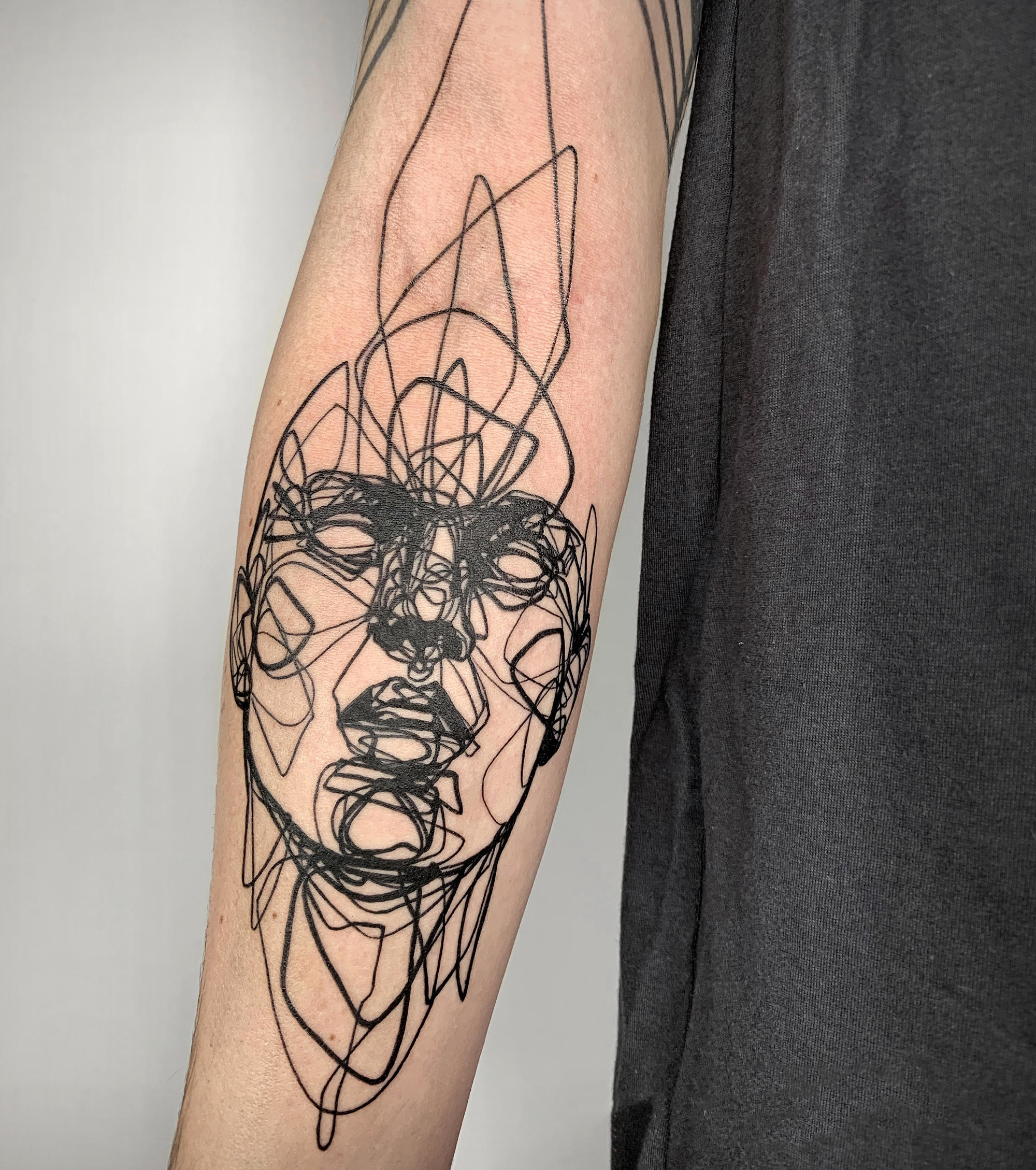 Life is about finding balance and Jio is constantly working on herself and how she sees the world.
You mentioned going to retreats and working on your well being. Please elaborate.
Yes, I believe that this is where all the juice and inspiration come from poured into my work. My passion for exploring the meaning of life, spirituality, practice authentic relating and creating deep and honest connections with the people in my life, and liberating myself from social conditioning has been my passion. I'm not sure how this all started, where this desire to go deeper, to explore the mysteries of life came from. I guess we all have it; some of us pay more attention to it and choose to follow that calling, and others not.
Some people read books, watch documentaries, others follow teachers or gurus, I do those things too, but I've fallen in love with going to experiential learning and retreats where I interact with others. I get to embody and practice things like meditation, ritual, communication, human connection, expressing emotions, practicing boundaries, etc. Because it's experiential, it is easier to implement those new lessons and insights into life afterward. But it's still up to me to work on really bringing them into my daily life. And it has also become my dream to one day offer that type of training and workshops, creating safe spaces for others to open their hearts, experience their truth, and their beauty, and step into their power.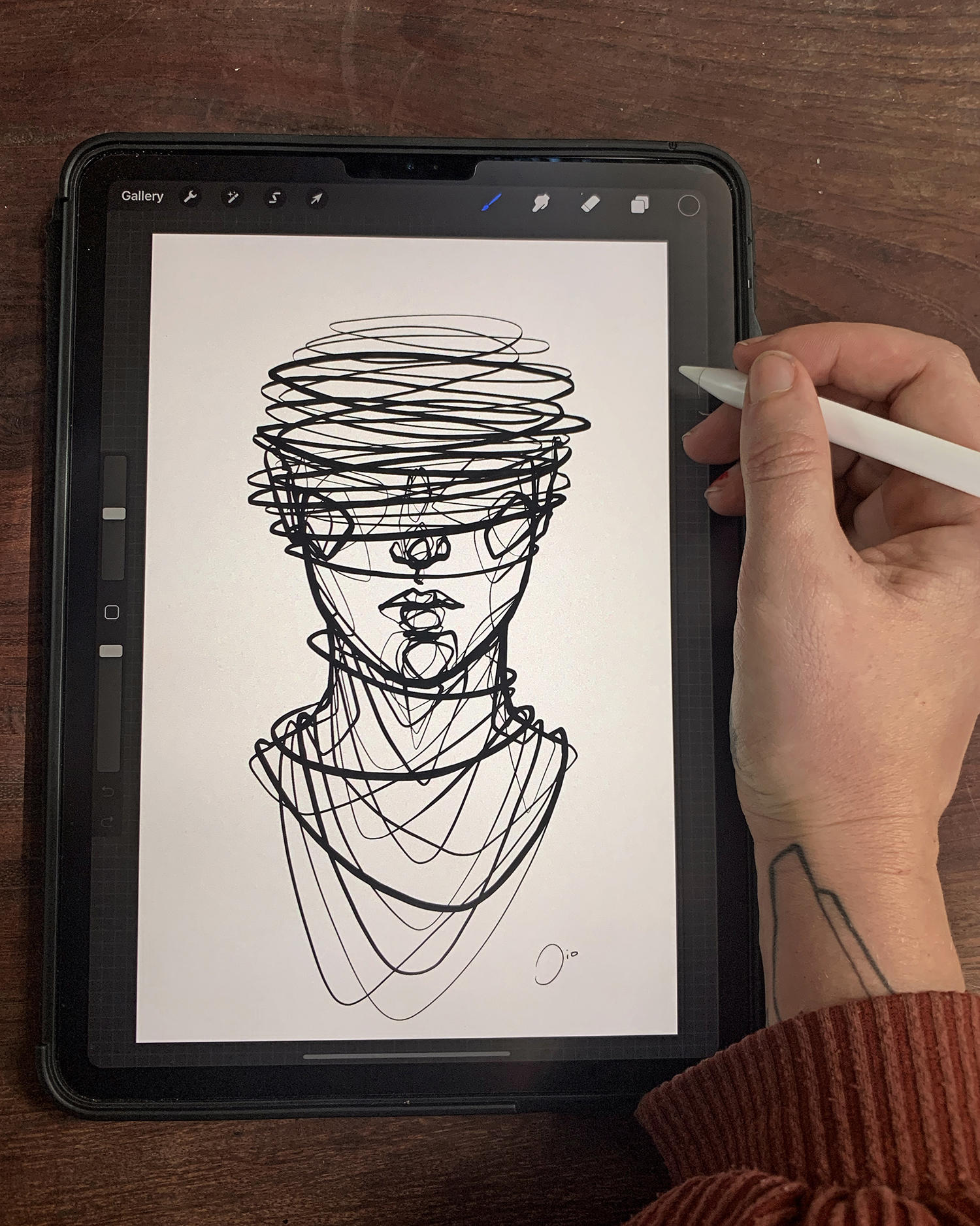 The majority of her tattoos start with a draft on iPad or paper.
What tips can you give others about mental health and self-care?
Well, I think the best way is for me to share what I do and what helps me because it's different for everyone, and we are in various stages of our unique journeys. I've learned meditation, yoga, emotional release, conscious communication, breathwork, etc. I apply most of them in varied ways. I can't do the same practice every single day or morning; I get bored and frustrated. I tried it and went all in, doing 3 hours of yoga and 2 hours of meditation every single day for six months straight. Really. Every single day! Even during the week that I had a cold and a fever. And it's beautiful to experience that level of commitment and discipline. But for me, now, it feels more easing and self-loving to tune into what my body needs and what my intuition says in the moment. And that is also a deep and beautiful practice by itself, to learn to listen to those inner signals and have the courage to follow them. Sometimes I stretch, sometimes I go for long walks, sometimes ask a friend to hold space for me. At the same time, I share something I'm struggling with, sometimes I dance and shake and hit pillows, sometimes I stay in bed for hours and eat chocolate, sometimes I travel to faraway places because my heart was calling me to do that. Taking a short break and a few deep breaths are my go-to in most situations.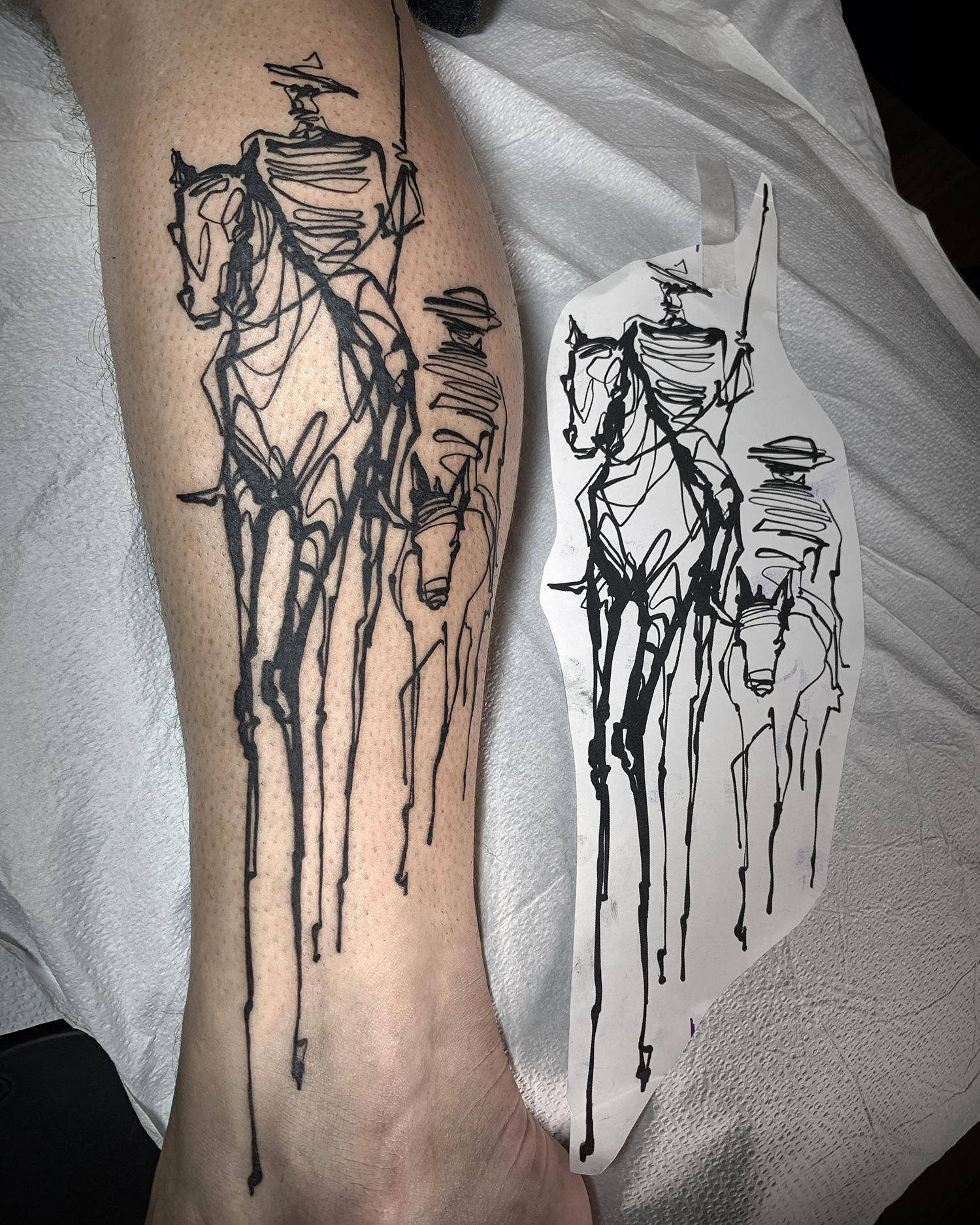 Jio gets inspiration from Salvador Dali's sketches of Don Quixote.
You have stated, "I don't really have a permanent base." Was this before COVID-19; what are your plans for tattooing during this period?
It continues to be this way. I thought that maybe now with COVID-19, I would finally settle down for a bit and stay in Berlin for more than the 2-3 months (which is how long I usually stay), but here I am, on a plane to Greece, to spend the next seven weeks there in a Spiritual Training. I spent the past two months tattooing in Berlin and now am feeling in need of a break, to spend time in the community, in Nature, in meditation. I enjoy having only a few spots where I tattoo (right now Berlin and San Francisco) and focus on those, but I love traveling in between and exploring the World. I've traveled to Guatemala, Hawaii, Ecuador, Mexico, Indonesia, India, and the list continues in the past years. And for now, this feels right to me. Maybe at some point, I will settle, open my shop, and focus on family life.
Photos © Jio Tattoo