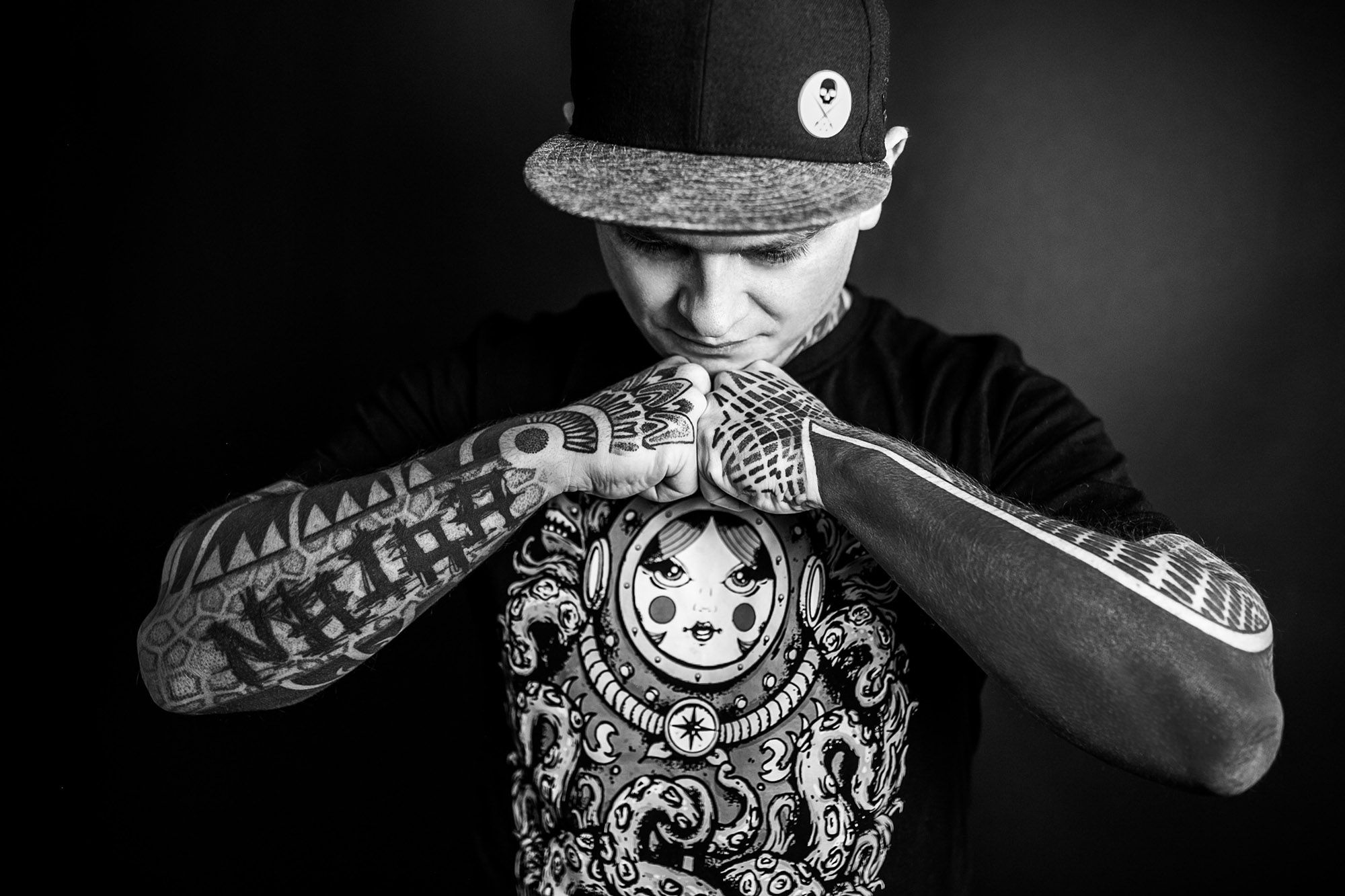 A native of Russia and resident artist at the acclaimed Love Machine studio in New York City, Ilya Cascad works hours on end to finalize geometric, motion illusion patterns on the bodies of his clients.
"Symmetry" and "precision" are words that best describe Cascad's tattoos, done in black ink; however, recently implementing color to arm and leg sleeves to be innovative and experimental within the so-called, "Ornamental" style. Concerned with his creations' longevity, Ilya Cascad keeps an eye on the healing process as well as the technological advancement in the tattoo field. Adjusting, rectifying as he continues his challenging career since 2013, he admits loving every minute of it.
Above: A portrait of tattooist Ilya Cascad, specialist of ornamental body art.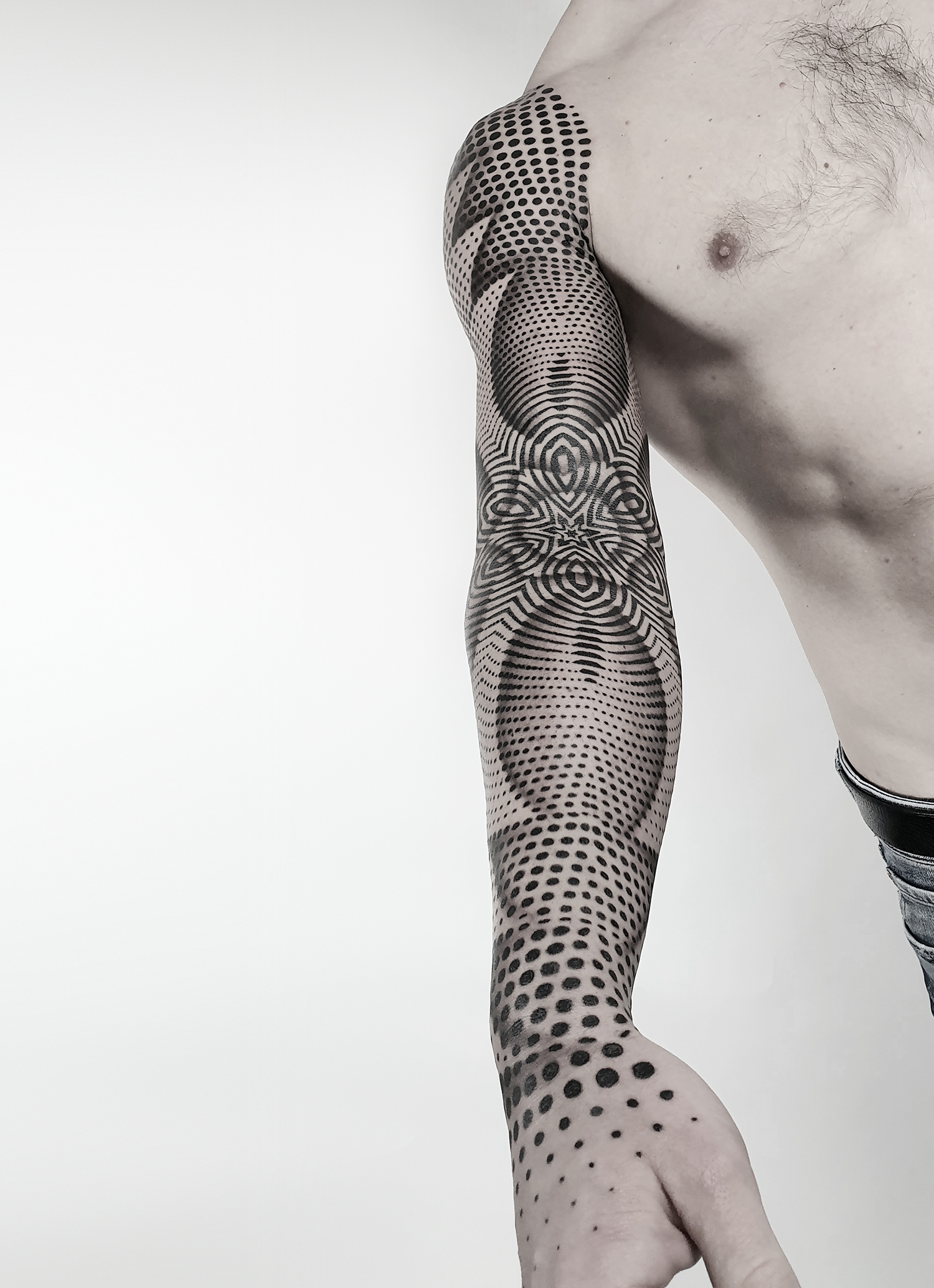 The meticulous and technical work of Ilya Cascad.
What does "Cascad" mean?
When I started tattooing it was normal for an artist to have an artistic name. So I chose the first word from my former music band's name called, "Cascad Decay," and I just really wanted to have a piece of that with me.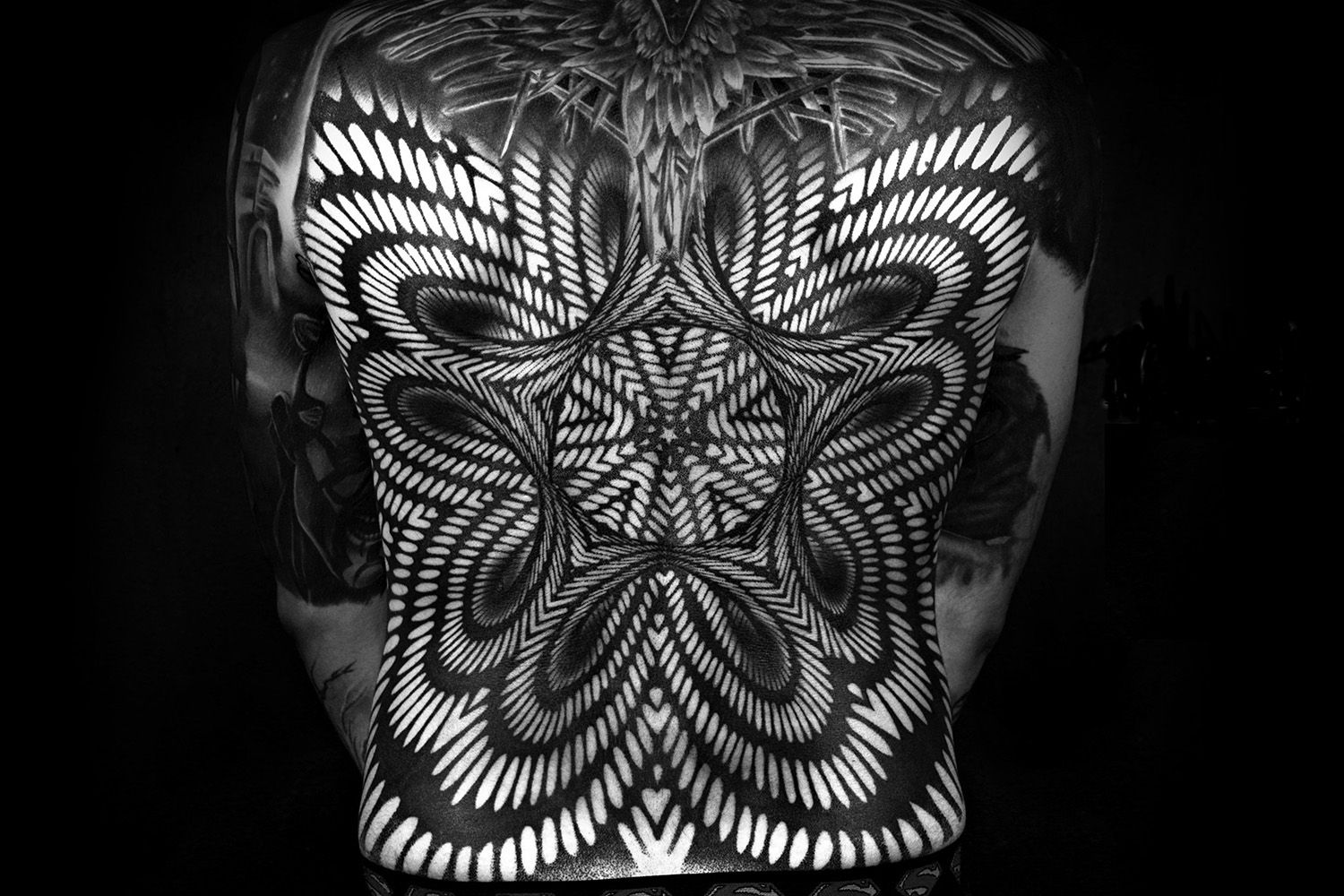 Ilya Cascad is well-known for his optical illusion works.
You are fascinated with making optical illusion tattoos.
Yes, I am fascinated with illusions, 3D geometric patterns, and still love the traditional (ornamental) tattoos of Polynesia, specifically the Māori.
The most important points in the implementation of my projects are the clarity of the forms, the symmetry (if it is needed) on the uneven surface of the body, and an anatomically correct composition. Keeping symmetry when transferring a stencil to a body is the most complicated part of my job; often taking much time to transfer it to skin. But the result is always worth the struggle! I do create projects using tons of tools and techniques. Mixing and experimenting — using a variety of software and also drawing on paper. Combining diverse techniques allows me to produce something totally new and special for my clients.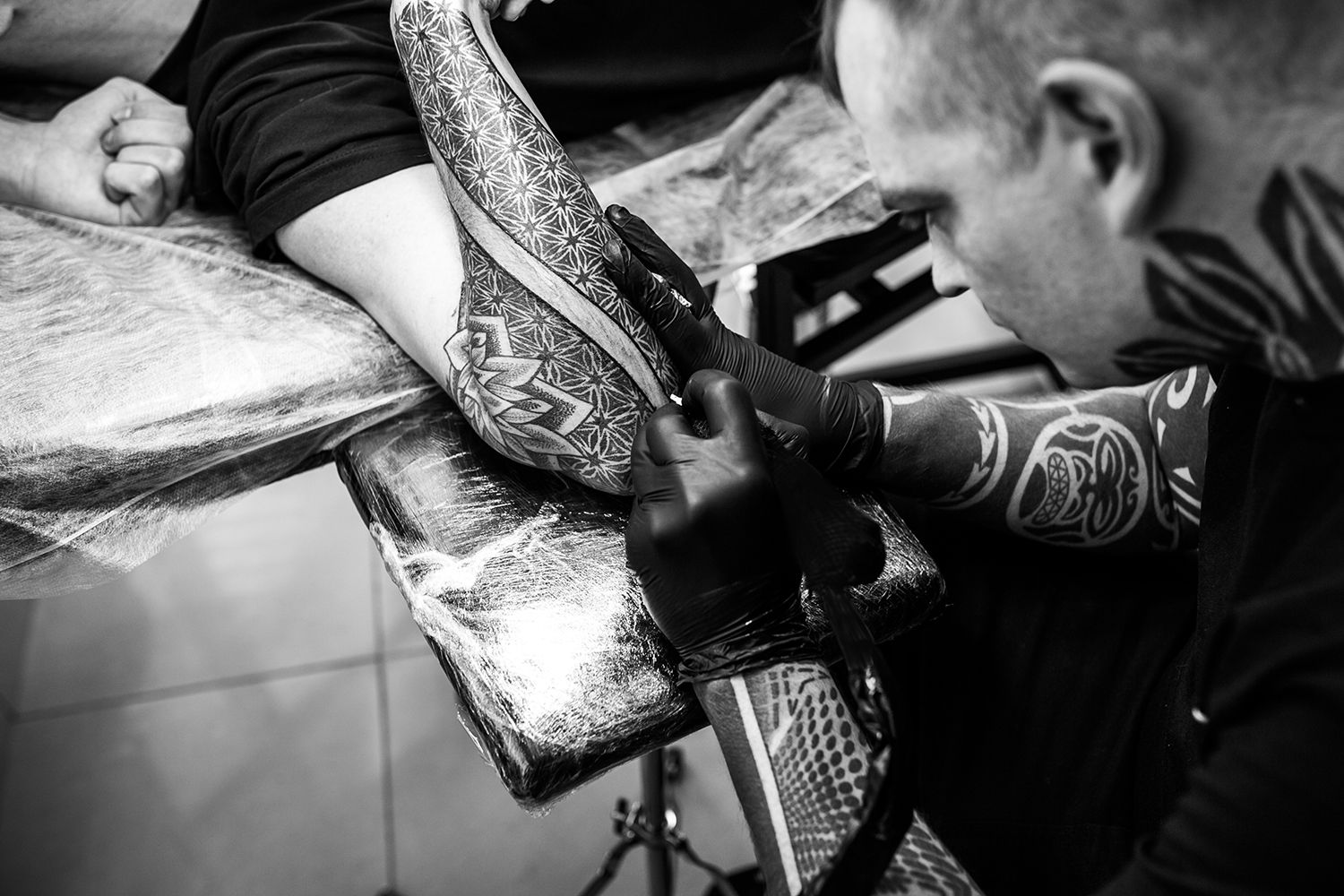 Ilya Cascad stencils and draws directly on skin, before utilizing his tattoo machine.
Have you ever given yourself the liberty to improvise a tattoo on your client?
The majority of the time I prepare the design in advance because of the style I'm working in, but often I have to do some freehanding here and there, depending on the area, because bodies and anatomy parts are so different. So it's more like I'm doing both stencil and freehand — I feel like I wouldn't be able to do just one without the other.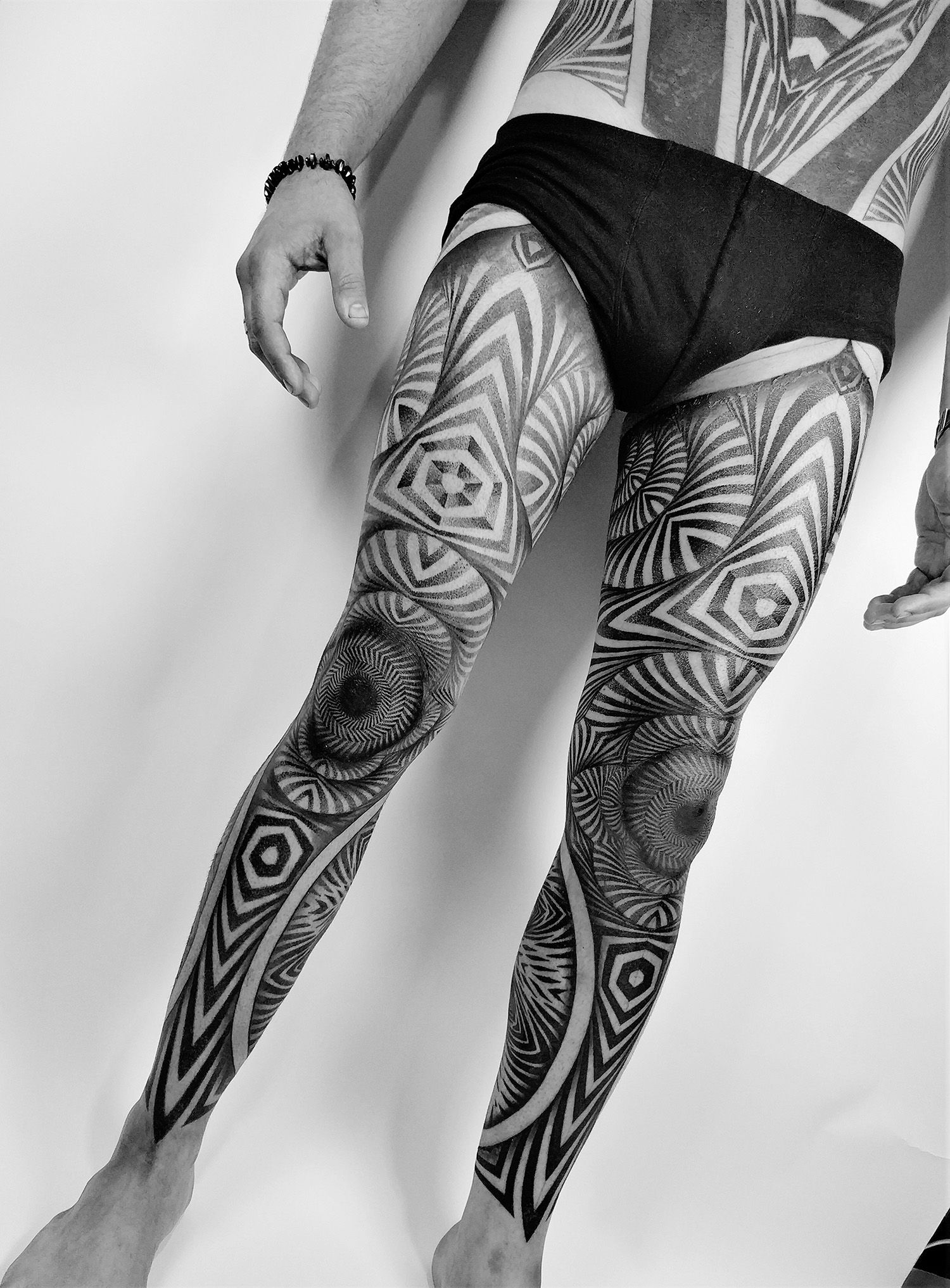 The beautiful work-in-progress on Hungarian customer, mentioned in questions below.
What would you consider your greatest tattoo challenge?
It is making two identical arm or leg-sleeves.
How long does it usually take to do a full sleeve?
I like working full-day sessions. Both the client and I are comfortable with extended time, so there is no rush. I usually spend 6 – 12 hours a day with my client, sometimes it can be more than that. The process and preparation of stencil (as mentioned before) can take a lot of time! After the stencil is on, I check it all for accuracy of the design, before I begin tattooing.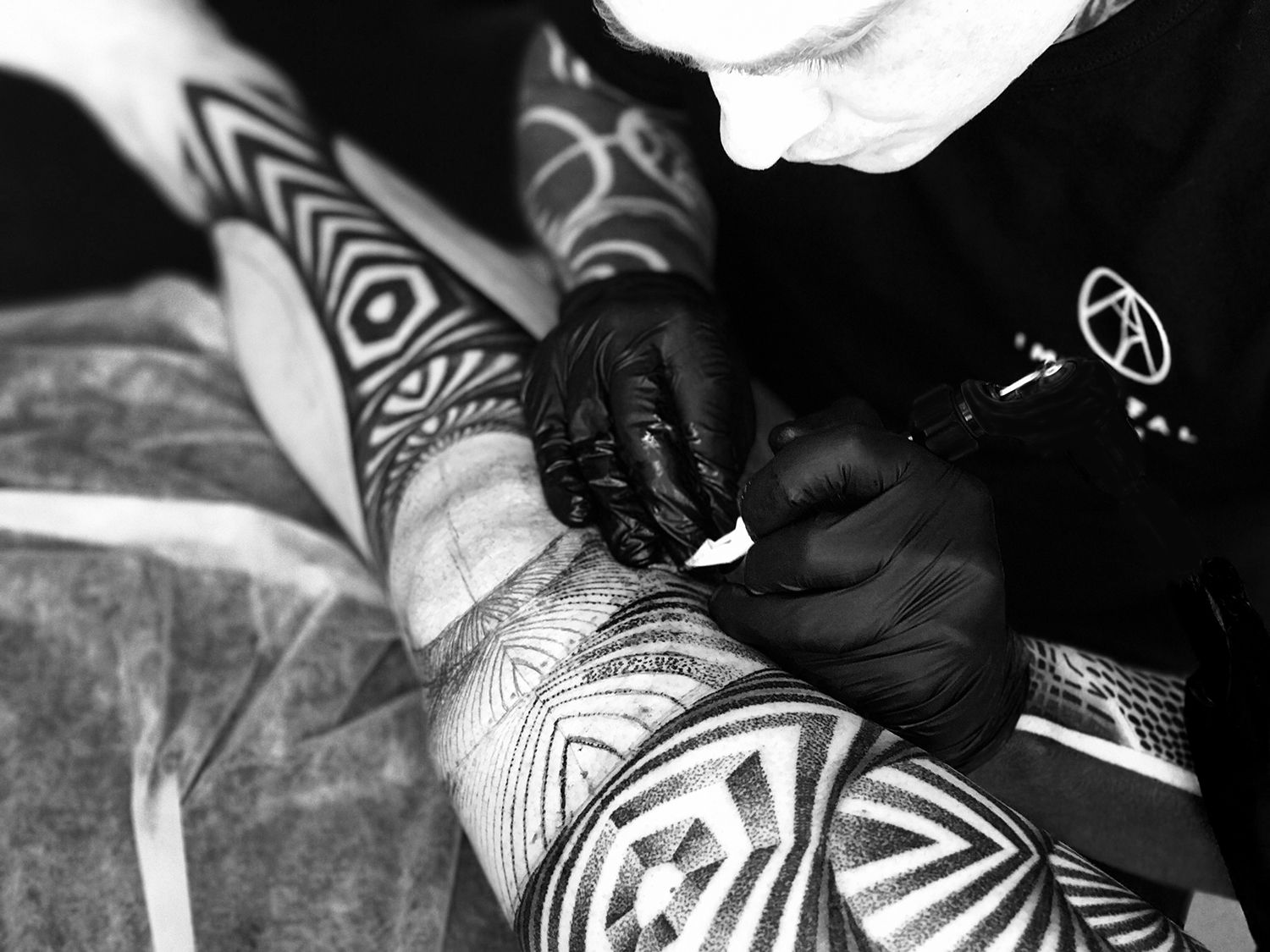 The beginning of a 17-hour tattoo session on the Hungarian client.
So you go the extra mile for your client!
Yes, my longest session was 17 hours! [Shown in the two pictures above] My client flew from Hungary to Russia for a 5-day-session (all in a row), and when he arrived he realized he made a mistake booking flight tickets — there were only 4 days in Russia with me. So I worked with the client for 17 hours non-stop every day to finish this project. Once it was finished, he went directly to airport to catch the plane! (The client actually recovered quickly from the tattooing, but it was an extreme experience.)
In addition to working in your studio in Russia, you have been a resident artist at Love Machine in New York City. What is it like working with Sivak and others in the Big Apple?
Well, I wouldn't say it was my dream, but it was a concurrence that led me to the opportunity to work in New York. Sivak is a great artist, I'm glad I'm acquainted with him. He's a very experienced artist (he's been tattooing for more than 13 years already), so it's a pleasure to ask him for some advise and get an extraordinary response back. I like his vision! As for the shop, it is also great; a collective that is exactly what I wanted to be a part of. It's organized and friendly. There are different artists there, some of them speak Russian, so it's funny that some of the American artists from the shop are starting to speak Russian too. It's a large family that I'm glad to be a part of.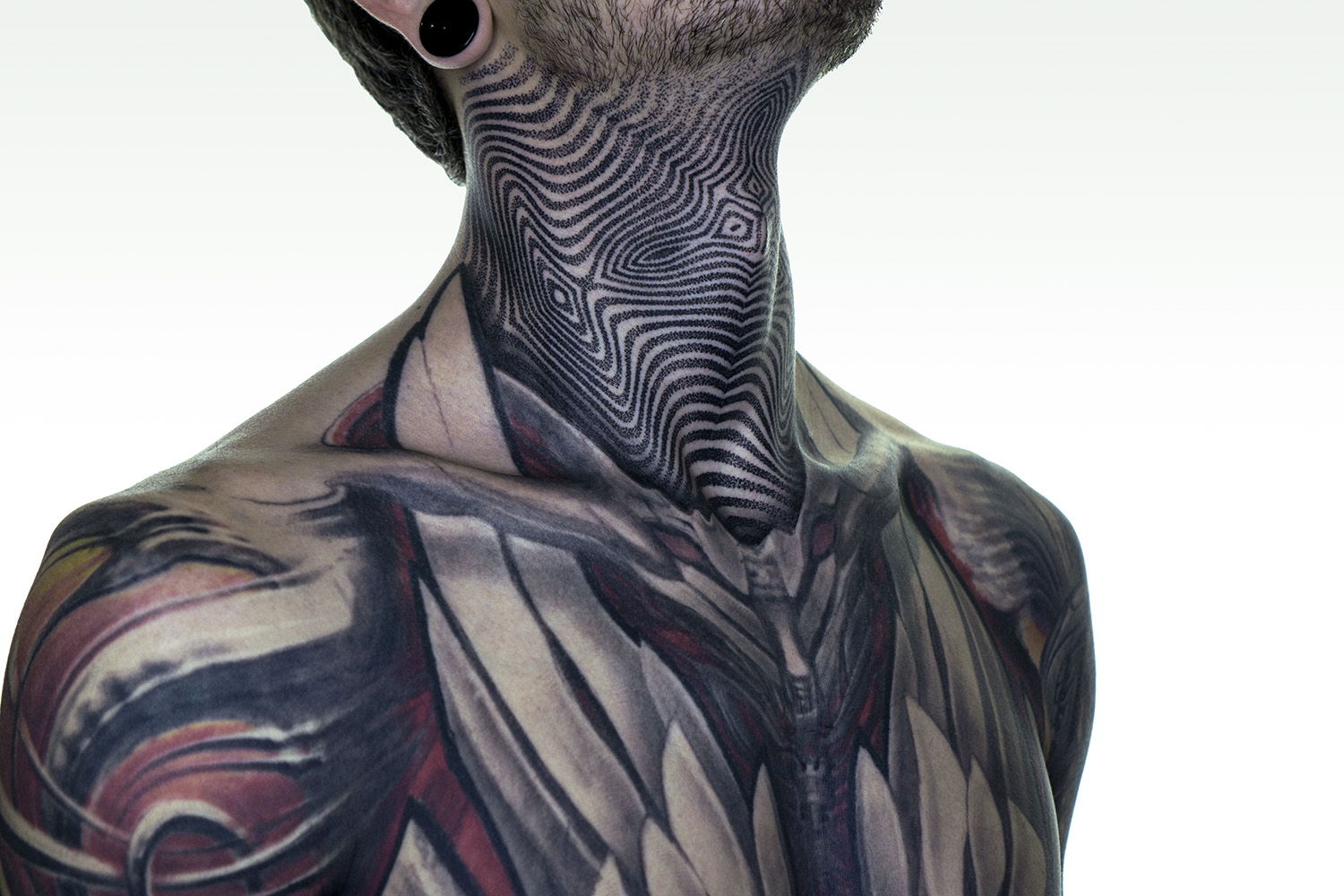 Dot by dot, the lovely and futuristic neck tattoo by Ilya Cascad.
Aside from New York City, what are your other plans and dreams?
Considering the current situation [COVID-19], I've got to say that my aim now is to stay safe and keep my family safe. But, I can't wait for it to be possible to travel again, because I really really love traveling to new countries and cities, visiting tattoo conventions and just exploring tattoo cultures in other parts of the world. I would like to say/admit that America is my favorite country to travel to, because it's such a huge territory with so much going on, so I definitely would like to travel to other states in the future.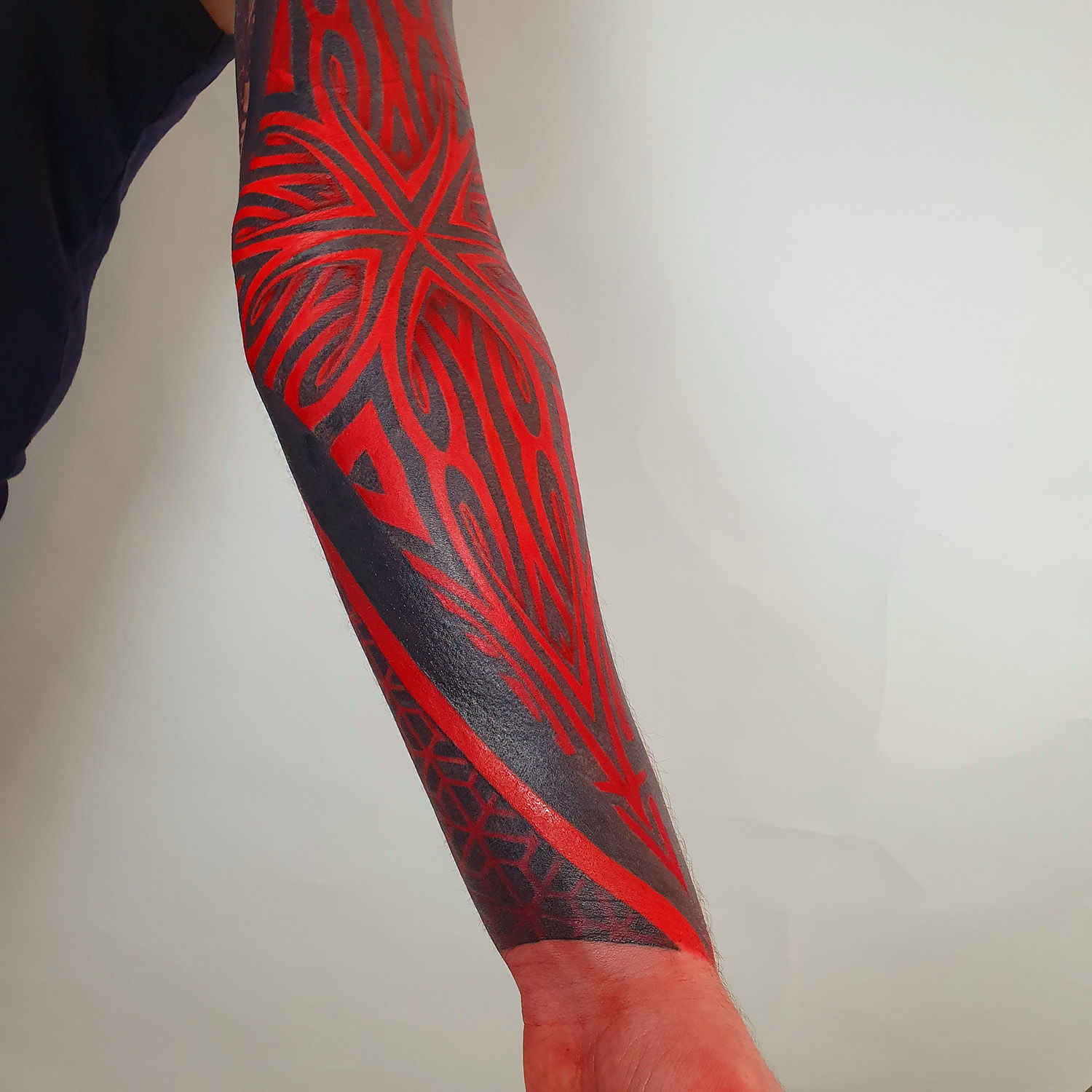 A fine example of how red pigment can be suitable in an ornamental tattoo.
You've done the majority of your work in black ink, yet recently you added red pigment to a sleeve (shown above). It is quite innovative for the ornamental style.
Yes, I had already been thinking about it for a long time. As for me, I think sometimes color can spoil an ornamental project, that's why color should be used in a proper way. The client with the black-and-red arm sleeve is my friend, and while creating a cover-up project for him, I realized I could embody my idea [using red] into the concept. I've been following my friend's healing process to make sure it all looks good and heals well. I will definitely use more color in my future projects.
So that means it has healed very well. Will the red parts still require touch-ups with time?
Color projects take more time to look vivid; it needs a special technique and sometimes requires touch-ups. But the result is worth it! But you know that any tattoo (color) staying on skin over time will depend on many factors, like the skin type, sun impact, life style, etc.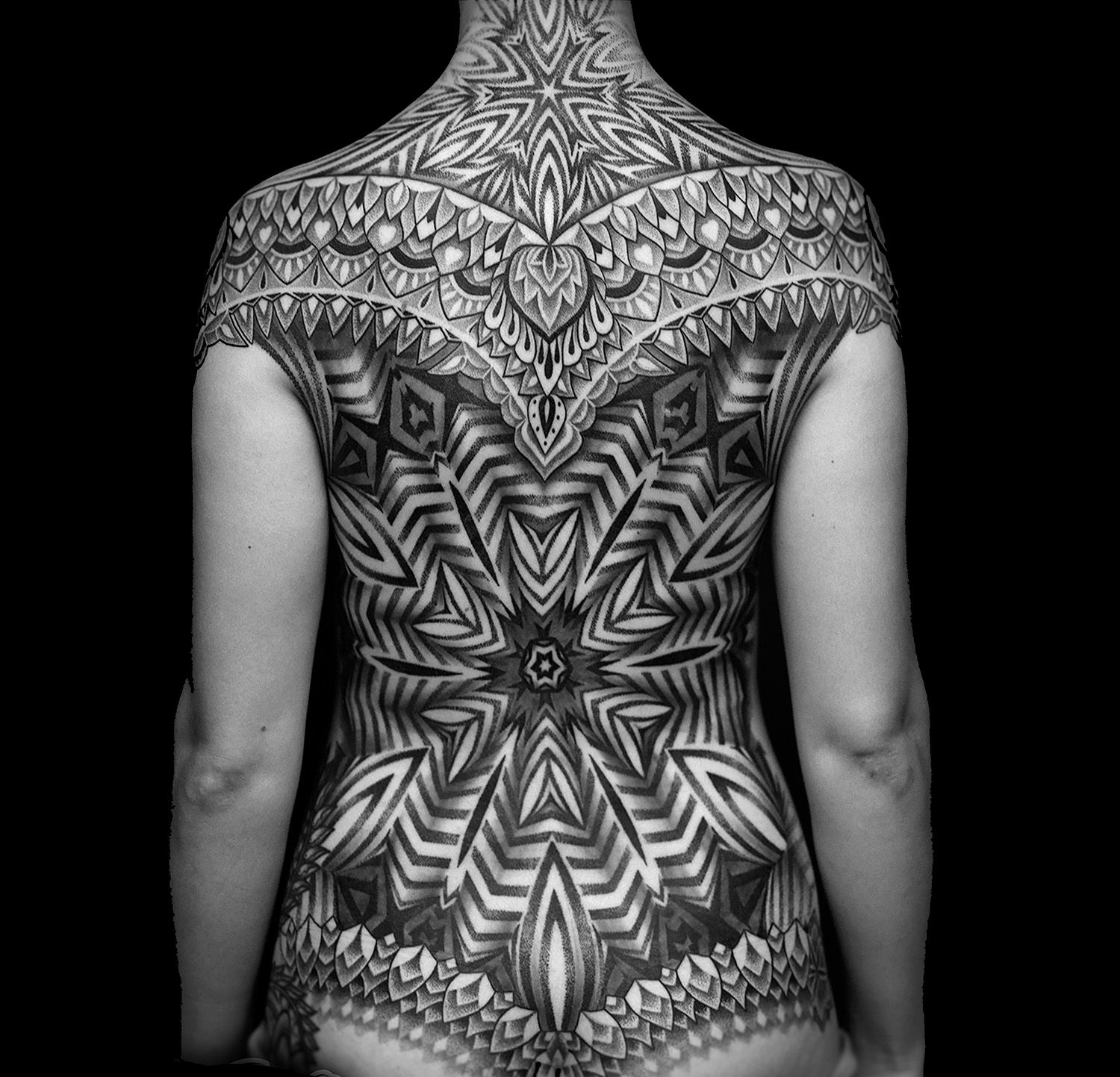 On screen this back piece is impressive, in person it is beyond words!
It is noticeable the time and dedication you put into perfecting each piece. Have you ever considered presenting your work to an art gallery or museum?
This is a great idea. I've never thought about that … Maybe in the future I will do something like that.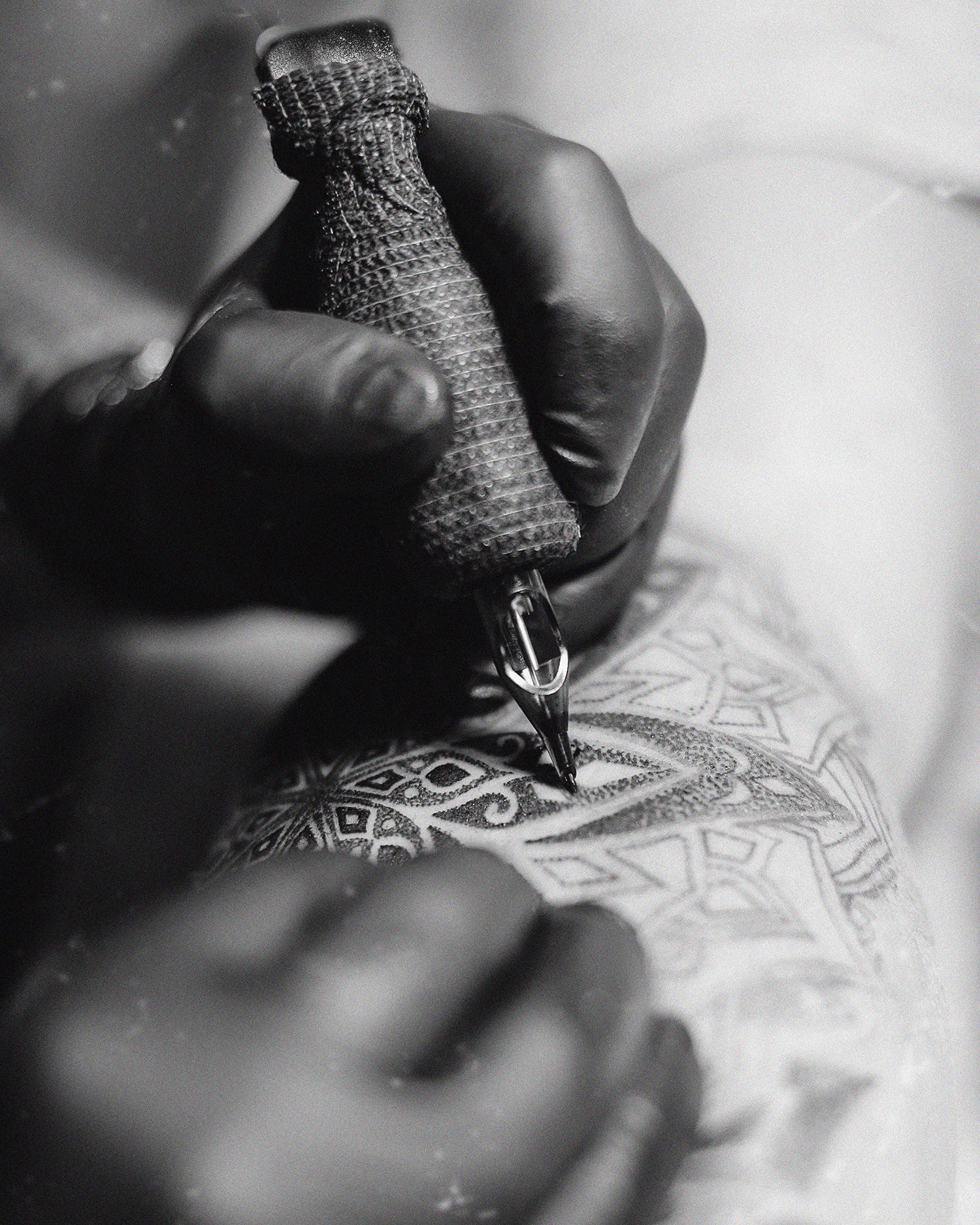 The stippling technique is time-consuming yet long-lasting on skin.
Thousands, millions of dots to form of work of art. Does your hand and arm hurt from stippling?
I'm pretty sure I have a profession-related chronic ache in my wrist. It's been with me for a while now, so I think I'm going to just keep it [Smile]. I also have a little bit of deformation on my fingers from my work, which is why I'm very careful choosing the tattoo machines and in general all the equipment I use.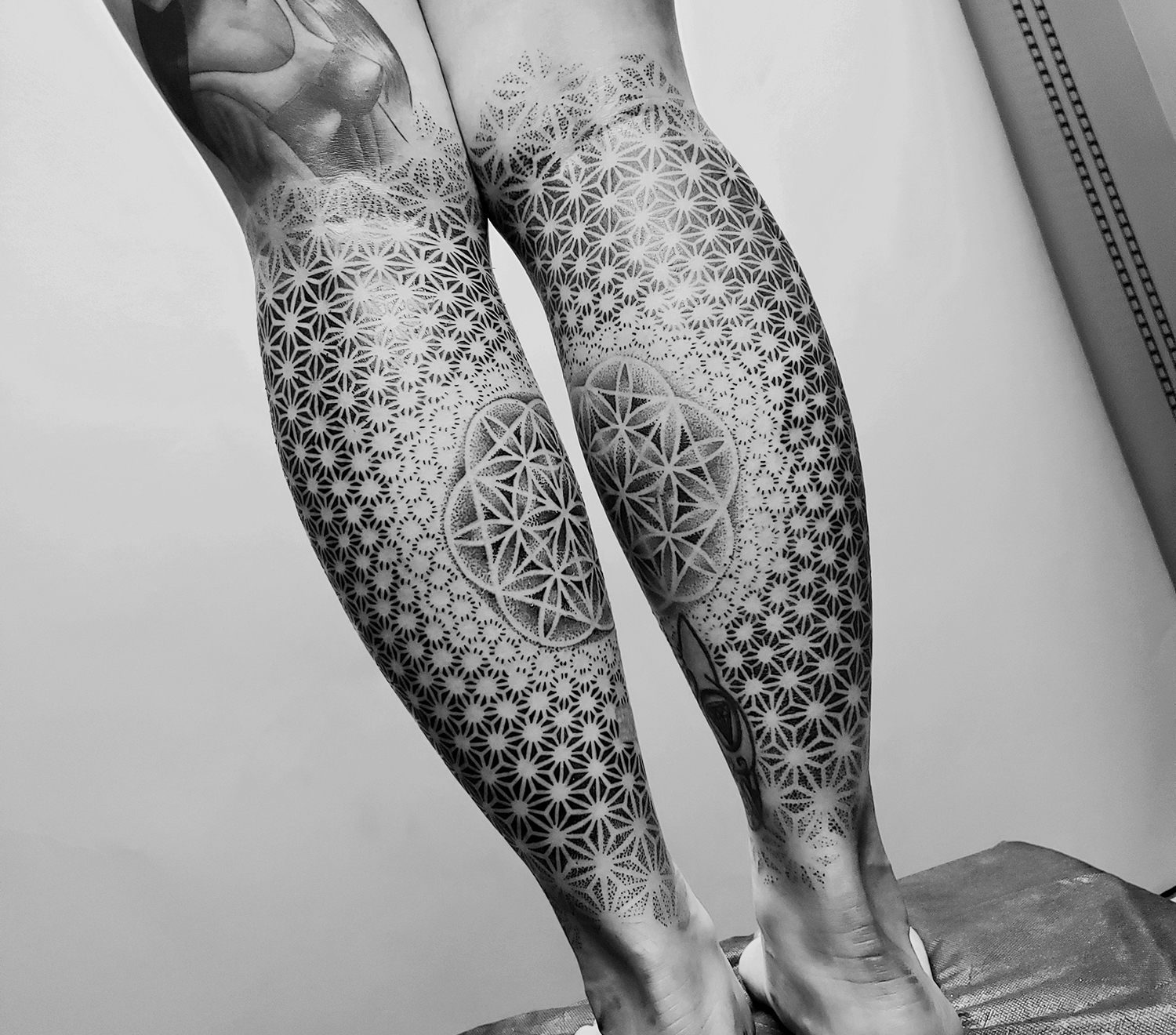 The gradient effect of the patterns are all created dot by dot.
Other than tattooing, what else interests you?
One other interest is playing guitar. I used to be in a band; I still remember those times and it really makes me happy to play an instrument. Obviously, my favorite things in life are spending time with my beautiful wife and daughter, and traveling around the world to visit new places, art galleries or museums.
I have to be honest, I'm very curious about exploring the new innovations in the tattoo industry like equipment, devices or anything connected to my work in general — exploring and trying it myself and seeing what's new everywhere, literally.