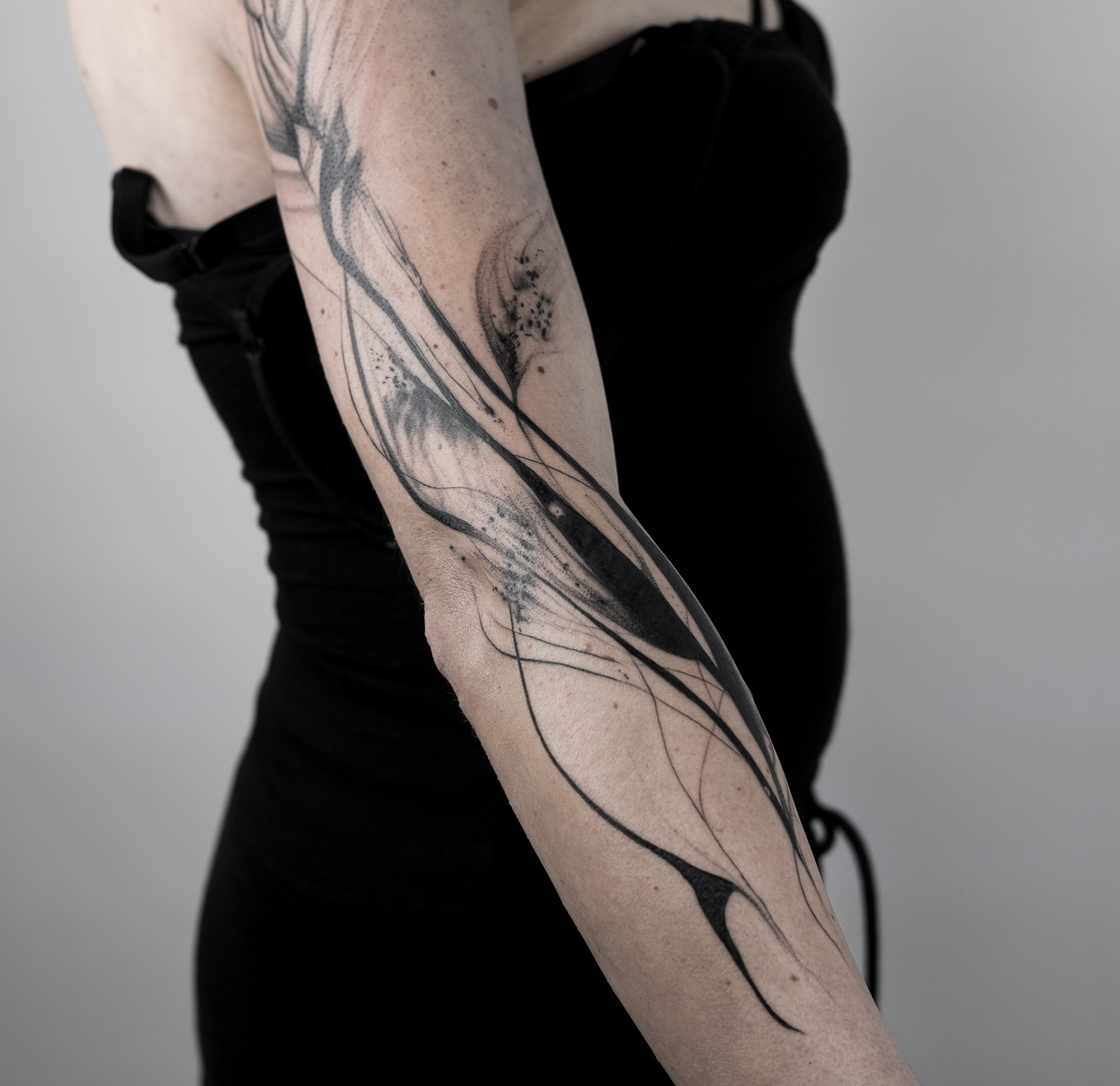 Out of the numerous tattoo artists we have met, this is probably the first person who built their studio in the backyard of their home.

The reason makes sense: to be closer to his wife and daughters. "Time is precious," Jelle Poksflok firmly comments—not wanting to lose important moments with his children and still having time to do creative projects. He lives life to the fullest, every second of the day: as a professional tattooist, as an art teacher who gives back to his students, as a theater actor, and as an eccentric musician who often wears lucha-libre masks. Much of what he does would not be possible, if he did not have the support of his wife. In this interview, you'll understand more about Poksflok's family, how he stays grounded, and above all, how he envisions his tattoos flowing gracefully on his clients' bodies.
Above: Much of Jelle Poksflok's tattoos are freehanded, but he keeps some of the techniques a secret.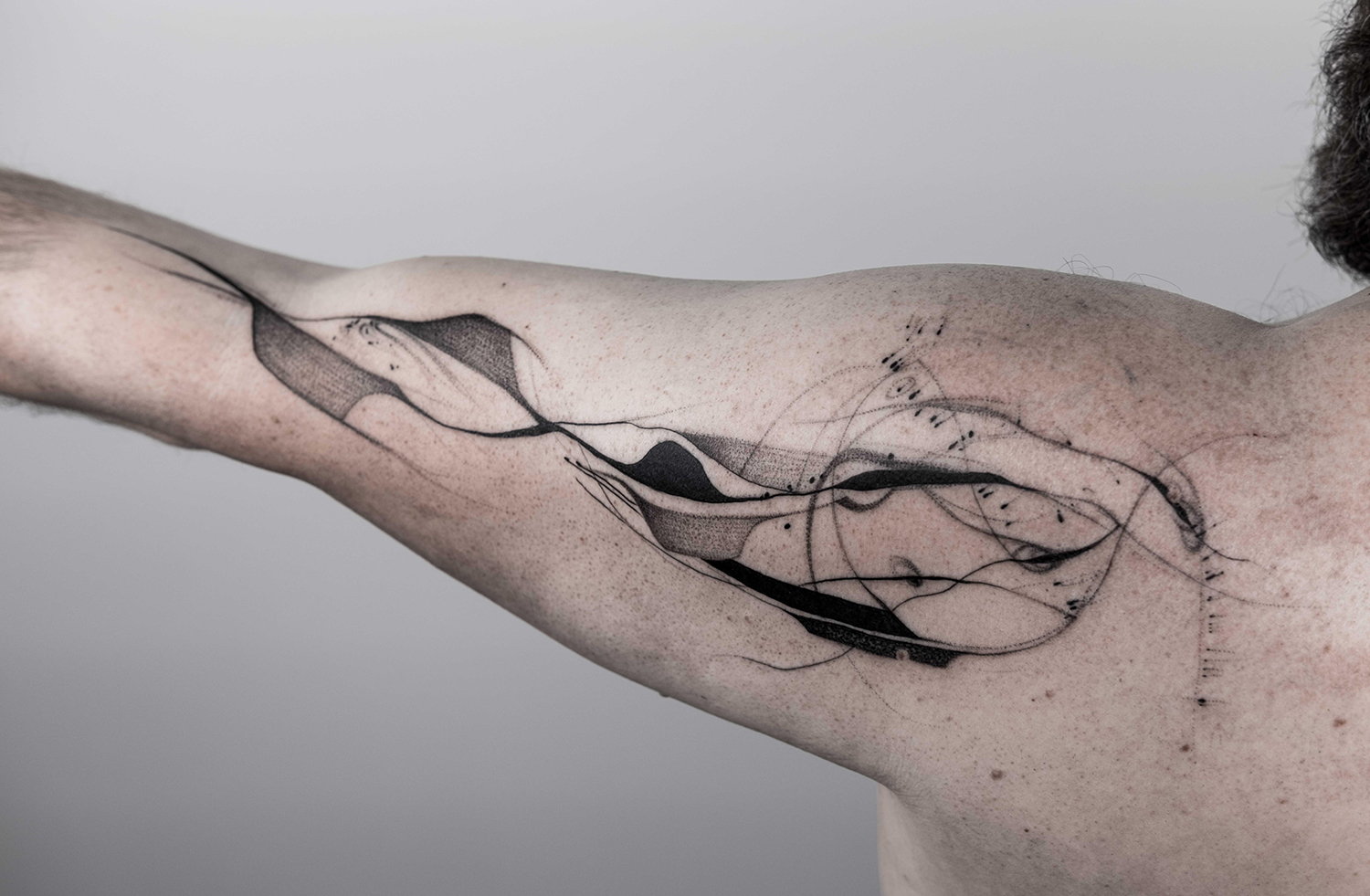 His work organically and poetically fits the human body.
Your father introduced you the James Clavell novel "Shogun" (a story about 17th century in Japan), and after reading it, it changed you. How so?
Yes, it was a road-worn yellowed book, the binding of the book was completely out of its spine. It stroke me in a way of adventure (feudal Japan in contrast with conquering Europe), Japanese aesthetics, discipline and the morph of a European conqueror in an era where Japan was visually super attractive (think Samurai era). I think beauty is in the mixing and crossover of cultures.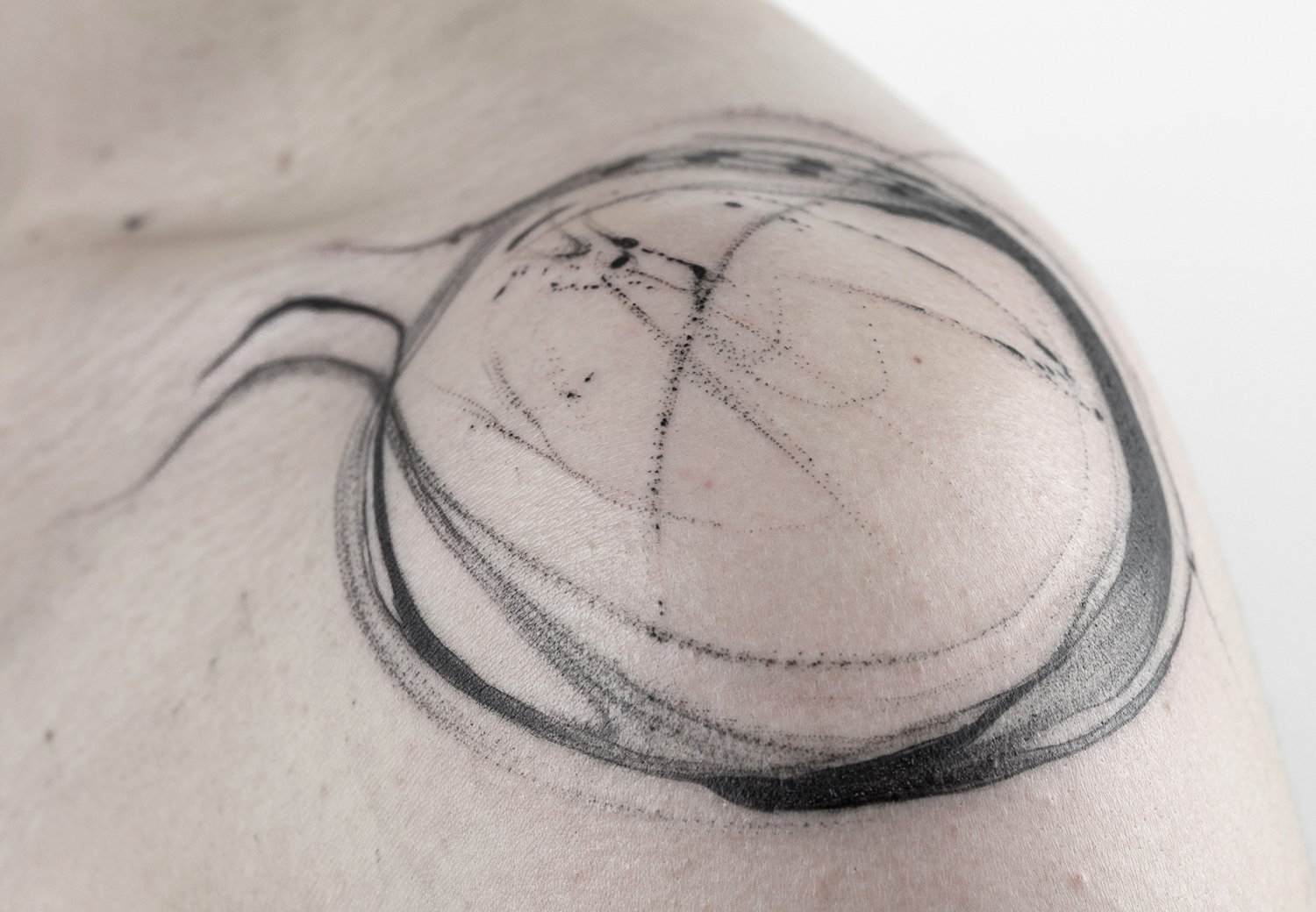 In some of Poksflok's tattoos you can see the Japanese influences.
How has the Japanese culture and art inspired you?
It inspires me due to the minimalism, discipline, calculated nonchalance and striving for perfection. Doing things meticulously correct is the only way to go for me, one might say I'm neurotic, but one must try to reach for perfection. That is what I aim for in my design. This goes back to the Japanese art, the discipline of a nation, rooting deep within its tradition.
Have you traveled to Japan?
I have not been in Japan, but it's definitely on my bucket list. I would love to combine the travel with a guest spot as an artist. Not been there yet due to lots of work, starting a family, buying a house and building a private studio.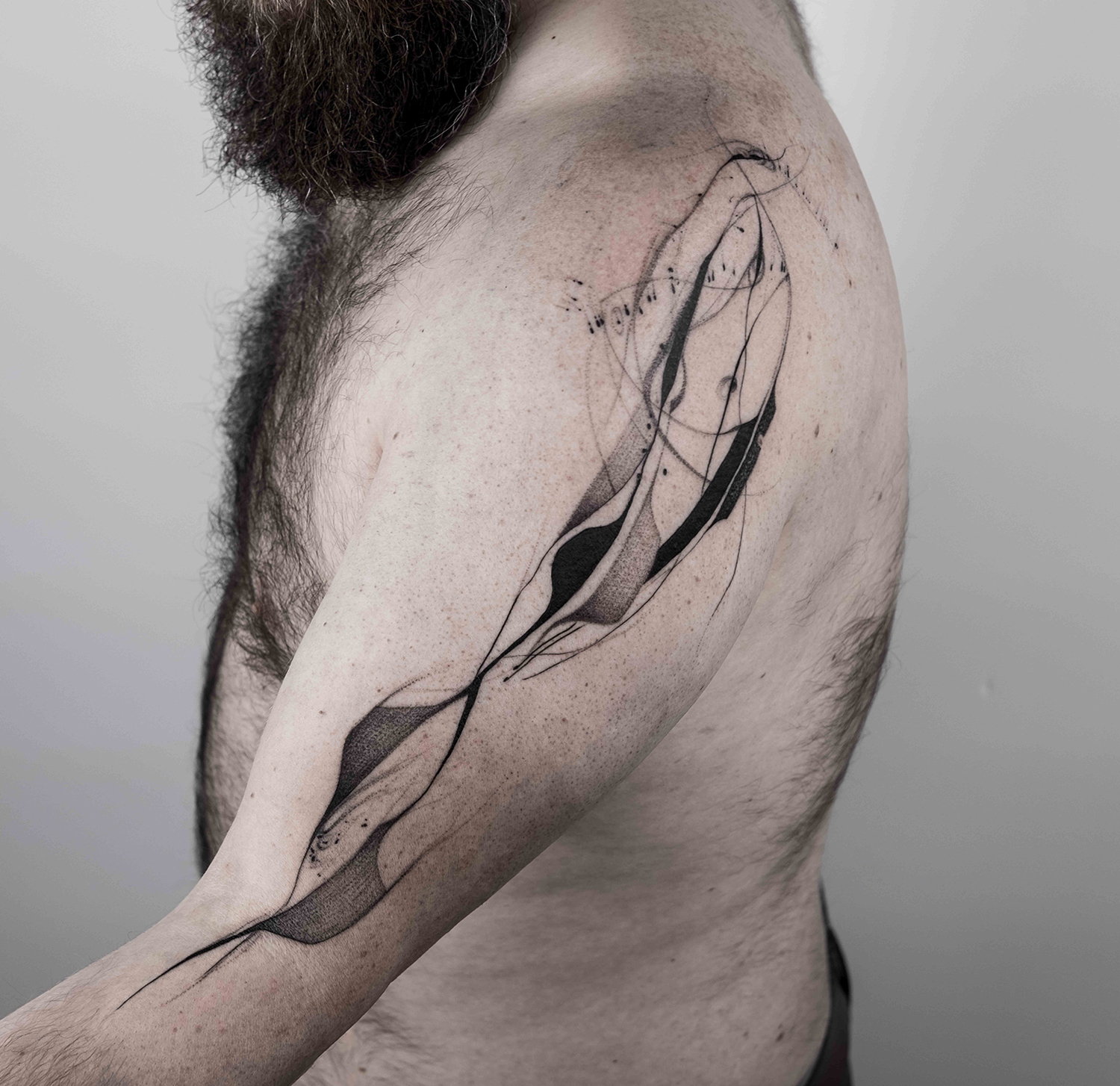 All in black ink, Poksflok mixes techniques of dot and line work.
Your father passed away when you were 21. What happened?
My father died of cancer. The time he was ill was a very intense and turbulent time in my life. Together with my mother, we took care of our father. He was ill for 2 years… He was my rock and this rock crumbled in front of my eyes, the strong man I once knew was now a vulnerable man. I promised myself I would do everything to be that rock for others close to me; having children, even more for them. Every child deserves a father to look up to, someone to guide them, give them an insight in life and its values. I hope they are inspired by what moves me.
I'm a child of a working class family. Had parents that worked very hard to give me all the chances they didn't have. I'm a thankful person, towards my dad and mom, but also towards life. Life is an opportunity, the least we can do is use our abilities the best we can and take care for each other. I try to live as healthy as possible, the older I get, the more I am aware of how short life can be, it can be over every minute; so I live to the fullest, explore every impulse, with gratitude and love for what I have.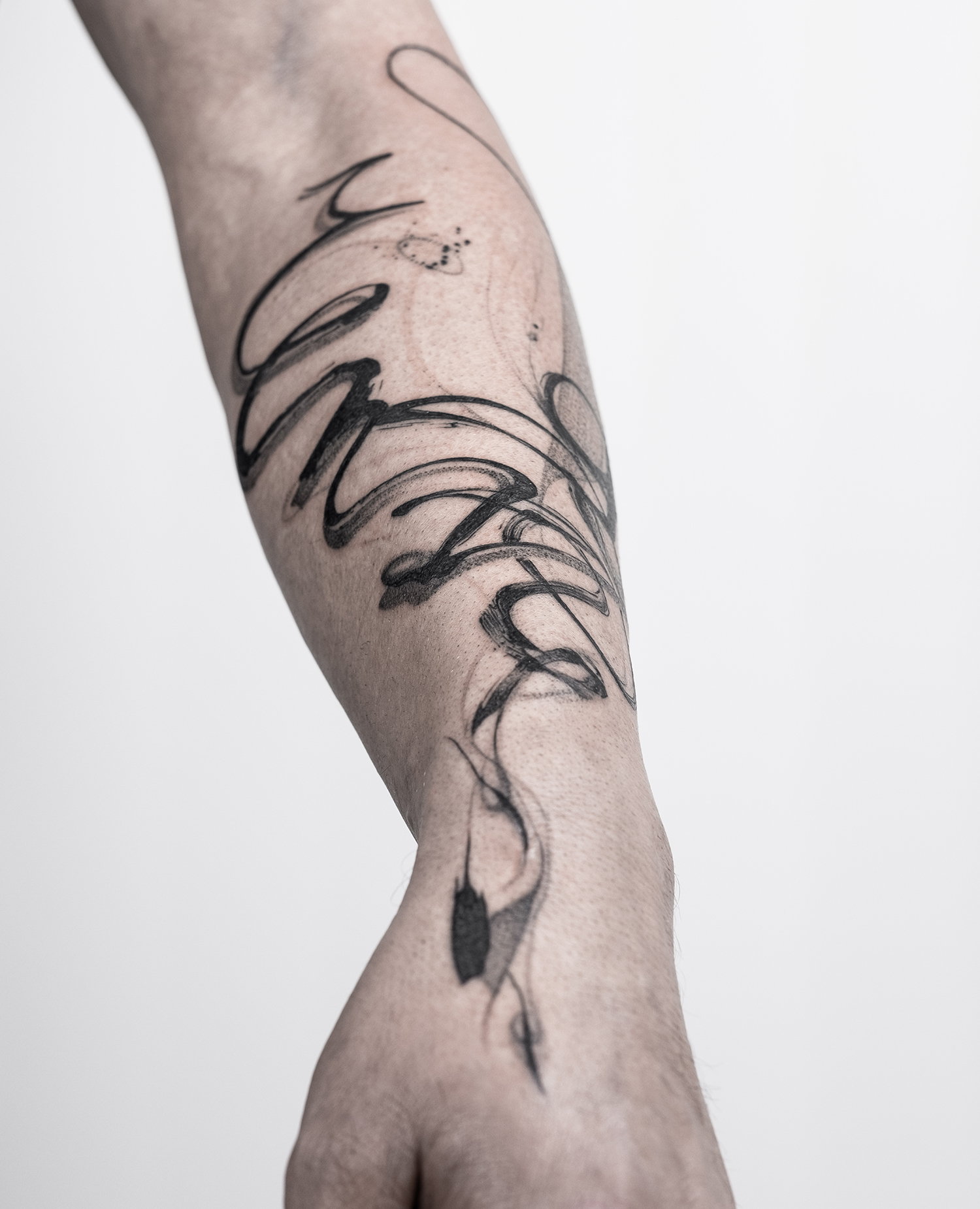 There is an Asian ink-wash painterly feel to many of his art pieces.
You have already expressed you are a family man. How important is keeping grounded with personal life and balancing with work and hobbies?
Tattooing is becoming a way of living now. It's part of my personal and familial environment. I have a very creative wife who is my sparring partner day in day out. She is a photographer and illustrator, her communication skills are an asset as well. The possibilities seem endless. I'm really looking forward to our upcoming projects. We started building the studio in our backyard so I could be closer to my family. Before I had a studio in the city of Ghent [Belgium], nearby, but the commuting made me lose a lot of time, and time is precious when you have small children.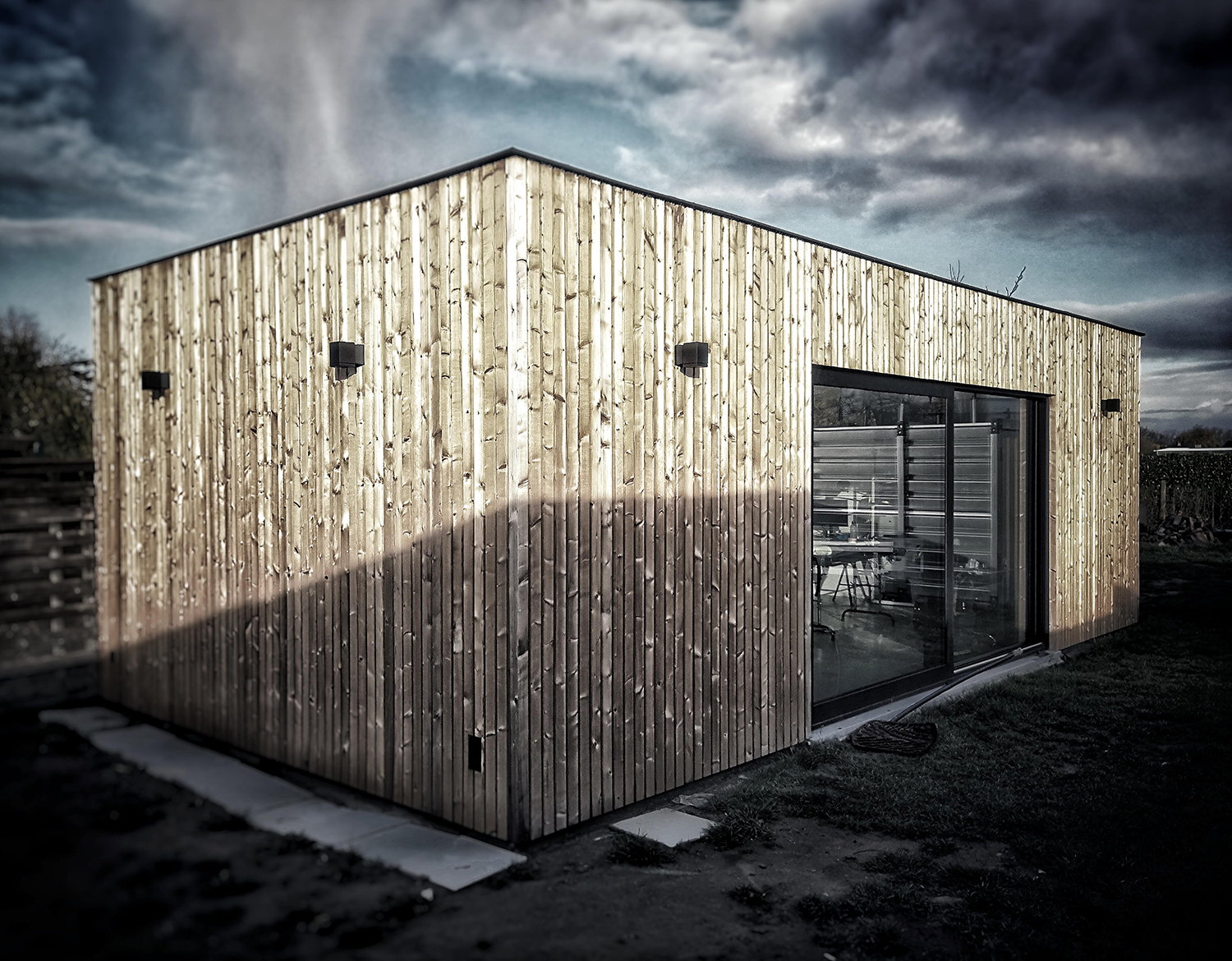 The highly modern tattoo studio built in Jelle Poksflok's back yard.
Please enlighten us about your tattoo studio.
The studio is called Wild Kind ("Wild Child" in Dutch). Here, I work close to my wife and 2 daughters. It's my purpose to make my studio, my house, a home for my clients and guest artists from all over the world. In my vision my family is a big part of the project. It's super cool to wave at my children in the garden while I'm working, or see my wife who comes to work there with me. Clients love it also, it's discreet, yet familiar, up close and personal.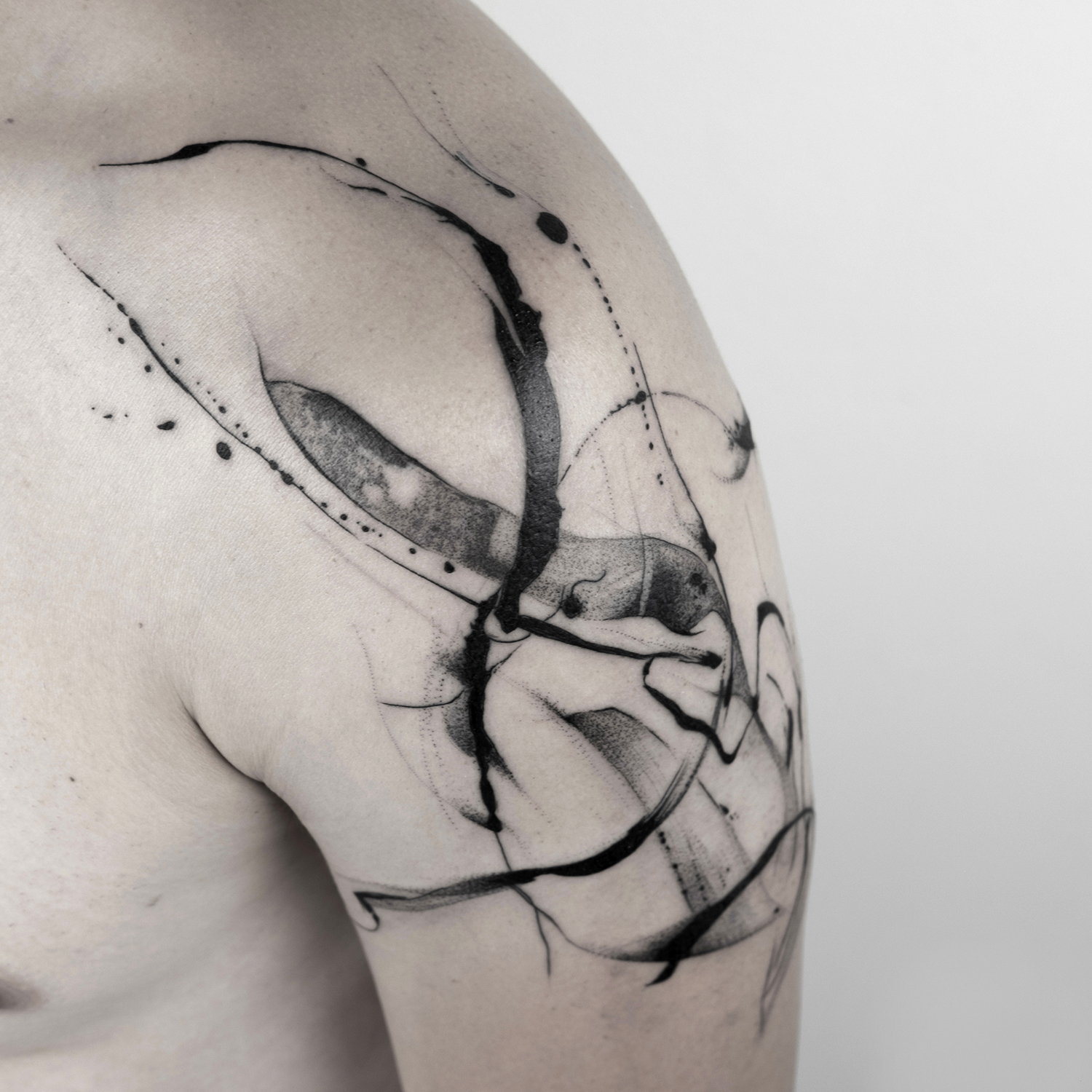 There is a sense of ebb and flow in this tattoo.
Your tattoos are in black ink, minimalist, and fluid on the human body. Explain about your creative process.
I try to look at the human body as an organic machine. To me it's logic to make the designs flow. These days I paint freehand on my clients and tattoo immediately, sometimes in combination with a stencil design. It feels liberating! I can flow on the skin, follow the organic flow of a human body. The human body has all the complexity I need, it's so beautiful. It is an honour every time people [clients] give me the freedom to create something that will last forever. I'm super thankful to my clients and the people who believe in me. Ink is an extension of myself, whether it's on paper or on skin.
My exact methods I can not share, for I like to keep my way of working a bit to myself. It's not that I don't want others to know how I work, but I love to feel like this is something that evolved from years of hard work.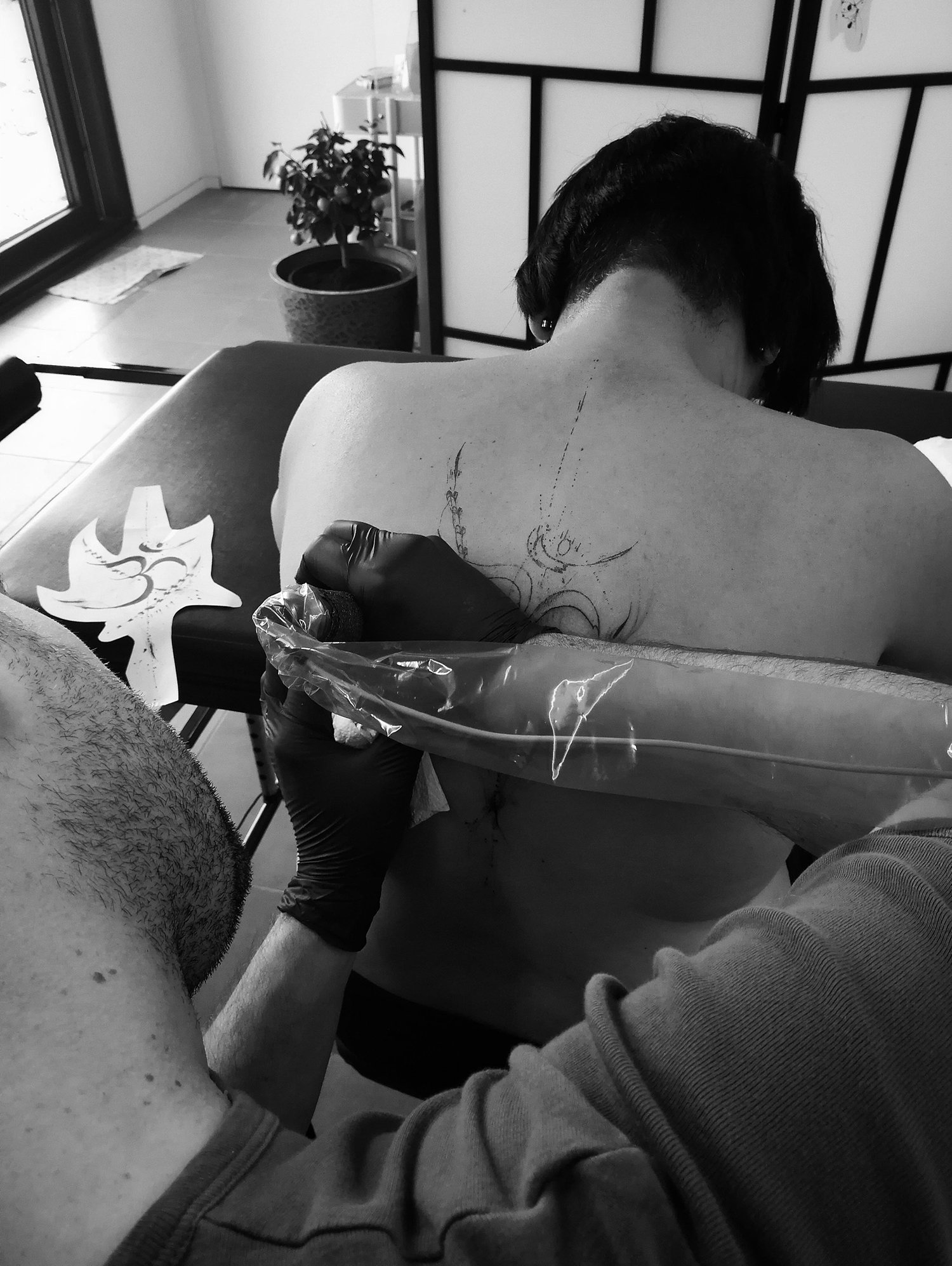 A peek inside Jelle Poksflok's private studio.
Becoming a tattooist, you mentioned "It was a long and lonely road, with a lot of obstacles, insecurities, but it immediately felt like coming home." A lot of people struggle pursuing their passions; what kind of feeling did you get that made you believe this was it! You'd be able to survive.
I graduated as a master graphic design with a certain East Indian-ink style of drawings. I really studied and practiced a lot on it so there was a style of drawing first. Tattooing seemed the logic way to translate this style of drawing. Today, I still recognize the essence of my line work from back then. My love for Black Indian Ink has become a part of my DNA. Finishing my studies, I was interested in the world of tattooing. Wrote a letter to the bond of tattooists in Belgium with the question how to learn it, but never got an answer. I knocked on doors, but no one answered. The tattoo world is a closed one. I feel like this is partly changing for the better. I do know that a lot of people who've start tattooing these days, but why block evolution, we can only learn from each other. These days I feel accepted and respected as an artist, which I am grateful for. 
I fell in love with the whole ritual of tattooing. Setting up perfectly—taking control over the situation. Striving for perfection from design to skin. Not to mention the bond you create with your clients. As an artist you are completing people's body. It's a noble profession.
In addition to tattooing, you have done some acting, you are an art teacher and have a music band. How do you manage all this?
I guess it's all about planning and having a mindset with goals. I believe everyone has the power to do that, but, you must be willing to put the energy in it. Sometimes I feel like drowning, but I keep my goals in mind and it gives me energy. I need the music, it is a stress reliever and a creative tentacle of mine.
I am grateful that my wife makes it possible for me to do all the things I do. Without her support, I would not be able to manage everything. And of course, my children, I manage everything because they inspire me, boost me to be the best man I can be.
Photos © Jelle Poksflok.