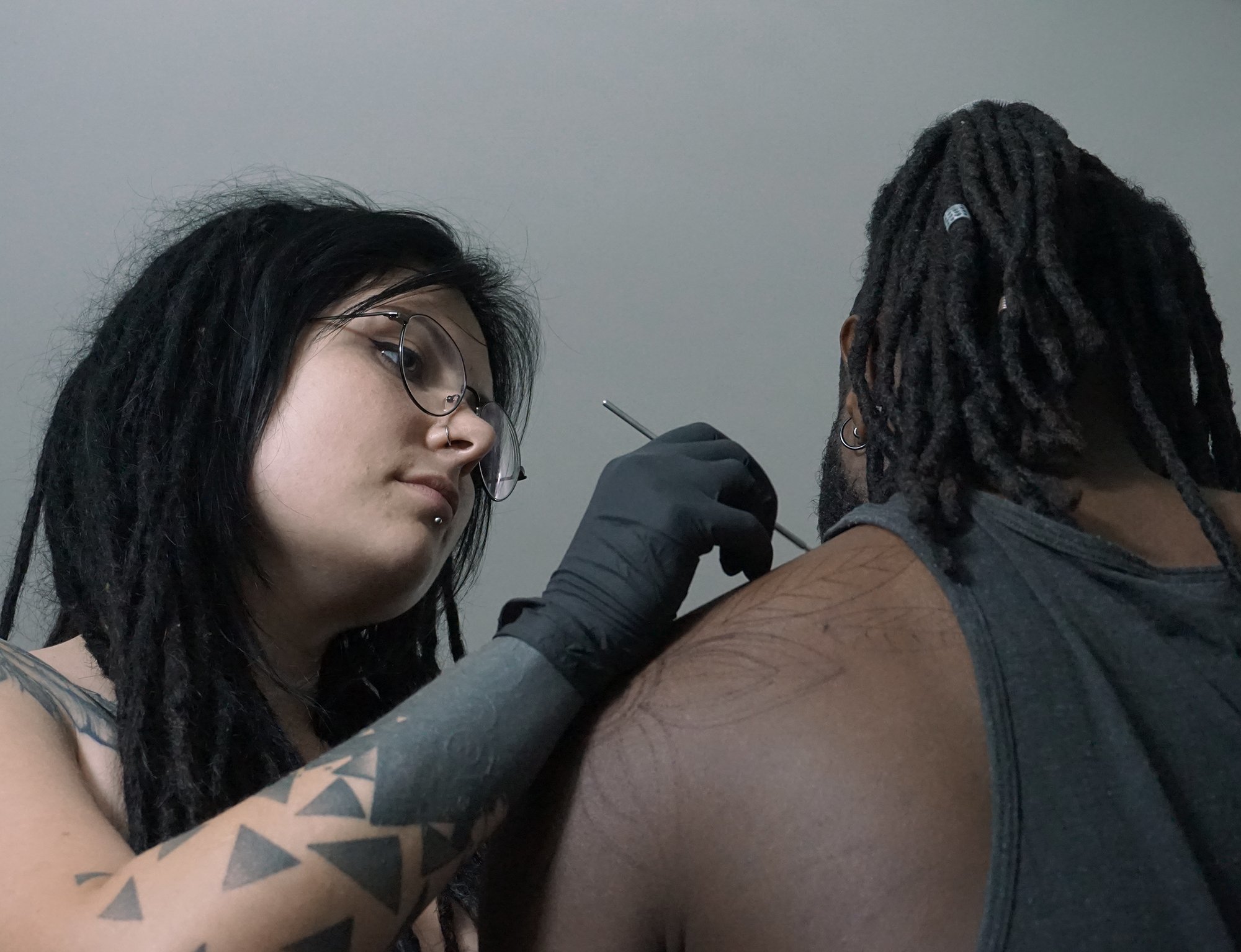 We met up with tattoo artist Yanina Viland in her new private studio in Lisbon, Portugal, located in the traditional part of the city that overlooks the Tagus river.
She smiled, showing us her balcony—the outdoor space where she spends time just chilling and collecting thoughts. Her dog BB King, a friendly mutt she adopted in Brazil, welcomed us immediately and was delightful the whole afternoon. We calmly interviewed and did a photo session with Viland as she tattooed her client Luzingo (an Angolan musician).
Yanina Viland has made a name for herself in the tattoo world, from her past work in St. Petersburg (Russia), Curitiba (Brazil), and now in the beautiful capital of Portugal. She also admitted to having a strong passion for oil painting and wanting to pursue a career in that field in Europe. The biggest surprise of all is not how well she paints, but rather how big her heart and humanity are towards her tattoo clients—creating a "whole experience," a way of inviting you into a safe and unique space.
Above: Viland's freehanding looks effortless. She zones out.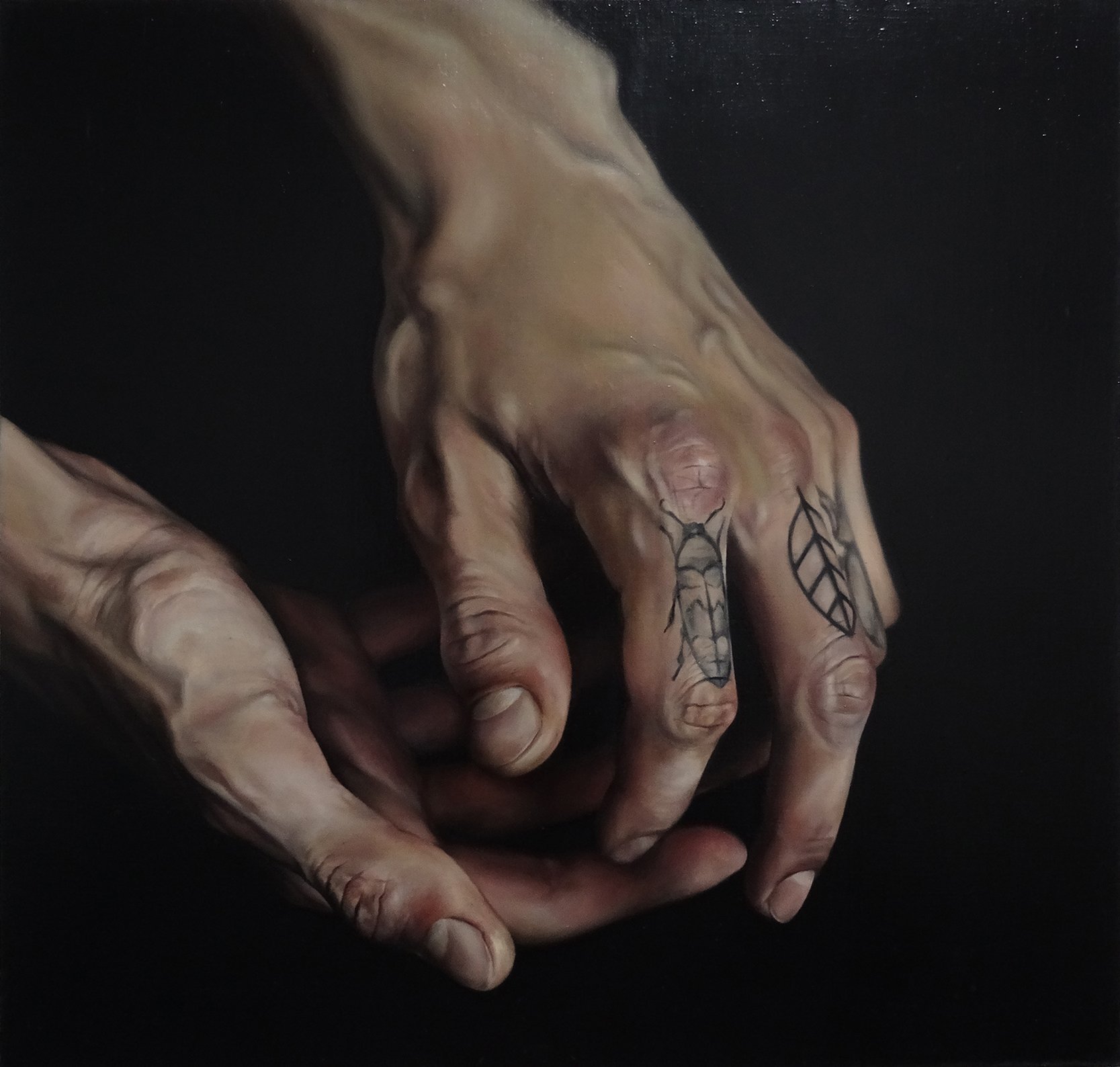 Oil on canvas of Ilya Brezinski's hands by Yanina Viland.
Let's start off with the paintings that I see here in your studio. Not everyone is aware that you do oil painting.
Yes. In the last two, three years … I tried to devote at least half of my time to painting because this is a career that I really want to build and be known as a painter as well. It will be in a totally different circle of people. I want to go to a professional painting area [level] of art in Europe.
Please explain the direction of your hyperrealistic paintings, which are different from your tattoo work.
Well, this is mostly about how passionate I am about the human body. I'm very impressed by bodies, and this is one of the reasons why I became a tattoo artist because I was curious about all aesthetics of the human skin; aesthetic of the human body. Veins, bones, everything, and becoming a tattoo artist was my way to decorate it. I'm interested in showing that in paintings. I paint tattooed skin. I have anorexic models. That's what I'm curious about.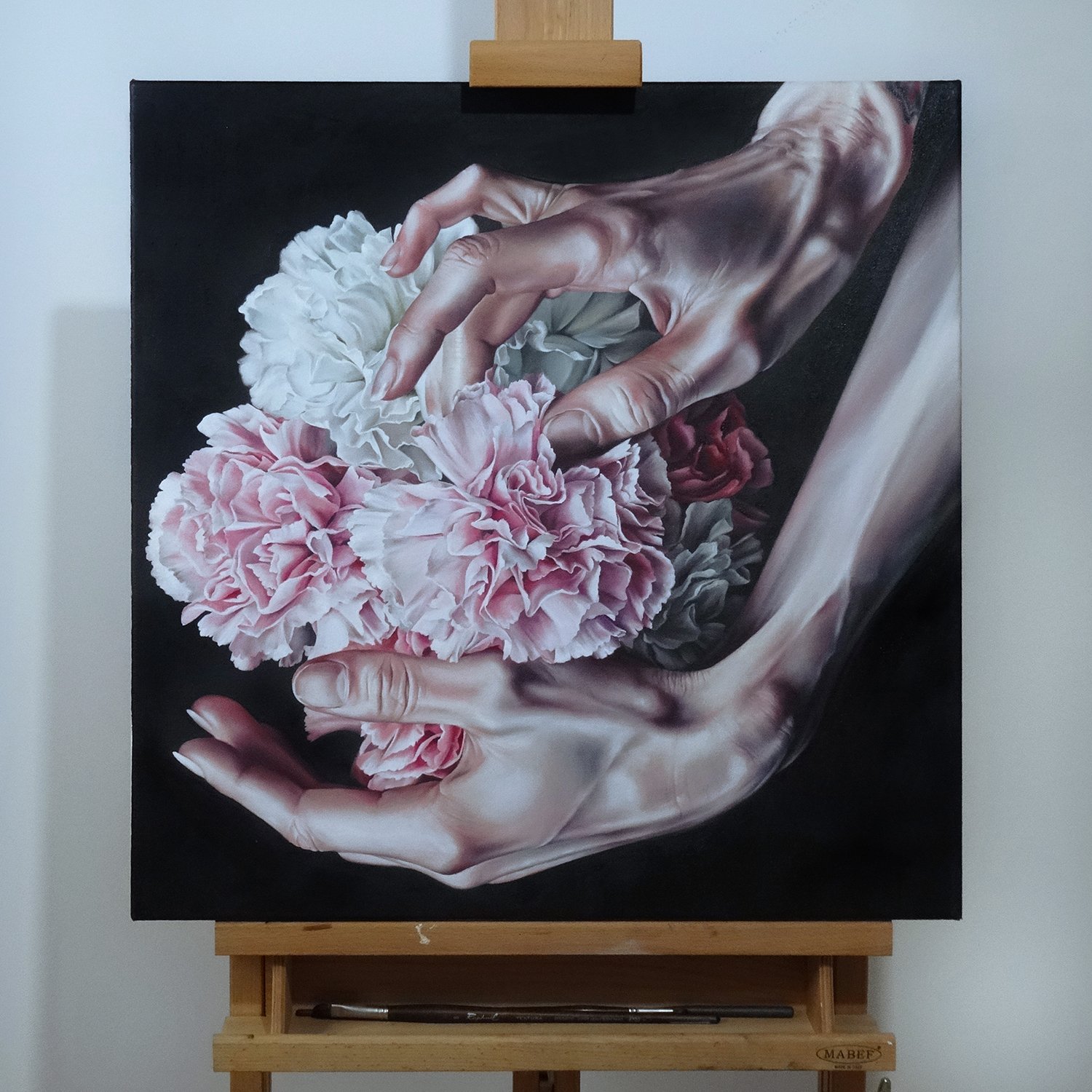 Other than tattooing, Viland has a deep passion for painting on canvas.
Do you actually photograph your subjects?
Yes, for all my paintings I take the pictures myself.
How do you find these models, via online?
No. They're mostly my friends. People who I see in everyday life. When I see the beauty of their movements—it's not just about the body or anatomical things—it's more about the movement and feeling of the person … I try to picture that, and then I'm ready to paint them.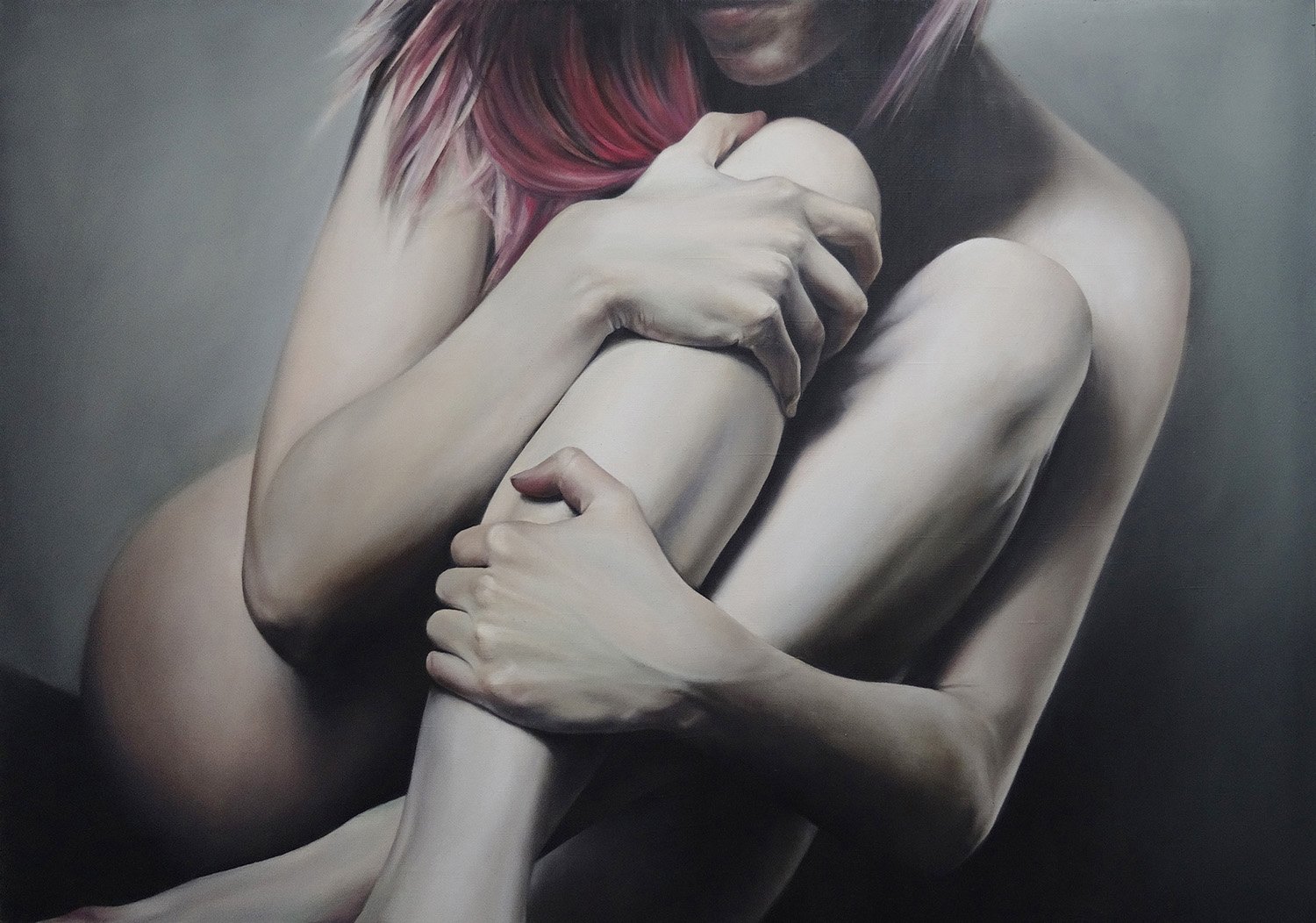 Yanina Viland's painting of her friend who had suffered from anorexia.
Are you self-taught in painting?
Yes. I have an art education, but it is very basic and just a few years in college. I learned about academic art, but I am self-learning in painting.
Have you displayed in art shows?
No; I am a little bit OCD in everything I am doing. I'm improving myself to that level when I will be ready to do art shows when I think I am worth it. A lot of people tell me I should do it now, but I don't feel that way, so I don't.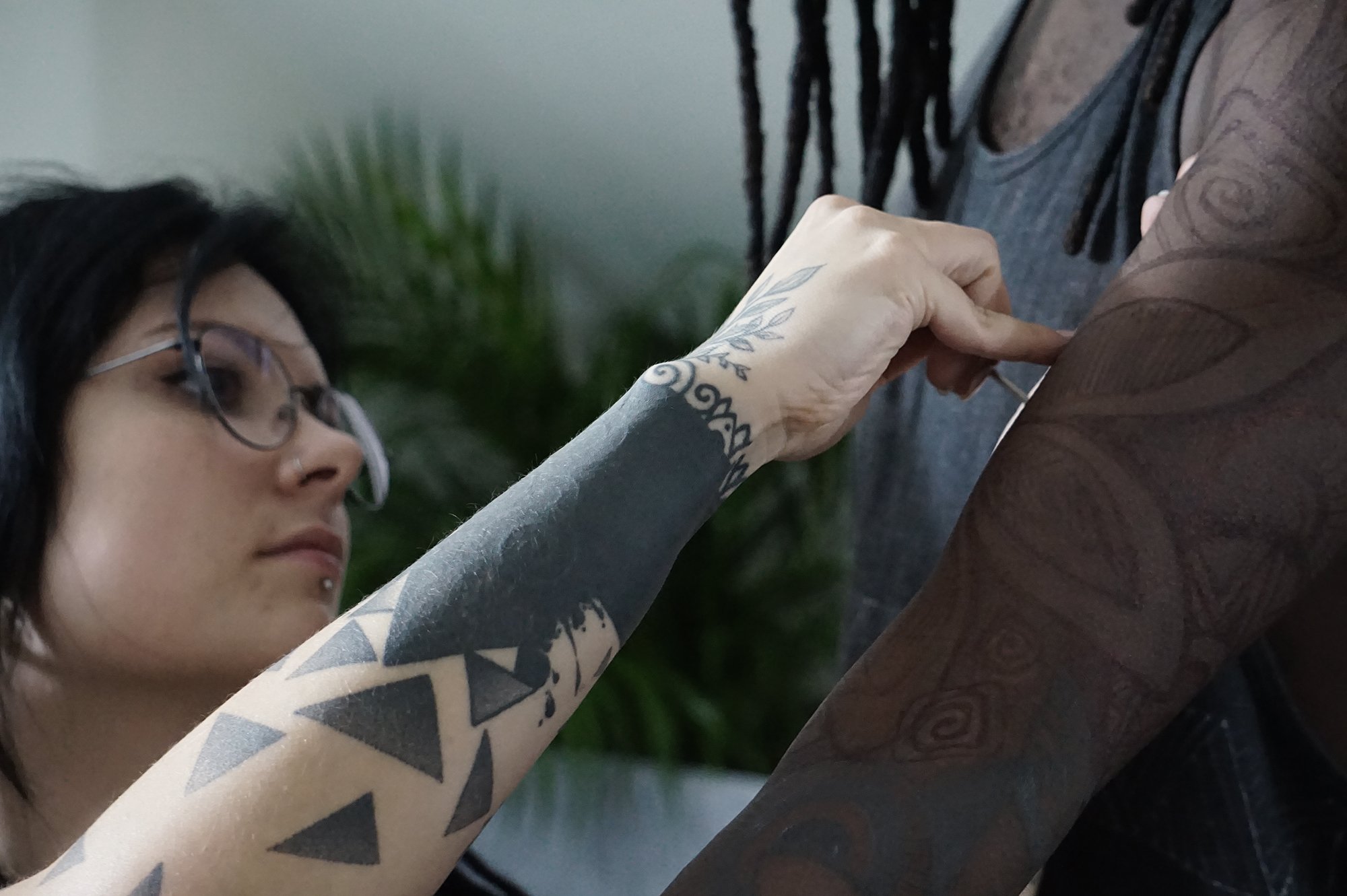 Viland informs that it is best to create bolder designs to distinguish ON darker-skinned people.
So, you are a perfectionist?
Yes. Oh, my God, yes! I am very obsessive. It's really hard for my apprentices because I am a perfectionist, and I expect the same, actually. That's the reason why many years ago, I became recognized for my tattooing (not about the art I did), but for its quality. And then the art started to [revolve] around that.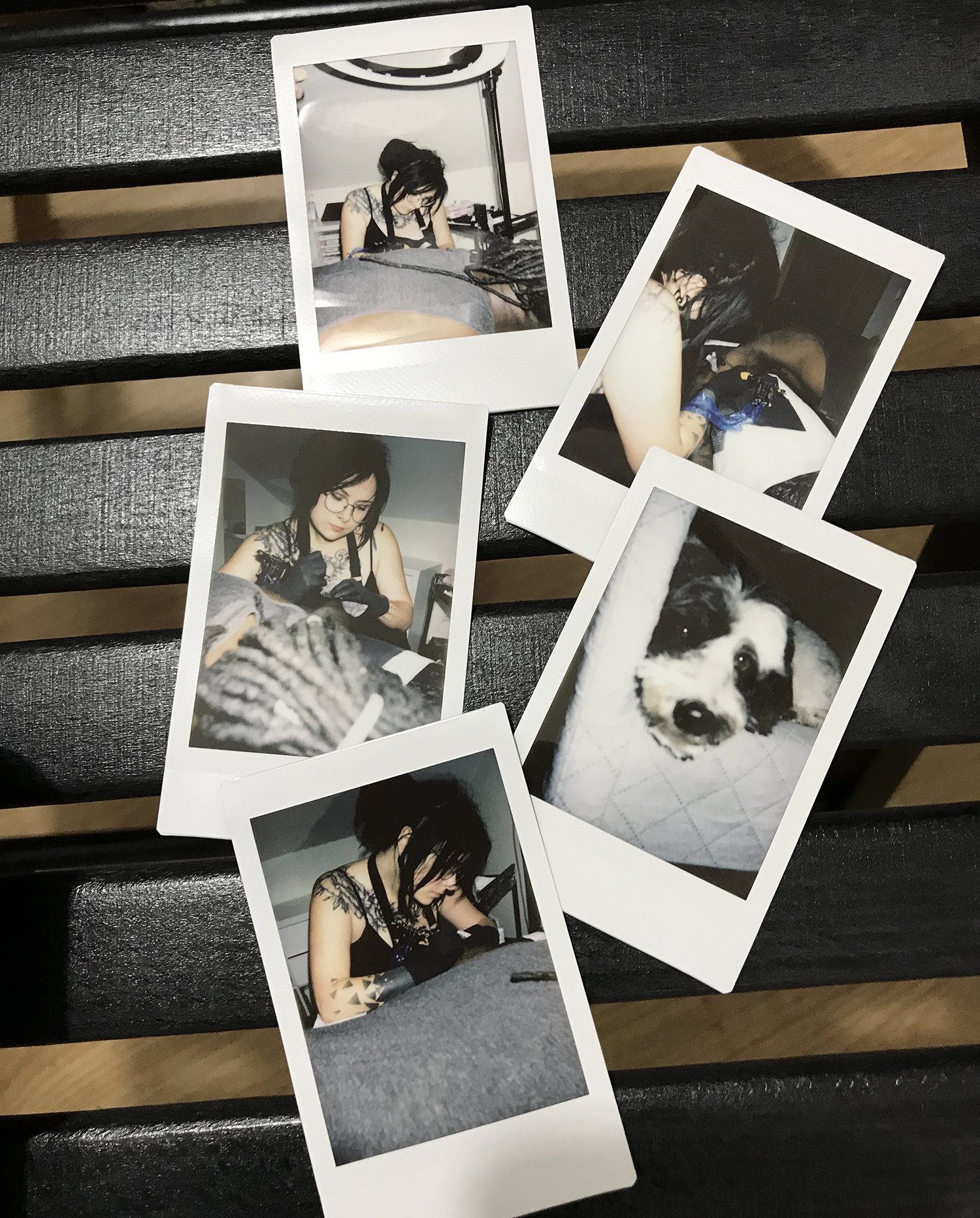 A visual narrative of tattooist Viland at work, plus a portrait of her beloved dog (BB King).
You lived and worked in St. Petersburg, Russia. Why did you leave Donetsk?
Well, it was a crazy moment—not the first or the last in my life—when I decided I had to change everything! So I packed my bags, I bought a one-way ticket to the city [of St. Petersburg] that I had never been to before, and just went!
That's an adventure, definitely. Was it hard adapting?
Well, it was very different because Donetsk (where I am originally from); is not a small city but compared to St. Petersburg, it is! So life in a new, big, artistic city, was a big step in growing up as an artist, and as a person. I still consider that place my home.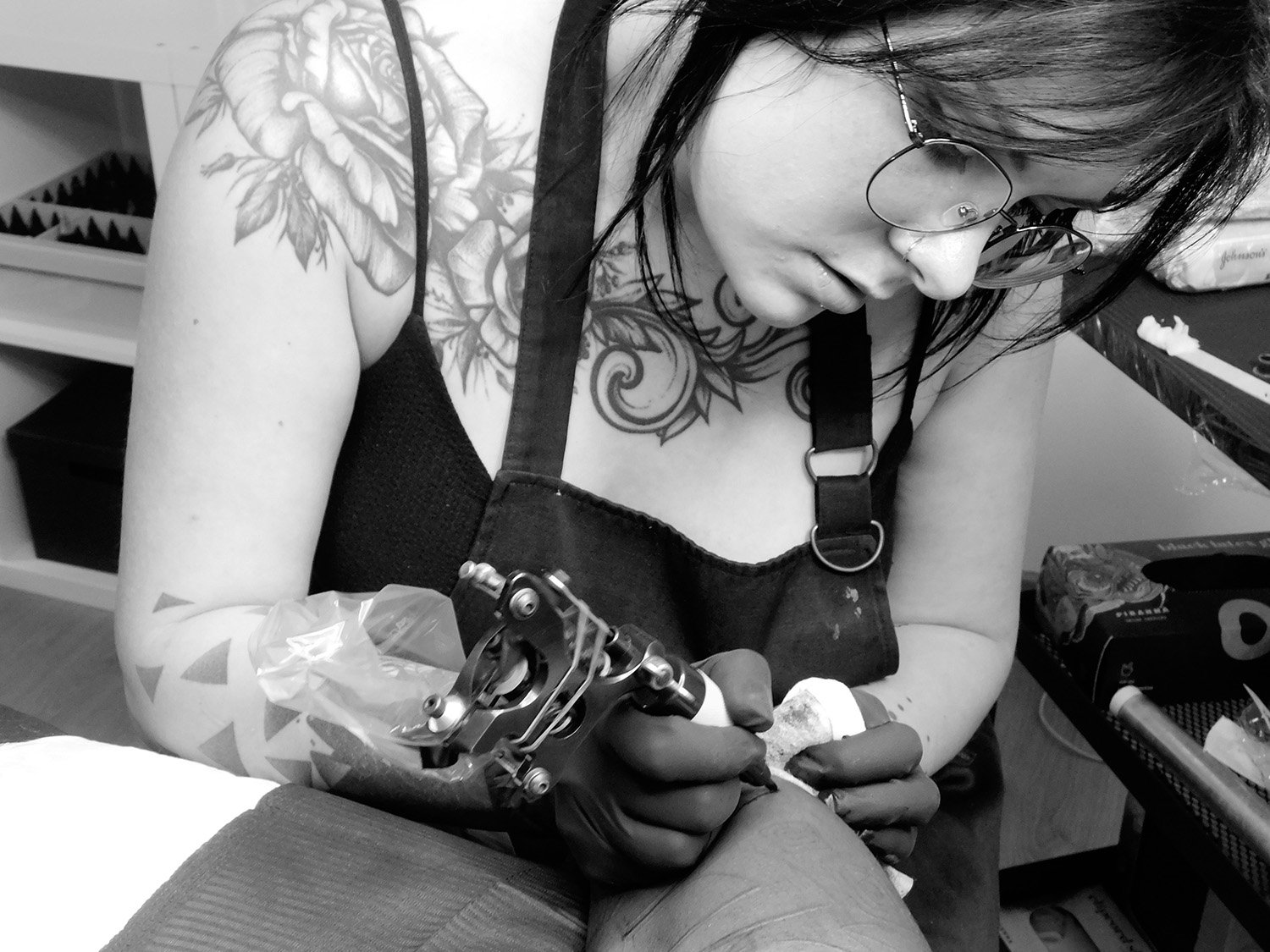 The freehanding often takes longer, than the actual tattooing session.
When and why did you leave your Donetsk?
I left in 2010. There's a lot of people—young people—around the world who all became kind of "community," because we were all homeless at some point. Some parents stayed there, but most of the young left. And right now, all around the world, in the US, in Europe, everywhere you're meeting people from Donetsk. Many talented people, people who have had to find a new home and place to live.
We have [created] a kind of community, and this is a nice thing, what became from all that. We're all helping each other. If you need to send money to your parents, which is almost impossible through banks and stuff, it has to be sent in-person. There are always friends of friends who will do that for you. And you don't need to know that person, but you trust they're in the same situation with their parents, and know they will bring the funds to yours.
This is something nice which came from the people. But otherwise, of course, it's affecting [us/me]. We live in a time when you don't imagine tanks and guns inside a big city. It's something far away, like in Syria, and then in your metropolis, you see roadblocks … That changes people's minds. Now, I feel like nothing is impossible.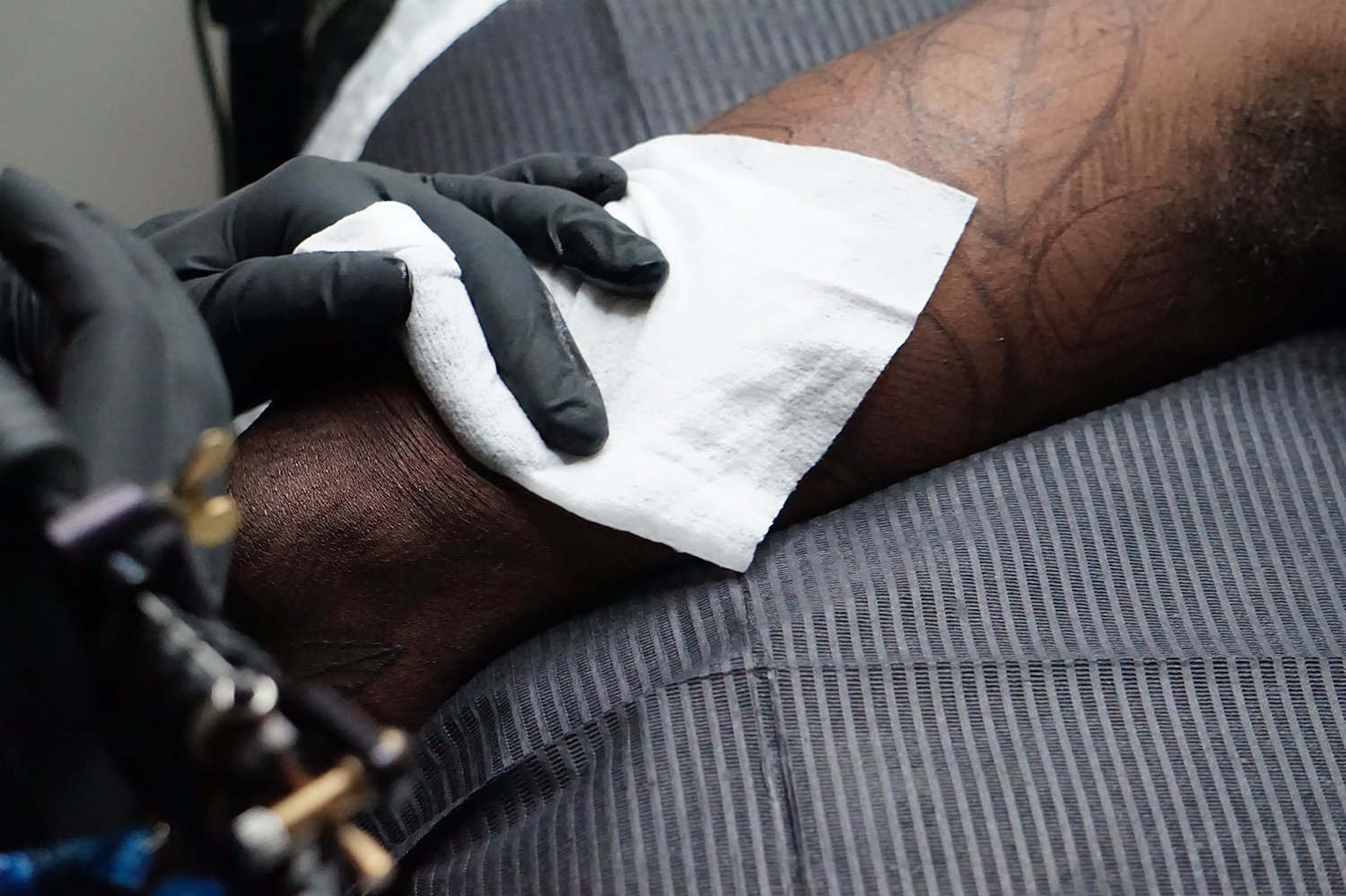 A close-up of her blackwork sleeve on client Luzingo.
That is true. Why did you leave before the intervention?
I always had a feeling of "growing up," and in my hometown, I think I came to a point where I didn't see growth. I was working in a big music club; I was designing, I was working with the theaters, and I was tattooing … if I stayed, it would be all the same. And I always wanted to do more. So, moving to St. Petersburg was the step to do more. Moving out of St. Petersburg was the step to do even more. And right now moving to Lisbon, it is the same [growth] step—living in Europe for any artist can open more doors.
You skipped Brazil [Smile]. You had moved to Curitiba in 2016. What was it like there; were you inspired by the art, culture, and people?
Well, I have a huge amount of inspiration from Native Indian's art, and I'm very proud of a few projects I did on people who related to that [indigenous] culture. There were a number of customers who came to me with books and asked me to use the art-related-to-that-tribe from that region. So I have a huge interest in ethnic art. African, Slavic, and Indian. I lived in the south of Brazil, which is not that ethnic. It's the European part of Brazil, but I still had the opportunity to work with people who related to the culture. So it wasn't like faking Indian [tribal] tattoos. It was working with people for who it meant something to. That is one of the main reasons why I was interested in life in Brazil.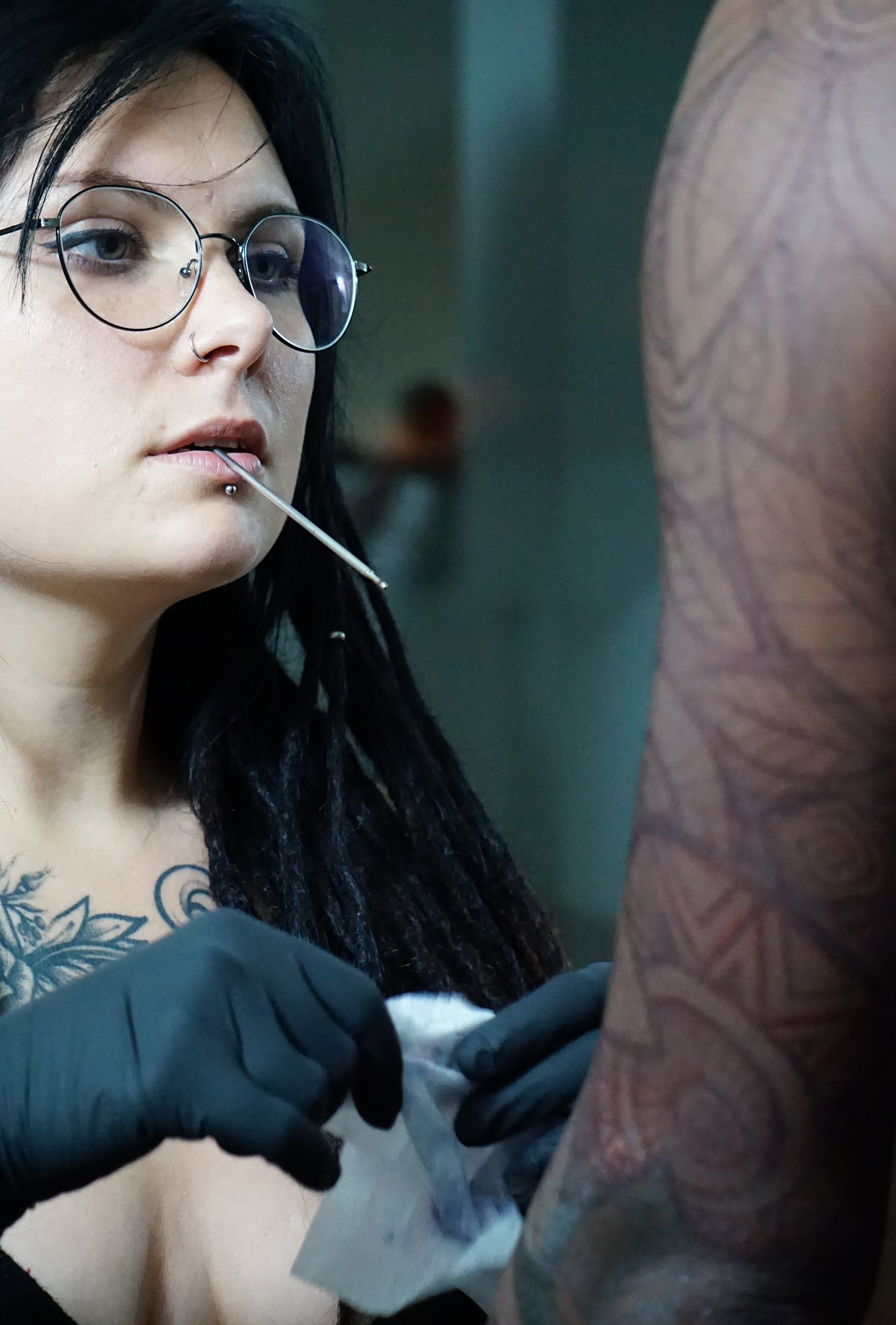 Viland gets a feel for the client and uses that energy for inspiration to freehand on them.
You have stated that freehanding is your religion.
I gave up drawing on paper because it's impersonal. When I draw on the skin, it is between me and the customer. It's their body, and it's more fluid and fits better on the body [with freehanding].
Tattooing for you isn't just about decorating the body, but the whole experience… [paused, gathering thoughts]
It's exactly the experience. Sometimes I spend four or five hours drawing [on the skin], and then two hours tattooing.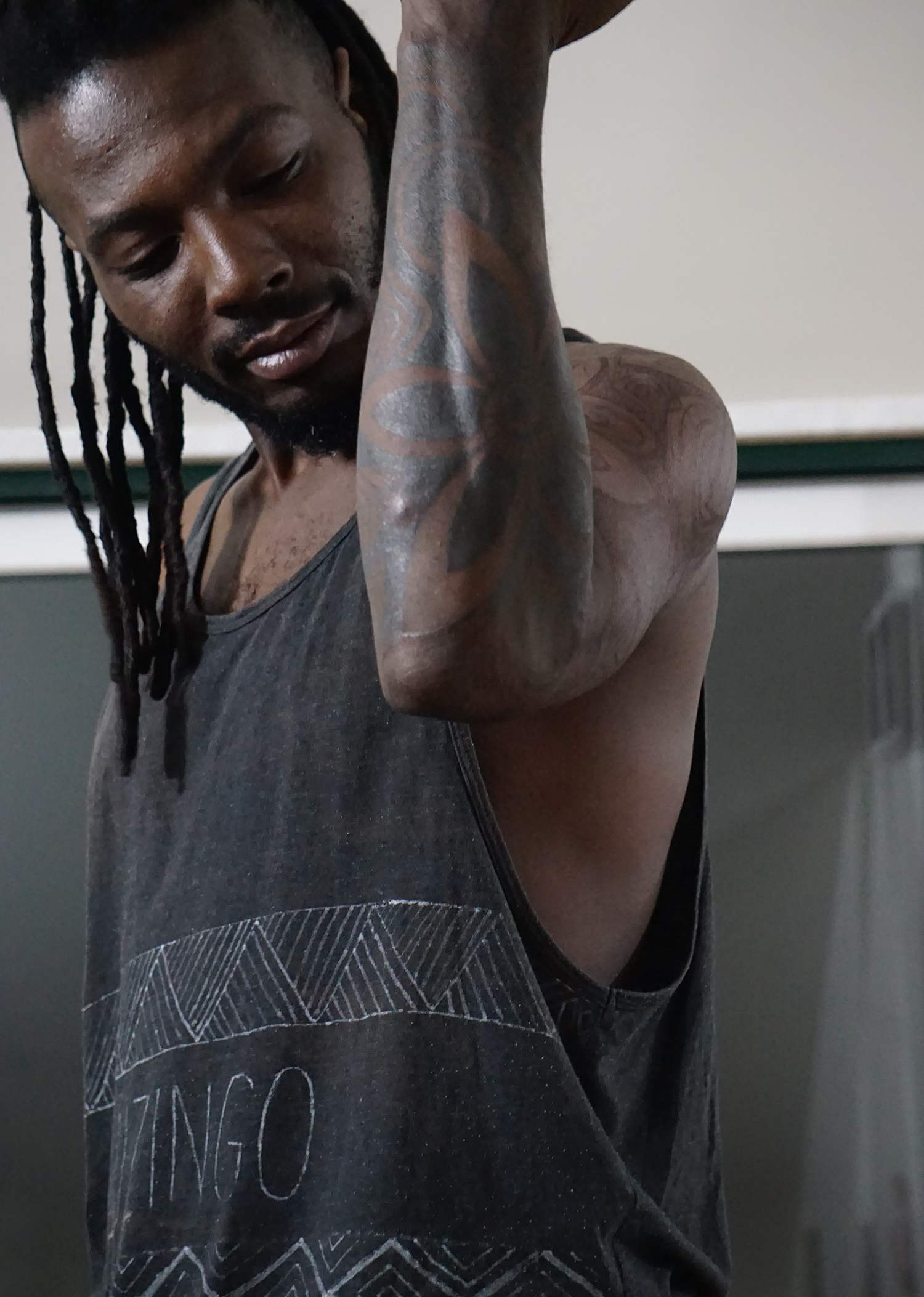 For best results, Viland adds fewer details to this client's sleeve.
That's great! Everyone has to pay bills, of course, however, some tattooers focus on the greed of money-making, that they forget about providing a positive tattoo session for the client.
So, this is one of the things that I do. I don't charge by the hour. I charge a fixed price by the day. I don't care if I tattoo in two hours or eight hours. I will do the best I can in that day … Sometimes my customers are coming from afar, and want a big piece, and tell me, "I will handle it." So I will work till after midnight, I don't care, because I want to do the best I can do at that moment.
The freehanding process of Viland, filmed by Kenzo Giunto and music by Luzingo.
You're amazing, by the way. There are other tattooists that have a similar mentality/method, but it is not as frequent as one would hope, especially from the client standpoint: it must be a privilege being tattooed by you.
Oh, thank you. It is one of the reasons why I started doing videos and made a YouTube channel, to show the process, to show what I draw on skin. Because people see my portfolio and text to me, "Hey, do you have any available designs? Something I can choose from?" And I have to explain again and again. So in 2016, I did my first video about the sleeve with my process and how I draw on skin. Today, all day, we're filming the drawing process to show how it starts, [and how it develops].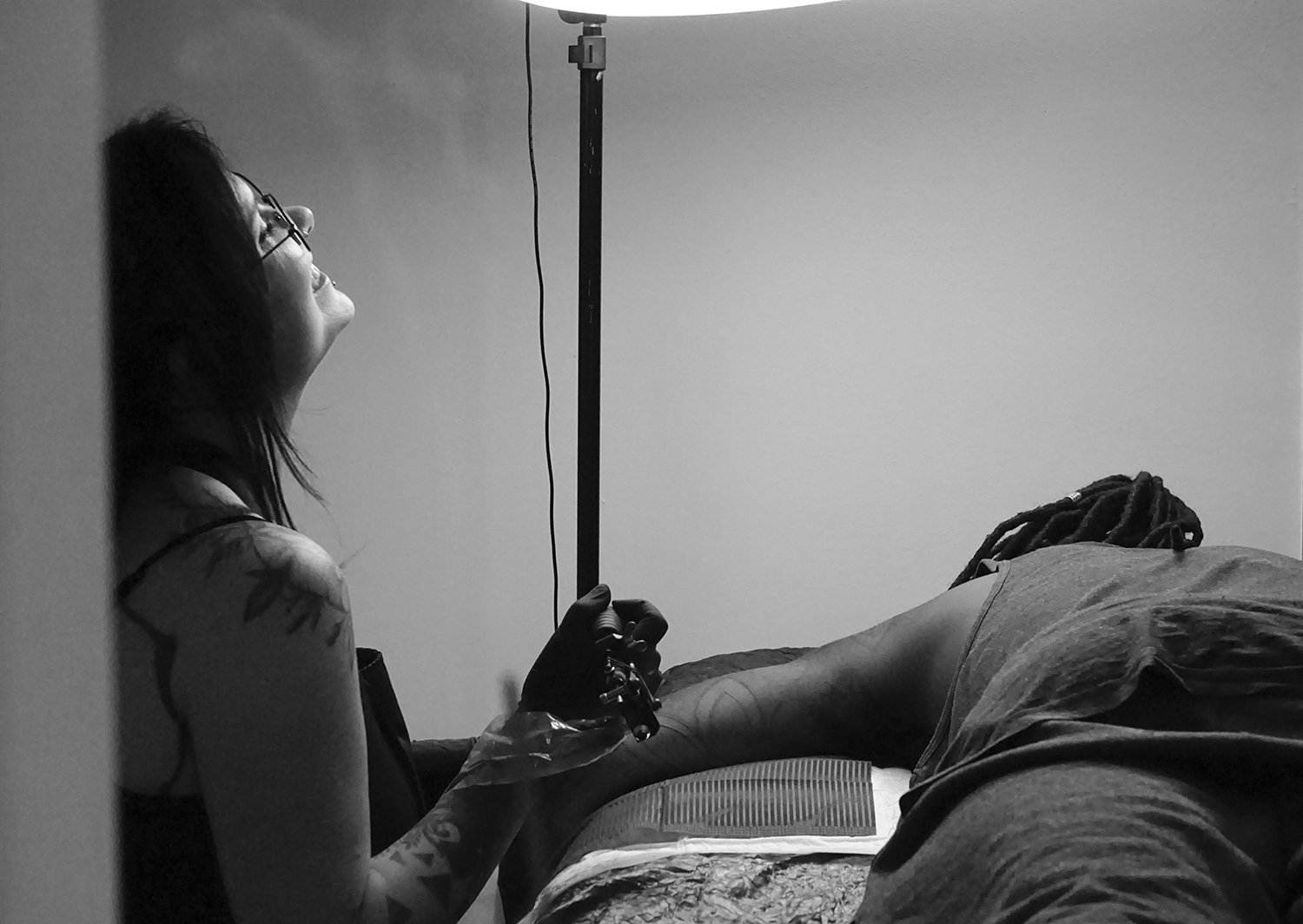 Viland sharing a moment of happiness with her client.
Yeah, it's not automated.
I don't have a stencil machine.
Not that you need one. Your process is highly interesting and a customized, unique experience for your client and yourself.
I came up with this way of working because I had a horrible experience. I had an entire back tattoo done on me … I'm okay with the result, but the process and the person [who did it] … was very difficult psychologically for me. And my main goal is to make my customers 100% relaxed. The reason I don't charge by the hour: if a person pays for the day they're not afraid to give me more skin. They're not afraid to spend more time thinking. They just relax. They know what they will go out with. [Smile]
Paintings © Yanina Viland
Studio photos and of the artist © Scene360