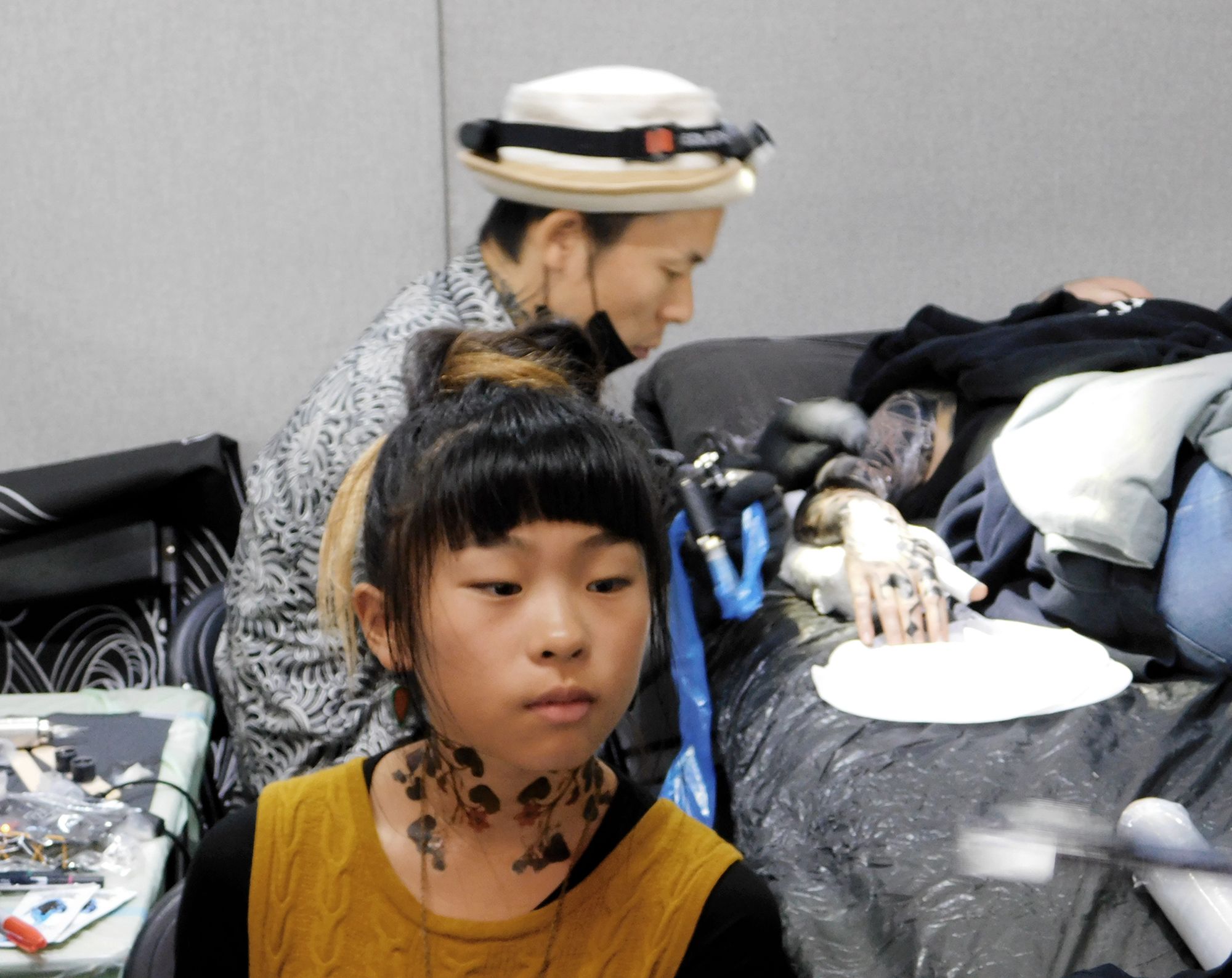 Born in Japan and living in The Netherlands with her parents for the last three years, Noko, 10 years old will be 11 this December. She loves dancing, playing Roblox and making slime with her friends.

We met her at the London Tattoo Convention, where she quietly drew in a sketchbook while her esteemed-tattooist-father Gakkin inked a client in the background. Noko has watched her father use a tattoo machine since she was a toddler and that has sparked her curiosity to experiment his craft. Her parents Gakkin and Megumi (mother) are open-minded about their child's interests, and strive for her to see the real world through their traveling experiences.
Noko started her tattoo apprenticeship at approximately 6 years old and got more serious about it at 8—she inked oranges, silicone objects, and then moved on to people.
Above: Noko with her father Gakkin at the 15th International London Tattoo Convention. Photo © Scene360.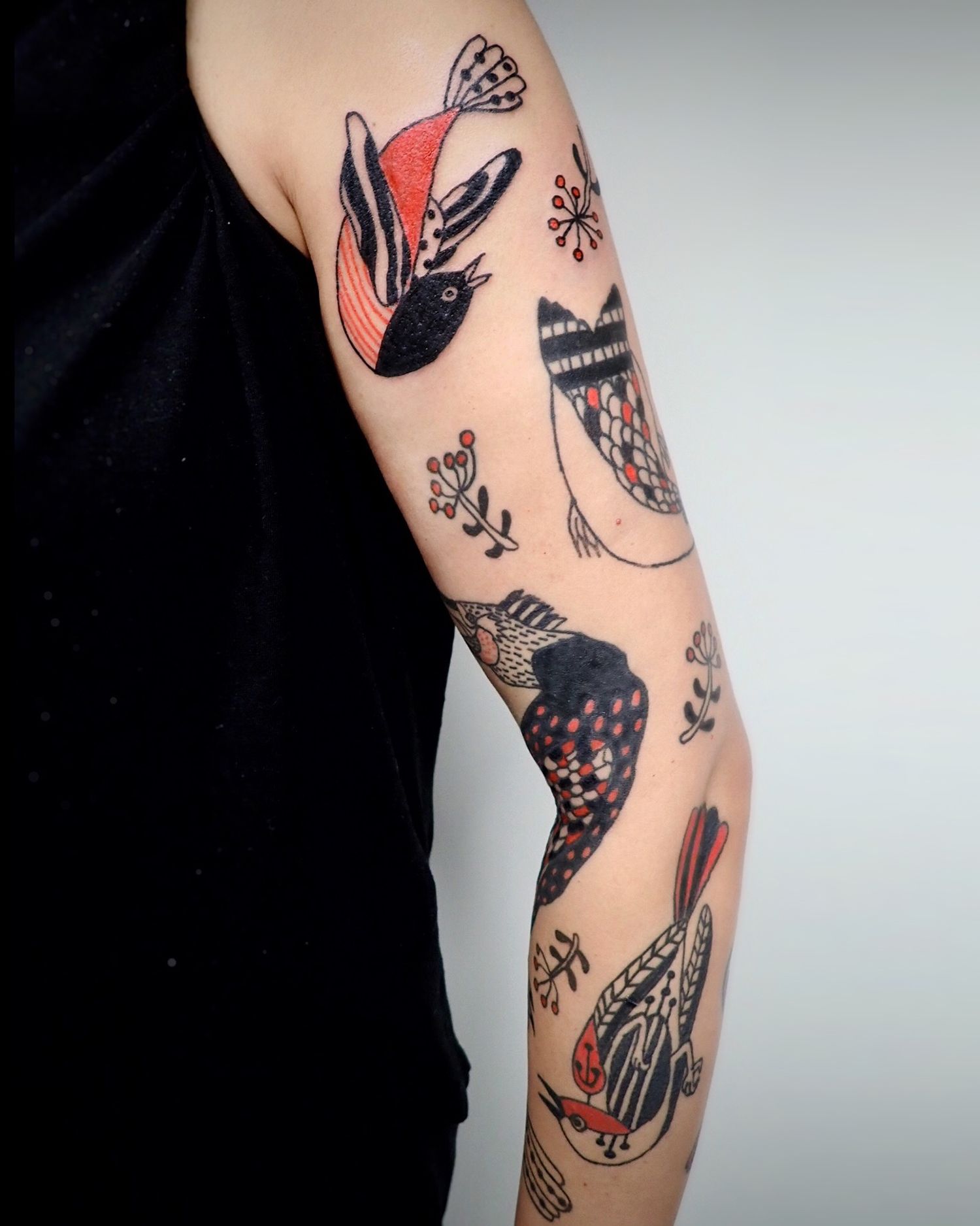 Beautiful sketchbook-style tattoos by Noko.
You are quite the traveler: England, Turkey, South Korea, Thailand, and more. How do you keep up with school? And what have you learned on these travels?
I am very lucky because we have many school holidays here in The Netherlands, so I travel during my school holidays. But sometimes I have to be absent from school for a tattoo convention. If that is the case, my teacher gives me a letter [summary] of what the class did last time. So I can follow them, [keep up with school].
In those travels I saw many beautiful things and also sad things. When I went to Istanbul, I saw many children who are sitting on the street or selling something. I asked my mom [about it], and I was surprised and sad about it. My parents say that we can see anything we want on the internet, but it's very important to go, and see [real life], feel with your own eyes.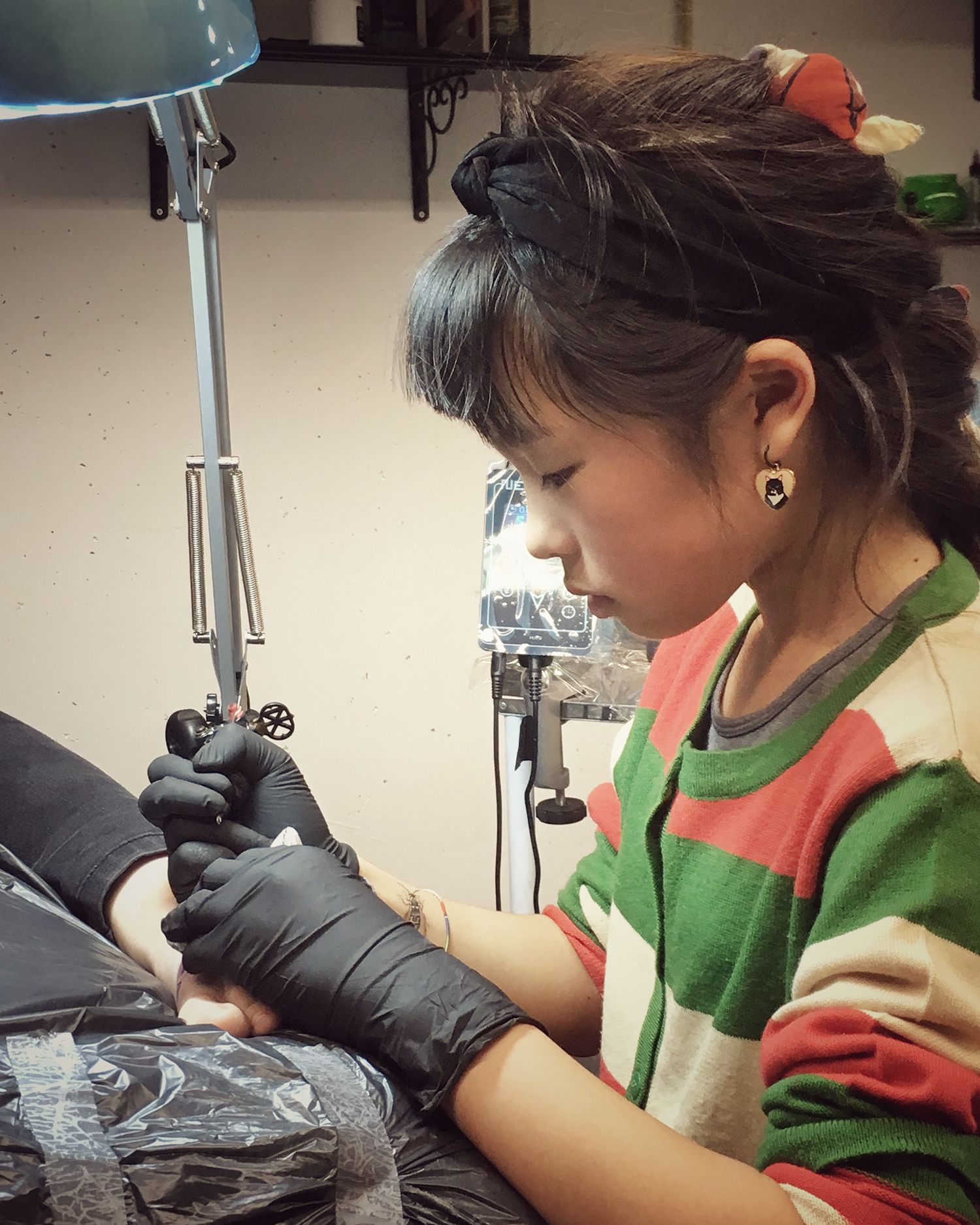 She has been learning gradually through an apprenticeship with her father.
You started tattooing at 6 years old. Were you inspired by your father Gakkin's work?
Actually, I started tattooing properly when I was 8 years old. My parents asked me, "Do you want to try it?" So I started. I have been watching my dad work for a long time. So I wanted to try it someday. And no one is practicing tattoo at my age around here. It's fun!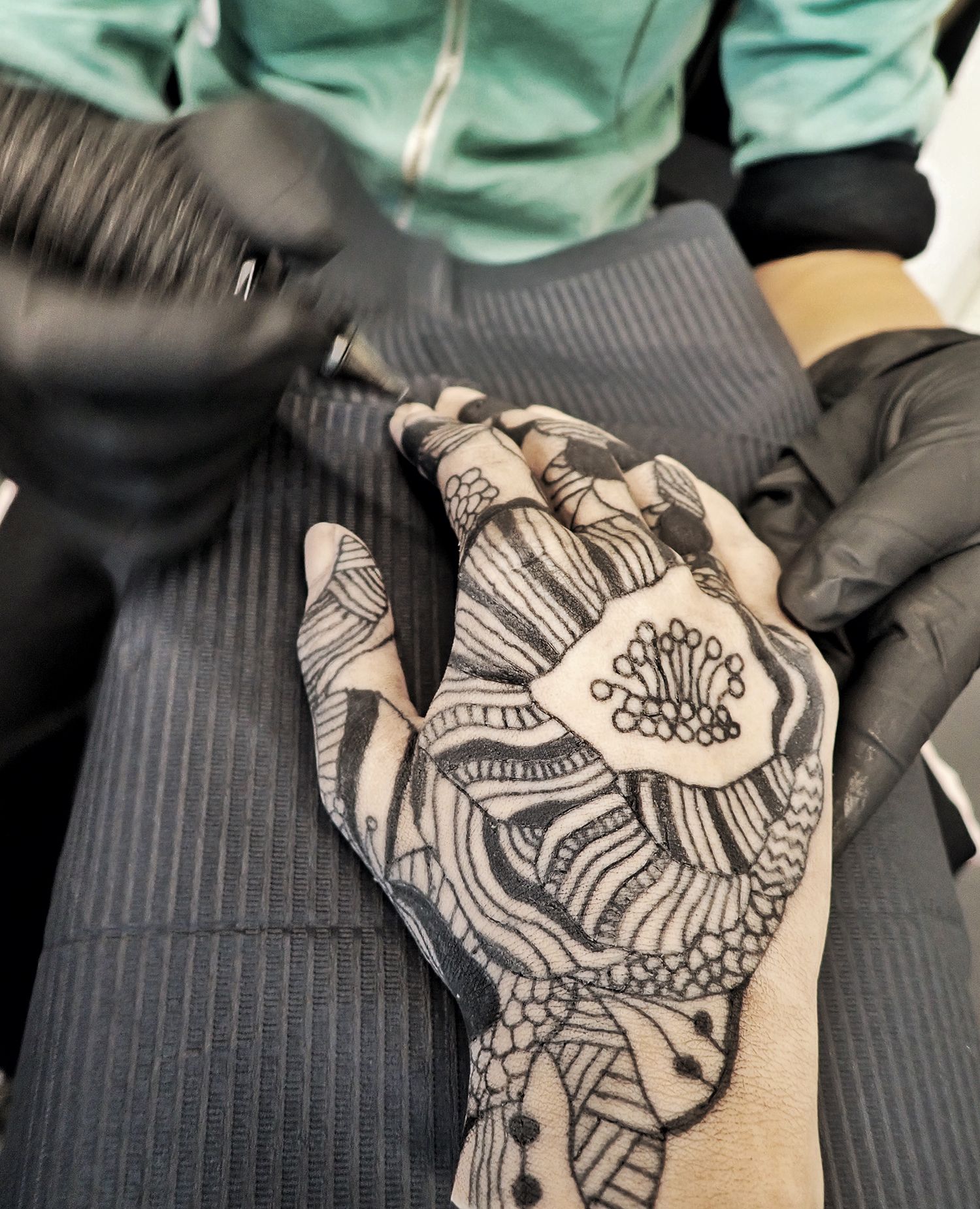 Noko has trained tattooing on silicone hands and other objects.
Your dad is giving you an apprenticeship. What is it like working with him? Is he very demanding?
My dad doesn't say anything about my drawings. I first started practicing on an orange, it was fun but it was difficult to hold an orange. So I started to practice on silicone [objects]. It was better and much fun! I practiced once or twice a week with it. After that, I practiced on my dad's skin. It was totally different from silicone skin. As blood came out. I was scared! But when I finished tattooing, I was very happy.
My dad is strict with how to use needles, tattoo machines and disinfecting [sterilization]. But other than that, he is very kind to me. My mom is more scary!
The mom's response: Noko is lazy about the things that she doesn't interest in. For example, she doesn't fold her clothes, doesn't clean up her room, doesn't mind the time. She is drawing or gaming with bad posture, etc. So I warn her every day about the same things. But she forgets easily. So sometimes I get mad at her.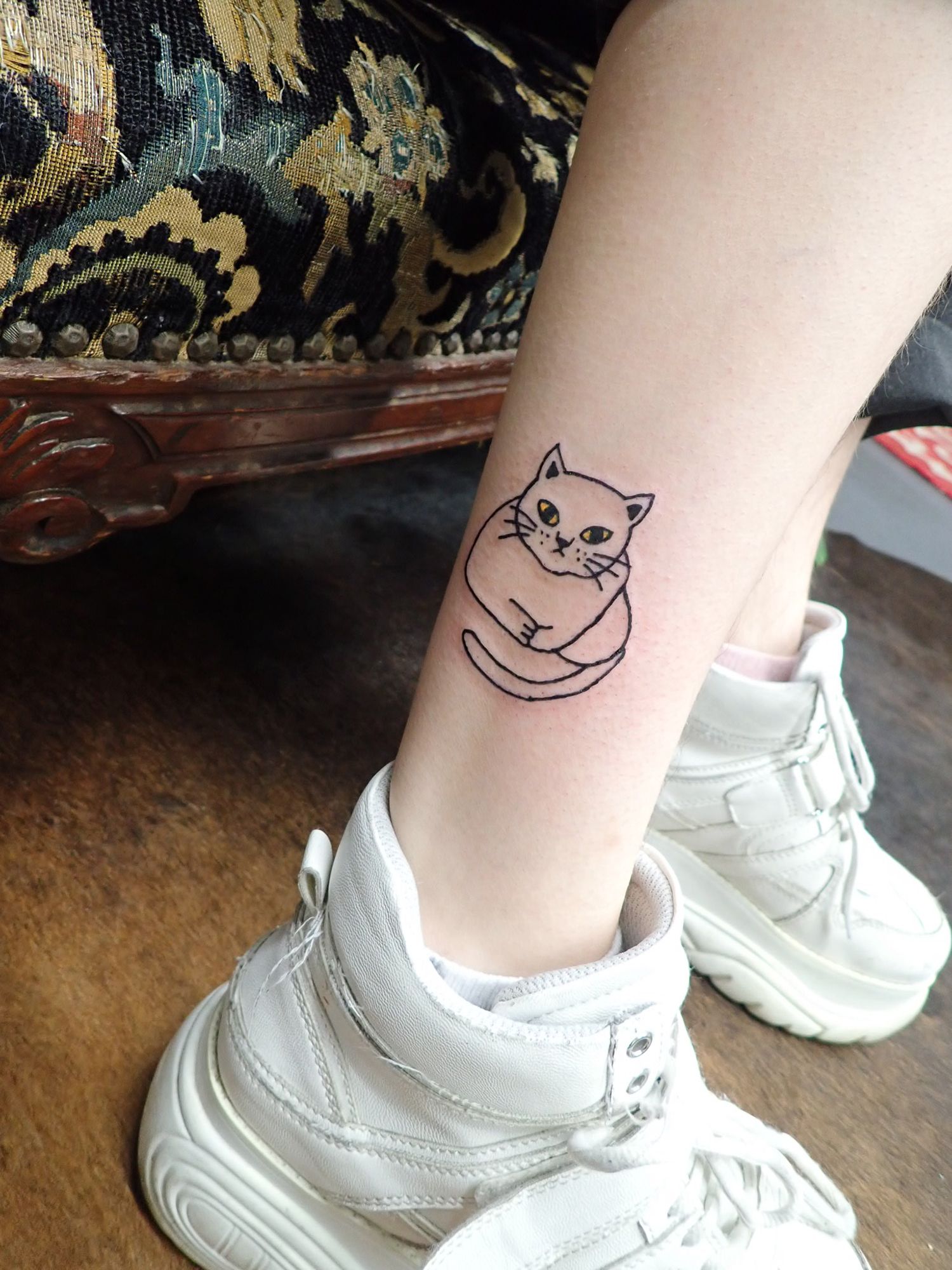 For her young age, she already has a forming style emerging.
What valuable tips has your father given you?
My dad taught me how to color; how to stretch skin; how to move my hand…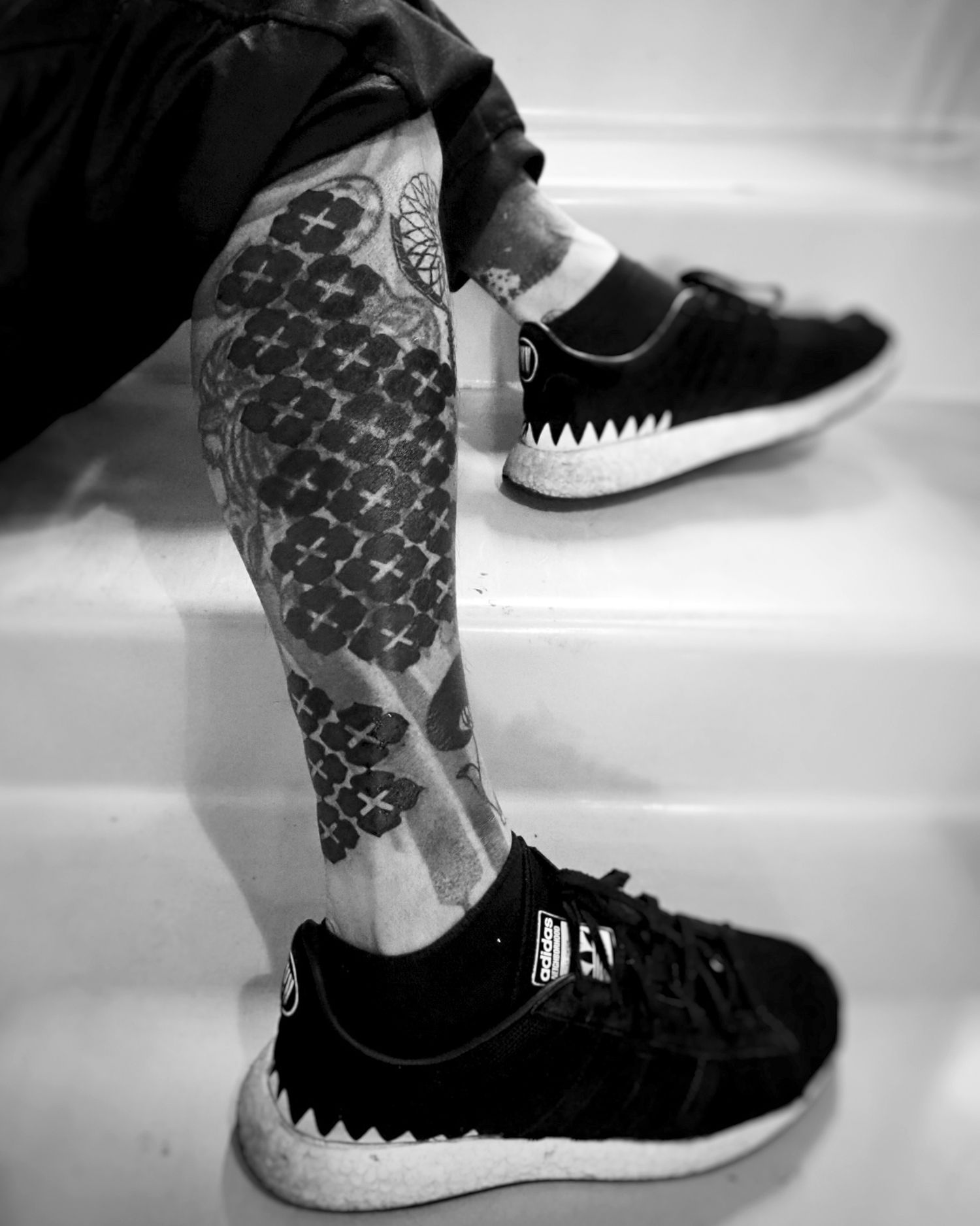 A blastover Noko did on her father's leg.
You did a great blastover tattoo on your dad's leg (shown above). Were you nervous doing it? Did he scream from the pain?
No I wasn't [nervous]. I don't care if my dad cries.
How important is training your freehanding skills?
I can draw while [looking at] pictures, but I can't draw only from my imagination; so I must draw many times. I am happy when I draw beautifully, but not happy when I can't draw [well].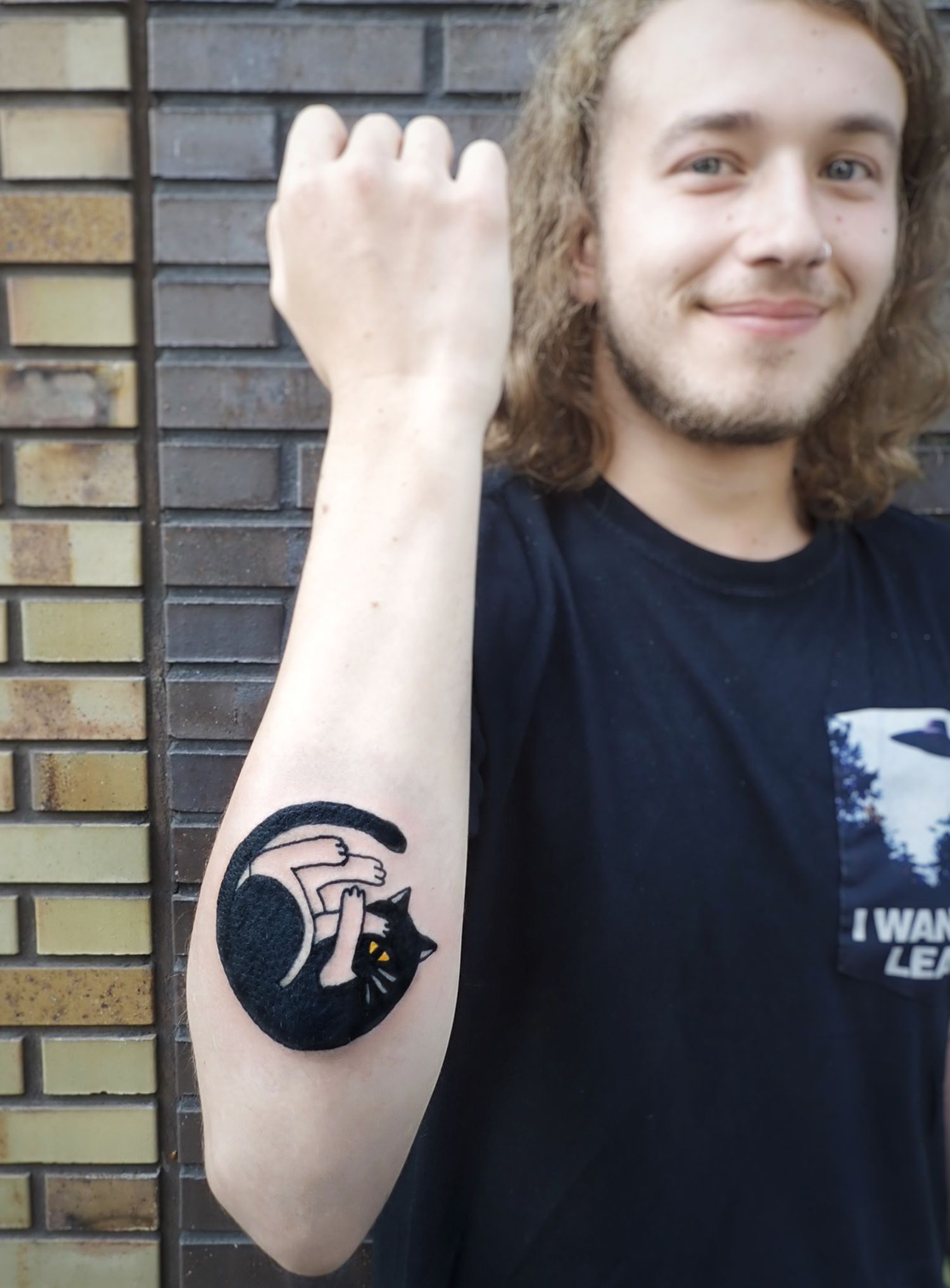 The tattooed clients trust and adore Noko's work.
You have already tattooed over 25 people. You are developing a style (nature-related themes in black and red inks) that is nicely defined at such a young age. Are you amazed that people have trusted you to tattoo them?
Yes, I can't understand why they trust me. Because I still can't do it [tattooing] well, and it stays on their skin forever. So my mom asks them, "Are you really OK [about doing this]?" But, I am very happy that they like my tattoo and complement me. So I feel I will keep up with my work.
Noko has a preference for the timeless quality of black ink, just like her father.
Are you doing free tattoos or are they commissioned? If paid, how are the funds being used—i.e. is there a trust fund for you to go to university, for you to use when you are 18, or part of an allowance?
I haven't gotten any money because I am an apprentice. But I got some presents from my customers, like stuffed animals, bags, notebooks, colored pencils… Next year, my parents have decided to start to ask for a small fee to buy some disposable needles, inks, aftercare creams—everything that I need for my tattooing.
When I get better at tattooing, I would like to make money someday.
What is your favorite theme to ink on skin?
Maybe birds. They are fun because there are so many kinds of bird!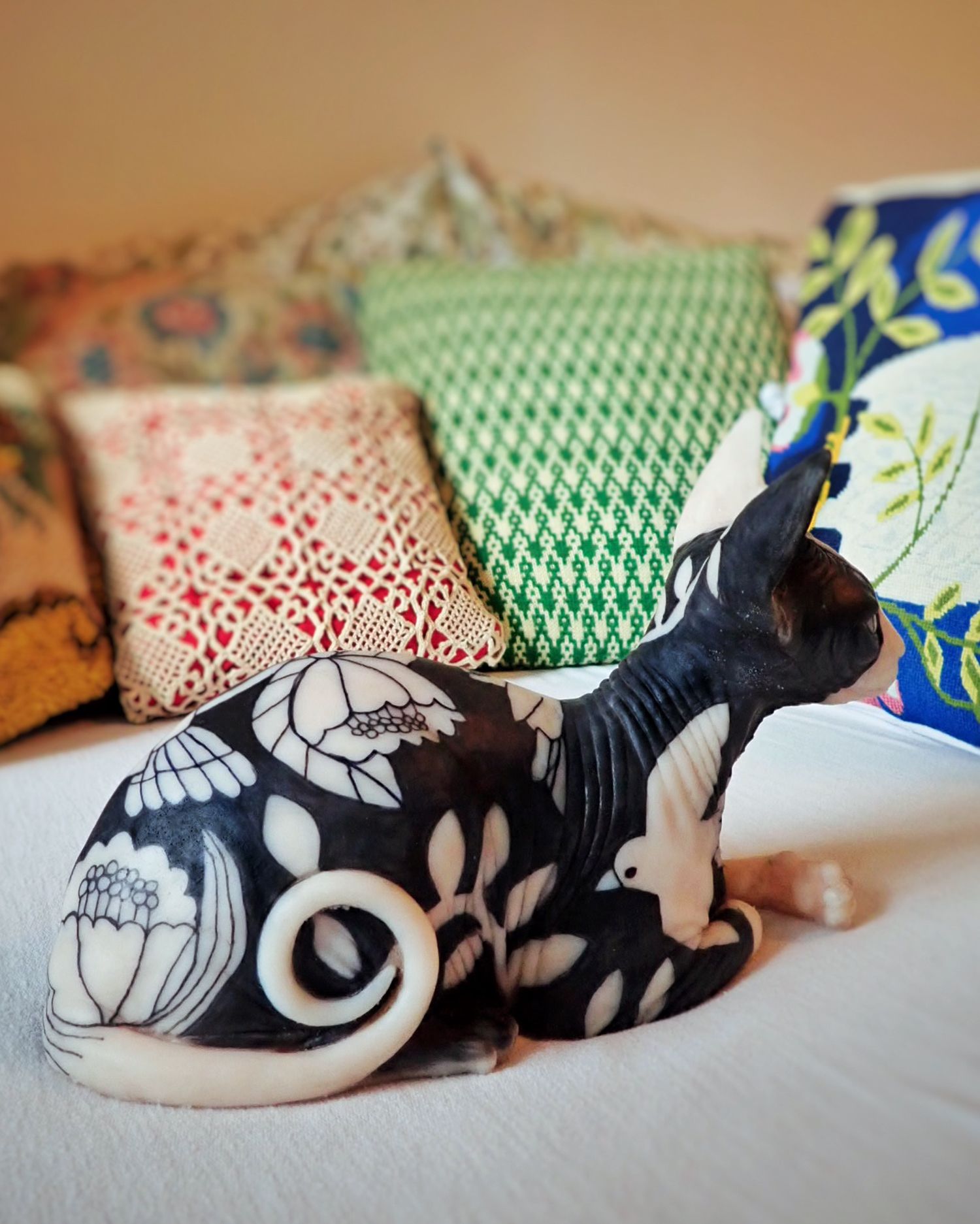 Each silicone object she inks becomes a work of art.
Due to your age, you weren't allowed to enter the "Sub-Con" event in Korea. Is it frustrating not being let in to some conventions?
In Korea, my mom said the event was held at a club, so I couldn't stay there. But normally kids can join [go into] tattoo conventions.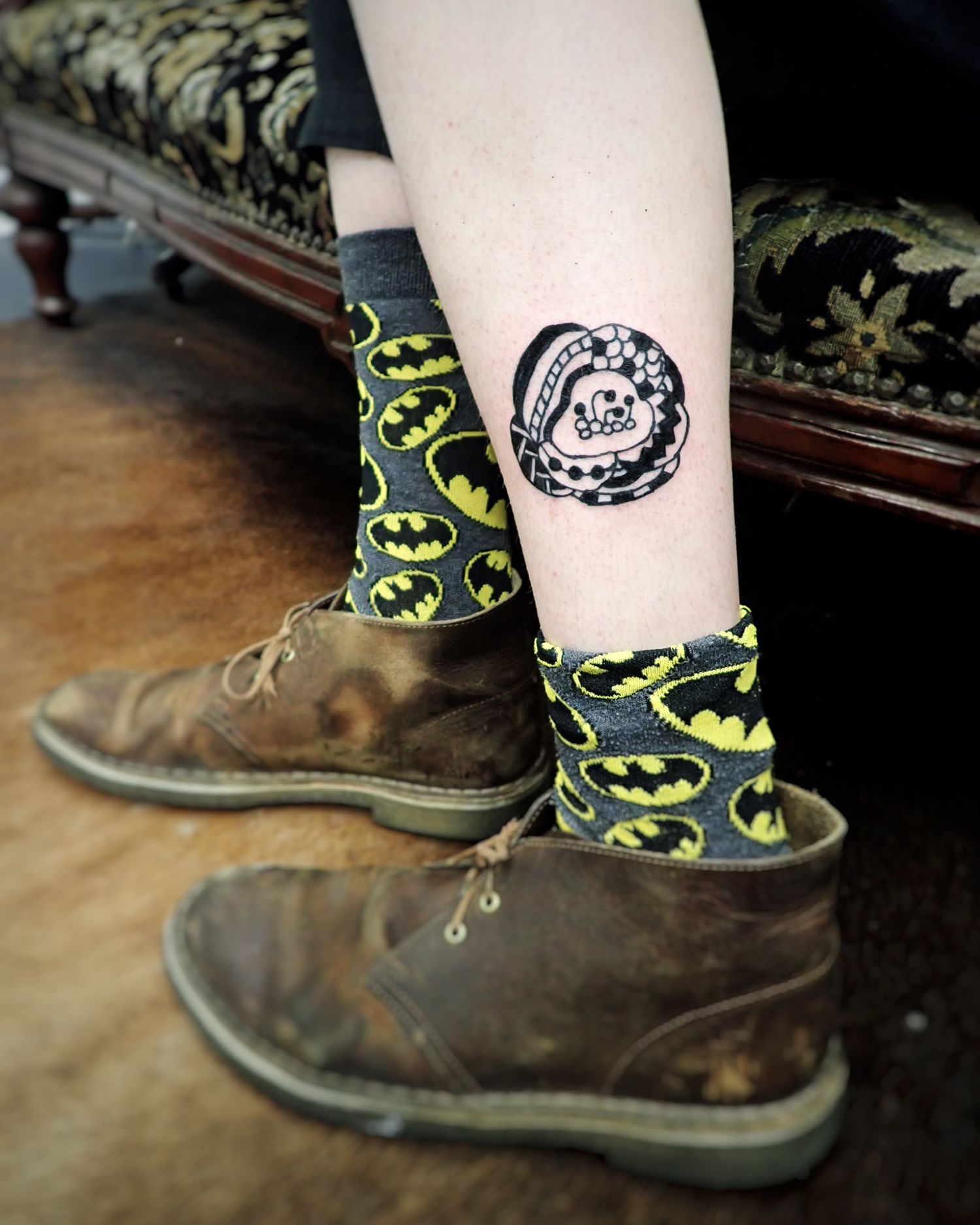 Noko definitely has a future in tattooing, if that is she chooses that path as she gets older.
Do you think you'll be a professional tattooist when you are an adult?
I'm not sure yet… but I like tattooing right now!
Her mother's wishes: Noko is enjoying tattoo now, so we are very happy to support her. But she is still young. So she might find something different that she wants to do in the future. We hope for her happiness. It's the same wish as any parent who has children. We are looking forward to watching what happens to her in the next 10 years. [But there is] another dream that we have that is traveling all over the world while tattooing together.
Photos © Noko / Gakkin / Megumi