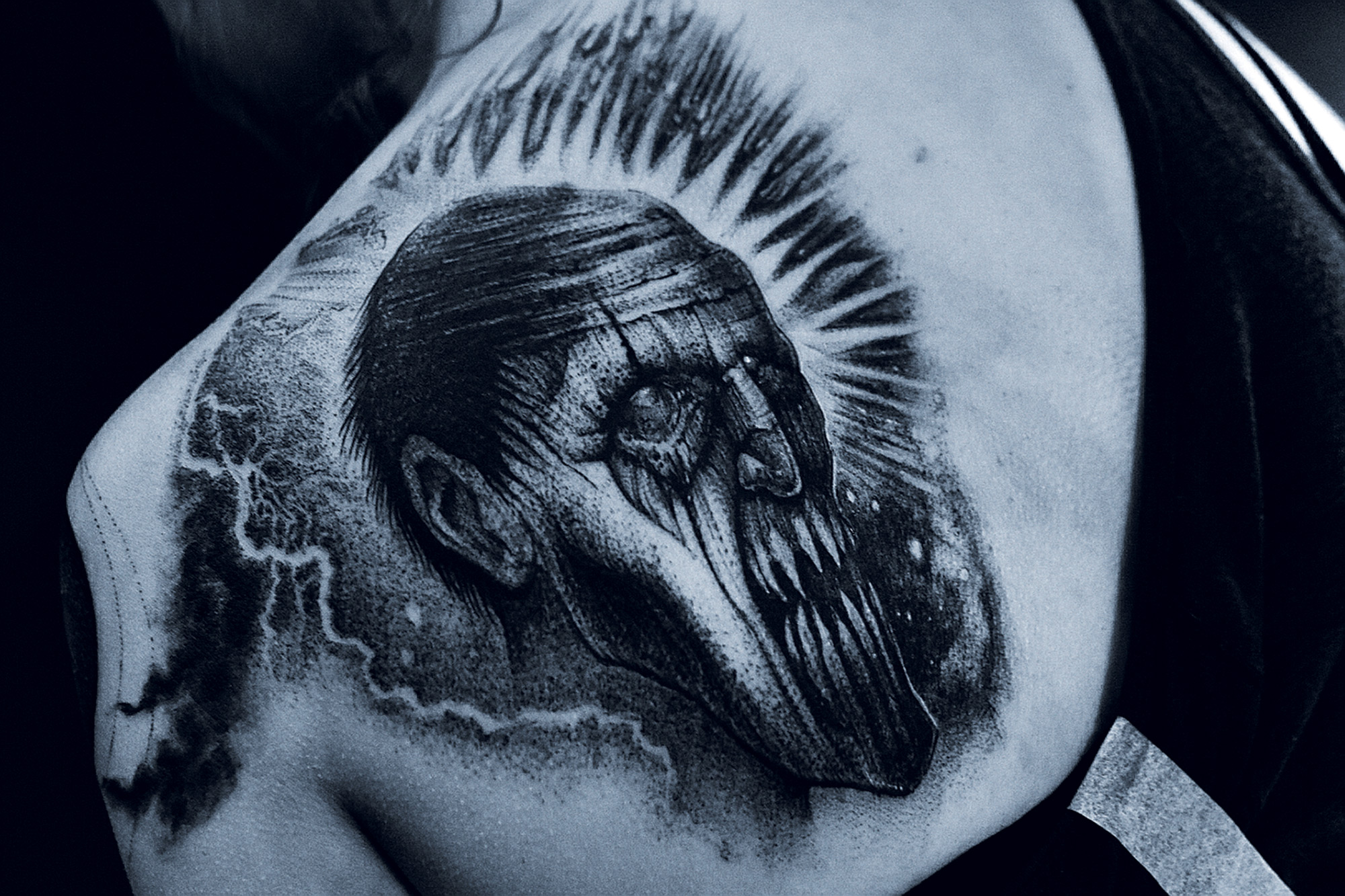 Welcome to the mysterious world of Placide Avantia—an illustrator, tattoo artist, and self-professed alien.
Working from Fuscare—her dimly lit studio located in the south of France—Placide Avantia uses black vegan ink and her dark imagination to spawn creatures that otherwise dwell only in nightmares, alternate worlds, and untold myths. From razor-beaked crows to the jagged symmetry of gothic architecture, there is a sense of cosmic dread mixed with spiritual wisdom in the haunting visions she incarnates on her clients' bodies.
As a fan of Avantia's work and her occult-inspired style, I was excited to talk with her about her art, her studio, and her ongoing projects.
Top: Placide was asked to draw Frankenstein's monster in her own style.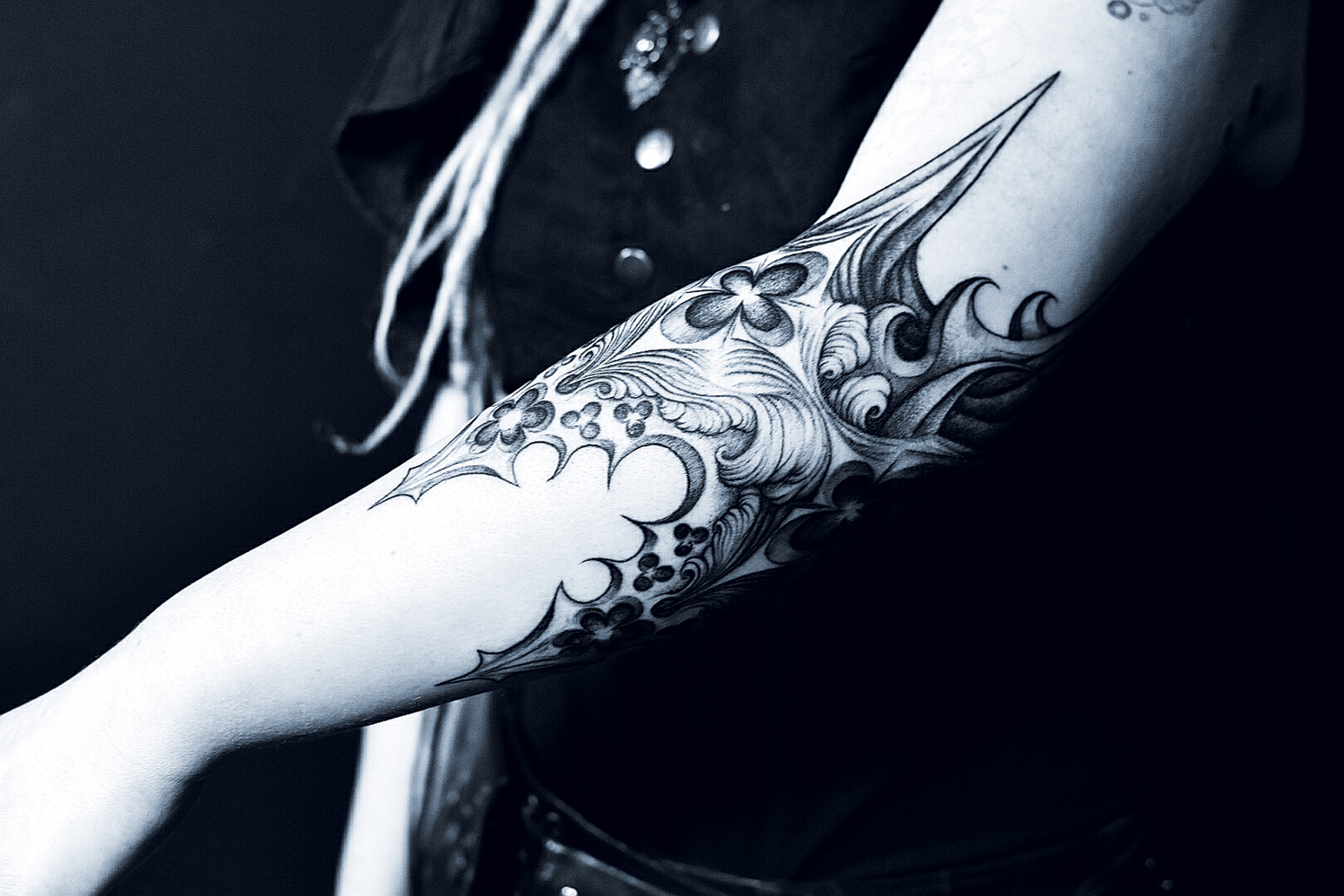 The artist prefers using black ink for aesthetic purposes and also for its timeless quality.
What does the name of your studio mean ("Fuscare")?
"Fuscare" is a Latin verb. It basically means "to darken"—and other cools things. We chose this name almost eight years ago, Tony Avantia and I. It's not just the studio name—it's our creative collective name.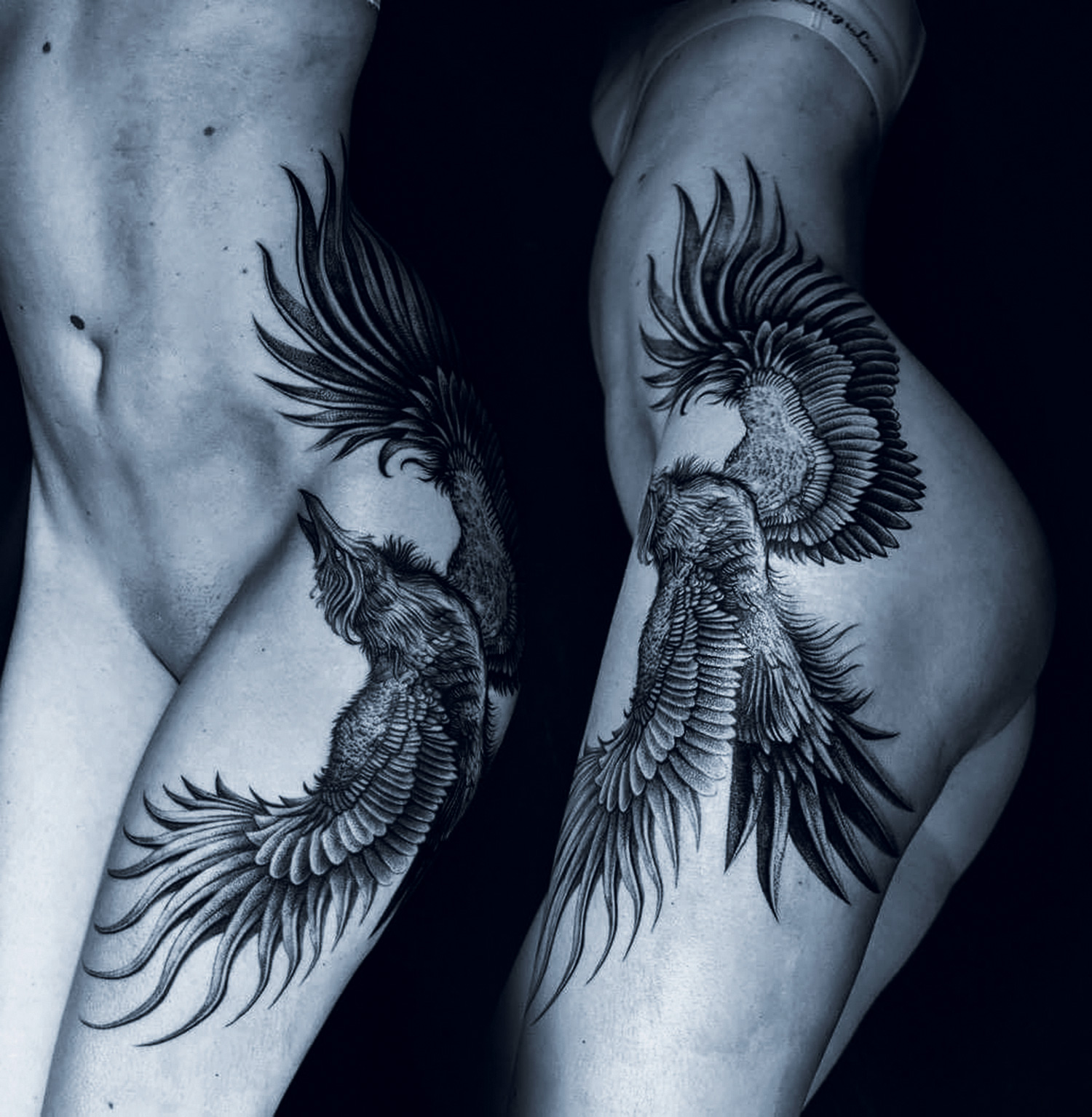 This creepy creature fits perfectly with the contours of her client's leg.
When did you open Fuscare, and can you describe what it's like inside?
We opened the private tattoo studio less than two years ago. Tony did everything from the ground up with a bit of help. He had actually never done this [type of work] before at all. But he somehow learned in the process. He always amazes me, as he succeeds in everything he does! We have similar aesthetic tastes, so I trusted him about this.
I would say the result is that this place is really calm, cosy, and heavily personalized. It is on an upper floor level of an old city building, just like the doctors and lawyers. That's important to us, because we like to be at peace when we design/work, and it's important for our clients to be able to be tattooed without having to deal with people coming in off the street to check out the studio; people can only come if invited. As for the ambiance, I guess it's very dark: low lights, black walls, black wooden furnitures, rare spiritual/occult books, wet specimens, and bones. The lighting comes entirely from artificial sources, so you lose sense of time. [The studio] became my very own castle; I'm glad it exists.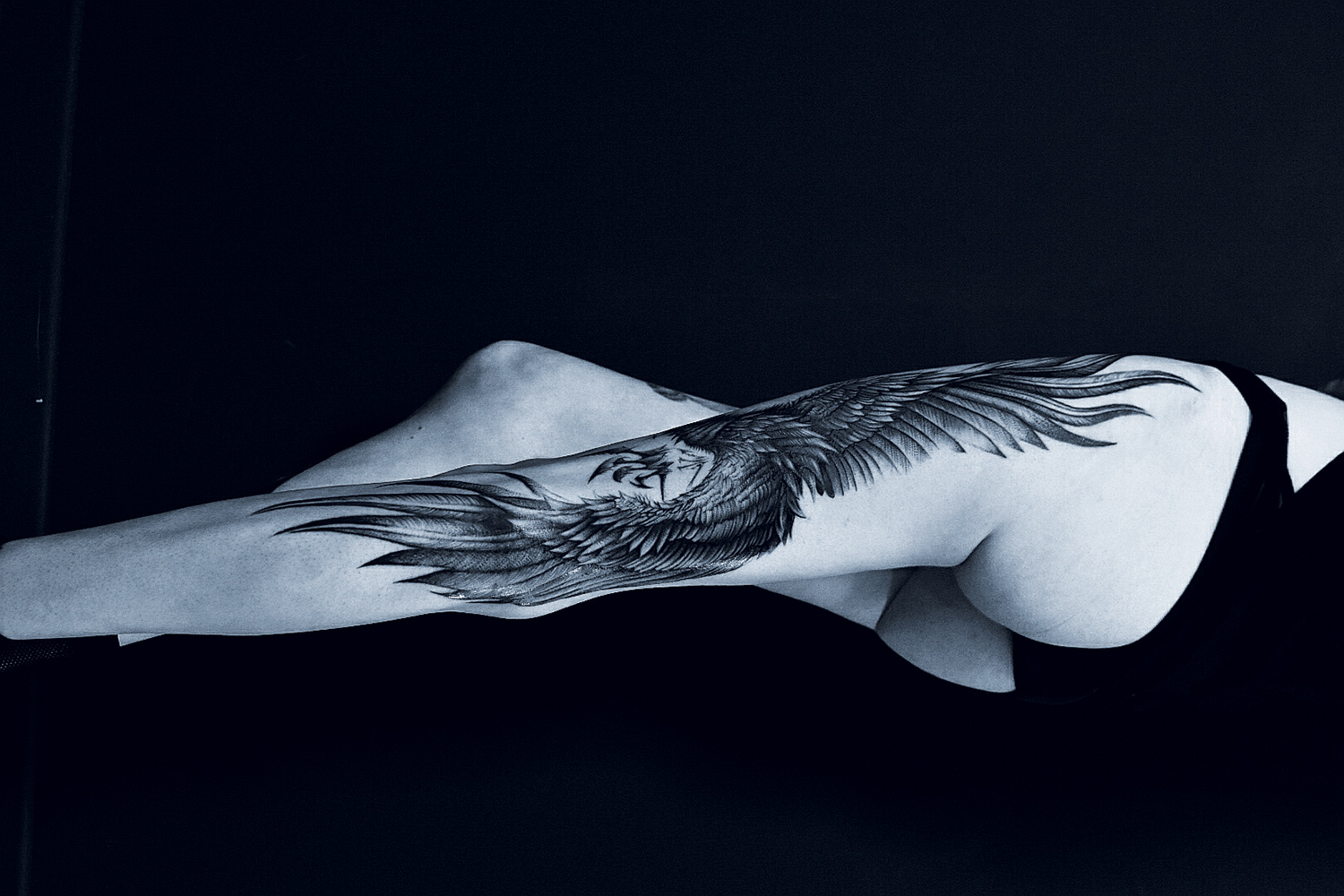 Demonic-looking birds are a recurring subject for Avantia.
Your tattoo art has a lot of dark, esoteric, and natural imagery. What influences your work?
I'm heavily influenced by some artists, as detailed later in question six. 95% of them are dead. I guess I don't really care about the living.
Oh, and I study a lot of ancient civilizations and religion-related books.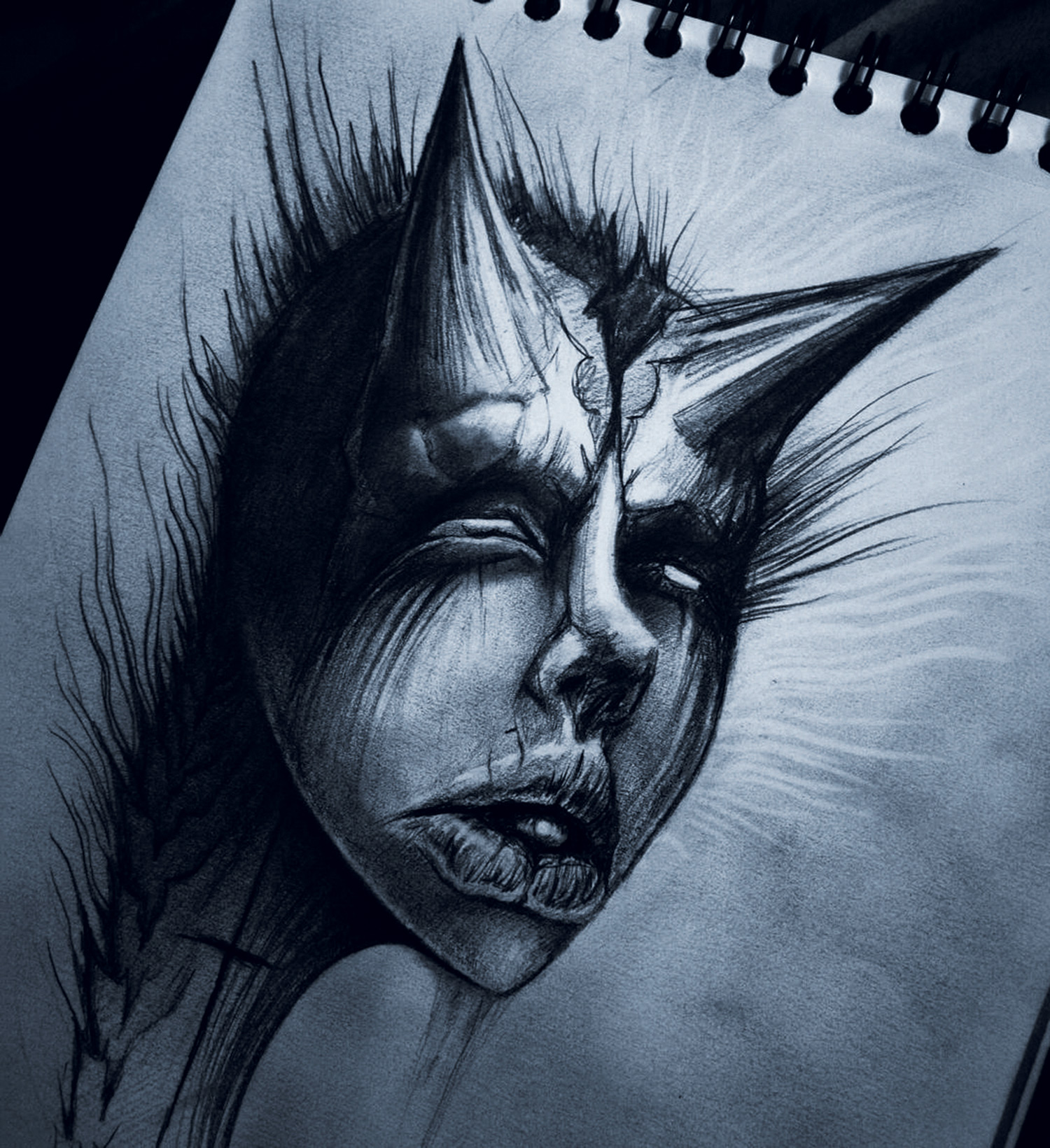 Placide Avantia calls this drawing an "accurate depiction of [her] soul."
Have you always enjoyed creating dark art?
I've been in love with [dark art] since . . . forever. I tried to hide it at first, to fit in at school and such. Then I entered art schools, where I thought it wouldn't been frowned upon; turns out I was utterly wrong. And to be perfectly honest, I still don't get why people freak out all the time about everything. Thanks to the internet, I could find some weird guy—Tony—who genuinely believed my stuff was awesome while no one else did. I was about to stop, [and] he convinced me otherwise . . . and here I am, making a living out of it.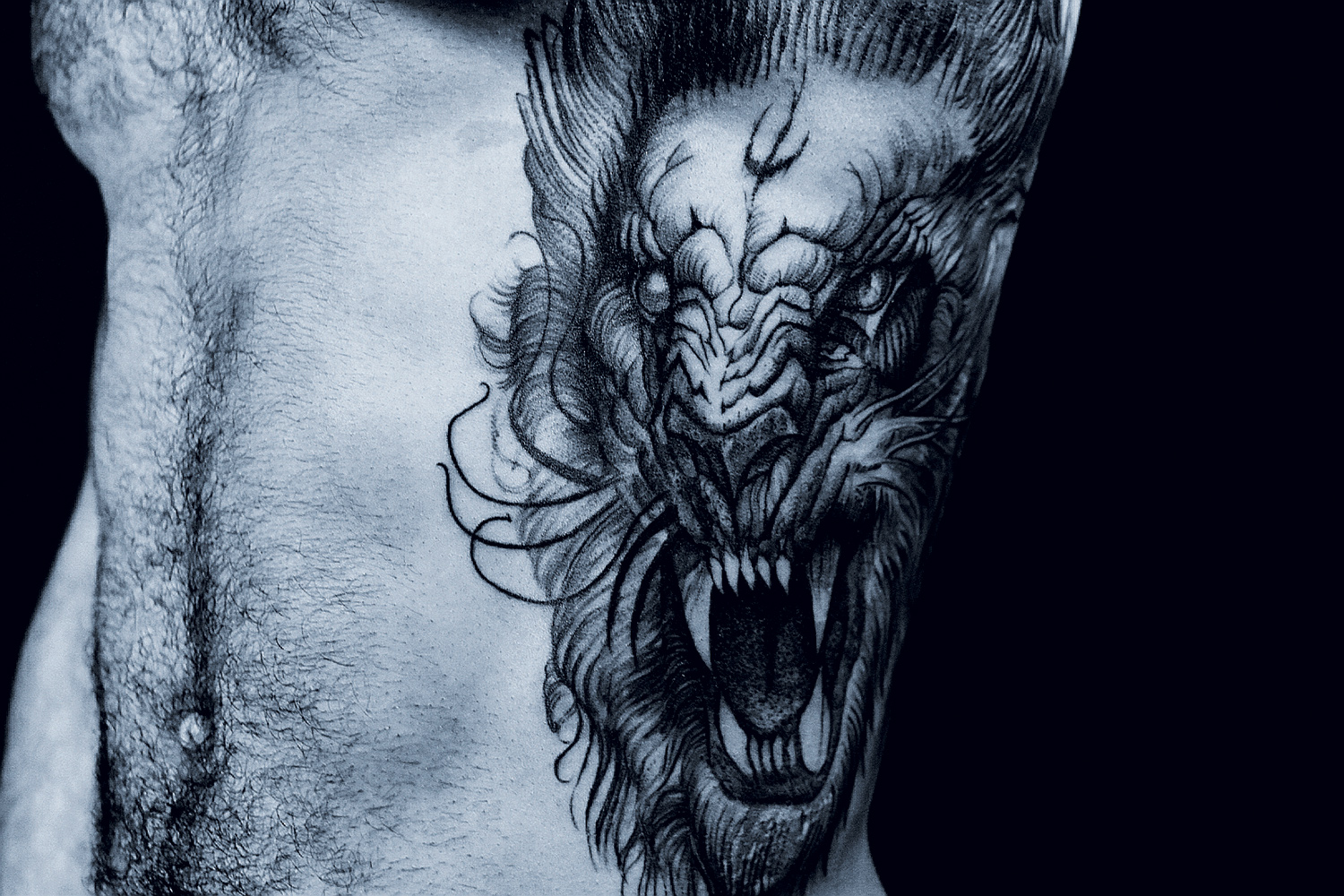 Avantia's creatures often have ancient and literary origins.
The creatures you tattoo are beautifully savage, gothic, hybridic, and demonic/god-like. How do you dream up and create such unique, mystical creatures?
Thanks for the compliment! Animals and nature are such a source of amazement to me; there is harmony [there] I can't find in mankind. People are too focused on what meets the eye, in my opinion.
I try to [find] what makes nature divine and make it shine through my creatures.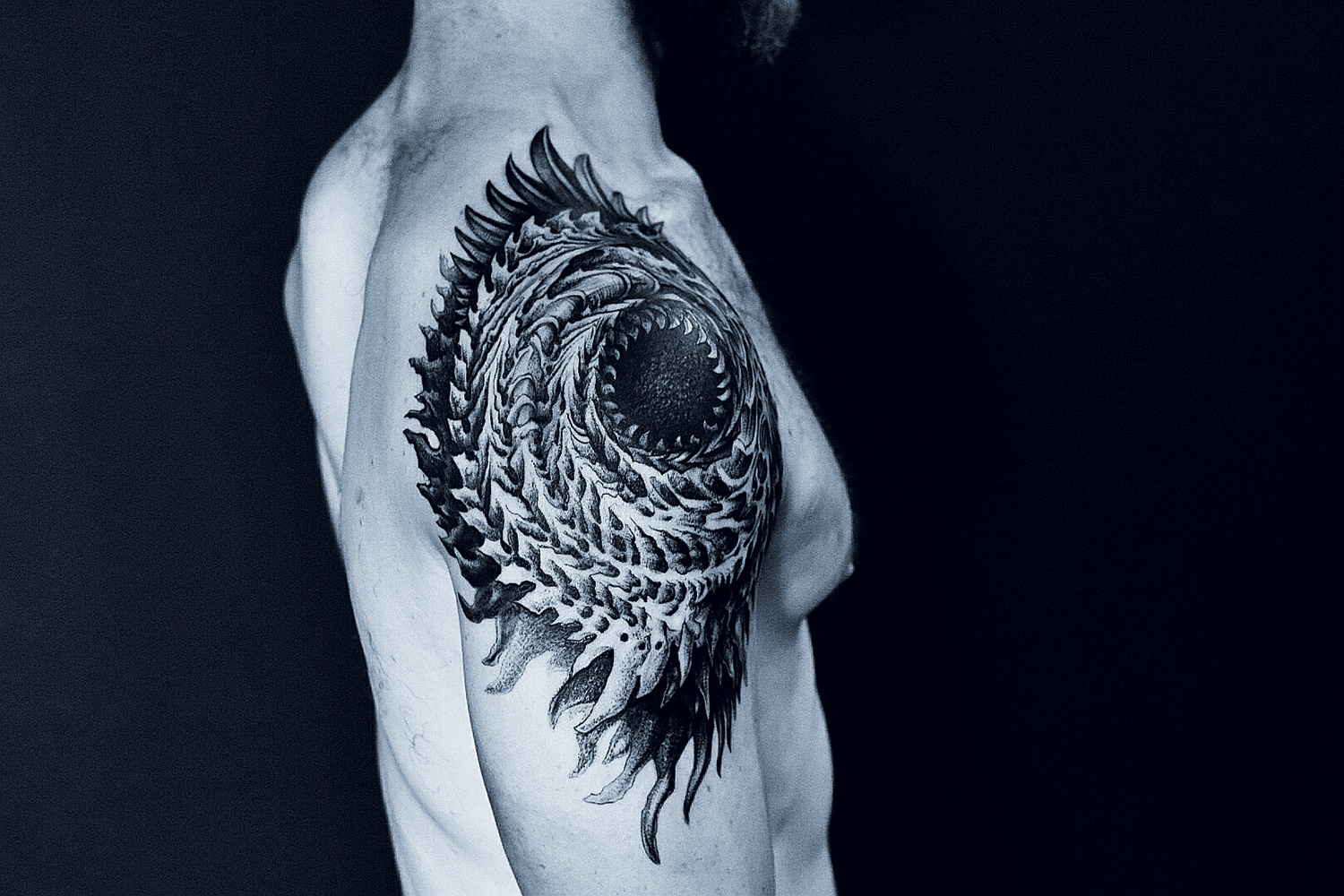 A unique organic space monster.
Which artists inspire you?
I'm into classical art more than modern artsy stuff—da Vinci, Michelangelo, Crivelli, Rembrandt, Rubens, Rodin, Gustave DorĂ©, [and] Hans Memling—but I'm also a huge fan of Giger, Beksinski, Moebius, and Harry Clarke.
Recently, I've been [really] into a couple of Japanese artists' work, such as Junji Ito and Kentaro Miura.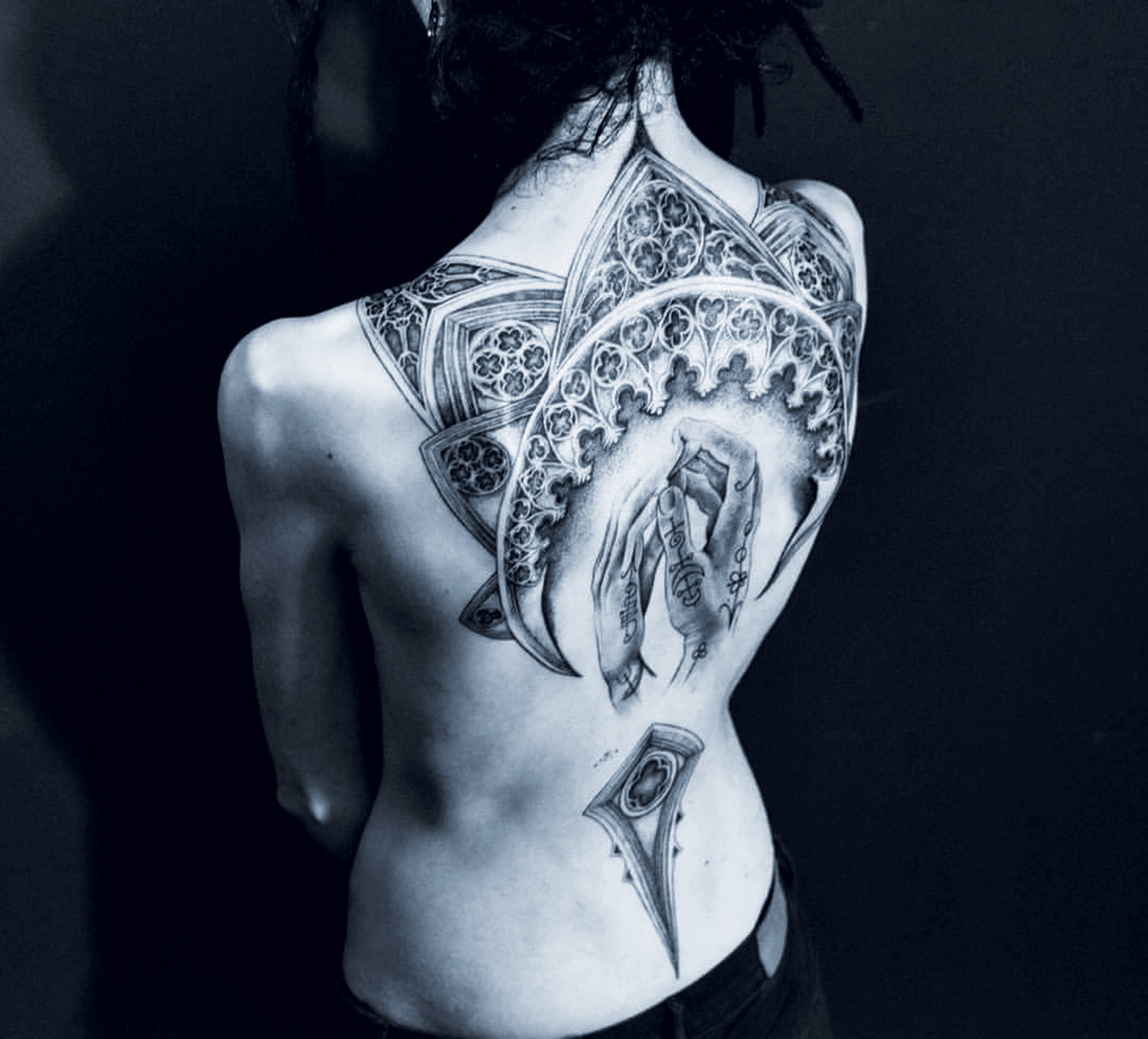 This beautiful cathedral piece was the artist's most difficult tattoo.
What is the most complicated tattoo you've ever done?
The most difficult aspect of tattooing comes mainly from [the clients'] skin/mental reactions to the process.
As for the most difficult piece I've ever done, it was definitely the cathedral-inspired piece with Rodin's hands sculpture (called "The Cathedral") I did earlier this year. The project was meant to be really detailed and symmetrical. I only used single needle bars for the full piece, which made it very long to complete—and hard to endure for the lady, who actually has back deformations, on top of it. I basically poked in some 100,000+ dots. The client and I are both extremely happy with the result, so it definitely was worth it.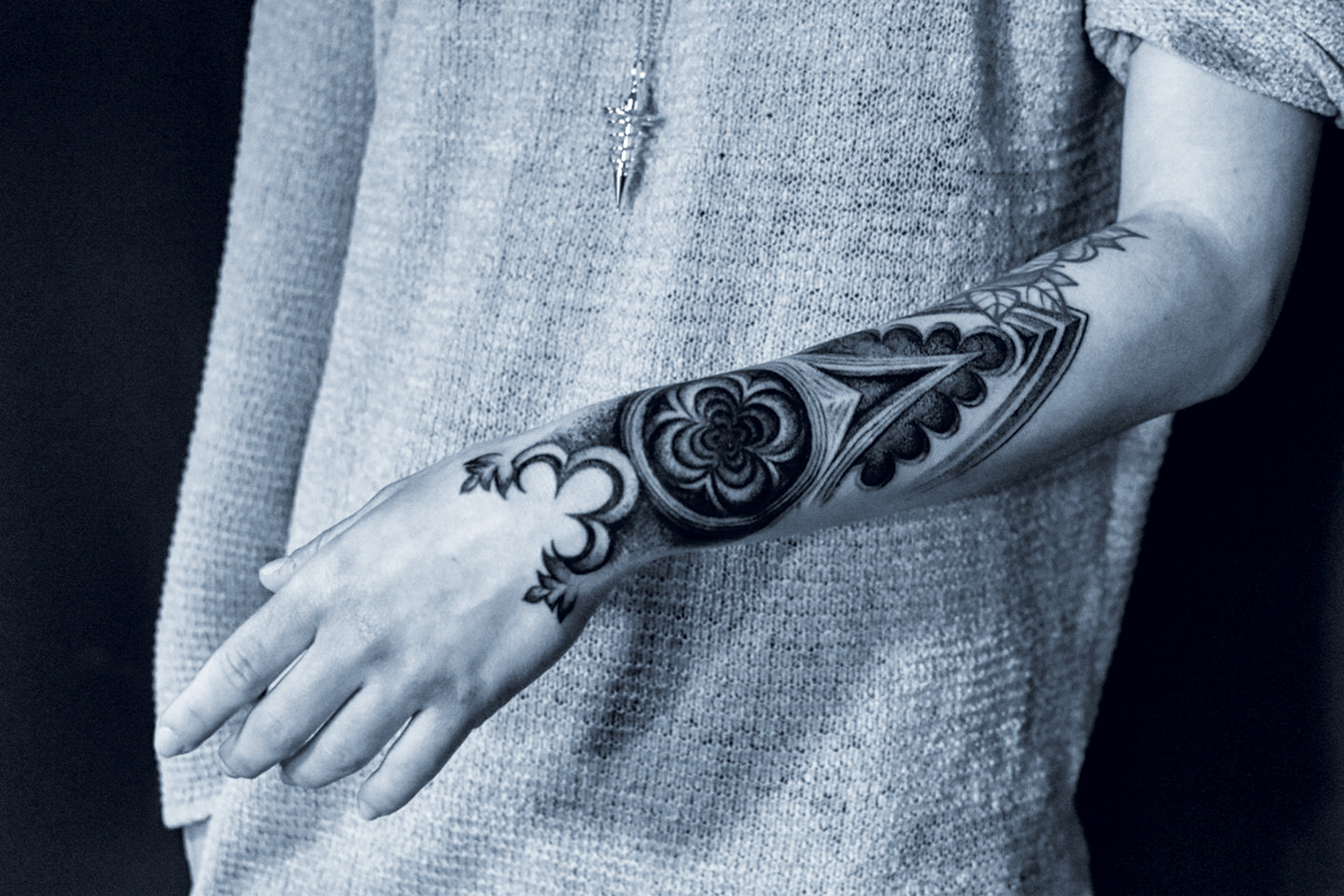 Gothic architecture fits the body like armor.
What are the benefits of tattooing in black ink and grayscale, and have you ever tattooed in color?
I actually love colors. My favourite pieces of art are colorful, such as John Martin's "Le Pandemonium," William Turner's "Light and Colour," Beksinski's "Nevermore" . . . It is probably subjective, but I do prefer black ink for body art, as it looks more relevant and harmonious to human bodies. I like its simplicity, even with with heavily detailed designs. Black ink is more suitable for a lifetime, to me. And that's what I'm working on—creating designs my clients won't get tired of!
Still, colour has its necessity and uses in order to translate a mood, and I've done a very few colored pieces, because I think some designs would lose too much of their meaning/impact otherwise. For example: I did the "Great Wave of Hokusai" using a boatload of blue tones, and the "Hans Memling" painting by Michael Hussar with a colored face.
What kind of ink do you use?
The most simple kind (no bullshit): just solid black ink. Oh, and it's vegan, too. I don't use animal-harming inks.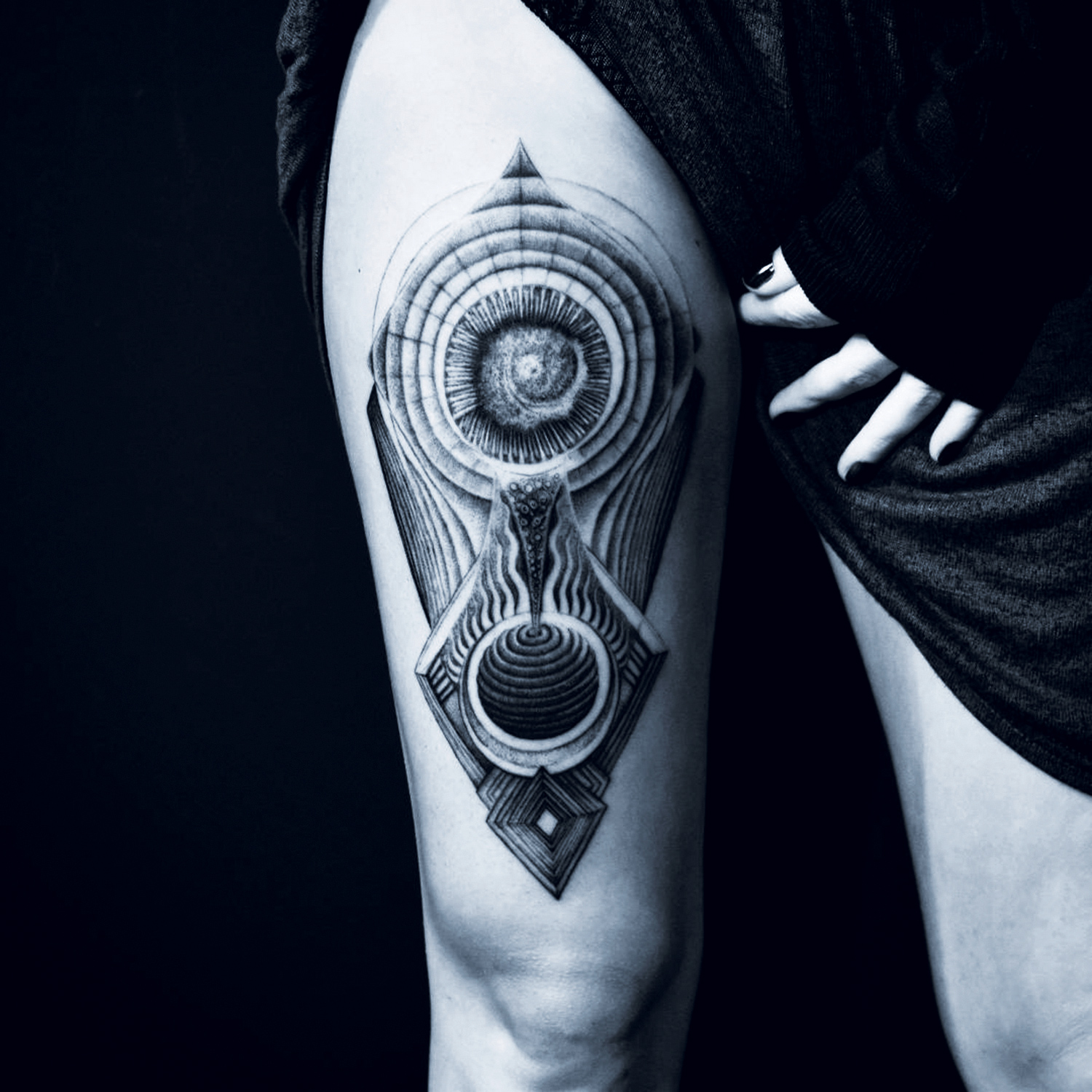 Architecture and space mix in this mind-blowing leg tattoo.
What are your dreams and ambitions for the next year?
My partner in crime and I actually have just opened a new space, right under to the other one. It is different because it is directly in the street and has a shop front. So you can just walk in and take appointments, buy our goods, and geotag yourself in your selfie so everyone knows you're cool. The concept is more than just illustrations stuck everywhere in our studio—it's about total design. We're now selling handcrafted goods as well, such as jewellery, props, decorations, and other diverse, bizarre things. And we're working on seriously stepping up our clothing line.
The main challenge of 2018 will be to find bearable souls who love hard work and want to join us in order to do more, better, and greater things.
Images © Placide Avantia