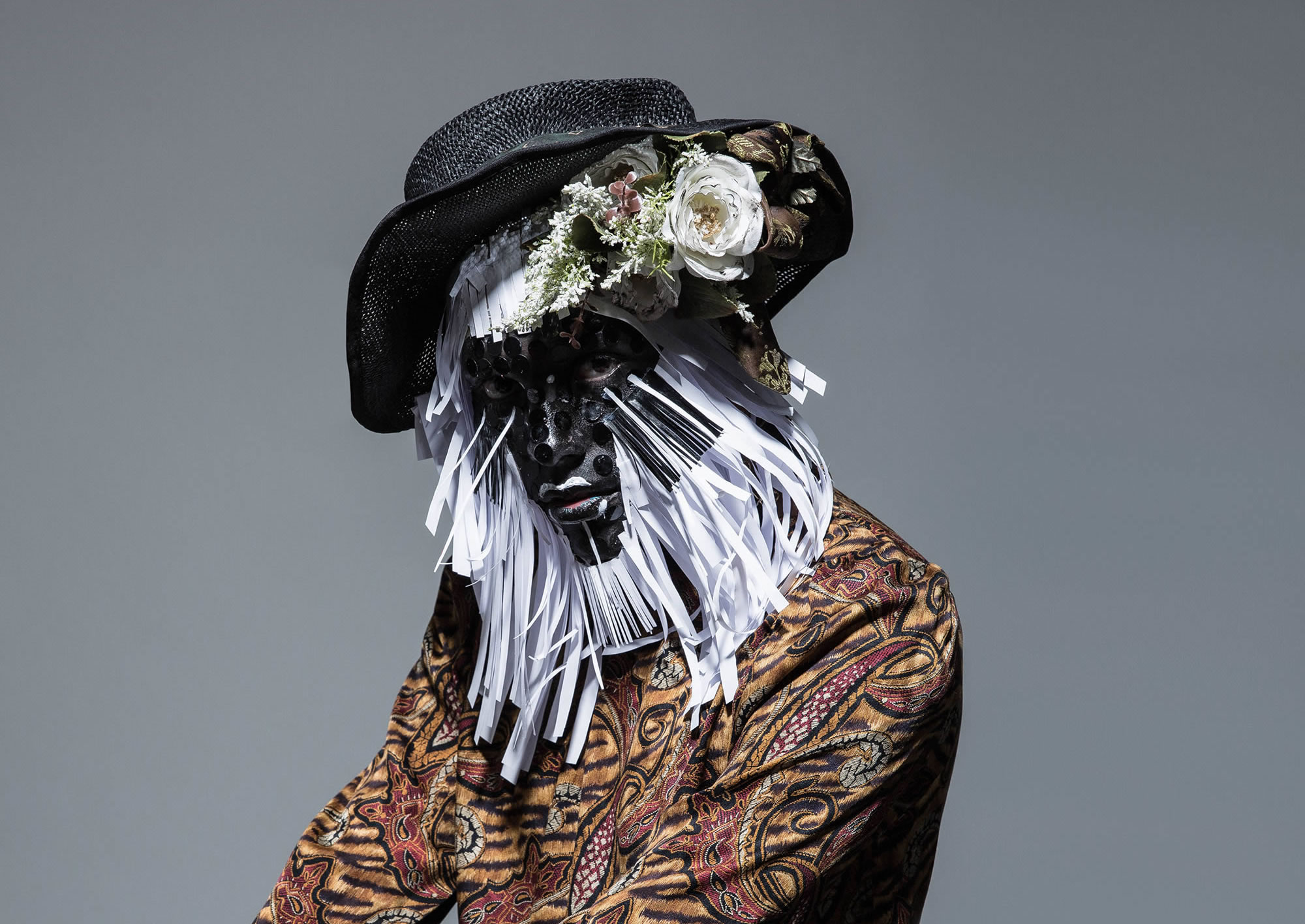 Reader submissions for 2016 ran the gamut, from tattoos and hyperrealistic drawings to sculptures, music videos, fashion shoots, documentaries, spray painting, murals, and photos that resemble past-century paintings. Photography made a strong showing this year. Choosing only 10 meant leaving a lot of impressive work off the list.
The selection was based primarily on typical criteria such as composition, creativity, originality, innovation, and technique—and readers' reactions to the artworks on social media also informed the decision-making process. In the end, with so much creative variety, it also came down to execution and emotional expression. This year's top 10 cover a range of media and formats, and they all stand out from the crowd.
Above: Alma Negrot goes all out with a unique style of performance art.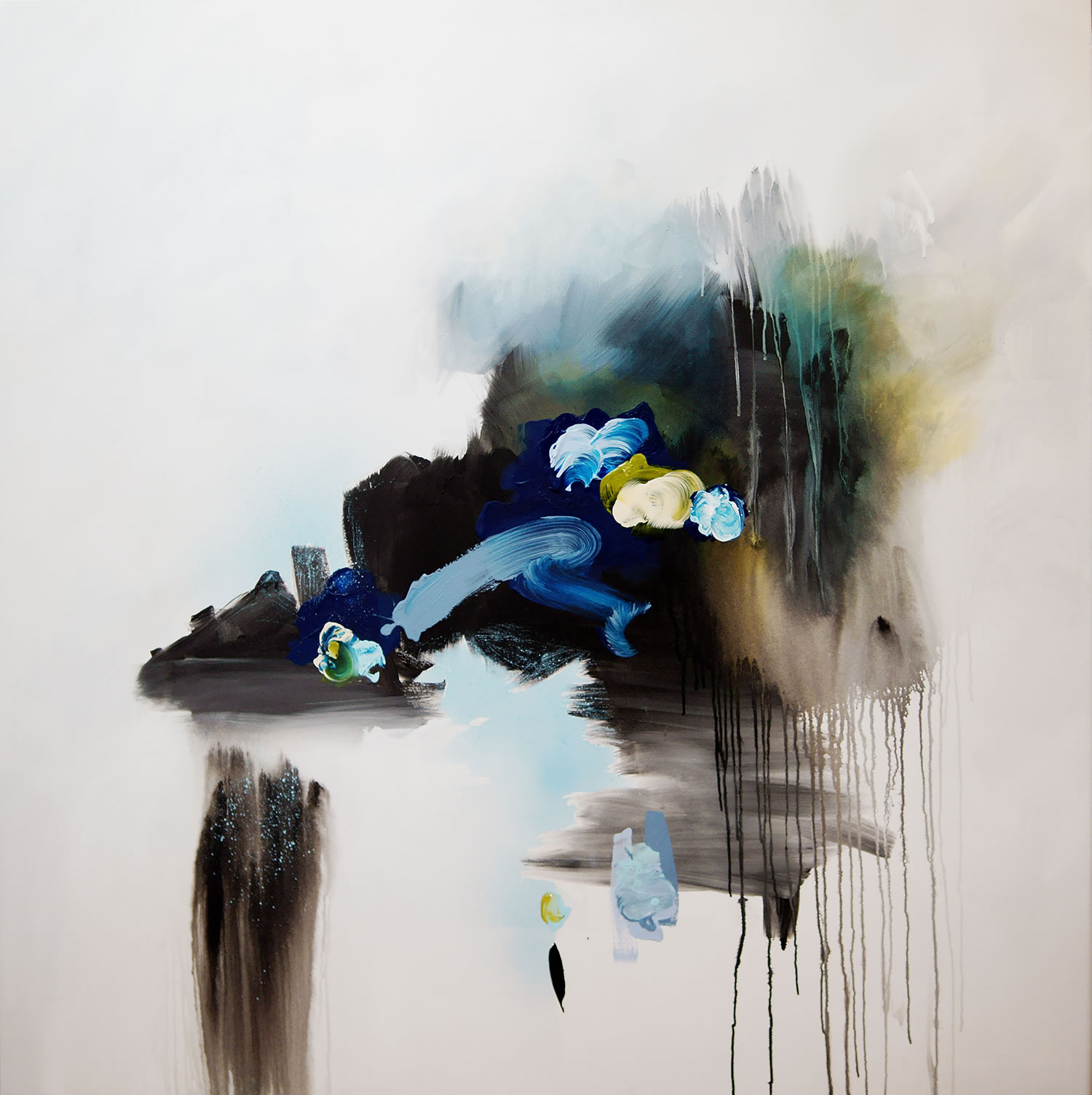 "Blueberry & Lime Sorbet," a mixed-media painting on canvas, highlights the artist's gestural expressionistic style.
10
Sylvie Adams
Trained as an architect, Sylvie Adams had a career in the design field before turning to painting as a vocation. Her gestural style is straight out of action painting and color-field painting, modes of Abstract Expressionism exemplified by Jackson Pollock and Mark Rothko. Based in Montreal, Canada, Adams has work on exhibit all over the world. This canvas, she says, "seeks to transmit, by gestural mark-making, moods that are rich in emotions. Resulting from those are landscapes with paradoxical forms, whose borders are both defined and denied. The interaction between forms and colors speaks of a tumultuous inner life."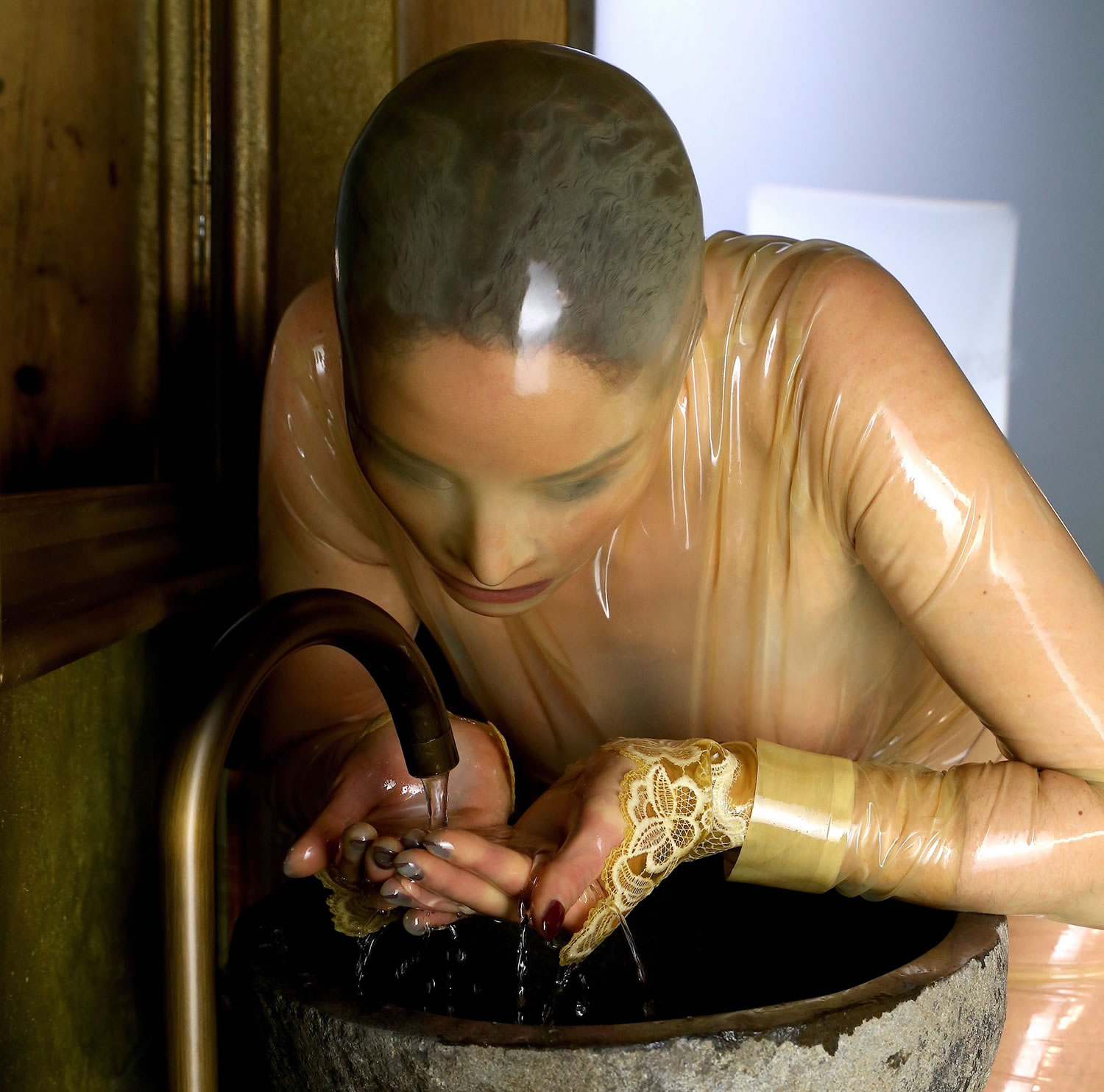 An image from a photographic series titled "Elixir" focusing on the magical beauty of water.
9
Frank Miersch
Femininity, sensuality, and a desire for something unattainable inform Frank Miersch's starkly suggestive photographs. The images are highly stylized and meticulously designed. For the series "Elixir," this German artist takes off on the idea of water as the elixir of life, a magical liquid to be desired. In this photo, he describes its interaction with the model as "Soft and unstoppable, slipping through her fingers. … Longing for the elixir, she becomes pure beauty."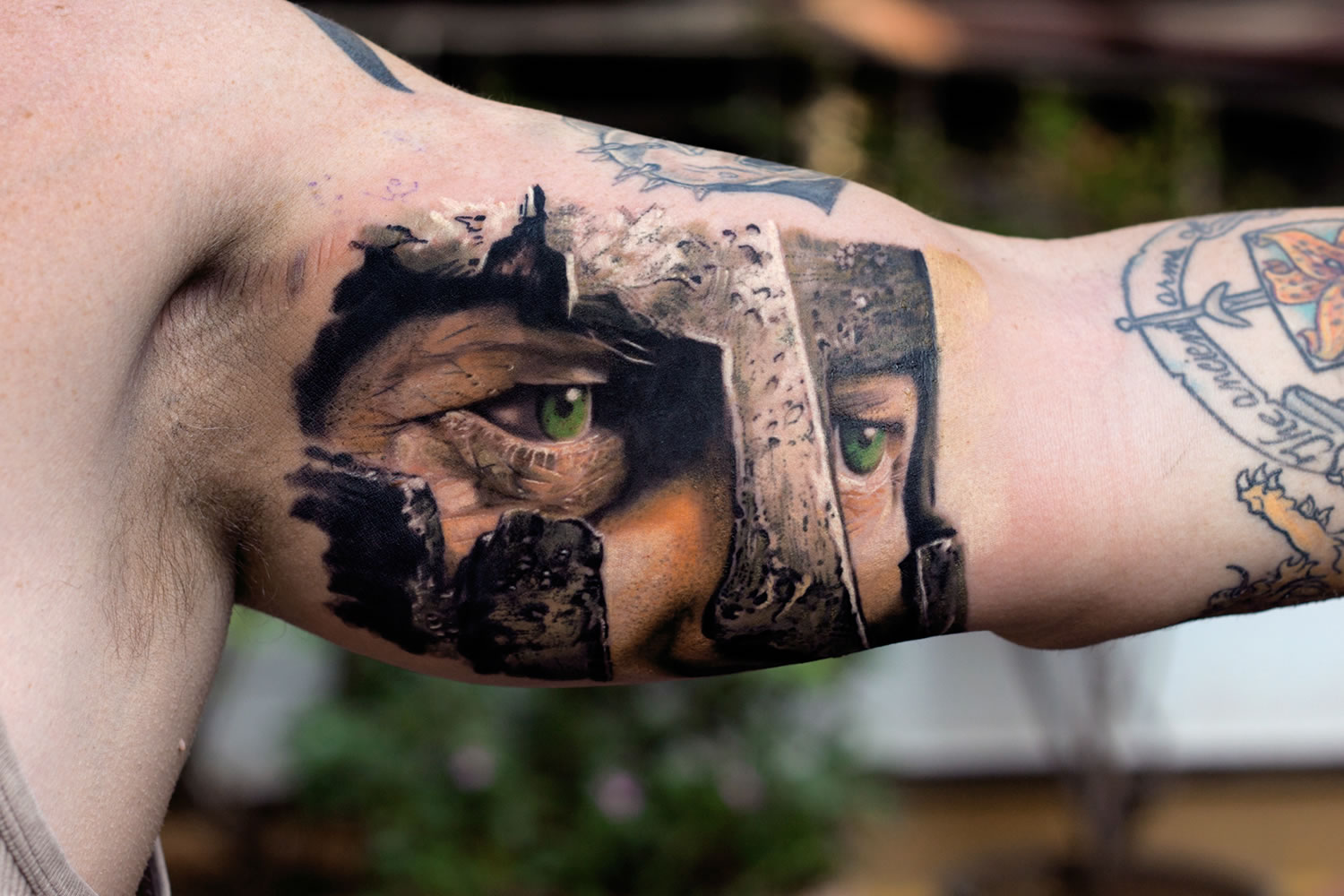 A Spartan warrior's penetrating gaze radiates from this biceps tattoo.
8
Sunny Bhanushali
Extreme hyperrealism is Sunny Bhanushali's stock-in-trade. He's the driving force behind the highly rated Aliens Tattoos in Mumbai, India, where a dedicated, creative team specialize in portraits and realism, everything from Hindu dieties to animal faces to this commanding Spartan warrior. Based on the client's idea and using his face as the model, Bhanushali "did a photo shoot with him to get the right facial expression and added dramatic lighting to make it more cinematic," he says. With the chosen image and the film "300" as a visual reference for the helmet, he made a digital painting for the final design.
"The Dream" is a surrealist expression of one woman's subconscious journey and awakening of spirit, in the form of dance.
7
Javiera Estrada
Javiera Estrada, a Mexican-American artist living and creating in California, is more than a visual artist. In addition to being a mixed-media photographer and filmmaker, she's a classically trained pianist and violinist. Her work is based in a very personal spirituality and delves into the dream realm, the inner life of the mind. On her website, she says, "I believe that every piece of art created is a self-portrait, a physical expression of that inner world that is nameless; the part of ourselves that goes beyond our thoughts and self-created paradigms."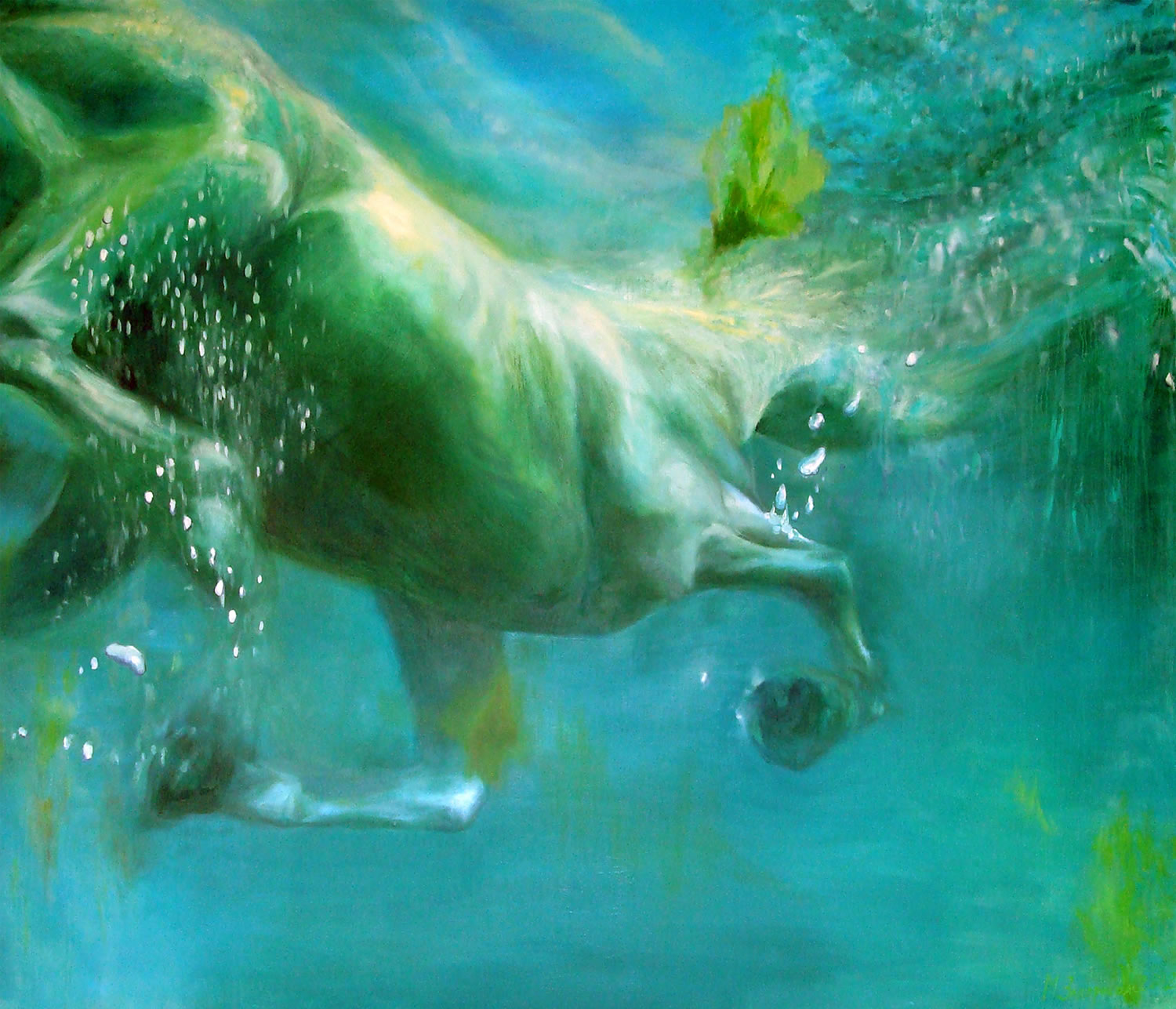 The unusual perspective of "Underwater I" pulls the viewer right into the scene.
6
Miroslava Zaharieva
Miroslava Zharieva is a Bulgarian painter with a growing portfolio of expressive work. This painting, a simple, evocative, and beautifully executed image, resonated with many readers. She describes it as "a horse expressing incredible movement in a surreal environment. This powerful animal feels absolutely at ease in water. This horse quickly found its sea legs before taking a dip."
Captivating upbeat music meets gruesome imagery in this engrossing video.
5
Onionskin
Onion skinning, a layering technique that allows animators to see many frames at once, originated with traditional hand-drawn animation using thin translucent paper known as onionskin. Here we see the cartoonishly macabre work of Onionskin, an animation collective making fresh use of the term. This short piece is a music video for the song "lilac (bombs Jun Togawa)" by Vampillia, a Japanese band, from their album "The Divine Move." The anonymous members of Onionskin call it "a girl's death and dream." It's not for the squeamish.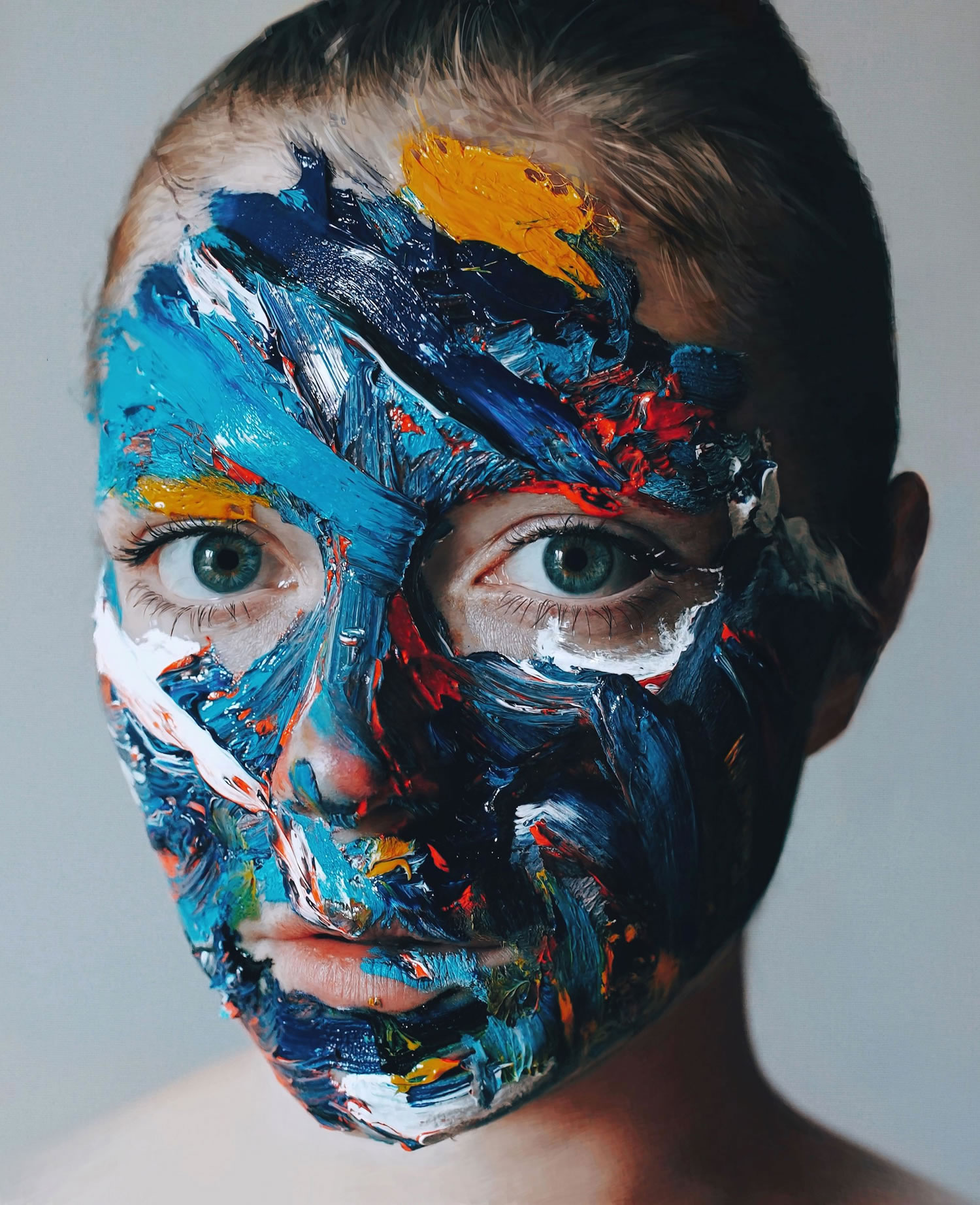 "A Portrait of Olya," the artist's first hyperrealistic painting, is a meta mashup of genres, combining photorealism with abstraction.
4
Antoine Dutilh
A freelance photographer and illustrator, Antoine Dutilh branched out into painting and took on a new artistic identity, MORI, as a way to express more personal creativity. Having done some realistic portraits, this driven artist decided to tackle hyperrealism. In a blog post from February, Dutilh says of the genre: "It's hard to figure how far you want to go in terms of how realistic you want it to appear. You can really lose your mind trying to put as much detail as possible and not knowing when to stop. … It was a genuine mental challenge of patience for me."
Watching "David Carson—All For a Few Good Waves" is like taking a tiny tropical vacation with a super-chill dude.
3
Dress Code
In their short documentary on the surfing life of legendary graphic designer David Carson, the guys at Dress Code take us on a luscious tropical getaway. Before his highly successful design career, in the 1980s, Carson was a world-ranked professional surfer. The film looks at his continued passion for surfing at his vacation home on the Caribbean island of Tortola, with gorgeous shots in the clear blue water and lots of reminiscing about career highlights. Dress Code, a New York design/film/animation partnership, has developed their own solid reputation, with some high-powered clients in their portfolio.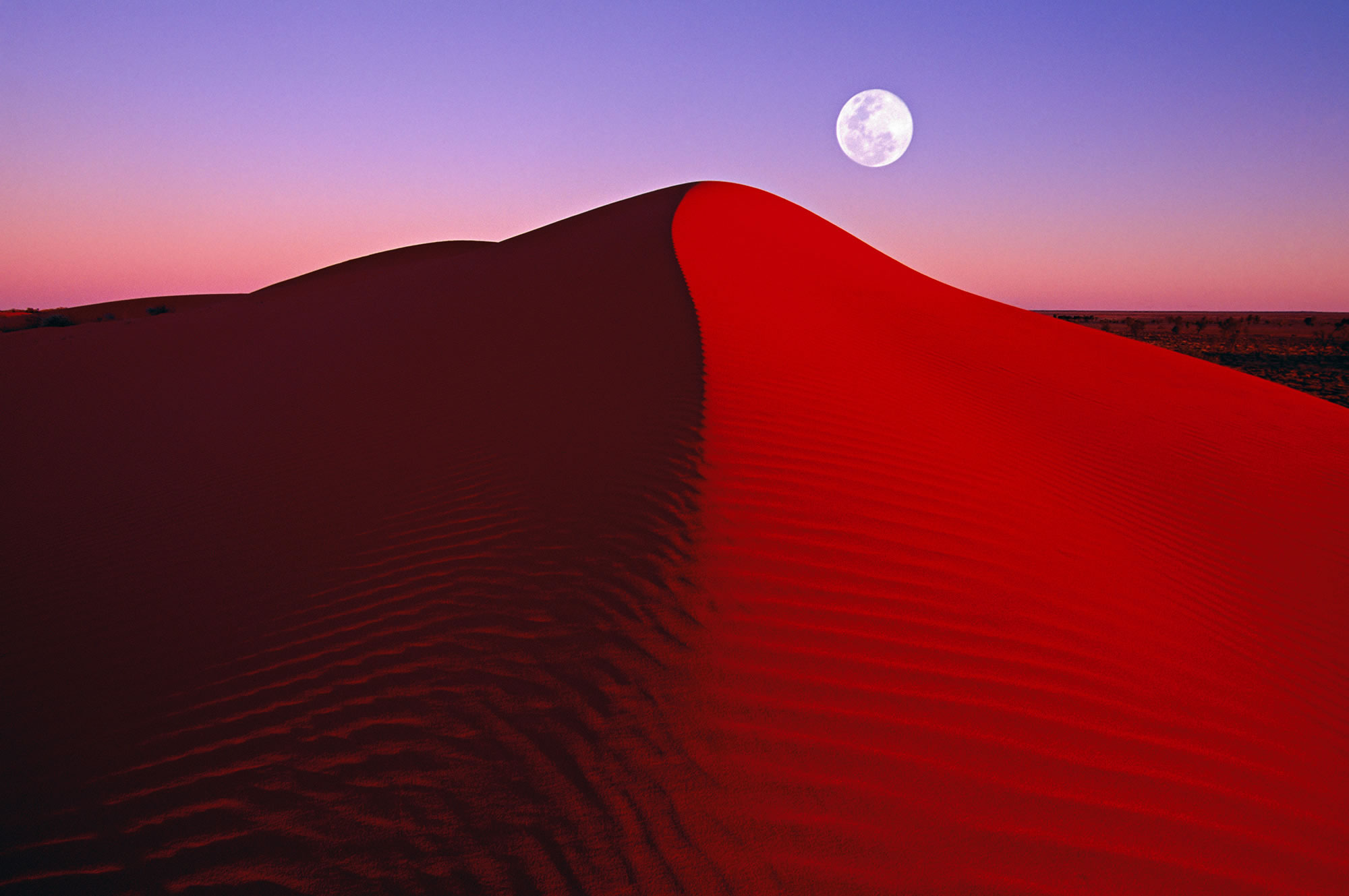 "Lunar Fringe" captures a vivid moment in the Simpson Desert, Northern Territory, Australia.
2
Peter Lik
From his native Australia to all corners of the globe, Peter Lik has established himself as an accomplished photographer. Specializing in panoramic views, he's been capturing stunning images of the landscape, both natural and man-made, for more than 30 years. When asked to describe what he felt when taking this photo, he said, "In the chilly desert evening, I watched enraptured as the moon appeared on the horizon behind this perfect untouched dune. As day turned into night, I felt truly privileged to witness this silent, beautiful changing of the guard."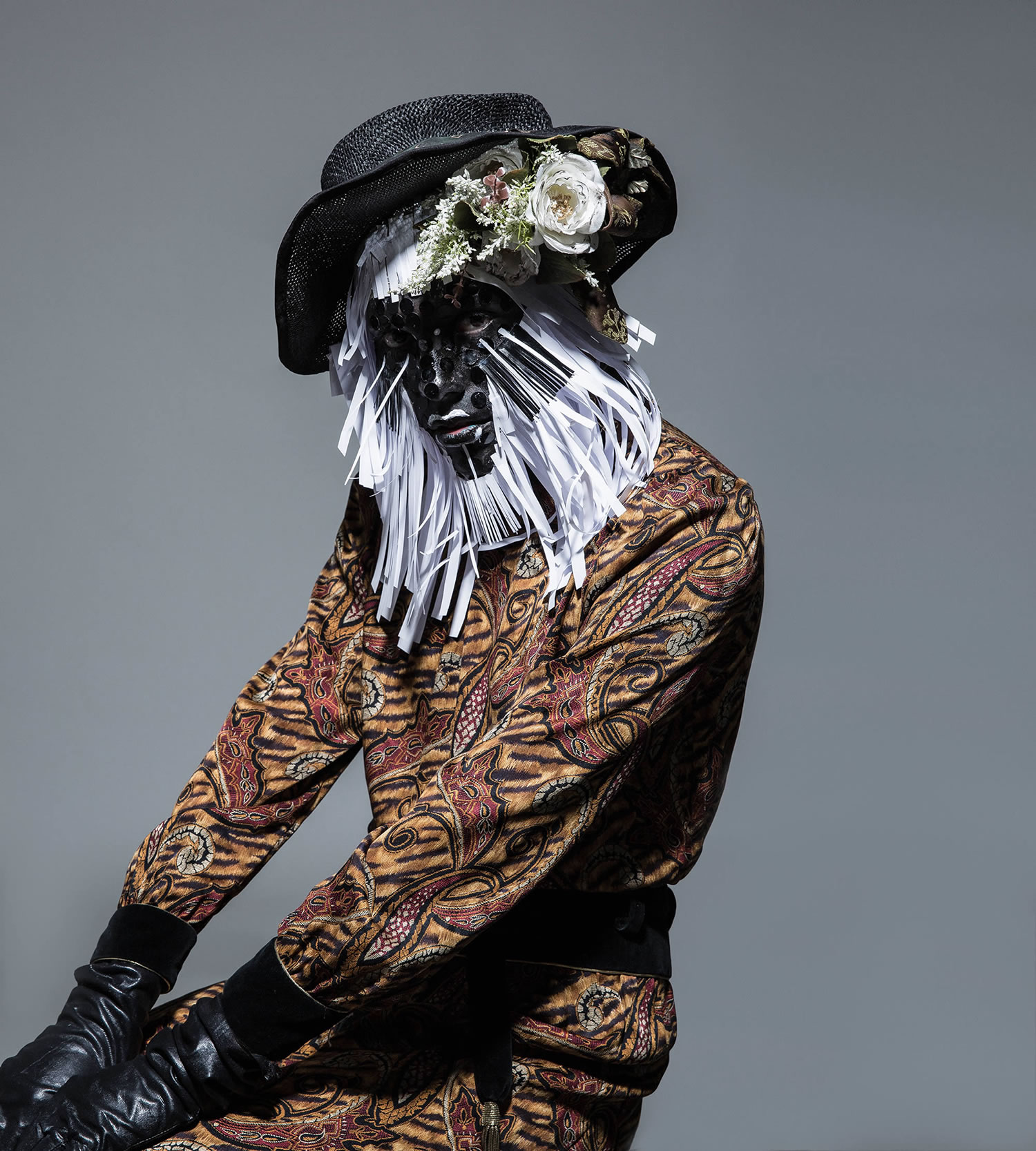 Pushing boundaries is what this artist is all about. Makeup and performance by Alma Negrot, photograph by Pedro Loreto.
1
Alma Negrot
In the artist's own words, Alma Negrot is a "cyborg voodoo queen." This Brazilian performer and makeup artist creates characterizations with simple materials such as paper and garbage, blending the beautiful and the grotesque, embodying fantastic characters that go beyond the boundaries of the body and gender. For Negrot, dressing in drag means transformation, experimentation, exploration, discovery. It also means having the courage to pursue one's desires and dreams in a world that doesn't accept differences. Asked in an interview about the popularity of drag art, Negrot said it's "a phenomenon that makes you think about gender issues. People are liberated to experience their desires and to do more, something that did not happen some time ago." This image, selected as "Pick of the Year" among reader submissions, highlights the artist's unique combination of outlandish makeup and costumes with extreme performance art to make a distinct impression, and it receives the 2016 Scene360 Award.
Images © respective artists.