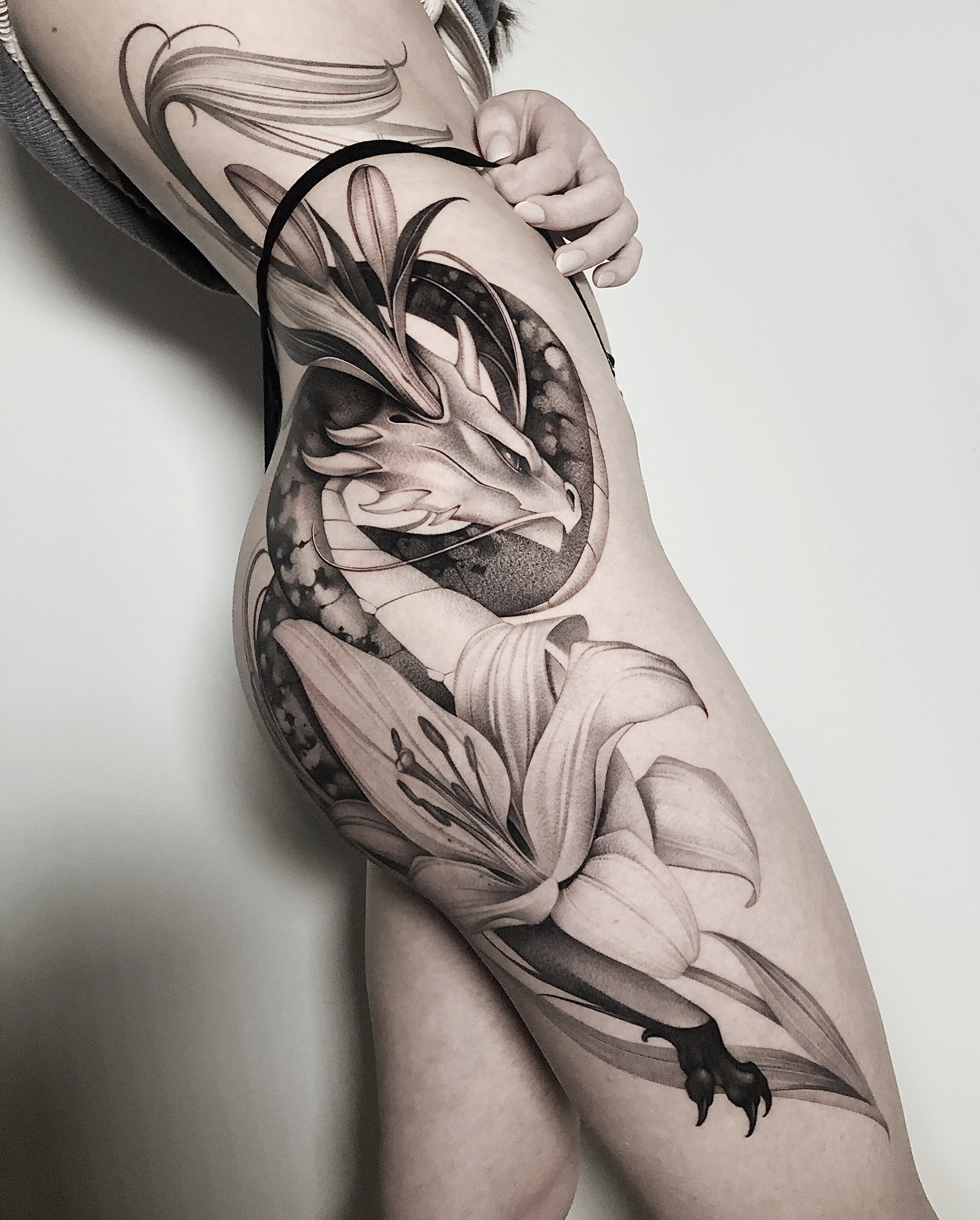 Born in Russia in 1989, Ilya Kuznetsov worked at an Italian fabric store after earning a degree in costume design from Smolensk State University. A tattoo artist friend urged him to use his drawing skills in the tattoo industry as he barely made ends meet. Self-taught in this new discipline, Kuznetsov began taking tattooing more seriously in 2014. Dot-by-dot shading with predominantly black ink and white accents; sketch-like lines characterize his compositions, and he adds the "Kuznetsov touch" to each image. Although the subject matter ranges from mythical creatures to Matryoshka dolls, the visual style remains consistent.
Above: The dragon may symbolize power and change, while the lily may represent purity and innocence.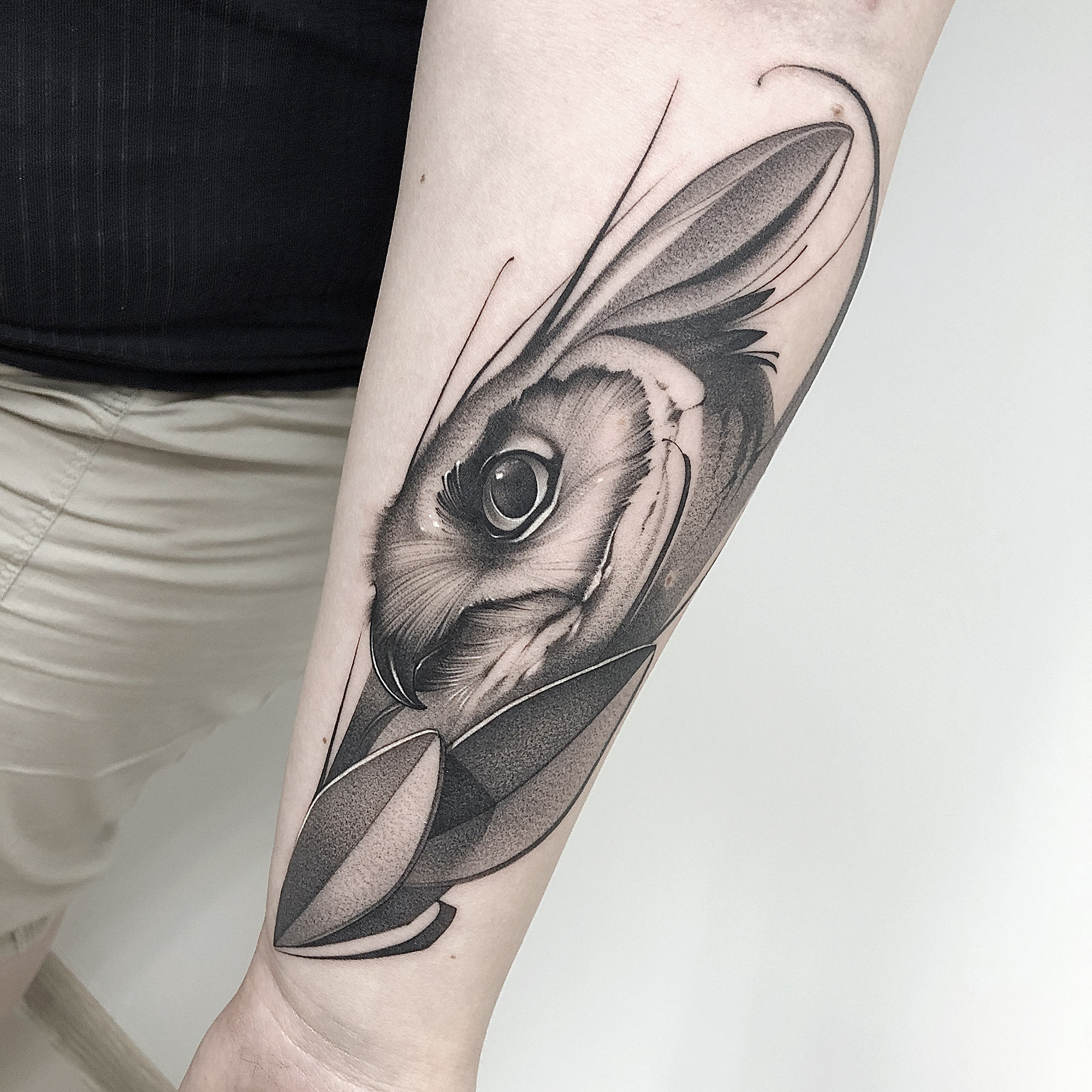 An owl customized in the "Kuznetsov style."
Given that each tattoo you create consists of thousands of tiny dots, would you describe yourself as a patient person?
I'm very calm and patient, so it's easy for me to spend a lot of time on each project.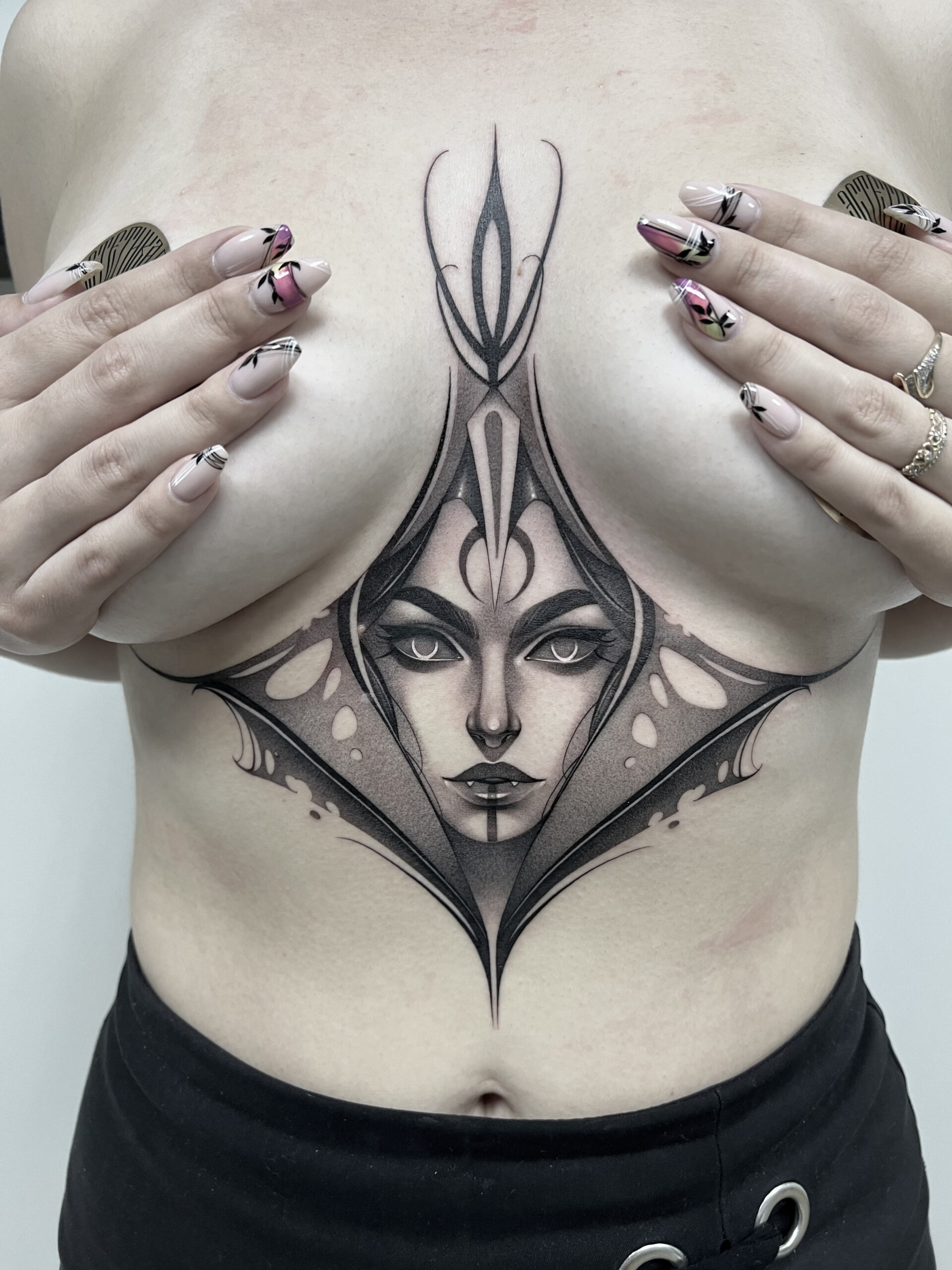 Each of the artist's tattoos has excellent placement and stippling shading.
You are highly technical; to do stippling this accurately is impressive. The work is so clean and precise. Who or what art pieces influenced you to develop your distinctive style?
I need to learn more about art history; I'm not drawn to historical artists, and they don't inspire me. The main influence came from other tattoo artists like Alex Sorsa, Cristian Casas, Jamie Ris, Emily Rose Murray, Sasha Masiuk, and I was interested in watching and analyzing their work. In addition, I came across exciting digital art of Wlop, Guweiz, Zeenchin, and others in various spaces that I kept looking at in detail later. So I experimented with drawing and tattooing in new ways, trying to find new forms.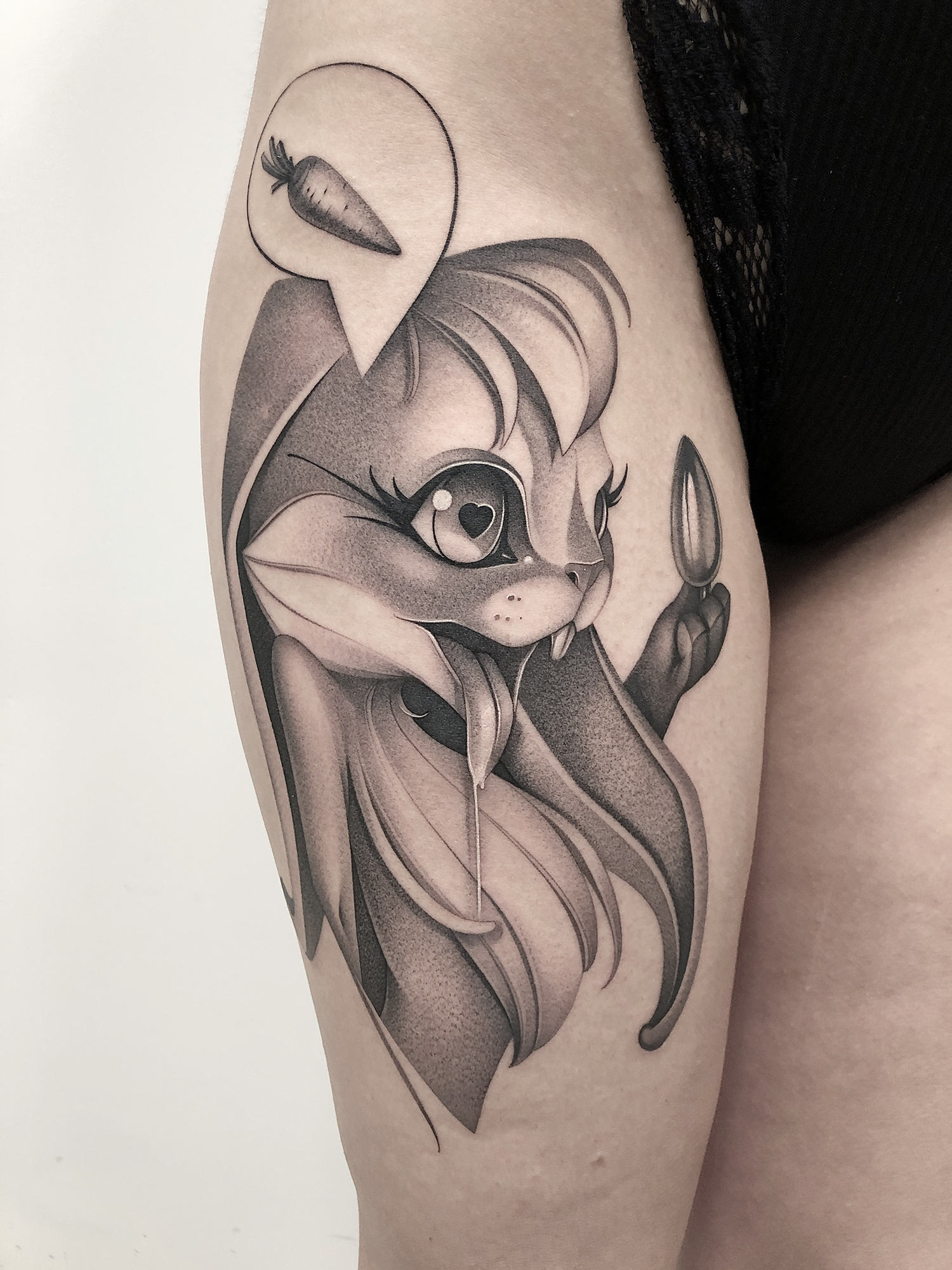 Given the scale, use of negative space, and skill of Kuznetsov's work, it should age well.
Why black ink and not dots in another color?
I used to work in color, but when I decided to focus on black and white inks, I realized I was better at monochrome, so I ended up working on it more. It was probably influenced by the fact that I was educated as a fashion designer, and black and white tattoos, in my opinion, are more versatile in combination with clothes; there is no need to think about what to wear so that the colors of clothes would be combined with tattoo colours. That is one of the advantages of my tattoos.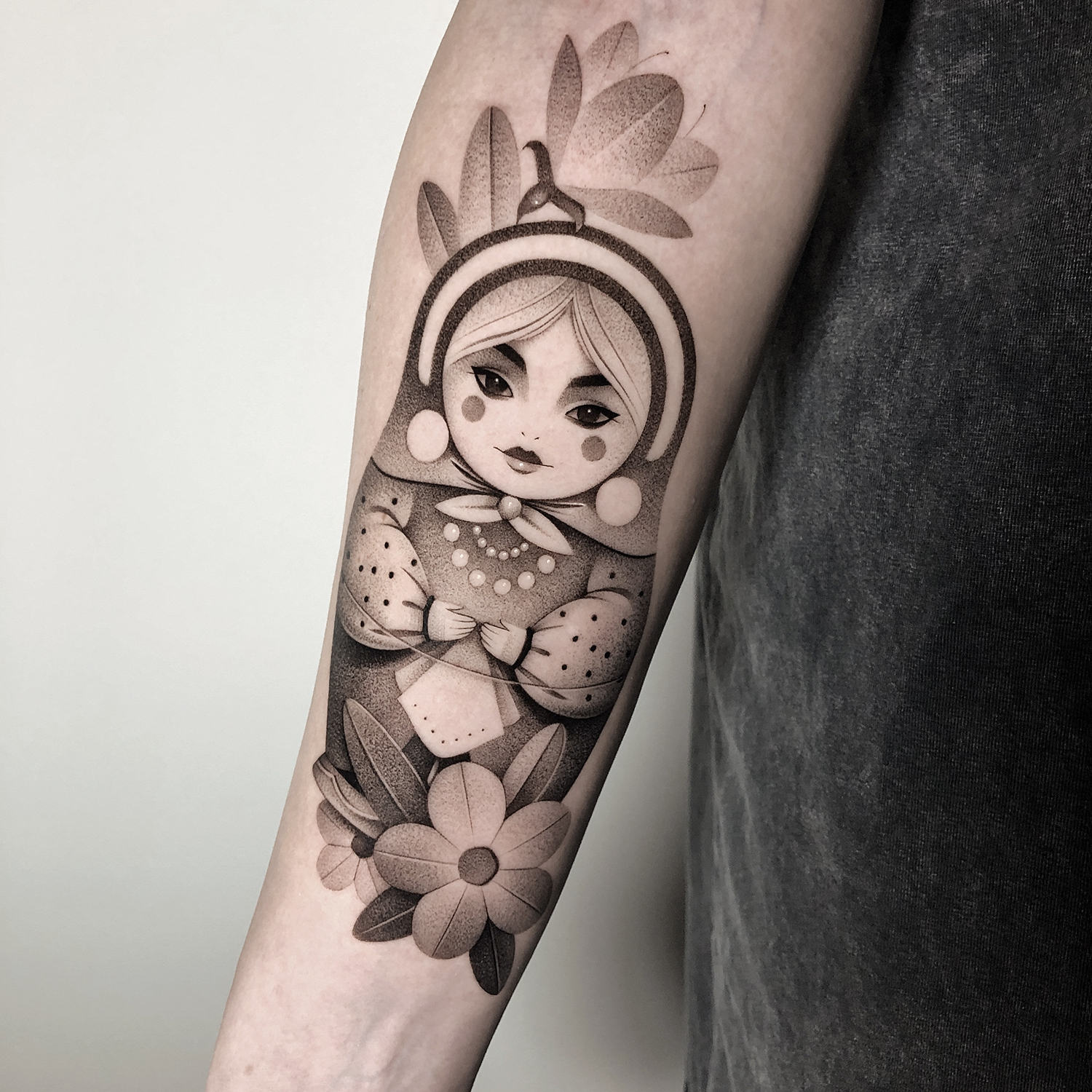 The detailed Russian nesting doll is shown on the client's arm.
Looking at the Matryoshka on the client's arm above, how long did that take?
The work started at noon and ended at 7 p.m., taking about 7 hours to complete with all breaks.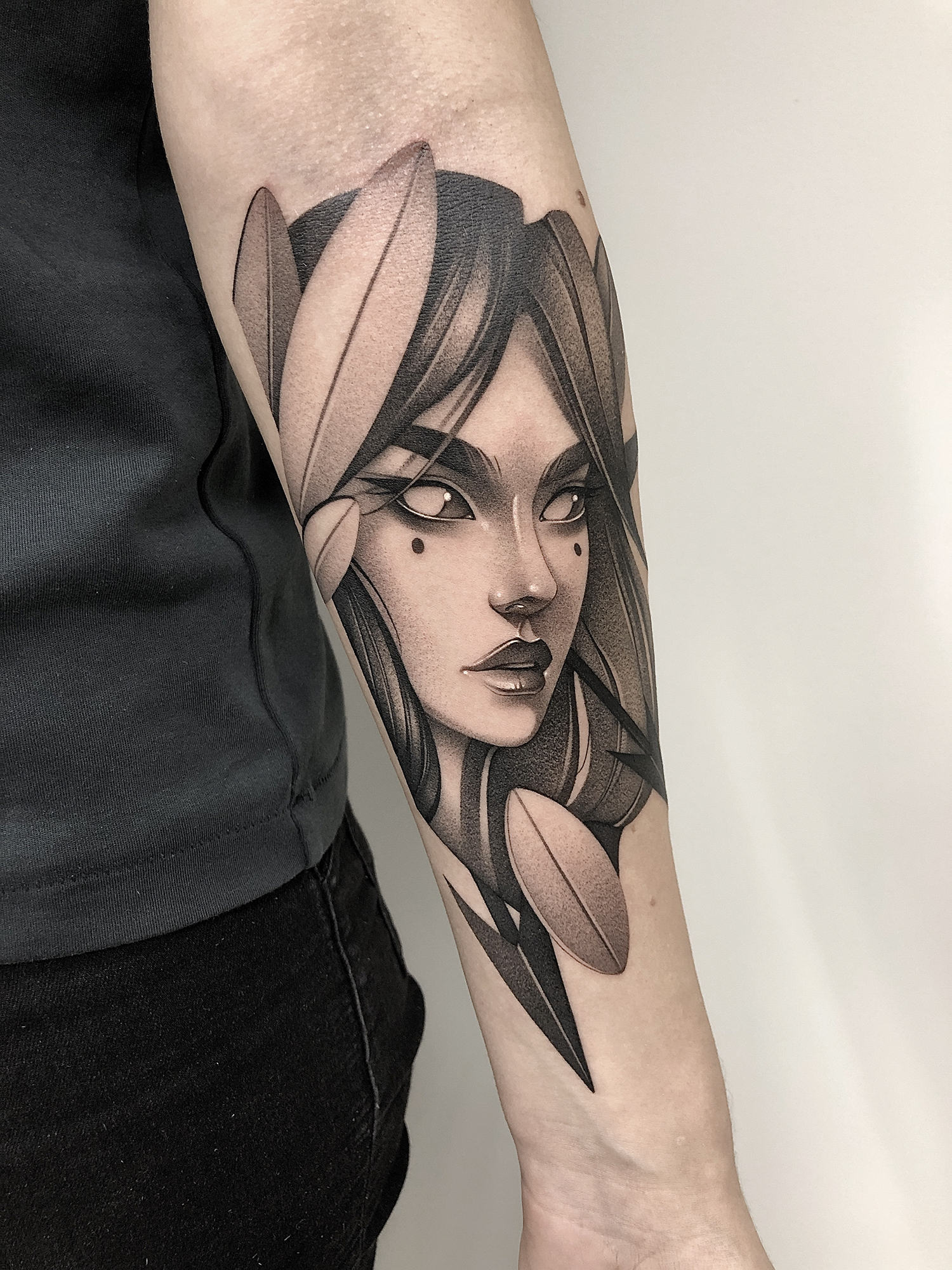 Kuznetsov emphasizes the eyes and lips in his human or fantasy portraiture.
That is one of the few Russian-related themes. Your work is diverse in terms of what clients request from you. Are you open to all themes as long as they are within your artistic style? Or do you have preferences and criteria?
I can draw many subjects in my style and have diverse work. In terms of imagery, I am always open to new ideas. My art style must suit the client, and they can trust me at the (sketch) development stage. Because if the client asks me to do exactly what they see in a photo they brought in, I will refuse to work with them. I need to make my sketches for the client; I base them on their initial suggestion and take it from there to my envisionment. Trust between the client and the artist is necessary.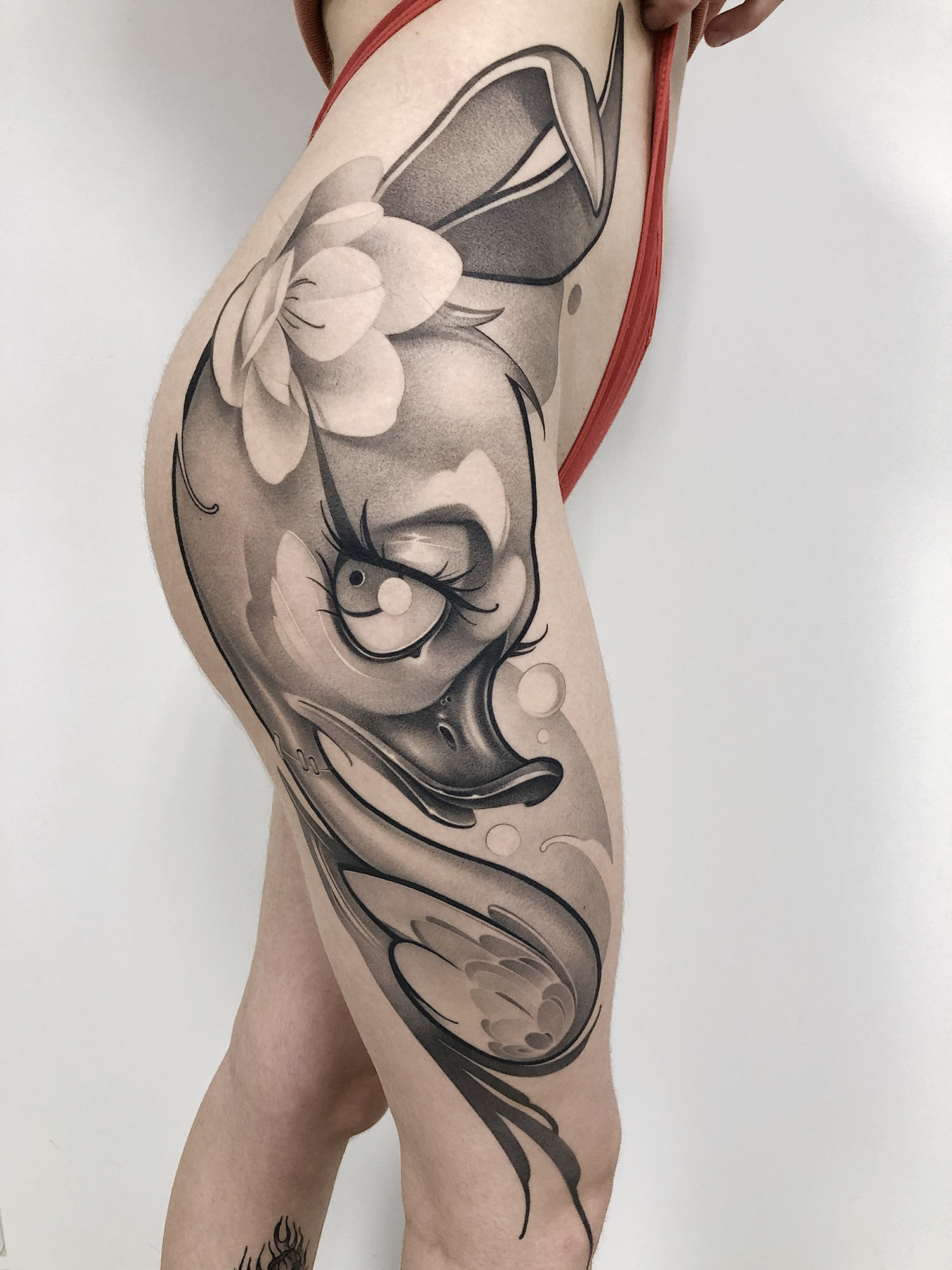 This cartoonish duck incorporates contrast and movement.
Do you have foreign clients requesting your work?
Customers from other countries sometimes visit me; it's especially nice when they come specifically for my tattoo, despite the vast distances that separate us. They have come from Germany, Austria, Denmark, Poland, and Israel, among other places. Many clients write to me from Europe and the United States, telling me how much they admire my work and wish I could come to their country and tattoo them.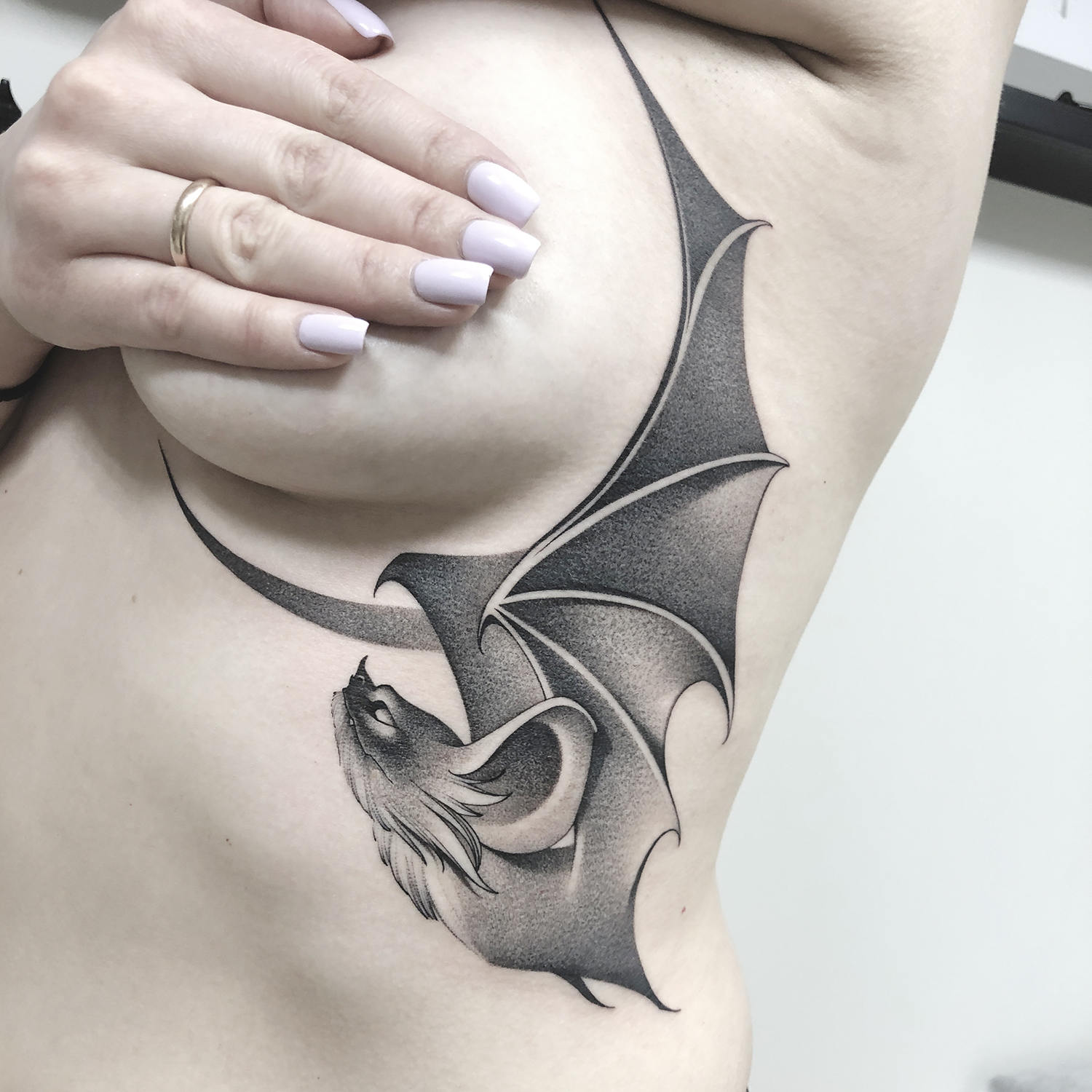 Elegant placement of winged creature beneath the breast.
What is anything about you that internet audiences do not know?
I am a rather shy and modest person, and I don't broadcast my personal life on social networks much. My online audience doesn't know me much outside of the tattoo industry.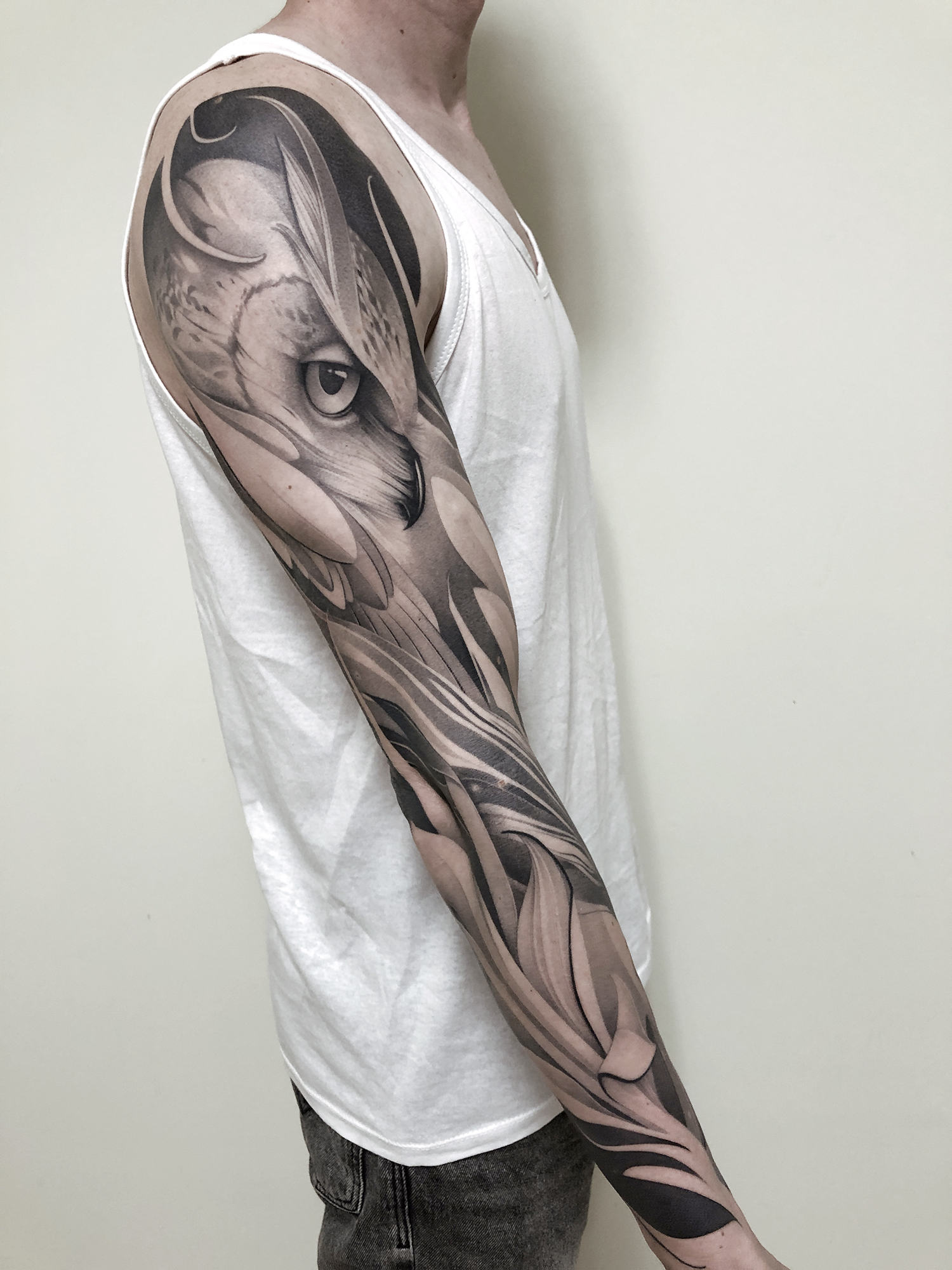 Another fluid work of art by Kuznetsov, the owl, may symbolize knowledge and good luck.
Do you have a family? What do you like to do when you have time off from tattooing?
Yes, of course, I have a big family. Father, mother, two sisters, and brother moved to the United States a few years ago. We haven't seen each other for a long time, and I miss them. I'm also married and have a dog (a Scottish Shepherd named Vox). In my free time, I like to draw for my pleasure, spend time with my wife and dog, I want to sit in silence, and I like to visit friends, where we communicate or play board games such as "Alias," "Mafia," and "Bang."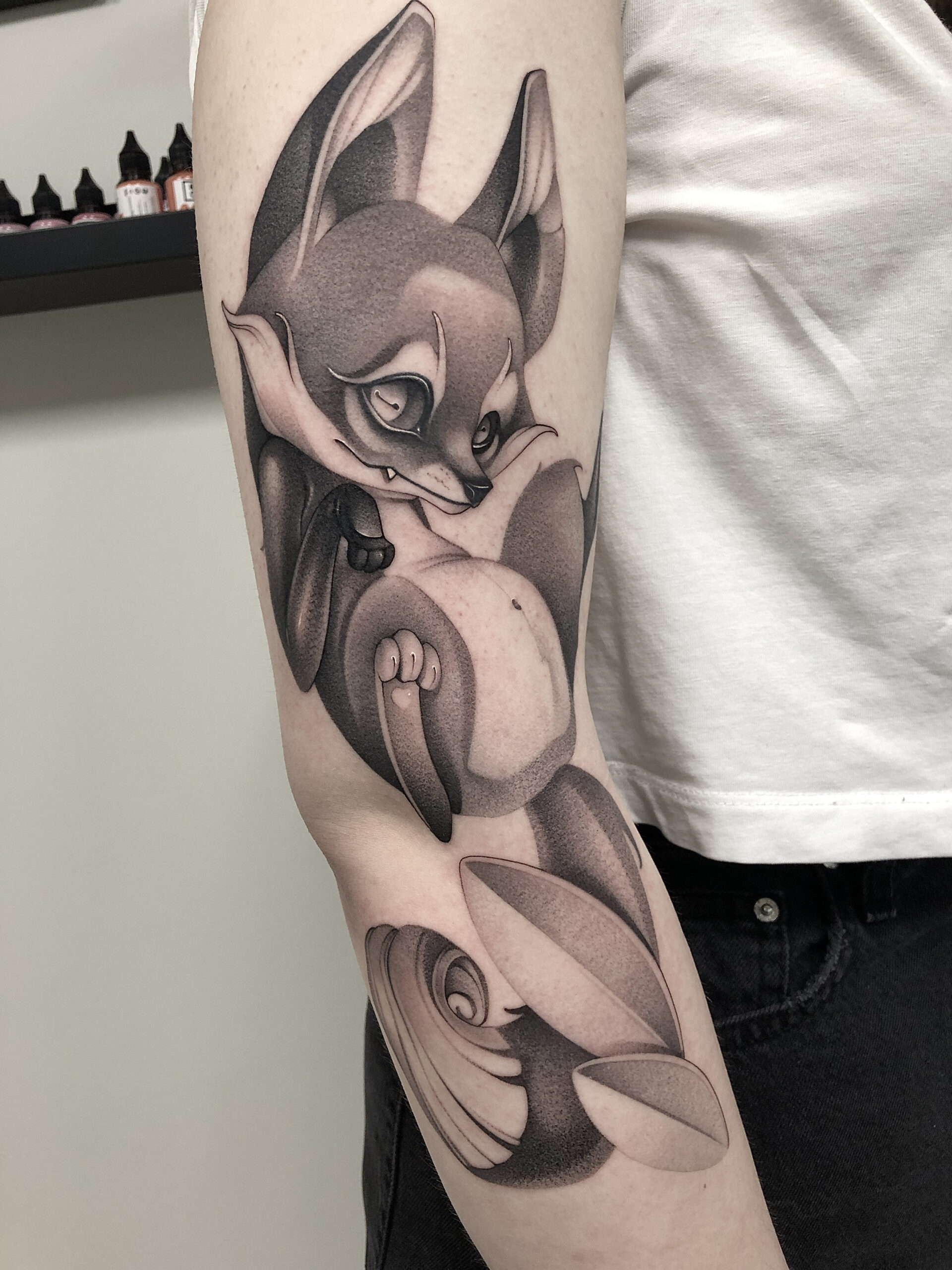 Customers may propose ideas, but the tattooist's final artwork is entirely customized and flavored by him.
And any hobbies?
I like playing the drums, and I go to drum school.
If you could tattoo a favorite drummer, who would it be?
That would be Luke Holland, my favourite drummer, and I've been watching him on YouTube for a long time. He's playing just crazy.
Photos © Ilya Kuznetsov