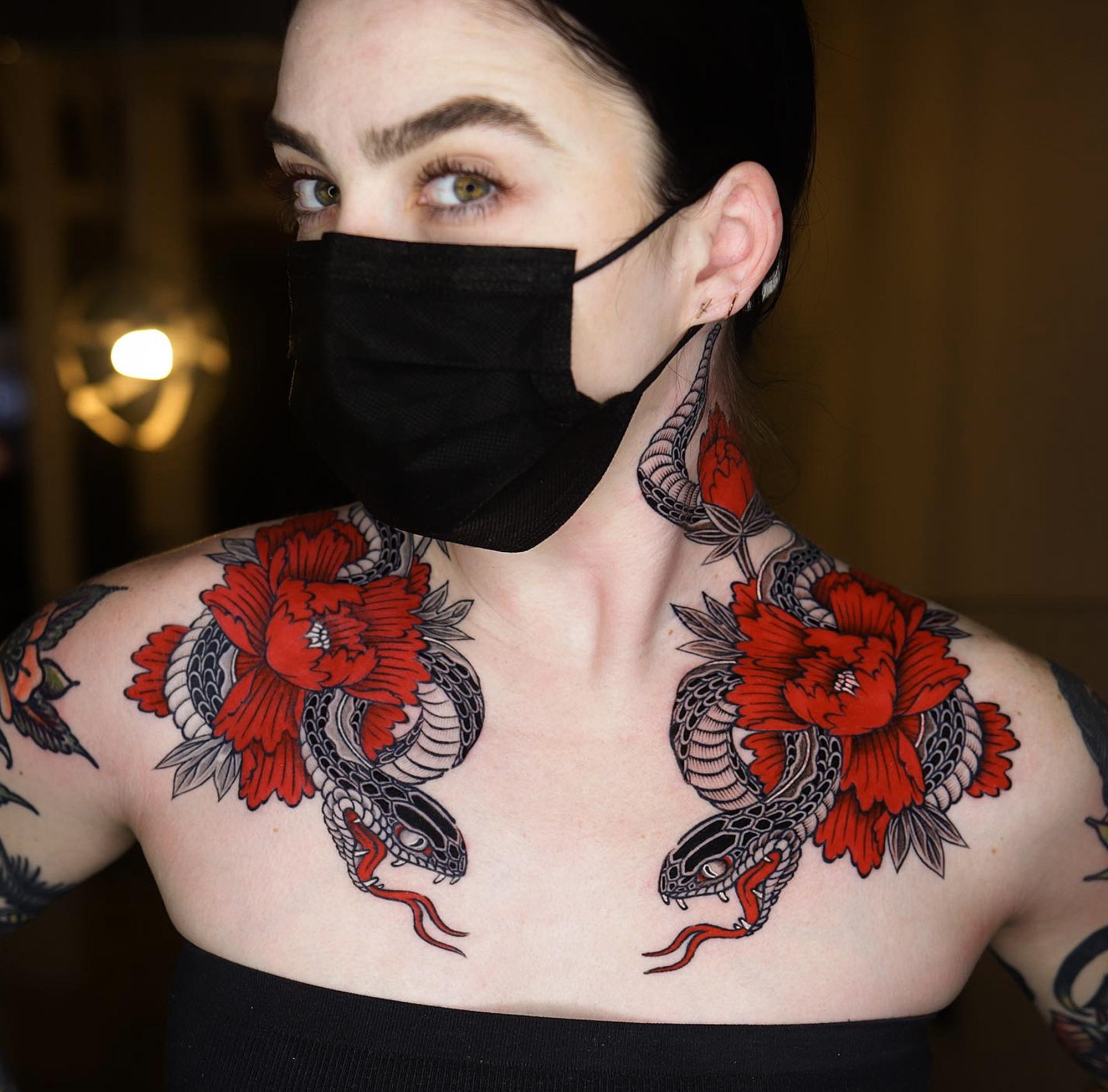 It is no surprise that Dino is so successful at the Los Angeles-based tattoo studio 10KF Hollywood since his large-scale, modernized Asian art style appeals greatly to American clients. Hannya masks, snakes, and flowers reappear on the arms, legs, and backs using red and black inks. His favorite theme is dragons, as he states, "the scales drive me crazy (…) as I have to make hundreds of scales," but he appreciates their challenge and complexity. His topics are inspired by 17th- to 19th-century Japanese art, although he sometimes integrates aspects of his own South Korean culture.
This interview discusses his life as a former soccer player, his decision to become a tattoo artist, his inspiration, and his life in Los Angeles.
Above: As a tattoo motif, a client cannot go wrong with flowers and snakes.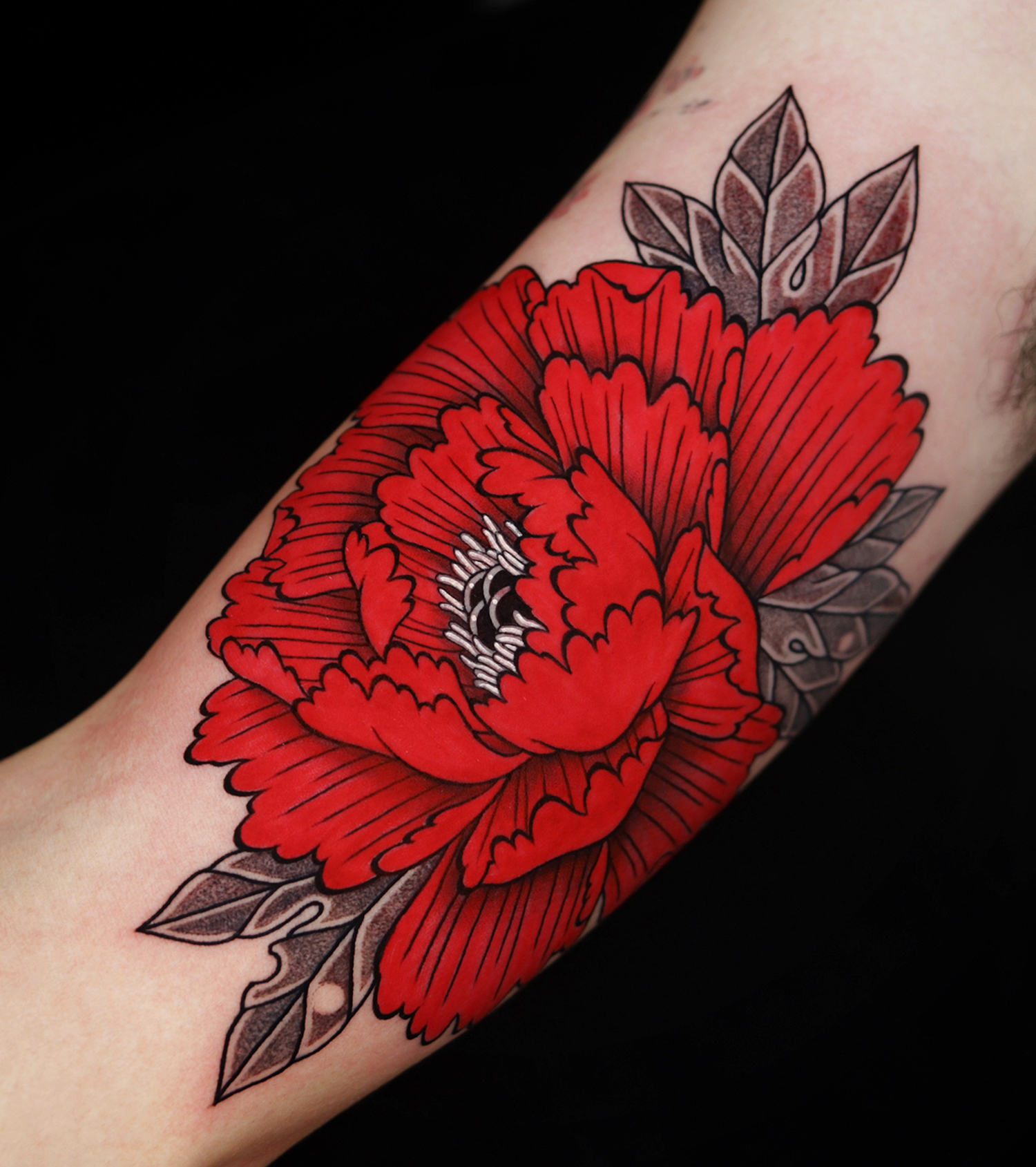 A Peony. The only colors in Dino's palette are red, black, and white.
What year did you start tattooing?
I was recruited for the South Korean national soccer team as a backup player for the Olympics and a professional player for 19 years. I injured my left ankle and underwent six surgeries; as it was an extensive injury, I could no longer play. The damage was despairing for me, and I spent many months in misery. In the mid of 2014, I came out of the hospital and decided to become a tattooer. By the beginning of 2015, I had begun tattooing in a small one-room apartment.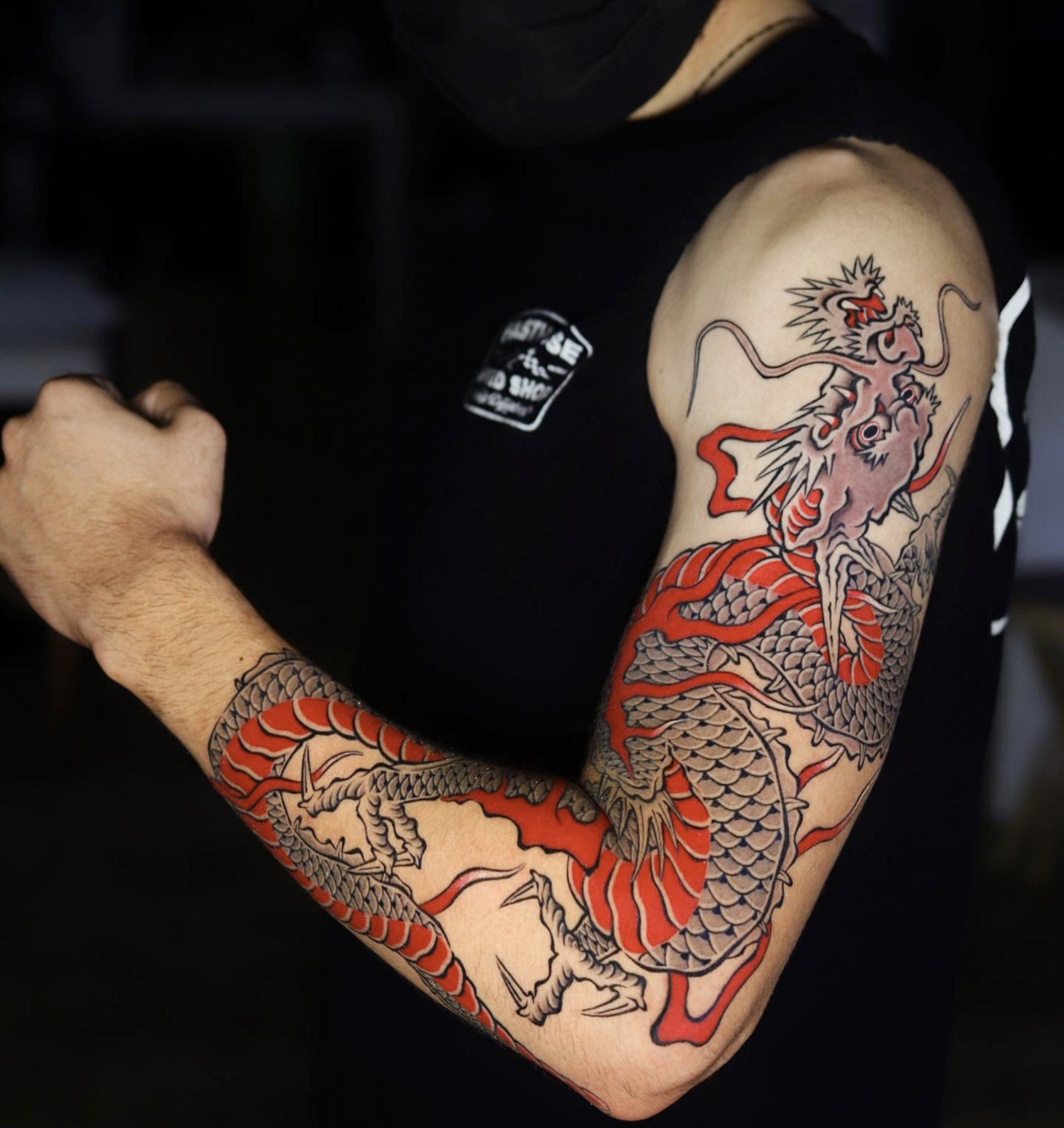 As mentioned before, Dino's favorite topic is dragons.
When did you begin working at 10KF Hollywood, and how would you describe the studio's environment?
I moved to Los Angeles in July 2021 and started to work at the studio officially in August. We have diverse staff, and they all have their unique artistic styles. It's so exciting and gratifying to work with them. 10FK Hollywood is in Los Angeles and New York, enabling our staff to work freely between those cities. The studio's owner, Manu works hard to ensure a good environment for the artists. Also, we have a professional management team who takes excellent care of us so we can focus solely on our work.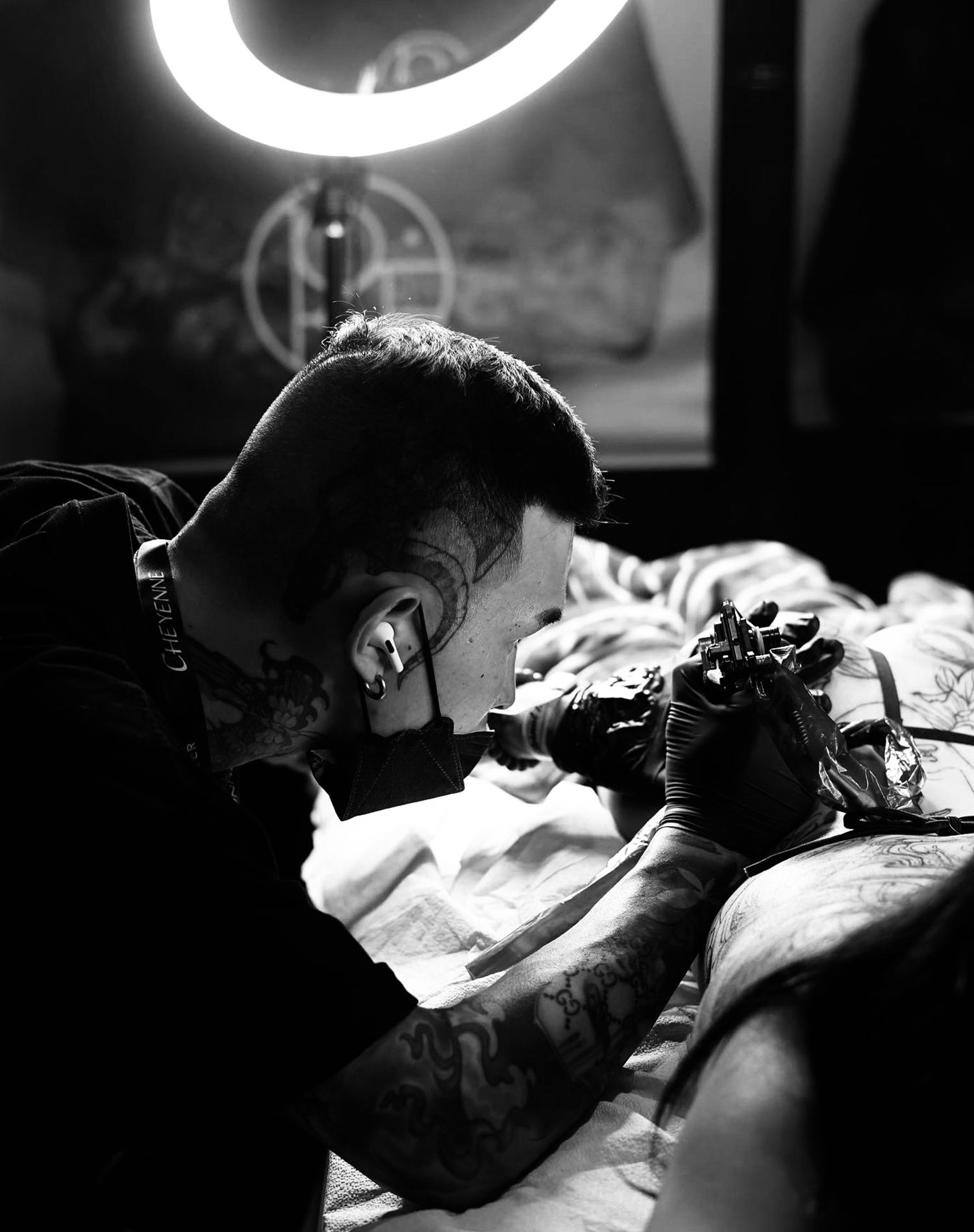 The artist worked on a back piece at the 2021 Golden State Tattoo Expo.
Hollywood is significantly distinct from the rest of the US cities. What are the advantages and disadvantages of living there?
The best part is that there are a lot of tourists. Sometimes we even run into celebrities in the streets or in restaurants. I only saw the Hollywood sign on TV or YouTube back in Korea. It's still unbelievable to see it outside my home window. Incredibly, I'm living in Hollywood! Though Hollywood is an excellent place with different people and stores, there are big and small incidents and events which lead to a vast crowd, which sometimes is a bit inconvenient.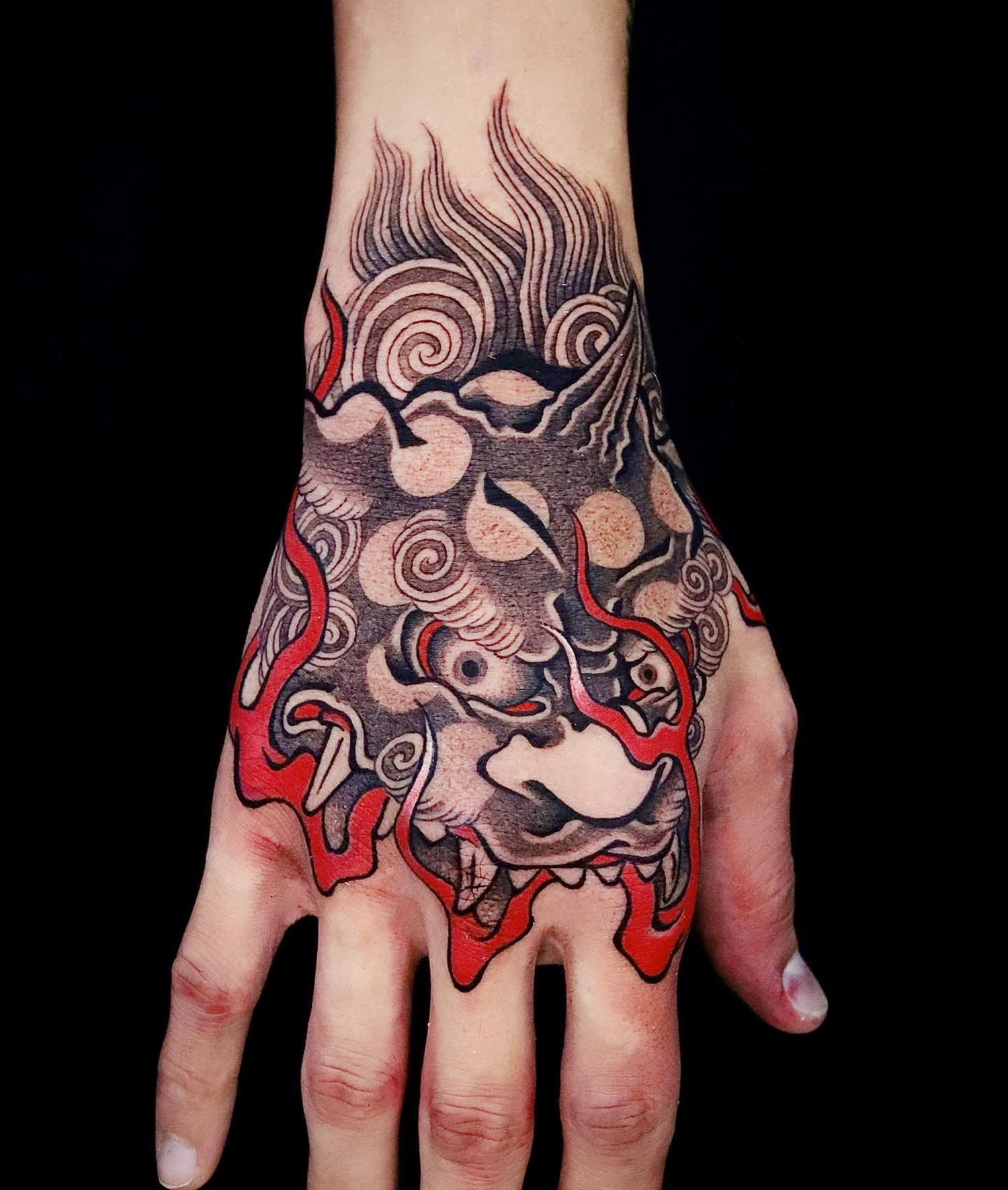 A "Fu dog" is a mythical lion-like creature that serves as a guardian.
Therefore, Los Angeles is great for your work and personality?
This place goes with me so well. I'm not fond of the cold. I love the bright, clear sky and sunlight. The weather in Los Angeles is perfect—it makes me happy. I'm also a sociable person. The people here are genuinely nice and caring, and making friends has been easy. There's such a diverse population and many different cultures here in Cali, which is great for me to meet new clients. Every project that allows me to embody each culture and its meaning is valuable and exciting to me. I've only been in LA for about 18 months, but I'm happy and enjoying every minute of it.
This eagle tattoo is done in woodblock art style.
You stated that you were doing traditional American tattoos at the beginning of your career. What led to all these changes to what you are doing now?
I started with traditional American tattoos because the images were simple but distinctive. Just as Americans admire traditional Japanese tattoos, traditional American tattoos are charming for their difference. I had no formal tattoo training, so I assumed the American style would be easier to approach. I began blackwork tattoos with a foundation of American style until I hit a slump. I went to study at the London Tattoo Convention, which was well-known for being one of the best events in the world. I met Gakkin's tattooed client there. The art on the client's body was majestic and fascinating. Tattooist Gakkin uses intense black in his work but with sharp contrasts, creating a heavy but distinct and beautiful look. Many renowned tattoo artists and their work inspired me greatly. When I returned to Korea, I studied Japanese-style blackwork tattoos and attended several conventions to develop my style. After putting in a lot of effort, I met Horimaroo, who influenced my current work.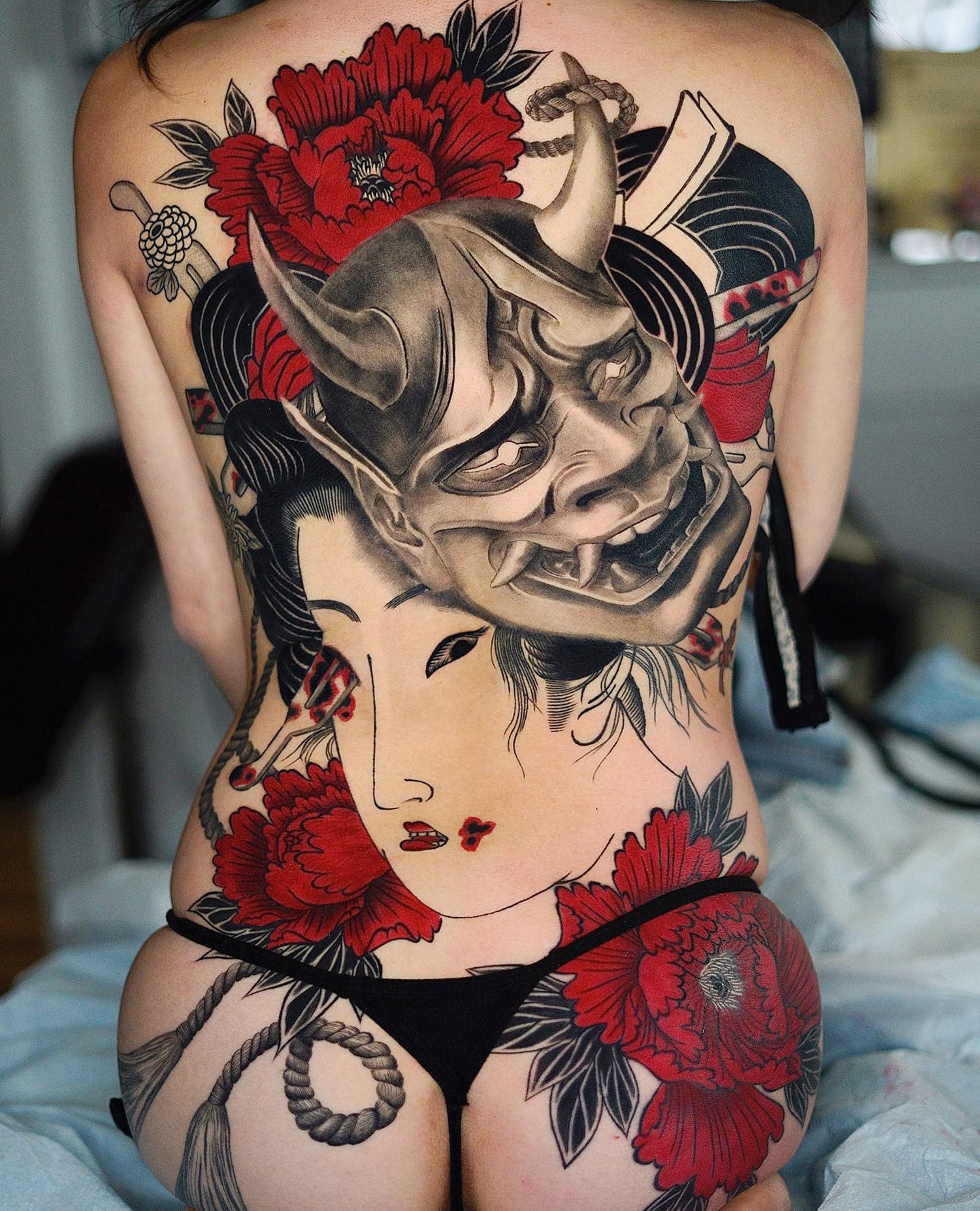 Jose Moreno and Dino collaborated on this back piece.
Discuss your Japanese art inspiration in further detail.
When I met tattooist Horimaroo, he first introduced me to "Ukiyo-e," a traditional Japanese art. I studied history and its different representations. Interestingly, Japanese artists have similar styles and expressions in each work, but their interpretations differ. For example, each artist used various terms for a dragon drawing using lines and shading. This was compelling and made me want to create my color combination and style someday. The meaning and history behind each subject were very alluring. The "Ukiyo-e" I liked were two-dimensional but still very detailed and appealing. They are fine [and relevant] enough to be in this modern era.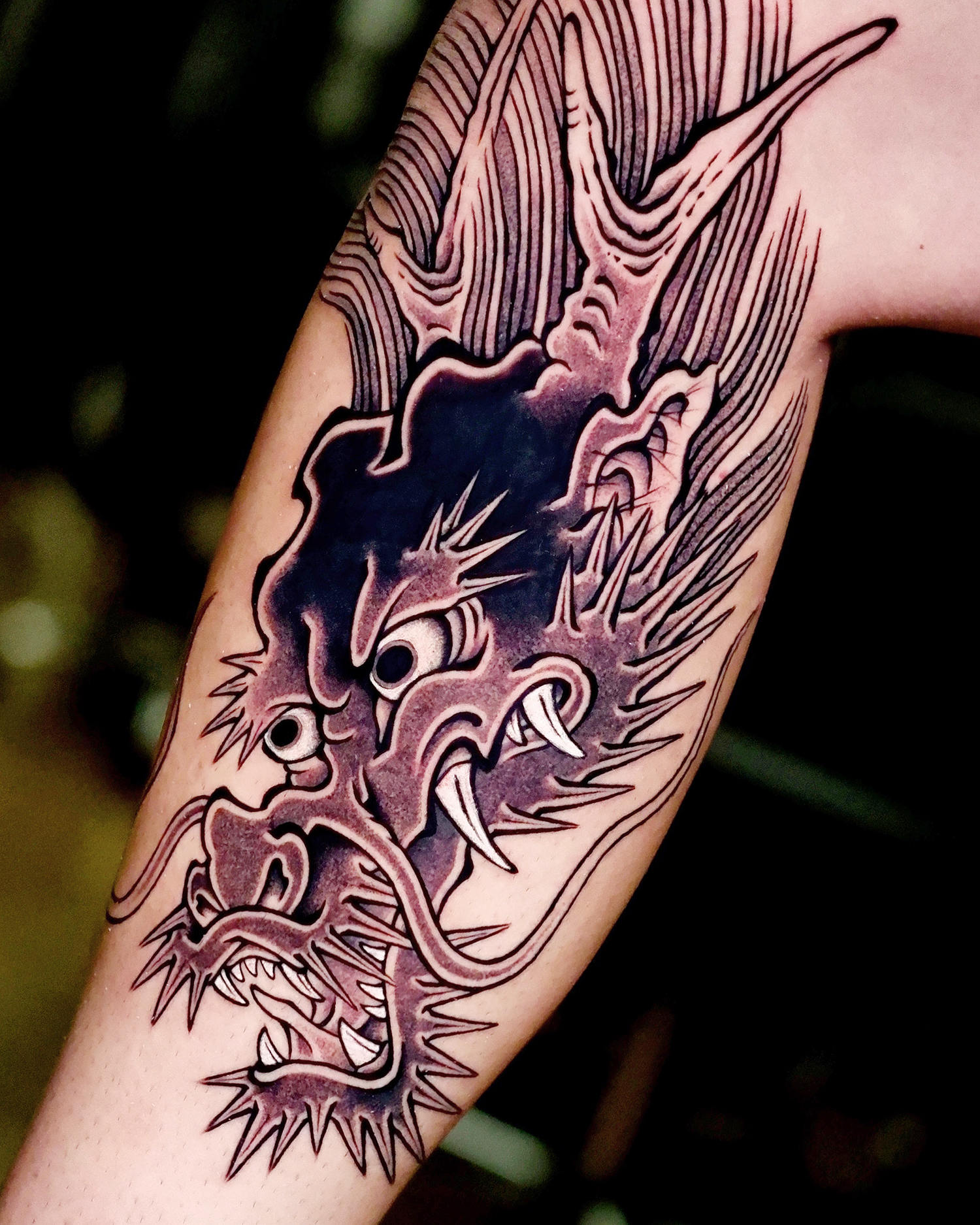 A freehanded dragon done in black and white ink.
Do you stencil or freehand?
I use both, but I prefer stencils. I use a stencil for a design's general outline and work freehand for small detailed works or backgrounds (for example, flowers). I freehand for snakes and dragons to fit them better on the client's body. For lines, I use a brush pen marker for the classic but sophisticated touch. Stencils may be more accurate, but illustrating with a brush pen on the body, makes it look more flowing and better. That's why I try to be flexible when I use the two, according to each design, size, and body type.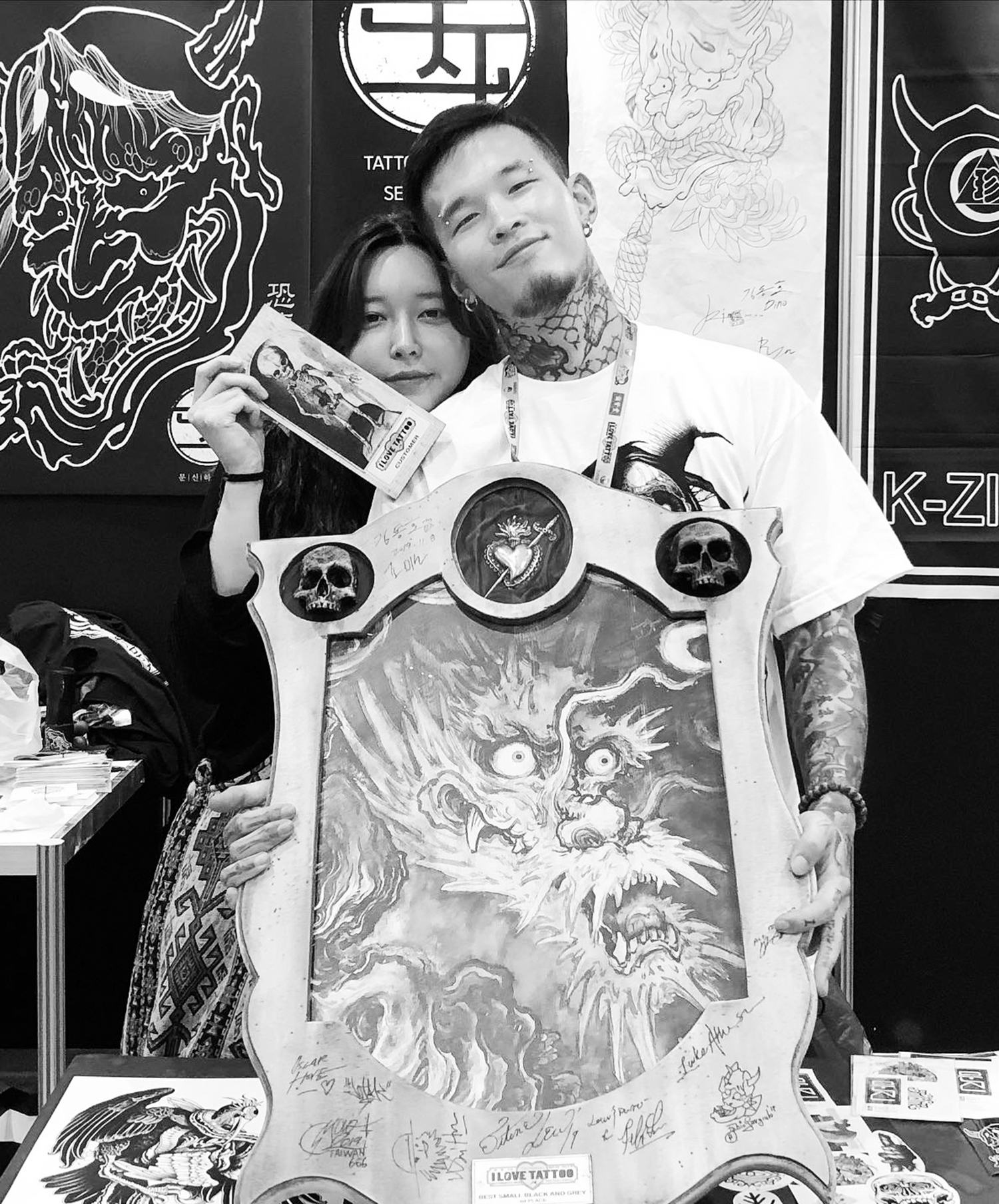 Dino and his wife; received an award at Taiwan I Love Tattoo convention.
You mentioned, "I have tattoos almost all over my body, but I got most of my tattoos from my tattoo artist friends, my wife and I did some myself." Is your wife a tattooer?
We did everything together for almost ten years. My wife Miso works with me in the 10KF studio. I met her during my soccer period, and she supported me while I was playing and when I started tattooing. I taught her after five months of starting myself. I was a beginner then, so that I couldn't teach her much. We watched YouTube together and went to several studios together. We manage our studio in Korea, participated in conventions, guest worked, and traveled—we studied and learned while relying on each other. We will continue to do so. My biggest fortune and happiness is being a tattooist with my wife. We understand each other as artists and support each other during mental and physical ordeals. Building a career with her is my most immense joy. She does ornament-style tattoos, which use a lot of black ink. She's very punctual, which shows in her work.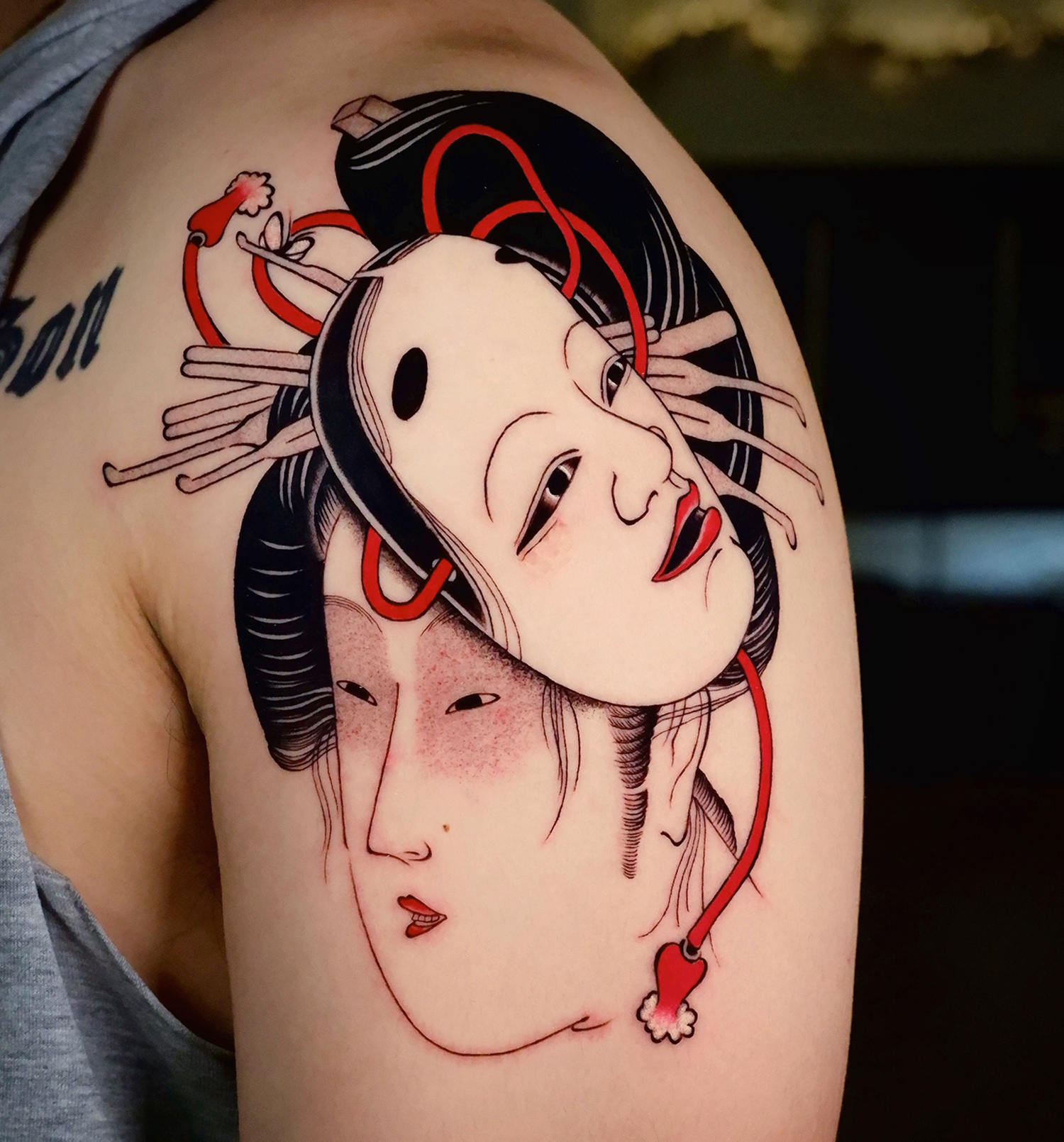 A tattoo of a Geisha on the client's upper arm near the shoulder.
What is something that the public does not know about you?
I still want to accomplish many things. It's been eight years since I started tattooing, but there is still much more to learn. I've won 5 awards in different categories at convention contests [K-Subcon, Singapore Ink Show, Taiwan I Love Tattoo Convention, Chiangmai Tattoo Fest, and Philadelphia Villain Arts Tattoo Convention]; I will challenge myself to earn more and study more for my career. I just participated in the Philadelphia convention and many other conventions in Asia and Europe after that. I will open a tattoo seminar with other brilliant tattooers in Los Angeles in March. I also manage two art studios in Korea, where tattoos are still illegal. You must have a doctor's license to tattoo, but it's challenging; there aren't many doctors in Korea that can do tattoos. Many artists work without the protection of the law and are exposed to threats or sexual harassment. You cannot pay taxes, as it's illegal, and you are ineligible for national benefits. Many Korean tattoo artists engage in worldwide conventions and achieve outstanding yearly scores. Yet, Korean tattoo artists are still subject to the penalty of law. I wish for the day when there will be a restructuring of Korean law so tattoos can be established as a culture of their own and tattoo artists are treated fairly and with respect.
Photos © Dino Oriental