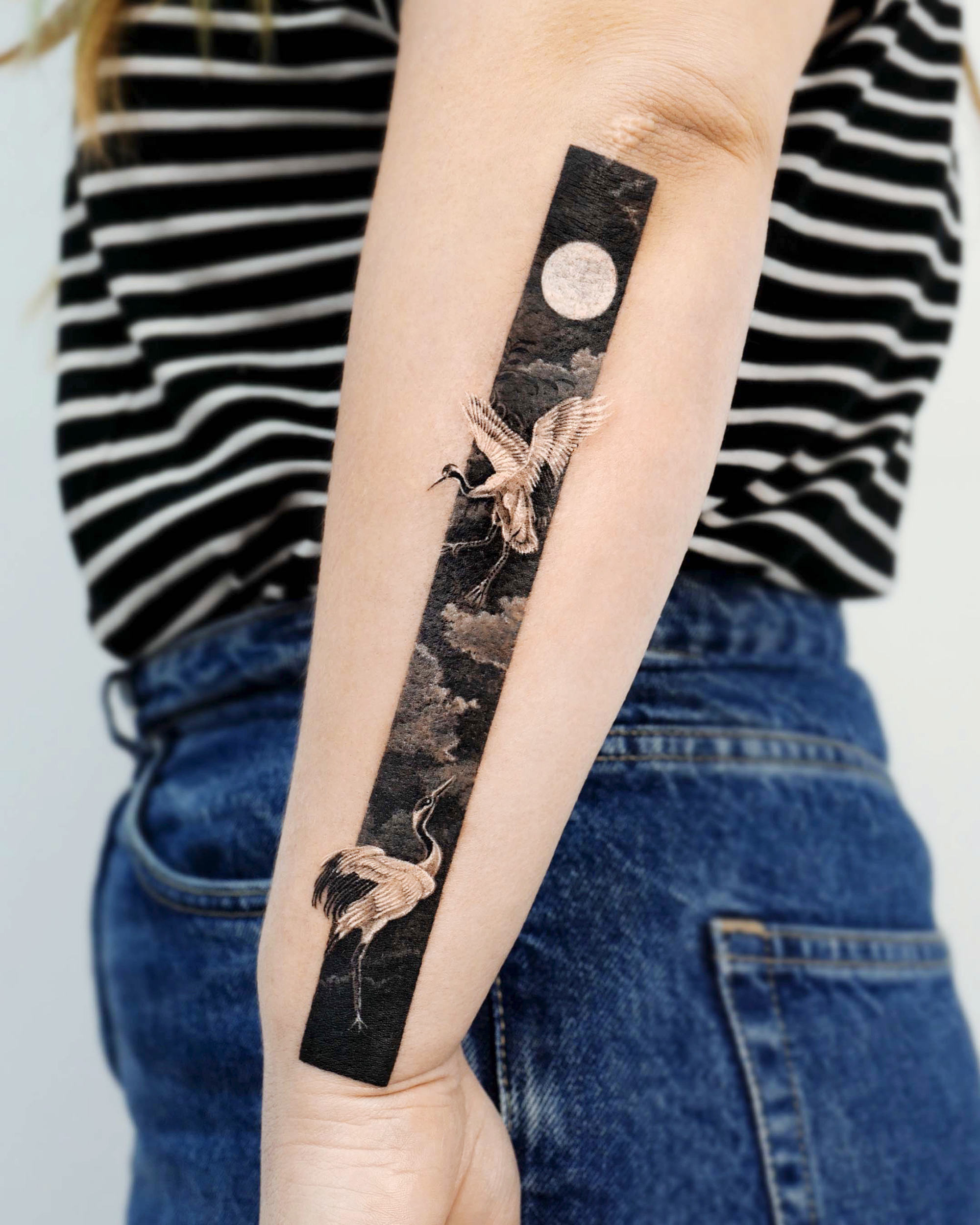 EQ was an art teacher before becoming a tattooer in 2019. Friends and others encouraged her to explore tattooing because of her talent and excitement for drawing. Initially self-taught, she eventually attended Sol's Tattoo Academy in Seoul.

EQ plans to challenge age and cultural role expectations by working hard to achieve professional success despite being 34 years old, married, mother of a child, and with just three years of tattoo experience. Using her understanding of the history and beauty of Eastern art, she intends to infuse pieces of that culture into each of her tattoos. She follows in the footsteps of prior Korean micro-tattoo artists, whose work is favored in Korea and highly sought after in the United States.
Above: EQ's tattoo depicts lovely cranes in the night.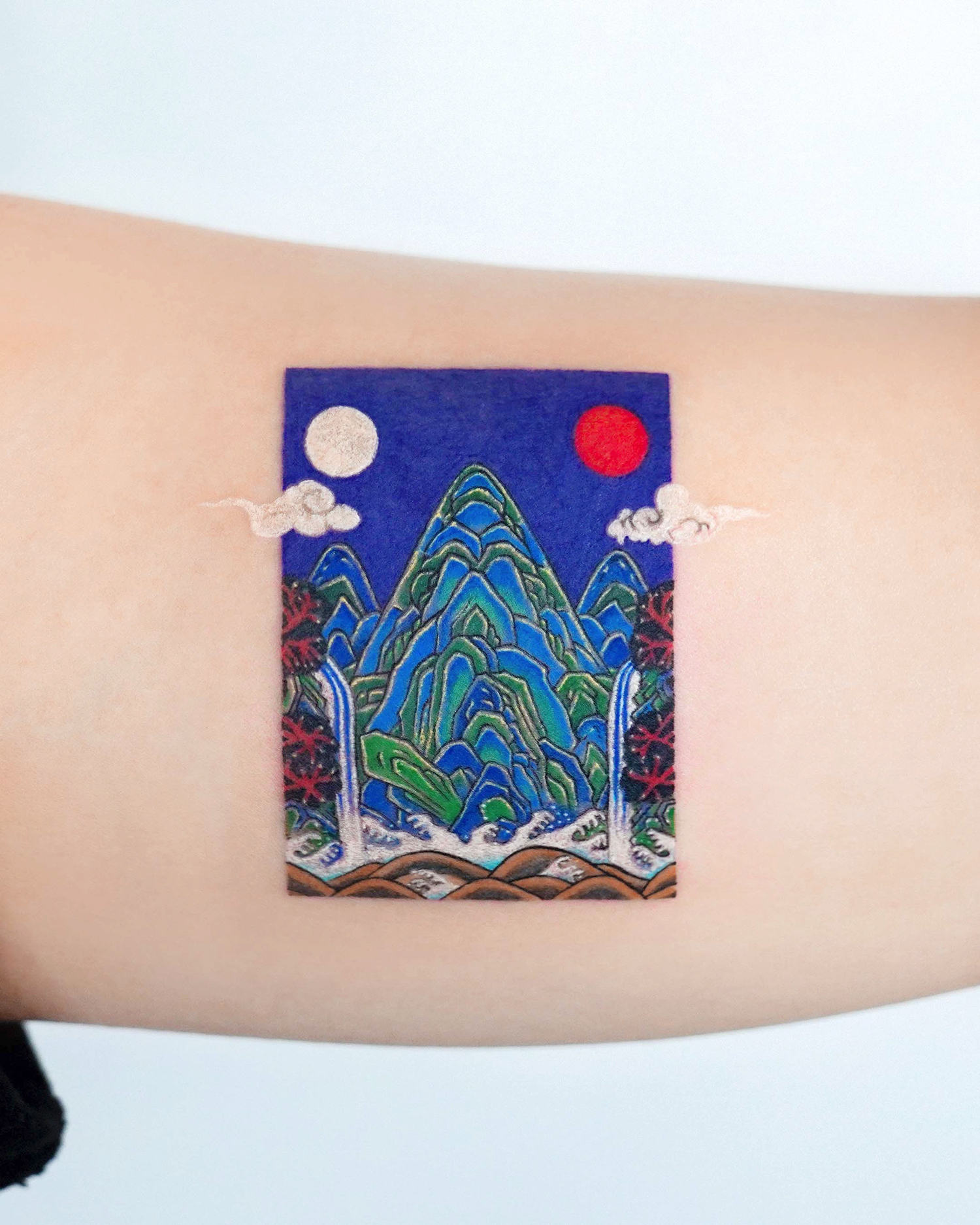 Based on "Irworobongdo," with mountains and the sun.
Please include an introduction.
I am a tattooer and a mother of a two-year-old daughter. There are many young Korean tattooists, but as they grow older and some marry, they frequently abandon their profession. As they get older, it is often not recognized as a legitimate job category in Korea. But I want to be a tattoo artist and a woman who defies this stereotype.
Manderin ducks and rabbits in a landscape tattoo.
How do you balance your personal and professional lives?
I typically work six days per week. During my working hours, my mother looks after my child. Once a week, I spend the entire day with my husband and family. I don't have enough time with my family, but I give it my all when with them. I try my hardest to satisfy both my work and family.
Similar to hanging scrolls, EQ portrays the world via a rectangular "window" form.
Describe your tattoo style in detail.
I condensed traditional Asian painting-like landscapes like cranes and tigers, mountains, and sun into a rectangular shape. I primarily create the sensation of looking out a window into the world. Furthermore, each client's story is told within a frame.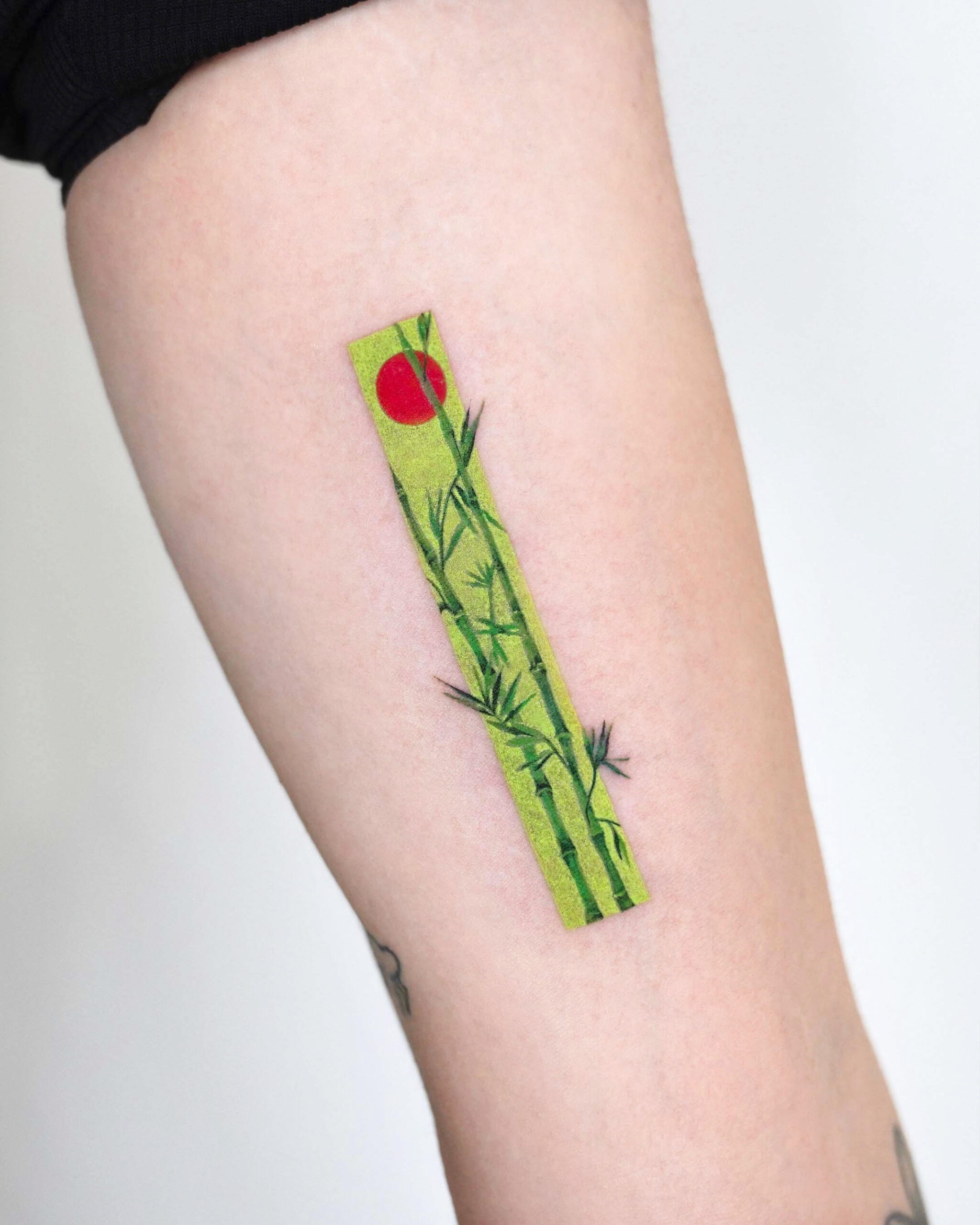 Influenced from Chinese-ink paintings of bamboos.
Can you name a few works that have served as your inspiration?
Rather than any particular artist or art piece, I am inspired by the colors, elements, and atmosphere of oriental paintings. Korean temples, Asian backgrounds, and brushstrokes have all inspired me. I'd go with Katsushika Hokusai's wave paintings if I had to pick one.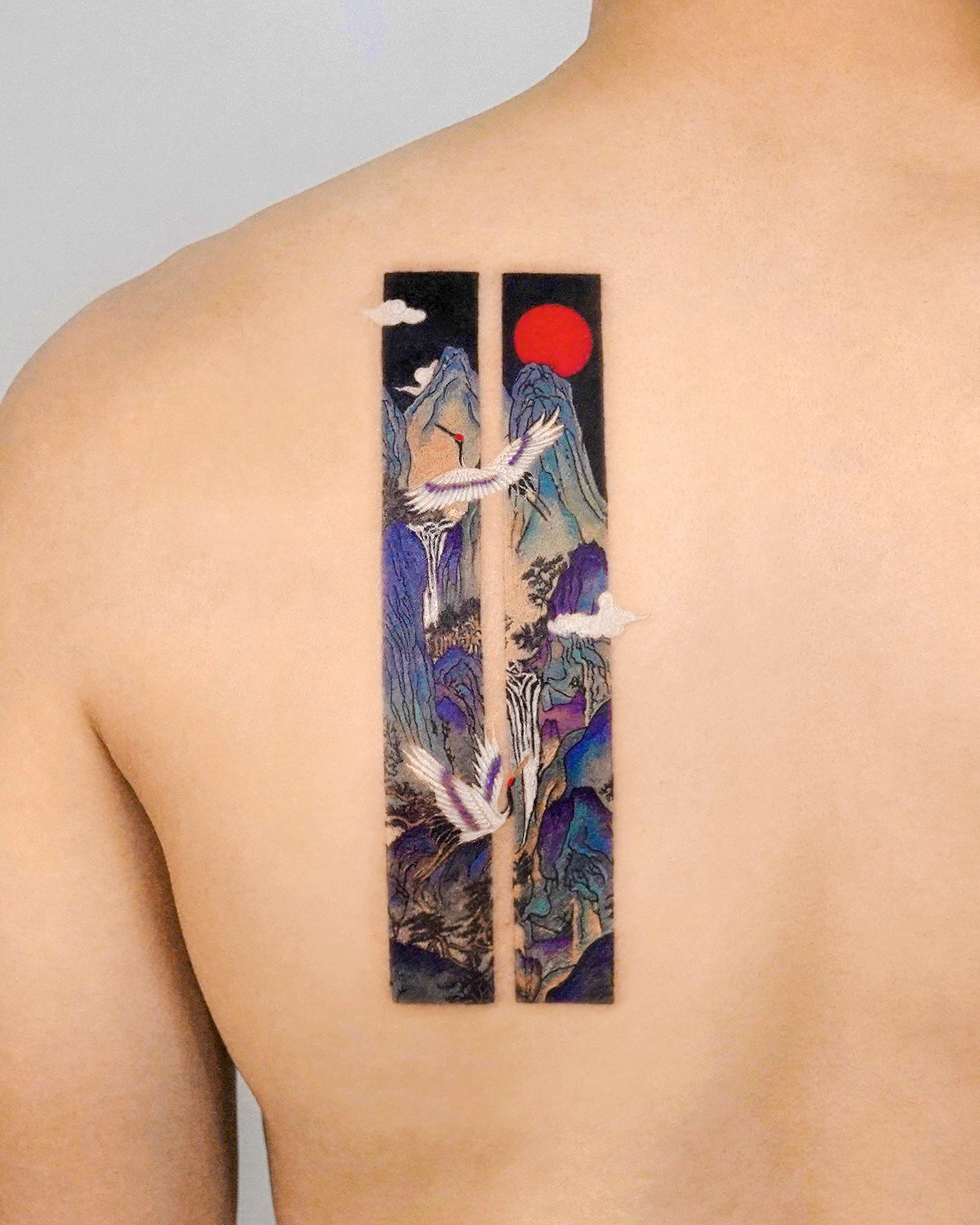 Another breathtaking crane scene.
Please explain your creative methodology.
As previously mentioned, I begin my creative process by simplifying the various elements and meanings that customers wish to include in rectangle spaces. My work continues, with the release of multiple aspects in an oriental style, such as vibrant colors, textures, and elements (like the sun). Small but intricate work necessitates technical skills, which I do my best to produce.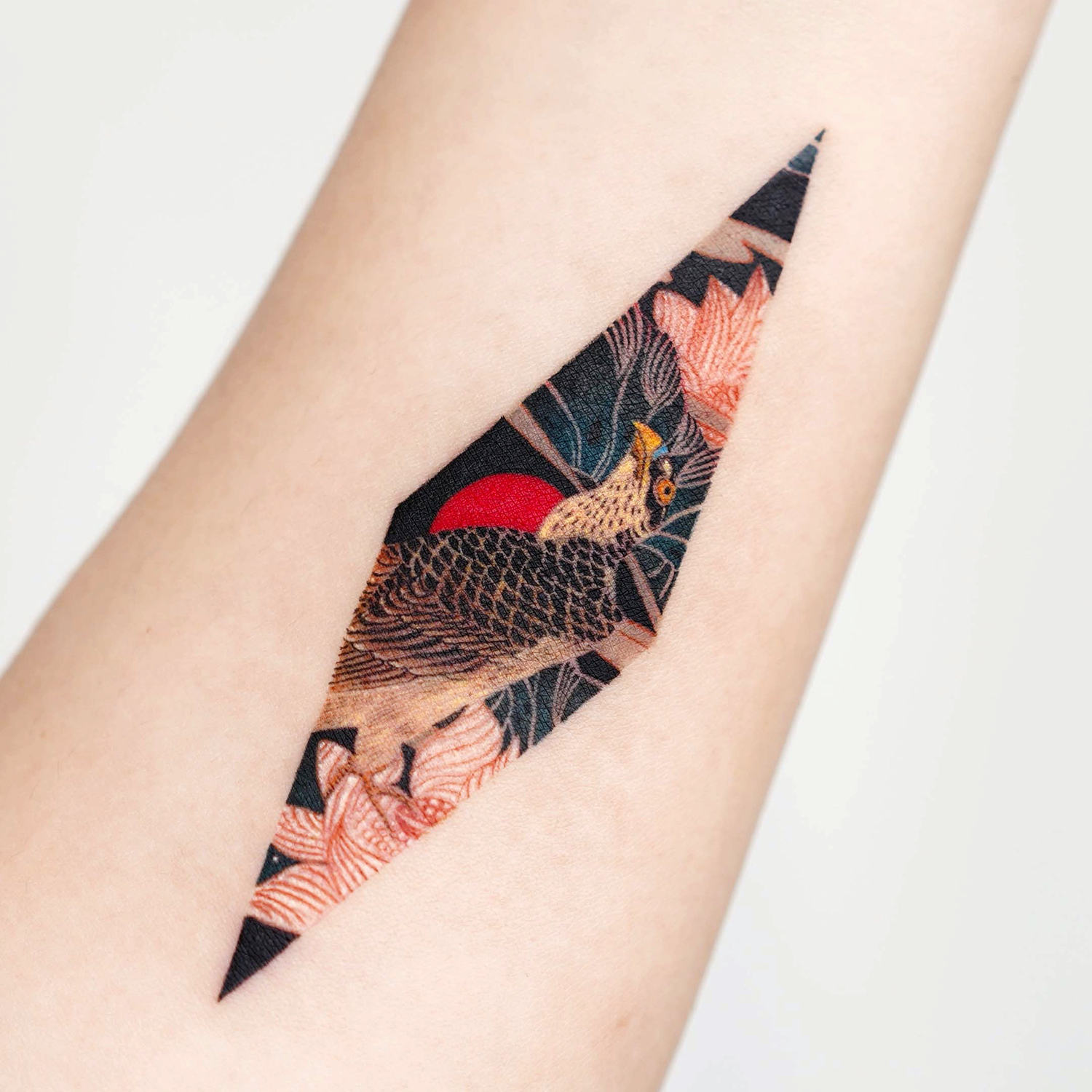 In addition to rectangles, EQ also makes losange and circle tattoos.
What else can you tell us about yourself?
I've showcased my art in New York City and worked on advertising campaigns with LG U+ (a South Korean mobile network operator). In the future, I intend to pursue more creative endeavors in addition to tattooing.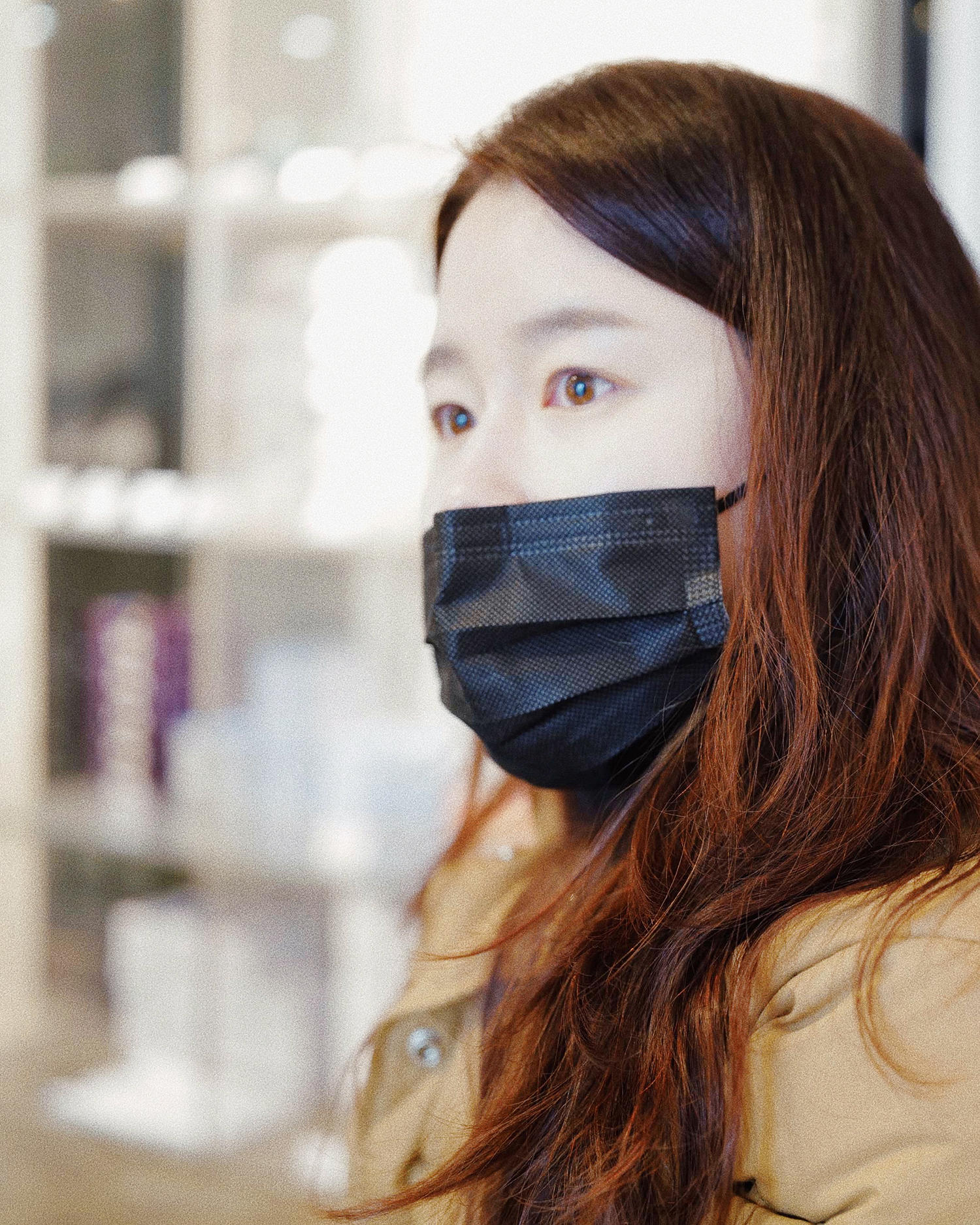 Tattooist EQ, her alias short for "Emotional Quotient."
What was the New York art exhibition?
"Communicating Beyond Words" was a group show that featured the work of 12 artists from various cultural backgrounds who use letterforms as visual elements. More than 30 artworks, including illustrations, street art, calligraphy, tattoo art, and paintings, were displayed with creative and beautiful designs inspired by unique letterforms in multiple native languages.
Photos © EQ