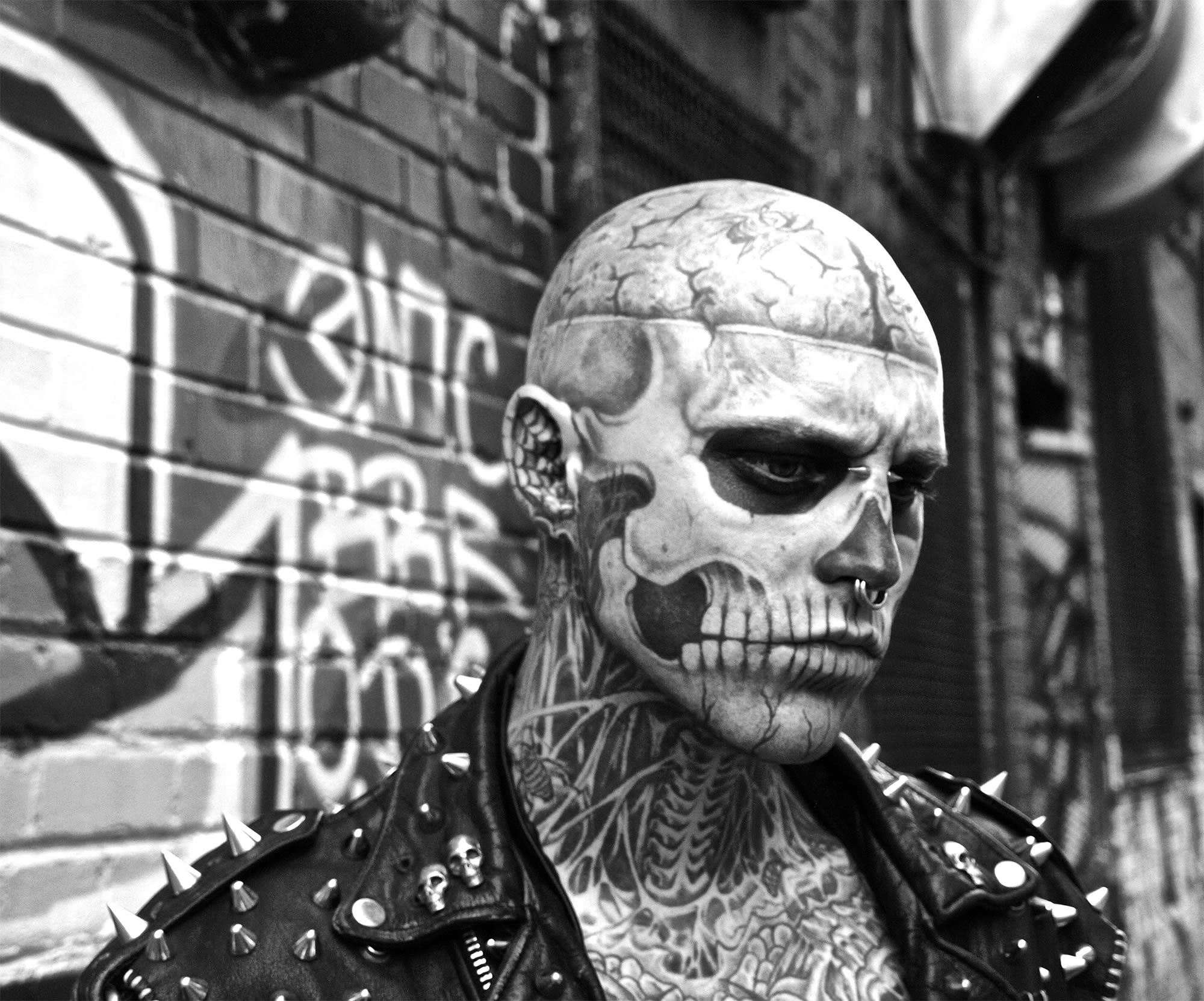 Having your own voice and style is really what most of us should have. But not all of us feel fearless to be completely ourselves. Artist, actor, fashion model Zombie Boy is exactly who he is, inside and out; his self-confidence and physical look has inspired and fascinated people worldwide.
More than 80% of his body has been tattooed to look like a zombie. Looking like a decomposed corpse is definitely different, but his uniqueness has led him on a successful path to appearing in Lady Gaga's music video, "Born this Way," walking the runway for fashion designer Thierry Mugler, becoming the face of Jay-Z's Rocawear Europe clothing line and starring in several motion pictures.
Top: Raphaelle Bonin (also from Zombie Boy's hometown of Montreal) did this photo shoot with the model.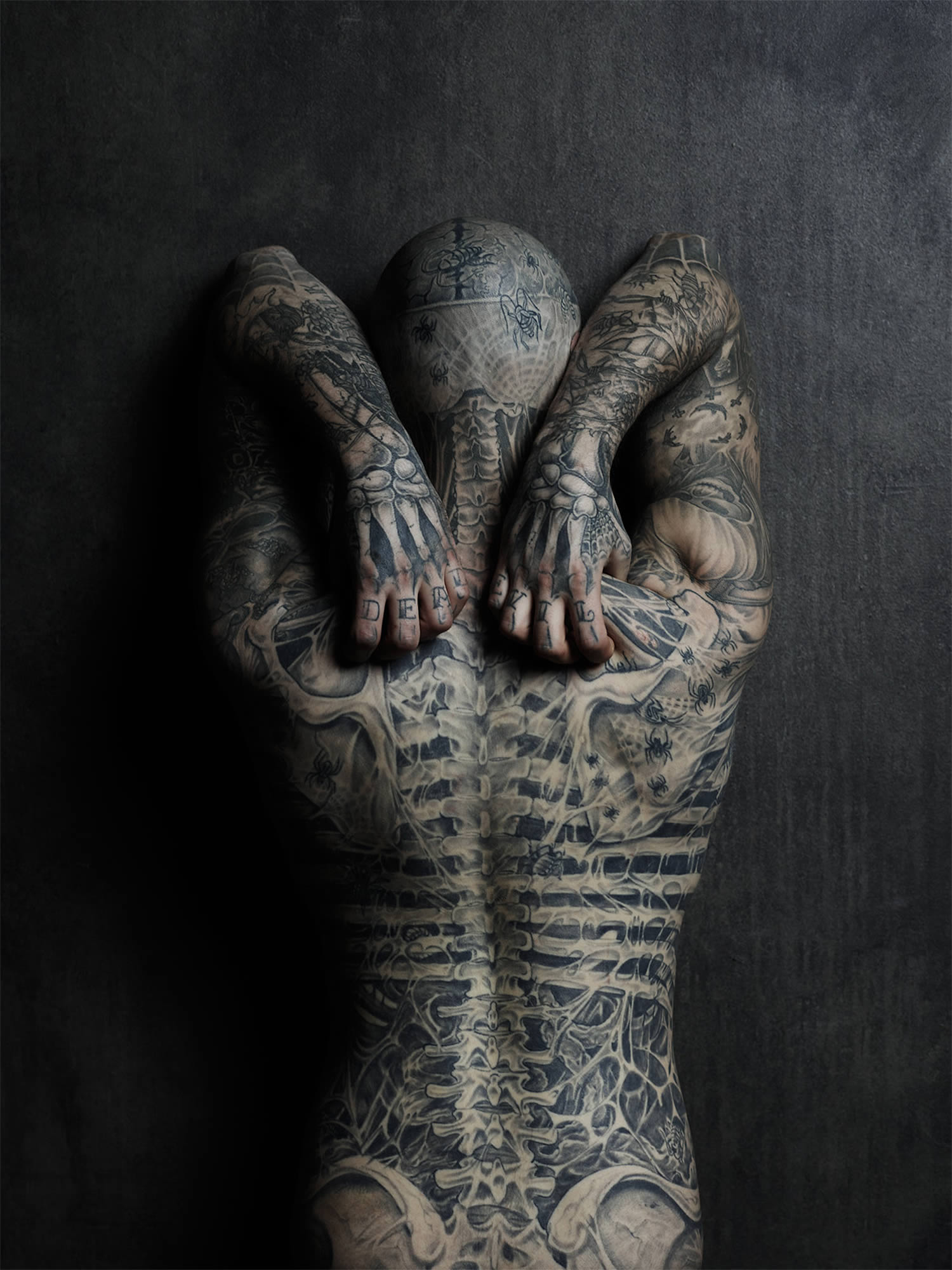 Why do you want to become a Zombie?
Zombie Boy: Ever since I could remember I've been enticed by punk rock culture. I wanted to excel in the arts and entertainment and the freak show genre. At age of 17, I was aliased by my peers as "Zombie" due to my interests in music, movies, apparel and my medical history.
Growing up as an urban teenager, this lifestyle was the origin of my bodysuit. In June 2008, Bizarre magazine was the first to dub me as "Zombieboy." Then in January 2011, I was introduced to my current manager, Entertainment Lawyer Colin Singer of Montreal and from there things immediately started to take off! Together we developed the Zombieboy brand which takes on different personae depending on whether we are working on film, music, fashion or freak show performances.
You clearly stand out from the crowd. Are you amused by people's reaction of you?
Well, as they say, birds of a feather flock together. Most of my cronies are heavily moded, so when I'm at home with my friends or hanging out at underground venues, this is not the case. It wasn't until the past few years that I've stood out from the crowd and launched onto a new platform as a fashion player.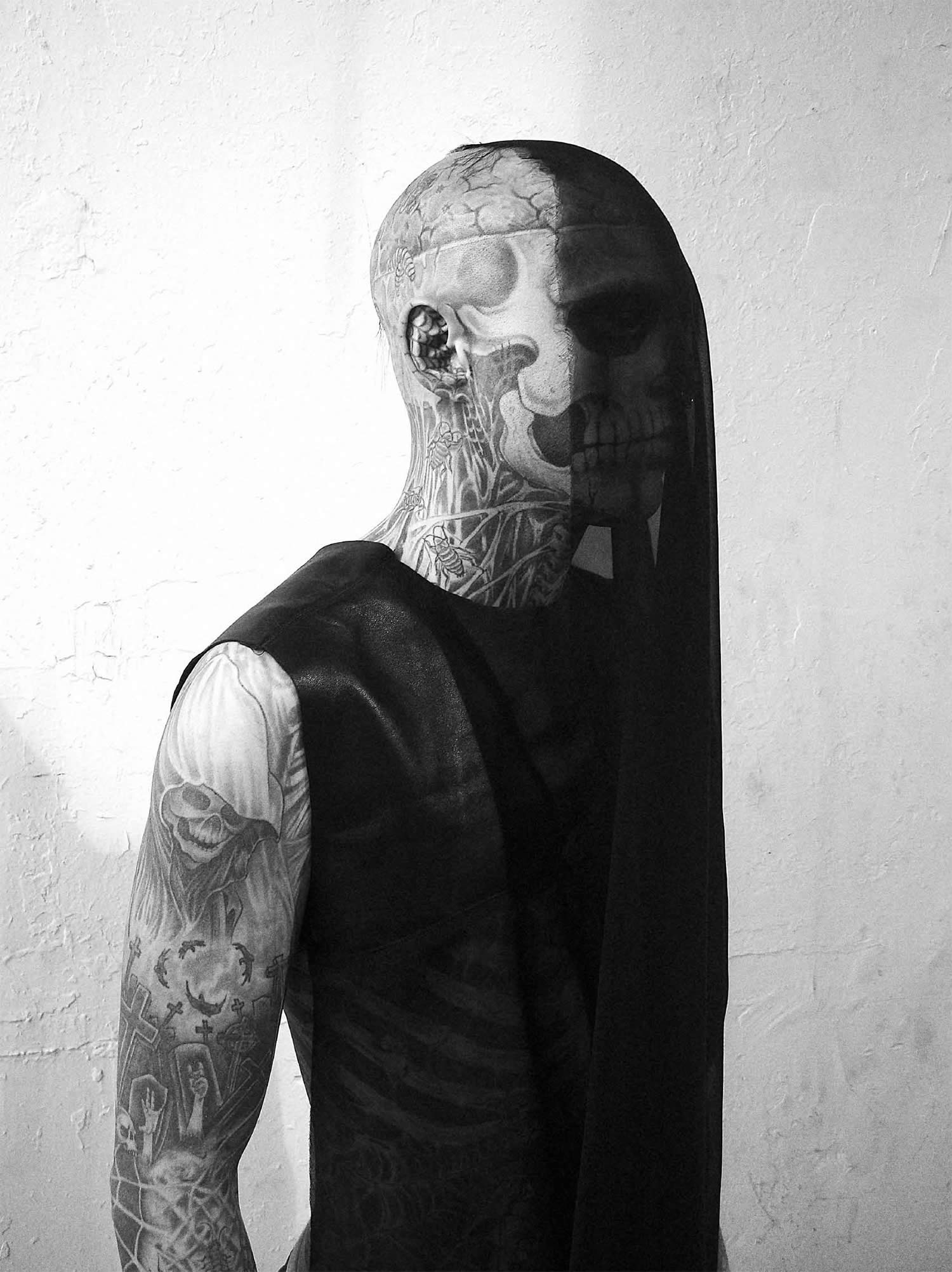 Creative director Nicola Formichetti invites Zombie Boy to model in the Mugler menswear fashion show in 2013.
Who tattooed you?
Over the past 12 years, it is impossible to remember every name and detail. For the most part, over a course of 4 to 5 years, in my late teenage years and early 20s, Frank Lewis of Montreal, Canada, tattooed my head and torso coining my zombie-like appearance under my guidance and direction.
The tattoo industry has grown much over the years. Your thoughts about the popularity, and are there artists you particularly like?
I am very stoked seeing, greeting and meeting a vast variety of gravely tattooed dames and gents; tattoos and body mod has always flourished in the underground.
Do you follow any visual artists on the web?
I eat, breath, drink and bleed visual art; as well as the sonar arts.
You are a versatile person having been involved in circus, music, cinema, and fashion. Is there an artistic field you have yet to explore?
When life slows down, I would love to relax and take some time exploring hybrid taxidermy as well as skeletal hybrid art.
What has it been like working in the fashion industry?
As in circus and acting, modeling shares the art of emotion posing and creative visualization as well as the art of altering environment and circumstances. This I love and feel very blessed to be able to work in such creative environments.
One of your recent movie appearances was in "47 Ronin" (2013; with Keanu Reeves). Are you going to be involved in more movie productions?
I love the arts. I wish and dream to excel in filmography. Recently, I had two short films appearing in major international film festivals. One of my short films in which my Manager and I are Executive Co-Producers, currently appears in the online film festival Viewster where fans can vote. The film also appeared at the Fantasia International Film Festival.
And aside from film, my current standing project is a self-financed music album, that consists of myself and my partner Riggs (of "Scum of the Earth" and former guitarist of "Rob Zombie"); that we are currently finalizing and aspire to launch in 2015.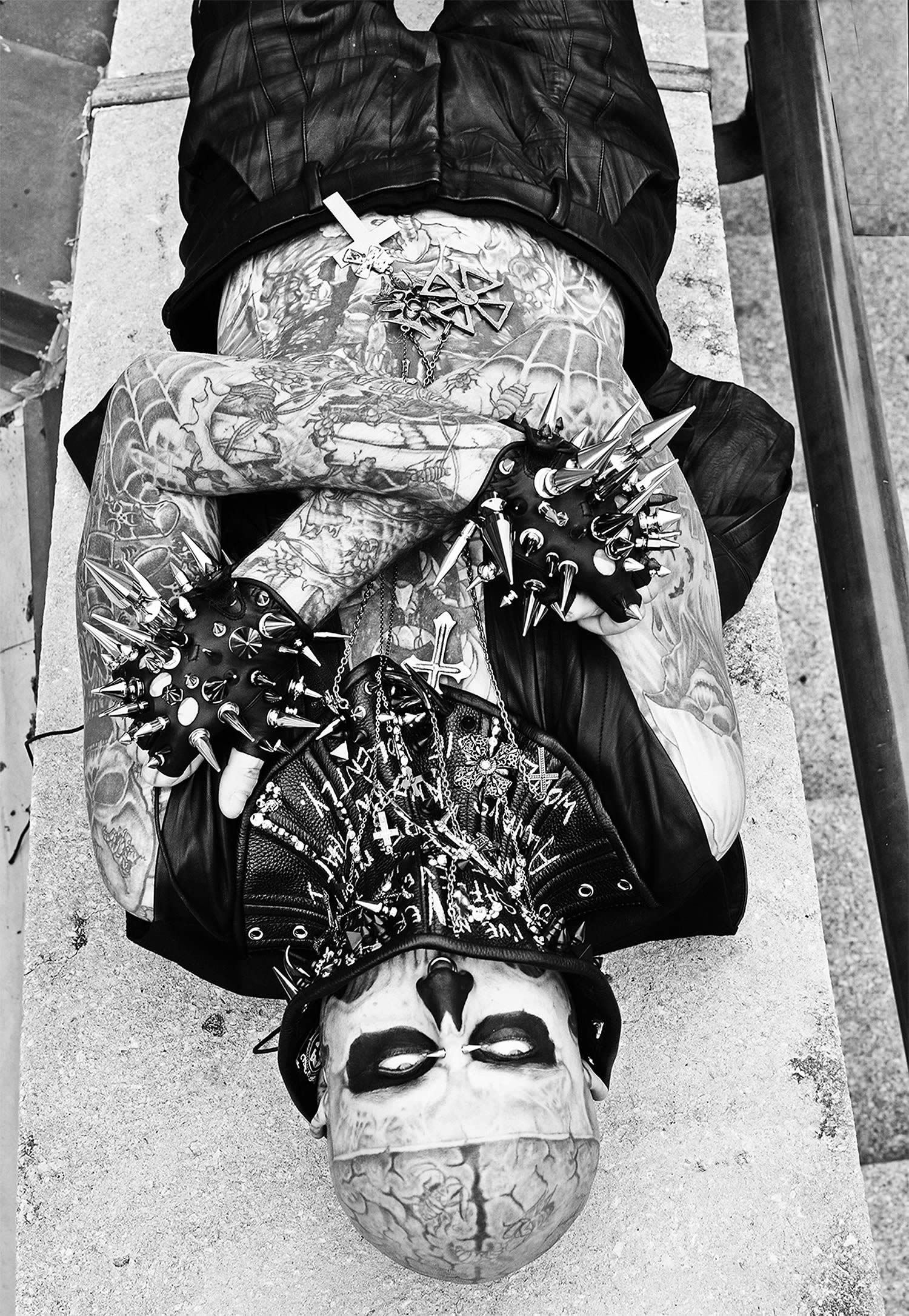 He has the punk style locked in. Photo (originally published in WestEast magazine) © Colin Singer.
Do you have any horror film recommendations for the Illusion readers?
There are so many good ones in so many sub-genres… so I will leave you with one recommendation: "Martyrs" is a 2008 horror film written and directed by Pascal Laugher. Warning: not for the squeamish!)
You mentioned liking gross stuff. Not sure if this is film or art related. What exactly?
To simplify, anything that flirts with the macabre.
You portrayed a circus zombie in "Carny," but like an actual living-dead character… do you have future plans to become one in a movie?
In the movie "Carny," I was the carnival's illustrated man. I would enjoy an experience to act in a zombie movie.
Photos © respective owners
Republishing of this Interview is Not permitted.