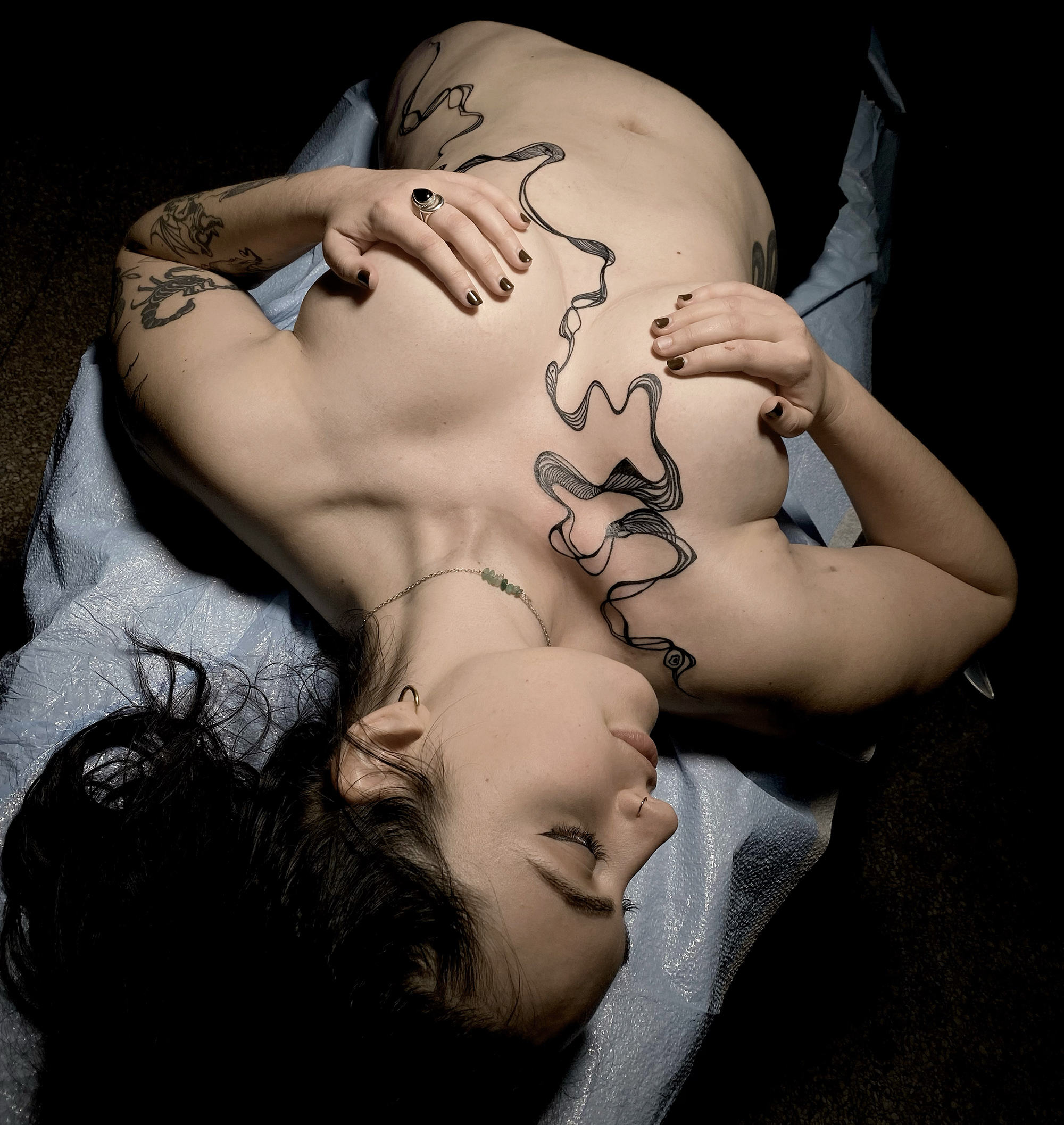 Alberto Hartleben is known as "El Nawal" in the tattoo community. A Guatemalan native who has lived most of his life in Brazil. In 2021, he co-founded a private tattoo studio in Houston, Texas, where he currently resides and works. As a tattoo artist, he employs black ink due to its beauty and longevity. In each of his works, he transmits his experiences, from living in the jungle to the client's energy, using ascending lines and plant life, among other things. He is also influenced by his Mayan heritage and a few other Central and South American civilizations.
Above: El Nawal's dynamic line art may be seen here.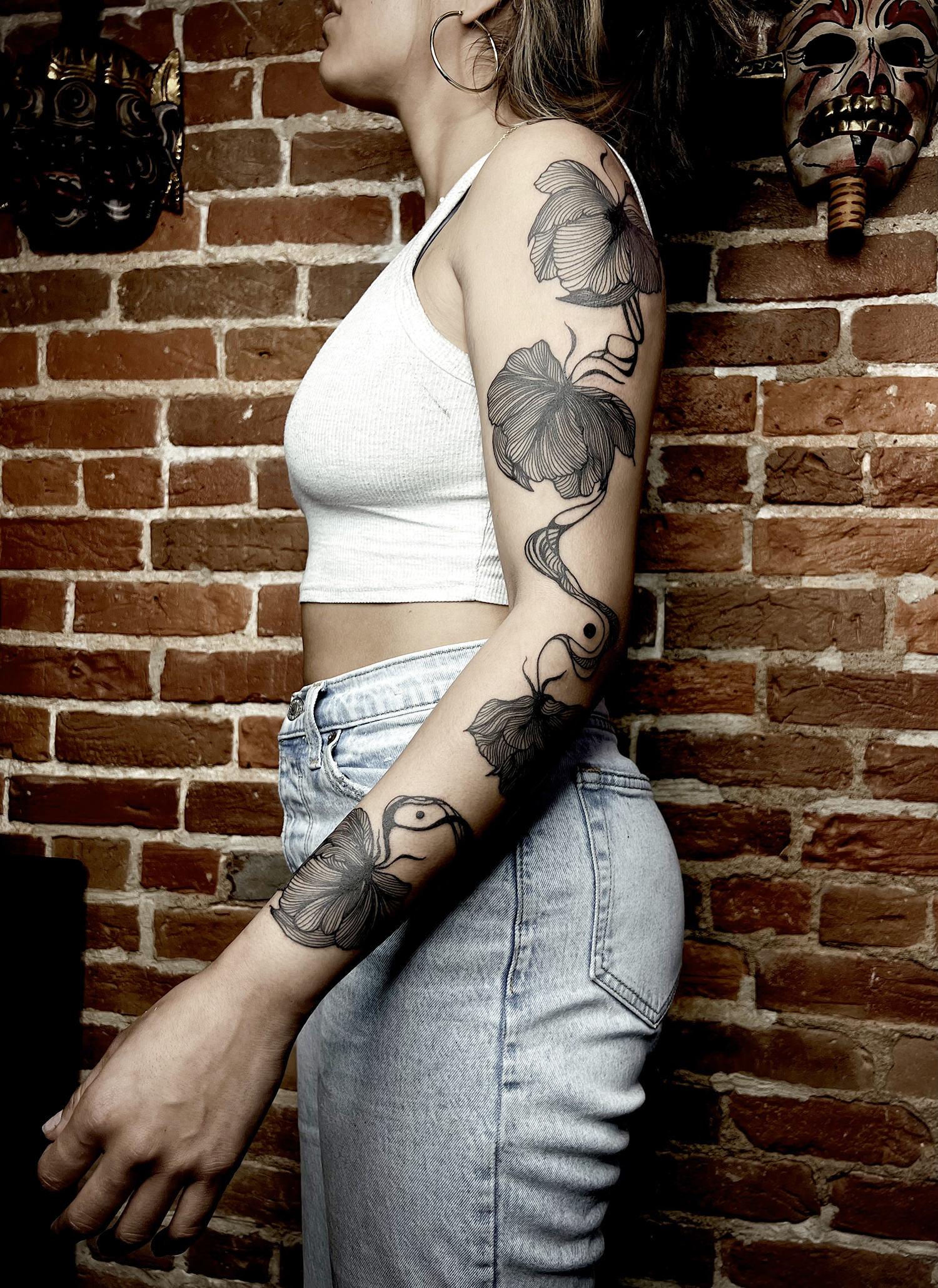 A tattoo of an organic, flowing vegetation on the client's arm.
Before becoming a tattoo artist, you worked in various countries, from Guatemala to Argentina.
Before studying art in Argentina, I studied environmental engineering for years. My first job was with a Guatemalan government environmental institution, where I worked in a forest reserve to protect aquifers. I had to create long-term projects with indigenous communities who lived in the protected areas. I also worked to reduce the environmental impact of falling trees for the consumption of firewood by the reserve's communities and the evaluation of new housing constructions. I needed to protect the area with my multidisciplinary team. This forest area is significant and essential because of the high water quality produced by the forest's richness. Cerro Alux is the reserve's name, and I learned much about different aspects of life there.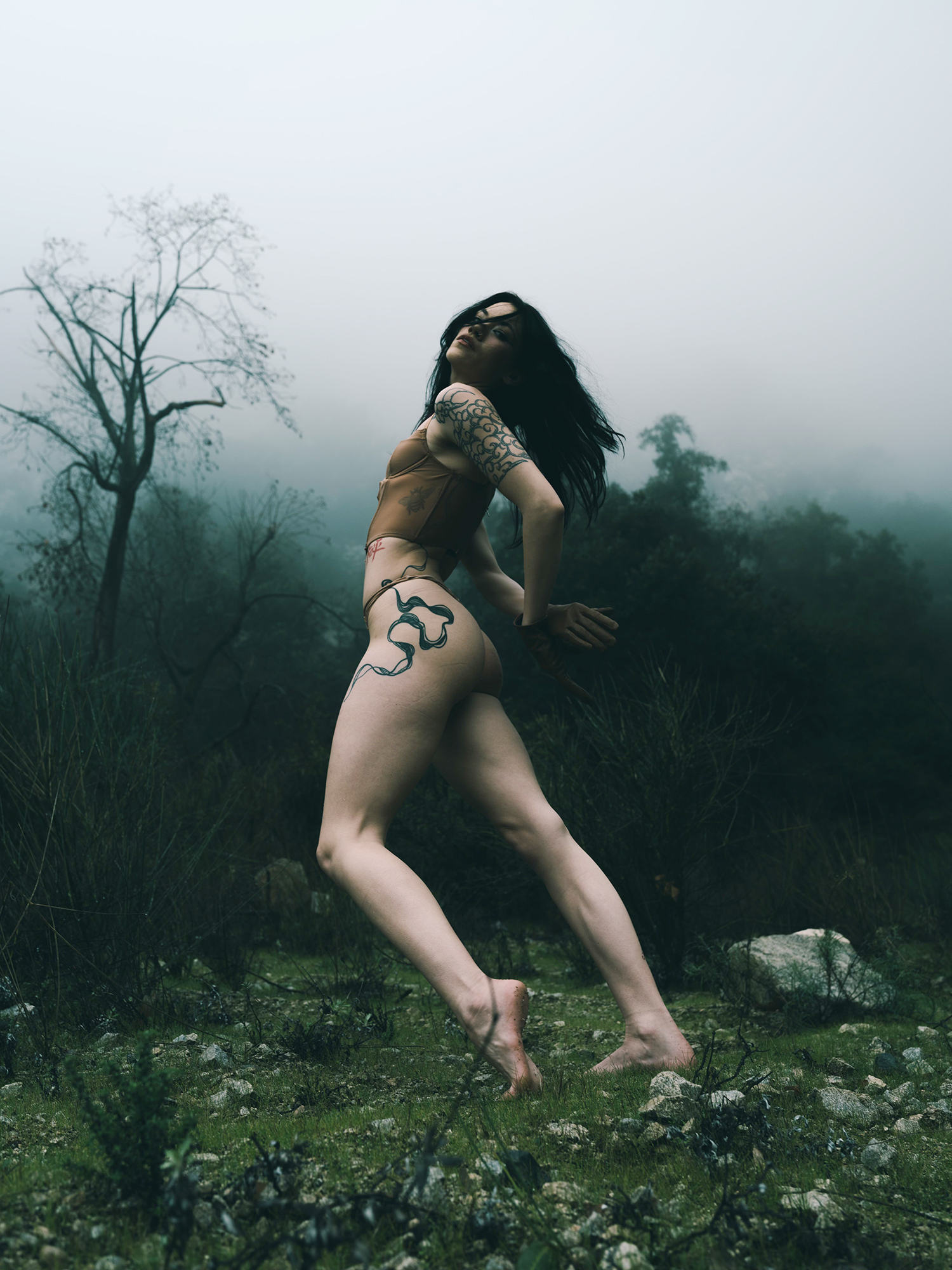 The Guatemalan tattooist has produced more electrifying line art.
You afterward relocated to Brazil; what else did you accomplish?
Yes, I moved to Brazil and began working in organic agriculture and environmental education for an orphanage; I (the team) also produced food for the orphanage's 300 children; the orphanage was located in a rural area far from the city. As a result, we could not access essential services such as the internet, hospitals, supermarkets, phone calls, etc. We were utterly alone in the tropical jungle of Xerem (Rio de Janeiro). It was a fantastic experience in my life; living with nearly hundreds of people every day taught me a lot. I would describe it as a massive farm, a magical place, with volunteers from all over the world and from all walks of life. I also learned a lot about myself; nights with no light and only nature made me think about myself and who I was, as did having such deep conversations with community members. I became interested in a more spiritual, simpler world where I didn't need much to be happy. I just needed to be grateful for the ability to wake up every day, to be thankful for being alive. Many community members had been through adversity and numerous examples of complicated lives. We always supported the many young people and children who went there searching for safety. It was sad to think about the many situations they had been through, but it was a unique personal experience for me.
Later, in Rio de Janeiro, I opened a hostel for backpacker surfers, where my tattoo journey and passion began. My French friend Arthur and I spent time together in Rio de Janeiro. He was energetic, loved surfing and the beach, and was very intelligent. He was always there if anything went wrong in the hostel, he could fix many things when I wasn't there, and I had a lot of faith in him. Arthur returned to France, where he now has his own family; I've lost contact with him because everyone went their separate ways. He was also not particularly interested in web technology, unlike many people I met there, whom I greatly admire. I am constantly reminded of him, his expressions, and so on. These people were a big part of the fantastic things I saw while living in a favela in Rio de Janeiro. Now that I'm writing about it, it's almost as if I'm going back in time, feeling all the joy from such beautiful experiences amid a wonderful world of art and people.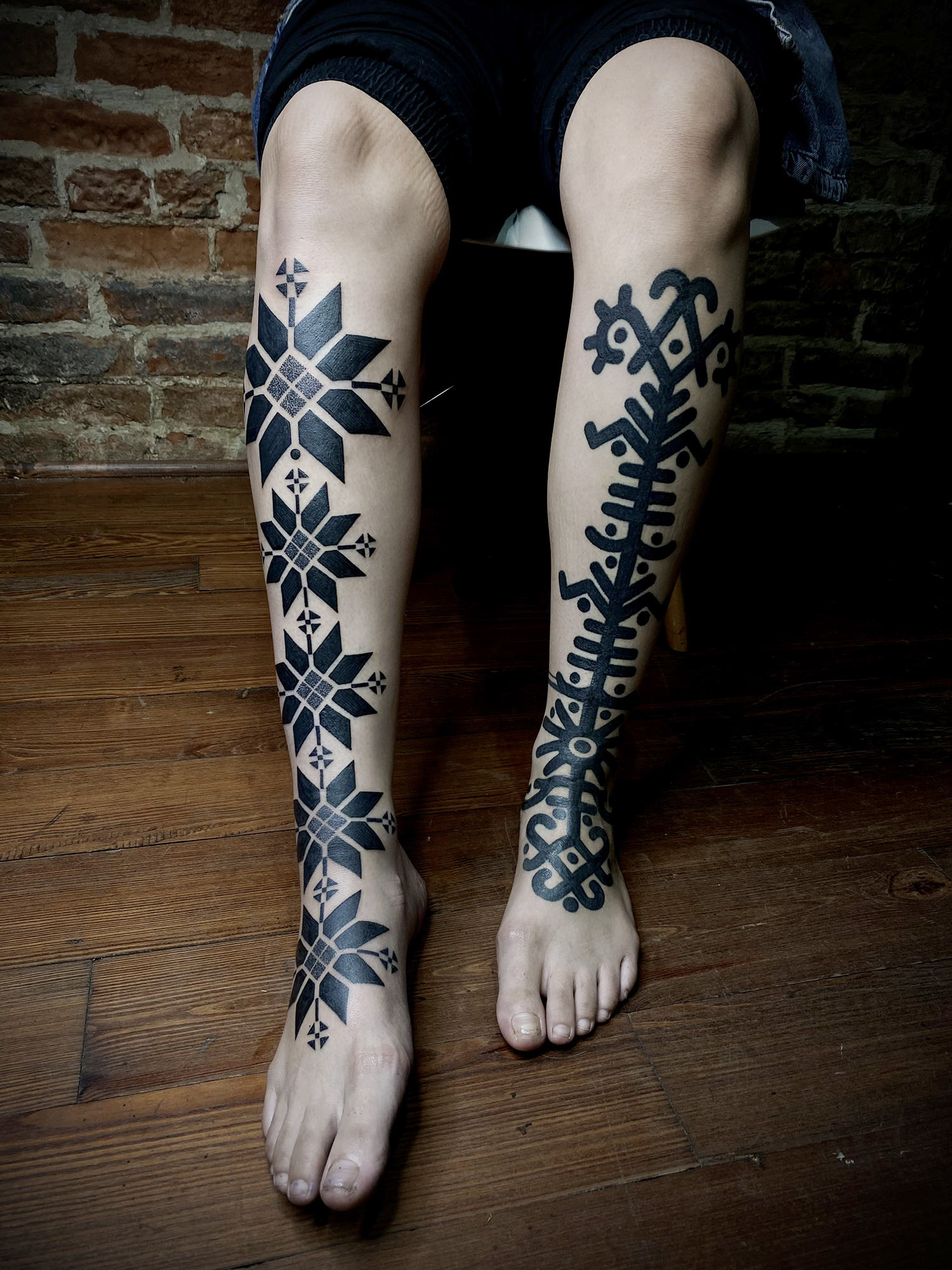 Tattoos inspired by fabrics from Guatemala's indigenous people.
In 2014, you started tattooing. Why?
I've always felt drawn to art since I was a child. I began learning about tattoos with my friend Arthur; he did hand poke tattoos, and my interest in tattoos has only grown since then. Tattooing is a beautiful job, but learning how to do it well takes time and dedication. It's not easy to learn how to tattoo, so I'll be a lifelong craft student.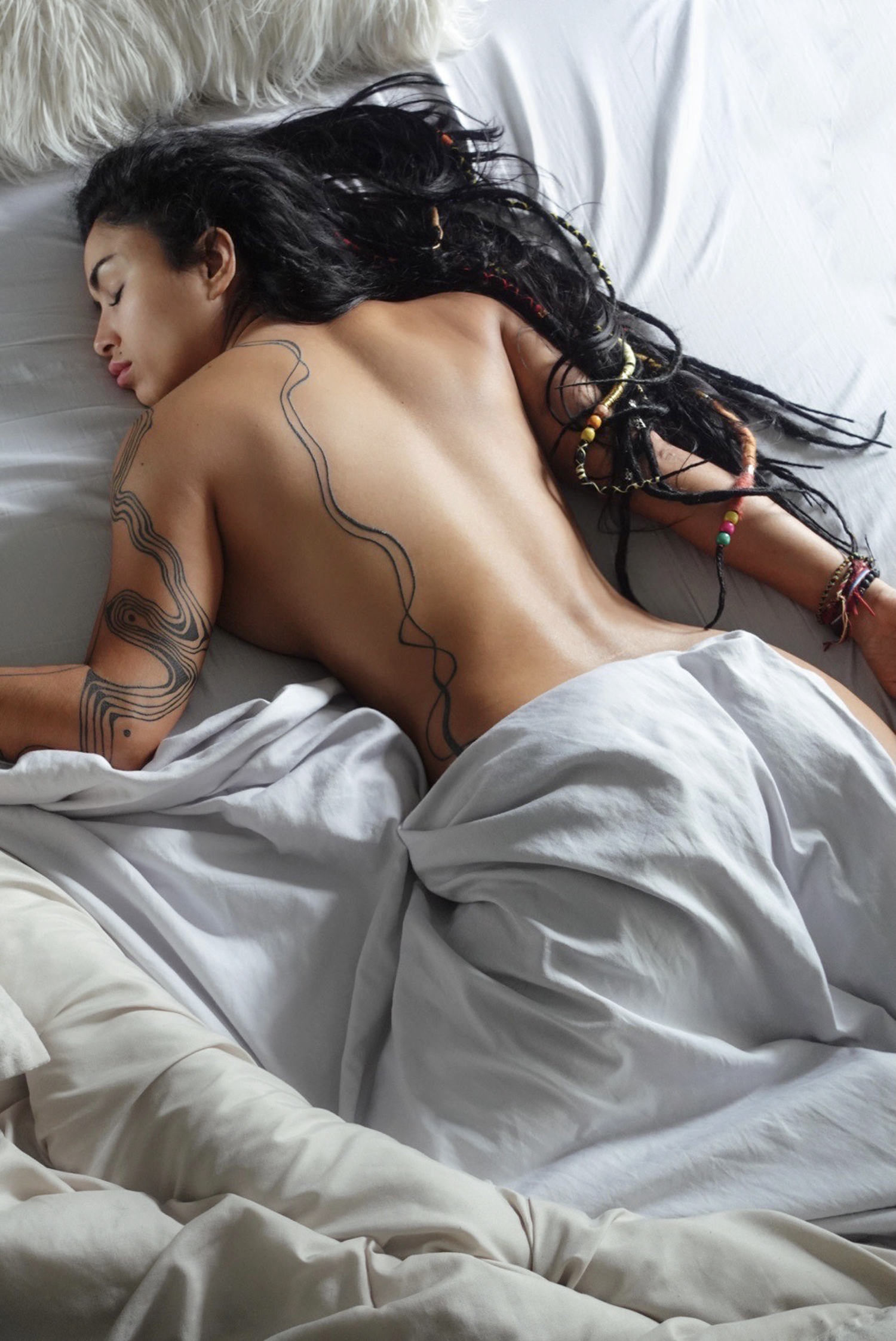 El Nawal tailors every tattoo to the body's contours.
Do you feel that getting a tattoo connects you with your ancestors? It's that moving and emotionally powerful.
Everyone has many questions about life and the personal issues we face daily. Everyone has different life experiences; I have been through many difficult situations. After years of being a mess, I wanted to find something that made sense in my life; this was in Brazil. I began my spiritual path, always carrying something from my ancestors—the Mayans (a robust culture in the spiritual sense). So I mixed cultures and beliefs.

In Rio de Janeiro, I started to have experiences with Ayahuasca; for many people, it sounds very strong, as if it was a hallucinogenic drug, but it is not. Ayahuasca is the fusion of two plants (Yage and Chacruna leaves), the infusion of Ayahuasca causes a psychedelic trip that lasts about 6 hours. This is sacred in Brazil's indigenous cultures and in a religion (A Uniao do Vegetal), where tea is permitted. I started with Ayahuasca; a friend invited me, and he talked about the doctrine and their philosophy of how they saw life as a religion. It was fascinating, so this motivated me to want to know more. I went to a retreat in Petropolis, about 60 kilometers from Rio de Janeiro, where I first encountered Yanomami. Yanomami is a magical tribal culture that already uses other medicines to help in the process (Rapé [basically a smokeless tobacco], Kambô [a therapeutic practice using the poisonous secretions of a monkey frog]). My life began to have more sense; my perspective of life had a 360 change. I became more sensitive about myself, what I felt, thought, etc. I learned that much of what we seek is within ourselves; when you are part of a ritual, it feels like flying in an infinite space with thousands of different visions, colors, shapes, sounds, etc. But everything was so abstract; I understood that life is abstract, everyone has their process, and everything in life consists of steps. It would help if you worked on yourself first, knew who you are, and accepted internal issues; after that, the plant begins its work; the DTM (N,N-Dimethyltryptamine) is used in a therapeutic and can help you with many things in life. It has helped me; I have changed drastically, and I am not the same person I was ten years ago.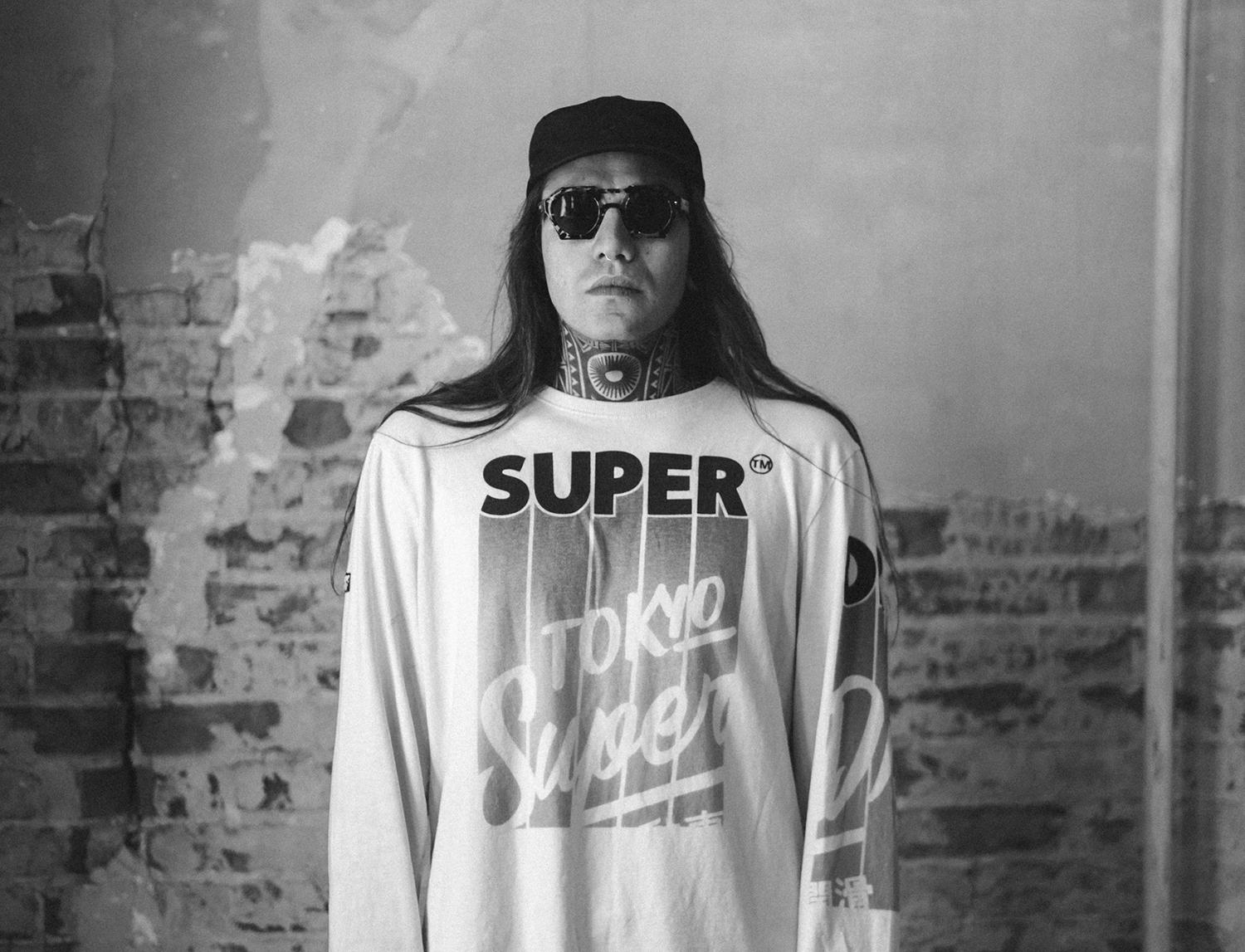 El Nawal is a tattoo artist with eight years of expertise.
Since then, I got involved in the process of self-knowledge; we are humans. We are logically not perfect, but we can work on being better people every day. Each one of us can do what works best for us; this is what has worked better for me.

Then I went to South America, where I had beautiful experiences with native people and my first experiences with change, which has the same components as Ayahuasca but is consumed differently and has shorter effects. So I have continued my journey through the American continent, learning more about each culture and its arts and looking for the medicines of people, tribes, etc.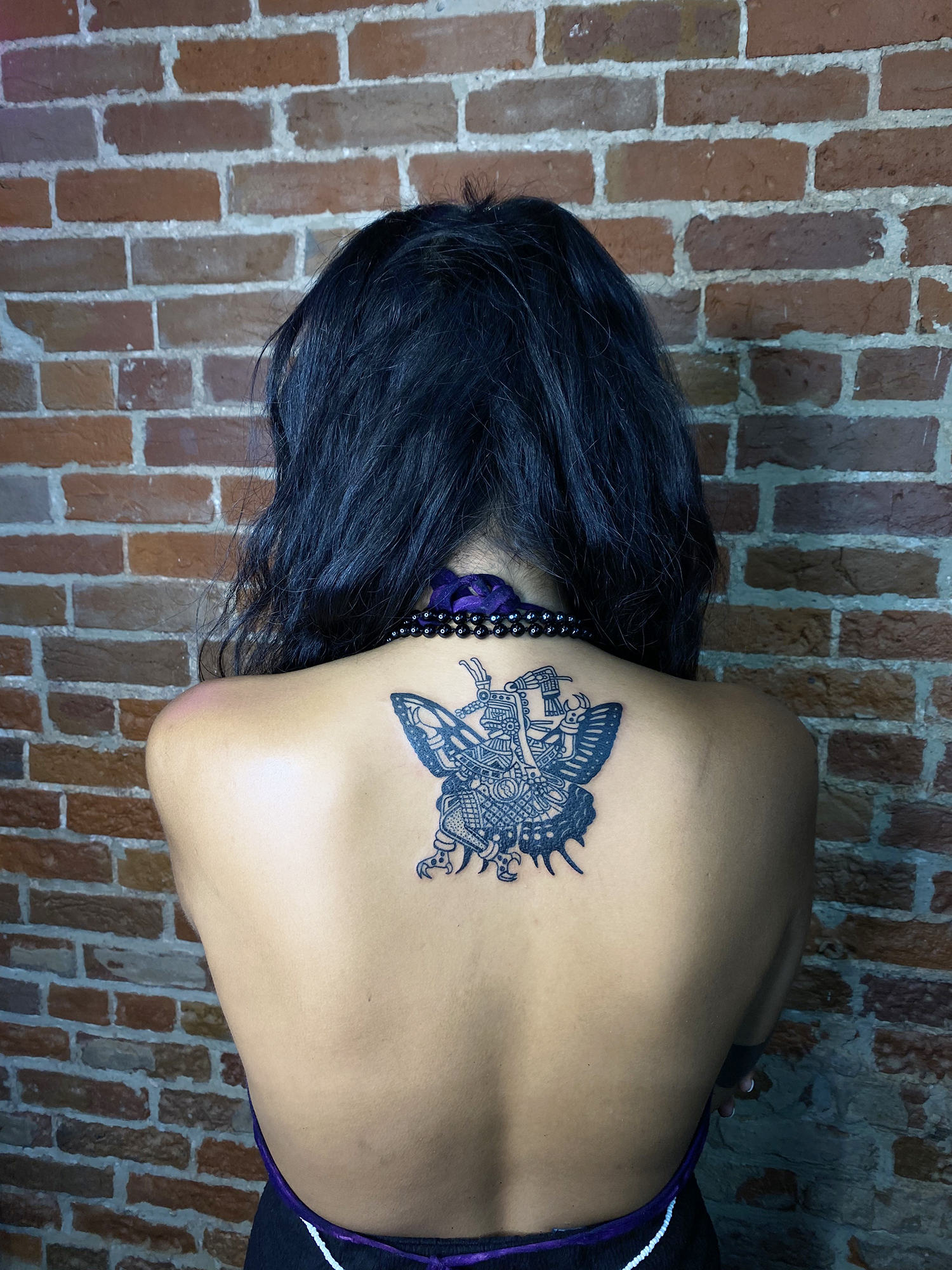 "Itzpapálotl," also known as the "Obsidian Butterfly," was a beautiful skeletal warrior goddess.
In 2021 I had an experience with some native people, the Huicholes in Mexico; they use the Peyote [a cactus with psychoactive properties] for their ritual. It was unlike anything I'd seen before; the plant's energy and culture were very different. All of this greatly impacted me; my art changed in many ways.

And in response to your question, there is a universal connection, and I know we are not alone. We must establish contact and harmony with supernatural beings. I'm not sure if they are ancestors; all I know is that something higher than us guides us through the events of our lives. We must work on our spiritual lives to understand this line of energy, the connection we can all have. I've always connected to something, and many clients have expressed similar feelings about my art.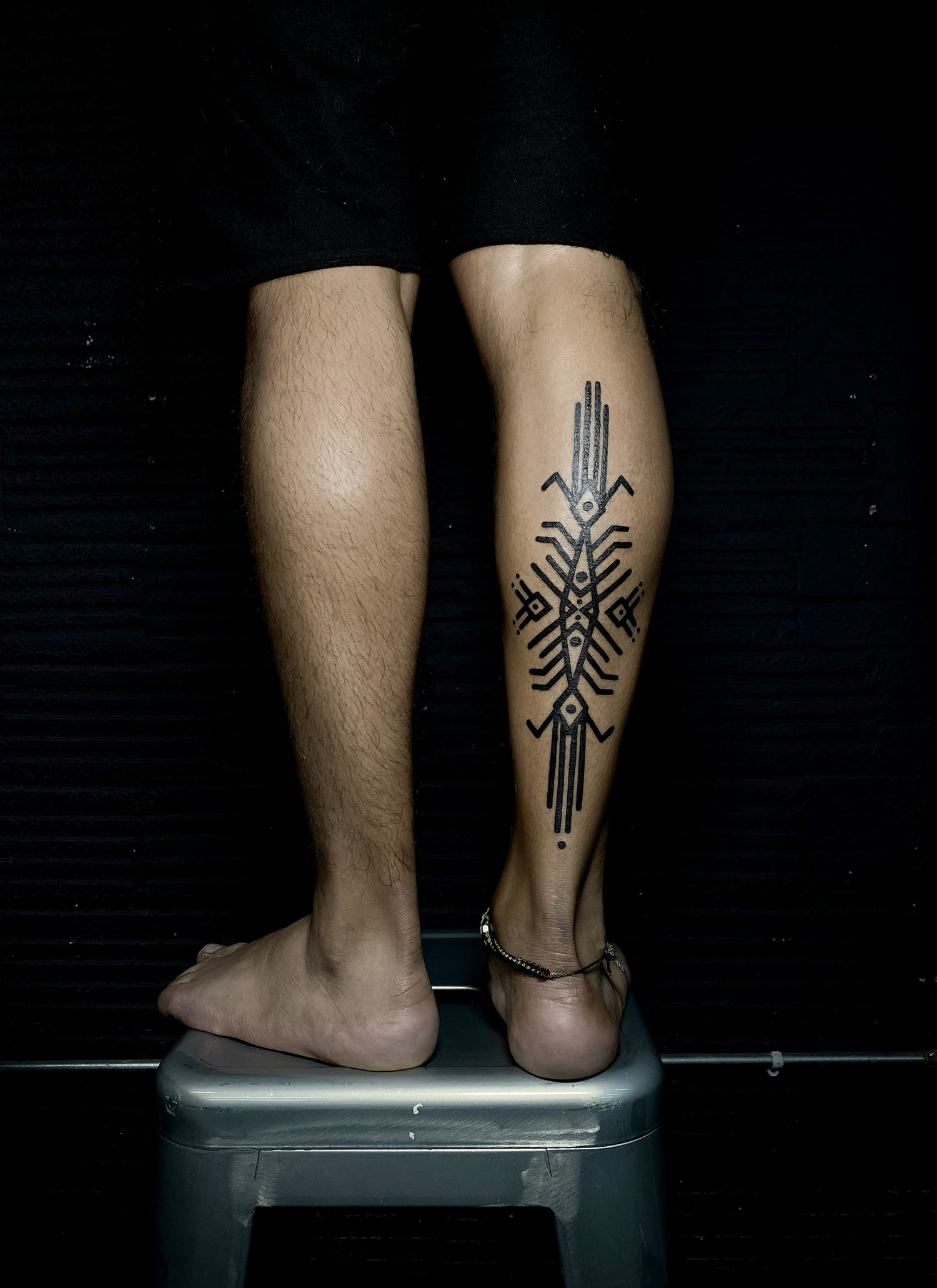 Linework in post-tribal style.
Tattooing was seen as a form of transformation and expression in many ancient cultures. It was unique and special for each individual who got tattooed because they did something relevant to the community. Tattooing, for example, was a ritual in Mayan culture. Warriors, shamans, governors, and the civilization's upper classes were the ones who got tattooed. Pre-hispanic tattoos are made up of geometric shapes, straight lines, or tap markings that were very important in their culture. Scarification was also necessary, but only for the bravest warriors, and it was used as a symbol of prestige.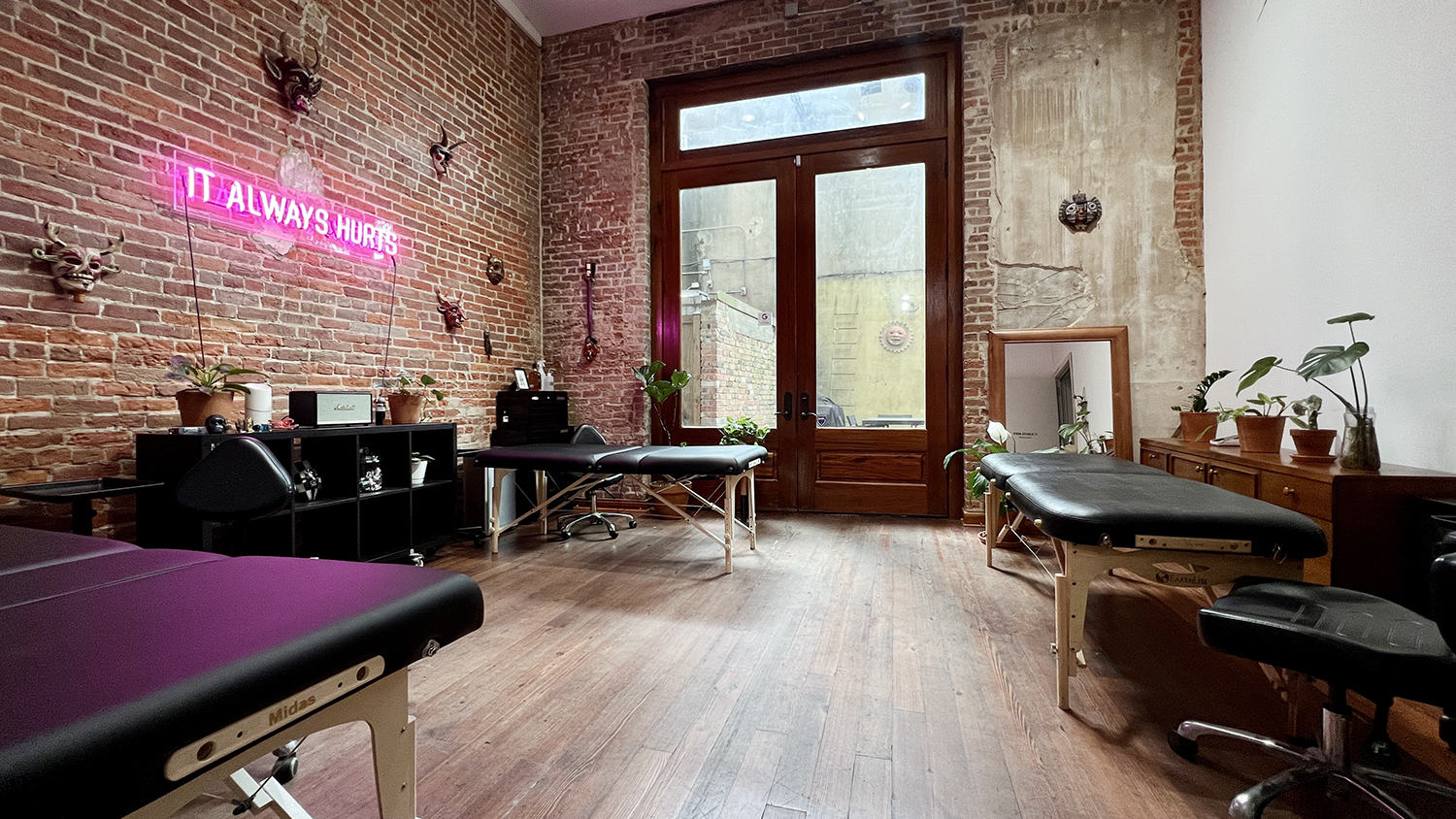 The inside of El Nawal's private studio, "It Always Hurts," in Houston, Texas.
What motivated you to establish a studio in the United States?
I decided to open my tattoo studio after living in Houston, Texas, for a while. I've met many incredible people who have encouraged me and identified with my art and what I create. When I first met my business partner, Vito Torres, we were encouraged to collaborate because we shared a similar outlook on life; we wanted to do something good for the city and its people. We decided to put our energy and imagination to work to create a unique and minimalist tattoo style, and that is when we opened our one-of-a-kind shop in downtown Houston.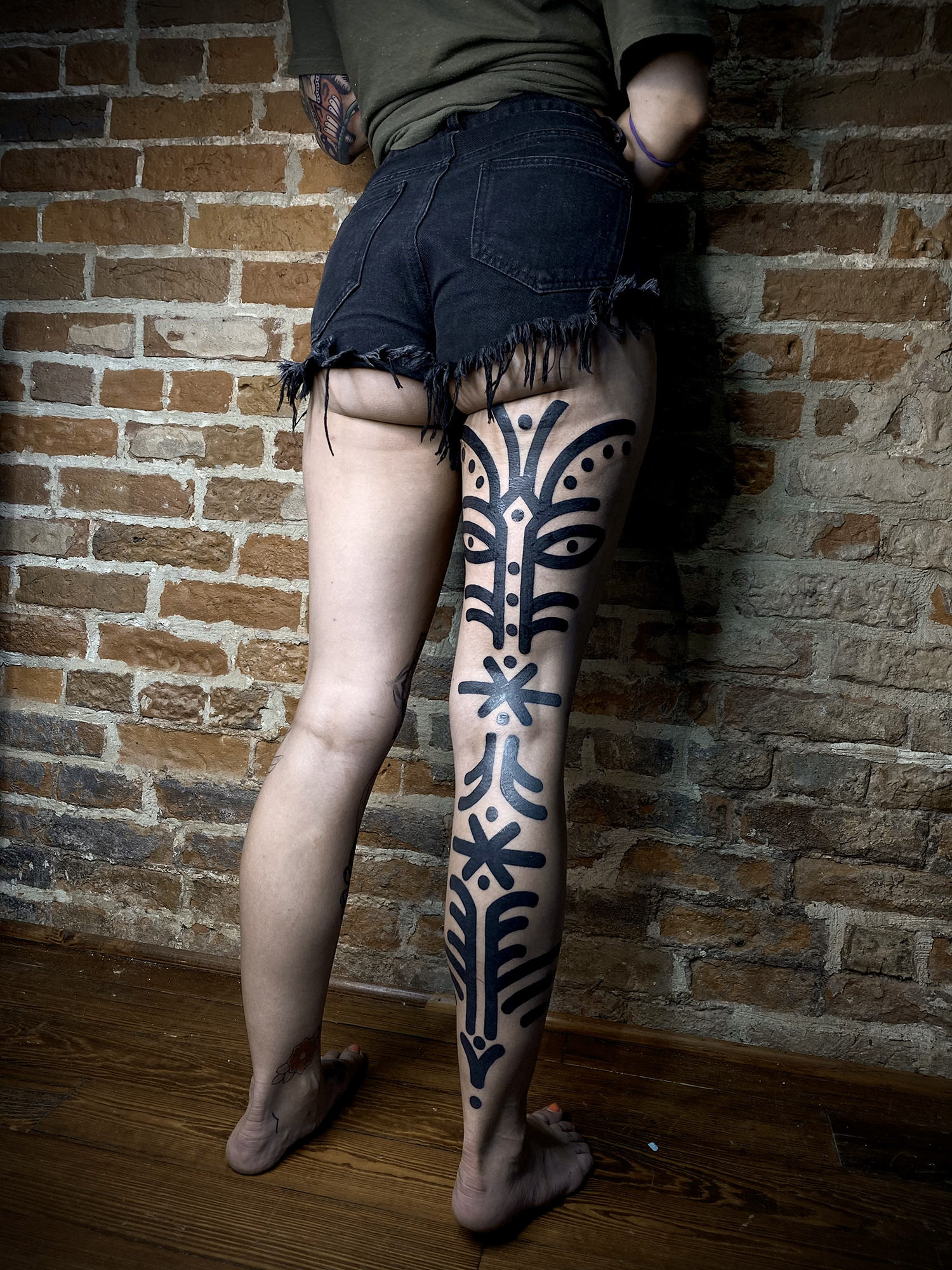 These creative imprints are distinguished by thick lines, which are characteristic of tribal cultures.
What are your plans?
At the moment, I'm focused on expanding the studio as much as possible, a gathering place for creative minds; hopefully, everyone can bring something they enjoy doing, teach each other, and grow together. I believe that the union of artists is essential for developing a community. I also want the studio to be a place where you can find more than tattoos, like other art forms from people; information about their craft and how to express it, and a plethora of accessories from artists and small business owners who frequently require a space to exhibit their work.
In the distant future, I hope to be able to work on a project in Guatemala's indigenous communities. I believe in art as a transformative tool; the best part would be working with young people from these communities with great artistic potential. I'm sure there are many talented people among the indigenous peoples. Regrettably, they lack the resources and opportunities to express their art. Furthermore, Guatemala does not value art and all the options it can provide; there is no social movement that works with art. This is on my bucket list of things to do before I die. Hopefully, with everyone's love and support, I'll be able to do it one day.
Photos © El Nawal