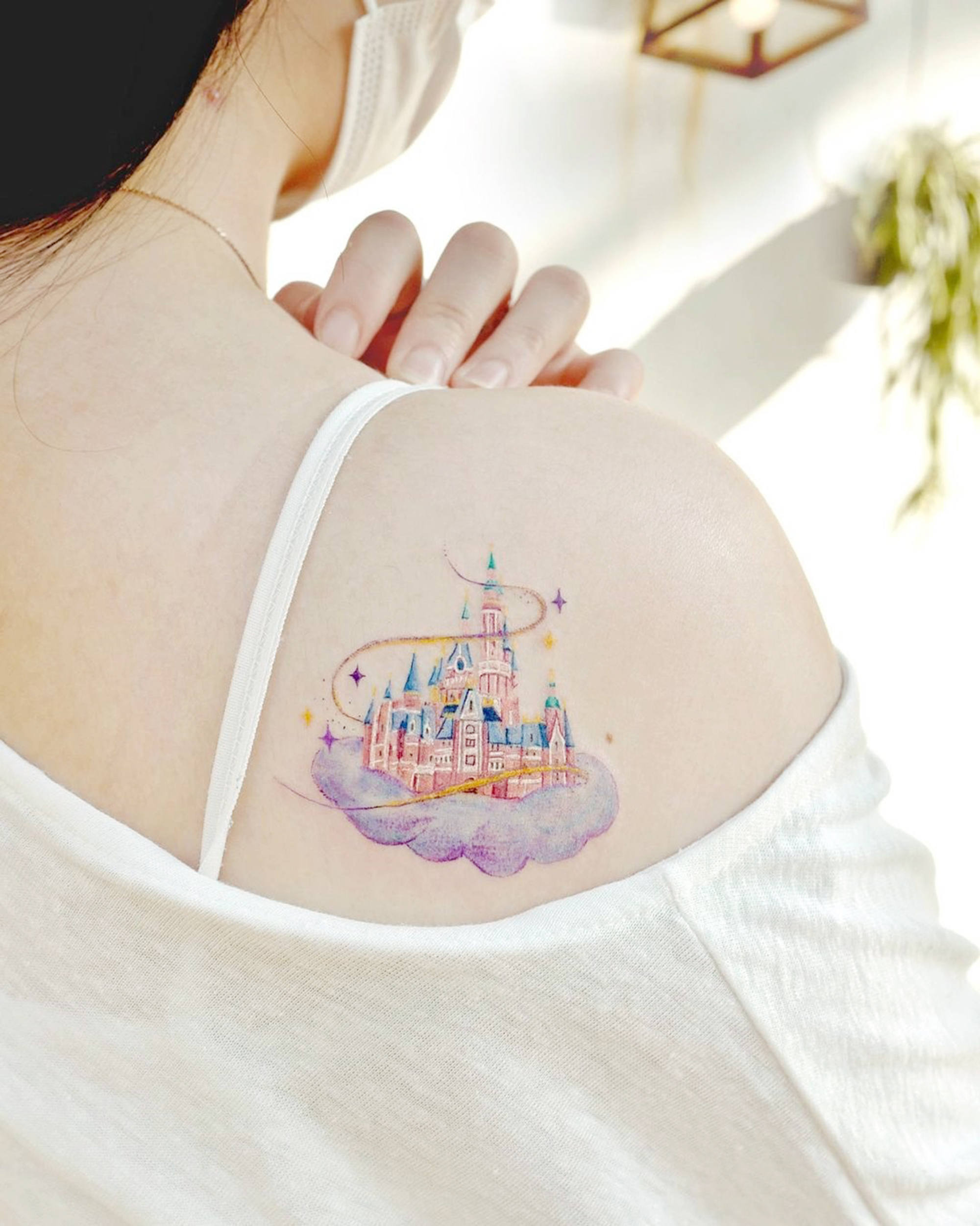 Ovenlee was born in 1995 in Chuncheon, the capital city of Gangwon Province in South Korea. She attended university in 2014 and studied ceramics and textiles before opting to pursue a career as a tattooer in 2018. Fascinated by the countryside's natural beauty, she depicts it in vivid color in her tattoos. She creates fantastical castles and pianos inspired by late-nineteenth-century European landmarks and composers.
Above: Titled "Dreamy Castle" by Ovenlee.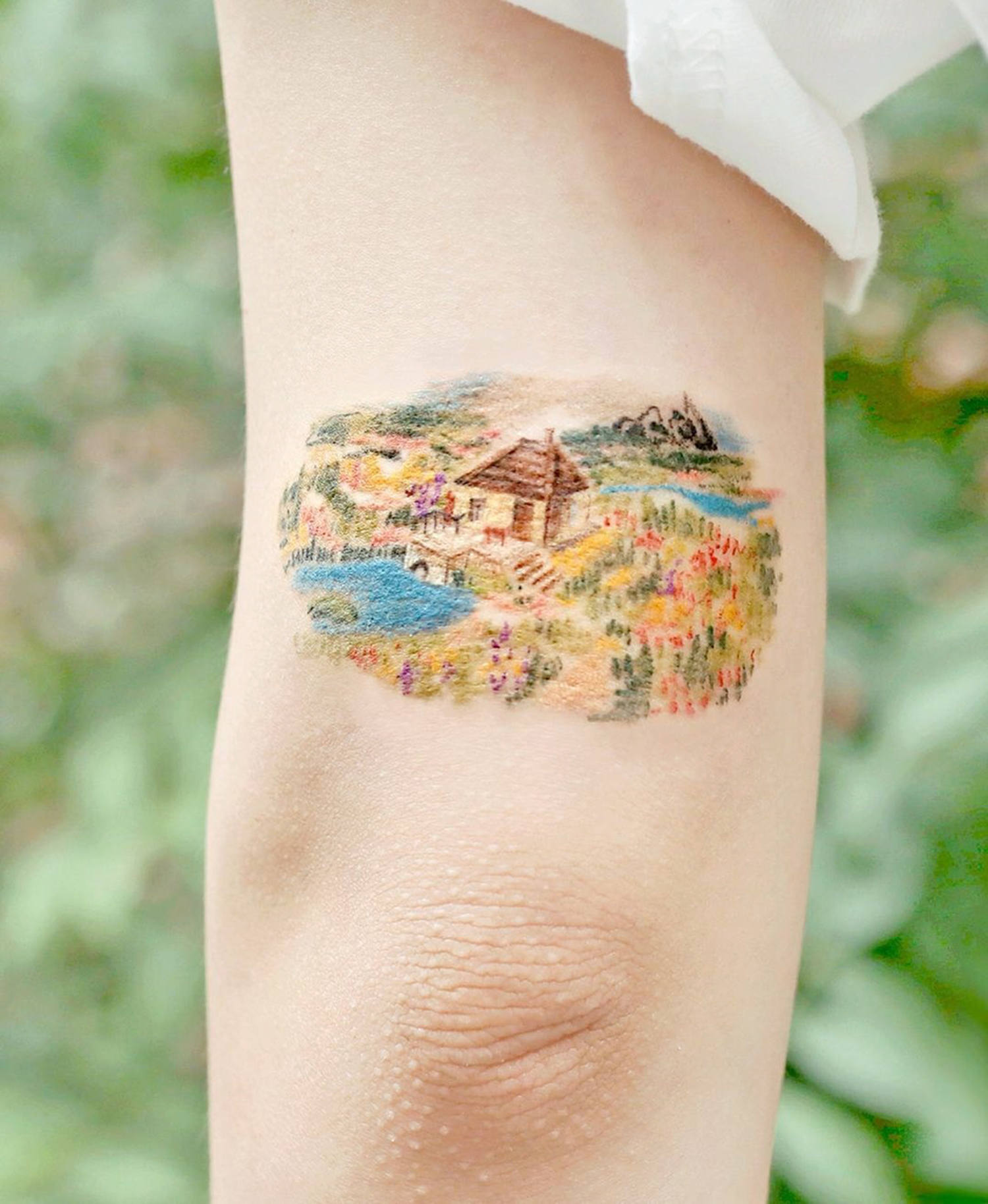 A tattoo depicting a charming village in the country.
Please tell us about your upbringing.
Because my parents were both working, they could not care for me as a child. So I spent the day with my grandparents, who regularly took me to the mountains. My grandfather named the trees and flowers he saw and carved small wooden toys to go with them. I spent a lot of time outside as a kid, enjoying nature.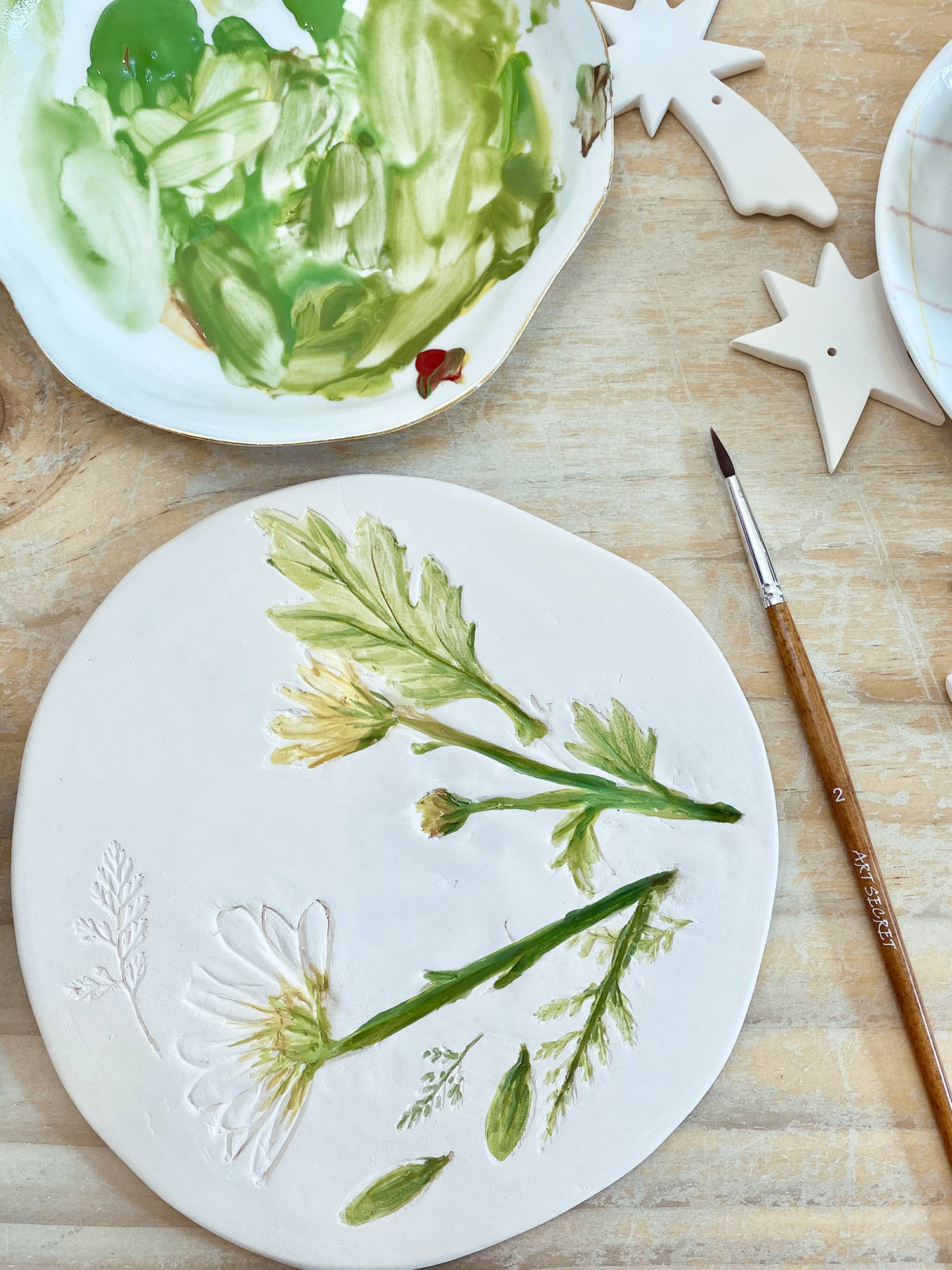 A glimpse of Ovenlee's ceramic artwork.
You studied textiles and ceramics in college; why should you graduate and not follow that career?
Ceramics piqued my interest the most out of textiles and ceramics. So, after graduating, I intended to attend graduate school to further my ceramics studies. However, I enjoyed drawing so much that I started thinking about a career in either ceramics or painting. When I was in college, I had an Instagram account to post drawings. Then someone asked for a tattoo of my illustration, and my friend, who was a tattooist at the time, tattooed the customer using my drawing. This completely changed my mind. Tattoos captivated me (that someone will keep my art on them for the rest of their life).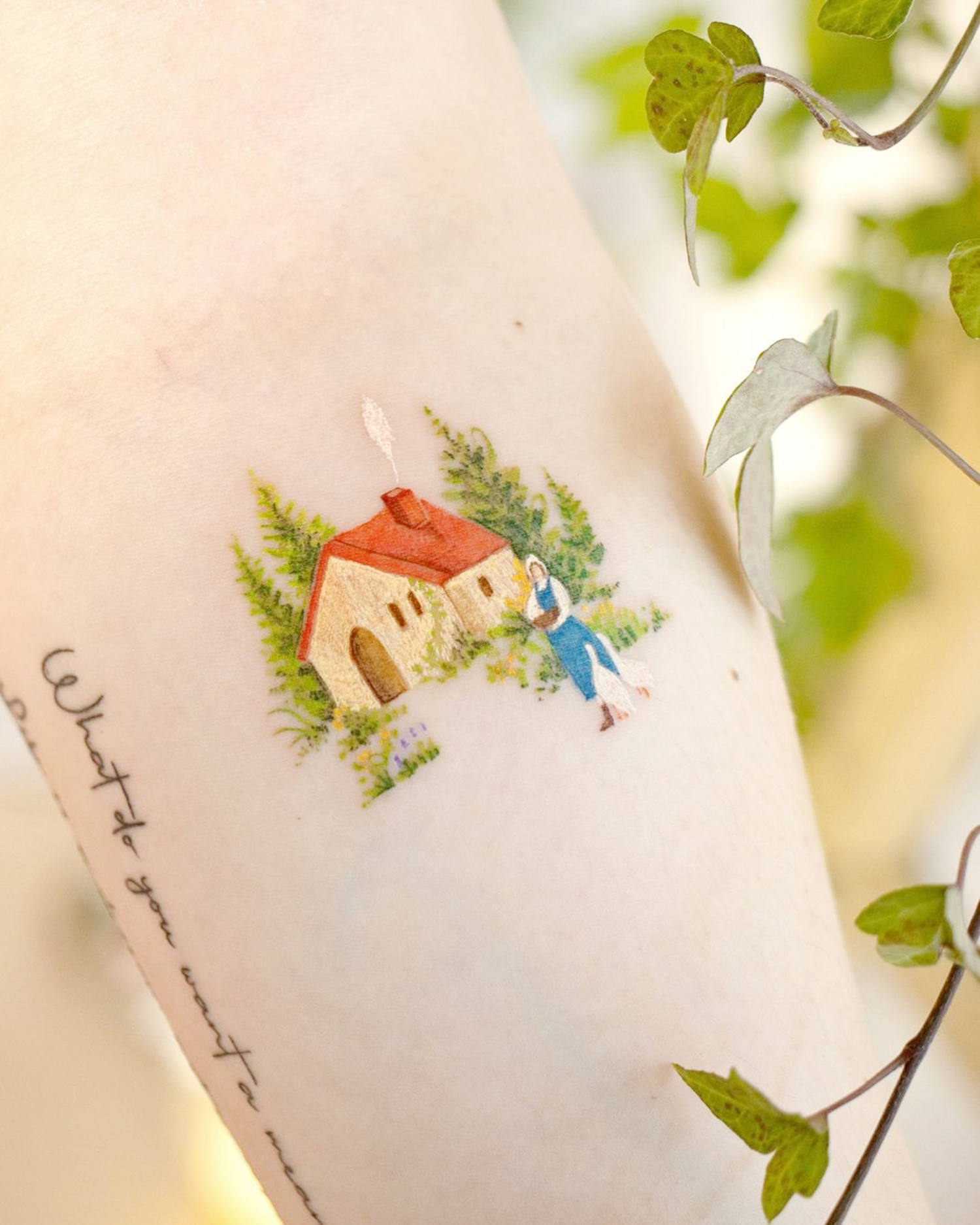 Swiss-style cottage done in micro tattooing.
Were financial considerations a part of your decision to become a tattooist?
It was not a financial consideration when selecting to be a tattoo artist. I had no idea tattooists made a lot of money. I just liked the feeling of drawing on a human body and the sense of pride it gives me.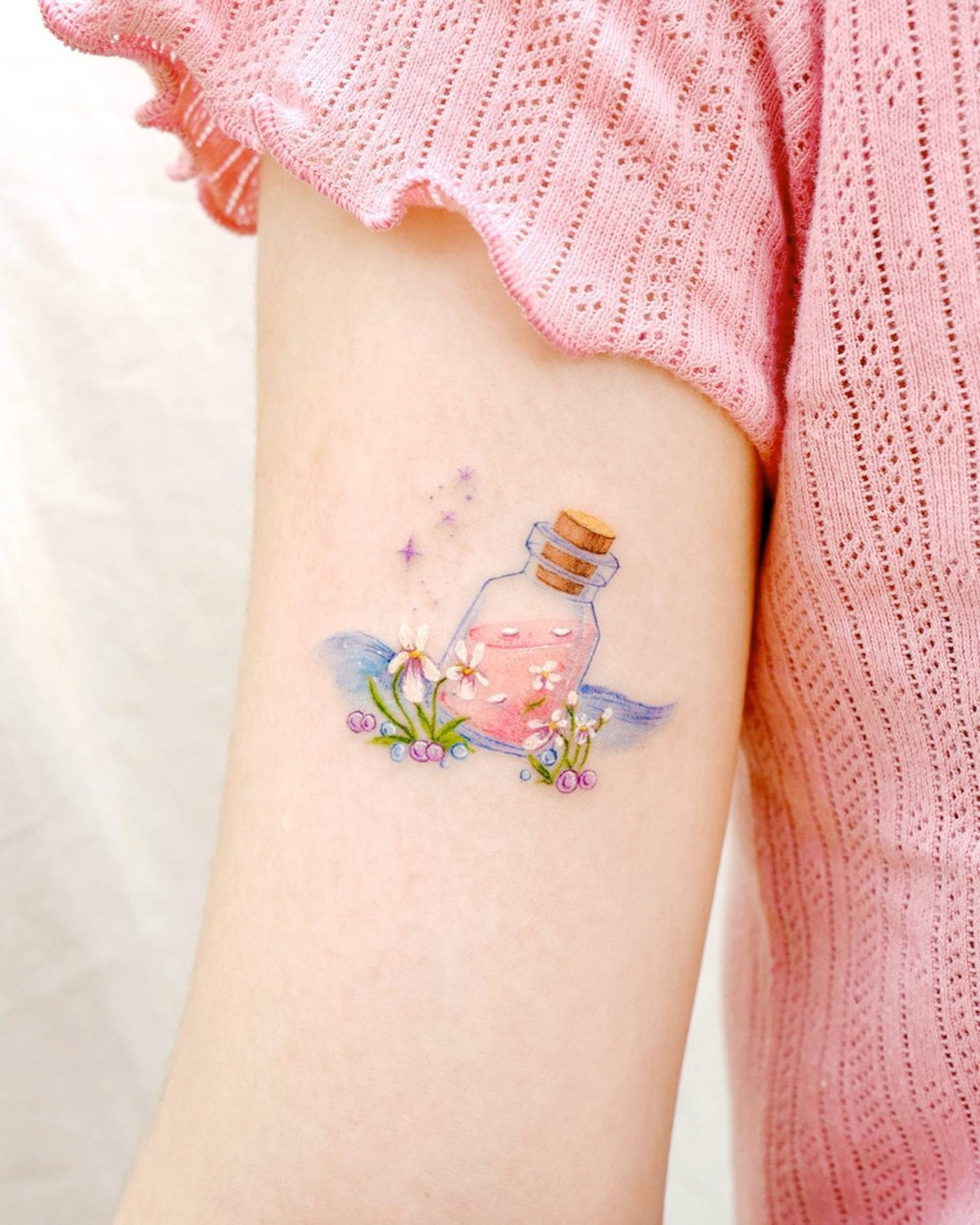 The bottle of pink water from the client's dream.
Your work has a serene look to it. What are some of the stories that you have depicted?
A client stated that their mother discovered a bottle floating in water in a dream (see above). There were also flowers and water with glittering beads. Her mother is said to have conceived her after she had this dream.
Then there is a piano tattoo based on a drawing I made while listening to Claude Debussy's music (pictured below). It was an emotional painting at dawn, but I drew it after listening to Debussy's "Clair de Lune" (Moonlight). The melody of the piano, the dawn light I saw, and the notes were all drawn to express the emotions I was experiencing.
Finally, the castle tattoo floating in the clouds depicts a scene from the Neo City song "Welcome to My Playground." Because the customer liked it, I drew this image while listening to the music. I drew motifs of cute kids, the Aurora Borealis, and a vibrantly colored city.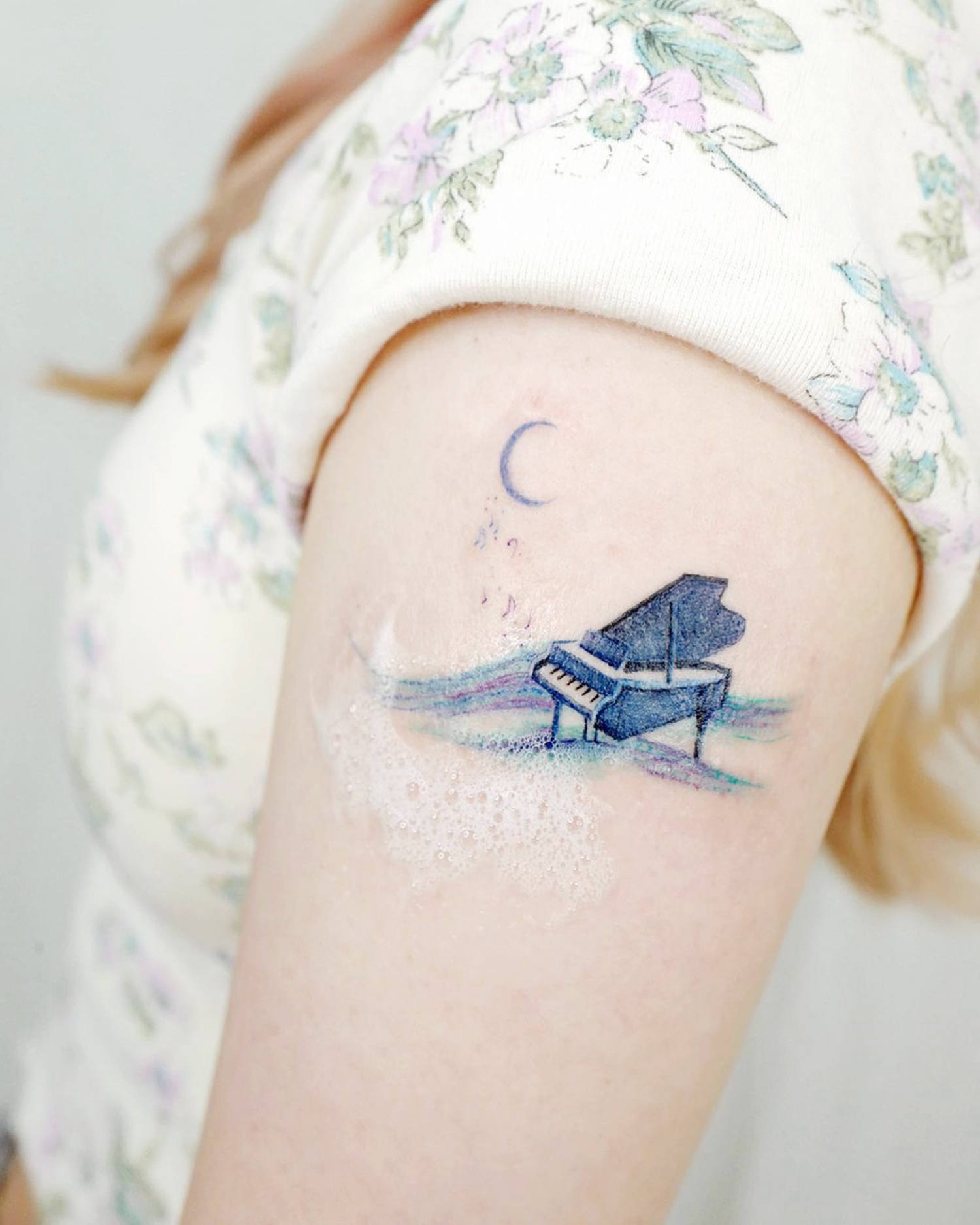 A piano inspired by Claude Debussy's music.
Are you like your tattoos, always happy and comfy?
That's how it is in general. You can't always be happy, but you can try to think positively.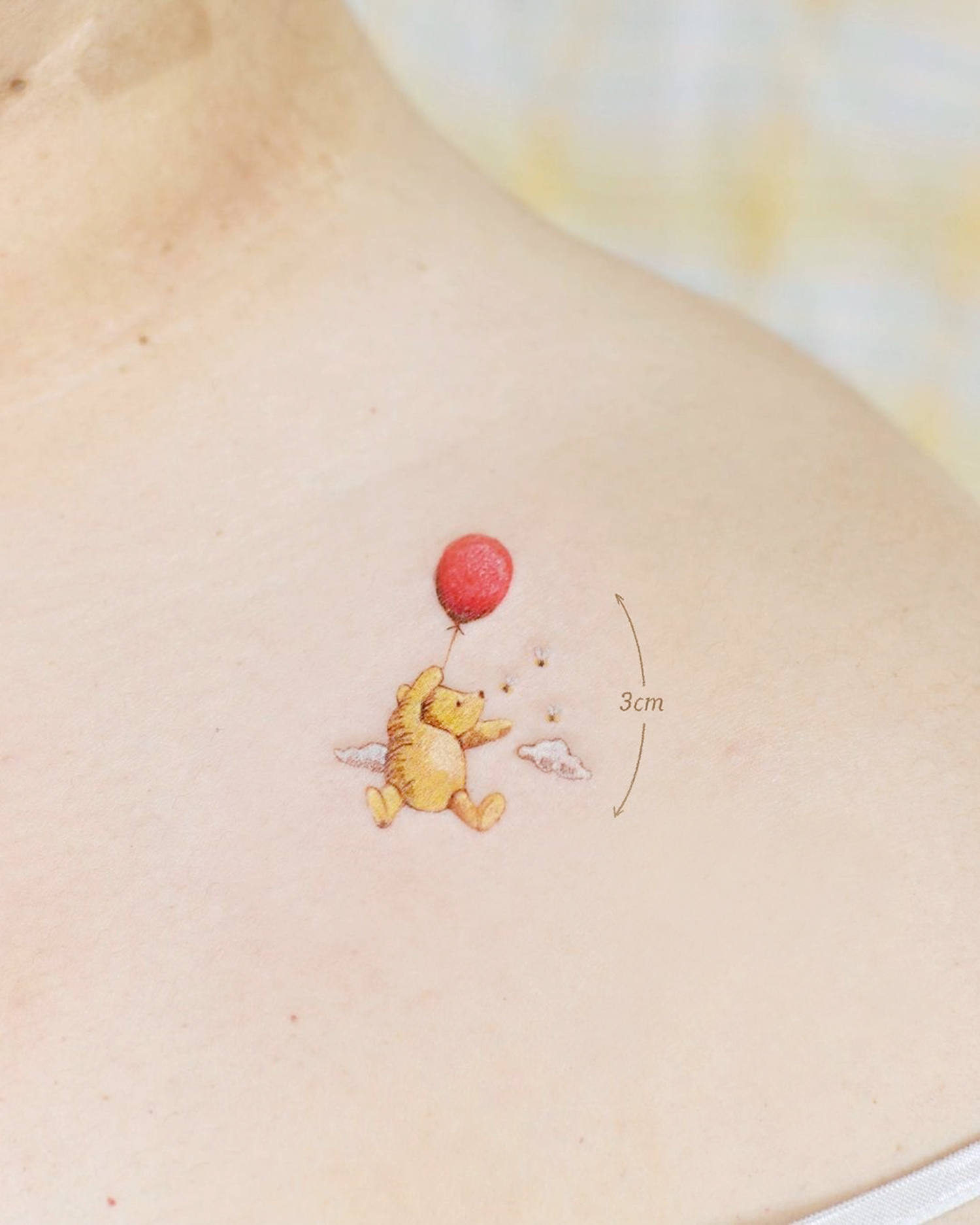 Ovenlee's favorite childhood character.
We see Disney characters in tattoo forms. What are your clients' favorites and yours?
Clients prefer Disney castles over Disney characters. Winnie-the-Pooh is one of my favorite characters because I grew up with a Pooh doll.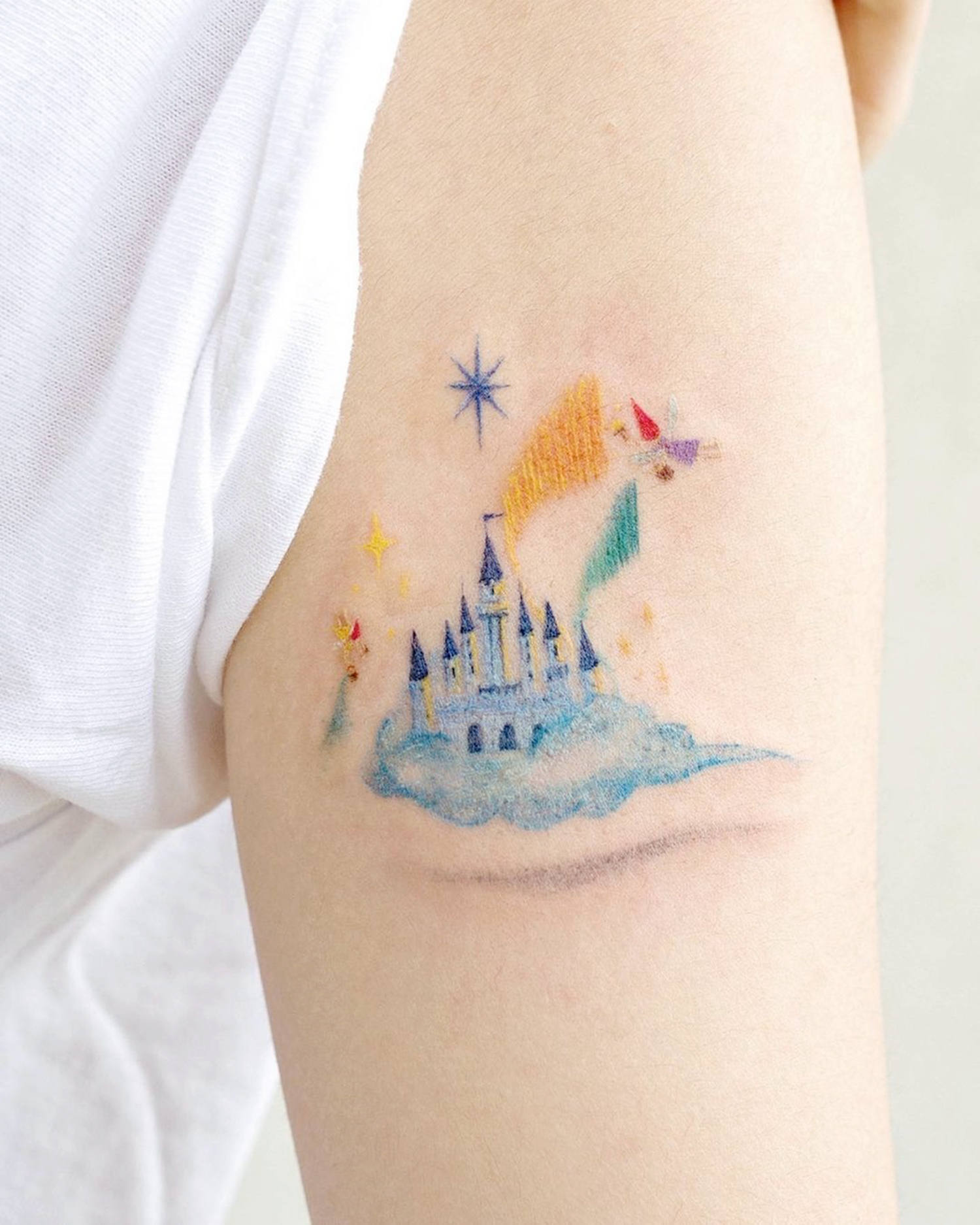 A stylised rendition of the Sleeping Beauty Castle.
What are your thoughts about Disney's stance on "Don't Say Gay," and now backtracking because it has upset many LGBTQ people and their employees?
Oh, I had no idea there was such an issue. It's an outdated idea. I like Disney characters, but I disagree with that stance ("Don't Say Gay"). People, in my opinion, have the right to express themselves.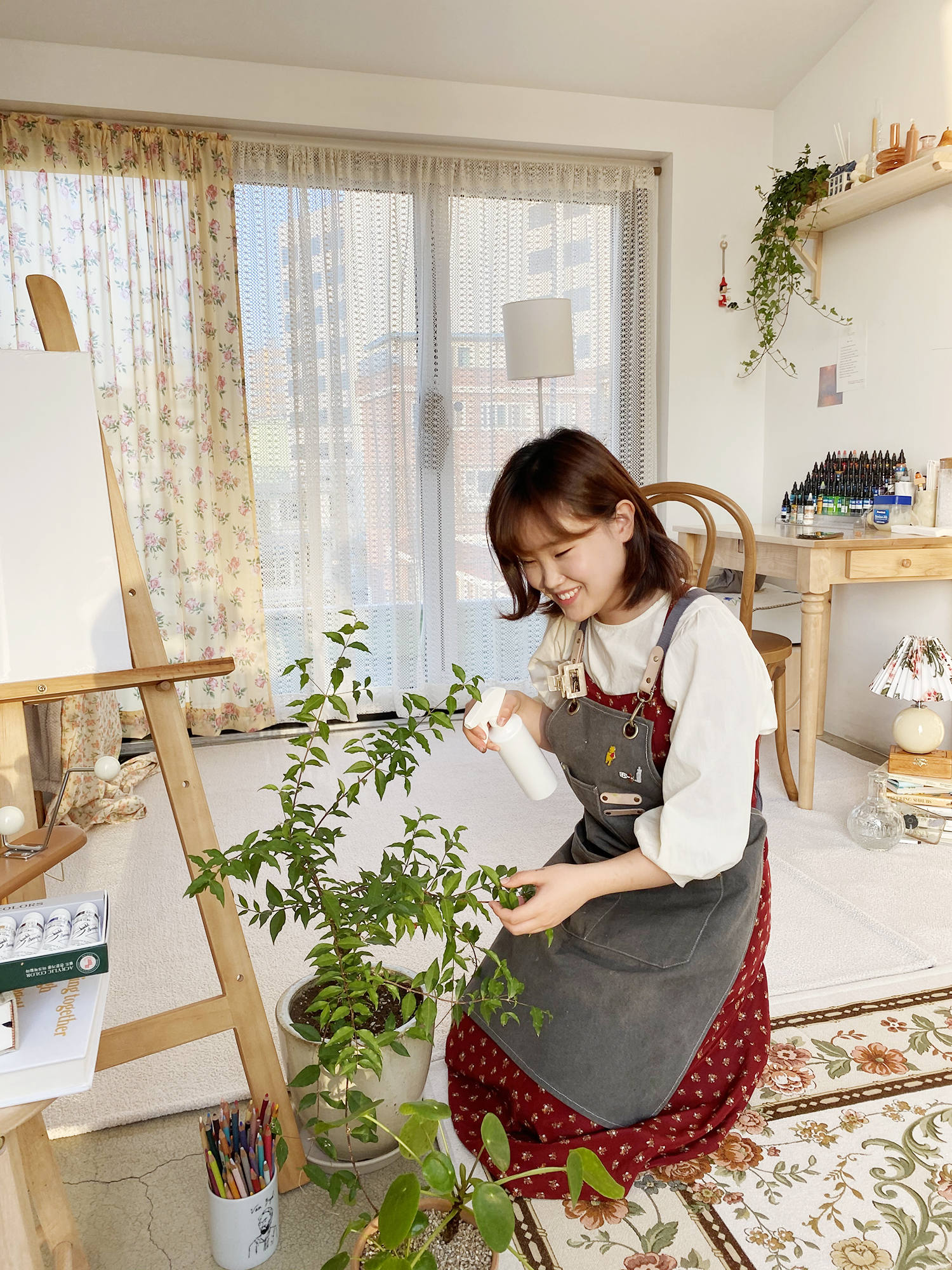 Ovenlee, a tattooist, relaxing in her spare time.
You have a Prague castle tattooed on your arm. Who did it? And have you been to Prague?
My teacher, Sol, gave it to me. He is such a great artist! Prague was the first place my mom and I went on our European tour. We had a pleasant time in Prague. I wanted to keep the memories of that time for the rest of my life, so I got a tattoo of a Prague castle.
Photos © Ovenlee