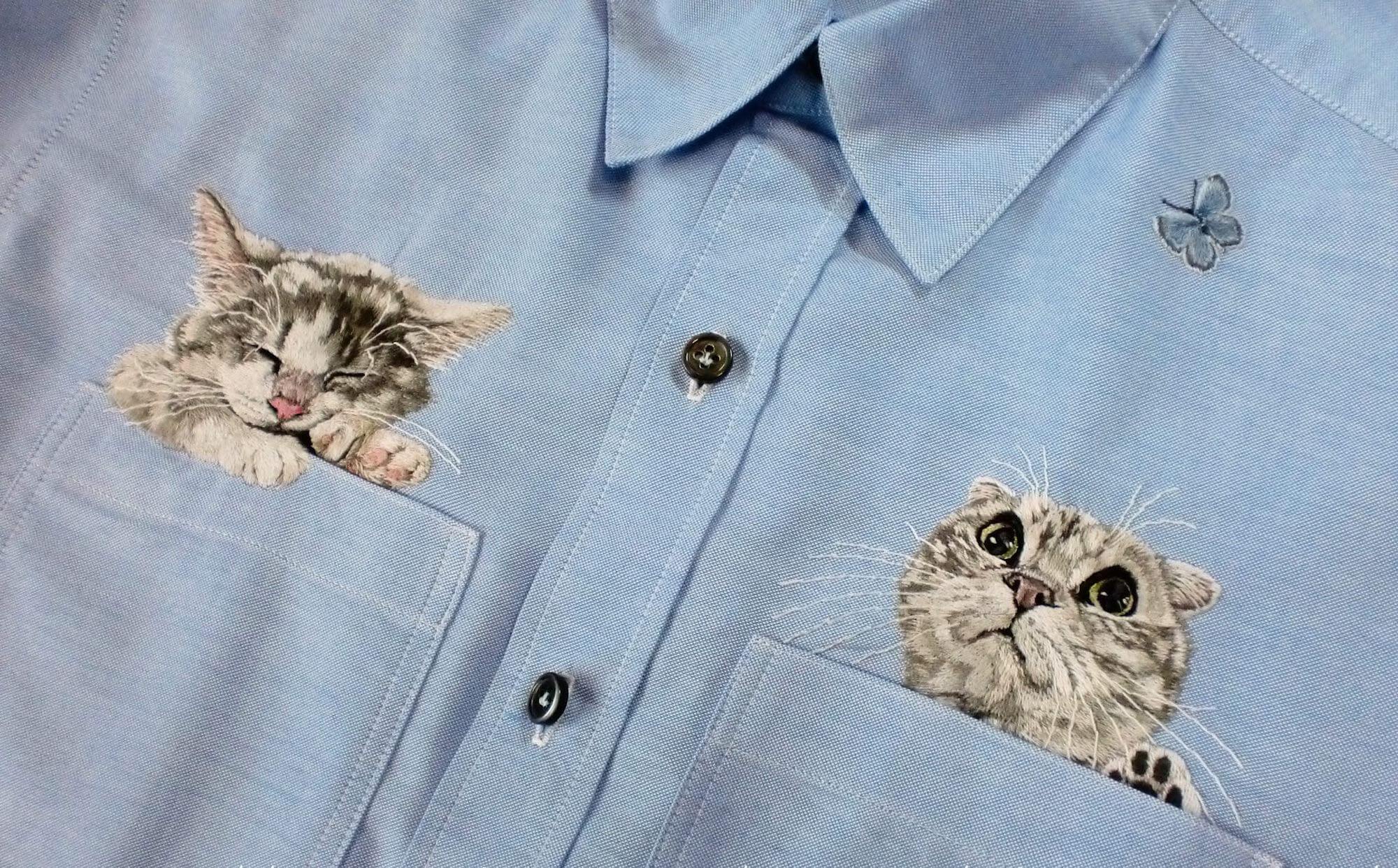 Sewing is deeply ingrained into our history as human beings. During the Paleolithic era, early humans used bones to fashion crude sewing needles that they'd then use to sew together animal skins with sinew thread. Eventually, this design was refined, with the first known needle-with-eye dating back about 25,000 years ago.
Sewing was done by hand for thousands of years, which made clothing expensive and time consuming to produce. Only wealthy people could afford to have seamstresses and tailors, while common folk used the craft to mend or repurpose their clothes once they wore out. The Industrial Revolution during the 18th and 19th centuries completely shifted textile production, making it easier and cheaper to sew garments.
Thanks to automation, the clothing industry has grown into the behemoth it is today. With relatively low production costs, designers can take chances with their clothing and experiment with surface design and pattern. When combined with illustration, pieces can be looked at as unconventional canvases for works of art. Women's clothing lends itself especially well to this concept—through long dresses, fanciful blouses, and elegant silhouettes, these pieces become playful forms of self-expression.
Hiroko Kubota's cats look like they're peeking out of a shirt pocket.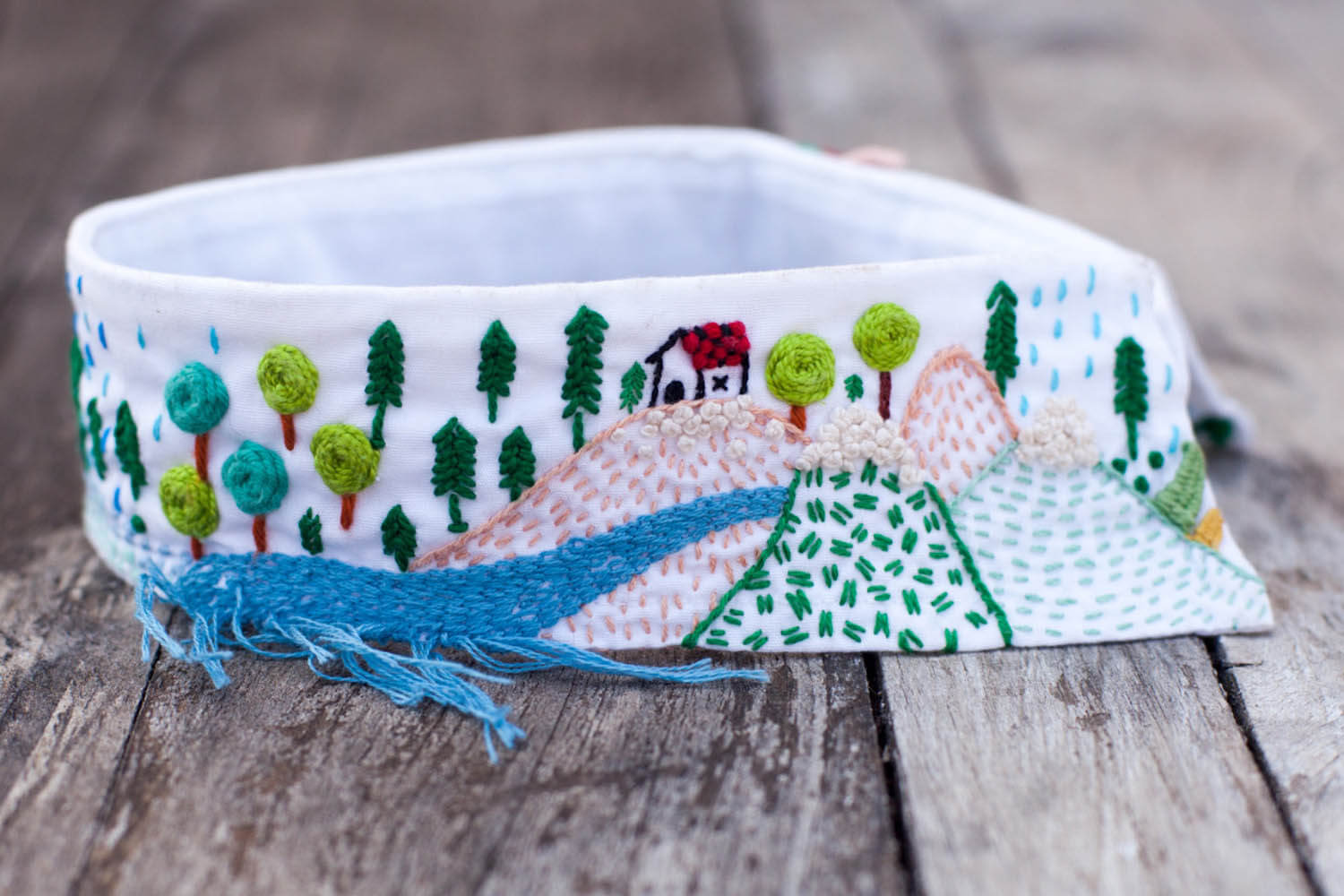 A tiny forest lives along this collar.
Señorita Lylo
Barcelona-based designer and embroiderer Loly Ghirardi goes by the name Señorita Lylo and decorates detached collars with colorful, stitched scenes. She's trained as graphic designer but wanted to break away from the computer and "bring a more 'human' touch" to her projects. Ghirardi began incorporating embroidery into her work and hasn't stopped since. Now, she teaches an online class for those who want to learn the craft.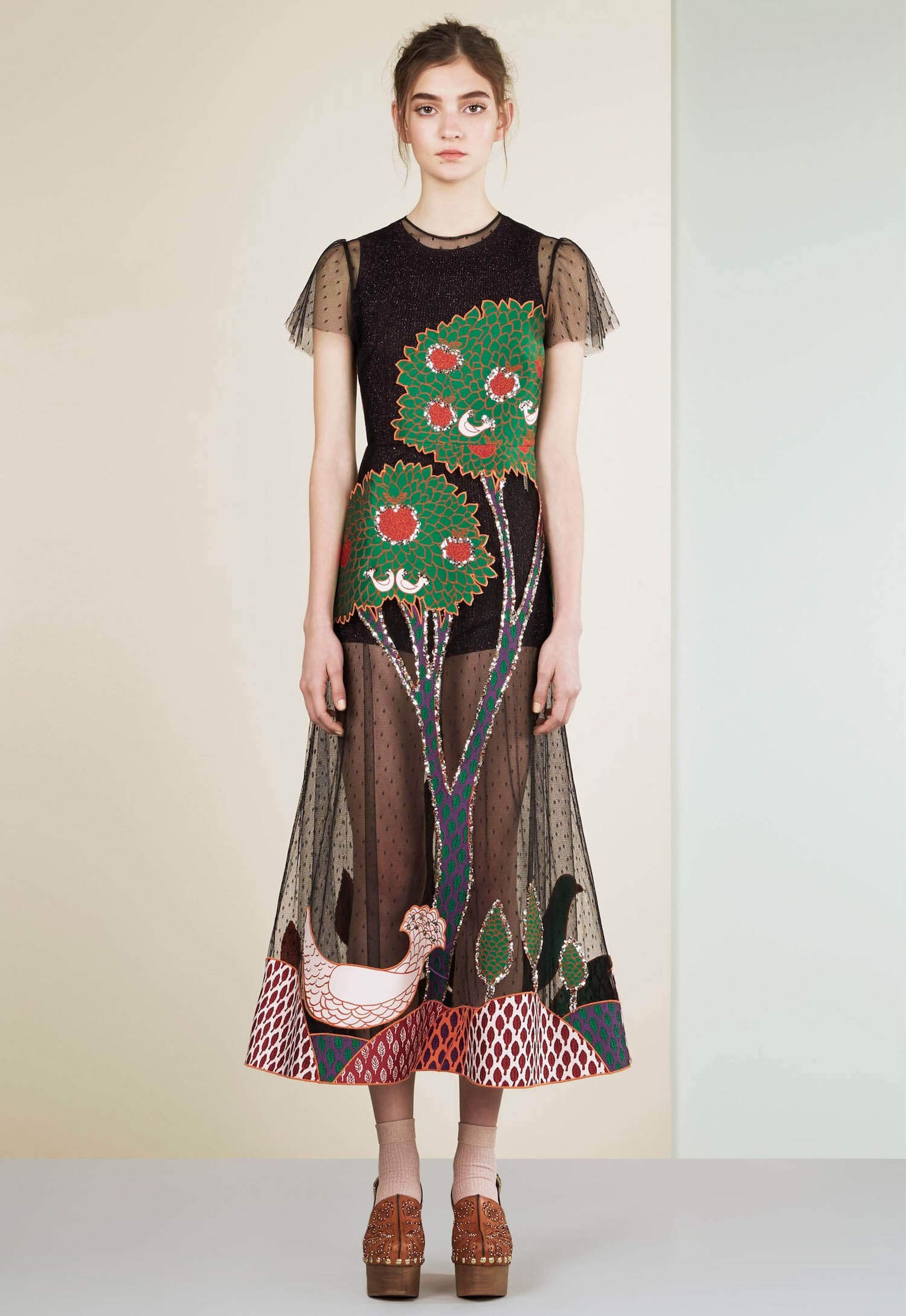 Unlikely muses have helped to produce a whimsical dress.
Red Valentino
The inspiration for Red Valentino's Resort 2017 was the documentary "Grey Gardens" (1975). Detailing the everyday lives of a reclusive, formerly upper class mother and daughter (both named Edith and nicknamed Big Edie and Little Edie, respectively). These eccentric muses infused whimsy into the line, as the garments were giant canvases for cartoonish nature scenes outlined in glitter.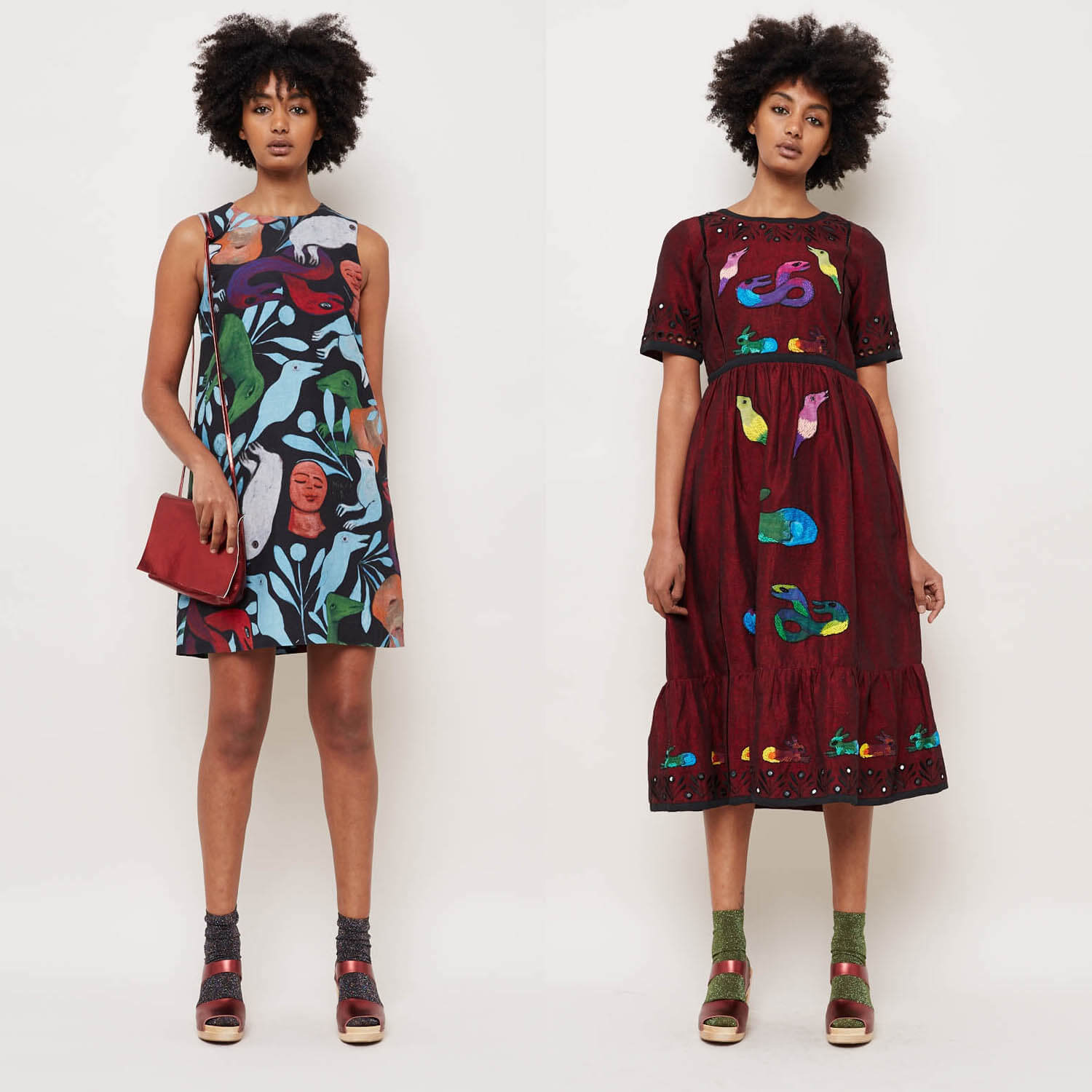 A late-career artist finds a new medium in fashion.
Mirka Mora x Gorman
Australian clothing shop Gorman collaborated with artist Mirka Mora on small collection of garments. Mora has had a long career as a noted Australian artist—she's a Holocaust survivor who immigrated to Melbourne from Paris in the early 1950s. Her work is bright, graphic and bold, often featuring motifs of wide-eyed snakes, birds, and other animals. Here, they're translated on shift dresses and other modern silhouettes, a dynamic homage to Mora's work.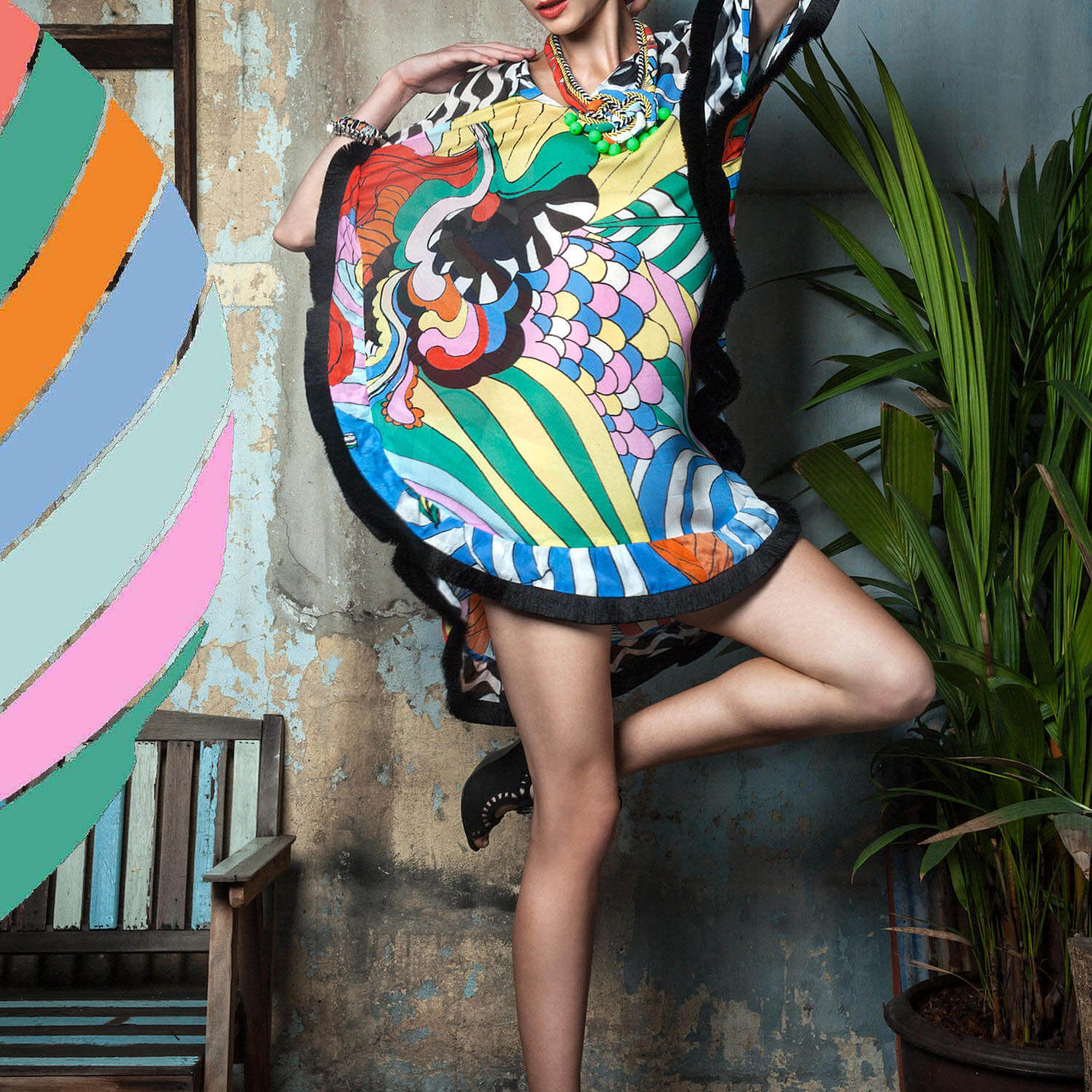 The psychedelic design is complemented with movement.
CeliaB
Fashion, like illustration, is cyclical, and CeliaB reflects this in 70s-inspired frocks. They're a swirling mix of vibrant colors that draw from psychedelic art. Surface patterns morph and flow into one another, their contrasting forms creating imagery that's both visually confusing yet splendorous with its collision of hues and shapes. Here, the sheer fabric further warps the retro-trippy design.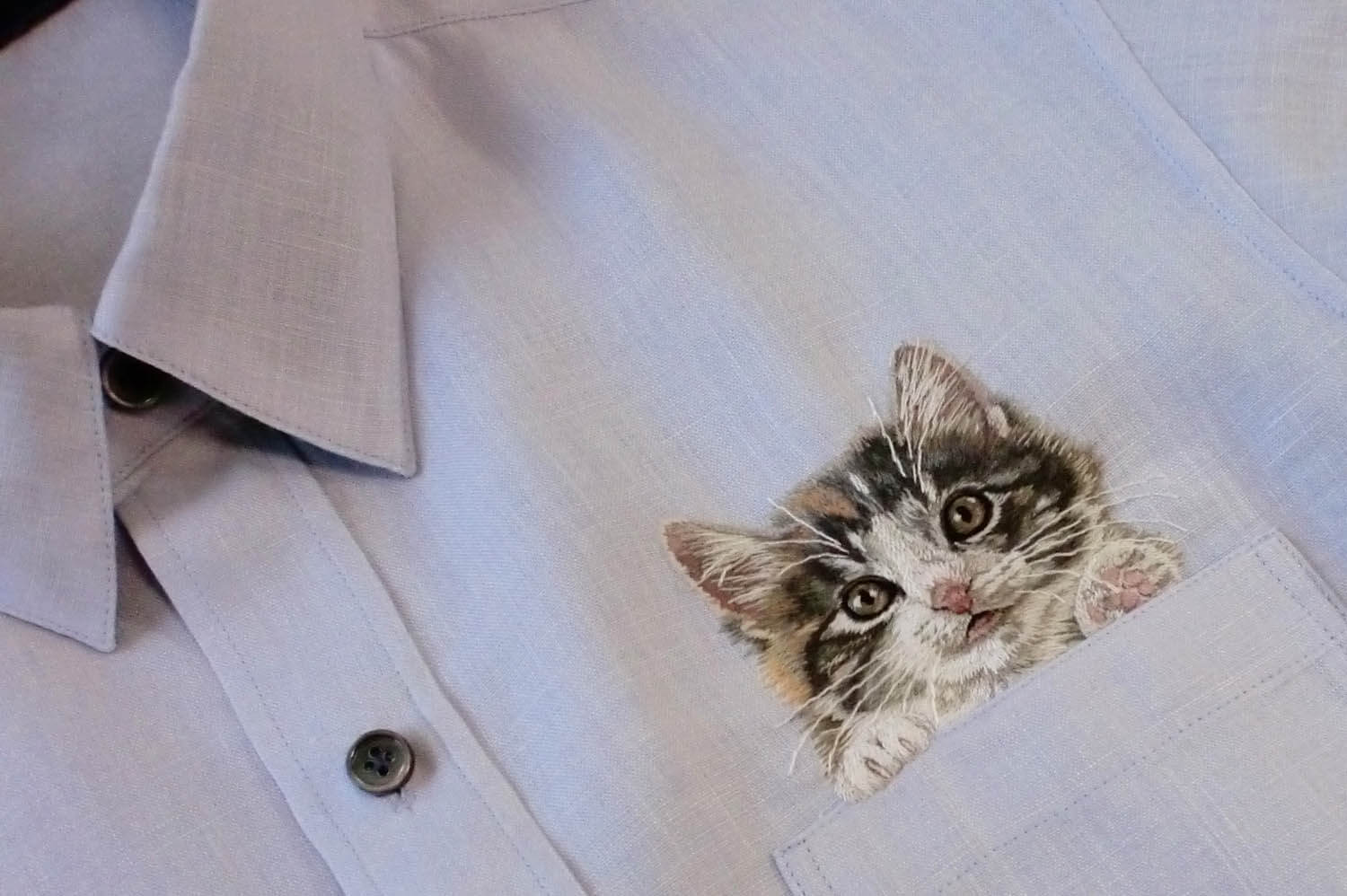 Hiroko Kubota is a self-taught embroidery artist.
Hiroko Kubota
Three years ago, Japanese artist Hiroko Kubota began embroidering cats onto collared shirts, and it launched a whole new career path for her. "I was inspired by designs from the old days which used the appliqué needlework technique on shirt pockets for children," she told The Yellow Sparrow. The subtle playfulness of these felines, along with the realistic stitched details drive their popularity. As a result, she's placed hundreds of tiny cats and dogs in pockets for people around the world.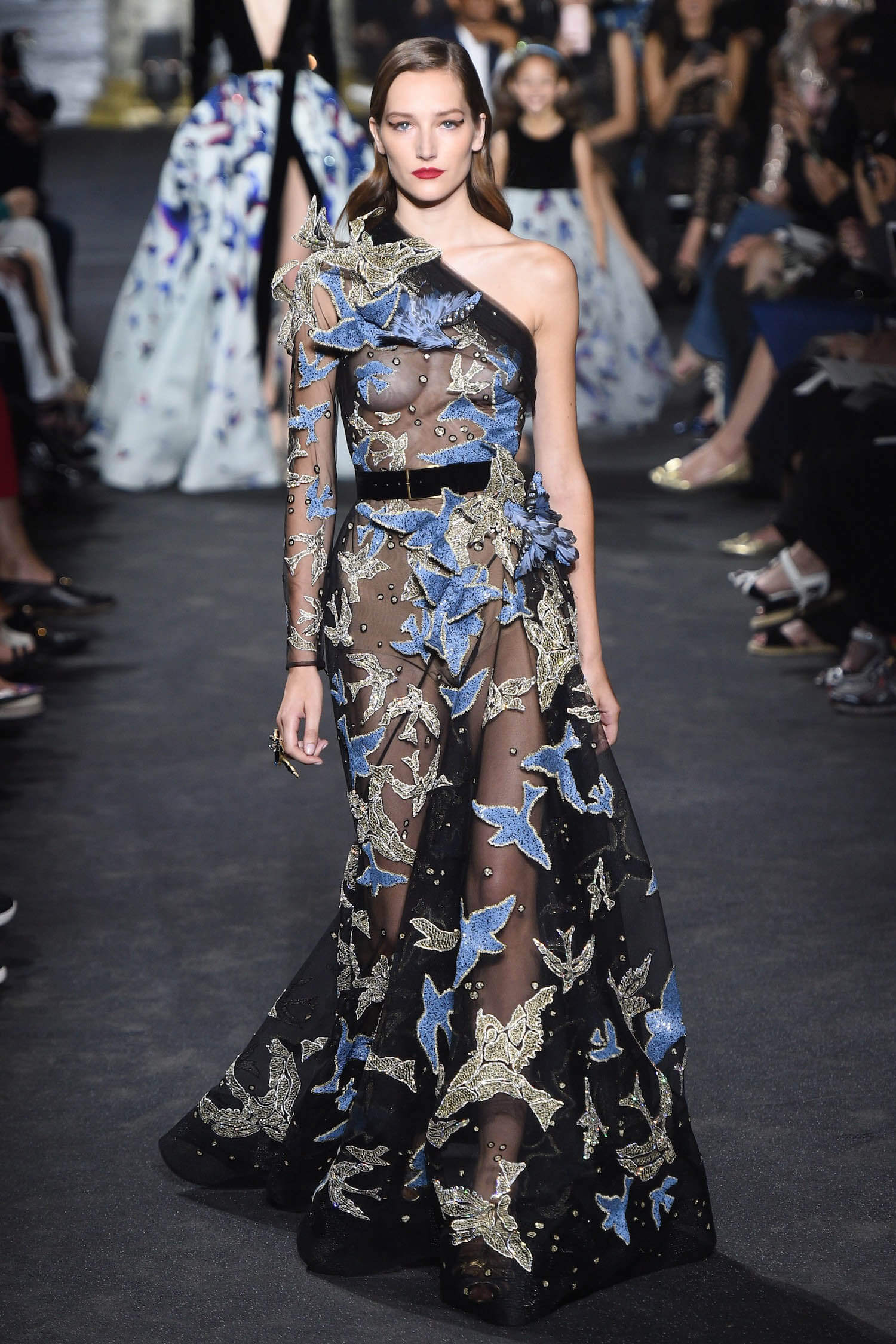 Sheer panels create a feeling of movement even when the model is standing still.
Elie Saab
Designer Elie Saab created a Fall 2016 Couture collection that's as dramatic as it is expressive. Sculptural details emerged from the fabric, as if these birds were about to flutter away as the model walks. These elements were on both adults and children dresses—during Saab's runway show, his looks also featured "mommy-and-me" frocks where the little girls were equally as lavish as the grown ups.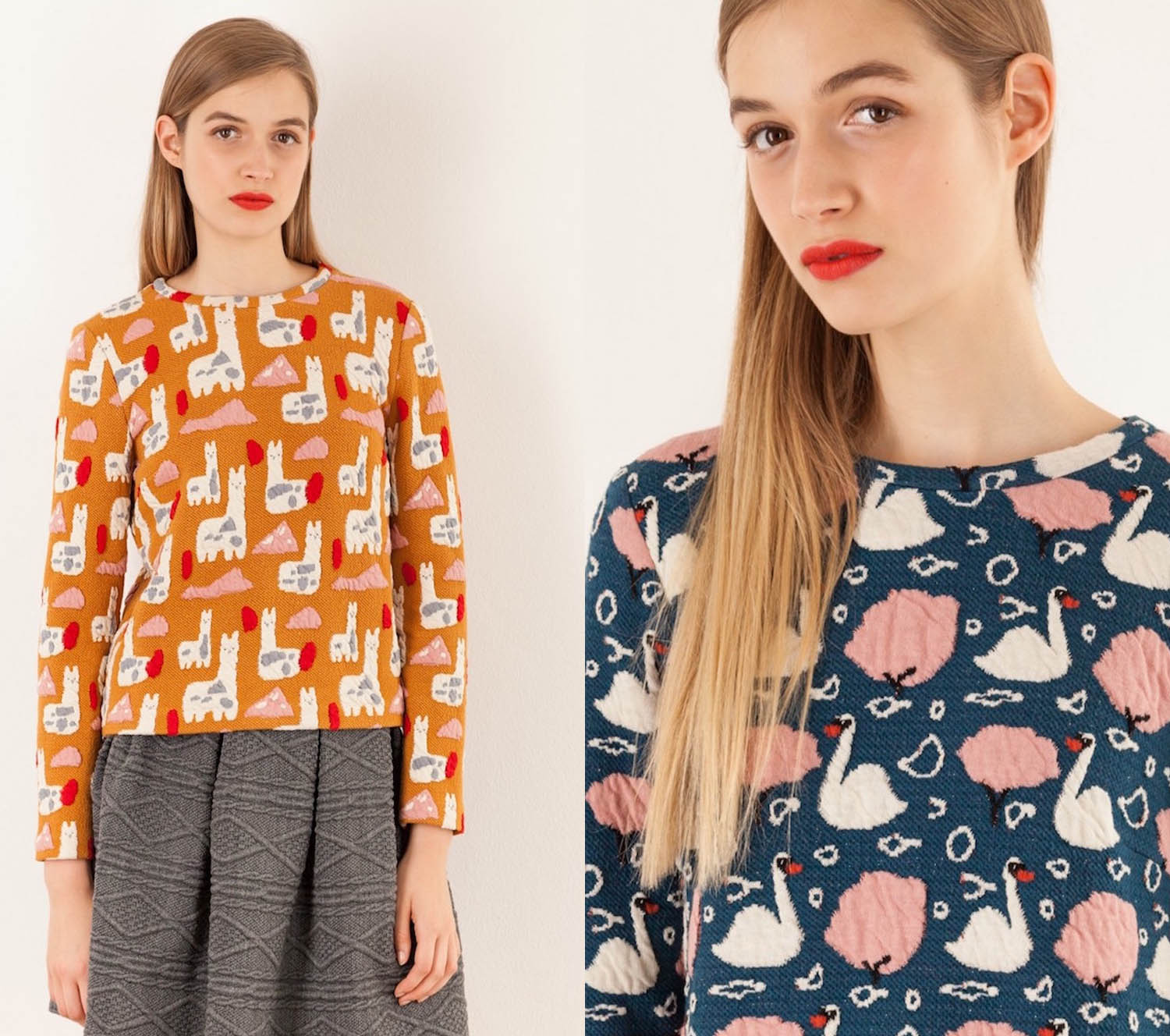 The basic jacquard-weave sweater has a fun twist thanks to llamas and swans.
Anna Kövecses x Lazzari
Anna Kövecses is known for her minimalist-yet-colorful works that pair crisp shape design with a hint of folk art. She's applied this aesthetic to silhouettes by Lazzari in charming garments that feature repeating patterns of cats, llamas, and swans. The all-over print is a riff on traditional patterned garments, but Kövecses' style adds some playful quirk to basic patterning.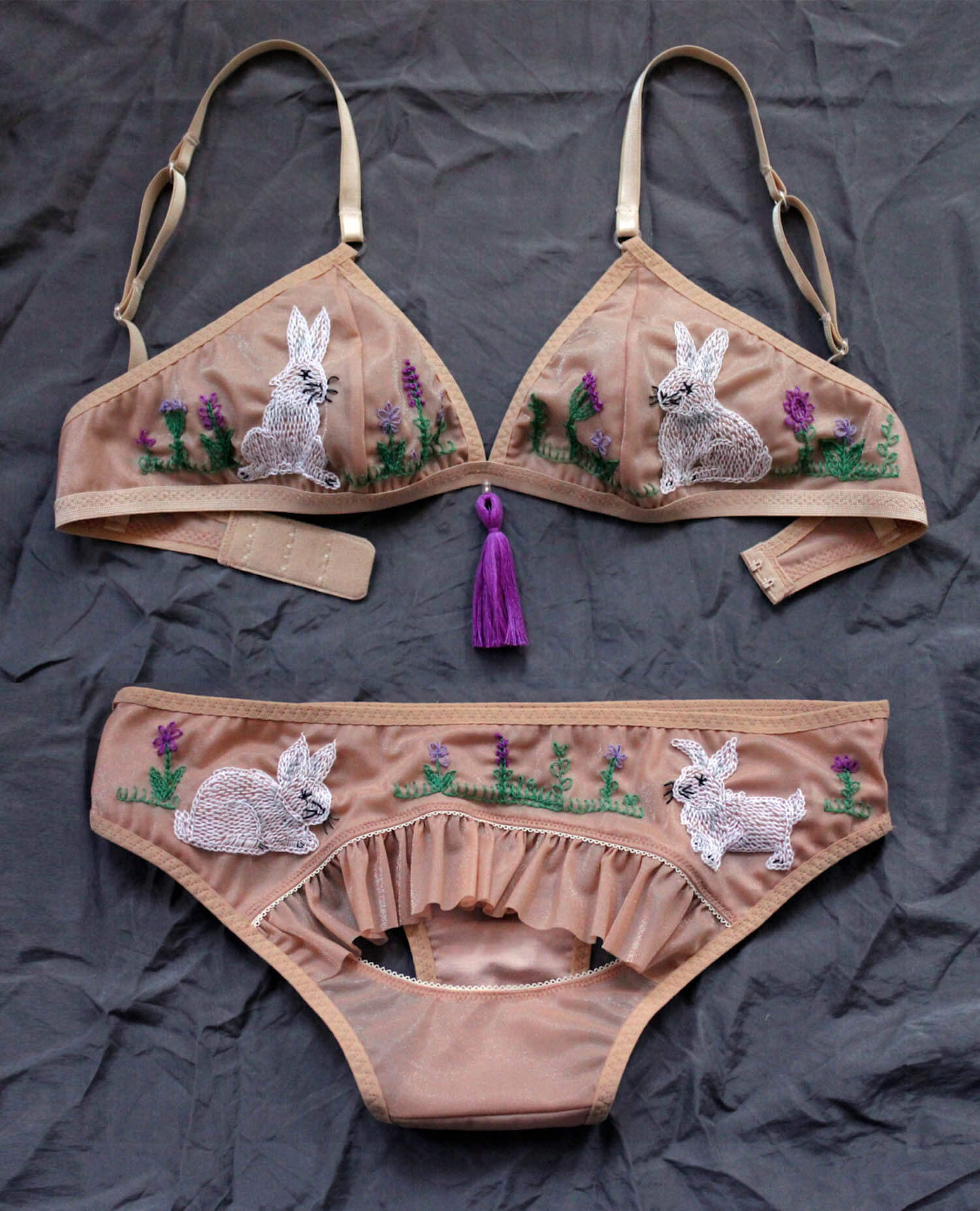 Delicate embroideries create non-traditional lingerie designs that make the wearer feel good.
ZsĂłfia Farkas
Working under the name FRKS Lingerie, Zsófia Farkas hand embroiders intricate images onto nude elastic-organza. She often works with her clients to customize their designs—such as their favorite animal or flower—but some imagery is left up to her. "I do not like 'aggressive' erotic pieces," she told Nullahategy. First and foremost, they must fit the wearer's personality. "I want my customers to feel that I designed the pieces as if they were cast upon them."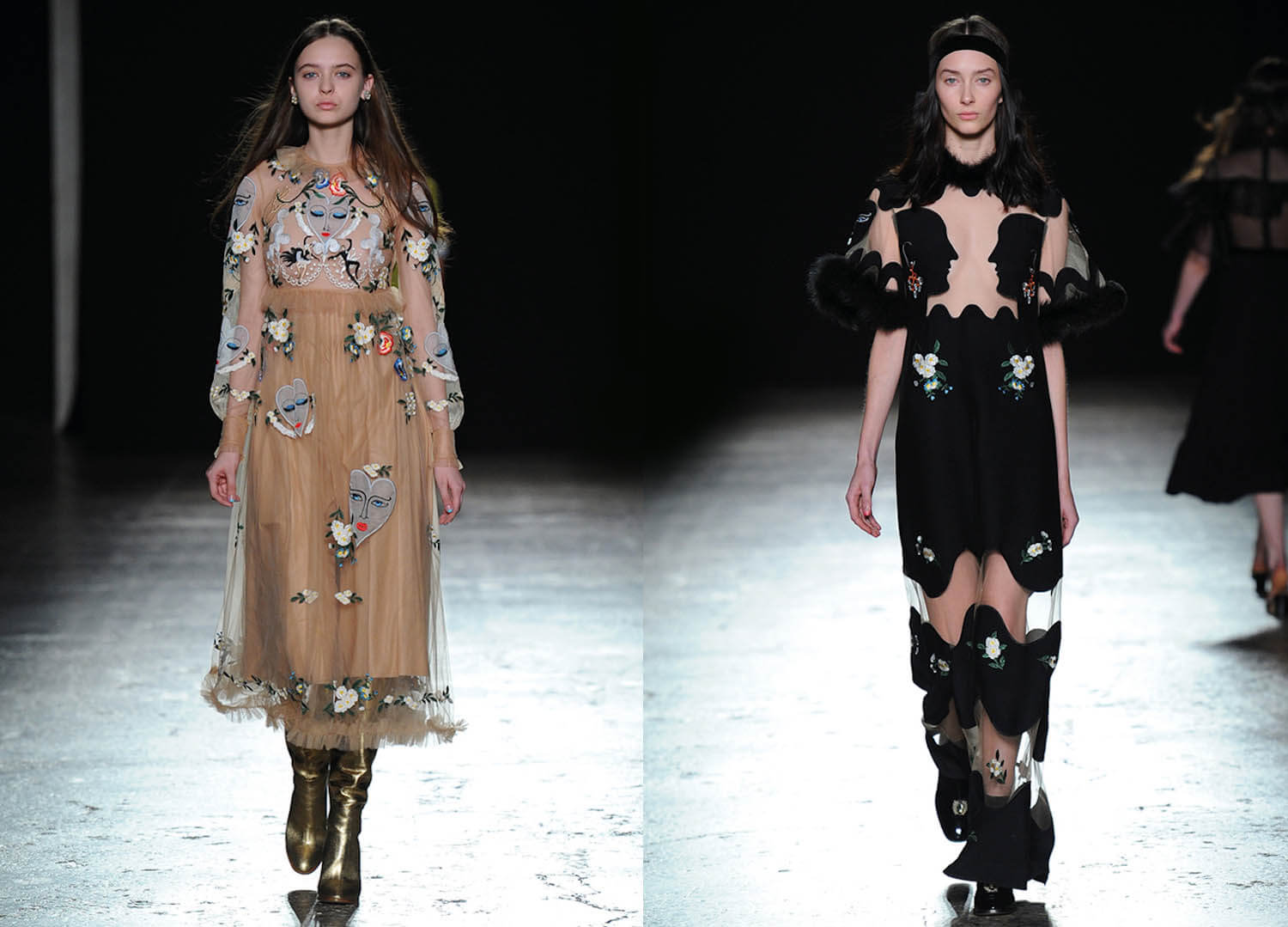 Faces, in their many forms, are a common motif for Vivetta.
Vivetta
Vivetta is the brand in which designer Vivetta Bridges produces her playful clothing. Citing inspiration from "poetry, dolls, antiques, furniture, sixties and seventies and tapestries," the clean-lined designs have curious illustrative images embroidered on top. Often, these are stylized faces that dot the surface. As Bridges describes it, these are like "dynamic constellations that melds romanticism with irony, surrealism with fashion."
Images © respective artists