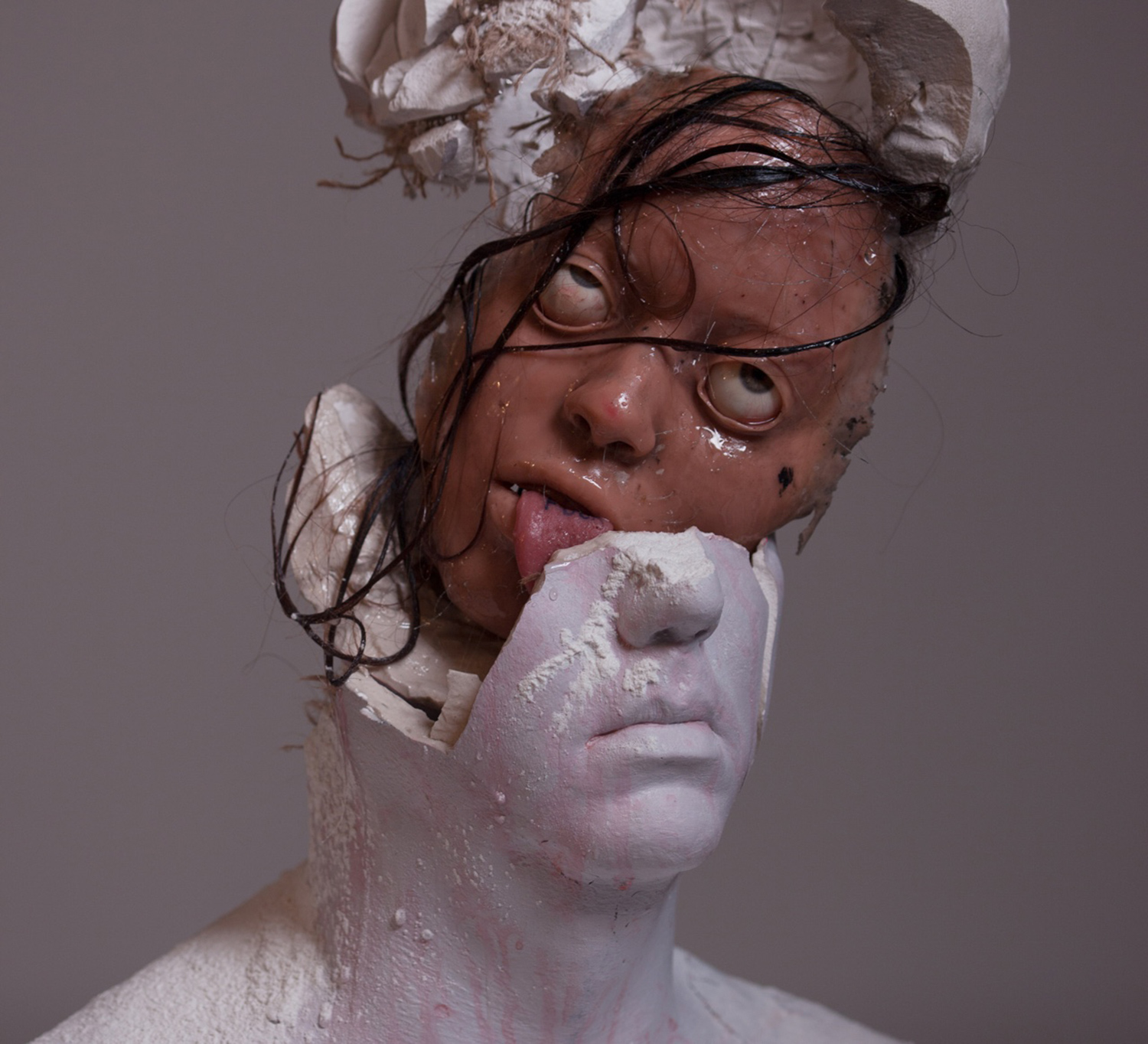 Note: Contains violent content.
Melting flesh, living corpses, and mutating organs: there are few things as unsettling as wildly degenerating bodies. In the wake of twisted films that characterized the science fiction and horror of the late 1970s and 80s—Ridley Scott's "Alien" and John Carpenter's "The Thing," for example—the journal "Screen" coined the term "body horror," with filmmaker and writer Philip Brophy explaining it as such: "The contemporary horror film tends to play not so much on the broad fear of Death, but more precisely on the fear of one's own body, of how one controls and relates to it."
Corresponding with these films was a movement in the visual arts that included seminal artists such as H. R. Giger, who drew on our psychosexual fears to design the original Xenomorph. In recent years, body horror seems to have gained extra visibility and appreciation. Below is a selection of talented artists who are mutilating and distorting the body to explore death and corporeality in terrifying new ways.
Top: Sarah Sitkin creates horrifying, mashed-up body parts using silicone flesh.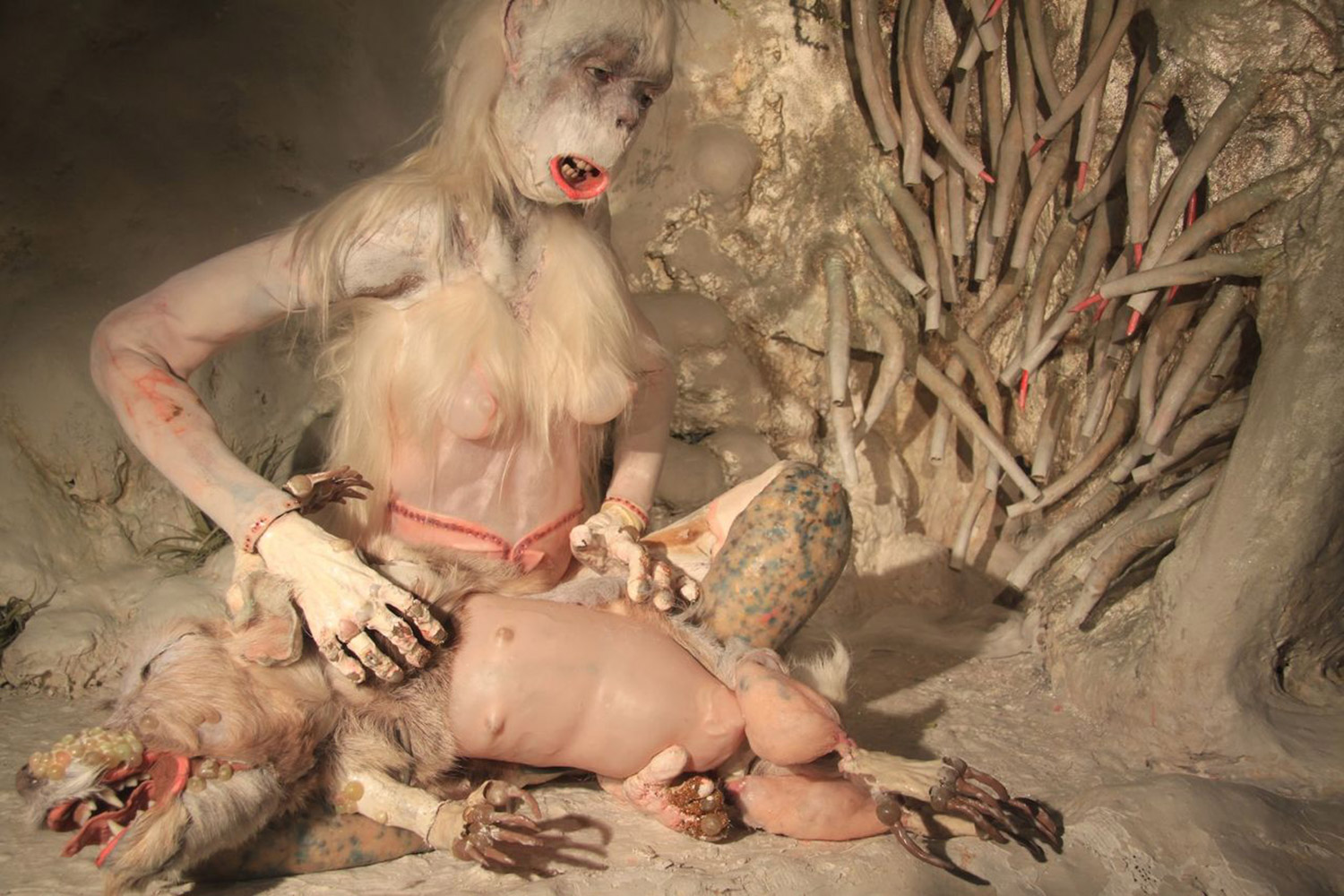 Monica Cook's stop-motion animation is a startling examination of humanity.
Monica Cook
Whether she's working with paint, photography, or sculpture, the art of Monica Cook gravitates around a central theme: the beauty and ugliness of flesh. The image above is a still from her 2011 short animation "Volley," which takes us into the magical cave of two arctic monkeys. The glistening fur and skin of the female ape is contrasted with her wart-like growths, and when she gives birth, her abdomen splits open and pours out the fetus in a stream of gelatinous marbles. At one point, her dog (whose skin is likewise rotting and mottled) is seen disemboweling the male. Birth is likened to death, and the apes' bodies disturbingly remind of us of our own.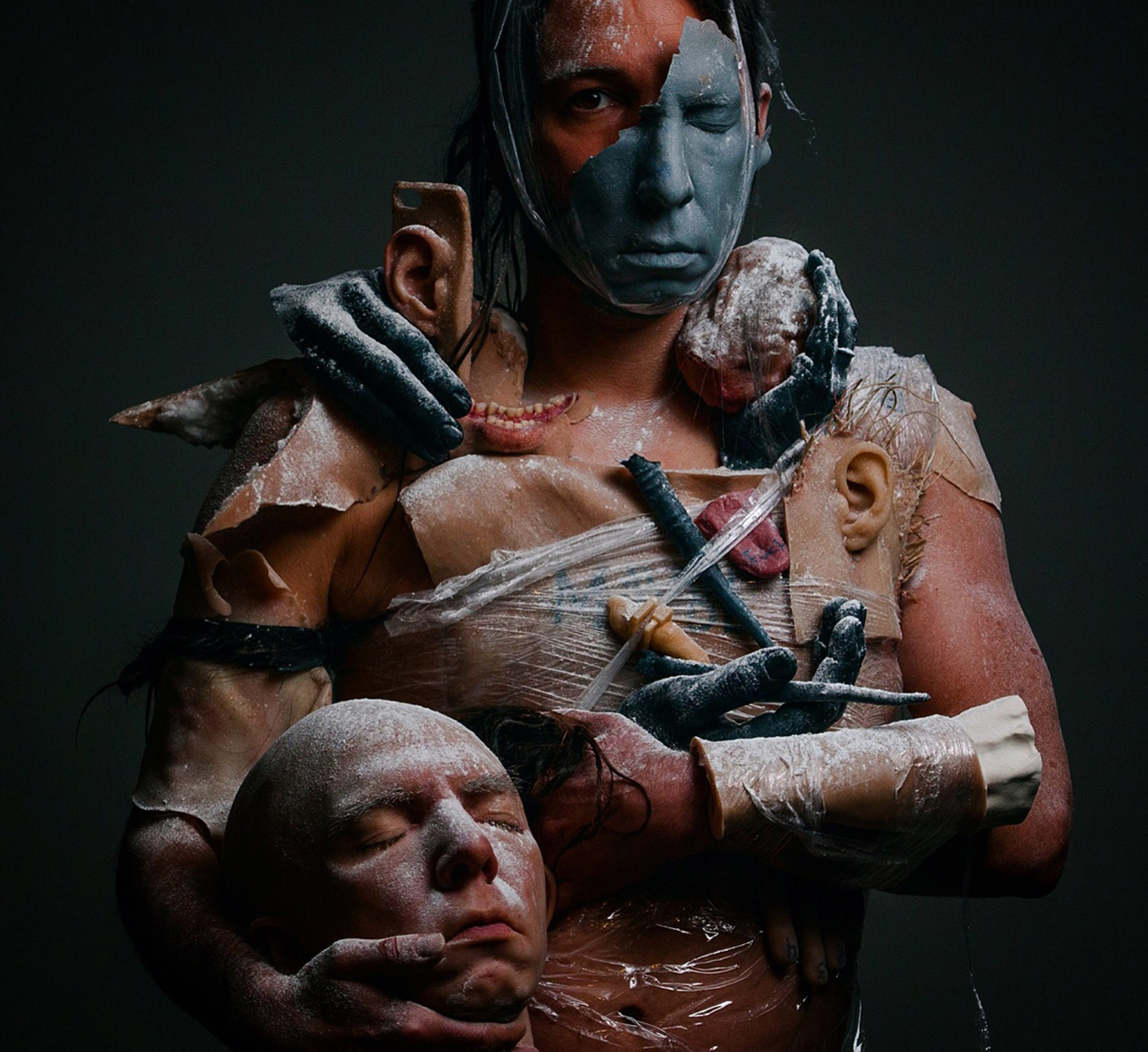 Sarah Sitkin's "Cyrus Rex" looks like a gladiator from Hell.
Sarah Sitkin
In an interview with LA Weekly, Sarah Sitkin made an astute observation: "[Bodies are] fragile, always on display, weak and need to spend eight hours asleep every day." Many of us would like to ignore this reality, but Sitkin's prosthetic creations don't allow for this. Using silicone, latex, and plaster, she sculpts lumps of soft, deformed flesh that appear to ooze and burst open before our eyes. She also dresses up models with her wearable pieces, creating mutant zombies that trouble the line between living and dead. Sitkin's work has been getting a lot of attention online, and deservedly so; every sculpture she creates gets under our skin in a different way.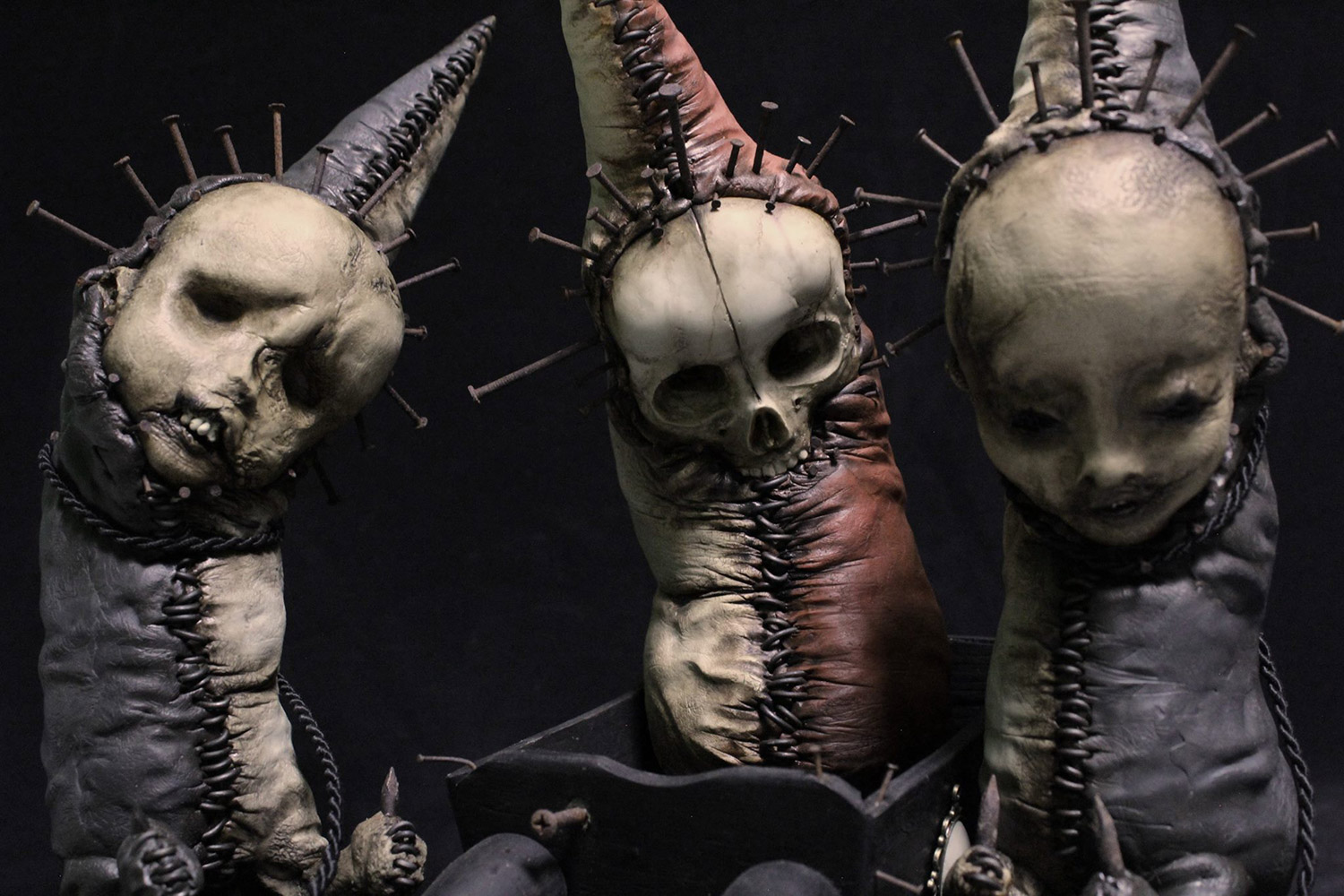 The work of Emil Melmoth is part freak show, part funerary art.
Emil Melmoth
"Death is forever living on [the] mind" of Mexican artist Emil Melmoth. Browsing his Instagram account is like venturing down into a carnivalesque crypt (but don't look if you're afraid of creepy dolls). Bodies are disfigured, dismembered, and sewn together. In the sculpture above, three "Stranded Kids" resemble hellish offspring, their shrunken, decayed bodies inspiring both sympathy and horror.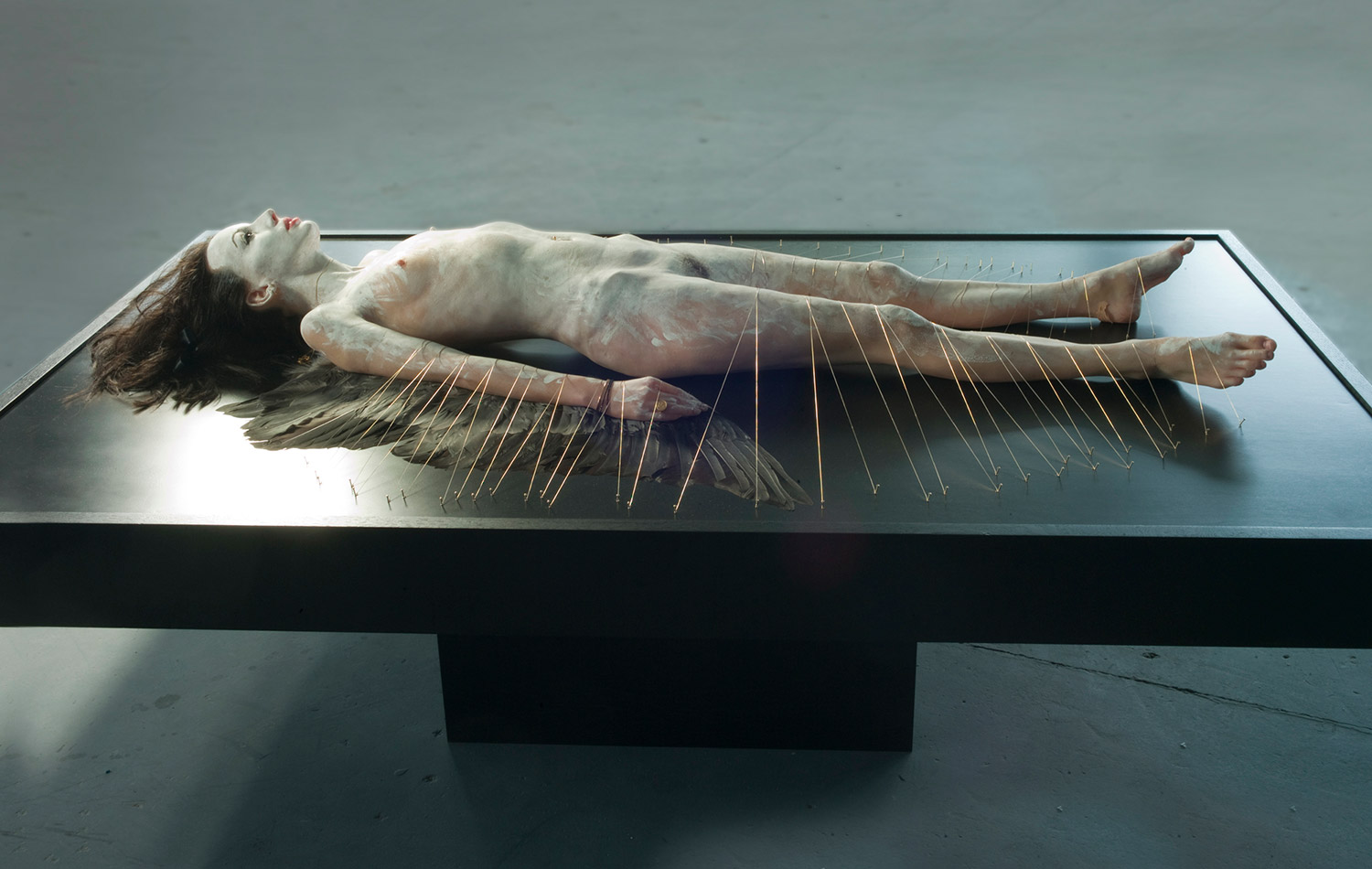 Purgatory is eternal for Paul Fryer's allegorical subjects.
Paul Fryer
Paul Fryer is a London-based artist who humanizes biblical figures by giving them tortured bodies. Among his sculptural installations are Lucifer tangled in telegraph cords, Jesus in an electric chair, and winged Lilith (shown here) pinned down like a taxidermy insect. Fryer depicts pain and human fallibility, brilliantly dethroning Christian icons to make them more tangible, commiserable, and flawed. A sense of doom verging on spiritual transcendence surrounds his work.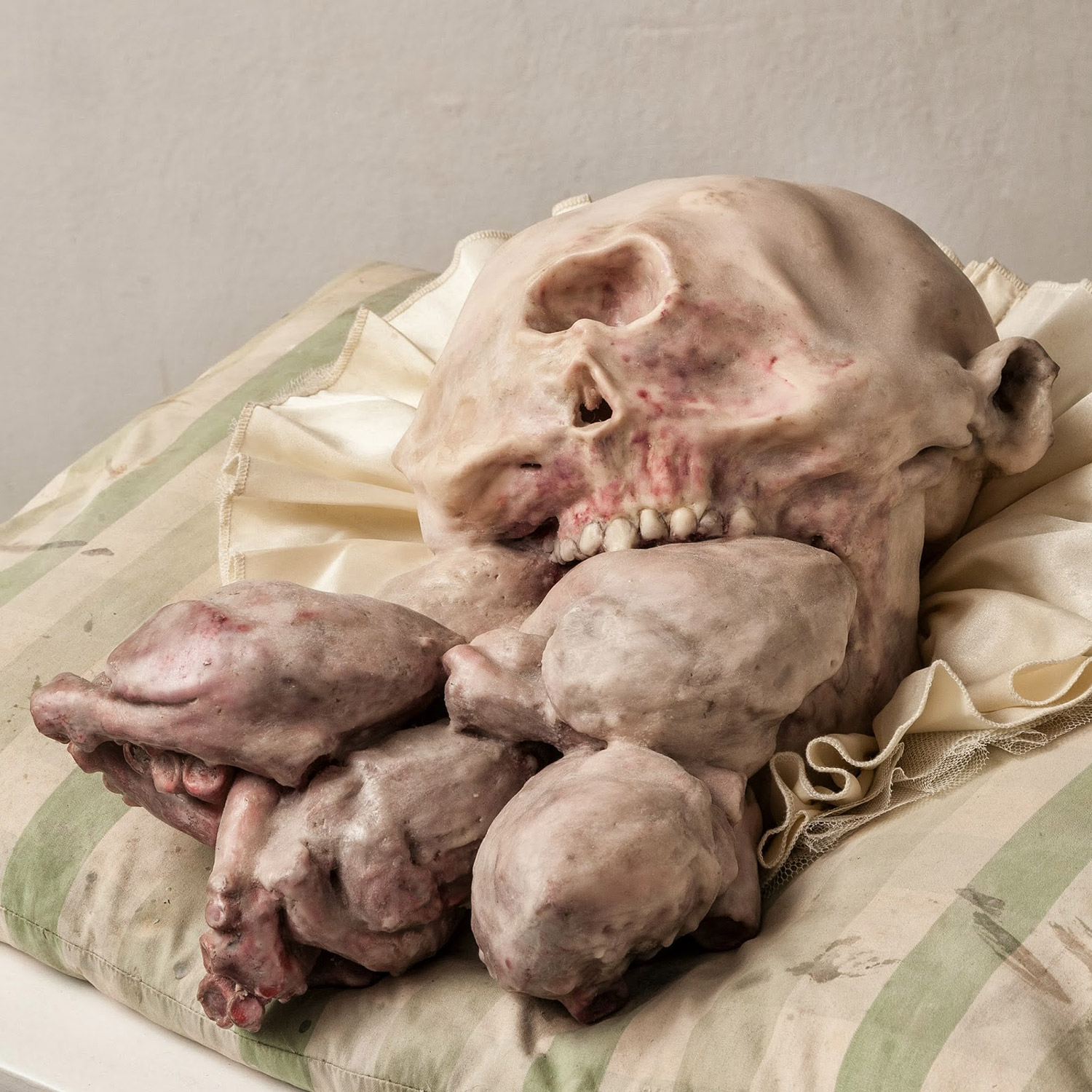 Titled "The Taste – The Count of Monte Cristo," Francesco Albano's sculpture resembles a nightmarish altar.
Francesco Albano
Francesco Albano is an Istanbul-based artist moulding melted and deflated bodies using materials such as latex, polyester, and wax. Thick, shapeless piles of skin spill out of bathtubs and lay draped casually across tables. For Albano, skin and bone are symbolic mediums to explore "the effect of societal pressures and psychological violence on the human body." By reducing bodies to skin and dissolved bones, he demonstrates how skin, our largest organ, is merely a feeble shield that we use to protect ourselves—one that can be inscribed by power ideologies and used against us (i.e., racism, beauty standards). Visit Albano's blog to see more of his incredible work.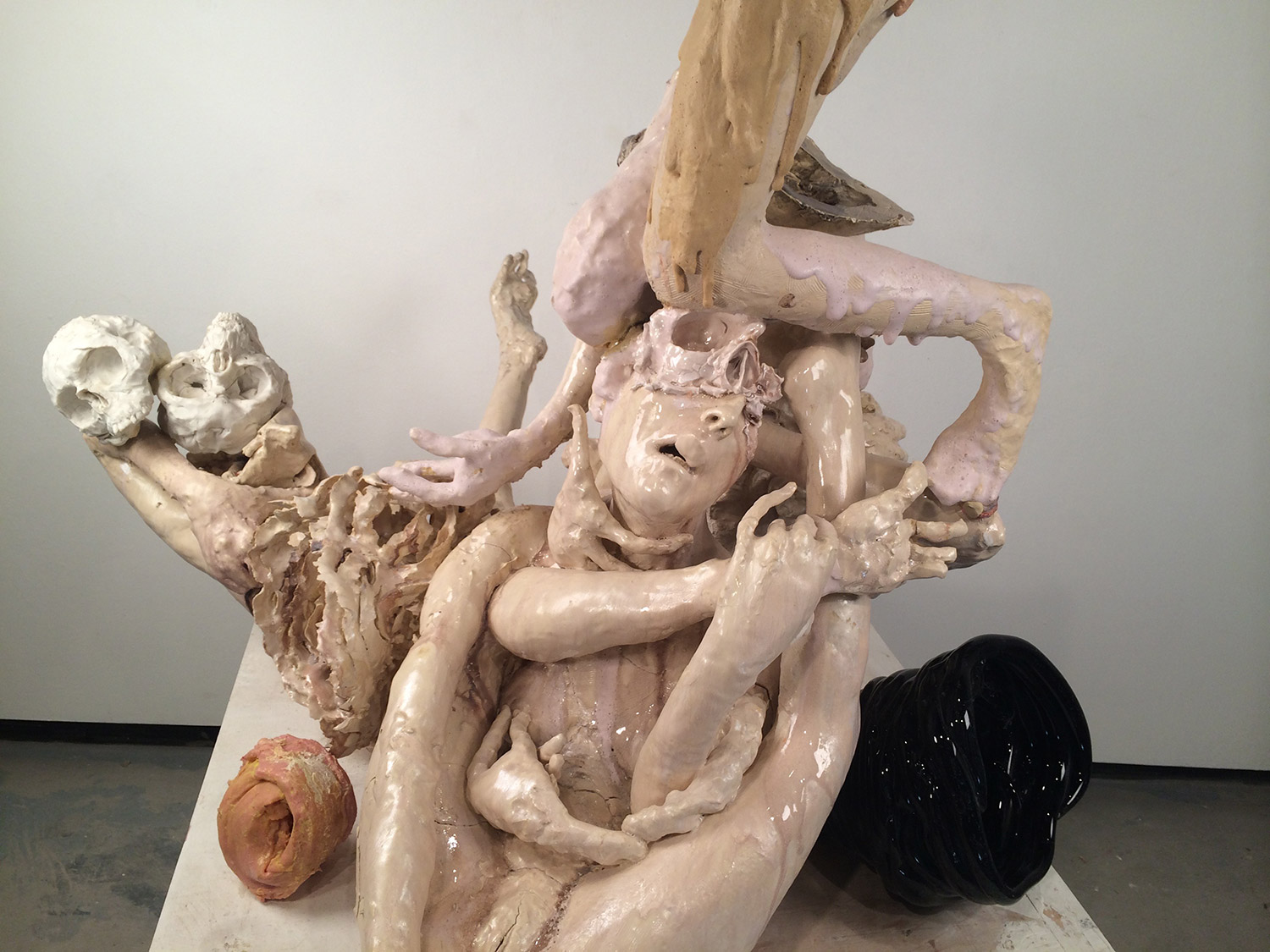 Smythe's sculptures are full of intimacy, passion, and suffering.
Meghan Smythe
Behold "Young Unbecoming," a monumental death orgy as sculpted by the Los Angeles-based (Canadian-born) artist Meghan Smythe. Interested in capturing "elegant vulgarity," she sculpts creamy-hued bodies out of ceramic, plaster, and plasticine, crushing them together into shocking erotic dramas of human life; amid scattered bones are bold erections, suggesting the savage interplay between sex and death. Smythe's mutilations of the body make visible the messy processes that come with being alive.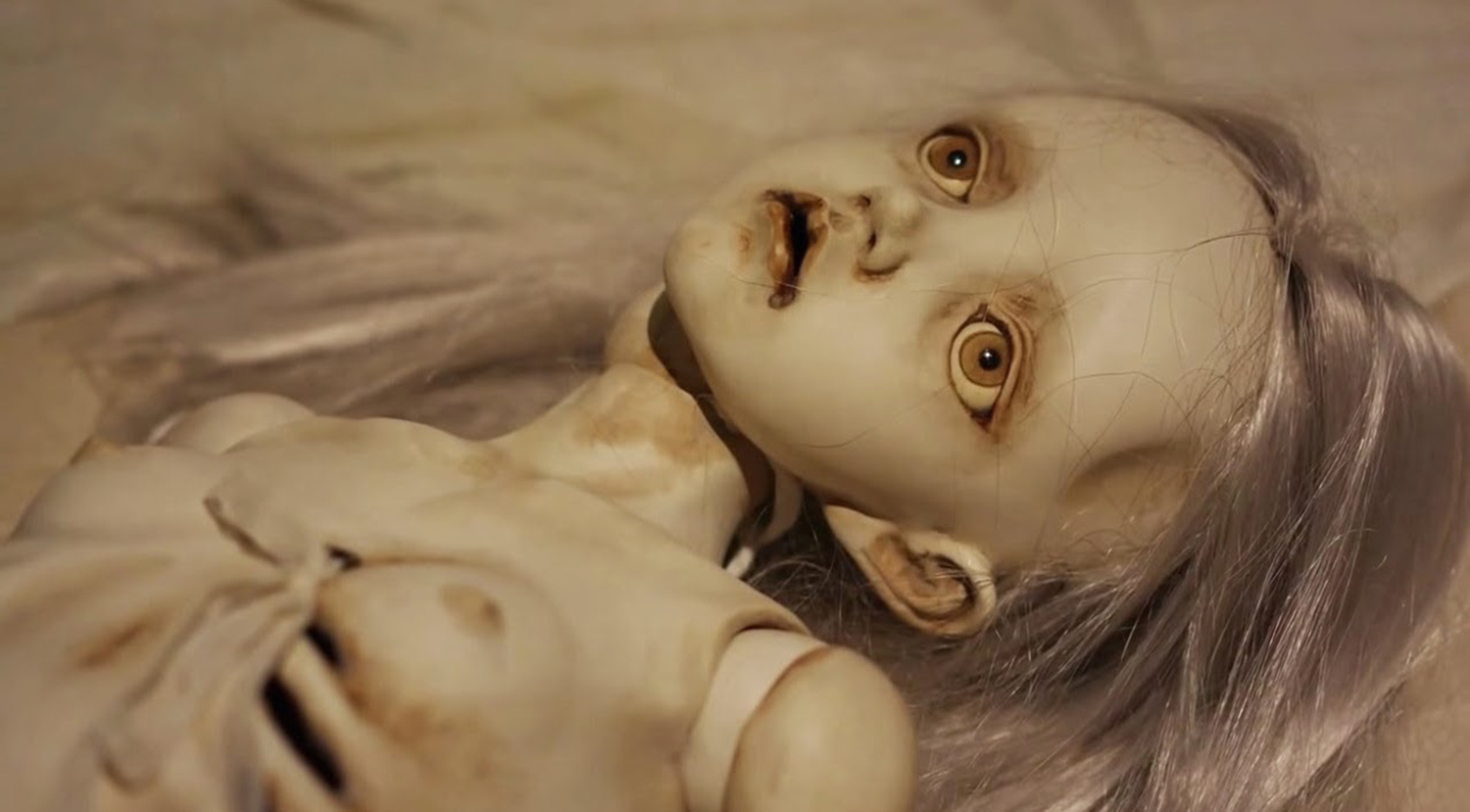 Etsuko Mirua's creepy dolls having disturbingly realistic eyes.
Etsuko Miura
Dolls are filled with a child's love and affection—but not so in the work of Etsuko Miura, who sculpts them into objects of horror. Emaciated, pierced with surgical tools, and covered with stitches, they resemble the cruel experiments of a mad scientist. While they may look small in photographs, the figures are actually life-sized, making their synthetic torment more relatable. Miura adorns them with delicate jewelry and clothing, which adds a sensitive beauty that contrasts starkly with the barbaric amputations.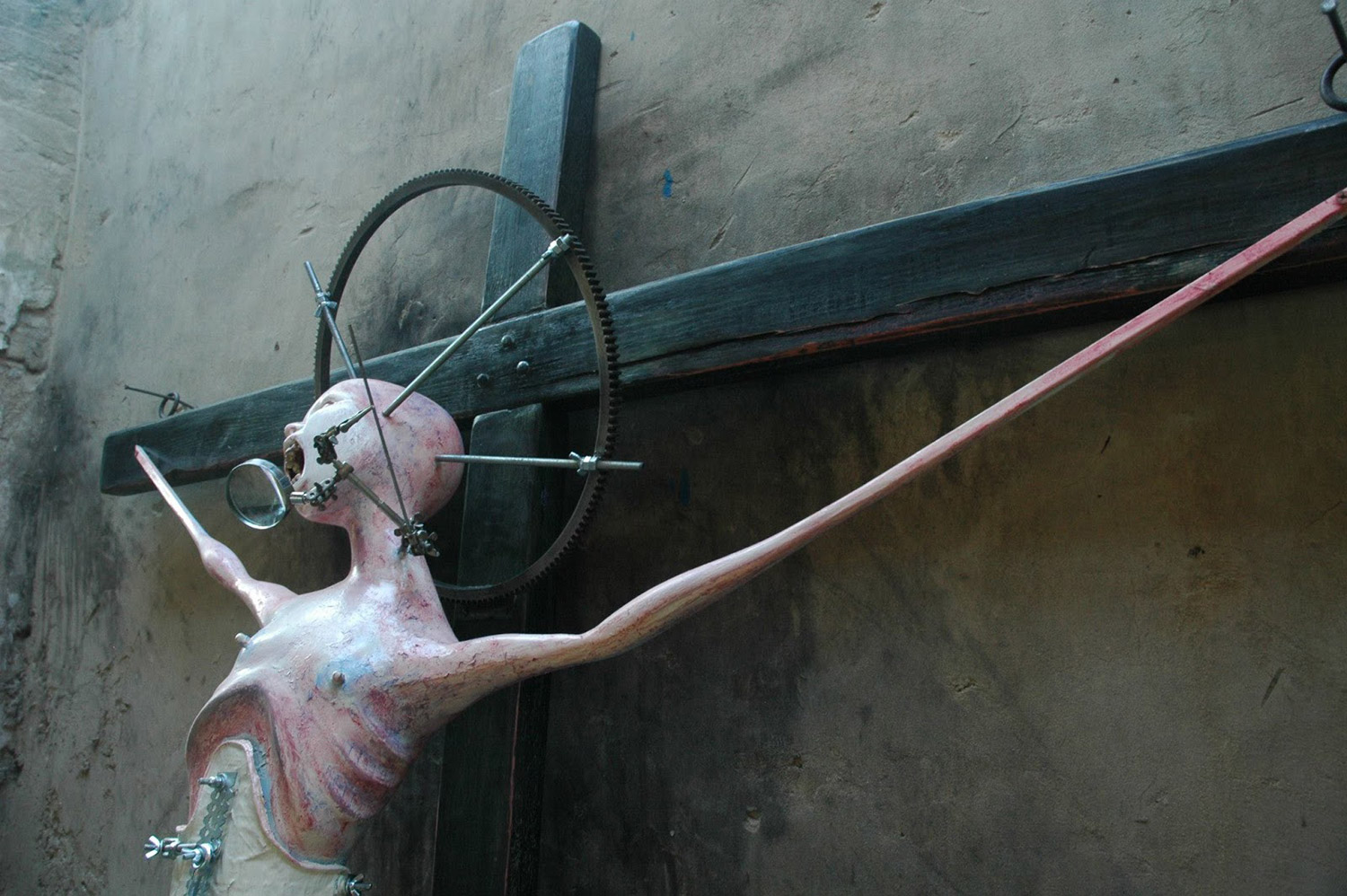 Arpad Slancik takes us into a nightmare dungeon.
Arpad Slancik
Body horror meets the industrial arts in the work of Serbia-based artist Arpad Slancik. Reminiscent of "Hellraiser," Slancik's tall, lanky creatures are wired up and split open with painful-looking contraptions; their large-mouthed screams and ghoulishly long limbs exaggerate their expressions of pain. The image of steel pushing into the sculptures' "skin" produces a visceral anxiety over the body's lack of resistance against the brutality of machines. By installing his sculptures in derelict buildings and against grimy cement walls, the artist adds to the viewer's discomfort and alienation.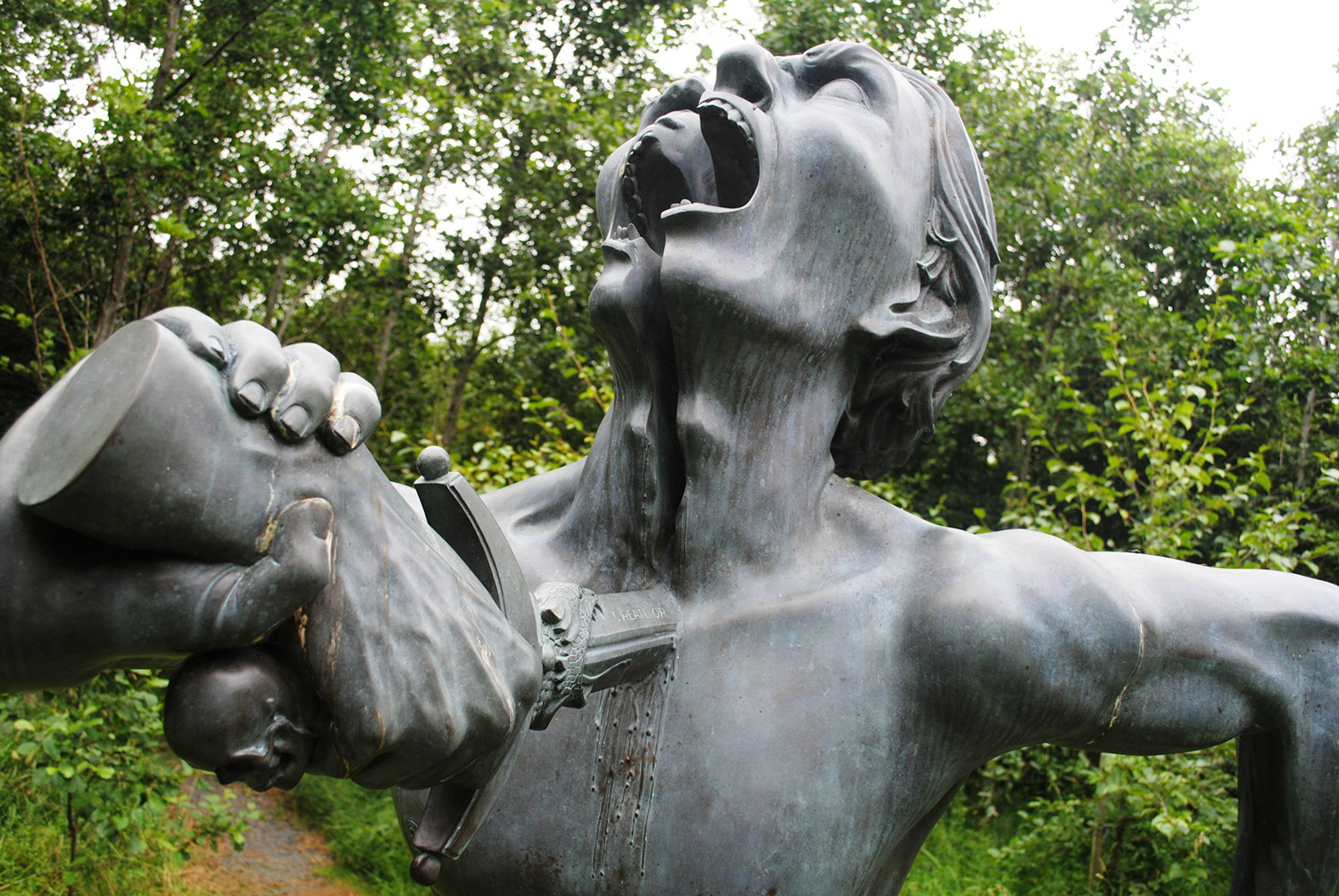 This won't be your typical stroll in the park.
Victor's Way
Victor's Way (formerly Victoria's Way) in County Wicklow, Ireland, is not your average garden; it is a meant as a place to contemplate your life, especially if you're having a mid-life crisis. After passing through a black tunnel lined with spikes, you will come upon a series of alarming sculptures. Crafted in India, they now sit among the flowers like hallucinations from a troubled mind. Shown above is the "The Split Man," which is aptly named: a man screams while a sword cleaves his head in two. The violence and gloom of the sculptures is sure to have you thinking about your life.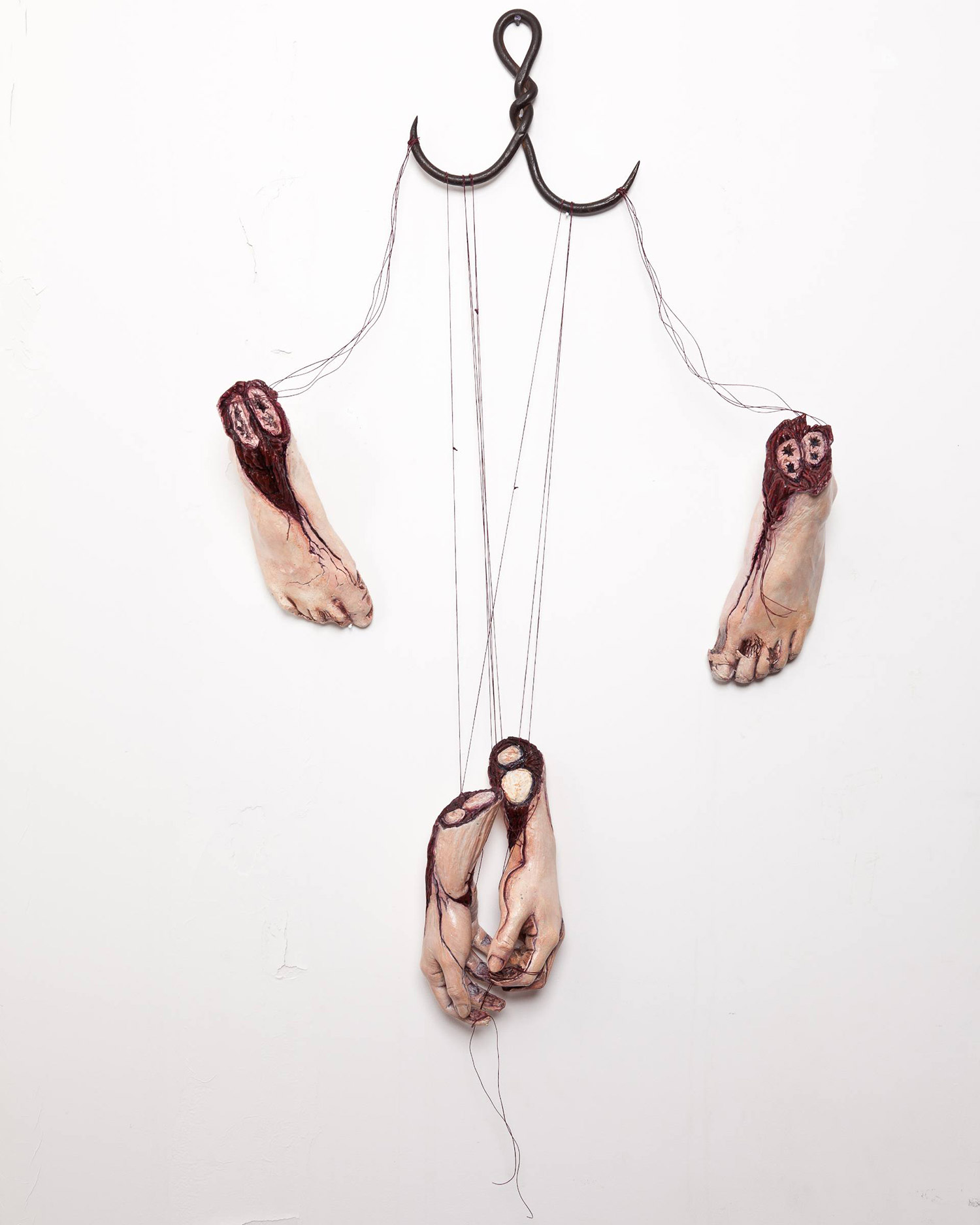 Sarah Best demonstrates that simplicity can be disturbing.
Sarah Best
Brooklyn-based artist Sarah Best seeks "a moment where the inside and outside collapse, allowing closer consideration of self and other." Sculpting feminine body parts, she destroys the idea of a "whole" body to expose the wisdom and character of each disembodied hand and limbless torso; selfhood and spirit—often relegated to the head—appears in places we don't expect. The piece above is humorously titled "Pull Yourself Together." By hanging bloody, sawn-off hands and feet from an iron meat hook mounted on a clean, white wall, Best gives the viewer a stomach-churning jolt tempered by beauty and serenity. It's a good concluding image for this list; perhaps meditating on such brilliant body-horror art is the perfect way to overcome those innate apprehensions of death.
Photos © respective artists