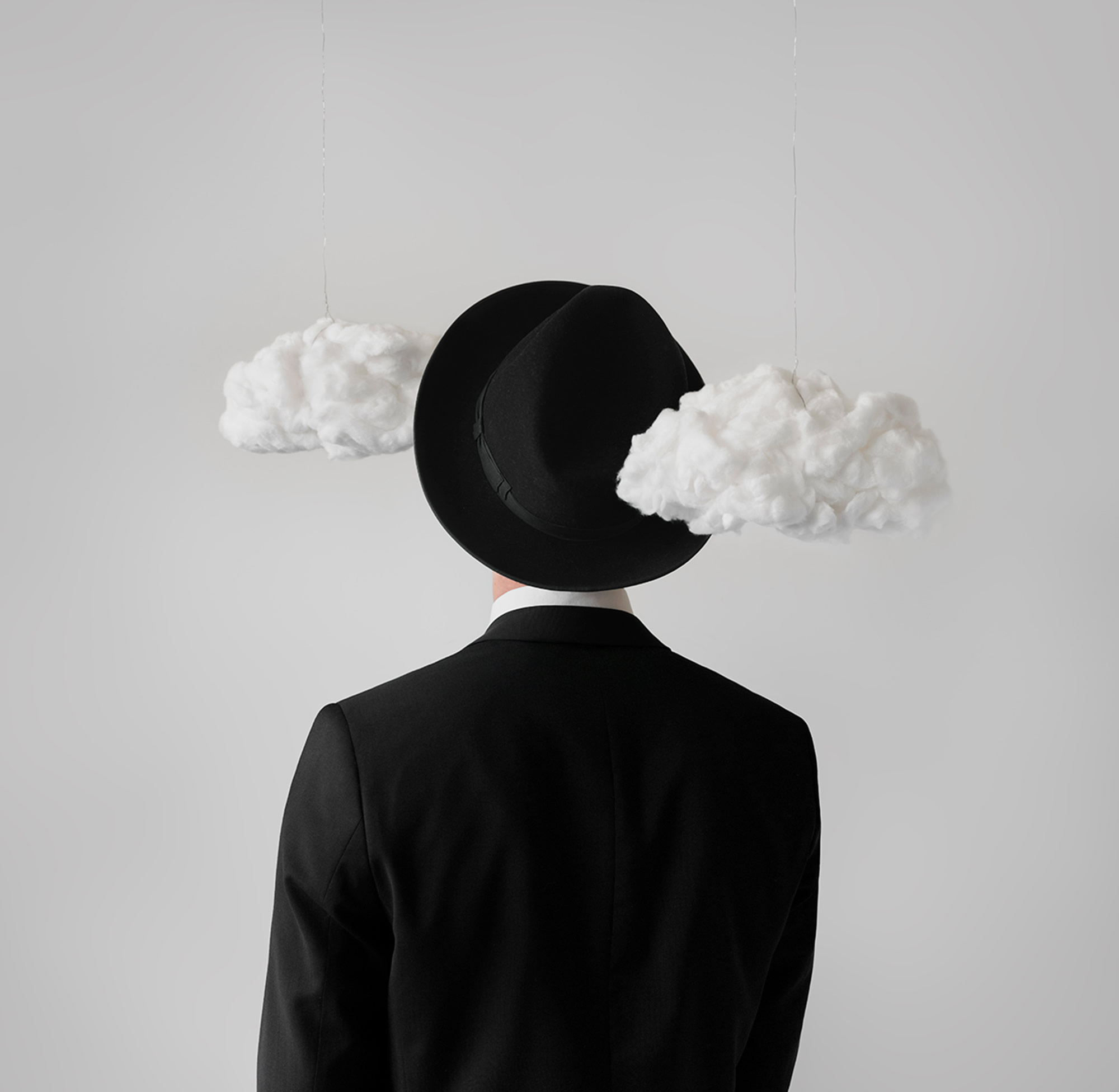 The Surrealist works of the Belgian artist Rene Magritte have become some of the most familiar and copied images in the world. Posing existential questions and challenging ideas of personal identity, Magritte's stark, almost spare paintings have lent themselves over and over to replication, reinterpretation, and reenvisioning.
Whether constructed from Lego pieces or made from more traditional materials, elements of Magritte's visual vocabulary pop up everywhere. Focusing on photography, here are photos from 11 artists inspired by those ubiquitous Surrealist images.
Above: "Around the Sun" (2014) by Marcus Møller Bitsch.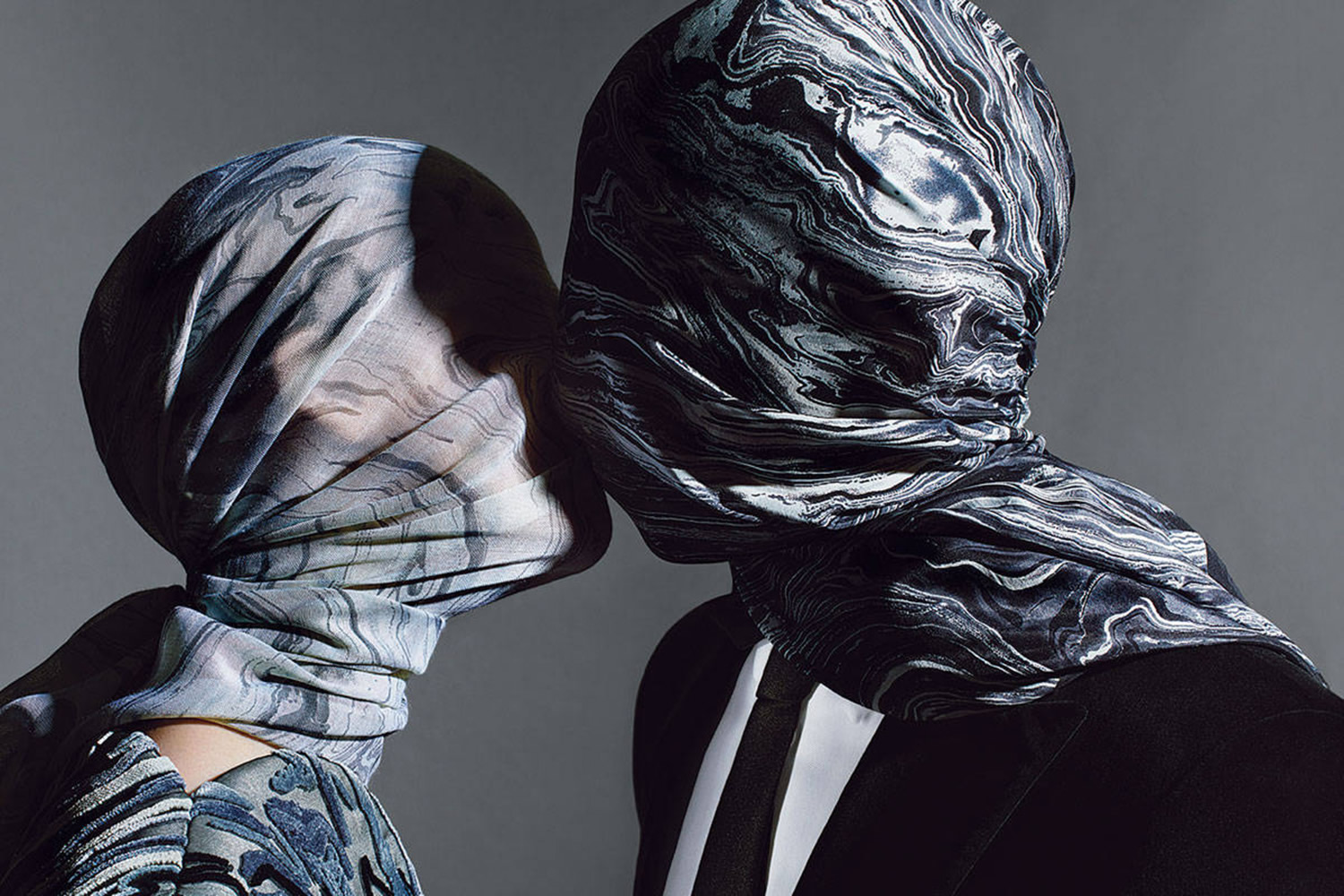 Expensive Balenciaga scarves replace plain white cloth in this updated reproduction of "The Lovers."
Richard Burbridge
Fashion photography often turns to fine art for inspiration. For the September 2013 issue of Harper's Bazaar, the New York photographer Richard Burbridge created a few images based on familiar Magritte paintings, featuring high-end designer items. They illustrate musings by the artist Jeff Koons on his love of the Surrealist's work, on the occasion of a Magritte exhibition at the Museum of Modern Art. "One of the beautiful things about his work," Koons said, "is that it's really made for the viewer to participate in. There's a generosity there—it's about you and your response to the work. So when you confront a Magritte, it's not 'Oh, Magritte felt this.' It's really about what you feel and about creating a shared opportunity for you to experience this sensation."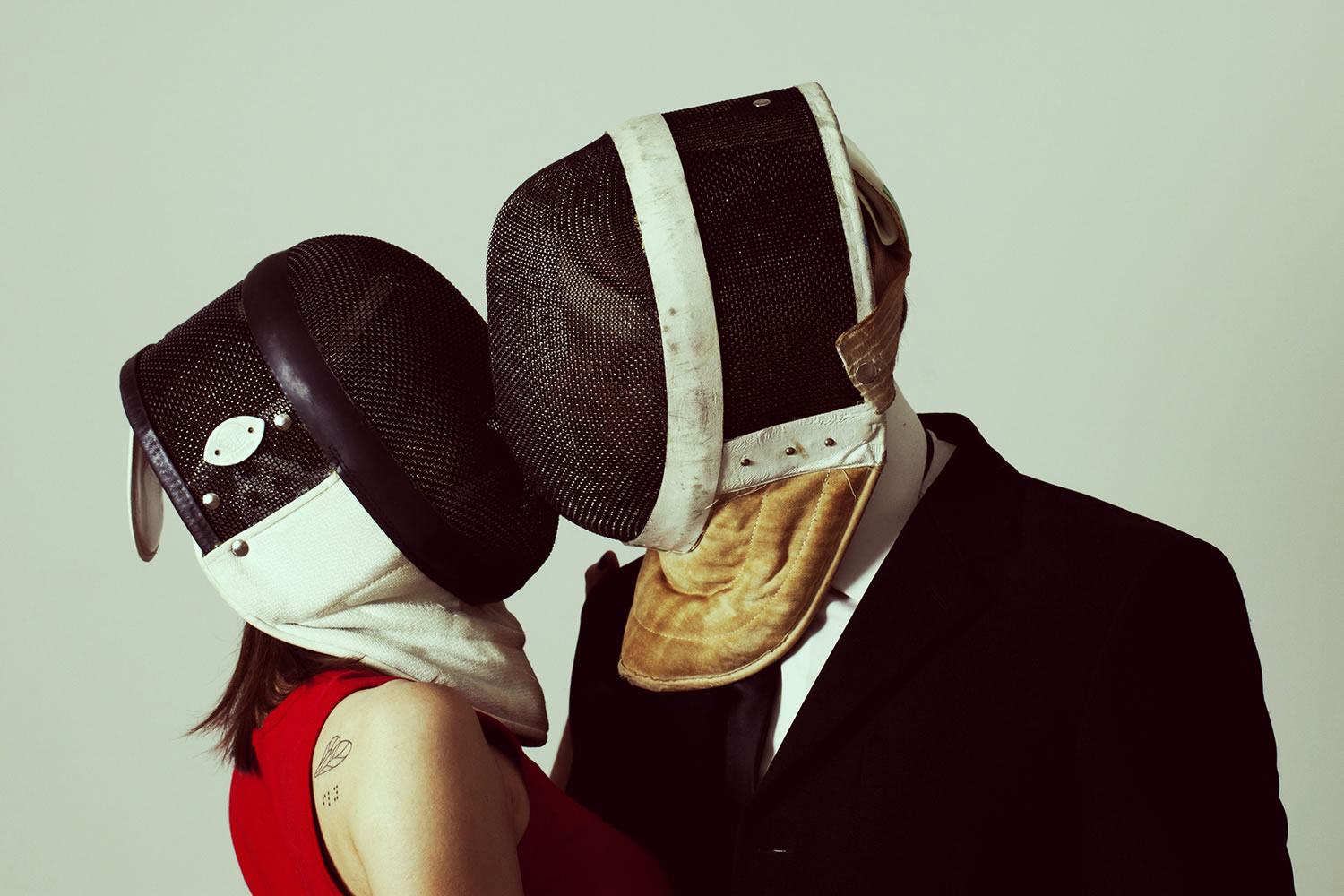 In producing "Les Amants," a play on "The Lovers," this Italian artist says she intended "to reproduce with photography the emotion that I felt when I saw the Magritte painting for the first time."
Domenica Melillo
Among an intriguing portfolio inspired by Surrealist art and magical realism—including a mesmerizing series with mirrors—one image of Domenica Melillo's stands out as a direct translation of Magritte into a modern vision. Many elements of the photograph replicate elements in the painting, with a bright, fresh twist. The modern freshness is then layered with the traditional in the form of old-fashioned fencing masks. Not only are they a clever device, they're even more impenetrable than Magritte's draped cloth, perhaps deepening the metaphor of intimacy and isolation.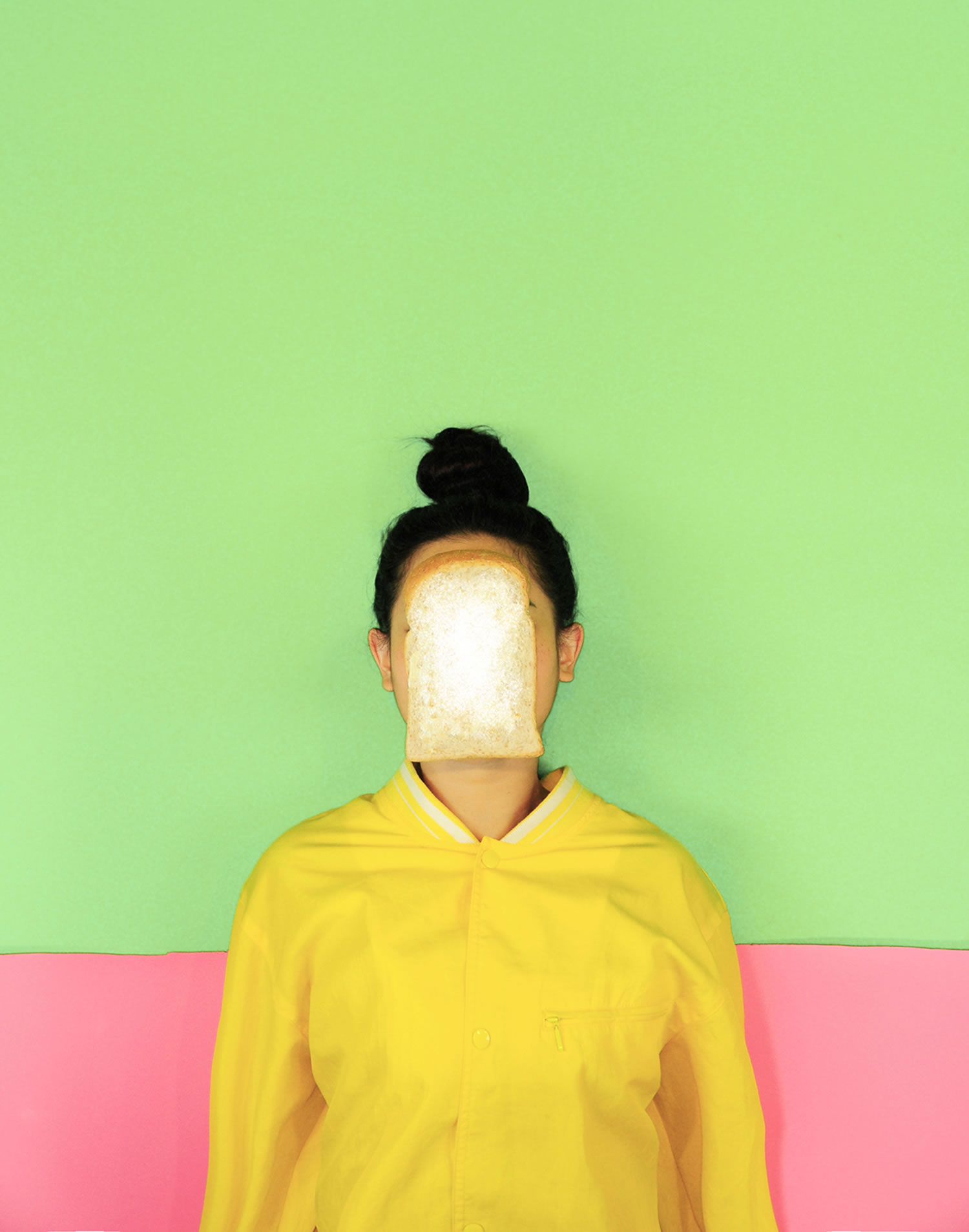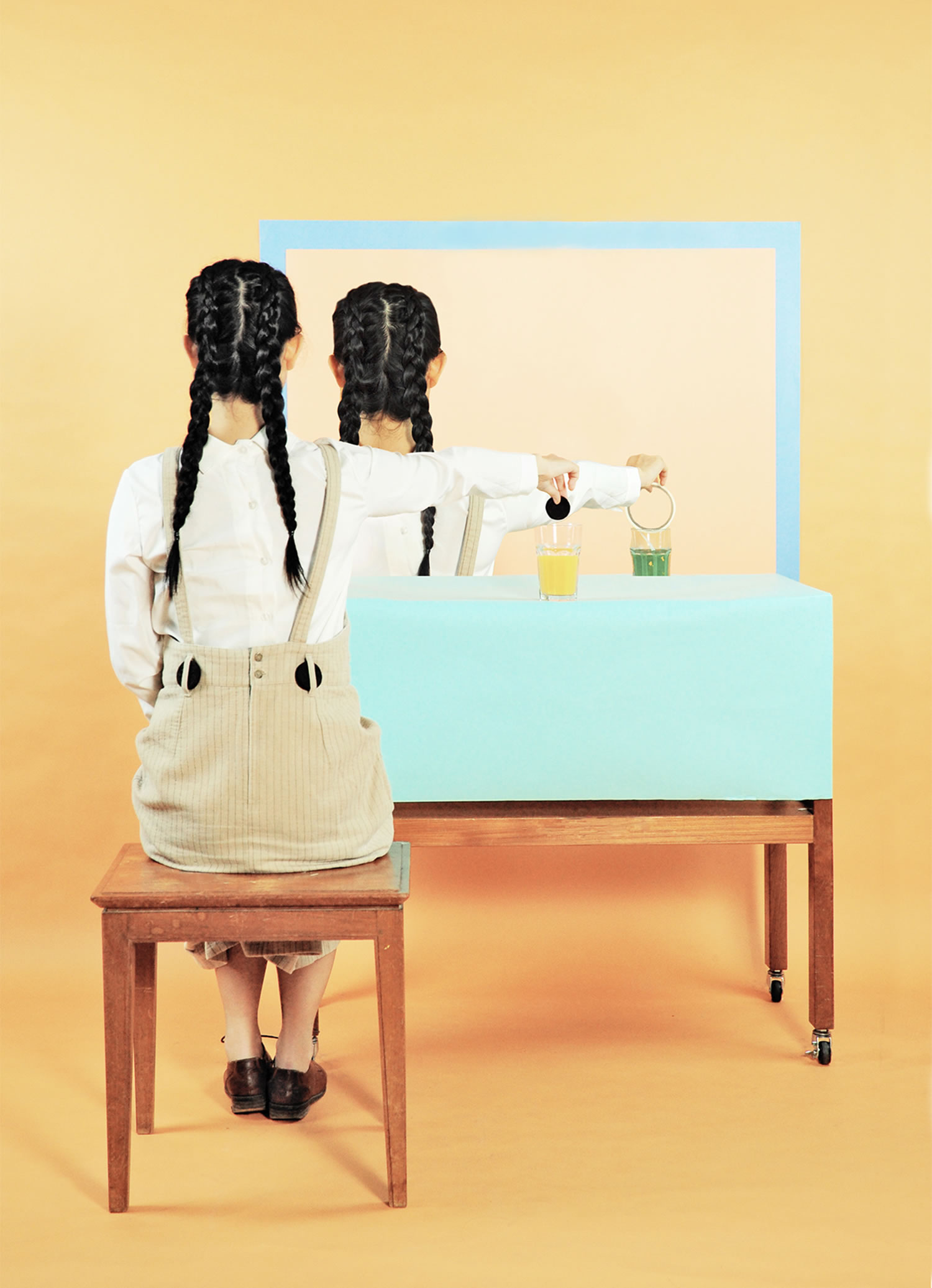 Images inspired by odd food combinations and by "The Son of Man" (top) and "Not to Be Reproduced" (bottom).
Poe Cheung
For a school project, Poe Cheung, a student in Hong Kong, created a photography series called "Atypic" based on some unusual eating habits of friends. Like overly sugared toast, or avocado with vinegar—atypical food combinations that caught this young artist's eye, and inspired playfully Magritte-like compositions.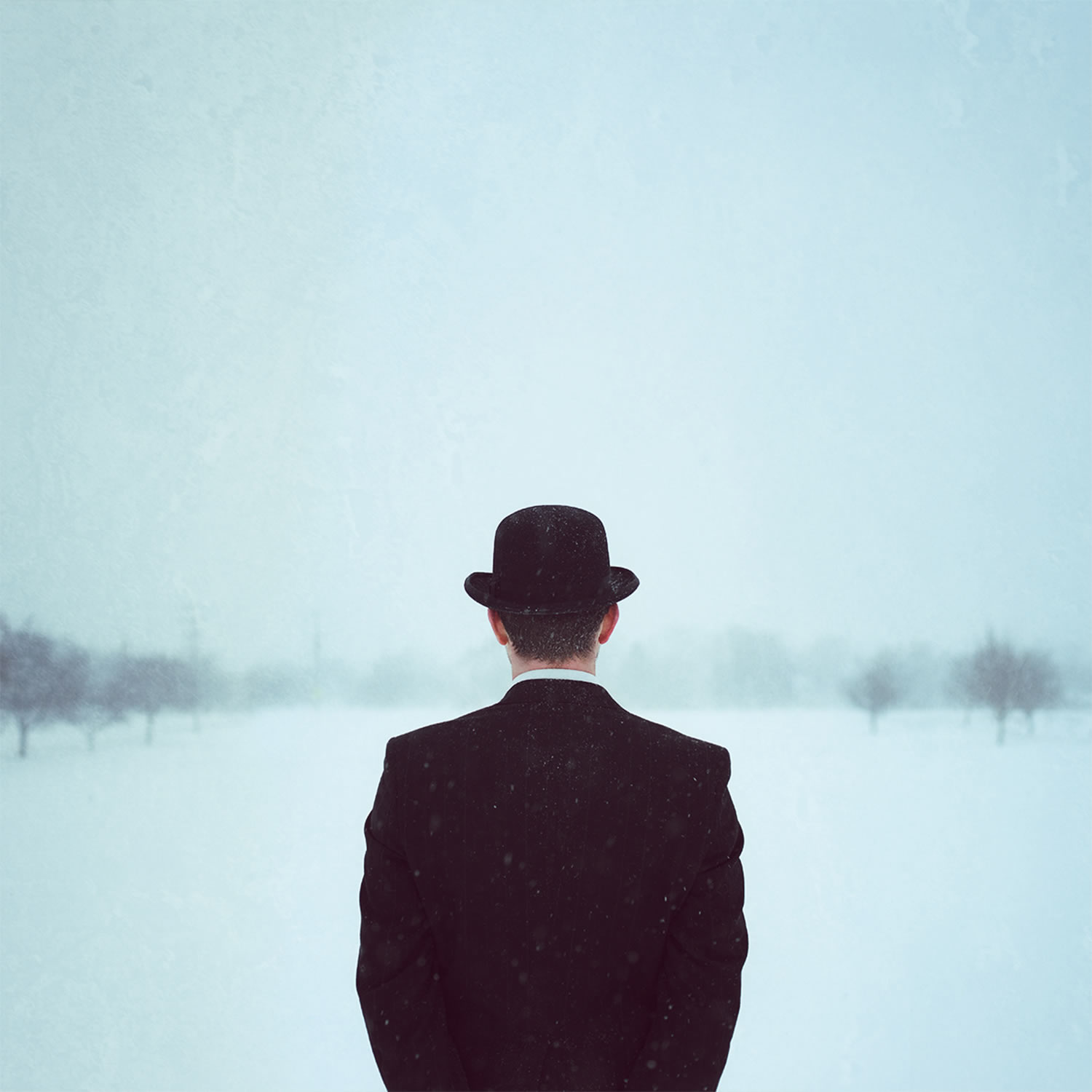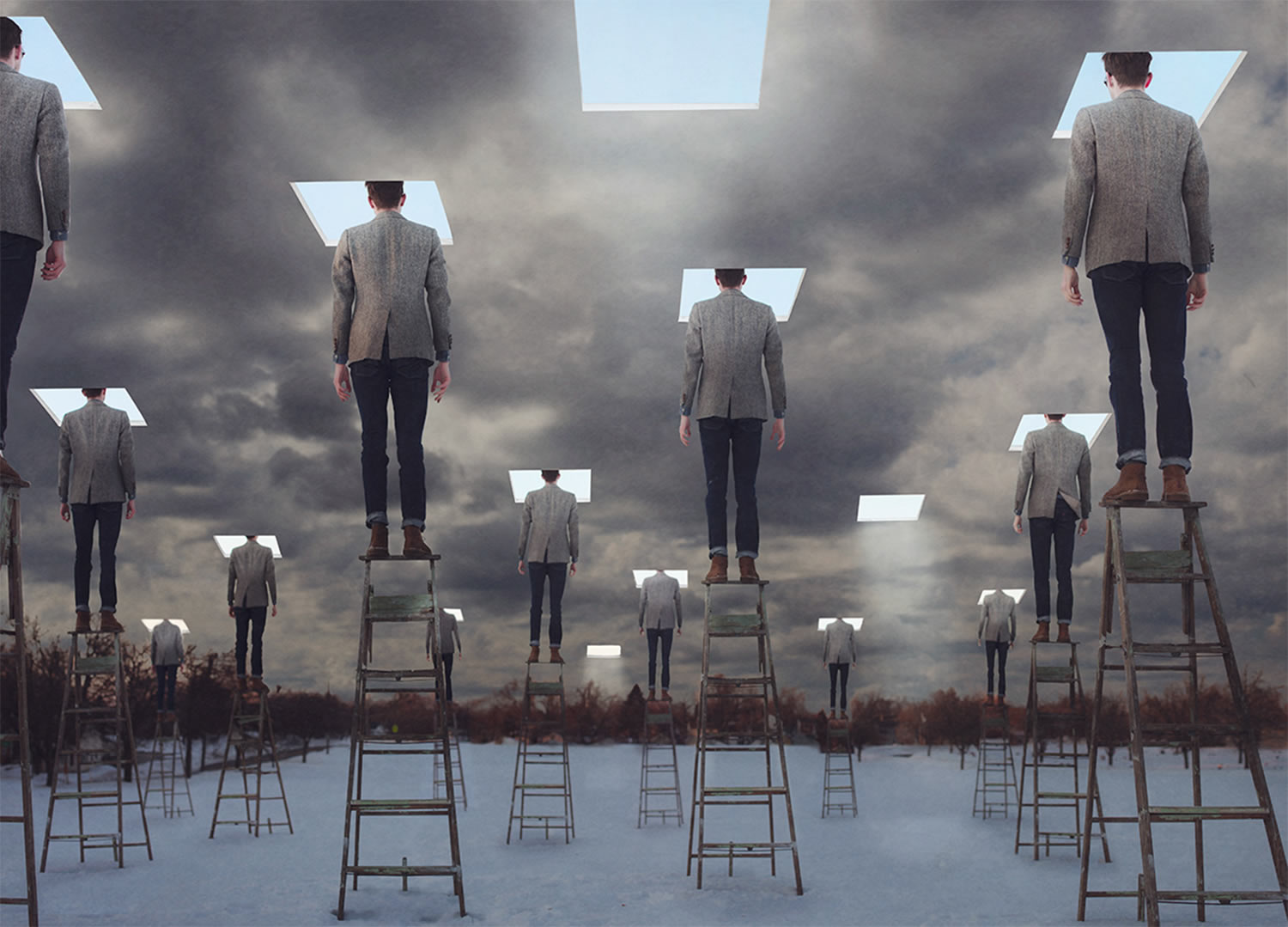 "Tundra" (top) and "Looking For Sun" (bottom) are reminiscent of "Golconda" in composition. In either, are the men ascending or descending?
Logan Zillmer
Logan Zillmer's eye for whimsical, colorful, expansive compositions and the amusingly mischievous elements of Magritte's playbook make for a delightful artist pairing. The familiar tropes are there—faceless men in business suits, clouds in bright-blue skies, paintings within paintings—but mostly more fun and less gloomy than we see in Magritte's works (the above examples being notable exceptions). Zillmer cites Charlie Chaplin as an influence, and indeed many of his photos are animated by a Chaplinesque madcap comedy.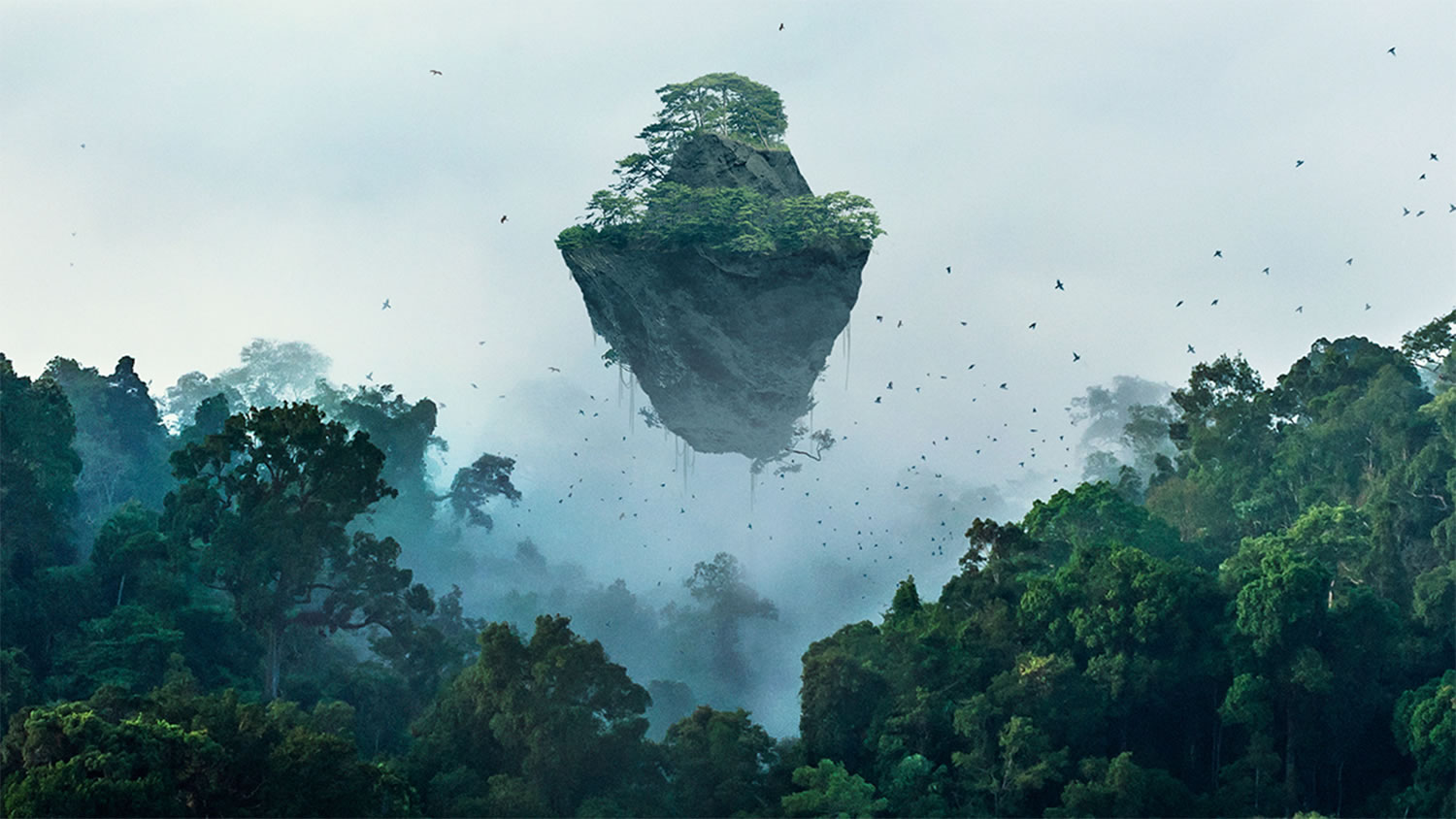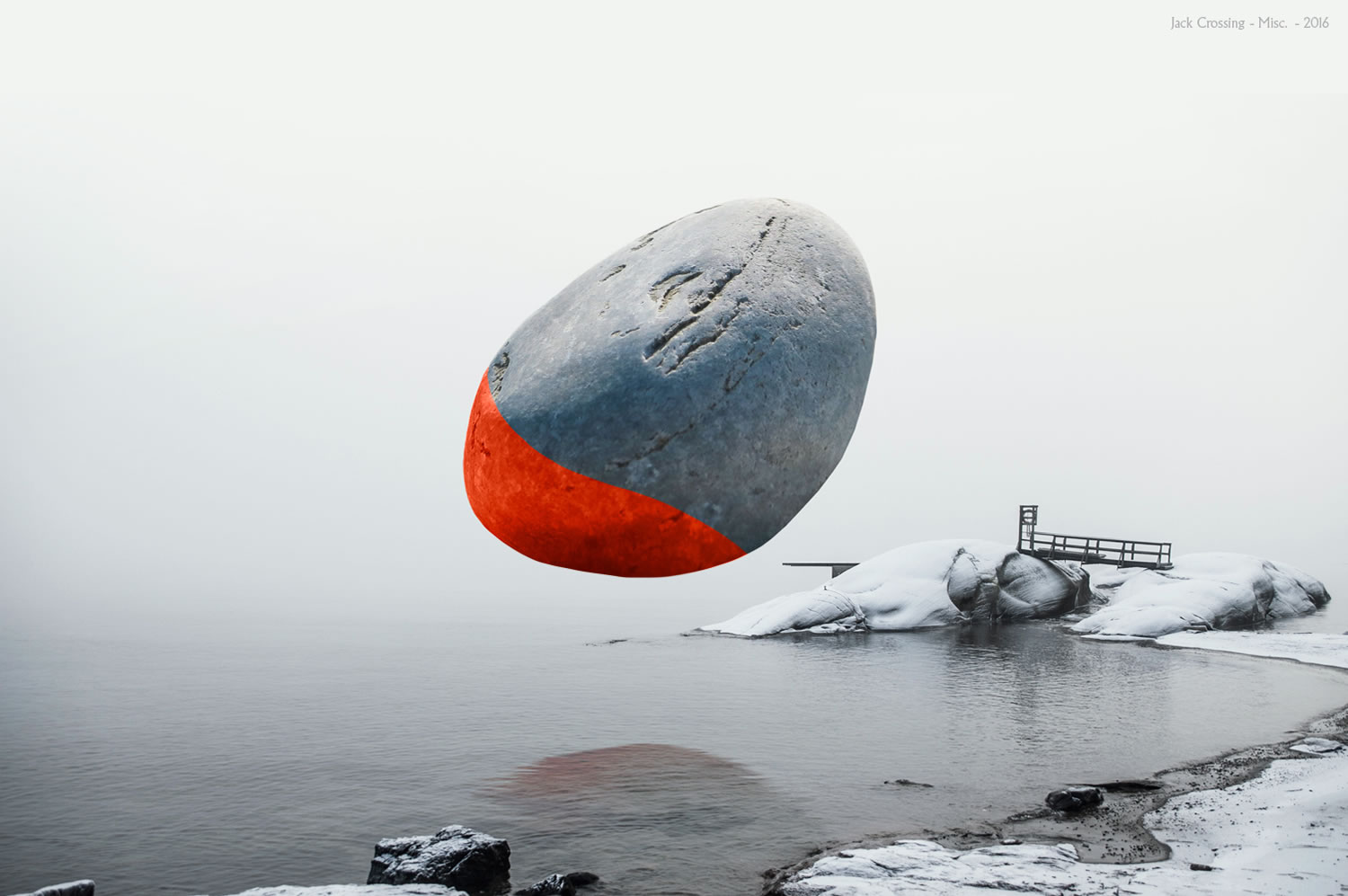 Jack Crossing
Jack Crossing, a British graphic designer, is known for his distinctive album covers and movie posters. Many of his compositions boldly borrow elements of Magritte paintings: floating rock structures, hidden or distorted faces, fluffy clouds in bright-blue skies. Or they have a thematic resemblance, as this EP cover does with "La Flèche de ZĂ©non" ("Zeno's Arrow"). He also borrows from still life paintings of artists such as Breughel and creates elaborate collage-like photos reminiscent of Dali.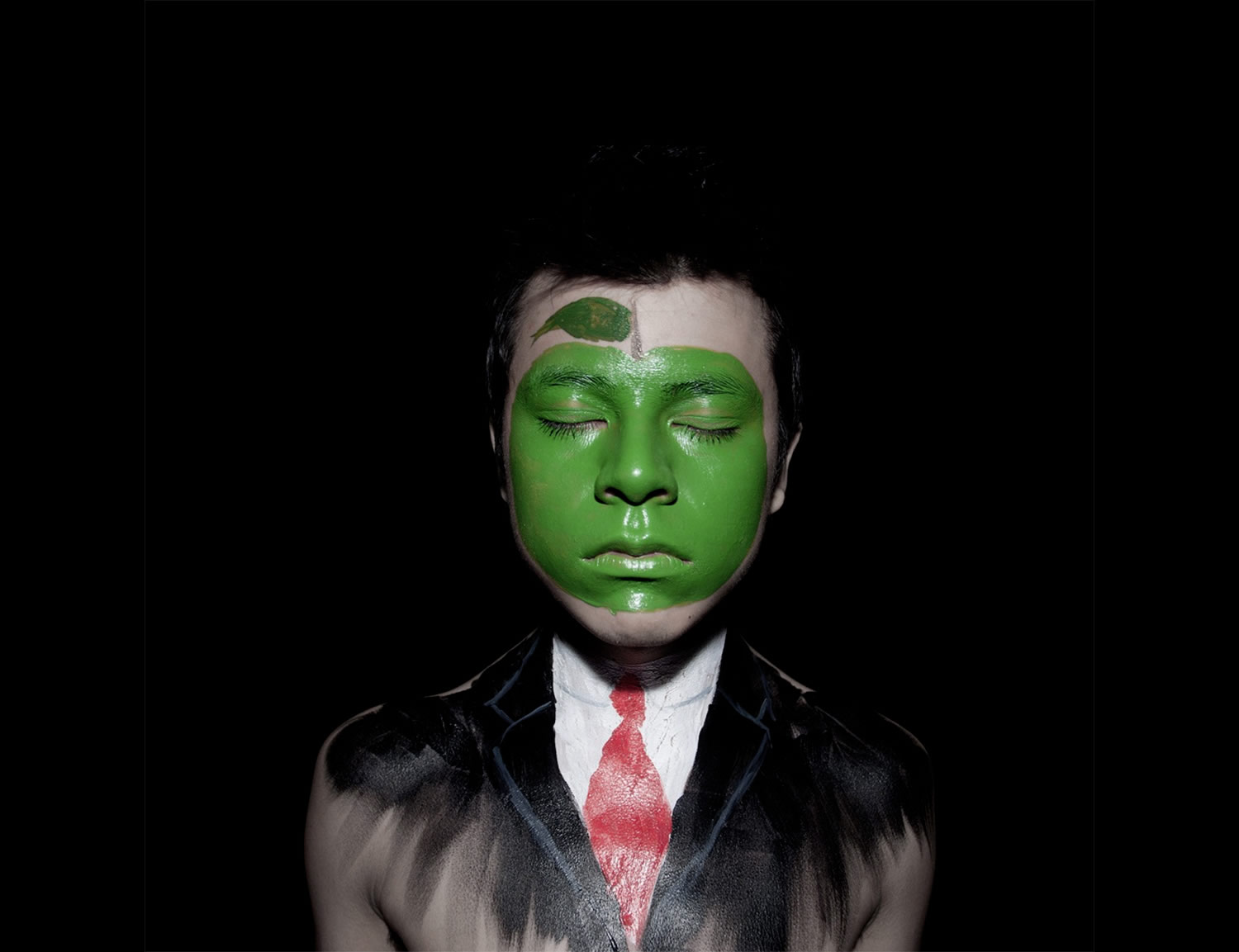 It's a ubiquitous image that never gets stale, here recreated in self-applied body paint.
Andy Alcala
Making the anonymous bowler-hatted man very personal, Andy Alcala painted a green apple on his face and a business suit on his chest and snapped the shutter, as part of a photographic series of face paintings depicting works by a slew of artists. Starting with late 19th- and early 20th-century Impressionists, through mid 20th-century Abstract Expressionists and 60s Pop Art, and into the contemporary era, he made near-copies of representative paintings on his face—some of them quite elaborate. The photos have been popular on blogs and other online sources.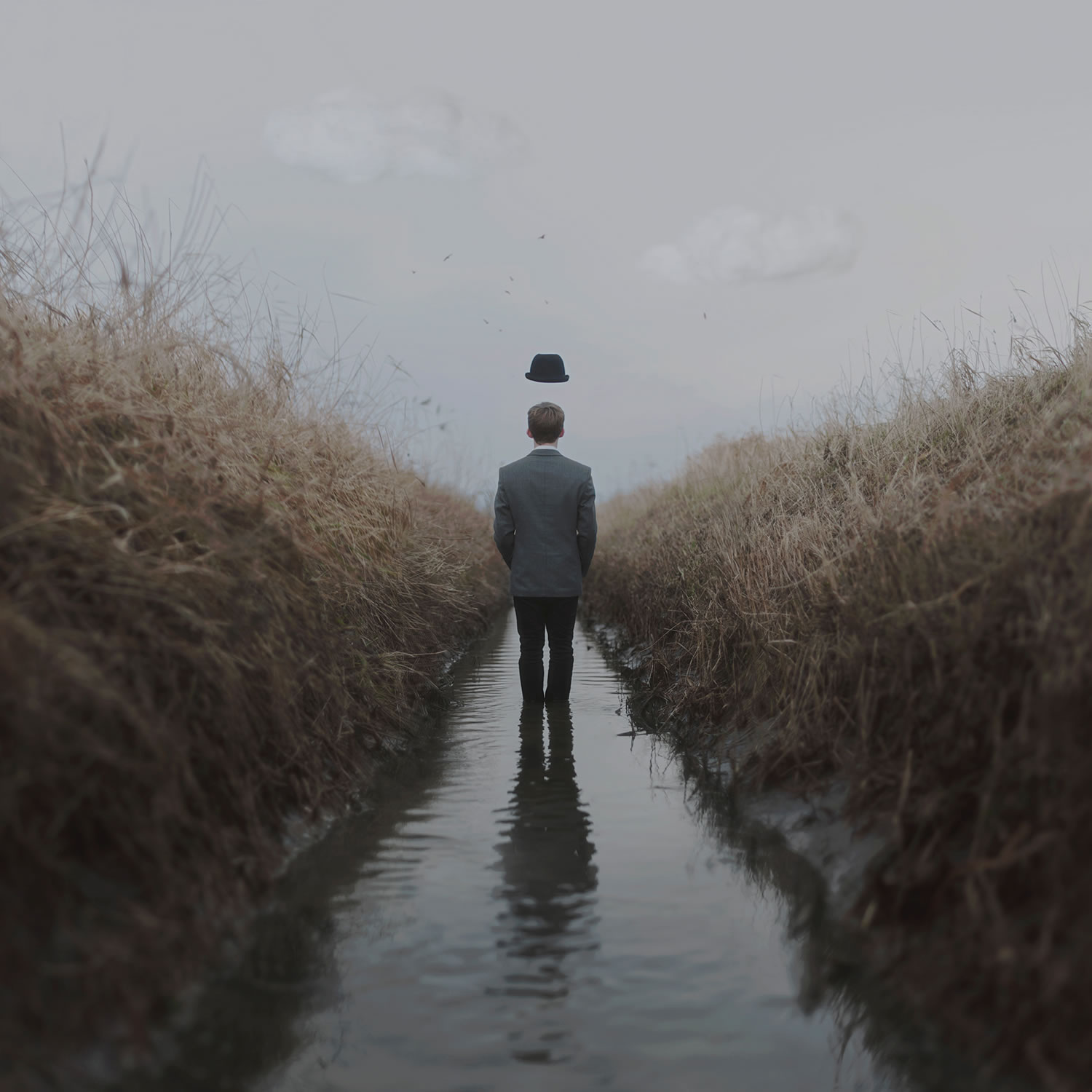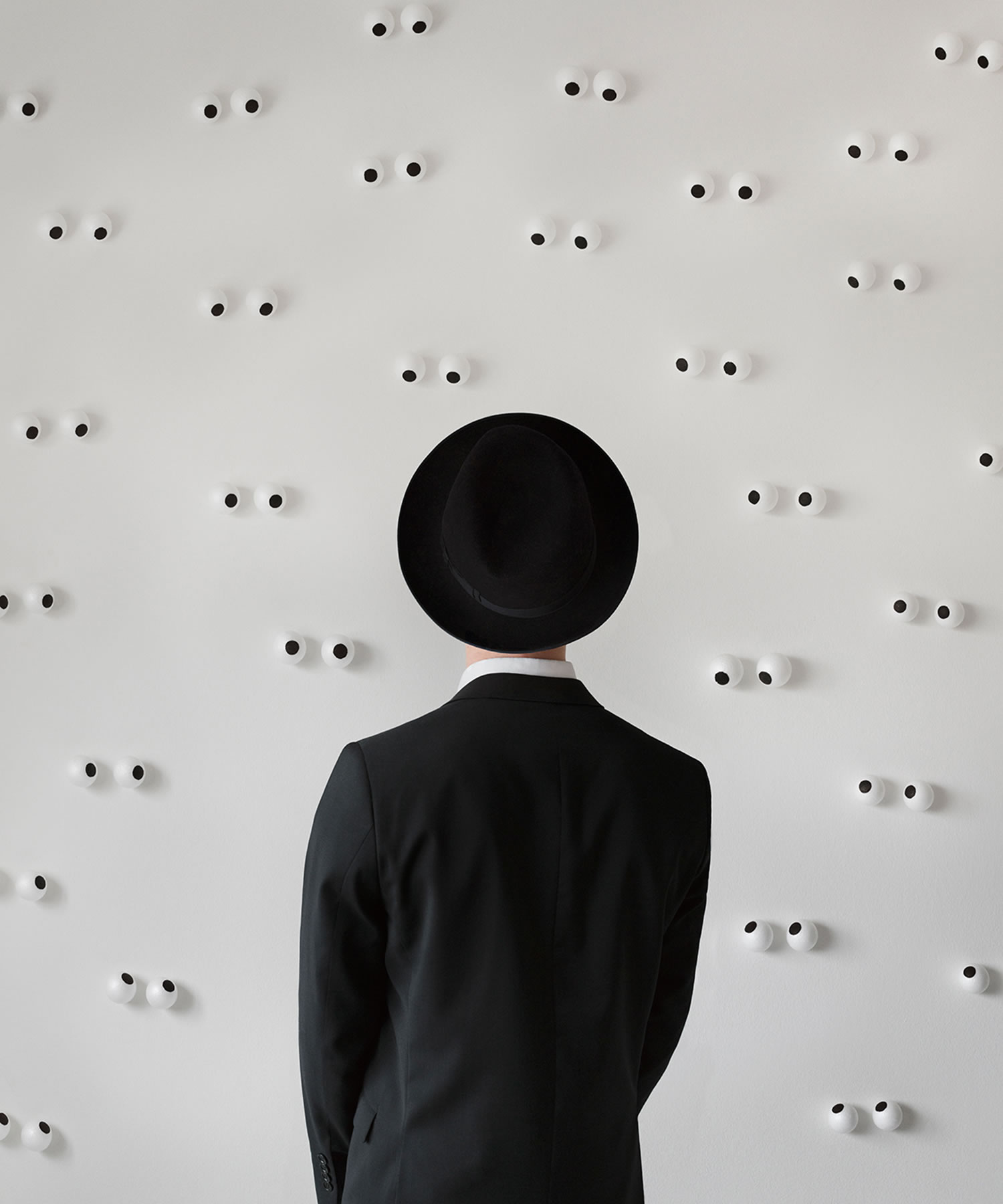 "Sink Slowly" (top) is number 308 in a 365-day project from 2012-13, during the artist's senior year of high school; "Surveillance" (bottom) is part of a series of photos from 2015.
Marcus Møller Bitsch
Magritte's influence can be felt all over Marcus Møller Bitsch's photographs, most notably—and overtly—in his personal work, but also in his spare, meticulously designed product pictures. From his native Denmark, after high school Bitsch spent a year traveling throughout the Pacific Rim before setting up shop in Paris. In a 2015 interview, in addition to Magritte, he cites the Danish artist Michael Kvium as a source of inspiration, along with the philosophers Kirkegaard and Barthes.
"The Living Mirror," from a series called "Lost in the Loud Silence," echoes Magritte's "Not to Be Reproduced" and "Time Transfixed." Another impossible mirror image from the same series shows up in "The Unexpected Answer."
Naomi White
In the same way that Magritte explores themes of questioning self-identity with the use of mirrors, Naomi White's series "Lost in the Loud Silence," as she describes it, "examines the unraveling of one woman's identity, based on a friend's true story, as she strives to regain stability during a break in her marriage. It is a meditation on feeling lost and disconnected, and the surprising ways in which we comfort and challenge ourselves on the path towards discovery."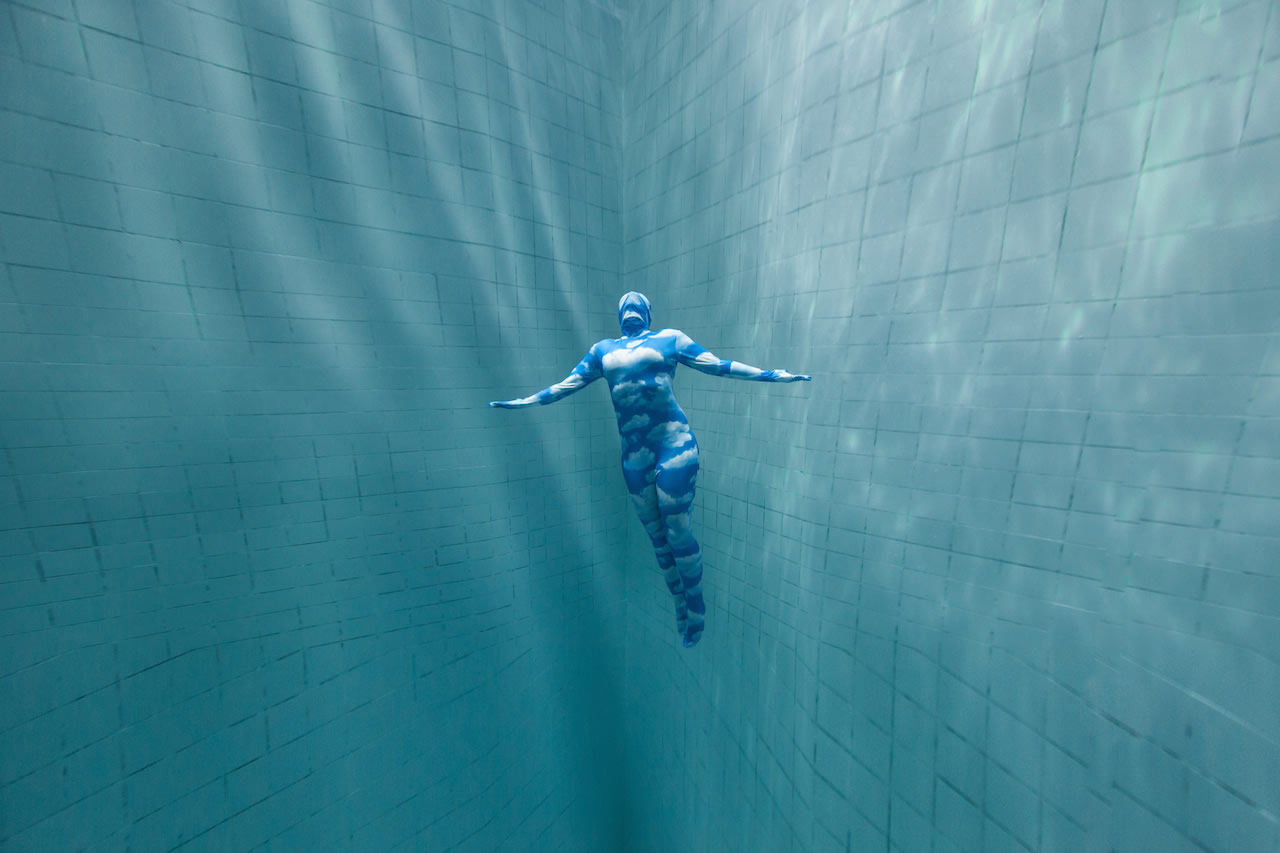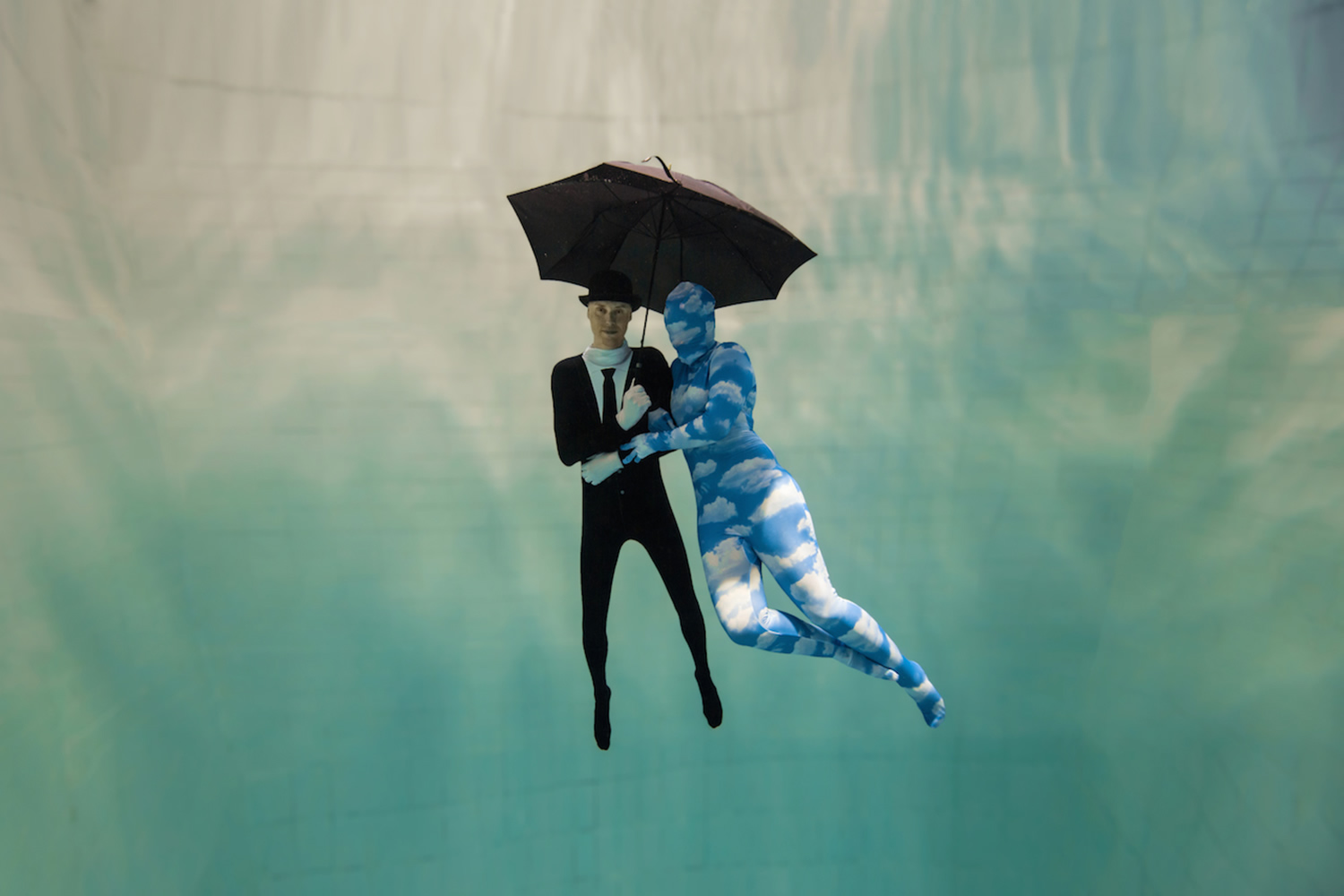 In a sort of mixed-media mashup, Magritte meets the swimming pool.
Daan Verhoeven
To say that Daan Verhoeven specializes in underwater photography would be an understatement. He doesn't just take pictures underwater, he creates unique portraits and, occasionally, elaborate floating compositions. Inspired to interpret Magritte images in his chosen medium, and knowing the challenges and limitations of shooting in water, Verhoeven took a creative risk that paid off. (Read about his rather serendipitous journey here.)
Photos © respective artists.