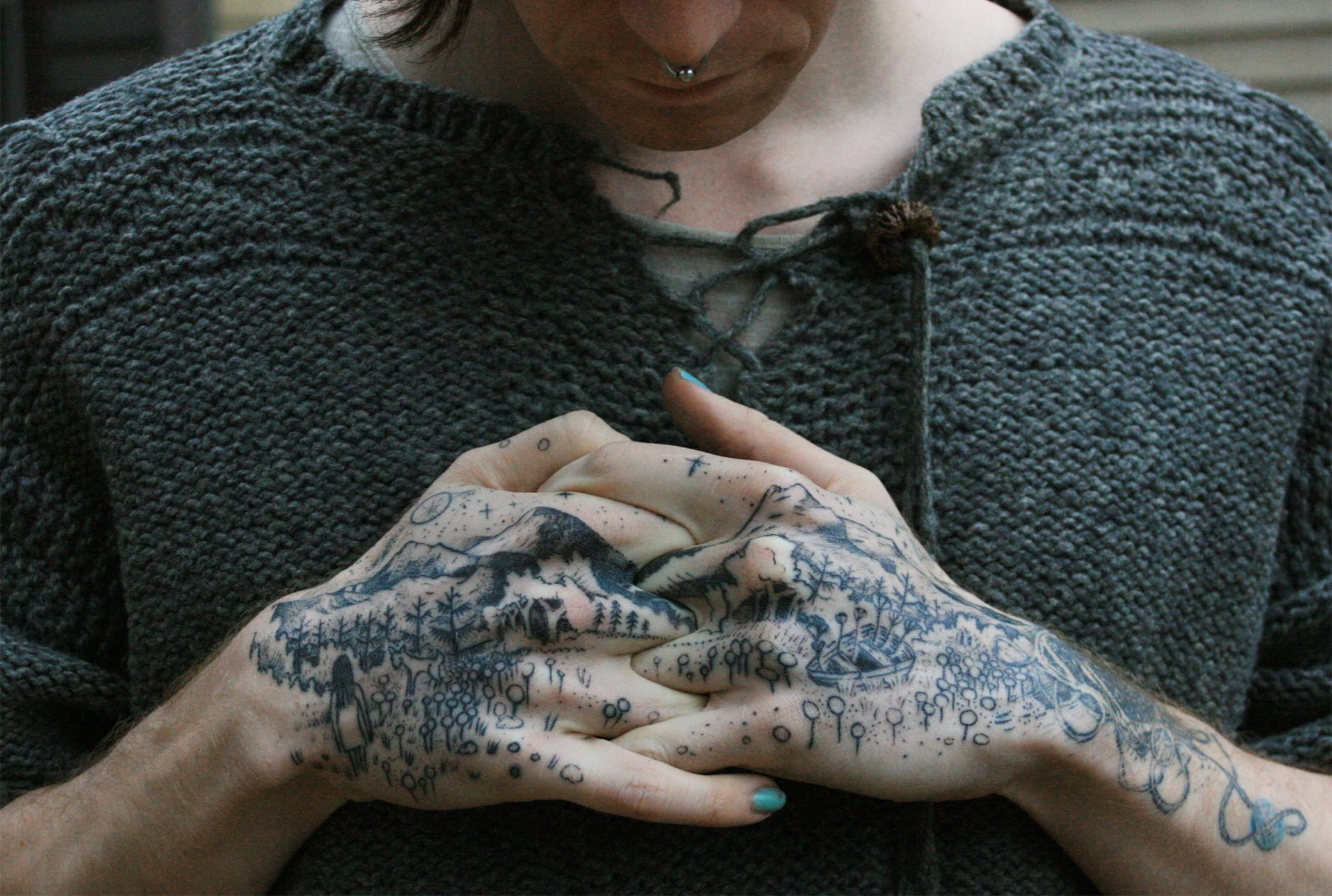 When considering a tattoo, many people turn to hot trends for inspiration. And there are plenty of interesting styles that come and go.
But for such a permanent purchase, it's more important to find an artist who speaks to the most stable parts of your identity. Ignoring what's in and focusing on what's you is the best way to avoid regret down the road.
Today, we take a look at some new and growing artists with clear points of view. Still carving out their niche in a crowded marketplace, they all share one philosophy in common: tattoos should be driven by passion, not fashion.
Top: Mountains and meadows inspired by childhood memories, hand-poked by Noel'le Longhaul.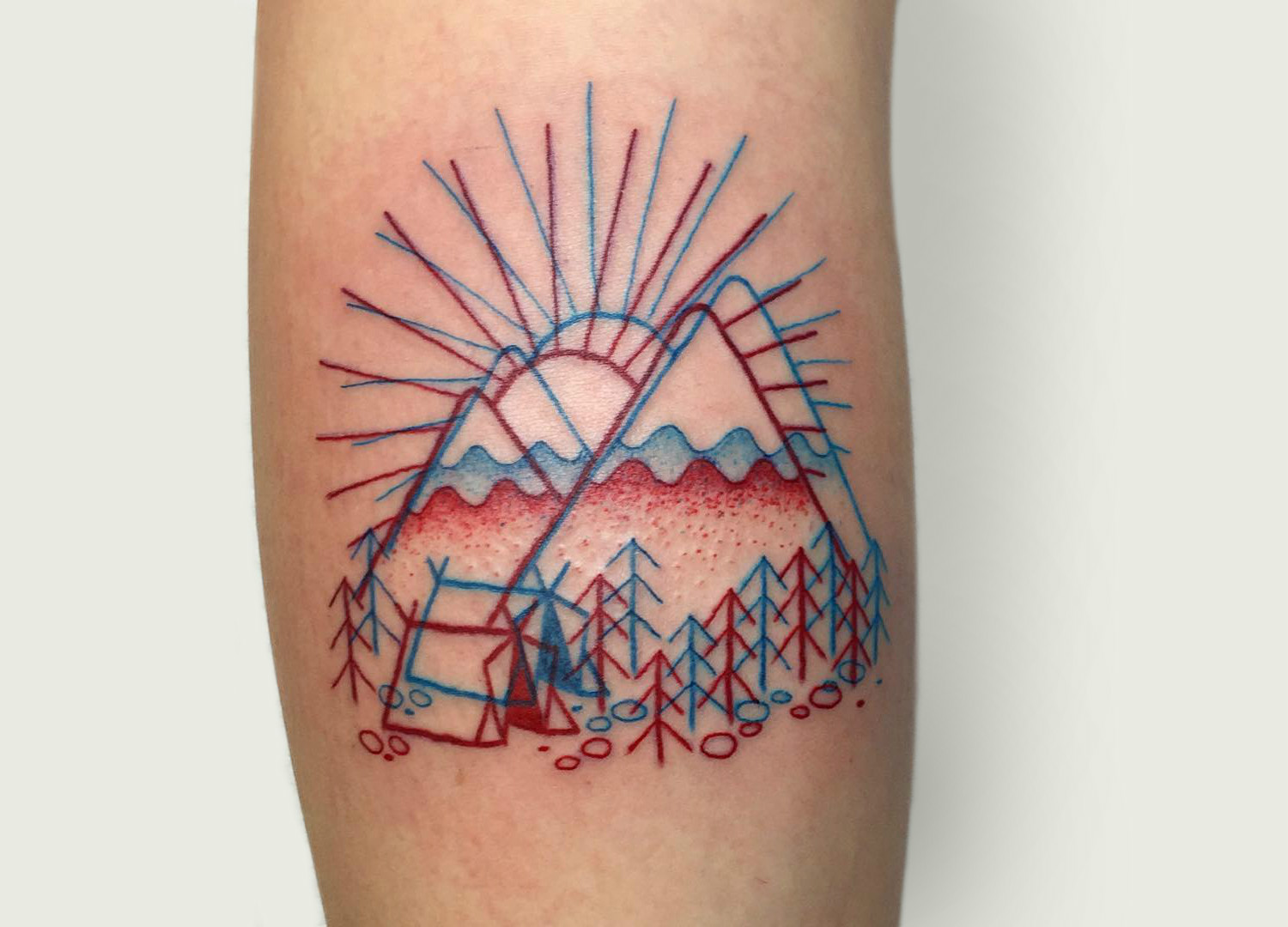 Anaglyph 3D camping ground scene by Winston the Whale.
Winston the Whale
Oregon-based tattooer Dave "Winston the Whale" loves classic motifs that span generations. "My approach is to mix some traditional themes with more contemporary concepts," he explains. He finds balance between vintage and modern trends, then strips away details to boost impact. "I'm really attracted to mid-century design and architecture; the whole 'less is more' look with maximum functionality." After sharpening his skills at Portland's Sideshow Alley Tattoo, he's now flying the coop with his own private studio.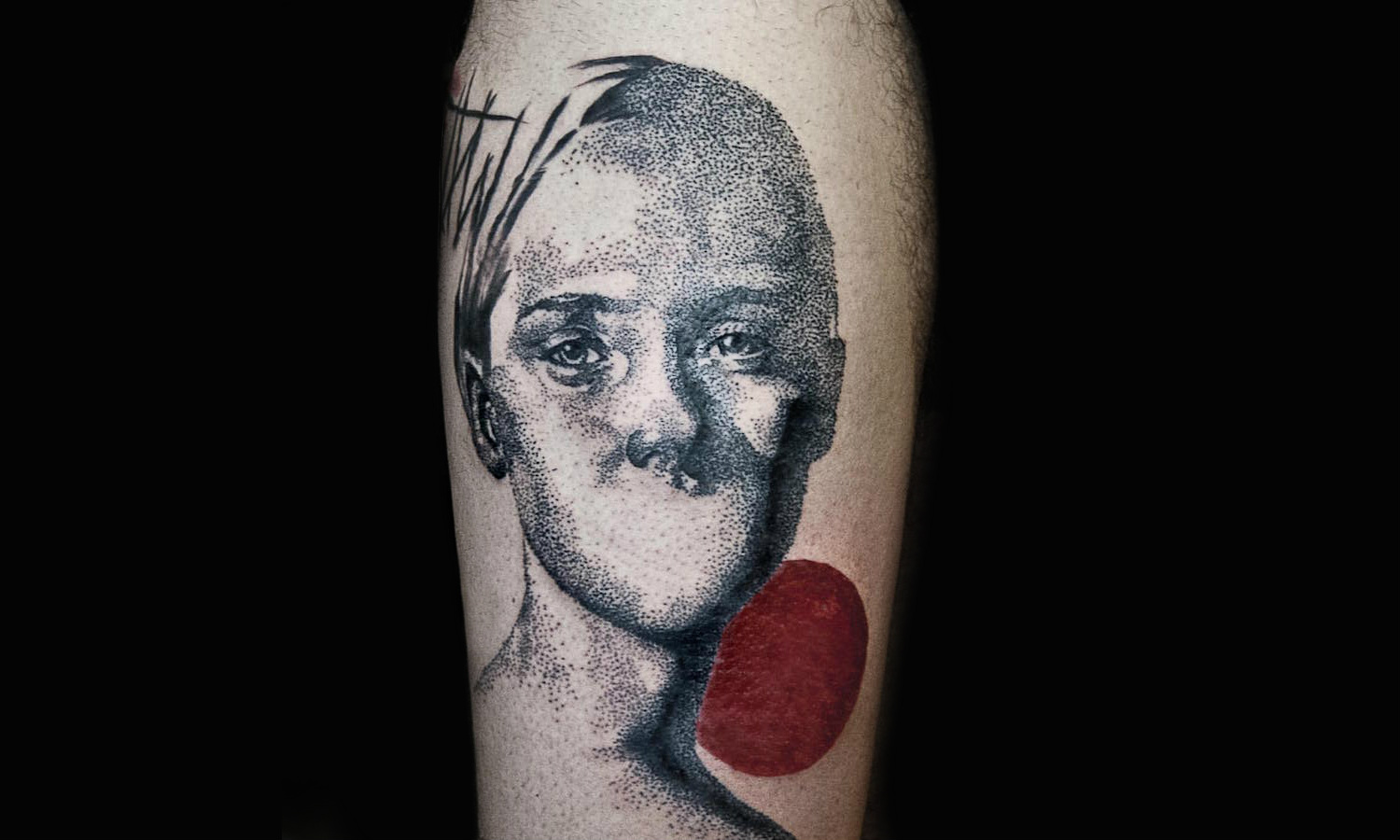 "Silence is Golden" by Nick Avgeris.
Nick Avgeris
Greek painter and illustrator Nick Avgeris is a new addition to Athens' Luv 'N Roll team. His tattoo portfolio runs just six months deep, but what he lacks in longevity he makes up for in creativity. With expressive portraits and high concept surrealism, his sketchbook is full of interesting ideas for adventurous collectors.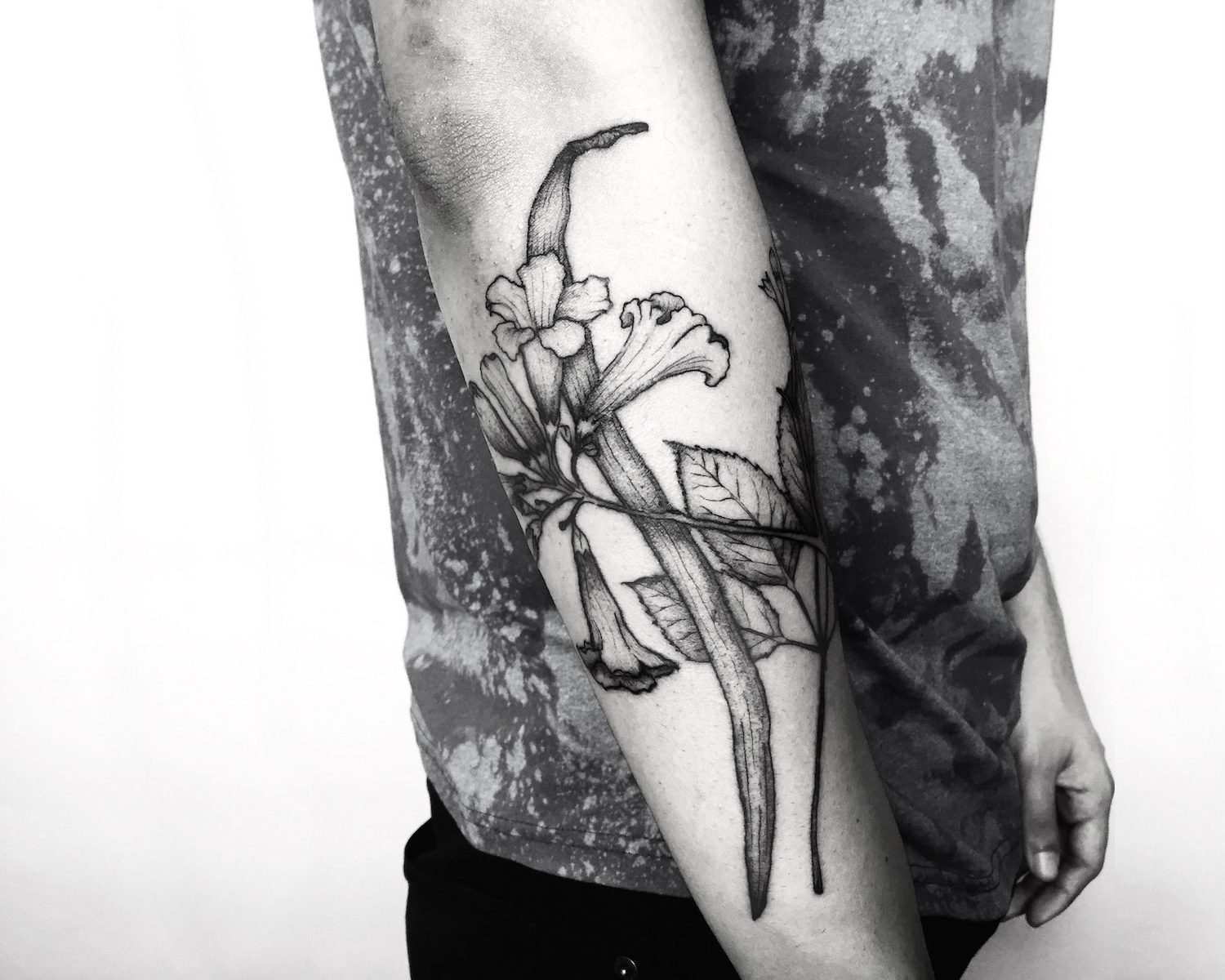 Hand-poked botanical illustration by Errance (Jorge Ramos).
Errance
Recently taken under the wing of Maxime BĂŒchi, Jorge "Errance" Ramos is an ambitious illustrator and tattooer from Puerto Rico. He specializes in black and grey hand-poked tattoos, adding the occasional muted color tones. He pulls inspiration from botanical illustrations, German Expressionism and Soviet Constructivism, and will be traveling the world for guest spots through 2017.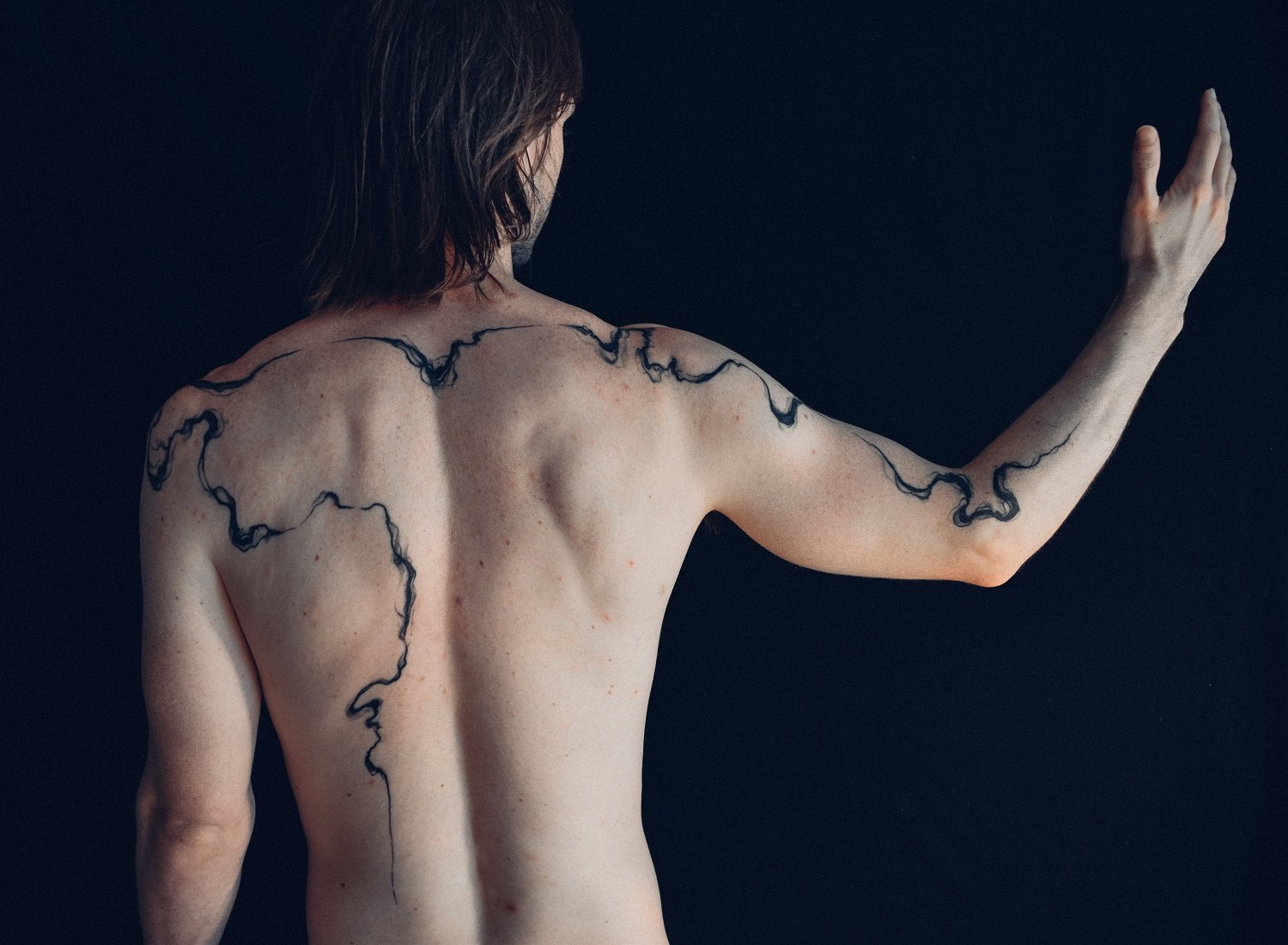 Abstract ink and water composition by Melanie Steinway, inspired by smoke patterns.
Melanie Steinway
A musician and master woodworker for years before she started tattooing, Melanie Steinway's best work embraces rhythm, movement and body contouring. This Colorado-based artist is trying different styles on for size, navigating where her voice meets the American tattoo market. Her goal is to move into abstract and experimental tattooing full time, an area where she naturally thrives.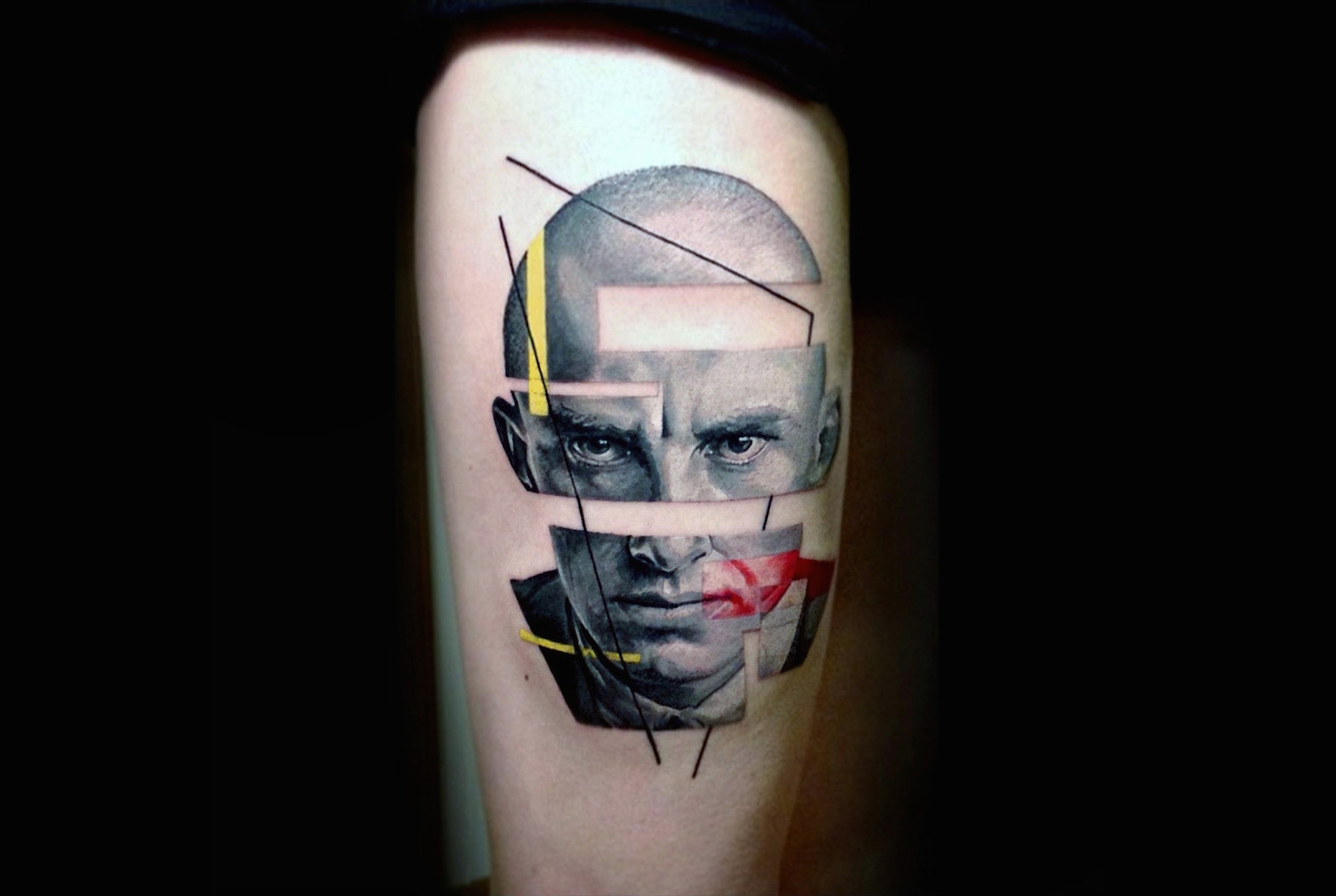 Vlad Tokmenin's deconstructed portrait of Russian poet Vladimir Mayakovsky.
Vlad Tokmenin
Moscow's Vlad Tokmenin splits his time between a few tattoo studios and different art styles. Now he's having fun mixing pop art with realism, using bright color swatches and simple shapes to lighten up the gravitas of photoreal portraits. His new ideas and diverse skills should make his portfolio an interesting one to watch this year.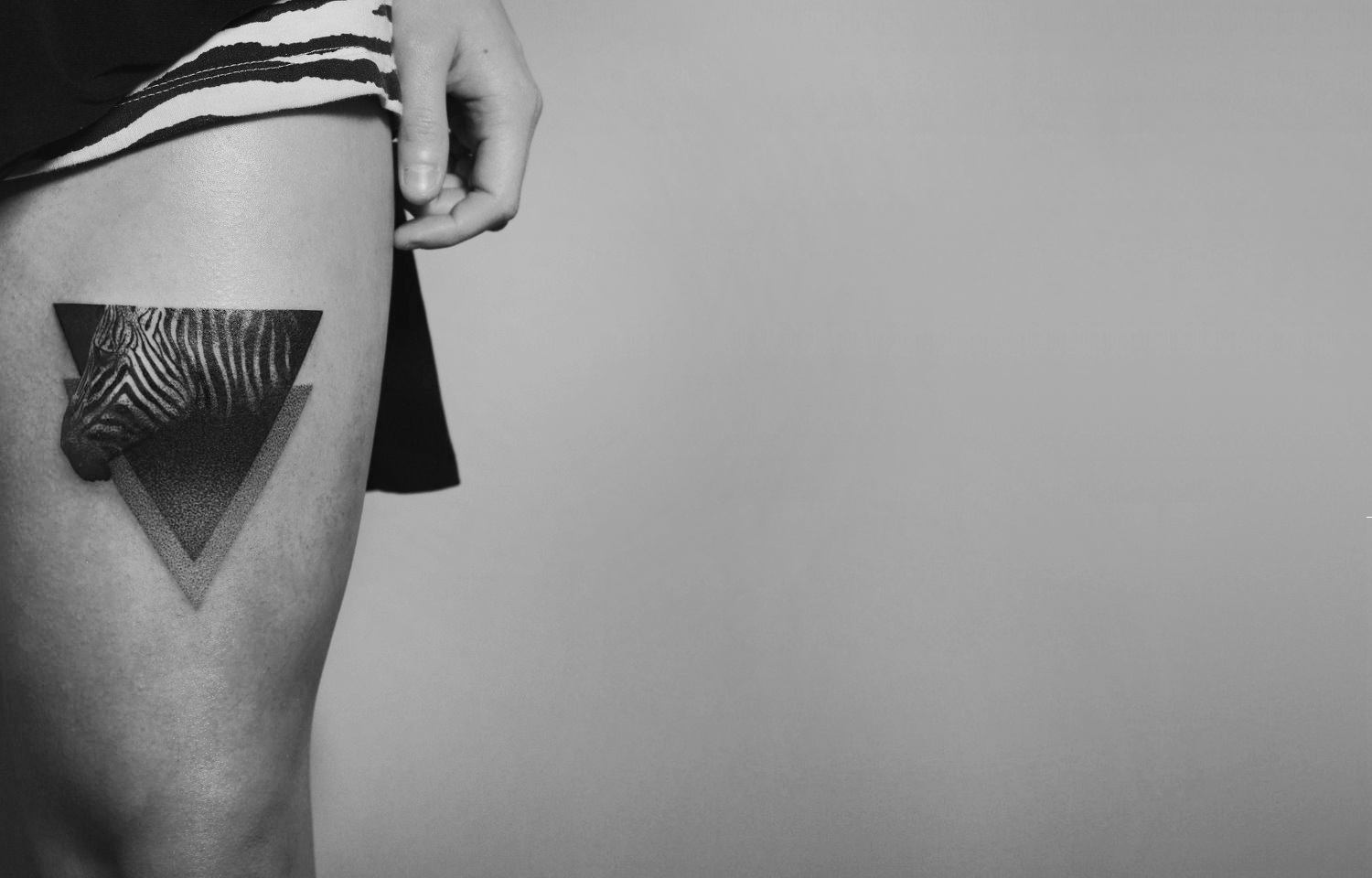 Realistic zebra with dotwork gradients by Dotyk (PaweƂ Indulski).
Dotyk
Bold yet subtle at the same time, PaweƂ "Dotyk" Indulski blends his work with customers' skin tones using dotwork gradients, only to punch up the contrast with pops of negative space. Dotyk surprises and seduces his audience with film noir silhouettes, photorealism, and re-creations of classical paintings.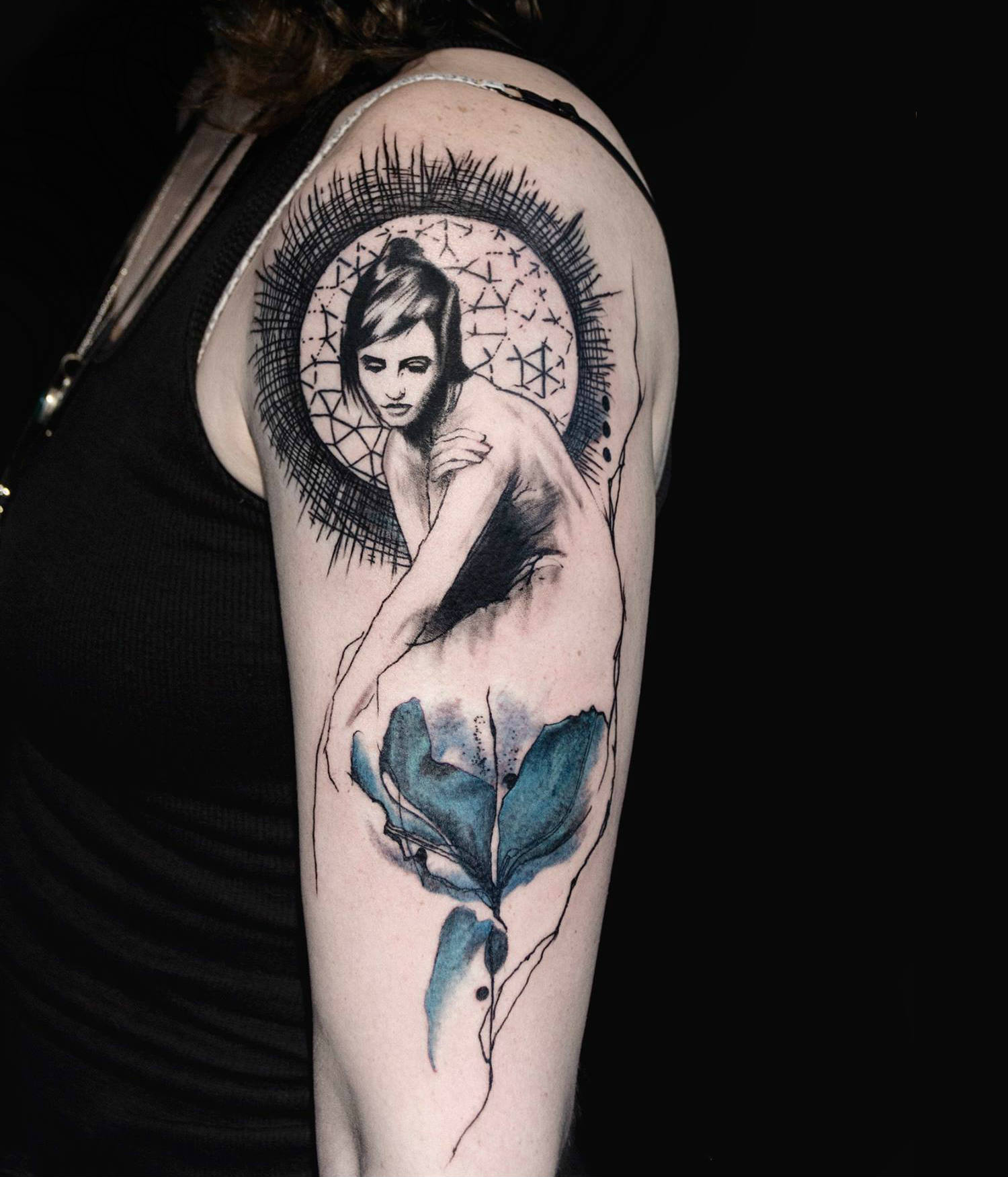 Koit (Shachar Ozery) is inspired by Mark Demsteader's work.
Koit
Israeli artist Shachar "Koit" Ozery crafts custom mixed-media designs, often influenced by fine art and digital media. Melding charcoal illustrations with watercolor paint, overlaying digital patterns with pencil sketches, crafting custom typography alongside street art, Koit is multi-faceted and growing quickly.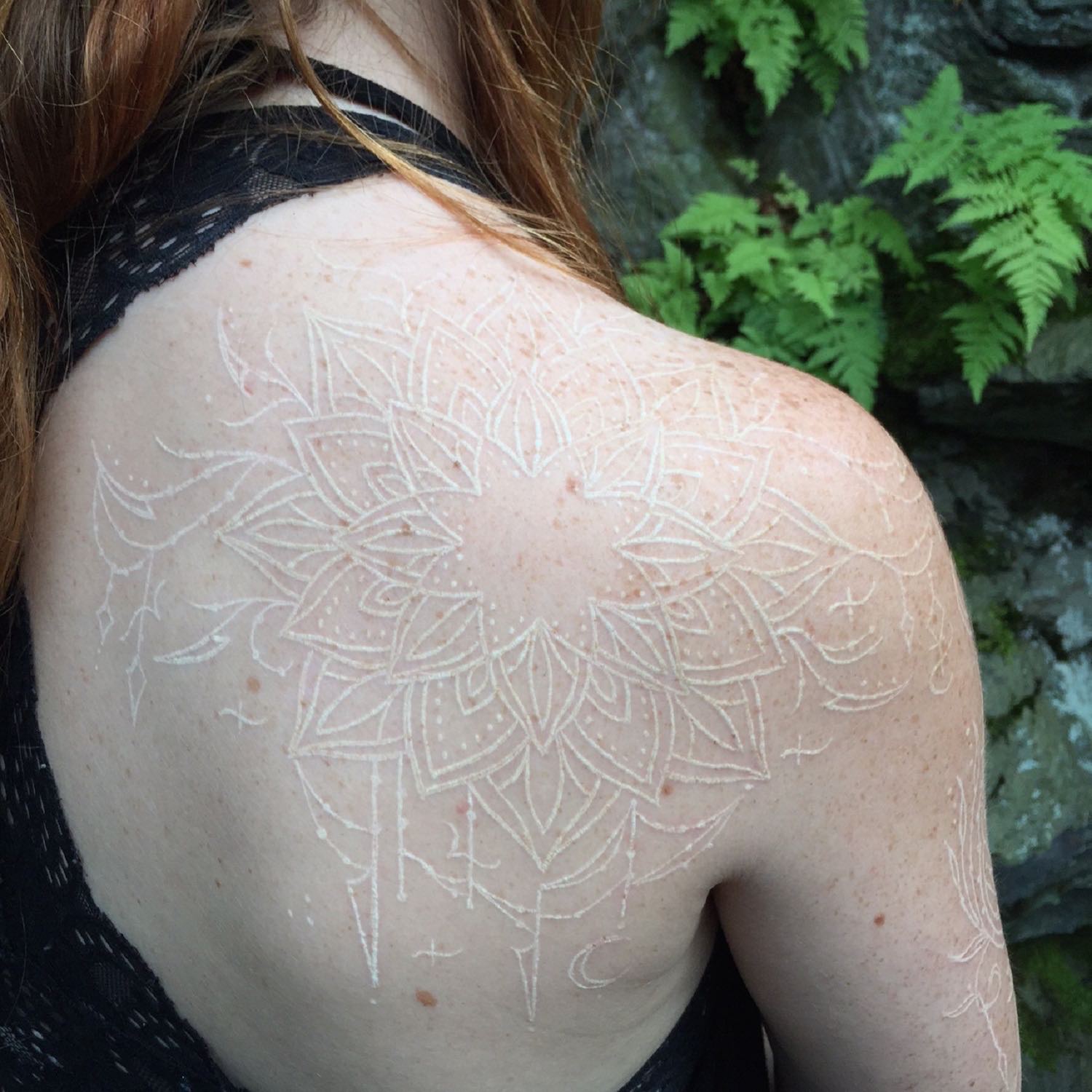 White ink mandala by Tai Van, healed two months.
Tai Van
"Tattooing is a sacred act," a motto Tai Van lives by. He's an energetic spirit, a self-described "forest creature" who just opened a shop in the Colorado mountains. Mentored by Watson Atkinson for years, a master of blackwork and white ink tattoos, Tai Van feels "blessed to be united with countless kindred souls and teachers." This new venture is "an electric and intensive passage," but he can't wait to see what tomorrow will bring.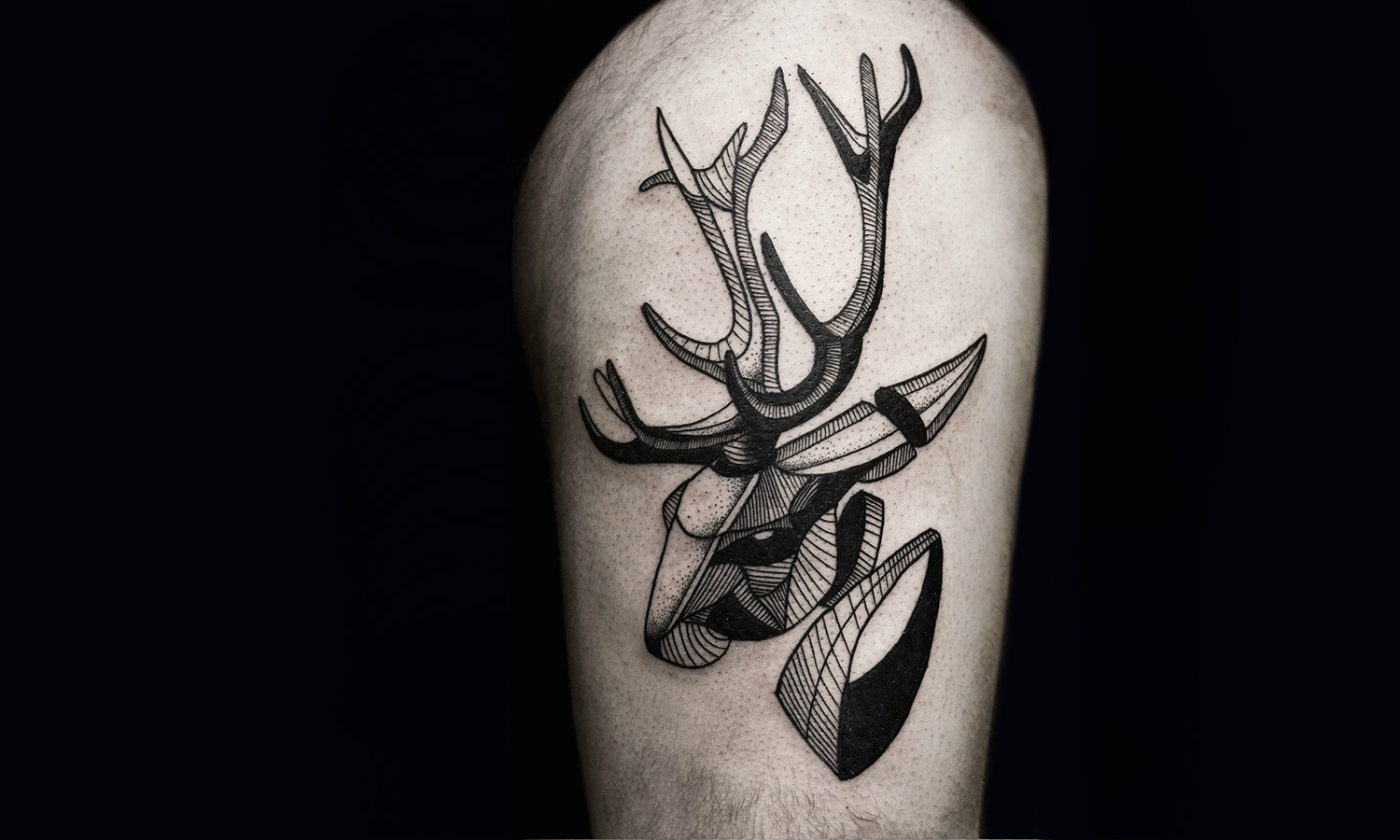 Evel Qbiak's illustrations are heavily influenced by optical illusions.
Evel Qbiak
In less than a year, Evel Qbiak's tattoos are already cohesive and clean, inspired by op art and distorted perspectives. Her background as a graphic designer and illustrator for children's books laid the groundwork for this new career. In 2015, she took an apprenticeship with Rock'n'Ink Tattoo, one of Poland's top shops for modern art. Whenever an artist's voice is so distinct right away, it's a sign they'll be a strong player down the road.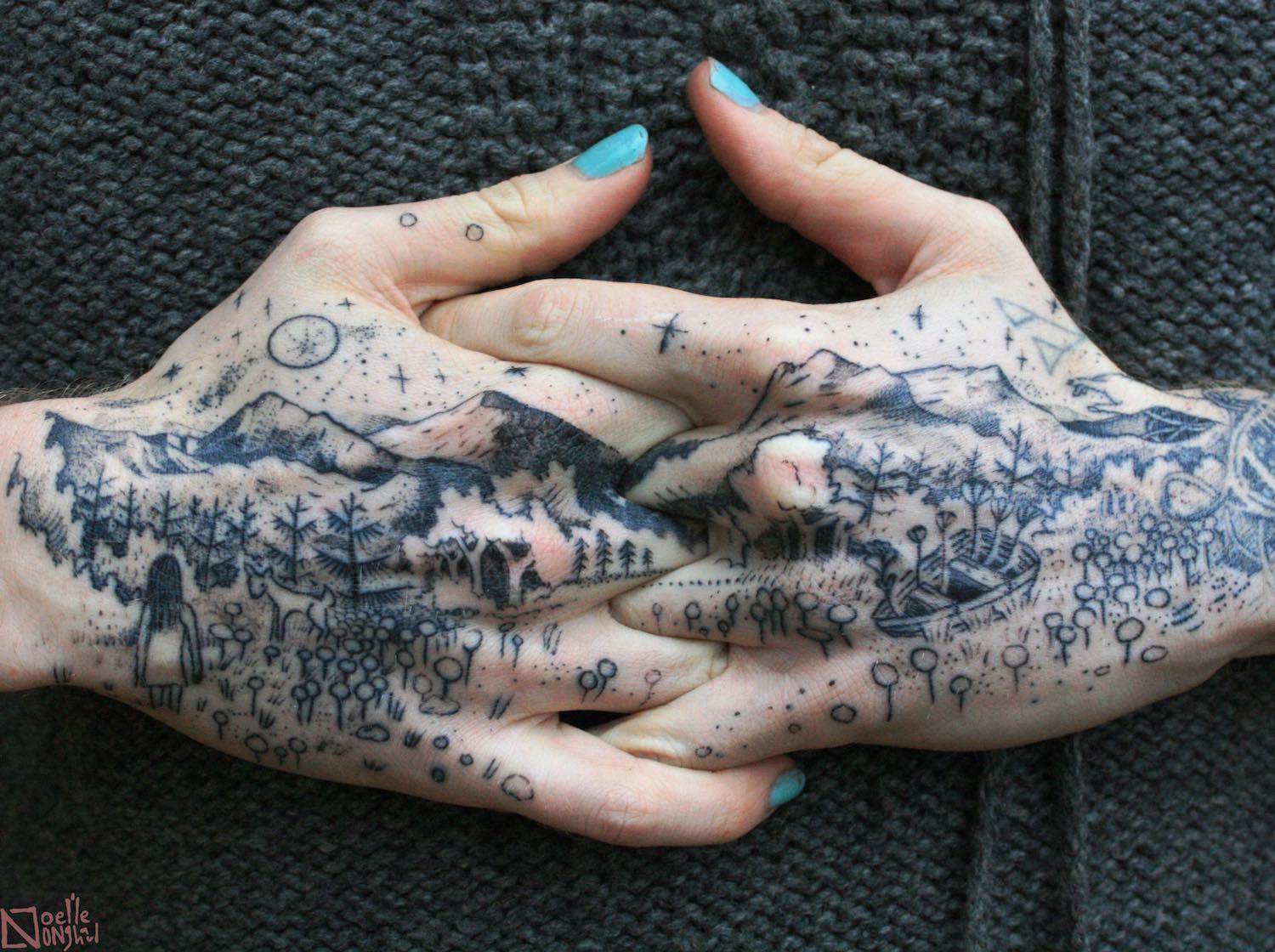 A closer look at Noel'le Longhaul's piece. These tattoos are intended to degrade and soften with time.
Noel'le Longhaul
Interdisciplinary artist and self-proclaimed "skin witch" Noel'le Longhaul splits their time between music, art installations and body modification. Tattooing came about organically, along with gender identity (Noel'le embraces she/they pronouns). What began as a tool to explore their embodiment soon turned into a healing practice for others, a way to help anyone feel more comfortable in their skin.
Photos © respective artists.