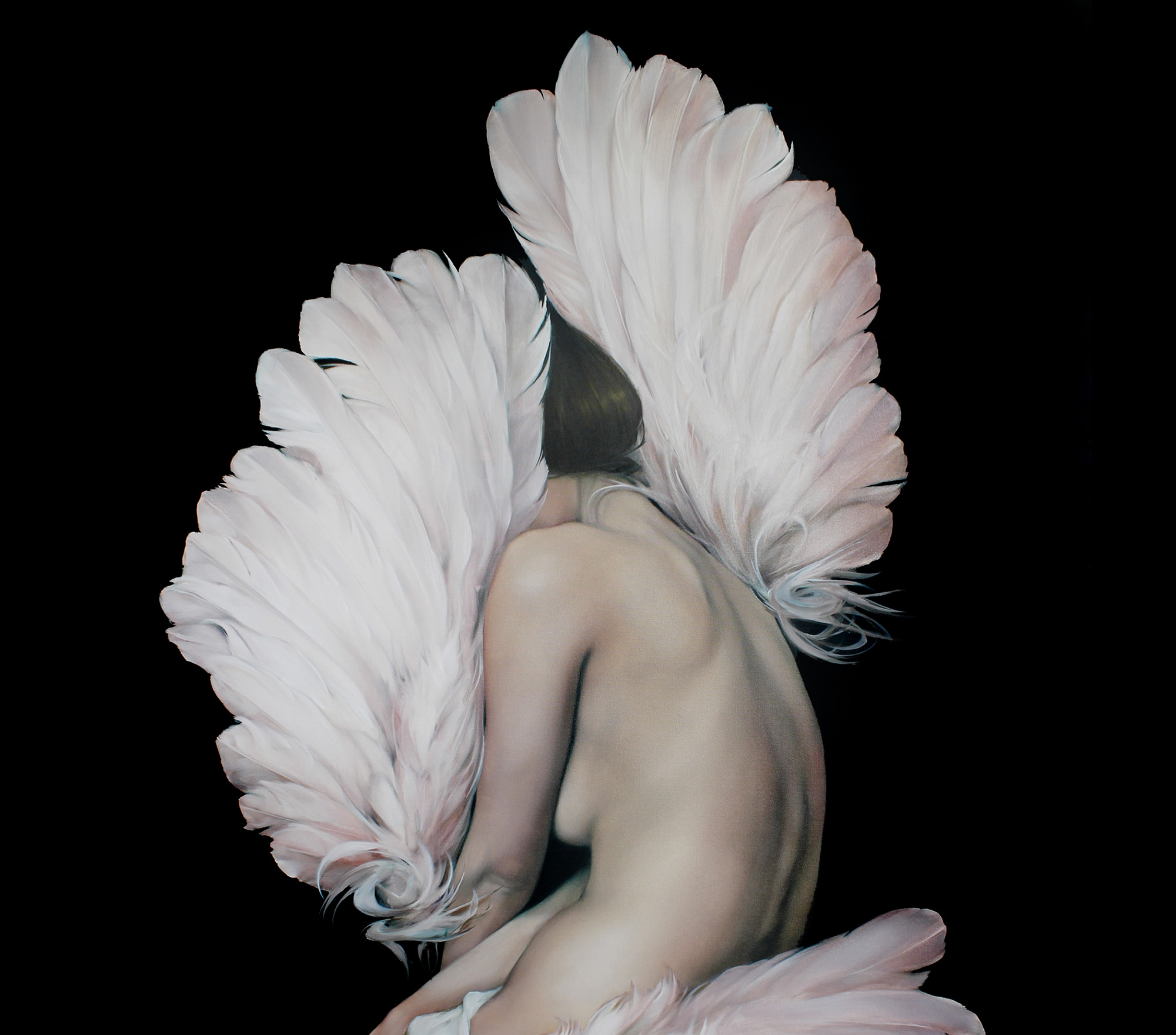 Note: Contains nudity.
Throughout history, the nude figure has been a staple of Western art. Ancient Greece was heavily focused on the subject, using it to express the ideals particularly of male beauty. With the Renaissance, the body was a revival of antiquity models, embracing humanism, religion and symbolism.

Today, the naked body still acts as a blank emotional canvas, able to convey both power and vulnerability in the same instance. There is, however, less of a focus on idealized forms and more on someone's individuality. Stripped bare, there's a lot to learn about a person when there isn't anything for them to hide behind.
Above: Amy Judd depicts the grace and beauty of the female form.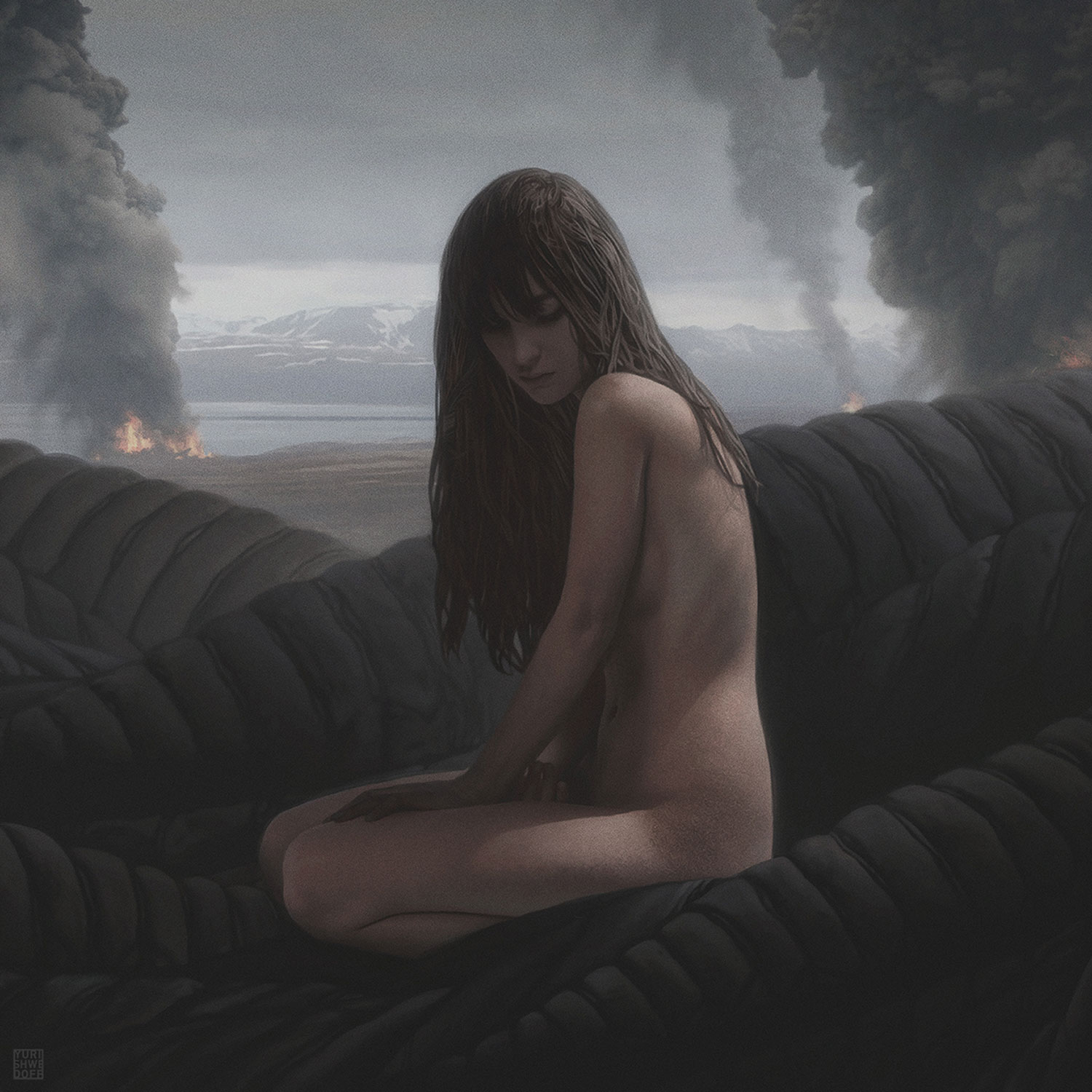 The title "Parachutes" suggests that this character is safe—for now—but her struggle is far from over.
Yuri Shwedoff
Like Owen Gent, artist Yuri Shwedoff has transported the viewer to a place both familiar and unknown. His work revolves around post-apocalyptic landscapes and this piece, titled "Parachutes," is no exception. The sky is a smoky gray as the Earth is on fire. Utterly alone, this figure faces a dark future as she considers her options after the fall. Judging from the desolation and destruction, the choices are bleak.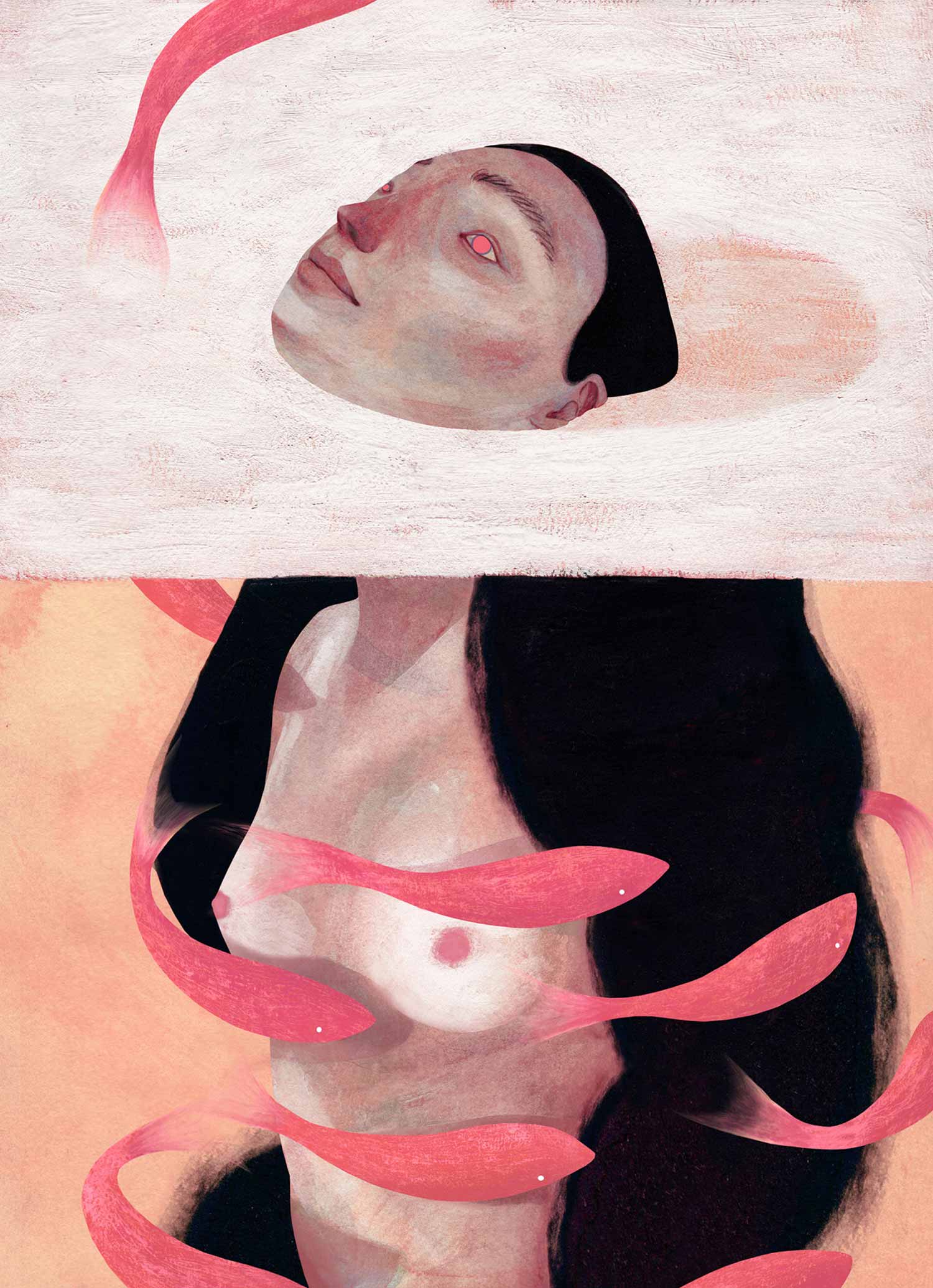 A nude figure comes up for air in this sunset-colored pool.
Owen Gent
Bristol-based illustrator Owen Gent calls this piece "Leapt," and it seems to capture the aftermath of a split second decision. He inserts the figure into a place that's simultaneously familiar to us—the open waters—and strange, with its unconventional use of coloring. The surreal composition reads like a dream as the nude woman represents the doubt felt as we navigates the uncertain paths in our lives.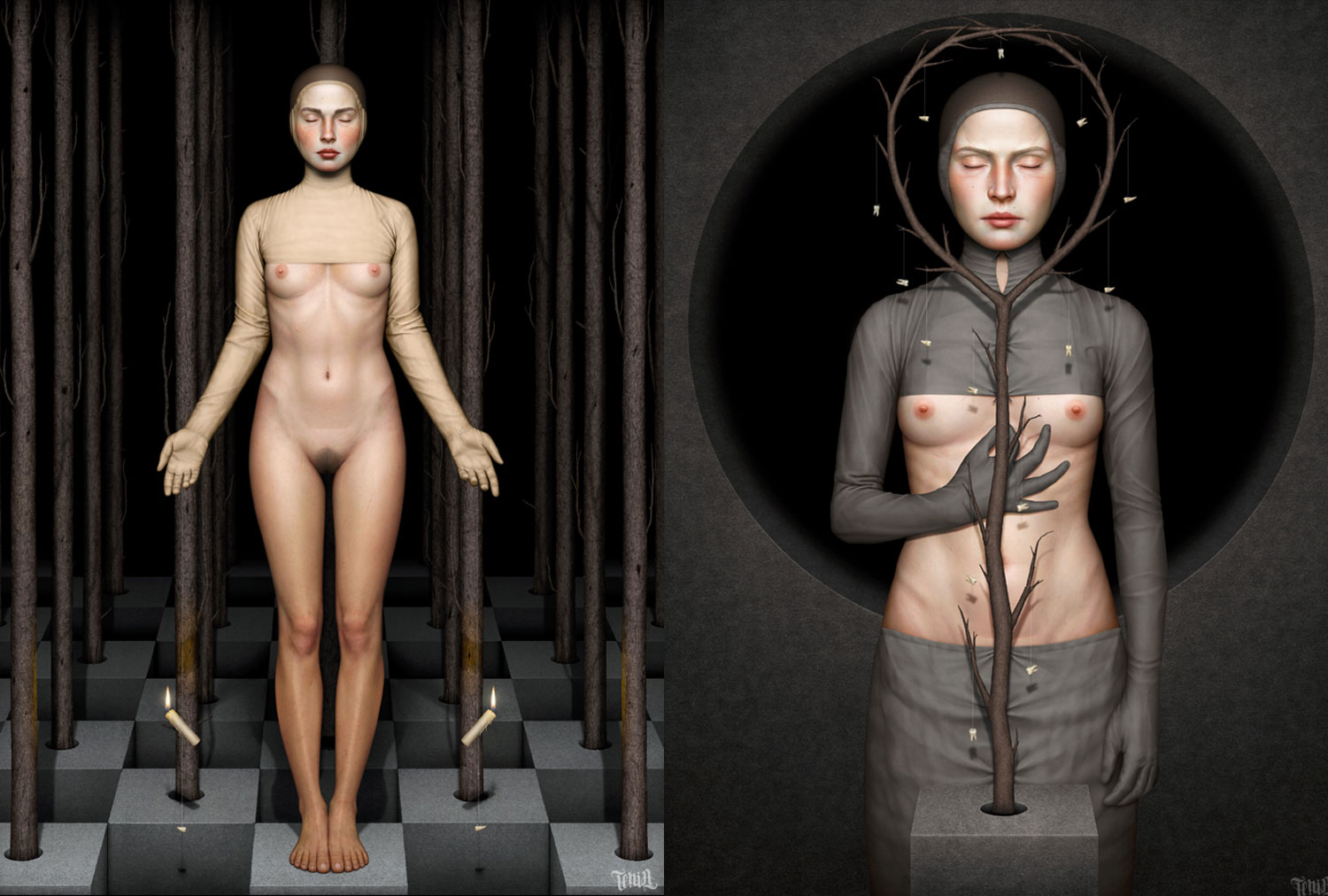 The work of Gianluca Gambino showcase inspiration from various cultures, histories, and spiritual practices.
Gianluca Gambino
Gianluca Gambino, aka Tenia, creates hyperrealistic portraits that feature elements of the occult. The mostly-nude figures are engaged in ritualistic practices, their powers summoning floating objects as they meditate in surreal, mind-bending spaces. Though Gambino's work feels contemporary and futuristic, the women's headdresses are reminiscent of medieval chaplets, placing these works in an indiscernible time and universe.
Powerful brushstrokes play an important conceptual role in Jérôme Birti's work.
Jérôme Birti
"Movement interwoven into a knot that loosens before the eyes," is how artist Jérôme Birti best describes his work. Bold strokes of color visually construct the figure on canvas, and it's all in a frenzied, constant motion. To Birti, this represents the forward trajectory of life, which can appear "glitched at one particular instant," but it's this craziness that opens us up to new ways of thinking and looking at the world.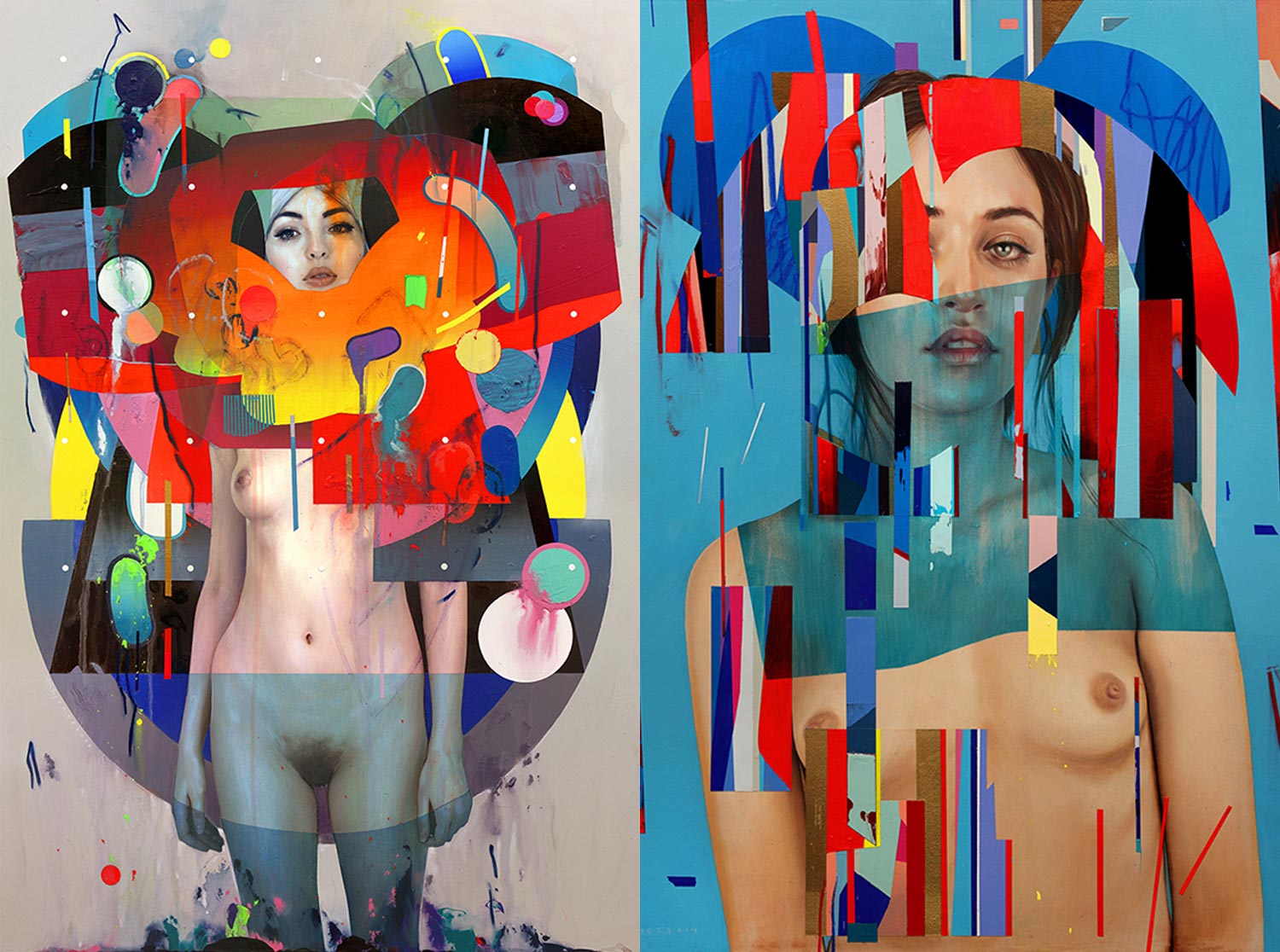 Erik Jones uses a combination of materials to create his work, including watercolor, acrylic paint, and water-soluble wax pastel.
Erik Jones
Brooklyn-based artist Erik Jones combines contemporary figure painting with abstraction to create works that are both sensual and loud. The female subjects gaze at the viewer with their lips pursed—as if they're in the middle of speaking—but are interrupted by dynamic colors and shapes. By including these non-representational elements, the figures' realism is made more prominent and as characters, more alluring.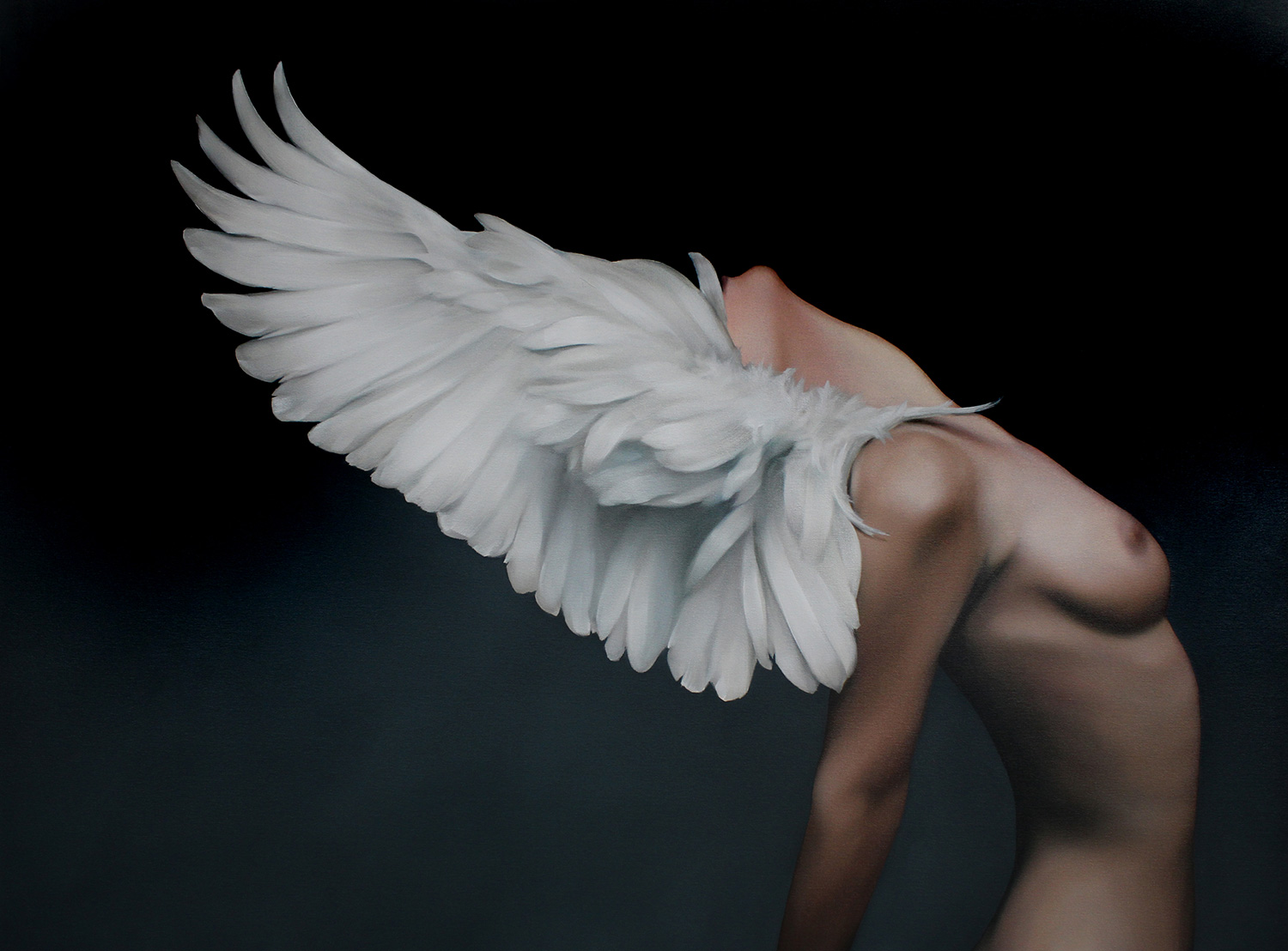 The large wings convey the power and grace of the female figure.
Amy Judd
Amy Judd crafts her paintings based on the relationships between women in nature that are found in mythologies and folklore. The nude figures, engulfed by long, feather wings, are powerful scenes—they represent strength and bravery rather than weightlessness and fragility. It's with these wings that the women soar above the obstacles that keep them tied down and hold them back.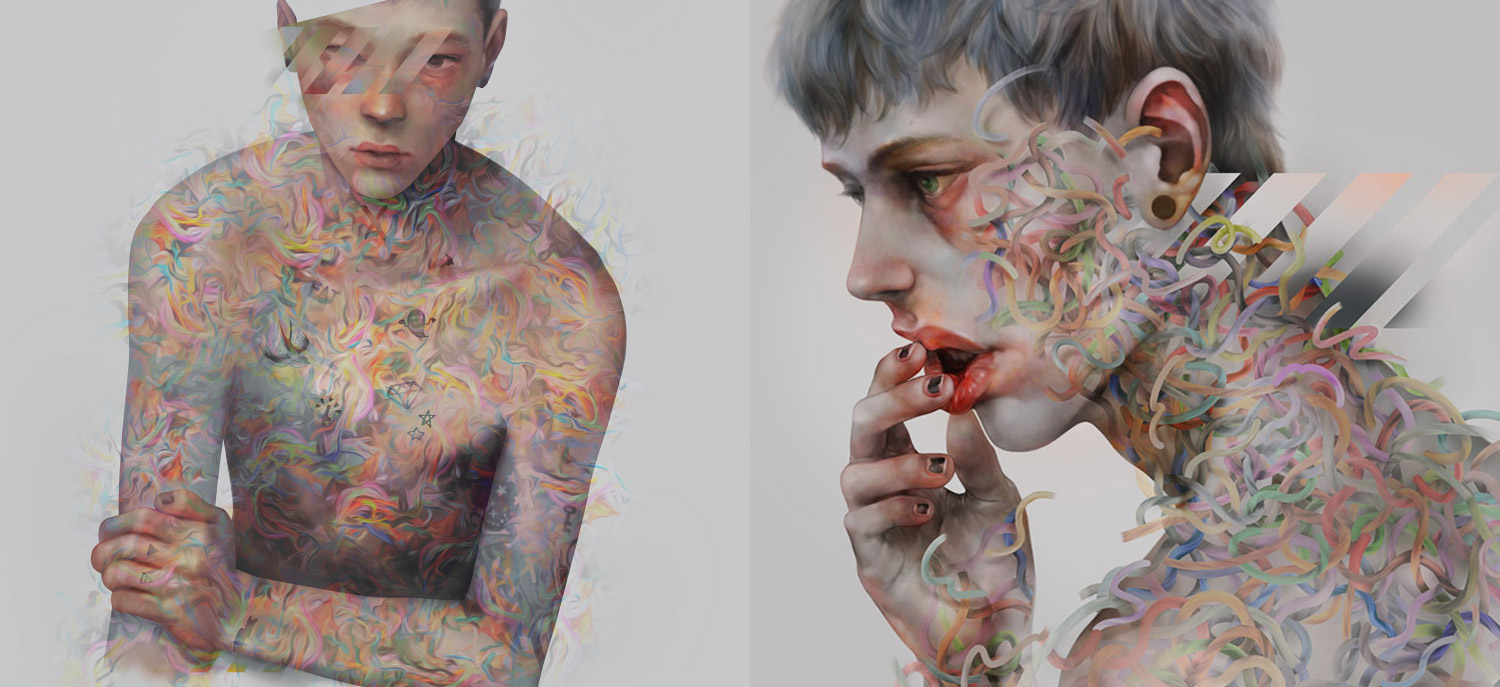 The bright marks on these figures' skin don't reflect the emotions on their faces.
Xhxix
Japan-based artist Xhxix works digitally to paint his sullen, technicolor portraits. Pale men with reddened eyes are covered in a confetti-like pattern, but the celebratory marks seem opposite to the figures they cloak. Xhxix has captured these people in moments of despair and vulnerability, but despite their somber nature, the raw emotion makes his paintings visually powerful and hard to forget.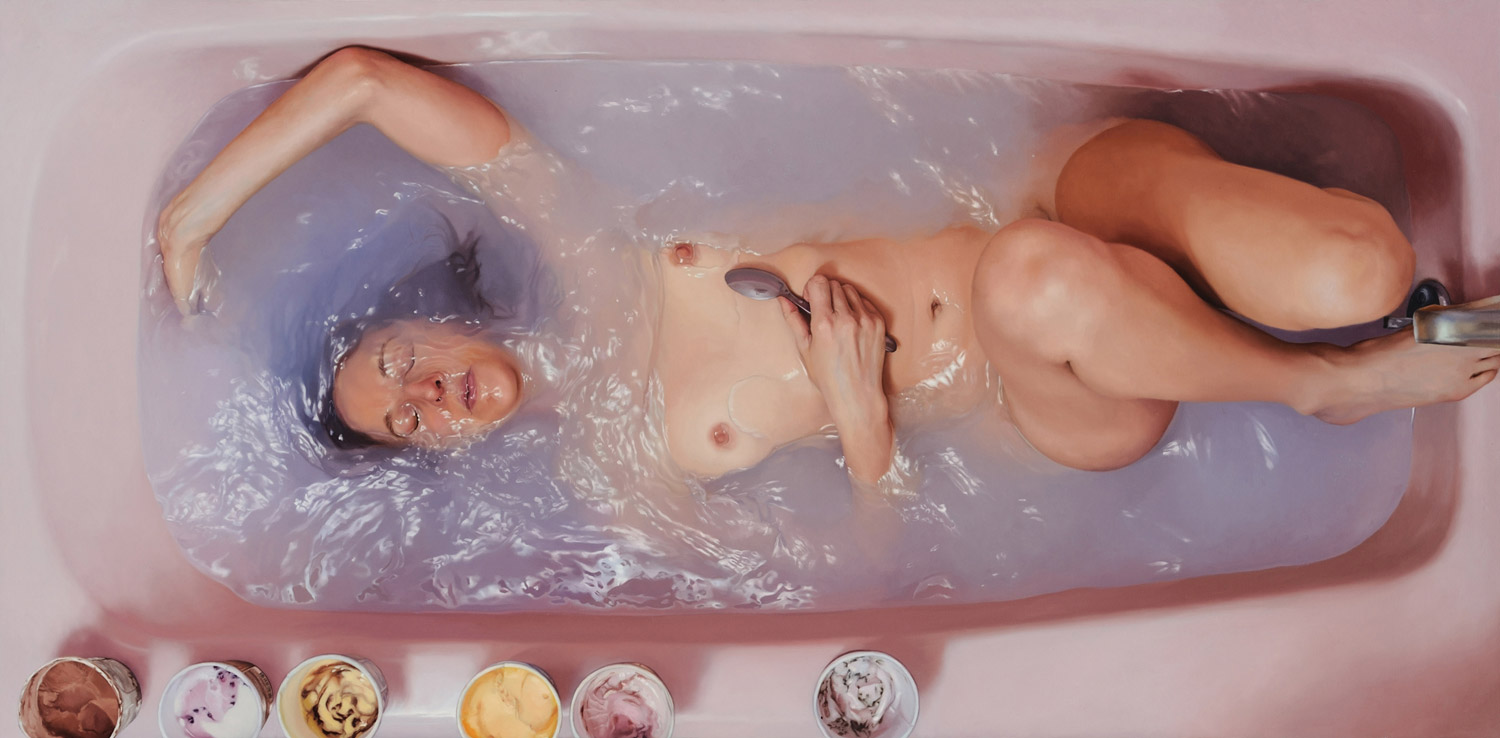 Lee Price paints a woman on the verge of a binge.
Lee Price
Lee Price focuses on the relationship that exists between women and food. Often, this portrayal goes hand-in-hand with compulsive behavior, another theme that Price weaves throughout her work. The solitary figure—knowingly glancing at the viewer—is portrayed in an intimate and private setting, the moment before they binge on cupcakes, ice cream, or other unhealthy snack. This emphasizes the secrecy and absurdity of this behavior, and the subject understands that it's shameful, but they are unable to stop.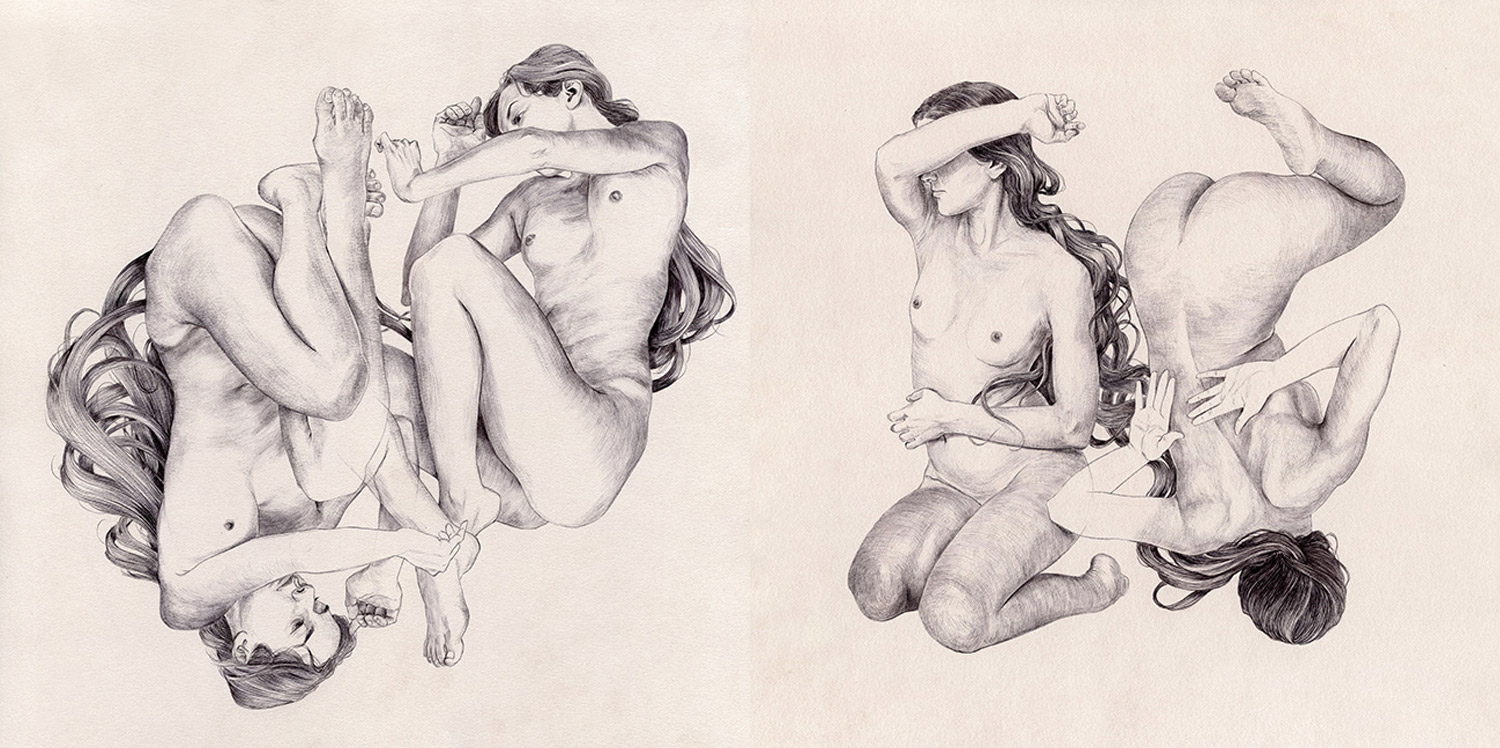 At first glance, these drawings could be graphite, but they're actually created using ballpoint pens.
Chamo San
Chamo San's series "Vedeja" depicts a woman at odds with herself. Two figures, both the same, are adversaries as they entangle one another in their equally long, flowing hair and gangly limbs. Expertly crafted in ballpoint pen, "Vedeja" is all of us, constantly at war with our thoughts and desires, struggling to achieve balance inside of our head.
Images © respective artists.