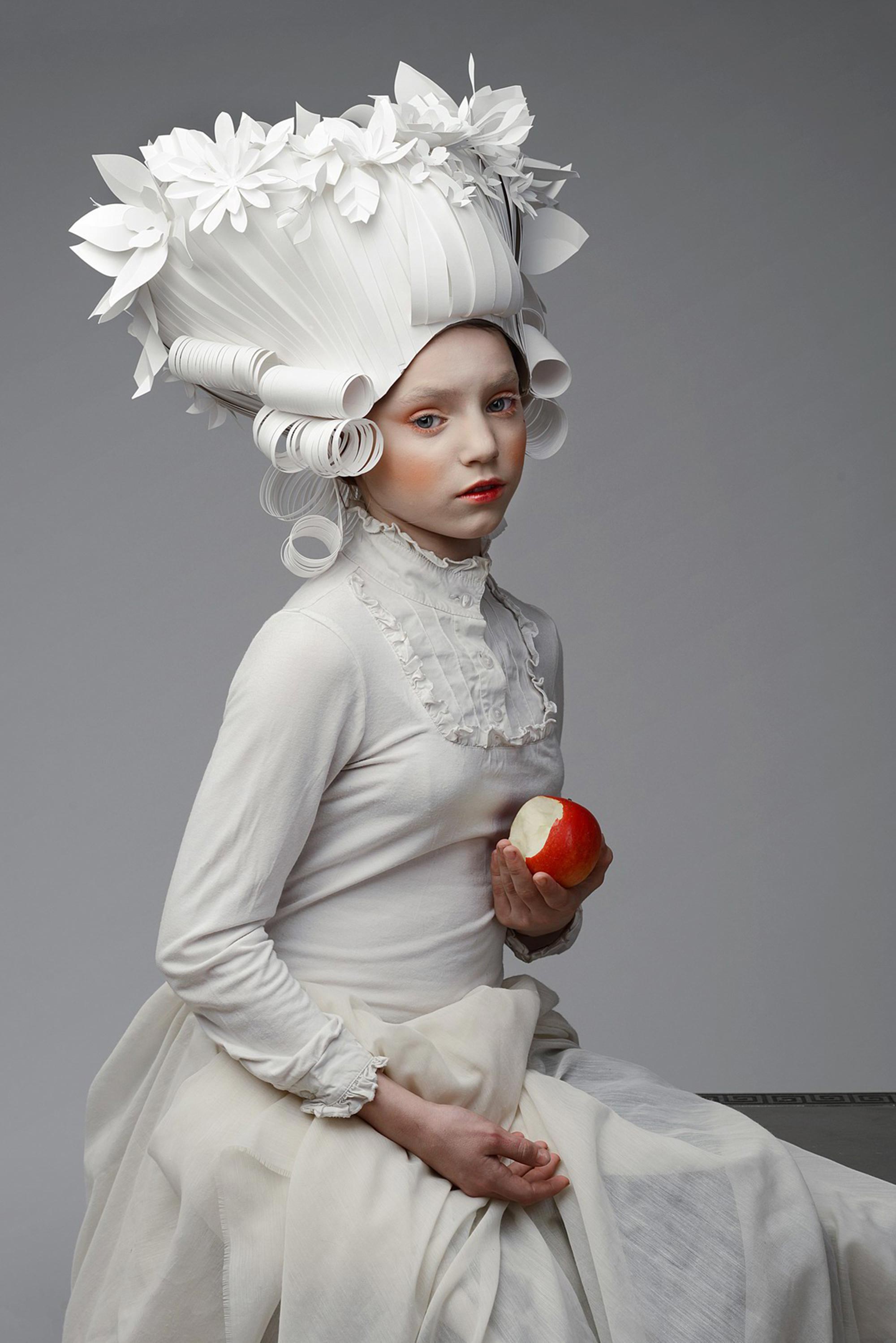 There are endless possibilities when creating with paper. More than just a surface to draw on, artists manipulate the ancient material into sculptures, collages, and even fashion accessories.
The diverseness of paper lends itself to a myriad of stylistic approaches and exploration of themes. Some artists use collage cutouts to create mystical characters, while others build new types of architecture in sturdy sheets of paper. Technique is important—the right series of cuts and slices can make the material look as light as a feather or as thin as a strand of hair. Whatever the subject matter may be, these 10 artists are reimagining the possibilities of paper art.
Above: Asya Konzina created a paper wig inspired by the Baroque style of art.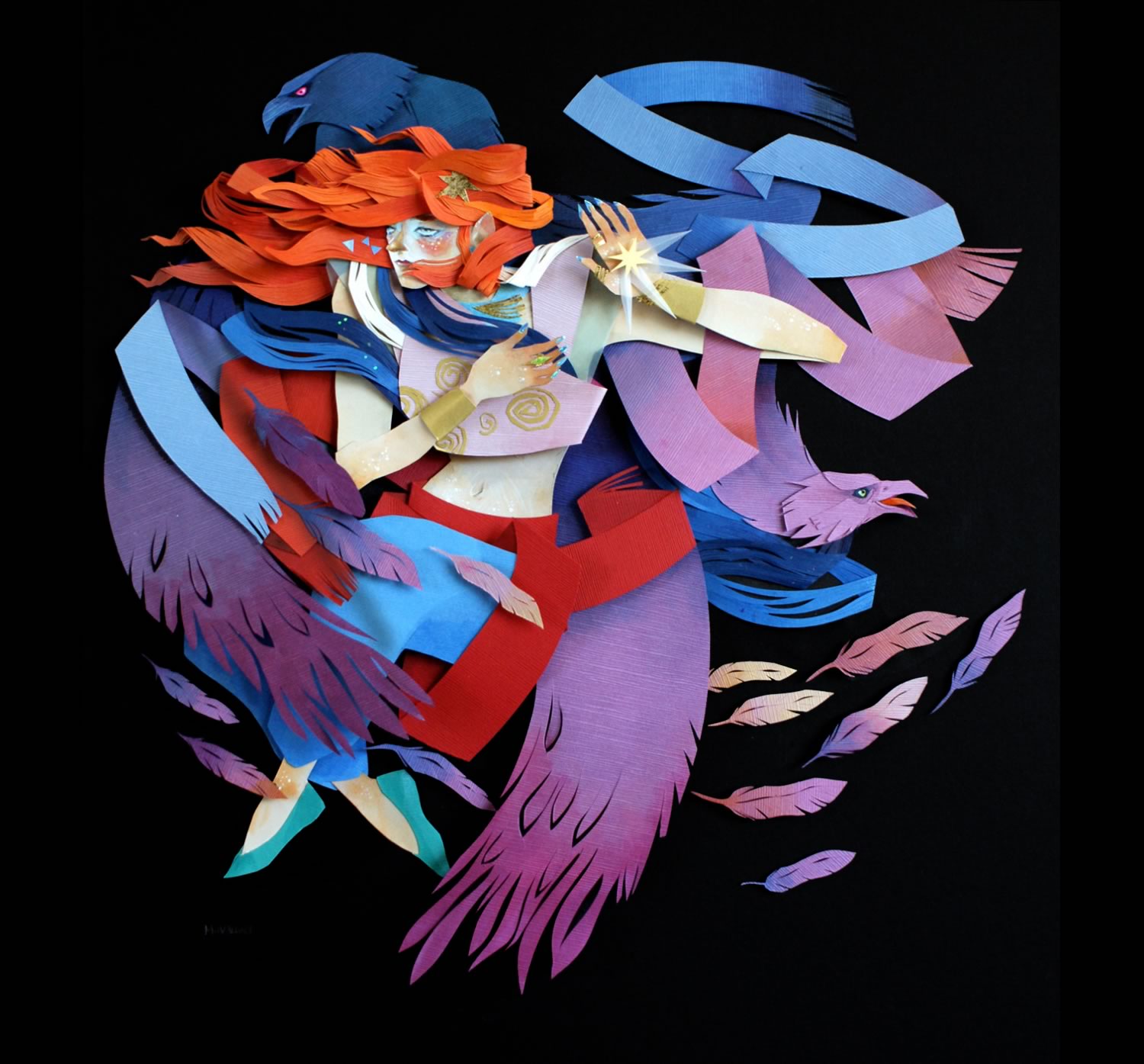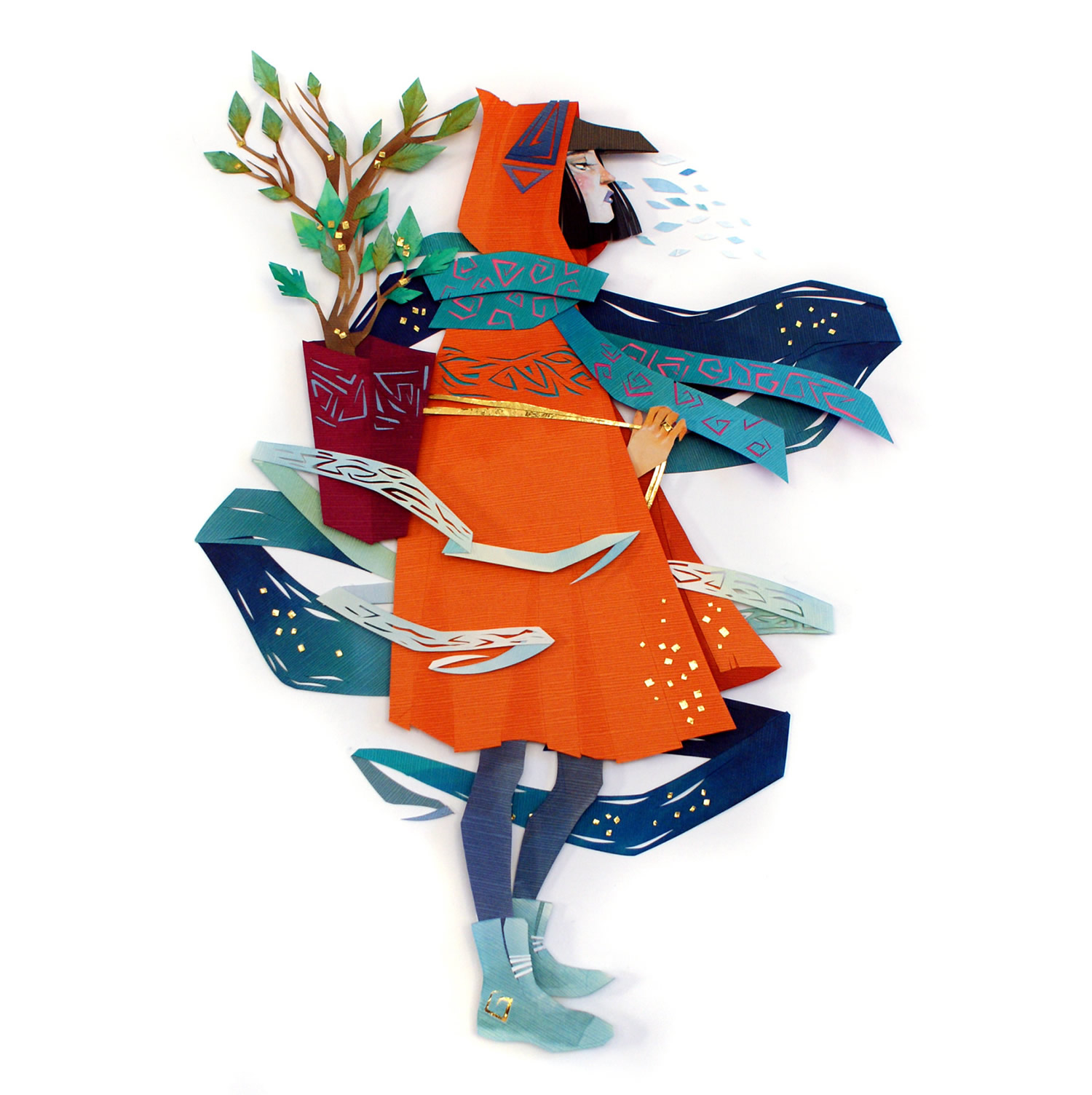 With every snip of the scissor, Morgana Wallace creates lyrical shapes that lay in harmony.
Morgana Wallace
Morgana Wallace creates multi-layered compositions through paper collage. Taking a painterly approach to her work, she cuts small, precise shapes and applies gouache to them to add detail. This extra step is vital to her subject matter, which references mythologies and fantastical elements to create strong women characters that wield mystical powers. Without this bit of realism, these figures would feel both visually and conceptually flat. Here, they want to jump off the page and into a rousing tale.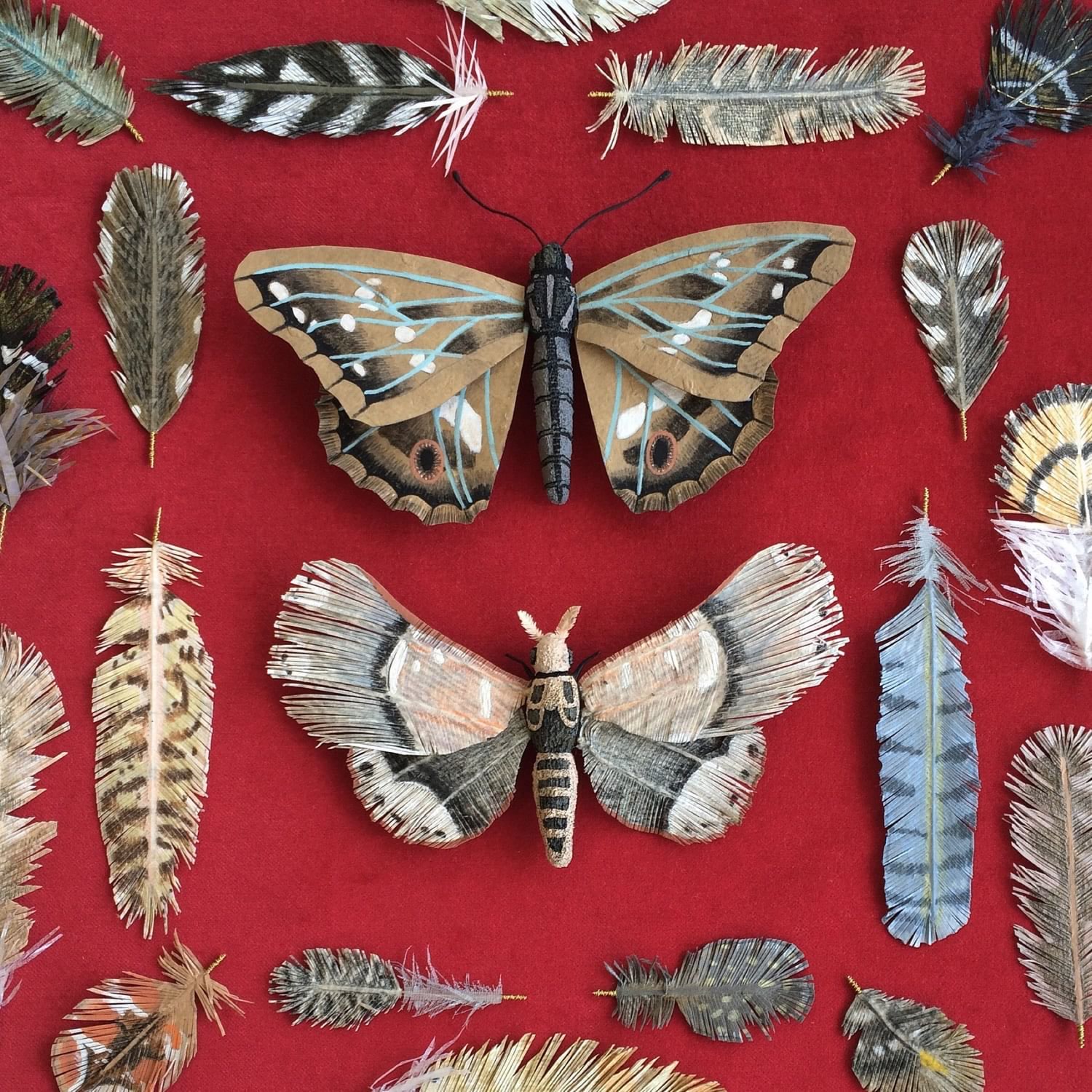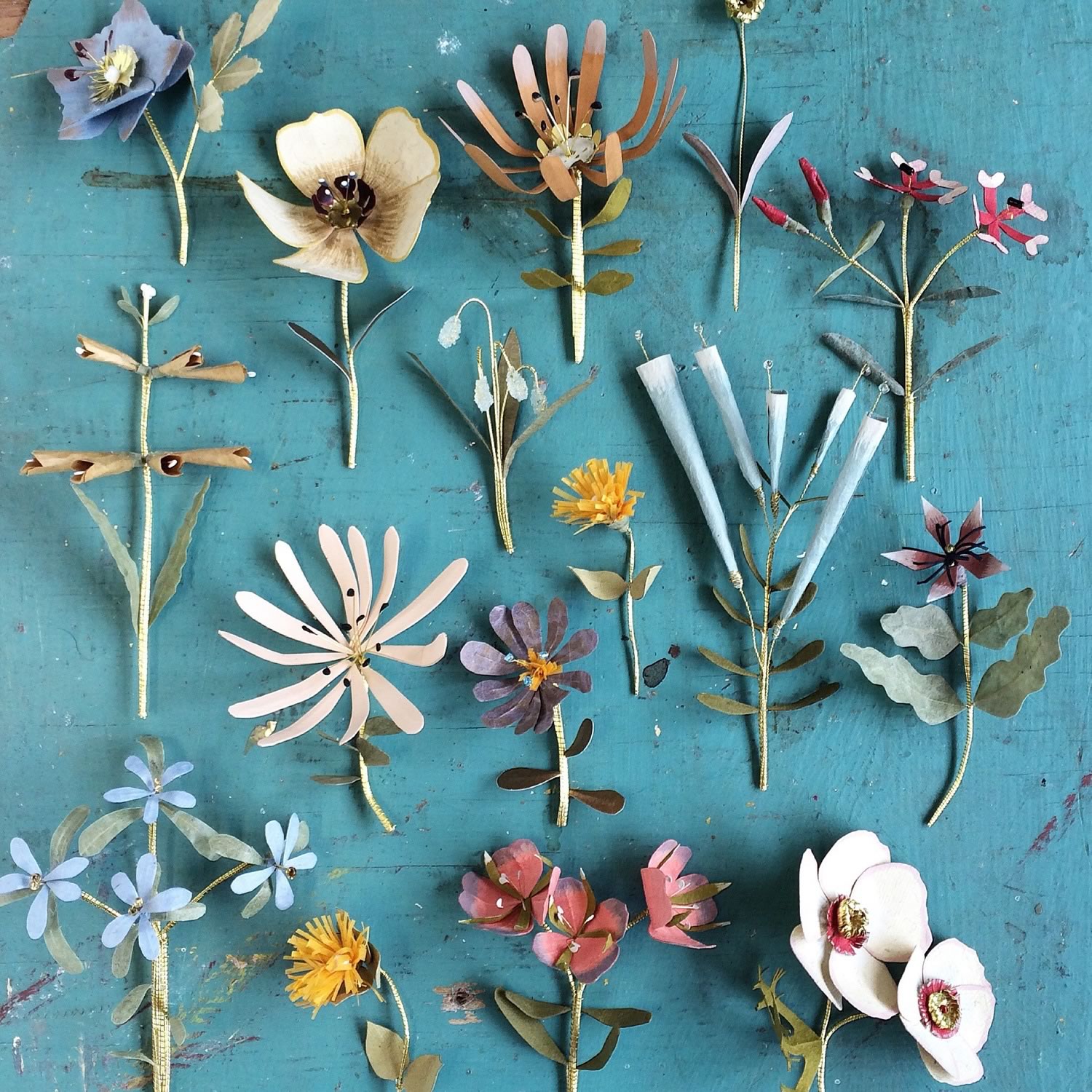 Woodlucker's paper sculptures have a scientific bend to their artistry.
Woodlucker
Inspired by historical botanical prints, Ann Wood of Woodlucker creates exquisite flowers. To do this, she shapes paper and wire with sharp embroidery scissors. Here, minuscule cutting is key—it helps her achieve a look that's realistic with a touch of whimsy. Once the paper flowers and butterflies are sculpted, they are sewn onto wool backgrounds and framed, making them reminiscent of a specimen cabinet.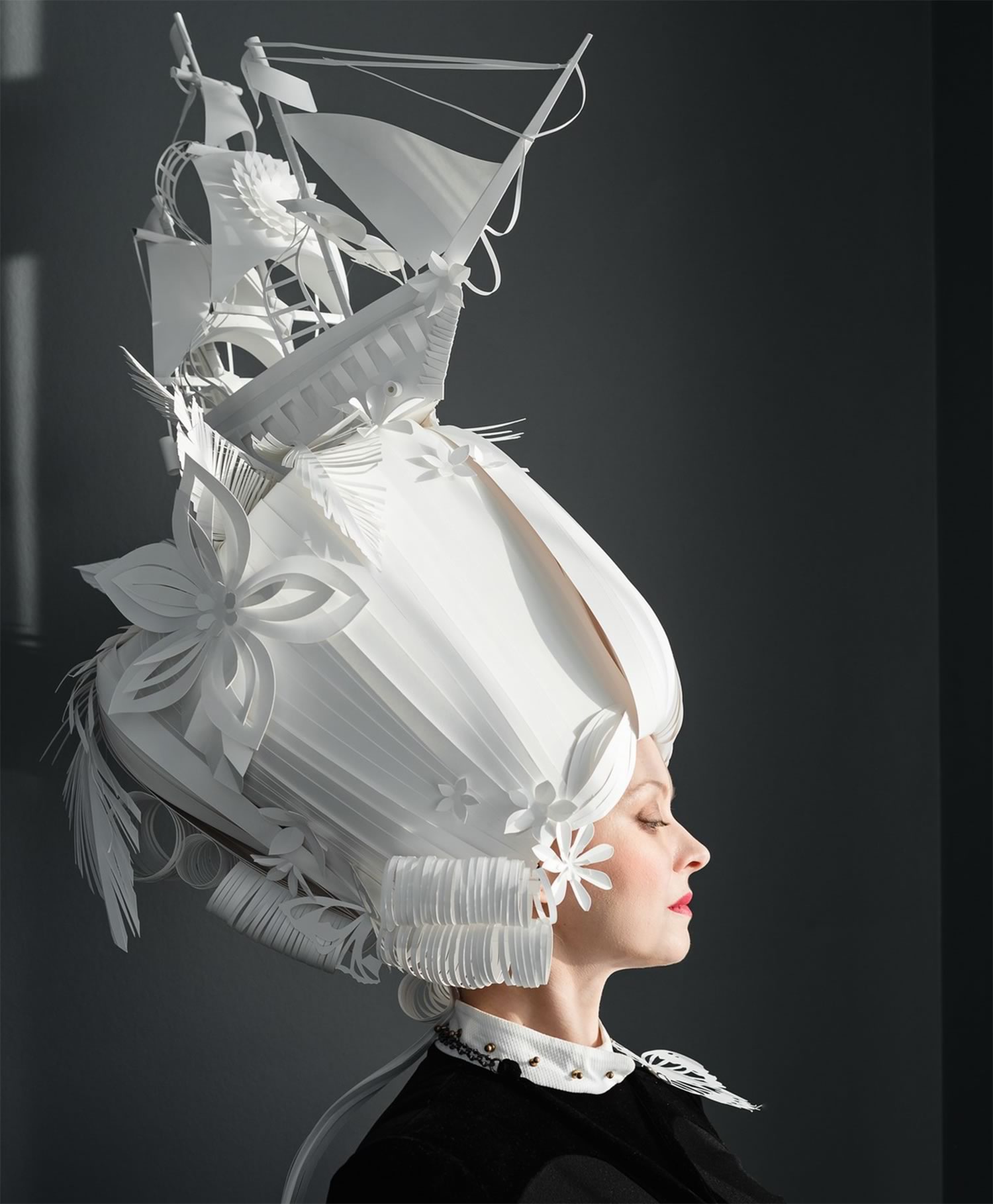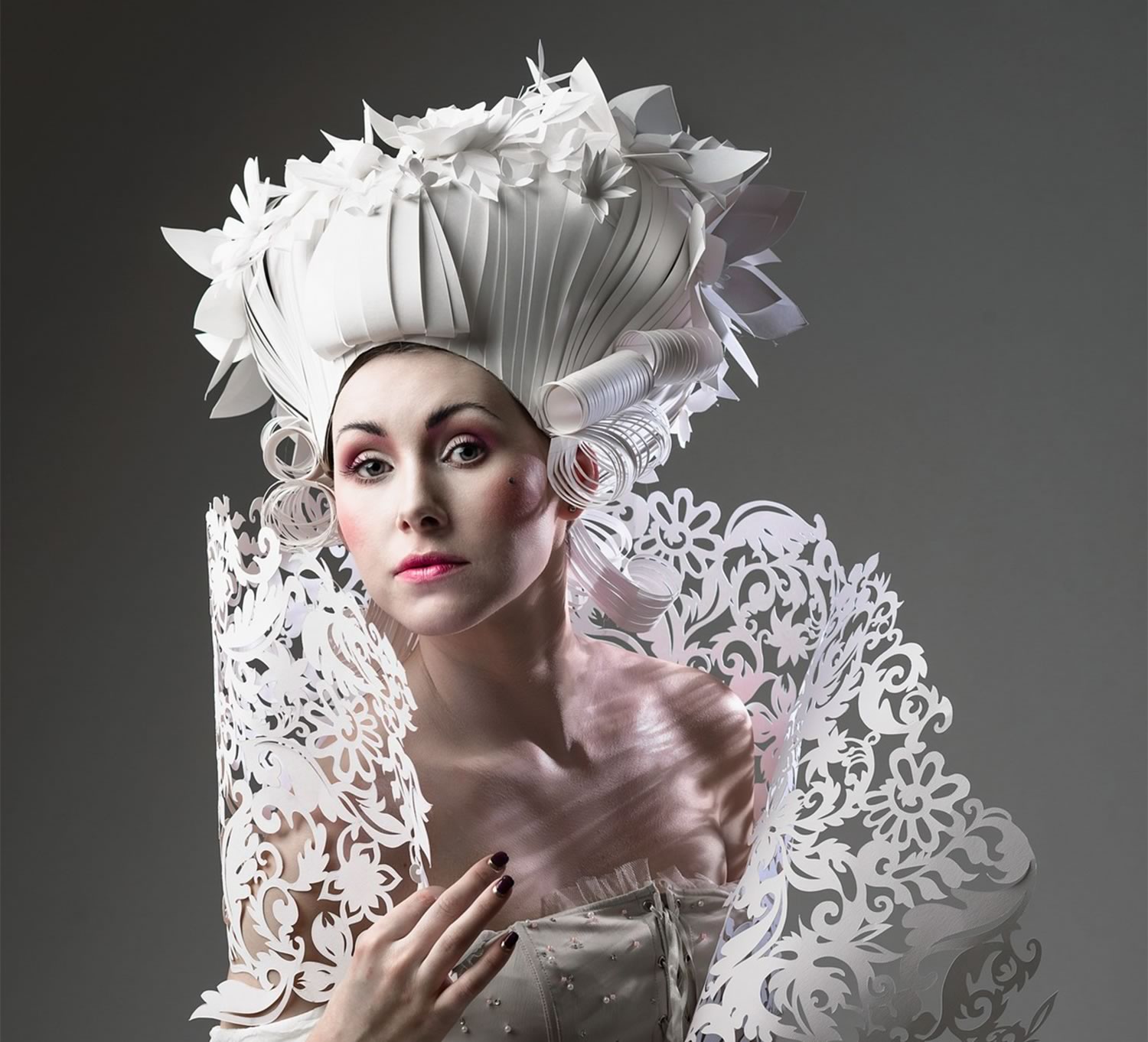 Asya Konzina chose to work in all white so she could focus on perfecting the wigs' form.
Asya Kozina
"Historical wigs always fascinated me," Asya Kozina writes, "especially the Baroque era." To her, they represent "art for art's sake," having no practical purpose except aesthetics. She created her own version of these hairpieces using white paper and manipulating it in various ways—curling, folding, and cutting it. Together, these techniques form over-the-top wigs that stand feet tall and sprout beautiful bouquets.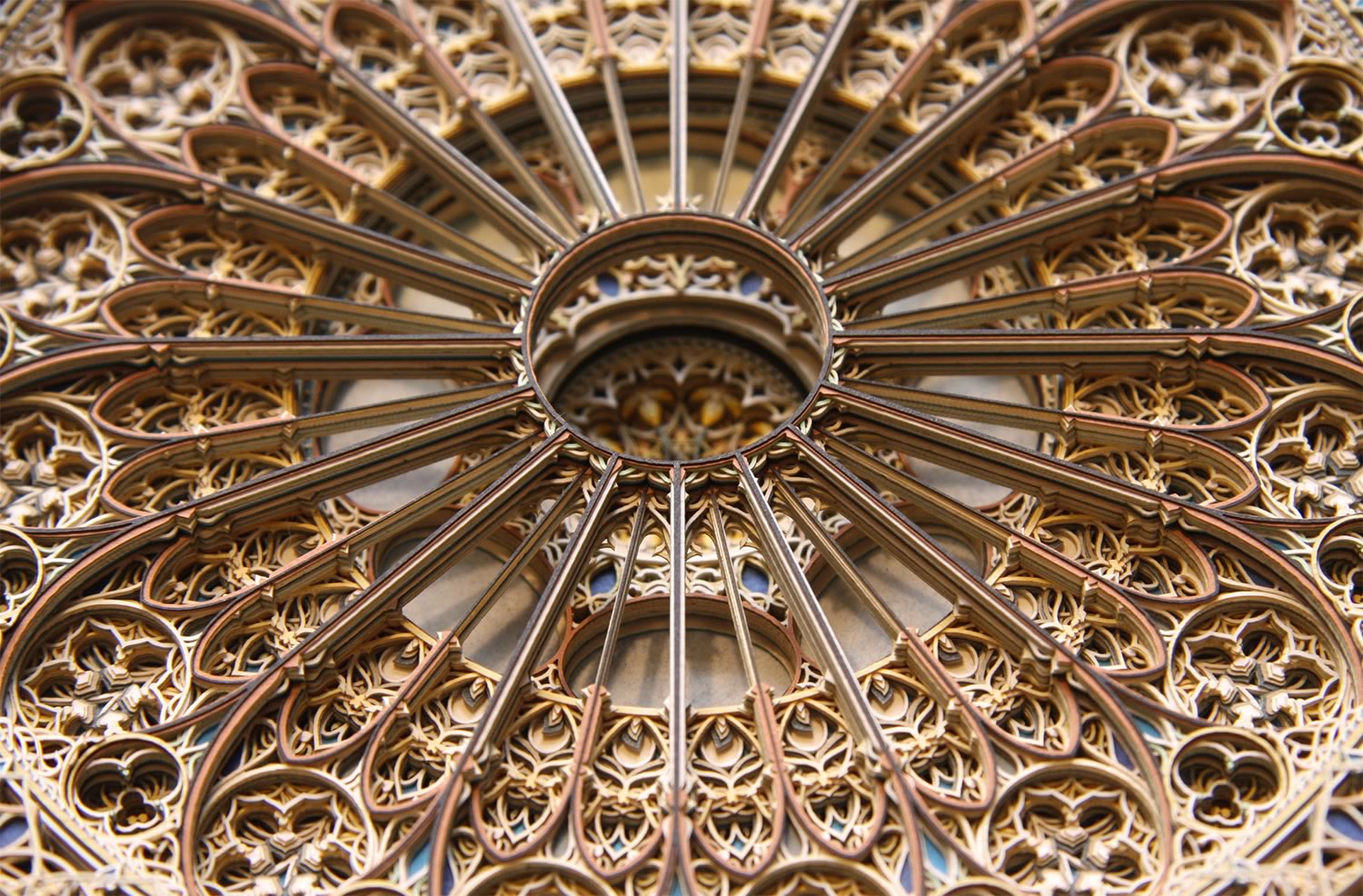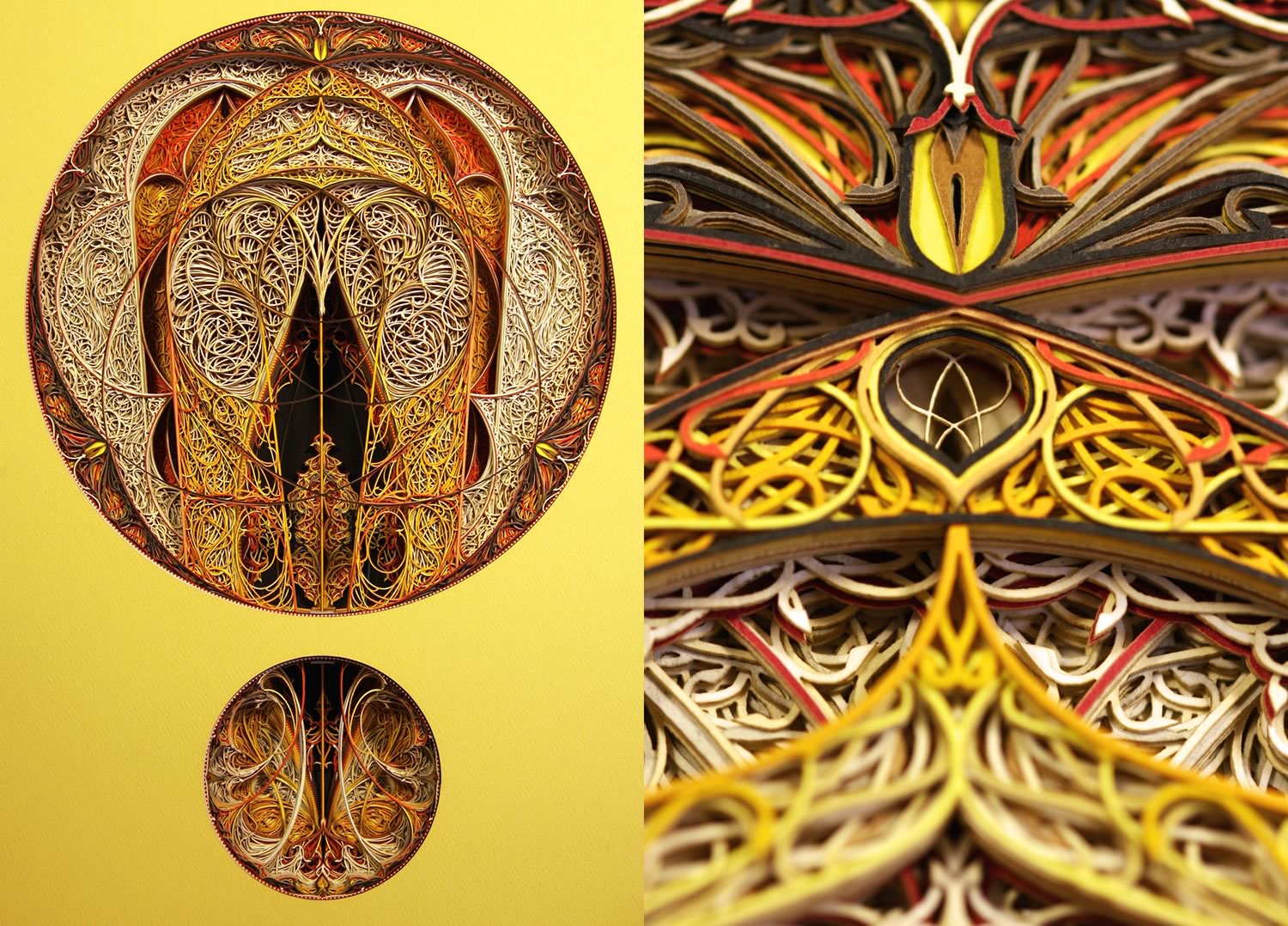 One piece can take up a year to complete.
Eric Standley
Artist Eric Standley grew up in a household of engineers, so it's no surprise that his paper creations are incredibly complex. The pieces are produced with sheets of paper—using as much as 250 of them—that have laser cut designs. To produce such intricate work, the drawings are first created on the computer and then cut on a CNC laser. Each layer is drawn and cut individually, yet pre-visualized as one whole.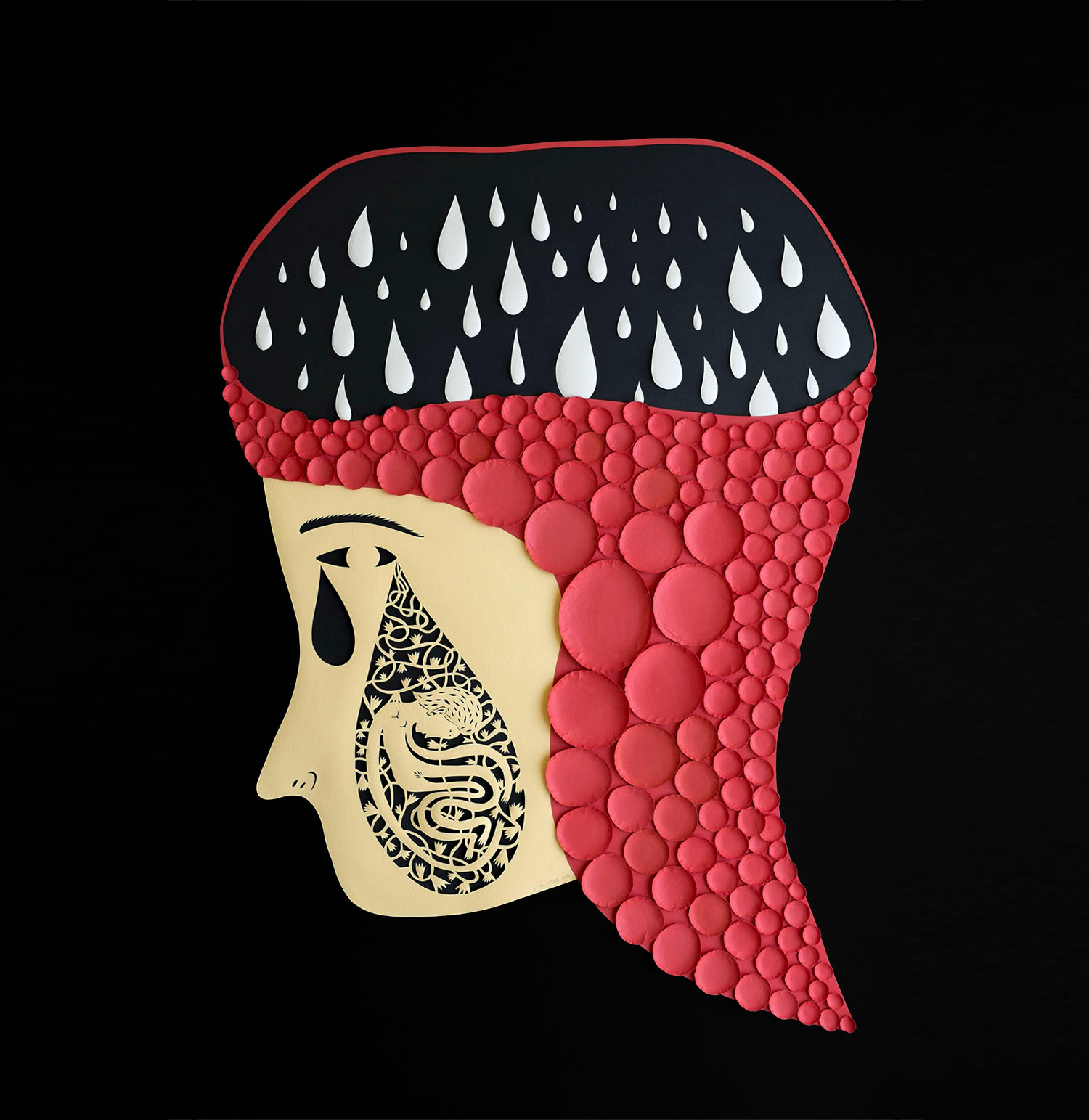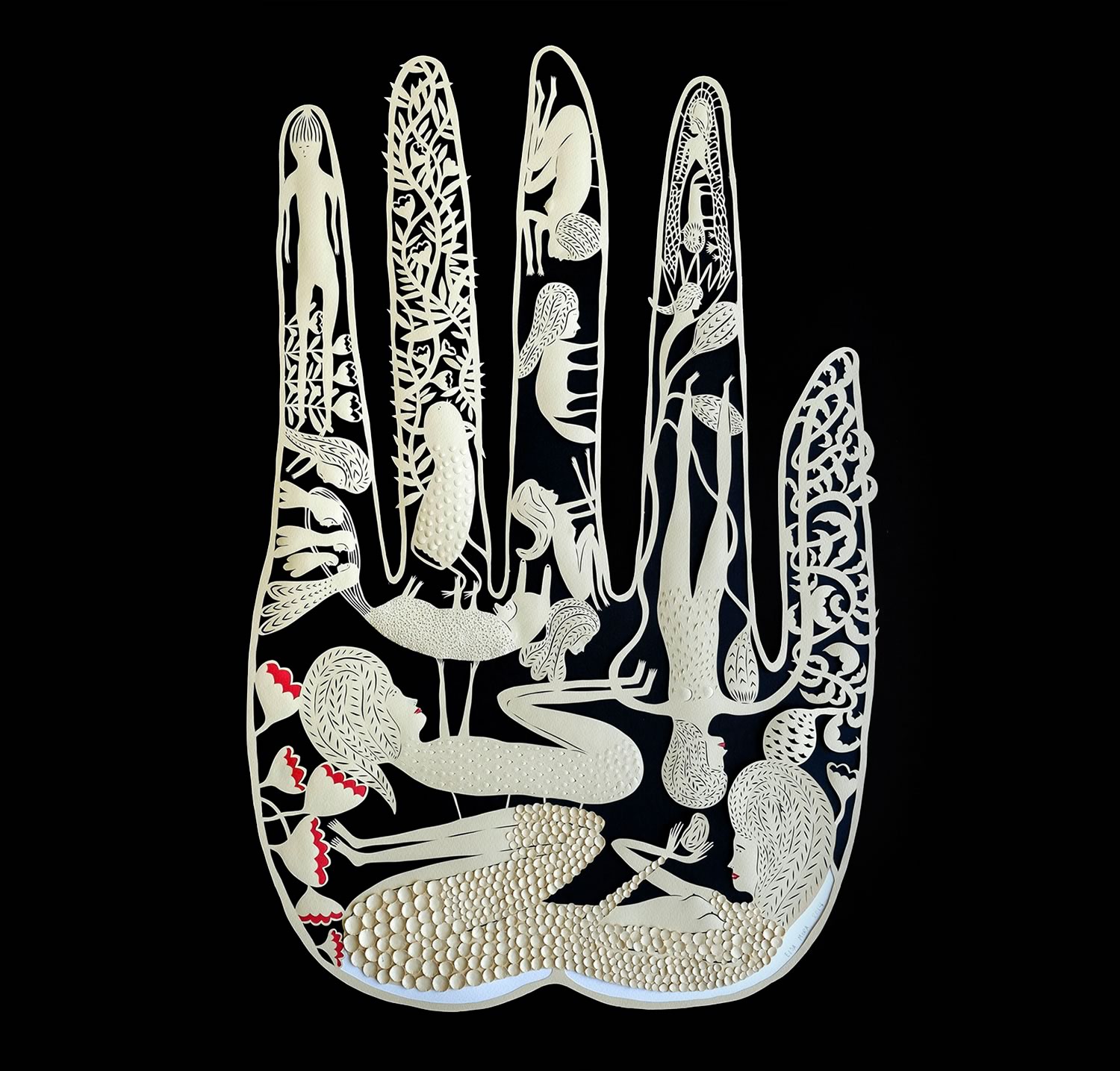 Elsa Mora's imagination allowed her to free herself from desperate situations.
Elsa Mora
Elsa Mora grew up in a world of imagination. Having experienced poverty from a young age, she lived a fantastical existence in her head. This was vital to her well-being and helped her cope with the troubling things she saw. As an adult, Mora's imagination is at the heart of her cut-paper work. Her pieces showcase color, pattern, and intriguing characters tweaking reality and allowing us to escape into her fantasies.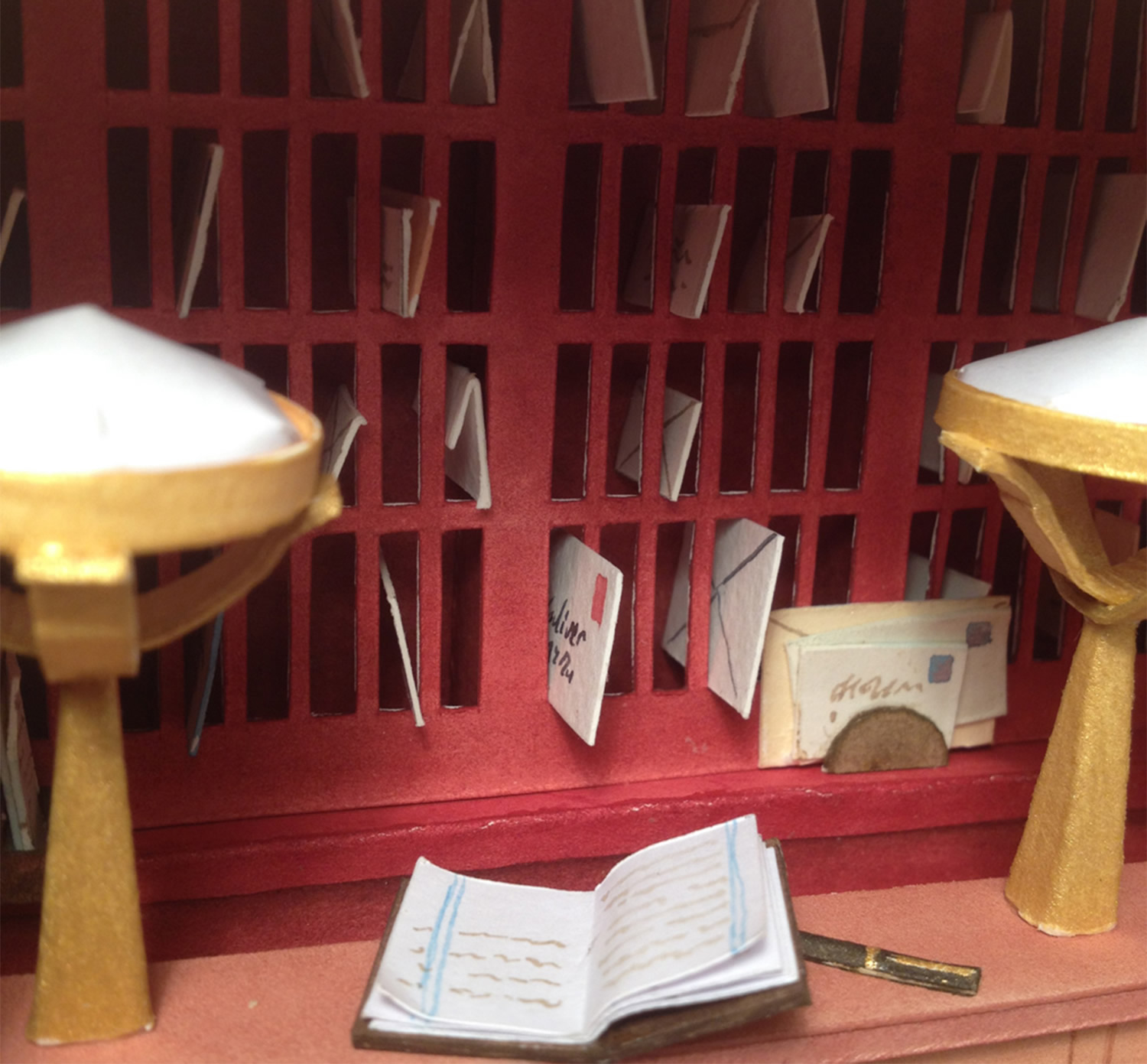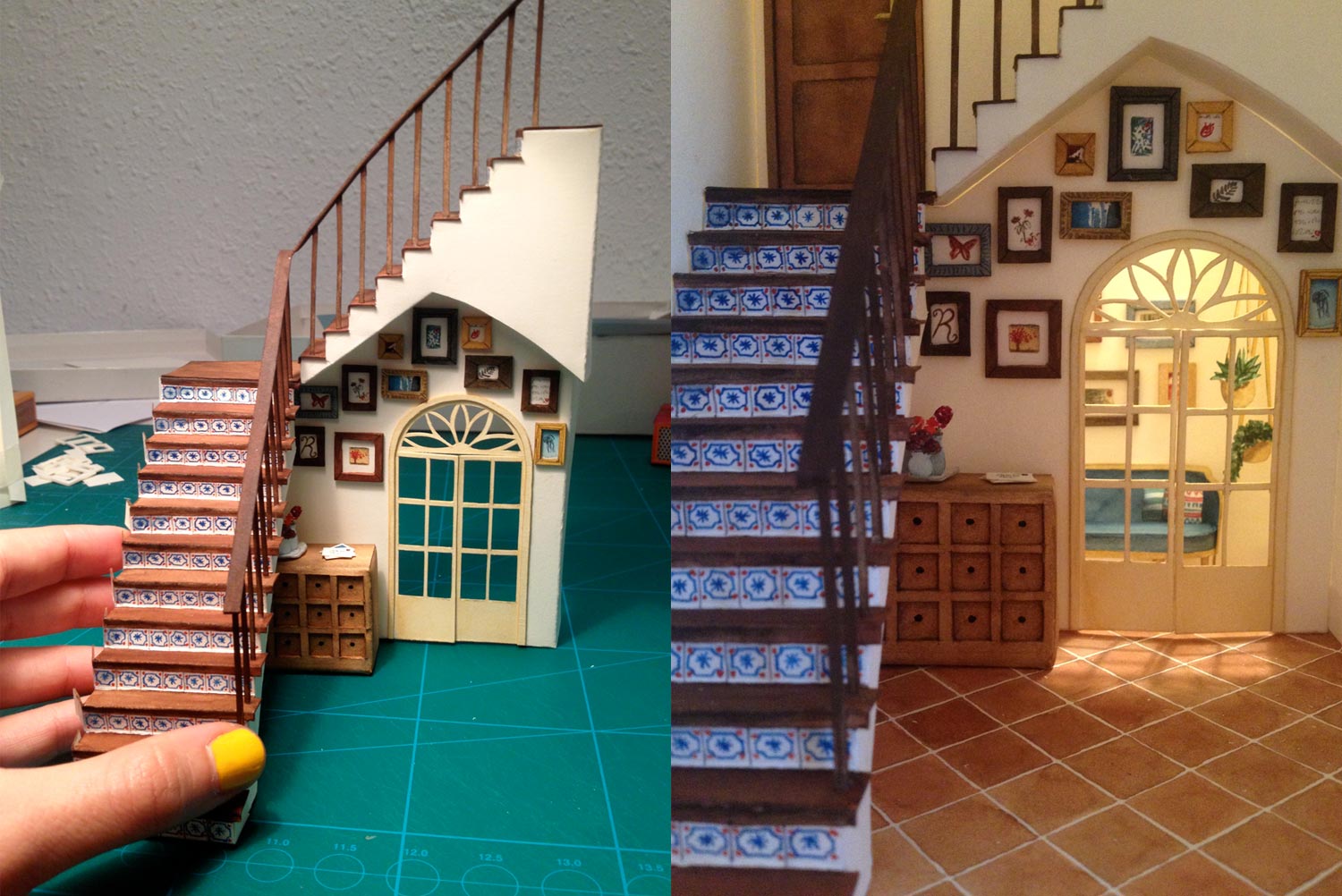 When viewed from a cropped point of view, these paper rooms look life-sized.
Mar CerdĂ 
Barcelona-based illustrator Mar Cerdà uses paper to craft tiny dioramas. Trained in cinema and audiovisuals, she is fascinated with space—its architecture, decor, and how things are kept. Paper is used to build each part of her sets, from the railing of a staircase to the pictures hanging on a wall. "I firmly believe that a character can be defined by a space," Cerdà writes, "even if is not present at all."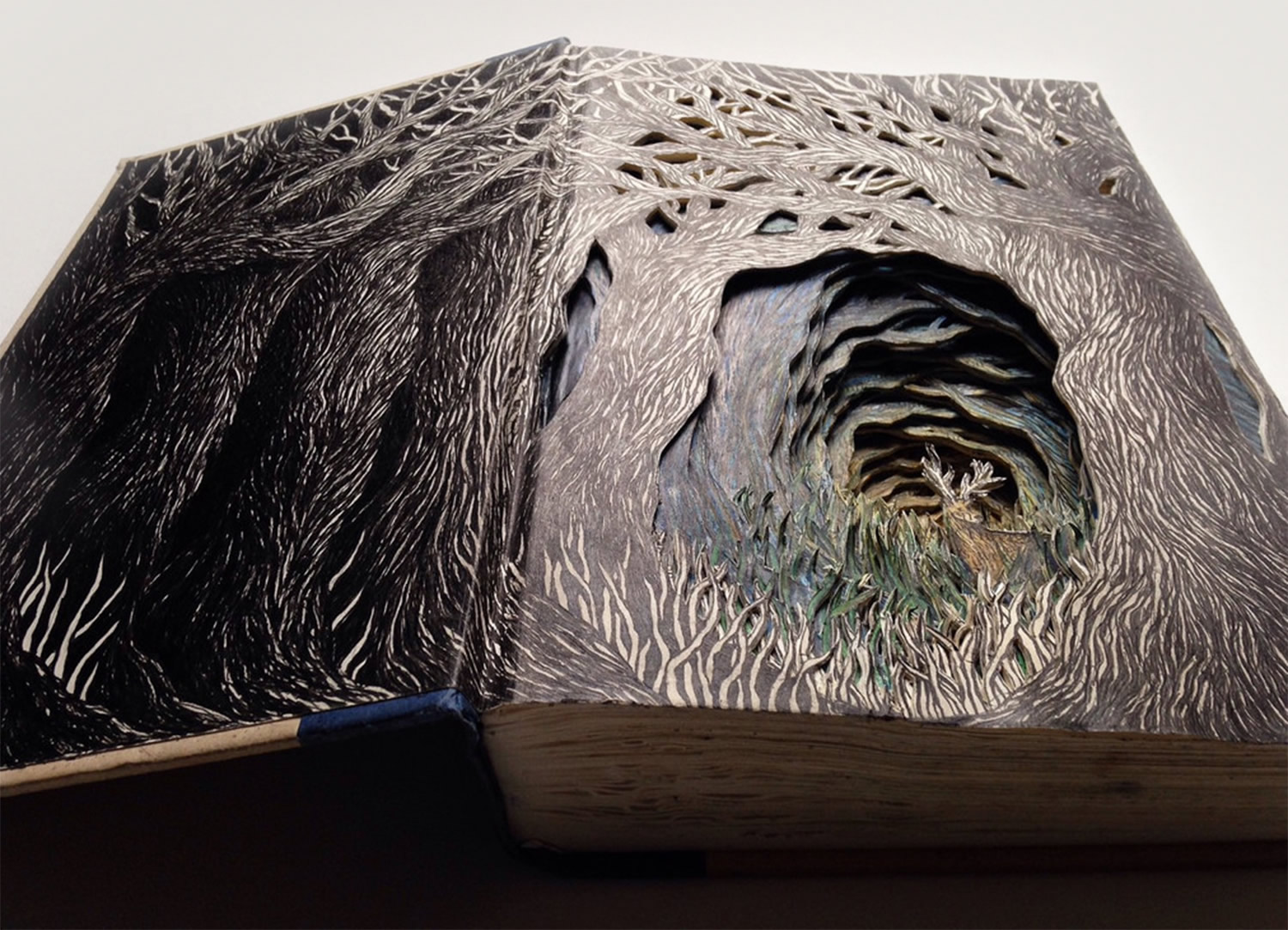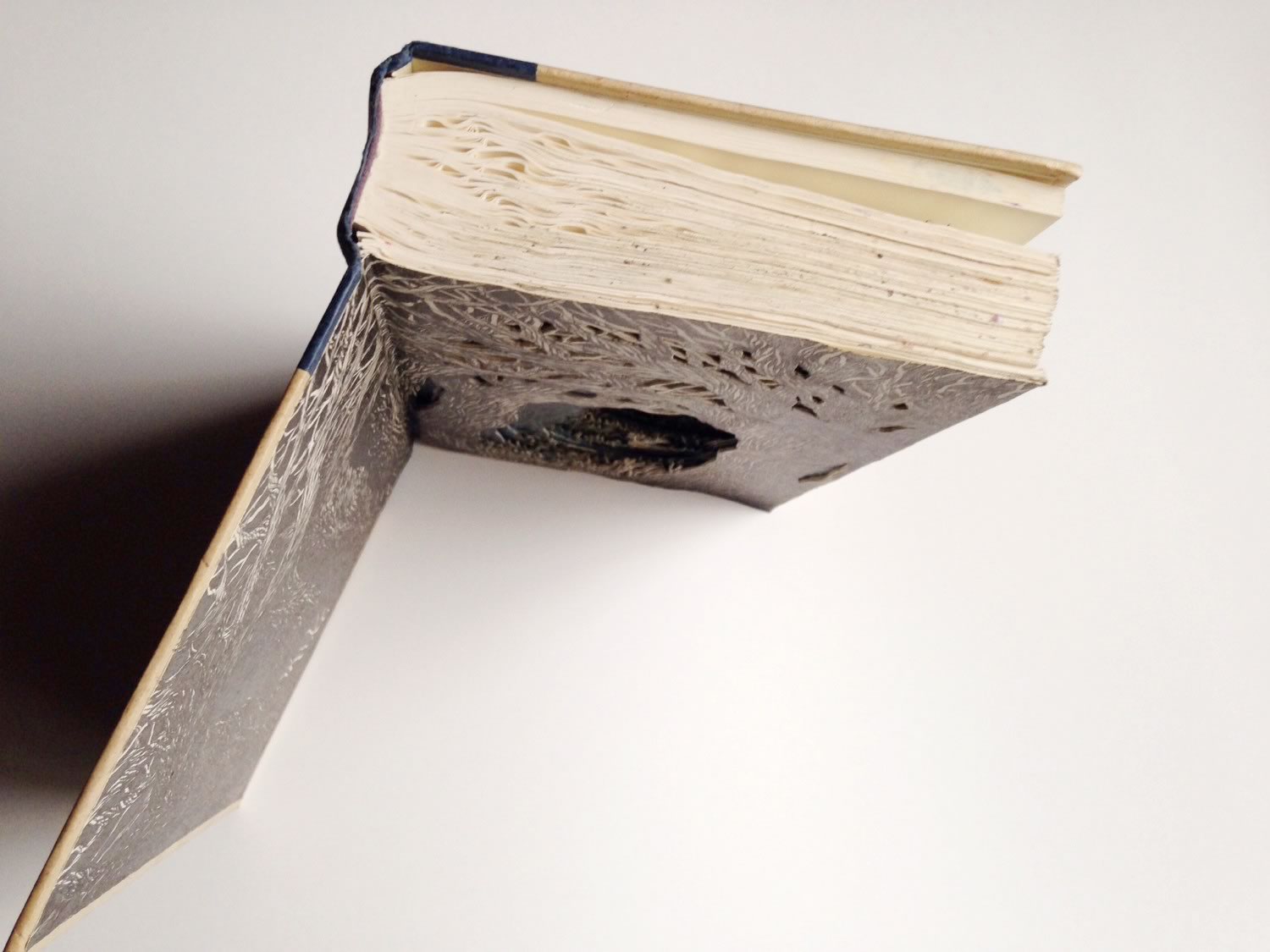 Isobelle Ouzman saves books that would've otherwise been thrown out.
Isobelle Ouzman
Isobelle Ouzman breathes new life into discarded books, transforming their worn pages into sculptures. In these texts, Ouzman creates her own fairy tale-inspired stories by drawing, painting, and cutting mysterious landscapes that invite the viewer to look beyond a single page and take in an entire alluring scene.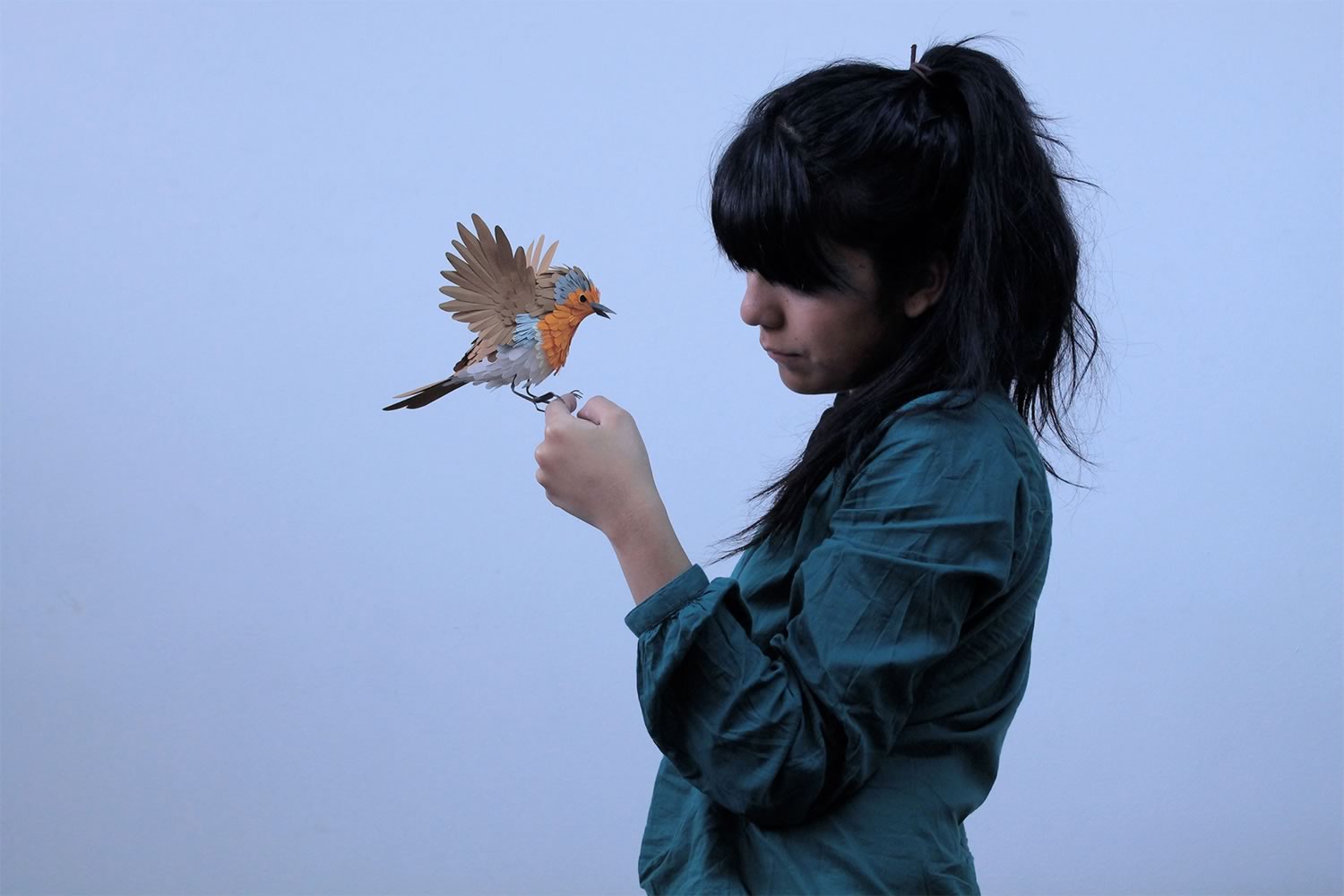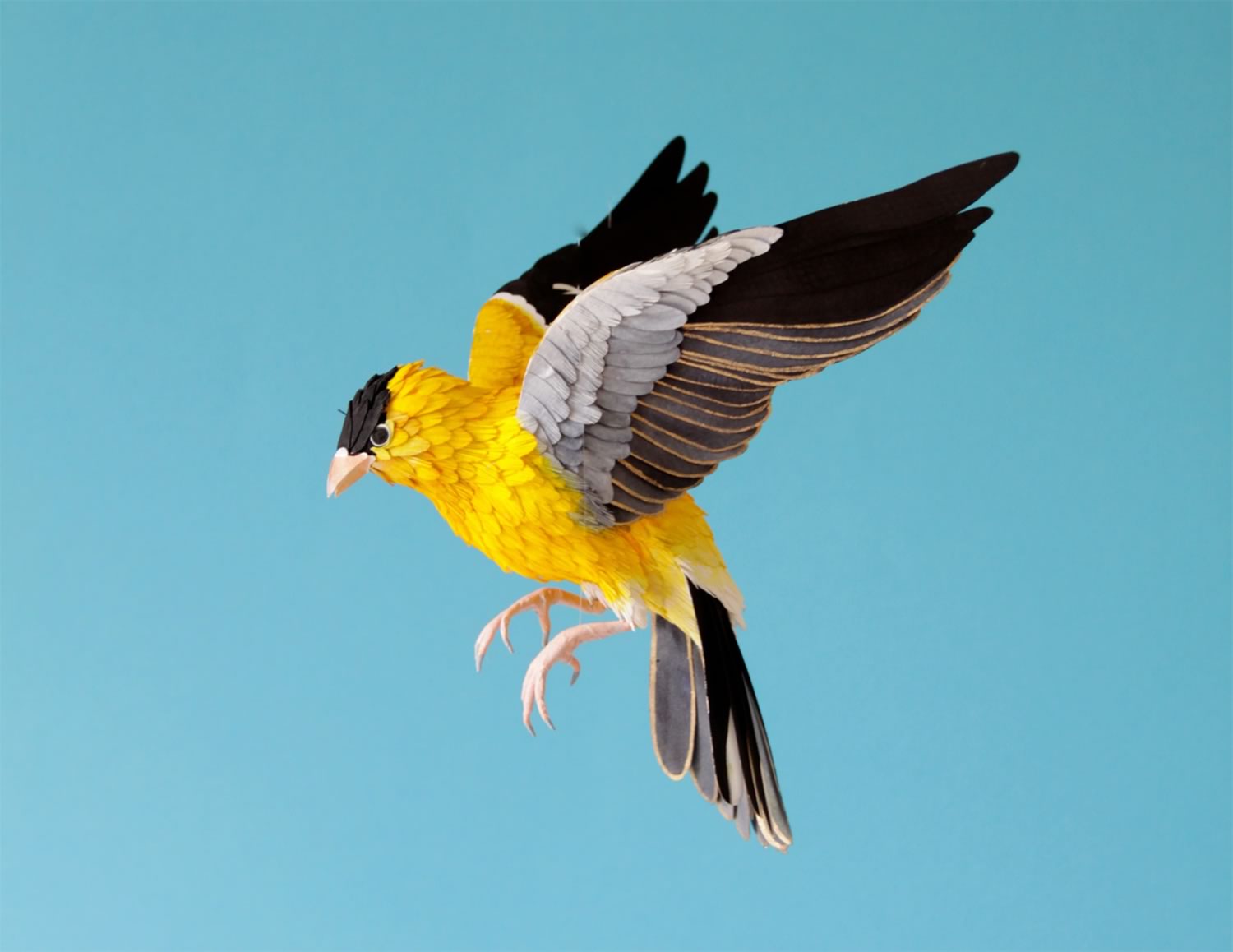 Each piece of plumage has a series of intricate slicing to mimic the look and feel of a feather.
Diana Beltran Herrera
At first glance, these birds could be real—but in actuality, they are composed of paper. Diana Beltran Herrera sculpts the winged creatures in a meticulous manner, individually cutting and slicing each feather. Herrera's artwork is informed by her background in industrial design. After attending university, she decided that the career path wasn't for her. "I am really interested in the simple processes of transformation," she told Frankie magazine, "that don't need complicated tools or industrial processes." The use of paper is a perfect way to express it.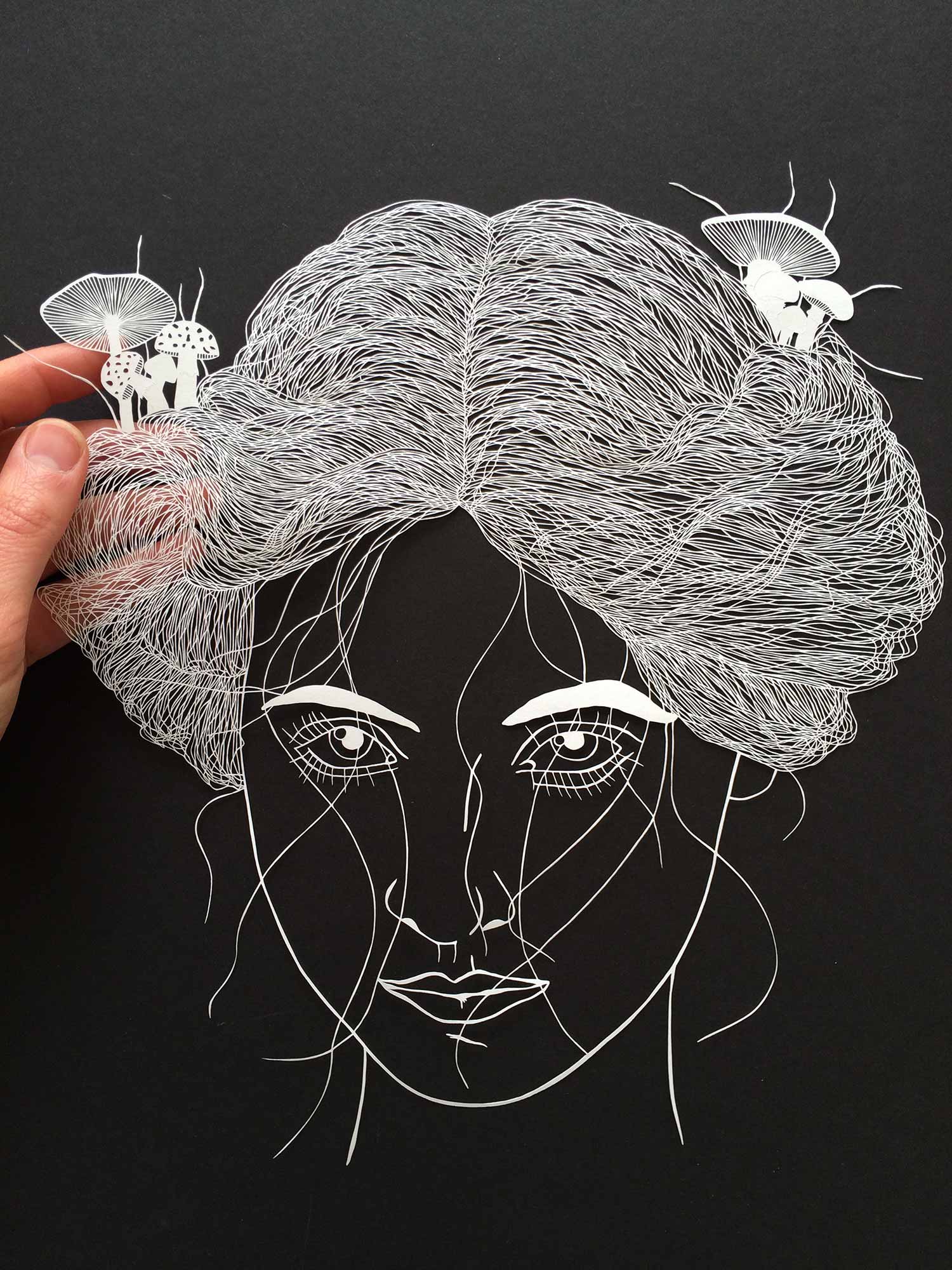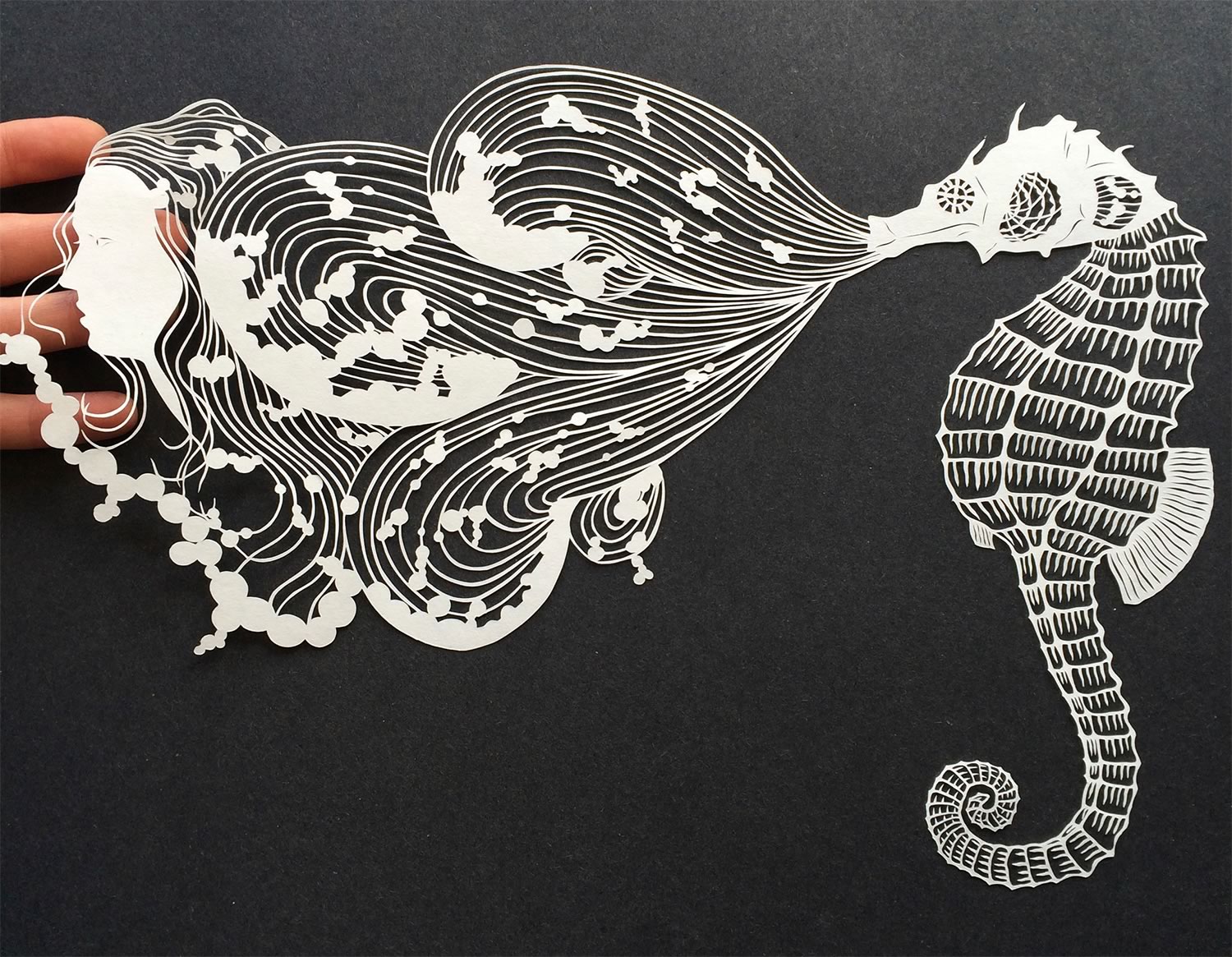 Maude White mimics the carefree look of contour lines in paper.
Maude White
"I want my art to communicate to the observer what my words cannot do effectively," artist Maude White writes in her artist statement. She does this through intricate, tiny cuts that mimic thin line drawings. This attention to detail is highlighted through her use of white paper paired with a black background. "With paper cutting there are so many opportunities to create negative space that tells its own story," she explains. "Letting the observer become present in the piece allows him or her to look through it."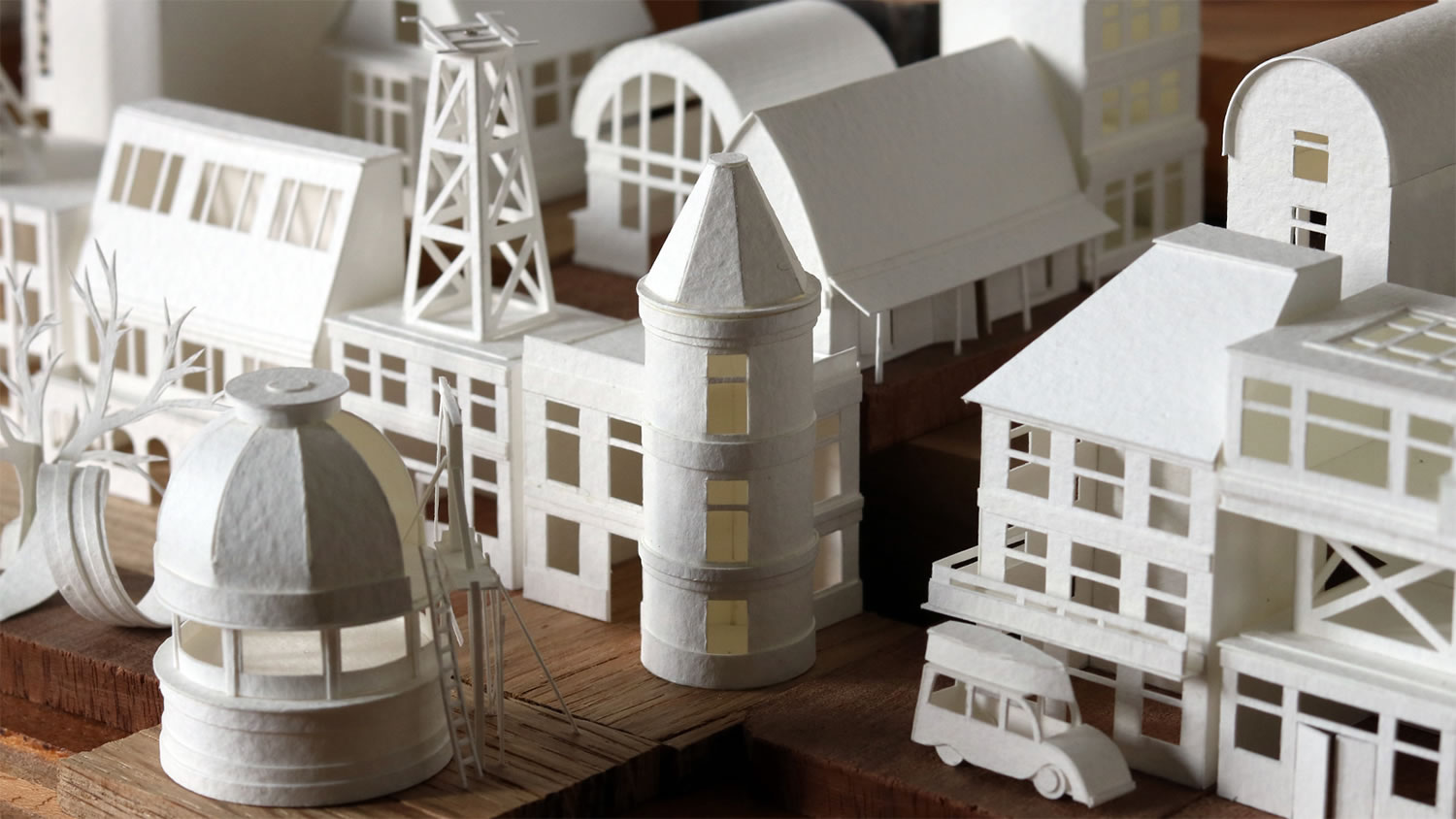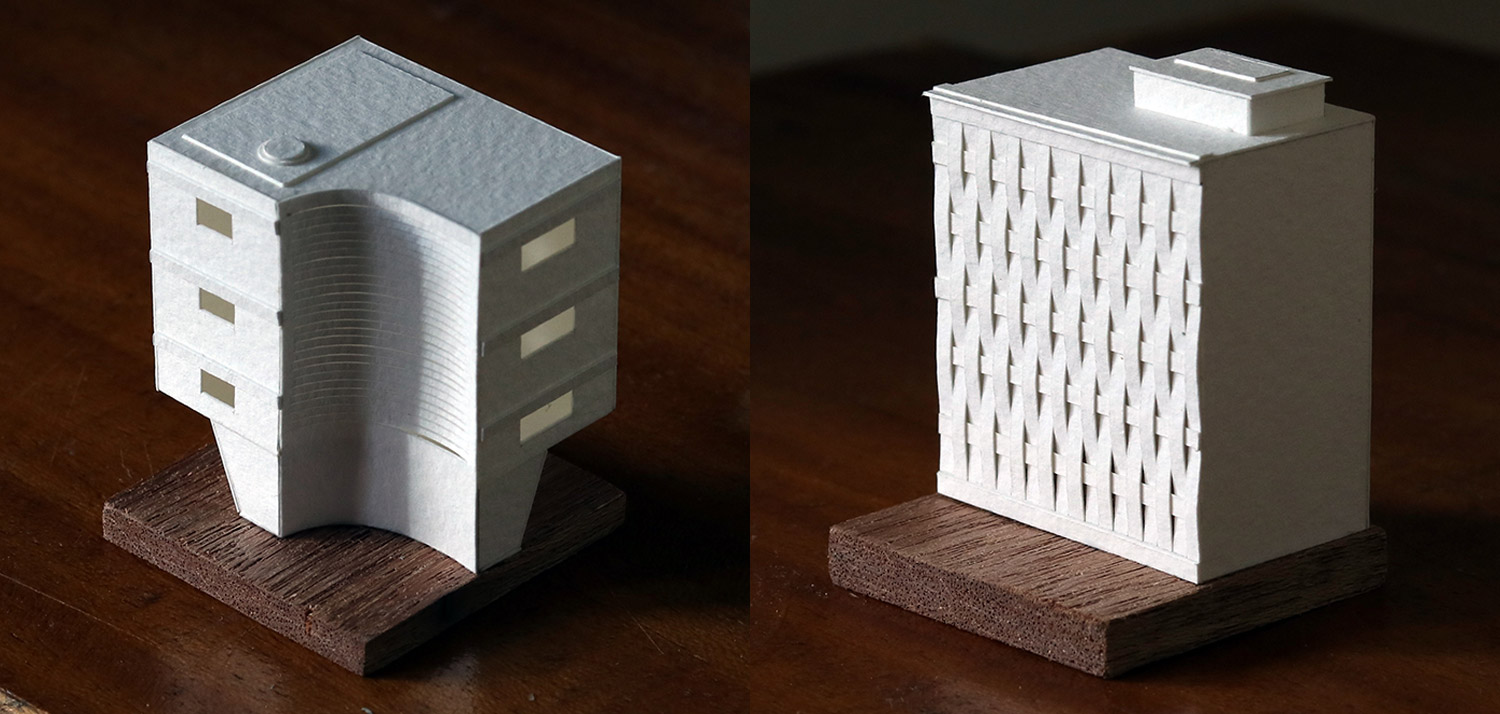 Charles Young animates Paperholm that shows how these buildings run.
Paperholm
In August 2014, artist Charles Young began a project called "Paperholm." Each day, one new object was made out of paper, photographed, and uploaded to the web. The materials were simple—200gsm watercolor paper and PVA glue—but allowed Young to explore the possibilities of imaginary architecture. After a year of daily additions, Paperholm was on hold until November 2015. Now, it continues in the same format. Each building is interesting on its own, but they'll all come together in the Fall of 2016 when Young exhibits Paperholm "together as a constructed archipelago."
Images © respective artists.