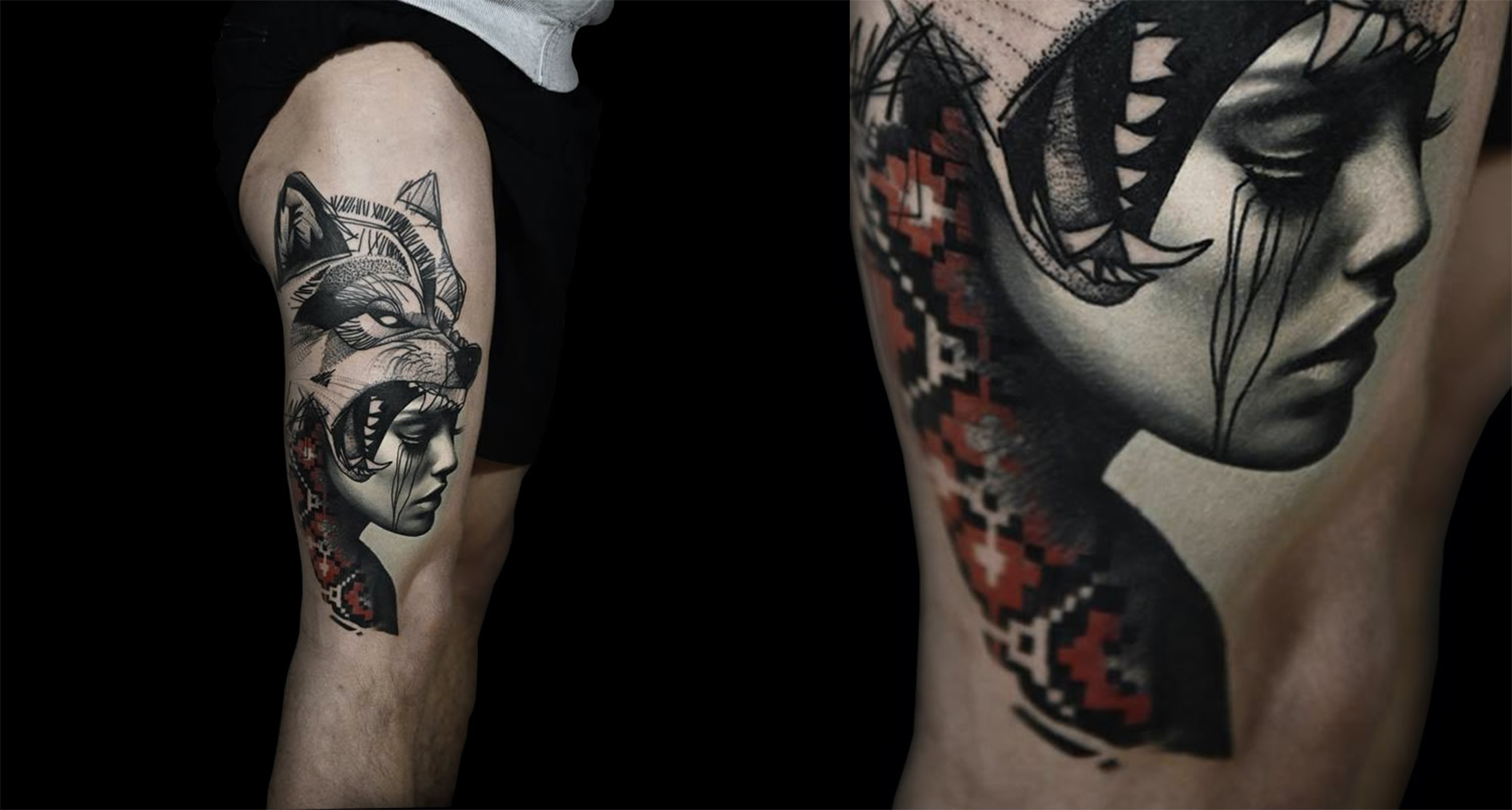 No excuses! It is challenging to compile a list of favorite tattooers of the year, but it is going to be done.
Our magazine featured a more diverse selection of tattoos in 2015—from biomechanical to photorealistic and minimalistic art. (A lot was done in black ink.) Illusion also published additional works on Google+ and tsū channels, so there was much to view and review.
Based on what caught my eye, got me hooked, made me want a tattoo, this is my list of tattoo artists of 2015.
Top: The dark, emotive art of Timur Lysenko.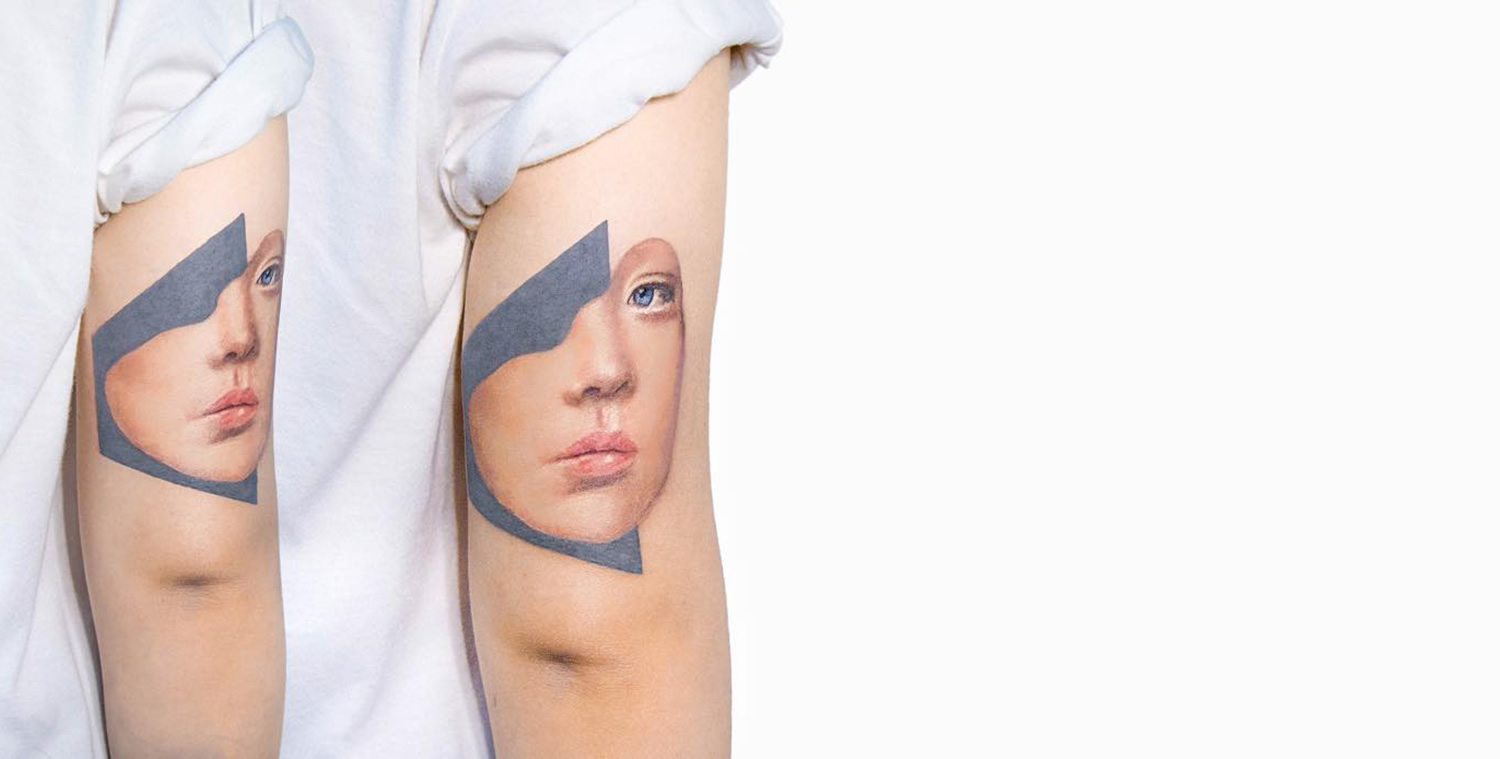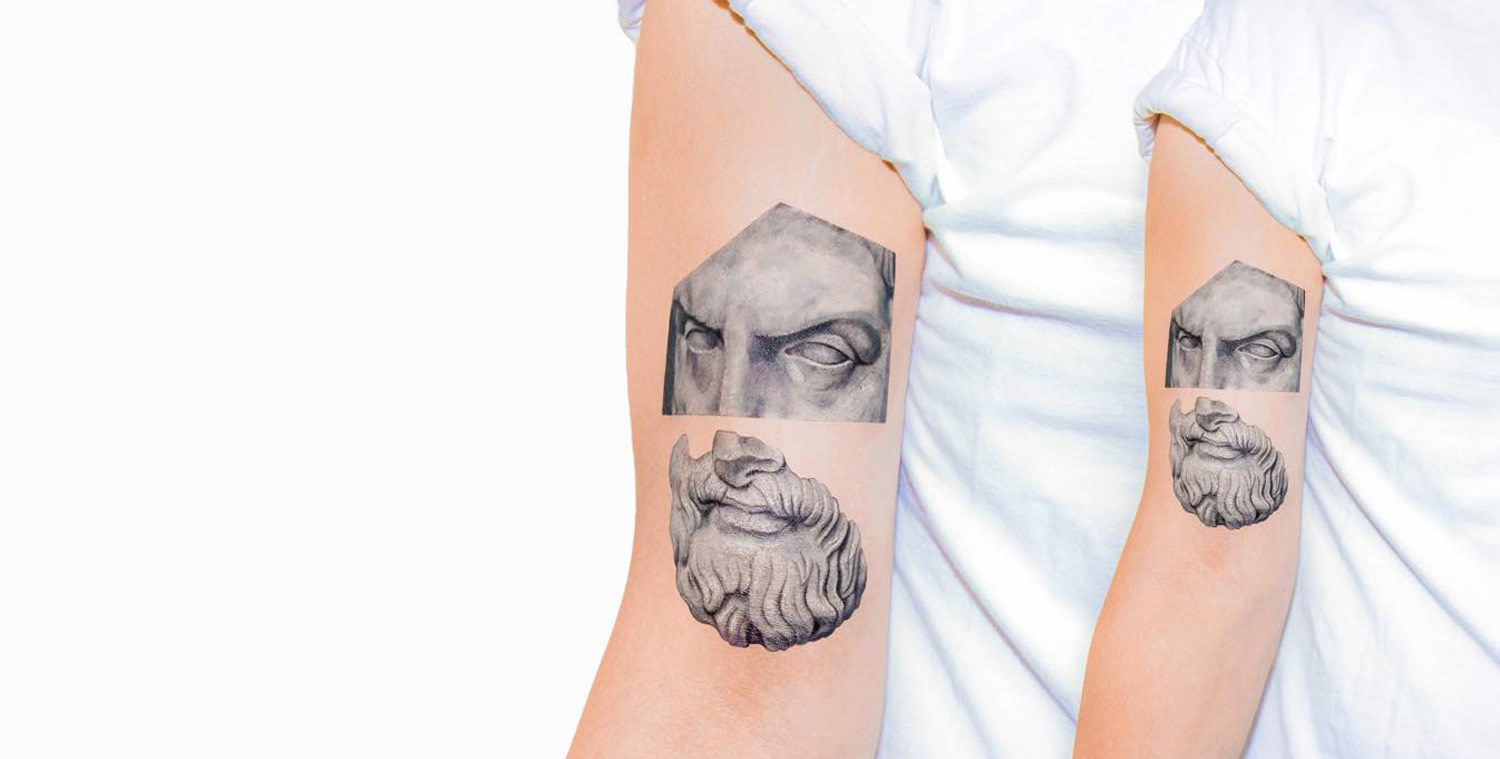 One of Huang's recurring themes is inking Greco-Roman sculptures on skin.
Kaiyu Huang
"Addicted" is a strong word, but one that I'm reminded of when frequently looking at Kaiyu Huang's tattoo portfolio. His Classical-art-inspired portraits and tropical designs are just magnetic and beautiful for its appreciation of simplicity. His use of color is just right, enough to give a pop to black-and-grey tattoos. The artist, although fairly young and studying at Parsons, has tremendous talent and is one to watch in the coming years.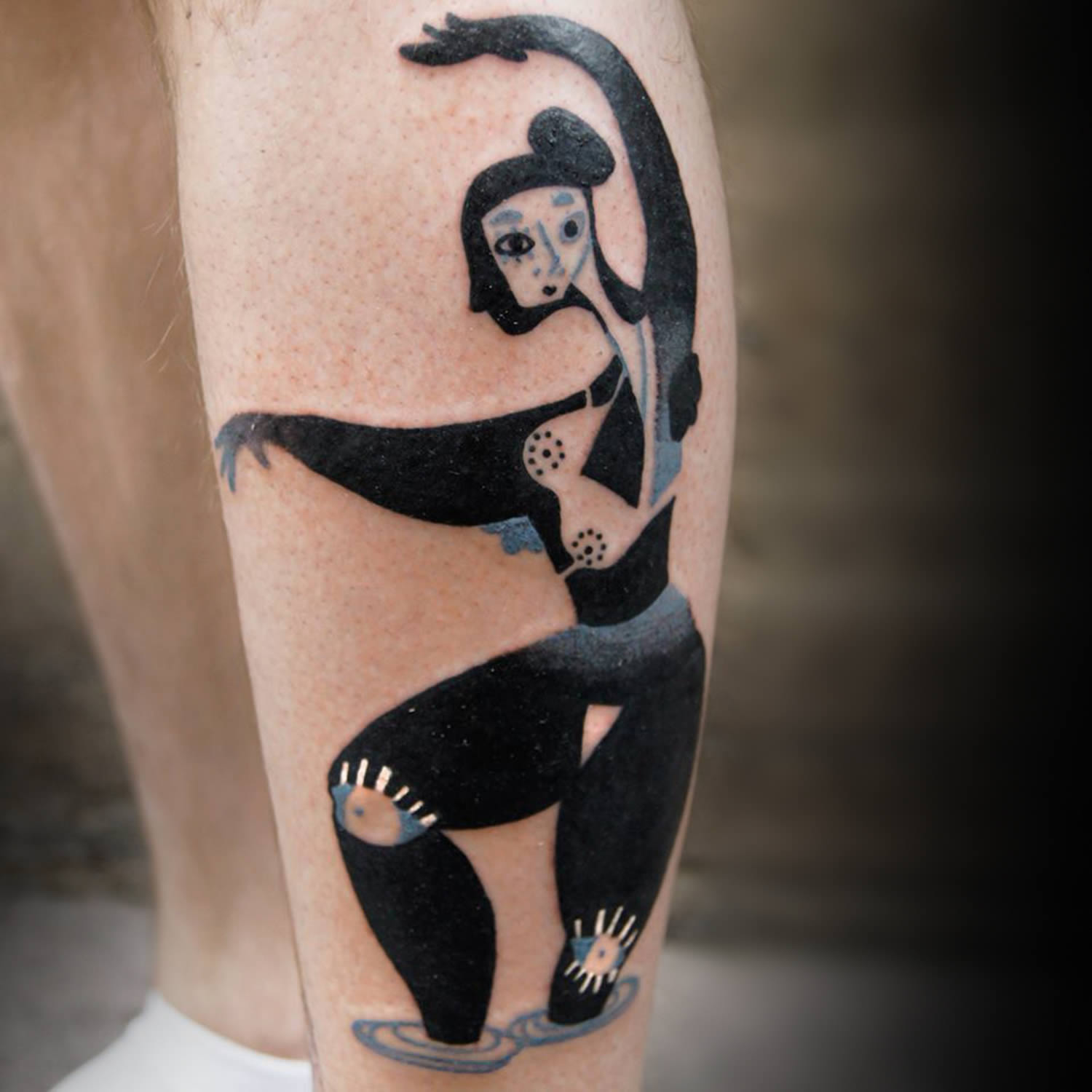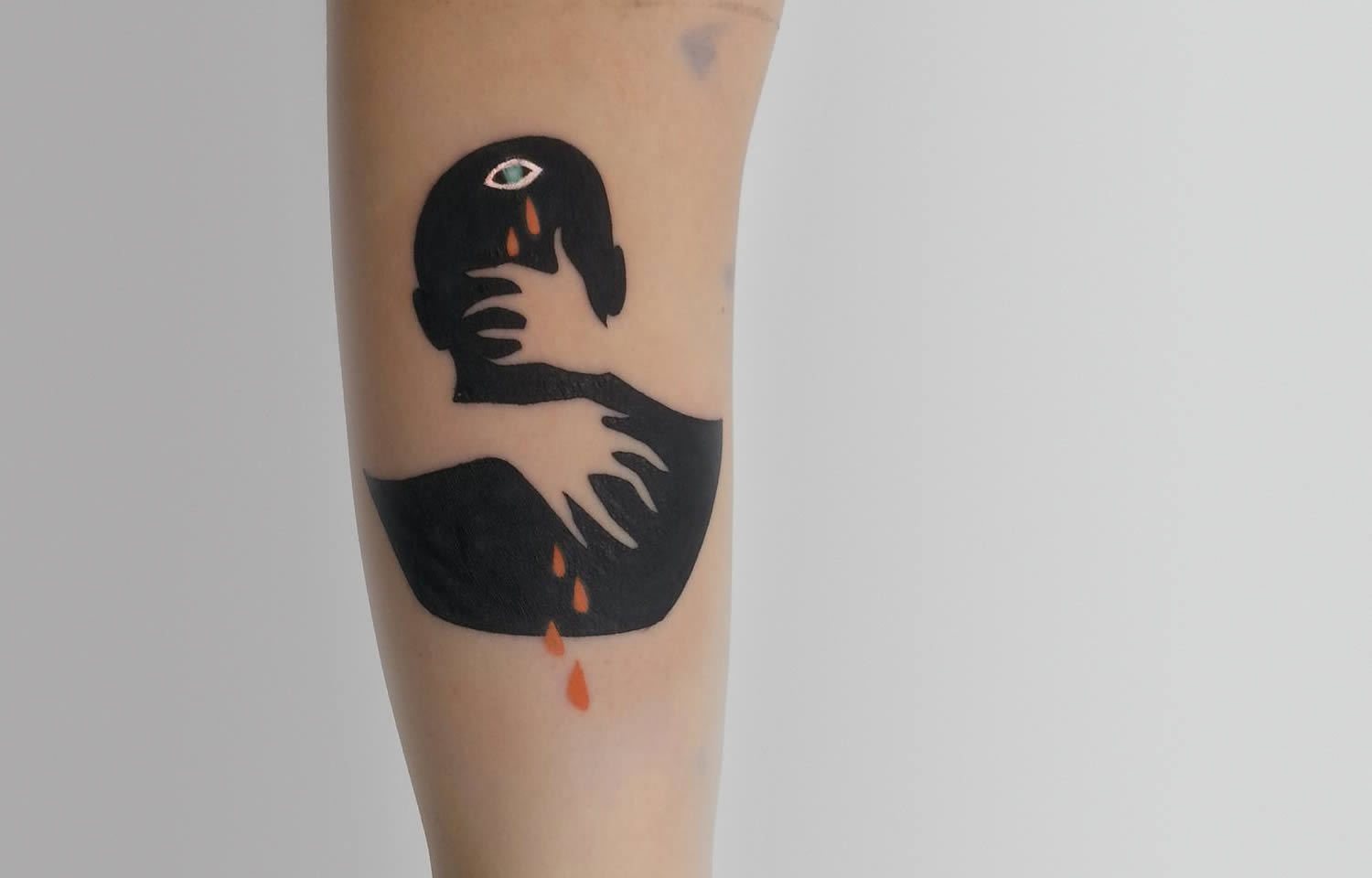 French naïve painter Camille Bombois is another one of Bouits' artistic influences.
Bouits
Known for her whimsical scratchy-line sketches, cute characters and botanical tattoos, Bouits has taken a step forward in 2015 to produce a series of Modern-art-inspired designs: curvy silhouettes of nude women pose and dance around like a Matisse masterpiece. There are also influences of Art Nouveau—specifically a dash of Henri de Toulouse-Lautrec. Vive la France!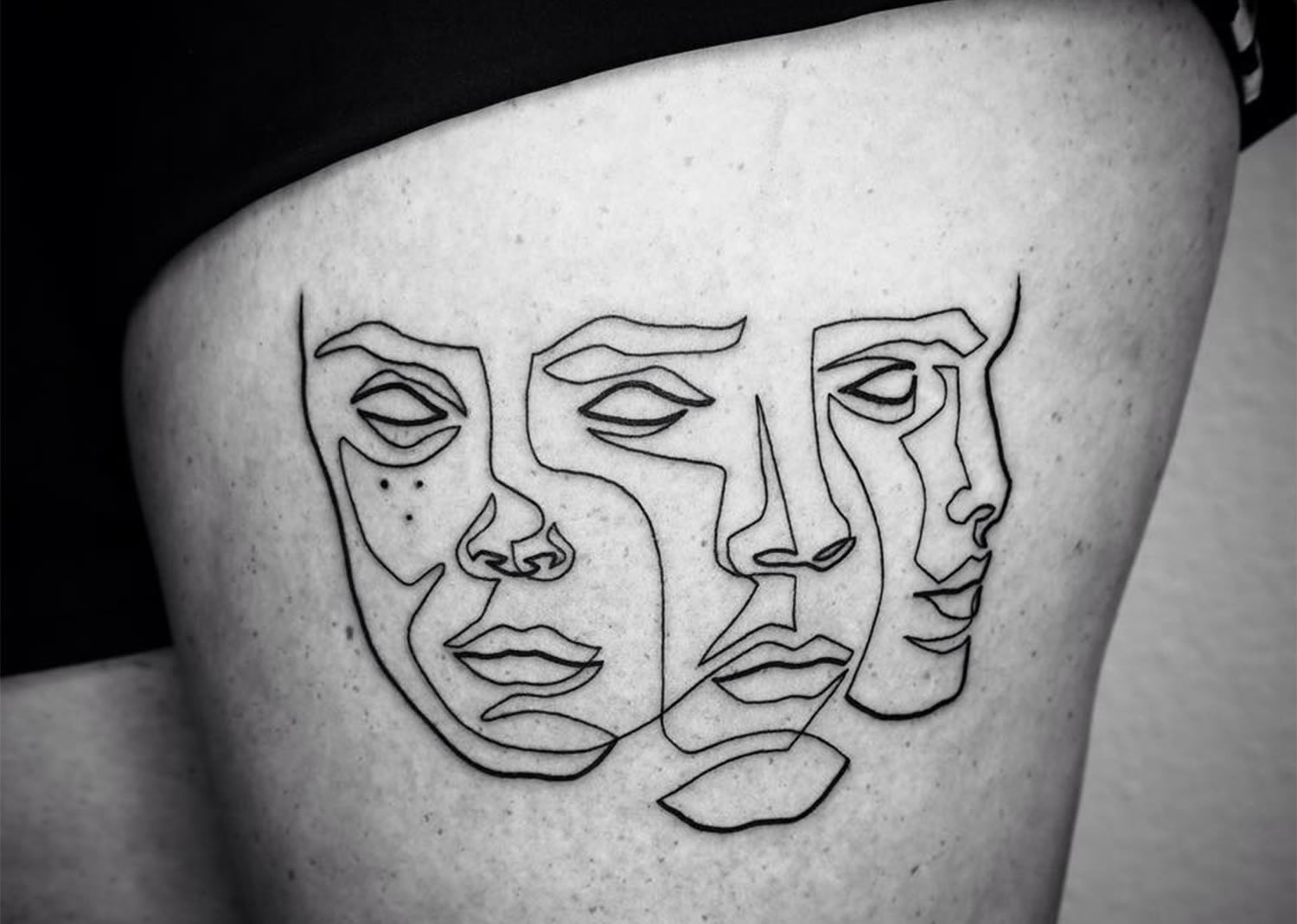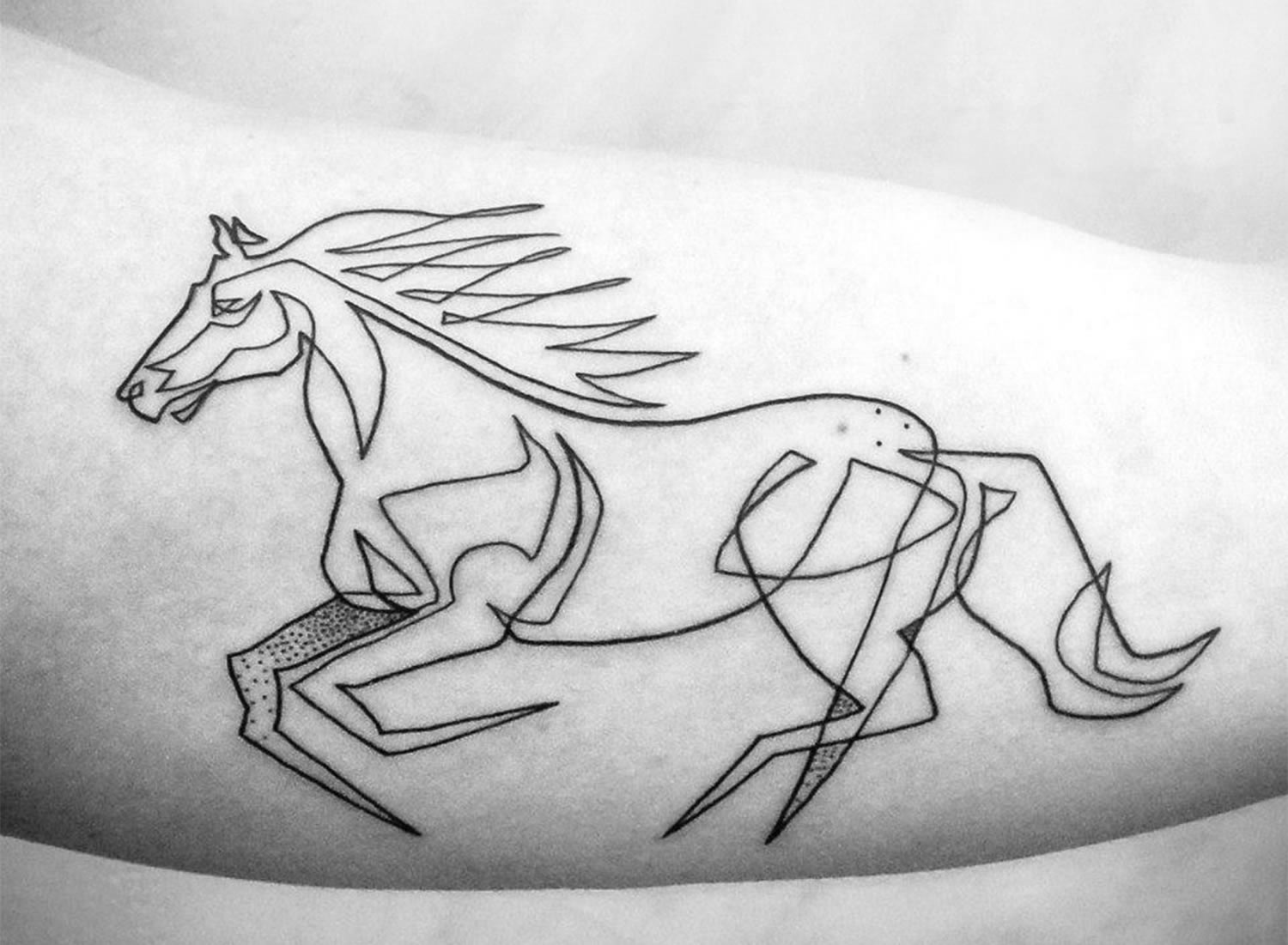 Instead of connecting the dots, we should follow the lines to admire Ganji's fascinating designs.
Mo Ganji
Appreciating the simple things in life—Mo Ganji's tattoo art is exactly a mirror of this, "Less is More" as he says. And indeed creating simple, continuous line tattoos can be more complex than creating elaborate tattoos with bells and whistles. His acclaimed blackwork of flora and fauna has been capturing the attention of many online publications like Tattrx, Independent, Lost At E Minor and Bored Panda.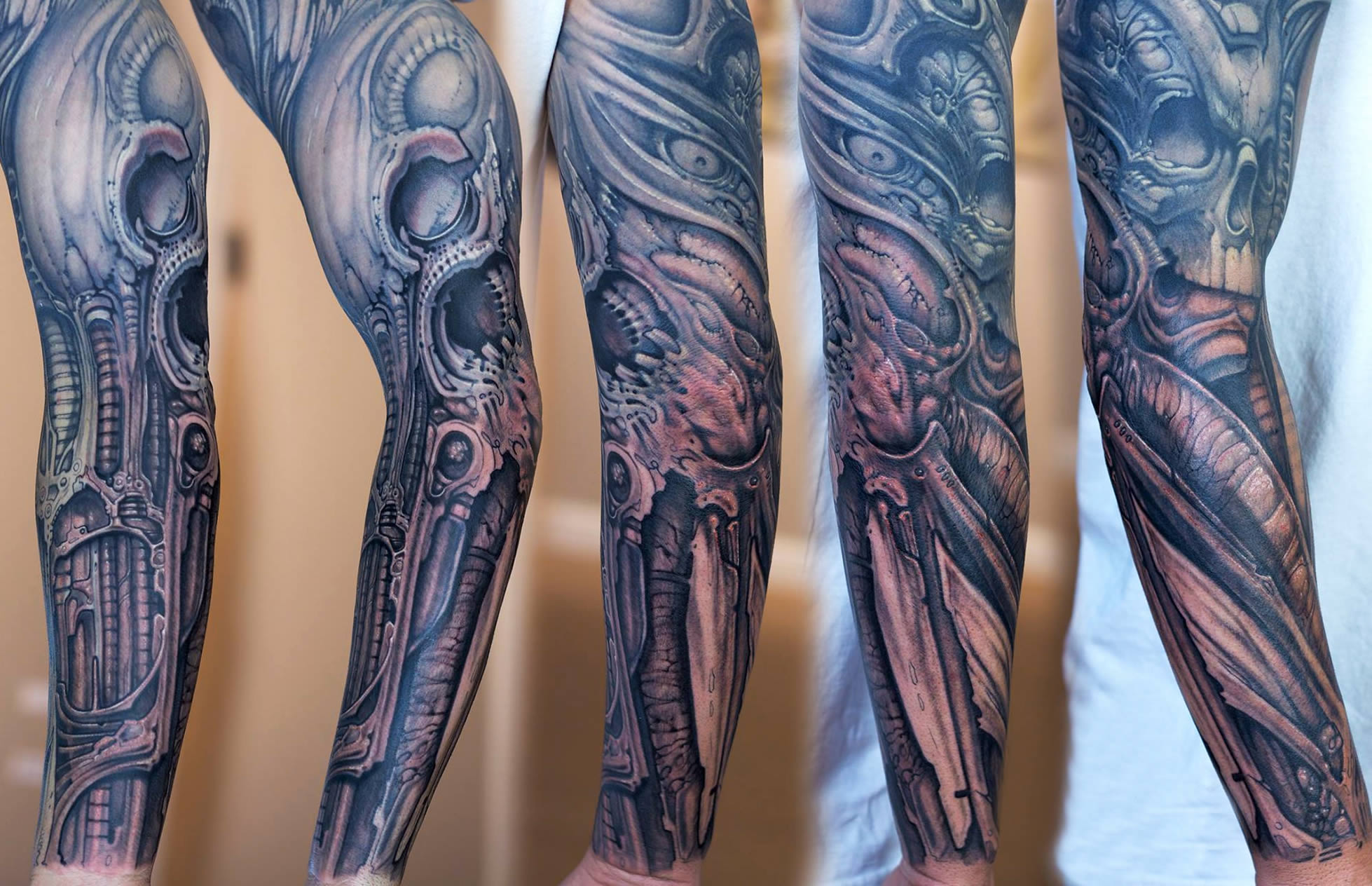 Bizarre and surreal, a few adjectives that describe Dietz's colorful art.
Paco Dietz
There are a lot of exceptional biomechanical tattooists out there, and Dietz is clearly one of them. His art on skin stands out for its colorful, surrealistic forms resembling human muscles being pulled and melted like Dali watches. Maybe it is a mashup of bubbly cartoons with Giger's underworld. It is strange and cool, that's what's so fascinating! Each of his tattoos are as if he is creating a second skin over the client's body.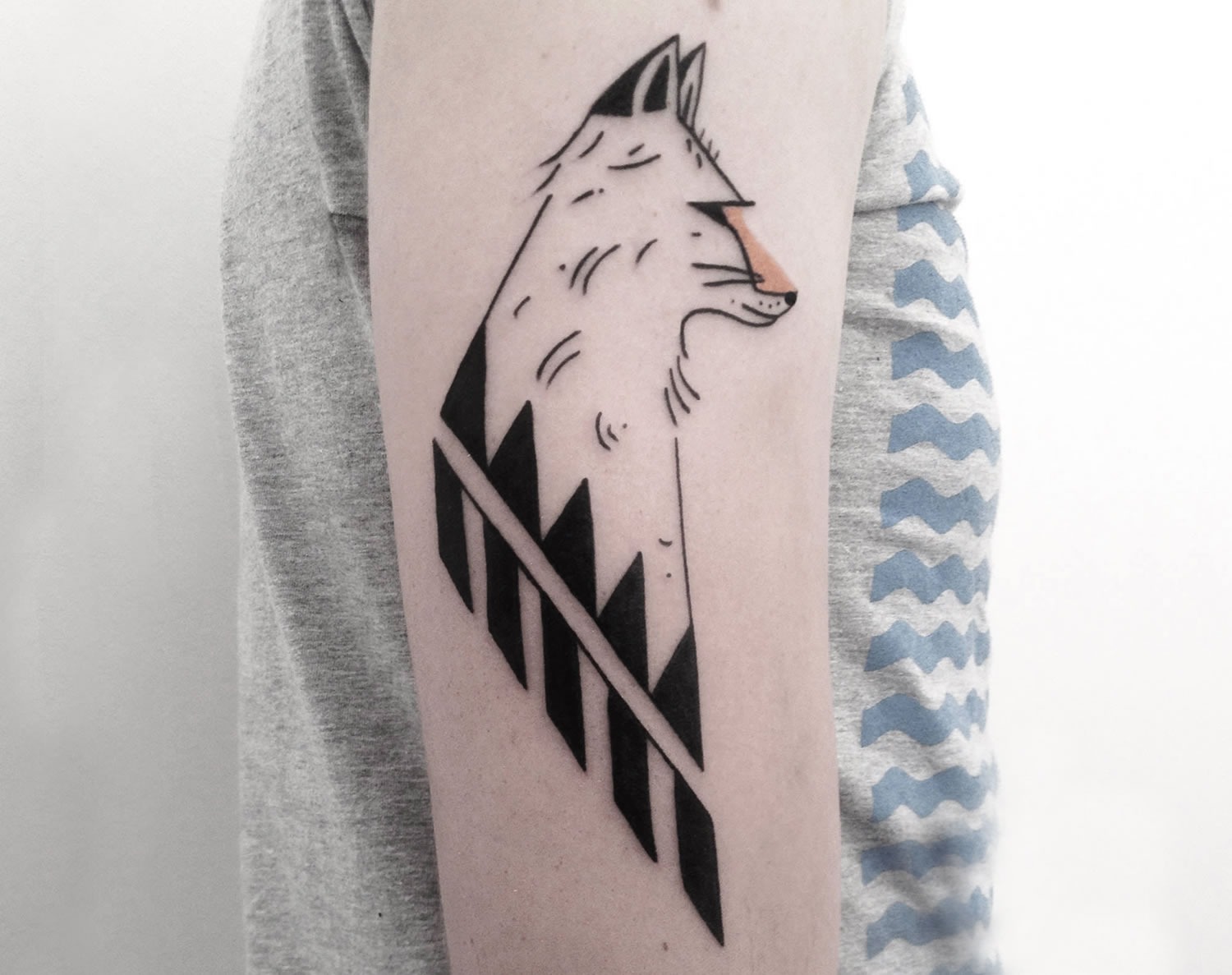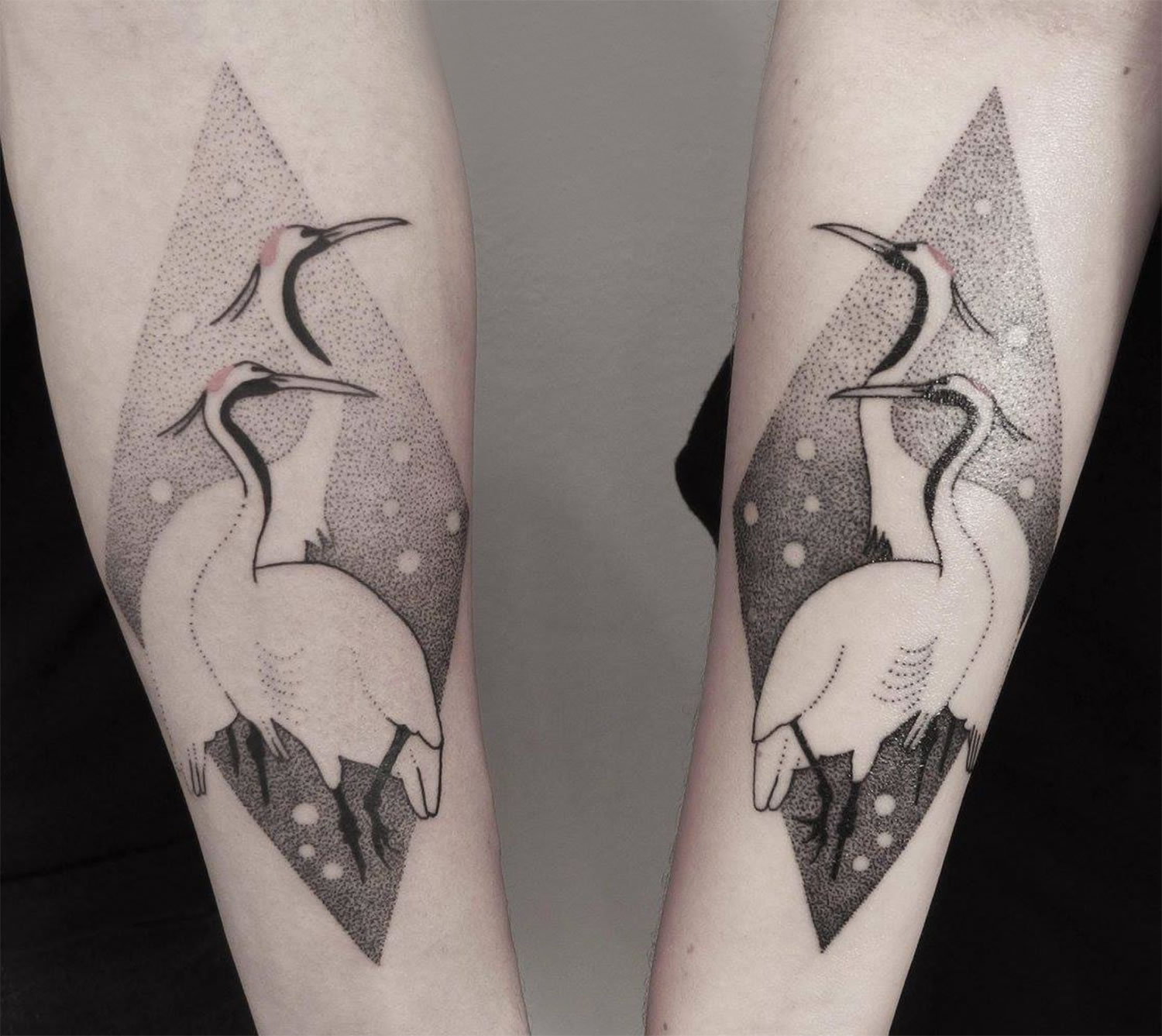 Esjmont apparently follows the principle of KISS (Keep it simple and straightforward).
Axel Esjmont
Like many minimalist artists, Axel Esjmont uses a limited color palette of black and red, black and pink, or black and blue. It works well for her line and dot illustrations of geometric hearts, icebergs and wildlife. Many of the shapes and patterns—filling the interior of her designs—are influenced from Persian rugs and Indian tribal art.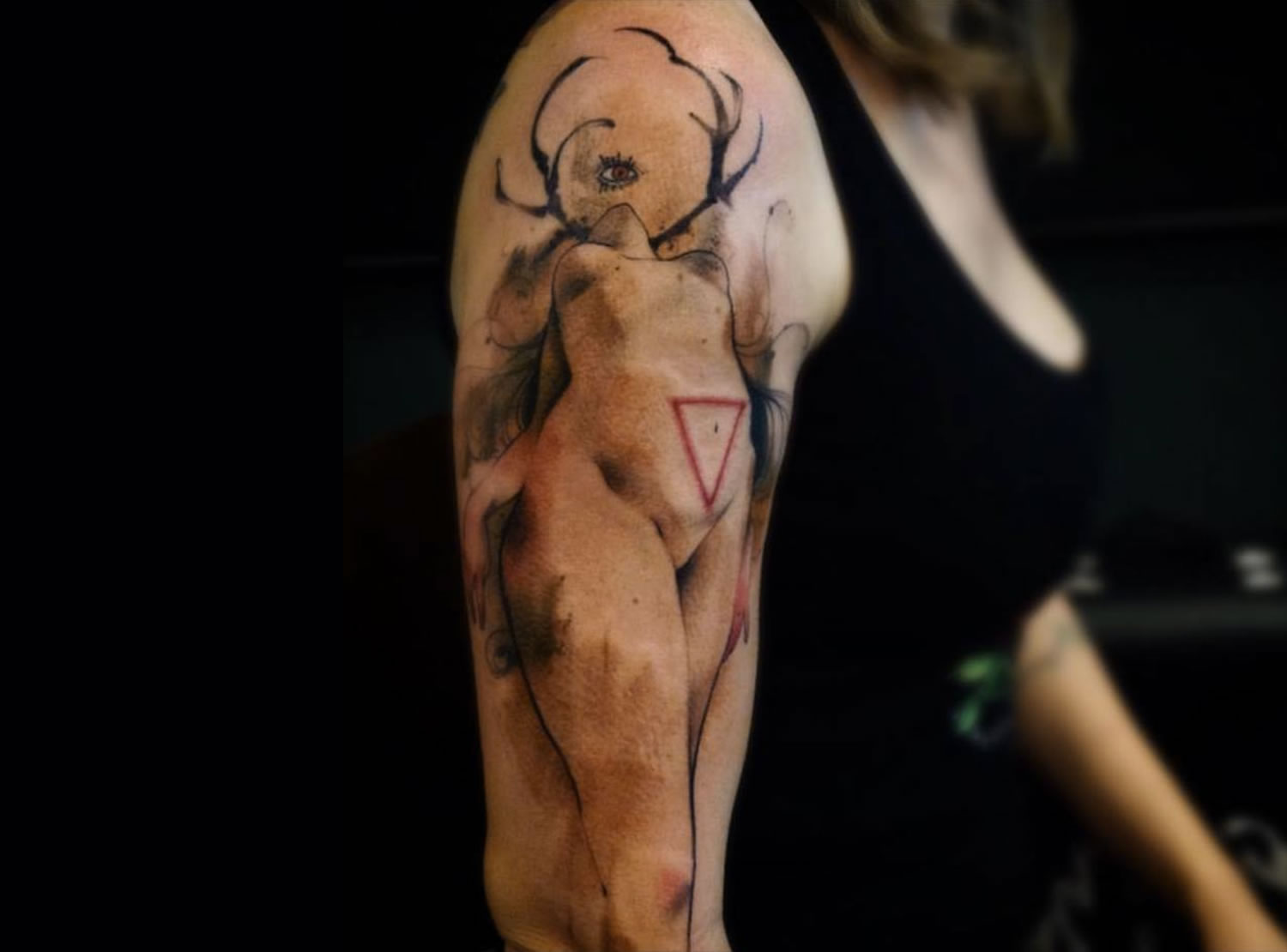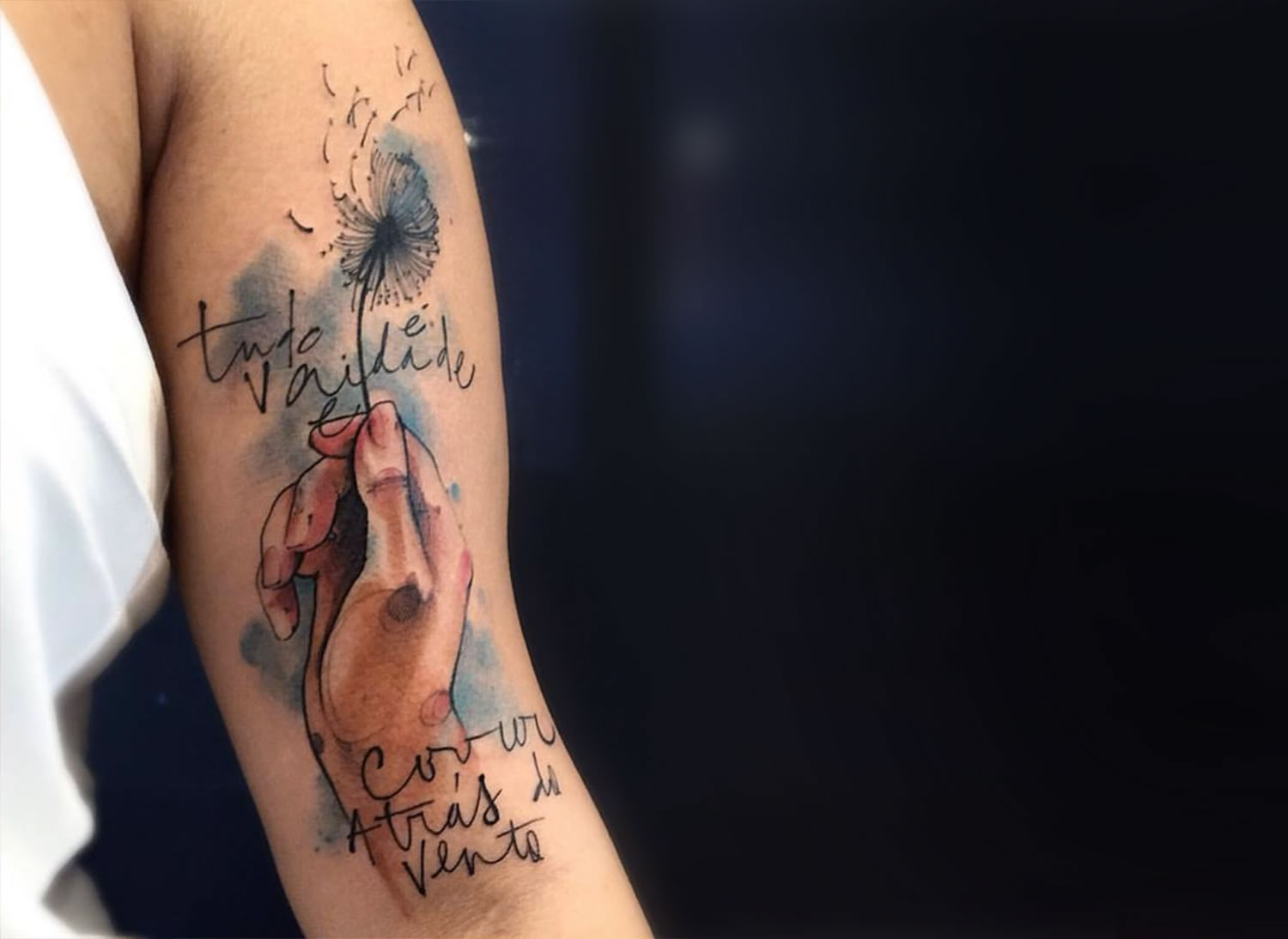 A beautiful tribute to motherhood (first photo), and Montaghini's collaboration with Fabio Maca—a tattoo about "All is Vanity."
Victor Montaghini
The watercolor trend has really been going full force for some years, and at times, it seems like we're seeing too much of the same. It is important to keep innovating, and Montaghini has tried to do that by taking his work to the next level. His understanding of traditional paint media has only been a plus for his technical and expressive ability to mimic it on skin. Soft (watery) colors, delicate details and excellent placement of his compositions on clients' bodies sets him apart from some of the others in his field.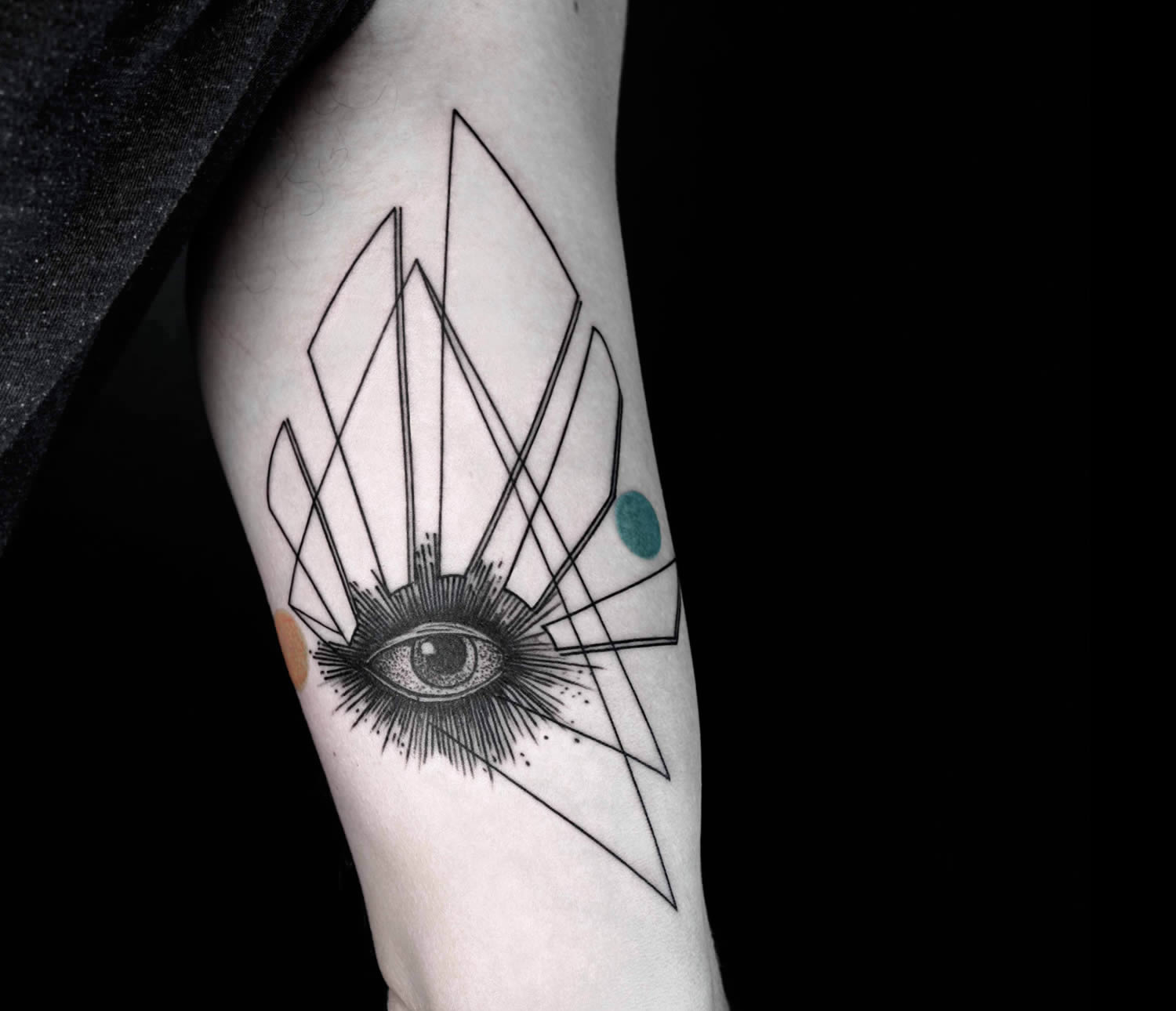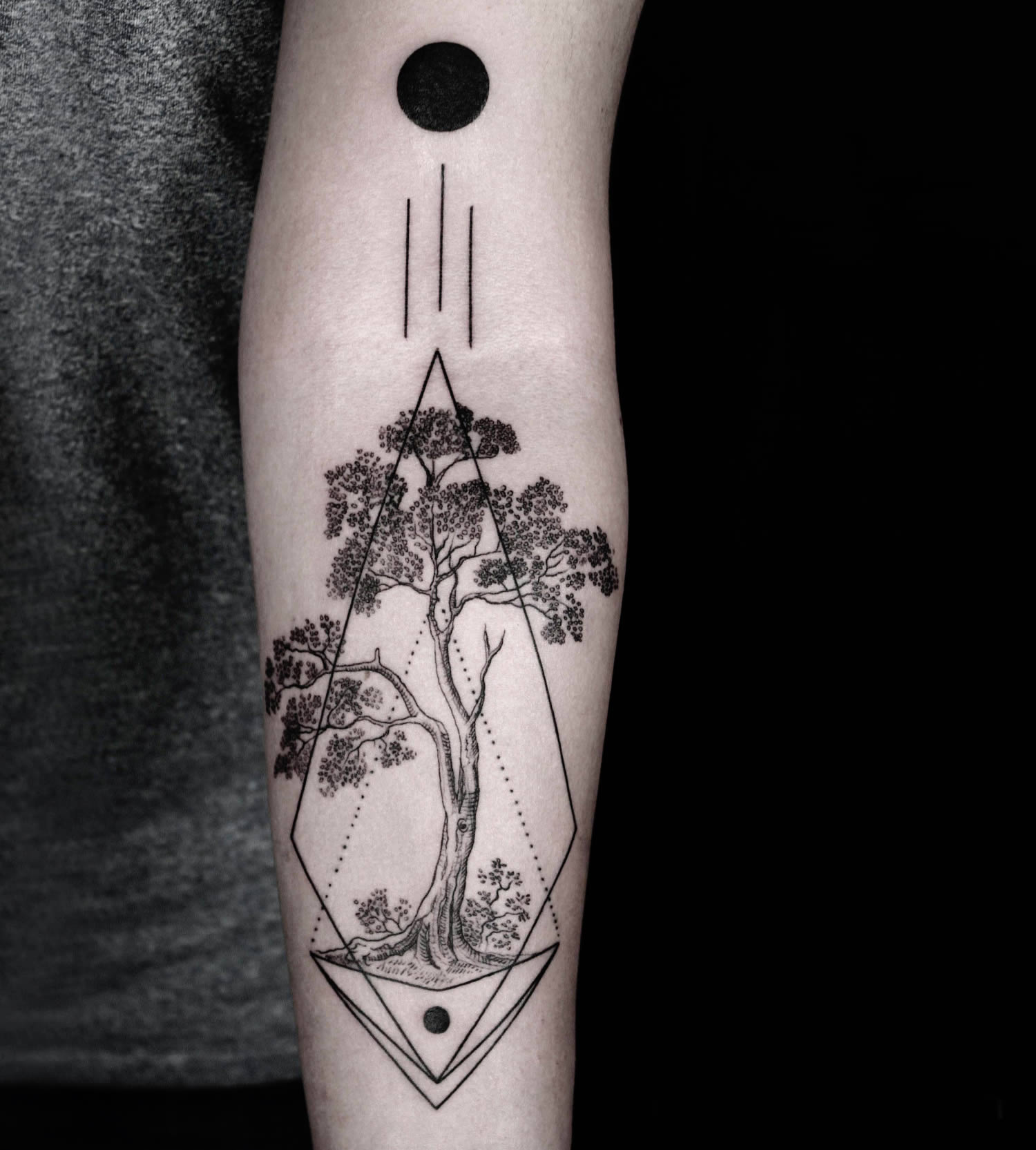 Uckun combines geometric shapes with Renaissance art.
Okan Uckun
Coming into my radar in 2015, Okan Uckun is the artist from Turkey (a country that bans tattoos and piercing in schools) who has taken leaps forward to pursuing his passion in the arts. From photography to video, Uckun has explored diverse mediums and exhibited his creations in group shows. As for his tattooing, he's become known for clean lines, sharp and tidy imagery of past era engravings and geometric abstraction. His "Guernica" replica was recently featured in "Tattoo Re-Creations of Famous Works of Art," and he's done a few of Michaelangelo's "David."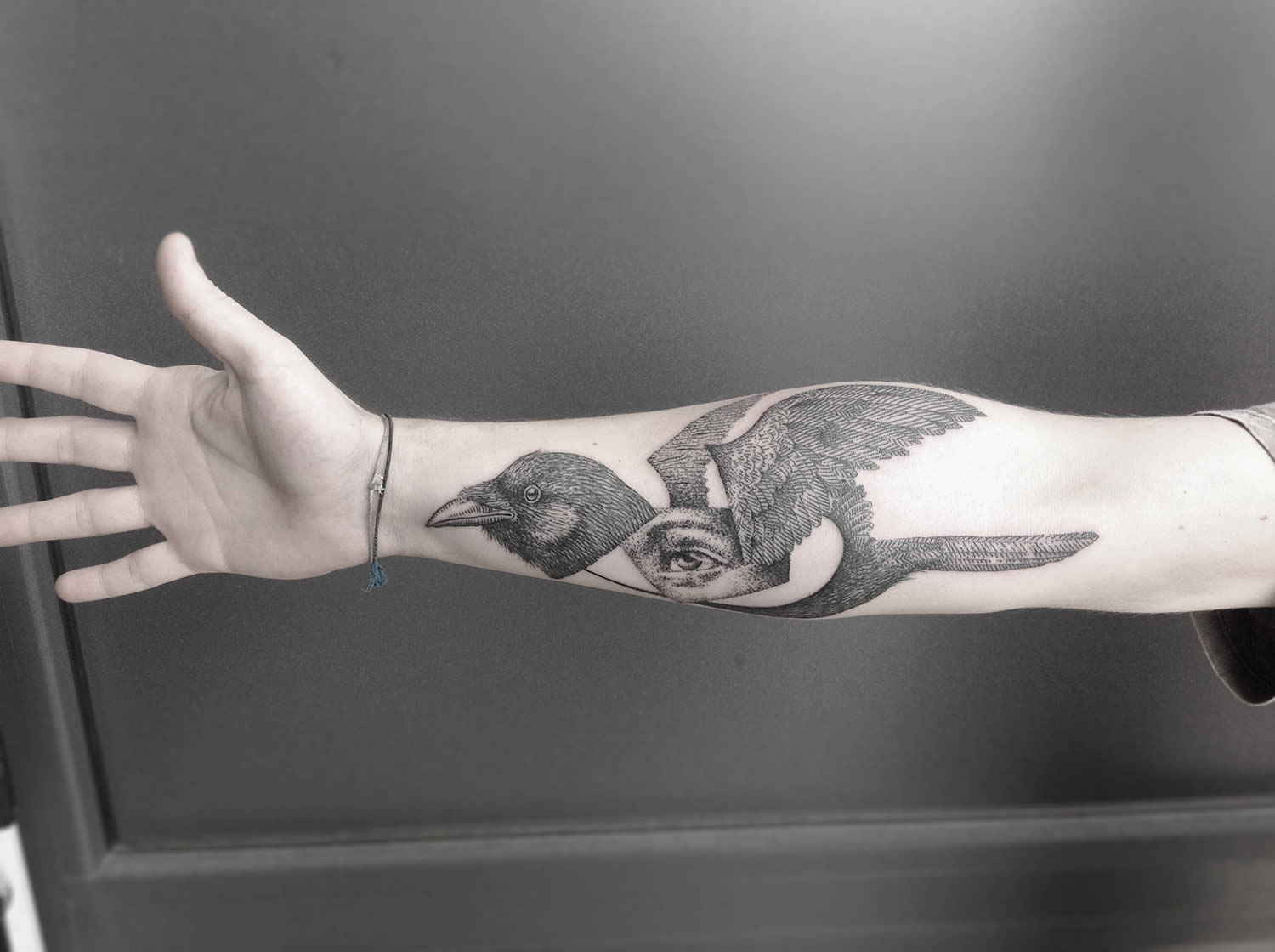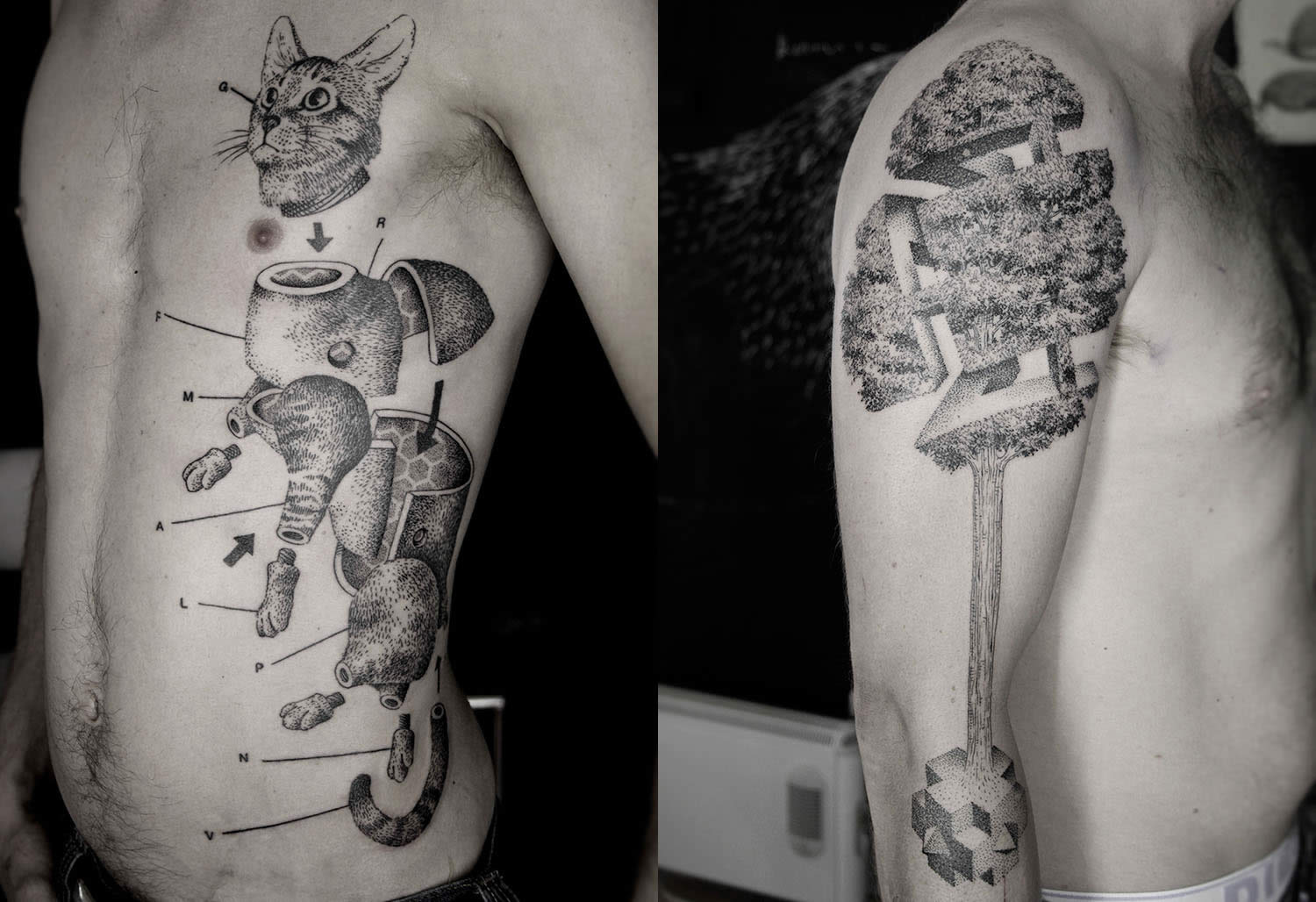 D' Ambra's monochromatic tattoos resemble anatomy study guides.
Ottorino D' Ambra
Tattoos of chopped up animals may seem macabre, but there is really another purpose to the work of Ottorino D'Ambra. He selects animals because he believes "we are much closer to them than we think," with personality traits that we connect with. "Slicing them means going through the skin to look into it and discover what's hiding inside." It has nothing to do with animal cruelty, but appreciating the animal and its features. His portfolio is strictly in black ink, which relates to his etchings—sometimes he converts his designs from an "aluminium plate into tattoo, and vice versa."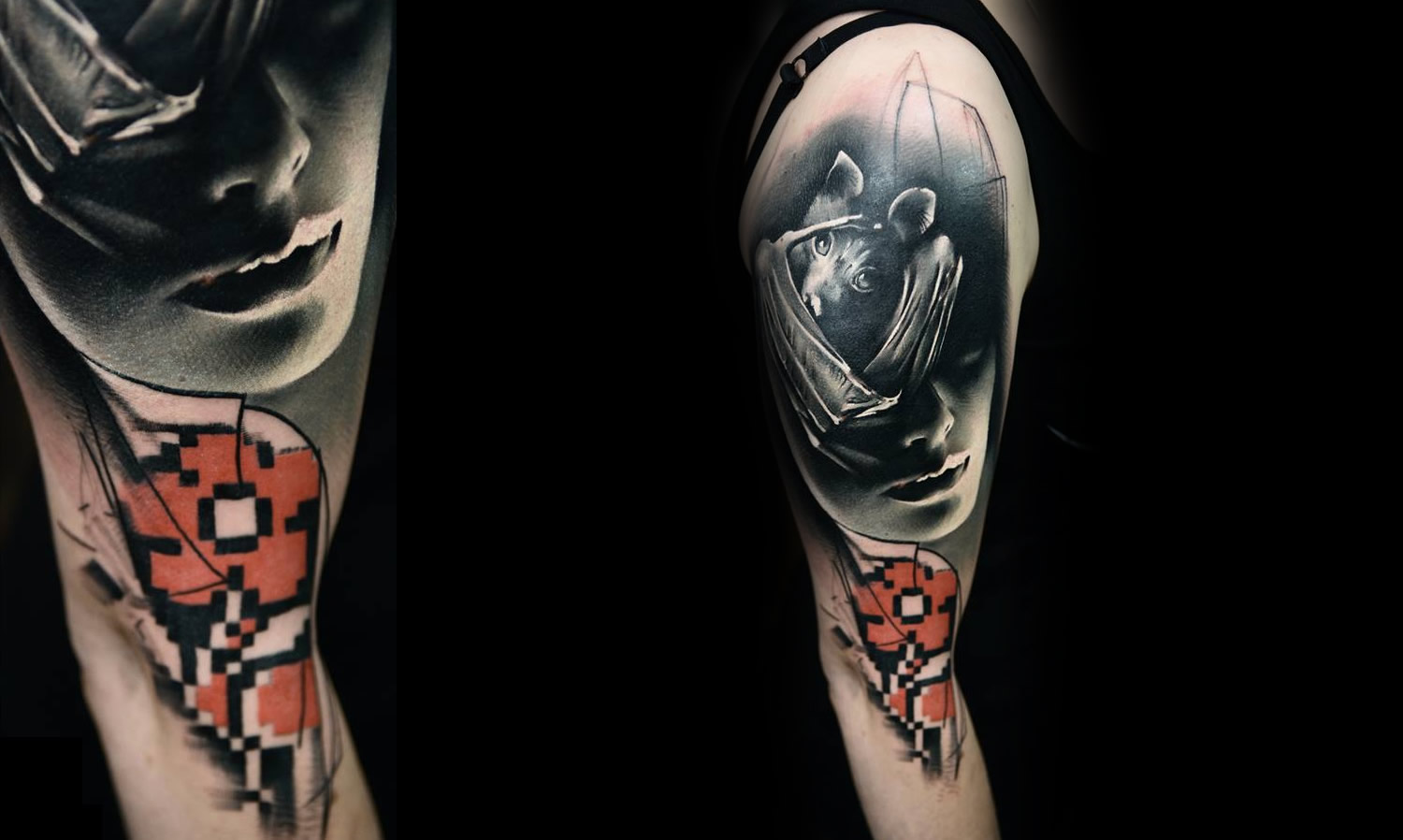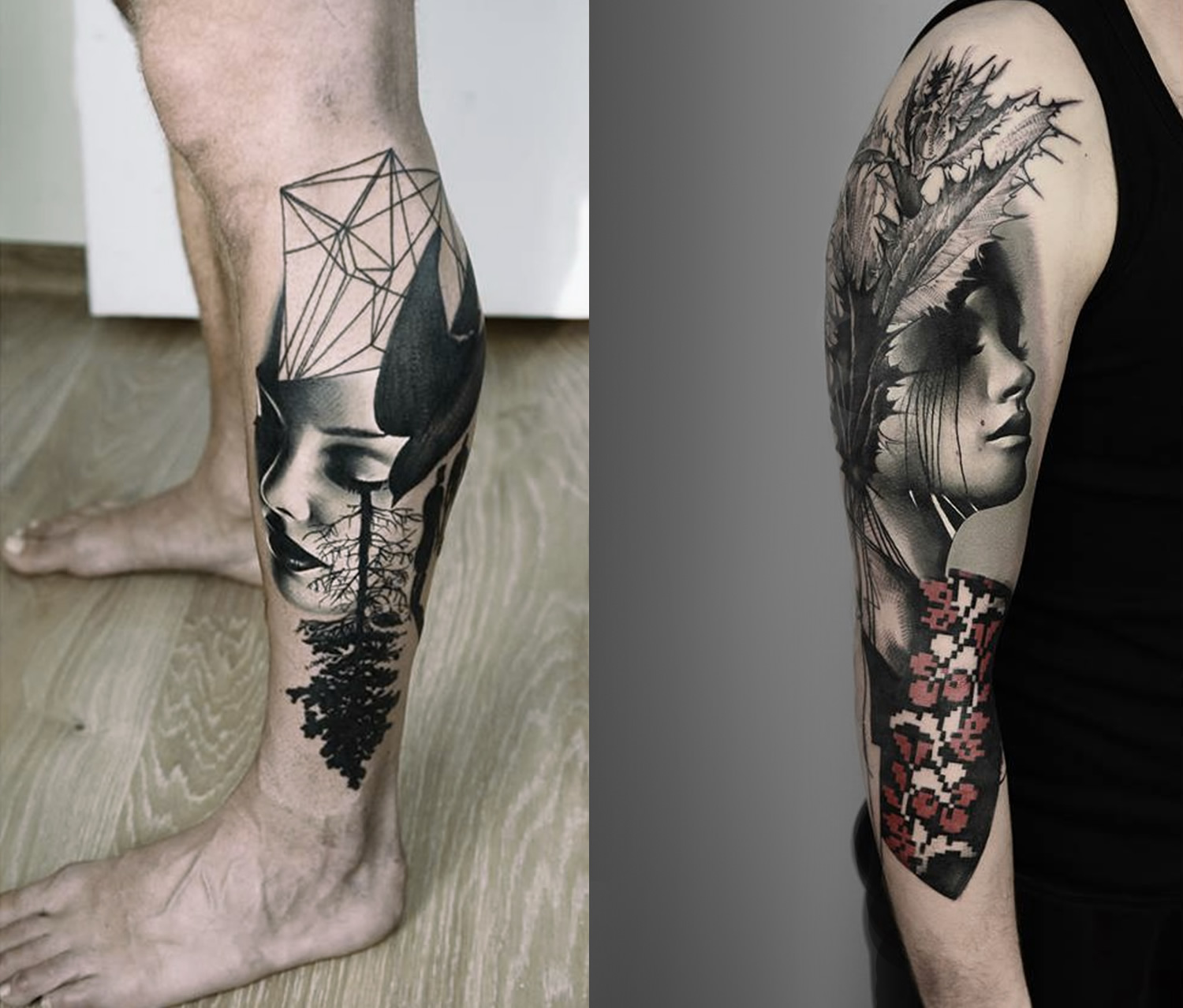 Darkness and beauty are fused gracefully in Lysenko's tattoos.
Timur Lysenko
For the goths and dark art lovers, if you want a cool version of a Death's-Head Hawkmoth, Timur Lysenko is the man to ink it! He's got style, so much that he won "Best Personal Style" at the 9th Anniversary Challenge of Golden Tattoo Machine. His compositions are amazing, his coloring is amazing, and there is just so much to see and appreciate that it is difficult to choose a few examples to share with you. The artist is graphically influenced by surrealism, trash polka, Eastern European folk art, and more.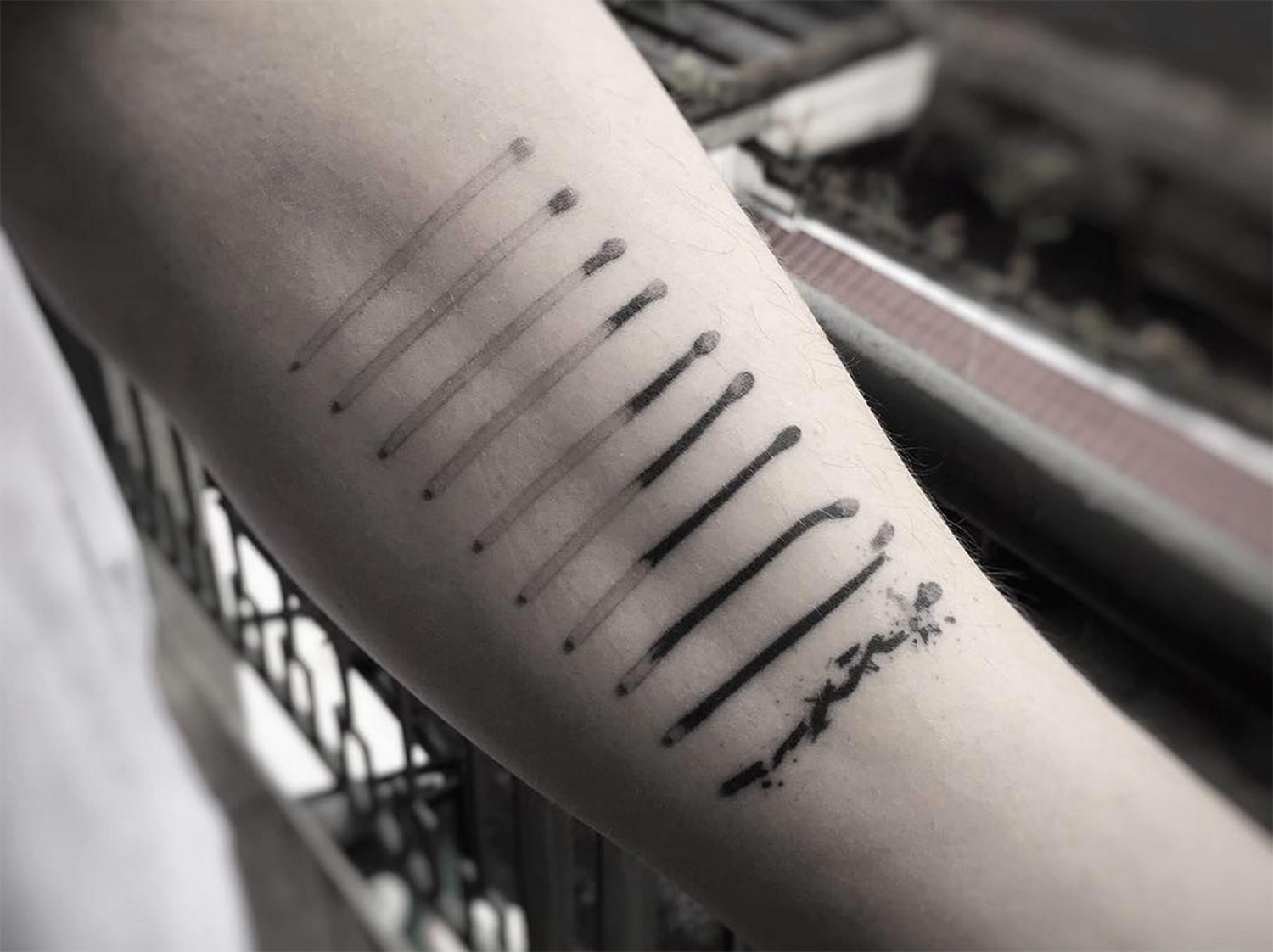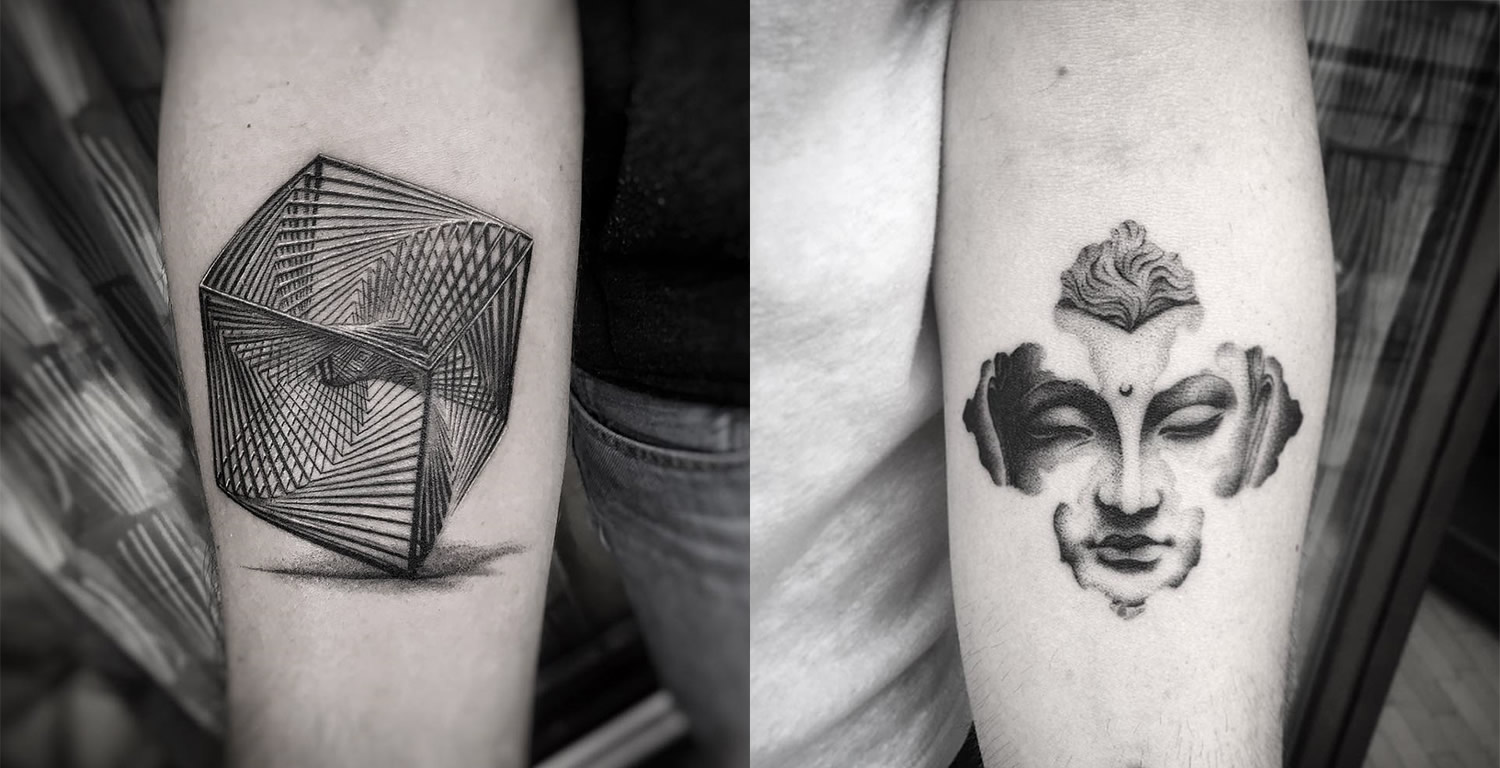 You can't get tired of his tattoos. The exciting news is that Bercsenyi is now working at Bang Bang, NY.
Balazs Bercsenyi
Other than his handsome (model-like) selfies on IG, tattooer Bercsenyi is more than meets the eye. His work definitely speaks for itself: diverse, meticulous, and classy. A lot of his tattoos will last the test of time for its untiring use of black, and linework that is light and spaced out on skin. From a vast collection of micro single needle tattoos to elaborate tigers and vortex cubes, there is something for everyone here.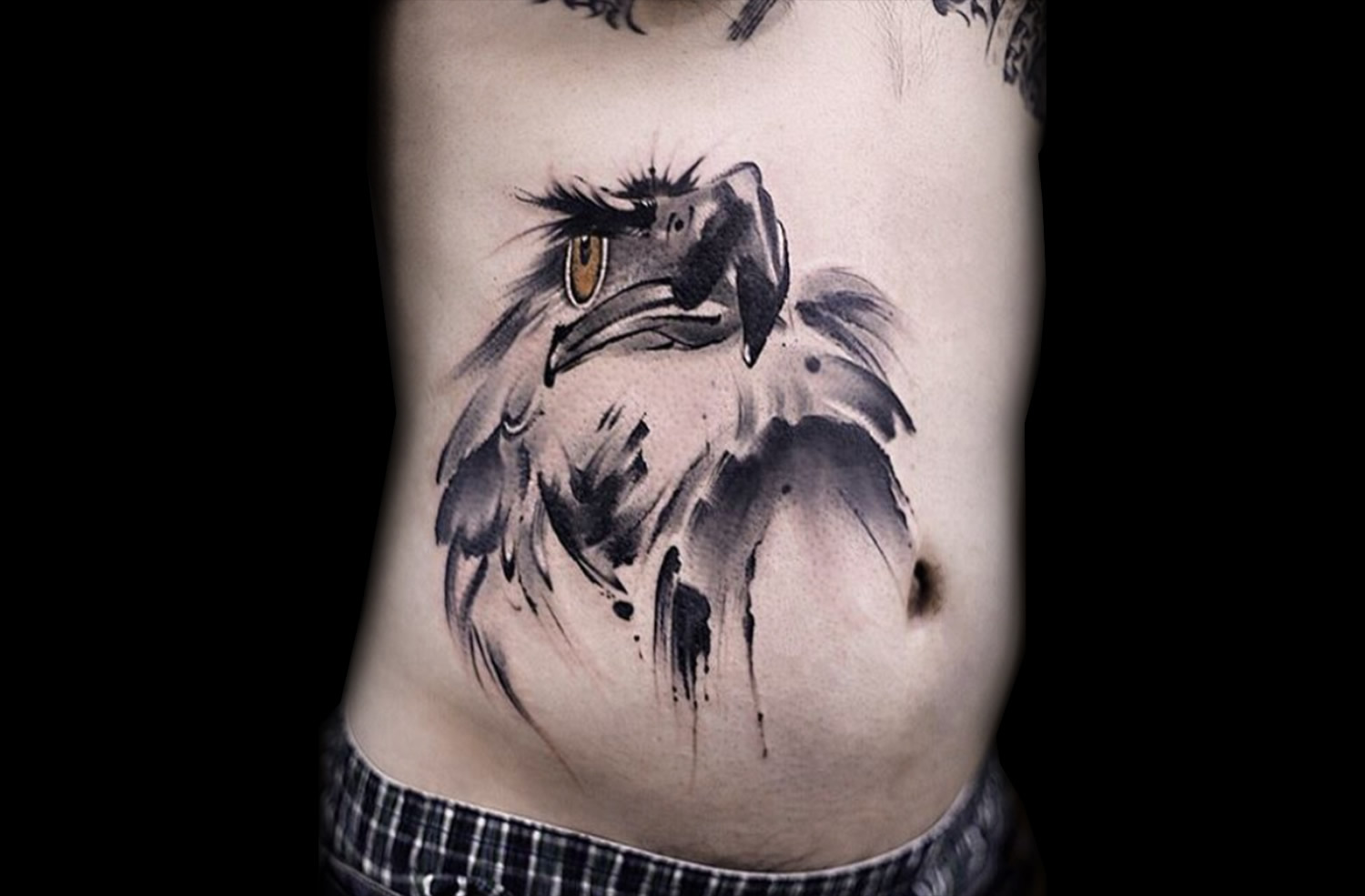 Chen Jie's tattoos are inspired by the traditional technique of brush painting.
Chen Jie
Beijing artist Chen Jie (aka NewTattoo) has been producing tattoo piece after tattoo piece in fascinating record, and of course exciting the Instagram crowd. Her style is East Asian all the way, but specifically reviving Chinese ink wash paintings and calligraphy. It is impressive the fluidity, movement and subtle shading of her works of art.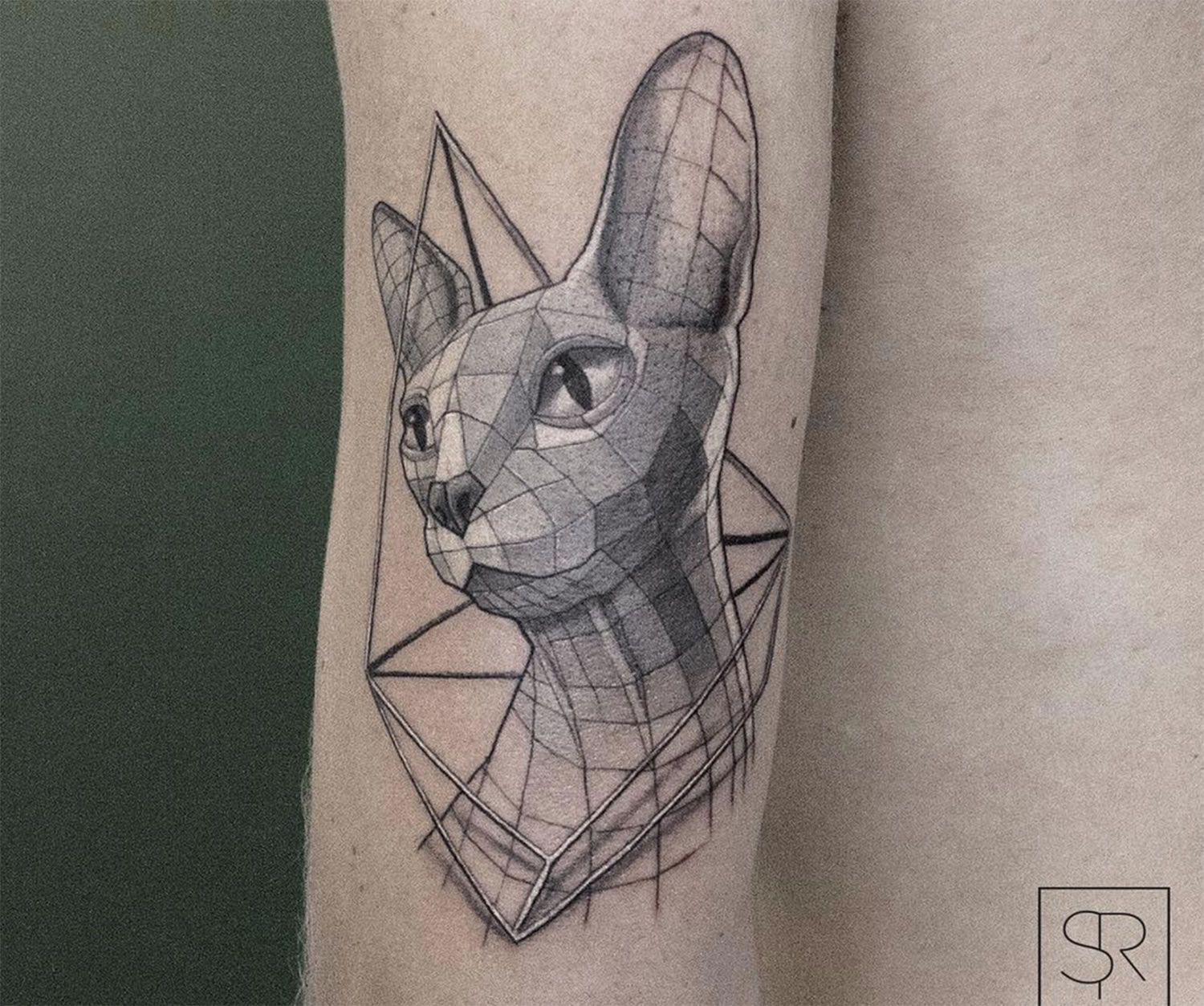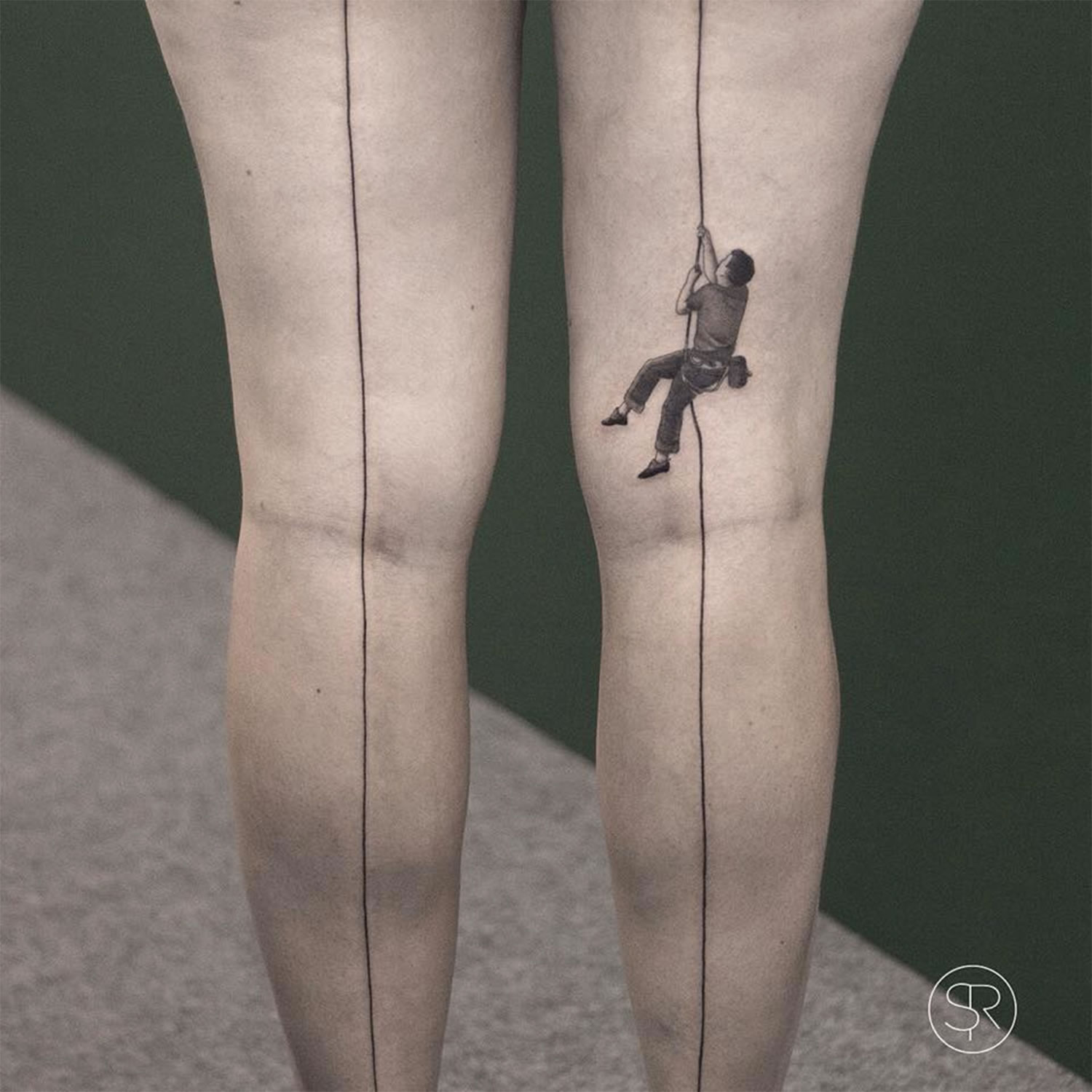 Clever three-dimensional illustrations on skin.
Sven Rayen
What's striking about Sven Rayen's tattoos is his brilliant use of white highlights—from 3D-modelling-type domestic cats to bears, wolves and about every creature in the forest—he adds a bit of shine and extra dimension to them. He understands lighting and shading. And it helps that his art style is sufficiently recognizable with a number of awesome works, like the rope climber (above), bald eagle, sea turtles, and much more.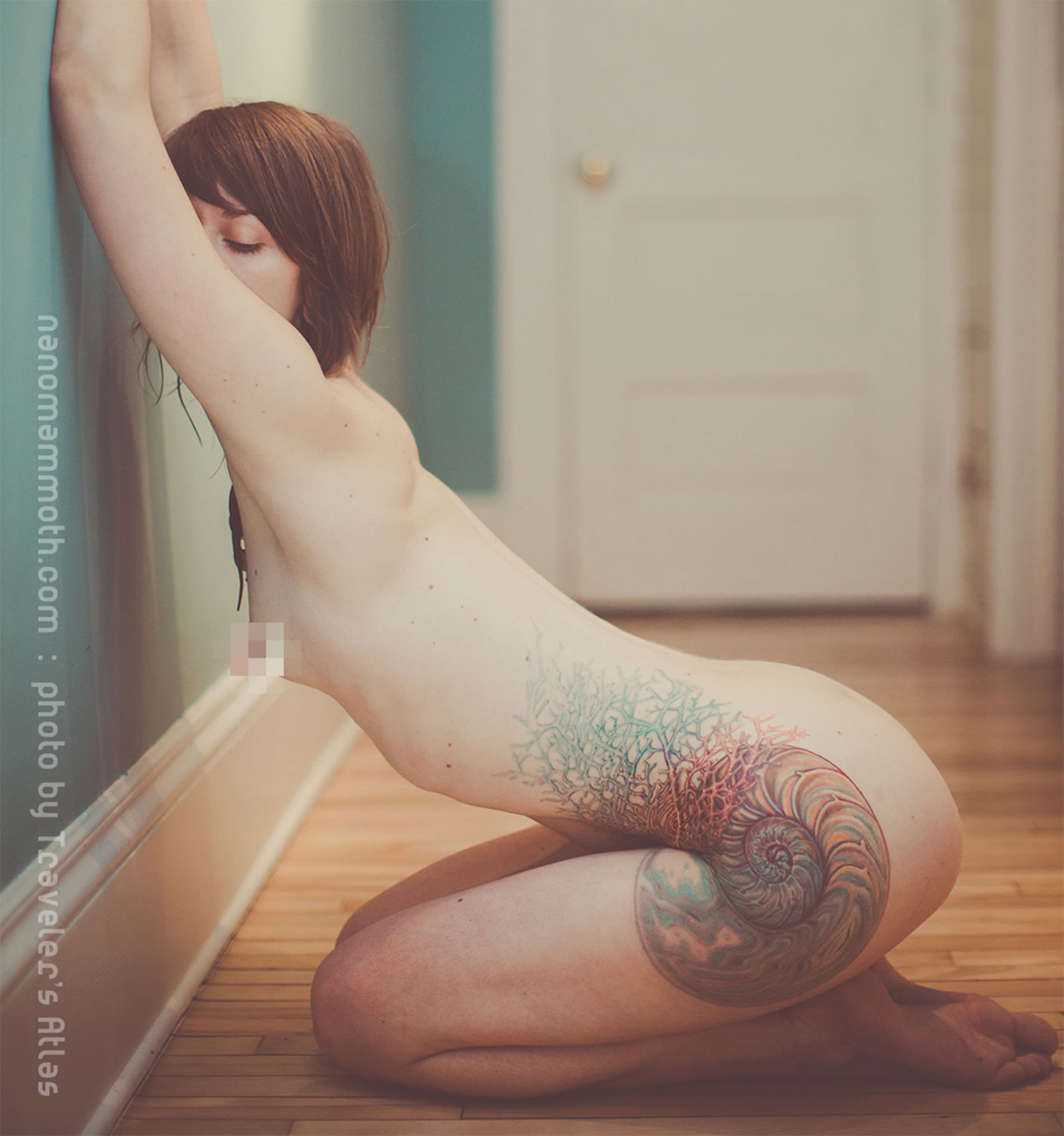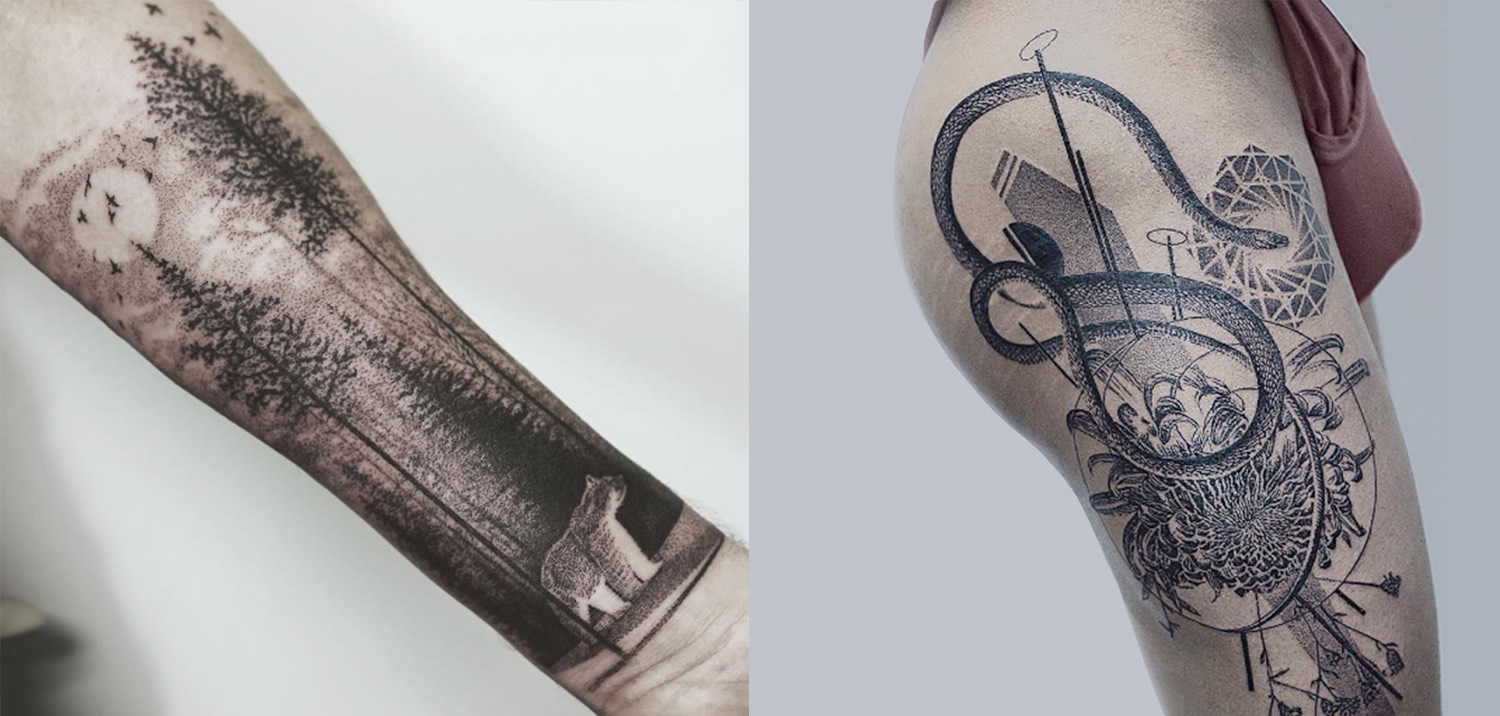 Sinnamond always achieves beautiful and fluid compositions.
Thomas Sinnamond
All his works are originals, and that's what we would expect from an A-list tattooer. Thomas Sinnamond explores versatile concepts and compositions like snakes metamorphosing from geometric shapes, floral engravings, sci-fi scenes, and abstract delights like the ink placed on Morgan's back (our contributing editor). He takes risks in combining elements not typically placed in the same design (like a human heart with a seashell), but it works well, because he creates seamless transitions with interconnecting graphics.
Images © respective artists.