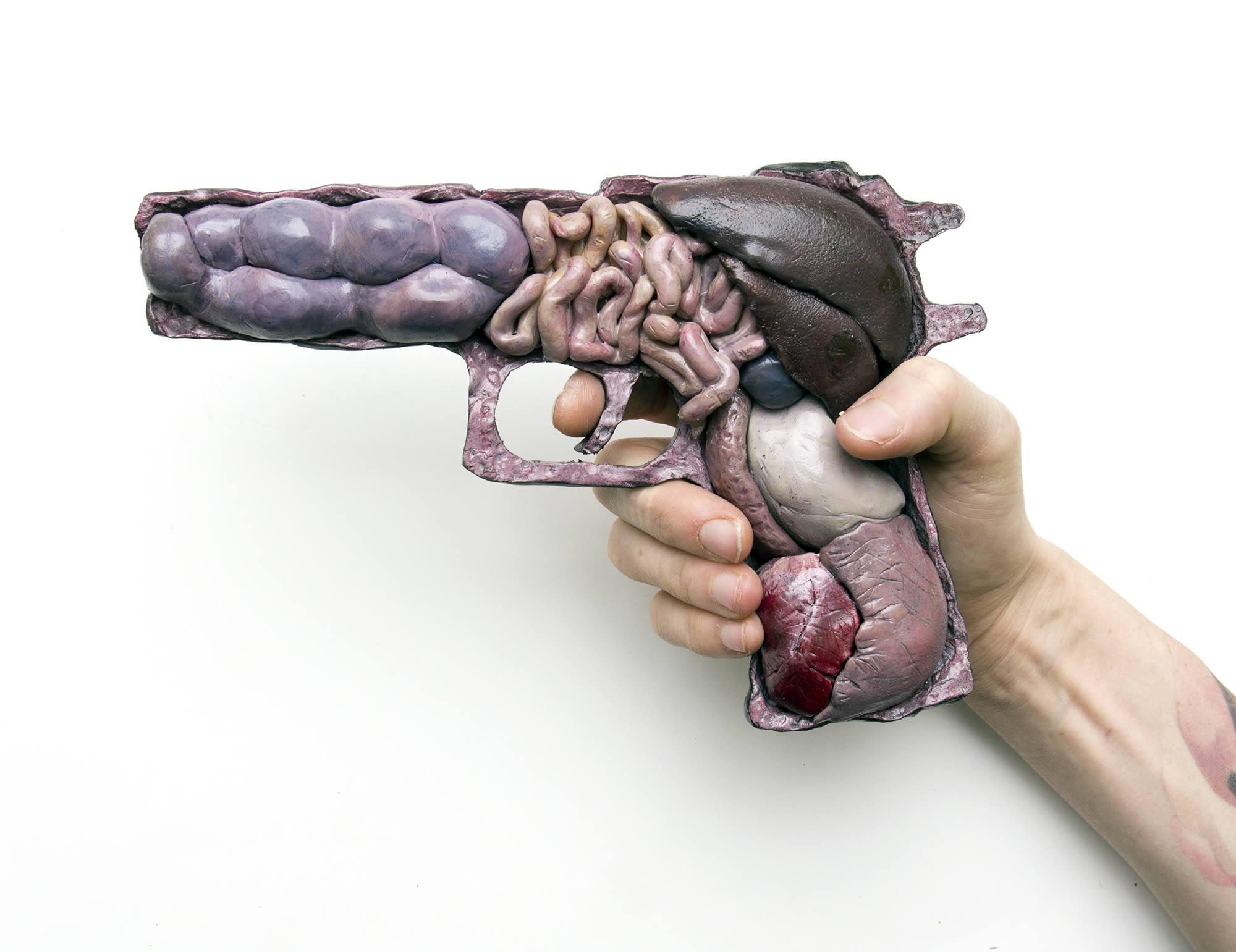 With so many innovative creators in the world, it should come as no surprise the amount of fantastic submissions we received in 2015.
Our community members have shared projects they've labored over and poured their hearts into. This year, the submissions were very diverse: tattoo art, spray painting, origami, short films, industrial design, and jewelry were represented.
Whether the works are of photorealistic tattoos, Day of the Dead-inspired playing cards, stylish short films, or wet folded origami, all of these pieces have one thing in common: they offer new perspectives on art and design, and do so in a way that's exciting and engaging. They ignite our imagination and show us creative possibilities we might not considered otherwise.
Top: Noah Scalin created a gun with human insides that's devoid of a brain.
Sunny Bhanushali's selective use of white tattoo ink makes the scraggly whiskers visually pop.
The Old Man
Mumbai-based tattoo artist Sunny Bhanushali has created a hyperrealistic portrait that looks as though it's jumping off the skin. With subtle shading and a few key highlights, Bhanushali conveys feelings of hope and longing, as the old man gazes upwards towards the heavens. This is keeping with his overall tattoo philosophy—that body art is a personal expression born in the mind and soul, but comes alive on the body.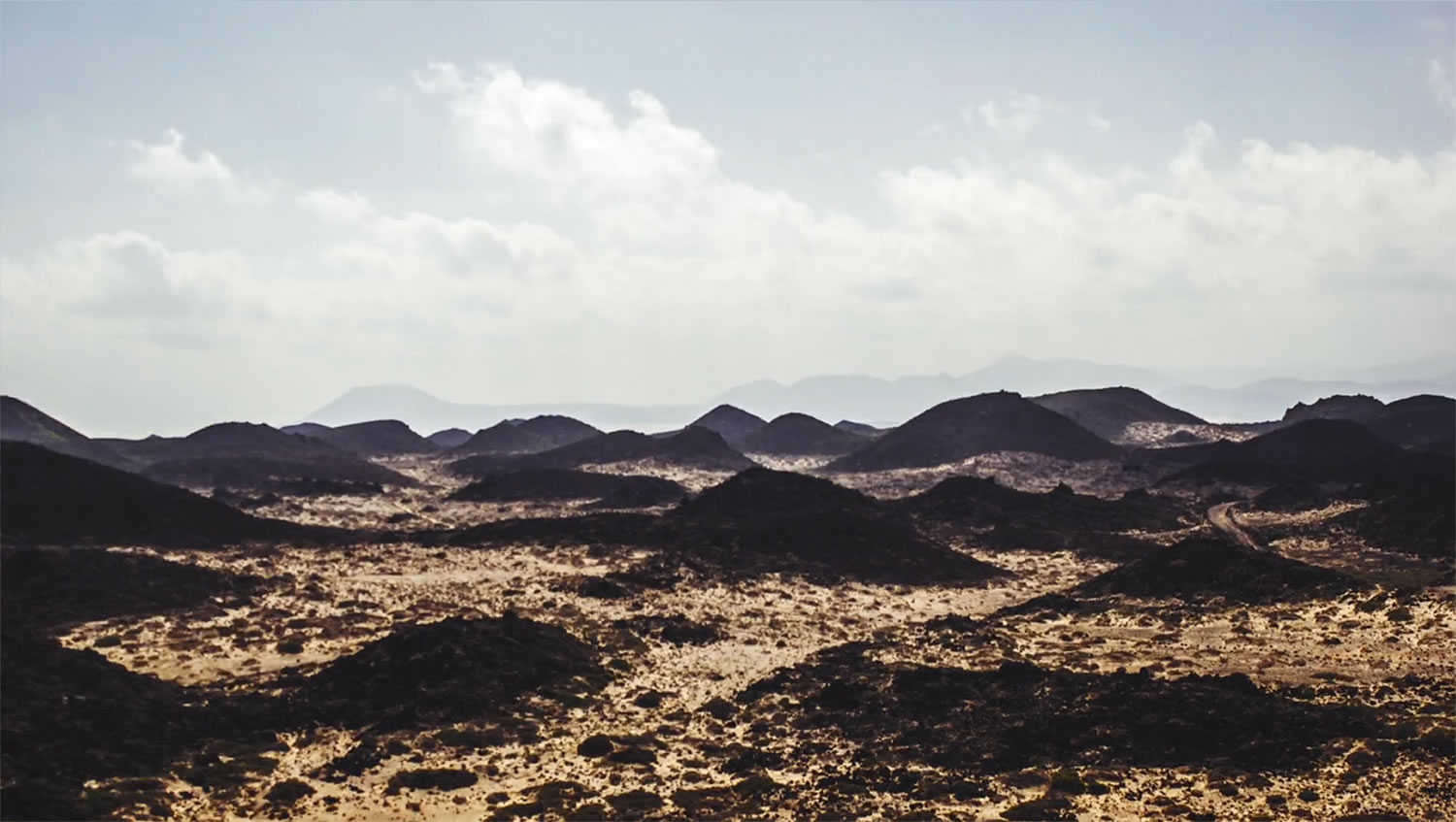 This video wants you to exercise your intuition.
Anima Mundi
The short film "Anima Mundi" by Lorenzo Marzocca was produced to send a message to the people. Beautifully shot, the video oscillates between tranquility and calamity, highlighting the power and beauty of nature. "Now is the time to unleash the creative capacity of our intuitive intelligence, over-looking the specific and the particular," he explains. "Let us raise the imagination beyond the stuffy rooms of a single disciplinary vision. Finding, ultimately, the ability to integrate and to process thoughts in a way that are typical of the human dimension."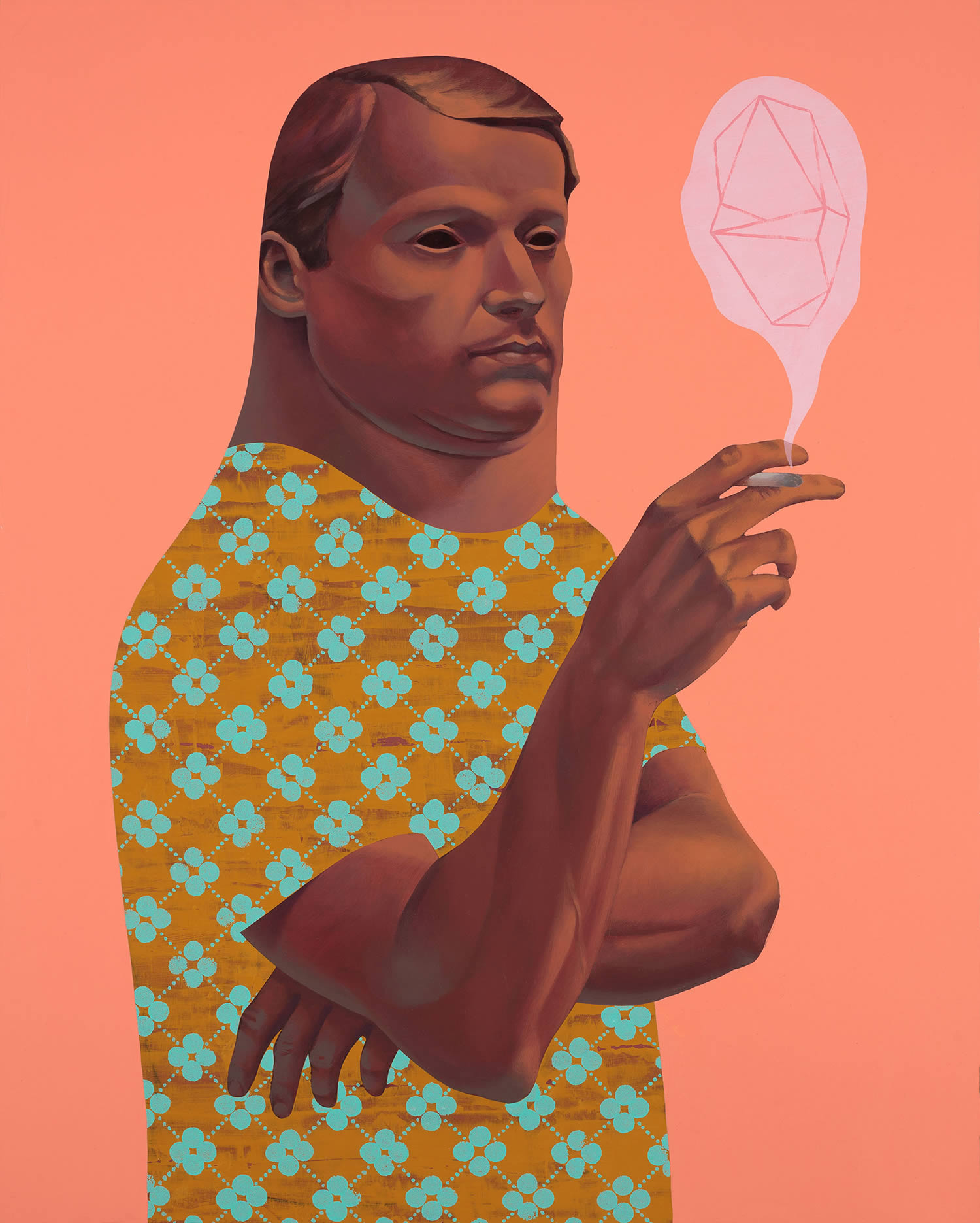 A man seems to be having a conversation with his cigarette smoke.
Foundation of Everything
Artist Michael Reeder created the piece "The Foundation of Everything" focusing on the convergence of infinite space and the figure. "Through this fusion of space," he explains, "I highlight the realm of contemplation located between the conscious and the subconscious mind." The artistic style, which combines realism with flat, graphic patterns, is seen throughout Reeder's portfolio, including large-scale murals that brighten the urban landscape.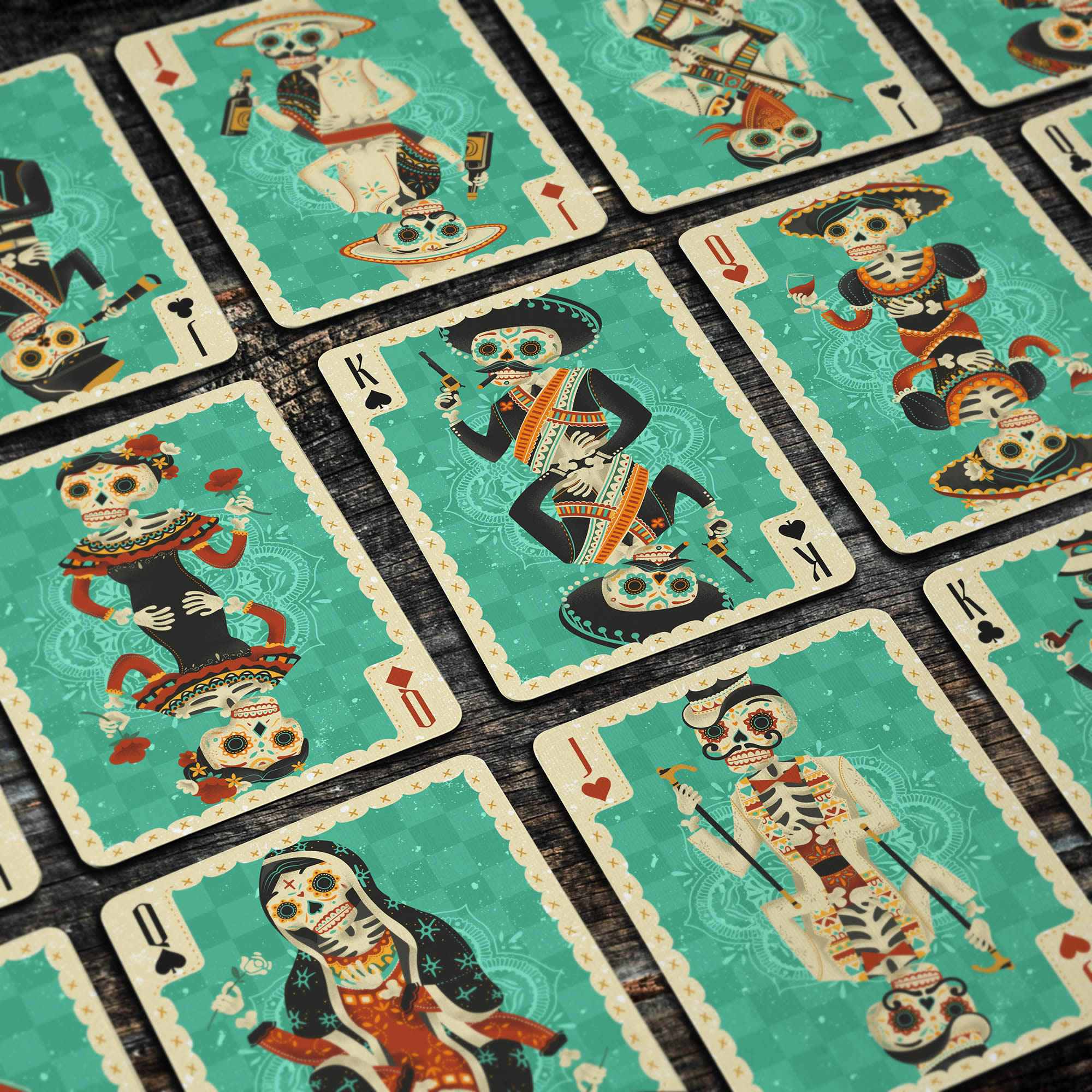 The case for these playing cards included a custom gold-stamped seal.
Fuego!
Design studio Cellar Window created a set of Day of the Dead playing cards called "Fuego!" Each colorful design is heavily detailed, inspired by the Mexican political printmaker José Guadalupe Posada and his Calaveras, in addition to the Latin phrase "Memento Mori." It is a vivid reimagining of standard playing cards, and they visually entice you with lively characters and intricate textures. To make this project a reality, Cellar Window took to Kickstarter for funding, and proved successful—"Fuego!" was printed in October.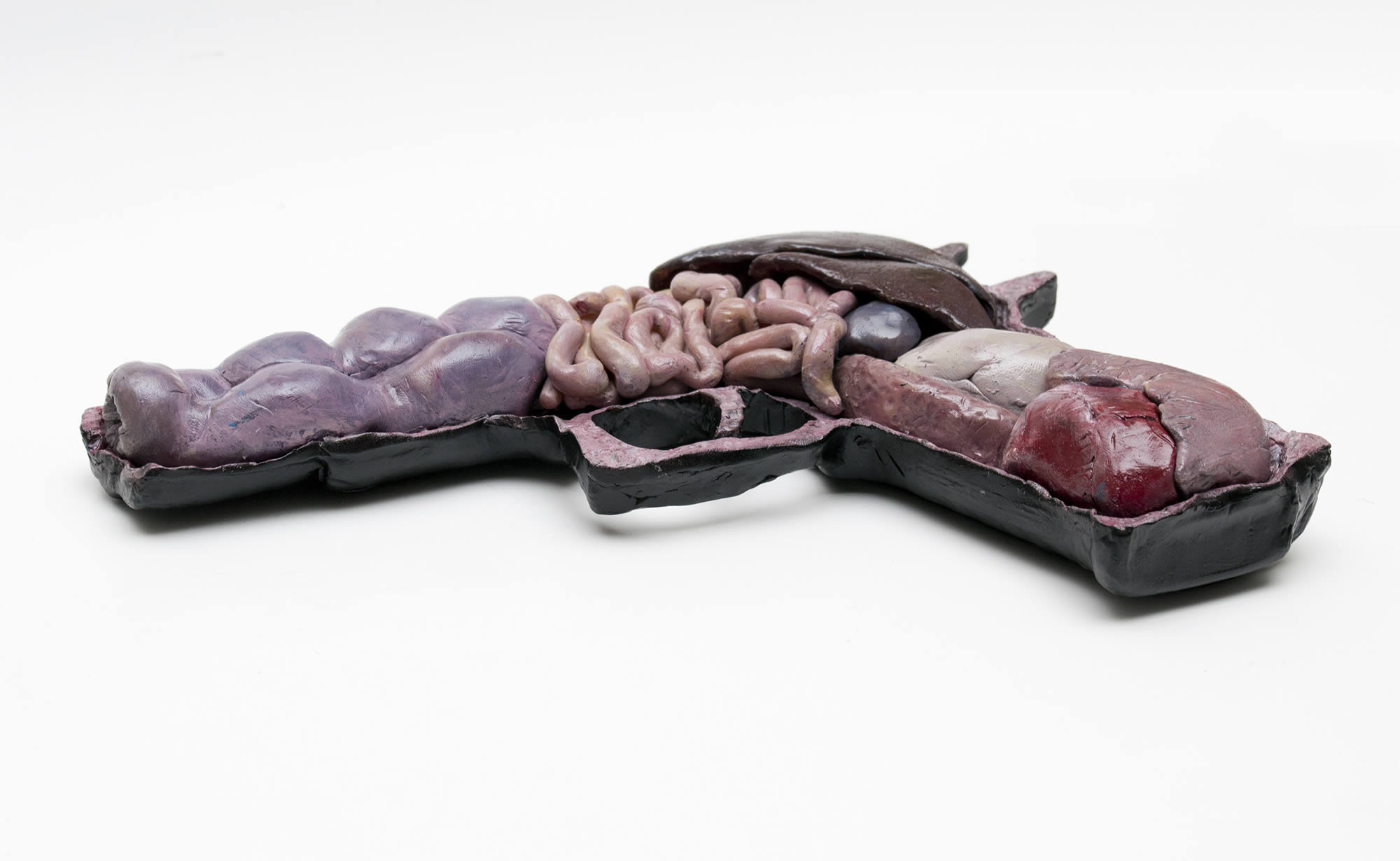 The Smith & Wesson is one half of Scalin's "Anatomy of War" series. He also produced an AK-47 in the same style.
Anatomy of War: Smith & Wesson
Artist Noah Scalin reminds us that the anatomy of war isn't guns, but humans. Clinically dissected, this Smith & Wesson firearm is a reminder of the lives that it can potentially take. Guns become a physical extension of those who use them. The one thing they lack, however, is a brain.
This submission is a departure from Scalin's well-known project titled "Skull-A-Day," which was the subject of his 2008 book titled "Skulls."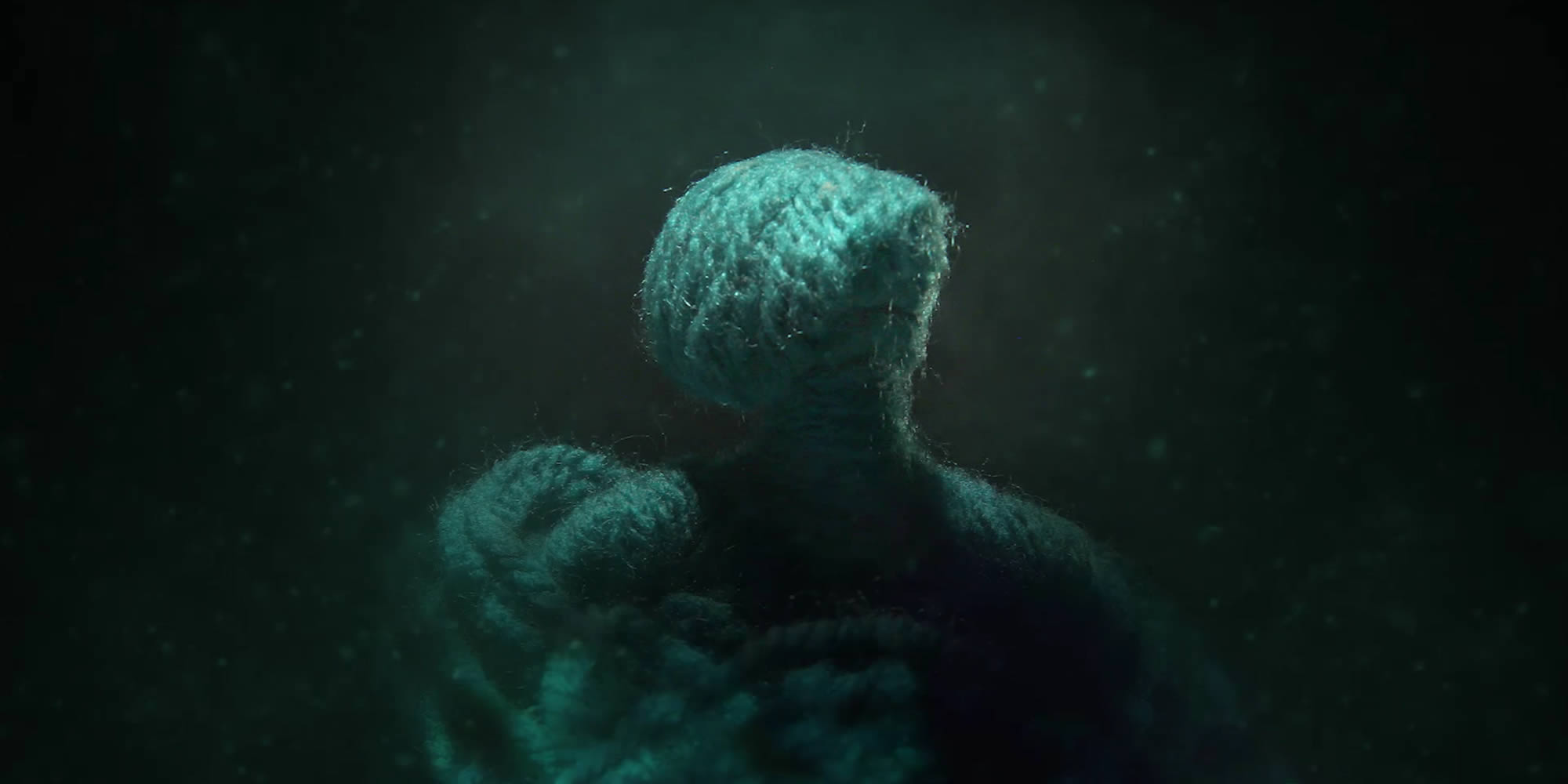 Vogman's short movie has traveled multiple festival circuits.
A Way of Being
Kobi Vogman conveys the comfort of the familiar (and the doubts we have about leaving it) in his short film titled, "A Way of Being." The minimalist animation comprises only two characters—a wool figure and a beloved wooden bench—but it manages to depict conflicting emotions in a way that's elegant and relatable. The idea for the film came from Vogman's own experiences and the major changes happening in his life. "It was time for rebirth and for real change," he explained in an interview, "so I started searching for simplicity in every aspect of my life, looking for the core of everything."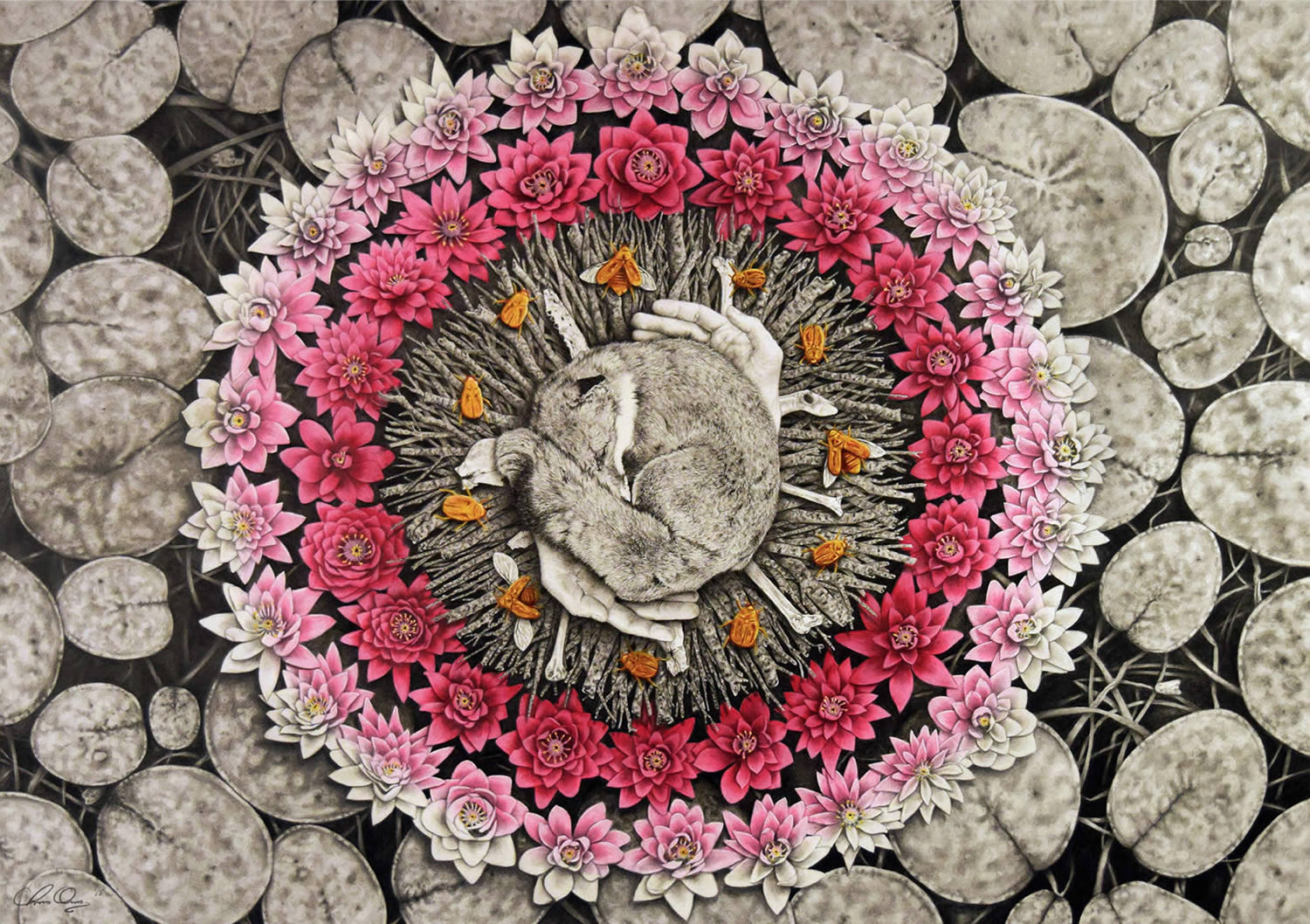 A combination of graphite and acrylic give Chris Ams' illustration a soft-yet-realistic feel.
Equanimity
Artist Chris Ams is captivated by the underlying symmetry of the natural world. This fascination is reflected in his work, especially his piece "Equanimity." The mandala-like image radiates from the central animal figure, and Ams likes to add small, contrasting elements for visual excitement.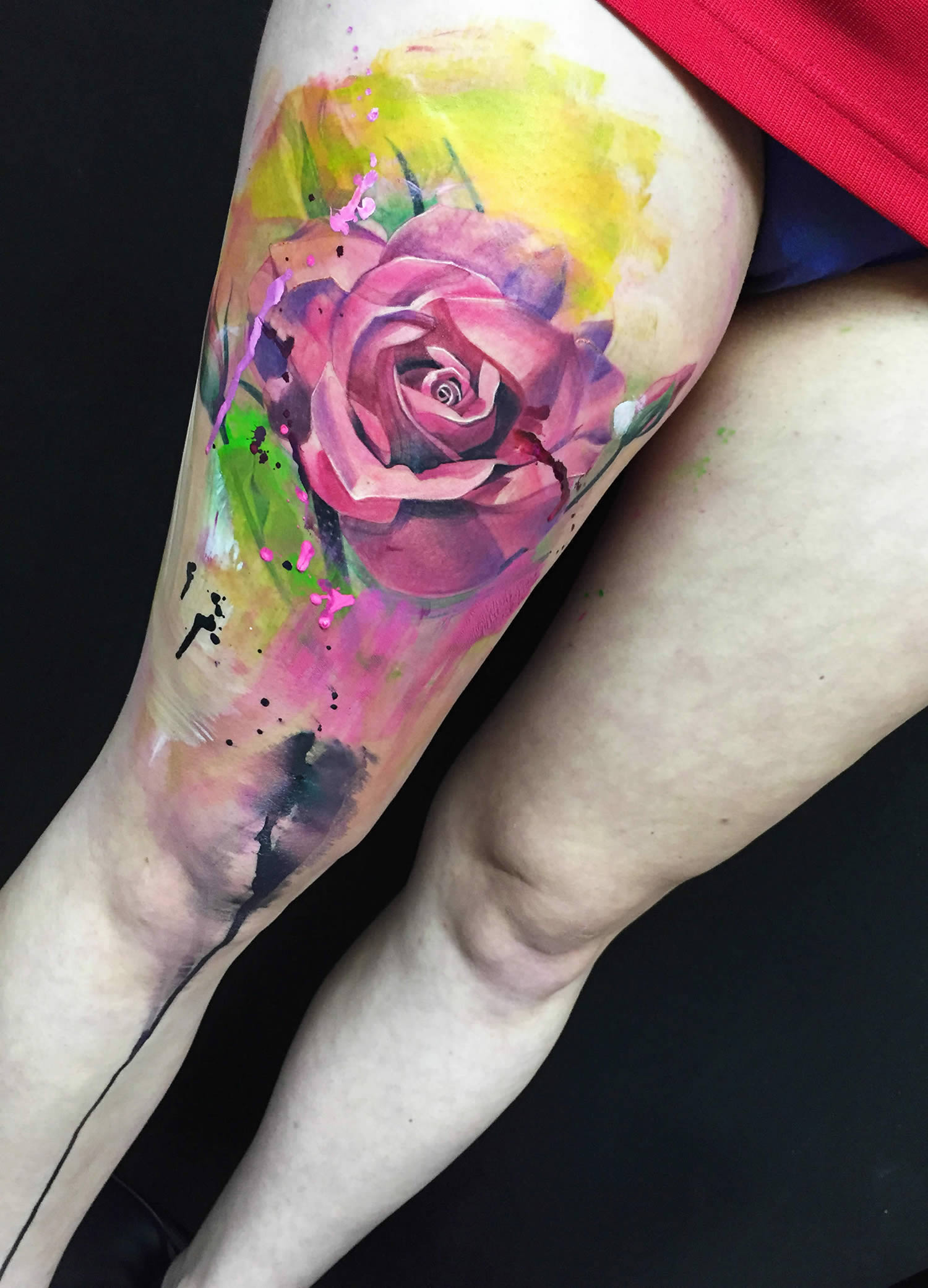 This vibrant watercolor-style tattoo mimics the carefree fluidity of actual paint pigments.
Watercolor Rose
Self-taught tattoo artist Ivana Belakova has described her tattoos as an "organized mess," creating a collision of color and line work that's completely freehanded on the skin. This spontaneity produces vibrant, chaotic pieces inspired by graffiti that's mixed with some fine art sensibilities. After the popularity of her submission in January 2015, we ended up doing an interview with her. Read it here.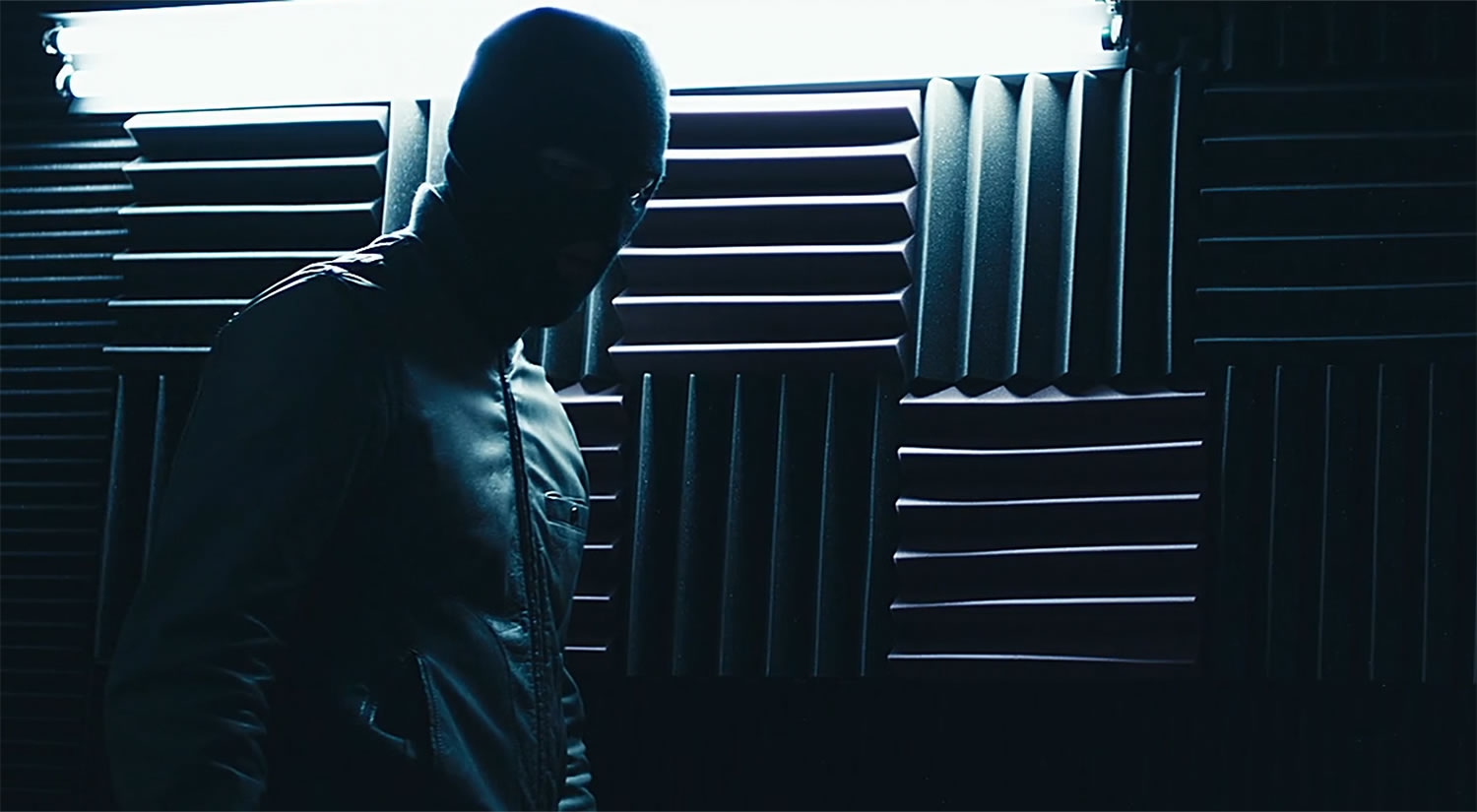 TJ Andrade's film blurs the line between movie and music.
Eisbrecher
TJ Andrade directed a video for Parallel 41's track "Eisbrecher." Dark, dramatic, and stylish, the short film features a vigilante character who has a vision of a woman being held against her will in the basement of an apartment building. It perfectly captures the mood of "Eisbrecher."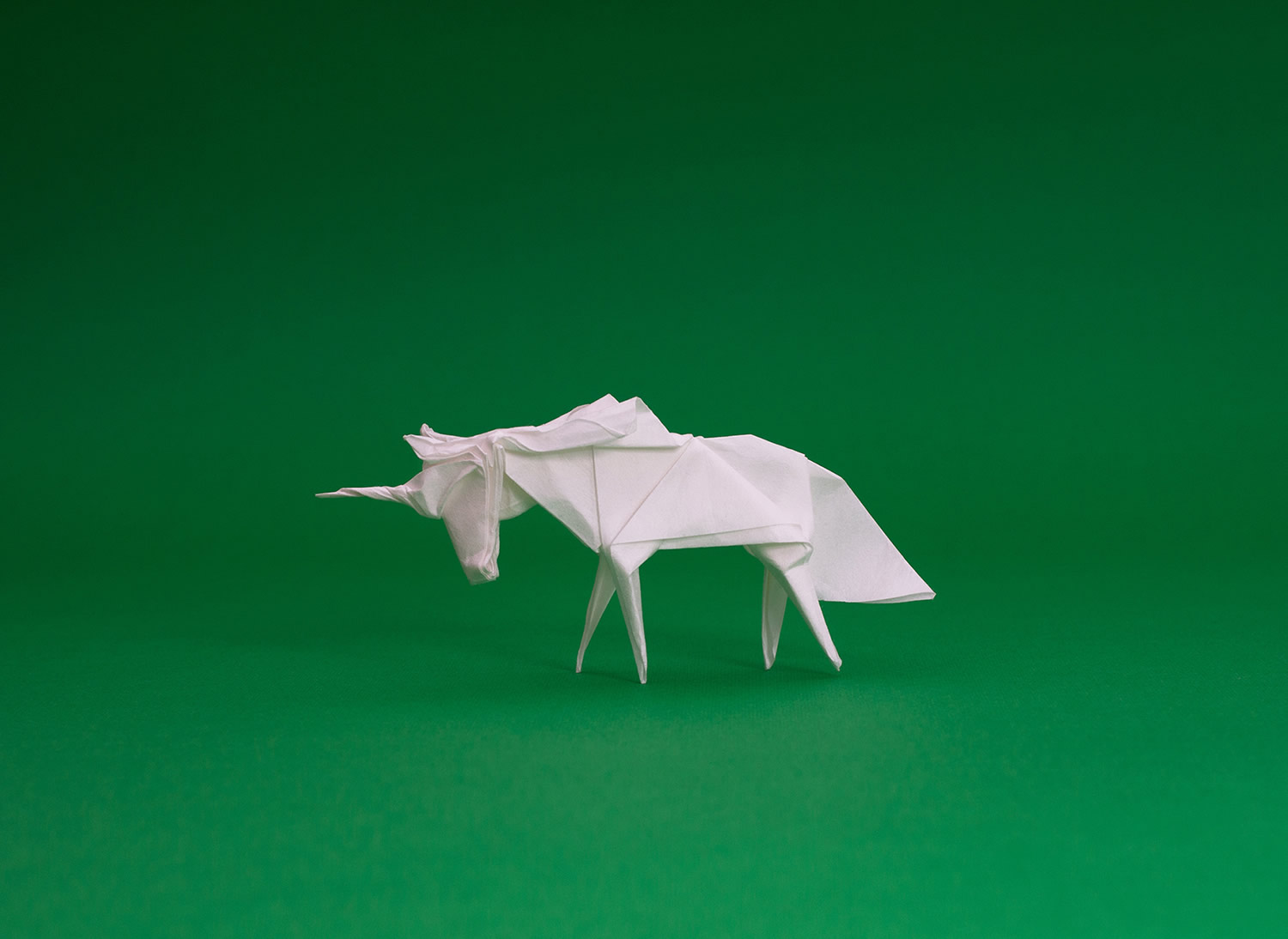 Symons enjoys experimenting with different types of paper in his designs.
Unicorn
Ross Symons designed and folded this mythical creature. To capture its flowing tail and mane, he used a combination of twisting and folding, prepping washi paper with wallpaper glue to give it strength and body. It's simple yet exquisite in execution, and according to Symons, took him 45 minutes to complete.
Images © respective artists and studios.