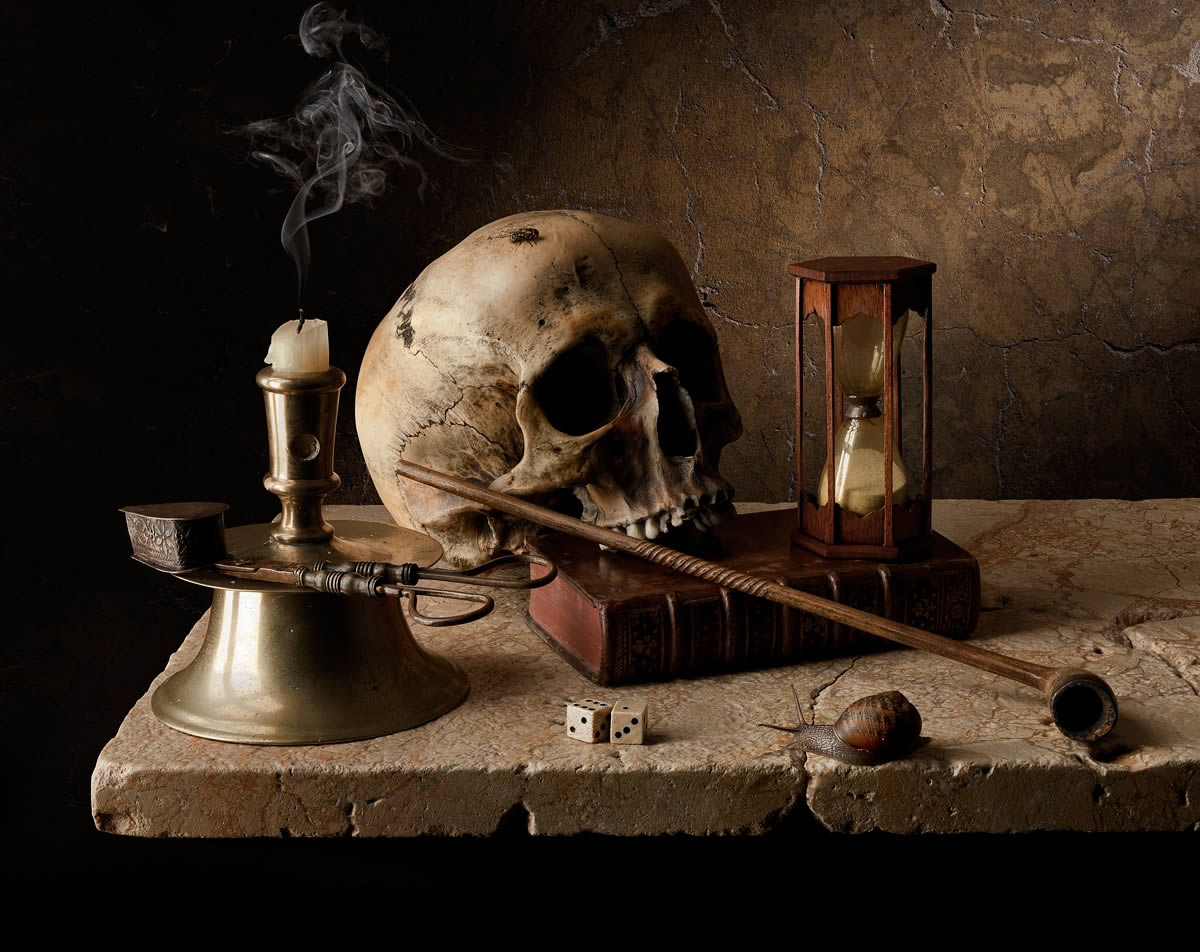 Skulls remind us of what strangeness exists just beneath the armour of flesh. They are also pure emblems of death. In art "Memento mori" pieces symbolize our morality and death's relationship to life. "Memento mori" translates from the Latin as "remember to die."
American illustrator, Charles Allan Gilbert (1883 – 1929), produced an acclaimed set of drawings centred on themes of the memento mori. "All is Vanity" is the most famous example. Based on a quote from The Bible, the drawing is a playful optical illusion depicting a young woman staring into a mirror. Her body, the reflection and the table join to form a human skull.
Top: "Vanitas" by Kevin Best is directly inspired by the Dutch masters.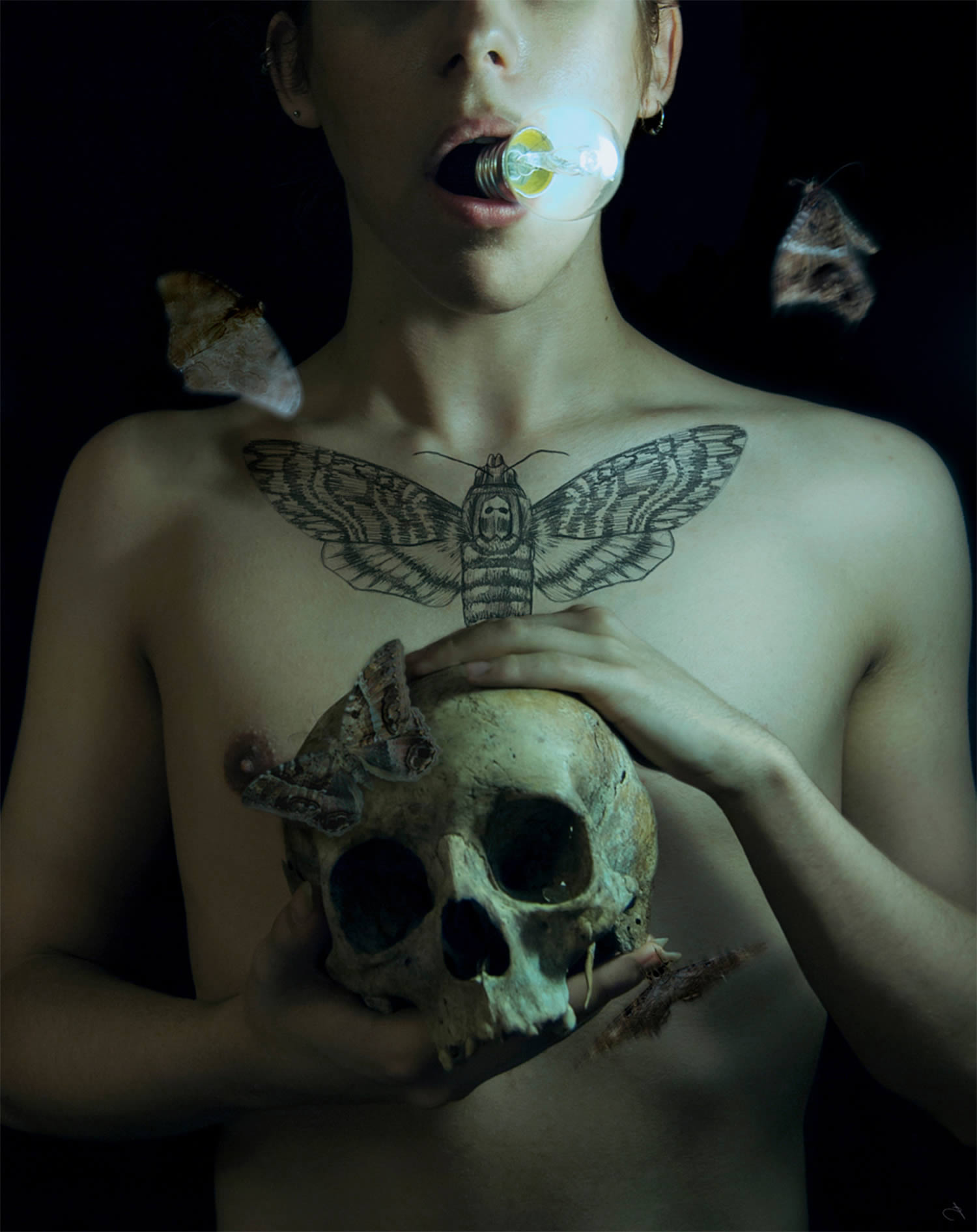 The Death's-head hawkmoth has enthralled artists because of its sinister associations.
Death
The Death's-head hawkmoth is heavily associated with the supernatural and evilness. The photograph and its composition, by Tadzio Autumn, is inspired by the movie "The Silence of the Lambs" (1991), in which a serial killer places a cocooned moth inside the throats of his victims. The imagery symbolises that life can spring from death.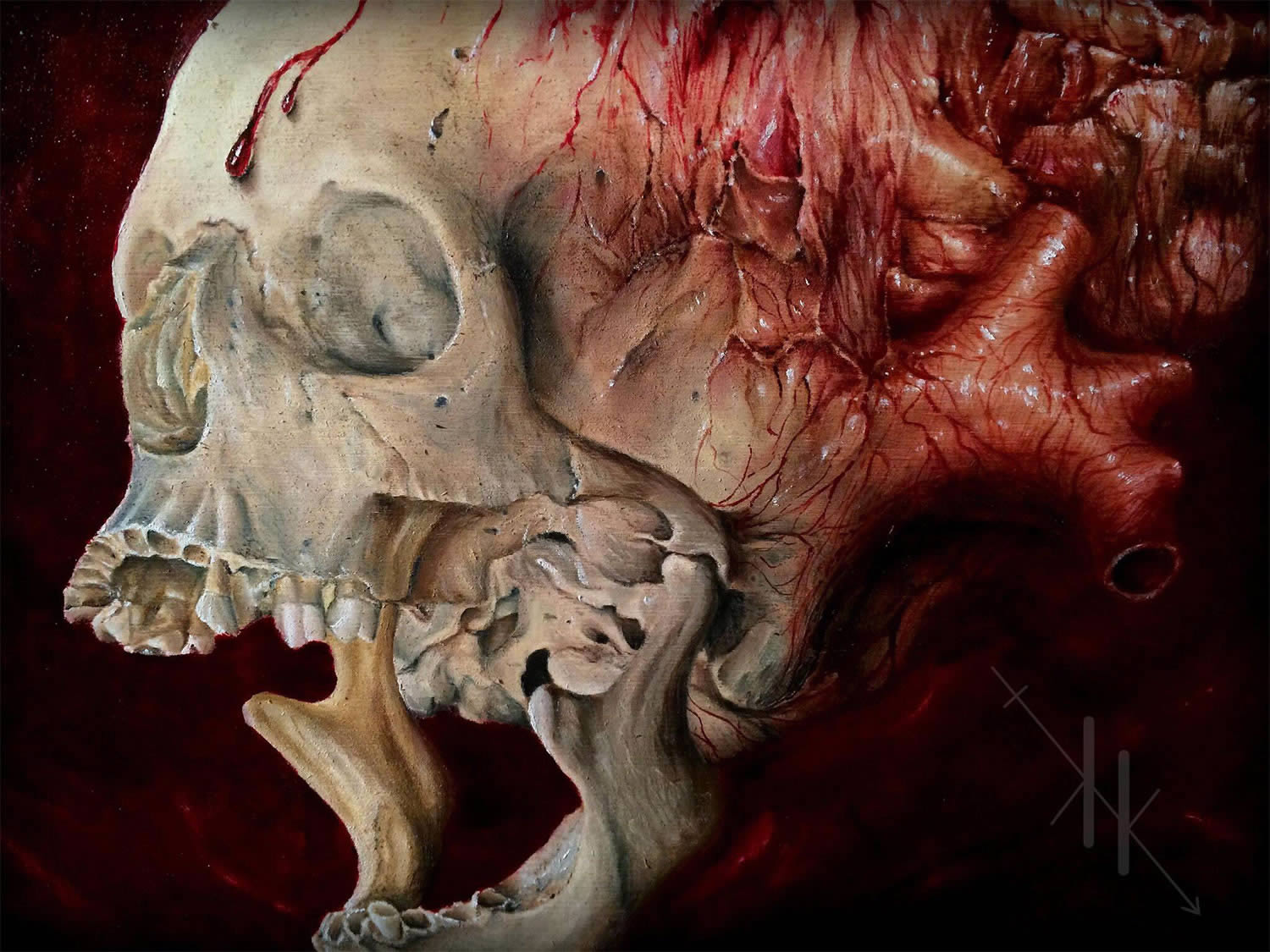 Artist Kit King is interested in hyperrealism and collaborates frequently with her husband, a fellow artist.
HeartSkull
Kit King's gory oil painting takes traditional memento mori imagery and gives it a unique and bloody spin. The use of intense, vivid crimson, the milky color of the skull, and the dramatic lighting invokes 17th century "Vanitas" art. The skull is fused to heart tissue with the mouth agape as if screaming out. It's quite disturbing and violently surrealist with the artist's attention to anatomy and bone structure enriching the piece.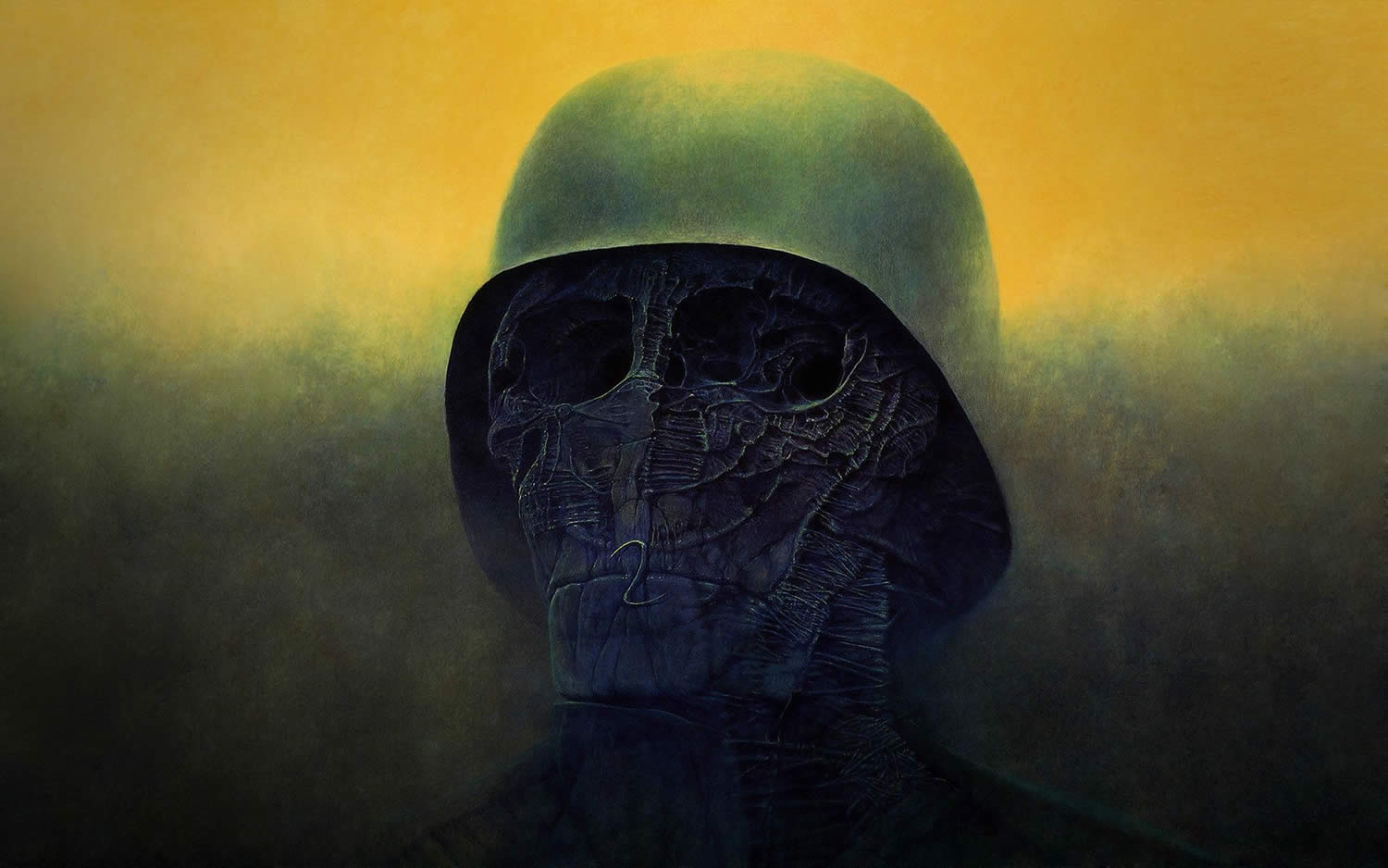 ZdzisĹ'aw BeksiĹ"ski's surrealist works invoke a feeling of gothic horror and nightmare.
Untitled
ZdzisĹ'aw BeksiĹ"ski's bleak works defy simple categorization. In "Untitled," however, there is a certain amount of political and historical resonance. Perhaps, due to the artist's own wartime experiences and a life marked by tragedy. The petrified wooden face without human features, the worm-like hook forming what could be the letter "Z" and the army helmet immediately brings to mind the terrors of Nazism. The softly abstract, almost Rothko-like, background is an extra eerie touch.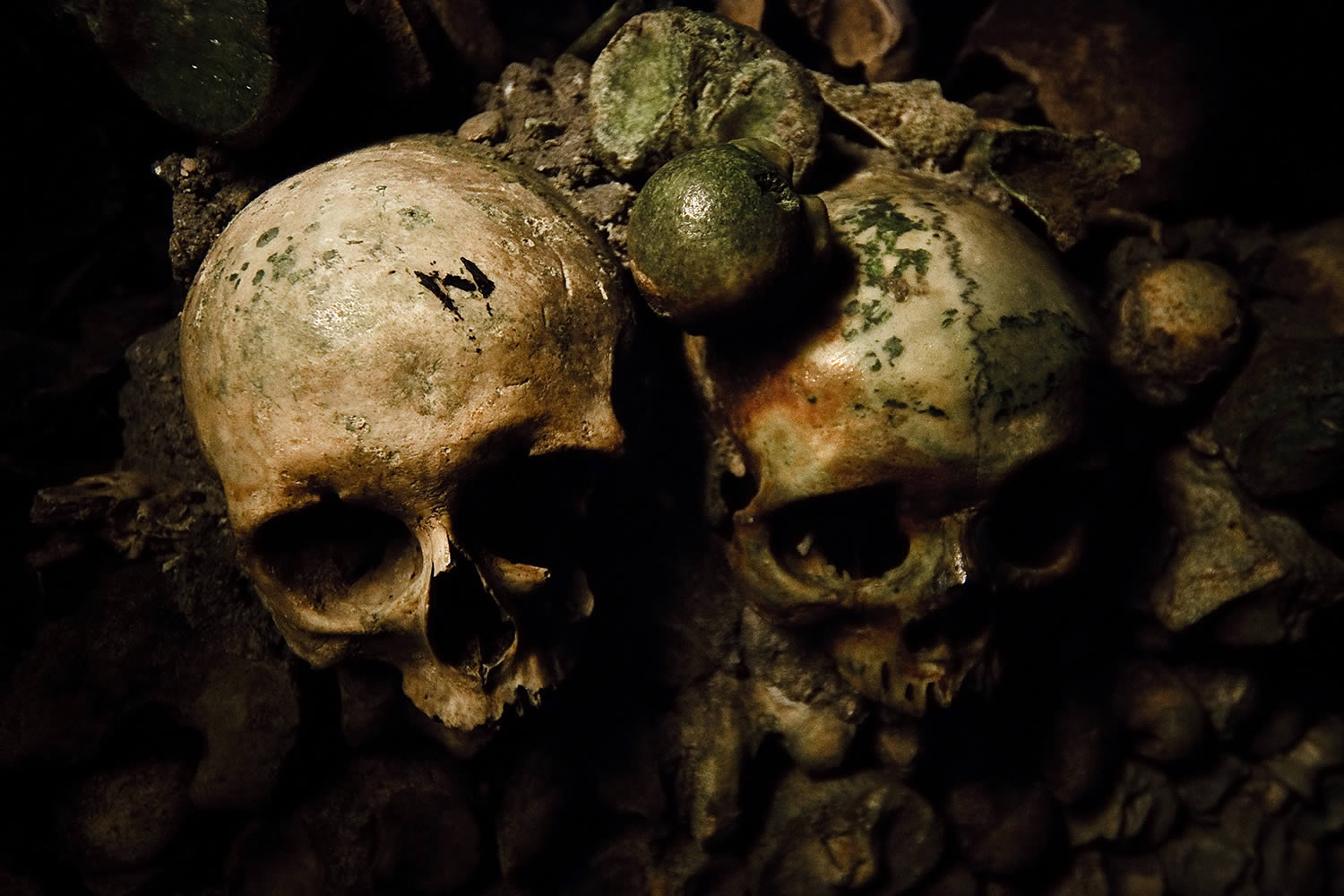 It is easy to forget that the skulls in Robert Kent's composition were once people.
Memento Mori
Photographer Robert Kent found inspiration for his take on the memento mori in the famed catacombs beneath Paris. The composition references Medieval and Flemish "Vanitas" art of the 16th and 17th century. The split lighting also lends the image a grungy, sickly look. The green, putrid markings on the skulls, bones and earthy textures combine well. It's a vision of death, decay and time that is quite disturbing.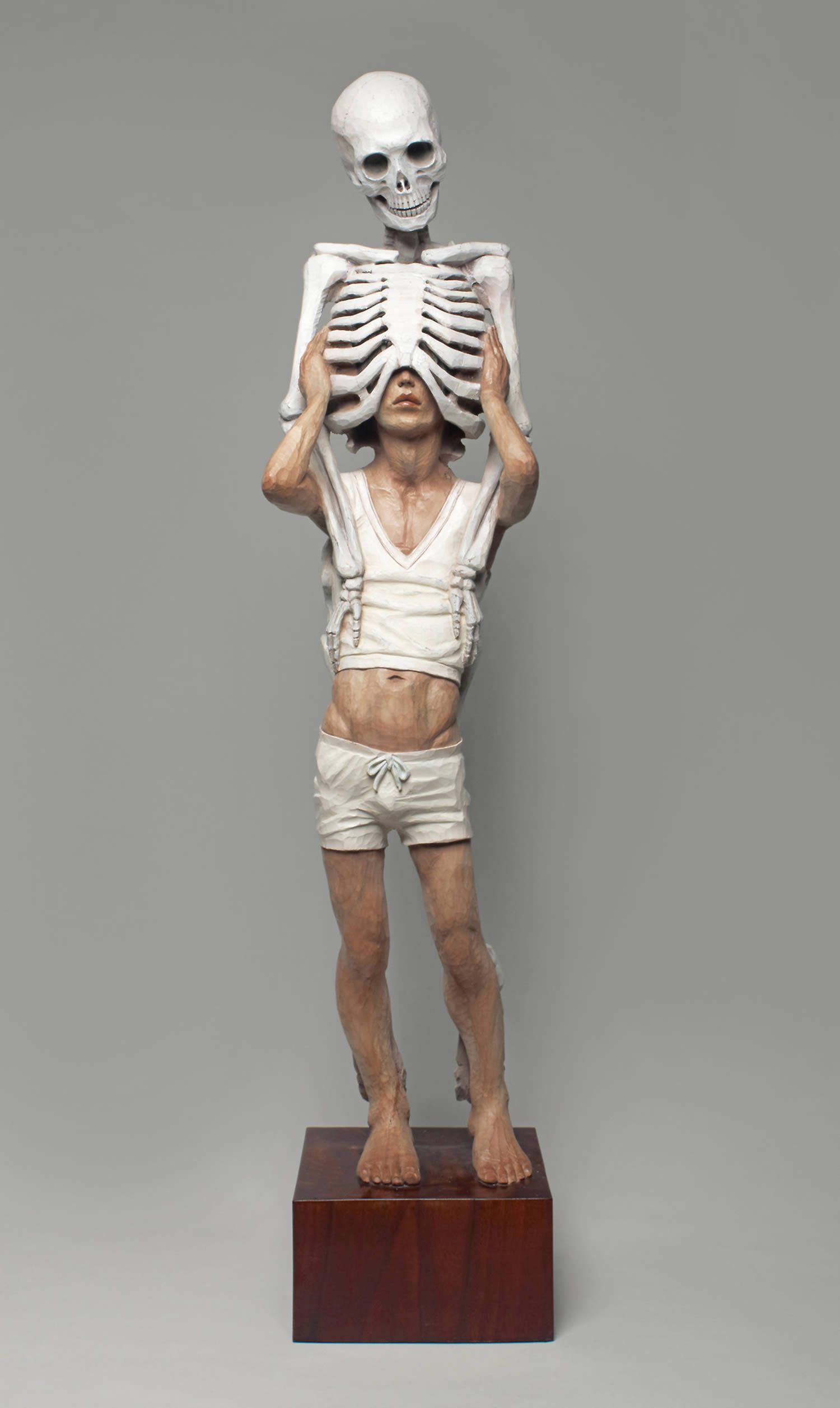 Yoshitoshi Kanemaki's wood sculptures probe the two biggest questions we face as human beings.
What's Life? What's Death?
The surrealist sculpture by Yoshitoshi Kanemaki questions "What's life? What's death?' But it's not at all thematically heavy, or even frightening. The paint on camphor wood sculpture captures these searching questions and the answer is ambiguous. Is the skeleton clasping on to the torso as a reminder of our mortality, or is the human figure itself in the process of dying?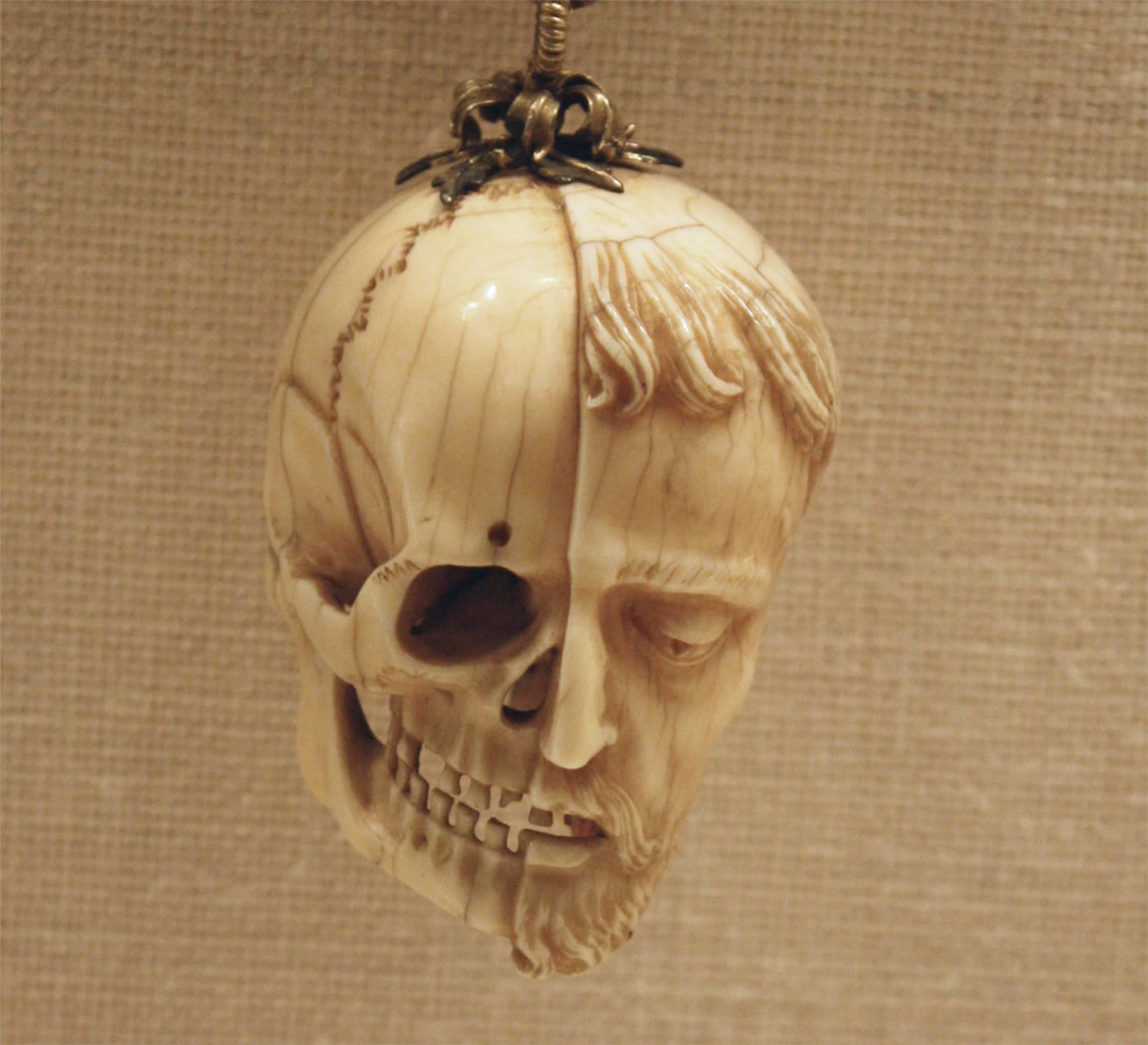 Ivory Memento Mori
Carved in Germany between the years 1500-1525, this Ivory rosary with a gilded silver chain is a representation of how intimately life and death were connected by the act of praying. The face is split between flesh and bone as a reminder that a good life leads to a good death and the splendour of heaven.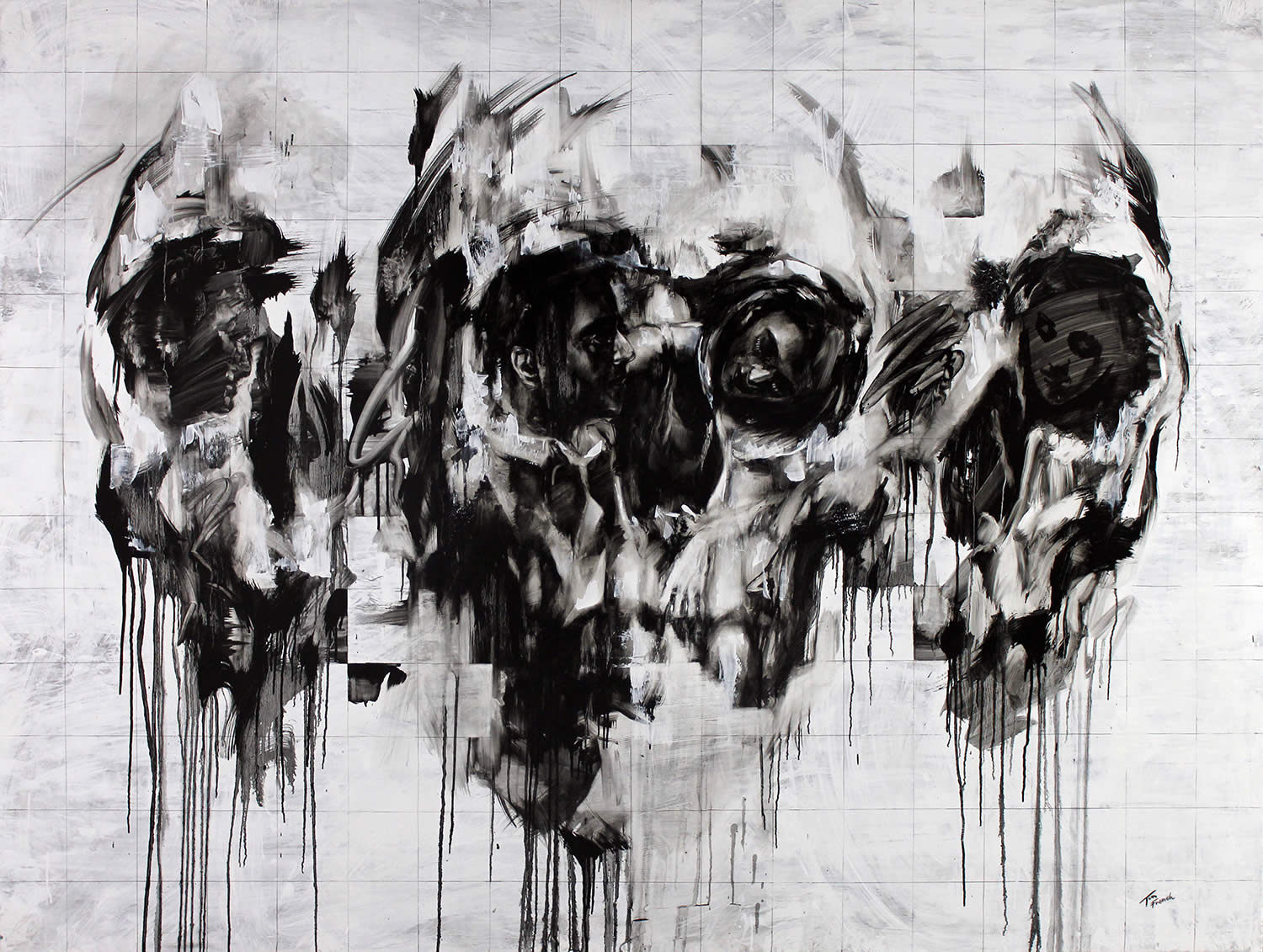 British artist Tom French merges realist and surrealist imagery to create unsettling figurative art.
Vanitas
Tom French is known for paintings of skulls that emphasize optical illusions. They are inspired by Charles Allan Gilbert's famous drawings. "Vanitas" (oil on canvas) represents three skulls with human figures entwined prominently in the eye sockets. There is a hint of romantic longing—a classic surrealist theme—present in this trio of images; the male appears to be reaching out across to a female in the third skull.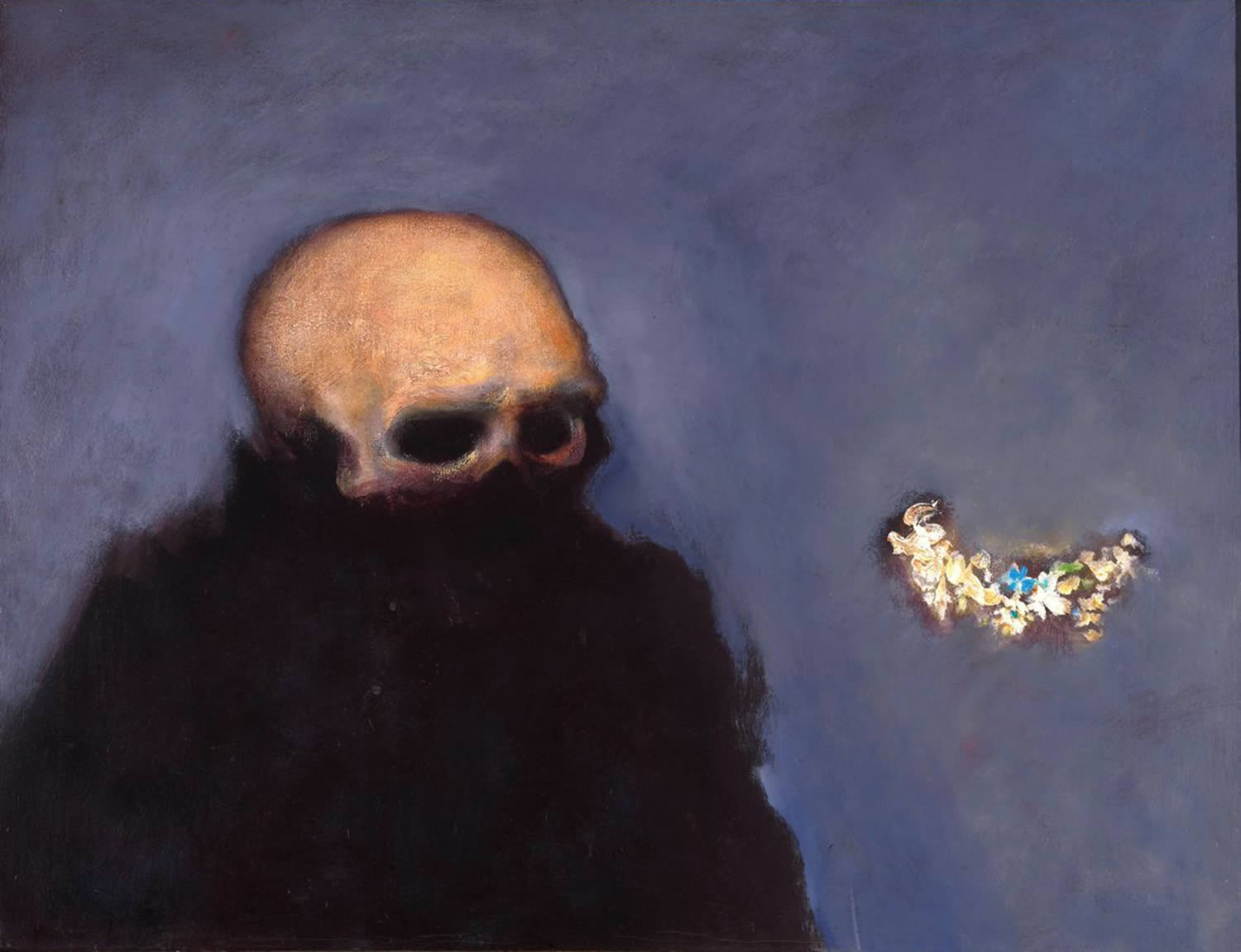 Walter Kulhman's later works were informed by "Color Field" principles and "American Figurative Expressionism."
Memento Mori
Walter Kuhlman (1918 – 2009) was an abstract expressionist painter based in San Francisco. The image of the human skull has appeared in several major works, including "Memento Mori" and 1978's "Dance of Death." A hunched figure with a sunken skull stares at a floating garland flowers. Death yearns for life. There is something immensely tragic at work in Kulhman's painting.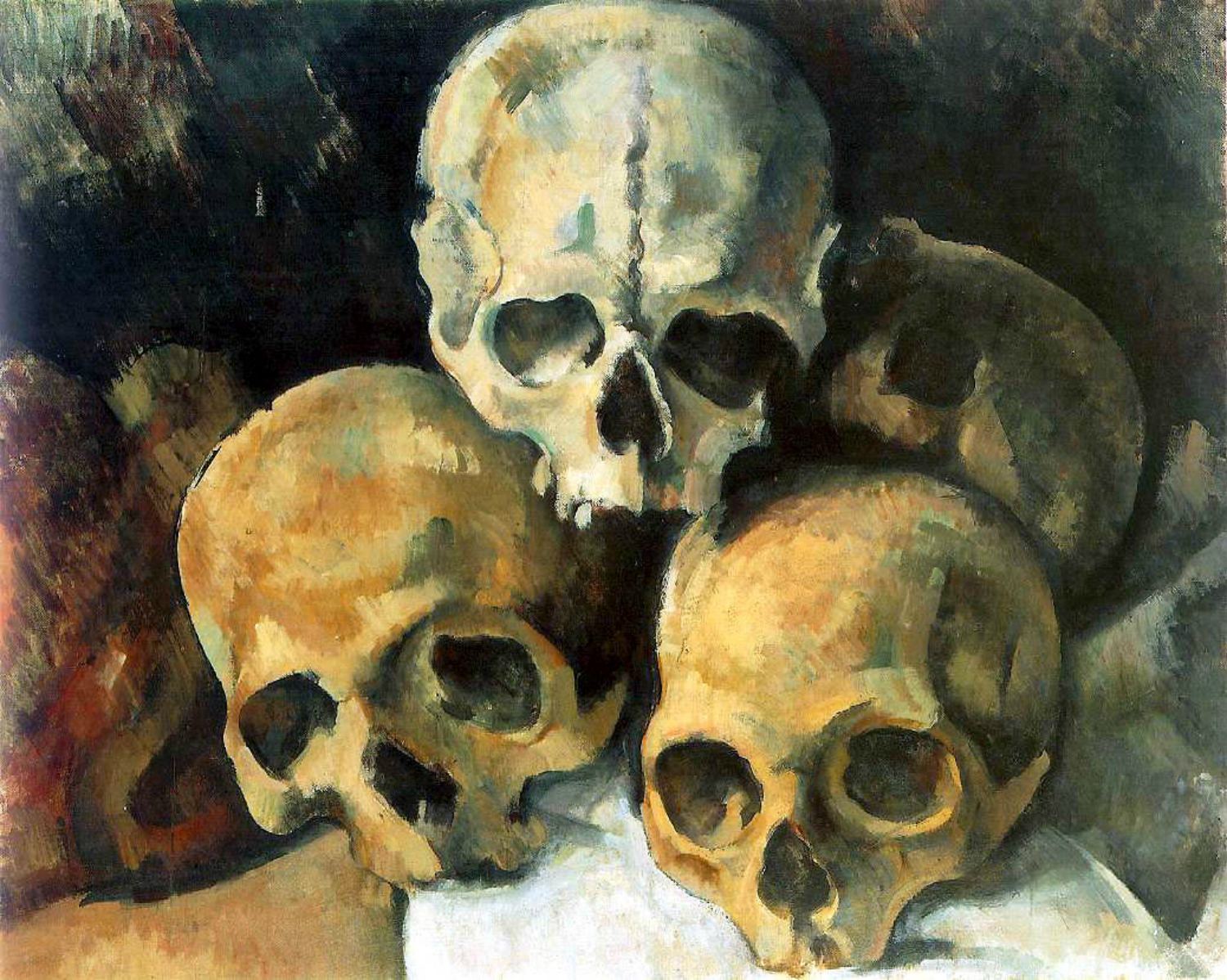 Oil on Canvas. 1901. The artist is said to have one declared, "How beautiful a skull is to paint!"
Pyramid of Skulls
Post-Impressionist titan of the French art world, Paul Cézanne, whose work goes for millions of dollars even today, offered up a radical take on the still life with "Pyramid of Skulls" (1901). It is noted by critics for the unusual closeness of the objects and the biographical meaning behind the painting. Cézanne was increasingly preoccupied with death and mortality, in his later years.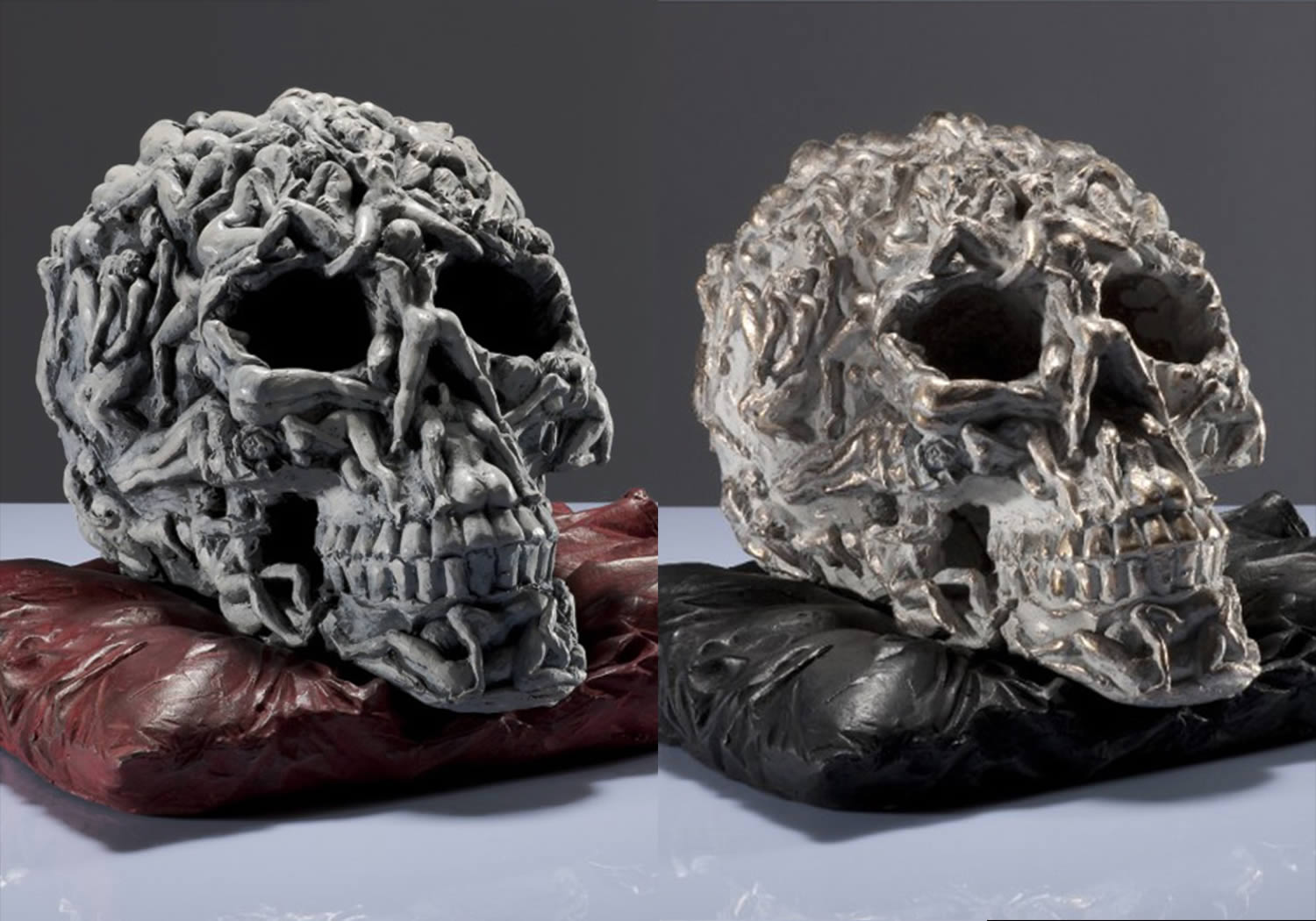 Matteo Pugliese sculptured his "Memento A-mori" pieces in bronze and ivory.
Memento A-mori
Matteo Pugliese's bronze sculptures are inspired by the surrealist photo portrait of Salvador DalĂ­, known as "In Voluptas Mors" (1951), by photographer Philippe Halsman, that featured naked women in a variety of poses to form a skull. Pugliese also makes a pun out of "Memento mori" by revising the title as "Memento A-mori." Love and death are the twin engines of eroticism.
Images © respective artists.