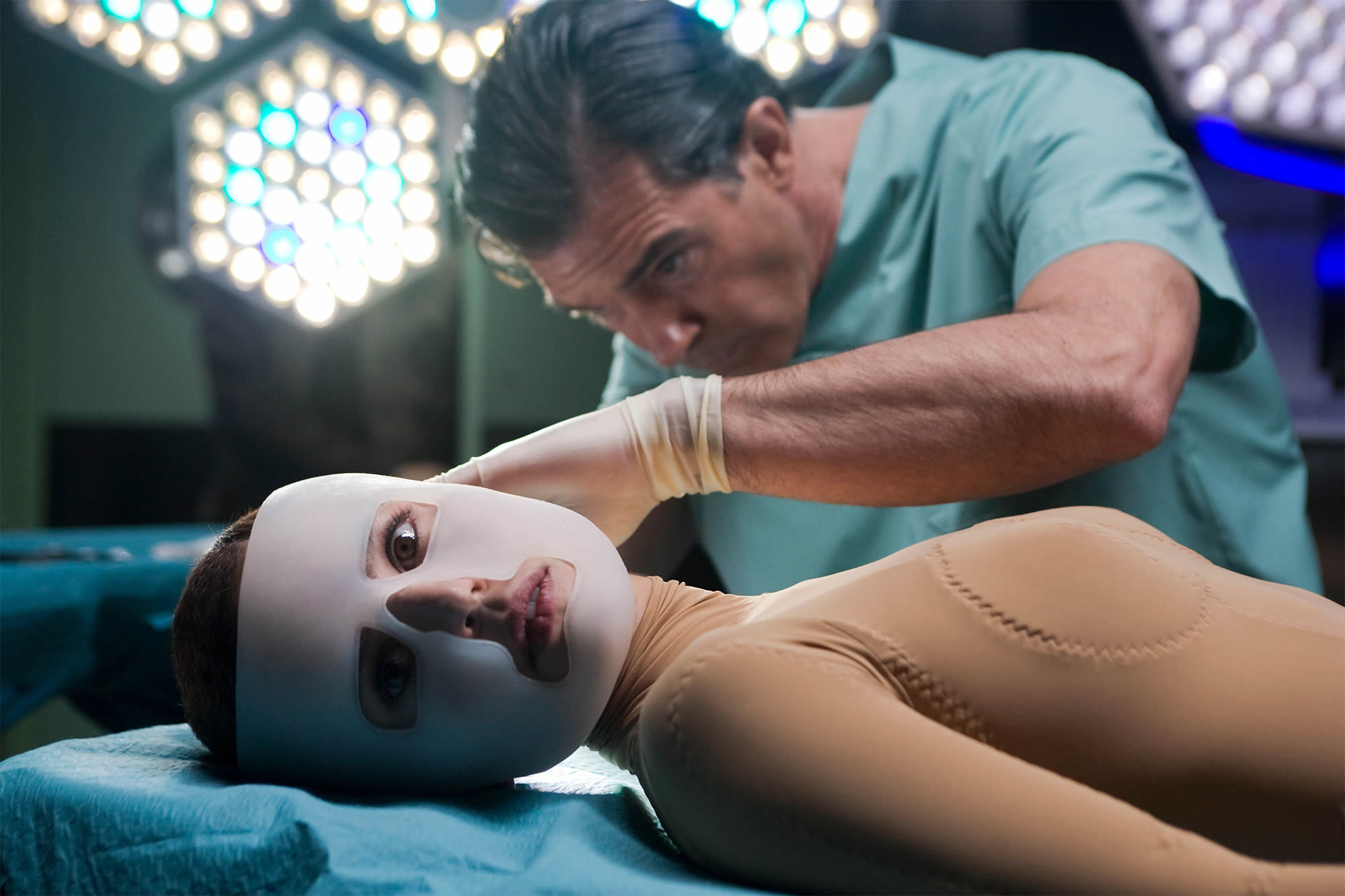 Body modification and scarification, in the movies, is often associated with body horror. Yet there have been several titles in recent times exploring the subculture, separating fact from fiction and taking a more neutral, non-judgemental approach.
Tattooing is seen as less extreme and more socially acceptable. It might seem all very trendy at the minute, but body modification and the art of tattooing reconnects us to our primitive origins and history. Body art is about self-expression and identity.
The movies have used body modification, scarification and tattooing in different ways. Sometimes it is to give characters a very unique look, and sometimes it is more plot-driven.
Top: Dr. Robert Ledgard busy at work on his favorite patient in "The Skin I Live In."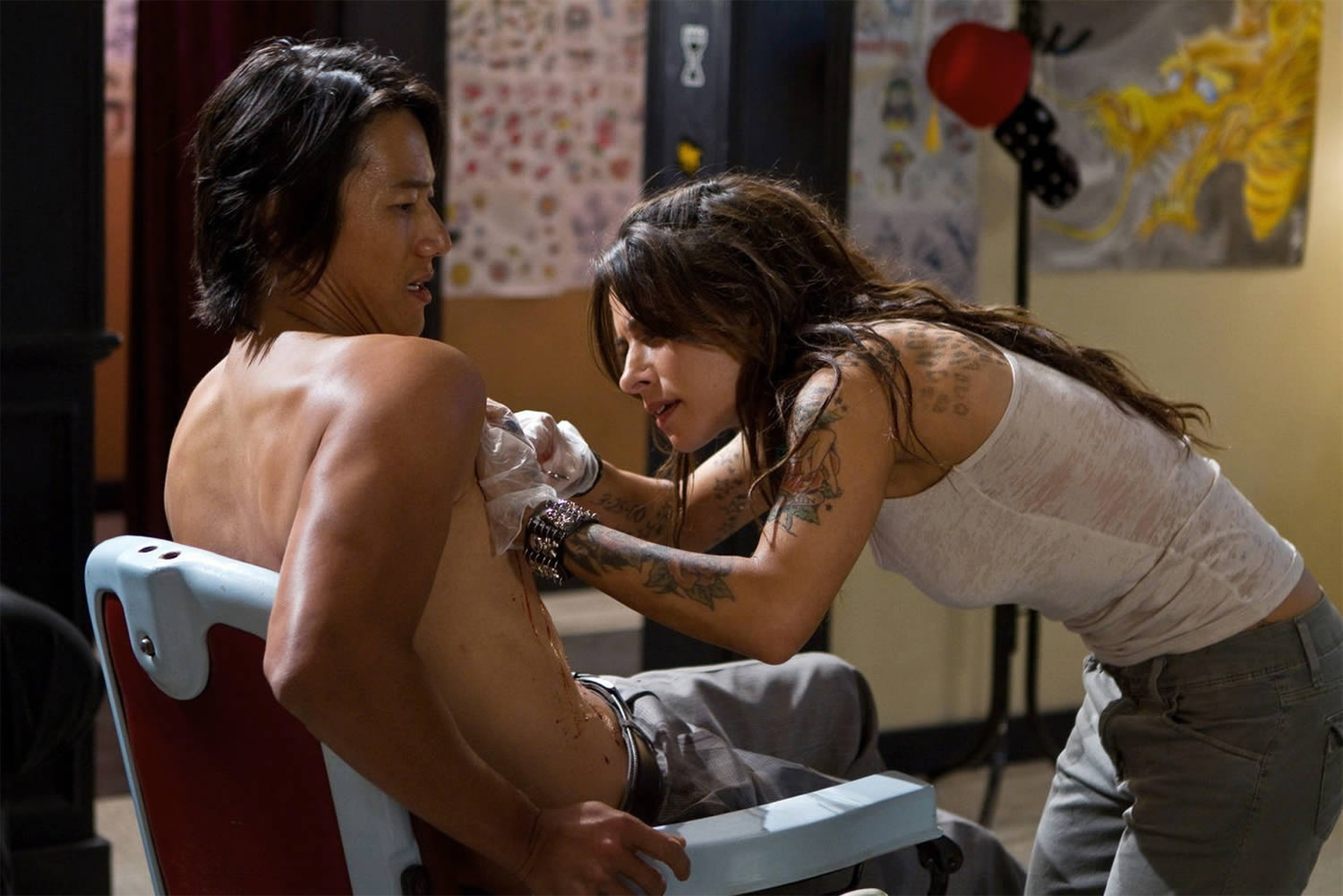 Lisa (Sarah Shahi) treats wounded cop Kwon (Sung Kang) after he's been shot.
Bullet to the Head
Walter Hill's old-school thriller stars Sylvester Stallone as a casually racist hitman forced to team up with Asian-American cop, Kwon (Sung Kang). To give Sly's character a distinct look, Jimmy Bobo (seriously, that's his name), sports bright and colorful body art featuring large skulls, a raven and rose petals. Jimmy's daughter, Lisa (Sarah Shahi), works as a tattoo artist and inks her dear old dad. The tattoo features death-related imagery and is tremendously unsubtle, given his line of work.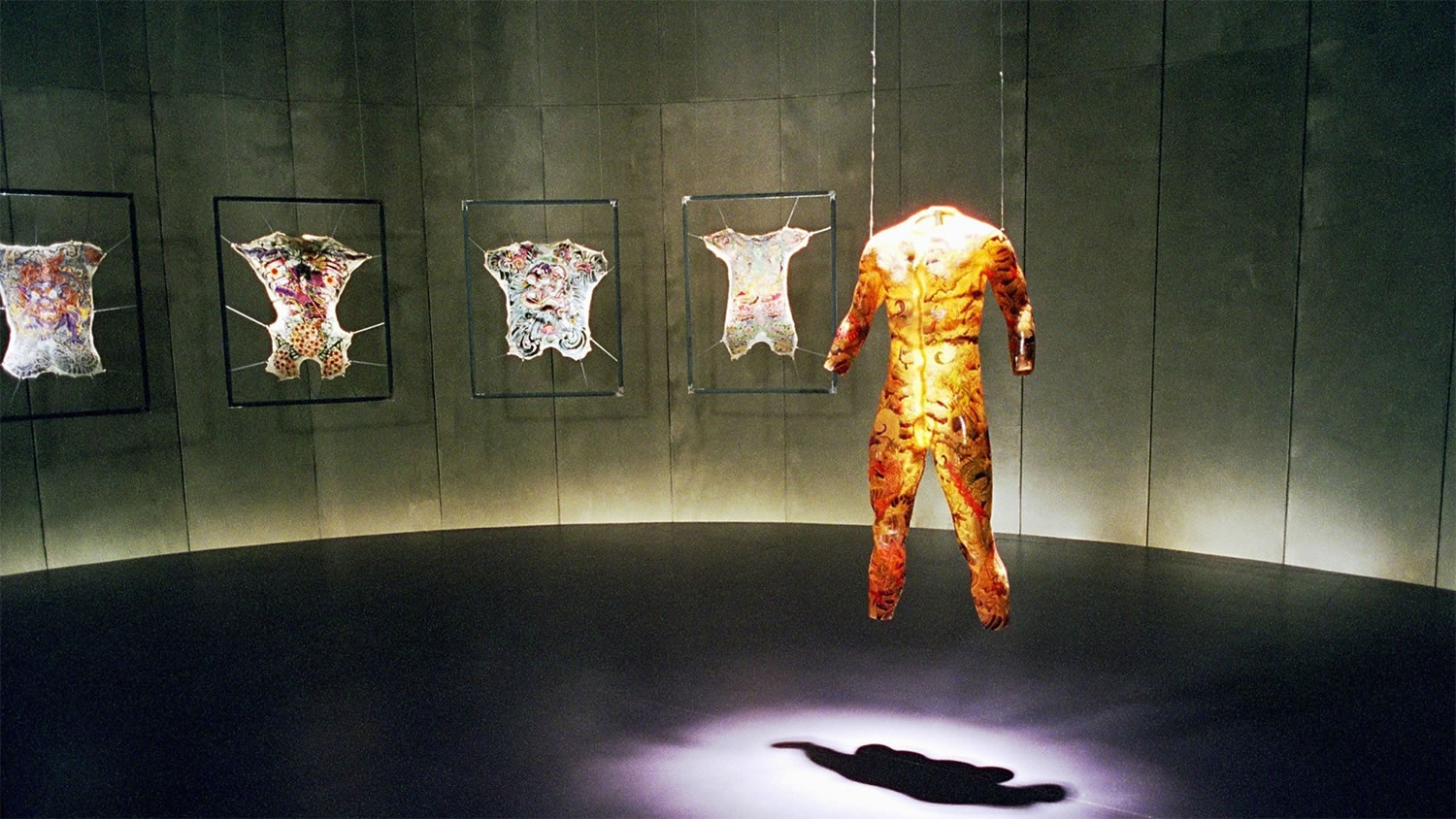 Prized tattoos are sold to collectors in the German horror movie, "Tattoo."
Tattoo
Robert Schwentke's serial-killer movie is inspired by David Fincher's "Se7en" and a Roald Dahl short story ("Skin"). Two cops are on the trail of a murderer killing victims for their unique tattoos that are then sold to weirdo collectors. A ghoulish spin on the world of art dealing and art appreciation, "Tattoo" is well worth seeking out.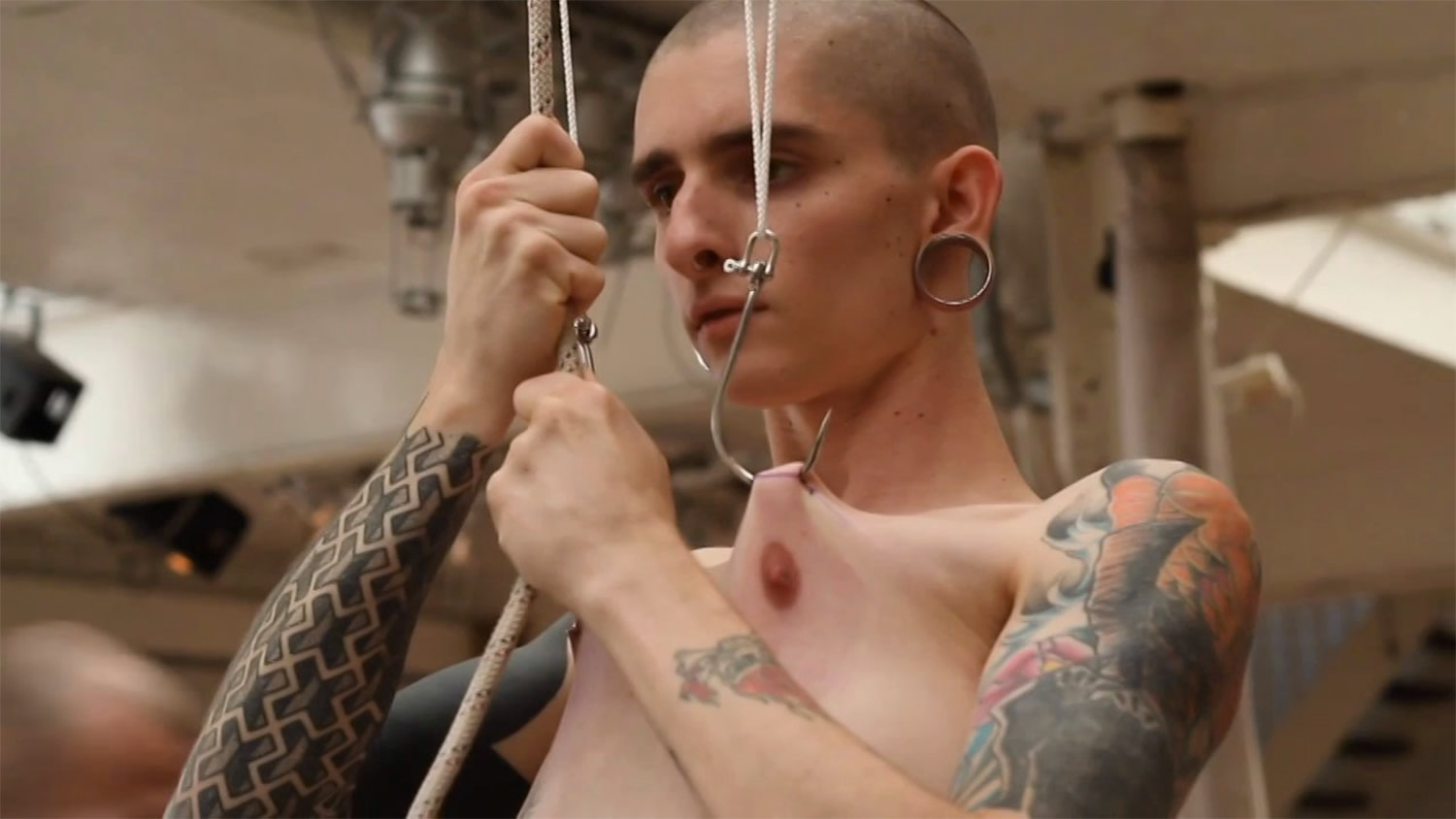 Kate Shenton's documentary film is not for the faint-hearted.
On Tender Hooks
Kate Shenton's intense documentary explores body suspension, a practice by which hooks are inserted under a person's skin and they are suspended from ropes. People do this for fun? Actually, they do it for a variety of reasons. A tough viewing experience, in places, it is also a fascinating glimpse at a world few people will ever understand.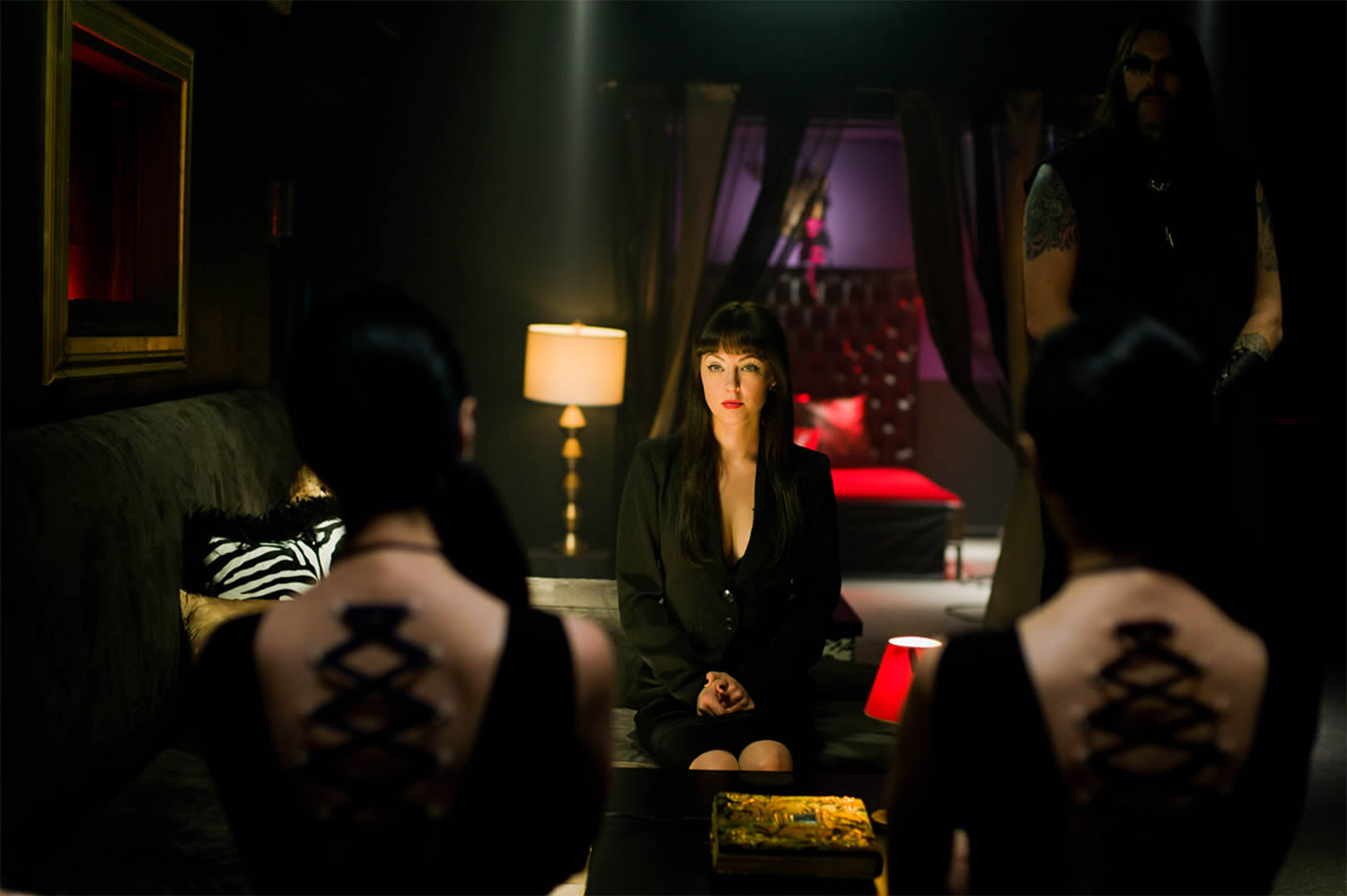 The Soska Sisters announced themselves as major new voices in horror with "American Mary."
American Mary
Directors Jen and Sylvia Soska found inspiration for their second feature film in the subculture of body modification. Promising medical student Mary Mason (Katharine Isabelle) takes gory revenge against several doctors that drugged and raped her. As a horror film and revenge tragedy, "American Mary" must be wild and imaginative. But toward body mod communities, it is entirely respectful.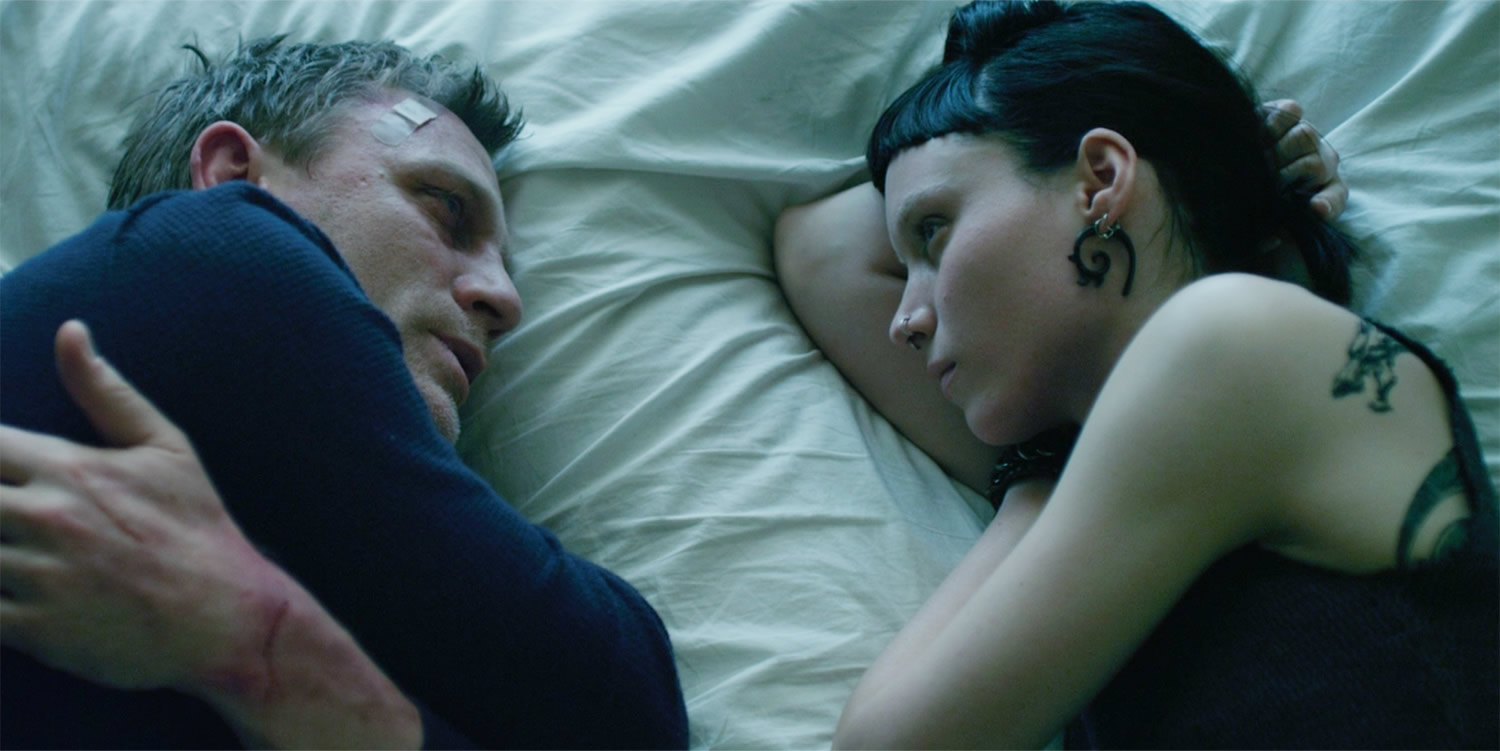 The dragon tattoo design is very different in David Fincher's American remake.
The Girl with the Dragon Tattoo
Lisbeth Salander is the pop culture icon created by Stieg Larsson and played by Noomi Rapace and Rooney Mara in the Swedish and American movies. Lisbeth has her face and ears pierced and sports a dragon tattoo on her back. The original movie and the American remake used very different designs. The tattoo is symbolic of the character's fiery but mysterious persona.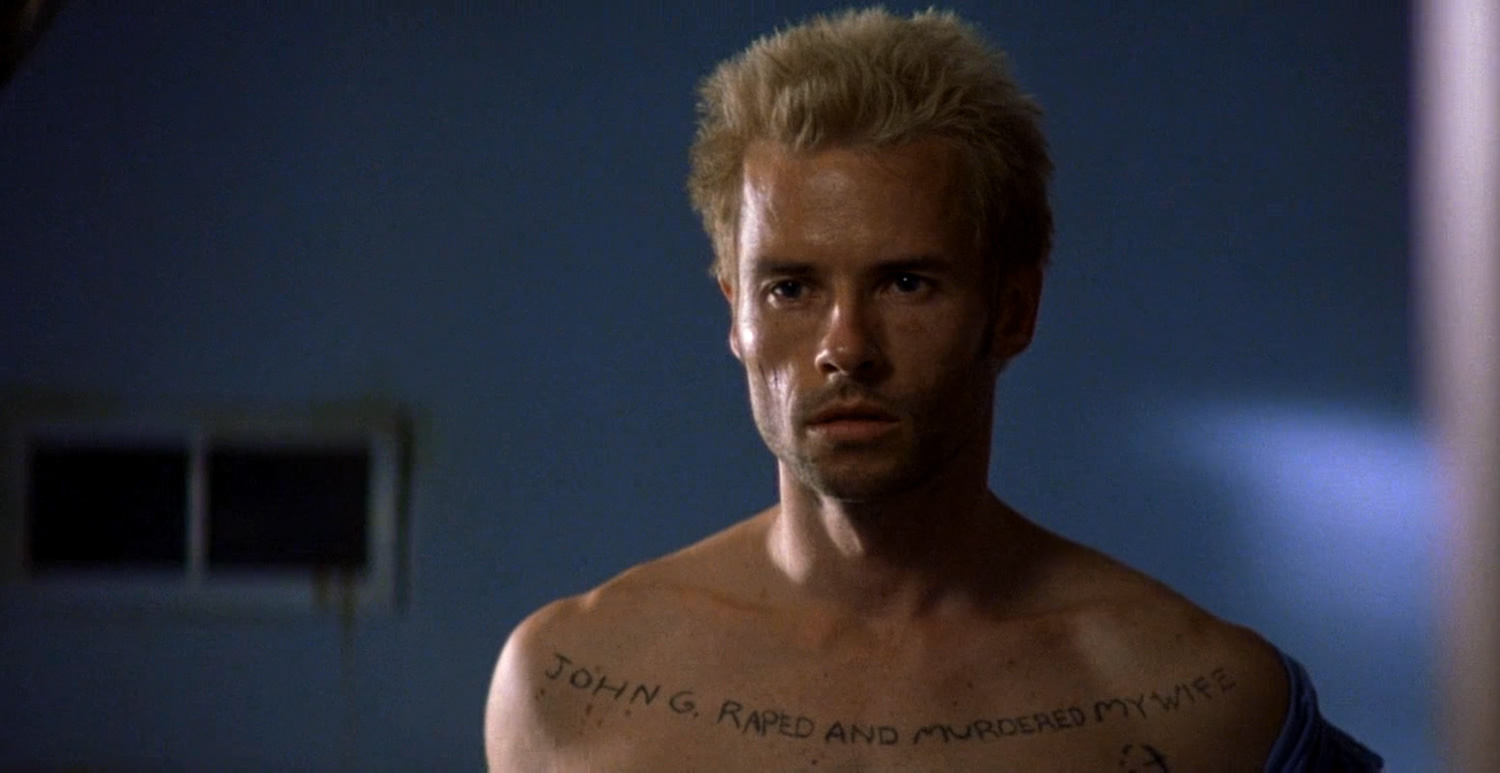 Guy Pearce starred as Leonard, a man attempting to solve a crime that he cannot remember.
Memento
Christopher Nolan's breakout movie stars Guy Pearce as a man with a condition known as Anterograde amnesia. That's medical talk for "the dude can't store recent memories." Taking an inspired approach to detective work, Leonard (Pearce) uses everything from Polaroid photos to tattooing bits of information on his torso (including a licence plate number), in order to solve a crime.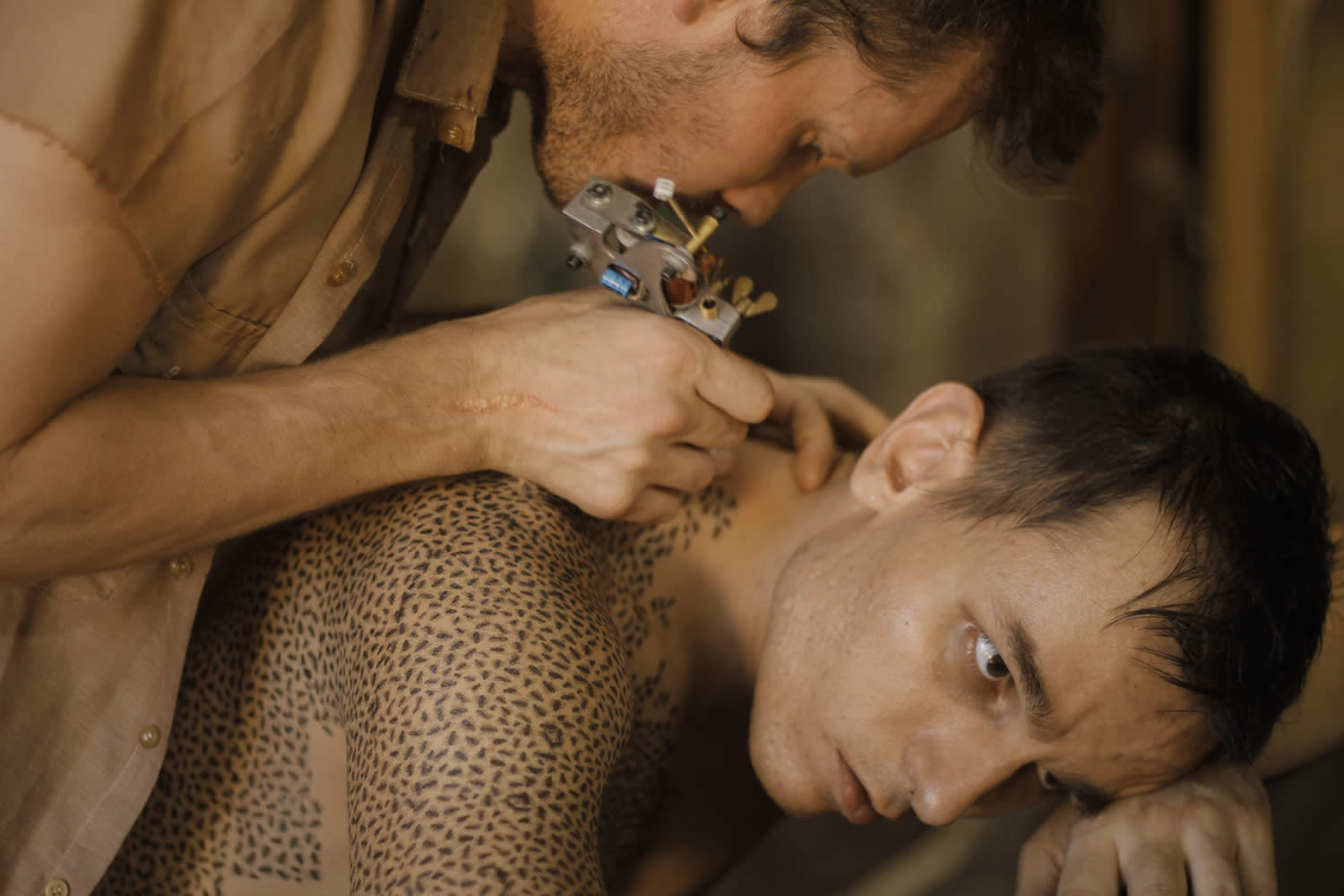 Christoph Behl's zombie apocalypse movie is one of the most unusual films within the genre.
What's Left of Us
This Argentinian zombie apocalypse drama is one of the most unusual horror films in recent times. Axel, Ana and Jonathan are living in a boarded up apartment. Axel is in unrequited love with Ana. Her rejection leads him to begin a tattoo project—thus making himself physically repulsive to her—in which his body is covered with crudely inked black spots. He ends up looking like a human leopard.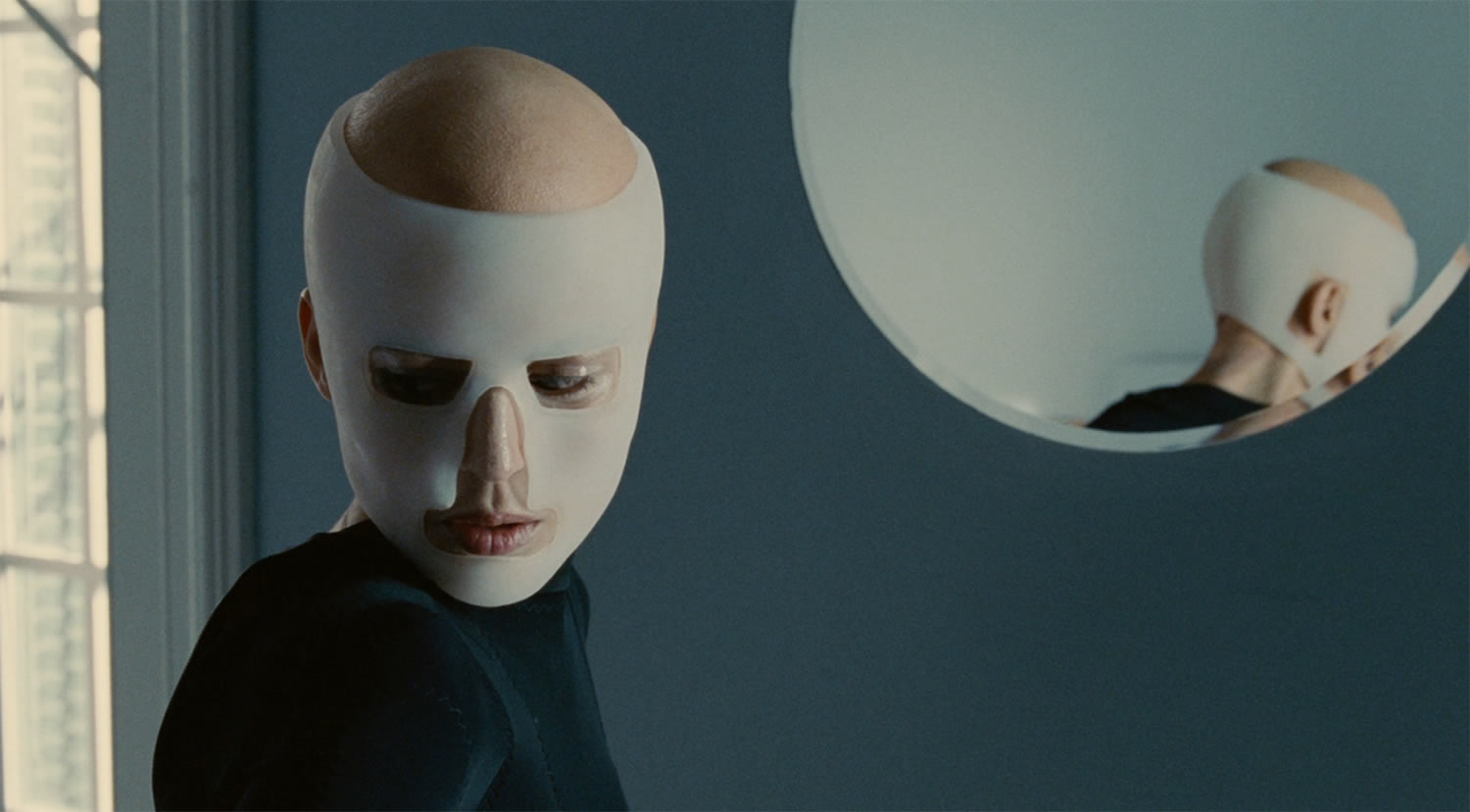 Elena Anaya in Pedro Almodóvar's gothic horror nightmare, "The Skin I Live In."
The Skin I Live In
"The things a madman will do for love." A chilling line but also a perfect description of Dr. Robert Ledgard, played by Antonio Banderas, reteaming with director Pedro Almodóvar for the first time in over twenty years. A plastic surgeon is looking after a female patient/prisoner in his home. The story that unfolds is incredibly shocking and so perverse.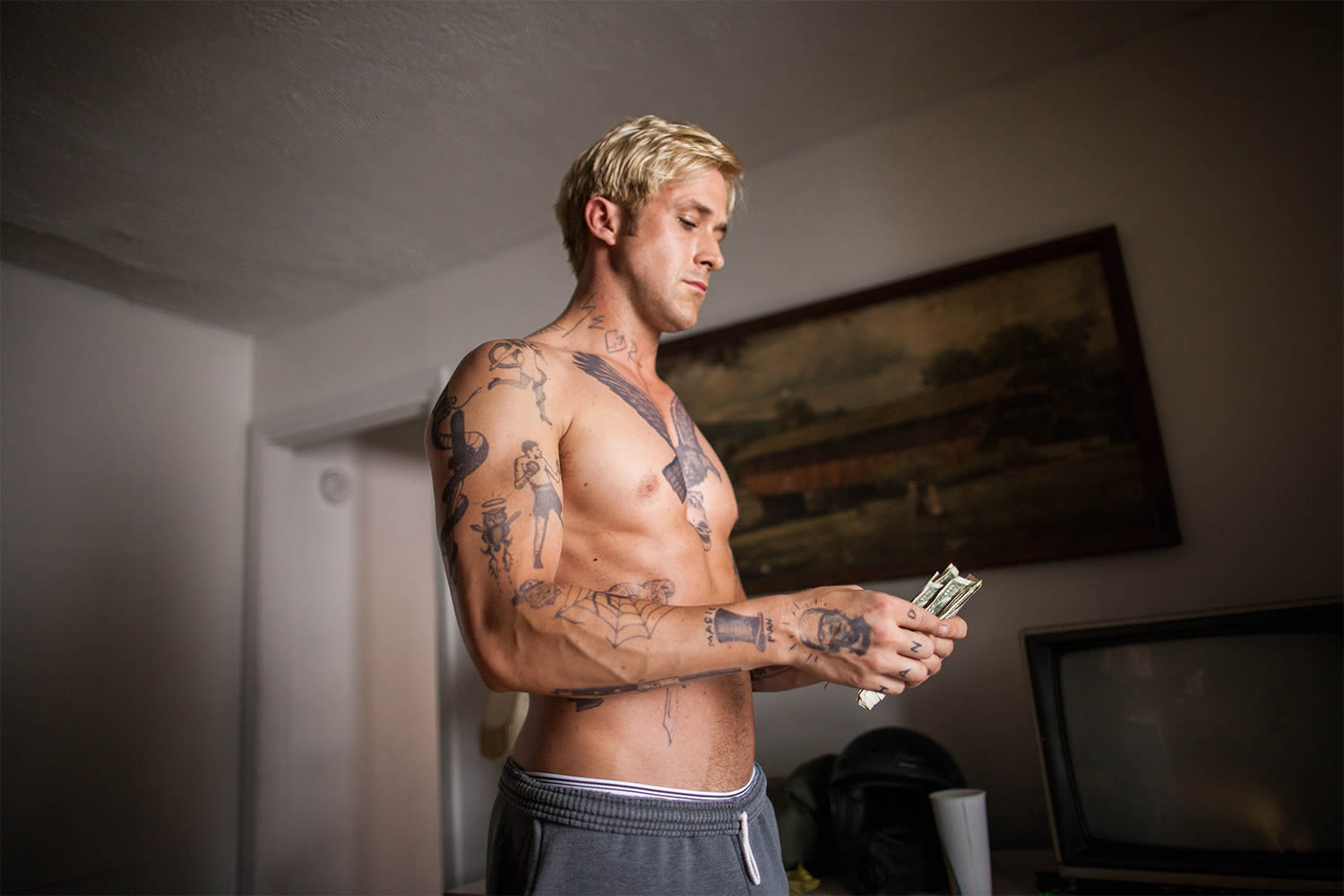 Luke (Ryan Gosling) is a criminal and motorcycle rider covered in numerous tattoos
The Place beyond the Pines
Ryan Gosling is fairground motorcycle rider, Luke. He's a bad boy covered in an array of tattoos that tell us about the man's past. How so? He's clearly a man who has done time in prison. The tattoos aren't classy—spider-webs, a grenade, a boxer, letters on knuckles, and a dagger dripping blood under his left eye. These ink jobs capture very well his tragic and impulsive nature.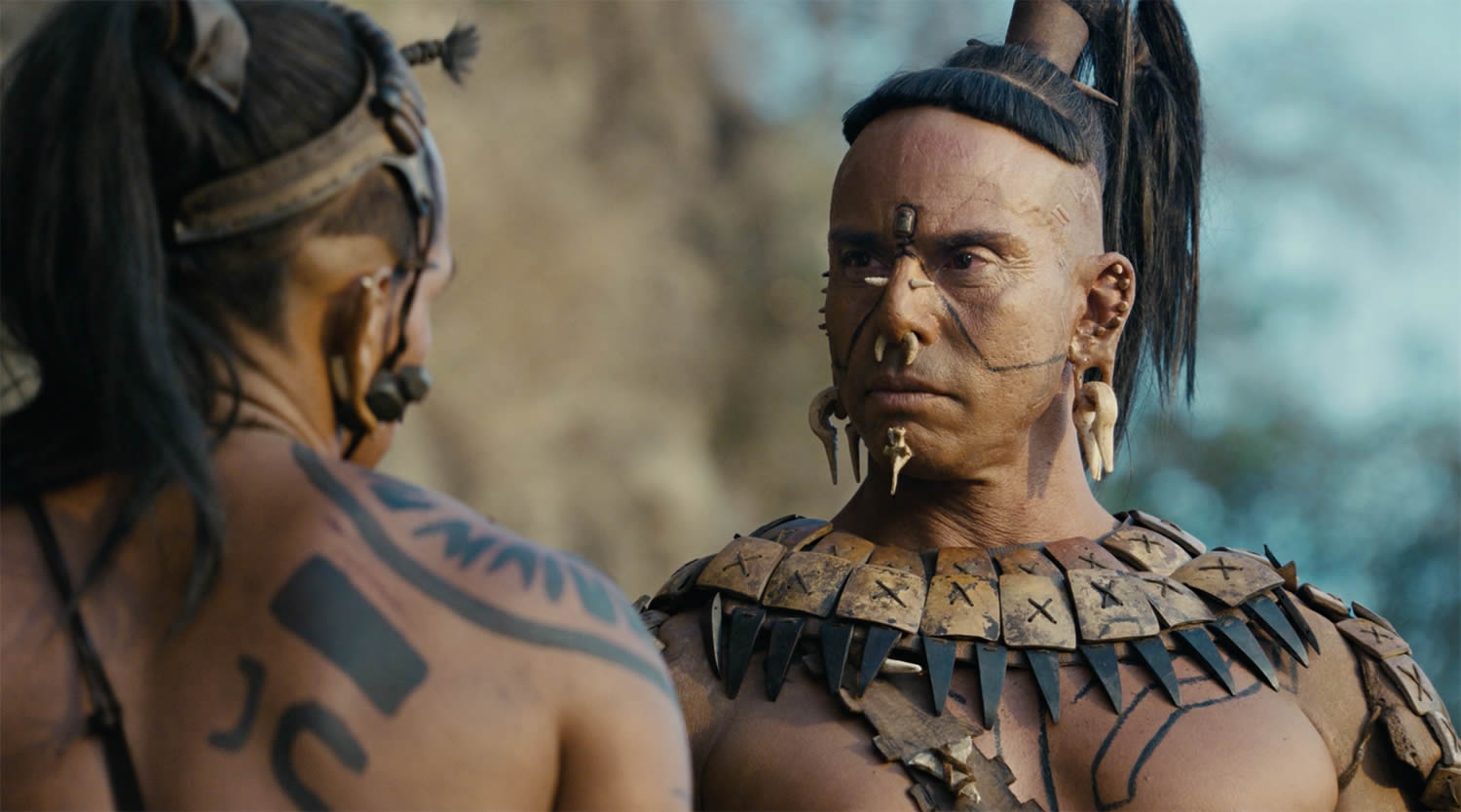 The costumes and makeup in "Apocalypto" were carefully researched for maximum realism.
Apocalypto
Body modification, religious tattooing and scarification were part of everyday life in the doomed world of the Mayans. The film is based on extensive research and a quest for realism. The forest people, the warriors and city dwellers are all marked and tattooed differently. "Apocalypto" is beautiful-looking film with art and costume design that is complex and visually striking.
Images © respective film studios.